It's time for the best food tours in Bangkok! From a delicious street food tour to a Thai cooking course like no other, check out these Bangkok food tours!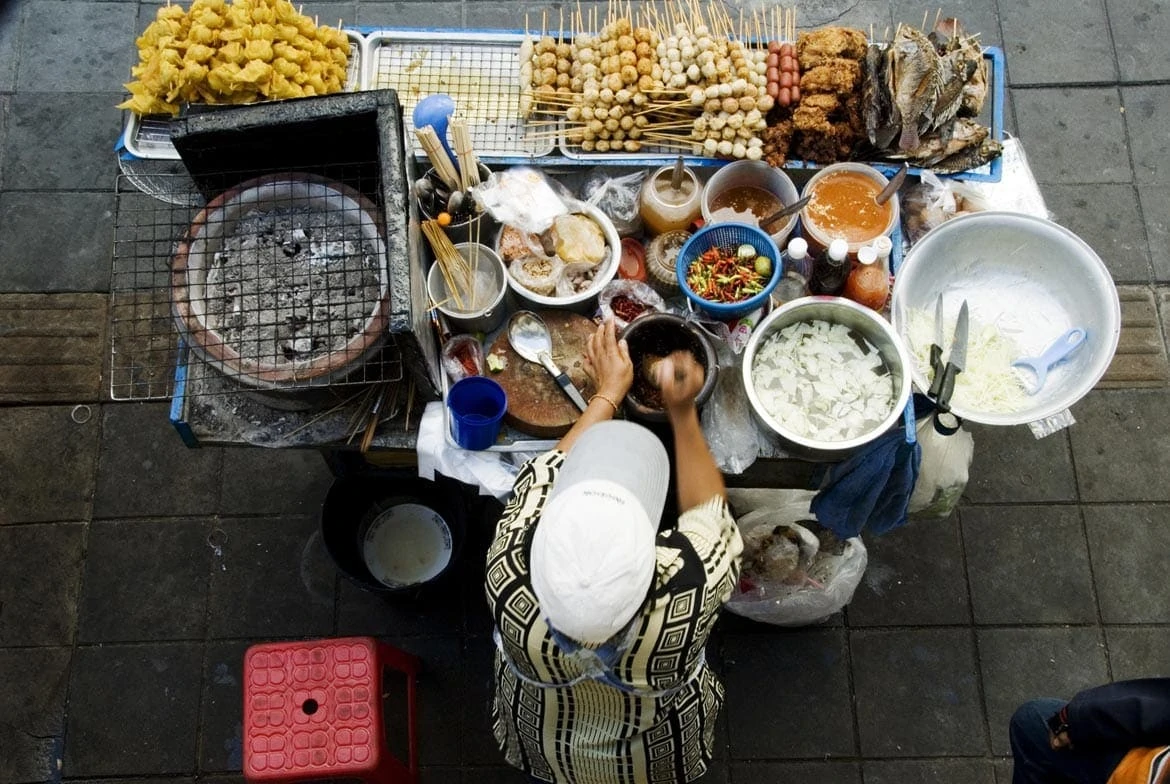 The sights, sounds, smells and tastes of Bangkok are a mix you can't find anywhere else in the world. It's a place that'll set all your senses on fire (literally – the food is mega spicy in Thailand!) That's why this country is home to some of the world's best food tours in Bangkok.
For me, it's the contradictions and contrasts that make Bangkok such an amazing place to visit. I could go from discovering something yummy in a 7-Eleven to munching on a cheap £1 plate of pad Thai on the streets to a sumptuous fine-dining feast with the best views of the city all in a few hours. There aren't not many places where you can do all of that in a day.
Add in beautiful temples, a bustling nightlife that can rival any and the smiliest people you'll ever meet and you got the perfect ingredients for one of my favourite cities.
And as you'll quickly learn from the moment you arrive here, the food really is incredible. You really can't beat Thai food straight from the source.
If you're staying in the city, make sure you check out my guide to the best hotels in Bangkok. Some of these hotels are my favourite places to stay in Bangkok.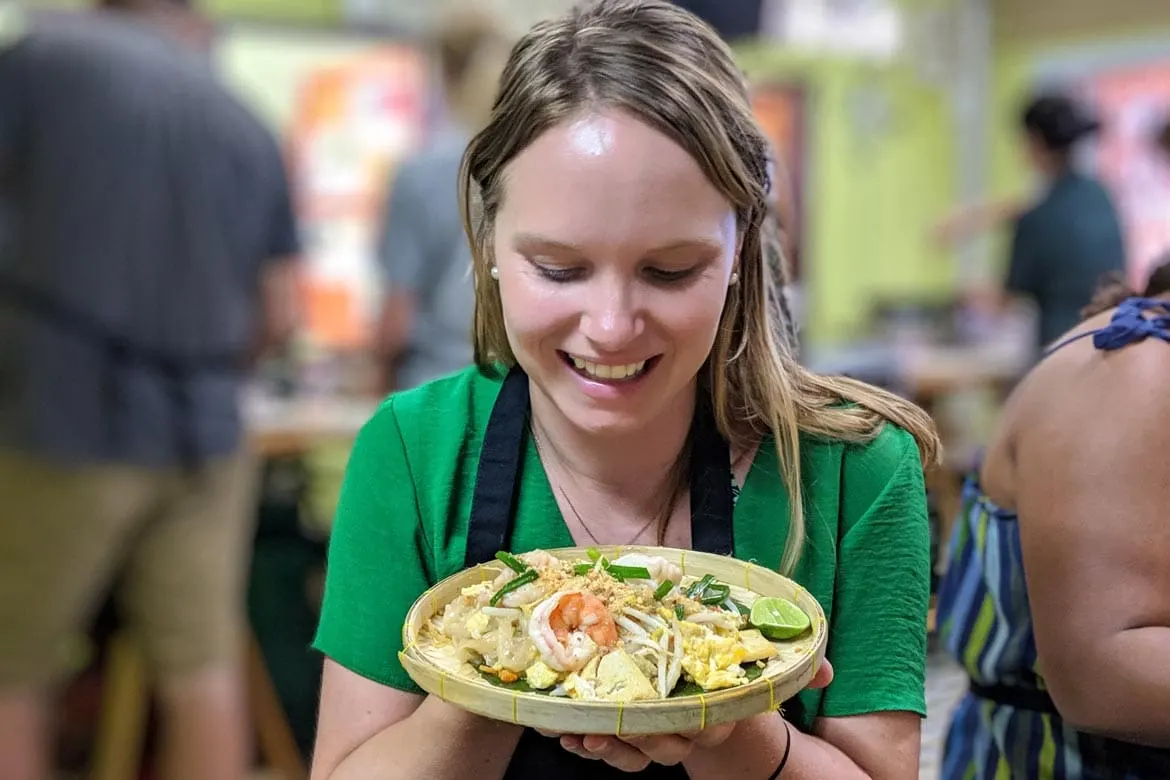 Foodie experiences in Bangkok
From a Bangkok Midnight Food Tour to a trip to the Damnoen Saduak Floating Market, there's an intense mix of flavors in Thailand – spicy, sweet, salty, sour.
Influences have flooded in from all corners of the globe making Bangkok one of the best dining destinations in the world. It's just so diverse and I love all the food on offer here – even the offal.
Also, it's generally very cheap to eat in Bangkok, so you can get a lot of bang for your buck. The street food isn't just cheap, it's quality too. Think £2 for a bowl of Michelin-starred noodles (yes, this is actually a thing here!)
Personally, I think the best way of getting to know the city is on a food tour. Then you get to see all the city has to offer while trying some local delicacies along the way. And let me say this: you're in for a treat because there are some amazing food tours to choose from.
If you want to eat your way through the city while getting to know the history and the culture, then these are the best Bangkok food tours for you. Go on any of these tours below and you're in for an amazing time!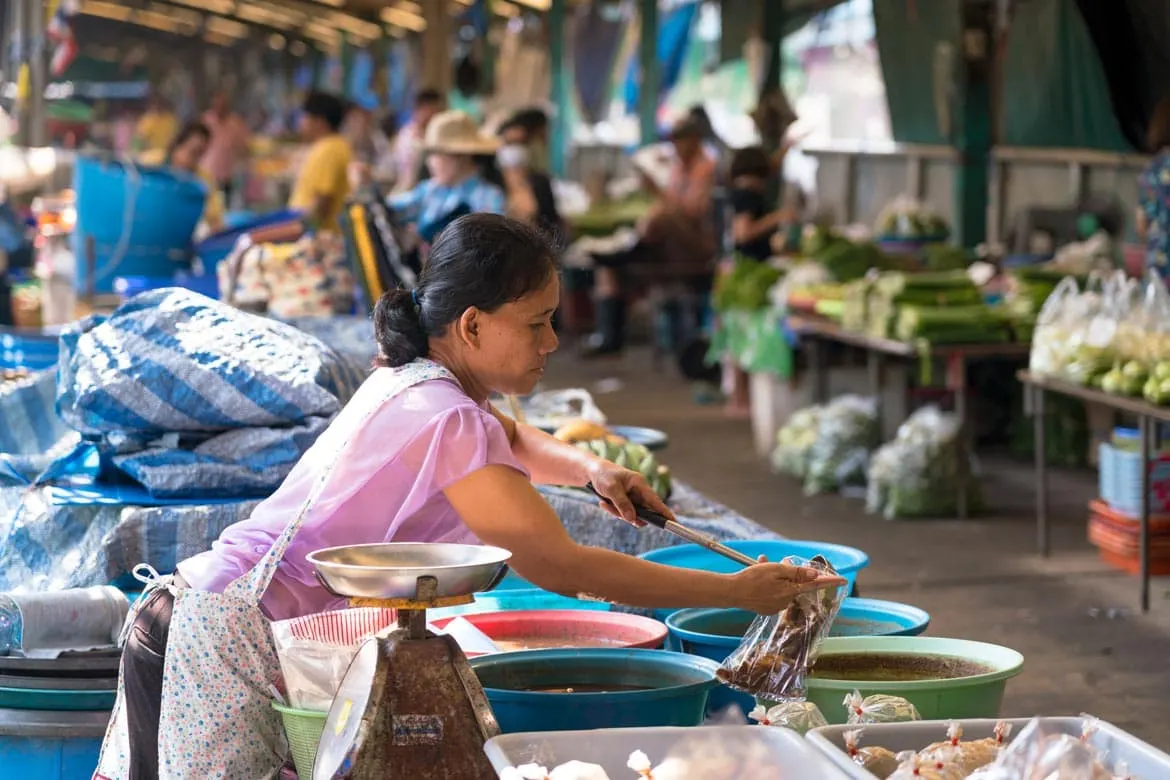 It's not often you can say this but I loved cooking with Poo!
Poo has become a bit of a legend in Bangkok. She started from very small beginnings in the backstreets of one of the poorer districts of Bangkok. Learning to cook from her mum, people started flocking to her for her delicious food. These days, almost from nothing, she has built one of the best cooking schools in the city.
This cooking class starts off at 8:30am in the Klong Toey wet market. This is where you'll pick up your ingredients to cook with for the day. What I loved about this was you actually learned about all the different ingredients straight from the source. Also, it really gives you a connection to the local community too.
From the market we then made our way to Poo's cooking school. In the small intimate setting of her home, we learned how to make a spicy beef salad, pad Thai and a delicious green curry. It's easy to say this, but it was genuinely some of the best food I had in Thailand. Everything was so simple to make and so delicious too. It really teaches you about Thai food and flavours. Oh, and every day there's a different menu too so you can keep on coming back to learn new dishes!
One of the best things about cooking with Poo is a lot of the money goes back into the local community, so you're actually helping the people living around Poo too.
I really do think this is one of the best Bangkok food tours and I can't recommend it enough!
Cost: £36/$47 per person. You can find out more about this food tour here.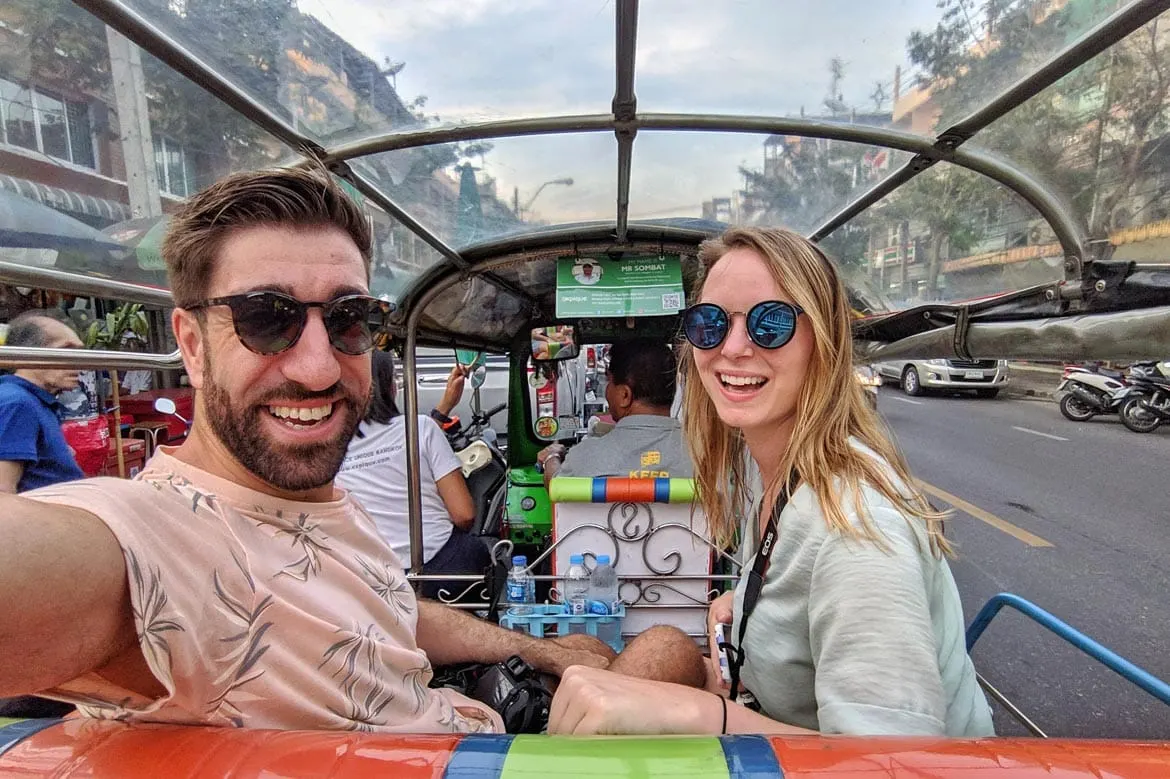 This is another Thailand food tour you just have to do while you're in the capital.
On this food tour you'll explore the city in your own little tuk tuk (don't worry, you have a driver too.) This means you can get to those little places that no one else knows about.
What I loved about this tour was we really went off the beaten path. Our first stop was at a tiny food market followed by a tasty hot pot on the streets surrounded by locals. From them on it was a flavour odyssey as we tried anything and everything under city's lights.
On this Bangkok street food tour you'll be like a local visiting the most known landmarks like the Old Town temples and the flower markets all with one major difference – it's without the crowds that you find on usual tours.
Also, our guide Lek was brilliant at explaining everything we were eating. We even got to try a few interesting things like bugs and tripe. It really shows you what the local delicacies are in Bangkok.
I lost count of how many stops and dishes we tried on this food tour. I think we tried well over 10 different dishes so it really is amazing value for money. Also, your tuk tuk driver will drop you off at your hotel at night afterwards too. Bonus! This really is a Bangkok tuk tuk night food tour like no other.
Expique also offer some of their own cooking courses too that I've only heard great things about. These are cooking classes with a twist so well worth checking out.
Cost: £57/$74per adult, £28/$37per child (aged 5-11). You can find out more about this food tour here.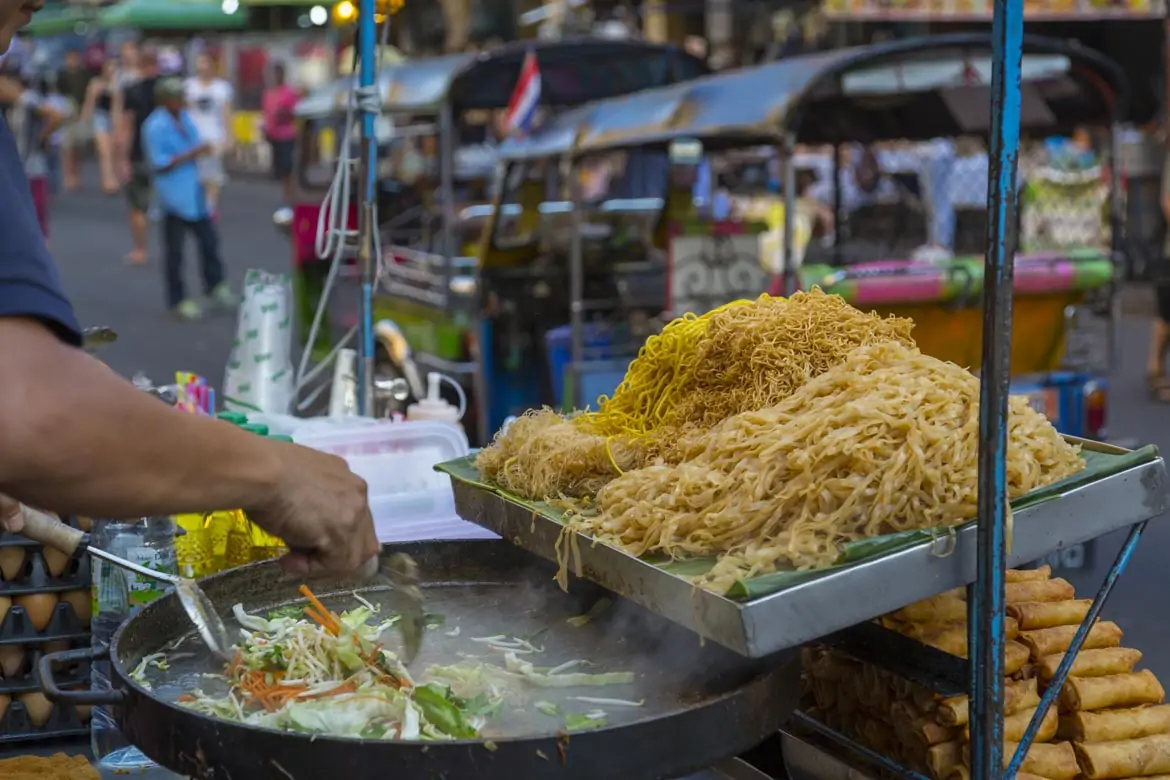 Experience a locals' favorite dishes on this delicious Bangkok street food tour. Dine with others from out of town and discover food stalls, favorite hidden spots, and experience the cultural history and rich foods the area has to offer.
On this tour you get to journey through different parts of Bangkok. Also, make sure you're hungry as you'll eat at 6 different places in the city to experience the true taste of Thailand.
The tour will start off with fresh mouthwatering papaya salad that is slightly spicy and will make your taste buds dance. On the next stop, you're able to experience all the sweet fruit the country has to offer.
Ever tried fishball noodle soup? It's now one of my favorites (I really mean that!) Be prepared to eat this dish next to a gorgeous temple while appreciating the colorful and vibrant Chinatown.
Sit down here for a nice Thai-style dim sum soup and end your day at the local pub to taste the local beer and share your experiences with others. So much fun!
Cost: £34/$44 per adult, £30/$38 per 13-17-year-old, £26/$33 per 3-12-year-old. You can find out more about this food tour here.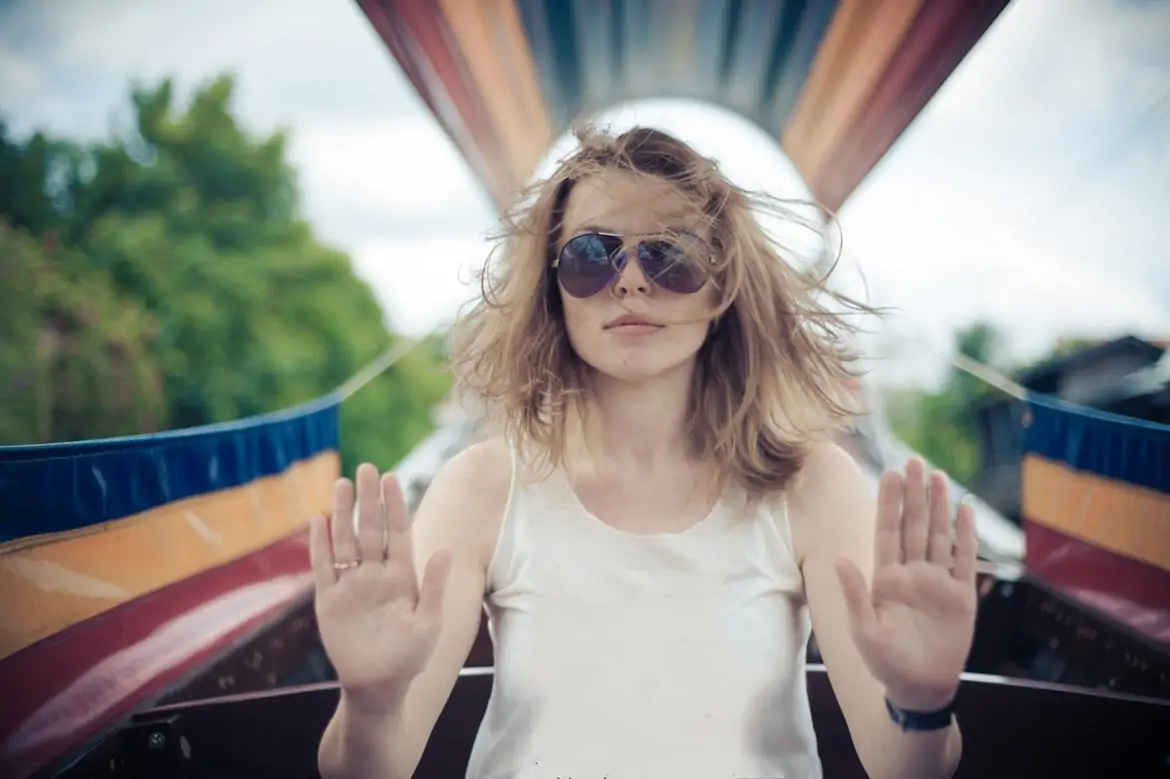 I wanted to go for an all-day adventure so I joined the Ultimate Bangkok Bicycle & Boat Tour. Going out of the city, this explores areas far from typical tourist traps.
You'll enjoy visual cultural contrasts of Muslim and Buddhism, classic and modern, rural and urban.
We began in Chinatown where for about an hour we wandered through pathways with markets, temples, and a vibrant street life.
After a 30 km train ride, we arrived in eastern Bangkok and rode for about 2.5 hours on the paths through neighborhoods and klongs, again noting the strong contrasts of lifestyles along the way.
Next we enjoyed a meal at a local restaurant and a temple before riding on a tail boat in the canals. This is such a good way of getting around and seeing a lot of Bangkok.
A quick bike ride ended at the BTS station and then we rode through urban Bangkok back to the tour beginning, enjoying the unique neighborhoods along the way.
Cost: £55/$70 per adult. You can find out more about this food tour here.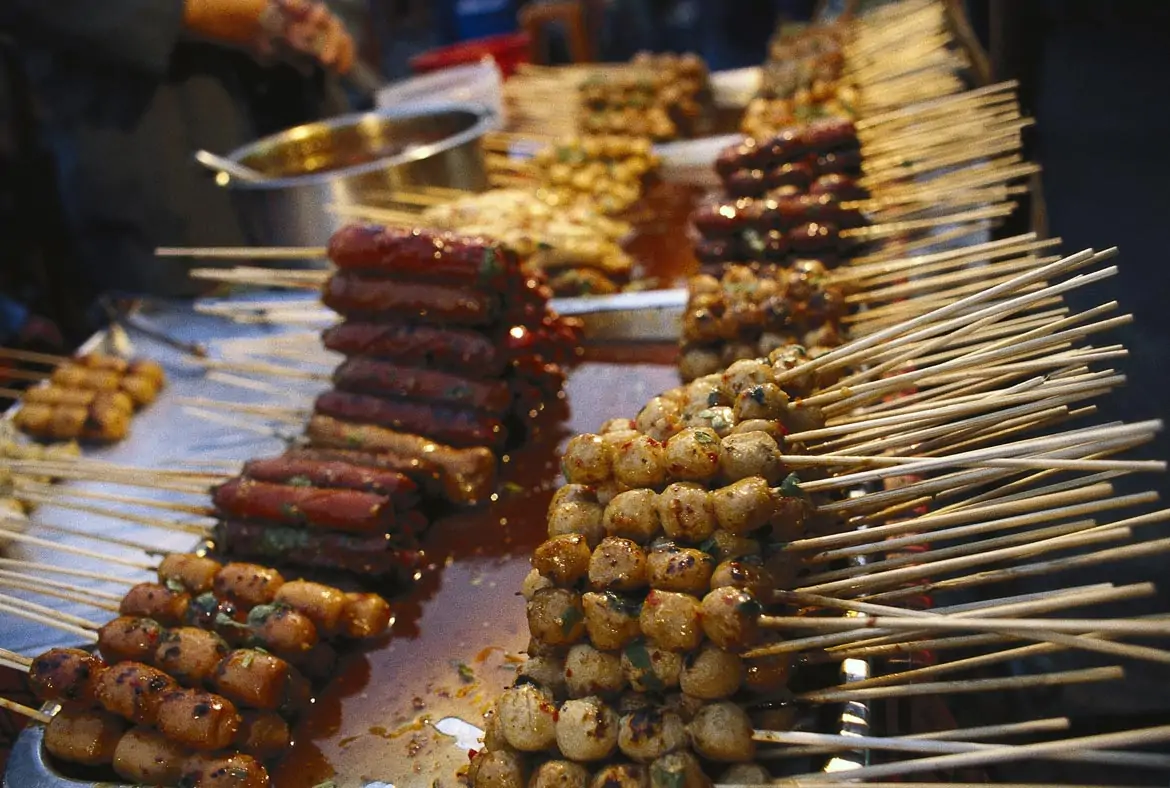 Join this tour for a true culinary adventure in Bangkok's Old Town, one of the best places to eat in Bangkok. In just a few hours you'll gain all the knowledge you need on one of Thailand's local culinary scenes.
At these local spots you'll get the chance to try things like BBQ-pork buns, roasted duck, red curry, and beyond. But not only will you get to try these dishes, but you'll also go behind the scenes for a personal, hands-on learning experience. You'll discover a range of tastes in one of Bangkok's oldest neighborhood.
Sign up for a half-day tour with only a few other visitors. Your Bangkok food guide will introduce you to some of Bangkok's best chefs who will share their stories and answer any foodie questions you have.
Explore Bangkok's tastiest neighborhood through abundant samples, street foods, and even fine dining options. You'll feel like a local in no time!
I think that this 3.5-hour tour is a foodie tourist's dream. You can pick your favorite spot out of five different locations where you'll taste over eight delicious culinary delights. But save some room for walking. In between eating you'll explore hidden neighborhood gems, ancient temples, and some of the local's favorite spots.
Ever had a Thai green custard bun or the royal recipe for green curry beef and chicken? How about roti? Or Kao-Nha-Ped, roasted duck with rice? Among the many exotic flavors you'll sample are Som Tam (papaya salad), curry on egg, crisped catfish, coconut ice cream, and iced lemon tea.
Plus as a bonus, you'll get to try secret dishes available only for the group. It's a great experience.
Cost: £33/$42 per adult, £26/$33 per child, infants free. You can find out more about this food tour here.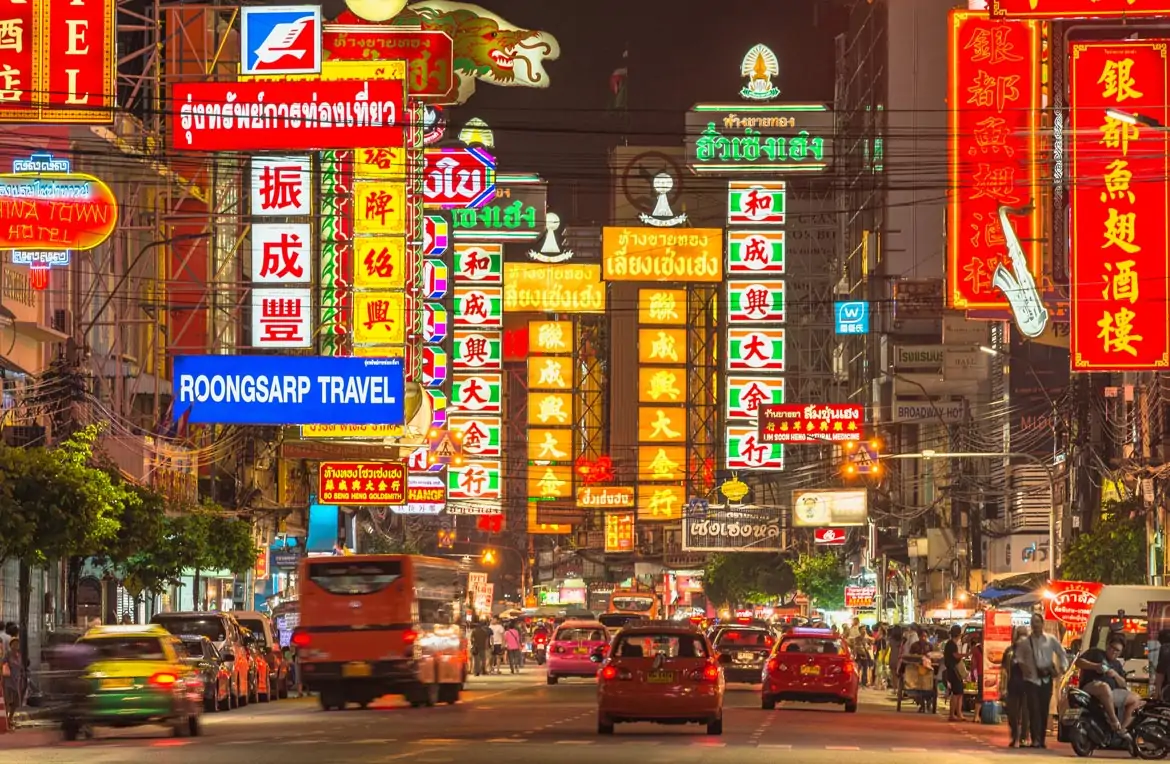 Do you want a cultural experience that will leave you dreaming of coming back for more? Look no further than the Bangkok Chinatown 3.5-Hour Night Food Tour. During these few incredible hours you will experience Chinatown like never before.
In the 200-year-old Chinatown district, you will experience a variety of foods to satisfy your taste buds. This cuisine ranges from street food vendors to fine dining restaurants. The food will range from herbal teas to sweet treats to satisfying noodle soups. There is no doubt there's something for everyone on this tour!
In between the 7 delicious food stops on this Bangkok street food tour, you'll be getting an up close and personal view of the neighborhood. You'll meet the locals, hear their stories, and develop a deeper understanding of the Chinese culture through religious and symbolic landmarks. For me this is one of the best tours of Bangkok.
Cost: £35/$45 per adult, £28/$36 per child, infants free. You can find out more about this food tour here.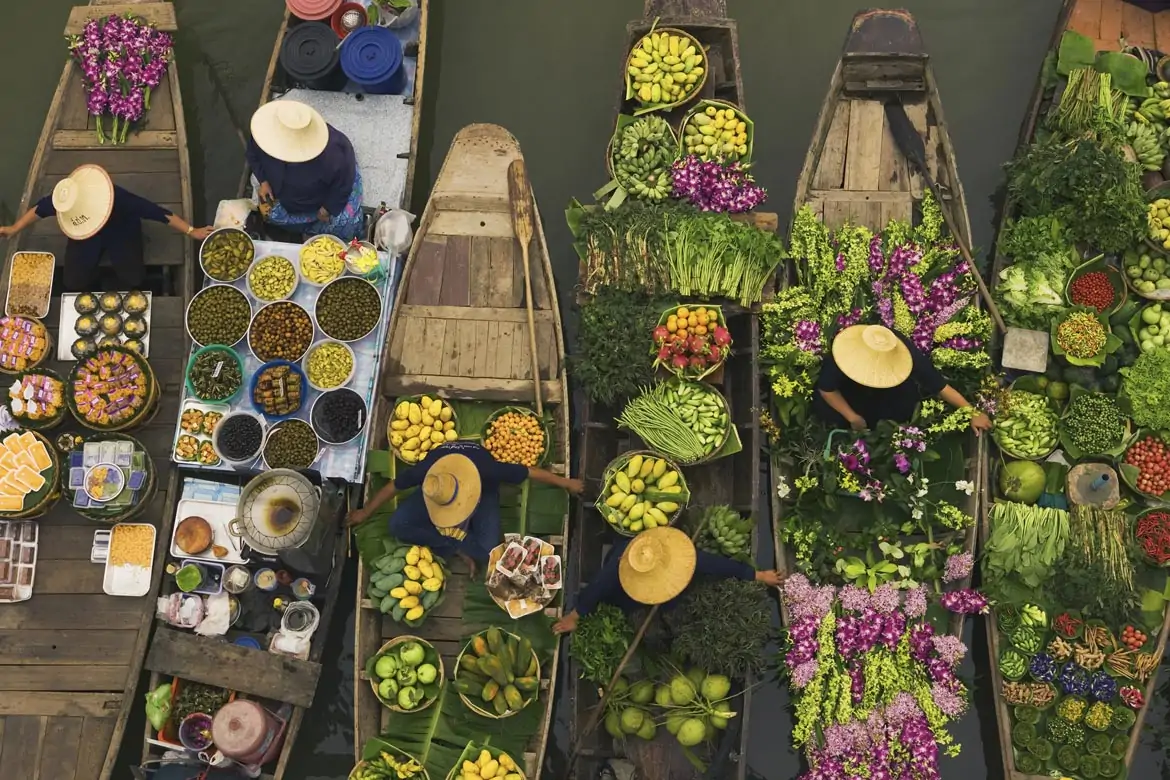 Although Venice is famous for its canals and gondolas, Thailand offers the greatest example of a floating market in Damnoen Saduak Floating Market Bangkok Tour at Ratchaburi. This remnant of yesteryear completely charmed me and ensnared my senses with its vibrant colors and enticing scents.
The tour begins at Gardner's House, where you will learn the process of making coconut sugar. Learning how to husk the coconuts and extract the milk is a fascinating lesson, and at the end it's possible that you'll get to taste some of the final product.
After that, it's straight to the floating market where hundreds of different types of boats bob together on the water. All sorts of things are available to purchase, including a variety of snacks and foods, clothes and fabric, jewelry, and much, much more.
The floating market at Ratchaburi is a great place to view the friendliness and kindness of local Thai people on full display. They are quite welcoming and eager to barter and banter with travelers, so feel free to immerse yourself in the experience!
Cost: £17/$22 per person. You can find out more about this food tour here.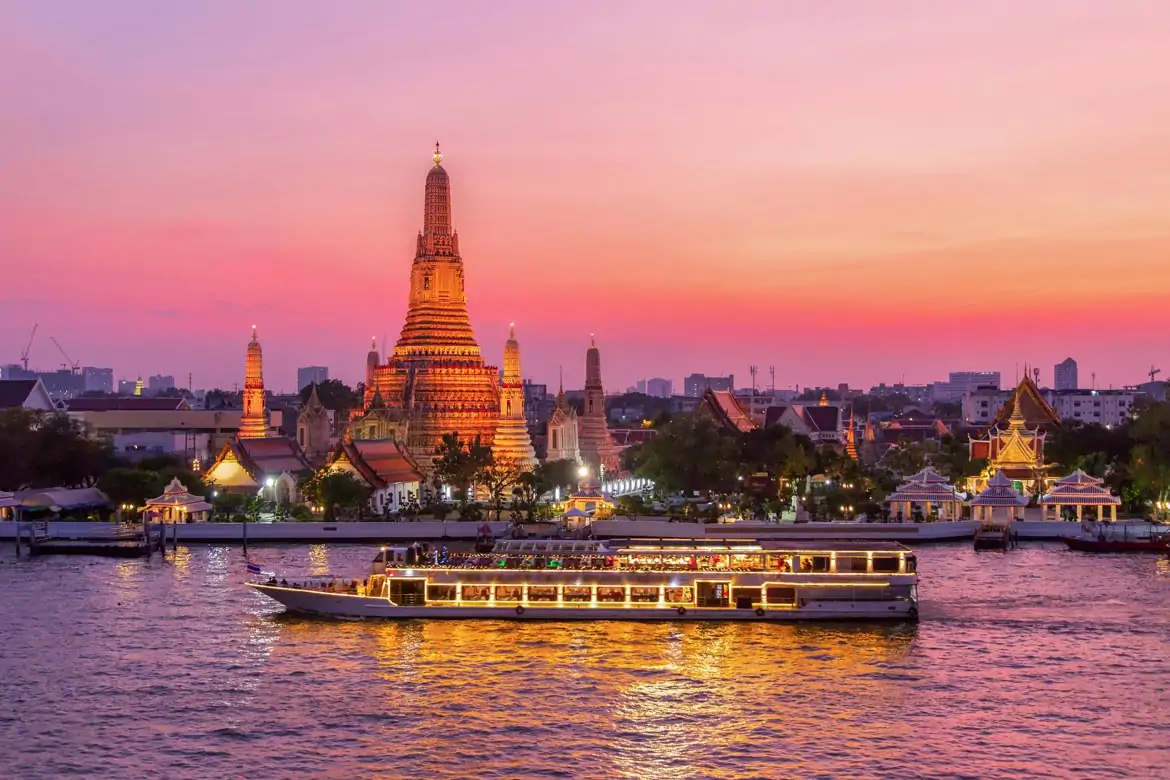 The Chao Phraya Dinner Cruise by Grand Pearl Cruise is a must for anyone who wants to experience the romance of Bangkok. Offering unforgettable views of the city, an exquisite buffet of Thai delicacies, and live music and dance, this experience is sure to delight even the most experienced traveler.
The cruise departs from the River City Pier and takes passengers upriver, past the illuminated visages of the Temple of Dawn, Grand Palace, and Temple of the Golden Buddha. Upon return to the pier, a delightful repast is served, including local and international dishes that are seasoned to perfection.
This dinner cruise by the Grand Pearl is truly an experience like no other, and one that is sure to leave one with amazing memories of Bangkok. What a wonderful way to experience this amazing city!
Cost: £37/$47 per adult. You can find out more about this food tour here.
---
So, out of these Bangkok food tours which one catches your eye? I would love to know which one you'd go on so let me know in the comments below!
Like this blog post? Then make sure you Pin it!