From traditional Lanna-style hotels to luxury villas with full spa services, the coolest hotels in Chiang Mai have something for everyone!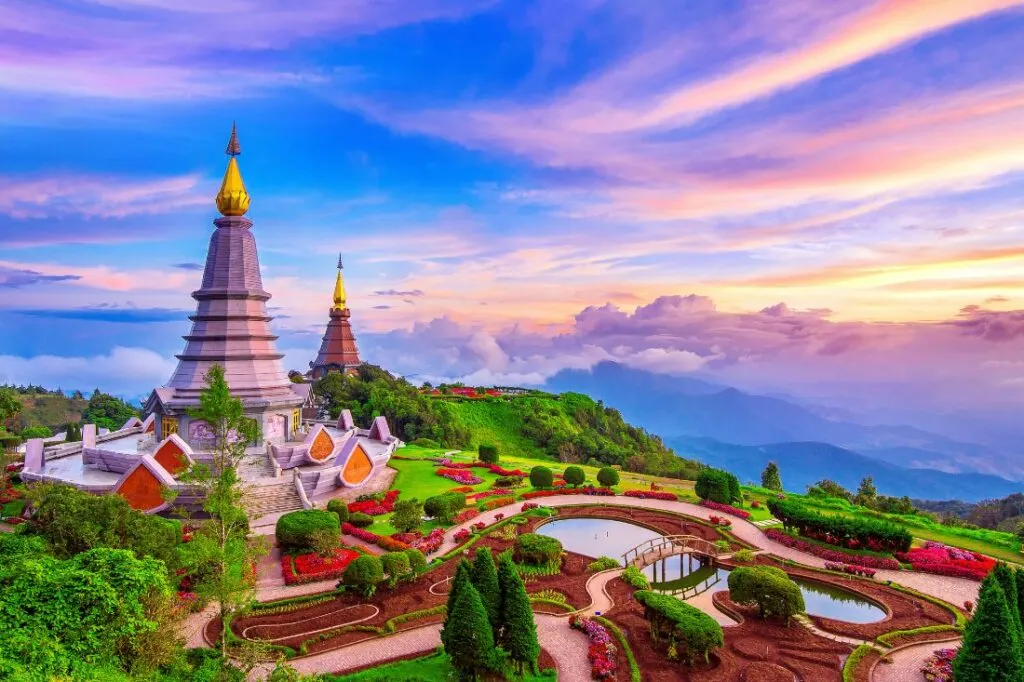 Located in the lush greenery and rolling hills of Northern Thailand, Chiang Mai is a city that's popular with travelers of all ages and budgets. As such, some of the coolest hotels in Chiang Mai are a lot more affordable than you might think – of course, the luxury hotels are pretty spectacular too!
From the traditional Northern Thai design vibes of Lanna Tree Boutique Hotel to the colonial aesthetic of the Ping Nakara Boutique Hotel and Spa to the contemporary architecture of U Chiang Mai, there is definitely something for everyone here.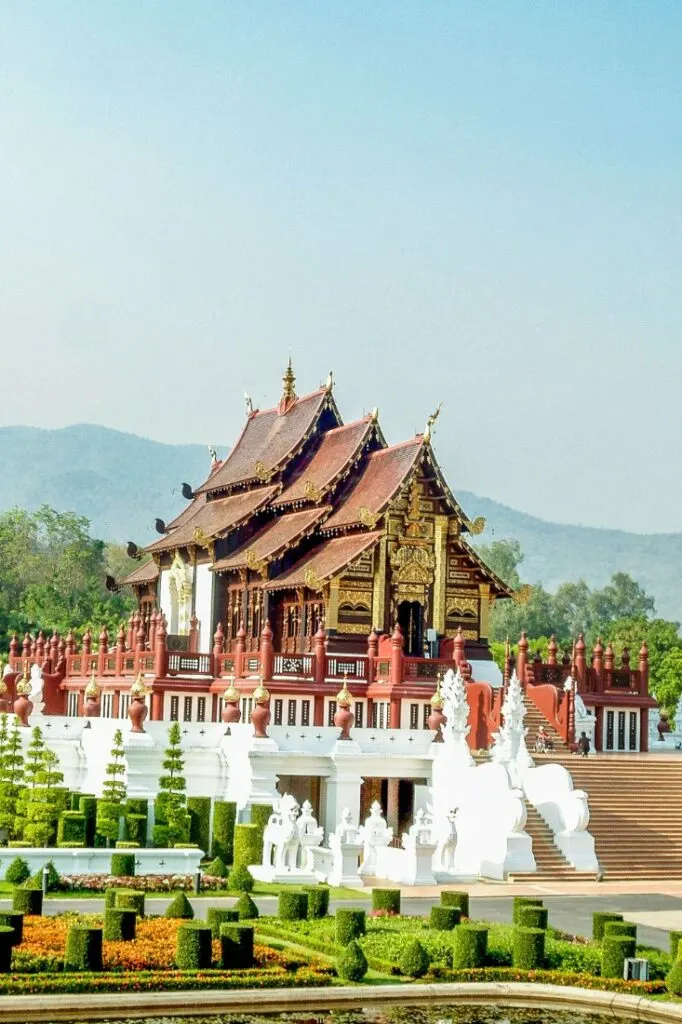 One of the things I love the most about Chiang Mai is how close everything is. Despite being a city, you can walk to the main sites like Wat Phra Singh, the Night Bazaars, and the Ping River really easily from all the Chiang Mai hotels on this list. Some even offer free bike hire if you're short on time!
With stunning Buddhist temples, an Old City neighbourhood that goes back to the 14th century, and some of the best Thai cuisine in the entire country (in my opinion), there is so much to love about visiting Chiang Mai.
Hopefully this blog post will help you decide where to stay in Chiang Mai. And as ever, if you have any questions, then drop me a line and I'd be happy to help out!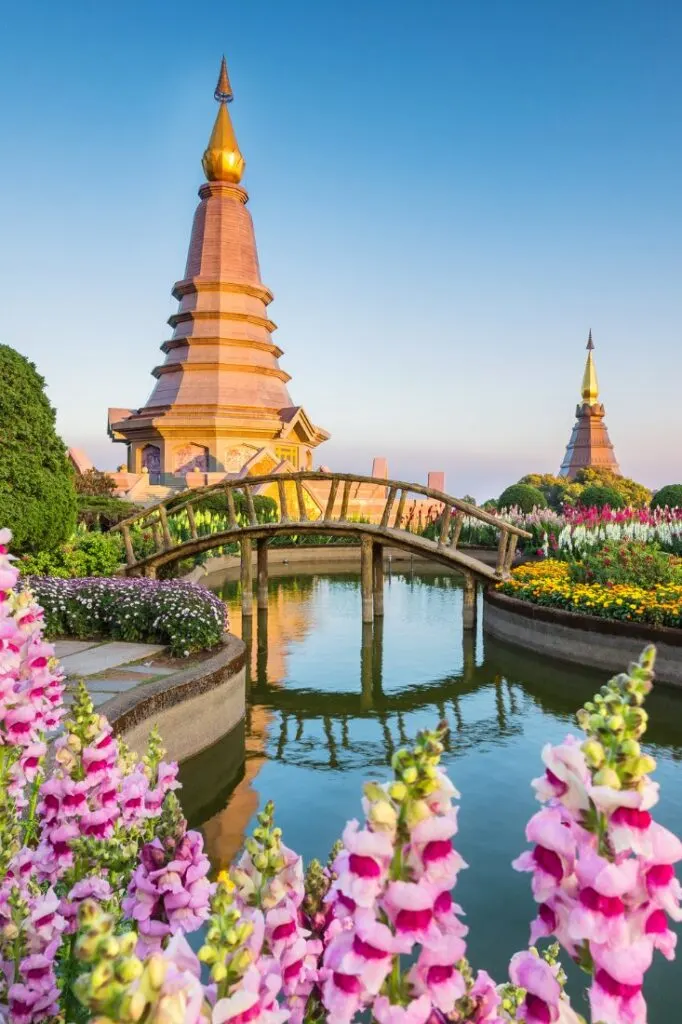 Where to stay in Chiang Mai
Old City – If you're a Chiang Mai newbie, you'll want to stay in the Old City neighbourhood. It's home to all the major temples, palaces, and shrines, which makes it a tourist hotspot. It's also super walkable so you don't have to worry about hiring transport or splurging on taxis.
Riverside – The vast majority of the luxury hotels and family-friendly accommodations can be found in the Riverside area. Located next to the Mae Ping River, there are plenty of street food stalls cooking up the catch of the day, so it always smells amazing.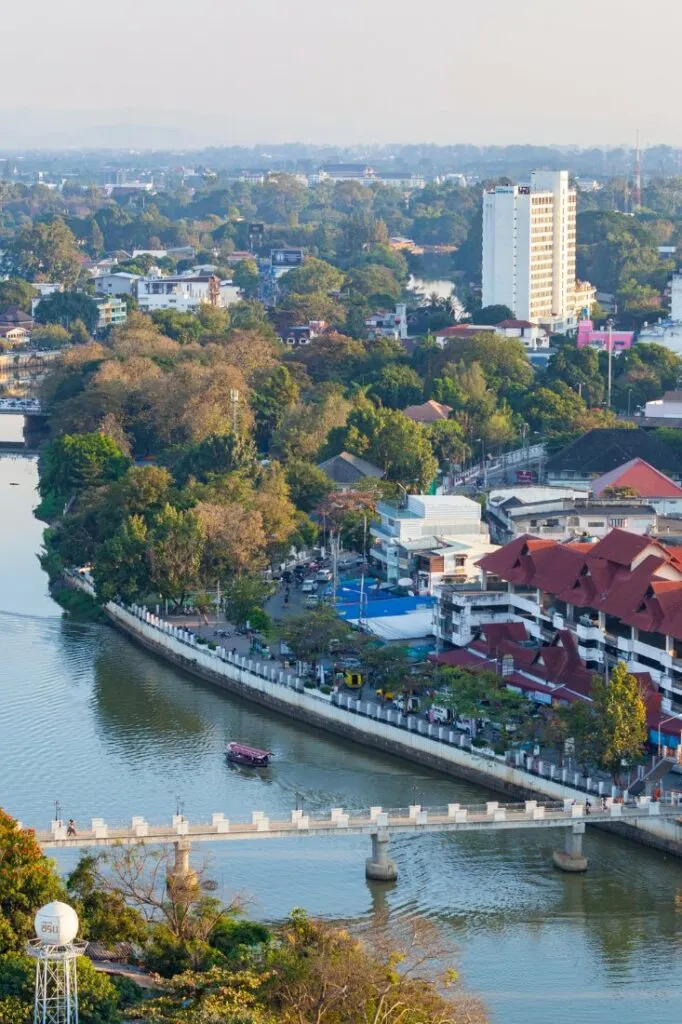 Night Bazaar Area – Shopaholics, I've found your favourite place in Chiang Mai! With bustling stalls pretty much 24 hours a day and plenty of nightlife options, the Night Bazaar area is always bustling with activity. It can be a lot, so if you need your peace and quiet, maybe stay elsewhere…
Nimman – Want a bit more of a lively atmosphere? The Nimman area is where you'll find a lot of backpackers, young people, and digital nomads. Away from the tourist attractions, you'll find tons of great cafes, bars, and restaurants, giving it more of a laid-back and local vibe.
---
Coolest Hotels in Chiang Mai
Luxury Hotels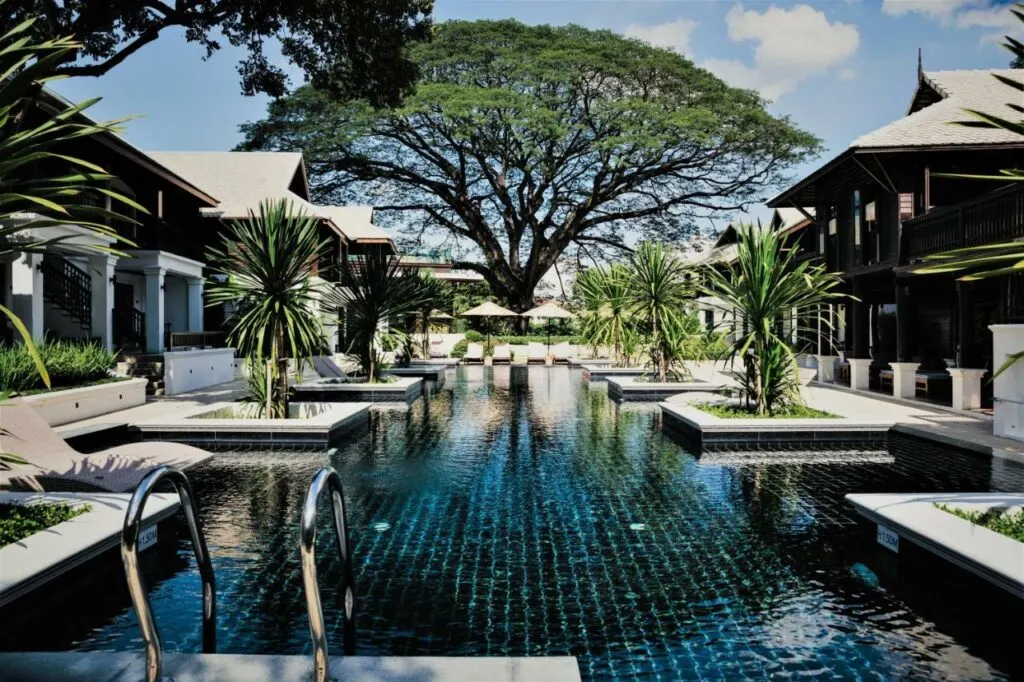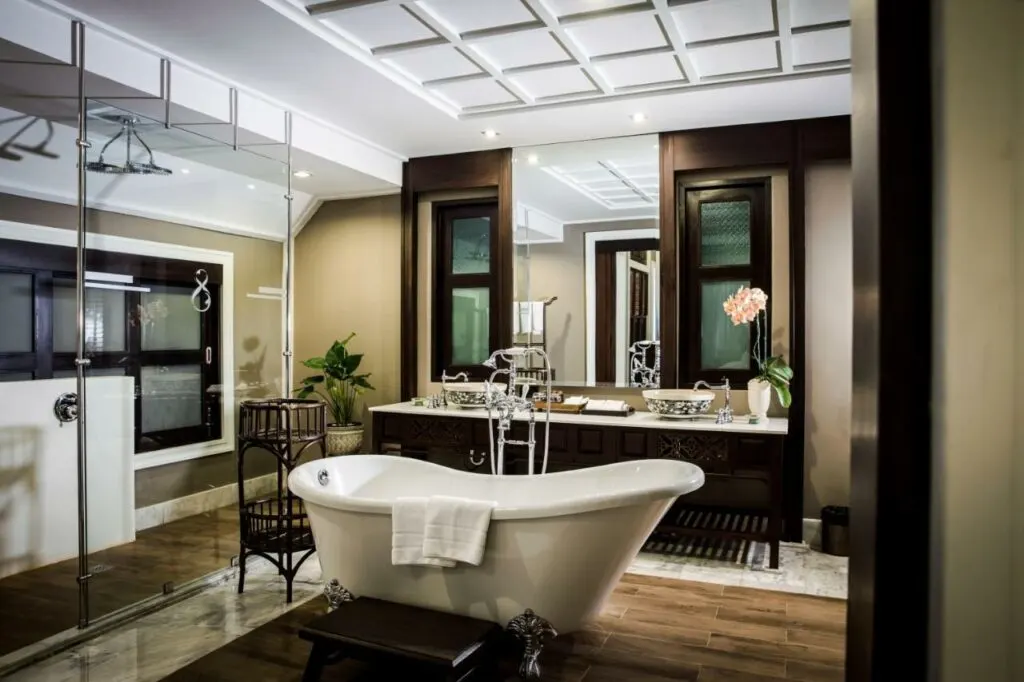 Looking for a contemporary hotel in Chiang Mai? Na Nirand Romantic Boutique Resort just oozes class and style from the moment you walk through the door.
With sleek and modern design notes throughout the hotel and the gorgeous outdoor areas combined with flashes of traditional Northern Thai styles, it perfectly comes together to create an atmosphere like nowhere else in the whole of Chiang Mai. This is what staying in Chaing Mai is all about – secluded luxury.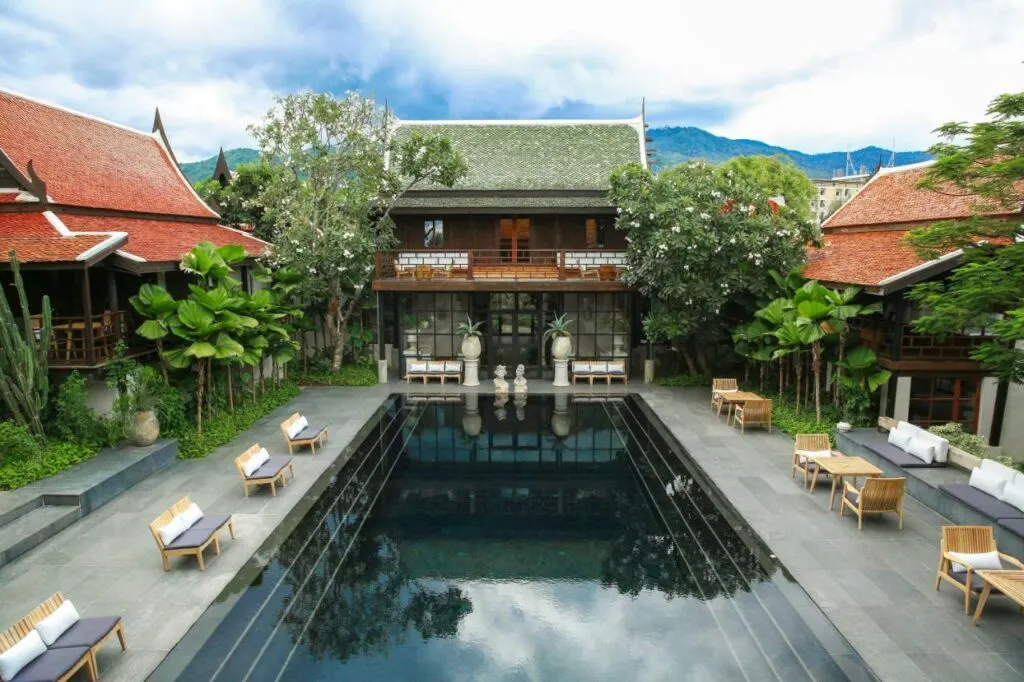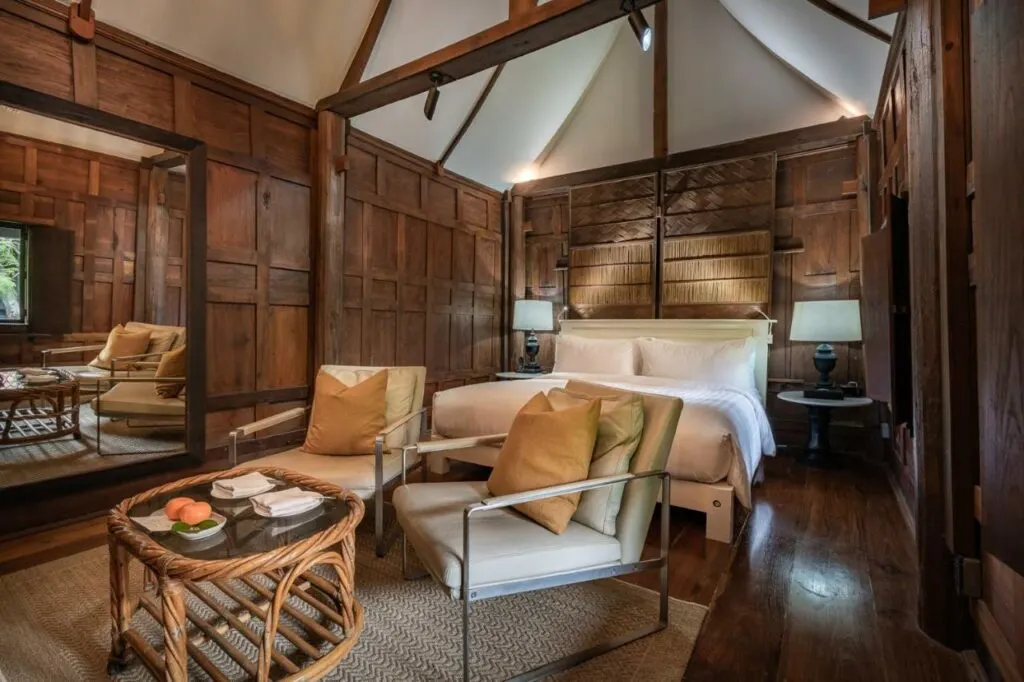 Made up of a series of deluxe suites and stunning villas, the Villa Mahabhirom resort is luxury personified. With villas that have amazing views of Doi Suthep Mountain, and gorgeous outdoor areas that are tranquil and serene, it's the Northern Thailand escape that you've been searching for!
Sit by the sleek pool, wander the lush green grounds, or even enjoy an alfresco meal on the sun deck. With its old-school wooden teak colonial-style interiors, this is one of the most unique hotels in Chiang Mai. I would really recommend staying here!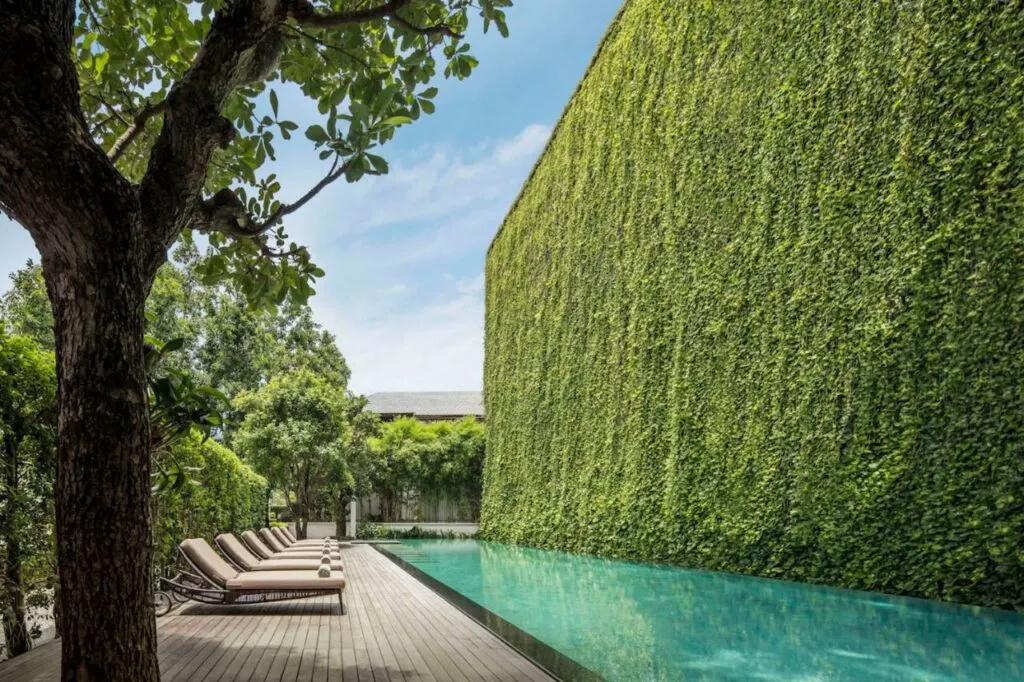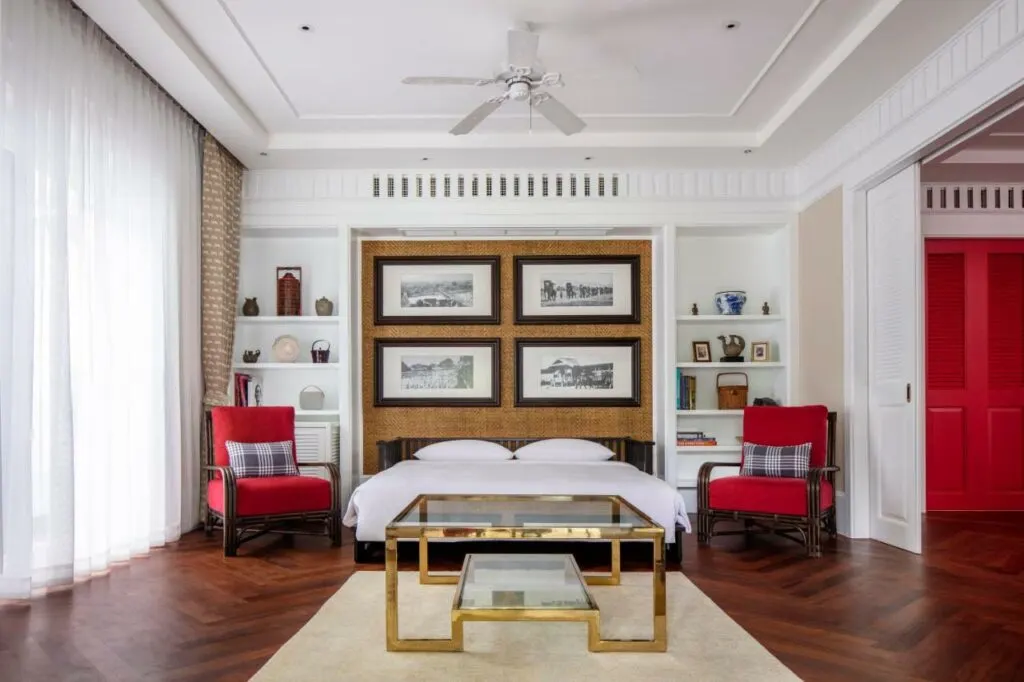 Want to treat yourself to a VIP experience in Thailand? The 137 Pillars House hotel does do rooms – it does full suites. Live like a celebrity with full spa facilities, gardens, a fitness centre, and a stunning pool all available for you to use during your stay.
Despite the large size of the grounds and outdoor areas, everywhere feels secluded and private. It's the perfect spot to just get away from it all!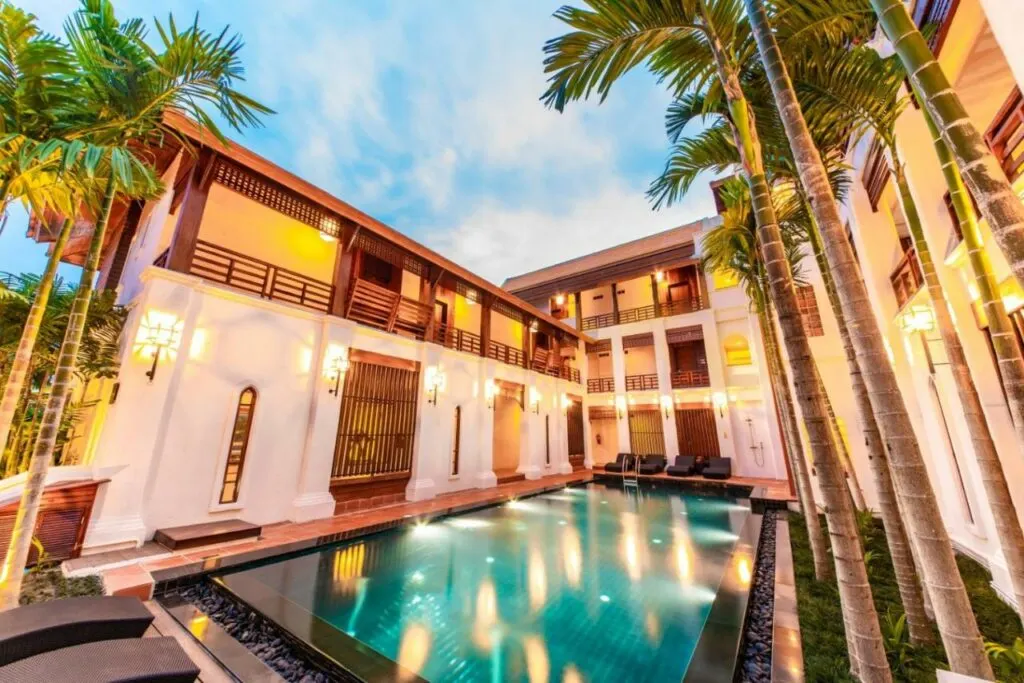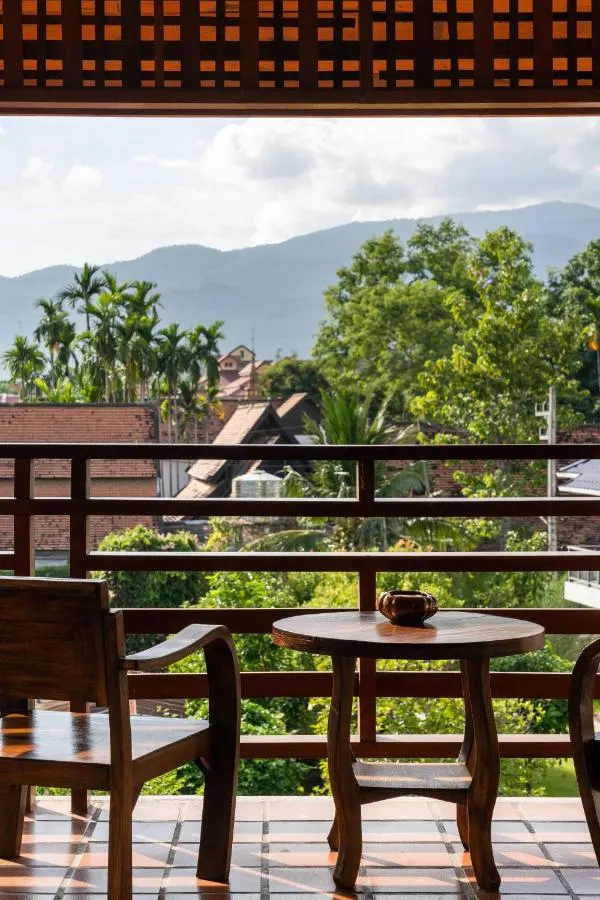 If you're wanting an oasis of calm and serenity in the centre of Chiang Mai, you'll find just that at the Phra Singh Village. This opulent resort has a huge outdoor swimming pool area, free bikes that you can hire, and a full state-of-the-art fitness suite if you're looking to work up a sweat. It's easy to see why this is one of the best luxury hotels in Chiang Mai.
Relax with a morning cup of coffee on your very own balcony, or come down to the cathedral-like lobby area and read your book for a while. It's a luxurious home away from home.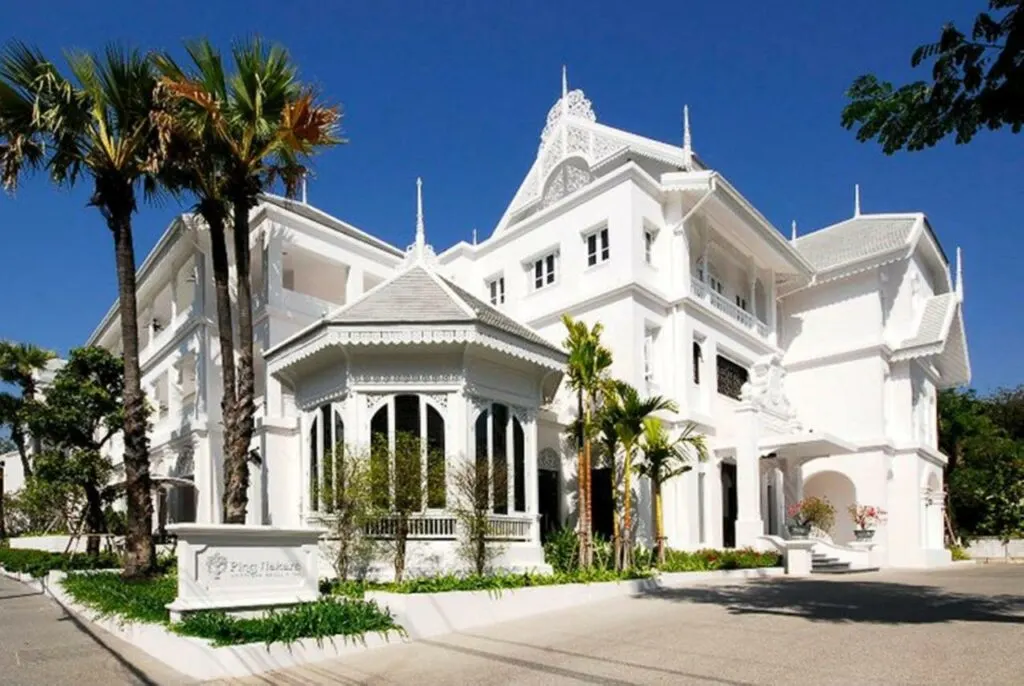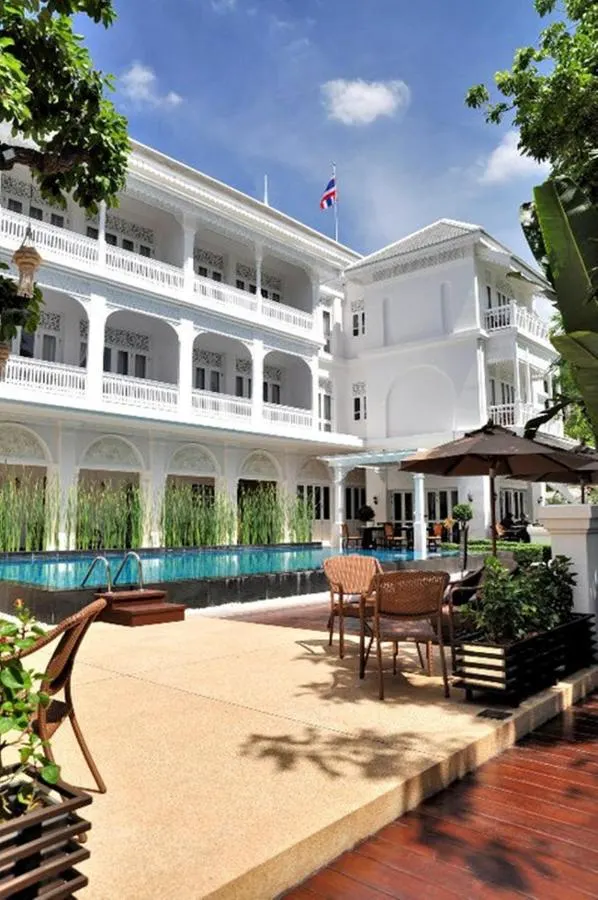 Sometimes you just want to be pampered. At the luxurious Ping Nakara Boutique Hotel and Spa, that's exactly what you're going to get. Set inside a grand colonial-style building, this Chiang Mai hotel stands out from the rest.
Whether you're treating yourself to a delicious massage, want to hang out on one of the poolside loungers, or chill out in the spacious and tastefully-decorated rooms, the choice is entirely up to you!
Mid-range Hotels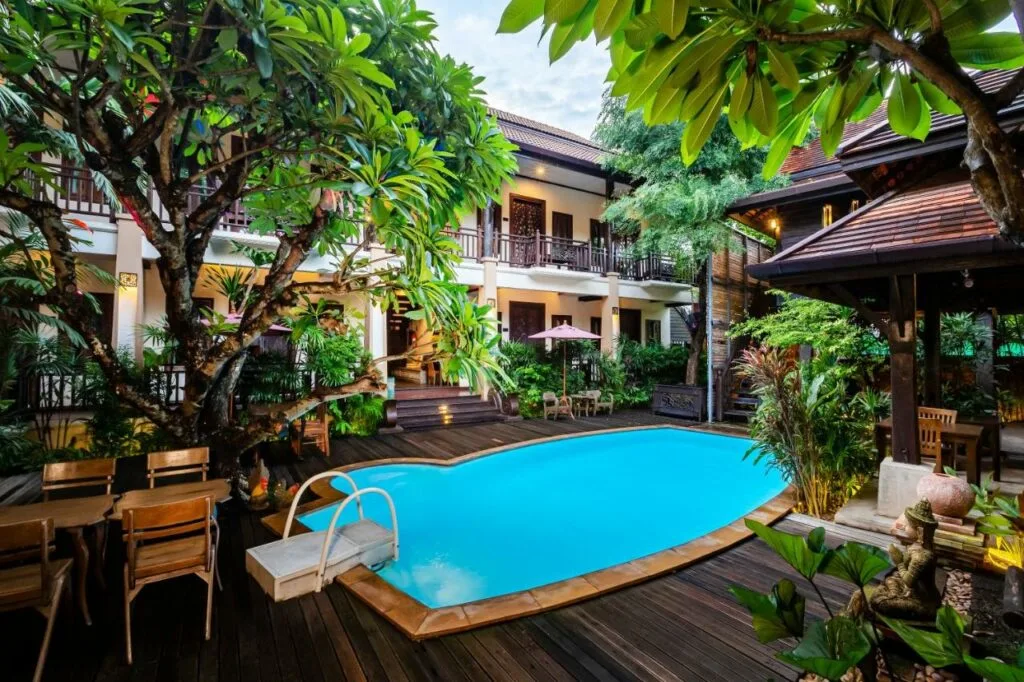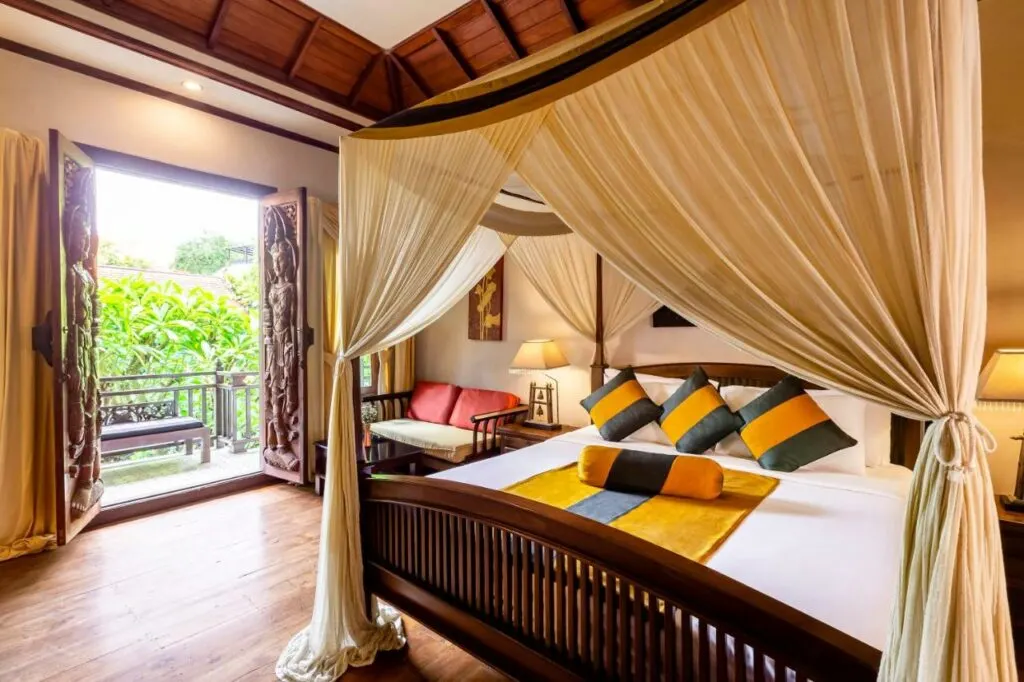 If you're looking for laid-back vibes in the heart of Chiang Mai, you need to check into Amata Lanna Chiang Mai. Designed around the central outdoor pool area, this gorgeous hotel definitely has more of a resort vibe without the expensive price tag.
From the chilled-out common areas to the jungle-like pool region, to the relaxing bedrooms, complete with four poster canopy beds, any stay at the Amata Lanna Chiang Mai is bound to be a memorable one.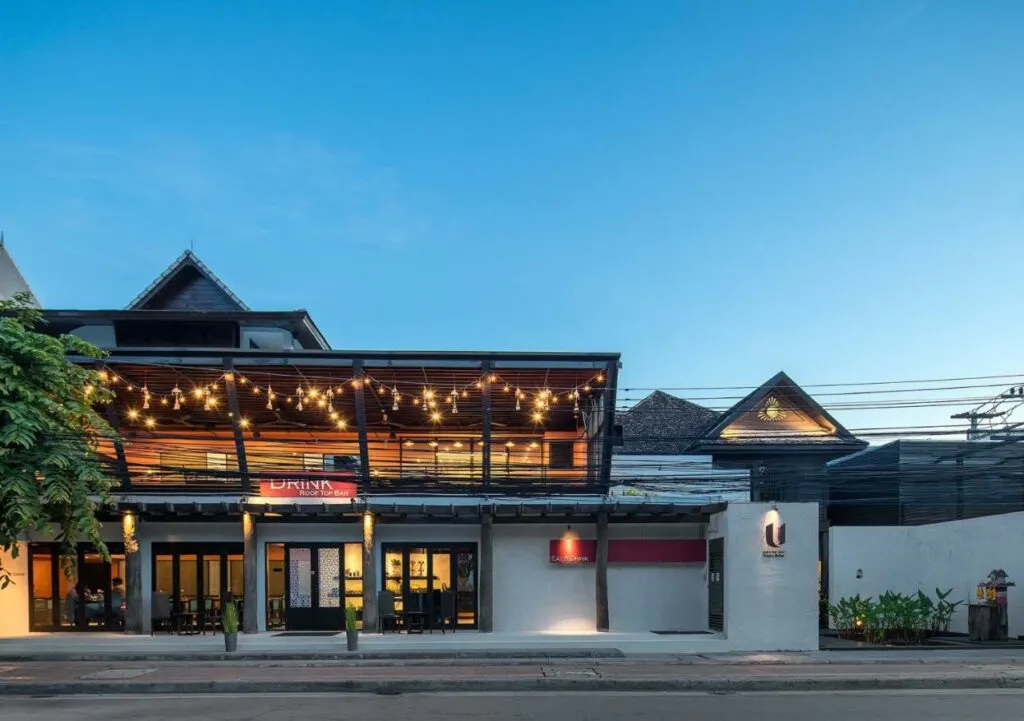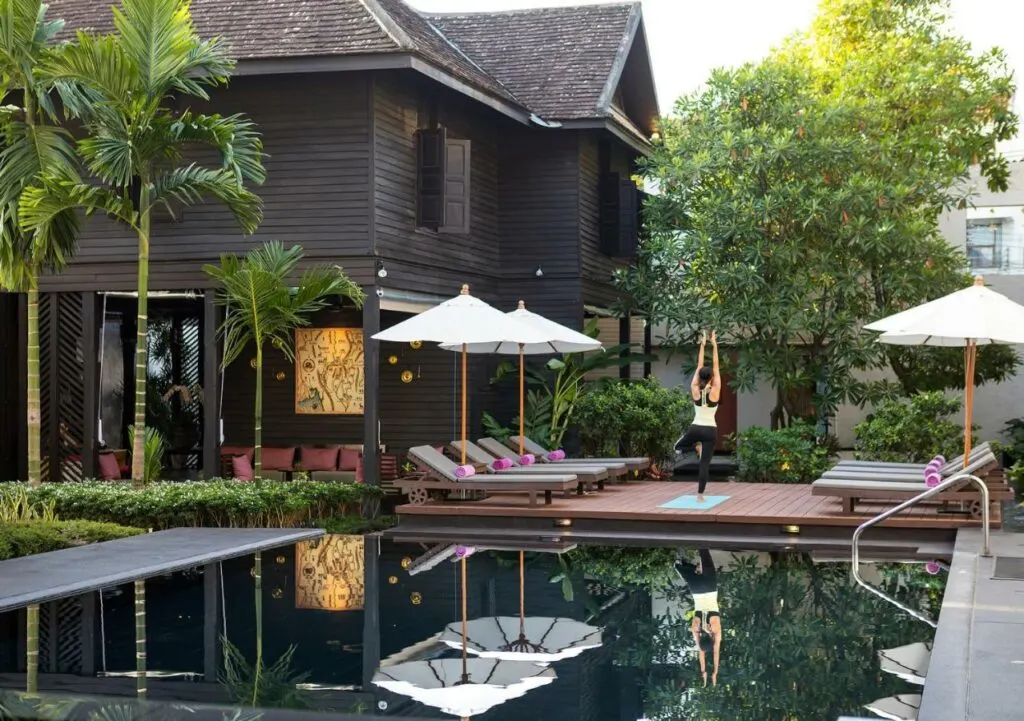 You can tell that this is one of the coolest hotels in Chiang Mai before you even step through the door. The striking architecture of the U Chiang Mai stands apart from the rest of the hotels in the area and has a completely different design style.
Favouring dark and contemporary style over the popular traditional Lanna styles elsewhere in the city, U Chiang Mai feels modern and sleek from the get-go.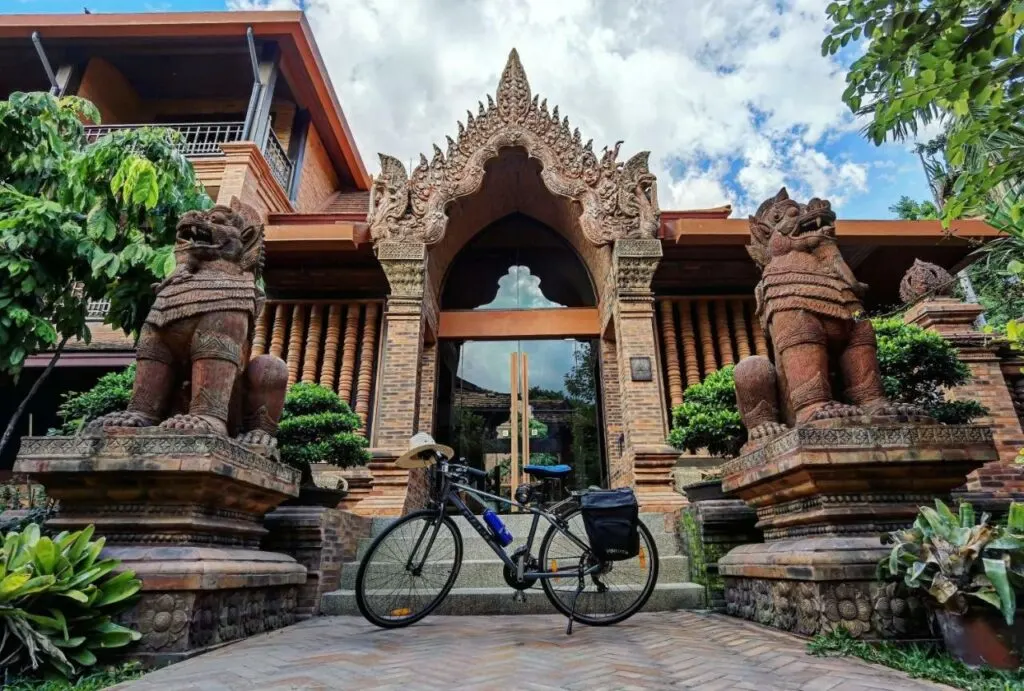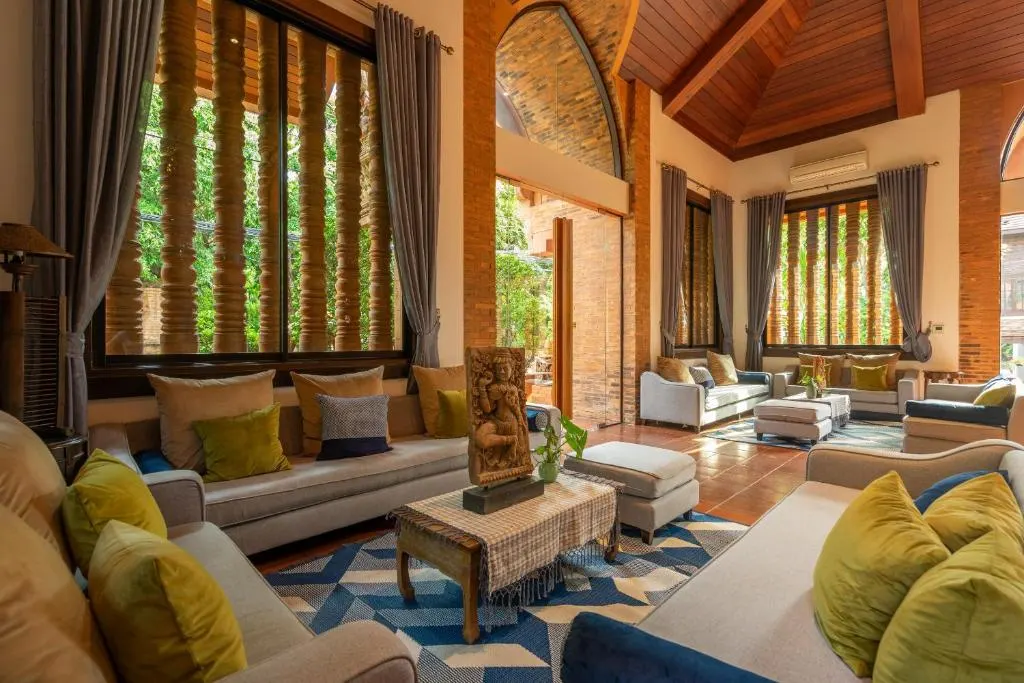 Want a hotel that's an art gallery, tranquil garden, and stunning hotel all rolled into one? Phor Liang Meun Terracotta Arts has to be one of the coolest places to stay in Chiang Mai in my humble opinion. From the moment you arrive through the sculpted gateway, you know you've arrived somewhere special.
With gorgeous high ceilings, traditional Northern Thai design notes, and a whole host of serene outdoor spaces to relax in, you can forgive yourself for forgetting you're in the heart of the city.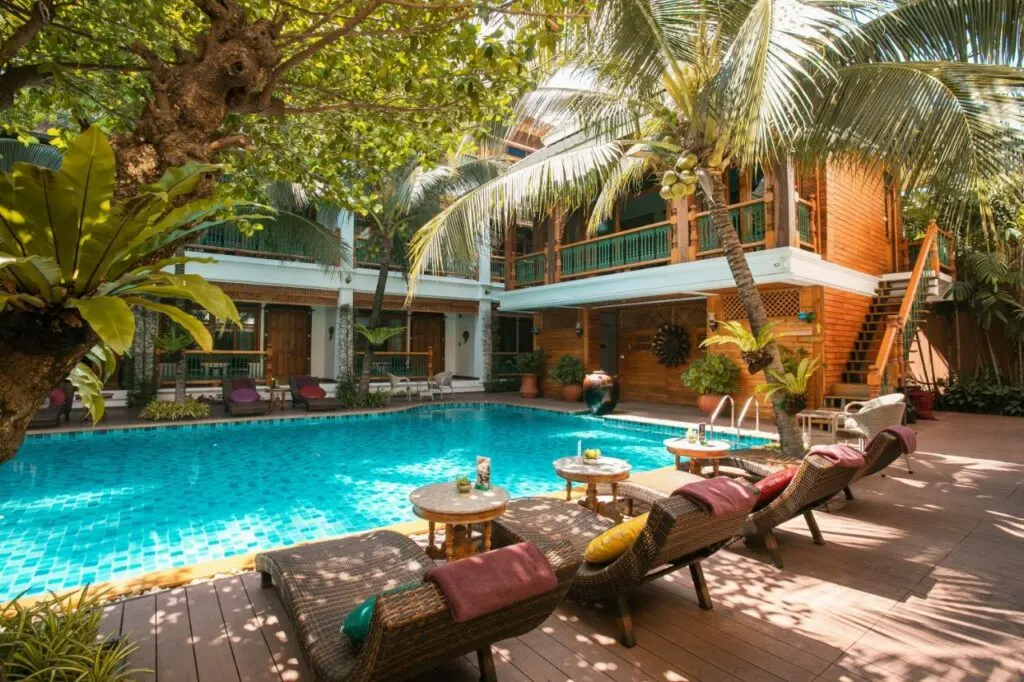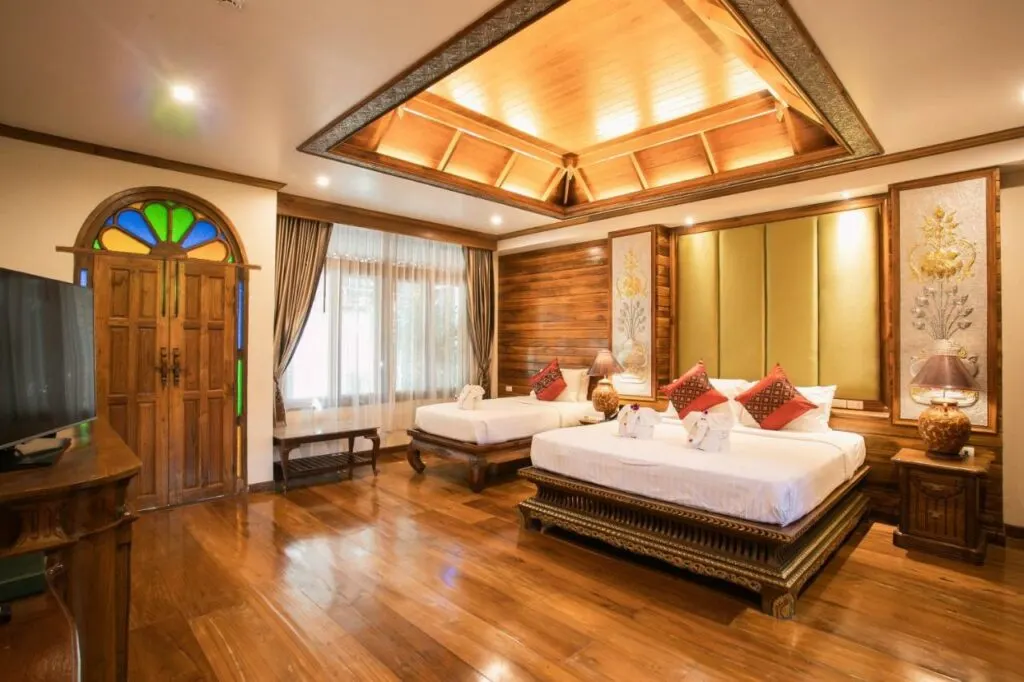 Located just 750 yards away from the amazing Wat Phra Singh, Pingviman Hotel is a quintessential Northern Thai hotel experience. Filled will colour and traditional wooden styling, the hotel feels warm and comforting from the minute you check-in.
All the rooms are super spacious, which isn't a given if you're staying in the Old City neighbourhood let me tell you, and the swimming pool area feels nice and secluded.
Budget Hotels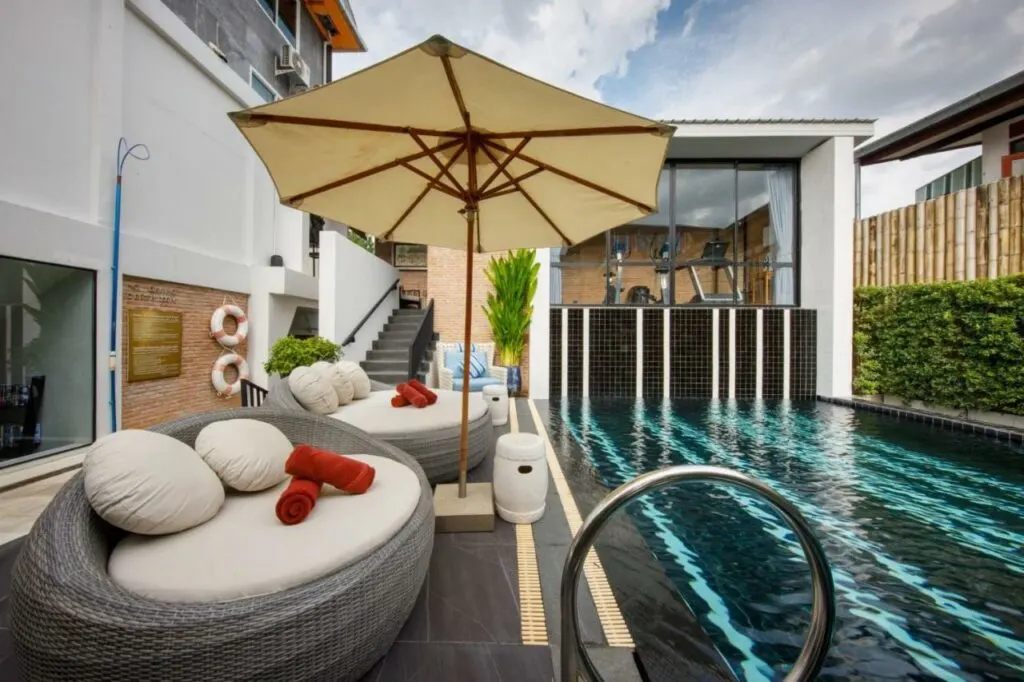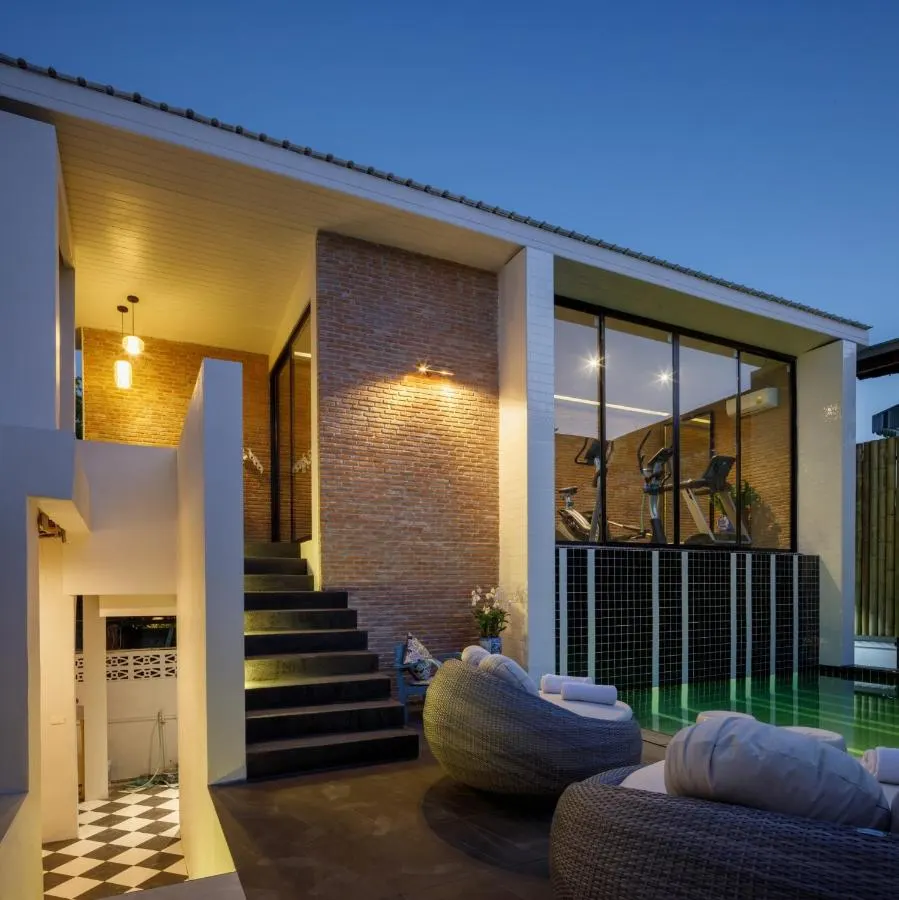 Are you looking for unique accommodation in Chiang Mai with an artistic escape with a Thai twist? Chala Number 2 Art and Gallery offers a perfect blend of bright and vibrant common areas with calm and relaxing rooms, that are an ideal respite from the hustle and bustle of central Chiang Mai.
Located just 350 yards away from the stunning Chedi Luang Temple, you really are in the heart of the action here, and some of the rooms have gorgeous, unobstructed views of the temple itself!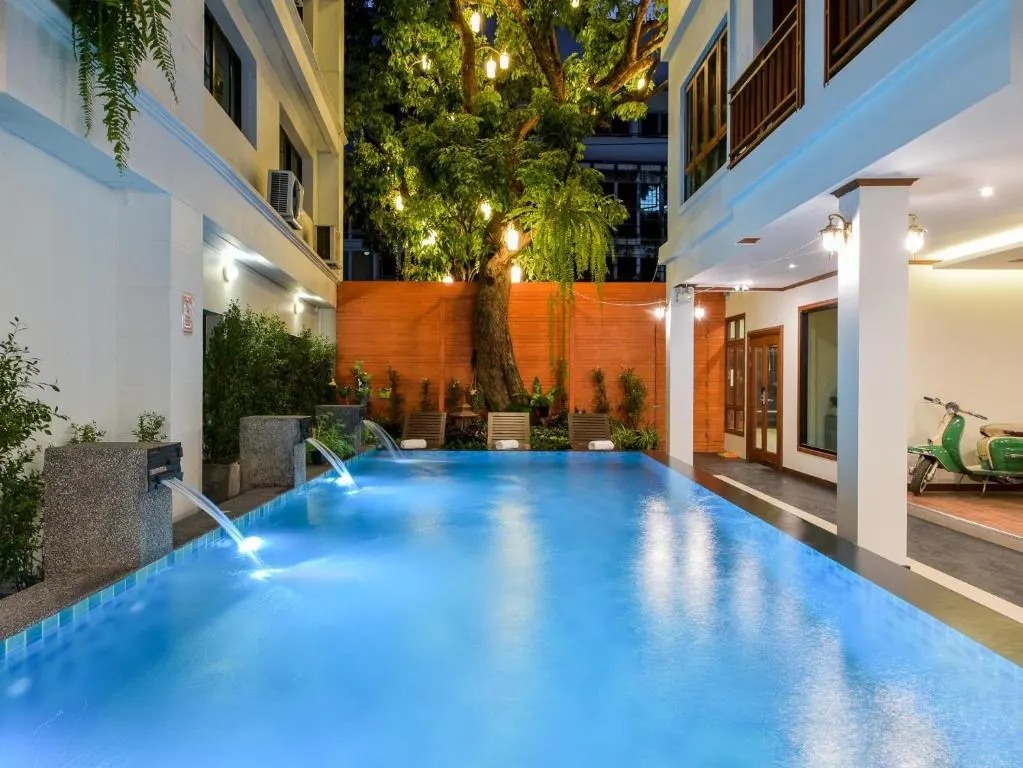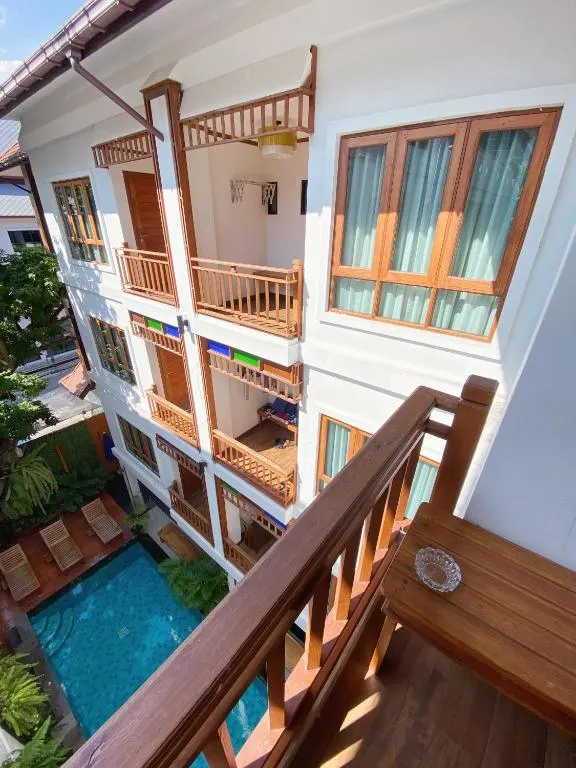 If you're after a boutique Chiang Mai hotel experience without having to pay a boutique resort price tag, you're going to want to check into Lanna Tree Boutique Hotel. From the secluded outdoor courtyard swimming pool to the free bikes available to rent to the expansive city views, Lanna Tree Boutique Hotel is a great shout for your next stay in Chiang Mai.
It's even located just 100 yards away from the stunning Wat Chiang Man temple, so you know you're close to all the key attractions.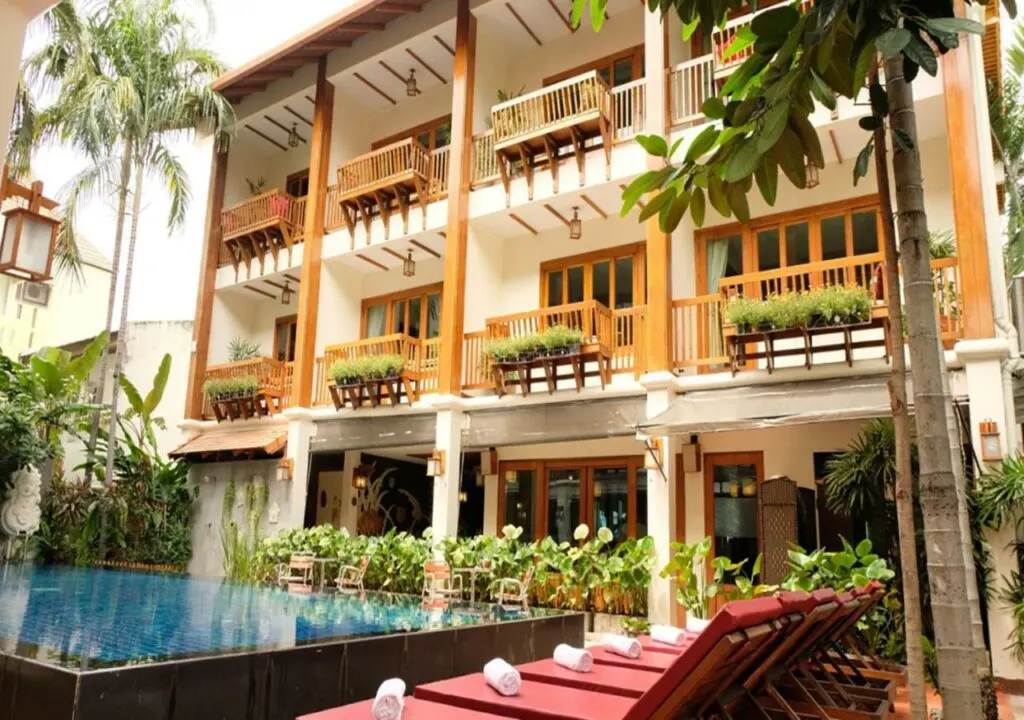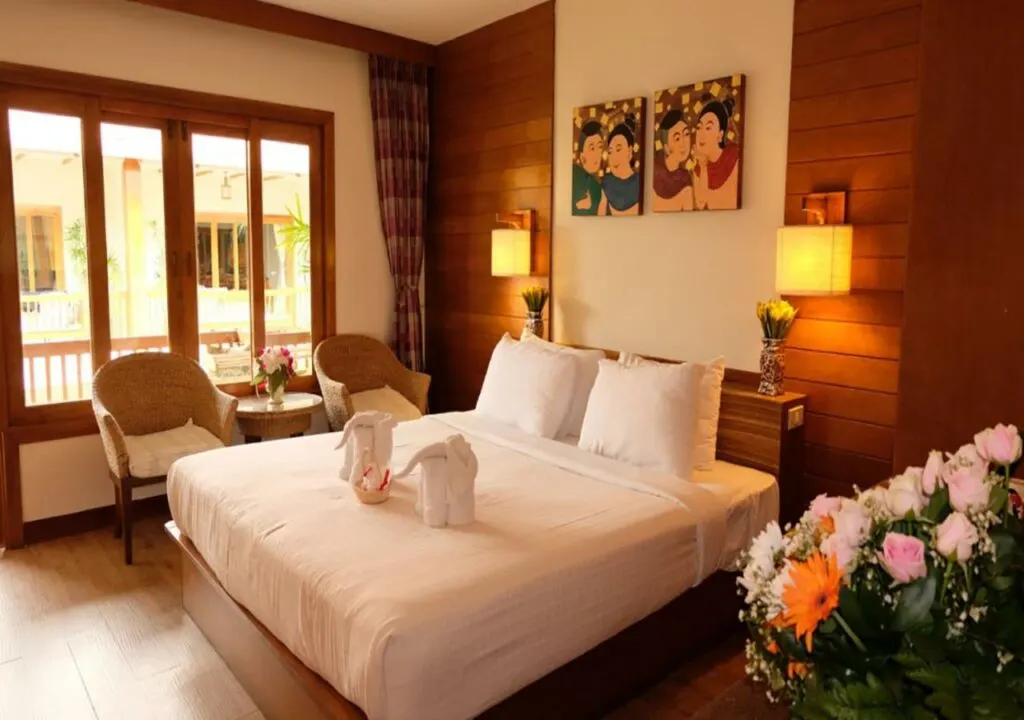 Want to float in your outdoor swimming pool surrounded by lush greenery in a traditional Thai-style, affordable hotel? Well, one of the coolest hotels in Chiang Mai has all that and more. Vieng Mantra Hotel is located just a short 5-minute walk to Thapae Gate and only 15 minutes from the iconic Night Bazaar.
The outdoor pool area and room balconies are the showstoppers of this Chiang Mai hotel. Spend time in the beautiful Thai sunshine and take a moment to cool off in the refreshing waters.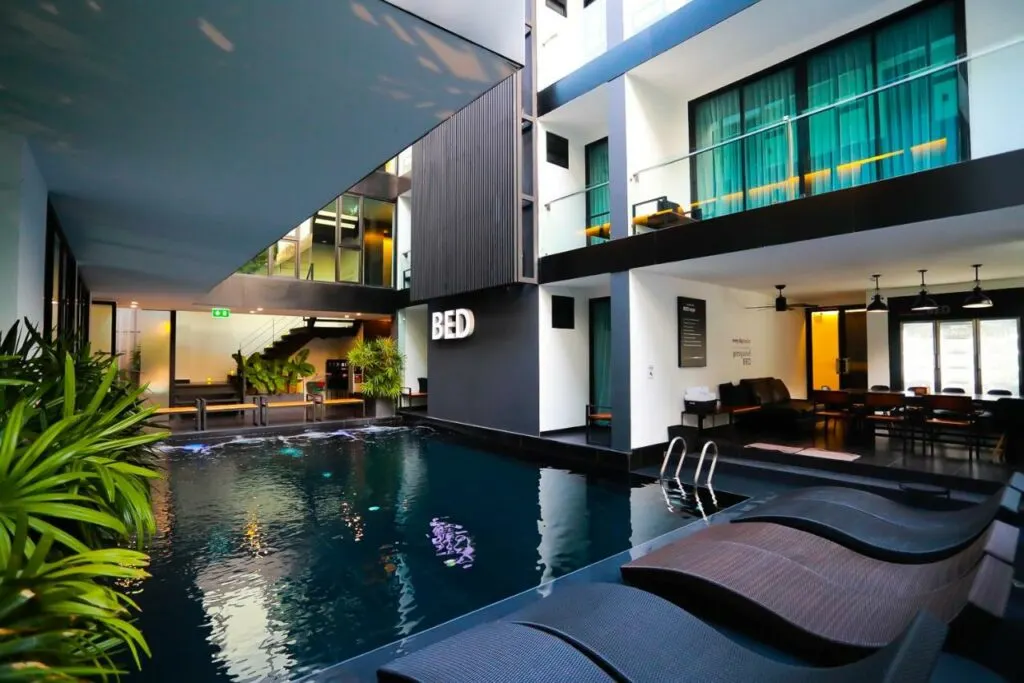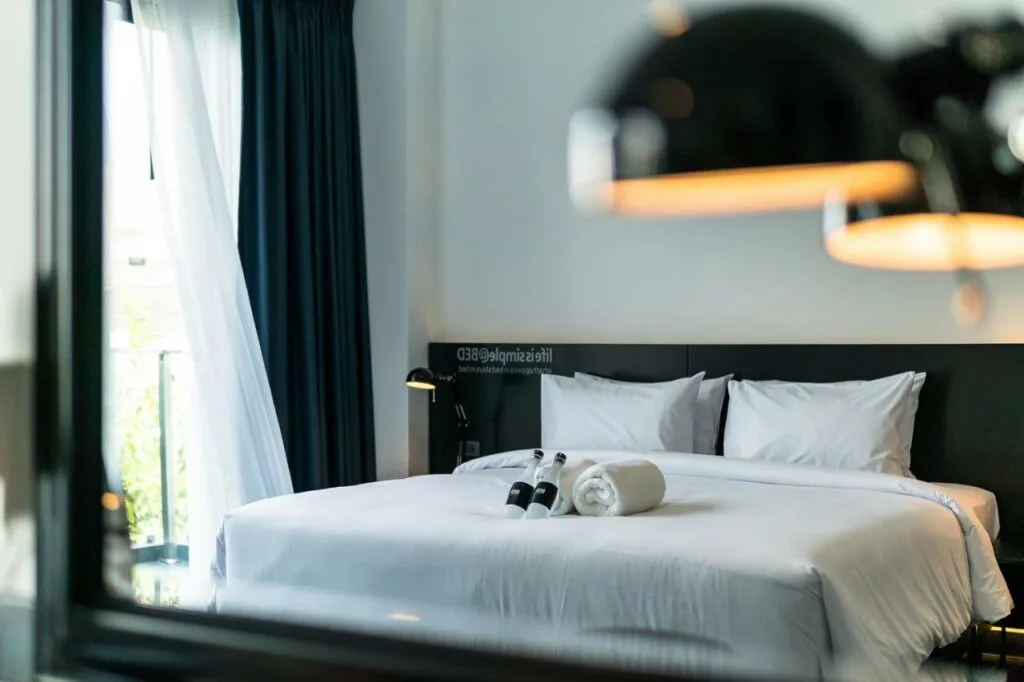 If you're looking for an affordable hotel in Northern Thailand that is sleek and modern, look no further than BED Chiangmai Gate. Located near the airport and the Saturday night walking markets and night bazaar, this hotel is definitely in the ideal place, and if you want to go further afield, the hotel offers free bike hire! Sit on the sun deck, have a dip in the swimming pool, or relax in the super modern rooms!
---
So, there you have it, the coolest hotels in Chiang Mai, Thailand. Where do you like to stay when you're in Northern Thailand? Let me know in the comments below and I'll be sure to check them out!
Like this blog post? Then Pin it for the future!