From wandering around Castle Combe to seeing the infamous Mill at Lower Slaughter, these are the best villages in the Cotswolds for your next adventure!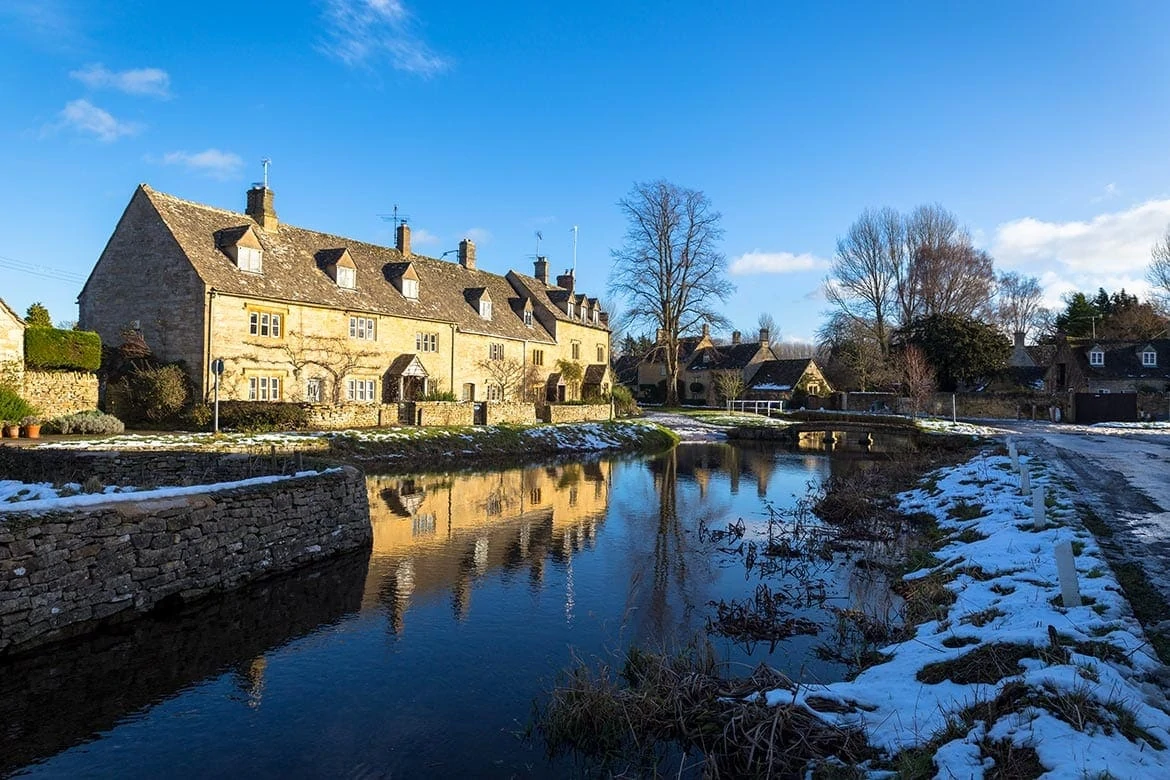 There aren't many places left in the United Kingdom that make you feel like you've stepped back in time, but the Cotswolds is definitely one of them. There's just something so magical about travelling around here.
It doesn't matter if you're looking for an active holiday of hiking in the rolling hills, or something a lot lazier like hunkering down by the fire in a traditional pub, there's something for everyone in the Cotswolds.
From little towns with cosy tea rooms to stunning views of the English countryside wherever you look, in this blog post I'll go into the best villages in the Cotswolds for you to visit.
Tick off any of these and you're in for an amazing time!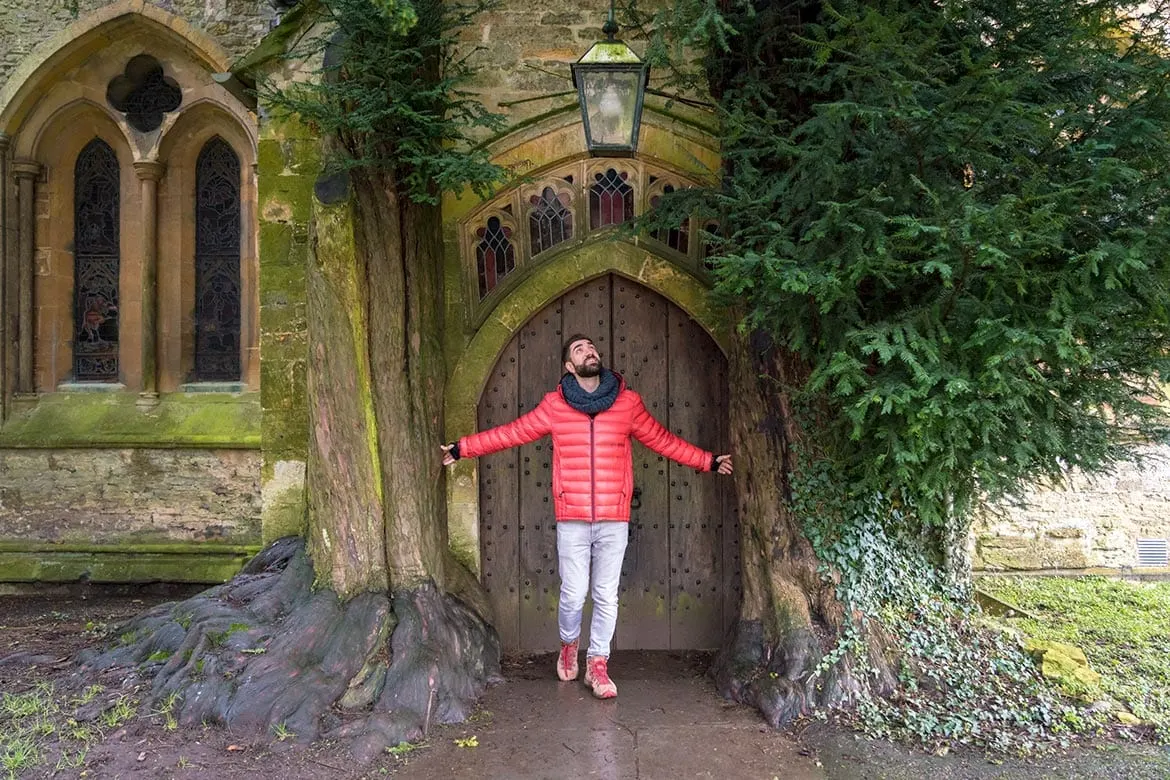 Getting around the Cotswolds
I really love flying the flag for the Cotswolds. I *suspect* it might be a place I move to in about 10 years' time. There aren't many places where I can say that in the UK.
I usually come here at least once a year, especially as it's a lot closer to London than people realise. It's also the perfect place for a road trip where you can visit a few Cotswolds villages in just a few days.
A great way of getting around and seeing all of these villages in the Cotswolds is renting a motorhome or caravan with Goboony. These guys have some of the best affordable campervans around, and it's the perfect way of ticking off a lot of places while saving on accommodation.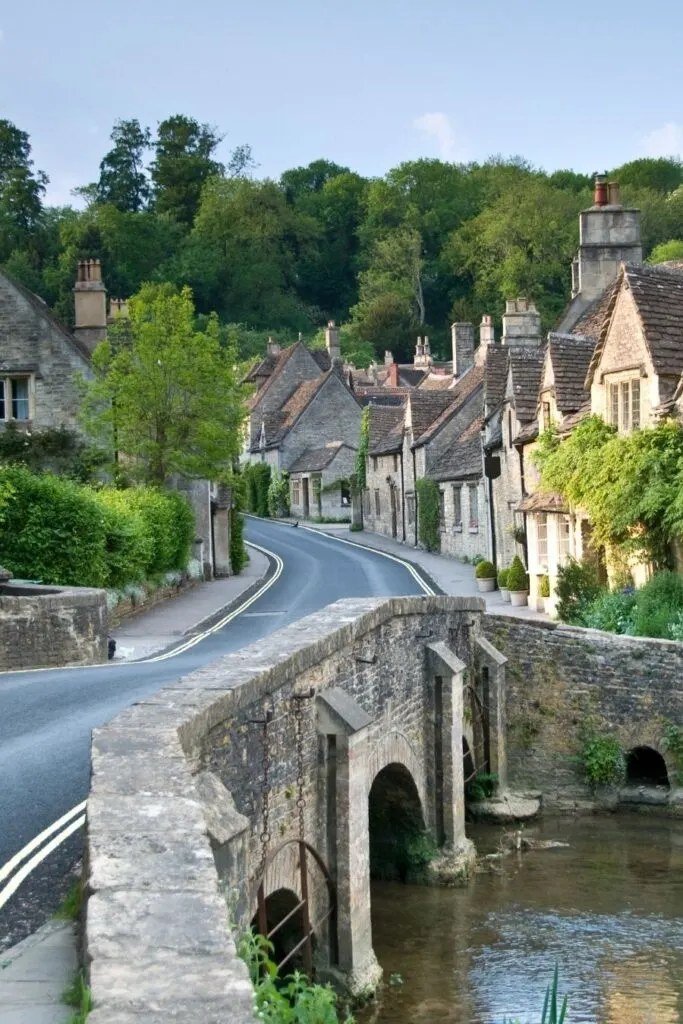 So, if you're planning a trip here but you're unsure where to visit first, then I've got you covered. From Bibury to Lower Slaughter to Moreton-in-Marsh, these are some of the best villages in the Cotswolds for you to see.
I really hope you enjoy the Cotswolds as much as I do!
---
Best villages in the Cotswolds, England
Arlington Row, Bibury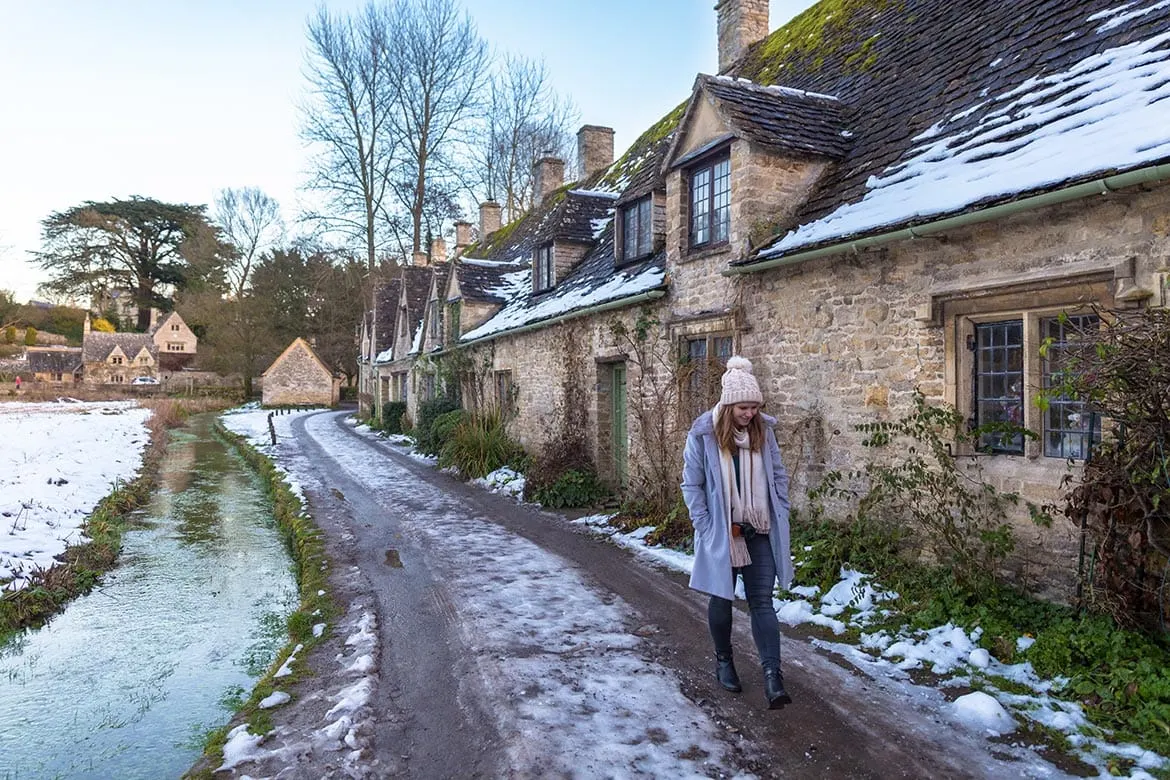 Bibury was once described by the famous artist William Morris as "the most beautiful village in England" and that's partly down to Arlington Row. This is a row of houses built in 1380 that tourists come from all over just to get a photo of (the locals must find it so annoying!)
During summer, Arlington Row can get very busy with bus loads of tourists taking photos and selfies all from the same spot. Saying that, and I really don't want to put you off, but this is one of the prettiest villages in the Cotswolds.
If you have a car, I'd really recommend visiting either early in the morning or later in the afternoon. Then you're much more likely to have the place to yourself which makes for a much nicer experience. Also, outside of the summer months is a fantastic time to visit too.
Still, there's plenty more to Bibury than Arlington Row. There are a couple of cute cafes for afternoon tea and The Swan Hotel is a lovely place to stay at. The restaurant here is top notch too for those foodies among you.
Lower Slaughter
The Mill at Lower Slaughter is another of those places you just have to visit.
Right in the heart of the Cotswolds, Lower Slaughter is a tiny village with a beautiful stream cutting the place in two.
On one side of the water is the old mill that dates all the way back to 1086 (yes, you read that right!) There's a museum at the mill that's well worth checking out to learn more about the history of the area, or you can head to the Slaughters Inn and swap stories with the locals.
Lower Slaughter is also home to one of the best hotels in the Cotswolds. The Slaughters Manor is a beautiful 17th century 4* house which combines contemporary interiors with country charm. I feel like this hotel represents the best of the Cotswolds – classic architecture, gorgeous views and an unbelievable restaurant too.
Just make sure you get *that* photo walking across the bridge here.
Upper Slaughter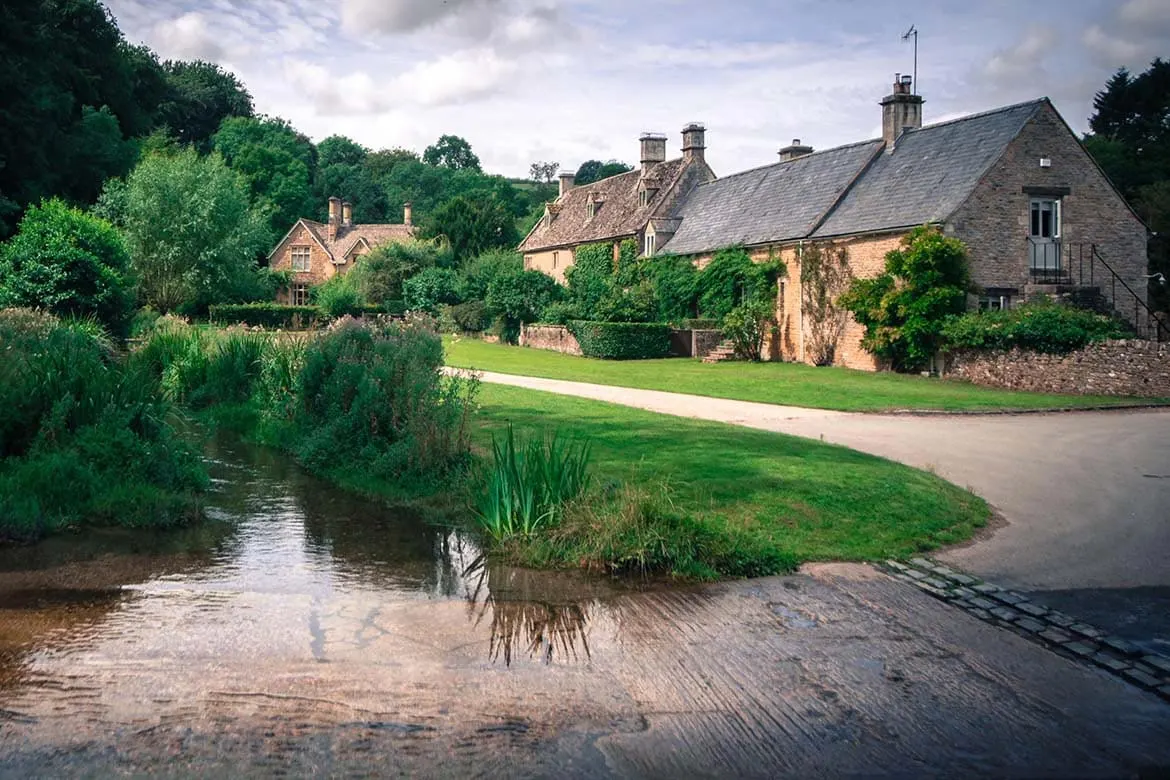 As I'm sure you can guess, Upper Slaughter is the village next to Lower Slaughter. To get here you have to drive through some very windy and narrow roads. I've driven this road in depths of winter when there's been lots of snow and I wouldn't really recommend it. If it's not snowing though (so the other 360 days of the year) then you'll be fine.
Alternatively, the walk from Lower Slaughter to Upper Slaughter is only around 30 minutes. This is a walk that takes you through the rolling hills that the Cotswolds is famous for.
Upper Slaughter is known as a 'double thankful village'. This means that it lost nobody during WW1 AND WW2 (a little pub quiz fact for you there).
It's definitely one of the best villages in the Cotswolds though and well worth visiting on your trip.
Bourton-on-the-Water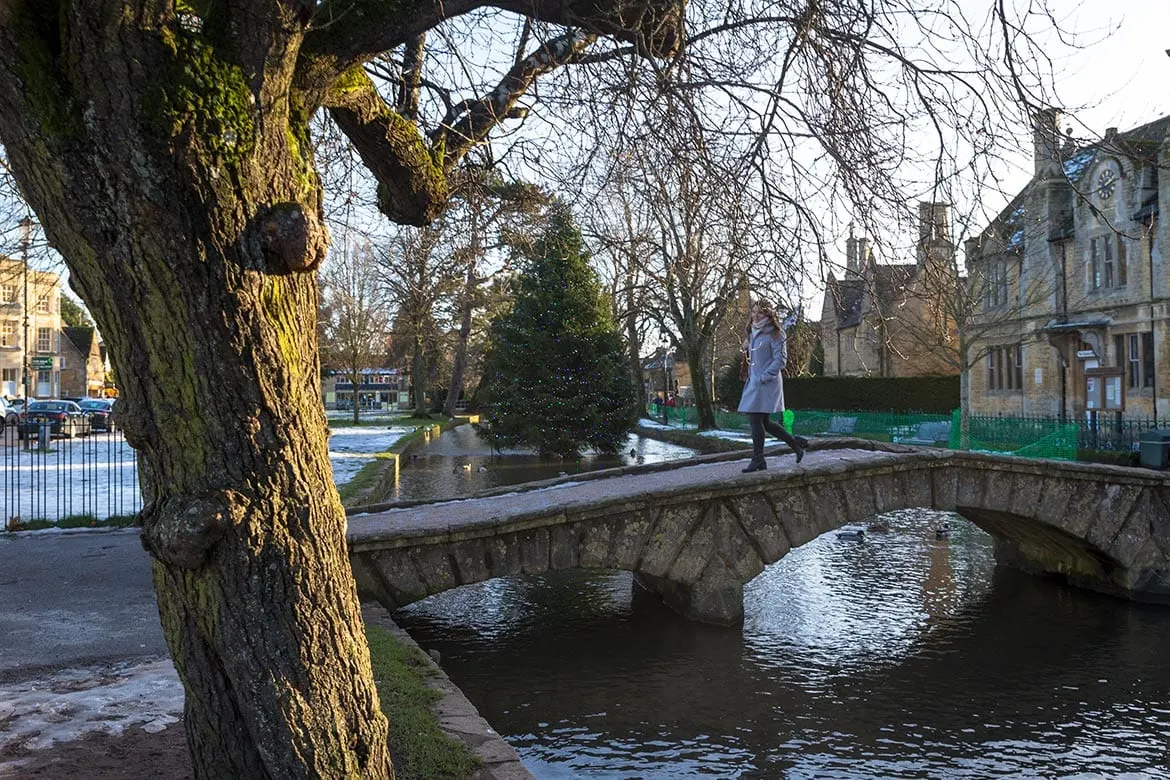 You can probably tell by now the Cotswolds has more than its fair share of picturesque villages (I did warn you at the start!) and Bourton-on-the-Water is another of these.
This popular village is often referred to as the "Venice of the Cotswolds" because of the attractive little bridges that cross the gently flowing River Windrush, which runs through the centre of it.
Kids will love the model village and the Dragonfly maze, and adults will love (you guessed it), all the cosy pubs overlooking the water. Obviously that's where Chloe and I headed to after walking around for a bit.
The area surrounding Bourton is a walker's paradise with numerous footpaths crisscrossing the countryside. Nearby Salmonsbury Meadows is a wildlife nature reserve where you can enjoy natural meadows and wildflowers and explore some of the history of this farming area.
Broadway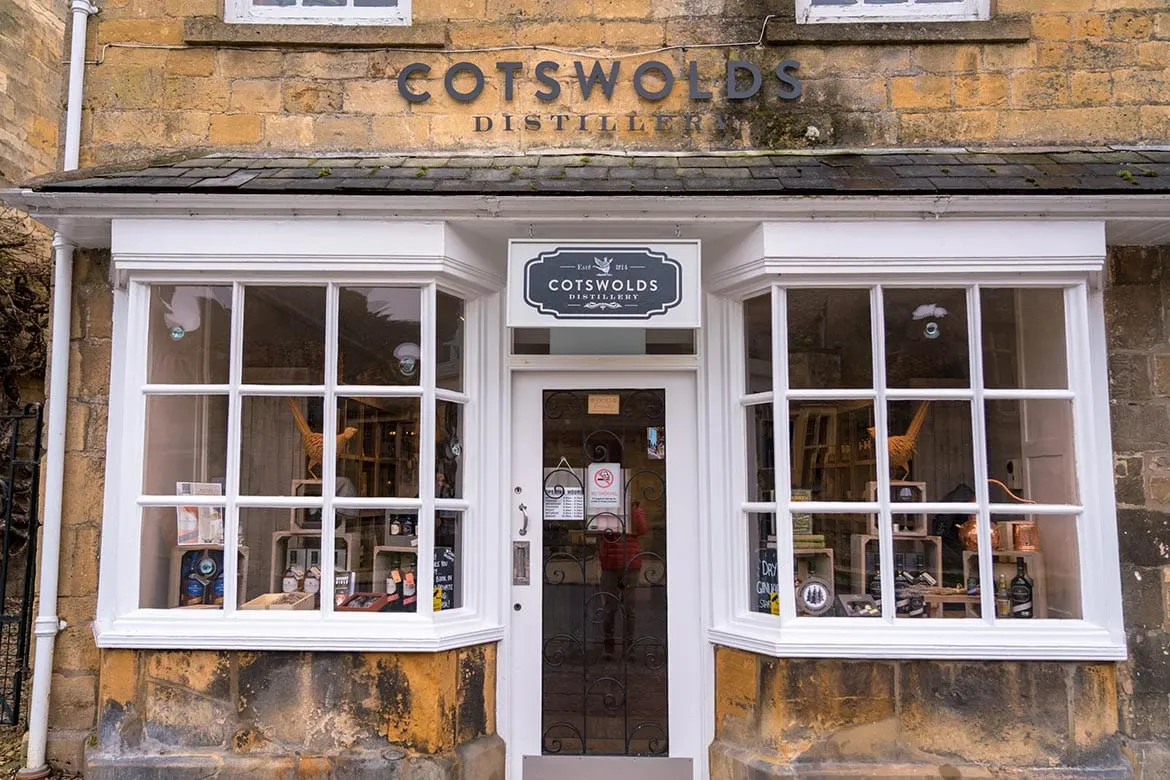 Broadway is one of the most popular places to visit in the Cotswolds. When you come here yourself you'll quickly see why.
For me, Broadway is what springs to mind when I think of the Cotswolds. On the main high street, wherever you look you'll see the famous Cotswolds stone buildings.
Broadway is really small too. It'll only take you 10 minutes to walking from one end of the high street to the other, but I like that too. Even though Broadway is small, it's packed full of independent boutique shops, so I'd really recommend walking around and popping into a couple. One of them is The Cotswolds Distillery where they sell one of the best English gins.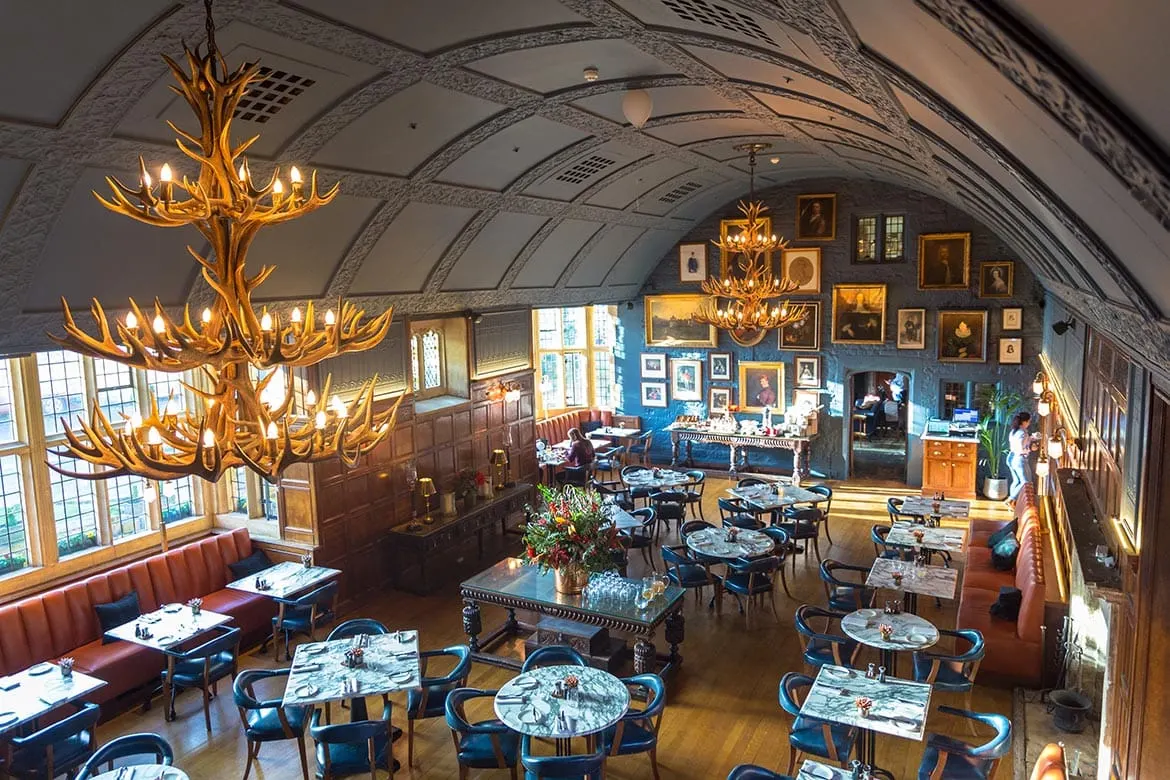 Broadway is also famous for The Lygon Arms, a luxury 4* hotel that dates all the way back to the 1300s. The hotel is also dripping in 17th century history too. This is the place where Oliver Cromwell stayed in the night before the Battles of Worcester in 1651, and kings have even plotted wars here. There aren't many places around the country where you can stay in the same room as a king, but at The Lygon Arms you can.
With a huge dining hall that looks like the set of Game of Thrones but with gourmet food to go with it, The Lygon Arms is cosy, charming, and elegant too.
I think because of the main high street, Broadway feels slightly busier than other Cotswold villages, but it really isn't. I have a real soft spot for Broadway so I really hope you make it here.
Moreton-in-Marsh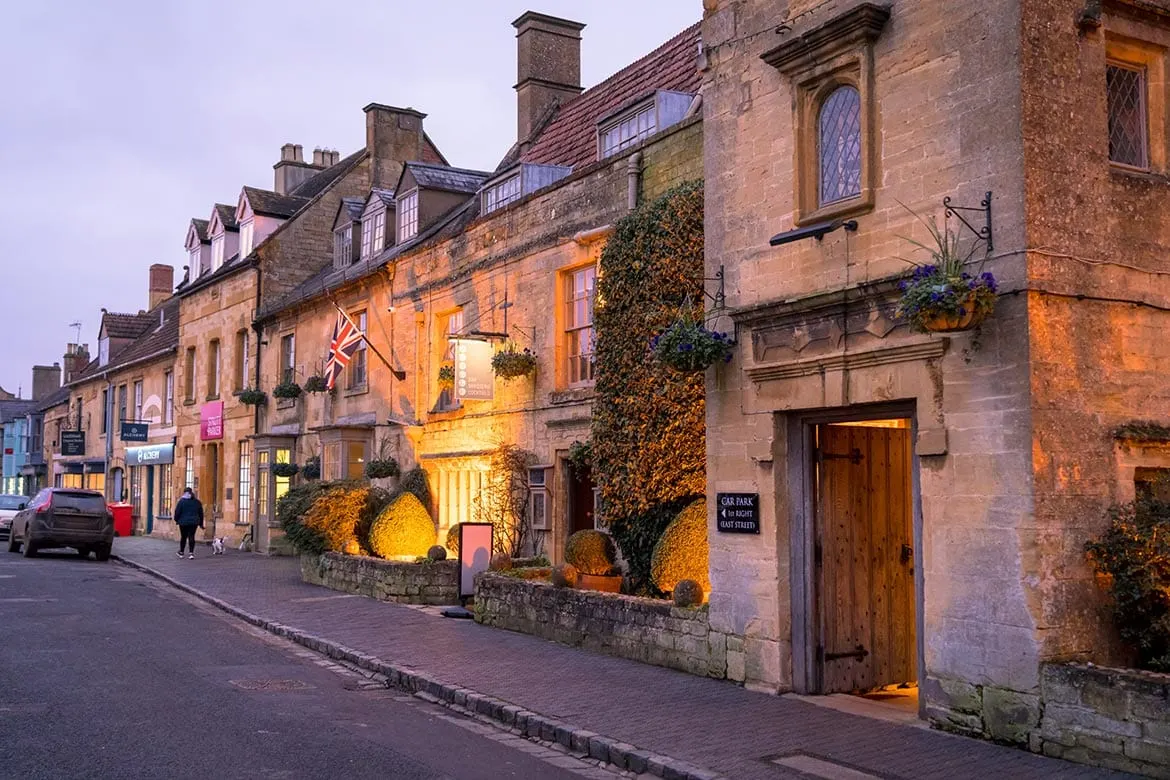 Moreton-in-Marsh is a small 13th century market town in Gloucestershire. Rich in history, one of the best things about Moreton-in-Marsh is the market is still going on today. The local market runs every Tuesday with about 200 stalls, so if you're around then it's well worth visiting.
Like a lot of places in the Cotswolds, tea rooms are two a penny here. However, we were told that The Cotswolds Tearoom was the best for afternoon tea so we headed there. They had a very decadent gin & tonic cake which I devoured, but apparently the savoury scones are to die for, so if you're looking for a different type of afternoon tea then I'd recommend that.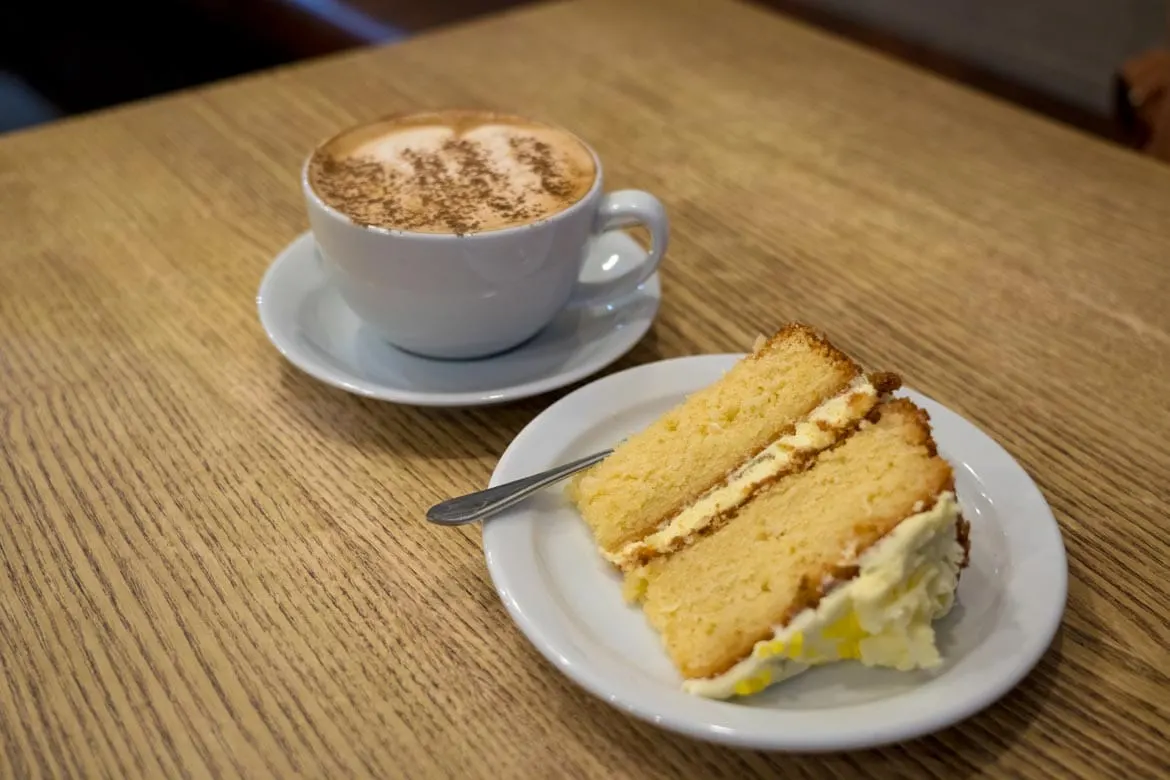 There's also a really nice cheese shop next door called The Cotswolds Cheese Company. I always love picking up some local cheeses whenever I go somewhere new and its always great supporting local businesses too.
Even though there are loads of pubs and restaurants to choose from, we had dinner at the White Heart Royal Hotel on the high street. The hotel was once used by King Charles I as shelter during the English Civil War following the Battle of Marston Moor in 1644 so this place has history. A copy of the King's unpaid bill is commemorated on a plaque within the entrance lobby so keep an eye out for that!
Inside the White Heart Royal Hotel there's a really nice restaurant which is where we ate. Alternatively, if you're just looked for a drink then there's a really cosy bar with a log fire – perfect for a cold winter's evening.
Stow-on-the-Wold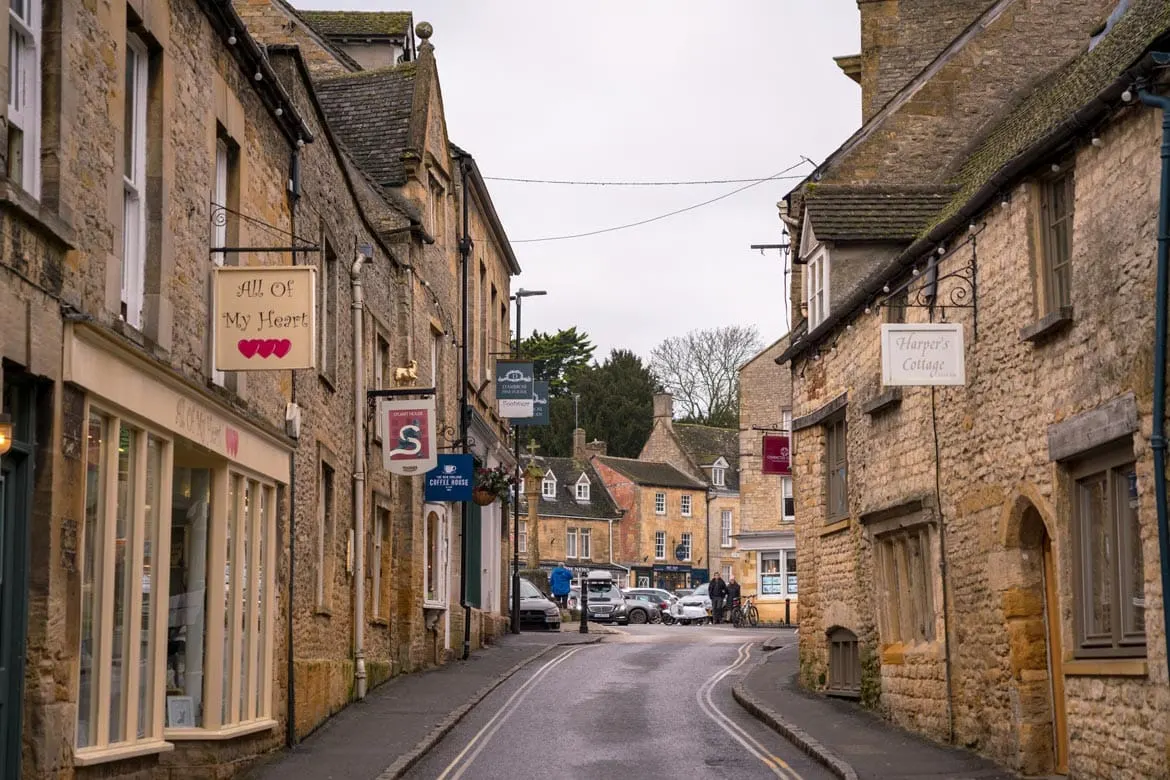 I'd never visited Stow-on-the-Wold before but it's another beautiful Cotswolds village. This is another small market town packed full of tea rooms, sweet shops and boutique stores.
The vast Market Square testifies to the town's former importance. At one end stands the ancient cross, and at the other the town stocks, shaded between an old elm tree. Around the square the visitor is faced with an elegant array of Cotswold town houses and shops.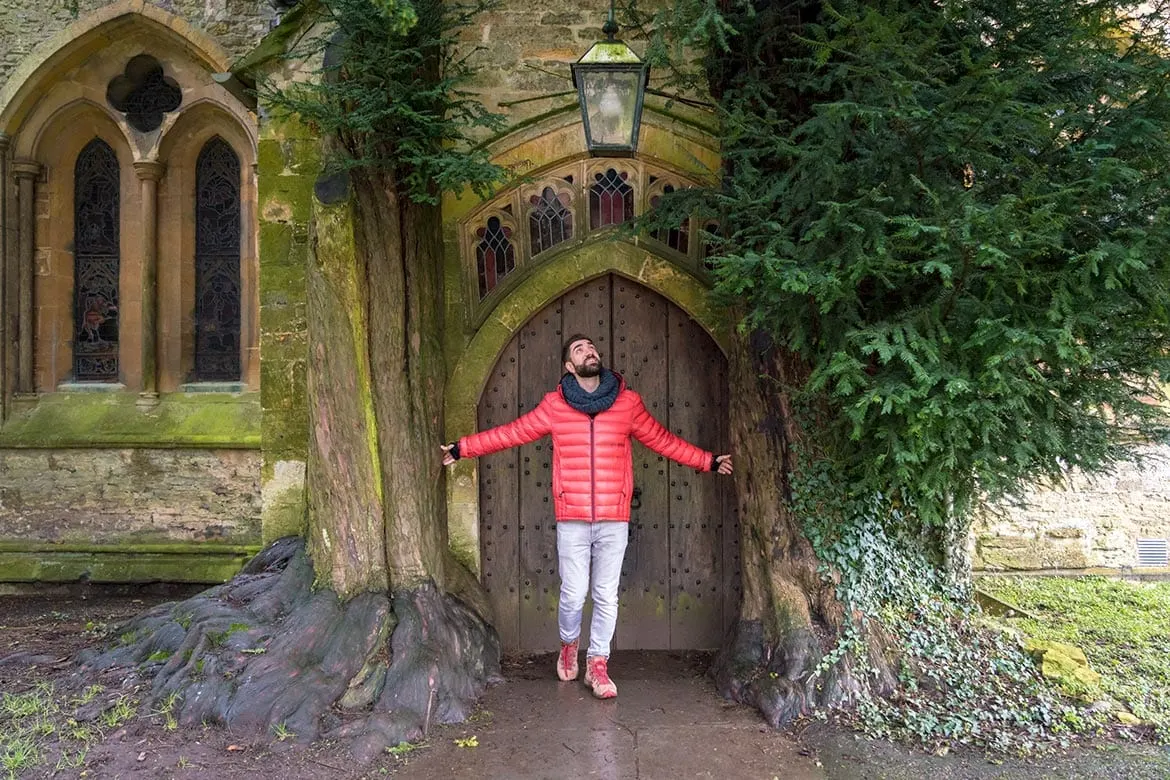 One of the places I was most interested in visiting was St. Edwards Church. At the side of the church there's a door that's photography gold. Either side of the door are two oak trees that have become a part of the church.
Apparently this is where J.R.R Tolkien got the inspiration for the Doors of Durin in Lord of the Rings, so as a mega fan I was so excited seeing this.
Castle Combe
I couldn't write about the best villages in the Cotswolds without mentioning Castle Combe. This place is just absolutely gorgeous. Put it this way, there's a reason why it's often named as the 'prettiest village in England'.
Located in north west Wiltshire, Castle Combe was an old wool trade village. With the Bybrook River running through the high street and the infamous Cotswold stone dotted around everywhere, this place is a really good place to base yourself for a few days.
Within Castle Combe you'll find a Market Cross and St Andrew's Church which dates from the 13th century. The church houses a faceless clock which is reputed to be one of the oldest working clocks in the country. You'll also find a couple of pubs and a luxury hotel with a golf course within the village.
Very nearby is Castle Combe Race Circuit, one of the fastest race tracks in England. If you're a bit of a petrol-head then you will absolutely love it here.
If you're planning a trip here, then check out some of the best things to do in Castle Combe before your visit. This is such an idyllic corner of the Cotswolds!
Chipping Campden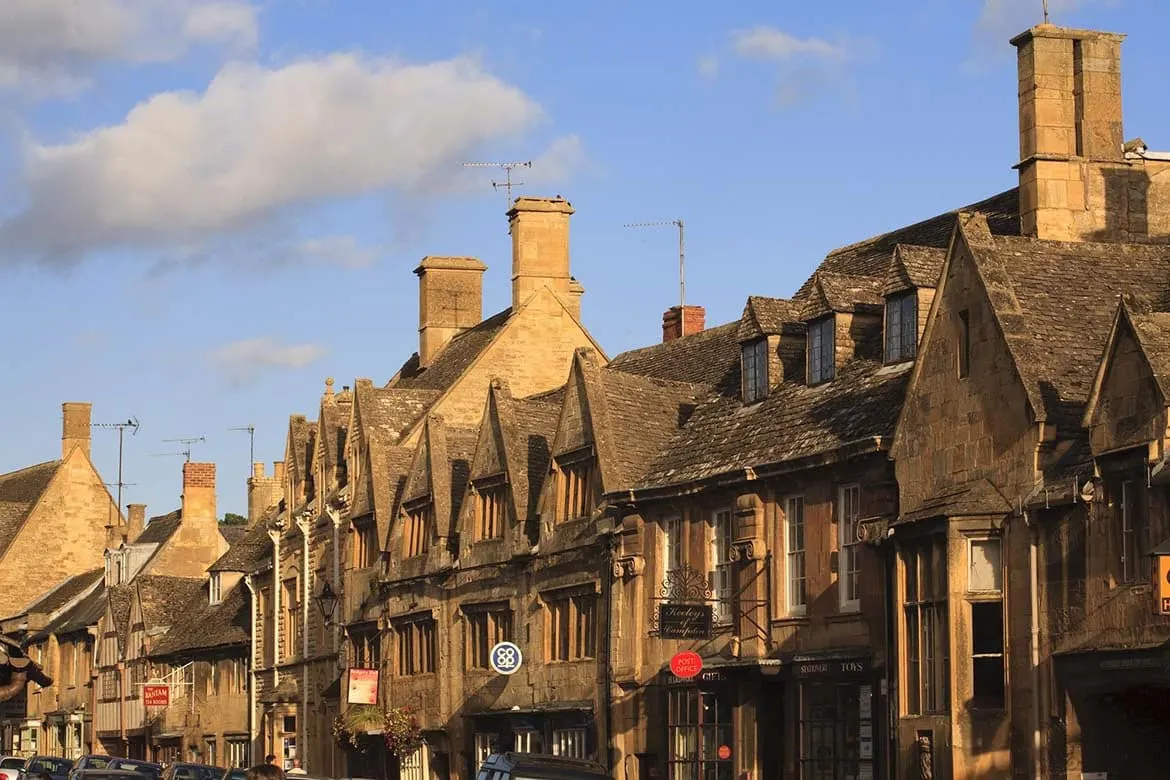 Chipping Campden is an old market town in Gloucestershire. It is notable for its elegant terraced High Street, dating from the 14th century to the 17th century. I don't know why but it feels like there are loads of antique shops in Chipping Campden. If you're into your shopping though then this is one of the best spots to do it in the Cotswolds.
Weirdly enough, Chipping Campden has hosted its own Olimpick Games since 1612. This is like a local version that's nothing like the Olympic games.
The Olimpicks are held every summer on the Friday evening following the late Spring Bank-holiday (usually late May or early June). Games includes a classic Tug O'War competition and shin kicking competition (that's the really weird one).
Outside the games there's plenty to do in Chipping Campden. As this place is a bit bigger than a lot of other places I've mentioned, it's a really good place to base yourself. Personally, I would say this is one of the best towns to visit in the Cotswolds.
Blenheim Palace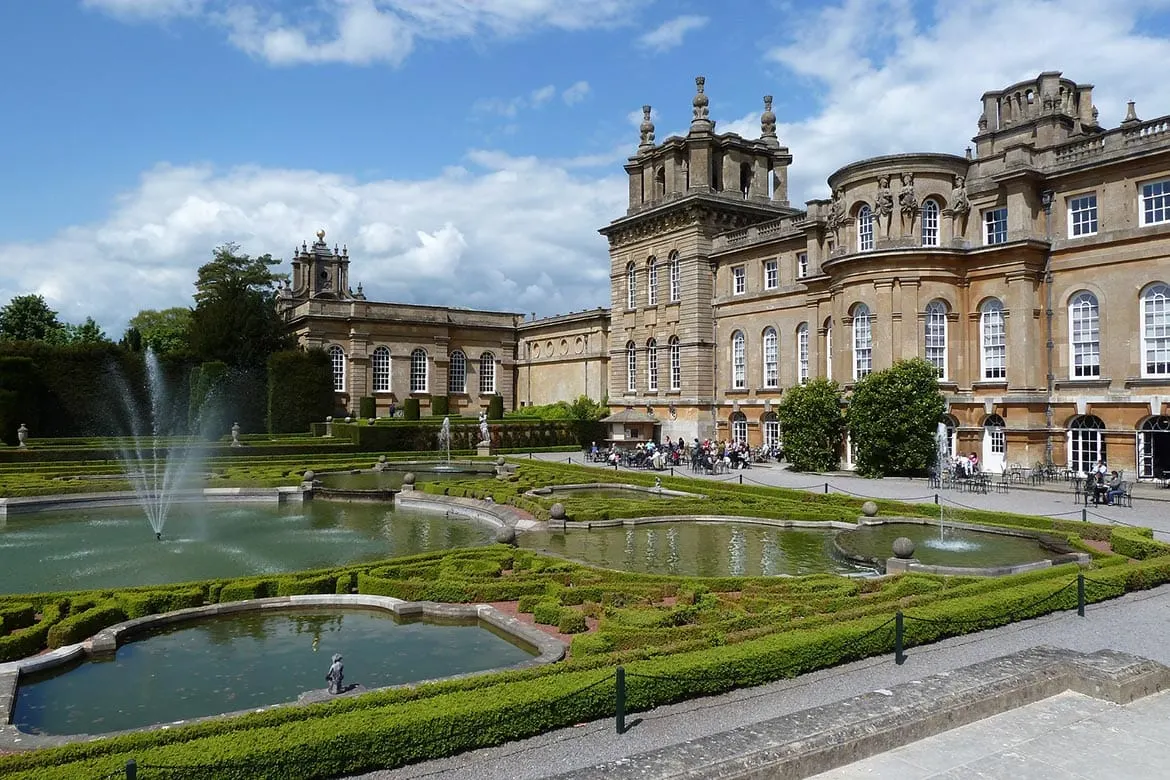 Even though it's technically not a village, another place I'd recommend visiting is Blenheim Palace.
Blenheim Palace was one of the largest houses ever built in England at the beginning of the 18th century. Today, it is an amazing place to send the morning or afternoon walking from room to room in this stately home or exploring the massive gardens.
One fact I love about is that this is the birthplace of Sir Winston Churchill on the 30 November 1874. A regal palace for what was to become one of the most important figures in British history.
Blenheim Palace is a UNESCO World Heritage Site and it also is an area of outstanding natural beauty. It's rare to find a place so steeped in history so it's well worth visiting on your Cotswolds itinerary.
One of my top travel tips is to try and get here late in the afternoon. Blenheim Palace can get very busy during peak times, so if you come later in the afternoon you'll have a good chance of walking around the palace without too many other people there.
Tickets to Blenheim Palace cost £18.50 per person and gives you access to the whole grounds.
---
If you fancy exploring some of these places further, then check out my weekend in the Cotswolds blog post. This goes into more detail on some of the things you can do in the area.
What do you think are the best villages in the Cotswolds? Let me know in the comments below and I'll add them to this list!
Like this blog post? Then make sure you Pin it for the future!