With charming villages, gorgeous landscapes & gourmet dining, this is what you should get up to for an amazing weekend in the Cotswolds!
---
If you're looking for that perfect weekend in the Cotswolds then get ready for an amazing time!
With cute little towns and villages such as Broadway, Burford, Bourton-on-the-water, Moreton-in-Marsh and the Slaughters (I could go on), it is very easy to lose yourself on cobble-stoned streets and among the stone houses that this area is so famous for.
For me, visiting the Cotswolds is like stepping back in time. It's just so quintessentially English and I honestly don't think there are many places more beautiful.
Also, if you fancy a romantic weekend away, there aren't many places better than this…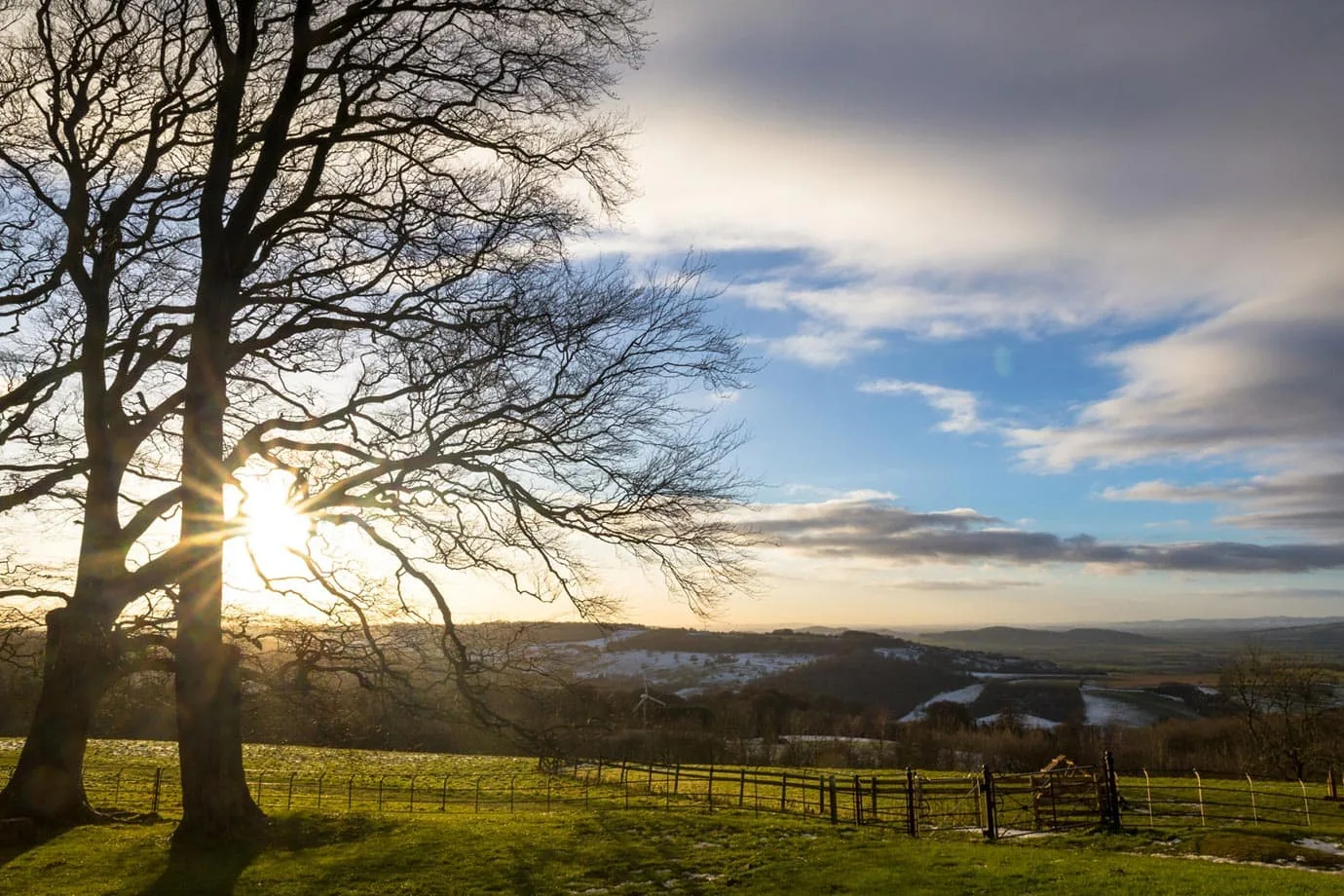 Cotswolds weekend itinerary
Now this is the part where I admit that I'd never been to the Cotswolds before until recently.
However, when it came to organising a romantic weekend away for my girlfriend WanderlustChloe's birthday I just knew she'd love the Cotswolds. What I didn't realise was how much I'd love too!
I remember Chloe telling me she used to visit the Cotswolds with her family as a kid but hadn't been in years. In a rare display of romance, I thought it'd be great to revisit some of those childhood memories and create some new ones, this time with me.
As the Cotswolds is just 2 hours outside of London, we caught the train from Marylebone to Oxford. From there we picked up a hire car outside Oxford train station.
Then it was a straight drive to Broadway and the Cotswolds, so if you're living in London it's super easy to get here. Also, driving in the Cotswolds is a dream too. It's just so beautiful here.
So, if you're looking for that ultimate Cotswolds weekend then this is what you should do while you're there. I really hope you find my Cotswolds blog useful!
>> If you're short on time then I really recommend this 1-day tour of the Cotswolds which includes a 2-course lunch. Then you get to do some of the best things to do in the Cotswolds without having to organise it all! <<
---
Broadway Tower
The one place I was most excited to see on my 48 hours in the Cotswolds was Broadway Tower.
I saw images of this place while looking up things to do in the area and I thought it looked straight out of a fairy-tale.
Broadway Tower is a minuscule 20-metre high castle, and even though it's tiny you can climb to the top for some of the best views around.
And if you don't want to climb to the top, it's free to walk outside in the grounds and well worth the visit.
Tickets are cheap at £5 for adults and £3 for children. There's a lovely little cafe and gift shop here too.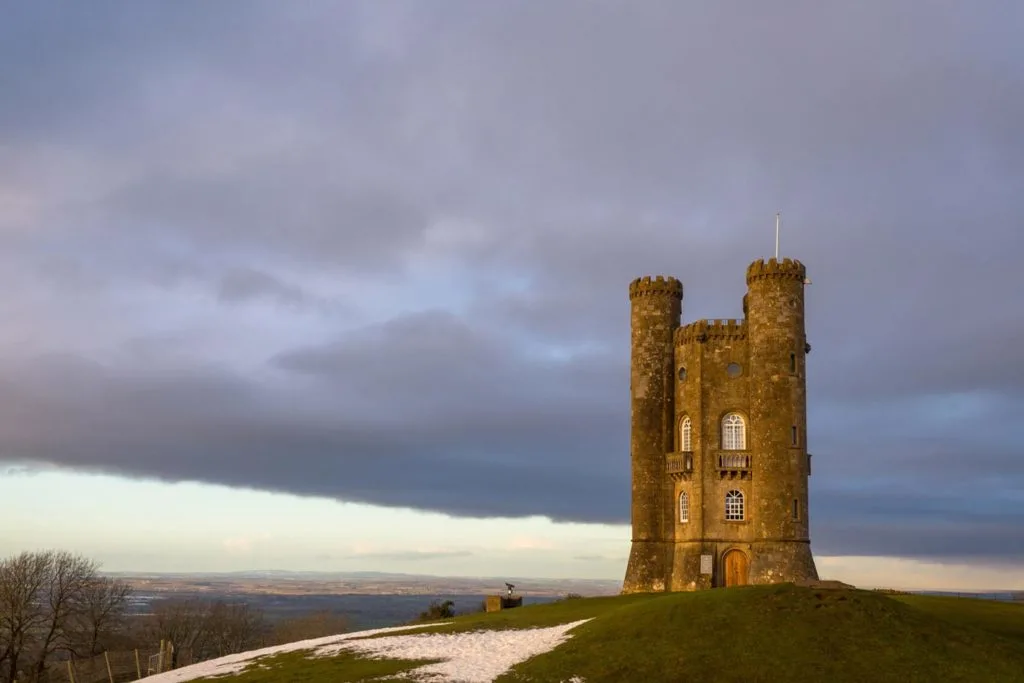 Lower Slaughter
The Mill at Lower Slaughter has to be one of the most of the most photographed places in the UK.
Right in the heart of the Cotswolds, Lower Slaughter is a gorgeous village with a beautiful stream cutting the place in two.
On one side of the water is the old mill that dates all the way back to 1086 (yes, you read that right!) There's a museum at the mill that's well worth checking out to learn more about the history of the area, or you can head to the to Slaughters Inn and swap stories with the locals.
Just make sure you get *that* photo walking across the bridge there.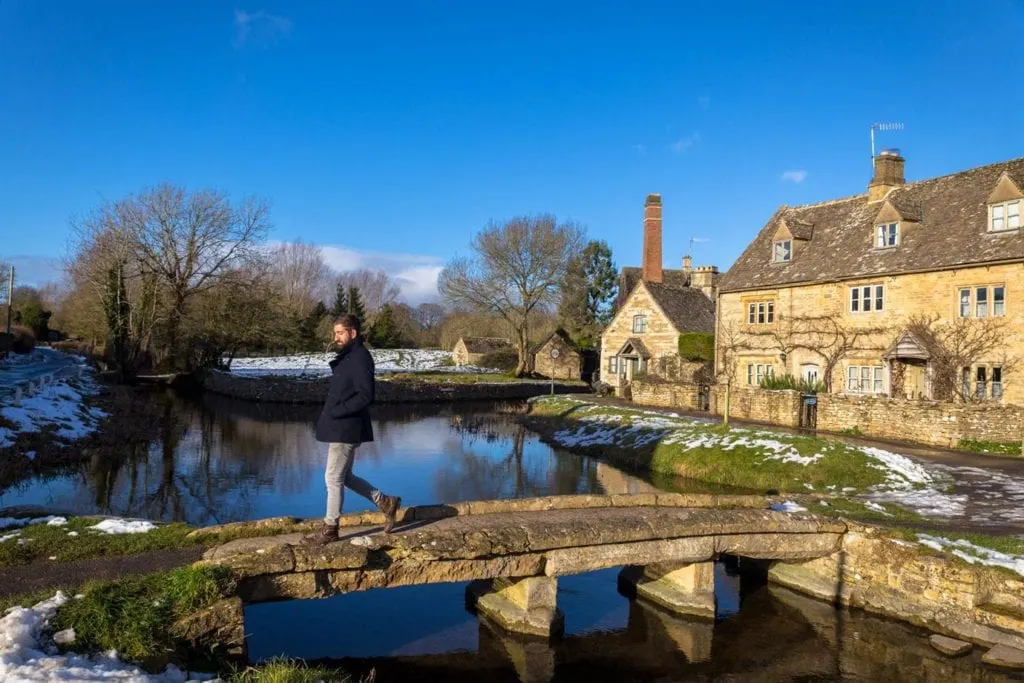 Bibury
Another place that's arguably the most photographed village in the UK is Bibury.
Bibury was once described by the famous artist William Morris as "the most beautiful village in England" and that's partly down to Arlington Row. This is a row of houses built in 1380 that tourists come from all over just to get a photo of (the locals must find it so annoying!)
Still, there's plenty more in Bibury than Arlington Row with a number of cute cafes for afternoon tea and some amazing hiking trails in the area.
If you've only got 48 hours in the Cotswolds then I'd really recommend visiting this place – you won't regeret it!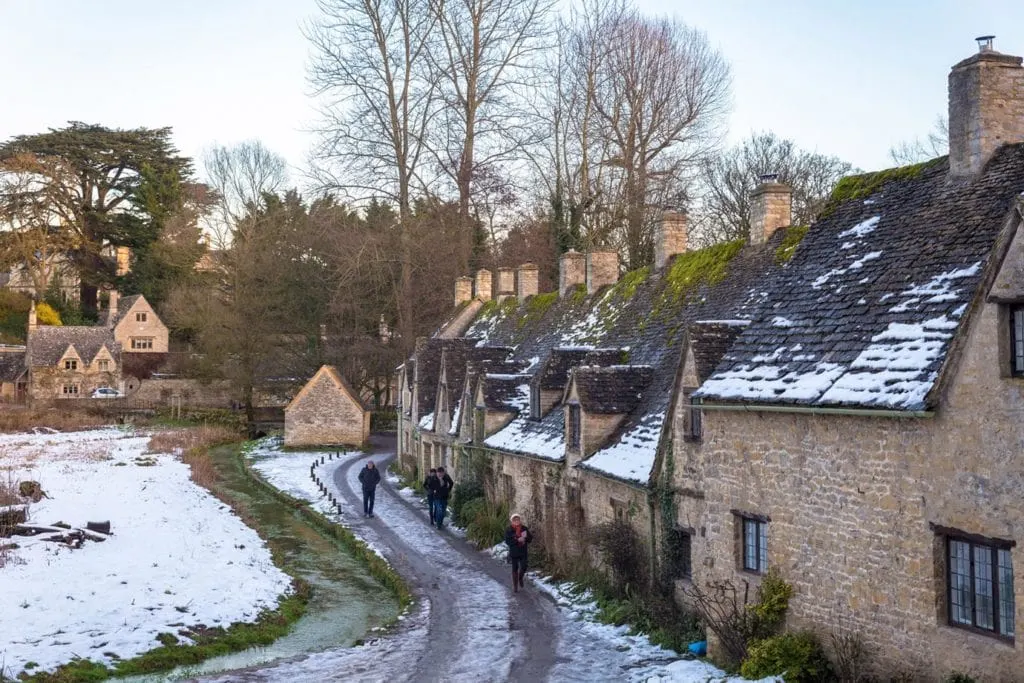 Bourton-on-the-Water
You can probably tell by now the Cotswolds has more than its fair share of picturesque villages (I did warn you at the start!) and Bourton-on-the-Water is another of these.
This popular village is often referred to as the "Venice of the Cotswolds" because of the attractive little bridges that cross the gently flowing River Windrush, which runs through the centre of it.
Kids will love the model village and the Dragonfly maze, and adults will love (you guessed it), all the cosy pubs overlooking the water. Obviously that's where Chloe and I headed to after walking around for a bit.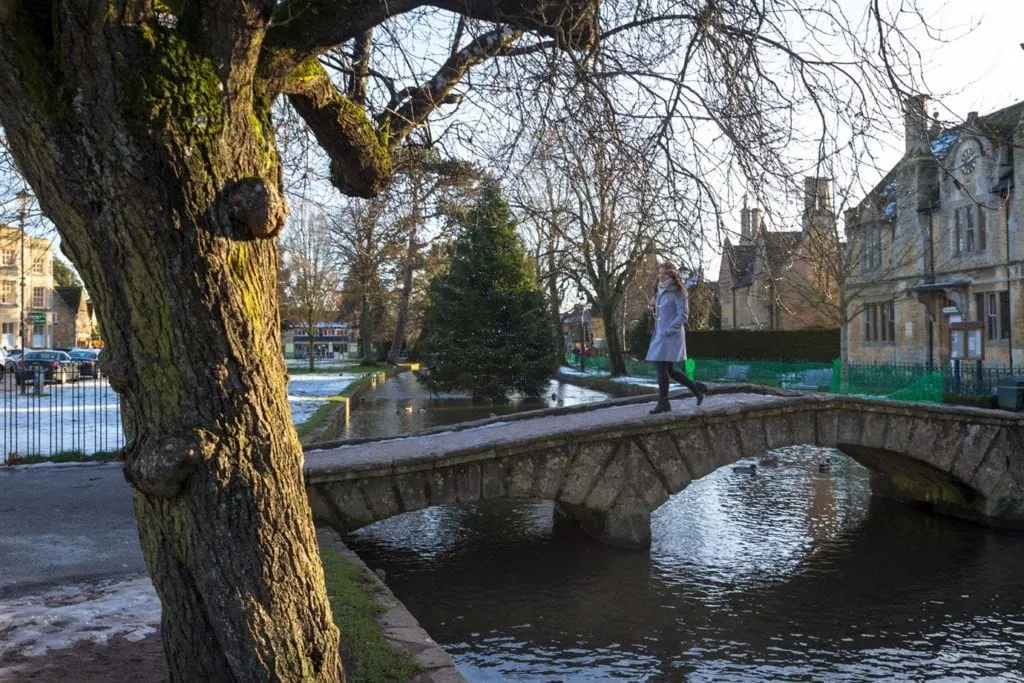 The Lygon Arms
Not only is this one of the best hotels in the Cotwolds, but it is probably the cosiest hotel I've stayed in in the whole UK.
Dating all the way back to the 1300s, there has always been a hotel or somewhere to rest your head at The Lygon Arms for 700 years – how crazy is that!?
This is the place where Oliver Cromwell stayed in the night before the Battles of Worcester in 1651, and kings have even plotted wars here. There aren't many places around the country where you can stay in the same room as a king, but at The Lygon Arms you can.
With a huge dining hall that looks straight out of Game of Thrones and gourmet food to go with it, The Lygon Arms is cosy, charming, and elegant too.
Honestly, I really can't rave about this place enough and I'll definitely stay here again in the future.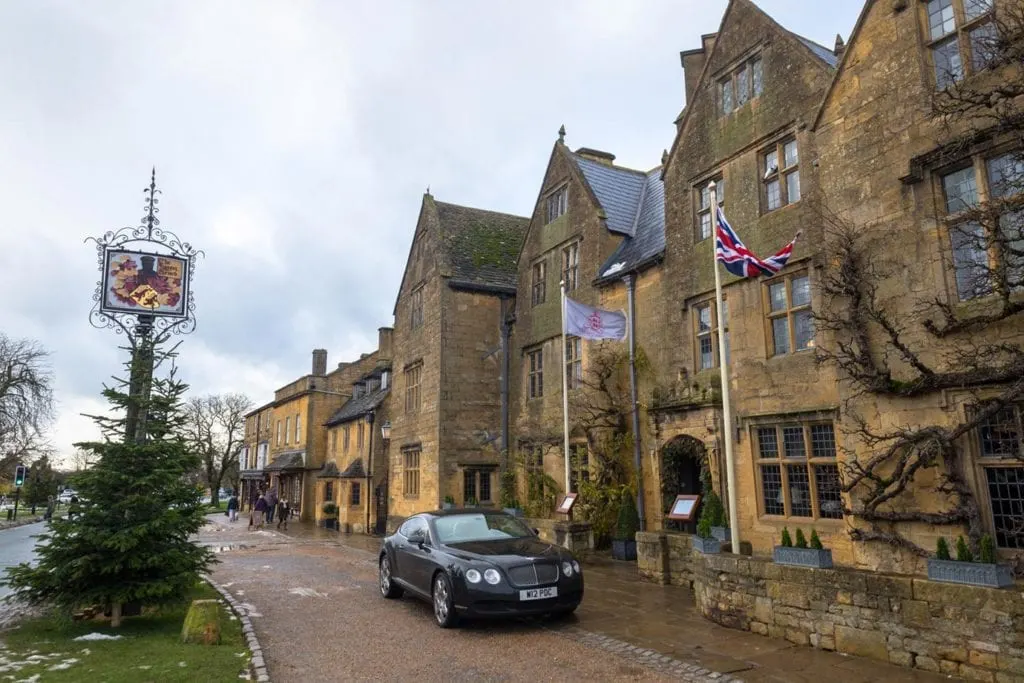 The Ebrington Arms
Fancy going to the UK's number one village pub? Of course you do! This place is an absolute must for a weekend in the Cotswolds.
In 2017 The Ebrington Arms was voted as the best village pub by the Times (quite the accolade), and you'll be hard pushed to find a more old-school charming pub.
If you're into your beers and ales they brew their own here. All the food has a real rustic and local flavour with hearty classics such as lamb shank and game pie (which is what I had).
Also, there are quite a few fires and comfy corners to bed down in for an afternoon and it's a really popular place for ramblers and walkers in the area.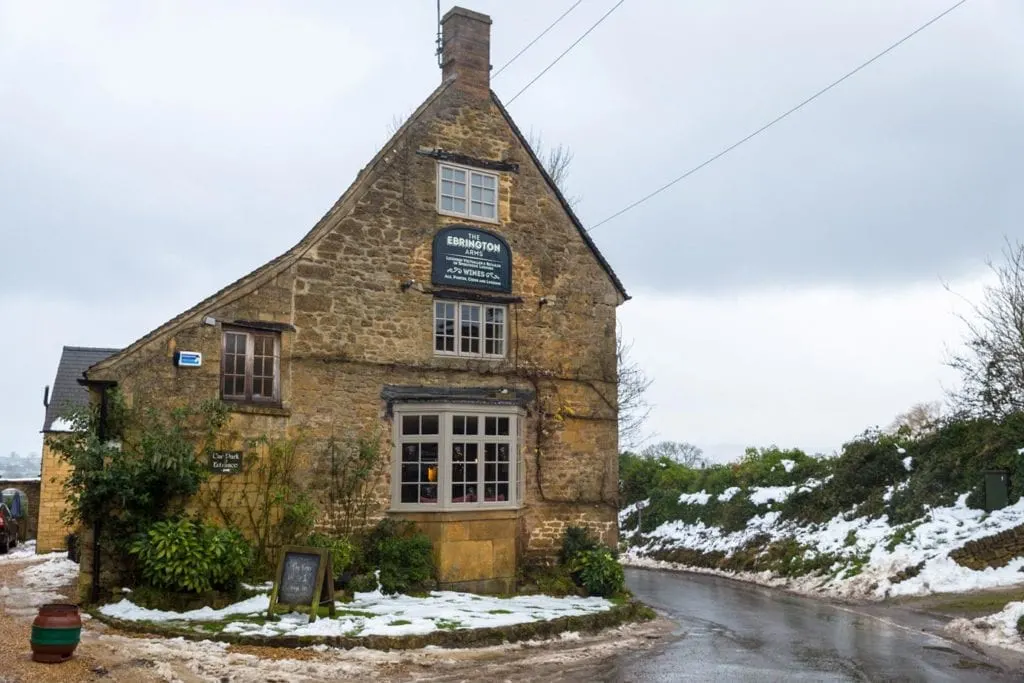 As I said, there aren't many places as cute as the Cotswolds. Walking around all the villages here really is like stepping back in time.
Only being a couple of hours from London (and other cities such as Birmingham and Manchester), the Cotswolds really is the perfect weekend away. What can I say, I absolutely loved exploring this part of the UK.
Also, Chloe loved it too, so if you're looking at surprising your partner then you really can't go wrong with the Cotswolds (and gents, you can thank me later…)
Holiday cottages in the Cotswolds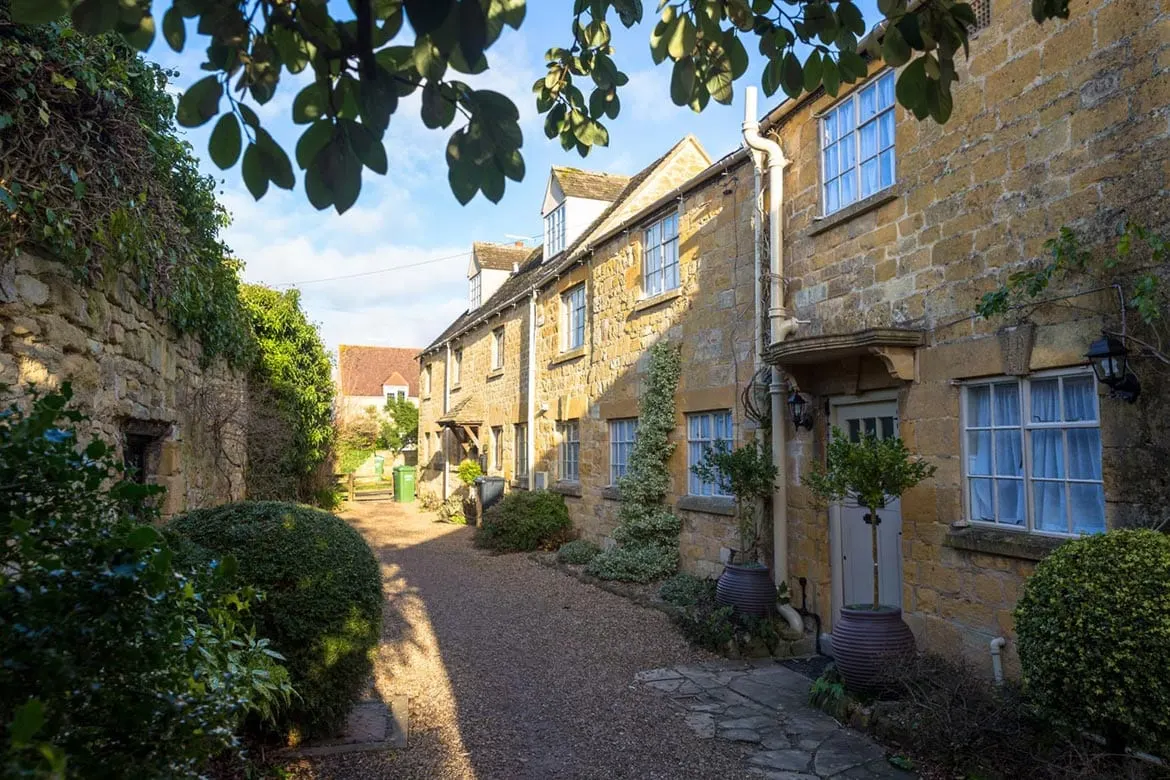 Another fantastic option for an amazing weekend in the Cotswolds is to hire a holiday cottage. Basing yourself in a cottage means you can explore places like Bourton-on-the-Water, Chipping Camden and Burford all in your own time. Also, the majority of cottages are perfect for the little ones and animal friendly, so you can even bring your dog along too.
From cottages with lake-side views to something a little more luxurious for your little break, you can find the perfect holiday in the Cotwolds here. At one place you can even stay on an alpaca farm – how cool is that!?
---
Have you ever spent a weekend in the Cotswolds before? If so, what's your favourite place and what do you like doing there? Let me know in the comments below!
Like this post? Then make sure you Pin it!