From walking along the Chipping Steps to visiting Chavenage House, these are the best things to do in Tetbury in the south Cotswolds!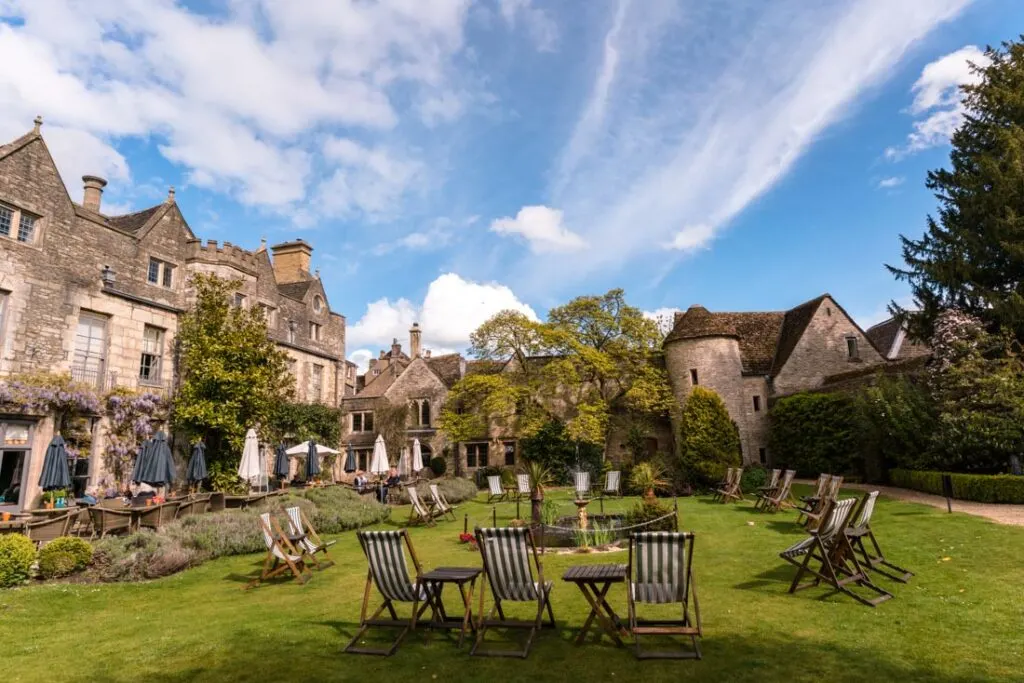 If you're looking for some of the best things to do in Tetbury then this is the blog post for you!
I've said it so many times before on this blog, but I absolutely love the Cotswolds.
From picture postcard perfect villages dotted all over the place to gorgeous green rolling hills everywhere you see, the Cotswolds is one of my favourite weekend breaks in the UK.
The thing about the Cotswolds, is most people flock to Bibury, Broadway and Moreton-in-Marsh. That's why, for my latest trip here, I wanted to showcase all the best things to do in Tetbury and the south Cotswolds.
It's a part of the Cotswolds not everyone initially thinks about visiting, but there is so much to do here. From wandering around cute market towns to exploring the countryside, there really is something for everyone.
If you've seen everyone head off to the Cotswolds and you want to go somewhere slightly quieter, then I would really recommend Tetbury and the south Cotwolds. Also, just wait until you see where we stayed at – it's one to the dreamiest places I've stayed in a long time.
From visiting antique shops to paddleboarding on luscious lakes, this is what to do in Tetbury. Hopefully this blog post will help you when planning your next trip here!
Where is Tetbury?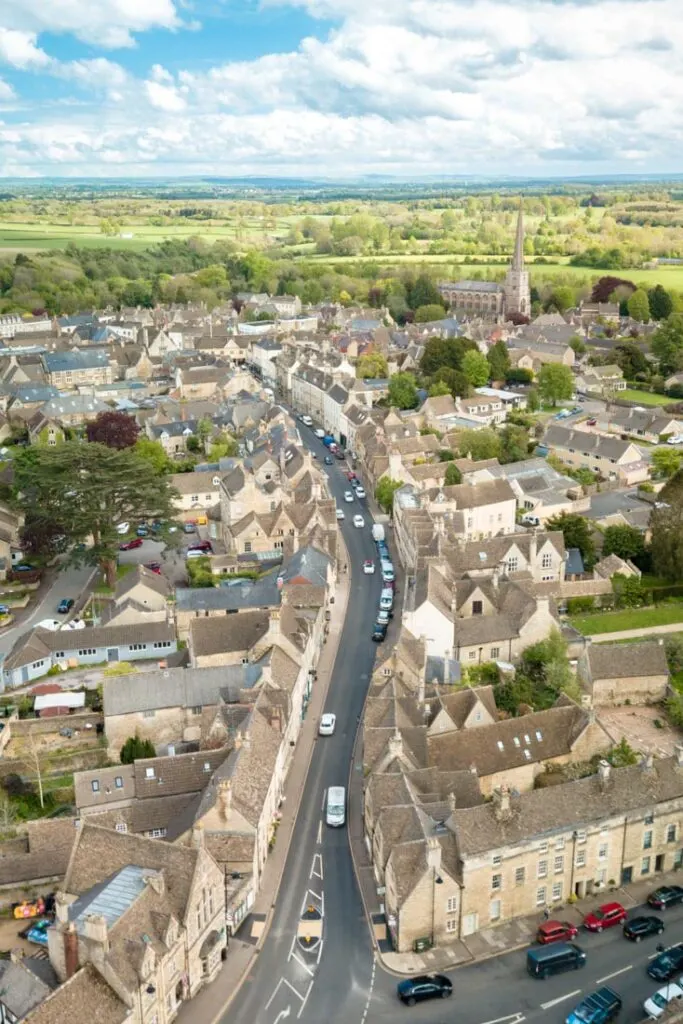 A lot of people as me is Tetbury worth visiting, and I would say 100% YES! It is such a charming spot in the Cotswolds and very underrated.
Tetbury is known as the gateway to the Cotswolds and is close to the towns of Cirencester and Stroud. It is a 40-minute drive from Bristol, and a 2-hour drive from London, so very easy to get to.
Tetbury is an old historic wool town with some of the merchants' houses remaining the same as they were in the 16tth and 17th centuries. Just imagine Tudor beams and wonky buildings.
Locally, Tetbury is probably most famous for being next to Highgrove Estate, home to Prince Charles and Camilla. You can actually explore Highgrove Gardens which is one of the best things to do near Tetbury, especially if you're into your Royals.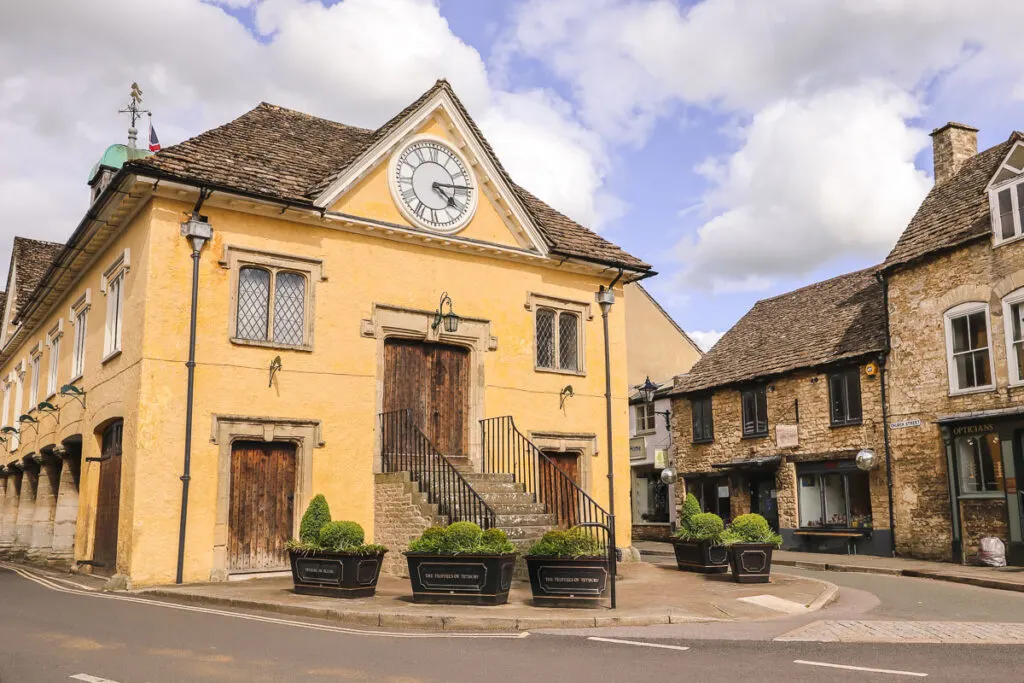 In Tetbury itself, there's the famous Highgrove shop where you can buy things like soap and perfume with the royal seal of approval.
The town is also well-known for its independent shops and antique dealerships, so if you like your shopping then you will absolutely love it here.
A lot of people stop off here before exploring other parts of the Cotswolds, but I think it's worth spending a day or two to really immerse yourself in all the things to do in Tetbury. I promise you it's worth it!
---
Things to do in Tetbury, England
Shopping in Tetbury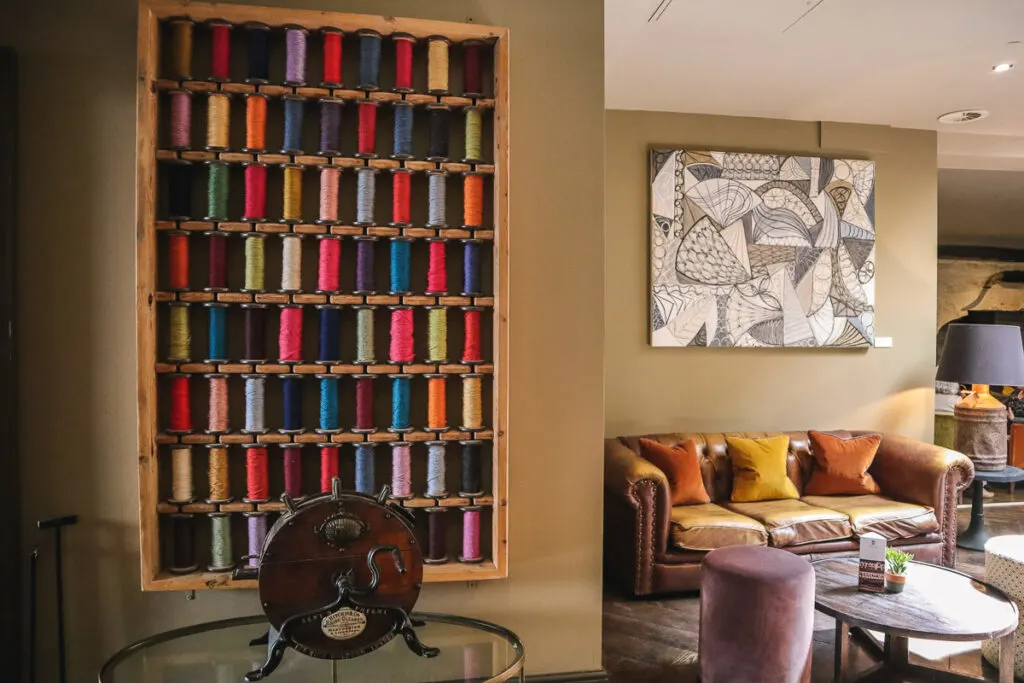 Let's go shopping. Tetbury high street is a treasure trove of boutique shops and independent companies. I'll talk about Highgrove separately, but if you're a shopaholic then I'd really recommend visiting the following.
Bay Gallery Home: This place is a small art gallery which is inspired by the Northern Territory in Australia. There are influences from Aboriginal art with traditional bright and vivid colours from Australia. Expect loud prints that add a dash of vibrancy to your home.
Moloh: It's quite hard describing Moloh. It's almost like 19th century country sheek. Some of their jackets could be straight from the Downtown Abbey set, very royal and regal. It's quite the look, but it's a great shop to pop into and take in the collection.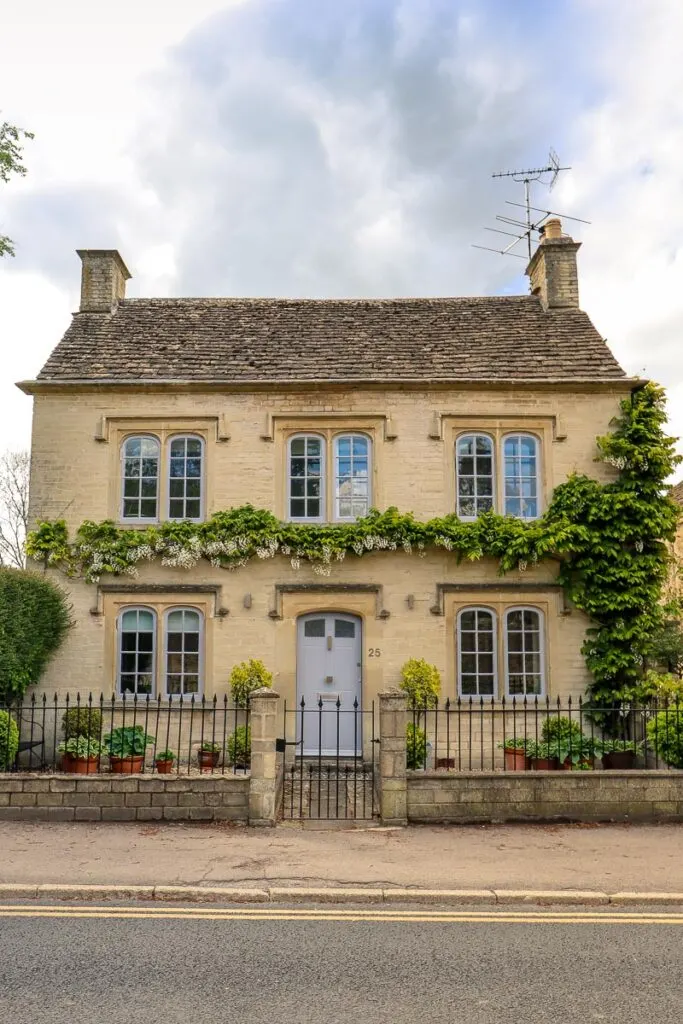 House of Cheese: Now this is my kinda shop. The House of Cheese is an award-winning shop championing local producers in the area and the UK. Run by Jenny and Phillip, they have such an in-depth knowledge of what cheeses suit different occasions, so if you have a particular taste for something, talk to them and they'll find the perfect cheese for you.
Artique: Artique is an eclectic mix of silver jewellery, textiles and wood carvings. You'll be able to find things like distressed luggage trunks to hand-woven oriental rugs, and everything else in-between. Be warned: it's very easy to get lost in this shop for a while!
Take a million photos on the Chipping Steps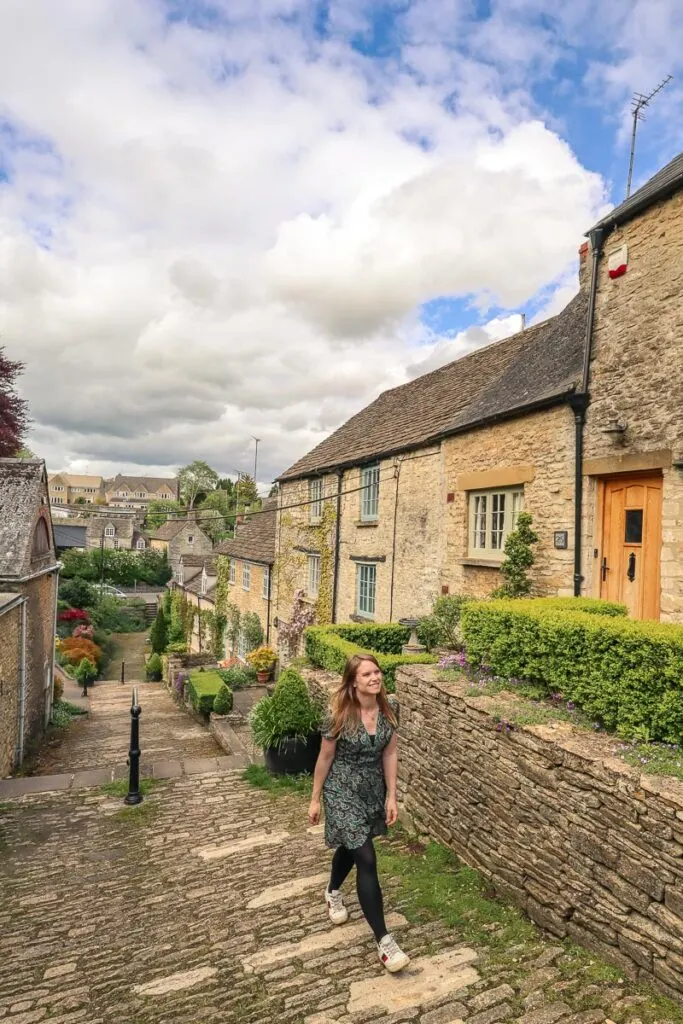 One of the prettiest spots in Tetbury is the Chipping Steps. This is where you'll find a row of houses in traditional Cotswolds stone. For me, it's views like this which is why I love visiting the Cotswolds.
At the foot of the steps there is a disused churchyard, where an early 18th century chapel once stood. The houses on the steps date from the 17th century.
At the very top of the steps, you'll find the "The Chipping" which is an old market place. Standing at the top of the steps, it's very easy thinking about what life would've been like in the 17th and 18th century around here. There might be more houses in Tetbury now, but this is one view that hasn't changed for centuries.
Walk around Chavenage House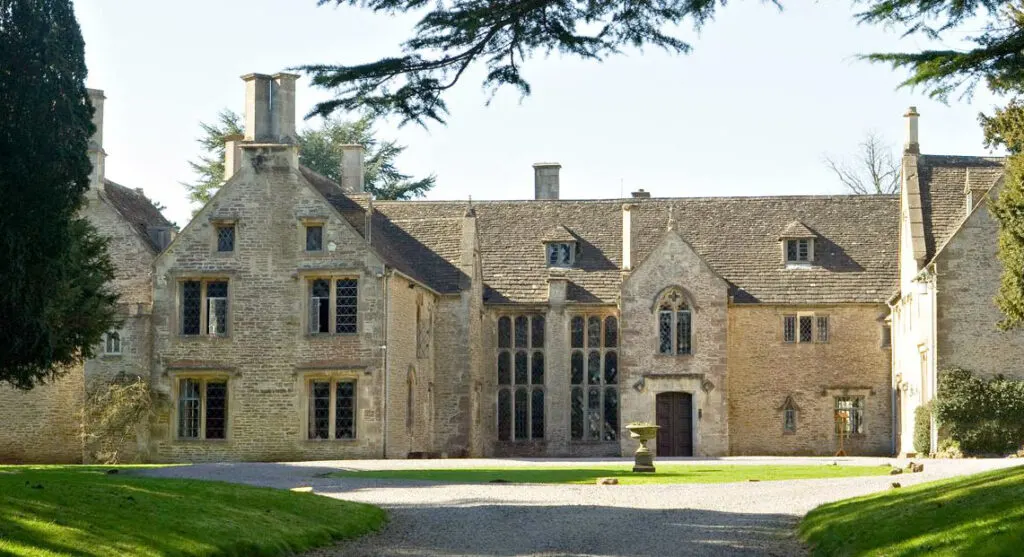 When it comes to what to do in Tetbury, this one is right up there.
Just on the outskirts of Tetbury you'll find Chavenage House. This is a grand manor house that was built in 1576 with traditional Cotswold stone.
Only two families have owned Chavenage; the present owners (Lowsley-Williams) since 1891 and the Stephens family before them. Inside Chavenage there are many interesting rooms, especially the 17th-century tapestries. It's a really fascinating place to visit full of history (even Oliver Cromwell once stayed here).
Any of you TV buffs will recognise Chavenage House as the family home of Poldark – this is one of the filming locations (among many others).
There are guided tours at Chavenage House, or you can walk around the gardens and take in the beauty of this building.
Go for a Onewheel lesion with Wild Carrot Wheels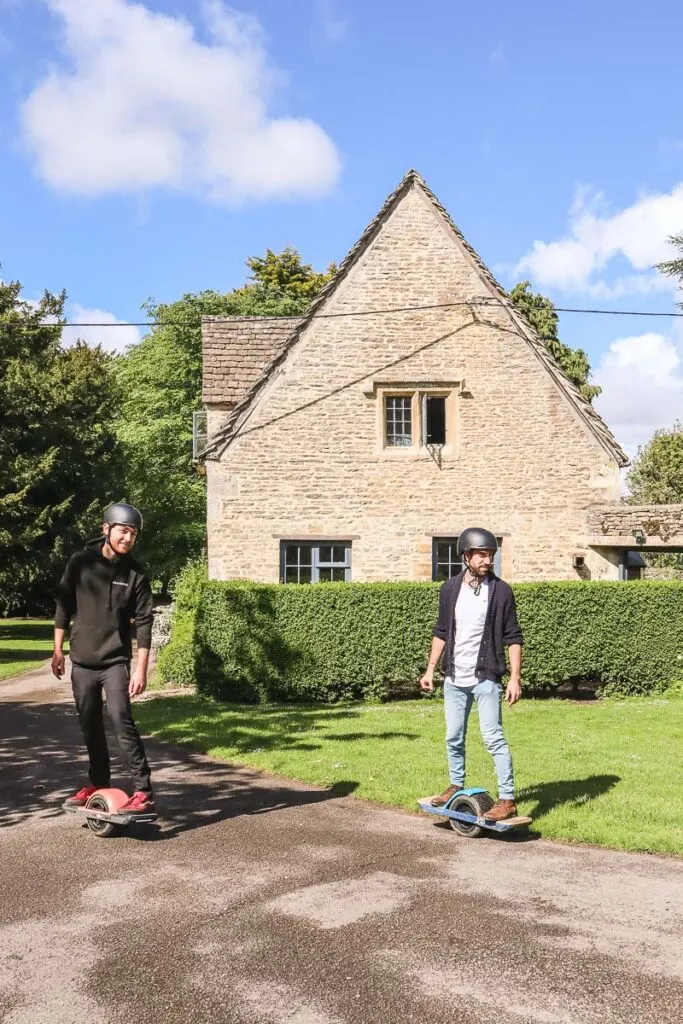 Just around the corner and on the same grounds as Chavenage House, you'll find Wild Carrot. This place has so many incredible things to do near Tetbury – you can visit the onsite café, hire an e-bike and explore the countryside, or you can stay in one of the luxury glamping tipis (more on that in a minute).
However, one of the things they do at Wild Carrot which is very different is Onewheel lessons. If you haven't seen these on the streets yet, a Onewheel is a self-balancing single wheel electric board. It's a bit like an electric skateboard, and it is so much fun to ride.
I spent the morning with Connor who told me all about how Onewheels work. After a short tutorial where I learned how to balance and move forward, I was soon zooming around the grounds of Chavenage House.
It was the first time I'd ever been on a Onewheel before and it was so much fun trying something so different. It's awesome that Wild Carrot offer Onehweel lessons as it's so unique. I don't know anyone else offering these at the moment.
So, if you're looking at doing something very different on your Tetbury itinerary, I really can't recommend this activity enough!
Go Paddleboarding at Log House Holidays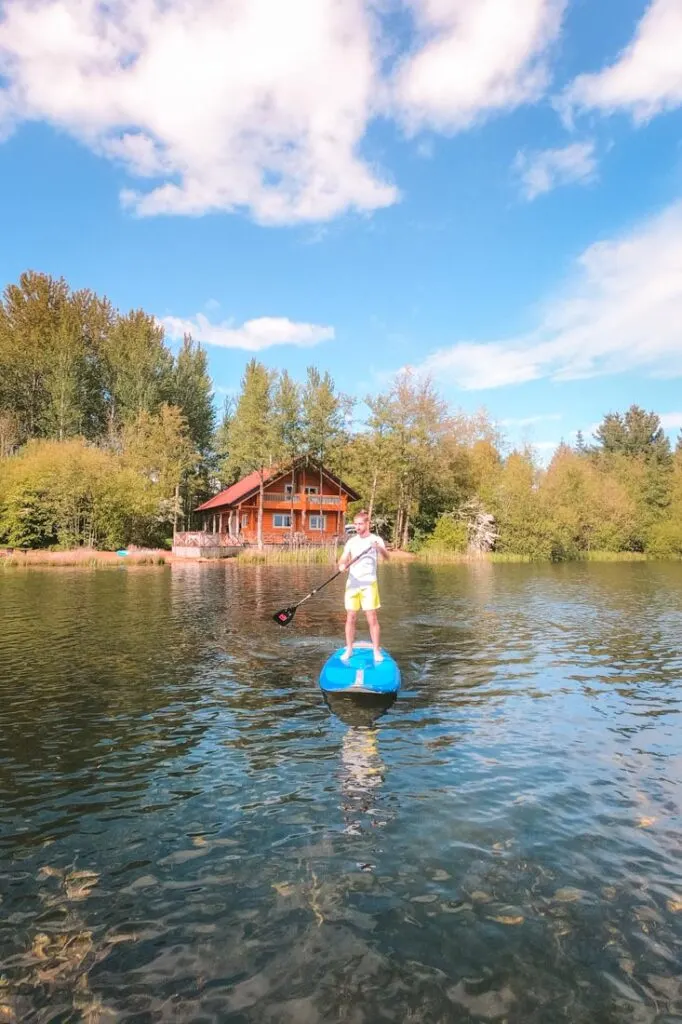 Scandinavia or the Cotswolds? Honestly, it's hard to tell the difference at this place!
As the name suggests, Log House Holidays is a unique place to stay in the Cotswolds where you can hire these gorgeous log houses beside the lake. It's such a secluded place to stay at away from it all.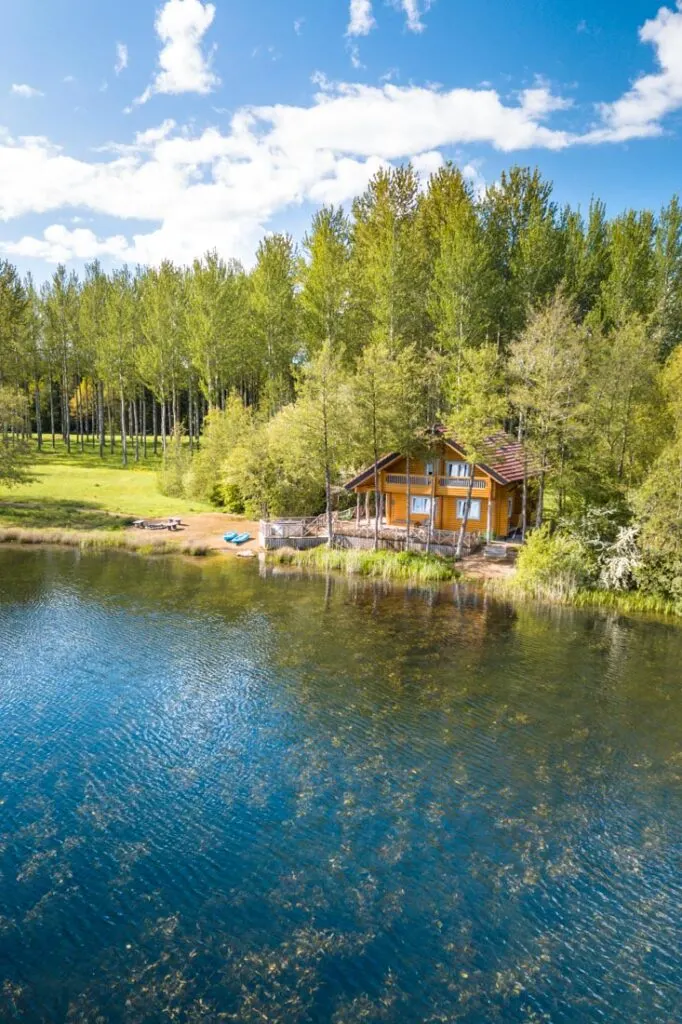 These log houses were built in the 1980s and they perfectly blend into the nature surrounding them. The eight luxury log cabins are set amongst 130 acres of private nature reserve where you can see kingsfishers, swans, and even otters. Oh, and each cabin comes with its own steaming hot tub too to make it even more magical.
While we were at Log House Holidays we hired some paddleboards and went for a paddle on the lake. I can't tell you how peaceful and relaxing it was. If you really want to immerse yourself in nature and get away from it all, then this is the place for you. For me, this is easily one of the top things to do near Tetbury.
Explore the Cotswold Sculpture Park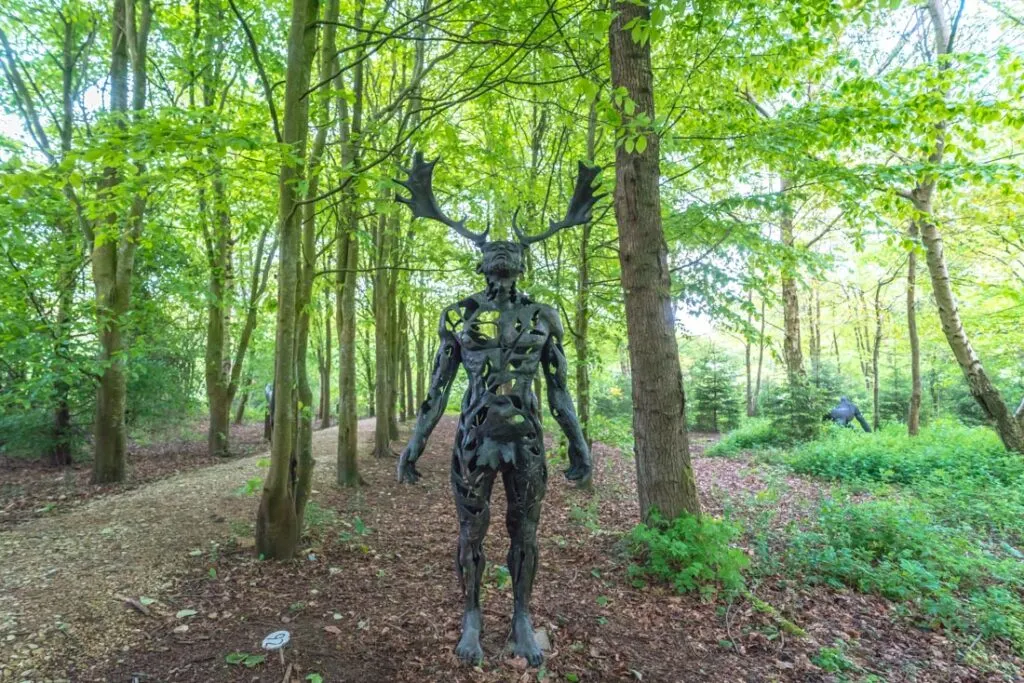 Cotswolds Sculpture Park was a real hidden gem for me. Located a short drive from Tetbury, this place is home to dozens of sculptures dotted all around the forest and park.
All of the sculptures suddenly appear out of the ground and the forest as if they're one with nature. It's amazing at how natural some of the sculptures look here (like the one above which I just loved).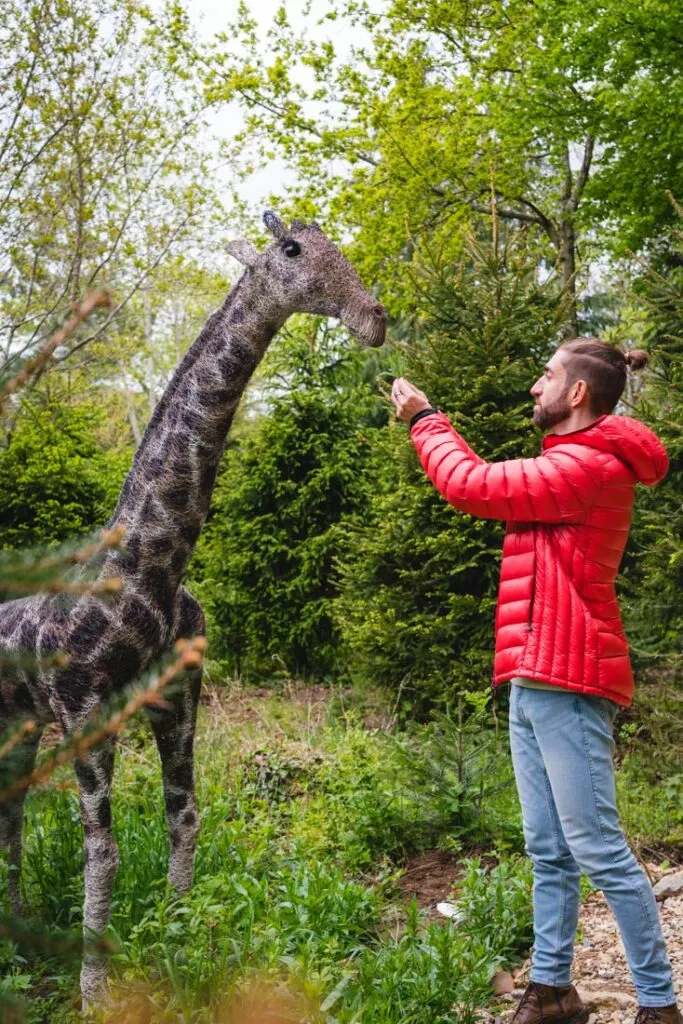 One of the best things about the Cotswolds Sculpture Park is all the statues and works of art are for sale, so the park is constantly changing. That means, every time you come back here it'll look completely different.
Tickets are only £7 for adults and there's a cafe on site, so it's worth spending a couple of hours here taking in all the sculptures. Who knows, you might even be taking one home with you!
Eat at The Close Hotel, Tetbury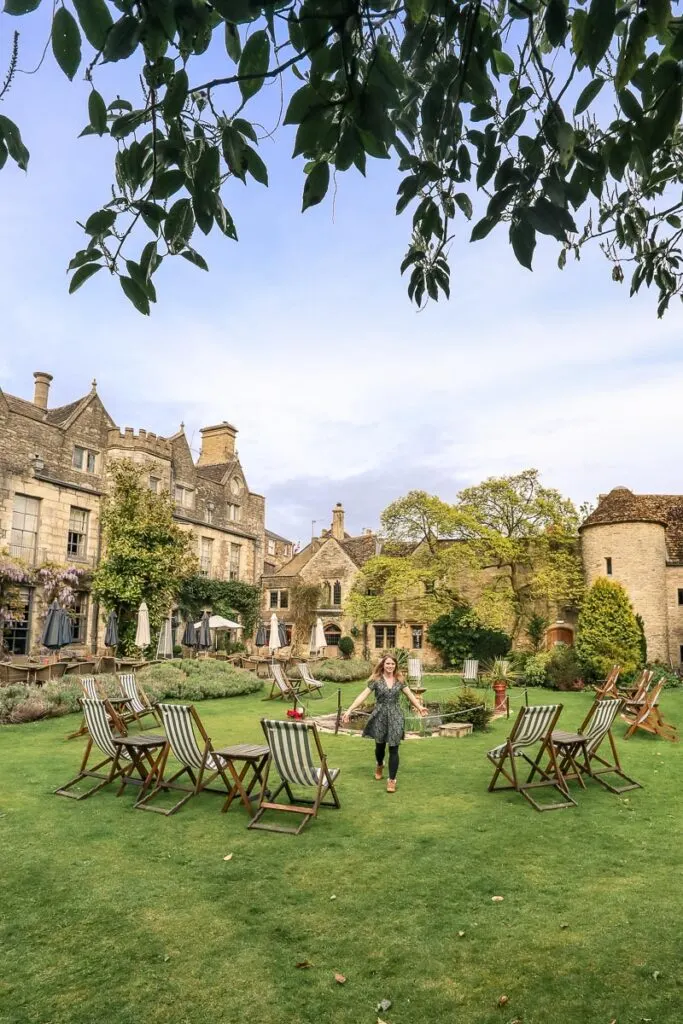 If you're looking for one of the best hotels in Tetbury, take a look at The Close Hotel. We didn't stay here, but it's another gorgeous building which combines historic charm with an elegant style.
In The Close Hotel they also have one of the best restaurants in the area. We sat in the main dining room and worked our way through the menu.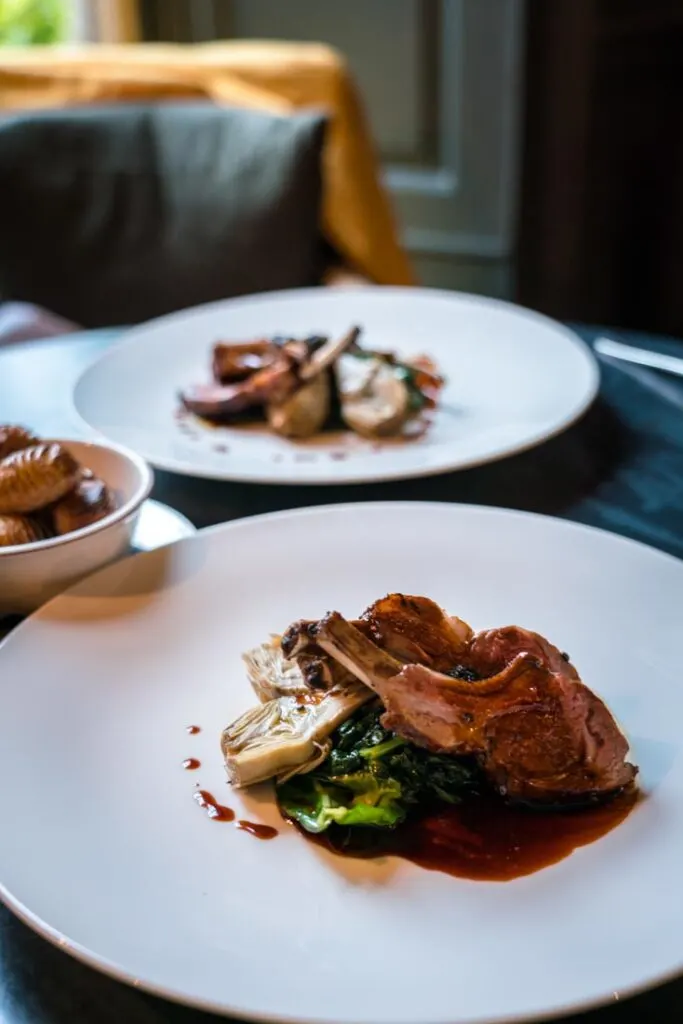 Lamb is always a popular choice on the menu in the Cotswolds, so we had a rack of lamb with hassleback potatoes and pickled artichoke. It was such a nice meal in a beautiful setting.
I always love hotels like The Close Hotel for their regal charm – it really does make your holiday that little bit more special.
Shop at Highgrove in Tetbury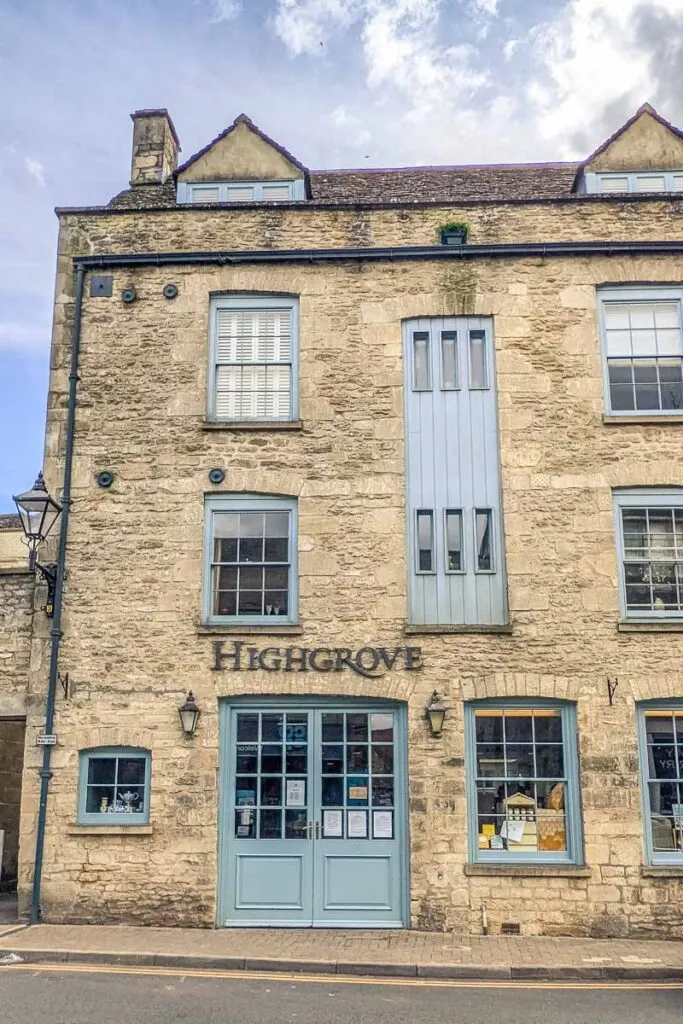 When it comes to what to see in Tetbury, this place usually tops the list. You'll find the Highgrove shop on the high street. With beauty products, clothing, jewellery and food, there is something for everyone here.
This is the most famous shop in Tetbury, so it's really worth popping in and peeking around the items. Obviously this has the royal seal of approval, so expect the prices to be on the high side.
Where to stay in Tetbury
Glamping at Wild Carrot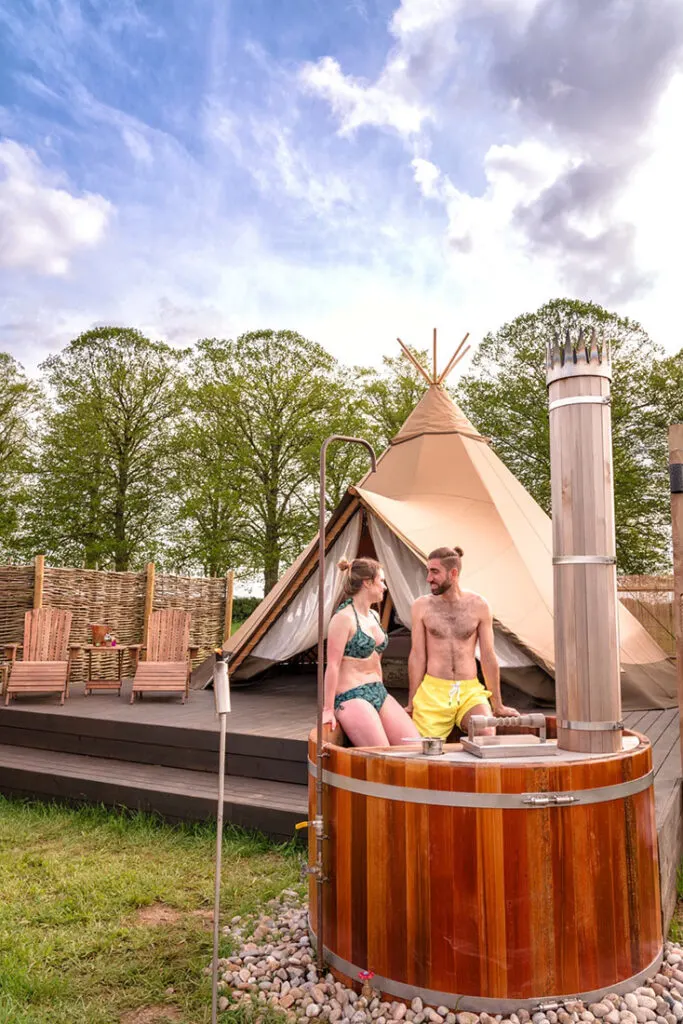 While we were visiting Tetbury, we stayed at one of the luxury glamping tipis at Wild Carrot. For me, this is one of the best things to do in Tetbury as it makes for such a memorable stay. And when I say luxury glamping, I really mean it.
Each tipi comes with its own large double bed, outside firepit, outside kitchen, outside shower, and the best bit, a wood-fired hot tub. I mean, what more could you want from a place!?
When Chloe and I checked in, we hopped straight into the hot tub with a glass of bubbles. It was the perfect way of starting our UK staycation in the Cotswolds.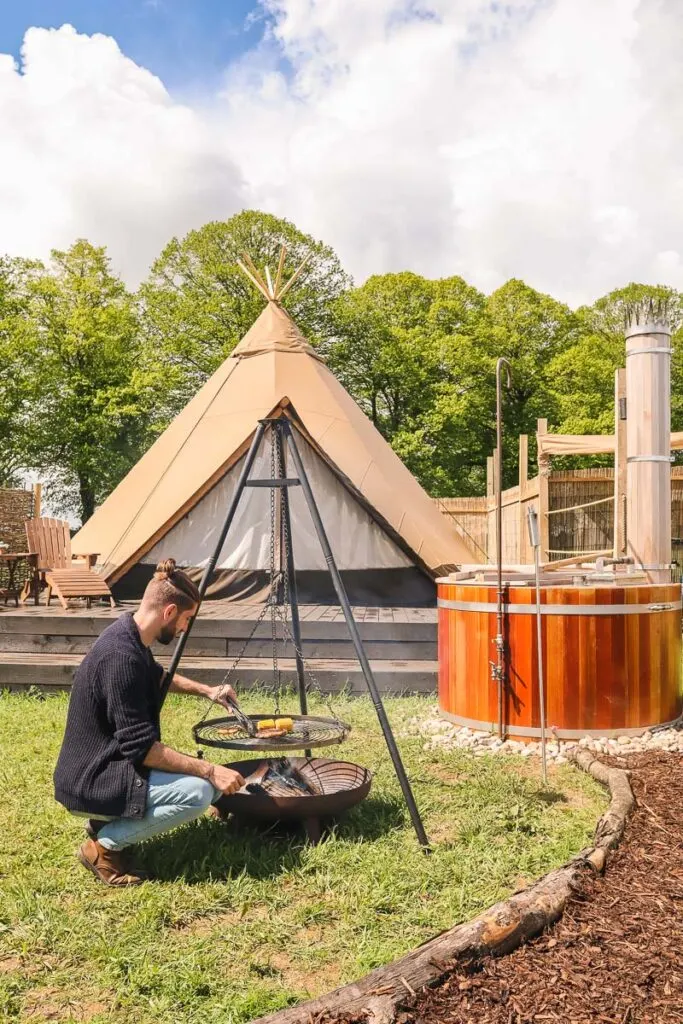 Also, at Wild Carrot they can organise a luxury bbq box from the guys down the road at Calcott. This came with a couple of sirloin steaks, some giant prawns, marinaded bbq chicken, and a load of sides to go with it.
One of the evenings, instead of eating out, we stayed in and cooked a bbq over the firepit. We felt like we were the only ones around; it was so secluded and peaceful as we watched the sunset over the fields in front of us.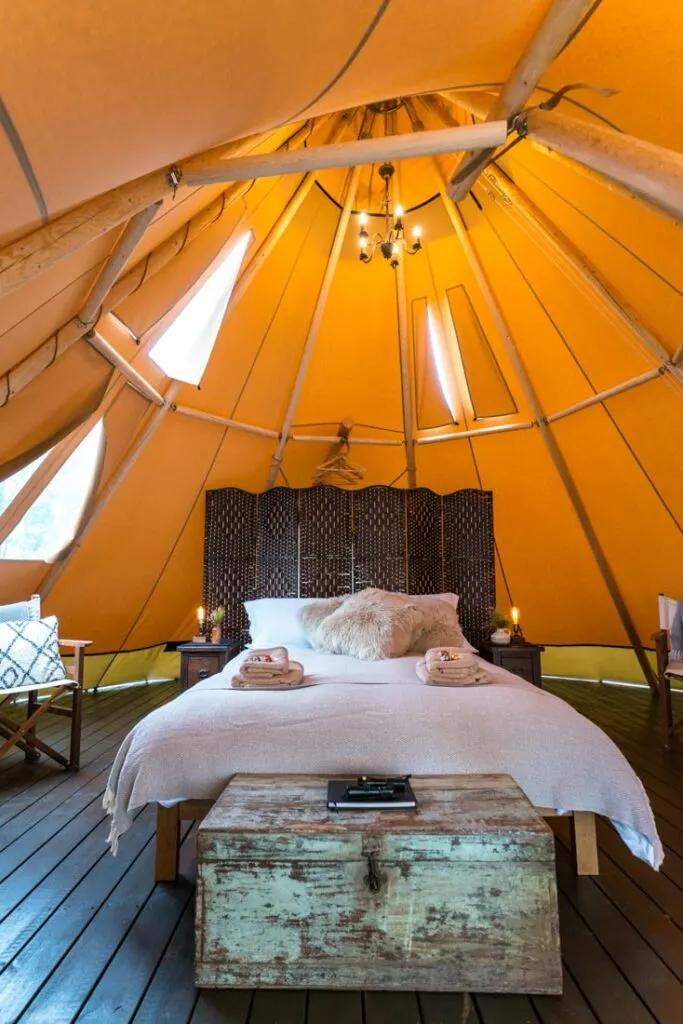 When it comes to places to stay in the Cotswolds, this one is definitely up there and makes for such a memorable holiday.
The Ormond at Tetbury – There aren't many hotels directly in Tetbury itself, but one place that is right in the centre of it all is The Ormond. This is an 18th-century Cotswold inn offering stylish, elegant rooms and award-winning food.
The individually decorated rooms at The Ormond At Tetbury all have LCD TVs and tea and coffee-making facilities. Some feature traditional, oak-beamed ceilings.
The Hare & Hounds Hotel – If you're looking for somewhere on the outskirts of Tetbury, then the Hare & Hounds Hotel is a great option. This is a traditional English country house hotel, with a popular restaurant and bar.
There are bedrooms in the original house, as well as the Garden Cottage and Coach House. Many overlook the gardens or countryside. The Westonbirt National Arboretum is half a mile away.
---
This post was in association with the Cotswold promoting some of the best things to do in the area. As always, views are entirely my own and without bias.
Are you planning a trip to Tetbury? What are some of the top things to do around Tetbury that you're most looking forward to? Let me know if you have any questions in the comments below and I'll get back to you!
Like this post? Then make sure you Pin it for the future!