Are you looking for the best holiday cottages in the Cotswolds? From cute cottages to lakeside views, these are my top picks on where to stay!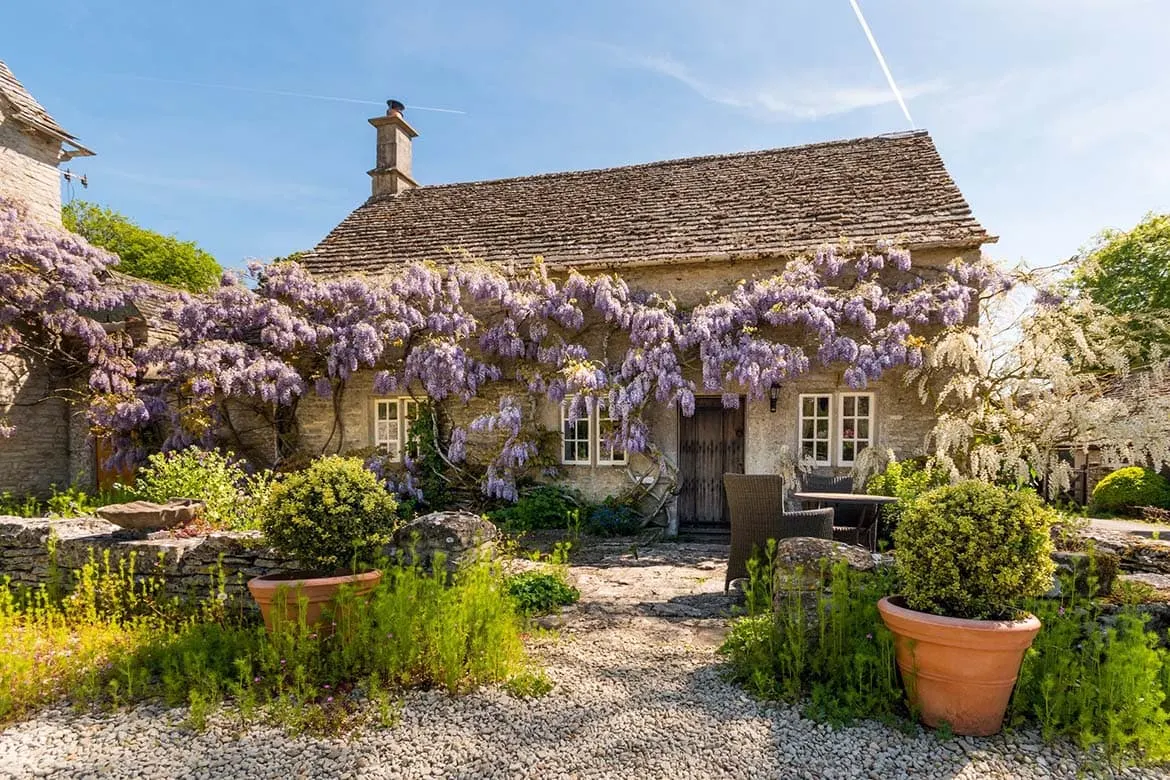 One of my favourite places to get away from it all in the United Kingdom is the Cotswolds.
There's just something that really draws me to all the cute cottages and old-fashioned villages dotted around everywhere. It's almost like stepping back in time into a Dickens novel. That, and the hiking is absolutely incredible in this region of England.
Over the years I've been to the Cotswolds on romantic breaks with my partner (the most recent one we hired a campervan for the weekend which was great fun). I've also hired the ginormous Marsden Manor in Rendcomb with about 16 of my friends for an epic weekend away. Now that was a weekend to remember.
However, when it comes to a cute cottages in the Cotswolds, there are so many places to choose from. That's why I wanted to put together this little guide showcasing some of the best places to stay in the Cotswolds.
From quirky options like staying on a vineyard to traditional thatched cottages for the family in Cirencester, these are the best self-catering holidays in the Cotswolds an amazing getaway.
If you're looking for a place to get away from it with your own self-catered accommodation, then you can't go wrong with any of these!
– Holiday Cottages in the Cotswolds –
When I think of places to stay in the Cotswolds, I automatically think of cottages like this one. With a beautiful thatched roof and wooden beams throughout the property, Asphodel Cottage just oozes charm and character.
With its own well-kept garden and stunning views of the countryside, this place is located in the sleepy village of Tarlton. This means you're close to Cirencester and Tetbury while it still being a secluded stay. Obviously it goes without saying but there are some amazing hikes around the area and a number of traditional pubs within walking distance too.
The owners, an art advisor and writer, have taken great care in creating a unique interior of great style in a restoration of the highest quality. All the original features have been retained with natural floors, beamed ceilings and an inglenook fireplace. There are velvet sofas, beautiful oriental carpets, fine art and classic books. All in all this is one of the best Airbnb near Tetbury.
As Asphodel Cottage sleeps 2, I would say this is the perfect romantic Cotswolds retreat to get away from it all.
Another amazing Cotswolds Airbnb is Top Cottage in Broadway.
Broadway is actually one of my favourite villages in the Cotswolds as it's got this stunning street where all the buildings are made of traditional Cotswold stone. The main high street is packed full of independent shops and tea rooms – you can even pop into The Cotswolds Distillery for the local gin. Broadway is also home to The Lygon Arms, one of the oldest hotels in the UK.
Top Cottage sits in a short row of picturesque cottages just off Broadway's High Street. This 2-bedroom, 2-bathroom cottage can sleep up to 4 people, so is perfect for a UK staycation. The cottage has traditional wood beams throughout the property and it is really charming. Also, there's a lovely little courtyard out back which is perfect to relax in after exploring the countryside for the day.
I'd really recommend a visit to Broadway Tower while you're in the area – it's such a unique tower!
This might be one of the most peaceful places you can stay in the UK. The Island Lodge is straight from a design magazine and it is simply beautiful.
Perched by the side of Little Horseshoe Lake near Gloucestershire, the lodge has floor-to-ceiling glass in the main living room so you always get views of the lake. There's also a little pier over the water which is the perfect spot for a sunny afternoon. Beers are an added bonus.
Inside the lodge it is open plan with the large double bed up on the mezzanine floor. There's also a log fire for when it gets cold at night or in the winter.
Also, the lake itself is a very popular private fishing lake which is well stocked with carp and trout, so if you're a fisherman then you will love it here.
Unfortunately the Island Lodge is for adults only, but that does make it a very romantic weekend away for the two of you!
This is one of the more unique Airbnbs in the Cotswolds you'll find. Shepherd's View is an old converted shepherd's hut with some gorgeous views of the countryside. Expect green fields and lots of wide-open spaces here.
The hut itself is quite small, that just makes it extra cosy and romantic. Inside the hut there is a double bed, toilet and kitchen, so you've got everything you need for a short weekend away.
Outside there's a really nice decking area where you can relax in the afternoon or have dinner in the evening. There's also a fire pit which you can sit around while watching the stars. The firepit can also be used as a bbq which is handy too.
This is one of the most highly rated Airbnbs in the area and it comes very highly recommended. Everyone who's stayed here absolutely raves about this place.
Okay, so this one is pretty luxurious but I couldn't resist adding it in. Abbey House Gardens is a privately owned country house with some of the most beautiful gardens you'll find in England.
Even though access to the main part of the house is private, the gardens are open to the public making them one of the top tourist attractions in Wiltshire.
A way to have the gardens to yourself is by staying here. Even though you won't have the whole mansion to yourself (as if anyone could afford that!), you will have your own private area with breakfast room, shower room and full use of the 5-acre gardens.
The gardens really are spectacular though, and staying here means you'll have your own access to them which is pretty special.
Oh, and also to note, occasionally there are 'Clothes Optional Days' held in the Gardens. This is one of the top events for naturists in the UK, so if you're not a fan of this then check the dates and don't book for then!
Who wants to stay in their own private castle with beautiful gardens to boot? Of course you do!
I think this is a truly unique Cotswolds Airbnb. You'll find this place located on the edge of the grounds to Sudeley Castle, an old 12-century castle that's one of the top places to visit in Winchcombe. The chapel in the castle, St. Mary's Sudeley, is the burial place of Queen Catherine, the sixth wife of King Henry VIII.
As for the Castle Gatehouse itself, it is a pet friendly property that comfortably sleeps 4 guests in 2 en-suite bedrooms. The Gatehouse is split into two wings, accessed by separate doors. On one side you have a four-poster bed master bedroom with en-suite shower room. On the other side you enter the kitchen/diner, going upstairs to the living area and then up into the second king size bedroom with en-suite shower room. It all sounds pretty grand, doesn't it.
One of the best bits about staying here is you'll also get complimentary tickets to Sudeley Castle & Gardens. This place is well worth visiting in the Cotswolds regardless of whether you're staying here or not.
For those of you looking for a bit of glamping in the Cotswolds, look no further than the Willowherb Pod just outside Cheltenham.
This place is located in the idyllic village of Notgrove – you'll even be able to access the 1,500-acre Notgrove Estate for your daily hikes.
All the pods come with an en-suite shower, toilet and kitchen facilities. You'll also have access to the on-site games room for if it rains. Oh, and there's a little petting zoo with goats, donkeys, alpaca and a pig making this the perfect spot for families with young ones.
One of the best things to do here is hire a bike and explore the surrounding countryside. There are loads of biking and hiking trails in the area which you can follow for the day.
Little pods like this are becoming more and more popular at the moment making this a fantastic option for budget accommodation in the Cotswolds.
This one is for all you wine lovers out there. Just on the outskirts of Gloucestershire you'll find Woodchester Valley Vineyard, and it's here you can stay on a very romantic Cotswolds retreat.
Located in an idyllic setting, you can enjoy a glass of their award-winning wine while taking in incredible views from the terraces.
The generous guest room offers a living area that has a gas log burner, underfloor heating, large TV and is equipped with a kettle, toaster, mini-fridge, wine fridge and microwave. However, there isn't a kitchen it's not true self-catered accommodation but more of a B&B.
The bedroom is equipped with a super-king size bed, dressing table, TV and en-suite bathroom, with a large walk in shower and separate bath. It boasts three separate terrace/balcony areas either overlooking our Woodchester vineyard or across the Stroud valleys.
The best bit. If you stay here during April to September then you can have a tour of the vineyard and learn all about how they produce wine here. Obviously this includes a bit of a wine tasting session too!
I think this is such a beautiful Cotswolds Airbnb with gorgeous gardens and wisteria growing on the front. Located in the grounds of a farm, this cottage is an excellent option for those of you who want a secluded stay in the UK.
Stable Cottage is a 1-bedroom, 1-bathroom property, so ideal for a couple. This is a comfy king size double bed and a wood-burning stove for when it gets chilly in the evenings. There is also a spacious kitchen that's fully equipped with everything you need.
Outside you'll get to relax in the gardens. Make sure you pack a bottle of wine as this is the perfect spot when the sun sets.
I think this is such a cute option and it's a fantastic place to base yourself while exploring all the Cotswolds has to offer.
For me, this is what Cotswolds cottages are all about. I mean, this place just looks so stunning!
Do you want to know what makes Daisy's Den so special? Each cabin comes with its own private wood-fired hot tub. Yes, you read that right. How romantic is that!
These stunning hand-crafted cabins can be found in Mickleton in the North Cotswolds countryside. Just a short 5-minute walk away is the village where you'll find a couple of pubs, both of which a great dining options in the evening.
Each cabin is like comes with a little micro-kitchen if you want to cook your own stuff. There's also an eco-toilet which is obviously environmentally friendly.
The hot tubs are wood fired and can take up to 4 hours to heat – they are all emptied, cleaned and refilled for you on the day of your arrival so are normally ready for lighting around 3pm so will be hot on your first evening here. Just bring a bottle of bubbly and you're good to go!
Again, when I think of little holiday cottages in the Cotswolds, I think of places like this one. Located in Coln Rodgers which is near Cirencister, The Priest House is a very beautiful cottage cut away from it all.
Upstairs in the cottage is a double bed, and downstairs you'll find a cosy open plan kitchen and living room. The kitchen is fully equipped with everything you need for your stay. The toilet is also downstairs.
Outside if a beautifully kept garden that's one of the real highlights of the property. Just imagine sitting out here for dinner on a warm summer's evening.
Coln Rodgers is in an area of outstanding natural beauty and there are some lovely walks and places of interest to visit close by. It's very tempting to just stay in when you're sleeping in a place like this though.
Bourton-on-the-Water is one of the most popular places to visit in the Cotswolds. Well, you can stay right in the heart of this village at Bourton Croft Cottage.
This cottage was recently refurbished in 2014 to a really modern spec. And as it sleeps 6, it's a really good option for a large family or a few friends on a weekend away.
There is a fully equipped kitchen which is very bright and airy, perfect for a croissant from the local bakery in the morning.
If you want to stay in in the evenings there's a lovely wood-fire burner and loads of board games to choose from.
One of the best things about this place is being so close to Bourton-on-the-Water so I'd really recommend exploring the village and popping into a few of the pubs here.
Oh, and there's an amazing model village in Bourton-on-the-Water for the little ones too!
---
Like this blog post? Then make sure you Pin it for the future!