Whether you're after a luxurious 5-star resort or a cheap and cheerful apartment, check out the best boutique hotels in Punta Cana here!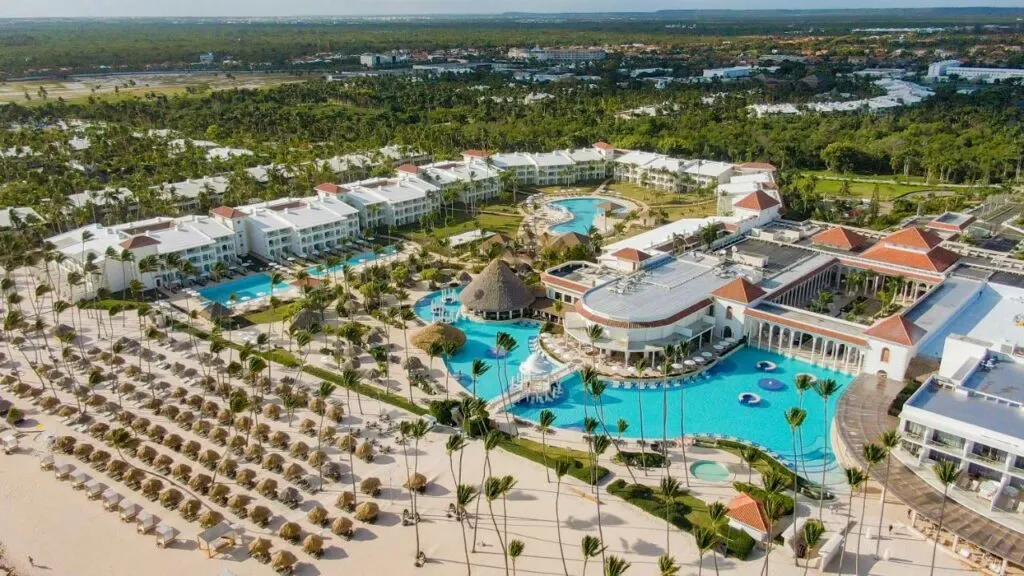 If I said the word 'paradise', what kind of place would spring into your mind?
I'm thinking blue skies, sparkling seas, long stretches of white sand. The whole shebang.
Now, there are a fair few places that fit this description. But top of my list would be Punta Cana, Dominican Republic.
Postcard-perfect scenery, friendly people, tons to do… it has everything you want. Including fantastic places to stay. In fact, the boutique hotels in Punta Cana are a cut above the rest, and I'm about to show you why.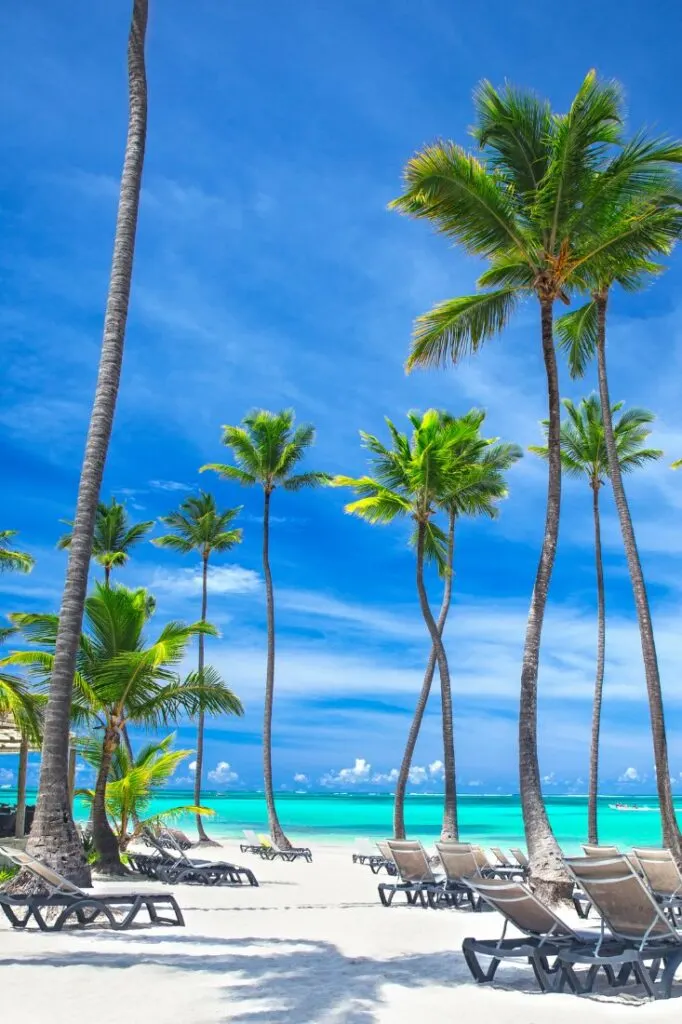 You've got the gift of choice too. Whether it's a sprawling resort with multiple pools or a beachfront hotel with a view to the ocean, arranging your dream Caribbean holiday is easy-peasy. It's deciding whether to leave the hotel complex that's always the hardest decision!
Anyway, that's enough waffling from me. Onto my top recommendations for hotels in Punta Cana. I really hope one of these suit you for planning your holiday here.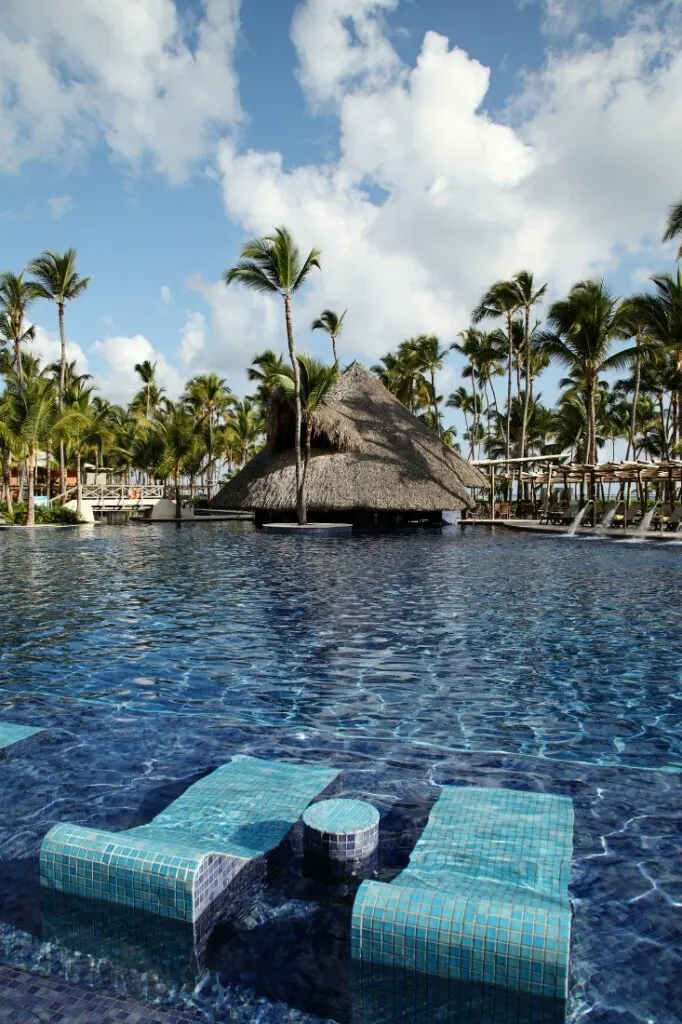 Where to Stay in Punta Cana
Bávaro
Bávaro is Punta Cana's main tourist hub, a retreat on the edge of the ocean. Lined with white-sand beaches that stretch for miles, it's packed out with luxury resorts and is brimming with things to do. A lot of the hotels I'll be talking about can be found in Bávaro.
Cap Cana
If you were to say 'show me the money' in Punta Cana, Cap Cana is what you'd see. This is a luxury gated community, home to high-end resorts, villas, and golf courses, plus a marina that dips out over glittering water. Here's where you stay if you want the ultimate 5-star experience.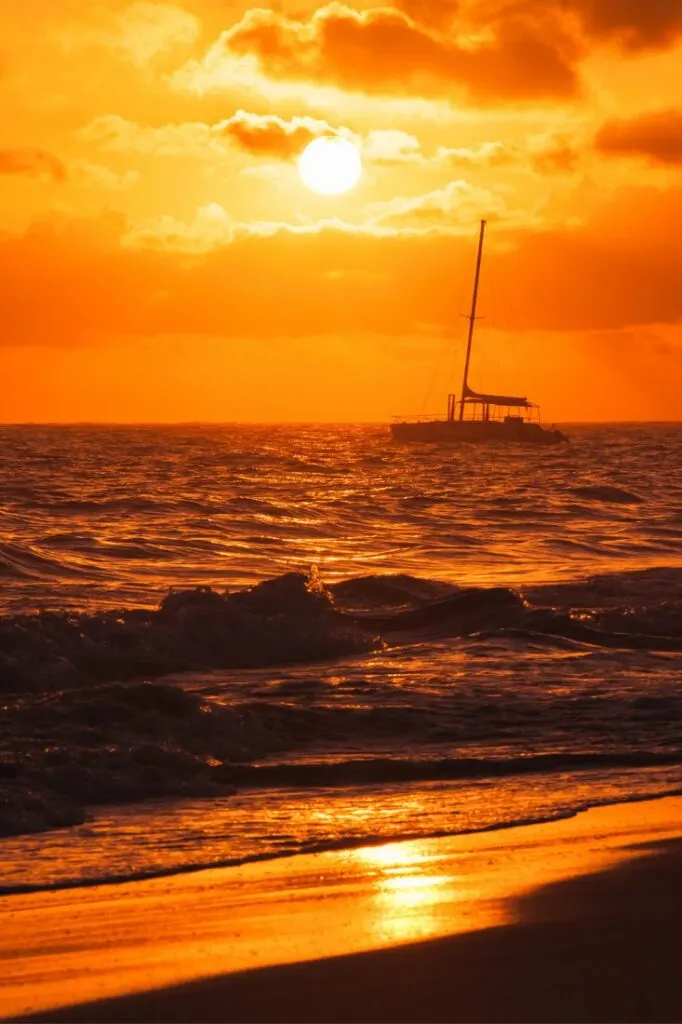 Uvero Alto
If hustle and bustle isn't for you, head to Uvero Alto. This part of Punta Cana is quiet and serene, with winding white-sand beaches. It's perfect for soaking up some R&R and basking in the tranquility, but probably isn't for you if you're after a livelier scene.
Punta Cana Village
Prefer getting the authentic experience? You'll want to stay in Punta Cana village. The vibe here is much more local, and you'll find tons of locally-owned businesses: shops, restaurants, plus activities and cultural experiences. It's also conveniently close to the airport. If your aim is to explore the local culture or check out the amenities, this is the perfect place for you – if you'd prefer to relax on the beach, maybe not.
---
Boutique Hotels in Punta Cana
Luxury Hotels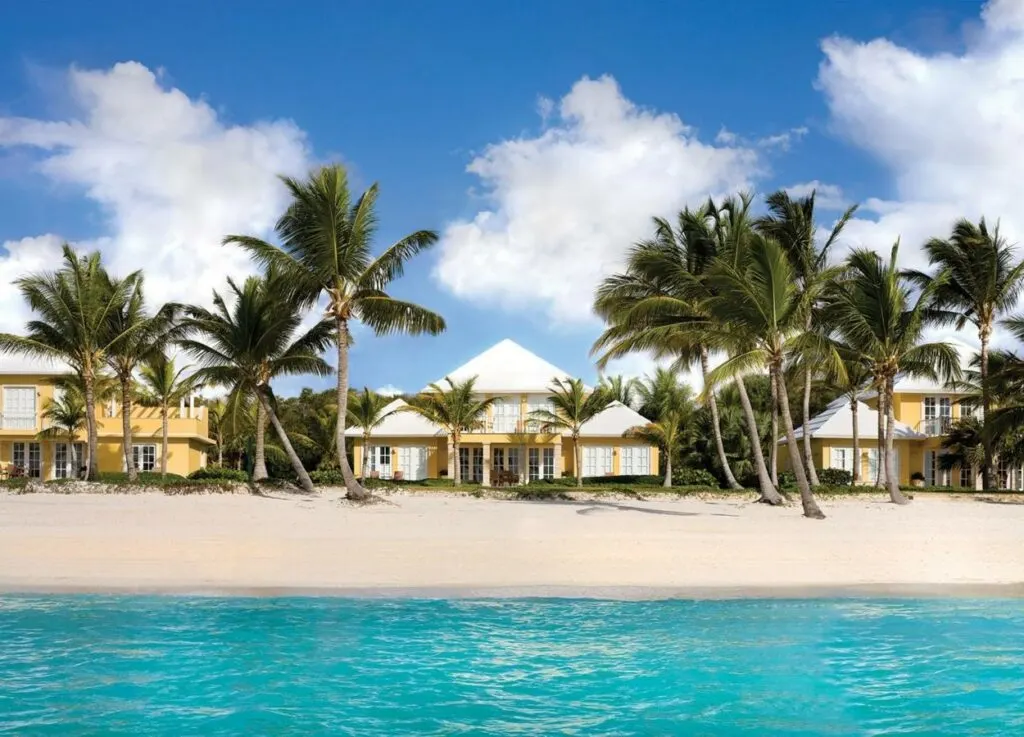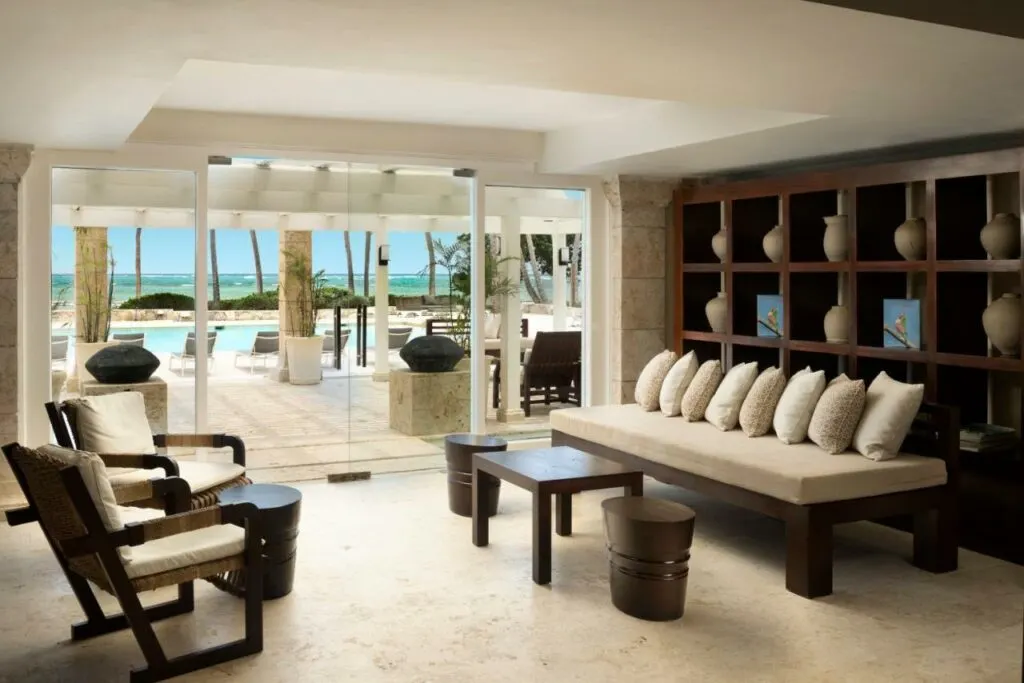 Tortuga Bay is one of the most well known boutique hotels in Punta Cana – and for good reason, too. Set on the water's edge, this 5-star resort has a swimming pool, hot tubs, as well as its own private beach.
Want to do more than just unwind on the beach? No problemo. There are loads of activities on offer at Tortuga Bay, from fishing and horse riding to kite-sailing and golf.
If you like your privacy, you're also in luck. In standalone huts equipped with kitchens, minimalist bedrooms, and private balconies, you've got plenty of space for yourself.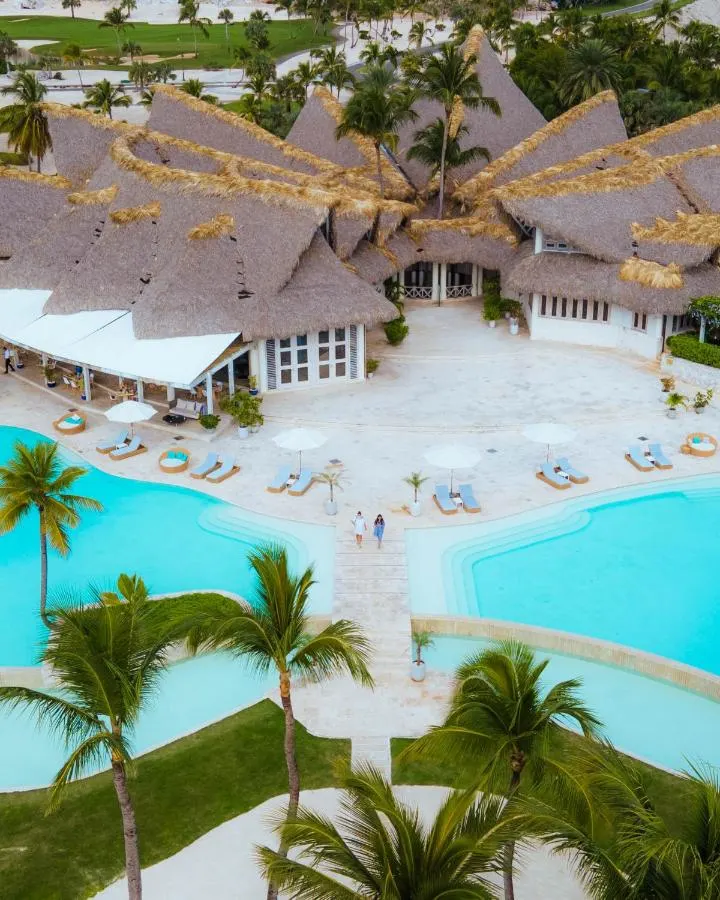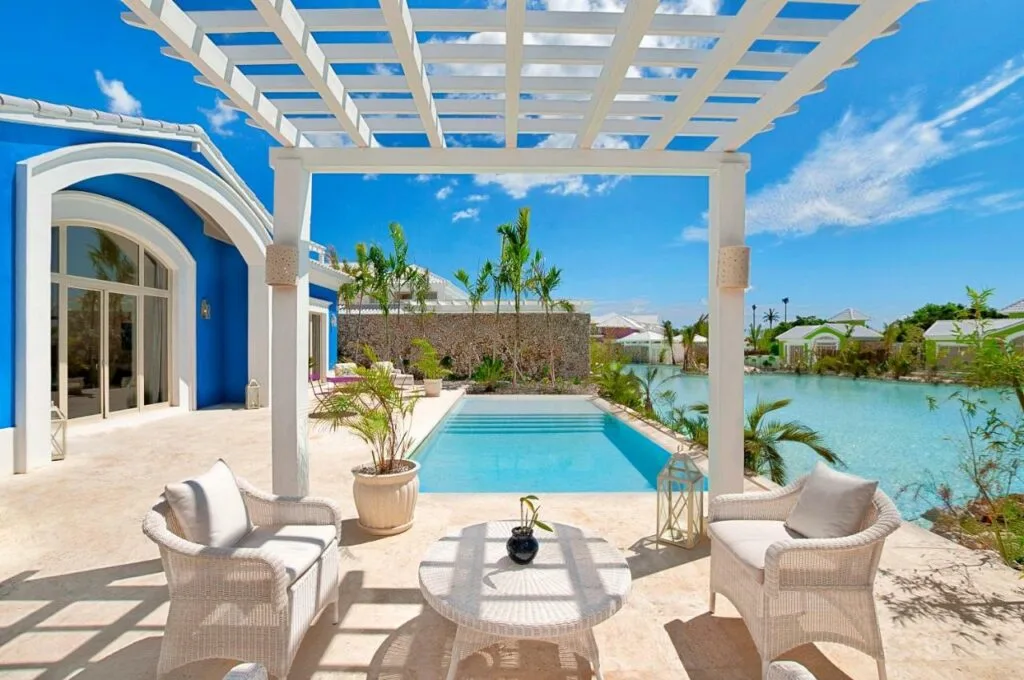 In typical Cap Cana style, Eden Roc is all about the luxury. Its design takes inspiration from the French and Italian Rivieras, and though you're very much in the Caribbean (the general warmth of the place gives it away), you could swear at times you're in Europe.
At this particular Punta Cana hotel, you've got oodles of choice when it comes to where to stay, from boutique beachfront suites to expansive villas with private pools. In terms of amenities, you've got an on-site beach club complete with an infinity pool, spa and fitness centre, plus two restaurants to choose from.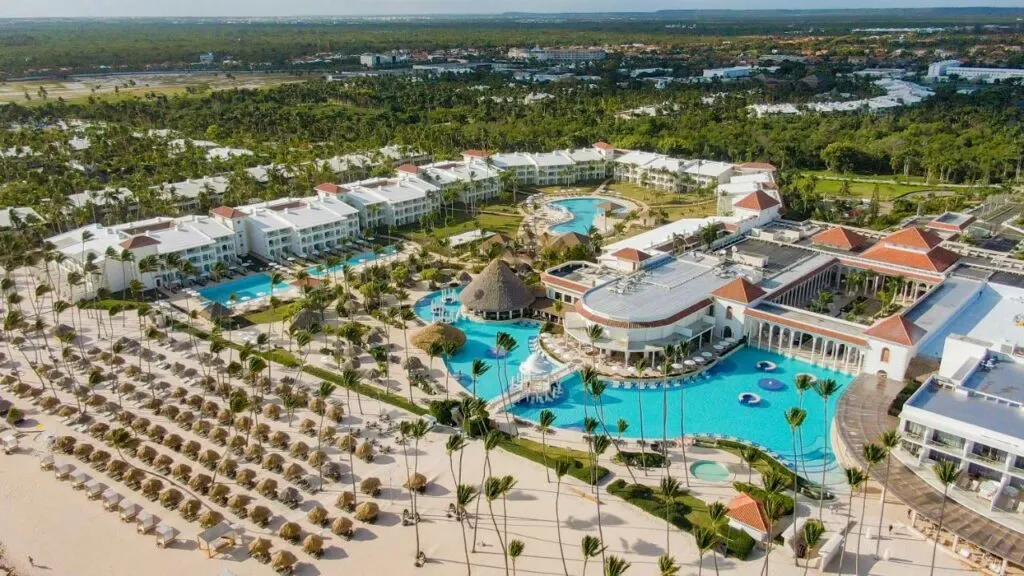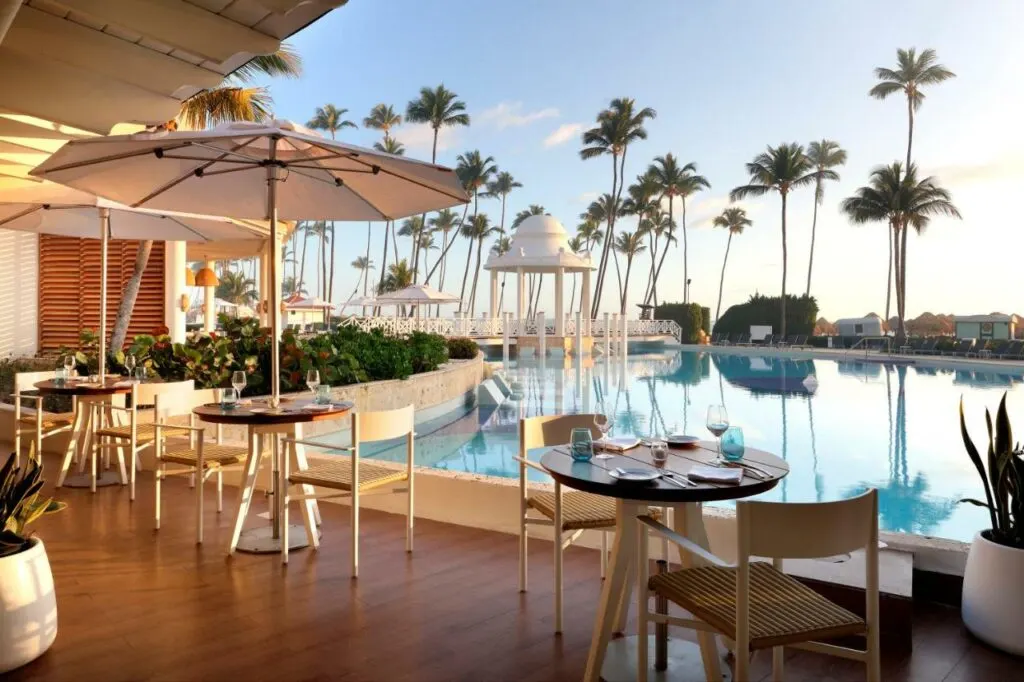 In the midst of bustling Bávaro, you'll find Paradisus Palma. At this sweeping beach-front resort, you'll find a whopping 11 swimming pools, 11 bars, 8 restaurants, and 4 tennis courts… so trust me when I say you won't be short on things to do.
For when you've had enough of baking on a sun lounger, there's plenty else to get up too. The hotel offers kayaking, sailing, dance classes – even sushi making, so there's genuinely something for everyone.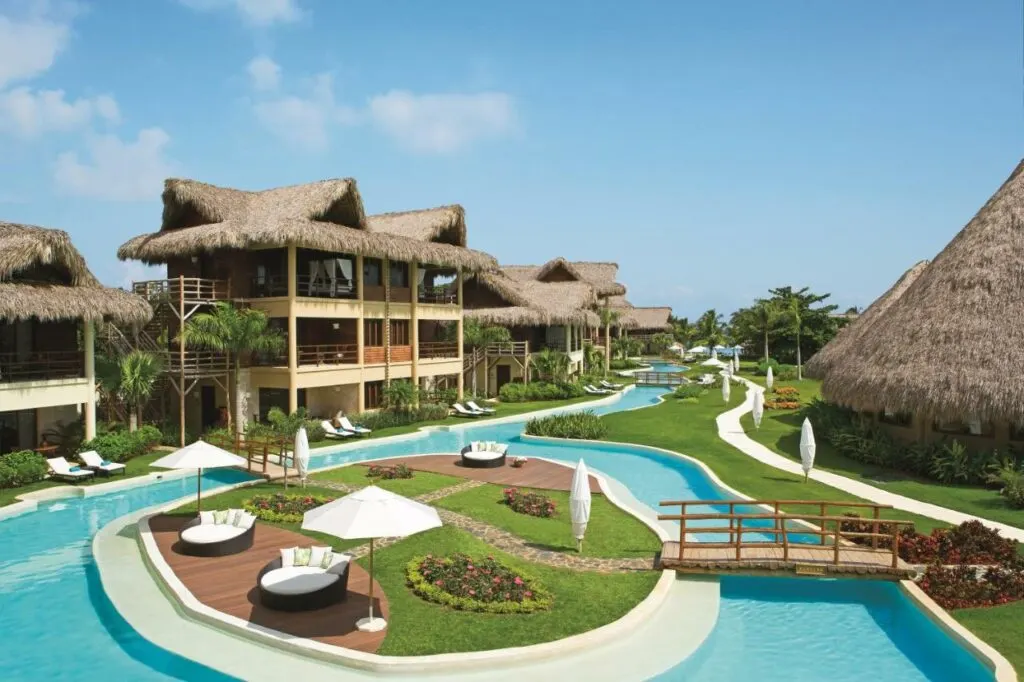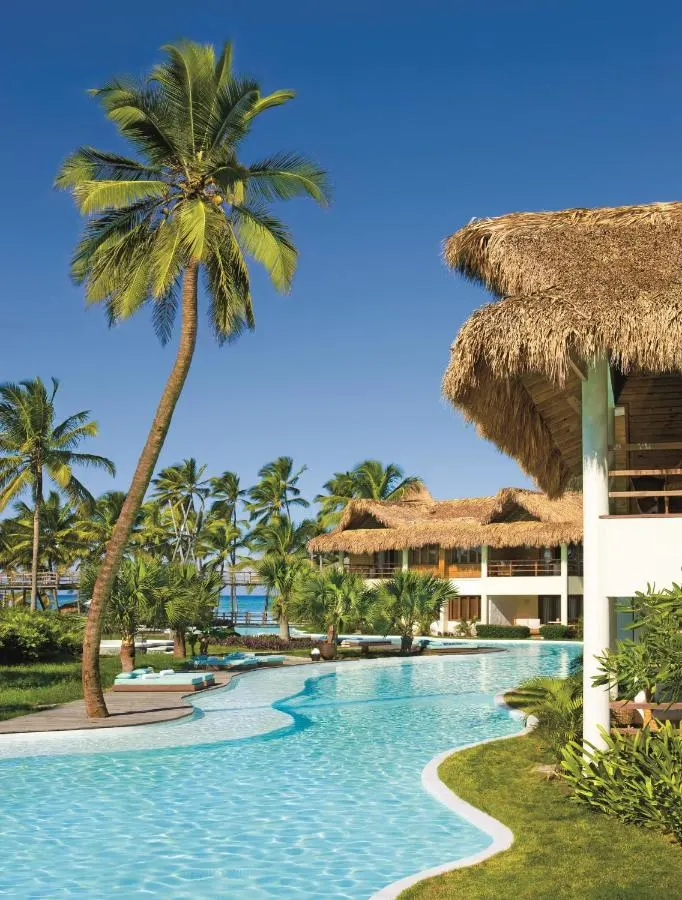 Zoëtry Agua is another one of my favourite boutique hotels in Punta Cana. This time, you'd be staying in picturesque Uvero Alto, where the hotel is surrounded by lush forest and greenery.
Home to sleek, expansive suites, there's a huge focus on wellness here. The decor is deliberately eco-friendly, there's a spa and wellness centre (all guests are given a free 10-minute consultation too) within the grounds, and the hotel's restaurant offers nutritious gourmet meals.
Aside from chilling at the resort, there's lots to get up to, from snorkelling and surfing to horse riding and billiards.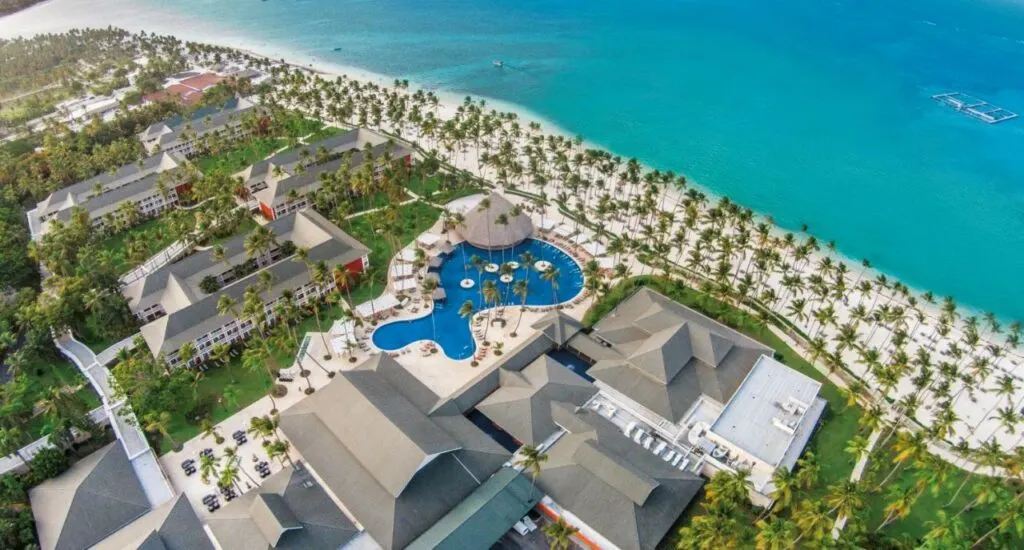 As the name suggests, you can find Barceló Bávaro Beach in the Bávaro area of Punta Cana. This is an Adults Only resort with a view to the shore, where you can find an outdoor pool and a 24-hour casino shared with a neighbouring hotel. Other features include multiple restaurants and bars – including a 24-hour sports bar for the night owls amongst us – and a theatre offering daily entertainment.
Mid-range Hotels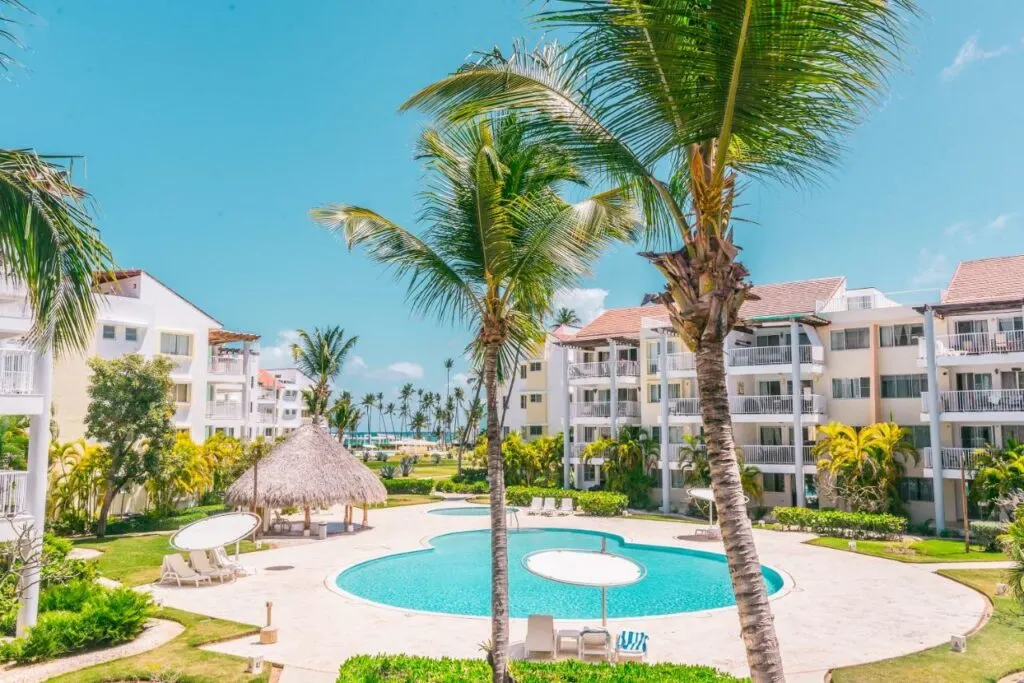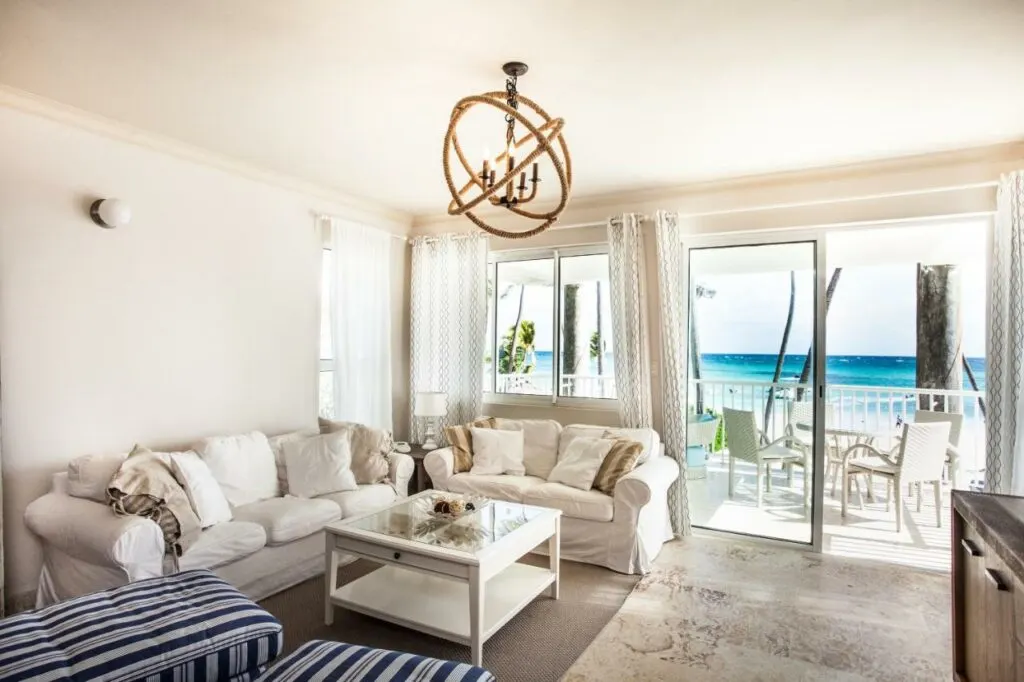 One of the best things about Punta Cana's hotels is that there's a huge range of options. And you can still enjoy a luxurious stay without dropping thousands at a resort.
Playa Turquesa Ocean Club is one such example. With two outdoor pools – including one with a swim-up bar – a garden, and sea views, it's got paradise down to a T.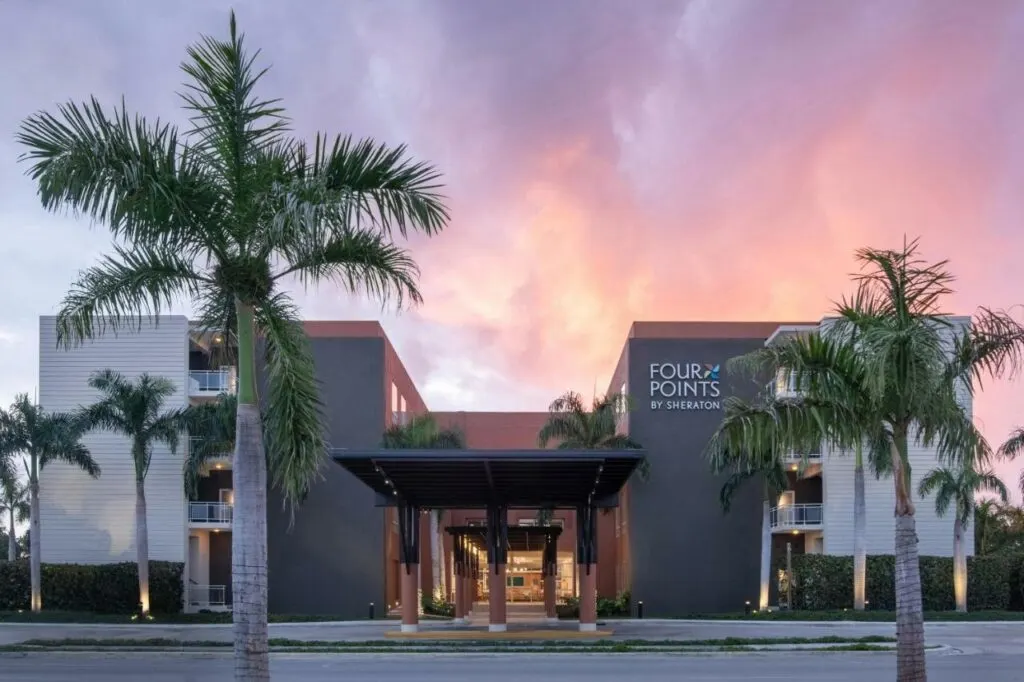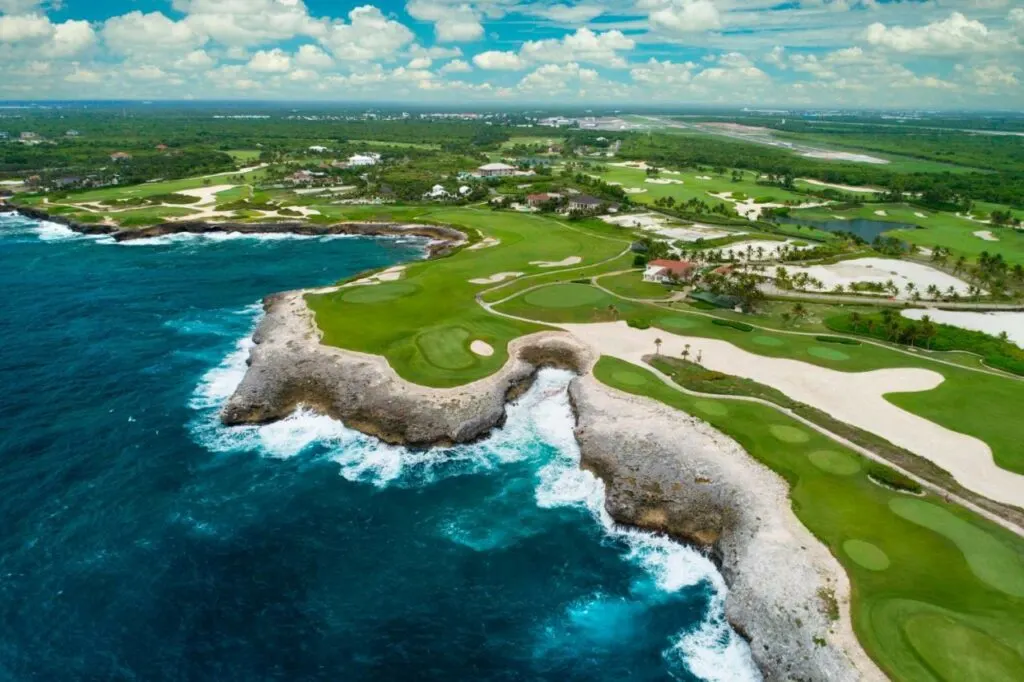 Get the local experience at Four Points by Sheraton, located in the centre of Punta Cana Village. This hotel is equipped with a swimming pool and a gym, and a free shuttle service will take you to its private beach. Speaking of the shuttle, it'll also take you to the La Cana golf course, the Six Senses Spa, and the Punta Cana Nature Reserve, so it's a super convenient option if you want to explore more of the area.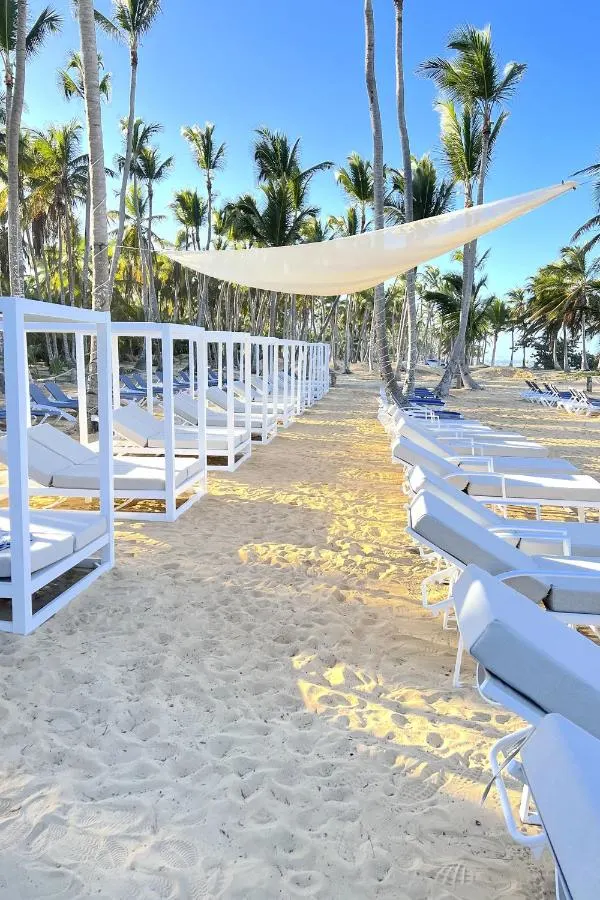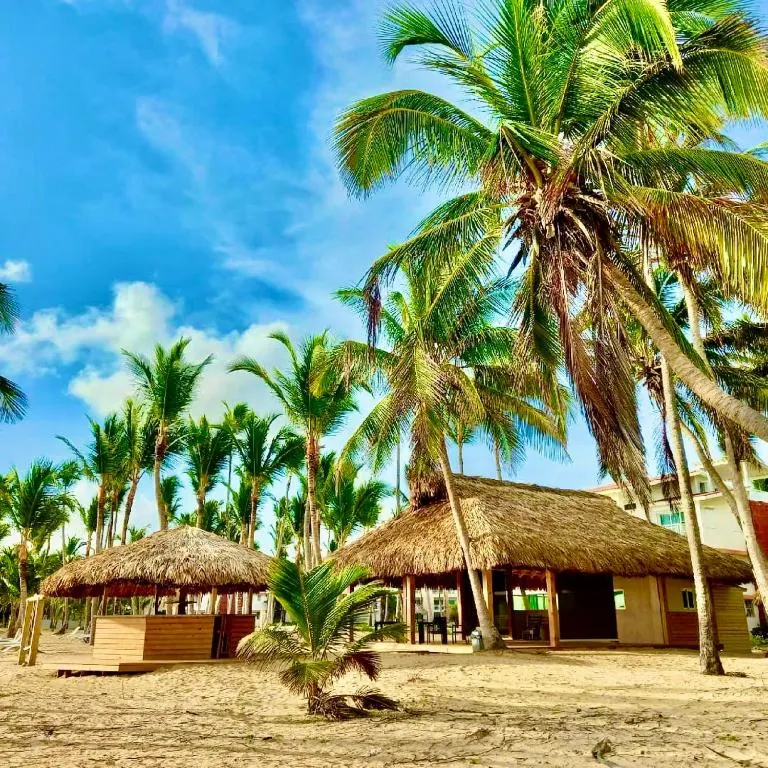 Prefer a bit more space when you travel? Head to Playa Palmera Beach Resort. This Punta Cana hotel is located in tranquil Uvero Alto and consists of a series of apartment units. It's a proper home away from home with a kitchen, a seating and living area, plus a private bathroom – everything you need for some quality relaxation. Step outside and enjoy the shared pool or private beach.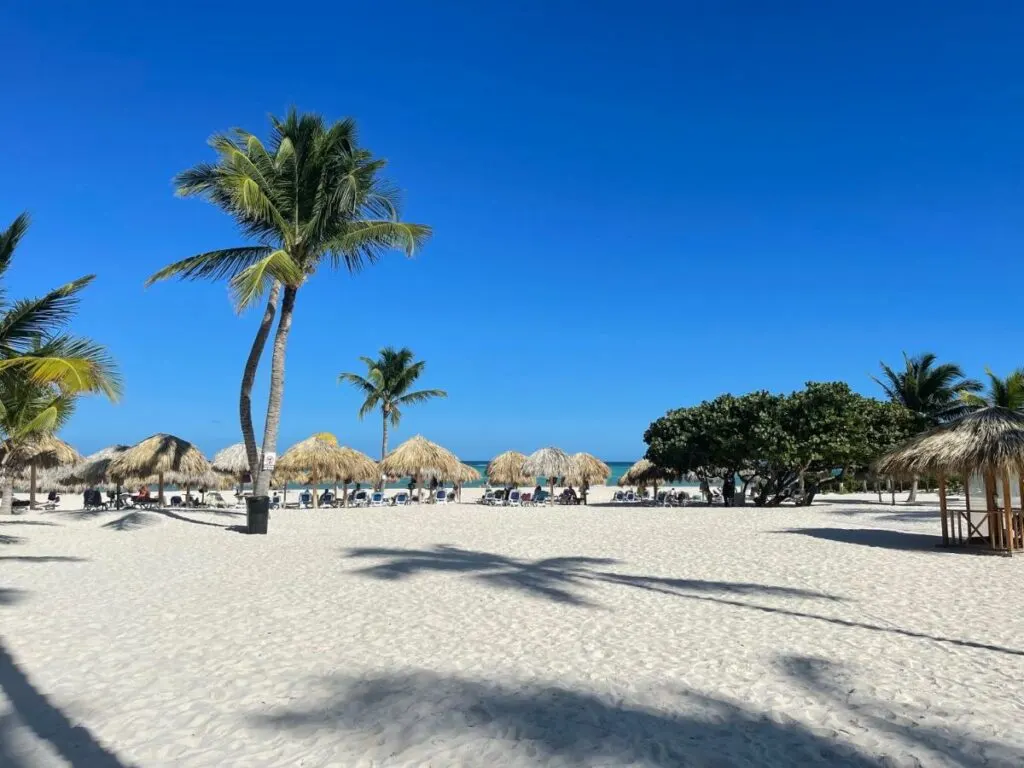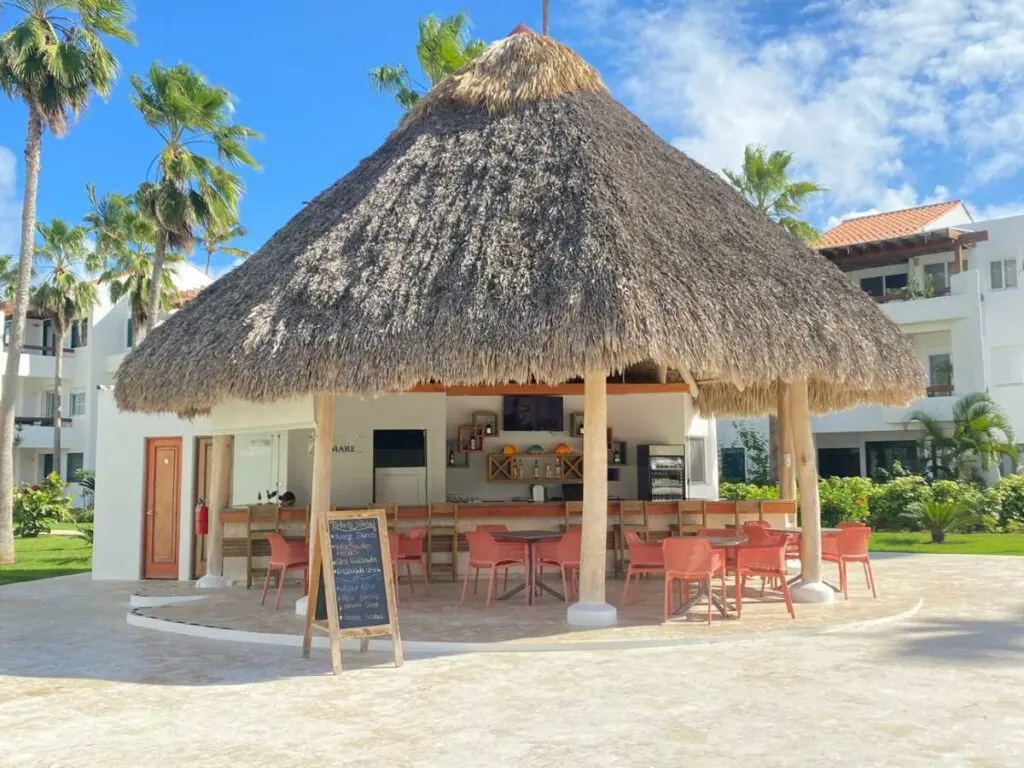 Stanza Mare is another aparthotel, located this time in Bávaro. The rooms are bright and airy, complete with garden views and all of the amenities you need to make your stay comfortable. Arena Gorda Beach is only moments away so getting your beach hours in is easy-peasy; the surrounding area is perfect for cycling; and if you do spend a busy day outdoors, you can enjoy local cuisine at the on-site restaurant.
Budget Hotels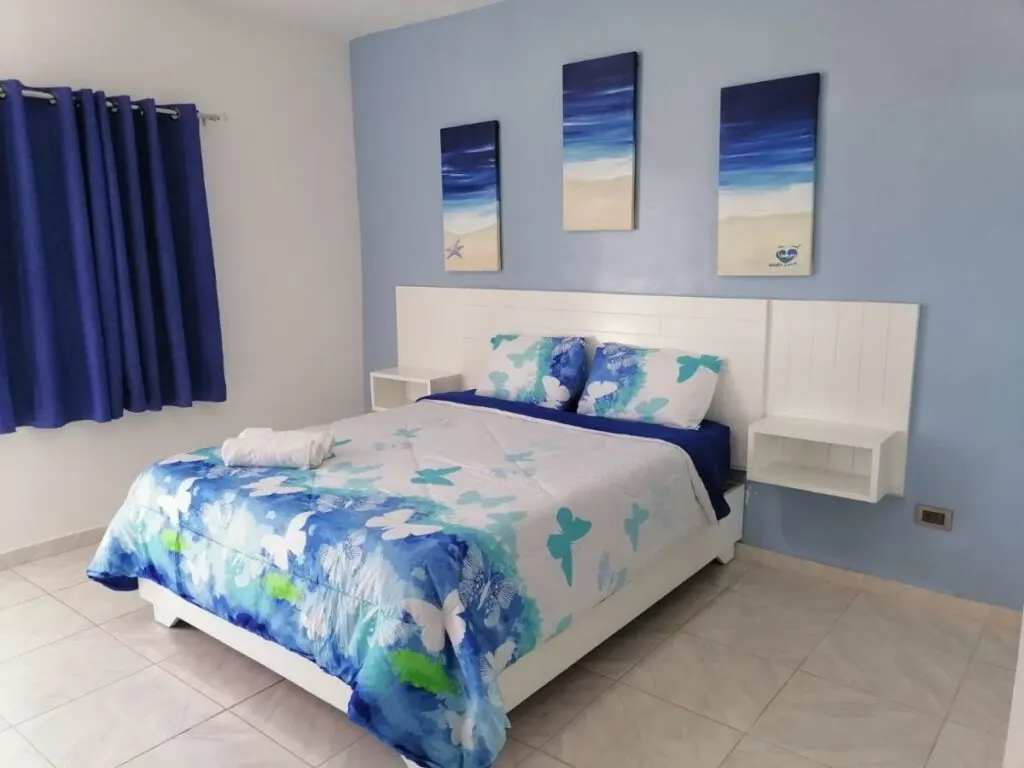 Costa Love Aparta Hotel is another of Punta Cana's aparthotels, a fairly cheap-and-cheerful option that's a great base for exploring. Just because it's good for saving the pennies for your adventures, though, doesn't mean you can't get your fill of relaxation: head on down to the outdoor tool, or grab a bite at the on-site restaurant (which specialises in tasty Japanese food).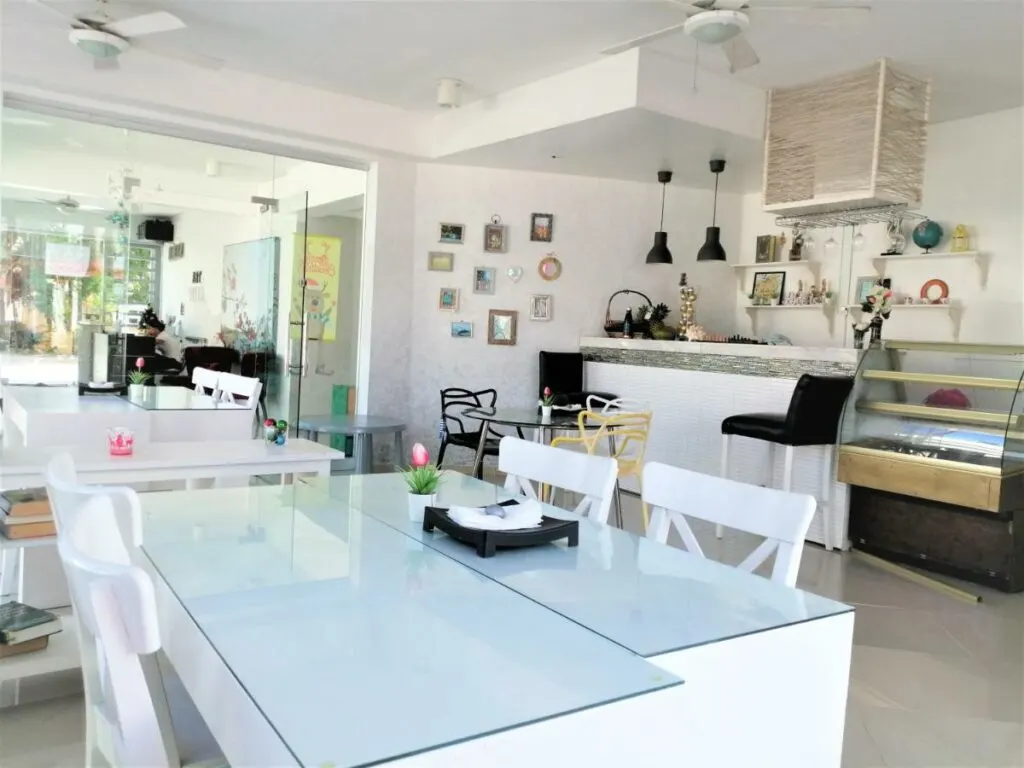 Art Villa has a mix of single rooms and apartment units. Closely located to Bávaro Beach, it has bright, cosy bedrooms, an on-site bar and restaurant, plus its own private section of the shore. If you're looking for a blend of comfort and convenience, it's a great option.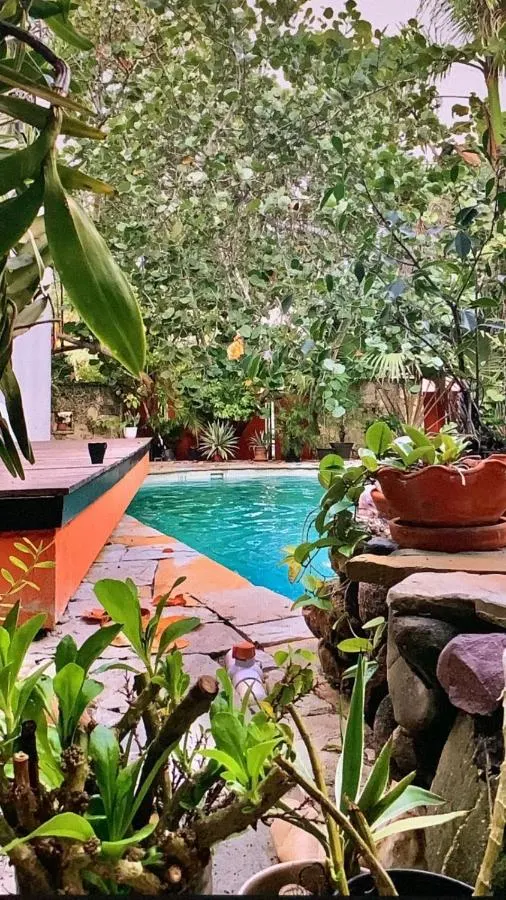 Manaya Bed & Breakfast is a convenient pitstop close-by the airport, so it's perfect if you're planning a more fleeting visit to Punta Cana. A cheaper option than you'll typically find in Punta Cana, you'll still get that slice of paradise with an outdoor swimming pool, a lush garden, and an outdoor terrace.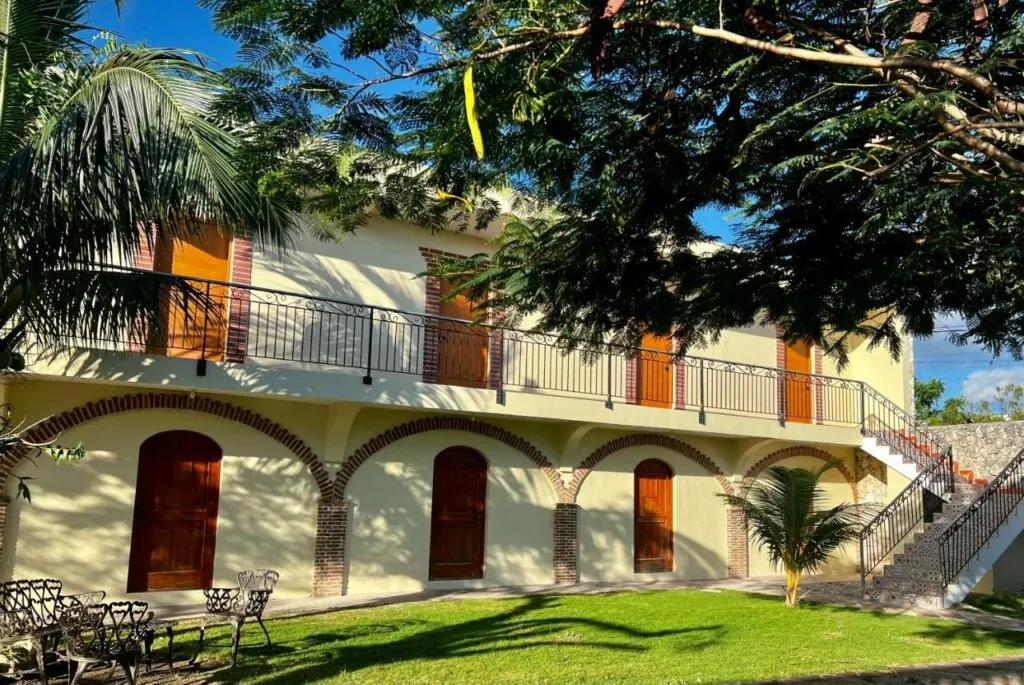 A brilliant option if you're planning on getting out and about, Hotel Yamilí is equipped with a shuttle service and quick links to Punta Cana attractions like Dolphin Island Park and Freshwater lagoons. At the hotel itself, you can while away the time in the games room the fitness centre.
---
Do any of these Punta Cana hotels float your proverbial boat? Let me know in the comments – and if you're planning a trip, have an awesome time!
Like this blog post? Then Pin it for the future!