Are you looking at booking a buggy experience in Lanzarote? From what to wear to other top tips, this is the ultimate guide to Buggies Lanzarote!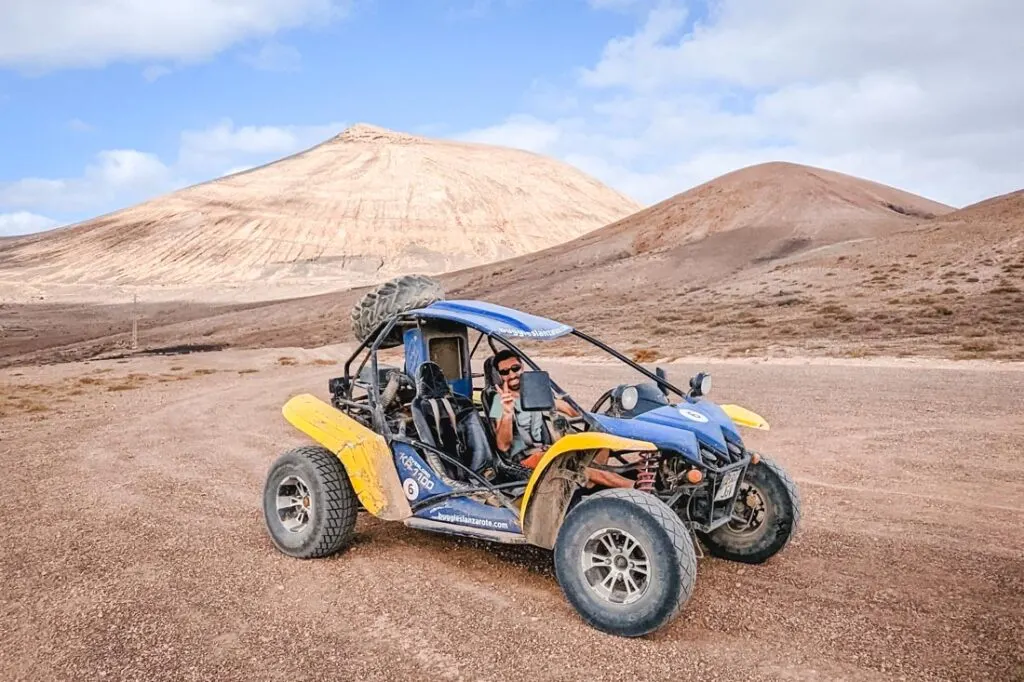 If you're looking for one of the best adventure activities in Lanzarote, then look no further than Buggies Lanzarote. This is an adrenaline rush like no other, and it's such a unique way of exploring the island.
Let me say this now – I absolutely loved my buggy experience in Lanzarote. Because you're in an open vehicle, it feels like you're going a million miles an hour. And once you get off the main roads, it feels like you're on a Luna mission exploring Mars. Honestly, it's such a buzz!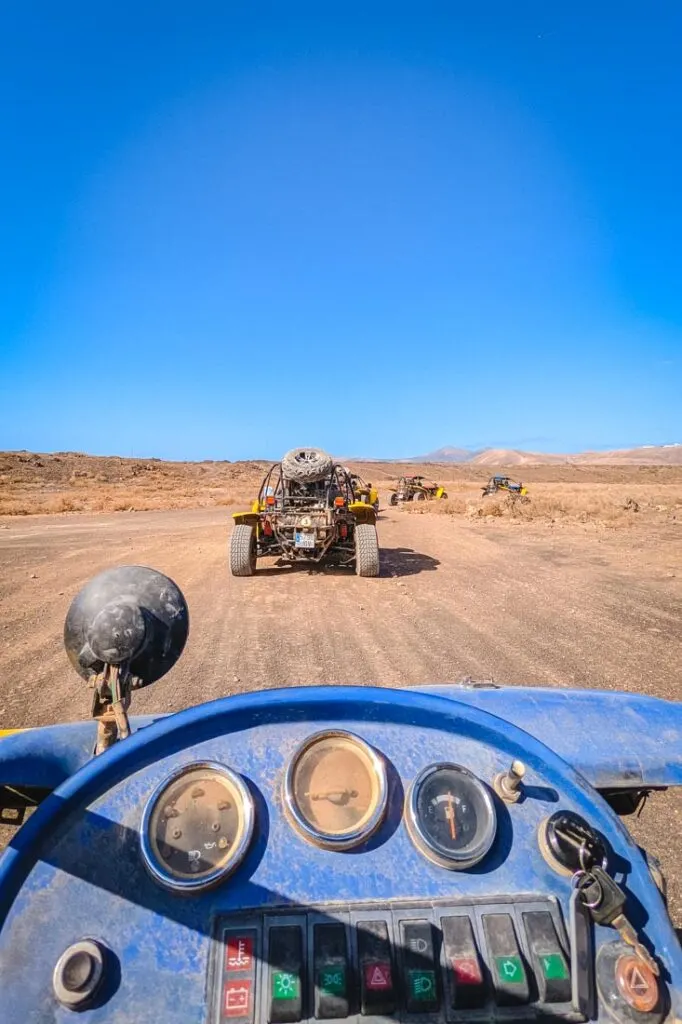 I spent a week exploring the island, and my buggy tour was up there with the best things to do in Lanzarote. Hopefully you'll see why I loved it so much in this post.
If you're looking at booking Buggies Lanzarote, then this is the guide for you. In it I breakdown the day, what you should wear and what you should bring along with you. I've also got some very practical advice, so make sure you keep on reading for that.
If you're sitting on the fence, I really hope you find this guide useful for when booking your buggy tour in Lanzarote!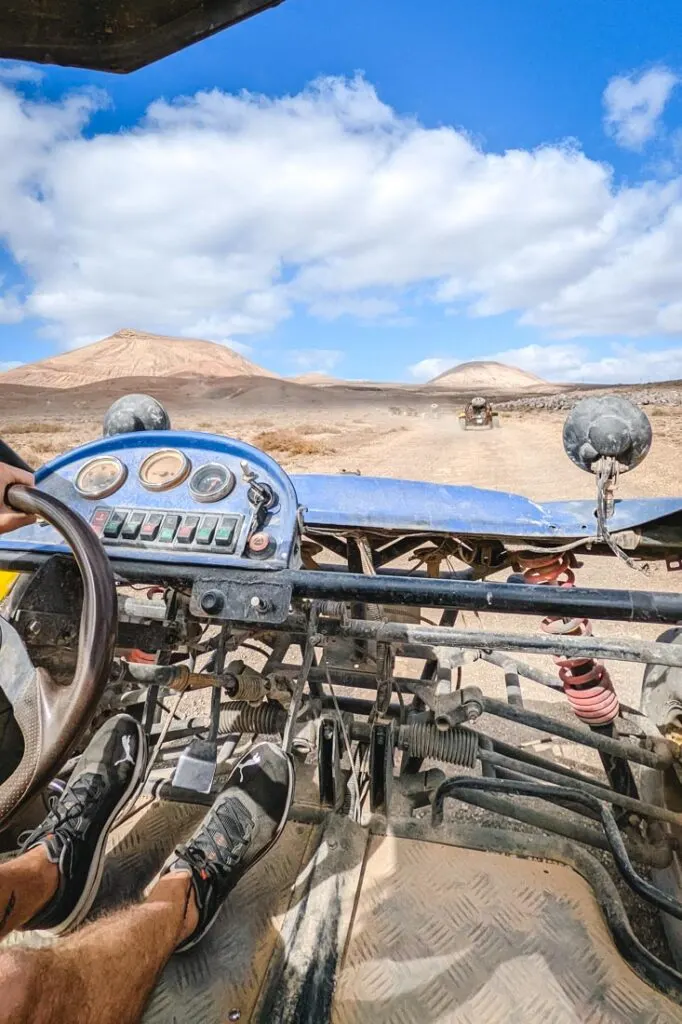 As the name suggests, this is a buggy tour through the arid landscapes of Lanzarote.
The buggies themselves are open vehicles that seat two people, and they can go surprisingly fast with top speeds of up to 40mph. Don't worry though, everything is very safe!
Driving a buggy is exactly the same as driving a manual with gears and a clutch. I would say the clutch isn't exactly the smoothest, but that's all part of the fun! Just expect to stall it a couple of times.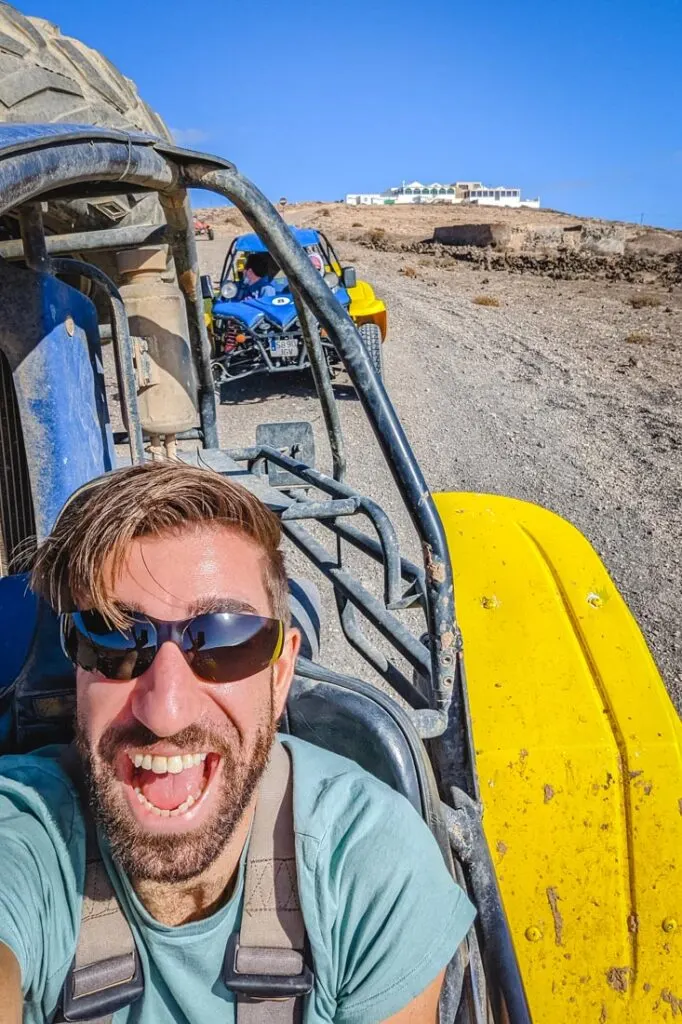 One of the things I really liked about our buggy tour was we were with three different guides at all times – one leading the way, one bringing up the rear, and one in a 4×4 just in case things went wrong.
We also got to explore a lot more of the island than I thought we would. We even made it to the black lava fields of La Geria which was amazing.
The views driving back from that spot were the best. As I said, this is such a special way of exploring the island and seeing what it has to offer.
Going on a buggy experience in Lanzarote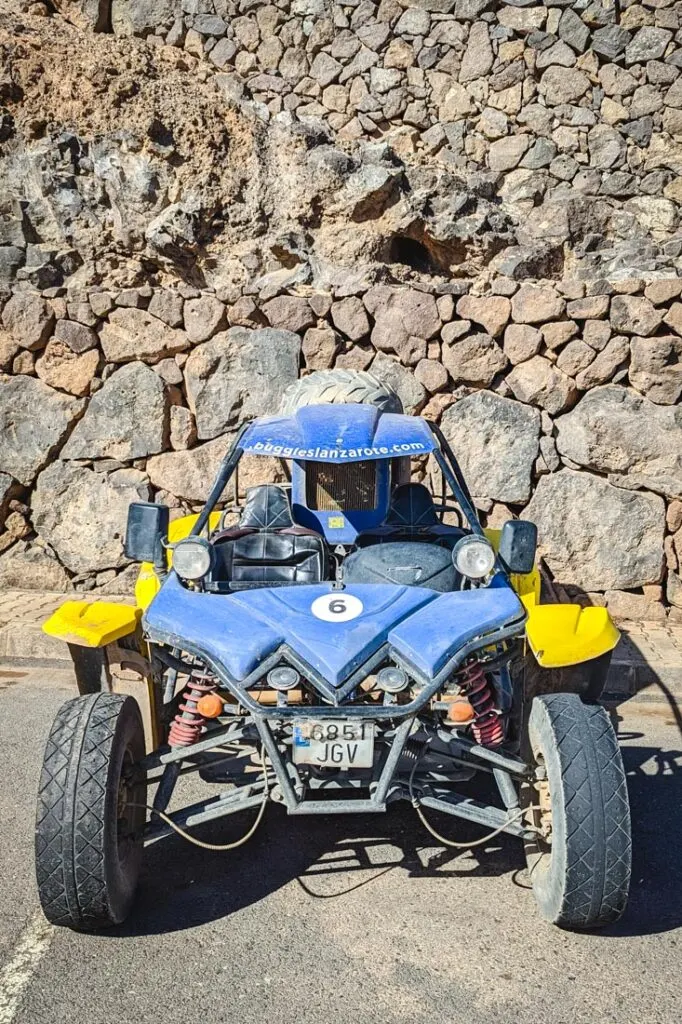 Our buggy tour started from Puerto Calero. We met the guys from Buggies Lanzarote at their office and I showed them my driver's licence.
As a group, we then walked to where all the buggies were parked. One of our guides Tony then talked through what we were doing on our tour and how to get to grips with the buggies. I know it sounds simple, but if you've driven a manual car then it won't take you long getting used to driving the buggies.
From Puerto Calero, we drove as a group along the road for 5 minutes before heading off-road out into the dusty landscape of Lanzarote. This is the first opportunity to open up the engine and rip it over the dirt tracks. It's at this point the adrenaline really kicks in!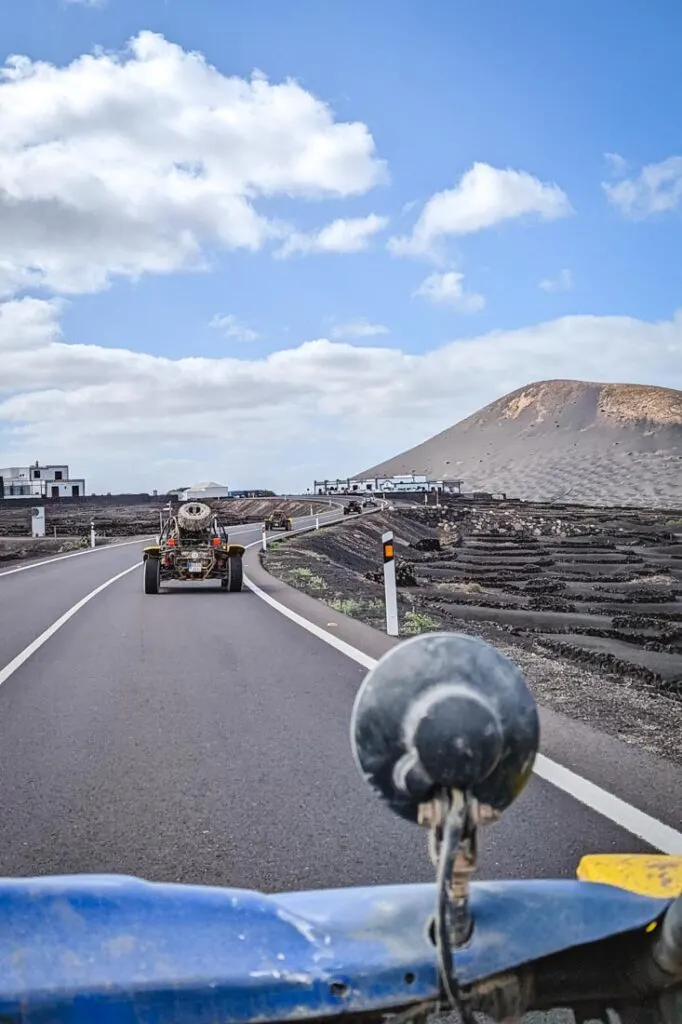 From that point onwards, our tour was a rollercoaster ride of exploring the island. Calling it a rollercoaster ride is the best way to describe it – you really get thrown all over the place. The only respite is when you get back on the flat and easy roads.
One area I absolutely loved was driving through the wine-growing region of La Geria. For those of you who don't know, Lanzarote produces very decent wine. What makes this so unique though is the vines grow in the black volcanic soil.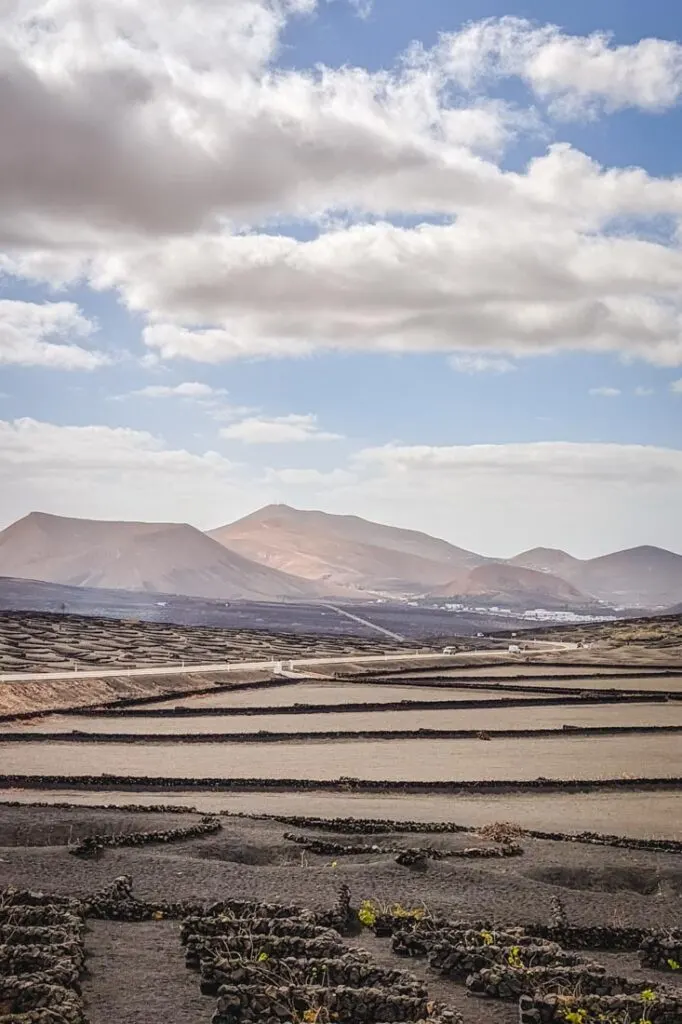 On our tour we stopped off at Bodega la Geria, one of the biggest wine producers in the area. Here you can sample some of the wines (be careful if you're the one driving!) It was definitely a nice addition to the tour though.
In total, our tour lasted 3 hours. You feel pretty wiped by the end of it once all the adrenaline stops – that's the sign of a great day though!
Hopefully this video will give you a little idea of what the tour is all about!
How much does a Lanzarote buggy tour cost?
So there are two tours you can choose from – the 2-hour tour or the 3-hour tour. If you're a petrol head and feel the need for speed, then I'd recommend the 3-hour tour. That way you'll see a lot more of the island.
The 2-hour tour costs £80 (€95/$105) for two people
The 3-hour tour costs £95 (€115/$130) for two people
What should you wear?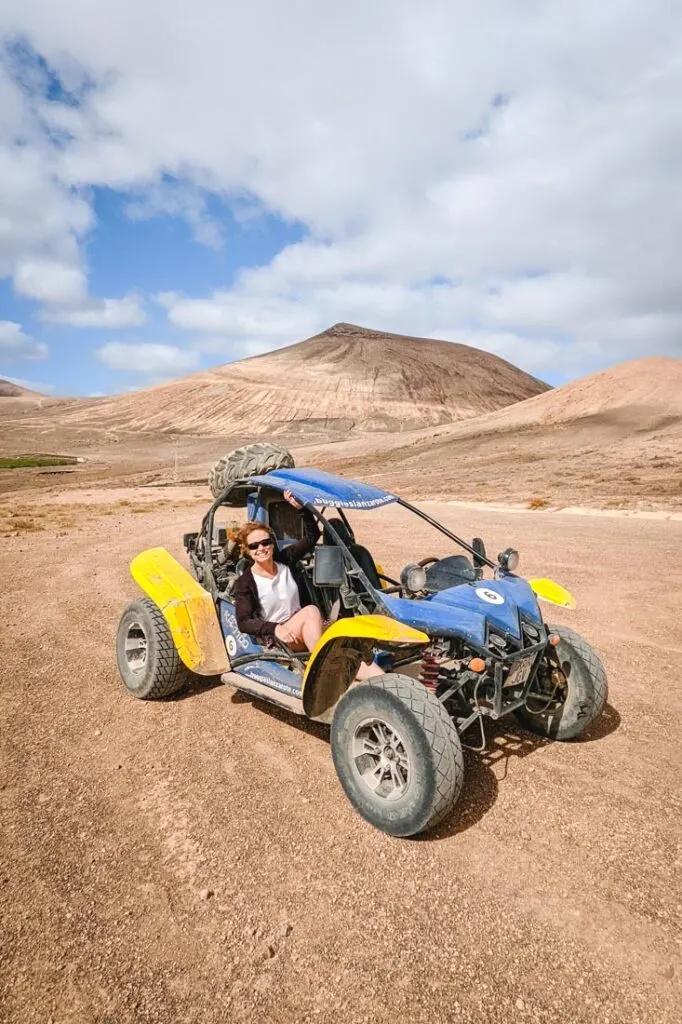 Okay, so you've decided to go on a buggy adventure in Lanzarote and you're unsure what to wear. Well, this section is for you!
Firstly, you need closed shoes. You're actually not allowed to drive in flip-flops, so don't even think of bringing them. Ideally, you want trainers and socks on. You can find out more about driving in Lanzarote in my guide here.
We went on our buggy tour in December, so temperatures were naturally colder, but we found it quite chilly driving around. Obviously the buggies are completely open to the elements, so you really feel the wind. My advice would be to bring a layer with you when you're driving. Not only does this keep you warm, but it protects you from all the dust and gravel being thrown around.
The guys at Buggies Lanzarote supply you with glasses and a buff – this covers your nose and mouth so you're not catching stones in your mouth like some weird funfair game!
What should you pack?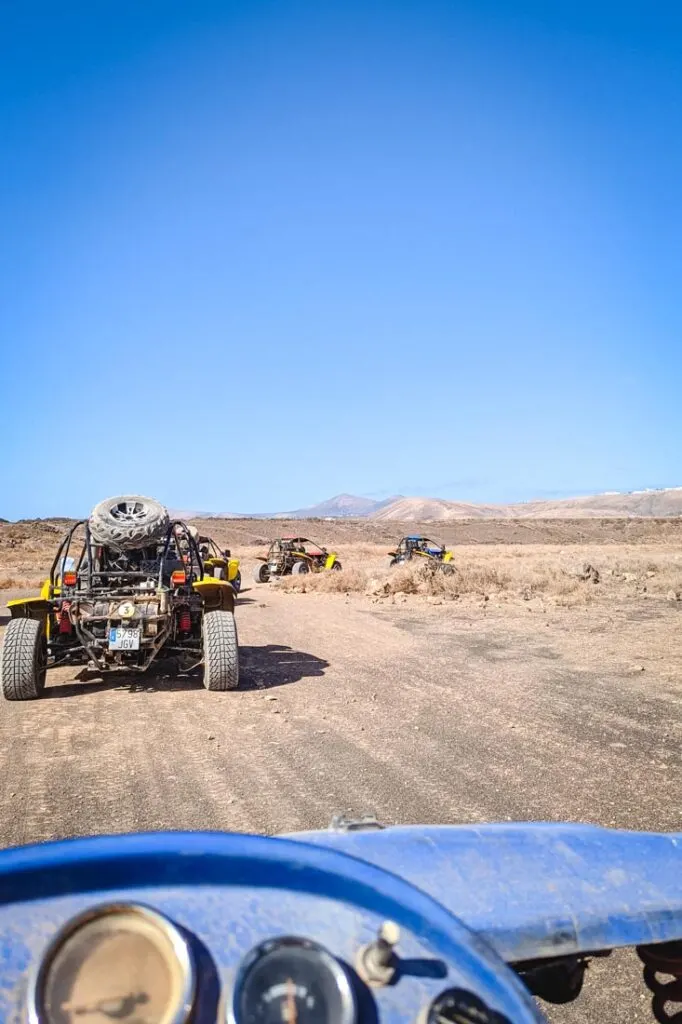 Your driver's licence
Closed shoes or trainers
Layers to put on if you're cold
Water – we probably didn't bring enough water, so make sure you're well prepared
Hairbands – if you've got long hair, you'll want to tie it up, otherwise it will become very annoying very quickly when driving!
Top tips for the tour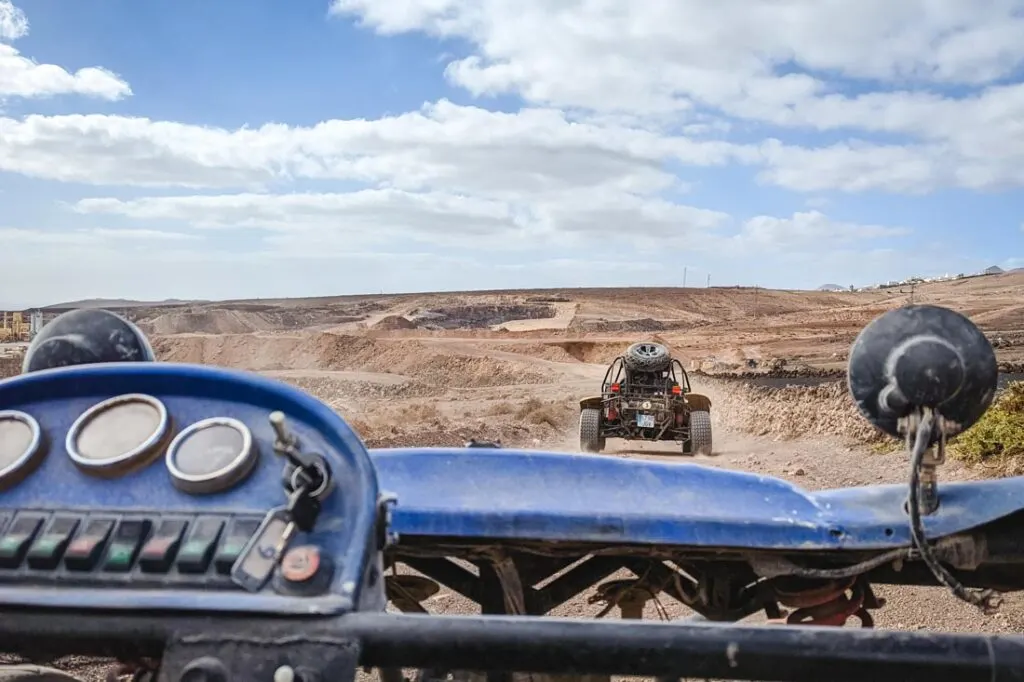 Obviously you're going to want to bring your phone along with you to take some shots while buzzing around, but be careful! It can be very bumpy, and it's all to easy to drop your phone and smash your screen. One thing Chloe had was a phone strap so it was always securely fastened around her neck or wrist – I'd really recommend picking up one of these beforehand as a sure-fire way of protecting your phone.
A little patience goes a long way! Because you're driving over very rocky terrain with stones flying everywhere, it's very common for someone to suffer from a puncture or engine failure. This happened to a couple of people in our group. The good news is the guides from Buggies Lanzarote always have a spare buggy on hand, so if do break down, it's not long before they switch buggies and get you back on the road.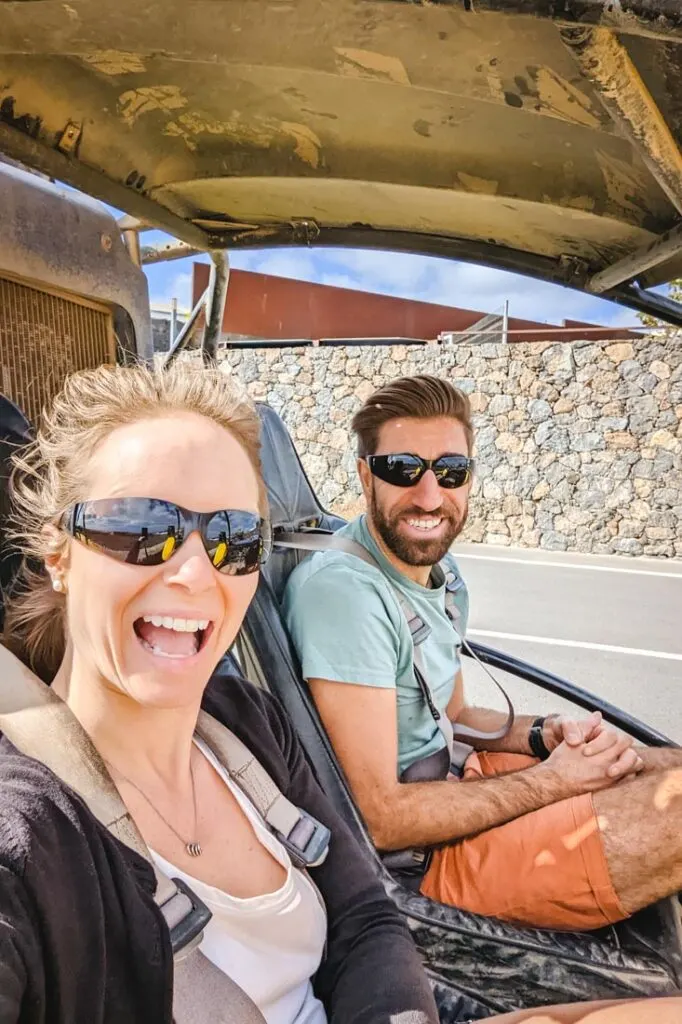 Explore the marina at Puerto Calero afterwards. Once you've finished your Lanzarote buggy adventure, I'd really recommend exploring the marina at Puerto Calero. There are often stalls selling souvenirs, and there are a number of restaurants overlooking the yachts too. We had a lovely meal afterwards at Sushi Bar Minato which made our day even better!
---
Hopefully this blog post has given you a good overview of what a dune buggy tour in Lanzarote is all about. As I said, this really was one of my favourite experiences while travelling around Lanzarote, and I can't recommend it enough. Strap yourself in and enjoy the adventure!
Are you planning on going dune buggying in Lanzarote? If you have any questions at all, let me know in the comments below and I'll get back to you!