Are you looking for the best beaches in Lannzarote? From Papagayo to Caleton Blanco, these are the Lanzarote beaches you just have to visit!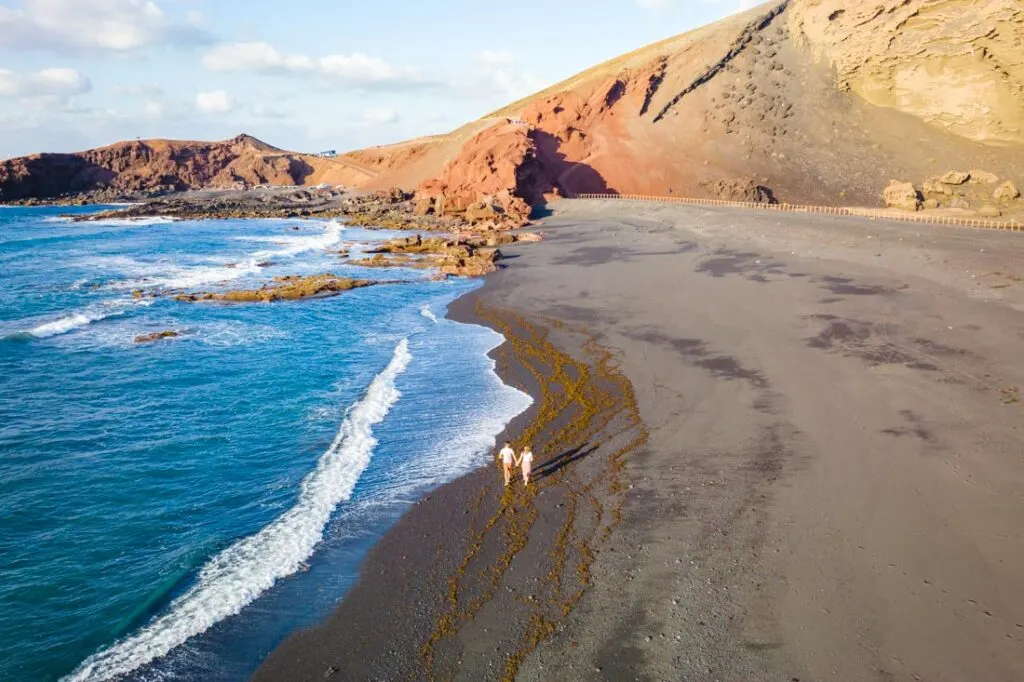 Lanzarote is one of those places that's been pulling people in for decades. I knew how popular this place was, particular for British and German tourists, well before booking a holiday here.
However, what I didn't expect was just how beautiful the island was. Honestly, there are just stunning landscapes wherever you look.
The whole island is only 60 kms from north to south, and 25 kms from east to west. In total there are 213 kms of coastline and you know what that means – beaches.
In this blog post I'm going to show you some of the best beaches in Lanzarote. These are the ones you should really highlight on the map.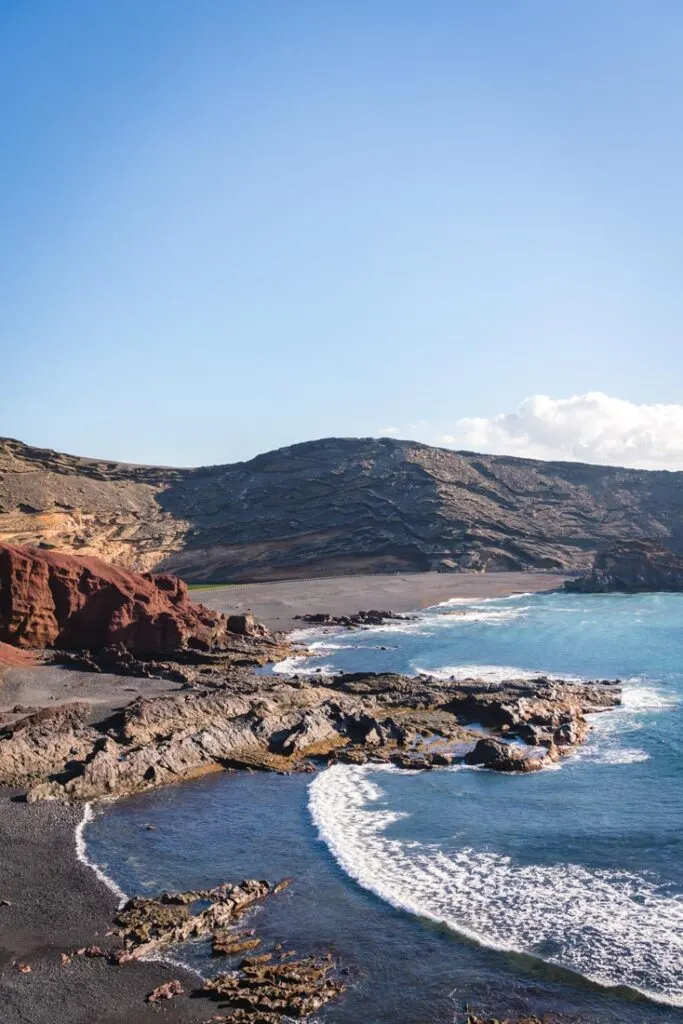 The majority of tourists either stay in Playa Blanca, Puerto del Carmen or Costa Teguise.
Now, all of these places have beautiful beaches that I'll feature here, but if you want those extra special ones, or those secluded spots with no one else around, then you'll have to travel further afield (you can check out my guide to driving in Lanzarote to help plan your trip here).
One of the things that makes Lanzarote such a unique place to visit are the black sand beaches. This is one of the only places in the world where you can access black sand beaches so easily, so take advantage of that.
Right, let's get into it. These are the most beautiful beaches Lanzarote has to offer. I really hope this helps when planning your trip here!
To help plan your trip here, make sure you check out my guide to the best boutique hotels in Lanzarote. Some of these places are so dreamy and perfect for that extra special holiday.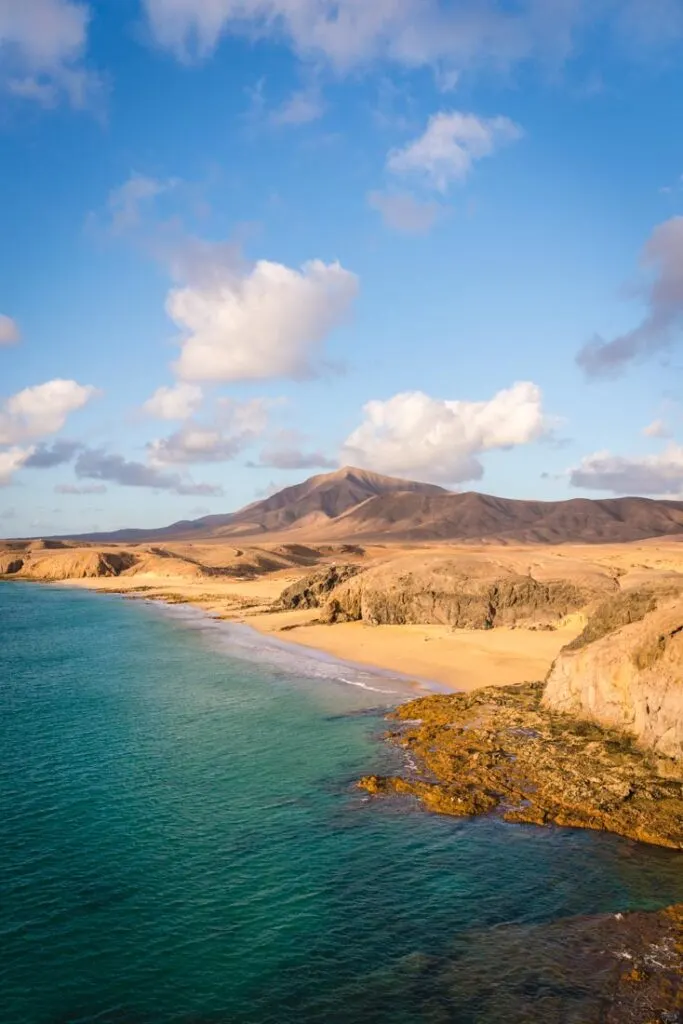 ---
Beaches in Lanzarote, Spain
Playa de Papagayo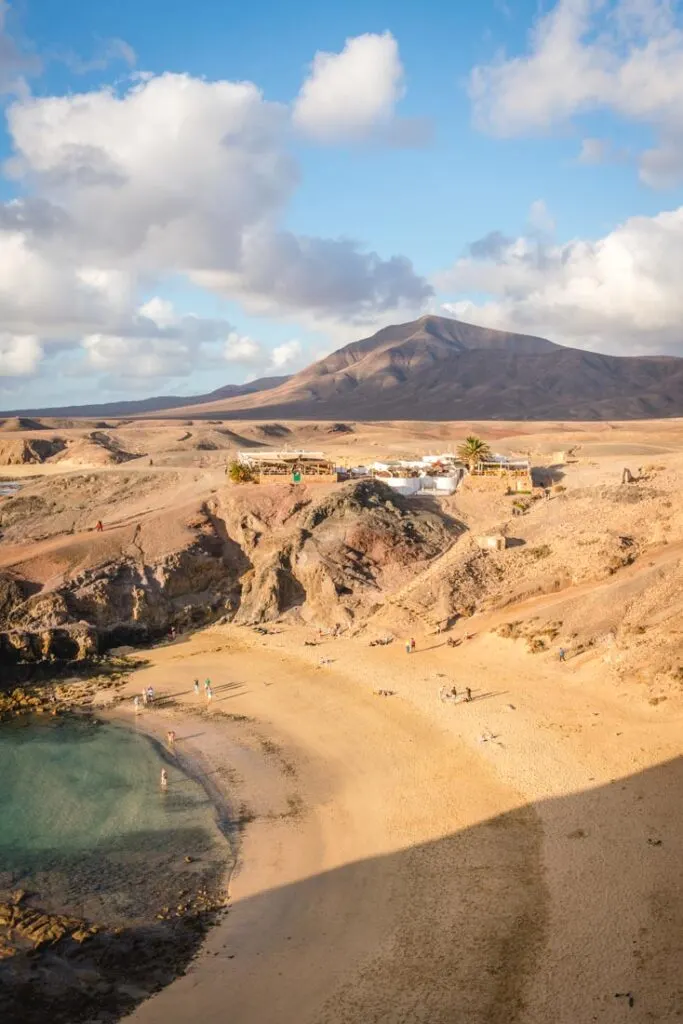 Welcome to paradise. Okay, so getting to Papagayo beach in the south of Lanzarote is a nightmare. The 'road' is a bumpy dirt track with potholes the size of volcano craters. You can only do 20 kph max, and you get thrown around like you're sitting on a bucking bronco. However, it is 100% worth it.
Papagayo is famous for being one of Lanzarote's best beaches, and this place is absolutely gorgeous. It has an arching bay with golden sand, and the backdrop is a volcano dominating the landscape. Also, the waters are crystal clear here making this an amazing spot for snorkelling.
There's are a couple of small chiringuito (a small bar/restaurant) overlooking the cove. This is a great spot to grab something to eat or a cocktail at the end of the day. Of the two, I'd recommend Casa el Barba restaurant which is the one closest to sea.
Even though it's an effort getting here, I promise you it's worth it!
Caleta del Congrio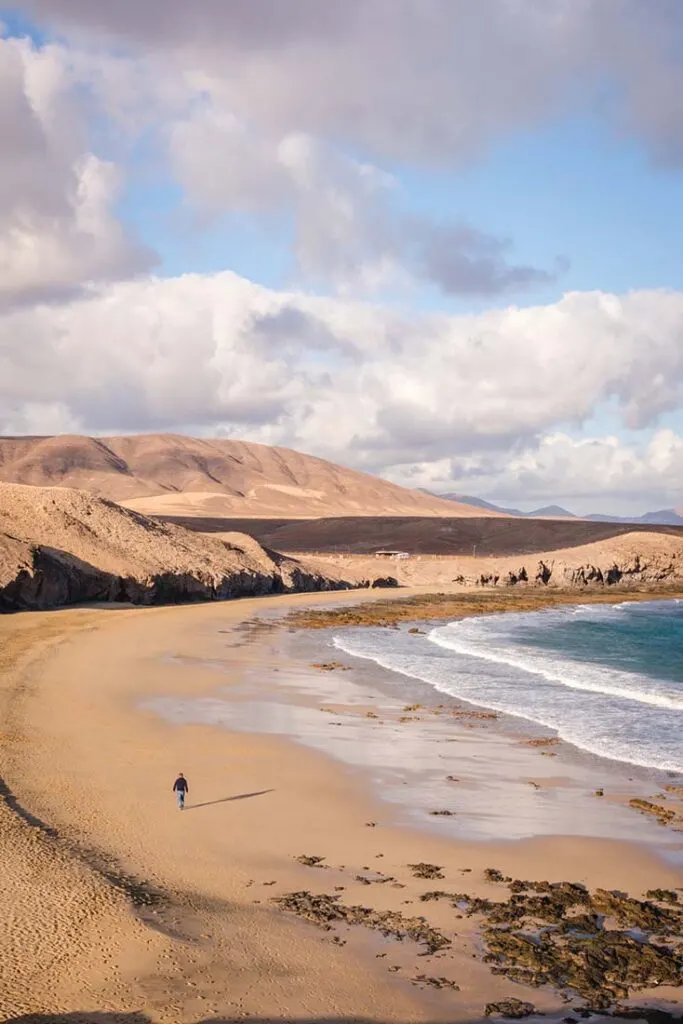 If you've made it to Playa de Papagayo, I'd really recommend exploring the beach next to it – Caleta del Congrio.
Papagayo grabs all the headlines, but in many respects I preferred Caleta del Congrio. This is a much quieter beach, and if you come here late in the afternoon the chances are you'll have it all to yourself.
The beach has been completely left to nature – there is no development in this area at all. This makes it perfect for nature seekers. The area surrounding the beach very rocky too making it an amazing place to explore on foot.
My advice would be to visit Papagayo first, then walk around the headland to Caleta del Congrio to relax on the beach for a couple of hours.
Playa del Charco de los Clicos – Lago Verde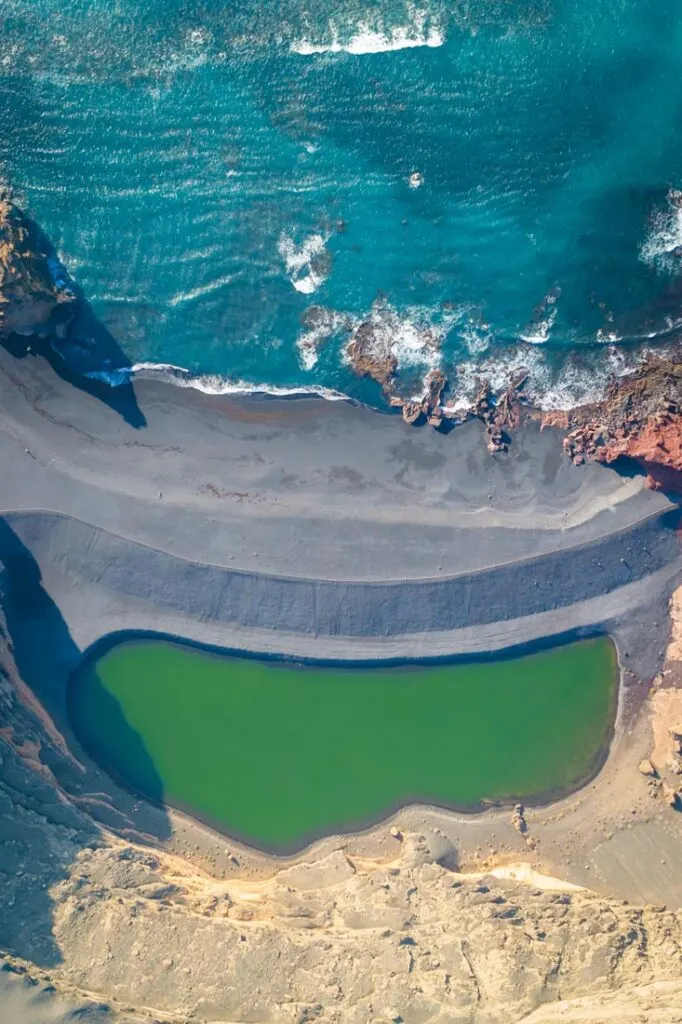 One of the top things to do in Lanzarote is visit Lago Verde, the oh-so Instagrammable bright green lake. What people don't know is they can actually access the beach here too.
Playa del Charco de los Clicos is one of the best black sand beaches in Lanzarote. And because people don't really know they can access it, it's usually empty!
There's a viewpoint overlooking Lago Verde on the left of the lake (if you were facing it). However, if you hop in your car are drive 5 minutes to the right of the lake, there are a few parking spots at Volcán del Guincho (you can find the parking spot here).
From here, you walk 5 minutes down a path to get onto Playa del Charco de los Clicos. Just make sure you bring lots of water with you as it can get sizzling on that black volcanic sand!
Playa de Famara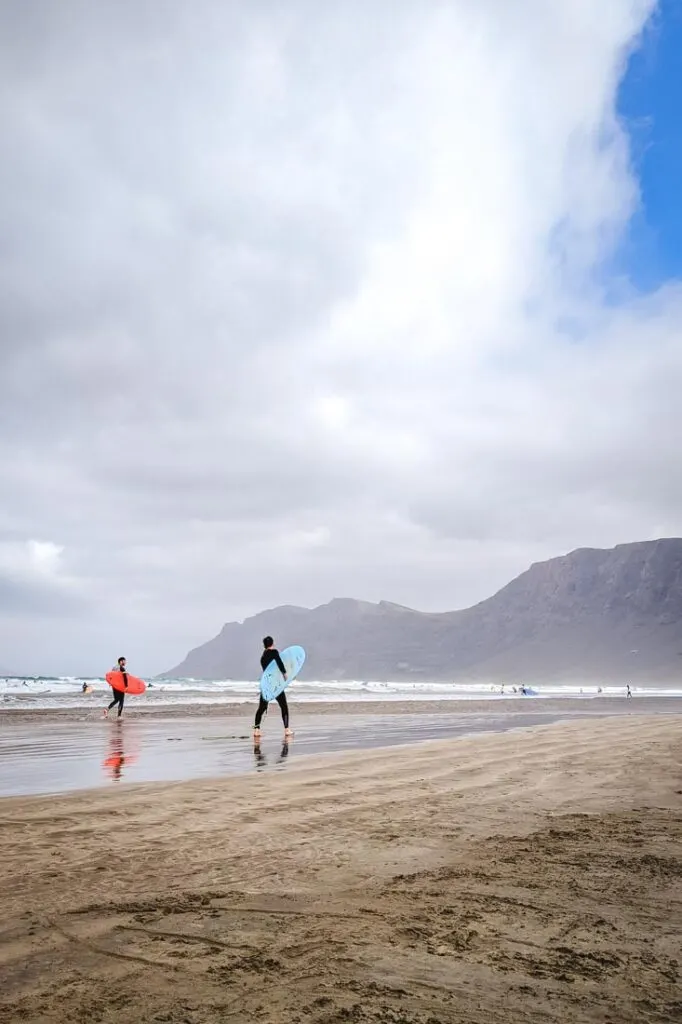 If you're a surfer, then get yourself over to Playa de Famara on the northwest coast of the island.
This long and dramatic expanse is backed by giant cliffs. You can even make out La Graciosa (one of the other Canary Islands) in the distance over the water.
Because Playa de Famara is more prone to winds than anywhere else on the island, this is where you'll find the best surfing in Lanzarote. On a busy weekend, there will be well over 100 surfers in the water.
There are loads of surf schools if you'd like to learn how to surf, or you can hire a board for the day in the sleepy surf town of Famara.
Even if you're not a surfer, this is still one of the best beaches in Lanzarote to visit.
Caletón Blanco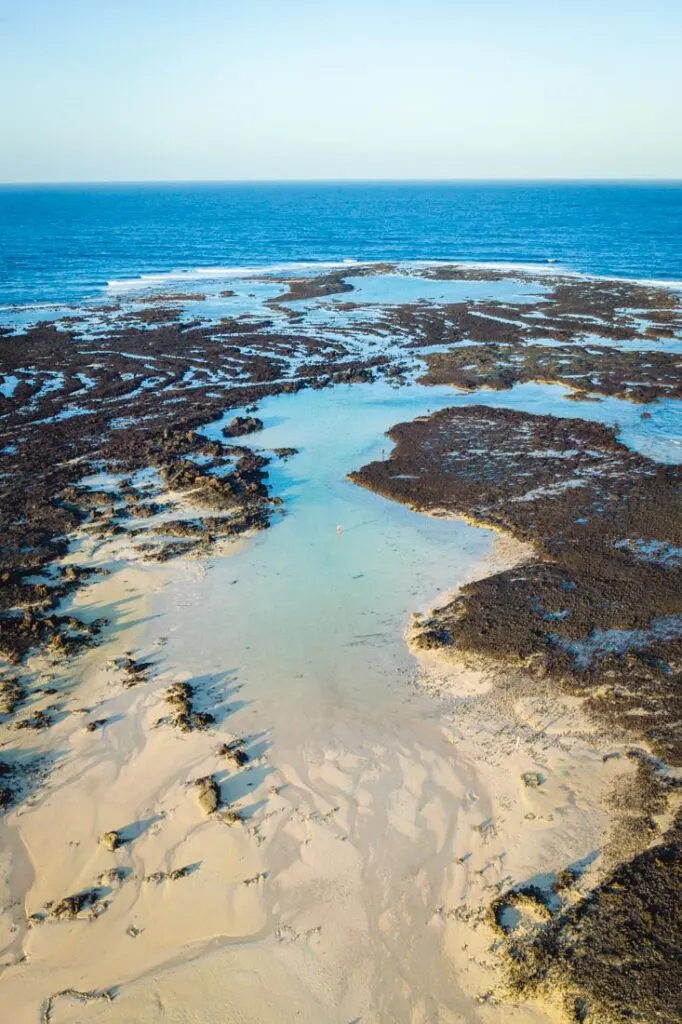 I absolutely loved how quiet and secluded Caletón Blanco was. Located at the very north of the island just outside the town of Orzola, Caletón Blanco is an amazing place to visit.
The sand is pure white which is in stark contrast to the black rocks surrounding the beach. If you've got kids with you, then they will love playing around in the natural rock pools here. Also, when the tide is out, even the tiniest toddlers can safely splash around in the water.
Playa La Francesa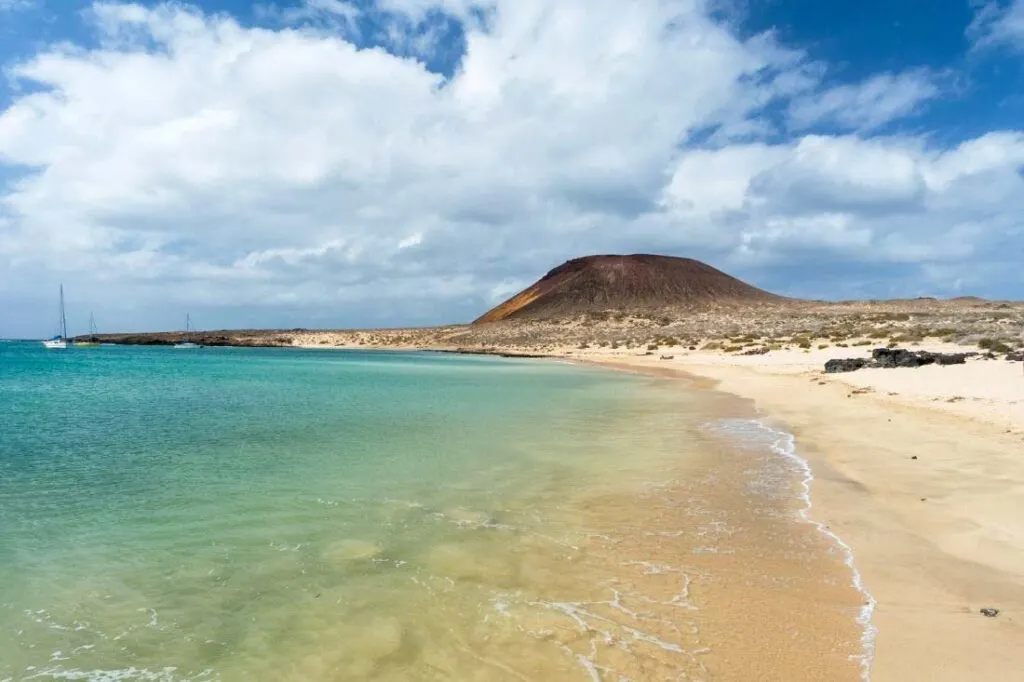 If you're looking for one of the best day trips in Lanzarote, then hop on the ferry and head over to La Graciosa. This is like a mini-Lanzarote with a fraction of the locals and even less tourists.
Playa La Francesa is essentially two long stretches of silky-soft sand, once again backed by volcanic rocks and dunes. As this is a south facing beach, if means very calm and swimmable waters. You can also see the high cliffs where you'll find Mirador del Rio perched on the top.
To make a day of it, I'd really recommend walking 45-minutes from the beach to Caleta de Sebo, the main settlement on La Graciosa. Here you can grab some food and explore the town before heading back to the ferry.
Playa Grande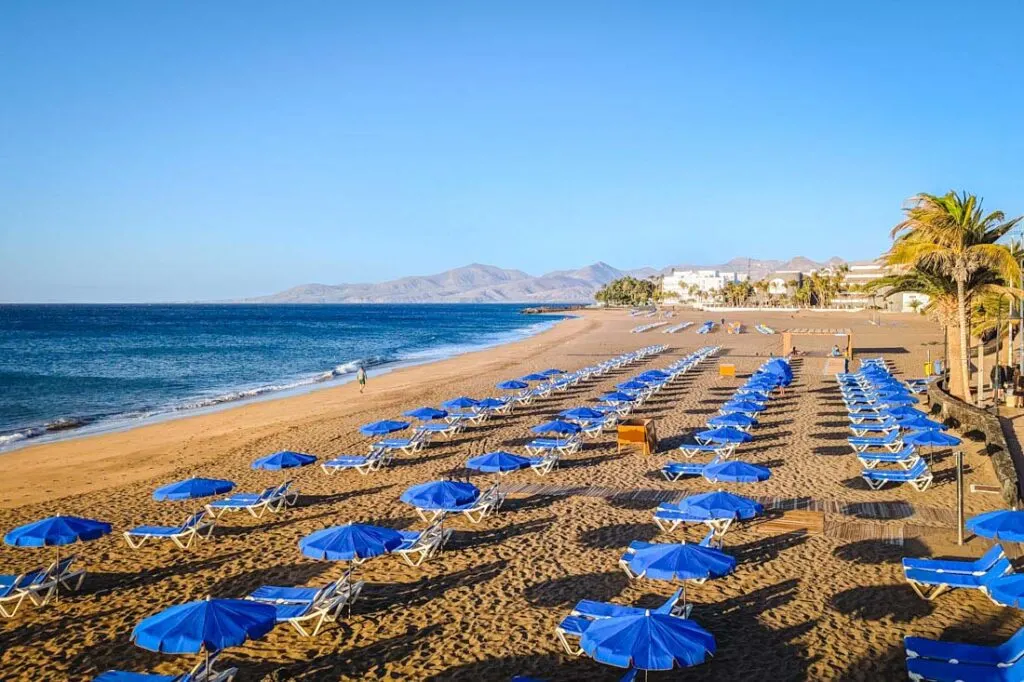 One of the best beaches in Puerto del Carmen is Playa Grande. As the name suggests, this is a pretty big beach!
This beach is famous for its dark golden sand, calm waters and all the facilities you need. There are even lifeguards here for the swimmers among you.
There are plenty of restaurants and bars just across the street from Playa Grande, so you'll have everything you need just a few minutes away.
I know its your holiday in Spain, but if you're looking to do something active, I'd really recommend going for a run along the coast at Puerto del Carmen. I did this for sunrise every morning and it was such a peaceful way to start the day.
Playa Flamingo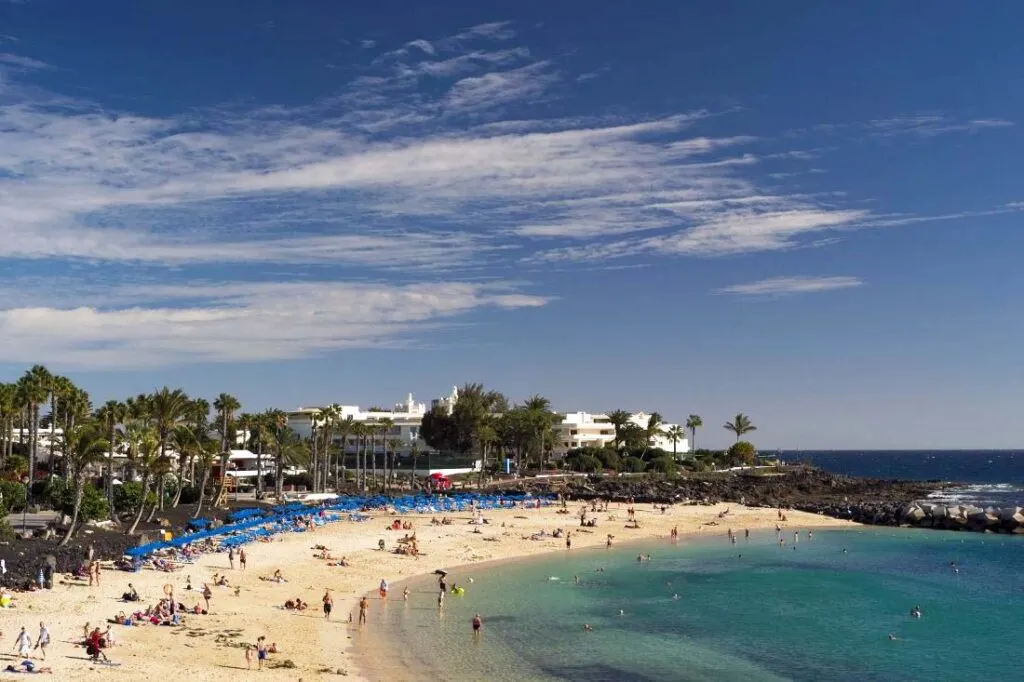 Everyone knows Playa Blanca has some of the best resorts and hotels on the island. Well, with the beach Playa Flamingo, it's east to see why so many tourists flock to this area.
Playa Flamingo is famous for its golden sand beach, blue parasols, buzzing bars and upmarket restaurants. You can hire sun loungers here, and because it is sheltered by two fabricated breakwaters, the sea is very calm. This means it's a great spot for families. You've got somewhere to base yourself for the day, the kids can play in the calm waters, and then there are all the restaurants to choose from for lunch. Oh, and obviously an ice cream too. You are on holiday after all.
The beach is busiest around noon, so get there before lunch if you want to rent a sunbed and parasol.
Playa Quemada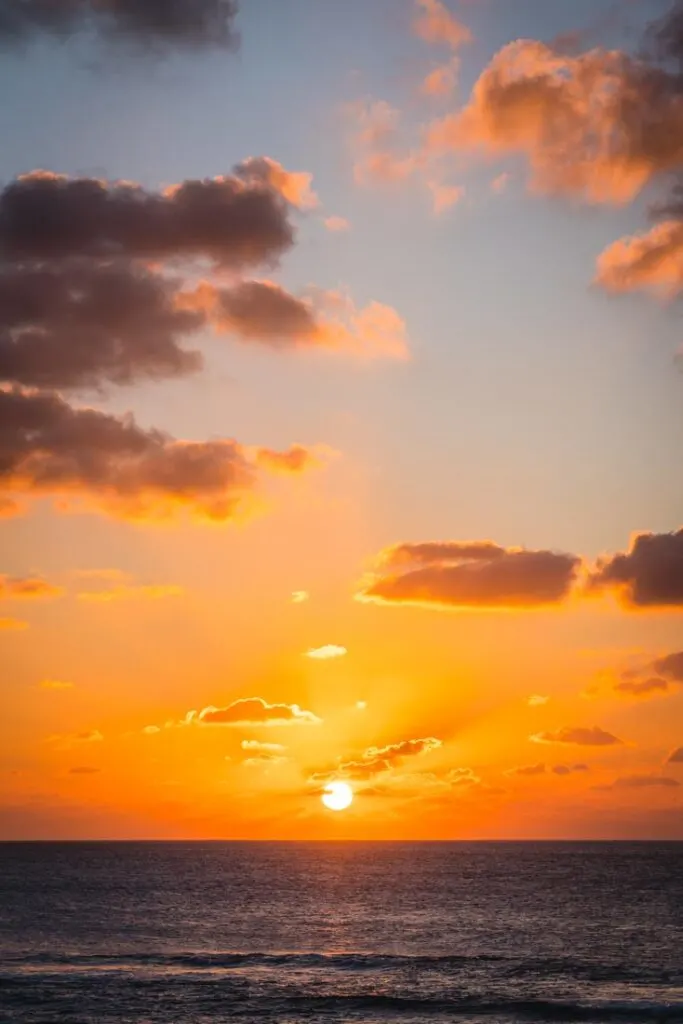 If you're looking for the best sunset in Lanzarote, get yourself to Playa Quemada. This is the beach at El Golfo on the west of the island.
Even though this is a rocky beach, there are a number of beachside restaurants and bars where you can watch the sun set. My advice is get here 45 minutes before sunset, grab yourself a cocktail and watch the magic.
Once the sun has set, I'd recommend heading to Restaurante Bogavante. This is one of the best seafood restaurants on the island – it's worth visiting El Golfo just for this place!
Playa de la Garita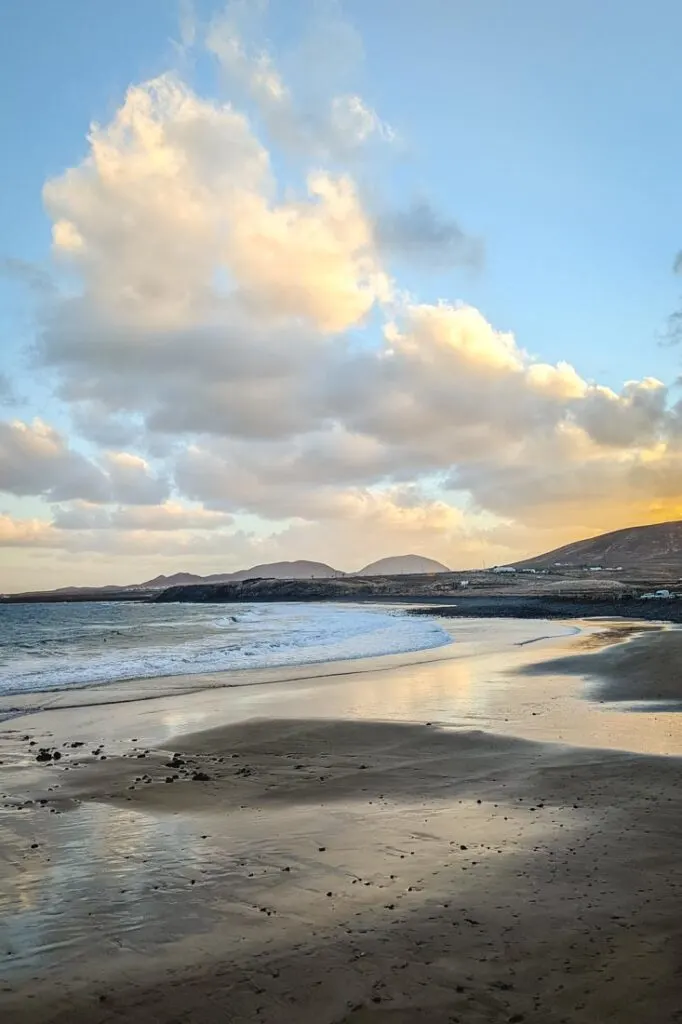 Now this is a beach not all tourists vist. While we were travelling around Lanzarote, we really wanted to stay in a few different places to get a really good overview of the island. That's why we stayed in the sleepy town of Arrieta in the northeast of the island – this is very close to Jameos del Agua and Cueva de los Verdes.
Arrieta really is a one-street kind of place, and you can count the number of restaurants here on one hand. However, the beach Playa de la Garita really is stunning. This is one of those hotspots that only locals know about.
Fringing the beach are a few bars and restaurants. My advice is head to El Chiringuito, grab yourself one of their boozy by delicious mojitos, and relax on the beach for a few hours. This is what holidays are all about.
Punta Mujeres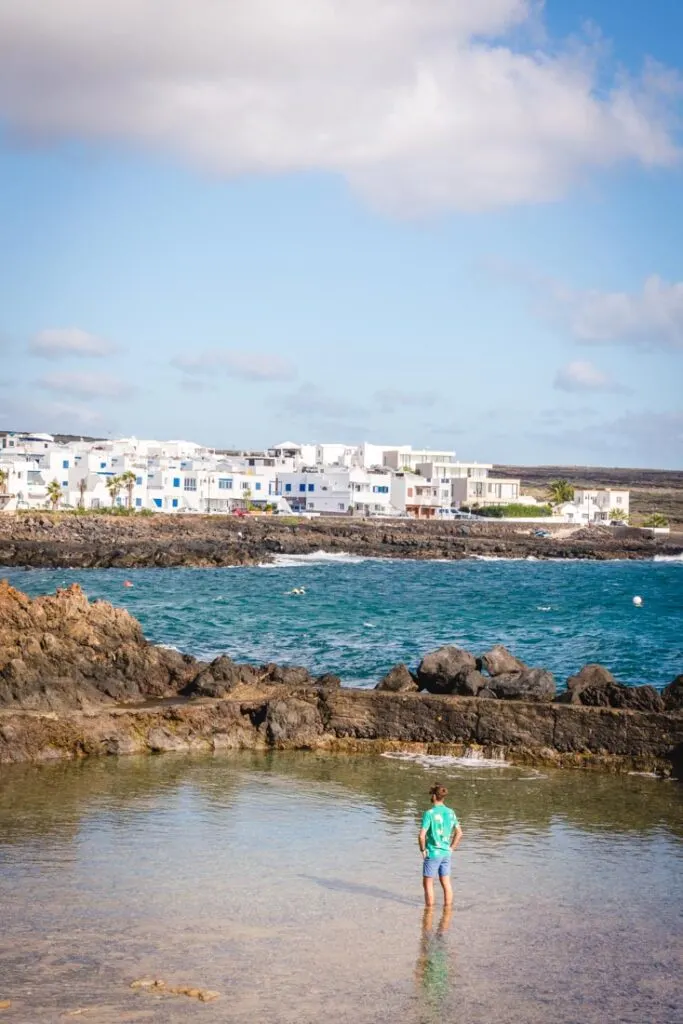 A little further north from Arrieta is Punta Mujeres. For me, this was one of those real hidden gems and one of my favourite places in Lanzarote.
Even though there isn't a beach here, Punta Mujeres has a number of rock pool and outdoor swimming pools where you can take a dip. All of the pools are fringed with white houses and it really is a gorgeous spot. I really can't recommend this spot enough on your Lanzarote holiday!
Playa del Jablillo, Costa Teguise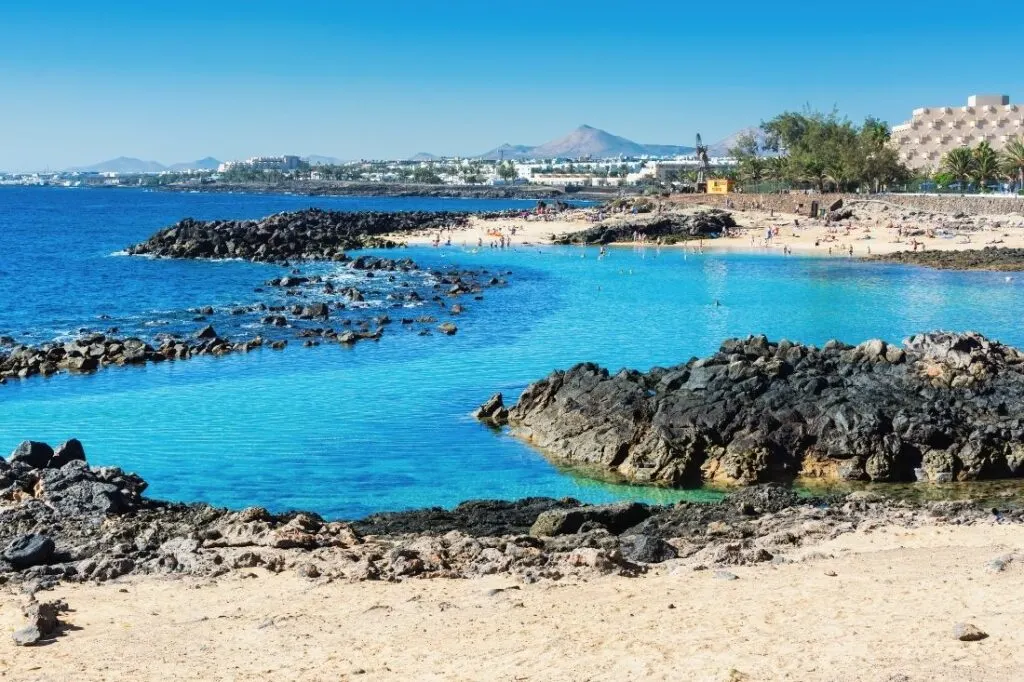 Even though this is Costa Teguise's smallest cove, it is actually one of the most popular beaches. With breakwaters stilling the waves, families absolutely love it here. Also, because the water is quite shallow, it is a bright blue rarely found elsewhere on the island.
One thing I would say about this beach (as with all beaches in Costa Teguise) – you are surrounded by hotels and resorts here, so it can get very busy during peak holiday times.
Top tips for visiting the beaches of Lanzarote
With beautiful black sand beaches, dramatic volcanic landscapes and crystal-clear waters, it's very easy to see why people fall in love with the island when they visit Lanzarote.
When visiting these beaches though, it's very important to follow these tips!
Don't litter – I know this is an obviously one, but there's always someone. If you're with your kids, make sure you clean up after them, and leave the beach as you found it. Most beaches have bins available, so please use them!
Bring lots of sunscreen and water – A lot of the beaches featured here are away from everything with no amenities around. That's why it's always a good idea to bring plenty of sunscreen and water for the day.
Bring driving shoes – If you're heading to the beach for the day, the automatic thing to do is slip on your flip-flops. However, it's actually illegal to drive in Lanzarote in flip-flops, so make sure you've got other shoes with you just for driving.
---
Are you planning on visiting any of these Lanzarote beaches? If you have any questions about them, let me know in the comments below and I'll get back to you!
Like this blog post? Then Pin it for the future!