Are you planning a road trip in Lanzarote? From hiring a car to where to visit, this is the ultimate guide to driving in Lanzarote, Spain!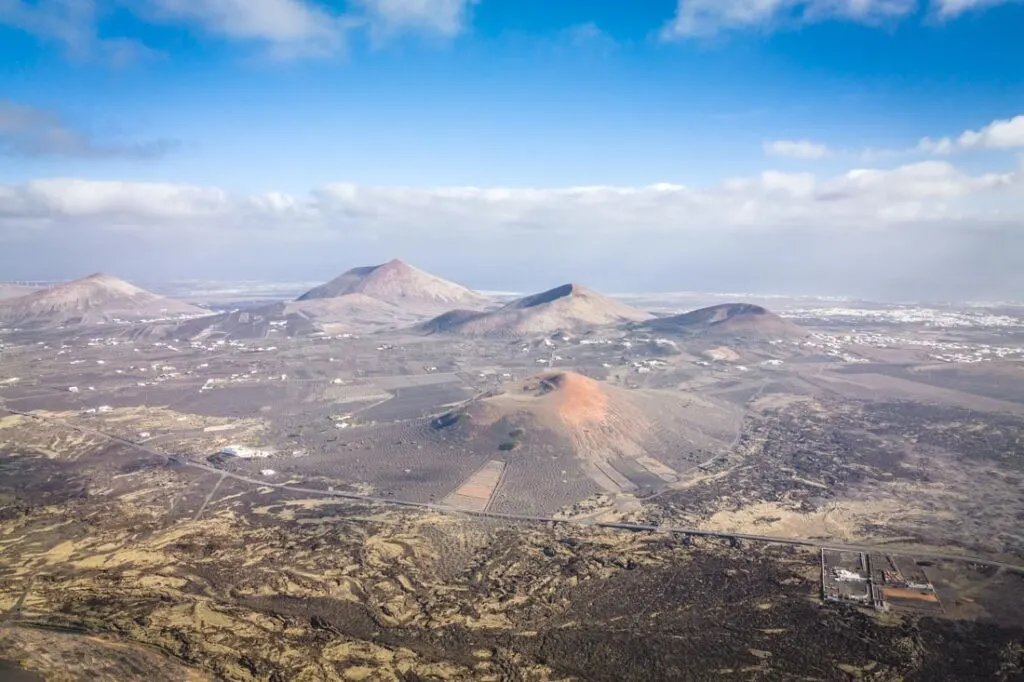 With volcanoes dotted all around the island and mile after mile of gorgeous coastline views, driving in Lanzarote is an amazing activity in itself.
Just put on some banging choons, wind down the windows and let the good times roll. That's what our Lanzarote road trip was all about.
When we booked our trip to Lanzarote, we didn't just want to base ourself in one town. We wanted to see all the island had to offer.
The majority of tourists either stay in Playa Blanca, Puerto del Carmen or Costa Teguise. If you're just staying by the pool for a week, you're probably not going to need a car.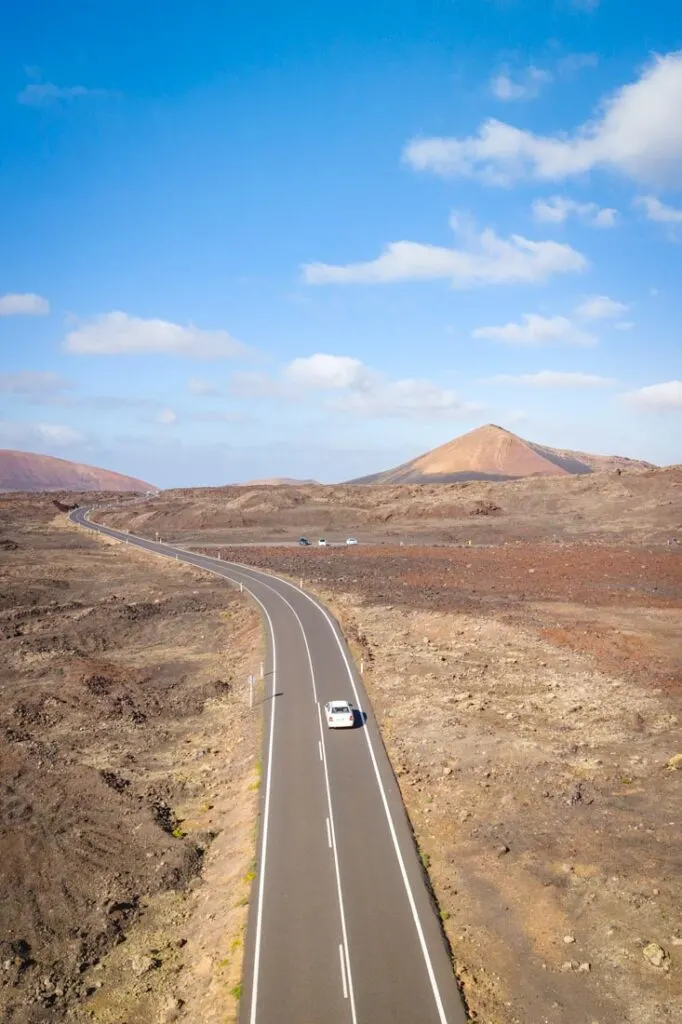 However, we're explorers and we wanted to explore the island. For that, we needed a car so we could drive to the best beaches in Lanzarote and a few other hidden sites.
If you're planning your own road trip in Lanzarote, then this is the blog post for you. In it I'm going to tell you what it's like driving here, where some of the best places to visit are, and loads of other useful information too.
I'm pretty sure you're going to enjoy the driving here as much as I did!
To help plan your trip here, make sure you check out my guide to the best boutique hotels in Lanzarote. Some of these places are so dreamy and perfect for that extra special holiday.
Hiring a car in Lanzarote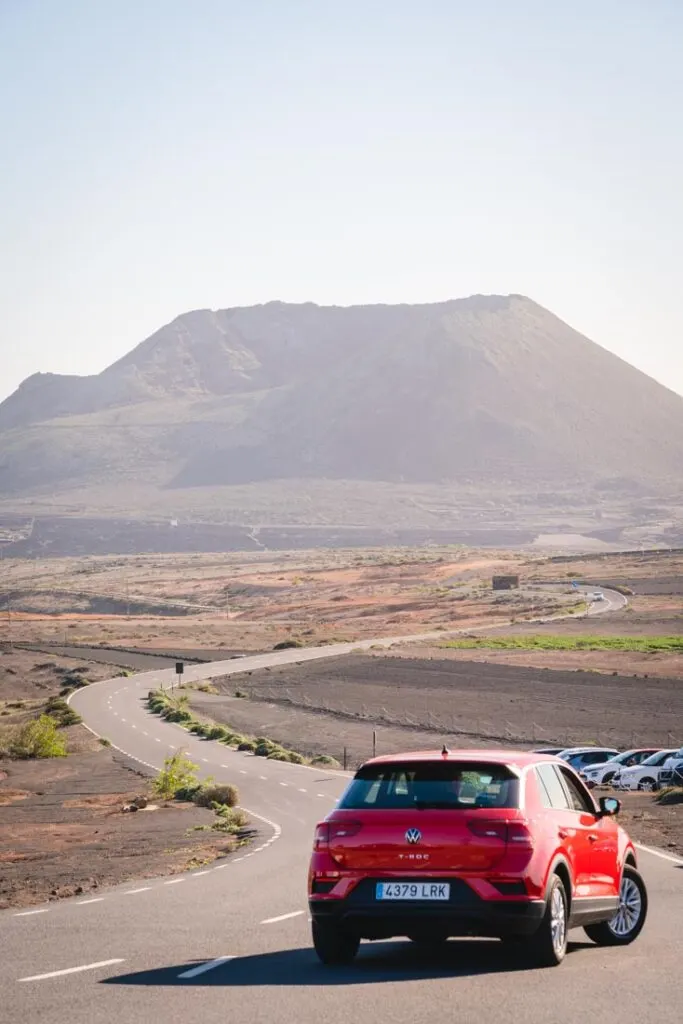 Firstly, if you're driving in Lanzarote, you're going to need a car.
There are all the usual car hire companies at the airport like Avis, Europcar, Hertz and Sixt. There are also a few budget companies too like Payless Cars, Topcars and Thrifty.
We went with Thrifty (they're a subsidiary of Hertz). We booked a small Ford Focus which cost £270 for 7 days, so it worked out to be £38.60 per day. This is a fair bit more than it'd cost hiring a car on mainland Spain, but because it's an island where they have to import everything, the prices are higher.
You can also hire a car from local tour operators in Playa Blanca, Puerto del Carmen or Costa Teguise. If you're just hiring for a day or two, this can be quite expensive, but it gets cheaper with multiple days.
There's a lot of debate whether it's cheaper hiring a car from the airport vs in a local town close to where you're staying. To be honest with you, researching it, prices are about the same. I've always hired a car from the airport because it's a lot easier in the long run, especially when flying home.
Oh, one thing to be aware of. You have to be over 23 years of age to hire a car in Lanzarote.
What's it like driving in Lanzarote?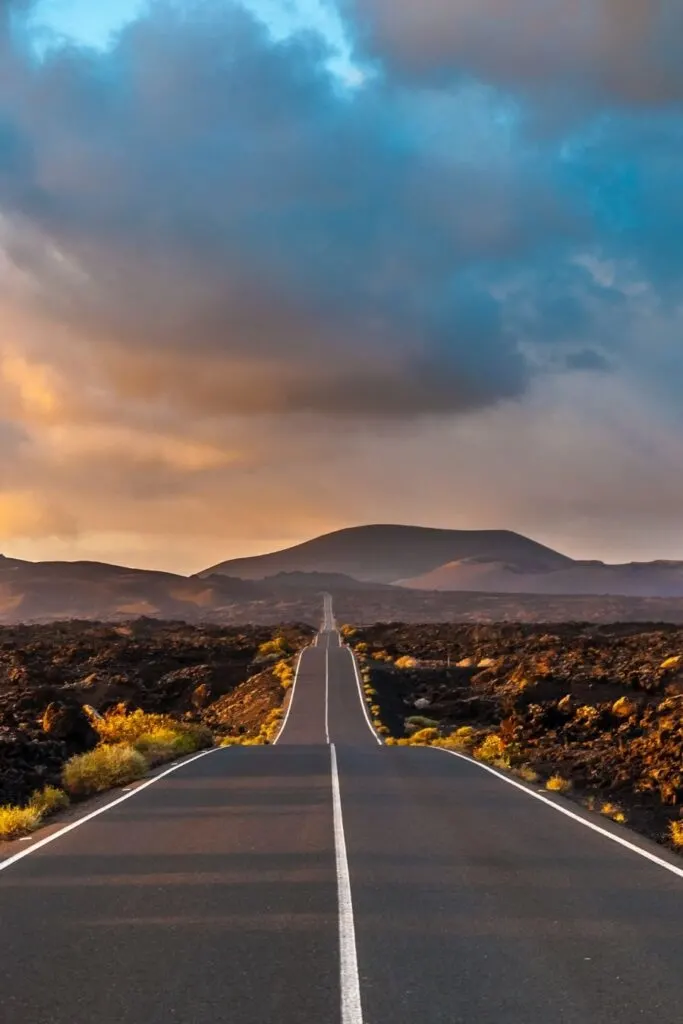 I genuinely loved driving in Lanzarote. There's something so special about driving towards a volcano with the blue glistening water on one side and the black lava on the other.
The whole island is only 60 kms from north to south, and 25 kms from east to west, so the distances aren't huge. Also, there are 213 kms of coastline to follow, so expect nothing but beautiful views.
Driving from the north to the south only takes around 45 minutes, so I found most of the distances very manageable.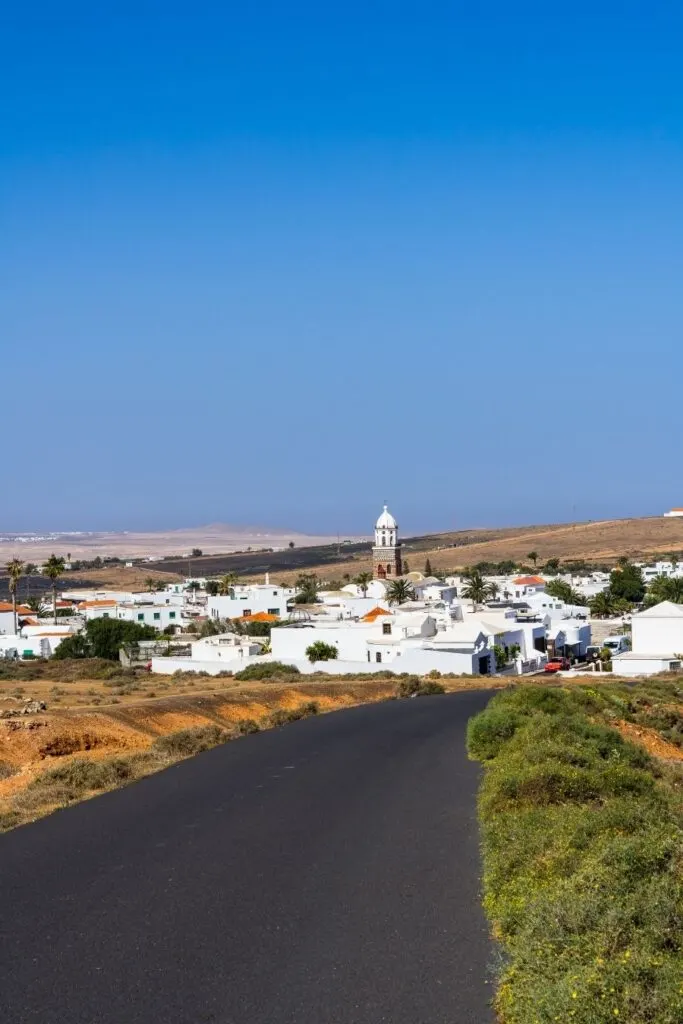 Most of the driving is very easy and relaxed. The max speed limit on the island is 110 kph, so it's not like driving on the autobahns in Germany.
The main roads are in a very good condition with smooth tarmac, plenty of space and good signage. I was actually quite surprised with how good the roads were – they were better than I expected.
However, there is one road this is absolutely shocking. The road from near Playa Blanca to Papagayo (one of the most popular beaches in Lanzarote) is a dirt track riddled with potholes. This is a proper themepark ride where you get thrown all over the place. I could only manage about 20 kph on this 'road'. Everyone takes is slowly though and respects each other which is good.
Main roads in Lanzarote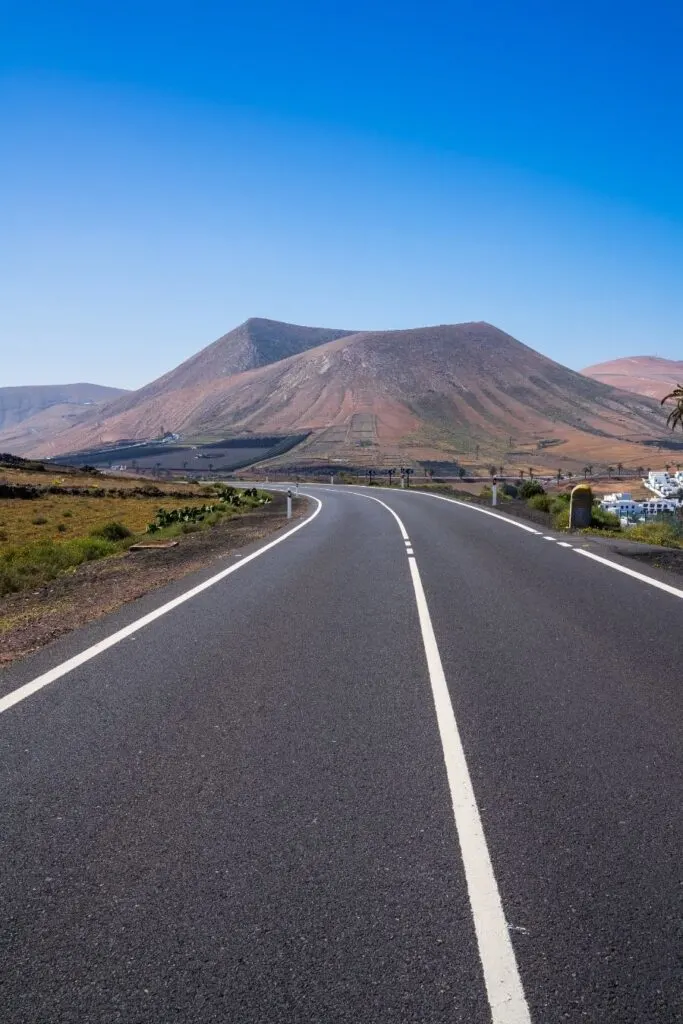 There are two main motorways in Lanzarote, both of which start in the capital Arrecife.
The LZ-1 heads north all the way up to Orzola. This is where you can catch the ferry over to La Graciosa (one of the other Canary Islands).
The other road LZ-2 heads all the way south to the town of Playa Blanca.
LZ-202 to Mirador del Rio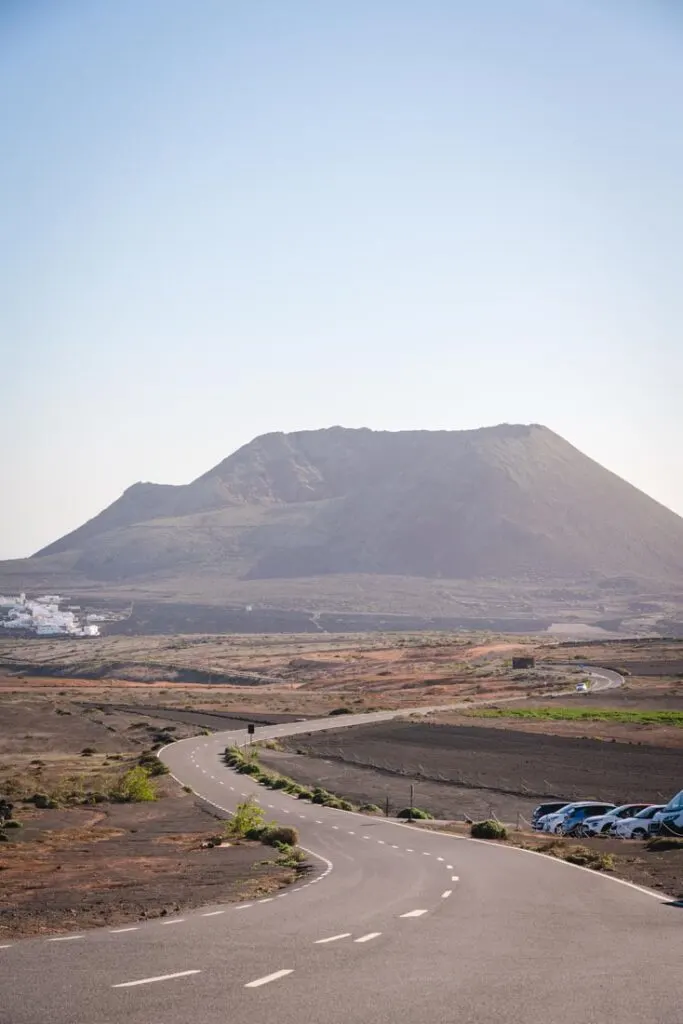 Another road to be wary of is the LZ-202 to Mirador del Rio. The inland part of the road up to the mirador is absolutely fine – if you're looking for an easy drive then take this road (the one in the above image).
However, there is a scenic section of the road that runs alongside the cliffs. Even though the views are absolutely spectacular here, the road is barely wide enough for 2 cars passing side by side. Also, there are only a couple of places where you can pull in to allow the car on the other side of the road to pass, so it's tight.
If you're a nervous driver or you have a car larger than a hatchback, I would avoid this road.
Instead, you can park at Mirador del Rio and walk along this section of the road. This way you can really appreciate the views without the worry of scratching your hire car!
Rules for driving in Lanzarote
Driving is on the right side of the road. This means roundabouts are taken anti-clockwise. This always confuses people coming from the UK, so be careful!
Alcohol limit is 0.05% which is lower than the UK. This is a very very small glass of wine or low-alcohol beer. If you get caught for drink driving, the fine is Є1,000
Kids can't sit in the front seat of a hire car. In Lanzarote, any child under the age of 12 or under 1 metre 35 cm must sit in the back. If not, you could get a Є200 fine
Driving rules from Spain apply
You have to wear a seatbelt at all times
No mobile phones while driving
Don't wear flip flops to drive. If you get caught in flip flops, you can actually get a Є200 fine. It's rare it happens, but it is the law.
Speed limits are clearly indicated and enforced
Emergency number: 112
Max speed limit on motorways: 110 kph
Max speed limit in residential or built-up areas: 40 kph
Tips for driving in Lanzarote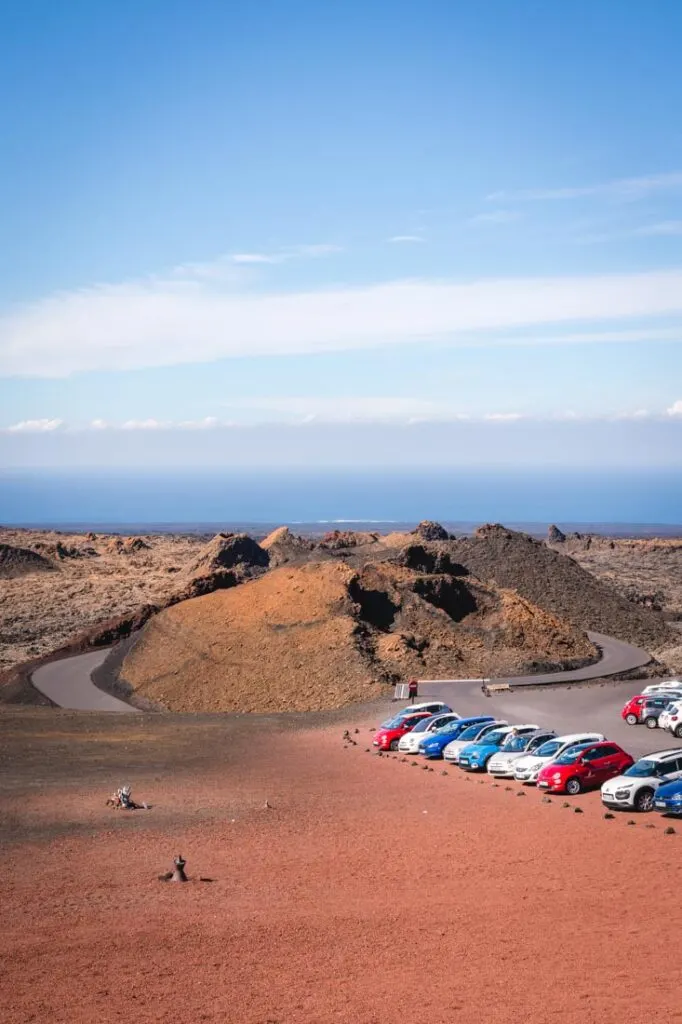 Cyclists – one of the things you always have to be aware of while on your road trip in Lanzarote is cyclists. Lanzarote is a Mecca for cyclists and you'll see them frequently while driving around the island. Just be aware of them and make sure you leave them plenty of space.
Car parks – there are free car parks at all of the major attractions in Lanzarote. Usually there are parking attendants there who'll tell you where to park too. It's all very civilized here.
Stop signs – if you come to a stop sign at a T-Junction, you have to stop, even if you can see the road is clear. A stop is in Lanzarote is mandatory. If you don't, you risk being fined.
Petrol – prices are similar as mainland Spain. The cost was around Є1.23 per litre while I was there. Also, we only had to fill up our hire car once on our way back to the airport, so running a car doesn't cost much.
Places to visit in Lanzarote
Timanfaya National Park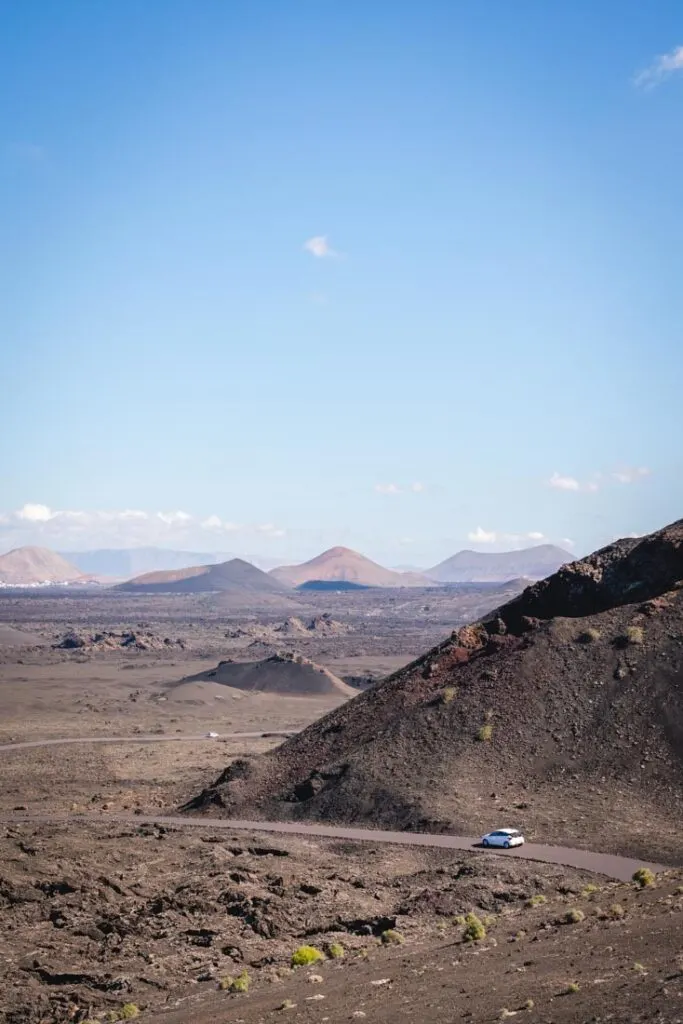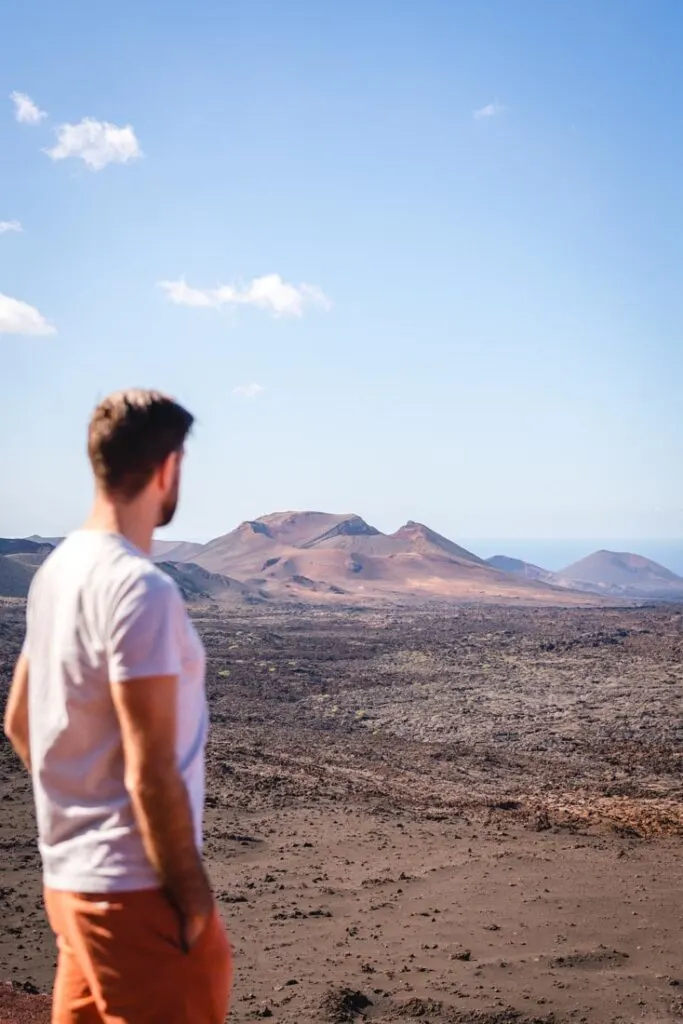 The drive through Timanfaya National Park blows my mind. This is where you have the black lava fields with a number of volcanoes dotted all around you.
This drive often takes you through La Geria too. This is the wine region in Lanzarote where you'll see the conical shapes on the vines growing in the volcanic landscape. Honestly, it is such a beautiful region on the island.
Mirador del Rio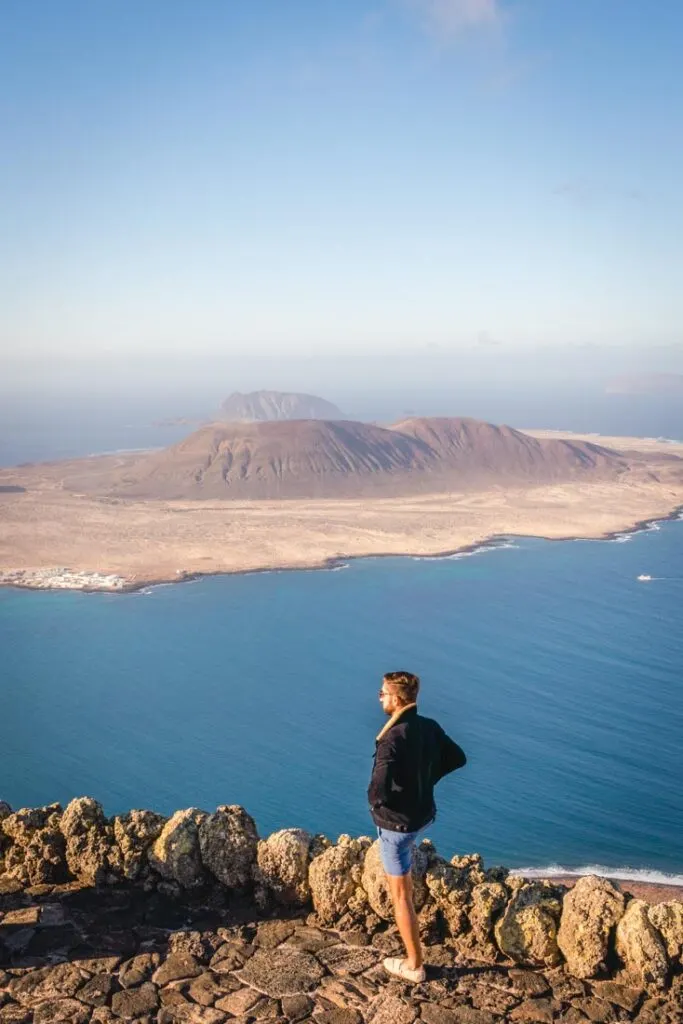 If you're a confident driver or you've got a small car, I'd really recommend the drive up to Mirador del Rio. Not only was with one of my favourite attractions on the island, but it is one of the best viewpoints too.
The road takes you up to the mirador with views of La Graciosa on your left. Just wait till you see it yourself.
El Golfo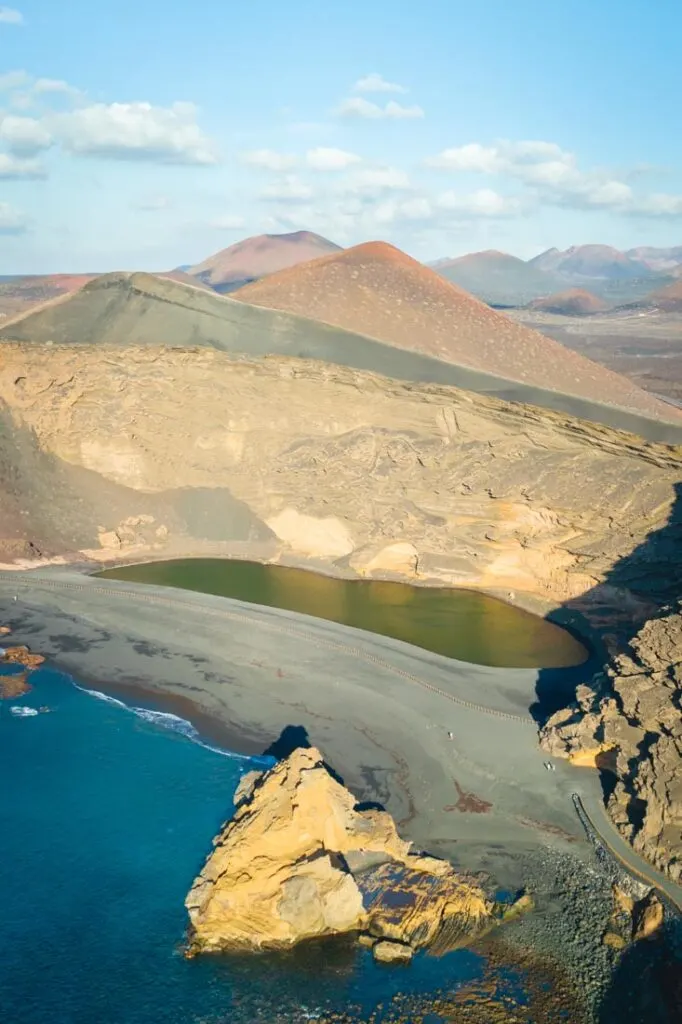 In the south of the island, another place well worth visiting is El Golfo and the Lago Verde. This is Lanzarote's very own green lagoon and it is one of the top attractions on the island.
El Golfo is also the best spot for sunset in Lanzarote too. When we were here, we went to one of the restaurants, ordered a couple of cocktails (non-alcoholic for me) and watched the sunset before heading off again.
Papagayo beach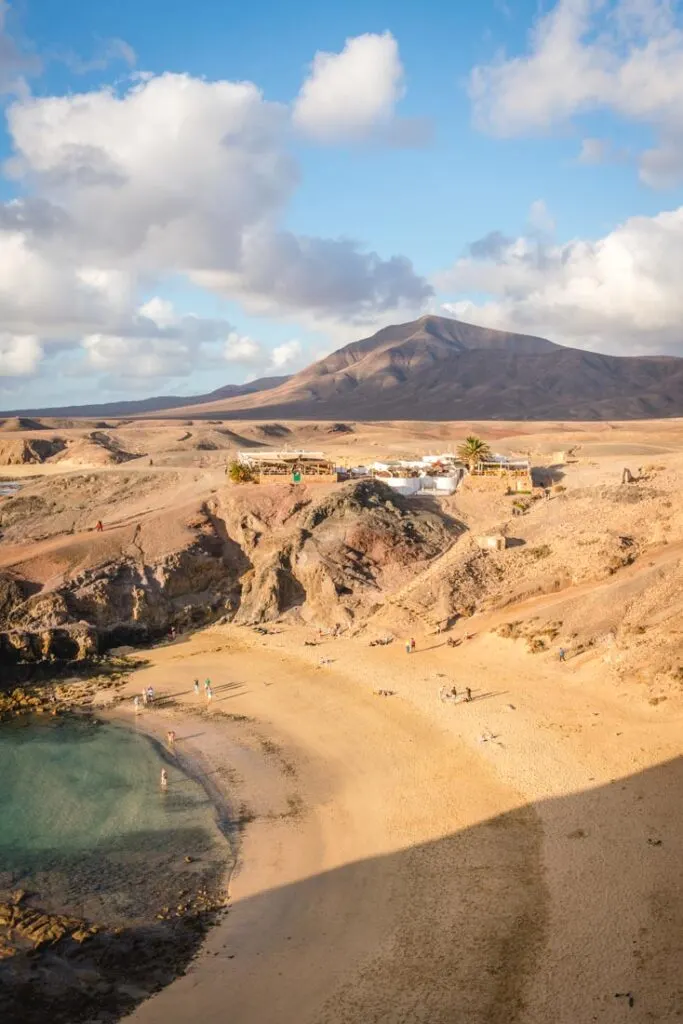 Even though the road to Papagayo is shocking, it is well worth the whiplash when you see the beach. This is without a doubt one of my favourite beaches in Lanzarote and it's a great place to go for the afternoon.
There are a couple of restaurants here, so if you do want to stay for a few hours, then I'd recommend eating in the one on the far left of the image above.
Is it worth hiring a car in Lanzarote?
ABSOLUTELY, YES!
Unless you really do just plan on sipping cocktails by the pool, the best way of seeing Lanzarote is in the freedom of your own car.
Also, if you want to visit a few other places on the island, then taxis and transfers can quickly add up. Overall, this can be a lot more cost effective than booking onto a tour group.
Another reason why I recommend hiring a car in Lanzarote is public transport can be scare. Often the busses run only once per hour, but you have no idea when it'll turn up. That can mean waiting around at bus stops for quite a while constantly checking your watch.
With your own car, you have the freedom of going where you want, when you want. As I said, this was why we loved our Lanzarote road trip.
---
Are you planning a trip to Lanzarote? If you have any questions about driving here, or anything else at all, let me know in the comments below and I'll help out.
Like this blog post? Then make sure you Pin it!