If you're looking at upgrading to some of the best camera gear for travelling then this is what I use when I'm on the road
Looking for the best camera gear for travelling? Then this is the article for you!
I've always said it, I'm happiest exploring new places with a camera in one hand and music in my ears. For me, I just love discovering a destination through a viewfinder and I think it's such an amazing way to get to know a place.
I'm exceedingly fortunate to do a job that combines photography and travelling. Over the years I've walked in the ruins of Machu Picchu in Peru, explored the beauty of Greenland and discovered Cuba (not discovered, but you know, it's an amazing country).
I look back on when I first started taking photography a lot more seriously and I didn't have a clue what I was doing. I was very much a "shoot first, think second" kinda guy, but over the years I've evolved my style of shooting. I've refined it, made it more simplistic.
The beautiful thing is no one is the finished product, and even professional photographers are constantly looking for ways to improve. For me, I've no doubt my photos will look very different to the ones I take today, and that really excites me.
If you're looking at upgrading your gear then check out my post 'The 11 Best Cameras for Bloggers 2019' to help you out!
With photography, it's a bit of a bottomless pit with money. As soon as you buy one piece of kit you'll want to buy another – I know that's what I'm like anyway!
To help you take some amazing photos, this is what camera gear I use for travelling and why I use it – hopefully you'll find a few of these things very useful to step up your photography game!
(Please note: all the links in this post are affiliate links. They don't cost you anything to click on them, but if you do decide to buy something then I earn a tiny bit of commission which keeps this site running and allows me to continue to create content for you guys!)
Equipment:
(These are all quick links in case you want to jump to the best camera gear for travelling)
Camera: Canon 6D
Lens: Tokina 11-16mm f/2.8 lens
Lens: Tamron 24-70mm f/2.8 lens
Lens: Canon 85mm f/1.8 lens
Backpack: Manfrotto Professional Backpack 50
Tripod: Manfrotto BeFree Live Tripod
Tripod: Manfrotto Pixi Tripod
Filter: B+W 3.0 ND filter
Filter: Manfrotto circular polarising filter
Microphone: Zoom H4N audio recorder
Microphone: RODE lav mic+
Laptop: Asus 15'6 Notebook
Earphones: Anker Soundcore Spirit Pro
---
Canon 6D mkii: the best camera gear for travelling
It doesn't really matter if you shoot on a Canon, Nikon, or any other type of camera, and I'm not about to say "Canon's the best, you can only shoot with a Canon". What is important is know you to use your camera.
There are millions of tutorials from photographers on YouTube going through how to use your camera, so a good place to start is there.
For me, I use a Canon 6D. This is the entry-level fullframe Canon camera.
With an ISO range of 100-26,500, it's an amazing camera in low light settings. Also, it's incredibly lightweight making it one of the best cameras for travelling.
I am in the market for a Sony A7rIII as I think what Sony are doing with their mirrorless camera is bordering on genius. What they can pack into a camera that size is remarkable.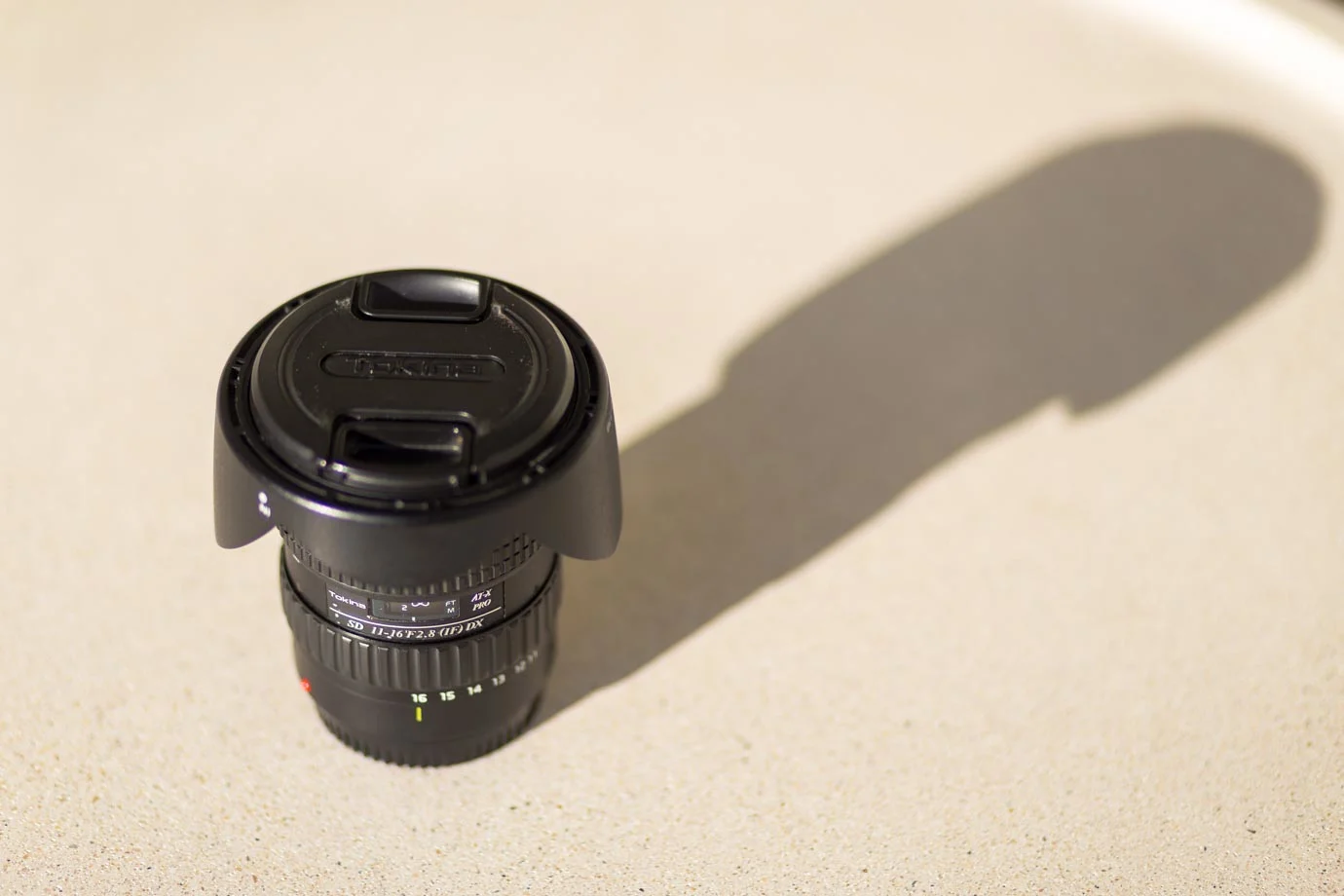 I initially bought this lens for my Canon 550D. The major problem of this lens is it was specifically manufactured for micro 2/3 DSLR cameras, not full-frame cameras. What this means is "technically" you can't use this lens for a full frame camera. In reality, you can, but it is extremely limited.
From the range of 11-15mm this lens is useless as it creates a circular border around your photo as the full frame sensor stretches to the edges of the lens.
However, at 16mm this lens basically becomes a full frame prime wide angle lens, and it still takes amazing photos.
I really love the colours of this lens, especially in the blue range, and it's obviously a lot cheaper than the Canon L series.
I do a lot of landscape photography and I still use this lens a lot.
Buy the Tokina 11-16mm f/2.8 lens now!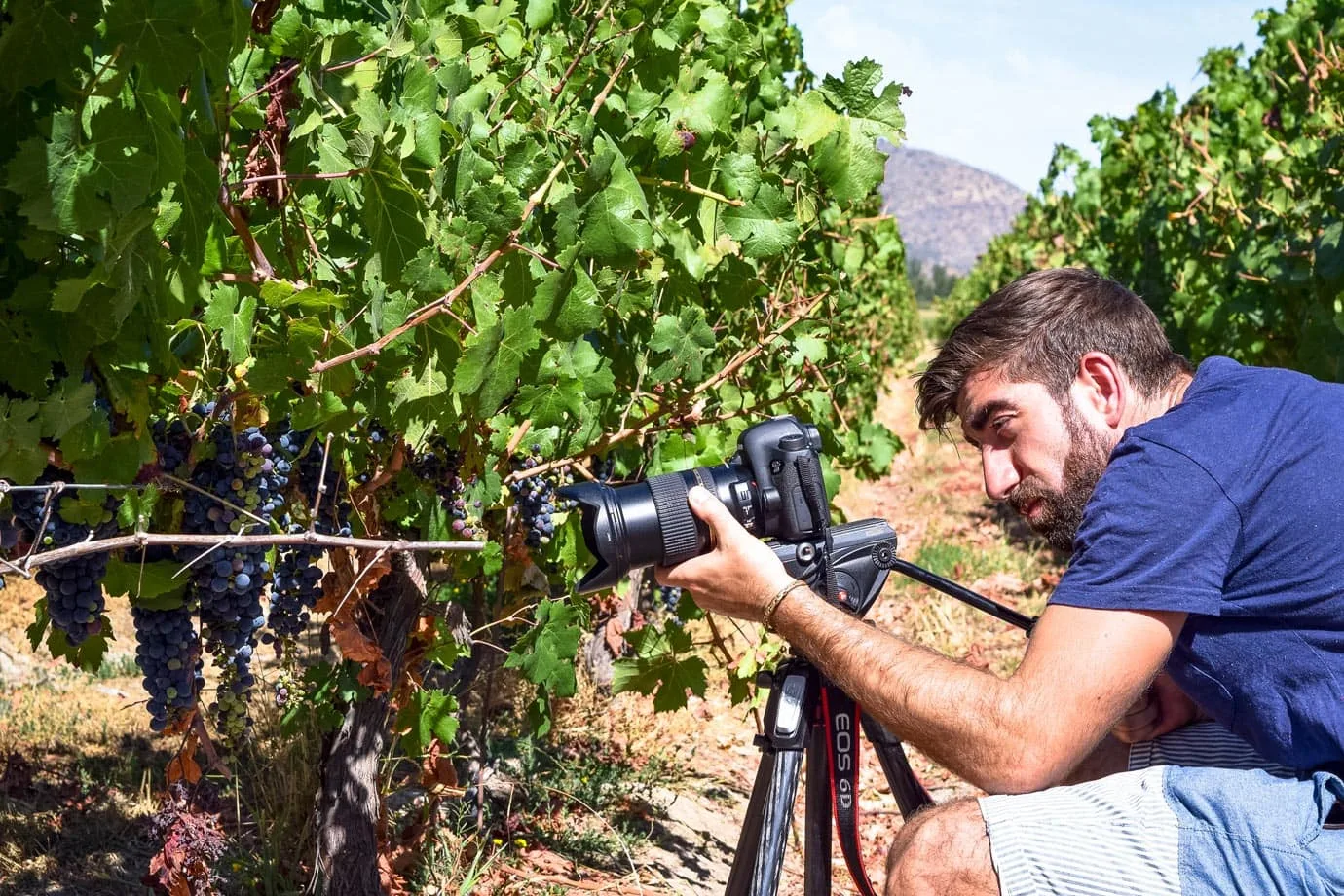 This is my go-to everyday lens that I use and should definitely features in the best camera gear for travelling.
24-70mm is a wonderful range to have and this lens takes some beautiful photos. Also, the aperature at f/2.8 in amazing in low-light settings.
At the time when I was buying this lens, I couldn't decide between this one and the Canon 27-70mm f/4.0 L series lens, but two things swayed it for me.
At £600, the Tamron was about £400 cheaper than the Canon. It also comes with image stabilisation, something that the Canon doesn't have either, so two things to bear in mind there if you're thinking about this lens.
Buy the Tamron 24-70mm f/2.8 G2 VC lens now!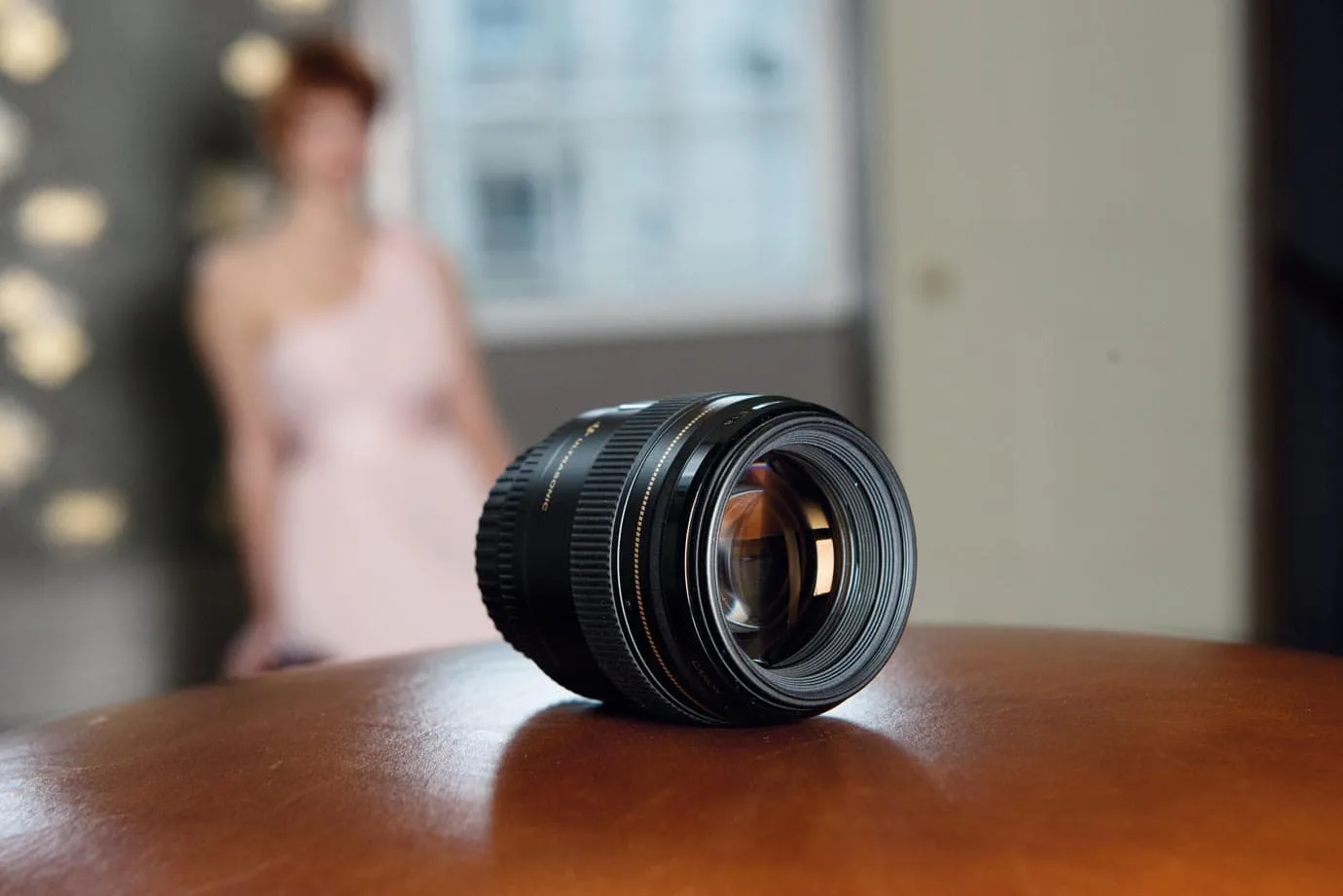 This is my prime portrait lens that I use for headshots. I also use it a lot in my travel street photography.
If I'm ever taking photos of people then I use this lens, and with a f/1.8 you get that lovely depth of field with a blurred background.
The quality of the glass in this lens is great, so you get really crisp images. To be honest with you, it's a lens I should use a lot more!
Buy the Canon 85mm f/1.8 lens now!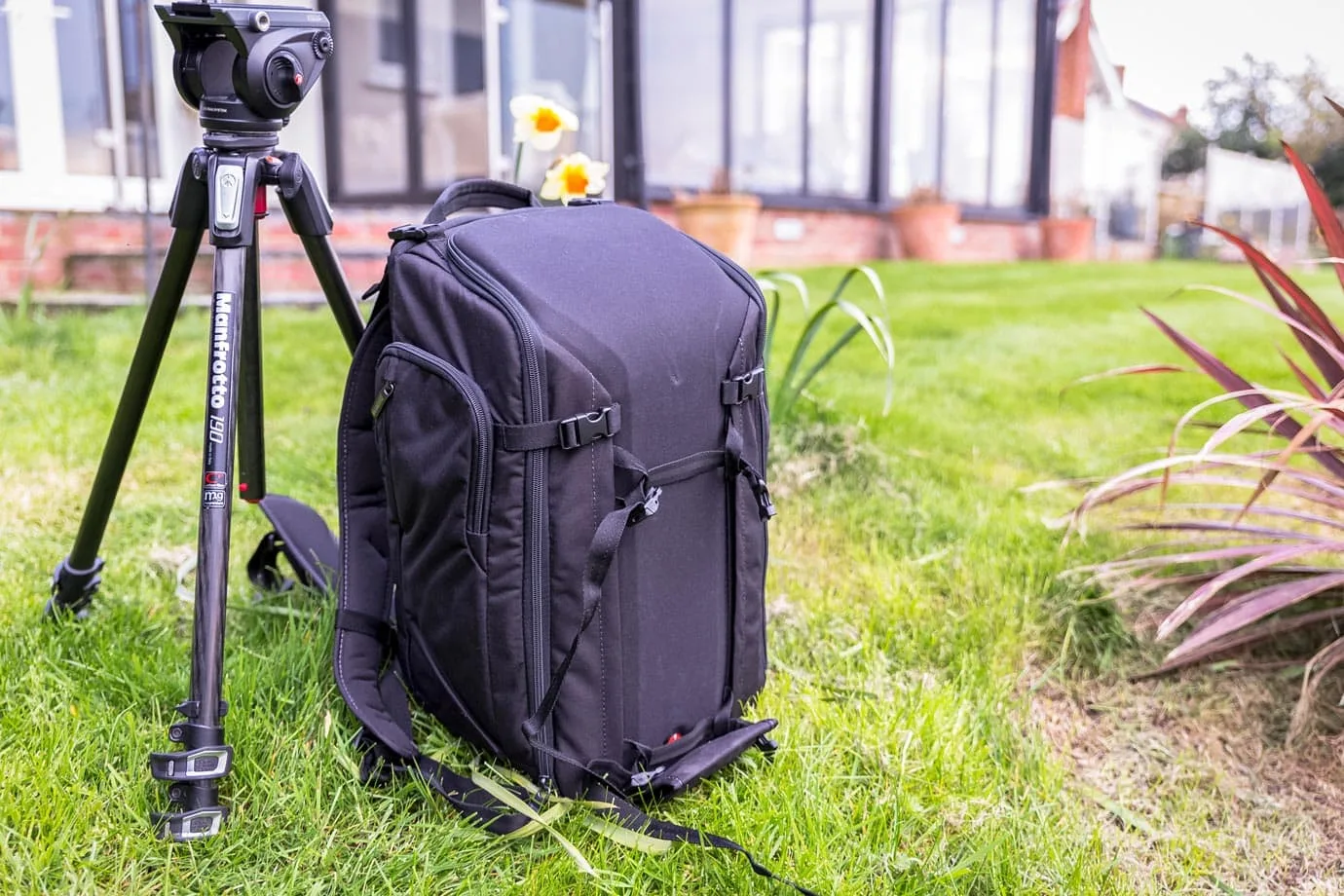 Let's start with a camera backpack.
It's so important having a comfortable camera backpack. If not, you'll destroy your back. This makes it a priority when buying the best camera gear for travelling.
Things to look out for are thick shoulder straps and a thick waist belt. Surprisingly, but you want to take about 70% of the total weight on your hips, so it's necessary having that thick waist belt.
As for the backpack itself, obviously you want one with a lot of padding to protect all your camera equipment.
I use a Manfrotto Professional Backpack 50 which is fairly big but has enough room for all of my equipment. It even fits my huge laptop, and everything's packed in super tight so it can take the wear and tear of travelling.
Buy the Manfrotto Professional Backpack 50 now!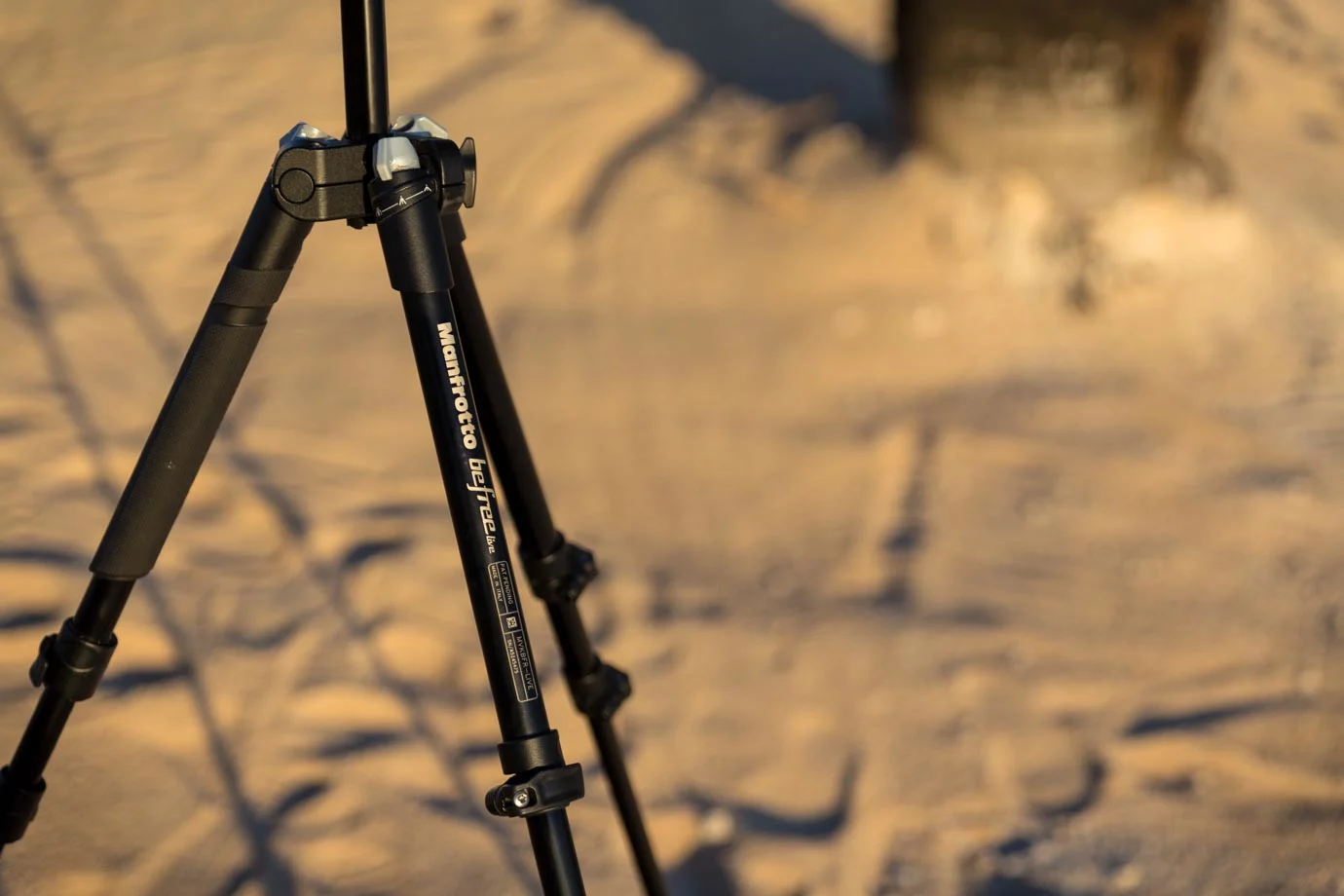 I also own a Manfrotto 190 carbon fibre tripod, which I love, but it is really bulky and heavy to travel with.
Then Manfrotto released the BeFree Live, a tripod specifically designed for photographers who travel a lot.
This tripod only weighs 1.2kg, which is good for a tripod, and it folds up fairly small to, small enough to strap it to my backpack and carry it around from day to day.
Now a lot of people ask me "do I really need a tripod for photography?" The simple answer – yes.
Even though carry it around with me every day, 90% of the time I don't use my tripod. Still, for that 10% of the time it is invaluable.
It is neigh on impossible to take good shots in low light conditions without a tripod, and obviously you can't do things like timelapse photography without one.
Also, I'm shooting a lot more video these days, and have a fluid pan head with the stability of a tripod is infinitely better than handheld, and it really does remove all shakes meaning you don't have to stabilise your footage post production.
Buy the Manfrotto BeFree Live tripod now!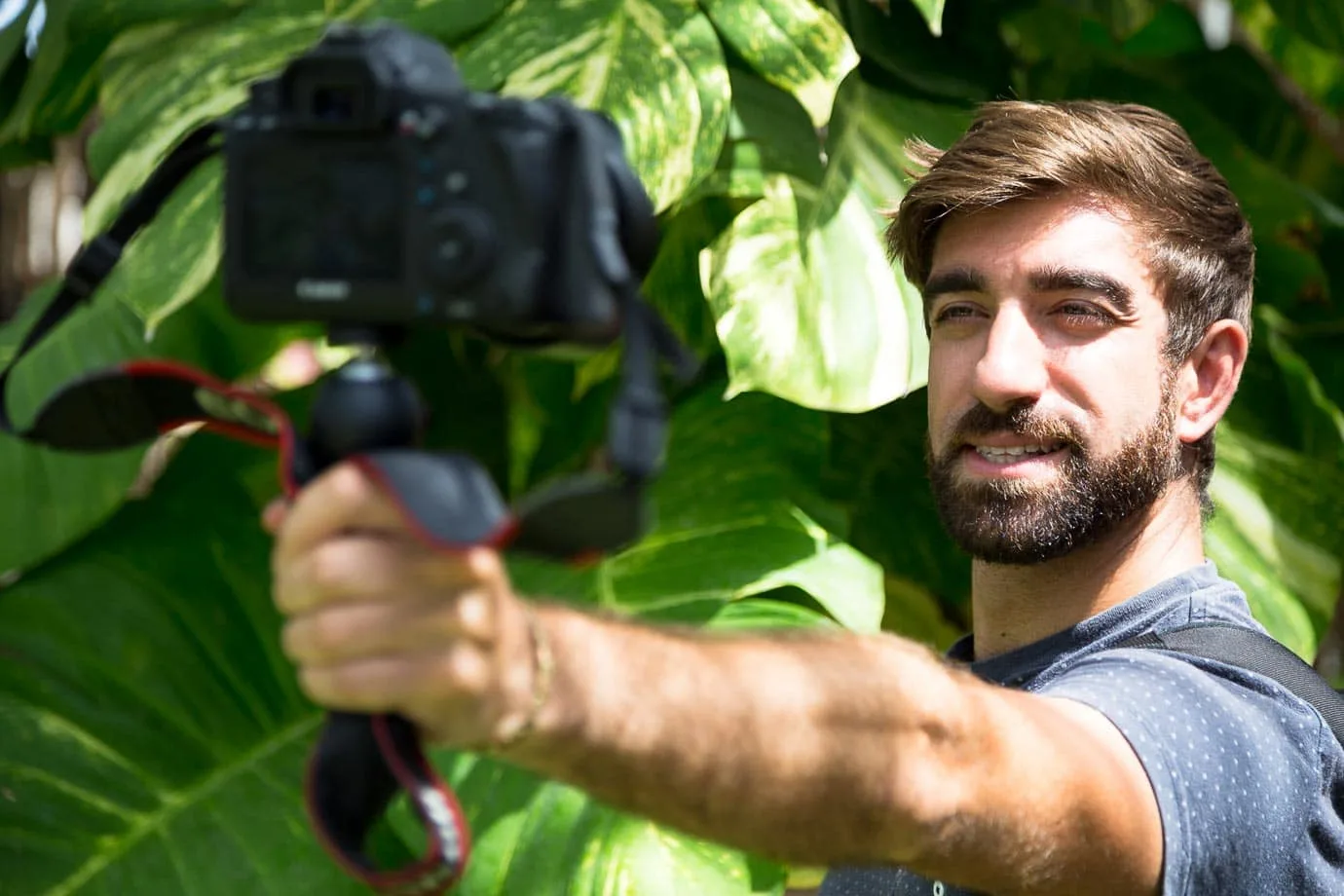 Another Manfrotto tripod I use is the Pixi tripod. This is a tiny little thing, only six inches in length.
I very rarely use this as a tripod in itself, but I do use it a lot as a handle to take selfies with and to shoot vlogs when I'm out and about. All in all, very handy to have in my camera bag and is a lovely a great piece of camera gear for travelling.
Buy the Manfrotto Pixi Evo 2 tripod now!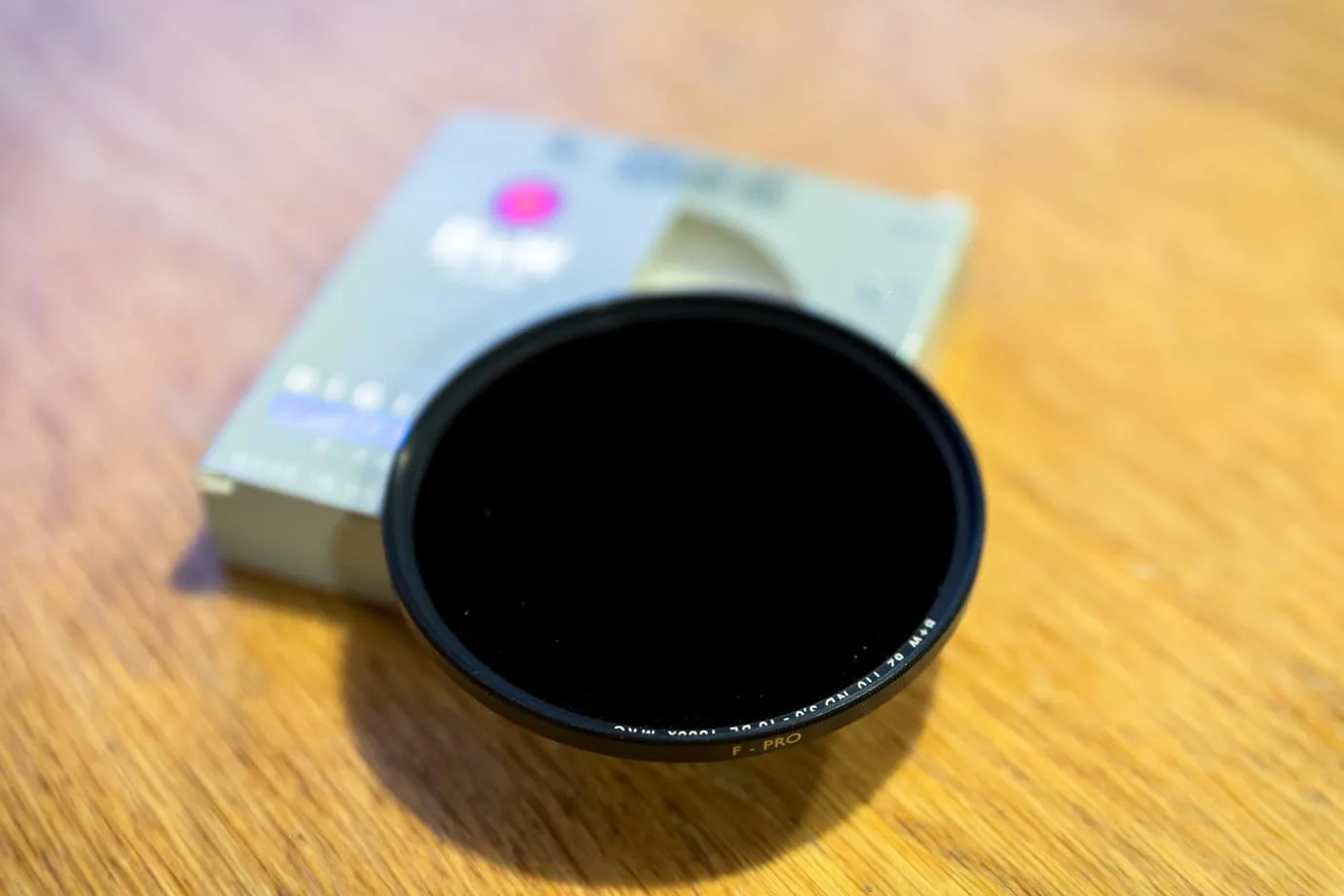 If you're looking at taking lovely long exposure shots during the day then you're going to need a ND filter.
A ND filter (which stands for Neutral Density) is a filter that you screw onto your lens that reduces the amount of light that hits the sensor.
This means, to exposure your photo, you have to have a longer shutter speed to allow enough light onto the sensor. An effect of this means you get a motion blur.
Even though there are cheaper ND filters around, one of the major benefits of the B+W filter is it reduces the purple tinge you'll get around the edges of a photo. With a cheaper lens, often the whole photo will look pink. When it comes of taking long exposures, this is up there with the best camera gear for travelling.
Buy the B+W 3.0 ND filter now!
A circular polarising is one of those items that you'll quickly find indispensable.
Circular polarising filters cut out harsh reflective light (so very bright skies) from photos giving a gradual lighting effect.
At first it's quite hard to see a noticeable difference in the photos you're taking, but in a lot of conditions a circular polariser really makes a sky pop. Particularly useful for cutting out reflective light in the sky and off of water.
Buy the Manfrotto circular polarising filter now!
The Zoom H4N is one of the best audio recorders on the market.
An audio recorder is basically a over-glorified microphone. With two pick-ups, this audio recorder is super sensitive and great for picking up ambient sounds.
You can also run a lapel laviellier microphone through the back out it to specifically record someone speaking.
And if that's not enough, you can run through XLR audio transmitters through the bottom of the recorder. This means if you've got two people miced up you can clearly pick up dialog.
Personally, I find poor audio so distracting in a video, and having an audio recorder is a simple solution to pick up good quality audio.
A lot of people will say "why don't you just use a shotgun mic?" The problem with shotgun mics is they pick up all ambient sounds around the speaker, and again, these can be really distracting.
Buy the Zoom H4N audio recorder now!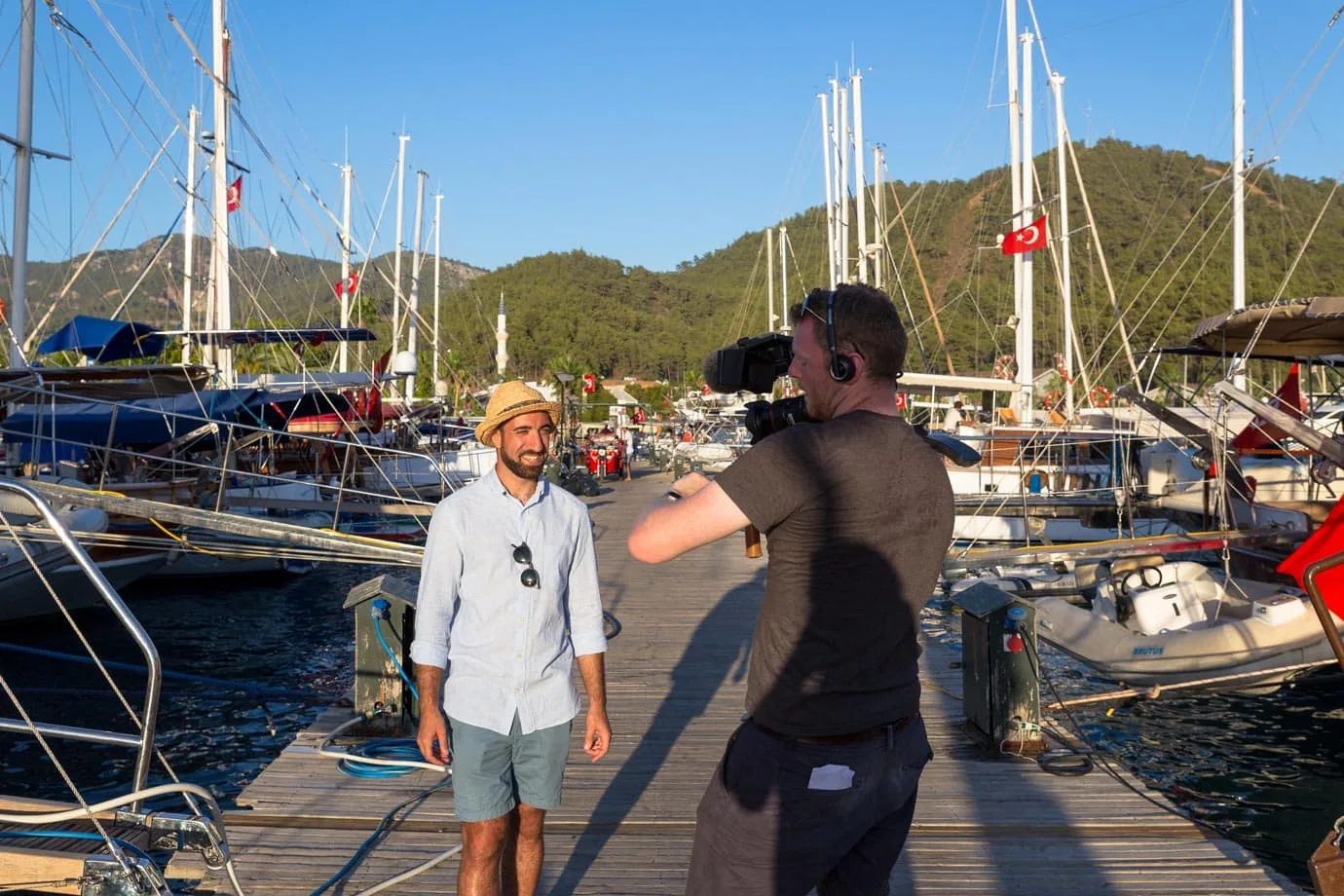 The microphone I run through my audio recorder is the RODE lav miv+.
Personally, I've used a number of lapel lavieller mics in the past and it's extremely difficult to find one of highest quality. When it comes to the best camera gear of travelling, having a good microphone in your bag is key.
The one that really stands out for me is the Sennheiser EW 112-P radio mic with a wireless transmitter, but at £450 they don't come cheaper.
That's why I use the RODE lav microphone. At £150 it is a lot cheaper and the quality is very good.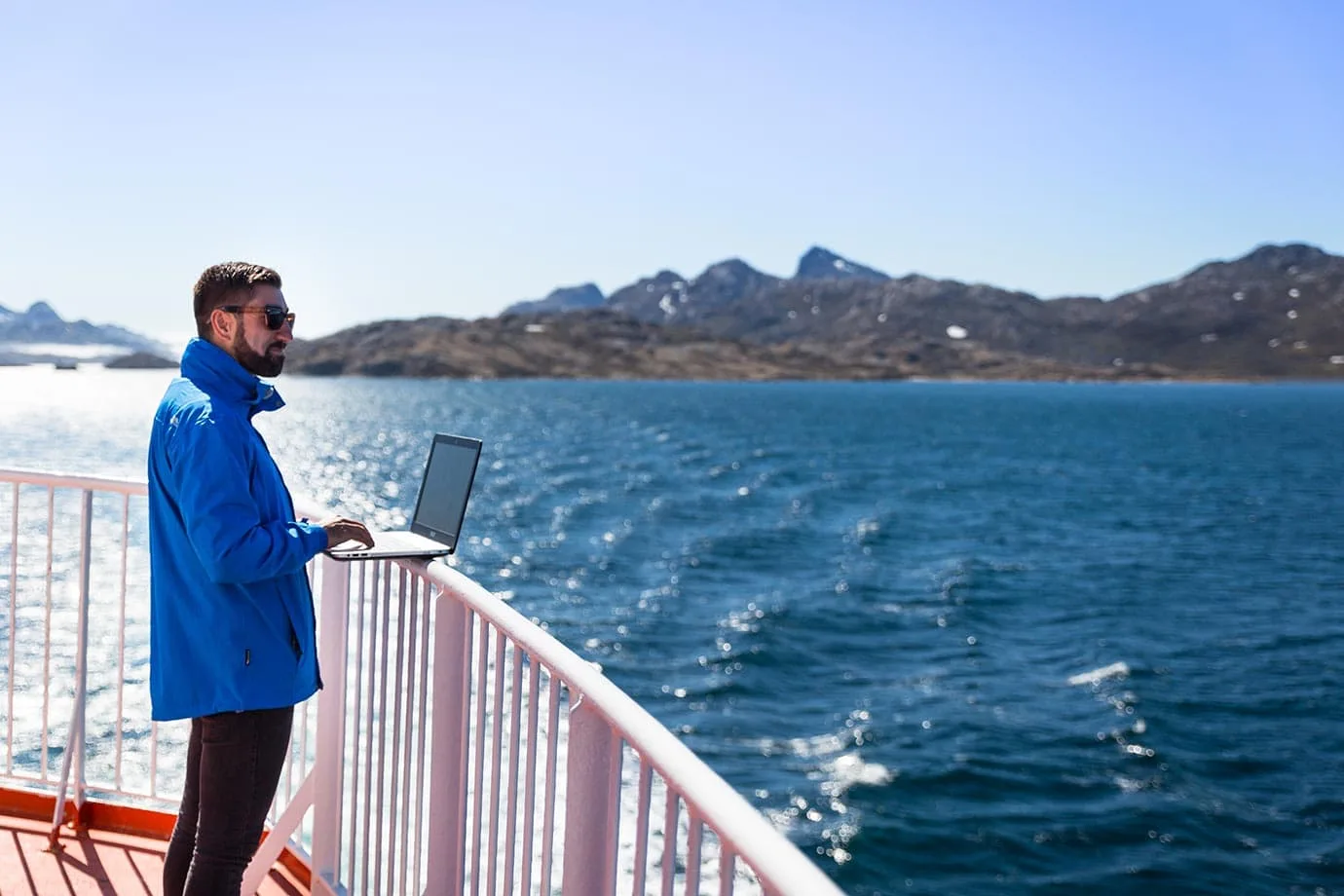 I have a beast of a laptop. It weighs a ton and the battery life is appalling (neither exactly ideal for a travelling laptop), but with an Intel CORE i7 processor, a good graphics card, lots of RAM and a huge amount of storage space, this laptop takes down even the highest spec MacBook, especially running programmes that need a lot of omph.
A lot of the time I'm editing photos and videos, and this is such a quick laptop for running programmes like Photoshop and Premiere Pro. It really speeds up my workflow and it crunches videos compared to other laptops around there.
Yes, it is super heavy and a bastard to carry around, but for the price and what it can do I couldn't like without it!
Buy the Asus 15'6 Notebook now!
Another item I can't travel without are my Anker wireless earphones. Whenever I get to a new place and I'm on my own, my wireless earphones are like my best friend. I can listen to up to 12 hours of music a day when I'm walking around filming, so I really need a good pair of earphones. What I love about the Anker Soundcore Spirit Pro is they have a fantastic charge life of 10-14 hours of playback time so perfect for when I'm out and about for a long day. Also, it goes without saying, but not having any wires is so so so useful!
Buy the Anker Soundcore Spirit Pro now!
---
So there you have it, that's what I consider to be the best camera gear for travelling. I genuinely own all of this camera equipment and I take it everywhere with me.
I have no doubt in a year's time I'll have a load of new camera gear to play with, but for now this will do. If you pick up any of this kit you'll be a very happy photographer indeed.
Just to let you know, this blog post contains affiliate links in. These are only for products I already own and 100% recommend myself. Even though it doesn't cost you a penny to click on the links, if you buy something I will get a very small commission, so thanks if you do decide to buy something from this post!
What are some of your favourite pieces of camera gear for travelling? What's that one item you couldn't live without? Let me know in the comment box below!
Like this post? Then make sure you Pin it!