Looking for the best Christmas markets? Driving from Nice to Strasbourg to Rothenburg, this is the ultimate Christmas road trip in Europe!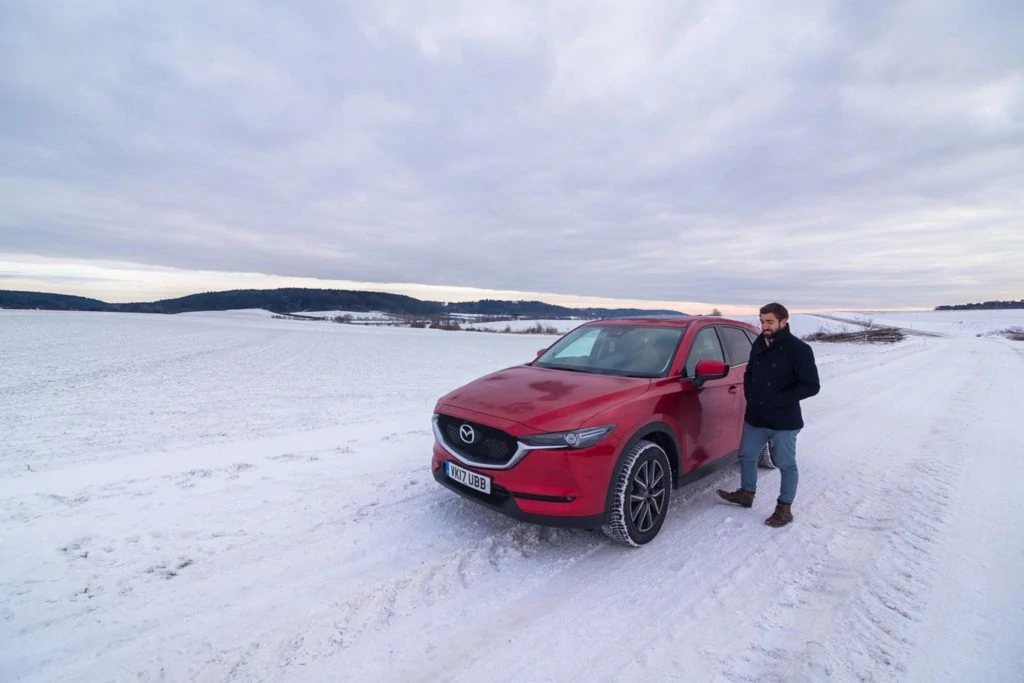 Are you looking for the best Christmas markets in Europe? Then read on!
After reading so many posts on "This Is The BEST Christmas Market Ever!", I decided to go on my own Christmas road trip in Europe on the hunt to find out my favourite one.
Starting in Nice, France, I visited 4 of the most famous Christmas markets in Europe in just three days to see which one was the best and why.
In the end I clocked up well over 1,000km of driving and had far to many pretzels, but these are some of my highlights of my Christmas road trip in Europe.
I was testing out the all-new Mazda CX5 by going on the ultimate Christmas road trip and I had so much fun driving through Europe stopping off at all the Christmas markets along the way.
Nice was the first place I stopped at before driving all the way down to Strasbourg.
If you're looking for the best Christmas markets in France, Strasbourg has got to take top spot. This tiny is magical at any time of the year, but at Christmas it's extra special. I really can't recommend this place enough.
From Strasbourg I drove along one of the most beautiful roads through the Black Forest before ending up in the picturesque town of Rothenburg ob der Tauber in Germany where the snow quickly turned into a blizzard (as you'll see in the video!)
In the end we clocked up over a 1,000kms driving through green fields, white forests and cute little villages along the way, so when I say it was a real Christmas road trip, I mean it.
Make sure you check out my latest road trip video on YouTube, but behind the scenes here are my top five moments from the trip!
1. Travelling with my brother again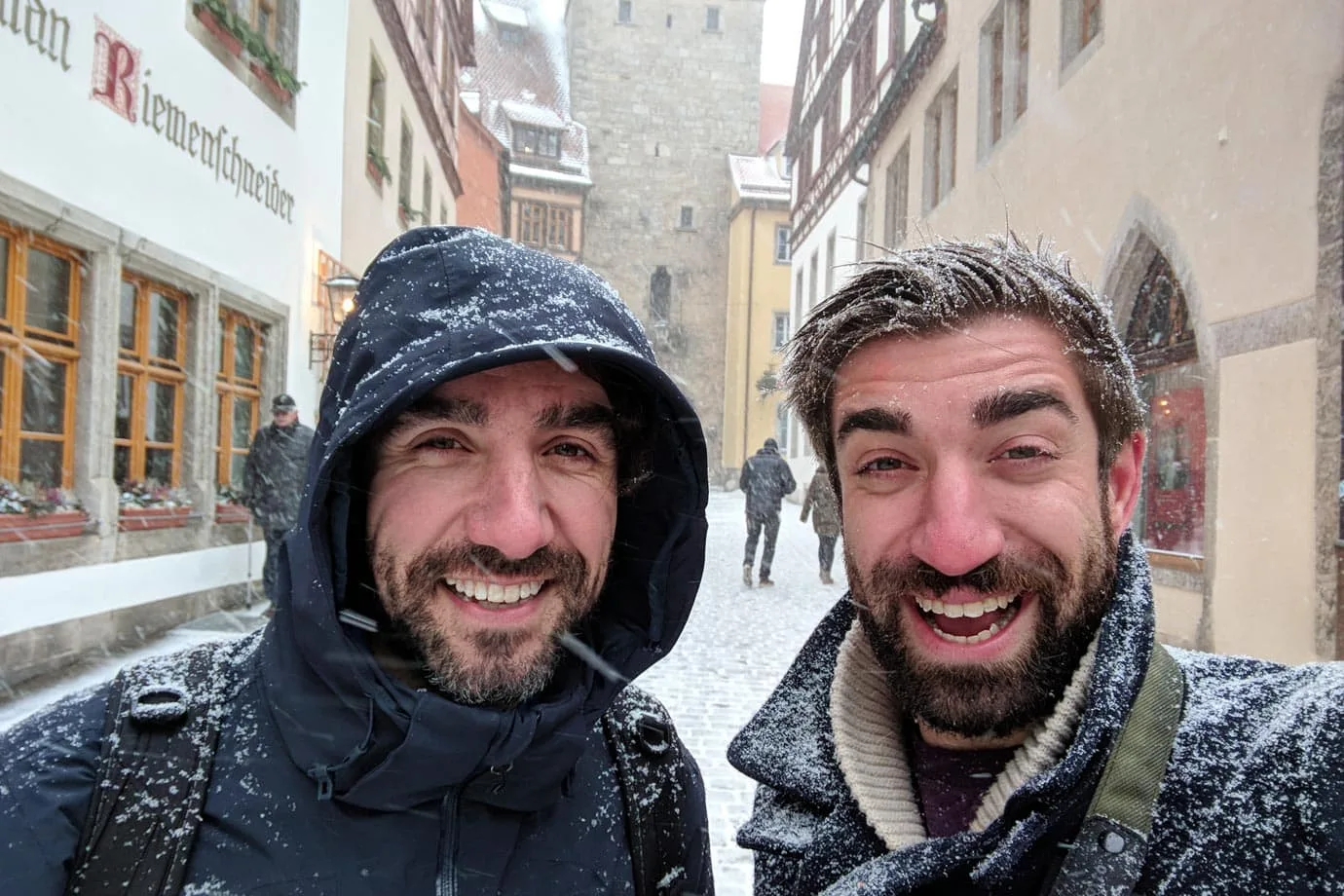 Bit of a soppy one this. My brother Carl and I have travelled to a fair few countries together, but it's been a while since we've been on a trip just the two of us with no other Sherifi's there and it was so amazing travelling with him again.
Carl is so relaxed when it comes to life which is why he's one of my favourite travel buddies in the whole world. There aren't many people I'd want to spend 15+ hours in a car with but he's certainly one of them!
Oh, and can you see the family resemblance here?
2. The stunning views of Europe covered in snow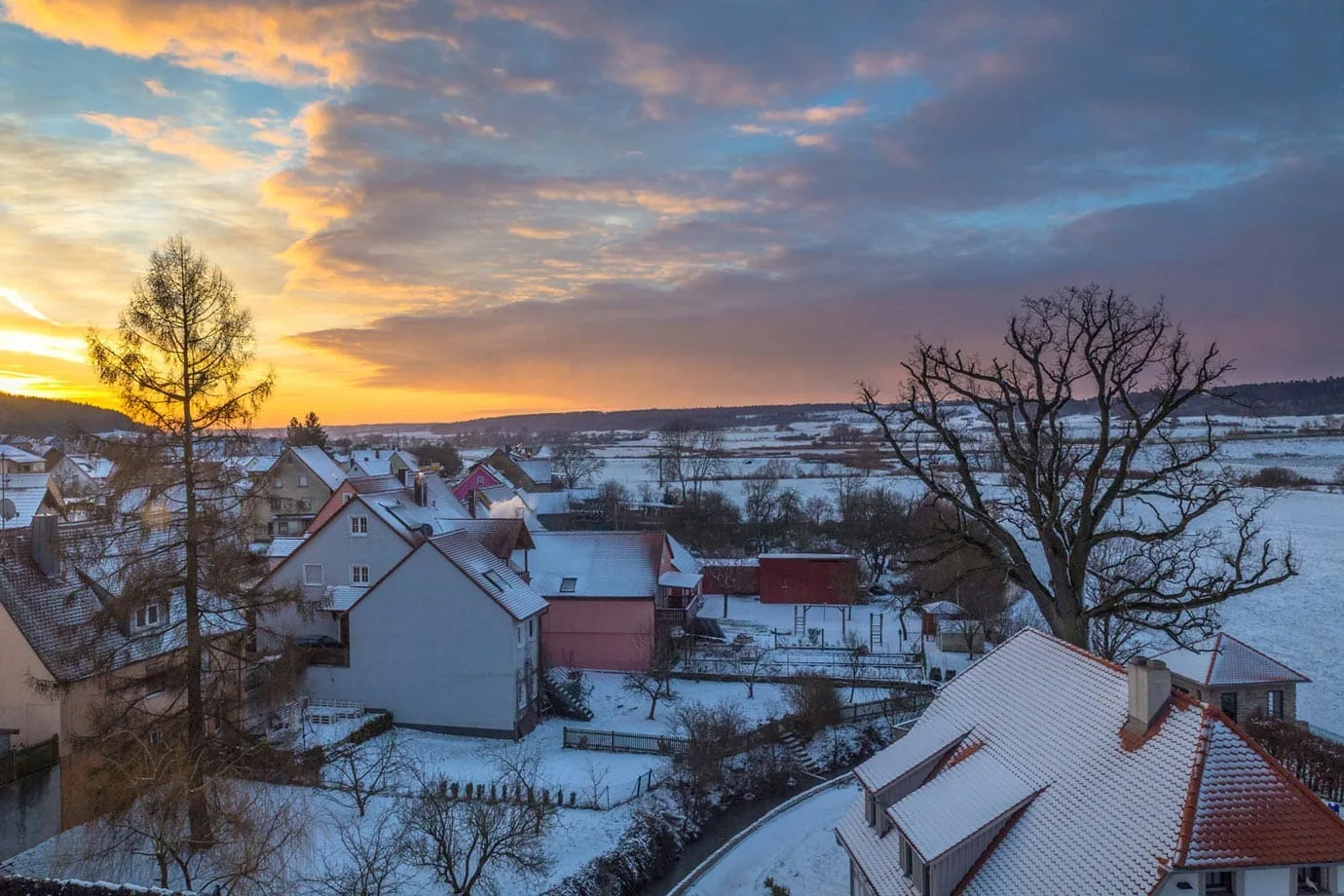 Imagine waking up to this view!? This is the scene that greeted me on my third morning in Lehrberg, a little town just outside of Rothenburg ob der Tauber – it looks like a Christmas postcard, doesn't it?
This is what I love about driving through Europe – coming across little towns like Lehrberg that you never knew existed. It's funny, I know I'll probably never come back to this place again, but because I captured this stunning sunrise I'll always be able to visit it in my mind. To me, that's the beauty of photography.
3. Driving through the Black Forest for the first time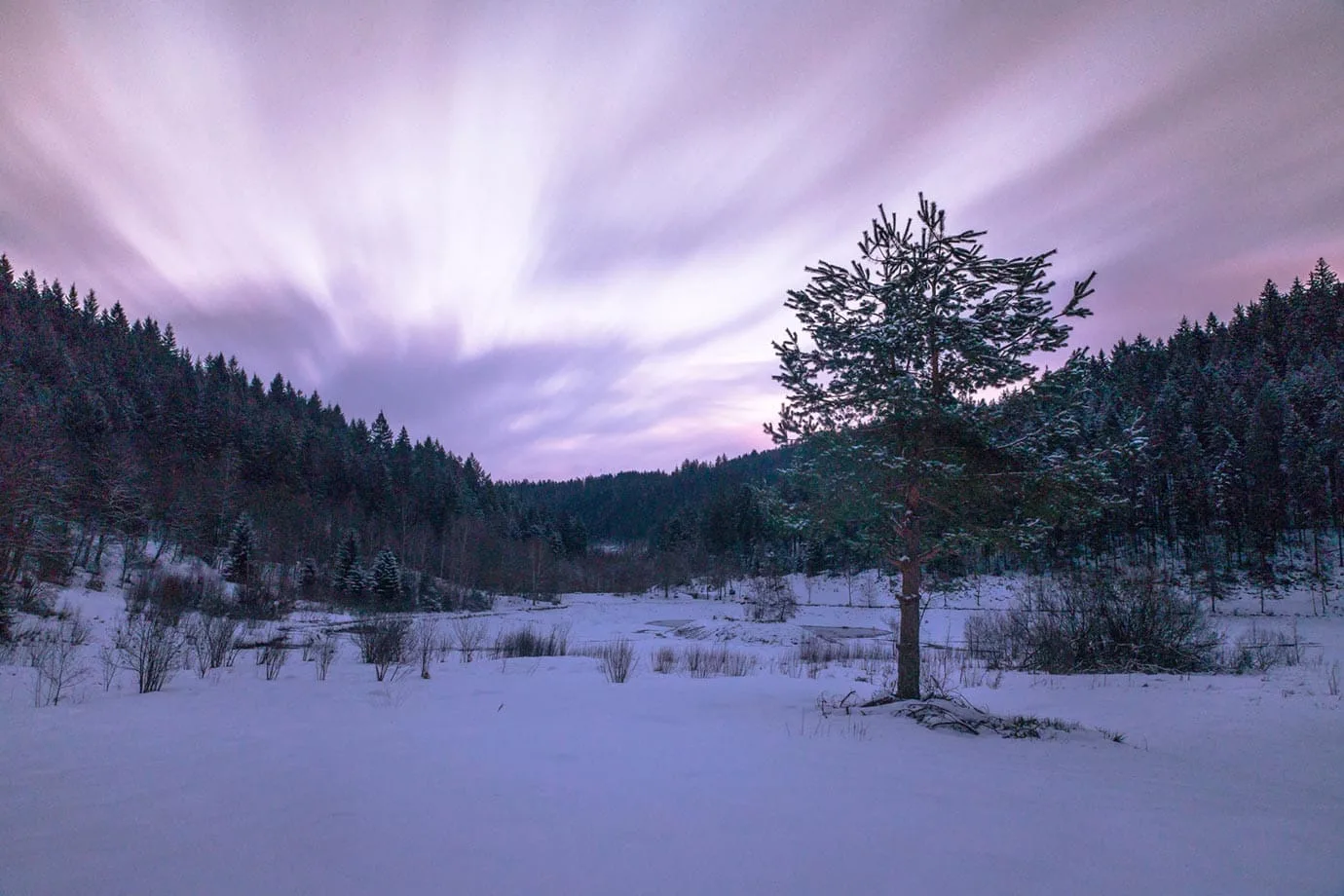 One day I'm going to write a blog post dedicated to the world's best road trip roads, and when I do the Black Forest is definitely going to feature.
Things started to get beautiful as I was driving through cute little towns and villages towards the mountains of the Black Forest, but they really went to next levels as soon as I hit the trees – all around me where giant fir trees all powdered white with snow.
At a couple of points the road snaked back on itself and I could see right down the mountain at all the towns below. That view, that road – that's what road trips are all about.
4. Drinking all the vin chaud and glühwein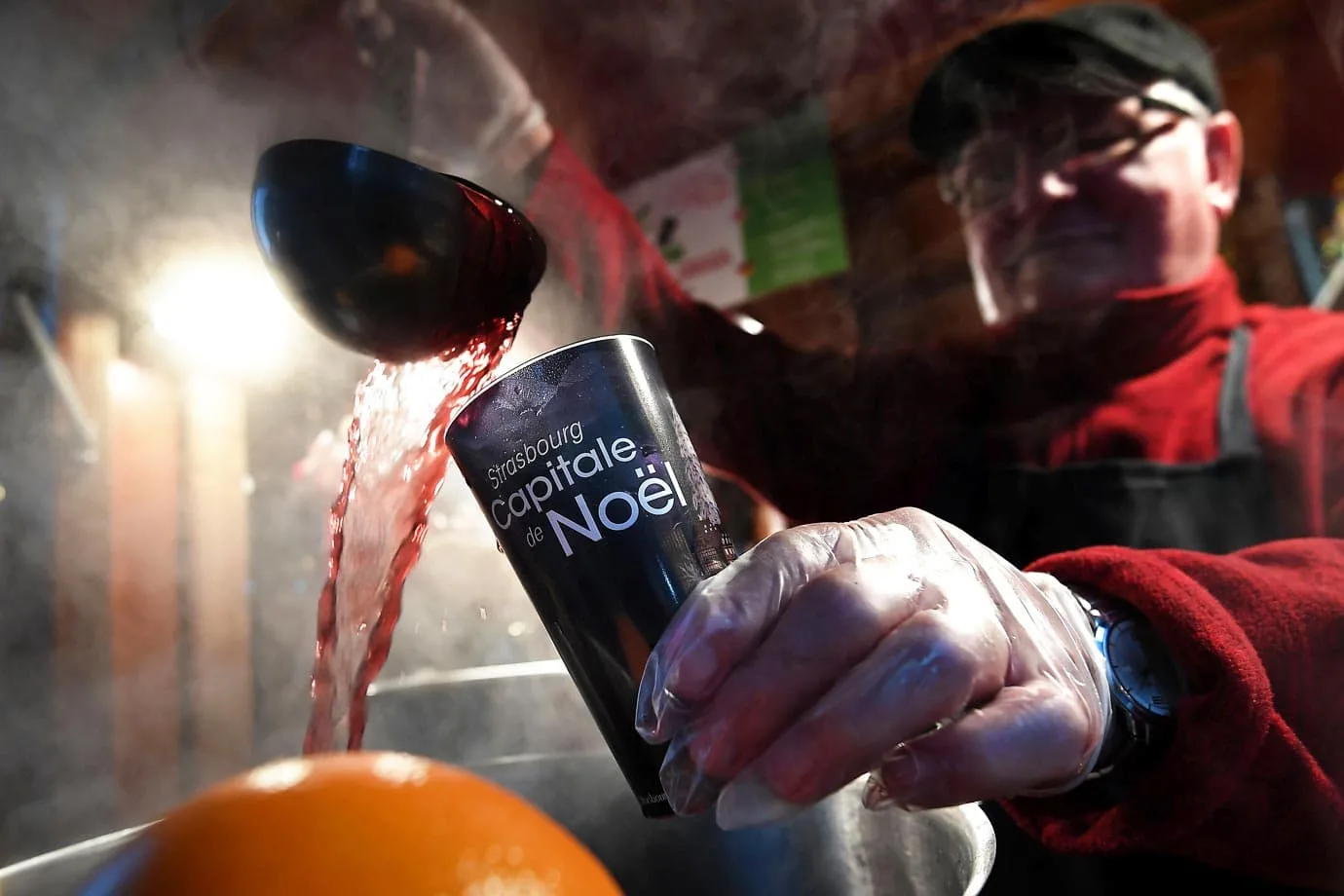 Usually I don't deal well with the cold, especially when it drops to -4 in a blizzard. Luckily, I had vin chaud and glühwein to warm me up though!
I'm a massive fan of any hot alcoholic beverage but there's something special about having a vin chaud in France or a glühwein in Germany with the bustling Christmas markets going on all around.
Also, I discovered something new. Amaretto in glühwein. Magic. Give that a go this Christmas and you'll be very happy indeed.
5. Making new road trip buddies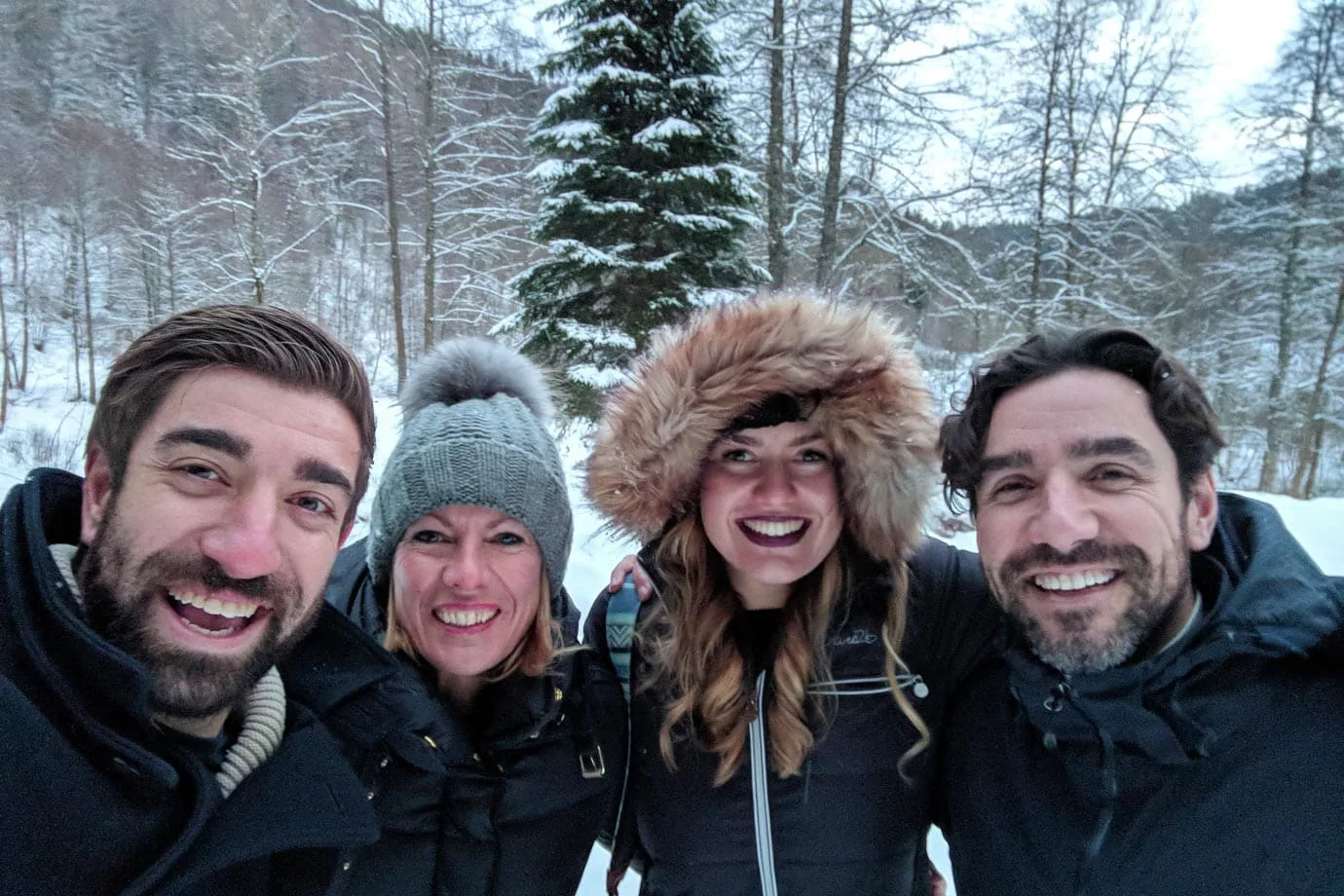 Also on our road trip were Mollie from Where's Mollie (who I've known for a few years but we've never been on a trip together) and Robin from Man for Himself and they were great road trip buddies!
We all shared a couple of cars over the weekend so hopped in and out of each other's at different points – if you want to see two very different perspectives on what we did on our Christmas markets road trip then check out Mollie's here and Robin's here.
---
My Christmas markets road trip was in association with Mazda trying out the all-new CX5 by driving through France and Germany. As always, views are entirely my own and without bias.
Are you planning a Christmas road trip in Europe? If so, where are you going? Make sure you let me know in the comments below!
Like this post? Then make sure you Pin it!