With stops at Lausanne, Saas-Fee & Zermatt, this is everything I got up to on my luxurious Switzerland road trip. Get ready for an unforgettable journey!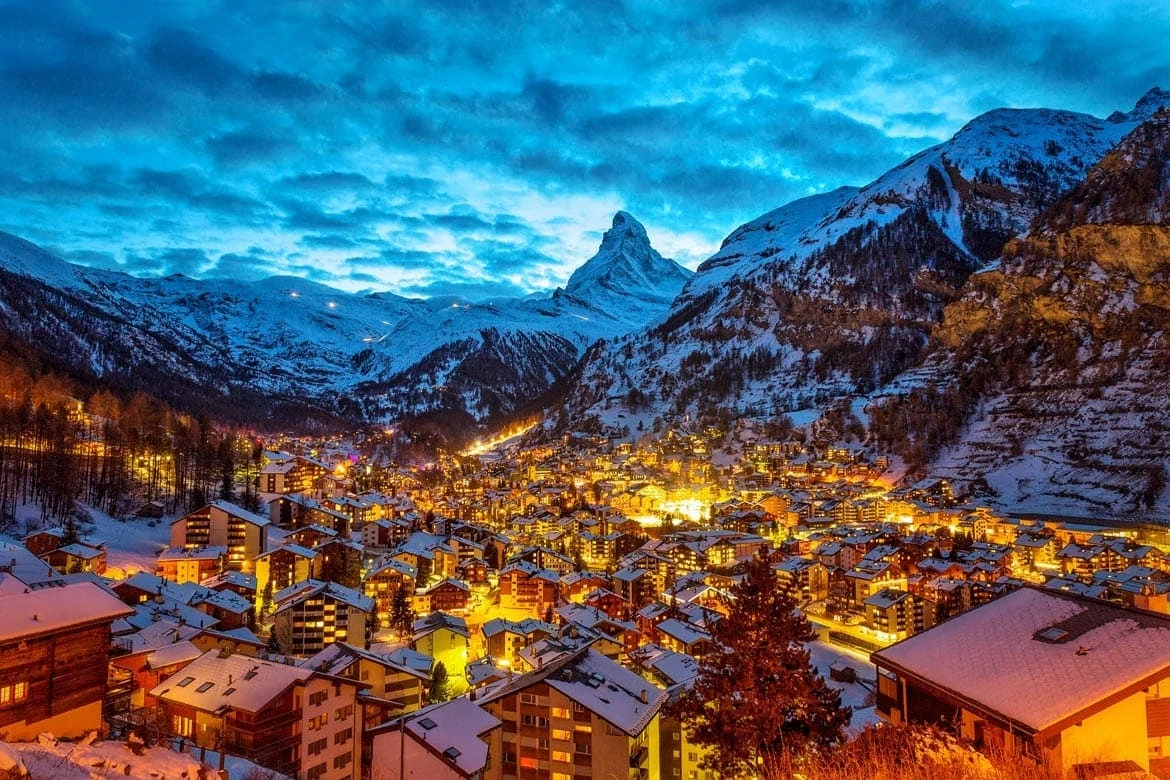 Every time I visit Switzerland I can't get over how beautiful it is. It's one of those places that flies under the radar – it's rarely at the top of people's bucket lists – but it's a country that's just so stunning wherever you look.
On my most recent trip there I was reminded of that when driving towards the little mountain village of Saas-Fee. On one side I had the glittering blue waters of Lake Geneva, on the other side I had terraced vineyards perfectly cut into the hills, and off in the distance I had the snow-capped mountains getting closer and closer after every mile.
You couldn't imagine a more perfect setting. And for me, this is what my Switzerland road trip was all about – just that raw, unadulterated beauty everywhere I went.
On my magical road trip in Switzerland I stopped off at Lausanne, Saas-Fee and Zermatt, three must-see places on any trip to the country.
I explored the charm of Lake Geneva, headed off into the snowy mountains of the Swiss Alps and I even took on one of the most beautiful train journeys in the worlds. You'll definitely want to hear more about that one later!
Along the way I stayed at a few properties with Preferred Hotels & Resorts – the world's largest independent hotel brand representing more than 750 hotels, resorts, and residences across 85 countries. The 3 featured hotels that I stayed at were on the next level. I think they're among the most beautiful places I've ever stayed in.
Keep on reading because this blog post is guaranteed to make you want to go on a road trip in Switzerland!
– Driving in Switzerland –
I think Switzerland is the perfect place for a road trip. You can pretty much get to anywhere within the country in 4 to 6 hours. That means if you're coming from Australia, Canada or the USA, you'll find all the journeys very short and manageable!
The two main airports that you'll fly into are Geneva or Zurich. There are a number of car hire companies to choose from at each. If you're driving around Switzerland in winter though you might want a slightly bigger car or a 4X4 to tackle the wintry conditions.
The only time it gets challenging driving in Switzerland is when you get up into the Swiss Alps. These roads are very windy snaking up the mountains but if you take them slowly you'll be fine. And don't worry about the cars behind you – often the locals will know the roads like the back of their hand and they'll know the best passing places to overtake you.
Another thing. All hire cars come with a vignette (a bit like a tax disc on the windscreen of the car) so you don't need to worry about getting one yourself. You need this for driving on the roads though.
– Geneva to Lausanne –
The drive from Geneva to Lausanne takes around an hour depending on traffic. If you're driving at rush hour times of 9am and 4/5pm, you can expect some slow moving traffic.
I really enjoyed the drive as it follows Lake Geneva with the mountains surrounding it. This is just a little taster of what's to come on your Switzerland road trip though!
– Things to do in Lausanne –
Climb to the top of Lausanne Cathedral
One of the top things to do in Lausanne is visit Lausanne Cathedral. This is a beautiful church at the top of a hill overlooking the city. The main hall has these ornate high-vaulted ceilings – it actually reminded me a lot of the famous Notre-Dame Cathedral in Montreal.
If you want some of the best views of Lausanne then head to the top of the cathedral. Here you get 360-degree views of the city with Lake Geneva and the mountains in the background. Unfortunately I couldn't see a thing when I visited as it was a very grey day, but I promise you the views are still beautiful!
Tickets cost 5 euros per person to climb the cathedral. It is free to enter the church.
Wander around the streets of the city centre
Lausanne city centre is a wonderful place to spend a few hours wandering around the cobblestone streets. Almost on every other corner is an independent chocolatier or a fromagerie selling Swiss cheese.
In winter there are lots of Christmas market stalls where you can have a hot chocolate or a mulled wine. One place that's always buzzing with people is down by the railway arches. There are a couple of cool bars in the arches themselves which I'd really recommend.
Have a perfume experience like no other with Philippe K
Philippe K is an independent perfume expert in Lausanne who's really challenging people's perceptions of scent and smell. What he essentially does is a personality test where you go through your feelings and memories of smell. It sounds cheesy but it's really interesting hearing why you like or dislike certain scents.
From there, Philippe matches a perfume to your personality. Not one that you'd usually buy, but one that compliments who you are. I found it fascinating learning about all of this stuff as I'd never challenged my own understand of smell or why I like something. This is definitely something I've never done before too!
Go for a dinner perfume pairing at the Royal Savoy Hotel
To make the experience even more unique, Philippe K is working in conjunction with the Royal Savoy Hotel to create a truly unforgettable activity. From your answers to your personality test, Philippe then phones ahead to the Royal Savoy and speaks to the sommelier suggesting smells and tastes you'd like.
The sommelier at the Royal Savoy then comes up with a wine paring for dinner that not only compliments the food, but compliments your scent pallet too. How cool is that? As I said, this is such a unique thing to do in Lausanne!
– Where to stay in Lausanne –
While in Lausanne I stayed at the Royal Savoy Hotel & Spa, a luxurious 5* hotel right in the heart of the city.
The hotel re-opened in 2015 after a 6-year refurbishment where they completely renovated and updated the hotel. The Royal Savoy Hotel now boasts a new spa area which features an indoor and outdoor pool which is heated in winter. Obviously they have a wide range of spa treatments available too.
One of my favourite spots in the Royal Savoy Hotel was Le Chalet. This is an outdoor restaurant only open during the winter season that's just like a cosy ski chalet. Here you can expect things like delicious fondues and meat platters. If you're visiting here during the winter season, I'd definitely recommend eating here for lunch or dinner one night.
Also, the shores of Lake Geneva is a short 5 minute walk away and there's a metro station right outside the hotel too, so it's very easy getting around Lausanne from here.
– Lausanne to Saas-Fee –
Carrying on my road trip in Switzerland, I headed from Lausanne to Saas-Fee. This is a stunning drive that takes you past Lake Geneva (again!) up into the snowy mountains of the Swiss Alps.
It took me around 2 and a half hours to drive, though it can take a bit longer if you get stuck behind a slow bus or lorry on the mountain roads. The views once you get to the Alps are just incredible – as I've said, this is what Switzerland is all about.
I'd really recommend stopping off at Montreux along the way too. This is a town on the furthest eastern edge of Lake Geneva with some stunning scenery. I parked my car by the water and wandered around the lake for 20 minutes. Definitely a great stop on your Swiss road trip!
Also, as a word of warning – Saas-Fee is a car-free village. There is a giant car park just on the edge of the village where you can park. Usually your hotel will pick you up in a little electric buggy.
– Things to do in Saas-Fee –
Eating at Allalin, the highest revolving restaurant in the world
If you're not in Saas-Fee for the skiing or winter sports then this is the activity for you. At 3,500m you'll find the highest revolving restaurant in the world – the views from up here are jaw-dropping.
In one hour the restaurant revolves 360 degrees around its axis, providing you with an astonishing, ever-changing view while you're enjoying regional and international delicacies.
Also, you don't have to eat up here if you don't want to. I just had a hot chocolate and took in the views for a bit before heading back to the main village.
To get to the restaurant at Allalin, you have to follow signs to the ice pavilion. This means taking 2 different cable cars and a short train ride through the mountain which takes about 30 minutes in total. It sounds a lot more confusing than it is. This really is one of the best things to do in Saas-Fee though.
Skiing in Saas-Fee
Saas-Fee has one of the best ski resorts in the world. Because of its unique location in the Swiss Alps, you can ski here all through the year. This is where to pro alpine skiers head to practice in June and July to ski on the glacier – yes, you can ski here in the middle of summer!
There are over 100 kms of slopes and 5 kms of ski routes at Saas-Fee. However, the this resort is more for intermediate/expert skiers – there aren't many green slopes for beginners so bear that in mind when booking.
The absence of cars in the village adds an extra relaxing feel to a holiday in the winter sports resort of Saas-Fee.
Hiking in the snow
Another amazing winter activity to do in Saas-Fee is to put on the snow shoes and head off on a hike. We went with Alex, a guide from Ski Zenit, and spent the morning on a really nice hike through the trees and up into the mountains.
It wouldn't be a day in the snow without stopping off for a bite to eat and a beer, so we had lunch at Gletschergrotte, a restaurant overlooking Saas-Fee beside one of the ski slopes. I know I keep banging on about the views, but this was another of my favourite spots.
Relaxing in the spa at the Capra
If you've spent a day out in the snow or on the slopes, there's nothing quite like resting your muscles and relaxing in a spa for a couple of hours. I'm not just saying this but the spa at The Capra was one of the most peaceful and beautiful I've seen in a very long time.
Based underground, the spa is built into the rock so it feels like you're in a cave. My favourite feature was the outside jacuzzi where you can chill with the snow all around you. There's also a meditation room, sauna, steam room and a number of treatment rooms here too.
Tucking into delicious cheesy heaven at Du Saas-Fee
If you're looking for one of the best restaurants in Saas-Fee then look no further than Du Saas-Fee. This is a tiny little restaurant which seats about 16 people around 2 long tables.
The reason the restaurant is so small is because it's run but just one woman – from taking the orders to cooking to serving the food, she does everything herself, all with a smile of her face.
This the place to head if you love cheese though. At Du Saas-Fee they serve either fondue or raclette. They're the only two mains on the menu (though you can get some meat platters too). I had the raclette and it was genuinely one of my favourite meals on my Switzerland road trip.
– Where to stay in Saas-Fee –
While in Saas-Fee I stayed at The Capra, a stunning boutique 5* hotel that is the perfect place for a luxurious break.
The Capra is an alpine-style hotel located right in the heart of Saas-Fee. It's a short 5 to 10-minute walk from most of the ski lifts or you can arrange a transfer in the electric buggy.
What I loved about the Capra is it's a really small hotel with only 24 suites, each one with its own private balcony with panoramic views of the mountains. This gives it a really nicely homely feel where all the staff know your name and what you're up to each day. It just felt like another level of service.
The restaurant at the Capra is fantastic too offering seasonal and tradition Swiss cuisine with an international take too. You can't quite beat relaxing by the fire for afternoon tea before having a sumptuous 3-course dinner in the evening.
And as I've already said, the spa is incredible too. The Capra really is one of the best places to stay in Saas-Fee.
– Saas-Fee to Zermatt –
The next stop on my Switzerland road trip was the fairy-tale village of Zermatt. Even though Saas-Fee and Zermatt are fairly close together by distance, it still takes an hour to drive between the two. This is because you have to drive down the mountain of Saas-Fee before then driving over to Zermatt.
Much like Saas-Fee, Zermatt is a car-free zone. This means you have to park your car at Tasch and then take the 10-minute train to Zermatt. There are a number of car parks in Tasch and the train is every 20 minutes so all in all it's a very easy journey.
– Things to do in Zermatt –
Go on one of the world's most beautiful train journeys
Zermatt is home to the Gornergrat Bahn. This is one of the most beautiful train rides in the world with these spectacular views of the Matterhorn as you go up.
The Gornergrat train leaves Zermatt at 1,600m and takes you all the way up to the Gornergrat peak at 3,100m. The journey takes around 33 minutes so the best thing to do is bag yourself a window seat and enjoy the views.
At the top you have some amazing panoramas of the mountains including the Matterhorn. There's also a hotel which you can stay in (which is Europe's highest hotel) and a restaurant up here too.
My top tip is if you want to beat the crowds then head up on one of the first trains around 8am. Then you'll have the top of the mountain pretty much to yourself. There's a reason why this is one of the best things to do in Zermatt!
You can book your tickets for the Gornergrat train here.
Skiing in Zermatt
Zermatt is often voted as the number one ski destination in the world. When you see some of the ski runs that take you from the Gornergrat at 3,100m all the way down to Zermatt at 1,600m, all with views of the best views of the Matterhorn, it's very easy to understand why.
Obviously this comes at a price and the skiing in Zermatt is very expensive, but it is worth it. If you're in Zermatt for a few days then I really recommend getting a ski pass and hitting a few of the runs. You won't regret it!
Wandering around Zermatt
I don't say this lightly, but Zermatt is one of the most beautiful places I've been to on my travels. Walking around here feels like you're on a film set or in a fairy-tale; it's just so magical.
One of my favourite things to do here is to wander around the village with my camera in hand taking photos of everything. As the village of Zermatt is built in a small valley, it only takes 10 minutes walking up before you get to some really amazing viewpoints. Here you can take these picture postcard perfect photos of the houses lit up at twilight with the Matterhorn in the background.
Having a traditional fondue
Another one of my top things to do in Zermatt is to have a traditional fondue at SayCheese. As the name suggests, this is *the* place to be for all cheese lovers.
They have a number of fondues on the menu from champagne fondue to a mushroom fondue. However, as we were feeling extremely decadent, we went for the truffle fondue. I can't tell you how good this fondue was. In fact, I now feel it's the only fondue I can ever have.
Just at the end as we were finishing our fondue, our waiter came over and took our fondue pot away. He then returned with the last remnants of cheese cooked on the bottom is this crusty cheesy delicious layer which finished me off. Incredible naughty but you're only here once, right!?
– Where to stay in Zermatt –
In Zermatt I stayed at The Grand Hotel Zematterhof, one of the most prestigious hotels in all of Switzerland.
First opened in 1879, Grand Hotel Zermatterhof is a traditional luxury hotel that's the equivalent of the Ritz. The hotel is right in the centre of Zermatt and it has some of the best hotel views of the Matterhorn.
Even before you step inside the Grand Hotel Zermatterhof it exudes class. Some couples are picked up from the train station in a horse and carriage – I told you it was classy.
The Zermatterhof's restaurants include the Alpine Gourmet Prato Borni, which has been awarded 1 Michelin star. This serves traditional Valais-style cuisine in a sophisticated atmosphere. The Brasserie Lusi offers fine dishes with a French touch, and at the saycheese! Restaurant, guests can enjoy traditional Swiss cheese dishes such as fondue and raclette. Classic afternoon tea is served daily in the Rudenbar and the Stars Bar features live piano music every day.
There's also a spa at the Grand Hotel Zermatterhof which is the perfect place to kick back and relax, especially if you're visiting in winter!
---
This post was in association with Preferred Hotels & Resorts showcasing some of their best hotels in Switzerland. As always, all views and opinions are my own.
Are you planning a road trip in Switzerland? Are any of these on your list of things to do? Let me know if the comments below!
Like this blog post? Then make sure you pin it for the future!