Visiting the quaint little villages and towns of Lavenham, Bury St. Edmunds and Cambridge
Yay! It's UK road trip time!
One of the things that we just had to do while Brianna was in the UK was go on a quintessentially English road trip. It just had to be done, especially after Brianna took me on our all-American road trip along the west coast of Oregon to Portland. I felt like it was time for me to return the favour and show her my hood.
As I was born in Colchester (north Essex for those of you who don't know), I've visited practically every single village and town in the area. Hey, what can I say, there's not much to do around here.
Anyway, I wanted to show Brianna a few of my favourites. I think if I asked any of you to imagine a small English village, I think it'd be something a little like these three.
With stops at Lavenham, Bury St Edmunds and Cambridge, it doesn't get much more English than this! Here's what we got up to on our UK road trip.
[arve url="https://www.youtube.com/watch?v=jgfJrvFu2c0″ thumbnail="11767″ title="Road Trip Through Suffolk" description="It's time for a road trip through Suffolk! With stops at Lavenham, Bury St Edmunds & Cambridge, this is as English as it gets! Here's what we got up to on our Suffolk road trip." upload_date="2017-01-15″ duration="2M29S" /]
After spending some time in London, Brianna and I decided to hop in the car and hit the countryside in Suffolk and Cambridge stopping off at a few villages and towns along the way.
The first place we visited was the famous medieval town of Lavenham. This place is jam packed with tea rooms (more than you could ever imagine in such a small place) and old Tudor houses, and it's an incredibly cute place to walk around of a couple of hours. Lavenham is one of those places that I think few "foreign" tourists get to see (as in ones who have come a long way like Brianna!), and it's a very good representation of village life.
From Lavenham we drove to Bury St. Edmunds, an old market town with an ancient ruined abbey. The town dates back 11th century and there's so much history here. Bury St. Edmunds is also home to "The Nutshell", the smallest pub in the UK – obviously we had to go in for a cheeky pint!
Our final stop on our UK road trip was Cambridge. Now you can't come to Cambridge without going punting on the River Cam, and for us it was the perfect way to end the day. I'm always taken back by the architecture of Cambridge and it's easy to see why it's such a popular place to visit.
It was amazing showing Brianna a few of my favouite villages and towns near to where I grew up, and it was great seeing them through her eyes too. As I said, it doesn't get much more quintessentially English than this!
For more travel inspiration, make sure to subscribe to our channel – https://www.youtube.com/anadventurousworld/
Have you ever been on an English road trip? If so, where are some of your favourite places to visit? Or where would you like to go? Let me know in the comment box below!
Like this blog post? Then make sure you Pin it!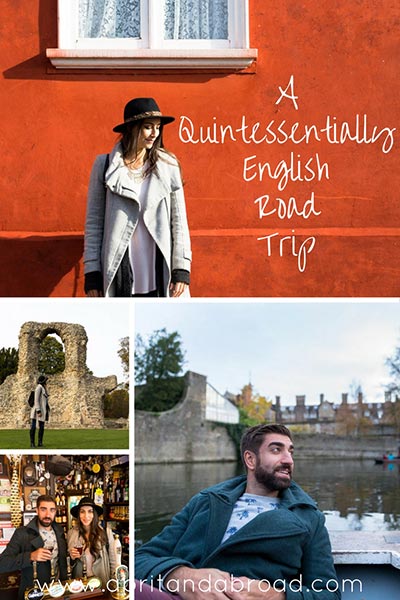 Save
Save