Looking for the coolest hotels in Copenhagen? From hipster designers to rooms overlooking the water, this is where to stay in Copenhagen, Denmark!
I've said it so many times on this blog before, but Copenhagen is one of my favourite cities in Europe. In one word, it's just so cool.
Copenhagen is truly a fairytale city in so many ways. You've got castles dotted all over the place, canals and waterways that wind their way through the city, and colourful buildings wherever you look. When you see Nyhavn (the photo above) you'll know exactly what I mean.
Then there are some of the world's best restaurants, speakeasy bars that you'll spend hours in, and the coffee culture is very strong here too.
Whether you're here for a romantic weekend away or a longer break, here are some of the coolest hotels in Copenhagen for you.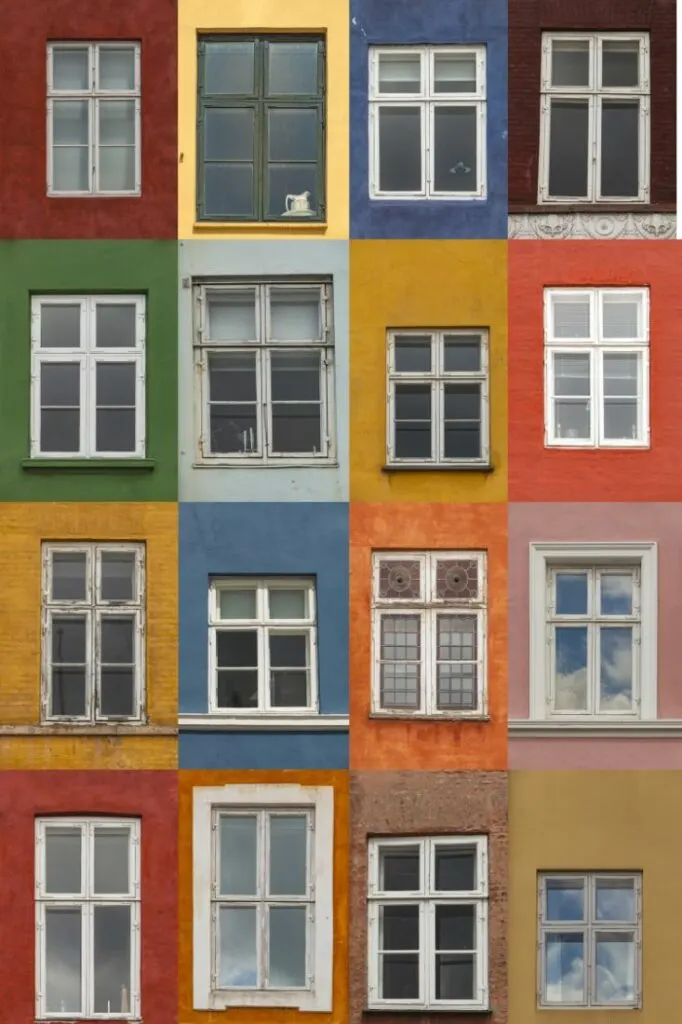 Every time I've visited Copenhagen I've done something completely different. It's one of those places that you can keep on coming back to time and time again and never get bored. That's how I feel anyway.
If this is your first time to the city, I'd really recommend reading my Copenhagen city guide. This is perfect for planning your trip and is packed full of all the best things to do in Copenhagen for a weekend away.
If you're looking for somewhere to stay, then this is the blog post for you. Let's crack on with all those Copenhagen hotels that I just know you're going to love!
Where to stay in Copenhagen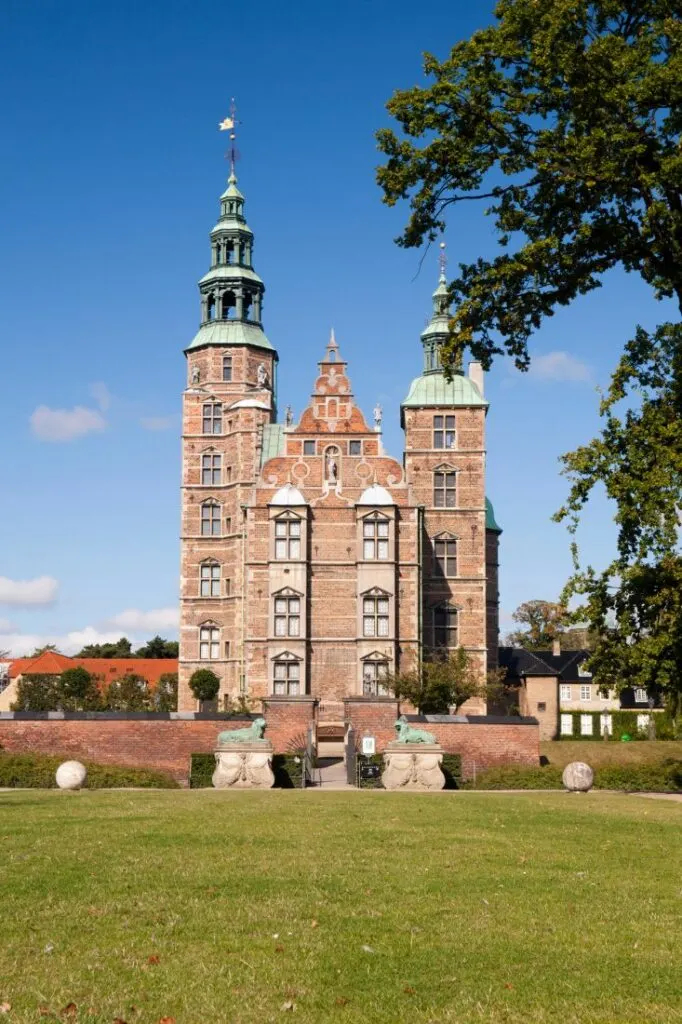 Copenhagen is divided into 10 districts which are then separated into smaller neighbourhoods.
Indre By – This is the perfect place to stay if you're in a hurry. It's located in the Old City Centre and all the main tourist attractions are located nearby. It's one of the more popular neighborhoods for tourists.
Nyhavn – You've likely seen the wooden ships and colourful houses on Instagram by now. These are located in the iconic spot of Nyhavn. It has beautiful cafes and is close to the Old Town, too. This really is such a stunning area to stay in.
Vesterbro – This is for cool, artistic travellers. If you're arty in any way, this is the place for you. Also, it has an amazing nightlife scene. This district never sleeps and might be my personal favourite.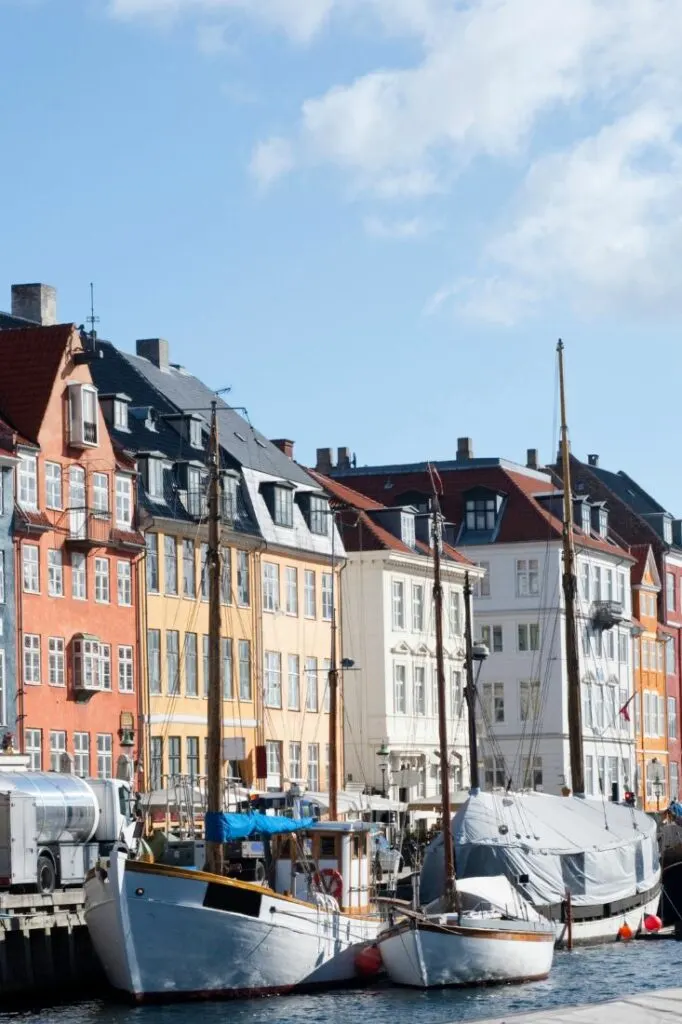 Norrebro – This is for those on a tighter budget. You can find both Michelin-star restaurants to budget food courts here. It's pocket friendly and has super interesting places to visit.
Christianshavn – This is the neighbourhood for all those on a romantic getaway. It's a beautiful man-made island that was constructed in the 1600s. Also, the canals are just gorgeous.
---
Coolest Hotels in Copenhagen
Luxury Hotels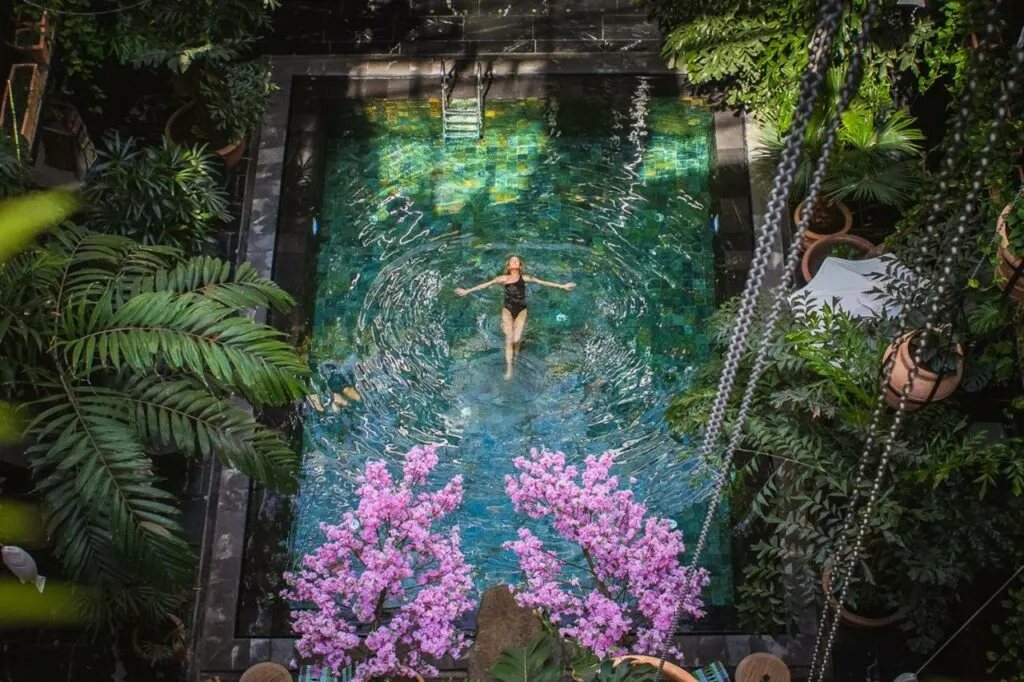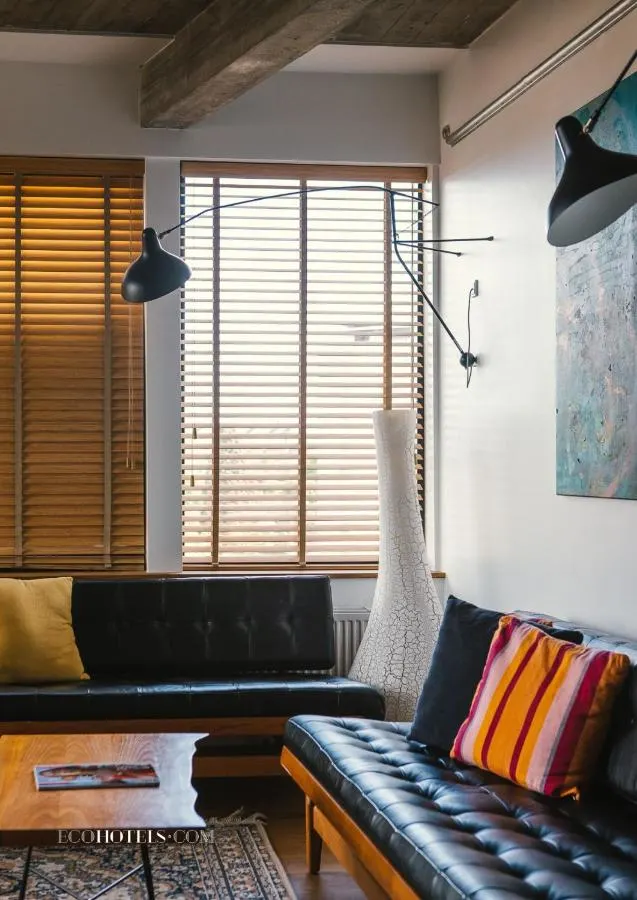 If you want a hint of Bali while on your trip to Copenhagen (because why not?), then Manon Les Suites is the place for you. Firstly, just look at the pool! To be honest with you, it might be hard to leave this hotel when there's a pool like that.
All the rooms are beautifully laid out too with real chic vibes. All the rooms feature a four-poster bed (because why not?). Also, it's a in a great location too close to all the sites and attractions. This really is such a cool hotel in Copenhagen!
Bonus points for the organic breakfast buffet too.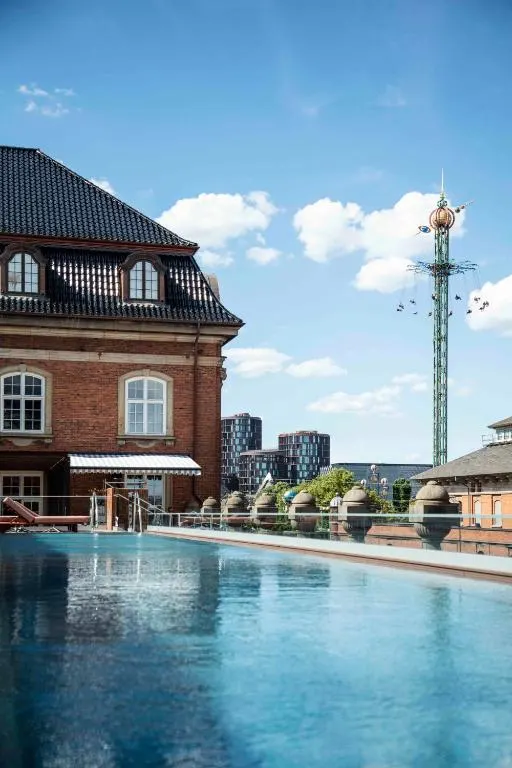 Beware, this incredible five-star hotel will make it hard for you to actually leave the hotel and explore the city. I found this was the perfect business trip hotel to stay in, mainly because of its exceptional amenities, they even have a "business area".
Villa Copenhagen has a restaurant, an outdoor swimming pool, a bar, a gym, and a beautiful breakfast.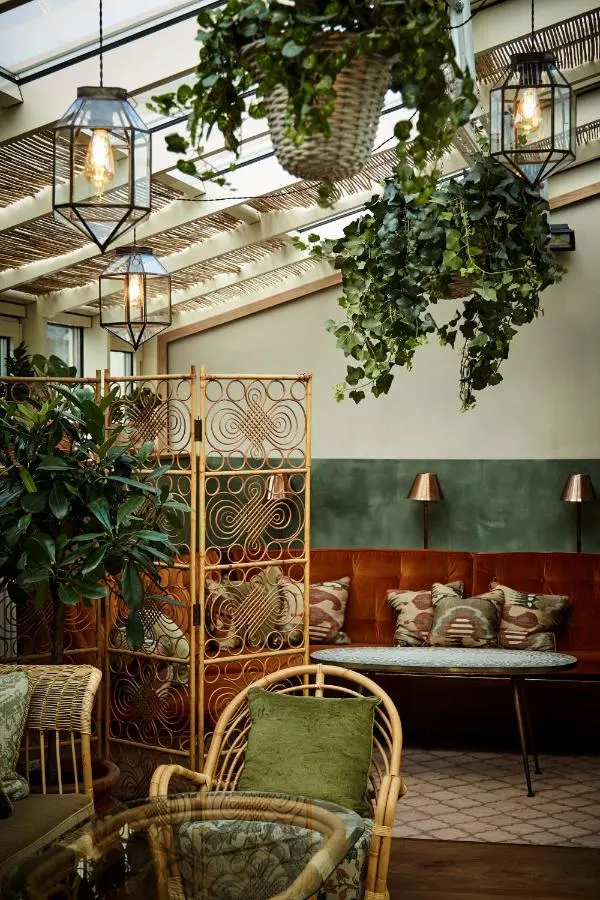 The space that Hotel Sanders has curated is simply out of this world. It's so homely and beautiful – especially when you're just enjoying a coffee next to a gorgeous fireplace.
It's a lush hotel to stay at, and it's only a walk away from the Royal Danish Theatre. That's if you can pry yourself away from the homely space for long enough, that is.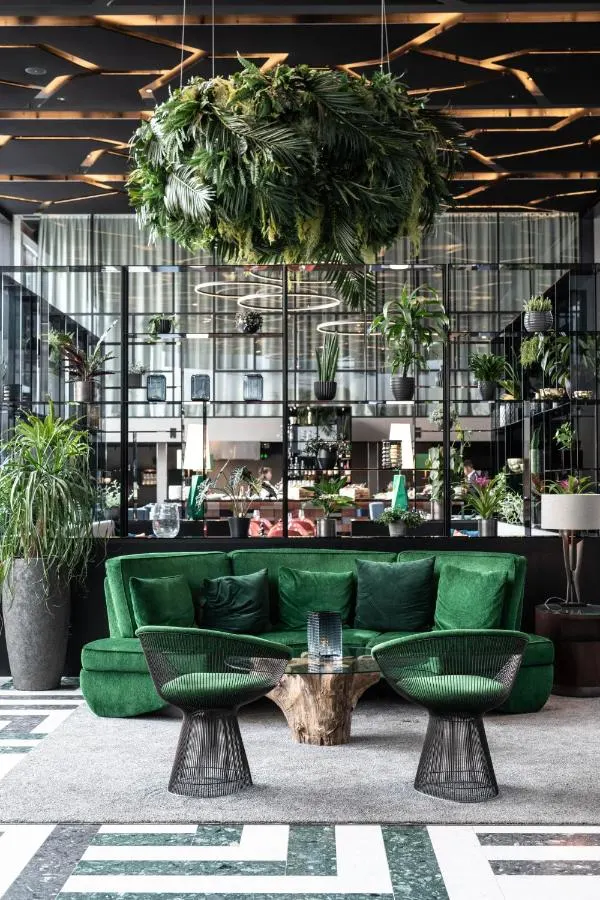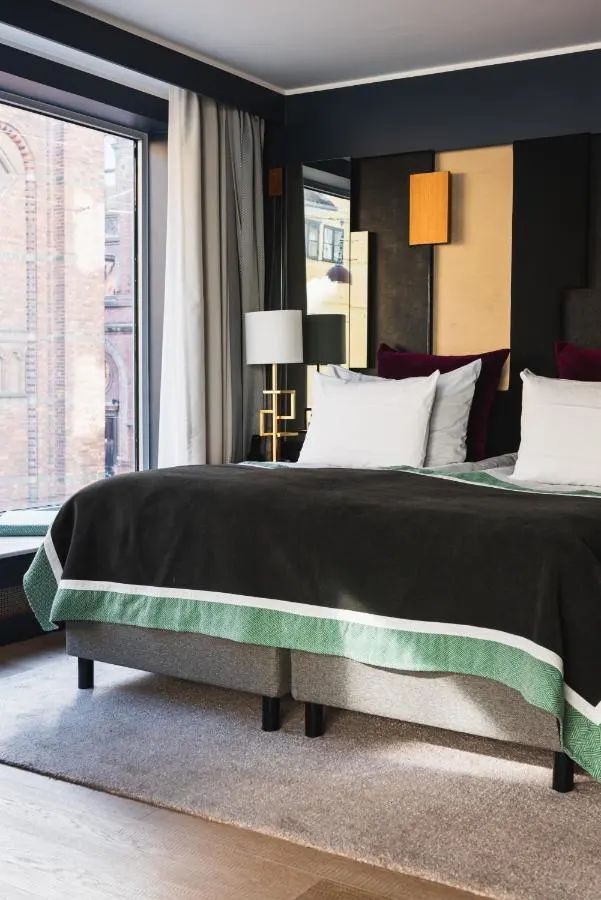 Just 4 minutes away from the main shopping street, Stroget, this is such a perfect location. In fact, their restaurant and bar have beautiful views of those colourful houses that we all love. The location alone is a great selling point for this quirky hotel.
We need to talk about the parquet flooring in all the rooms, too. How beautiful is that?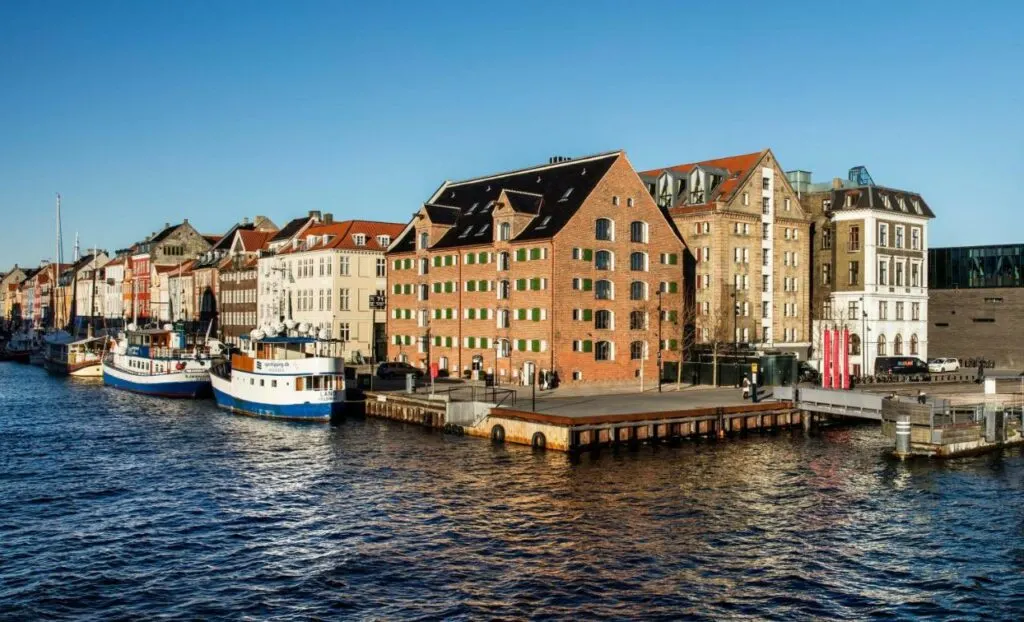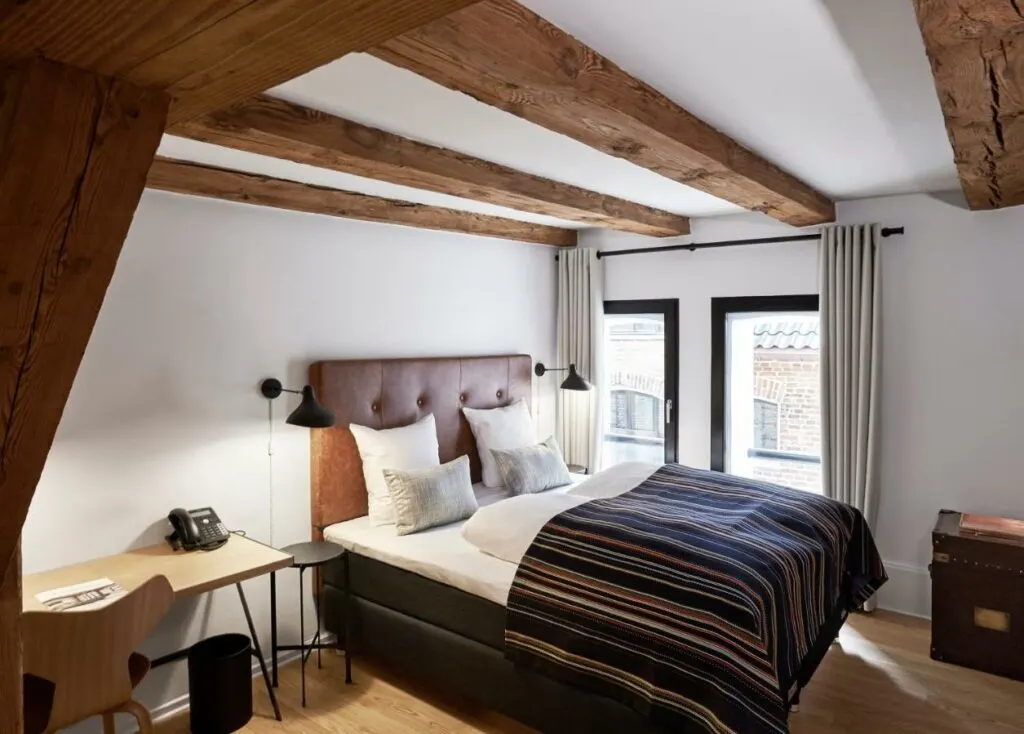 It's hard not to fall in love with Nyhavn Hotel for its interior alone. It's just so charming and quirky with its eclectic mix of history and style.
Also, it's hard to believe that this hotel started as two abandoned warehouses. It's the perfect location and the best rooms in the hotel are overlooking the harbour.
You're also treated to a beautiful bar that serves the best beers and gins in town.
Mid-range Hotels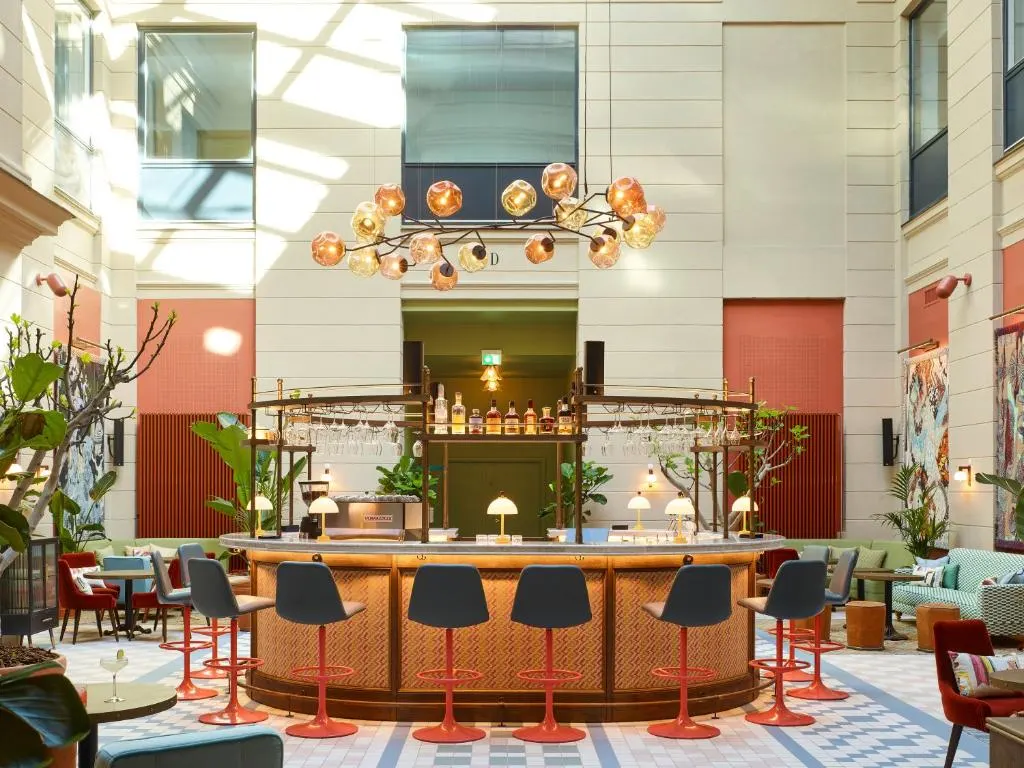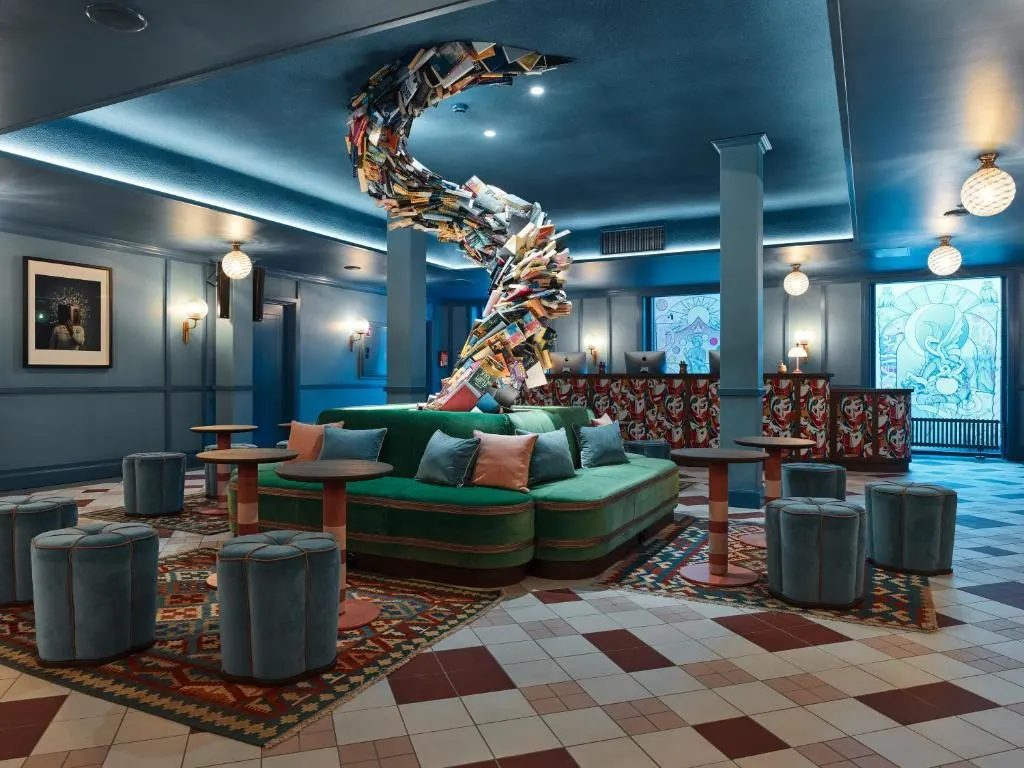 This hotel definitely falls under the "cool" category". It boasts a quirky, eclectic interior that will leave your jaw dropped. Each room has its own character, so it comes as no surprise that they were designed by the London-based Martin Brudnizki Design Studio. It's edgy, artistic, and unique and I am obsessed.
All rooms have a minibar and flat-screen TV to make the hotel experience just as great as the entire Copenhagen experience.
My favourite thing about this hotel had to be their Vinyl Room which has records from the 80s. You can enjoy gorgeous food at the Mediterranean restaurant and drinks at the Boilerman bar, too.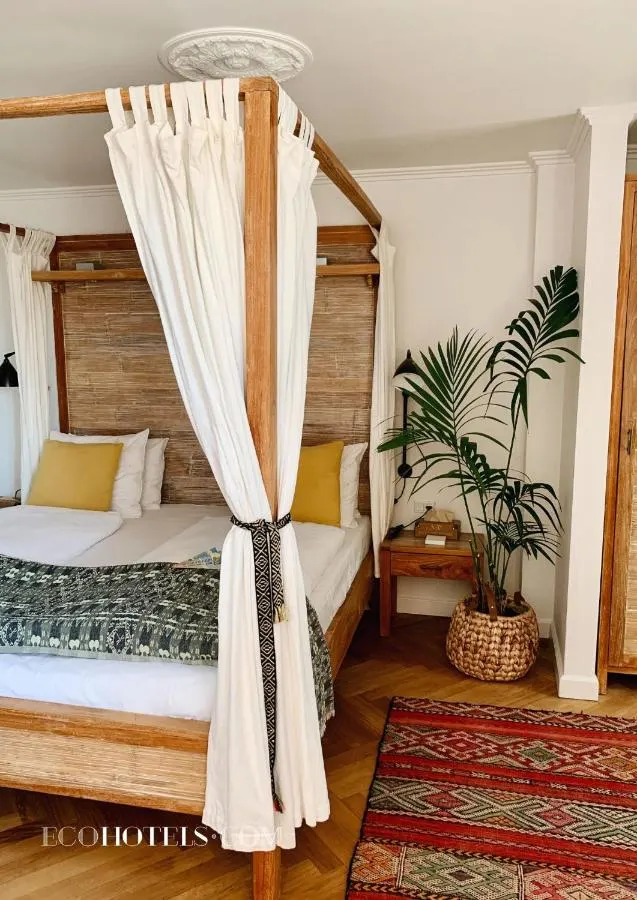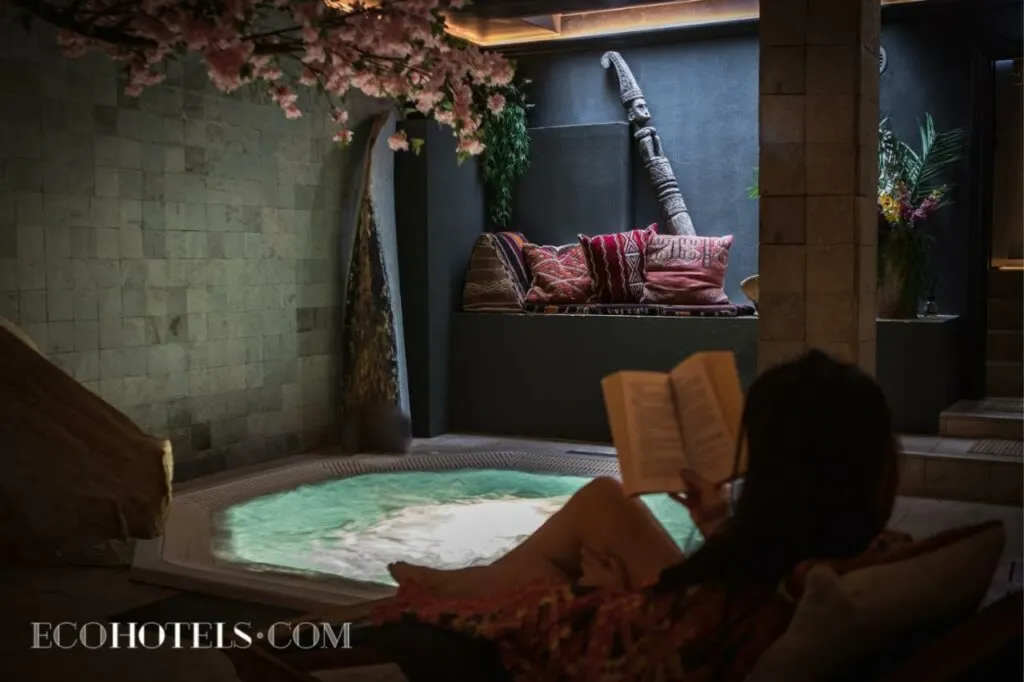 This popular hotel is located in the hip Vesterbro area and it is just amazing. The 4-star accommodation has everything you could possibly need to make your Copenhagen experience the best it could be. Whether you want bike rentals, a funky bar, a relaxing spa, or a garden venture – it has everything you could dream of.
The rooms themselves have four-poster beds, WiFi, and flat-screen TVs. They have curated a gorgeous atmosphere, with Balinese furnishings, Persian rugs, and Mexican crockery. It's like stepping into a beautiful, zen spa, with a minimalist ethos with little added surprises.
Side note: you have to check out the rooftop terrace and spend a day or night in the hot tub looking down at the beautiful city of Copenhagen.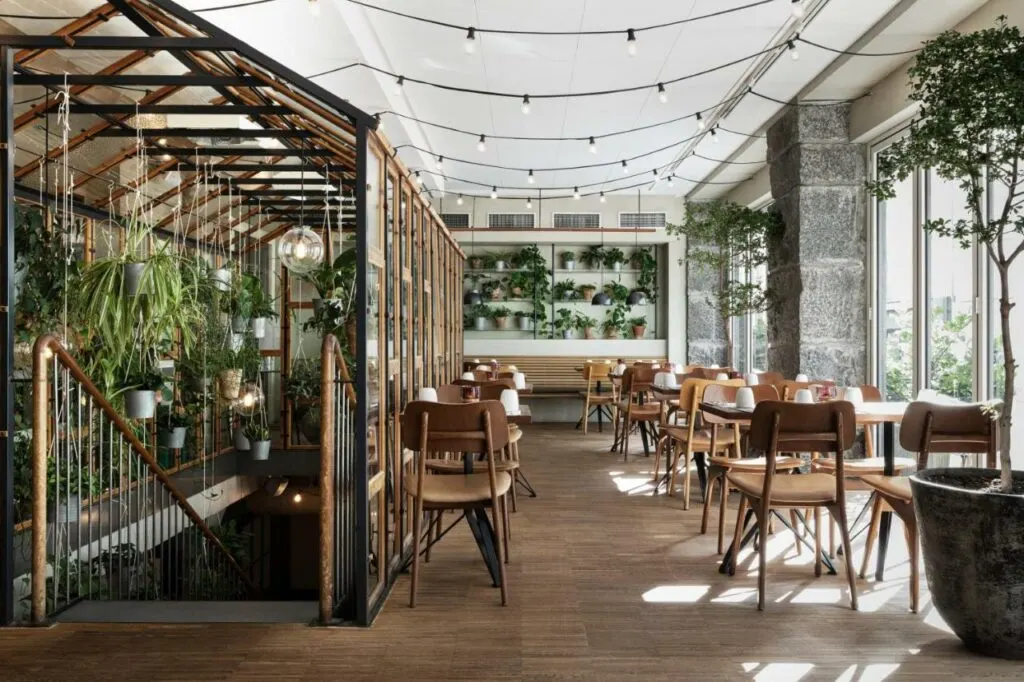 This boutique hotel in Copenhagen is located in the trendy Latin Quarter area, so it comes as no surprise that it boasts a unique, quirky design itself. It has to fit into its surroundings right?
The industrial-style hotel has super spacious rooms, a vintage-sequel cinema, a "wine hour" (what more could you want?), and even a gym. There is a good chance that you won't actually leave this hotel. Though, I do recommend that you at least make one trip to Tivoli Gardens which is only an 11-minute walk away.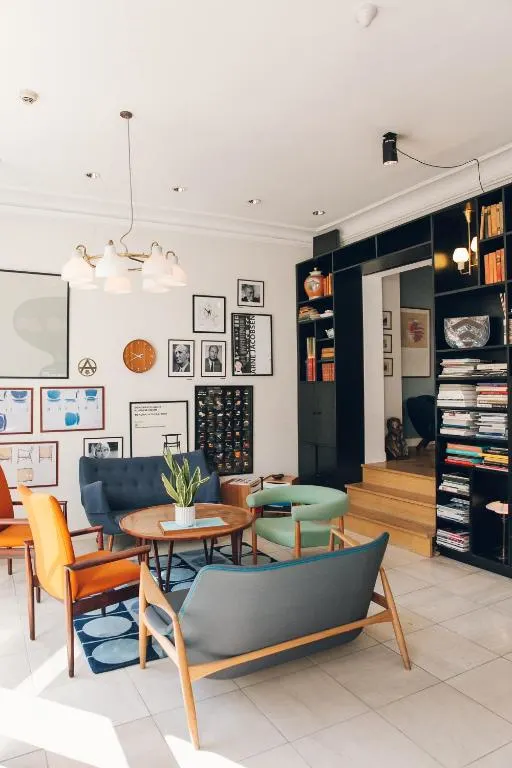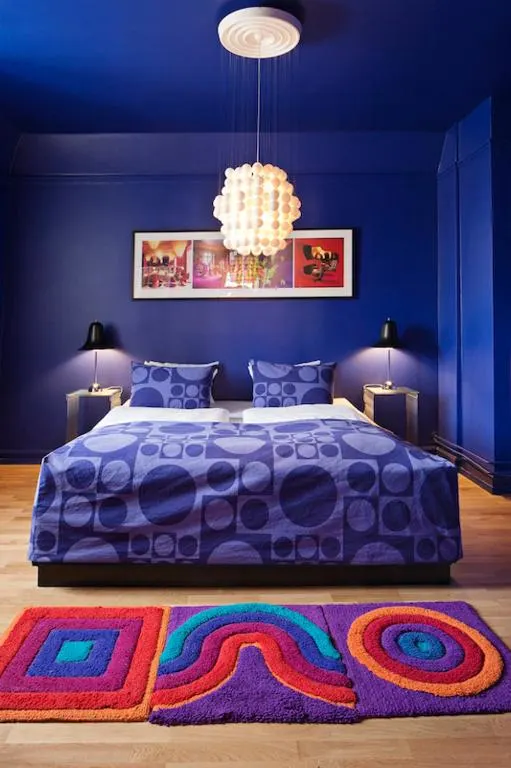 The first thing that you'll notice about the Hotel Alexandra is definitely the unique retro meets mid-century interior design. If you are a decor fanatic, this hotel is worth visiting for the vintage furniture decor alone.
Don't worry, even though all the rooms are based on the 1950s and 60s style, they still have modern amenities such as WiFi and flat-creek TVs.
The time-machine hotel also has a self-serve bar, a Vietnamese restaurant, and a cocktail bar. You can live out your 1960s dreams in this unique hotel.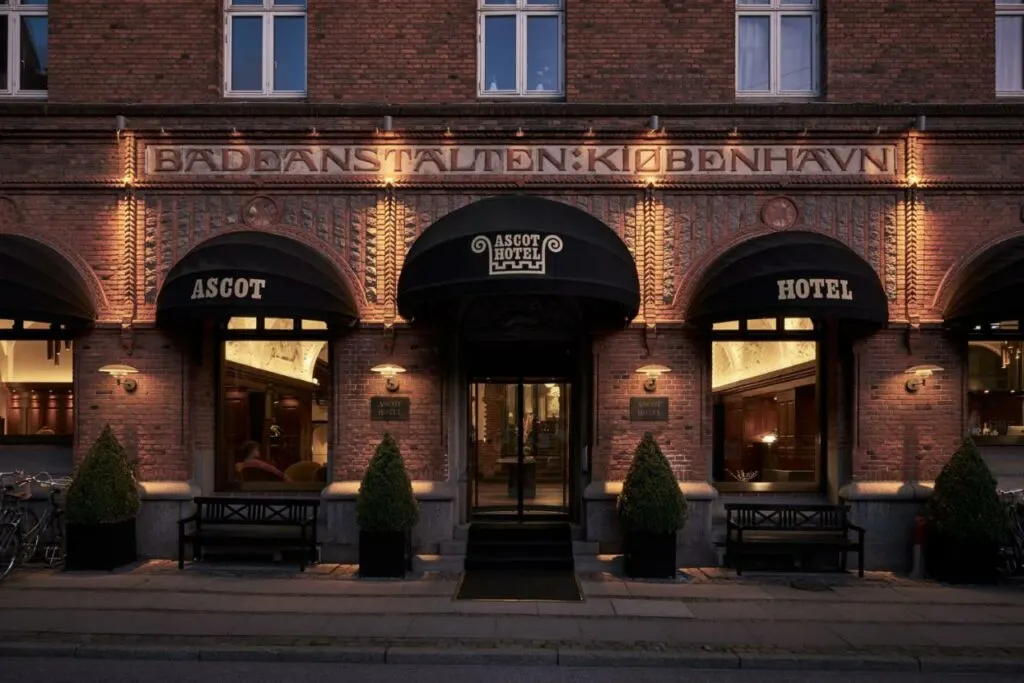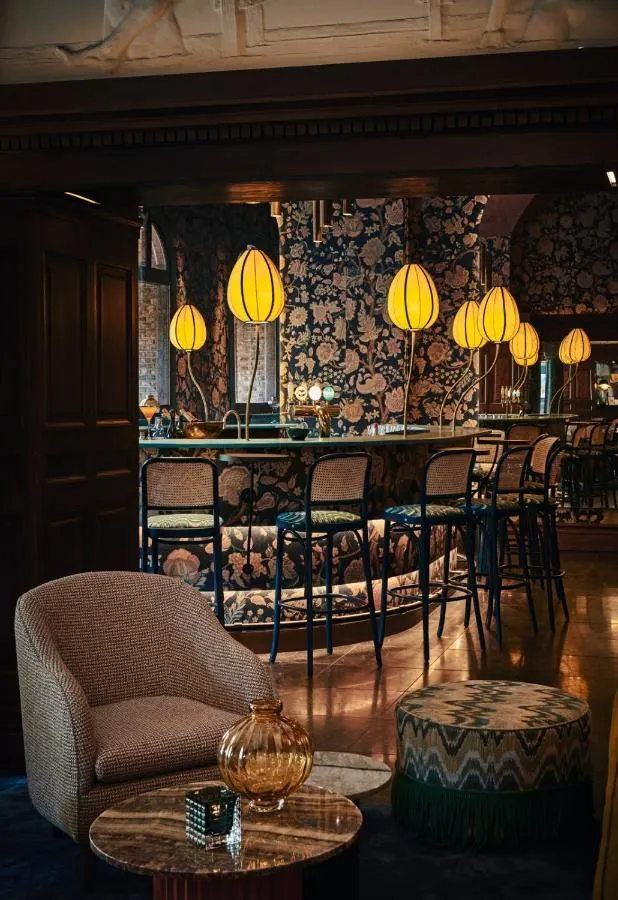 The Ascot Hotel is set in a captivating 19th-century building and it just has this classic vibe about it. All the rooms have WiFi, a breakfast buffet, and free gym access for all those that don't want to have those cheat days.
The location is quiet itself, but still only minutes away from the station, shopping, and beautiful restaurants. It's the best of both worlds. When I think of the coolest hotels in Copenhagen, this one is always on the list.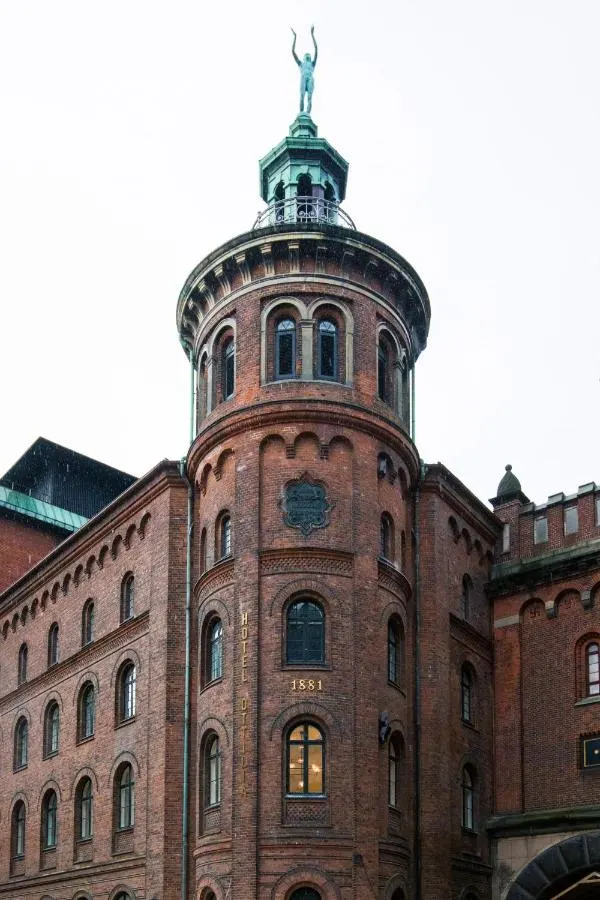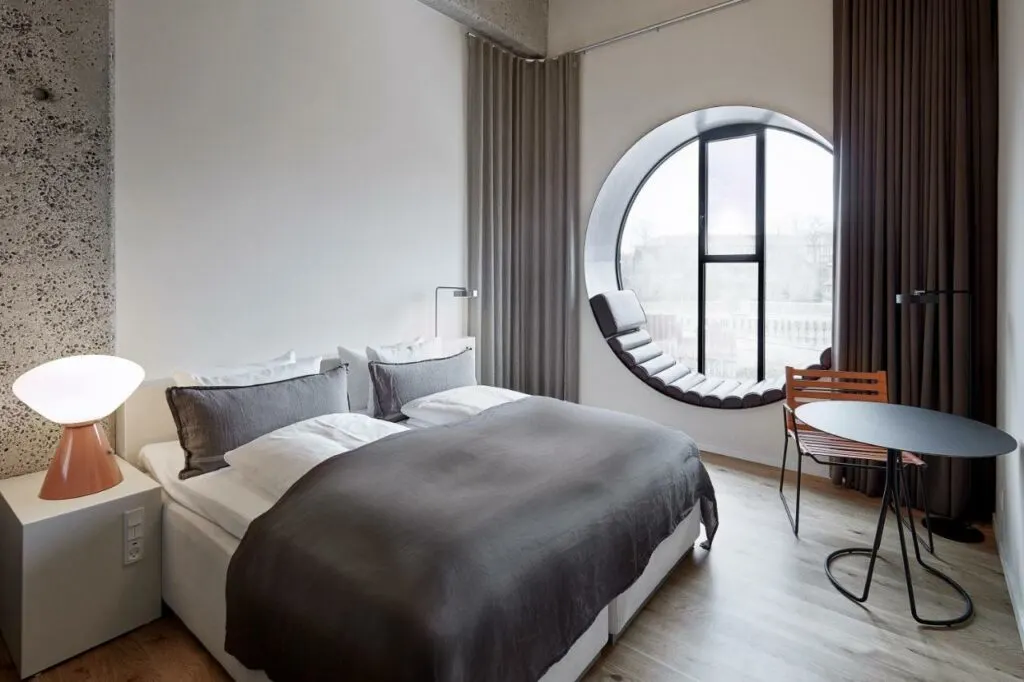 Yet another chic, boutique hotel – you really are spoiled for choice in Copenhagen. The beautiful Hotel Ottilia has gorgeous shared lounges, restaurants, and bars as well as wine hour for all guests. This makes it a social (if you want it to be) hotel, which is just a bonus
Also, if you're on a business trip the Hotel Ottilia could be perfect for you – it boasts 10 meeting rooms and conference halls that can fit anywhere from 2 to 120 people.
Budget Hotels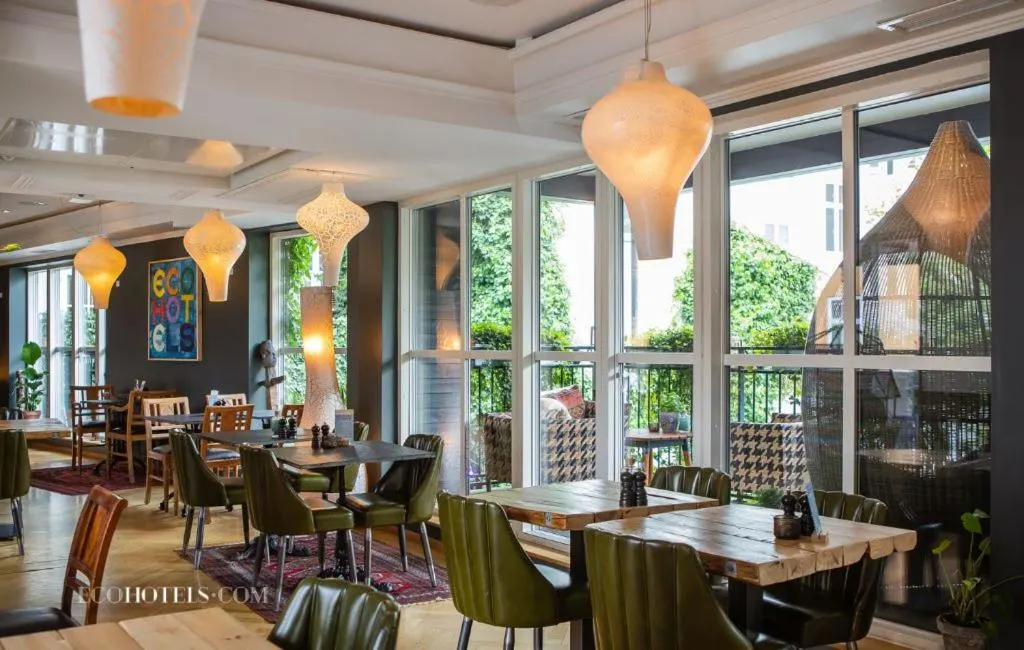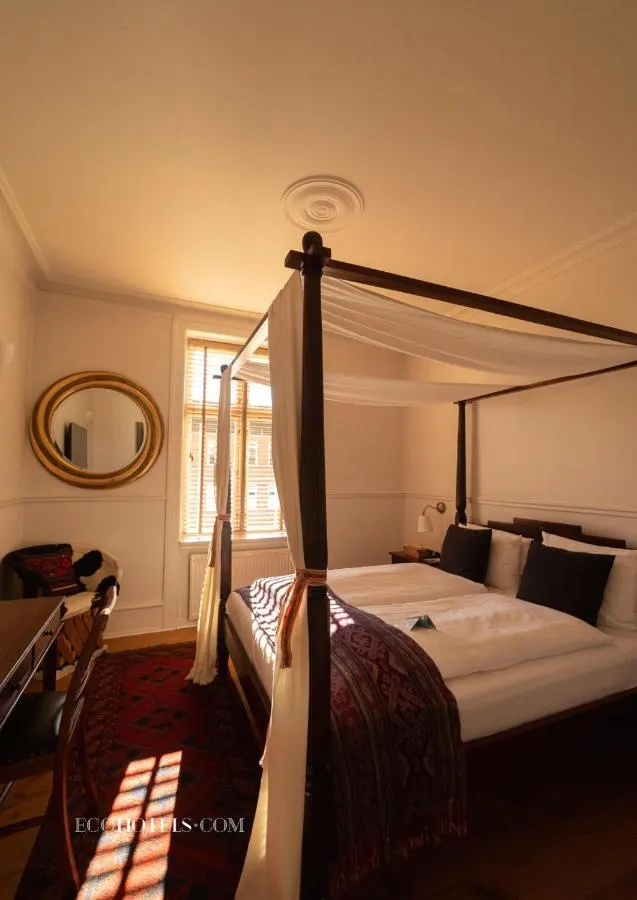 If you're looking for one of the coolest hotels in Copenhagen, then you can't go wrong with this one located located in the arty neighbourhood of Vesterbro. I mean, just look at those interiors.
However, this one has an eco-friendly twist, branding itself as a green hotel. It's super cool to see this kind of hotel becoming so popular.
This means the products they offer, the food they serve, and even the beds that you lie in are ethical and eco-friendly. It's a wonderful little trait to consider when booking your hotel.
Their interior almost radiates this green, bohemian style of living and it is just beautiful.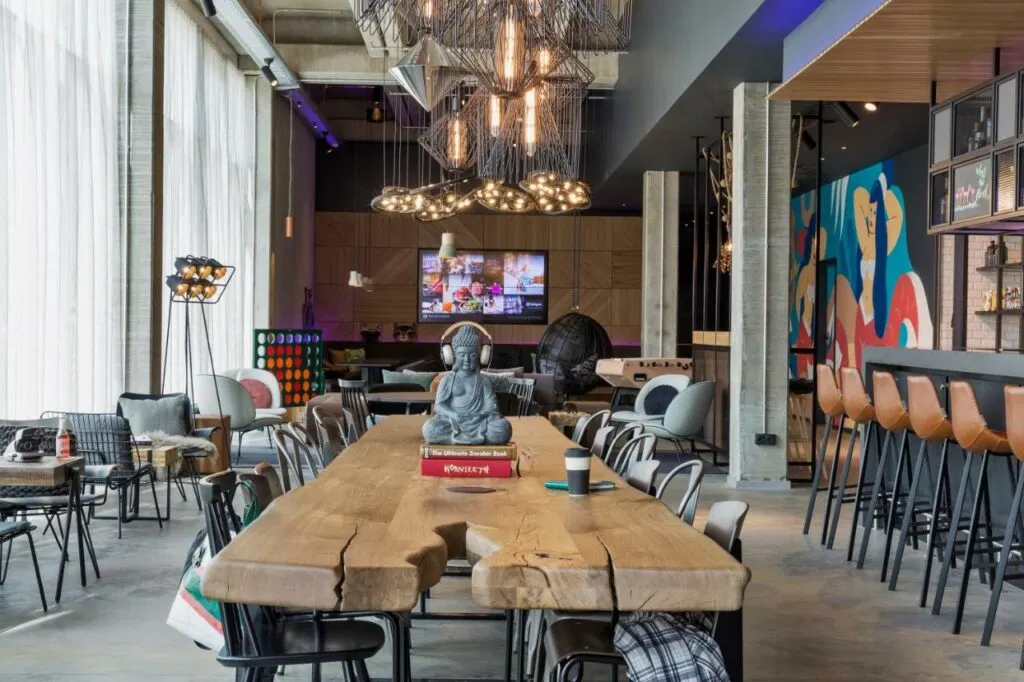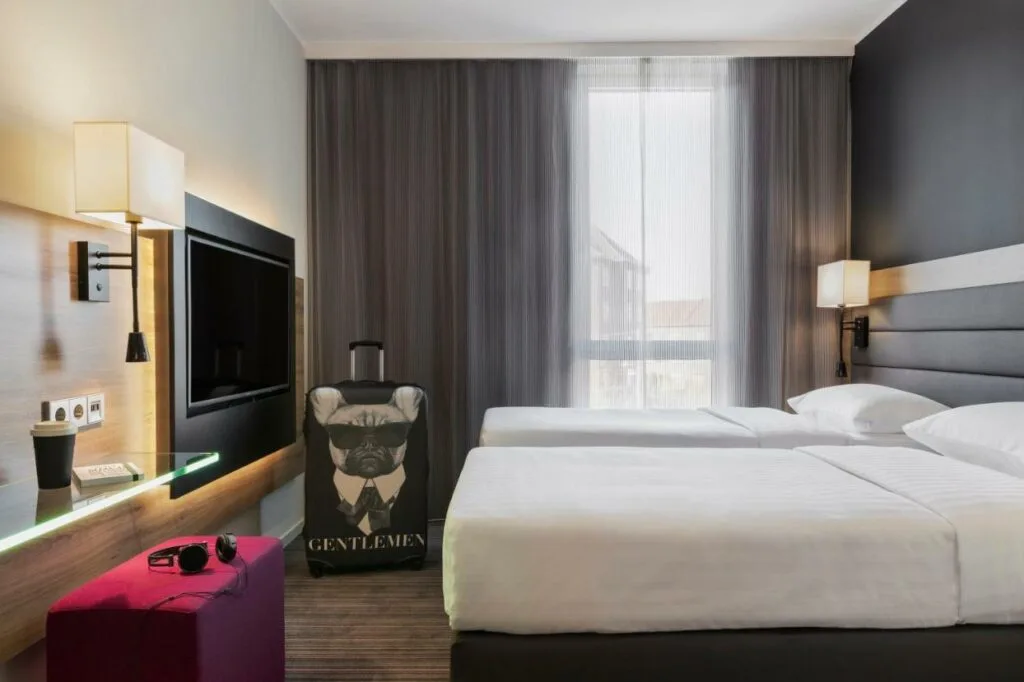 Firstly, the popular Moxy hotel is in the most incredible location. Close to Tivoli gardens, it really is the perfect place for tourists to stay if they want a gorgeous hotel in a great location.
You can choose from a selection of different rooms, but all the guest rooms have a flat-screen TV and some even have extra seating so you can make yourself at home.
I especially like the unique industrial-style bar and the terrace is a great addition to this wonderful hotel. For anyone who is on a budget but doesn't want to compromise on comfort, this has to be a solid choice for you.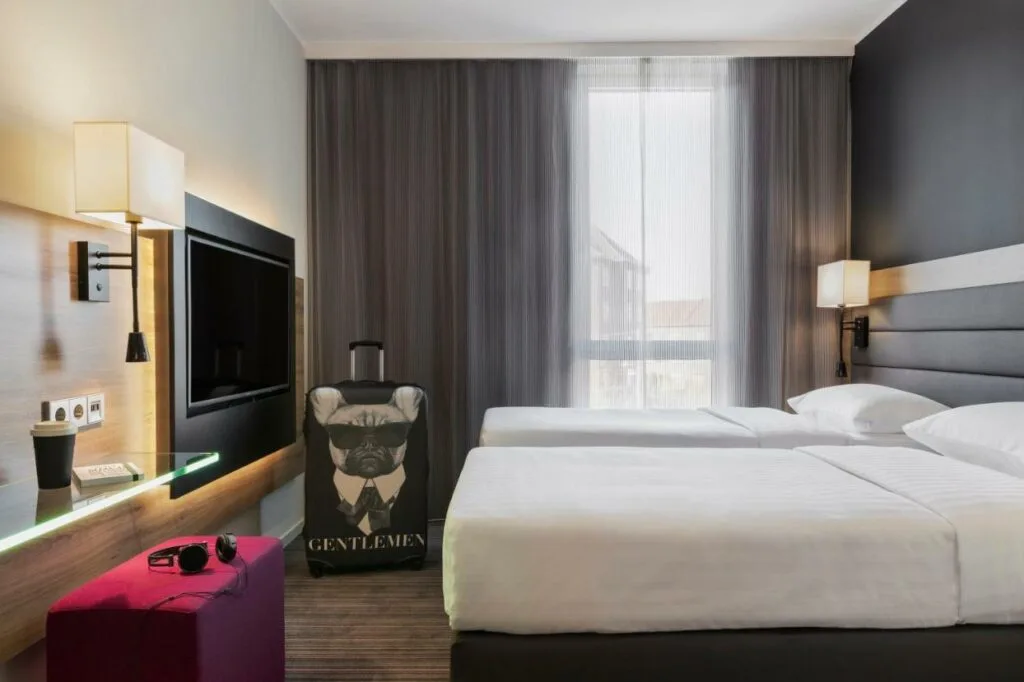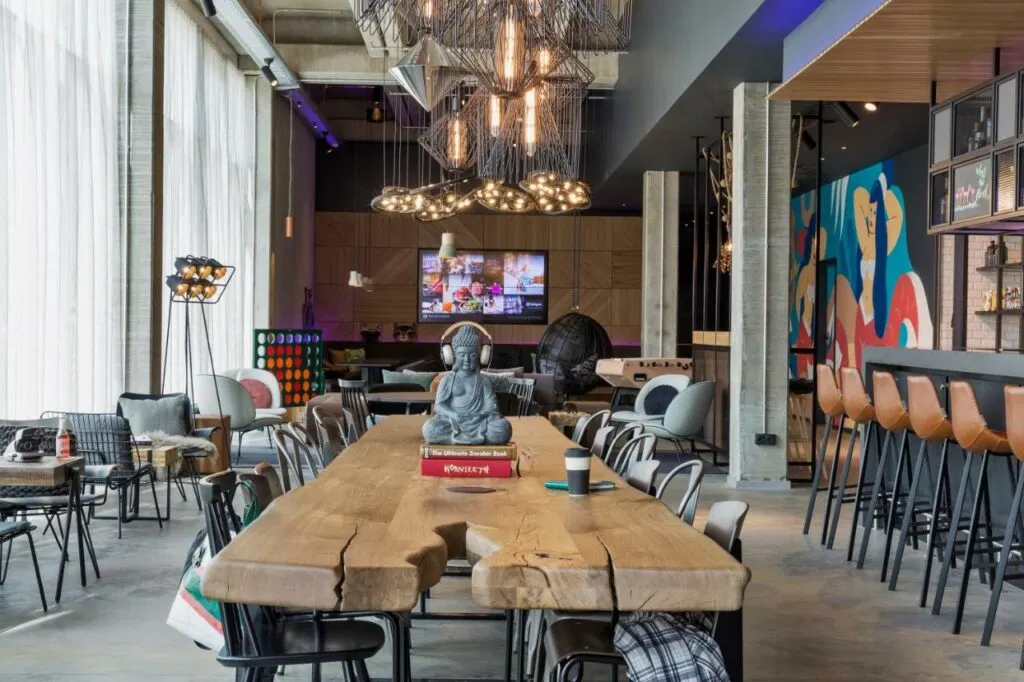 Another hotel which is perfect for those travelling to Denmark on a budget. Generator Copenhagen is just a five-minute walk from the Kongens Nytorv Metro Station, but you could just stay at the hotel and enjoy the late-night bar, too.
The modern meets classic Scandinavian interior is so beautiful. I would say this is the best hotel for a social scene as it has private rooms and dormitories. There's a party scene, pool table, DJ nights, and also a chill-out area. It's hard not to make friends and find travel buddies in the Generator.
---
So, there you have it, the coolest hotels in Copenhagen from the utterly opulent to the modern and sleek.
Copenhagen is such an amazing city, so your visit deserves the perfect base to explore from. Which hotel would you stay in on your next visit to Copenhagen? You can let me know which one is your favourite in the comments below!
Like this blog post? The Pin it for the future!