Ready for the coolest hotels in Osaka, Japan? From onsen hotels to ones with free ramen, this is my guide to where to stay in Osaka!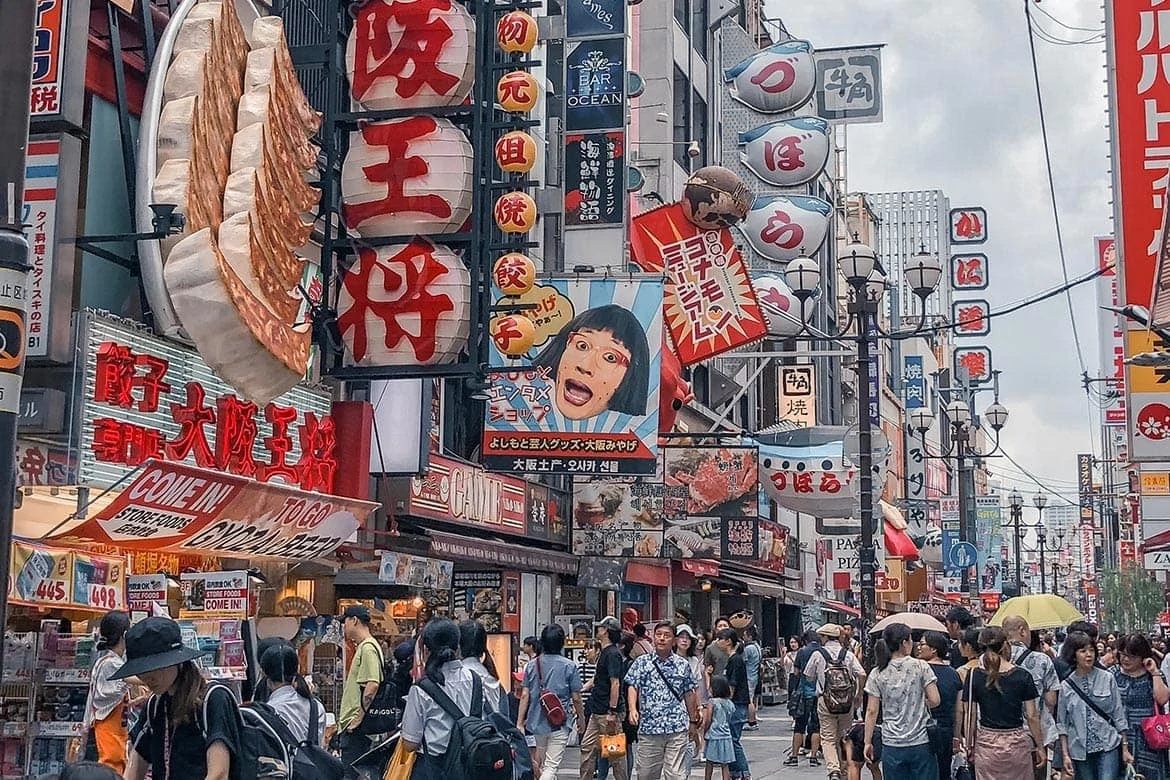 Located on the island of Honshu, Osaka is the second largest city in Japan. Featuring mouthwatering food, modern architecture, Universal Studios, and neon billboards that light up the night sky, Osaka will stimulate your senses and leave you wanting more.
Take a morning visiting Osaka Castle and strolling the gorgeous surrounding gardens. Spend your afternoons exploring this urban metropolis and your evenings eating your way through all the street food. One of the reasons I was dying to visit Osaka was the street food.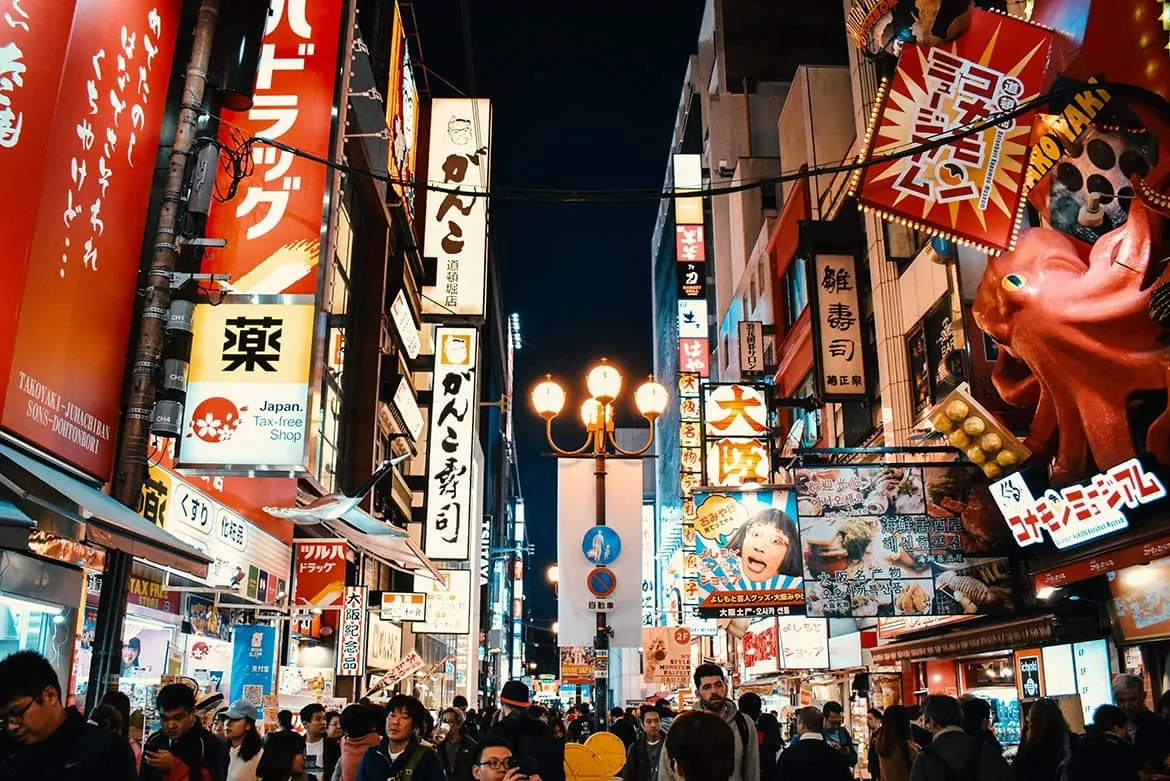 The city is considered the foodie capital of Japan and the street food is next level good. It's worth visiting here just to try dishes like takoyaki and okonomiyaki.
Osaka is hip, alternate, in-your-face and here to show you a good time compared to somewhere like Tokyo. With this is mind, it's no wonder the coolest hotels in Osaka take on this same alternate yet uniquely Japanese vibe.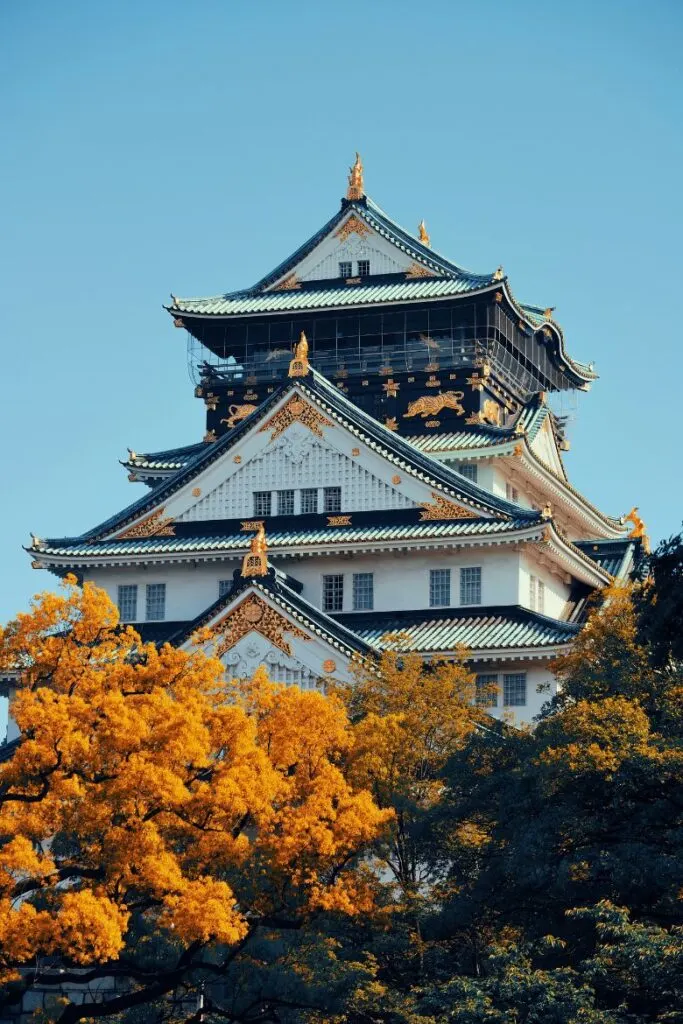 From the totally Japanese capsule bed experience at Hotel Morning Box to the traditional roll out futons at Kaneyoshi Ryokan, there's something so unique about the hotels they have in Japan. Soak away your weary muscles in the natural hot springs at Dormy Inn to living like a king at the Conrad Osaka. These hotels in Osaka have got it all.
Where does one find all these incredibly Japanese experiences you ask? Look no further, I've created a list of where to stay in Osaka just for you! Stay in one of these and you'll have a great time in the city.
Where to stay in Osaka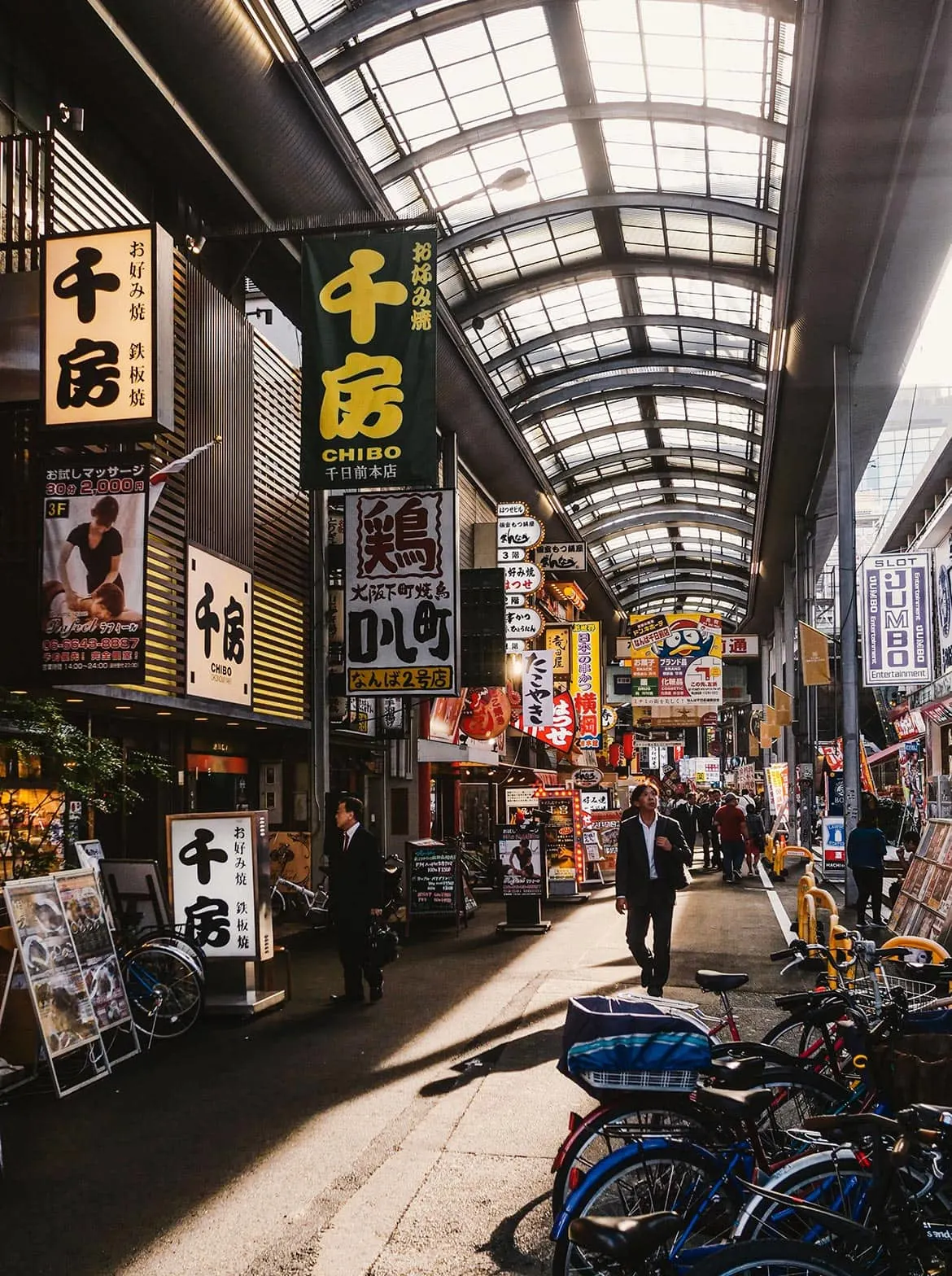 Where to stay in Osaka depends on whether you're looking for hustle and bustle of lively bars and nightlife, or quaint cafes and a quiet central retreat. Here's a cheat sheet to get to know Osaka's popular neighbourhoods:
1. Umeda (Kita) – based in the north of Osaka, this is the main business district and public transport hub. Many restaurants and hotels are located here. I would say this is very popular for tourists and would recommend it.
2. Namba – southern suburb Namba is a foodies delight and home to many of the coolest hotels in Osaka. A great place to hang out and people watch, while checking out the next best restaurants and thousands of neon signs. Namba is very bright and colourful.
3. Honmachi – Osaka's central neighbourhood, it is quieter than bustling Umeda and Minami (however both can be reached from here on foot). It's a nice place to stay but there's not a huge buzz here.
4. Minami – located in the south of the city, this bustling with life neighbourhood is where the best shops, restaurants and bars are situated. This is also where you'll find some of the best hotels in Osaka.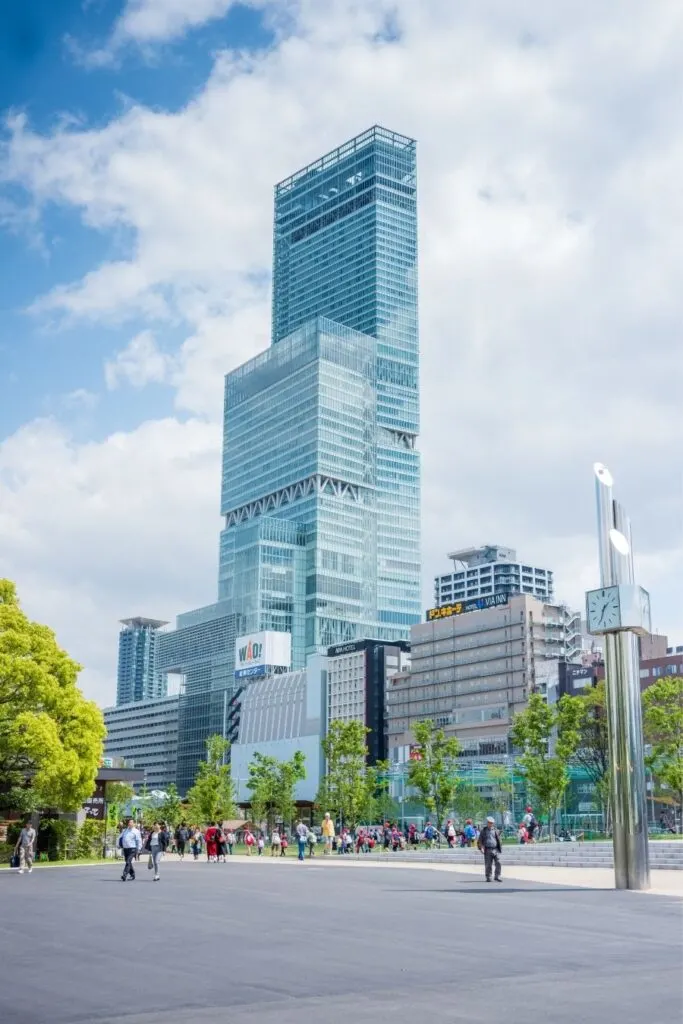 5. Osaka Castle – this green and attractive eastern neighbourhood is much calmer than the rest of the city. It's a really chilled area to stay for those looking to be nearer to the culture.
6. Nakazakicho – this quaint northern neighbourhood is an alternate delight. Imagine poky alleys, hip cafes and trendy clothing stores.
7. Tennoji & Abeno – featuring a temple, park, zoo and several new shopping centres, these southern neighbourhoods are becoming more popular in Osaka.
8. Nakanoshima – this neighbourhood is situated between the Tosaborigawa and Dojimagawa Rivers and is the centre for science, art and international business.
---
Cool Hotels in Osaka, Japan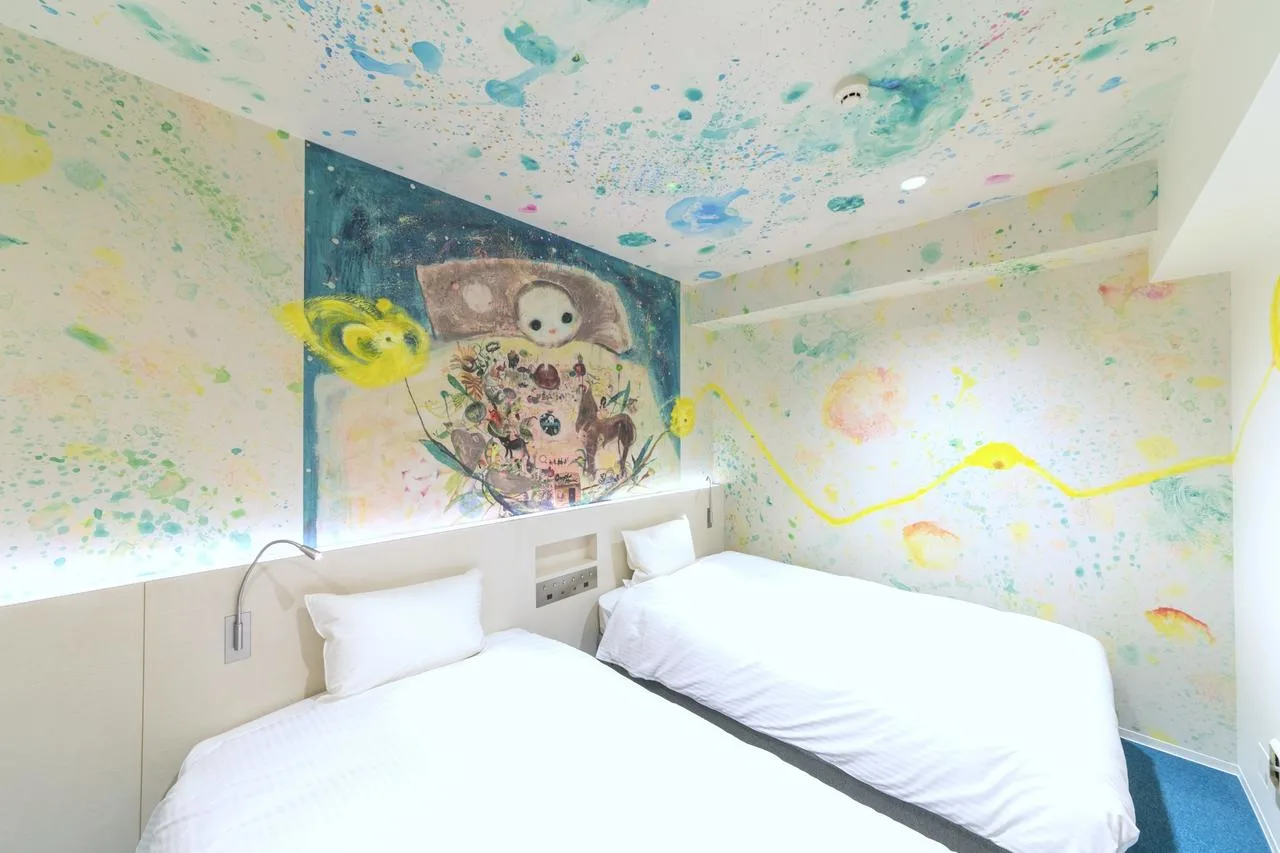 If you've ever wanted to stay inside an art gallery, like right in the art, WBF ARTSTAY Namba is your place. Each room features a work of art of varying styles, sometimes even spanning from floor to ceiling. It's very very trendy.
To make you feel at home, this hotel provides bonus items such as pyjamas, slippers alongside the normal toiletries. Join the members club to enjoy complementary wine and sake for a few hours in the evening.
Conveniently situated in Namba, within a 10 minute walk of Konen-Ji Temple, Masui Shimizu and Tenjinzaka Slope, this is where to stay in Osaka for sightseeing in the city. Definitely recommend this place a lot!
For me, this is without a doubt one of the best boutique hotels in Osaka.
Located in the heart of Kita, Mitsui Garden is chic and stylish with wooden floors and large windows offering excellent views of the city. I would say this is one of the coolest hotels in Osaka as there are public baths on the top floor, complete with a tree, so you can get the 'onsen' experience right in the hotel. I stayed here and the onsen was one of my favourite things about the hotel.
Soak in the city during the day and soak out your tired limbs in the evening. While you're at it, treat yourself to an in-room massage. With such great facilities, it's no wonder this hotel has been featured in the Michelin guide 3 years running! Also, the metro station is a very short walk from here too.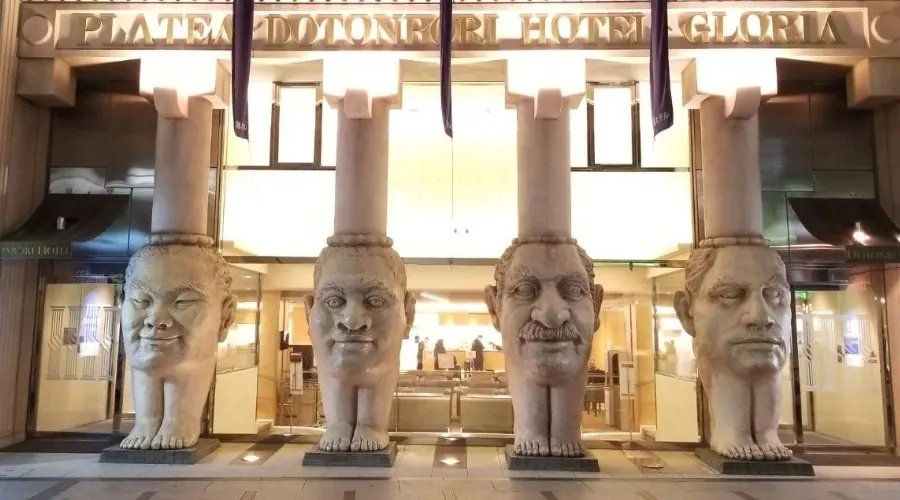 The first thing you will notice about the Dotonbori Hotel is their iconic entrance – four giant heads set in pillars. This is said to symbolise that all people are welcome here and will be treated as equals. How cute is that!?
Accordingly, the customer service here goes to a whole new level, providing free to use portable Wi-Fi, strollers, computers and bikes as well as free nightly ramen and draught beer! I I'll say that again – FREE RAMEN AND BEER!!!
Located in the Namba/Minami area, this hotel is right where the action is at, but still peaceful enough to get a good nights rest. Dotonbori hotel is just a short stroll from Namba Subway station, so you'll be able to explore further with ease.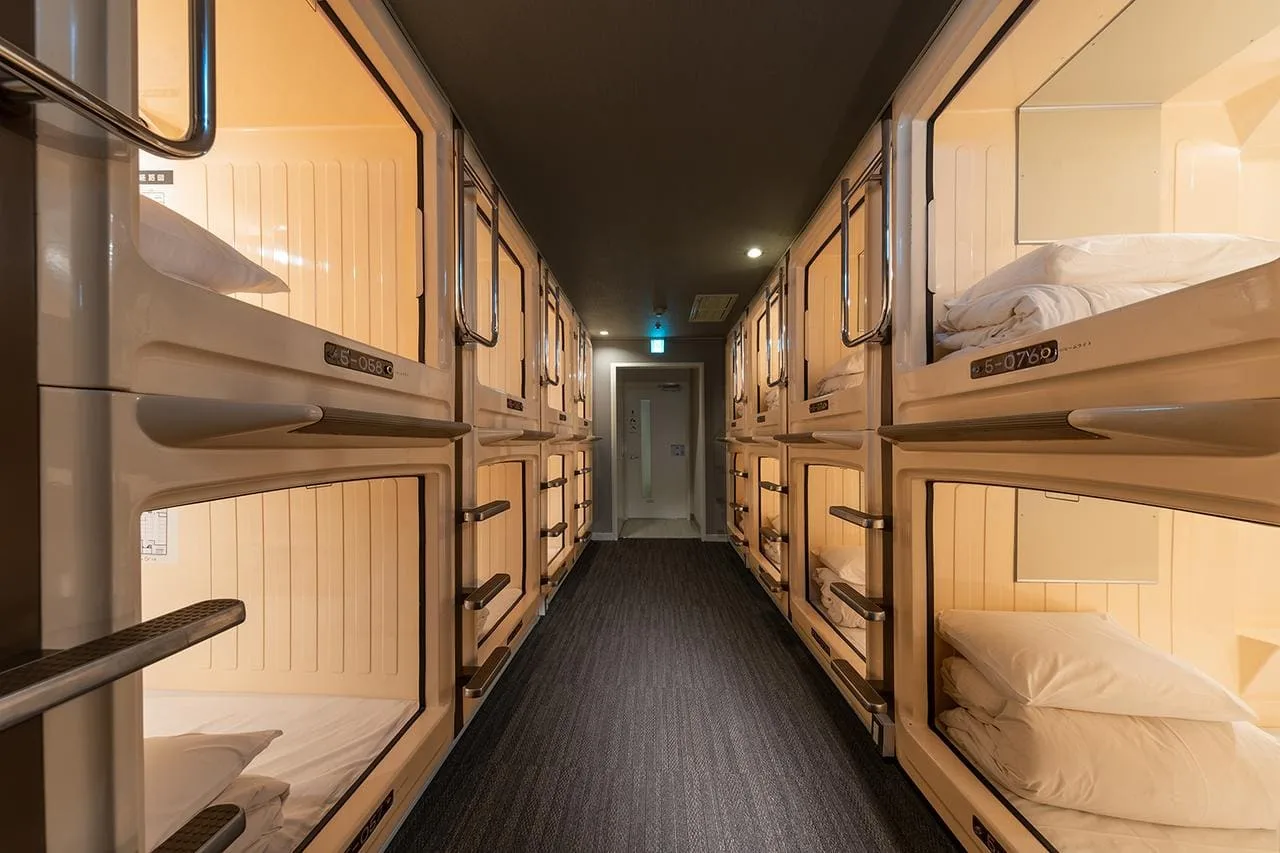 A list of the coolest hotels in Osaka could not be complete without a famous capsule hotel. Presenting to you, Hotel Morning Box – situated right beside Nagahoribashi Subway Station. Stop in here if you're after the quintessential Japanese sleeping capsule experience.
Each capsule is equipped with an alarm clock, air conditioning and a TV, and your luggage can be stored safely in a locker. The hotel's shared facilities include communal bathrooms, public baths and a men's only spa.
For those who are a bit claustrophobic but still want to experience a capsule hotel, they also have dorm rooms with spacious bunk beds on offer. You'll be surprised at how spacious the capsules are though.
Combine a pancake store, pizza parlour, frozen yogurt shop, Hawaiian themed restaurant and soundproof rooms, place them neatly within a 5-minute walk of Universal Studios, and you get The Park Front Hotel.
Delicious food options aside, this hotel has a bold front facade and some striking interior decoration. Imagine marble and chandeliers on one floor and relaxing star-scapes on the next.
This is one of the best hotels in Osaka if you're planning to spend some time at Universal Studios. They even have some family rooms set up if you're coming with the kids.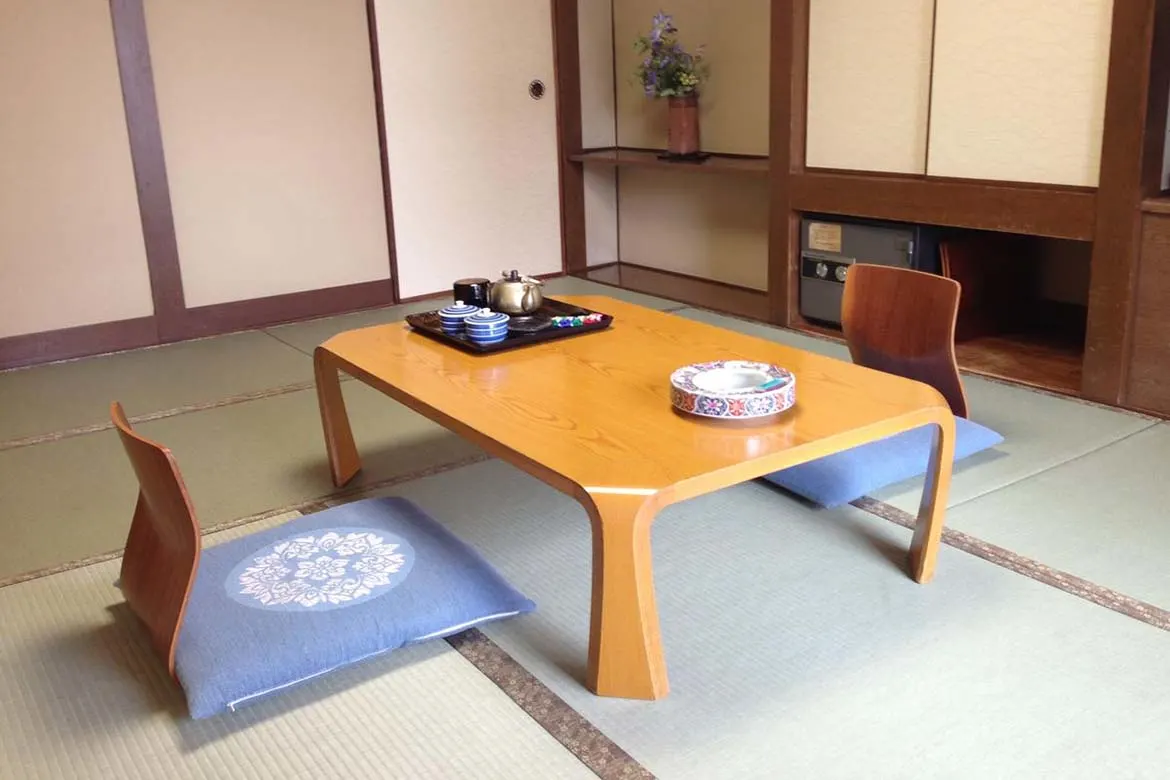 For those looking for a more authentic stay during their time in Japan, look no further than Kaneyoshi Ryokan. Located in the bustling Namba/Minami area, the minimalist rooms at Kaneyoshi Ryokan will give you space to calm your mind after exploring the city.
Following the style of a traditional Japanese Inn (Ryokan), each room features tatami floors and futon beds. Adding to the appeal, seasonal Japanese food is available in the hotel's restaurant. Complete with sliding doors and public baths, Kaneyoshi is where to stay in Osaka if you want to experience traditional Japanese culture.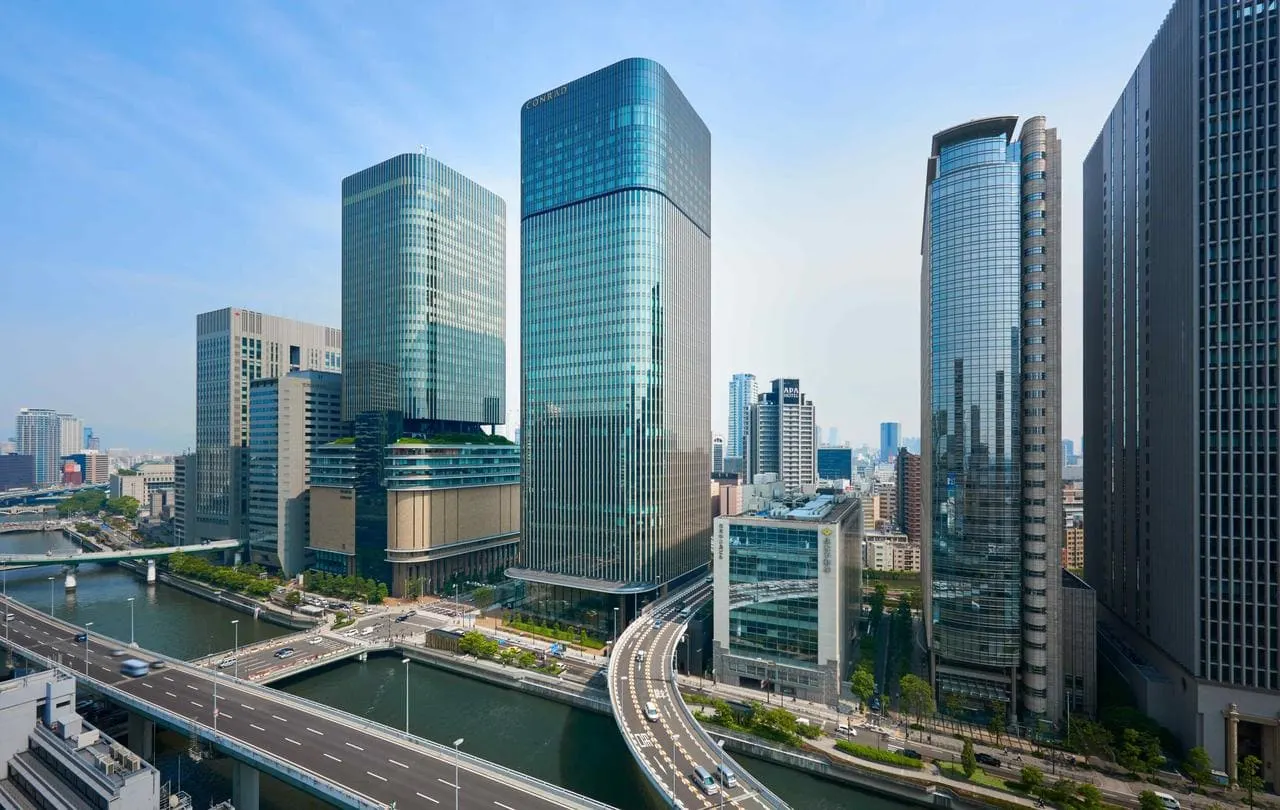 Live like royalty during your Osaka stay at the Conrad Osaka. This Nakanoshima based hotel delivers spacious and luxurious rooms, tastefully decorated with sleek and modern furnishings. Each room is set out like a studio apartment and many feature large windows offering incredible views of the city below. I just love the skyline here and the skyscrapes. What can I say, I'm a sucker for modern architecture.
Conrad Osaka features a heated swimming pool, spa and wellness centre and 4 restaurants, so it can be your own personal retreat while staying in the city. Spend your evenings sipping cocktails and unwinding at the Sky bar while taking in the view.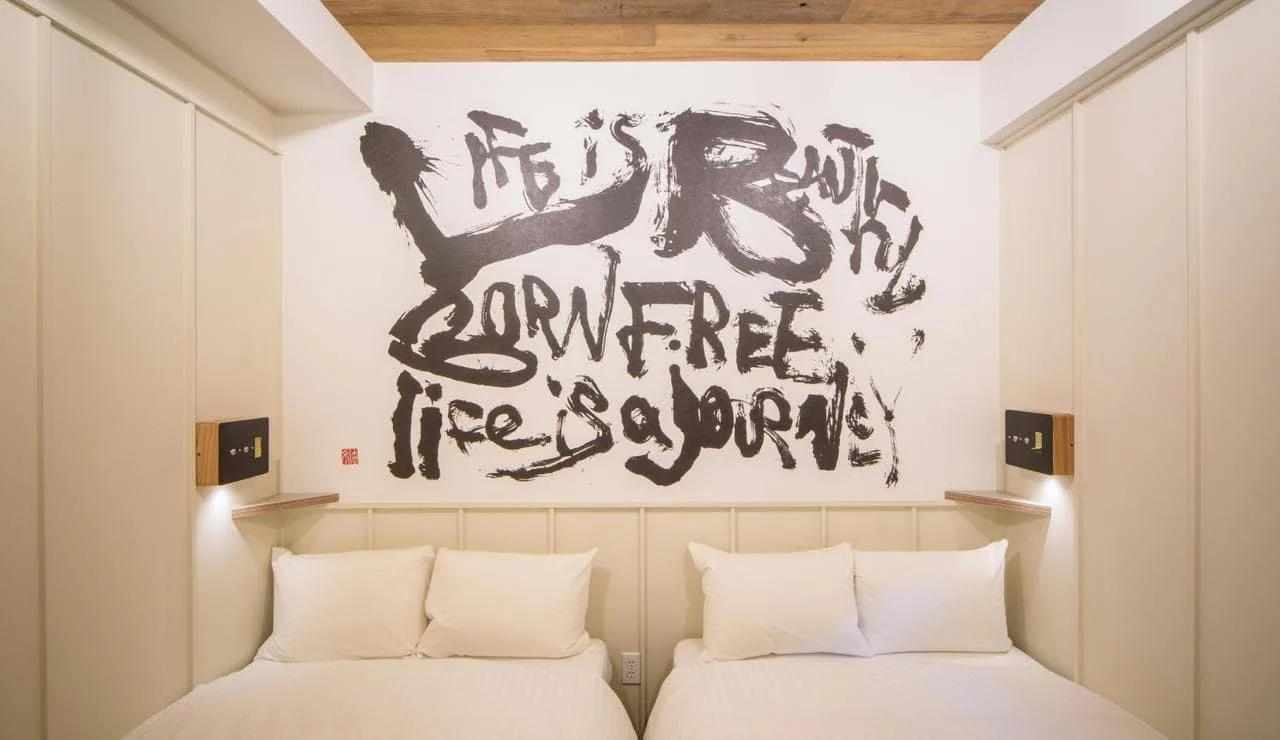 This is such a cool hotel to stay at, it really is. Kamon Hotel is a quaint and cosy option during your stay in Osaka. It is also one of the few hotels featuring outdoor spaces, with a rooftop chilling area for you to enjoy.
The hotel has a modern Japanese vibe, which will make you feel at home in no time. Some rooms feature modern art on the walls, while the common rooms have delightfully traditional Japanese finishes. Also, the breakfast features many traditional Japanese favourites for you to try.
Located in a quiet street in Namba, you can find yourself at delicious restaurants within a short walk. This is one of the best places to stay in Osaka if you're on a budget and want to be where the action is.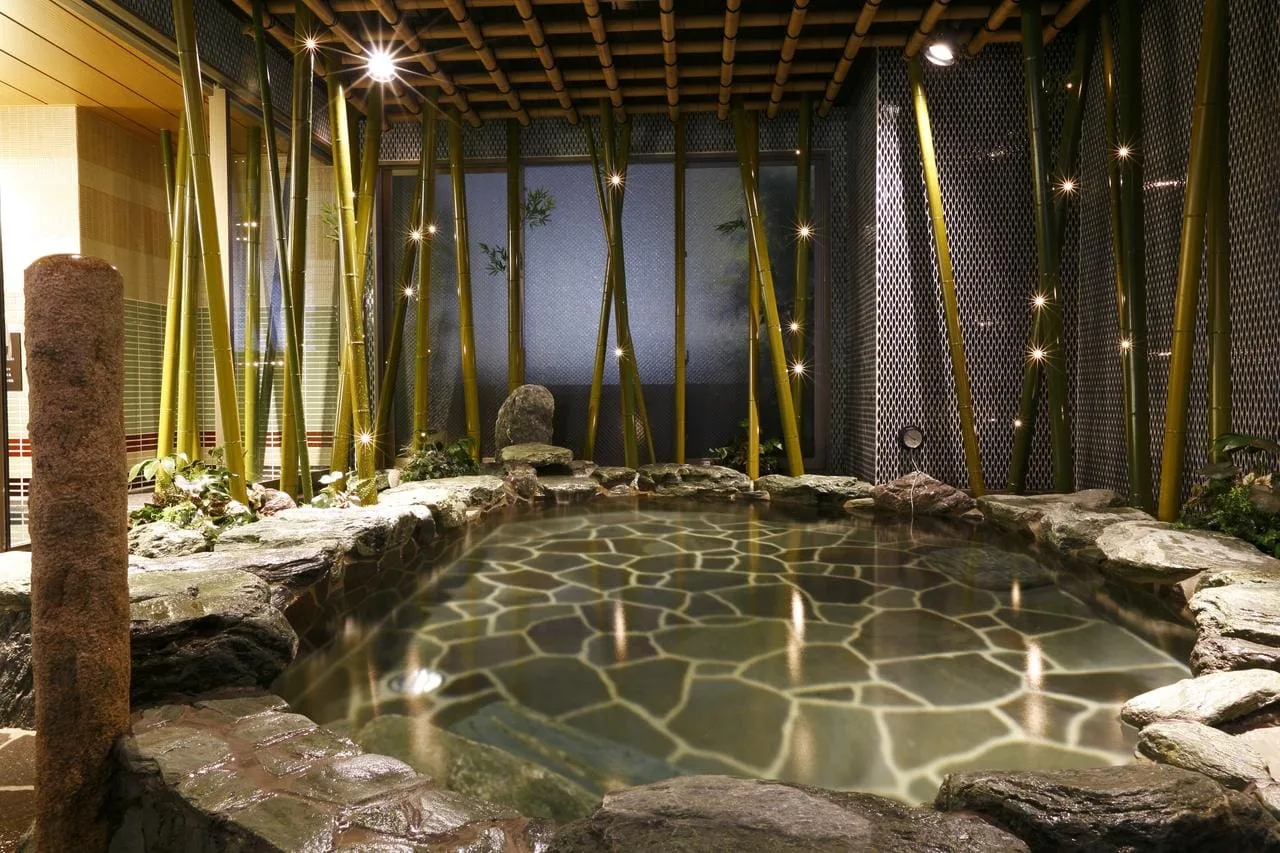 A natural hot spring and relaxing get away might not be what you imagined during your stay in Namba, but at Dormy Inn Premium Osaka that's exactly what you get. Boasting a series of baths and saunas – some with a rock pool style, you can soak your weary limbs here at the end of the day.
The staff are friendly and the rooms have a natural theme and earthy tones, creating a wonderfully relaxing experience. Oh, also, the breakfast buffet here is divine and there is free ramen available in the evening! For me, an onsen experience is one of the best things you can do in Japan. That's why I always make sure I stay at a place with their own onsen onsite. Just makes it that little bit more special, you know?
Chic, comfortable and with stunning river views, this is such a beautiful place to stay at. Located in Kita, the Imperial Hotel is one of the best hotels in Osaka if you're looking for a sophisticated stay. With wide desks in the rooms and a dedicated business area, this is a great option if you're coming to Osaka for work.
In-house French restaurant, Les Saison, provides diners with panoramic views of the city. Guests can also enjoy Chinese or teppanyaki-style seafood and steaks on site. Stay here in spring to enjoy the view of cherry blossoms by the river. Like all Conrad hotels around the world, you really get a sense of security and luxury staying here.
---
What do you think of these boutique hotels in Osaka? Would you stay at any of these? Let me know what you think in the comments below!
Like this blog post? Then make sure you Pin it!