From the industrial dreamscape of Zeche Zollverein to boutique shopping in Cologne, here are 6 incredible day trips from Dusseldorf for you!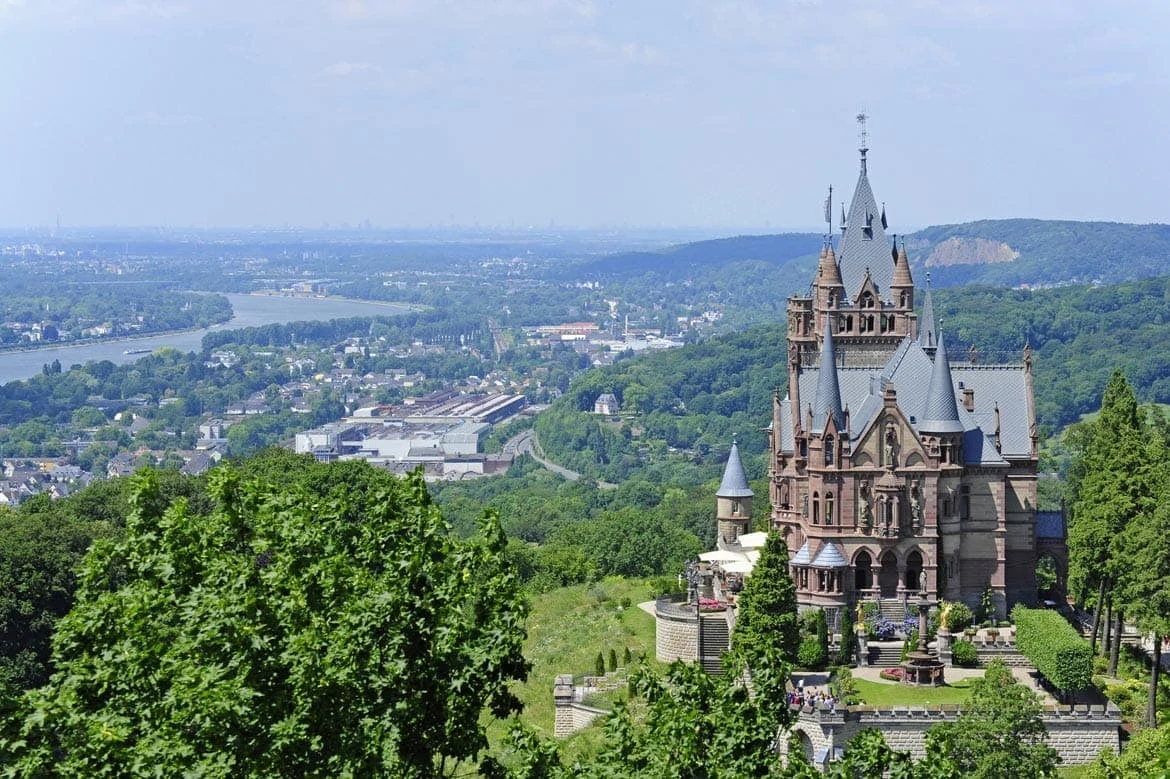 I've just come back from travelling around Germany for 10 days and one of my favourite spots was Dusseldorf.
I have to admit I'm not the best at geography sometimes, but when I arrived in the city I quickly found out there were some great day trips from Dusseldorf, all just a short train ride away.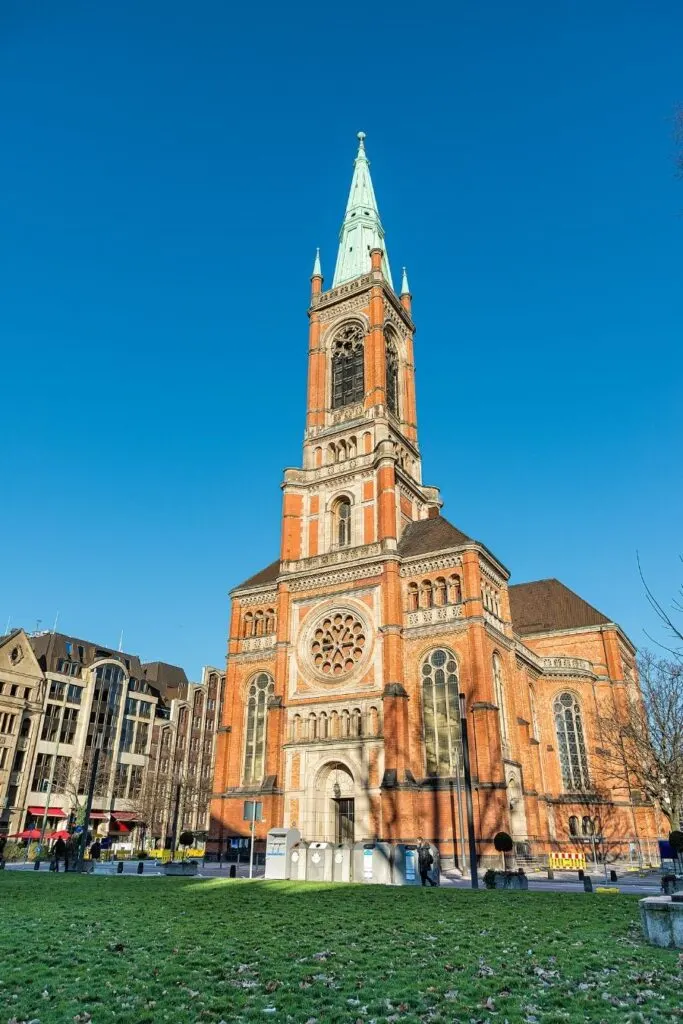 I'd heard of Cologne, Dortmund and Essen but I never realised they were so close together. That meant as soon as I arrived in Dusseldorf I wanted to explore all North Rhine-Westphalia had to offer. (That's the name of the region where you'll find all of these places by the way!)
Throw in some crazy industrial landscapes like Zeche Zollverein and Duisburg Landschaftspark (just wait until you see the photos) and you've got the making of a fantastic few days in and around Dusseldorf.
Make sure you check out my video below to see some of the best things to do in Düsseldorf and North Rhine-Westphalia.
My favourite Dusseldorf day trips
Düsseldorf is one of those cities that's packed full of surprises.
There's boundary-pushing architecture, an amazing nightlight with the "world's longest bar", and an art scene that can rival many higher-profile cities.
Also, it's so easy getting to Dusseldorf. I hopped on a short 2-hour flight with Eurowings, and then the journey from Dusseldorf airport to the city centre is genuinely 10/15 minutes. It's so quick and easy travelling from the airport that you'll be sightseeing in no time at all.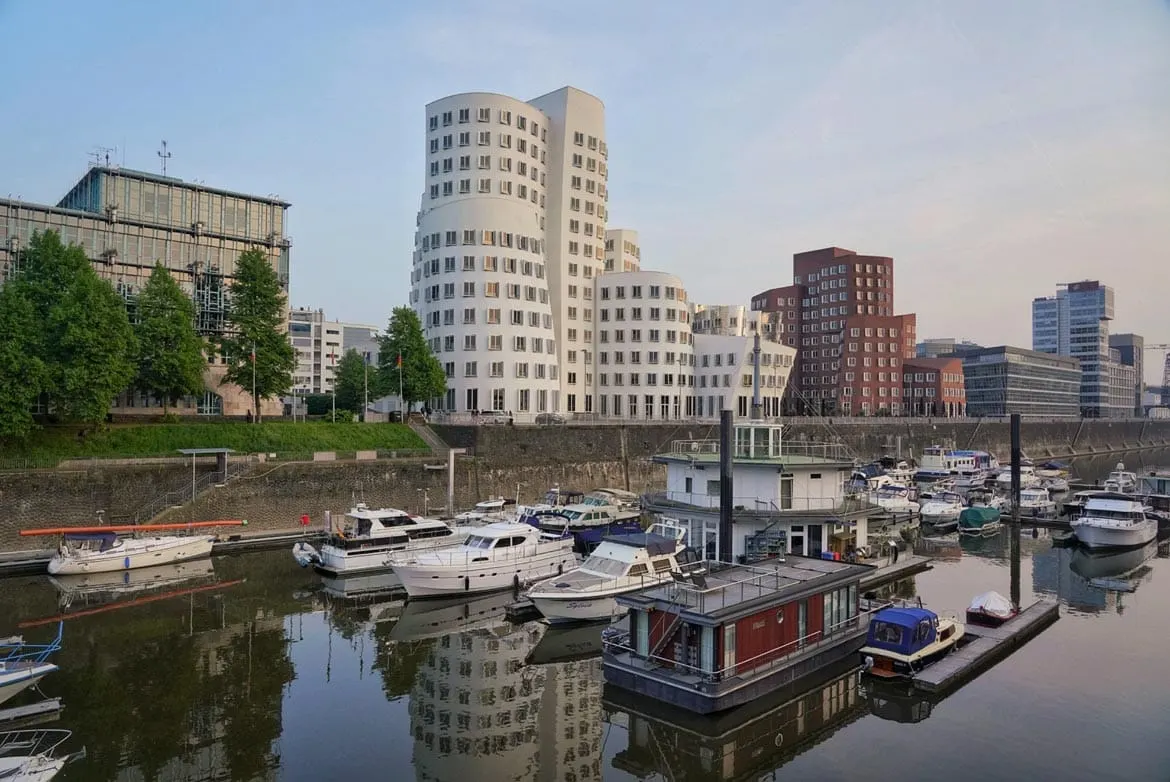 Being the photographer I am, my favourite spot in the city was Neue Zollhof. These cluster of buildings were built by American architect Frank O. Gehry and they wouldn't be out of place in among Gaudi's more-famous buildings in Barcelona. Make sure you head here around sunset for some stunning views of the city.
However, as soon as you get out of the city there are some incredible day trips from Dusseldorf. As I said, it's amazing how close a lot of these places are.
So, if you're heading to North-Rhine Westphalia in Germany then these are the places near Dusseldorf I recommend you visit! Just don't forget your camera bag.
Also, for those of you staying in the city, I really recommend this tour in Düsseldorf. On this tour you'll learn all about Düsseldorf and it's a great way of finding out some of the best things to do in the city.
The Best Days Trips from Dusseldorf
Zeche Zollverein, Essen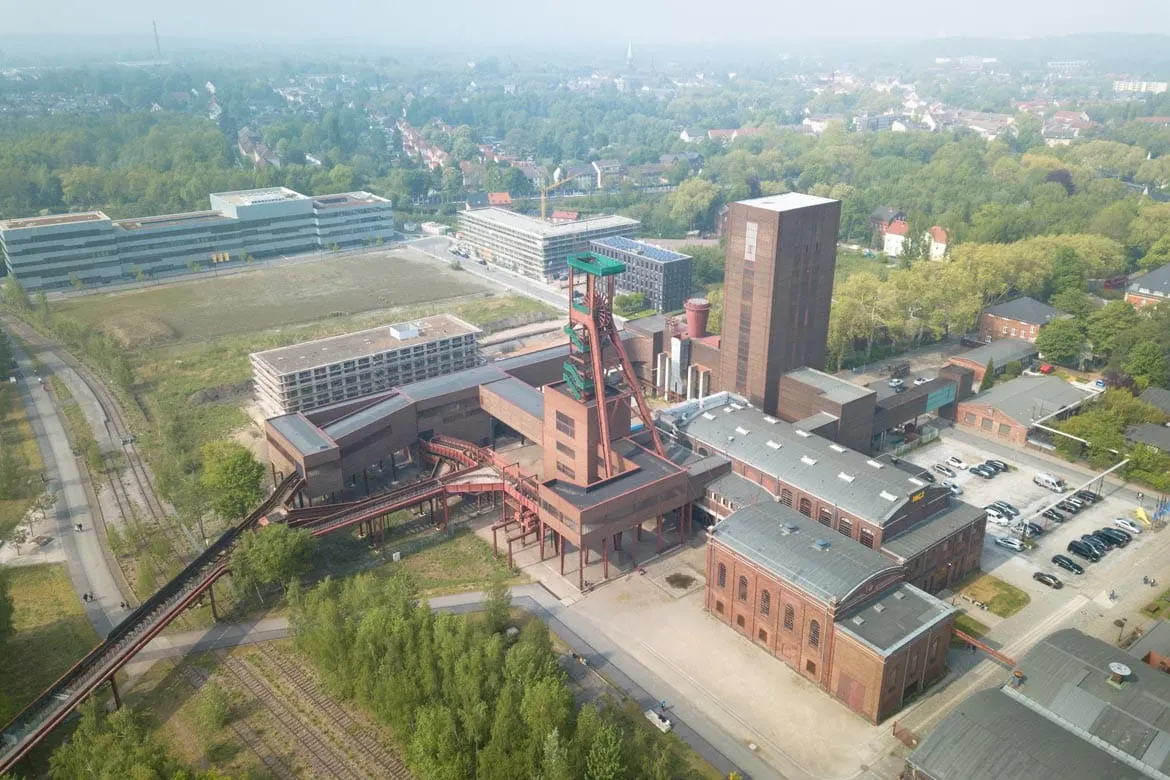 What can I say about Zeche Zollverein. It's this giant industrial playground that's one of the most fascinating places I've been to in a very long time.
Zeche Zollverein is an old coal mining industrial complex just on the outskirts of Essen. The coal mine was first used in 1847 and quickly became the largest coal mine in the world. However, production at the site slowed down in the 1950s and came to a close in 1986.
Today, Zeche Zollverein has been transformed into this creative space with art installations, a couple of restaurants, a museum detailing the history of the area, and my favourite spot, an open-air swimming pool that's oh so Instaworthy.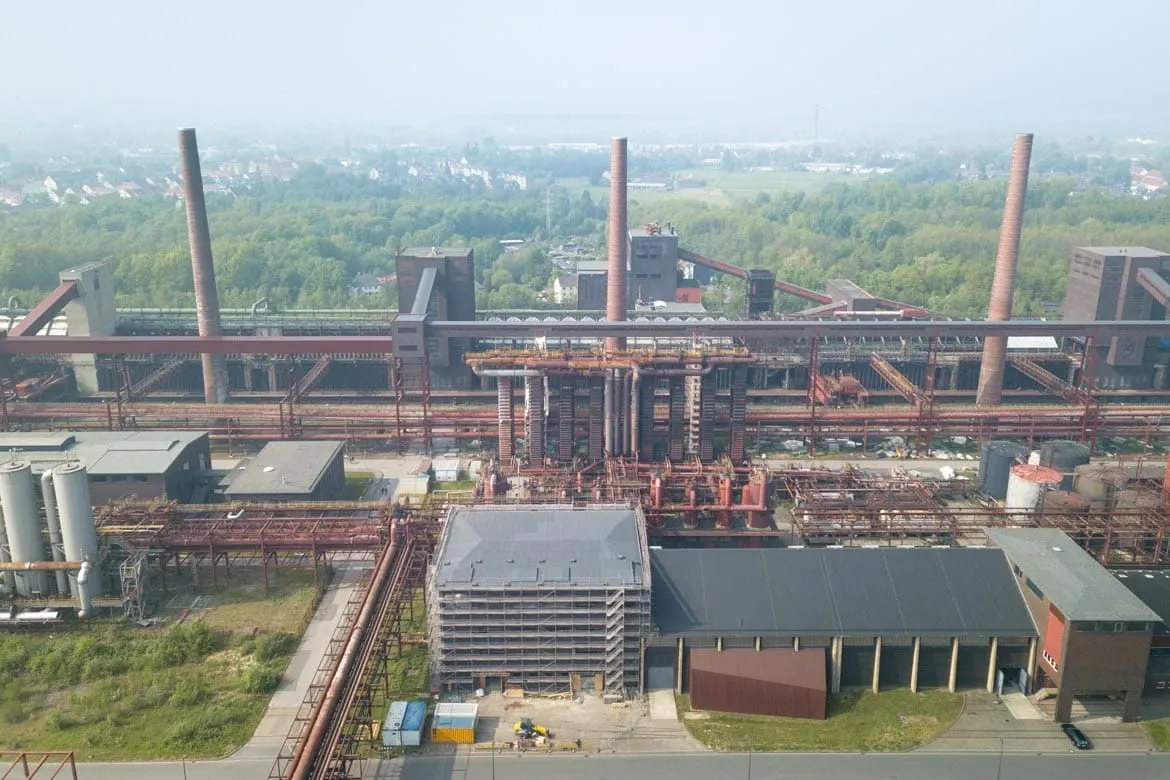 I spent the afternoon wandering around this huge complex taking snaps of everything. If you're into architecture and symmetry then this place is a photographer's paradise.
There are some really cool spots dotted around Zeche Zollverein. We found a swing hanging underneath the iron girders and the viewpoint at the top of the Ruhr Museum is worth it too.
Zeche Zollverein was actually voted as "the most beautiful coal mine in the world" (yes apparently that's a thing). I think that says it all really! This is such an amazing one day trip from Dusseldorf.
Zeche Zollverein is free to walk around and pop into a number of the buildings but the Ruhr Museum with the viewing platform costs €8 per person.
Belgian Quarter, Cologne
In my eyes Cologne is one of the trendiest places in North Rhine-Westphalia. It just exudes cool.
Getting from Dusseldorf to Cologne only takes 20 minutes on the fast train and they run every 10/15 minutes. This makes it a really fantastic day trip from Dusseldorf. In fact, it's easy to do Cologne in just a few hours if you want to.
While I was there I spent the afternoon eating my way through and exploring the Belgian Quarter, Cologne's shopping district.
This is an area that's packed full of boutique shops, cool cafes, hipster bars and everything else in-between too.
The first place I headed to in the Belgian Quarter was to Poké Makai for some delicious poké. After that, Chloe really wanted to go shopping (who am I to lie, I did too…)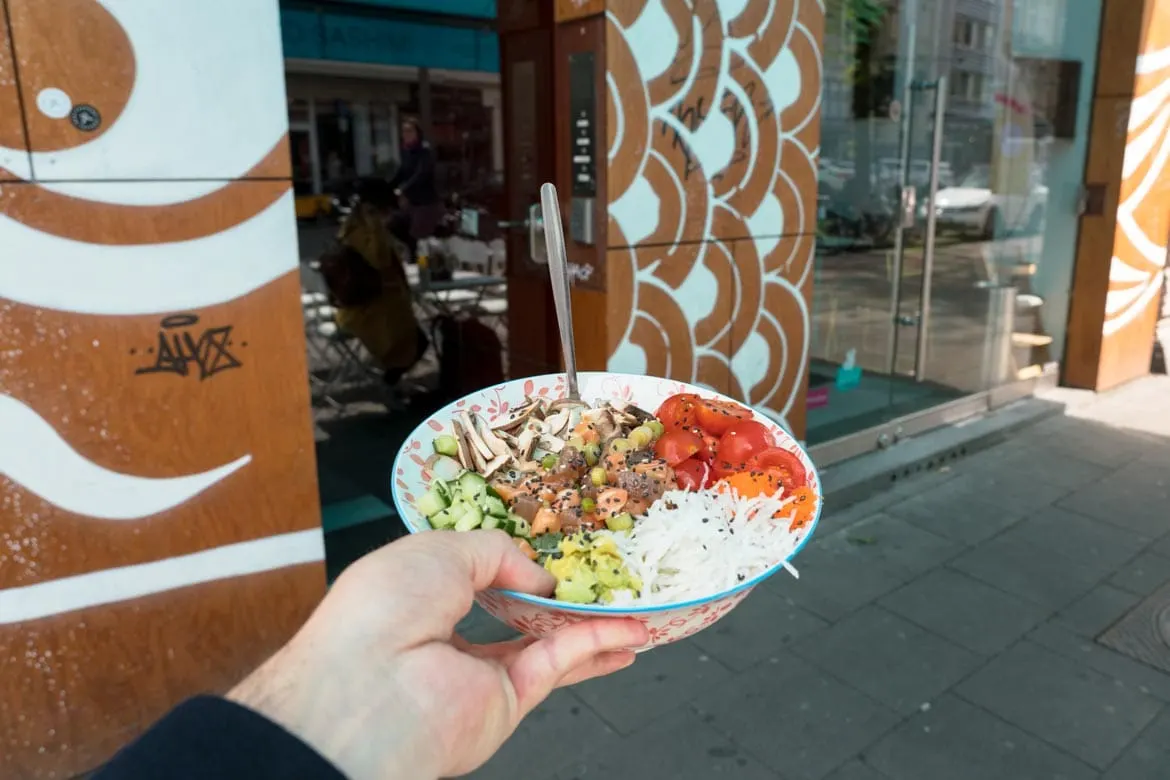 We found a couple of really cute shops like Schee which sold some awesome prints and kitsch decorations, and Magasin Populaire which Chloe really loved for their bright and vibrant dresses.
After that we headed off to Heilandt, a nice little coffee joint for an afternoon pick me up. After all the walking we'd been doing it was just what we needed.
To be honest with you, I could've spent all day wandering around the Belgian Quarter, and if you're looking for some of the best independent shops in Germany than this is the place for you.
Benrath Palace, Benrath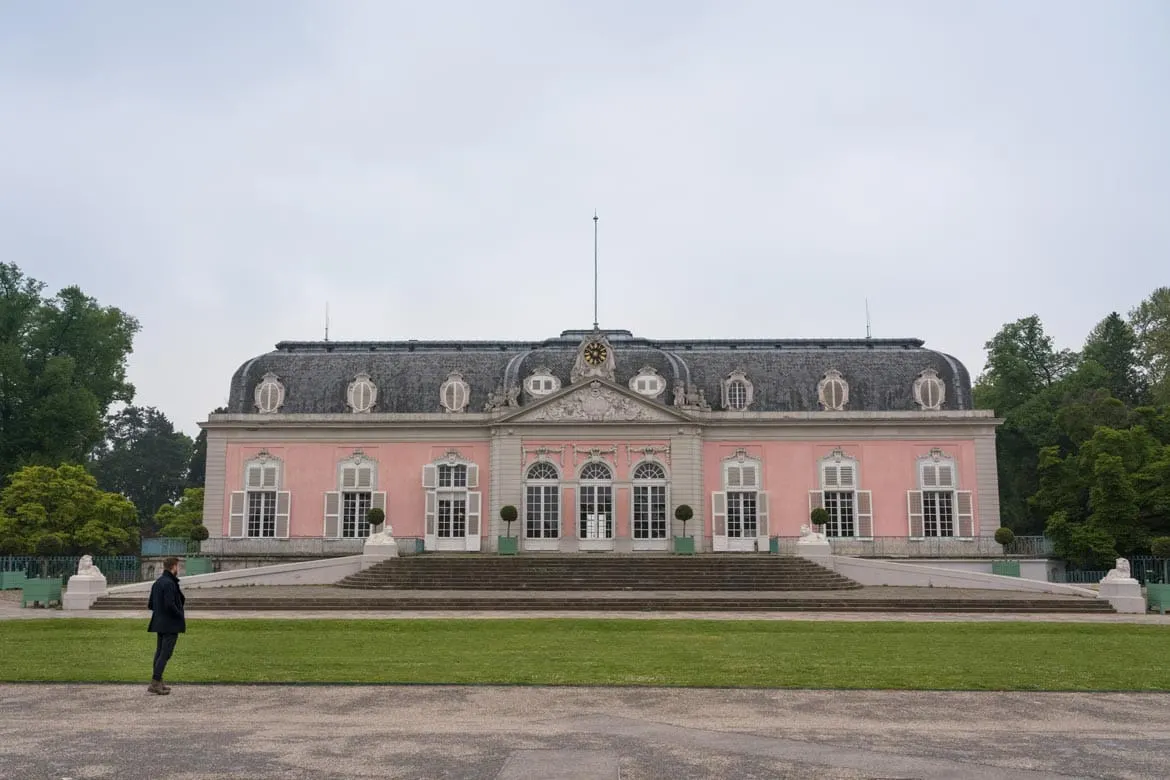 Benrath Palace is without a doubt one of the most popular day trips from Düsseldorf.
Again, this is just a short 30-minute journey from the city centre and is on the way to Essen. I actually visited this place before heading onto Zeche Zollverein so it's possible to do both in a day.
Benrath Palace is an elegant, ornate Baroque palace surrounded by the most beautiful gardens. I felt like I lost track of time here – it's very easy to lose yourself in the majesty of this place for a few hours that's for sure.
It's hard to get a sense of the true size of the palace gardens, but on one side a long rectangular water feature is flanked by green forest, and on the other side is a giant lake that spreads out in front of the palace.
It's quite hard to describe so hopefully the photos do it justice!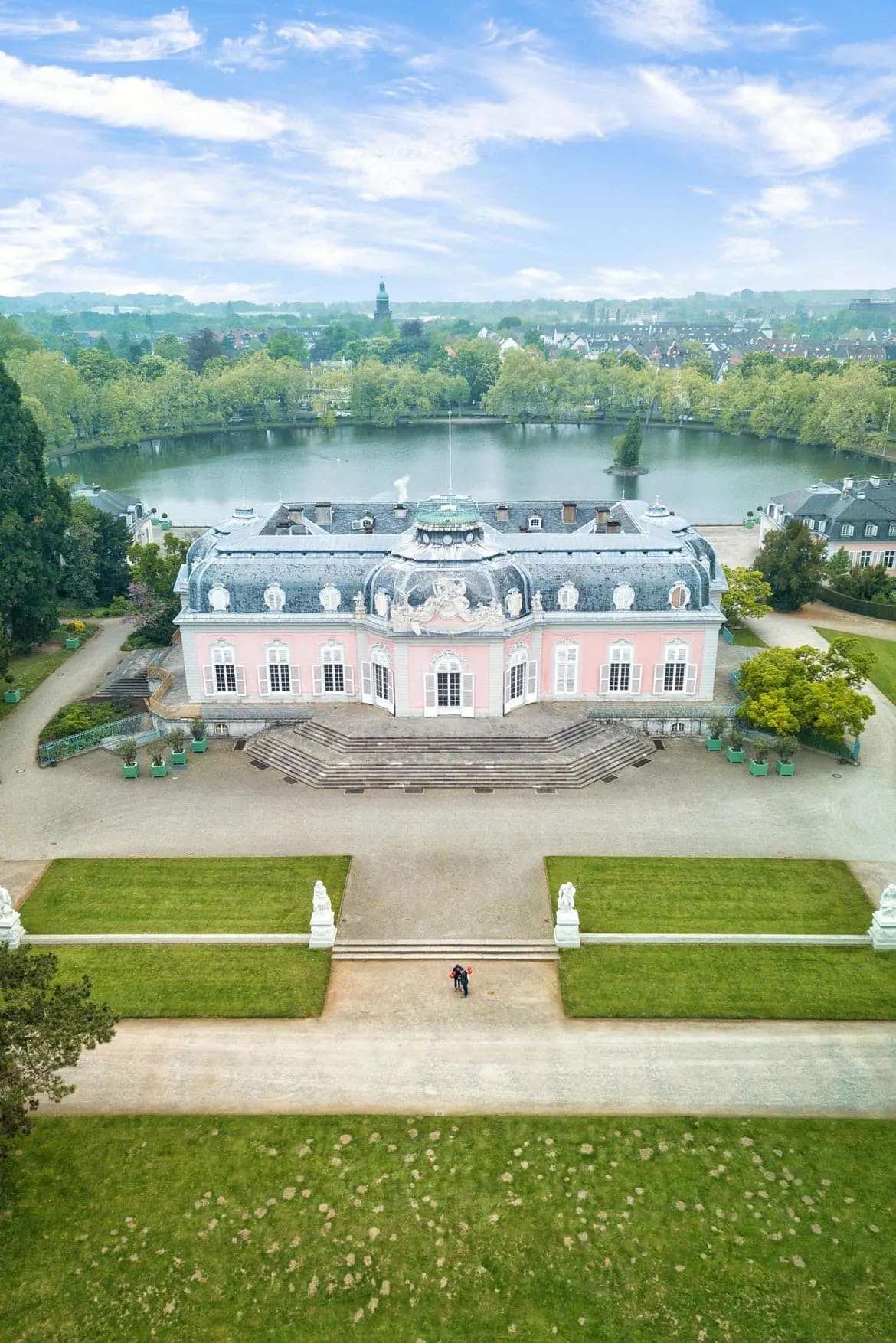 Benrath Palace was originally built for Prince-Elector Karl Theodor in 1770 as a 'maison de plaisance' (a pleasure palace) for his wife. I think that's more of a place to relax as opposed to a sex house…
Anyway, as most guys try and impress their wives, it does explain the feminine pink hues of the palace and the brightly coloured gardens surrounding it.
Today, Benrath Palace houses two museums open to the public, the Museum of European Garden Art in the east wing and the Museum of Natural History in the west wing.
In these museums you can enjoy an antique collection of artwork, paintings, sculptures, and other artefacts from the 18th century.
Duisburg Landschaftspark, Duisburg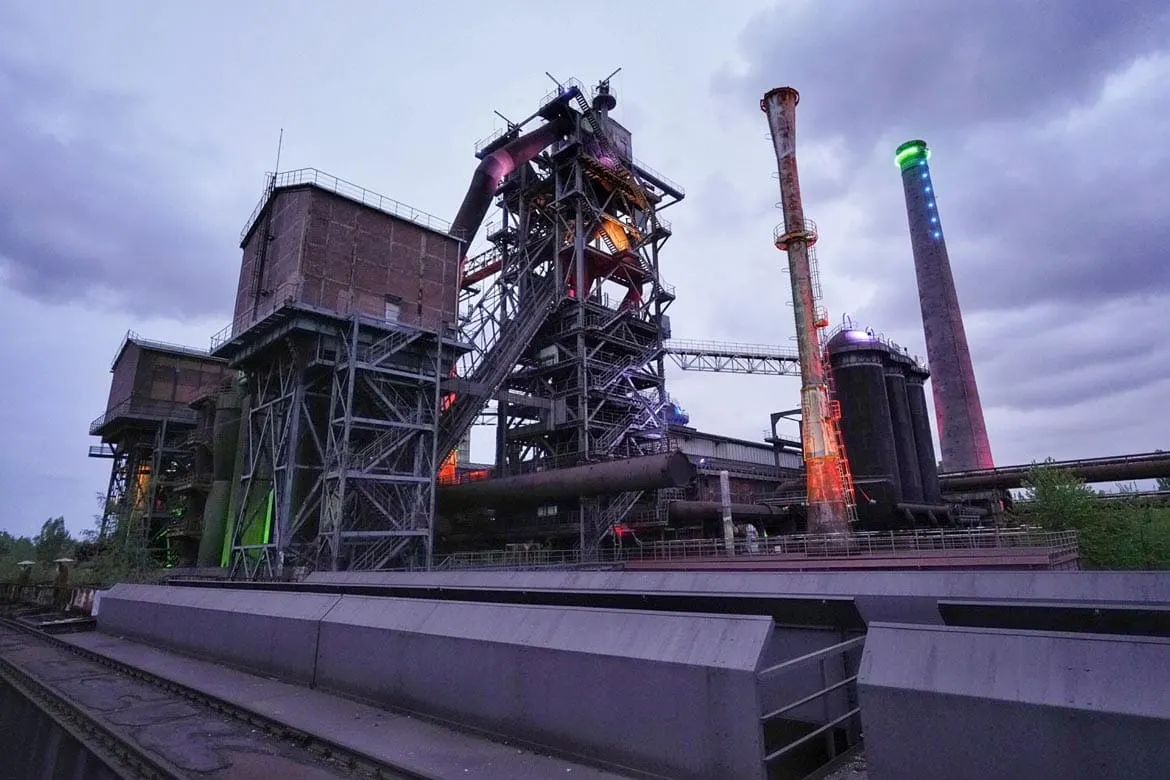 This is another really popular Düsseldorf excursion, especially in the evenings. Duisburg Landschaftspark is another industrial wasteland, one that could be the set of a zombie film.
The Landschaftspark (landscape park) is about an hour from Dusseldorf and is a little harder to get to than the other places featured but I promise you it's worth it.
Much like Zeche Zollverein, this place used to be an old coal and steel industrial plant before its closure in 1985. After is was completely abandoned, it was opened to the public as an art project in 1991.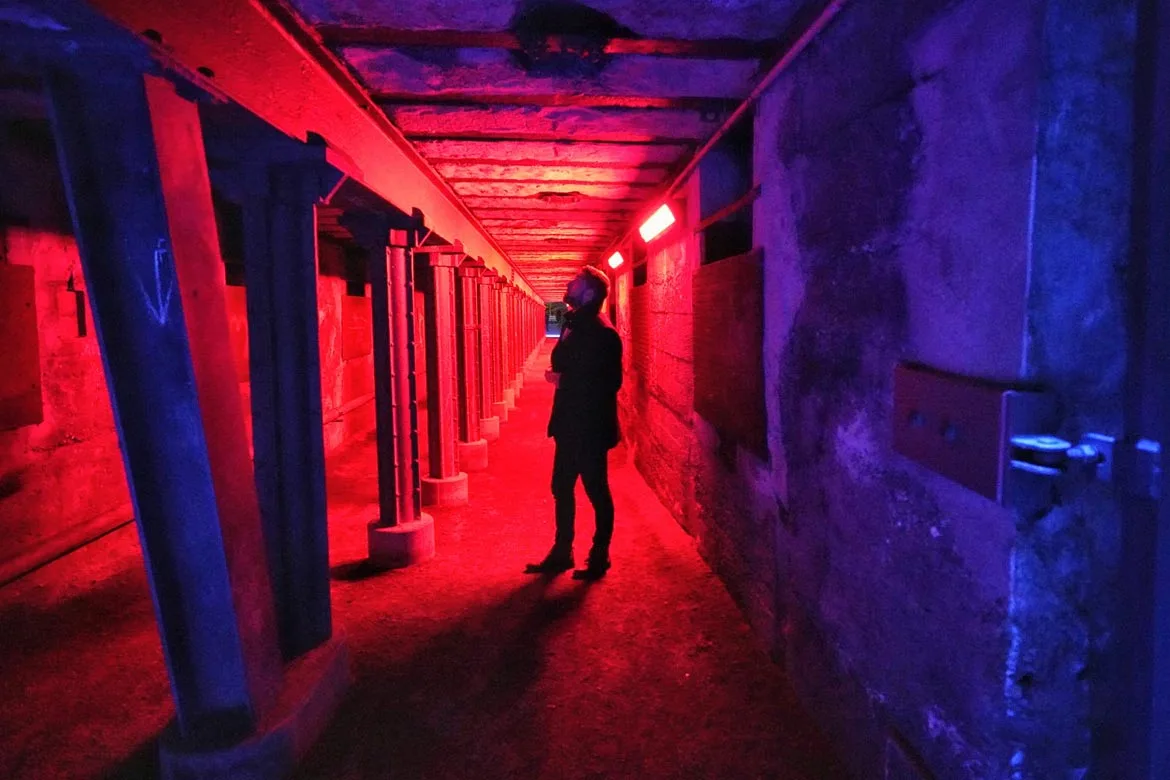 Today, people come from all over the marvel at the industrial architecture. However, that's only part of it.
Every evening on Fridays, Saturdays and Sundays, Duisburg Landschaftspark is lit up with blues, greens and reds as the whole place is illuminated by this colourful light installation.
It's so eerie walking around here at night, shuffling through tunnels lit up in bright red before rounding a corner and seeing the old coal stacks dominate the skyline all shrouded in green. As I said, it's very eerie.
This makes it the perfect place for some creative night photography – just make sure you bring your tripod with you to get those long-exposures! It really is such a cool spot and definitely a Dusseldorf day trip I'd recommend to anyone coming here.
Bonn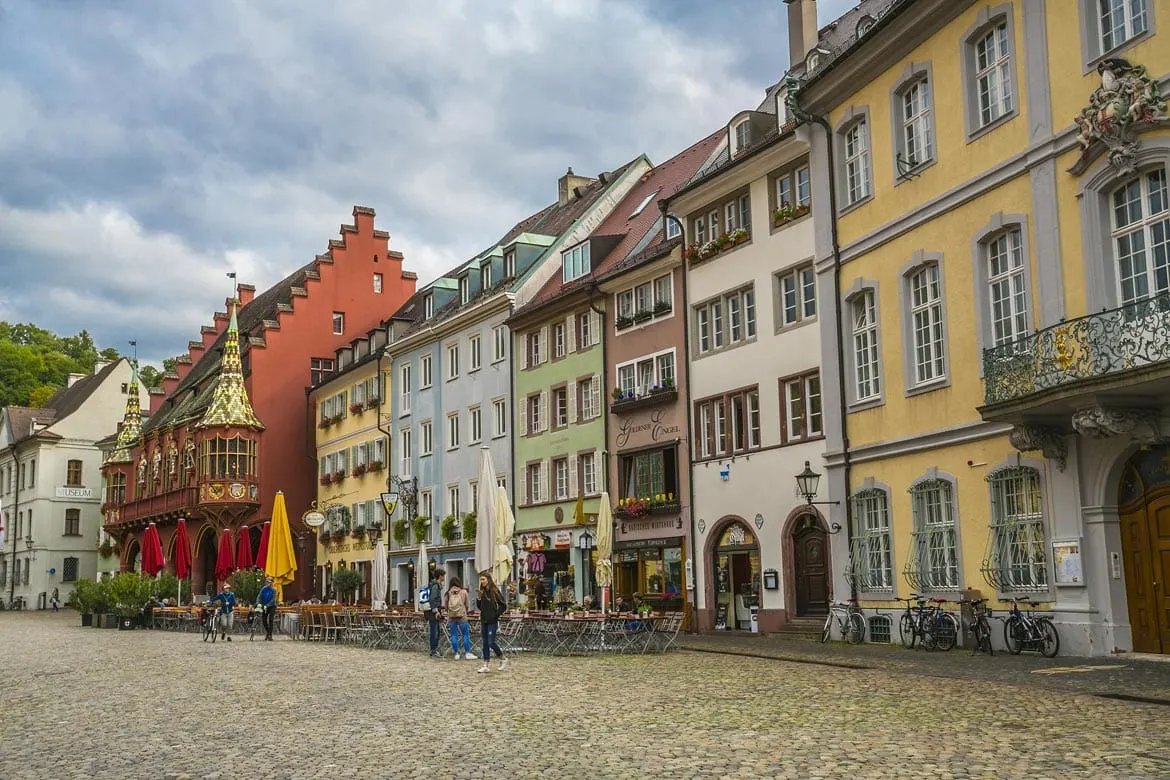 Why do I think Bonn is one of the best day trips from Dusseldorf? BECAUSE THAT'S WHERE HARIBO COMES FROM!
Yes, I really would go out of my way for some sweets (and there's nothing wrong with that…) At Bonn you can visit the Haribo factory and stock up on every type of Haribo imaginable. Haribo are the largest manufacturer of gummy sweets in the world and it is genuinely a tourist site in North Rhine-Westphalia.
If sweets aren't really your thing, Bonn is one of the most historical cities in Germany. Bonn acted as capital of the country after WWII and helped shape a lot of modern-day Germany.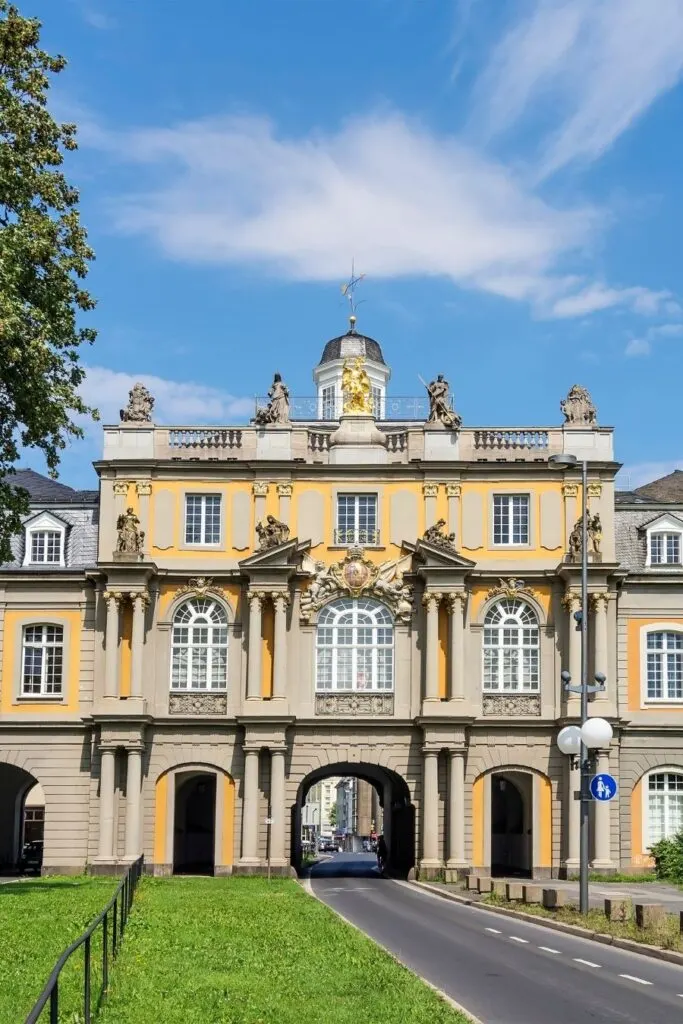 Bonn has likewise served as home to Beethoven and expressionist August Macke, both of whose former residences have been converted to museums fans can visit.
Basically, there are loads of things to do in Bonn that have nothing to do with sweets. But if you want to go there just for the sweets that's fine too!
Dyck Castle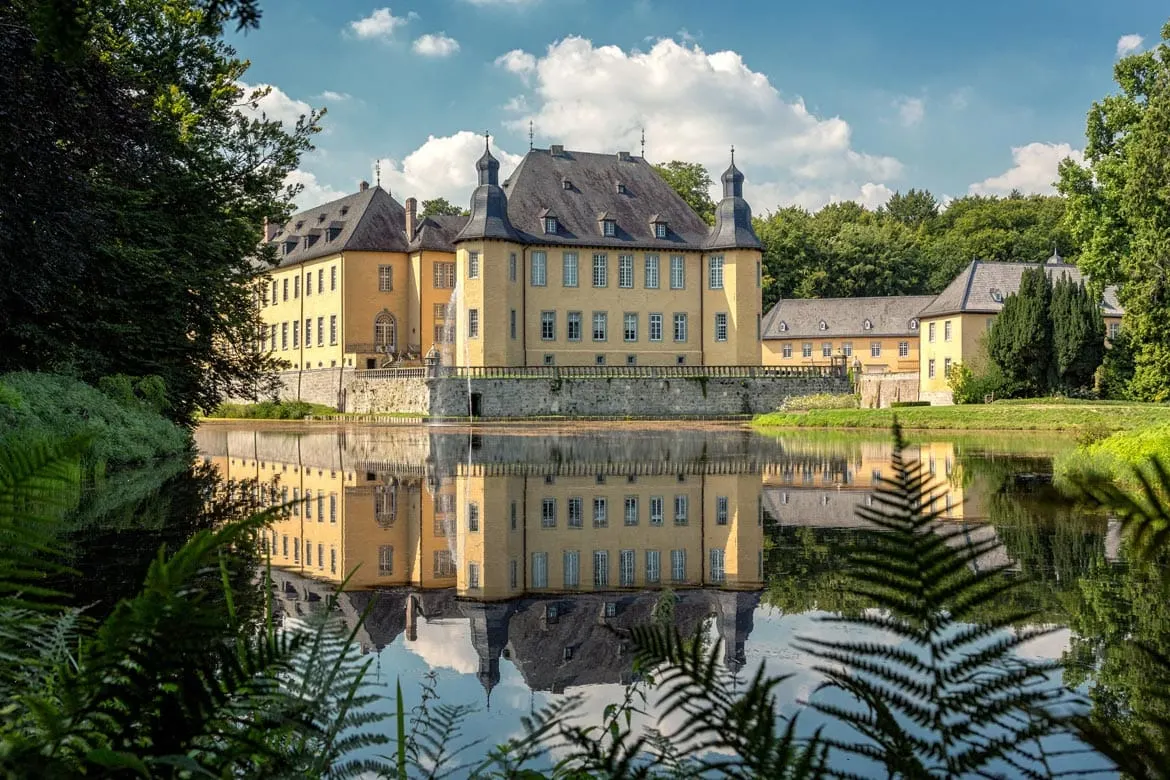 25 kilometres west of Dusseldorf you'll find one of the best preserved castles in the Rhineland region – Dyck Castle.
The moat around the castle (yes there's a moat) dates back to the 11th century and up until 1999 the same family owned it for 900 years – how crazy is that!?
In 1999 Dyck Castle became an international centre for garden art and landscape design. The grounds captivate all with their themed and model gardens, wooded paths and meadows making this such a peaceful place to walk around.
For those looking for a little adventure there's a high-rope course for climbing fans which I really recommend too. For me, this is a great short day trip from Dusseldorf that showcases what Germany is all about.
---
My trip to Germany was in association with Visit Germany, Visit Dusseldorf, North Rhine-Westphalia, Eurowings & Dusseldorf airport for their #GermanSummerStories campaign highlighting some of the best cities to visit in Germany in the summer. As always, views are entirely my own and without bias.
Are you planning any day trips from Dusseldorf? Do any of these catch your eye at all? Let me know in the comments below!
Like this blog post? Then make sure you Pin it!