From the epic Mercedes-Benz Museum to Germany's second largest beer festival, this is my definitive guide to sightseeing in Stuttgart!
If you're looking at what to do in Stuttgart then you've come to the right place. This blog post is packed full of advice and information so you can have the best weekend in Stuttgart.
I have to say I really love Stuttgart and it's a city that too me by surprise. There are loads of fun things to do in Stuttgart, it's incredibly easy to get around, it has some of the best shopping in all of Germany and it is also home to the 2nd largest beer festival in the country.
You've heard of Oktoberfest, right? Well let me introduce you to Frühlingsfest, the less touristy and more authentic version of Oktoberfest. I went for just one day and I can honestly say it's one of the most fun festivals I've ever been to. I can't wait to come back here again just for this beer festival.
Stuttgart is also a city famous for cars with two awesome museums that'll please any petrolhead – the Mercedes-Benz Museum and the Porsche Museum.
With so much to see and do, it's easy to see why Stuttgart is one of the most popular places to visit in Germany.
Are you looking for some of the best things to do in the city? Then check out my video on what to do in Stuttgart!
My Stuttgart itinerary
I spent a couple of days searching for all the best things to do in Stuttgart and I really loved the city vibes here.
From walking around the cobbled side streets in the Old Town to climbing to the top of the TV Tower, it's easy to pack in lots in a short amount of time.
Also, I don't think I've ever been so excited visiting a library before. If you've never seen photos of the Stadtbibliothek Stuttgart get ready to drool because this place is a photographer's paradise. It's one of the most photogenic places in Germany and I can't recommend popping in enough.
So, if you're heading to the city then make sure you check out my definitive guide to sightseeing in Stuttgart! I really hope you find this useful in planning your trip. If you have any questions at all just let me know in the comments below.
---
What to do in Stuttgart, Germany
Mercedes-Benz Museum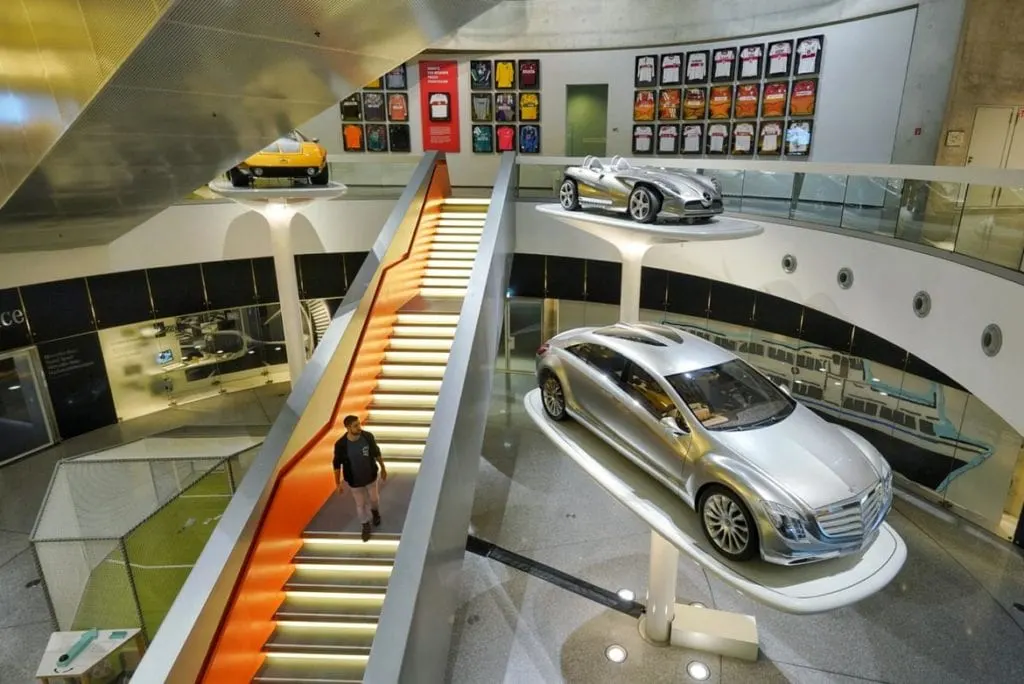 There's a reason why this is one of the top tourist attractions in Stuttgart.
The Mercedes-Benz Museum celebrates 130 years of motorcar history. There are more than 1,500 exhibits over 9 floors so it's safe to say this place is massive.
The building of the Mercedes-Benz Museum is an architectural masterpiece. It's uber modern with this sweeping design making it one of the best German landmarks in the country.
You start on the top floor which dates back to some of the world's first cars and motorcycles. Then you spiral down through the museum as it takes you through the years all the way up to the modern-day speedsters and F1 cars of today.
The layout of the museum is really clever as everyone flows from the top to the bottom. As everyone is heading in the same direction it makes for a really nice and relaxed experience.
A few of my favourite cars were the Popemobile (infamous for being shot at) and Nico Rosberg's 2016 F1 Silver Arrow.
The Mercedes-Benz Museum is somewhat of a pilgrimage for car enthusiasts but I think everyone will love this place.
The biggest accolade I can give this place is Chloe loved it too and she really isn't into cars!
This is included in the 24-hour sightseeing bus tour.
Stadtbibliothek Stuttgart (Stuttgart Library)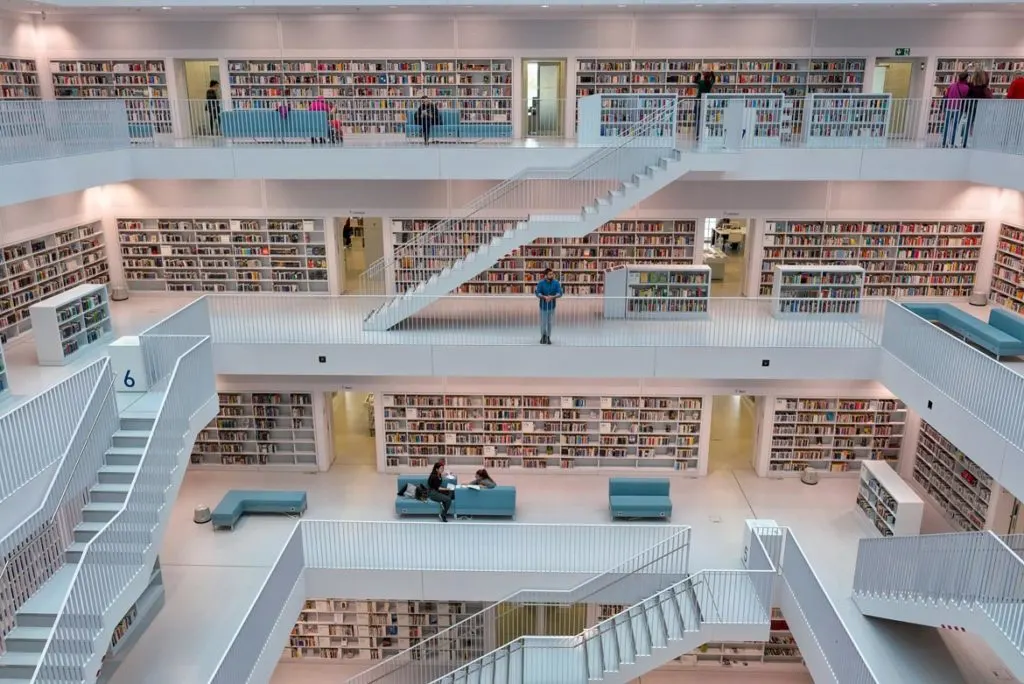 Instaporn. That's how I would describe the Stadtbibliothek Stuttgart.
Opened in 2011, the library has become a mecca for book-lovers and photographers alike. What makes the library so distinct are the clean lines of symmetry – it's almost as if you're standing in a giant 3D bookcase.
I really enjoy architecture photography so I could've spent all day taking photos here, but do remember it is a library so respect people's privacy and if you can turn off your camera beep then do so.
It's also worth wandering around all the different floors. In one corner I discovered a cool robot system that was sifting through and sorting books then taking them off to other parts of the library.
It's strange to add a public library as one of the top things to do in Stuttgart but I really think it's worth a visit.
The library is open to the public from 9am till 9pm and it is closed on Thursday and Sunday. There's a viewing platform on top of the building and a café on the top floor too.
Frühlingsfest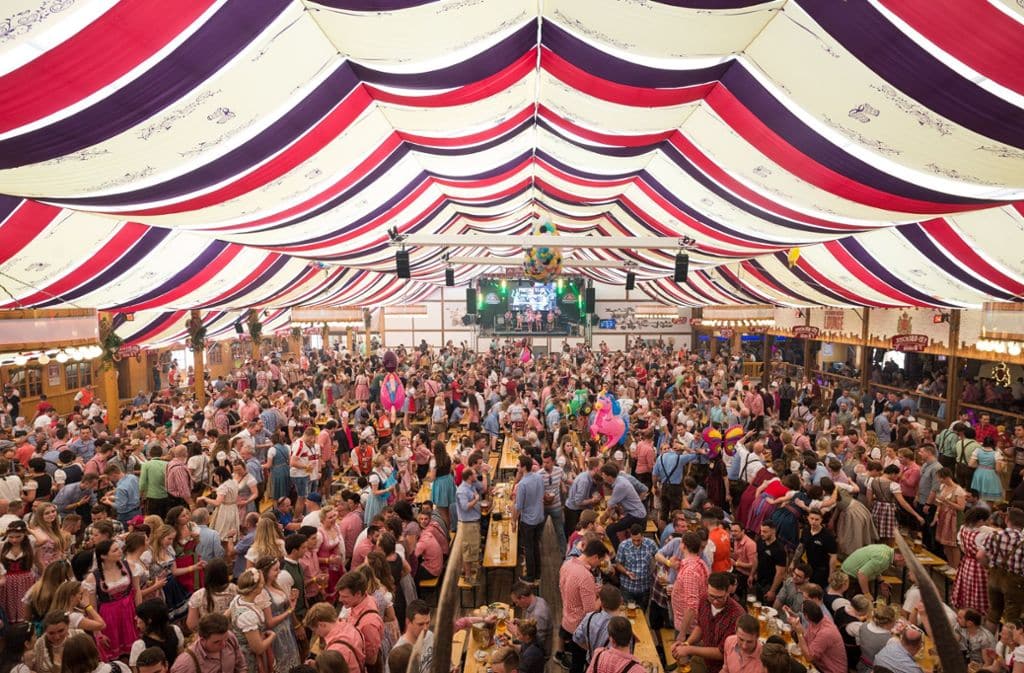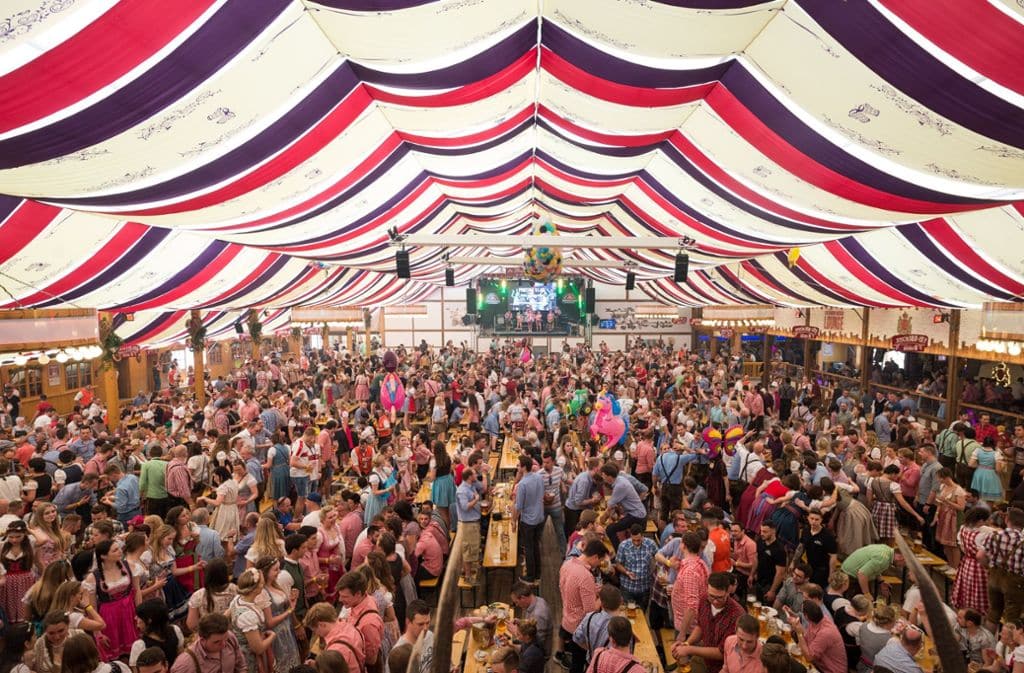 Get ready to party!!! As I've already said, Frühlingsfest is one of the best festivals I've ever been to.
Frühlingsfest is Stuttgart's spring festival that takes place between the middle of April and the beginning of May every year.
Imagine big beer tents, long tables with everyone dancing on them, giant steins of beer being drunk, Bavarian costumes everywhere. It really is just like this.
What I really loved about Frühlingsfest though is it's a festival for locals and Germans. I've heard that Oktoberfest is overrun with drunk Brits and tourists, but this felt like a proper local festival.
The best thing to do at Frühlingsfest is to just immerse yourself in the atmosphere. I bought myself a stein, jumped up on the table and danced to "bunga bunga bunga bungalow" even though I didn't know the words. It was such a good experience.
Even though Frühlingsfest is the name of the beer festival, there are a number of beer tents dotted around the site so I really recommend you trying a few.
If you're looking at what to do in Stuttgart then make sure you add this beer festival to the list!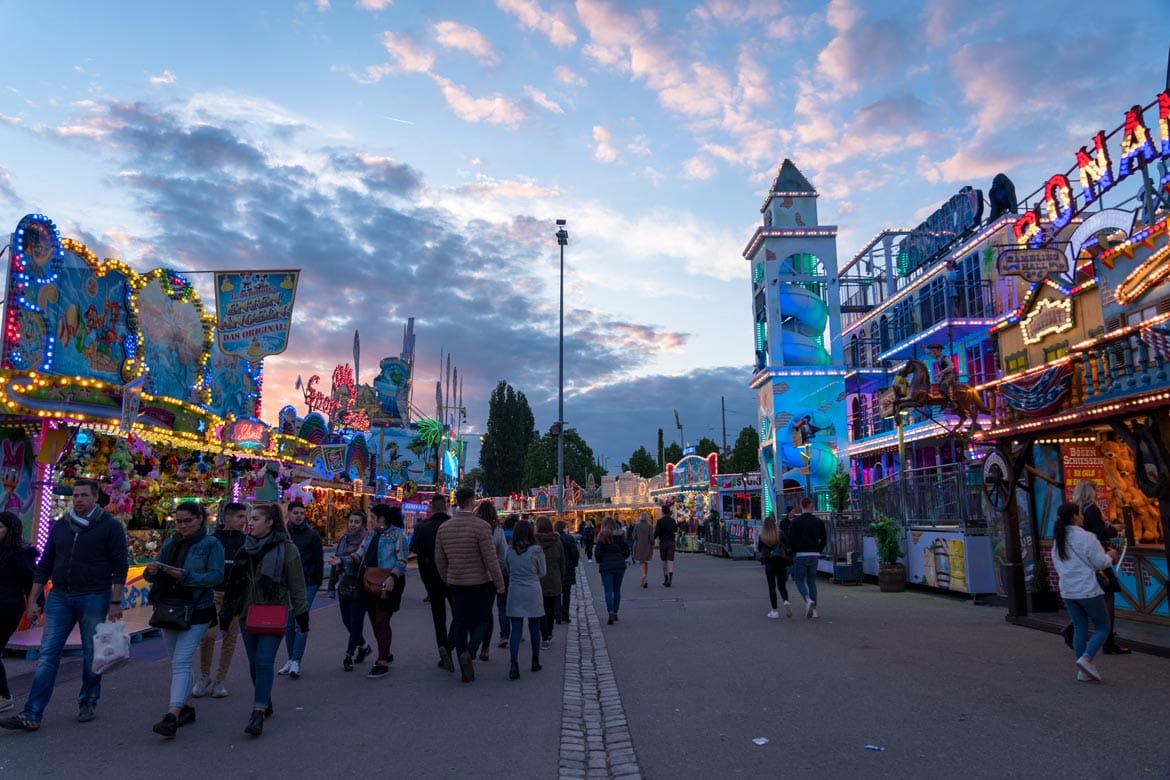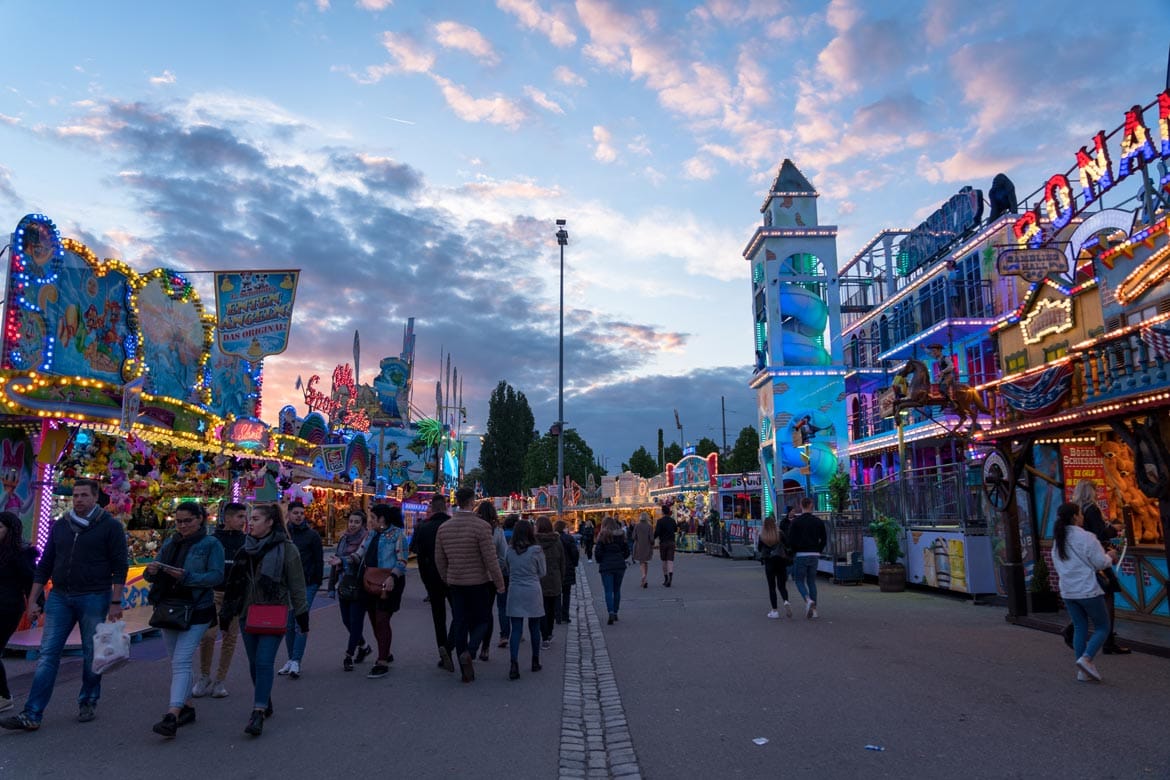 Also, there's a giant funfair at Frühlingsfest with loads of great rides and cuddly toys to be won (though I failed miserably in that department).
If you want to get a sense of how big Frühlingsfest is then ride the 47 metre ferris wheel for some of the best views around.
If you're into your beer festivals then this is definitely one for you. I can't recommend this event enough!
Fernsehturm Stuttgart (Stuttgart TV Tower)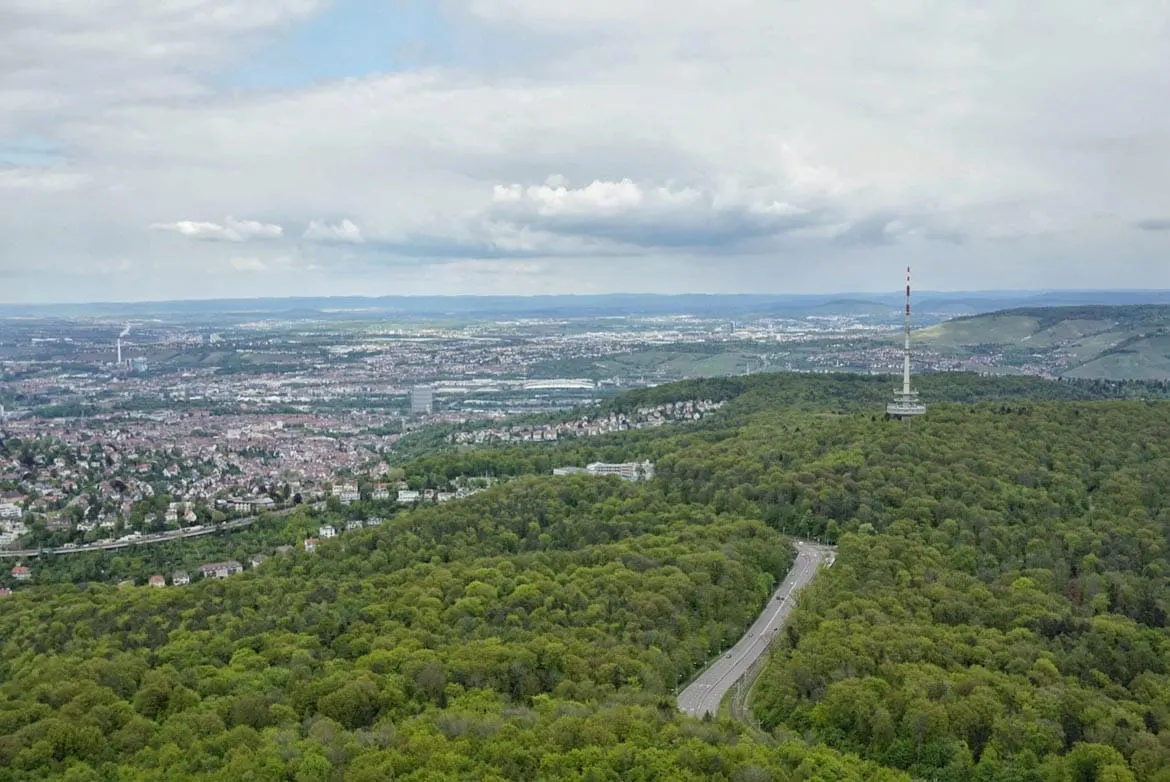 Here's an interesting fact for you – the Fernsehturm Stuttgart was the world's first ever television tower built in 1956. How about that as a pub quiz fact!?
Standing at 217 metres-tall, you can see the TV tower from all over the city. However, it's only when you stand underneath and crane your neck up that you appreciate how big it is.
As I'm always on the best viewpoints whenever I get somewhere I just had to head to the top of the TV. Up on the 148th floor is an outside viewing platform (quite rare for a tower) which gives you 360-degree panoramic views of the city. I never realised that Stuttgart was surrounded by forests – it's such a green city!
There's also a restaurant at the Stuttgart TV Tower so I really recommend grabbing coffee or a bite to eat and drinking in the views.
The tower stays open until 23:00 in summer, and the sunset and Stuttgart's lights are well worth the entry fee if you pick a clear day.
Tickets cost €9 per person and this is definitely one of the best spots for sightseeing in Stuttgart.
Sepulchral Chapel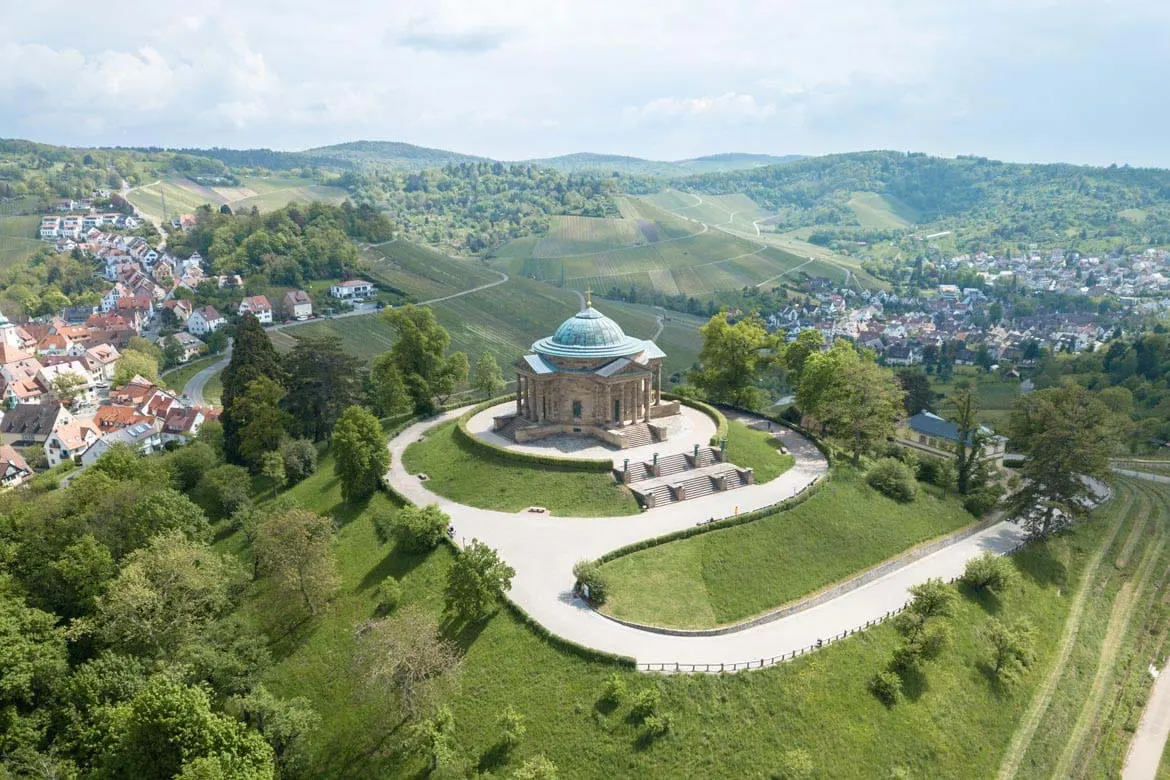 If you're looking for one of the best places to visit in Stuttgart then head to the top of Württemberg hill.
Perched high upon Württemberg hill overlooking Stuttgart and the Neckar valley is Sepulchral Chapel. This is the burial chapel erected by King Wilhelm I as a monument to his beloved wife after her premature death in 1819.
As an ode to his wife, Sepulchral Chapel is also known as "the chapel of eternal love" making this one of the romantic spots in the city.
From the steps of the chapel you've got the best view of Stuttgart where you can clearly see sites such as the Mercedes-Benz Arena and the Fernsehturm.
Also, this is wine country (yes, Germany produces some amazing wines) and surrounding Sepulchral Chapel are these beautiful vineyards. If you're coming all this way then I recommend going wine tasting at a couple of the vineyards or going on a few hiking trails in the area.
Markethalle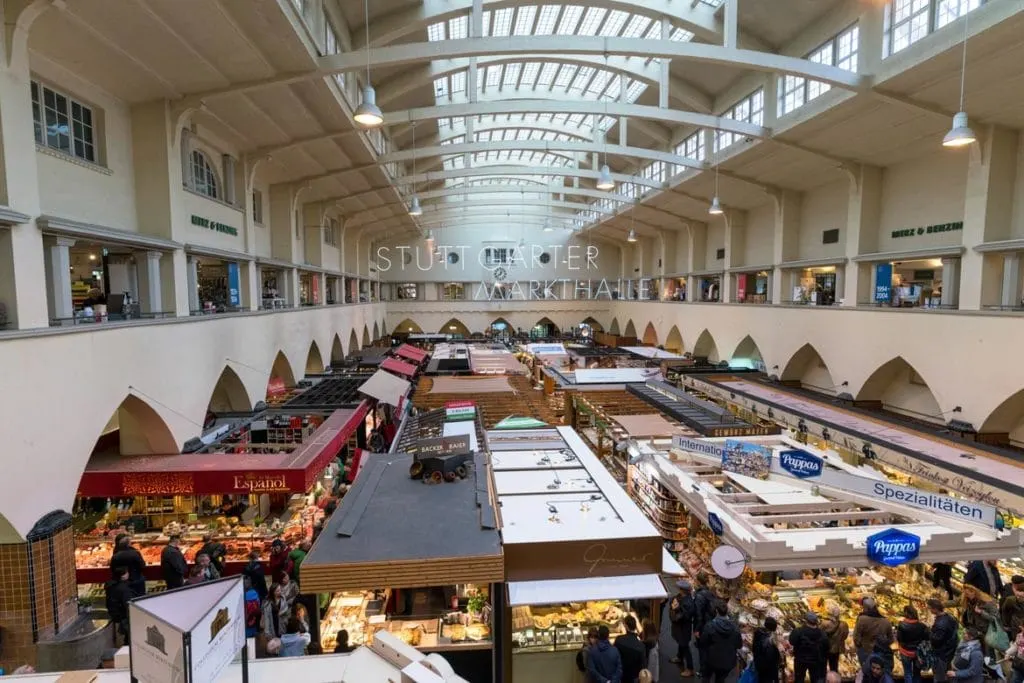 Markethalle is where you can travel around the world without having to leave the building.
As a gourmet destination the Markthalle has stalls selling specialty foods and exotic treats from all over. There's baklava from Turkey, cold meats and cheese from Spain, arancini and prosecco from Italy and a hundred other tastes and flavours.
It's best to come here with an empty stomach. I spent half an hour walking from stall to stall trying a few samples of food along the way. I eventually settled on a really nice aubergine and goats cheese sandwich from Spain and a mushroom arancini from Italy which I swear was one of the best I've ever had.
Up on the first floor there's a little gallery. I suggest getting yourself a glass of wine and watching the world go by – it's a great people-watching spot.
There's an Italian restaurant there as well if you're looking for a sit-down meal. A visit to the Markthalle is a must on any Stuttgart itinerary.
Kunstmuseum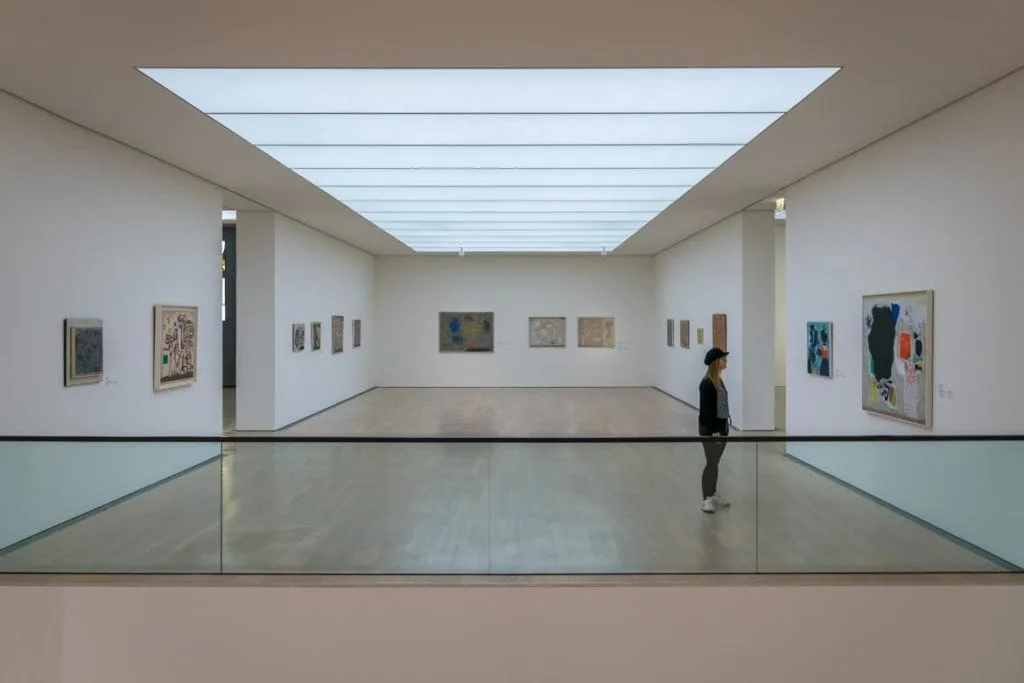 When you're sightseeing in Stuttgart you've got to add the Kunstmuseum on your list of places to visit.
The Kunstmuseum's bold design as a reflective glass cube is in stark contracts to the surrounding palaces in the Schlossplatz making this one of the most iconic buildings in the city.
Inside, the Kunstmuseum is home to the city's modern and contemporary art museum. I spent an hour here wandering around and it was actually one of my favourite spots in the city.
Highlights of the museum's extensive collection include some of the most important works by German artists Dieter Roth and Willi Baumeister, as well as the largest collection of important works by Otto Dix.
If you head up to the top floor then you'll get an amazing view of the Schlossplatz.
Tickets cost €11 per person or is free with the Stuttgart city card.
Stuttgart Schillerplatz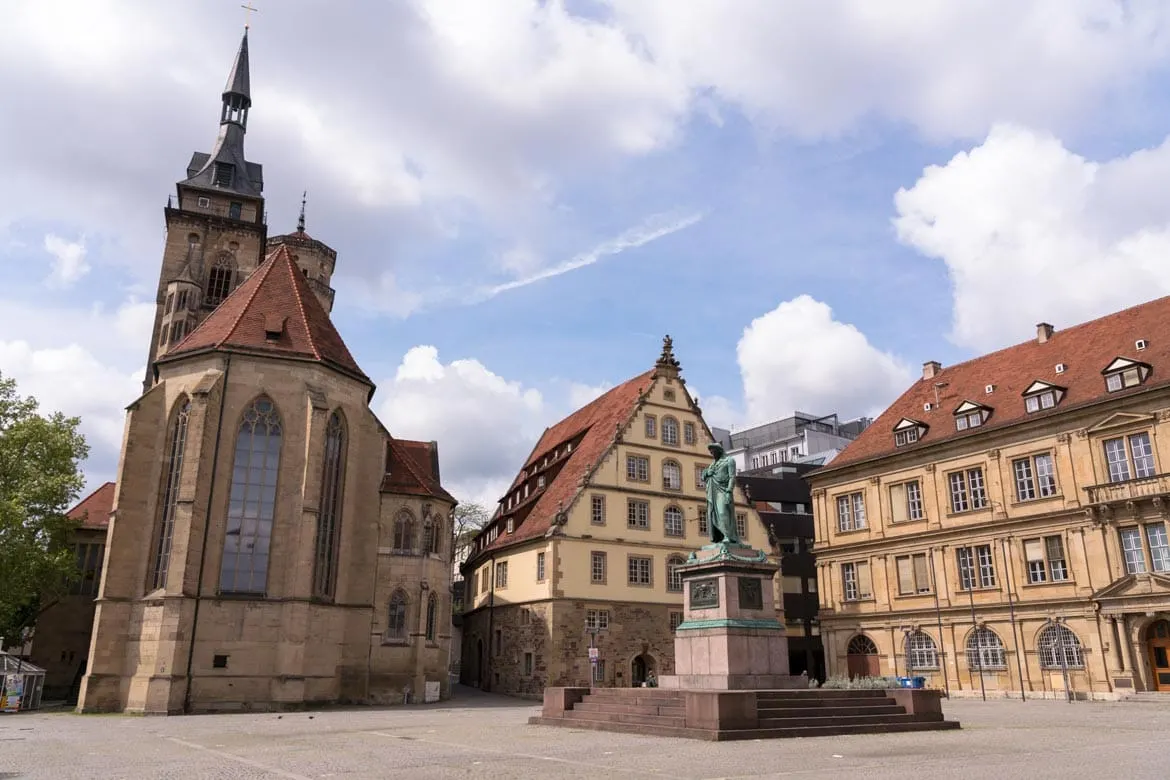 Like architecture and looking at what to do in Stuttgart? Then check out the Schillerplatz.
A bit like with Düsseldorf, Stuttgart has a very beautiful old town known as Schillerplatz packed full of gorgeous buildings.
Right in the centre of it is a monument to Friedrich Schiller. He was a dramatist, historian, philosopher, poet and one of Germany's most famous cultural giants.
The square is the site of a flower market on Tuesday, Thursday, and Saturday mornings, and in December joins the Schlossplatz and Marktplatz, on either side of Schillerplatz, as home to the Christmas Market.
I think Schillerplatz is one of the best photo spots in the city so make sure you bring your camera!
Stuttgart packing list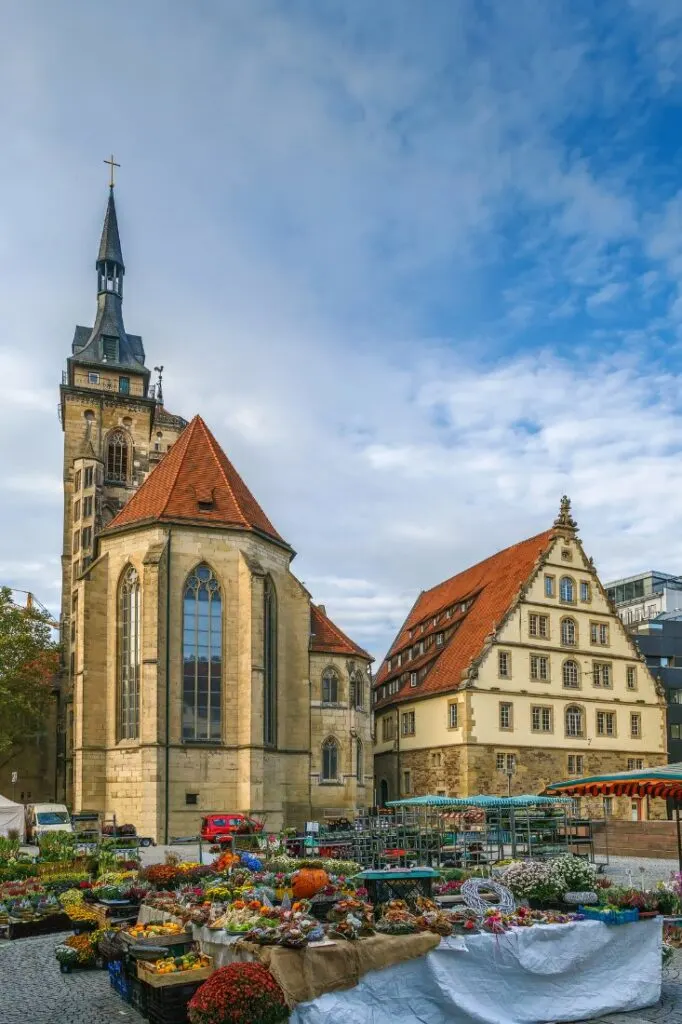 As you can imagine, I travel a lot. It comes with the territory of being a travel blogger! That being said, there are some things that I now can't travel without. If you're planning your Stuttgart itinerary, I'd really recommend taking these items with you: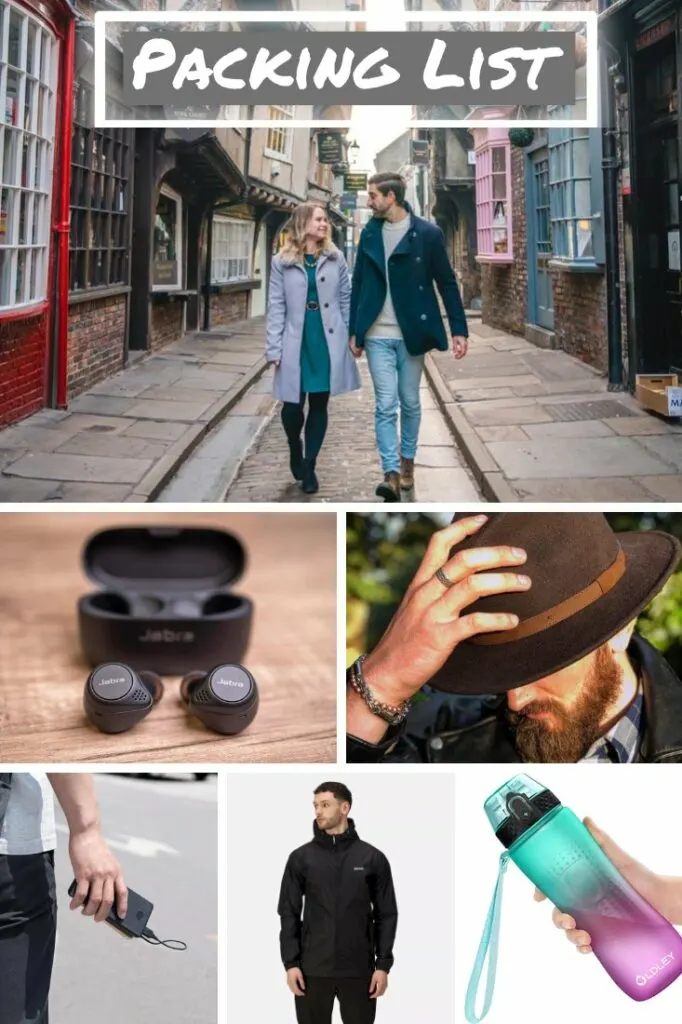 ---
A lot of people ask me "is Stuttgart worth visiting?" and I would say 100% yes. It's a really trendy city with loads of things to do there, especially for a weekend away. Hopefully this blog post inspires you to visit here!
My trip to Germany was in association with Visit Germany, Visit Stuttgart & Eurowings for their #GermanSummerStories campaign highlighting some of the best cities to visit in Germany in the summer. As always, views are entirely my own and without bias.
If you've got any questions about what to do in Stuttgart then let me know in the comments below!
Like this blog post? Then make sure you Pin it!