Have you only got 2 days in Berlin? Then check out my Berlin 2 day itinerary packed full of the best things to see & do in the city!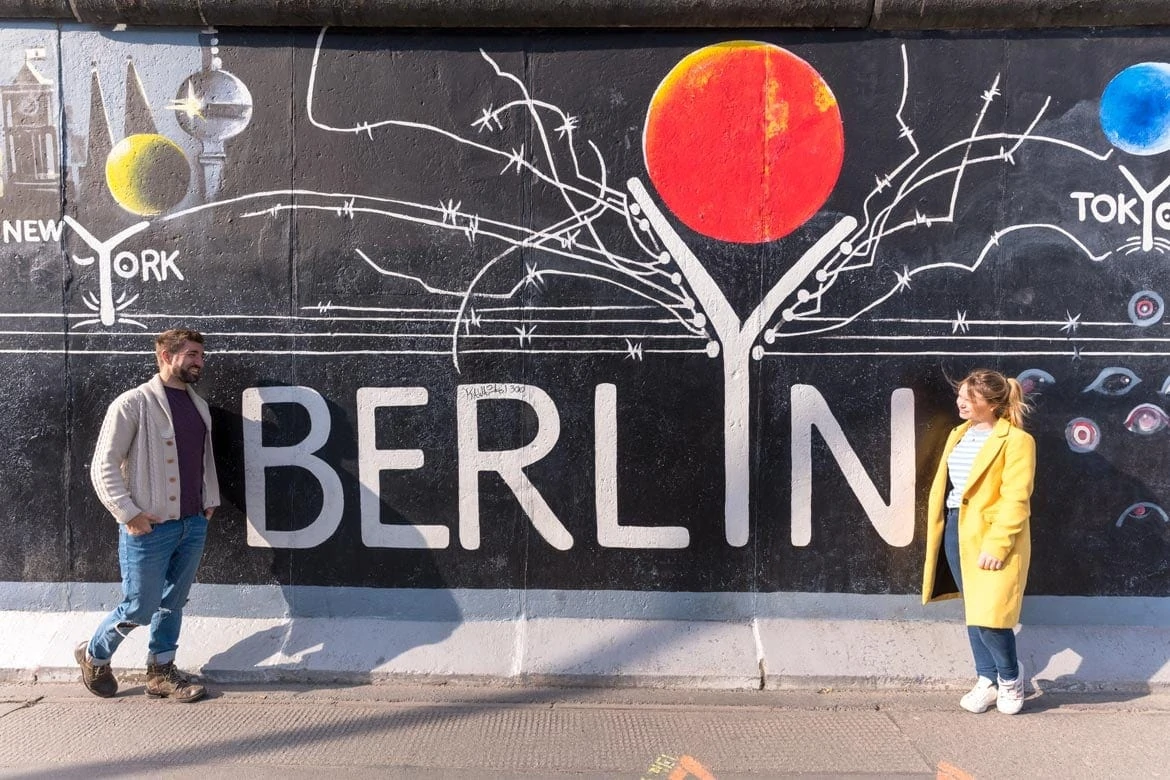 Have you only got 2 days in Berlin and you're worried about packing everything in? Don't worry, that's the perfect amount of time to see some of the city's top sites and attractions!
I'm going to stick my hand up and say Berlin is absolutely perfect for a short break or weekend away. It's one of those cities that you could keep coming back to time and time again and discover something completely new and different.
It has that 'ein gewisses Etwas' (that's German for 'je ne sais quoi' – doesn't quite roll off the tongue in the same way does it?) What I'm trying to say is it's the type of city you'll never get bored in. Put it this way, it'll keep me travelling back to Germany for decades to come.
Don't believe me? Then check out my video below! This is just a little taster of what to do in Berlin in 2 days:

My Berlin 2 day itinerary
So I've actually got something to admit here. Until recently I had never been to Berlin before.
I know, I know, how can I go on about a place that I've only spent a couple of days in, but that's how much I loved this place.
In my short time in Berlin I got to see places like the Brandenburg Gate, the East Side Gallery, Museum Island, the Berlin Fernsehturm, Templehof Field (a disused airport right in the city centre that's now a cool place to hangout in the summer), I went on an awesome food tour.
Basically, I packed in as much as I could do in just a couple of days so I could highlight some of the best things to do in Berlin for you guys.
So, if you've only got 2 days in Berlin, here's what I recommend you see and do. Get ready because you're in for an amazing time!
Also, to help plan your trip here, check out this guide on what to pack & wear in Berlin. It's packed full of useful information!
Alternatively, if you're in the city for longer, this is my guide to some of the best day trips from Berlin. Perfect for those of you who want to explore some more of Germany.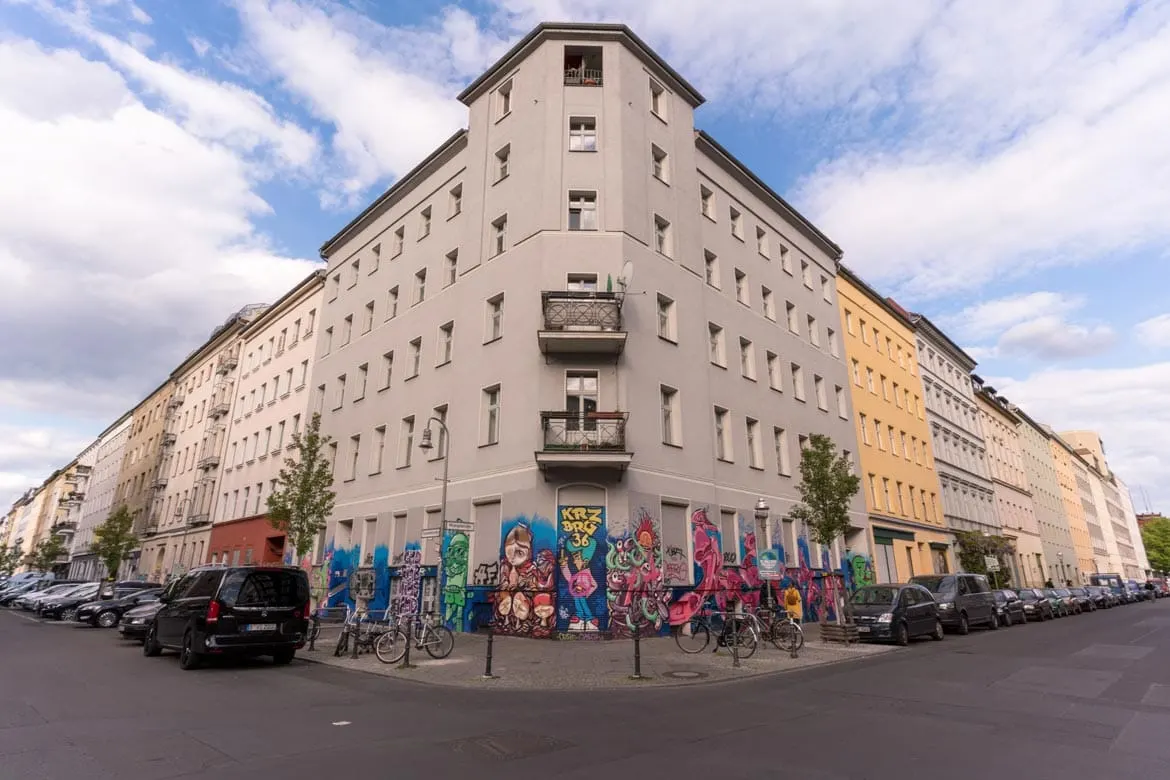 Before we get into it, we need to talk about the Berlin Welcome Card. This is the official tourist card for the city.
You can get a card anywhere from 2 days in Berlin all the way up to 6 days, and it will give you free entry into 30 of the city's top attractions. It will also give you discounts of up to 50% on up to 200 other attractions, entertainment and restaurants.
Also, and best thing, it gives you free transportation all around the city (including to and from the airport) meaning you don't have to worry about buying tickets all the time. As Berlin is a big city I found this really useful for getting around.
At €23 for a 2-day card, this is an absolute bargain and it's so much cheaper than buying individual tickets. Whenever I get to a city and I want to do some proper sightseeing, I always make sure I get a tourist card as you end up making some killer savings.
Anyway, that's my top tip for you there! If you're planning on doing a lot of sightseeing then I'd really recommend picking one up for your trip.
If you're wondering how many days in Berlin, the flexibility of the welcome card might help those of you with a changable timetable.
---
Things to do in Berlin, Germany
East Side Gallery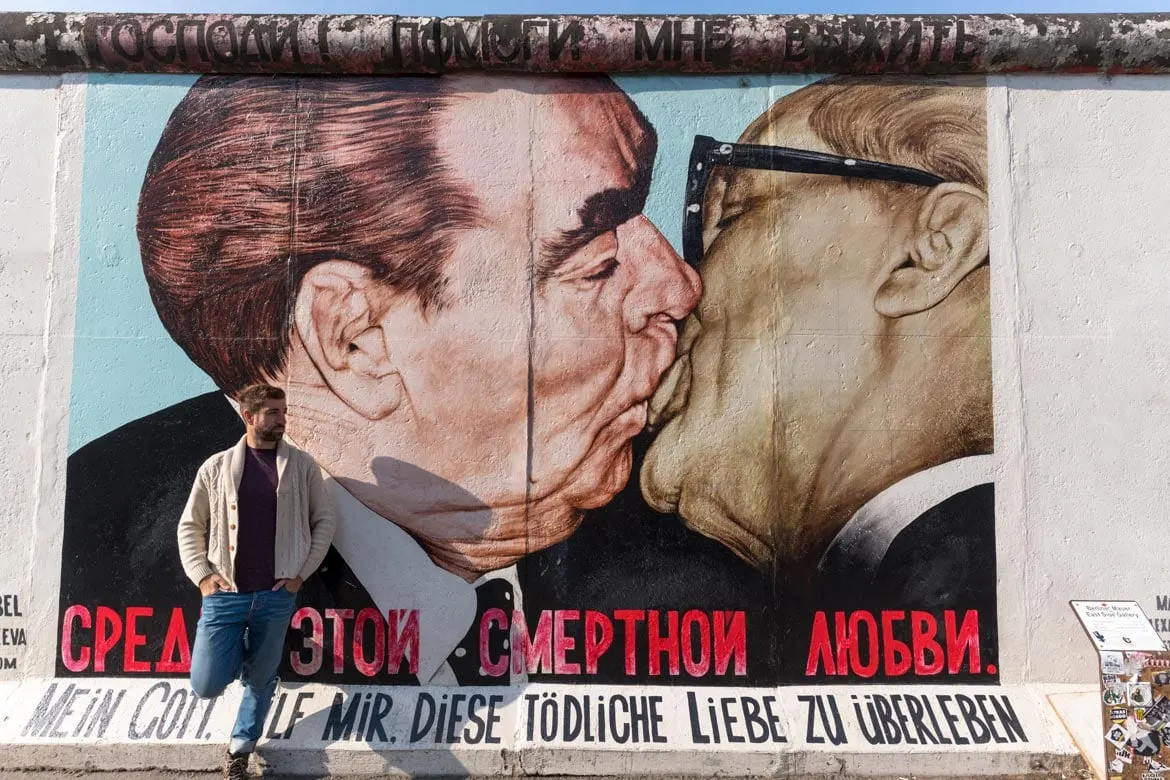 Let's start in one of the most colourful parts of Berlin – the East Side Gallery.
At 1.3 kilometres long, it's easy to lose yourself in the colour and symbolism of this gallery.
The East Side Gallery is an open-air gallery (one of the largest in the world) consisting of murals painted on the remnants of the Berlin Wall.
Immediately after the wall came down in 1989, 118 artists from 21 countries began painting the East Side Gallery. It officially opened as an open-air gallery on 28 September 1990, and just over a year later it was given protected memorial status.
That means this little slice of history is like a time machine. It hasn't changed since the day it was created and it really highlights what Berlin has been though.
Today, it is like a beacon of the city symbolising old wounds heal and lead to a brighter future.
As you can imagine, this is one of the most popular tourist attractions in the city. However, if you get here early (around 8am) or at night, you can have the place to yourself.
Berlin Boat Tour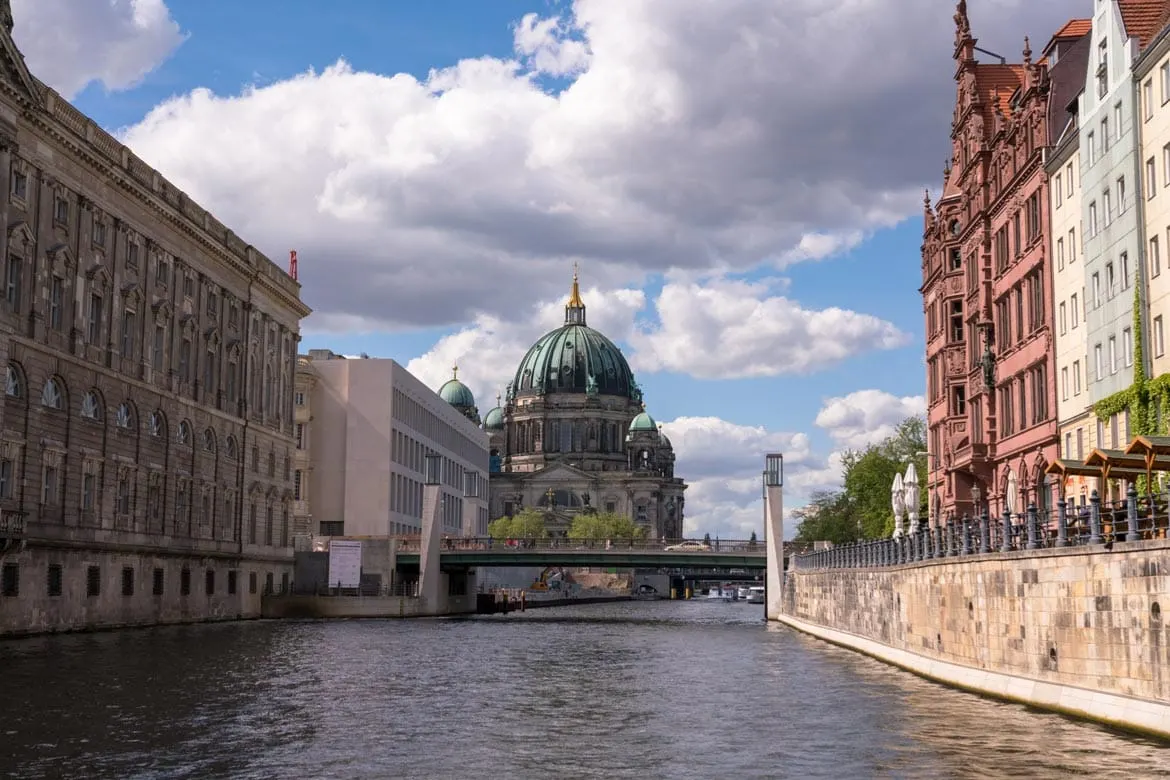 If you really want to see a lot of Berlin in a short space of time then I really recommend a Berlin Boat Tour.
There are a number of these dotted all over the city but I went on a 1-hour tour from Reederei Riedel Anlegestelle. This was down by the water outside Berlin Hauptbhanhof (the main station).
On this tour I saw the Reichstag, Berlin Cathedral, Museum Island, Nicholas's Quarter and a number of other incredible buildings too. For me, one of the best things about Berlin is the architecture – I just love how the old and new buildings perfectly complement each other.
I really enjoyed the tour as not only did it take you past some of Berlin's most famous landmarks, it also gave you the background information and history of each place too. Perfect for a geek like me!
Most tours are in German and English, so make sure you check that they have audio guides if you want a different language.
Tickets cost €15 per person for a 1-hour tour.
Museum Island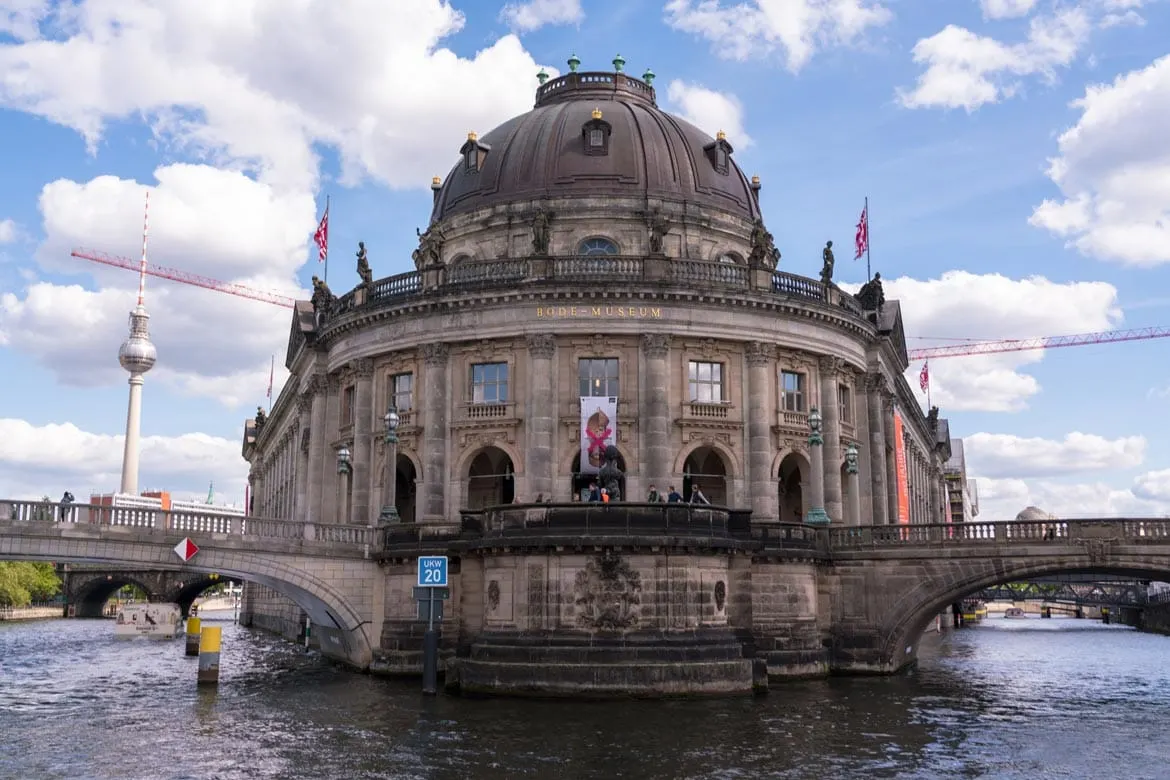 A little further along the River Spree is Museum Island.
As the name would suggest, this is an island with 5 of the best museums on – the Pergamon Museum (the most popular museum in Berlin), the Bode Museum, the Neues Museum, the Alte Nationalgalerie and the Altes Museum.
The first museum on the island was the Altes Museum (Old Museum). Opened in 1830, it was designed to give the general public access to collections of art and historically important objects and artefacts.
Ever since then, people have been flocking to Museum Island to see some incredible exhibits and exhibitions from all around the word.
The island was originally designed as a Roman Forum which is why walking around here feels like you're in Rome (apart from the Germany flags fluttering everywhere).
It's difficult seeing all of these museums in Berlin in 2 days, so I'd recommending picking one like the Bode Museum and focusing on that.
Tickets cost €18 and gives you access to all 5 museums on the island.
Fork & Walk Food Tours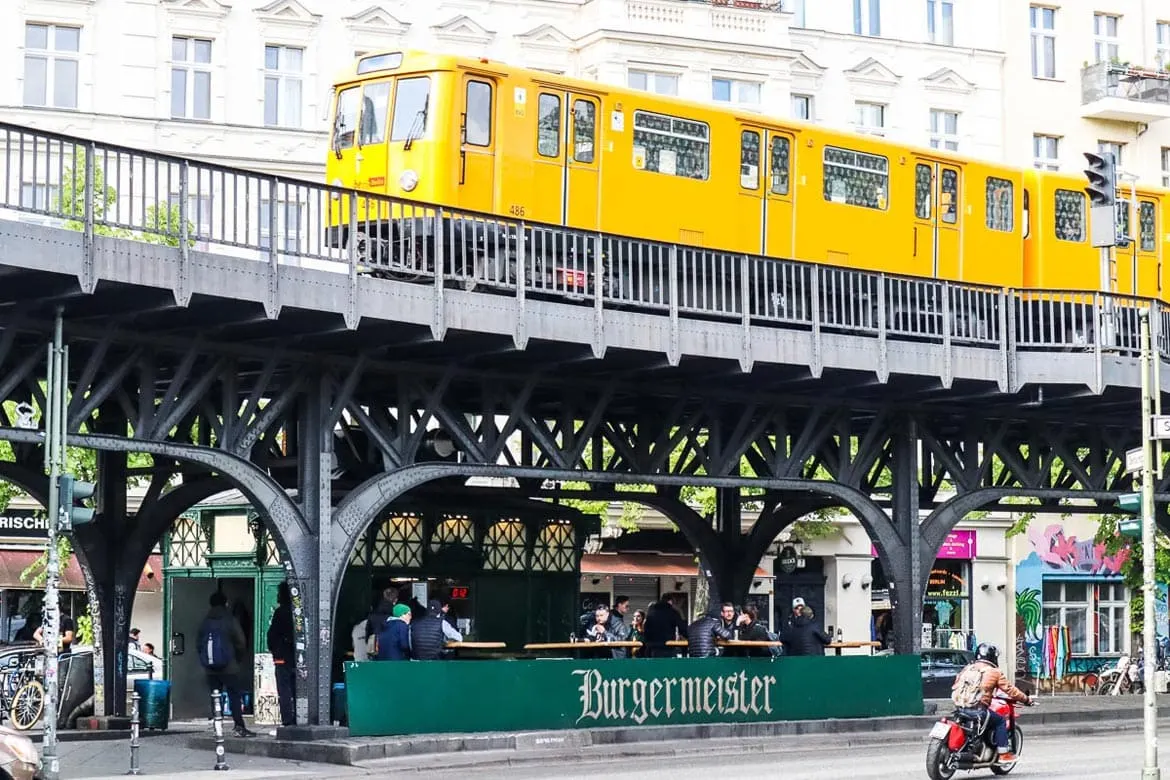 I say this every time I write about food tours, but they really are the best way to really get to know a city.
While I was in Berlin I went on a Fork & Walk food tour with Dov, one of those guys who just exudes enthusiasm for his city.
We met Dov in Kreuzberg, a very hipsterfied neighbourhood in Berlin, and then ate our way around the area learning about the culture and the city along the way.
Our food tour basically started off with some street beers (just the best way to start any tour) and Dov explained how much Kreuzberg has changed over years.
From there we went to Goldies, an amazing place that sells fusion fries (we had the South Korean kimchi fries and the Ukrainian beetroot and horseradish fries). Then we had a downright delicious kebab in Little Istanbul before finishing off with a classic city staple – currywurst.
If you really want to get to know Kreuzberg and Berlin then I really can't recommend a Fork & Walk food tour enough. The food is spot on too.
An evening Fork & Walk food tour costs around €60 per person and obviously includes all meal costs.
House of Small Wonder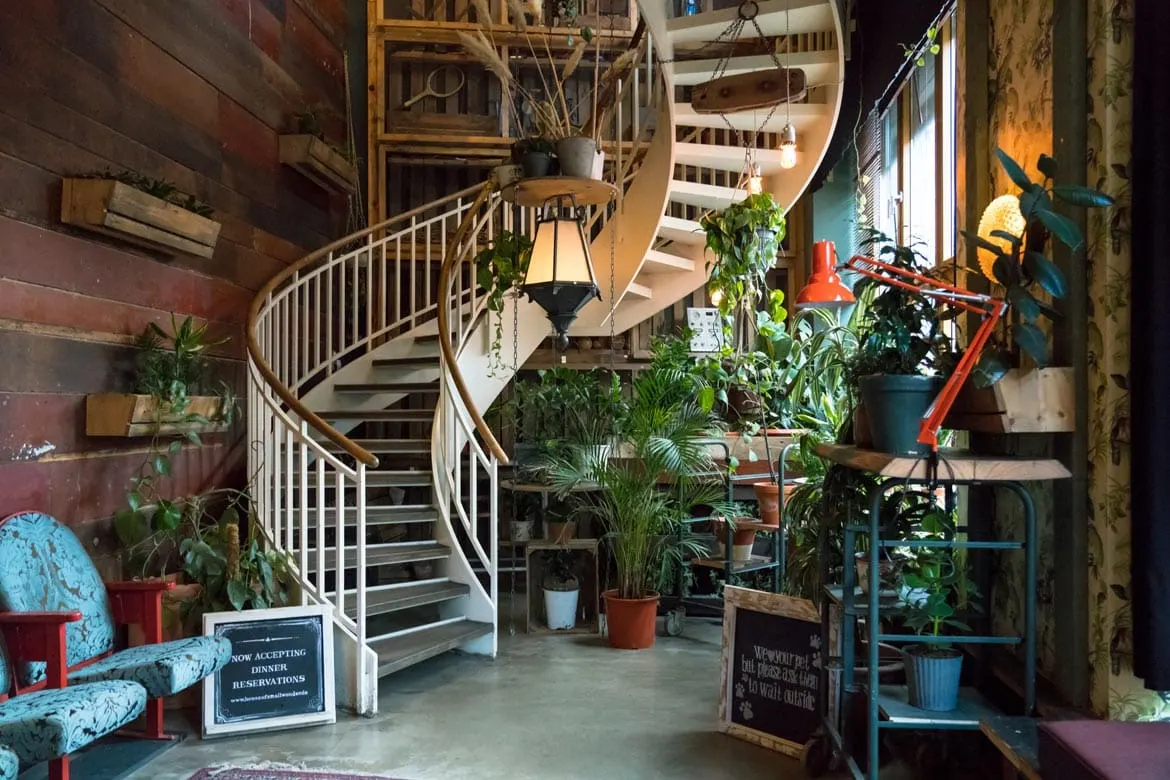 If you're looking for one of the best lunch spots in town then look no further than the House of Small Wanders.
This is an amazing restaurant that's a fusion of classical French dishes with Japanese influences and flavours. The result? Utterly delicious.
I had soy glazed pork with an Asian salad in a French croissant and it was one of the best things I ate in Berlin.
Another thing I loved about this place was the atmosphere. There's lots of wood and plants that gives such a relaxed atmosphere. Made me feel I was in my mum's conservatory for tea.
The menu is all packed full of veggie and vegan favourites too, so it's definitely one for everyone. I'd say the House of Small Wanders if a must on any Berlin itinerary so make sure you pop in here.
Templehof Field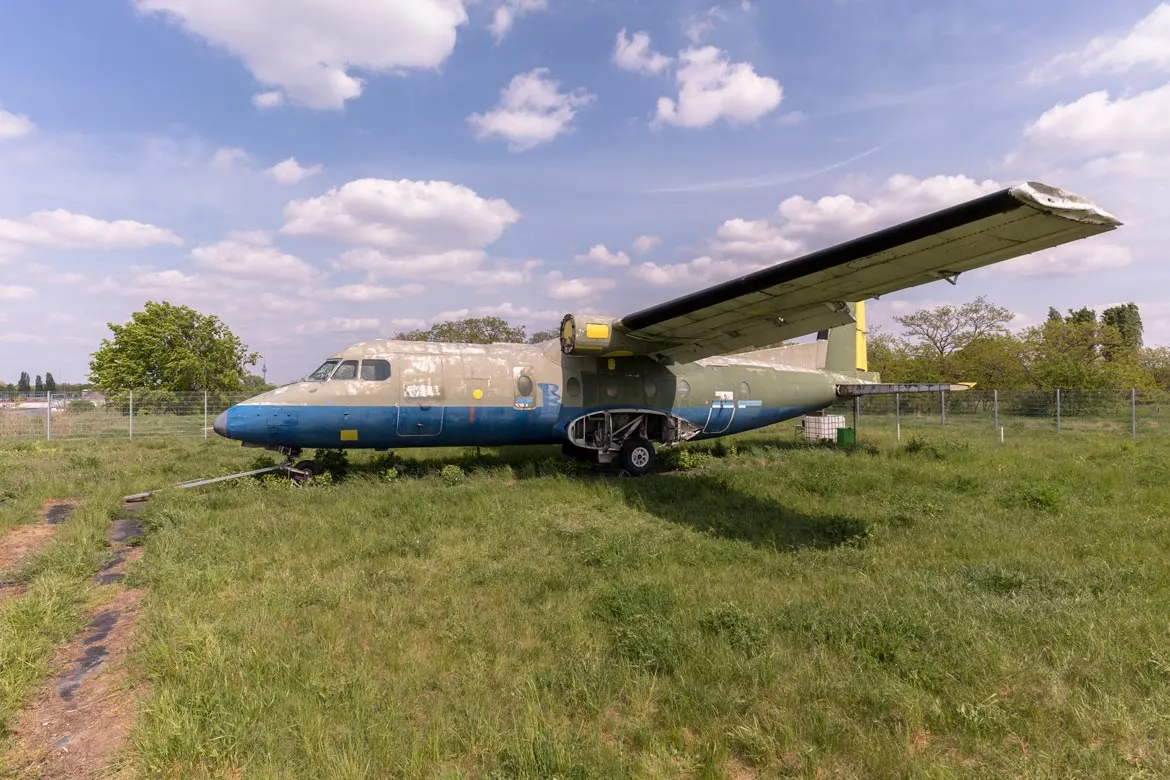 I'd really recommend visiting Templehof Field as one of the top alternative things to do in Berlin.
Basically, it's an old disused city airport that they've turned into a giant recreational ground. You can even hire a bike and cycle down the runway (which is exactly what I did). And yes, it's a lot of fun.
Templehof Airport first opened in 1923 making it one of the oldest airports in Germany. However, in 2008 things came to an end due to increased pollution and noise in the city.
However, when one door closes another one opens, and in 2010 Templehof Field was unveiled as the newest recreational ground in Berlin with lots of space for skating, cycling and running. And if that's not your thing, then there's even a community garden which is a cool place to kick back and relax.
When the sun's out in summer Templehof Field is one of the best places to be in Berlin. Just grab a few beers, head down and enjoy the park vibes right in the heart of the city.
If you'd like to learn more about the history of Templehof, then you can take a tour around the buildings and airport – perfect for those aviation lovers out there!
Berlin Fernsehturm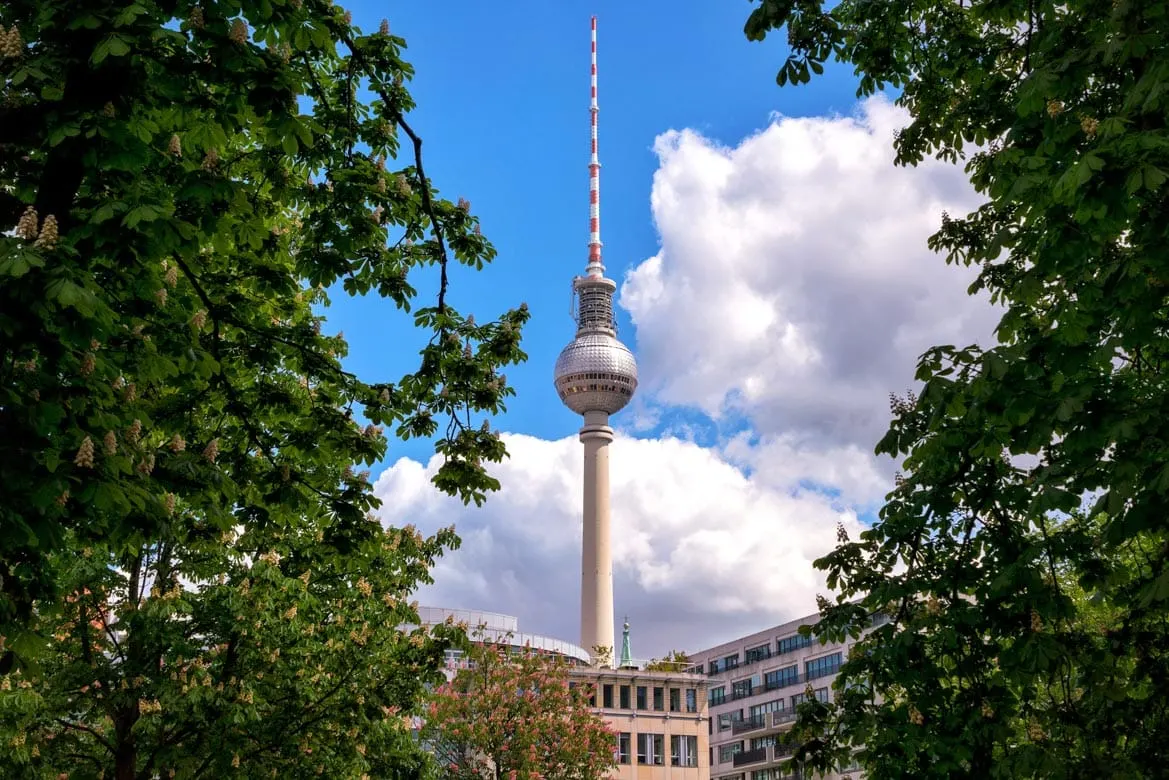 If you've only got two days in Berlin then you've got to visit the Berlin Fernsehturm.
This is not only the highest building in Berlin, it is the highest building in all of Germany. That means if you want some of the best views of the city then this is where you'll find them.
Soaring 368 metres into the sky, the Berlin Fernsehturm is one of those landmarks that you can see from all of your city. And no matter where I was, my eyes always seemed to be drawn to this structure.
Up at the top of the TV Tower is a viewing platform with spectacular 360-degree panoramic views. It's from here that you realise just how flat Berlin is as a city. Also, you can clearly see iconic landmarks such as the Reichstag and Brandenburg Gate.
There's also a bar at the top so if you've got time I recommend grabbing a glass of bubbly and drinking in the views.
Tickets to the Berlin Fernsehturm cost €21.50 per person. You get a discount with the Berlin Welcome Card.
Brandenburg Gate & the Reichstag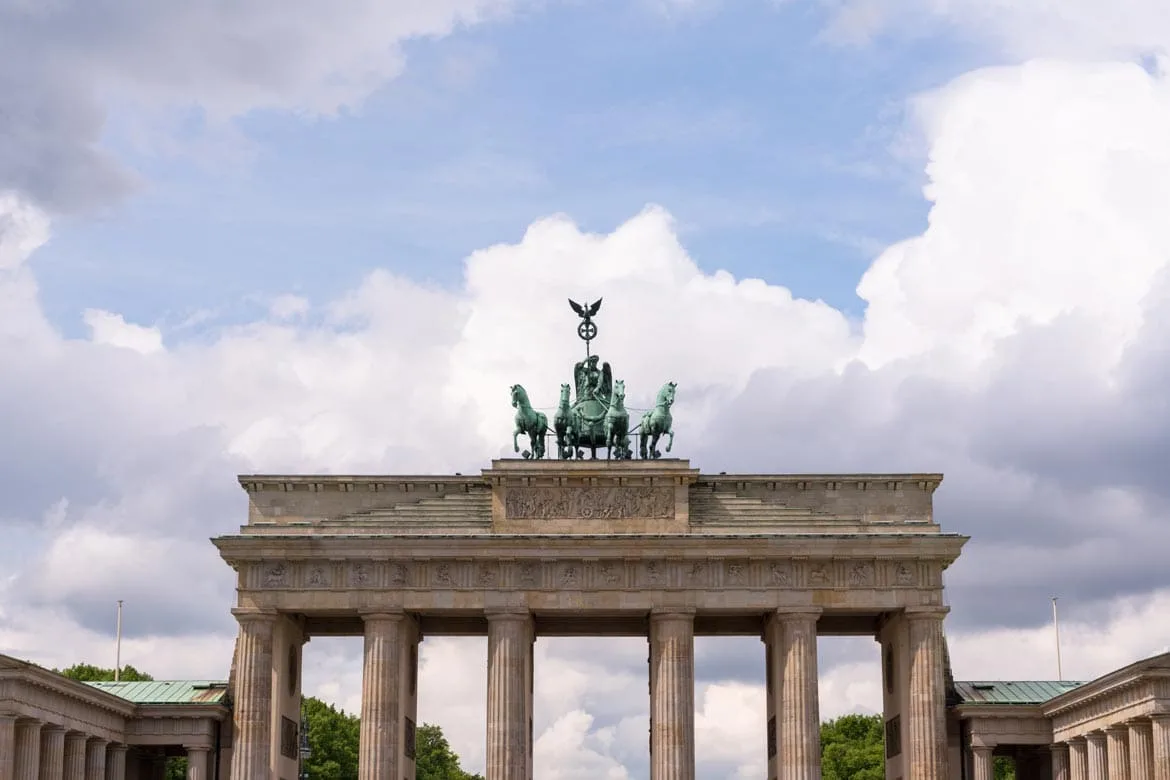 When it comes to what to see in Berlin in 2 days, no trip would be complete without seeing two of the city's most iconic landmarks – Brandenburg Gate & the Reichstag.
Even though I had never been to Berlin before, Brandenburg Gate was a landmark that I immediately knew about and associated with the city.
Well I can tell you it's even more impressive in person.
Even though I loved the Brandenburg Gate for its symbolism, I think the Reichstag is much more striking. This building is massive with a beautiful glass dome right in the middle of it.
Unfortunately I couldn't get into the Reichstag as you needed to be on a tour, but the images of the inside are draw-dropping. This is definitely one of the best photo spots in the city, so if you can get a tour to the Reichstag I really recommend you do.
Both the Brandenburg Gate and the Reichstag (the seat of government in Germany) are two places you just have to add to your Berlin itinerary.
Where to stay in Berlin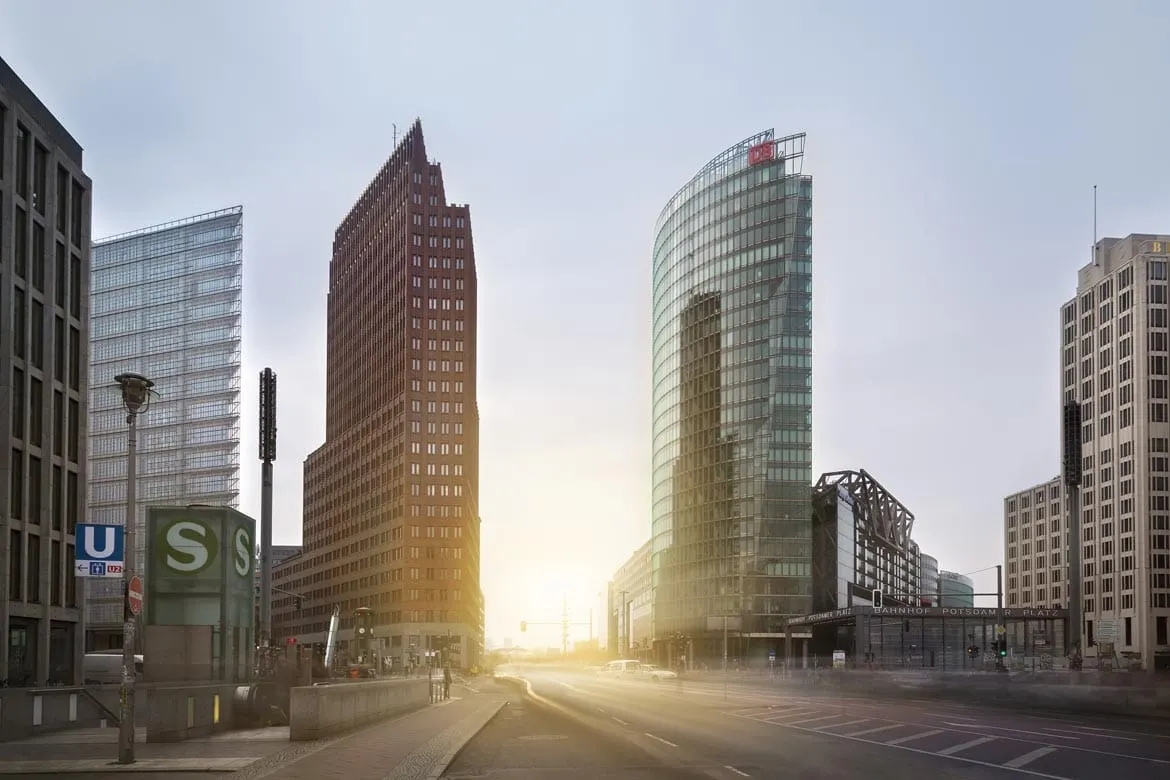 Here are a few places I'd recommend where to stay in Berlin. For these I've gone for one budget (less than £50 per night), one mid-range (£100-200 per night) and one luxury hotel (£200+ per night).
Generator Berlin Mitte – I know what you're thinking, that this is a hostel. It's so much more than that though. This is a luxury hostel right in the heart of Berlin and it's an amazing place to stay at. It's trendy, it's fun, it's cool. Oh, and it's cheap too. It's very near the station so getting around the city is very easy and there's a vibrant hostel bar too.
Hotel Indigo Berlin: East Side Gallery – This is the hotel I stayed at while in Berlin and I loved it. Hotel Indigo is next door to the East Side Gallery (I could actually see it fro my room) and Kreuzberg is just a short walk around the corner. Delicious breakfast and free mini-bar were the icing on the cake for me but I'd really recommend this place. A room costs around £99 per night which I think is great value for money. If you've only got 48 hours in Berlin then this is a great place to base yourself.
Hotel Adlon Kempinski Berlin – The quintessence of luxury lodging, the Adlon is a legendary 5-star hotel situated in Berlin's Mitte, beside the Brandenburg Gate. Basically, you're right in the heart of the city with everything going on around you. Also, the hotel restaurant Lorenz Adlon Esszimmer is a 2 Michelin-starred restaurant – what more could you want! Prices start around £240 per night depending on when you want to stay here.
I've also written about the best hotels in Berlin. Click on the link and it'll take you to the trendiest and coolest places to stay at in the city – hopefully you'll love them!
Tours in Berlin
Berlin packing list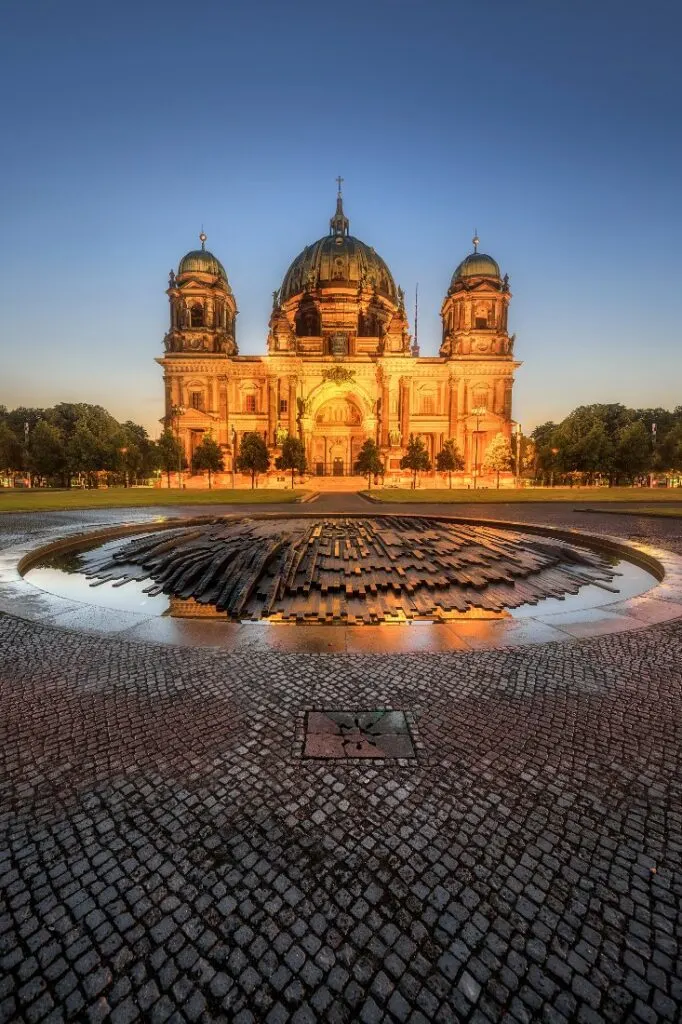 As you can imagine, I travel a lot. It comes with the territory of being a travel blogger! That being said, there are some things that I now can't travel without. If you're planning your Berlin 2 day itinerary, I'd really recommend taking these items with you: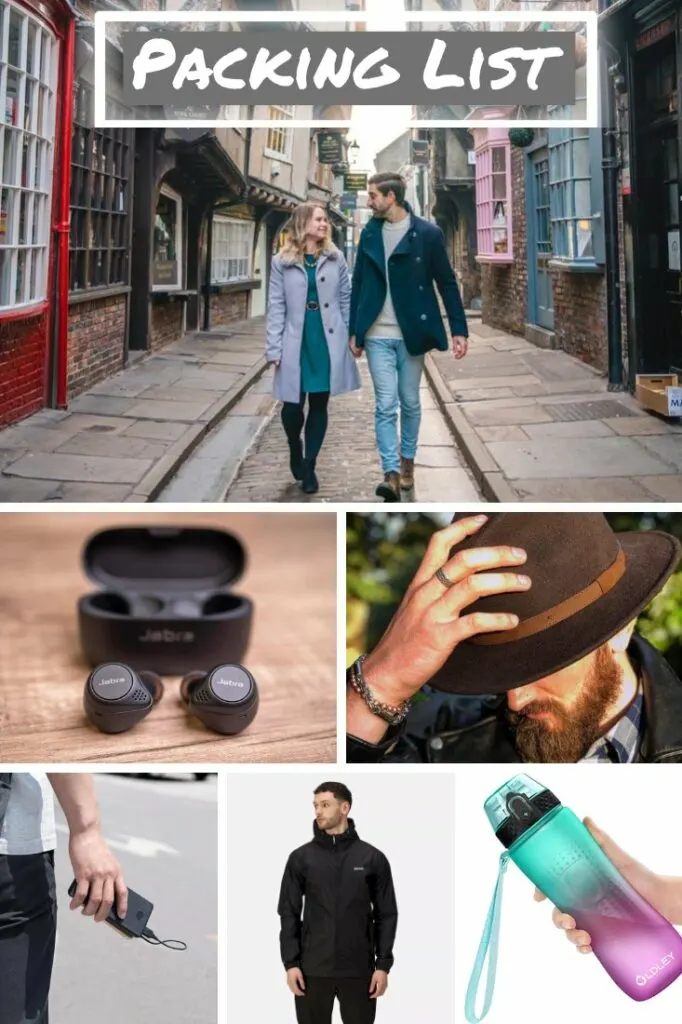 ---
My trip to Germany was in association with Visit Germany and Visit Berlin for their #GermanSummerStories campaign highlighting some of the best cities to visit in Germany in the summer. As always, views are entirely my own and without bias.
Are you planning on spending 2 days in Berlin? If so, what are you looking forward to doing? Let me know in the comments below!
Like this blog post? Then make sure you Pin it!