From the best trails to where you should stay, this is everything you need to know about the Bastei Bridge hike in Saxon Switzerland, Germany!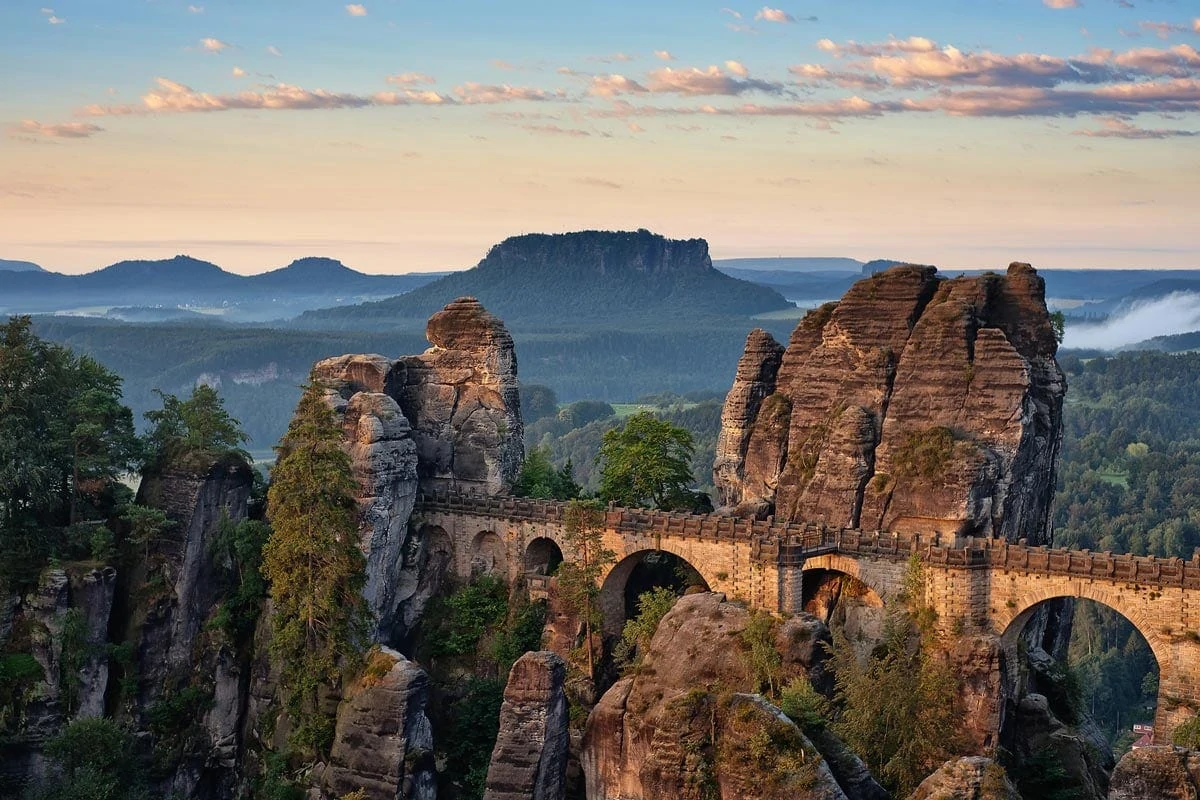 I'll forgive you if you haven't heard of the Bastei Bridge before; I hadn't either until I came to Saxon Switzerland recently.
However, if you're looking for one of the best things to do in Germany, they don't come more magical than the Bastei Bridge hike.
There's something so special about this place. It's almost as if the Bastei Bridge is from a forgotten fairy-tale. Think Hansel and Gretel but without the scary bits.
The landscape here is unlike anywhere else I've been to. At first this places looks like any other unremarkable forest in Germany, all green trees and hiking trails. Then you see these giant Bastei rocks dotted all over, completely out of place in the forest as if they were placed here on purpose. And then there's the bridge.
It's really hard to convey how magical this place is. Watch my video about the Bastei Bridge hike and hopefully you'll see what I mean!
The jewel of Saxon Switzerland National Park in Germany
I know, I know. All of these names are pretty confusing. So, the Bastei Bridge is a bridge located in an area called Bastei.
Bastei is in a larger area called Saxon Switzerland (also known as Saxony) which is considered one of the best hiking regions in Germany. Understand? Phew.
I won't mention that the name in Germany is Elbsandsteingebirge Bastei…
Anyway, I really loved hiking in Bastei. I genuinely think it's one my favorite places in Germany. As I've mentioned, the landscape is unlike anywhere else in the country.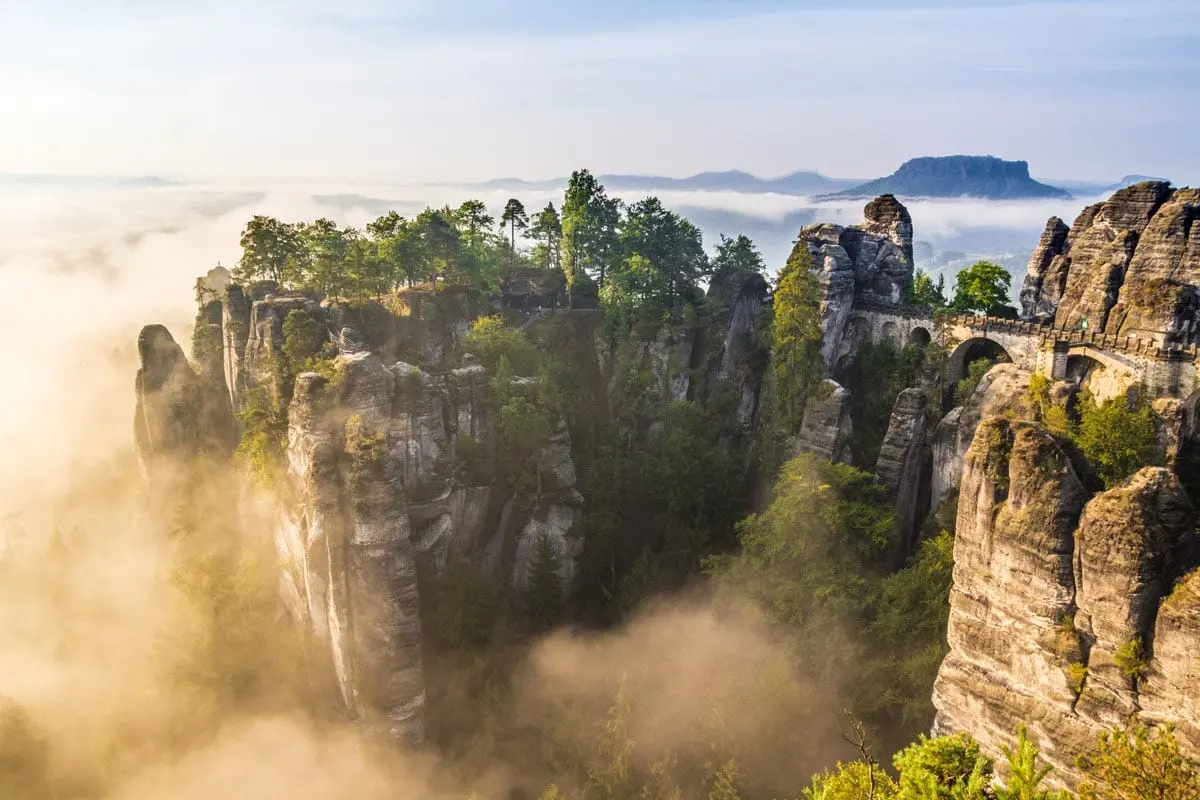 I arrived at the Bastei Bridge just as the sun was setting over the mountains in the distance.
After driving a couple of hours from Dresden, I was desperate to see the bridge lit up at golden hour. I had the perfect conditions to take some photos and I didn't want to miss out on them.
As I walked towards the Bastei Bridge, I could sense it before I saw it. I knew the bridge was hidden away in the forests and the rocks of Saxon Switzerland but I didn't realise how well concealed it was.
Then, all of a sudden, I was walking on the bridge itself, the dreams becoming a reality.
To one side there was a huge Bastei rock looming above, while on the other side I could see the true beauty of Saxony, the deep-green forest interspersed with towering grey boulders everywhere. These boulders (known as the Bastei rocks) seem so out of place in this landscape, yet seemingly like they belong here too.
This is what hiking the Bastei Bridge is really like, and it's a hike you'll never forget.
If you're looking at hiking in Saxon Switzerland then I'd really recommend this tour which includes guides and transfers. This is one of the best ways of seeing the area with your own hiking guide.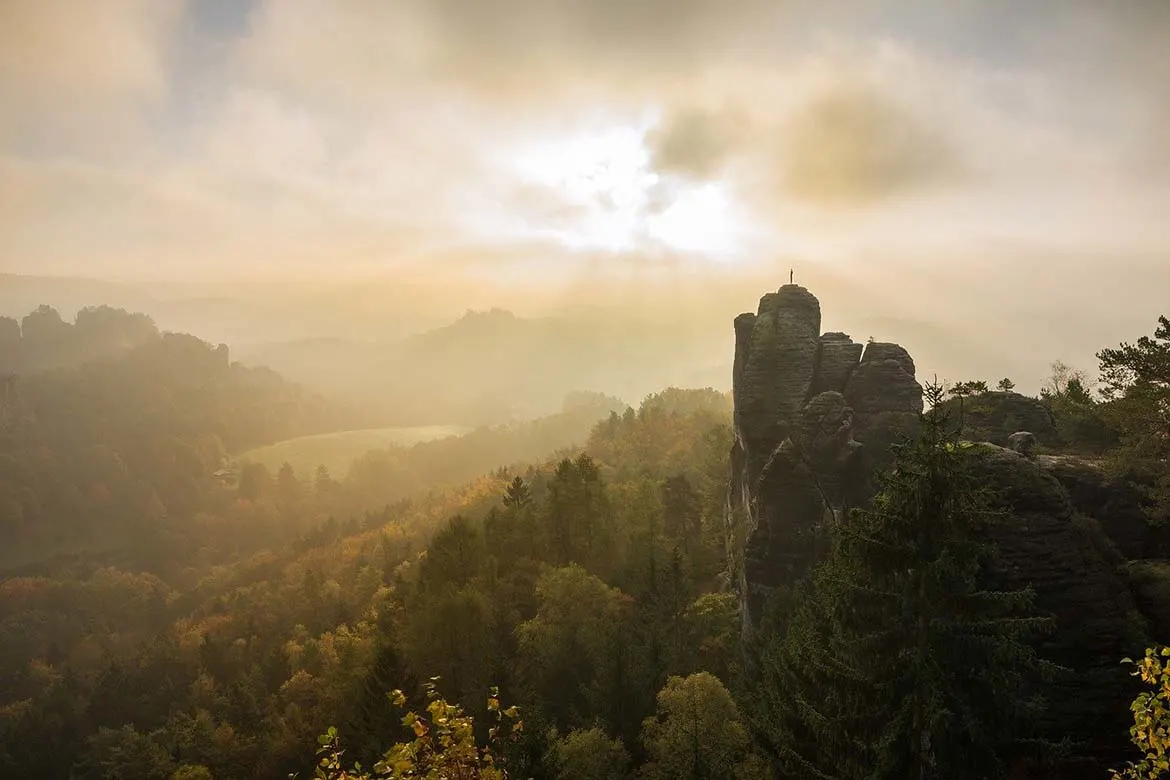 What is the Bastei and the Bastei Bridge?
The Bastei is a region in Saxon Switzerland National Park and it is famous for these giant groups of elbe sandstone rocks with the trees growing all around them.
I'm sure you can imagine what the hiking would be like in Saxon Switzerland among the boulders and rocks. However, the biggest tourist attraction here is the Bastei Bridge.
As you can see from my photos, the Bastei Bridge is a beautiful bridge built right in the heart of the national park. There are a couple of huge rocks right next to the bridge.
The name 'Bastei' comes from the word bastion, so it comes as no surprise that there's the hollow ruin of Neurathen Castle at the Bastei Bridge, a castle that dates back to 1592.
Originally built as a wooden bridge as a tourist attraction in 1824, the Bastei Bridge was replaced with the stone structure we see today in 1851. And ever since people have been flocking to do the Bastei Bridge hike.
How crazy it that? They rebuilt the bridge for tourism and people have been walking the same steps for 150 years! I love facts like that – it really brings the area to life.
One of the first walking guides who took visitors to the Bastei was Carl Heinrich Nicolai, who wrote in 1801: "What depth of feeling it pours into the soul! You can stand here for a long time without being finished with it – it is so difficult to tear yourself away from this spot."
200 years later and that's exactly how I felt too.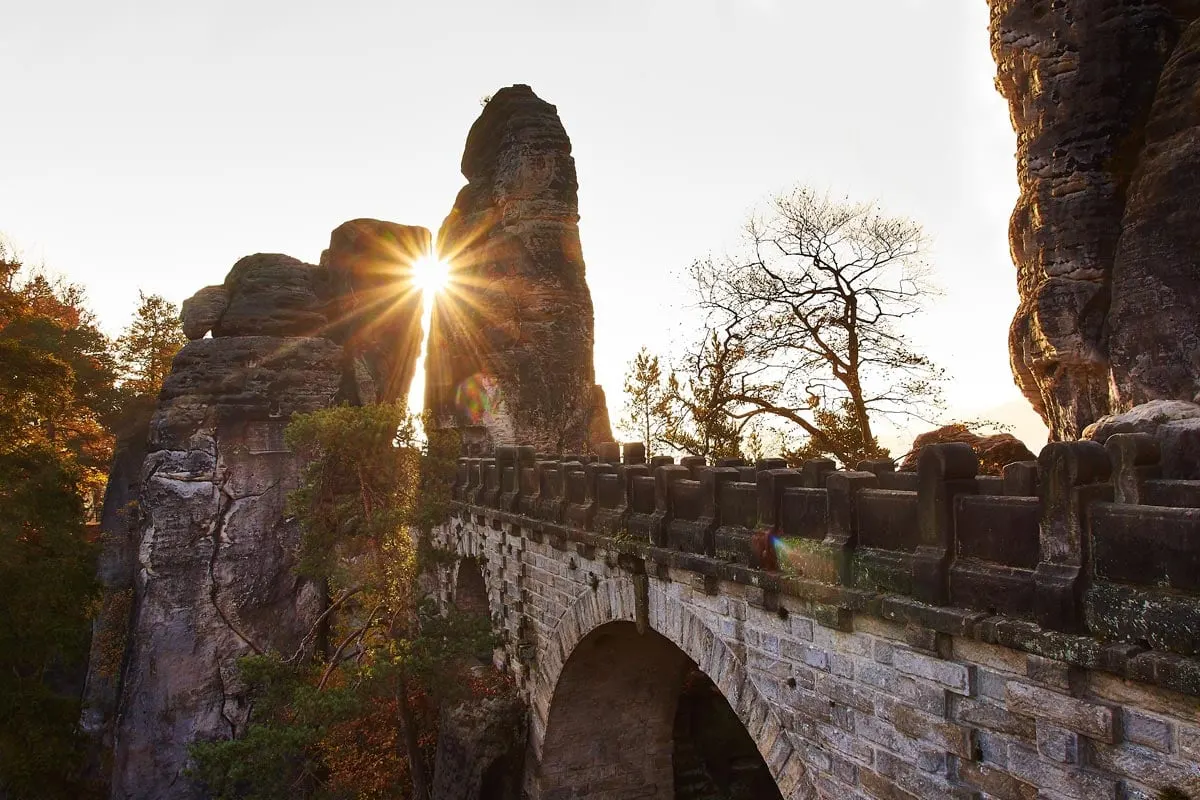 Travelling from Dresden to Bastei Bridge
The Bastei is in Saxony National Park, 40km east of Dresden and towards the Czech border.
Even though there are day trips from Berlin, the best way of exploring this area is to get to Dresden and travel from there. I spent a couple of days in Dresden before coming here. Check out this blog post if you're looking for what to do in Dresden.
It is only an hour's drive from Dresden, though the landscape is so beautiful you might want to drive slowly to take it all in. I hired a car in Dresden and it was a really easy drive.
One stop along the way from Dresden to Bastei Bridge that I'd really recommend is Königstein Fortress.
This is a hilltop fortress built over 400 years ago, but it is the views that will really wow you. They are without a doubt some of the best you'll find in Germany and it's so easy walking around the perimeter of the fortress a few times.
With the green rolling hills and numerous hiking trails in the area, the Bastei really is a must for outdoor enthusiasts looking for a very different hike.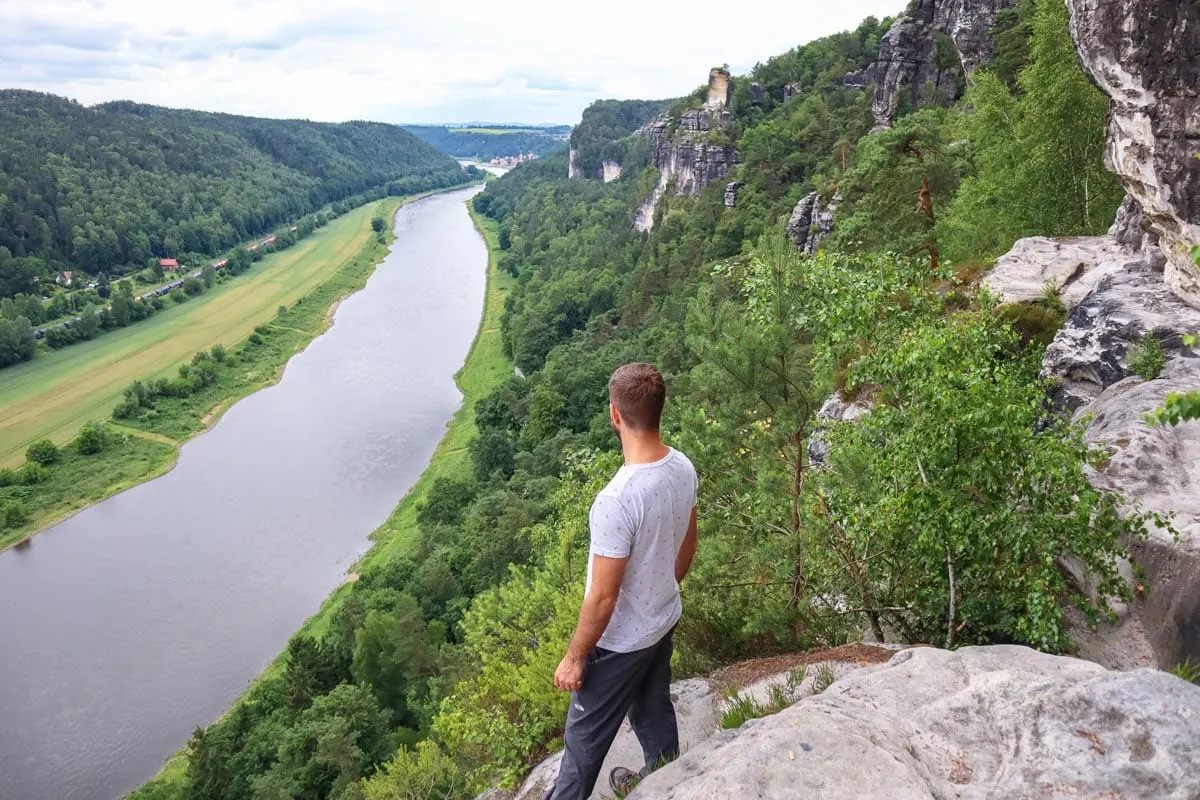 Hiking in Bastei and the surrounding area
As I said, the Bastei Bridge hike really is one of the best hikes you can do in all of Germany.
Once you get to the Bastei and the bridge, there are a number of hiking trails looping through and around the forests.
Most of the trails take you down to the valley floor and through a little village called Rathen. This is the perfect place for lunch or an ice cream. There are also boat tours of the River Elbe if you're looking at exploring some more of the area.
Another hike in the surrounding area I really enjoyed was to the top of the Kunsthal. This is a relatively short hike, just a few hours, and it takes you through the forests to an amazing lookout point.
Even though there aren't as many of them, you can still see the giant rocks in the forest that this area is famous for.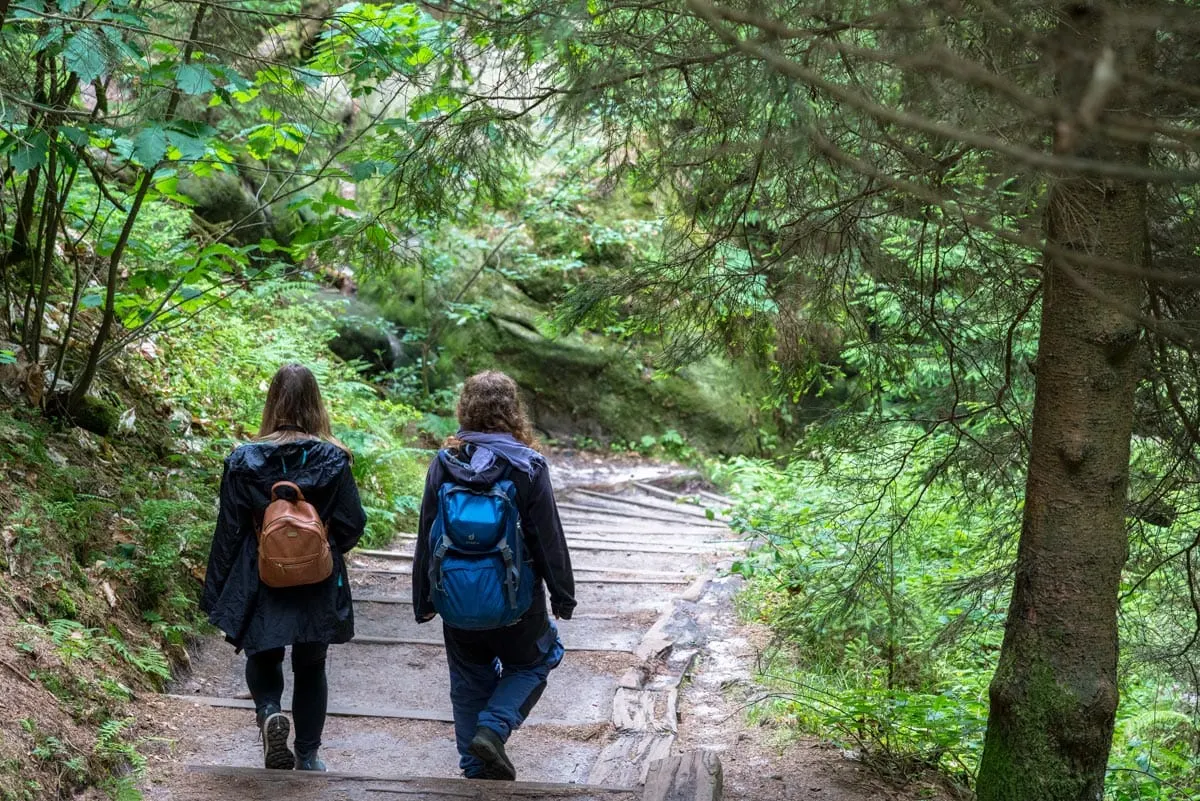 Is the hiking hard?
Good question! It depends on your level of fitness, but walking up from the valley floor is very steep and can be tiring. The majority of people will find it relatively easy though.
If you take your time then you should be fine. Just make sure you pack comfortable hiking shoes and hiking poles if you need them. I saw people of all ages hiking here, so I'm sure you'll be fine.
All of the trails are well marked and there are steps going up. I'll say this, the Germans really love steps.
The hiking all depends on you. We spent about 6 hours hiking down through the valley before we looped back around to the bridge. We took it very slowly though (I had to stop lots because there were loads of photo opportunities!)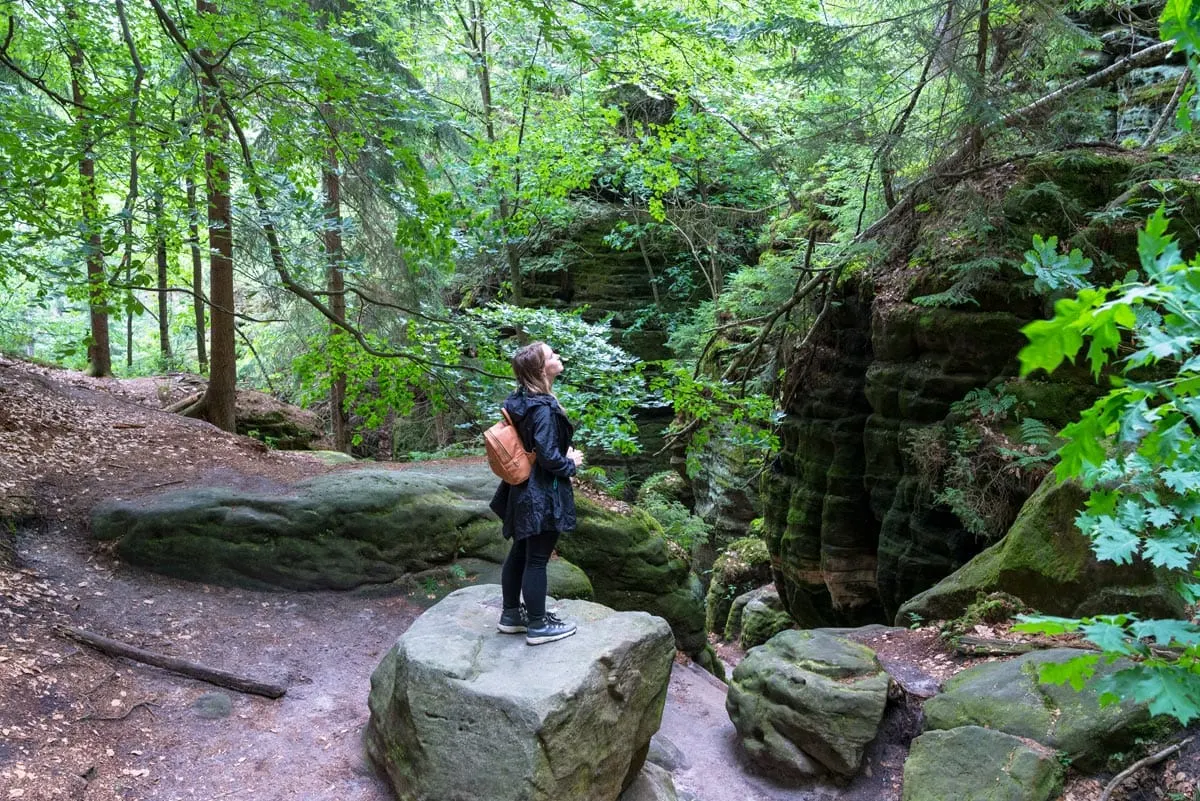 How much does it cost?
Free! The national park is always open and free – all you need to do is pay for parking and a guide if you use one.
You can hike on your own, with a group, or you can go on a tour. For those of you looking for a tour, here are a few I'd recommend: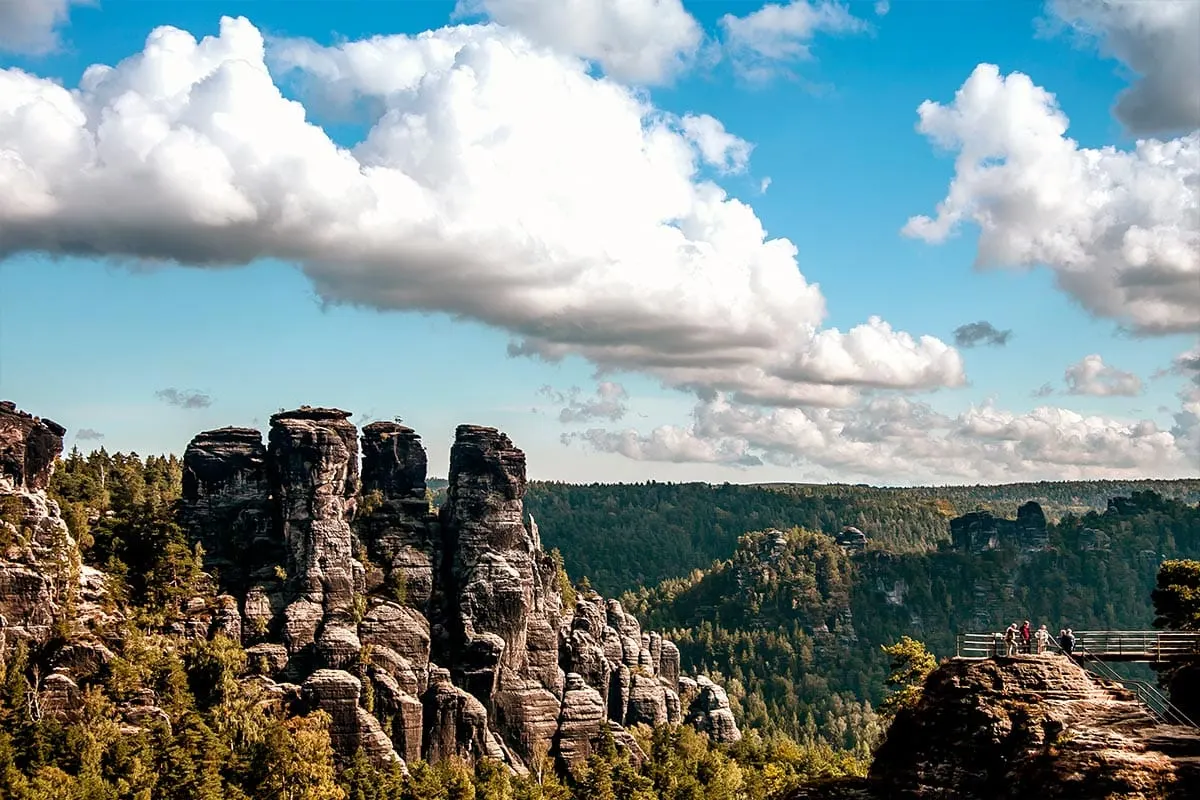 Bastei Bridge hotel and Bastei Bridge parking
For those of you looking at staying as close to the bridge as possible, then look no further than the Berghotel Bastei.
This is about 200 metres from the bridge so in terms of its location it's unbeatable. Also, the views from the restaurant are simply incredible and the food is delicious too.
Rooms at the Berghotel Bastei start at around £110 per night and includes breakfast which is such good value for money. Also, there's a bowling alley there (very random I know) and a sauna too for those looking to unwind after a long day's hike.
For those looking to stay a little further afield, there are a few camp sites and B&Bs in Rathewalde, one of the nearest town to the Bastei Bridge.
However, if you're coming to the Bastei for a day trip, there's on-site Bastei Bridge parking which costs €3 a day. The car park can get fairly full during summer so it's best to get here early so you can get a space.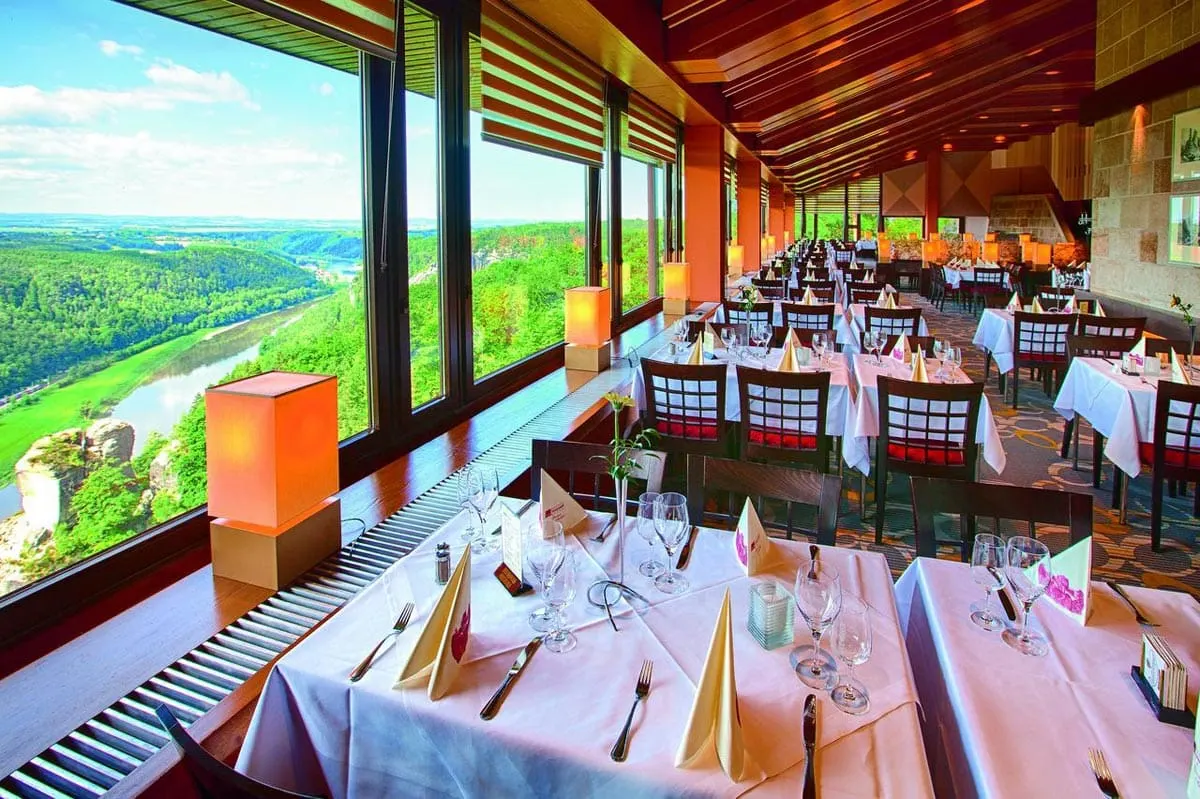 How long should you stay in Bastei?
It all depends on what hikes you do, but I'd recommend a full day in the Bastei and at the Bastei Bridge.
The bridge really is so unique, it'd be such a shame to rush it and not take it all in.
The busiest time at the Bastei Bridge is around midday when there are lots of tourist buses.
However, if you're staying at the Berghotel Bastei, then you can visit the bridge at any time – they never close it. That means if you can visit as sunset like when I did and have the place to yourself. There genuinely wasn't anyone else around; crazy when you're in a place like the Bastei.
So, I'd recommend visiting the bridge either very early in the morning or late in the evening, then you can spend the rest of the day doing some of the other hikes in the area.
If you're stay at the Berghotel Bastei it means you can see the bridge more than once. Also, there are some other excellent walks in Saxon Switzerland you can take advantage of on a longer stay.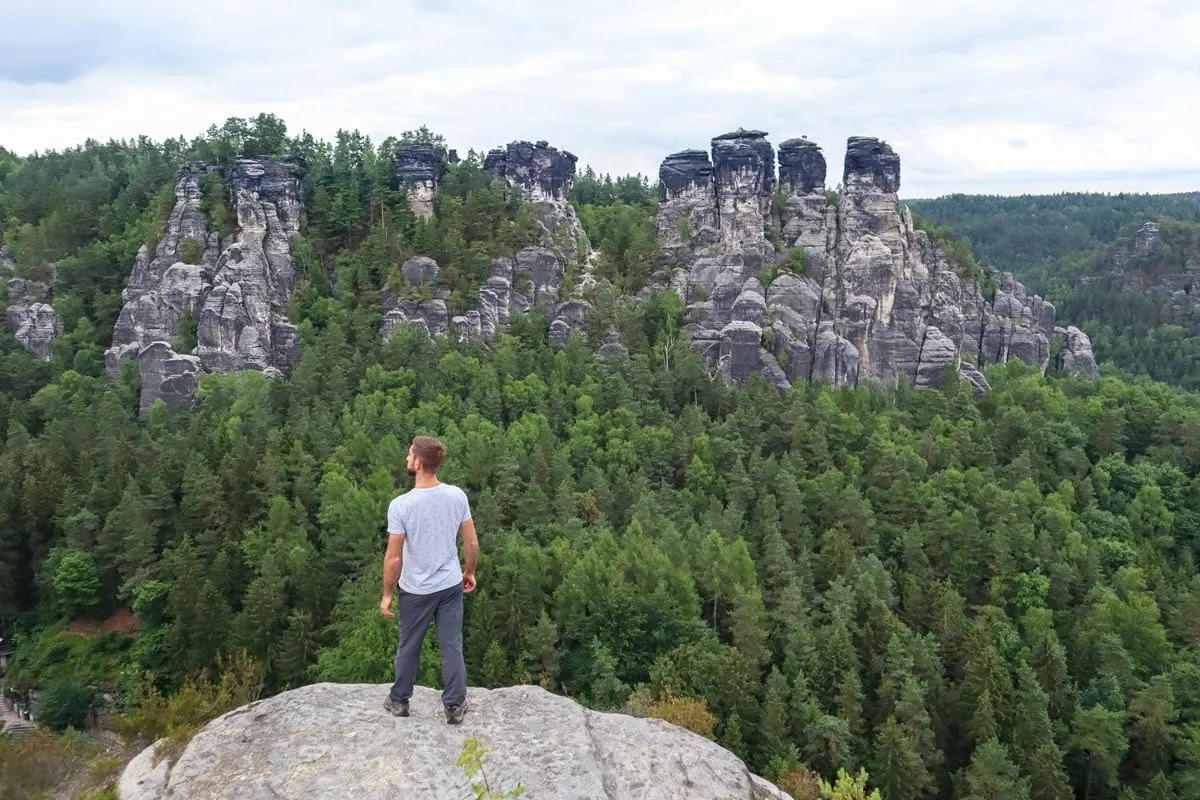 ---
My trip to Germany was in association with Visit Germany and Visit Saxony highlighting why this is such an amazing place to travel to. As always, views are entirely my own and without bias.
Have you ever heard of the Bastei Bridge hike before? Is it something you'd like to do? Let me know in the comments below!
Like this blog post? Then make sure you Pin it!