Whether the Italian lakes or the Bernina Express, the seaside charm of Portofino or the romance of Verona, these are the best day trips from Milan!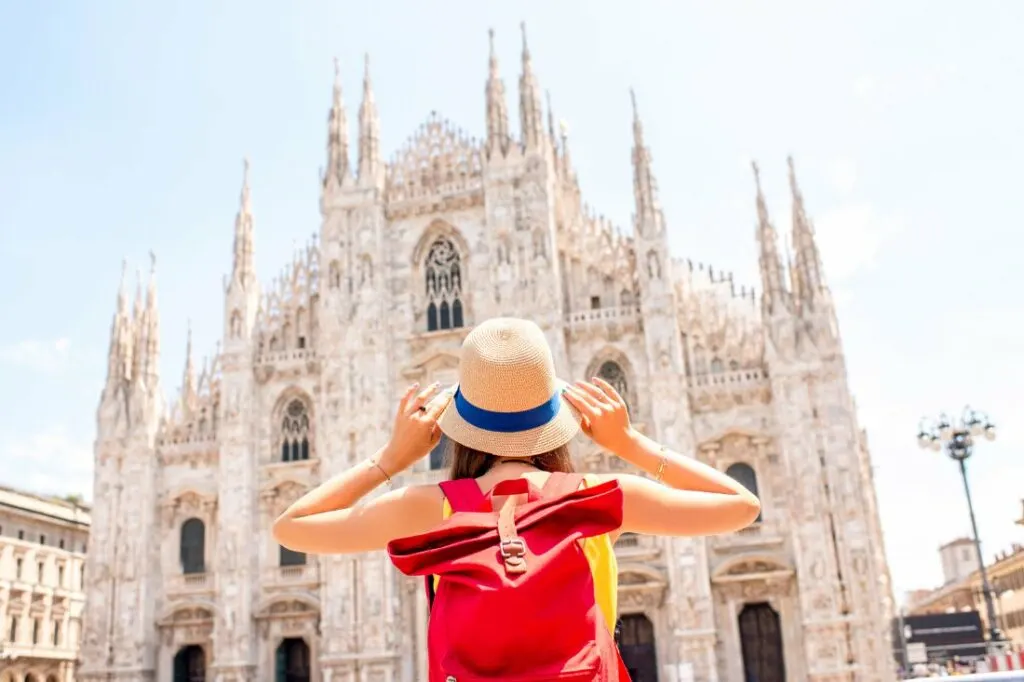 Welcome to Milan, one of the most beautiful cities in all of Italy.
This city is famous for all sorts of reasons. Its impressive architecture – it's home to both the Duomo Cathedral, the 5th largest in the world, as well as the mediaeval Sforza Castle.
There's also the art – Leonardo Da Vinci spent 18 years of his life in Milan and his legacy is recognised throughout the city with museums, statues, and a dedicated art trail.
But to me, a main highlight is the location. There are some seriously cool day trips from Milan just moments away. It's a really good base for exploring more of northern Italy and Switzerland too.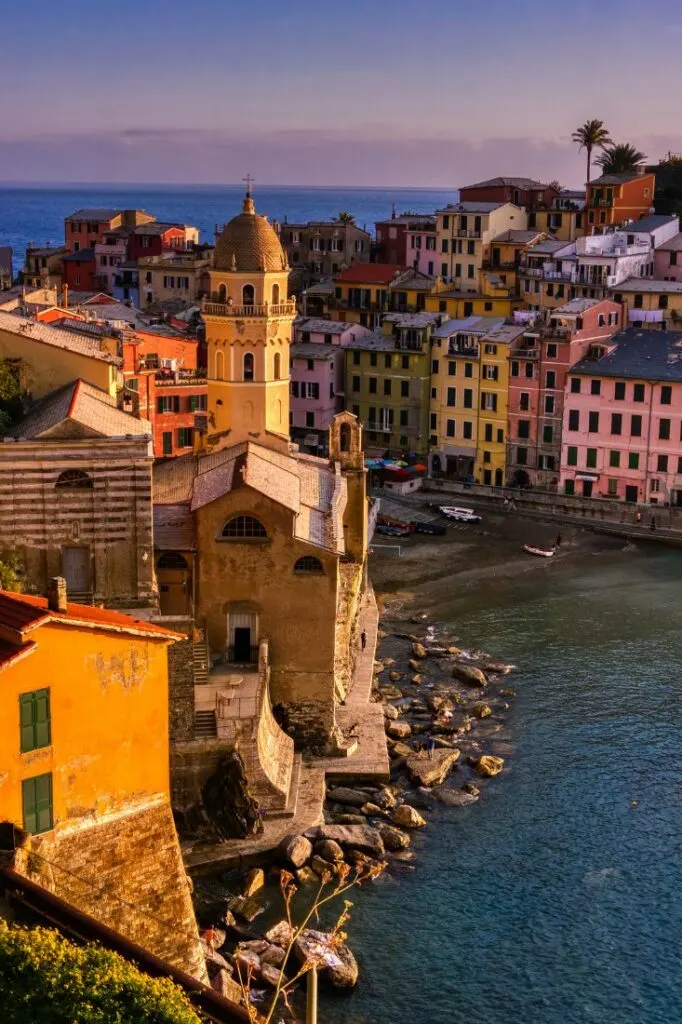 There's the famous Italian lakes – Como, Garda and Maggiore are all easily reachable – to coastal towns like Rapello and Portofino.
Not to mention that you can easily make it to parts of Switzerland (catching picturesque views of the Swiss alps on the train along the way). There are so many Milan day trips it's hard to choose which one to do first!
That's what this blog is for though, to help you decide which one is for you. I've also listed some of my favourite tours too so you don't need to worry about a thing.
Right, that's enough chit chat. Let's get to it!
---
Best Day Trips from Milan, Italy
Lake Garda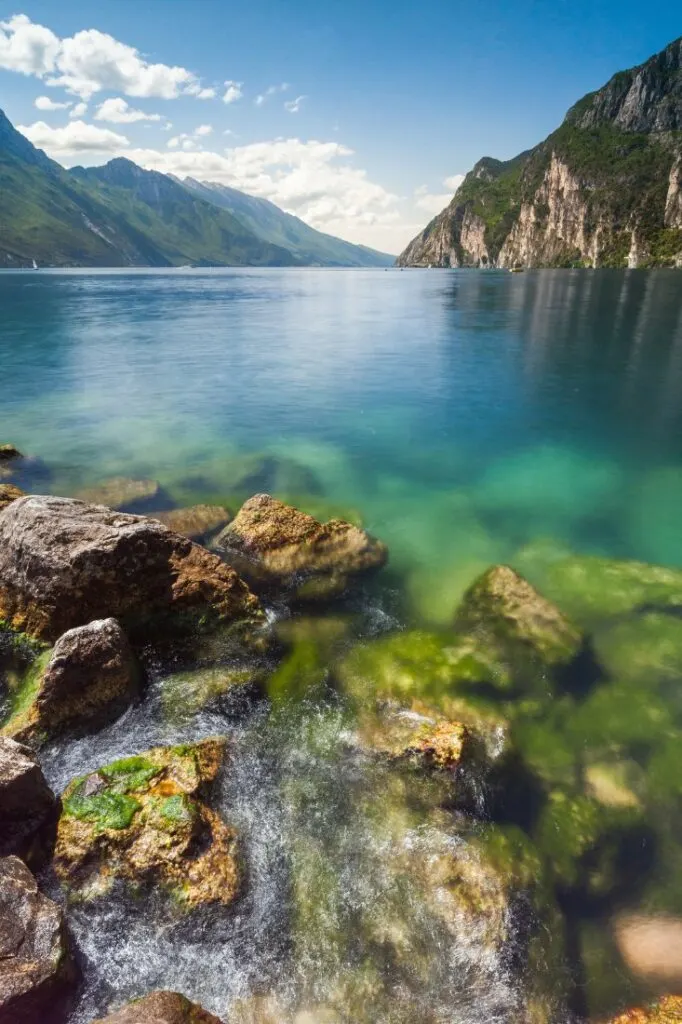 Italy's biggest lake, and one of the most famous in the country, Lake Garda is an awesome place to spend your day.
It's a pretty simple journey: a two hour journey by car, or just under an hour by train (the most convenient station is Peschiera del Garda).
At Lake Garda you can enjoy the views of the pristine lake and the mountains that surround it, though in my humble opinion the best way to experience the lake is via boat tour. If you've got kids, take them to Gardaland, one of Italy's best theme parks.
Otherwise, spend some time strolling around the beautiful nearby town of Sirmione. There's tons to see here, from the Medieval Scaliger Castle and thermal baths to the Roman ruins.
Bernina Express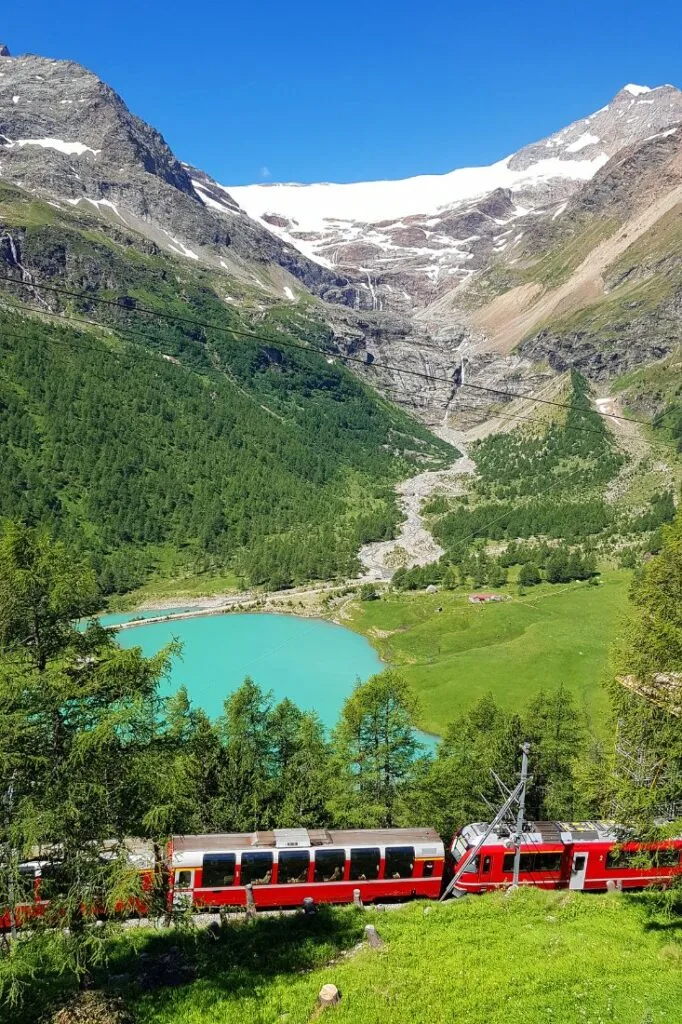 If you want the best views of the mountains, the Bernina Express is the experience for you.
This is one of my favourite day trips from Milan by train, and it's not even entirely in Italy. You'll start out in the Swiss alpine town of St Moritz before boarding one of Europe's most picturesque and panoramic train rides. Finally, you'll finish in the Italian city of Tirano.
One of the simplest ways to do this trip is to take a guided tour. It'll save you lots of hassle; otherwise you'll need to drive 2 hours to Tirano to kick things off. I'd recommend this one as it'll give you free time to explore both locations.
Lugano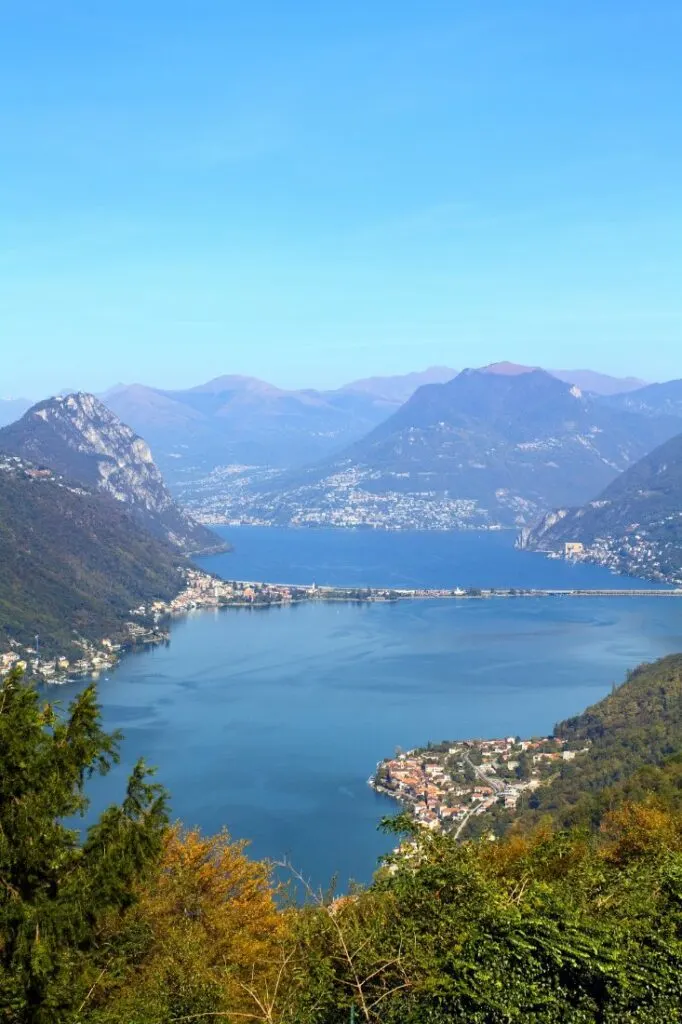 Want to spend a day in another part of Switzerland? Head to Lugano.
This is one of the prettiest Swiss cities. Sitting on the northern shore of Lake Lugano, there's tons to see and do here. First up, there's obviously the lake – a great spot for kayaking, paddleboarding, or boat rides.
There's also Monte San Salvatore, a mountain with incredible views at its peak. Be sure to head to the top for a look at the views, you can either hike or take the funicular.
Otherwise, stroll around Old Town or wander around the Parco Ciani gardens for the best lake views.
Cinque Terre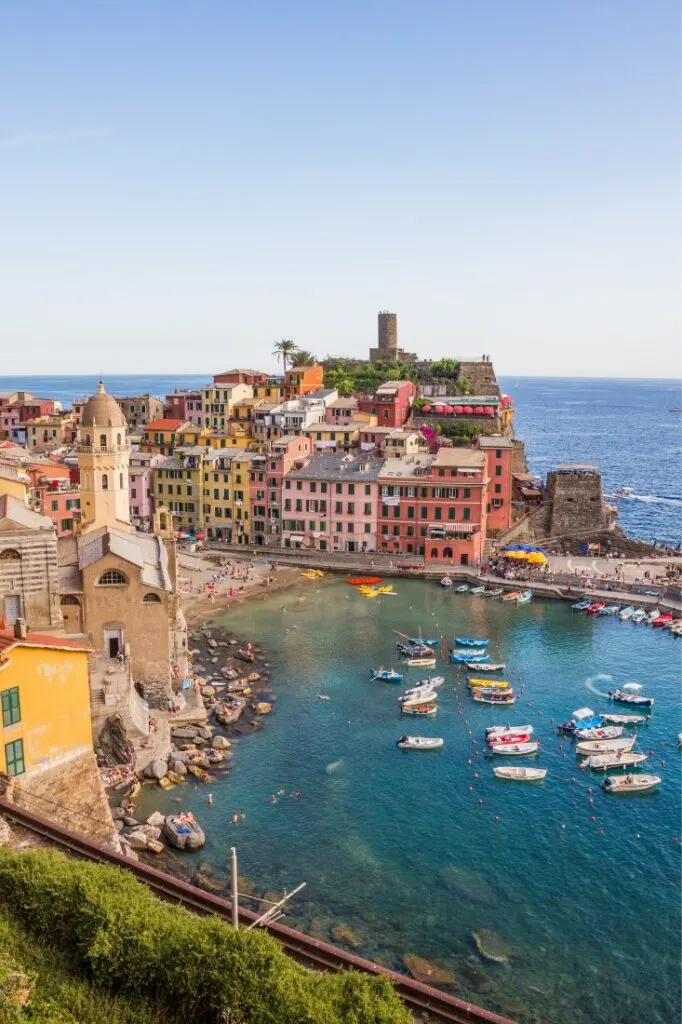 Cinque Terre is one of the most beautiful places in Italy so it's well worth a day trip from Milan.
This is a series of 5 colourful, coastal villages, standing on cliffs overlooking the sea. Cinque Terre is about 3 hours from Milan by car, and there's no direct train, so I'd recommend taking a guided tour.
On this particular trip you'll get a guided tour of Monterosso al Mare, the largest village, as well as a boat trip to La Spezia. That easily makes it one of the best Milan tours in my book.
Lake Como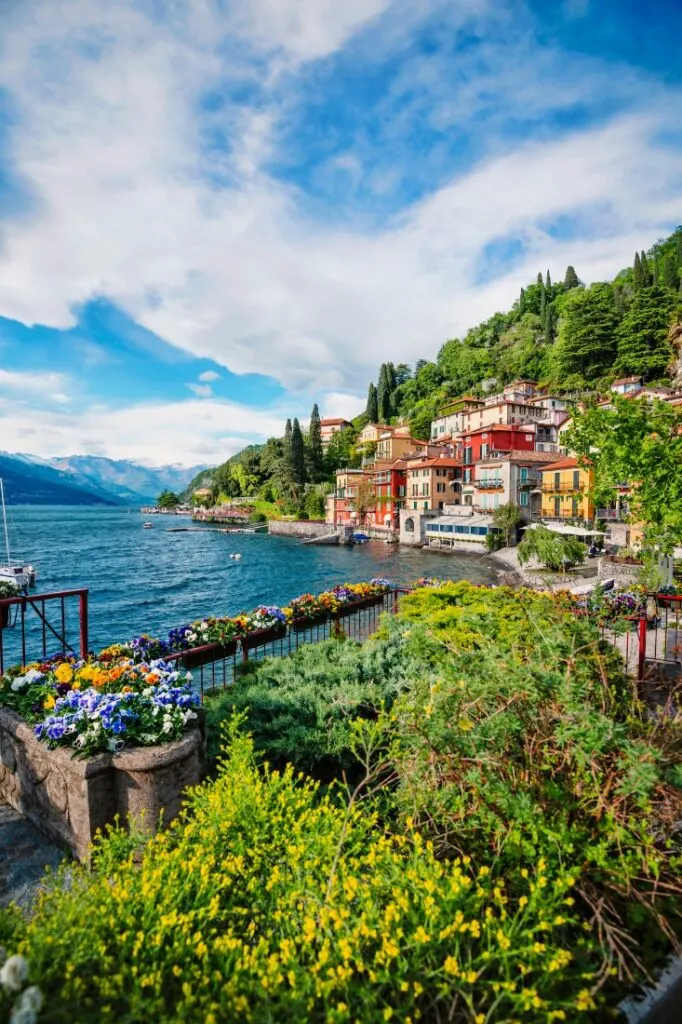 This is one of the most famous lake in Italy, and the Milan to Lake Como day trip is as popular as they come.
On the shores of the lake sit vibrant, colourful villages and sweeping luxury villas, and surrounding it all are scenic views of the mountain.
You can explore the city of Como and its gothic architecture, have fun on the promenade, or take a boat cruise along the lake.
Alternatively explore some of the surrounding villages – I'd recommend Bellagio and Varenna the most. A guided tour like this one will take you to both.
Genoa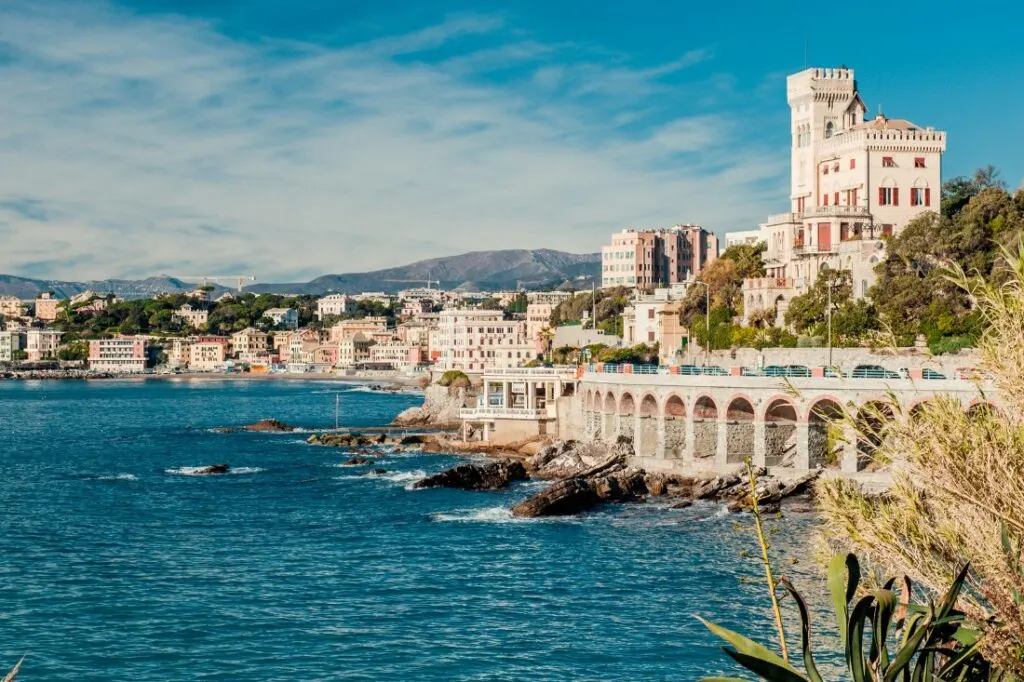 If lakes aren't your thing, head to the Italian coast instead. Genoa (sometimes known as Genova), is just the place.
One of the highlights is the ancient city centre, Centro Storico. In this neighbourhood you'll find historic architecture plus landmarks like the bronze fountain on the Piazza de Ferrari, plus churches and Gothic cathedrals that have been standing for centuries.
Don't forget to check out the palaces or the iconic Porto Antico where you can spot ships along the water.
Genoa can be reached by train (1.5 hours), by car (2 hours) but there are lots of Milan tours that'll take you here too. On this one you'll also get to visit Portofino!
Rapallo and Portofino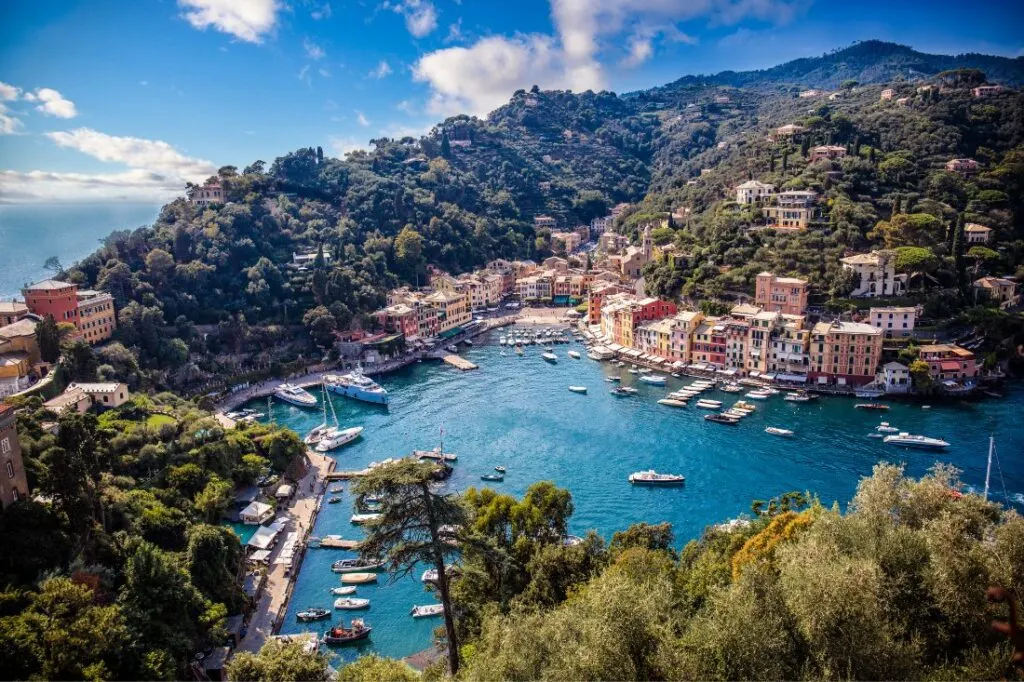 You don't have to visit Genoa to visit Portofino though. Instead, combine with a trip to Rapello for a proper day on the Italian coast.
Rapallo is a town on the Italian riviera, reachable in just two hours by direct train from Milan. As well as enjoying views of the water, check out the Sanctuary of Our Lady of Montallegro on the hilltop (take the cable car up for the best riviera views), as well as Rapallo castle on the shore.
From Rapallo, take a boat to Portofino and soak up the riviera.
Bologna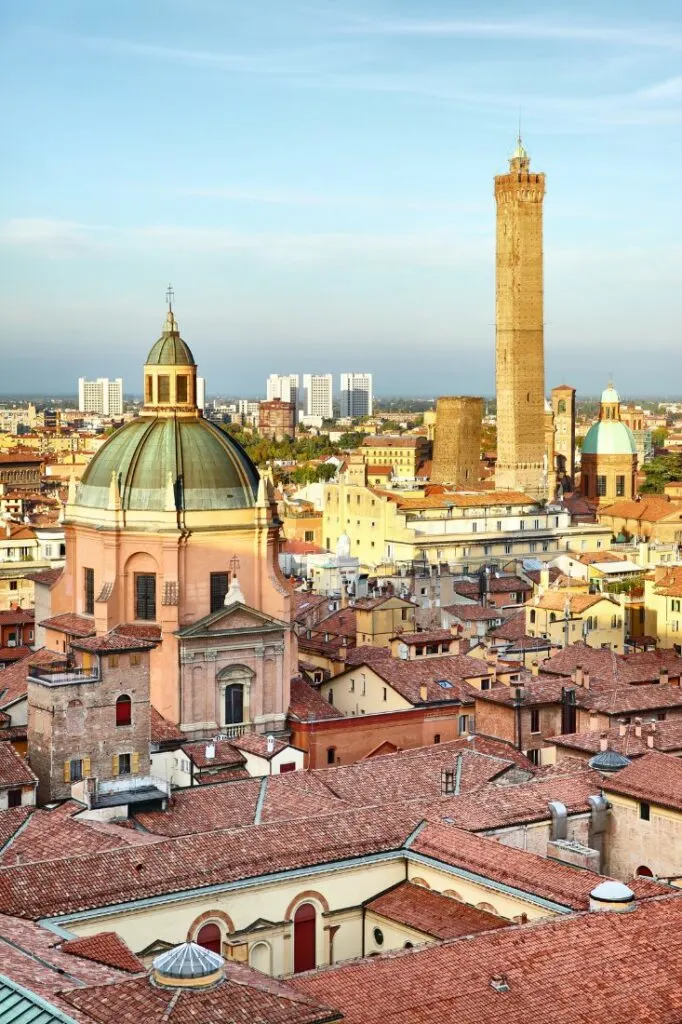 Bologna is everything you'd want from a classic Italian city: pretty, historic, and home to some pretty incredible food. I mean, it's literally the birthplace of Bolognese sauce.
It's also home to the oldest university in the world, dating back to the 11th century.
Anyway, I'd highly recommend a day trip to Bologna. Explore Piazza Maggiore and Piazza del Nettuno (the latter of which is home to the incredible Fountain of Neptune). Head up one of the many towers to take in breathtaking city views and whatever you do, don't skip lunch.
To get to Bologna, board a direct train from Milan. The journey will take just under an hour and a half. Alternatively, it'll take two hours in the car.
If you're planning a trip to the city, then you can check out some of the best free things to do in Bologna here which should save you some £££.
Lake Maggiore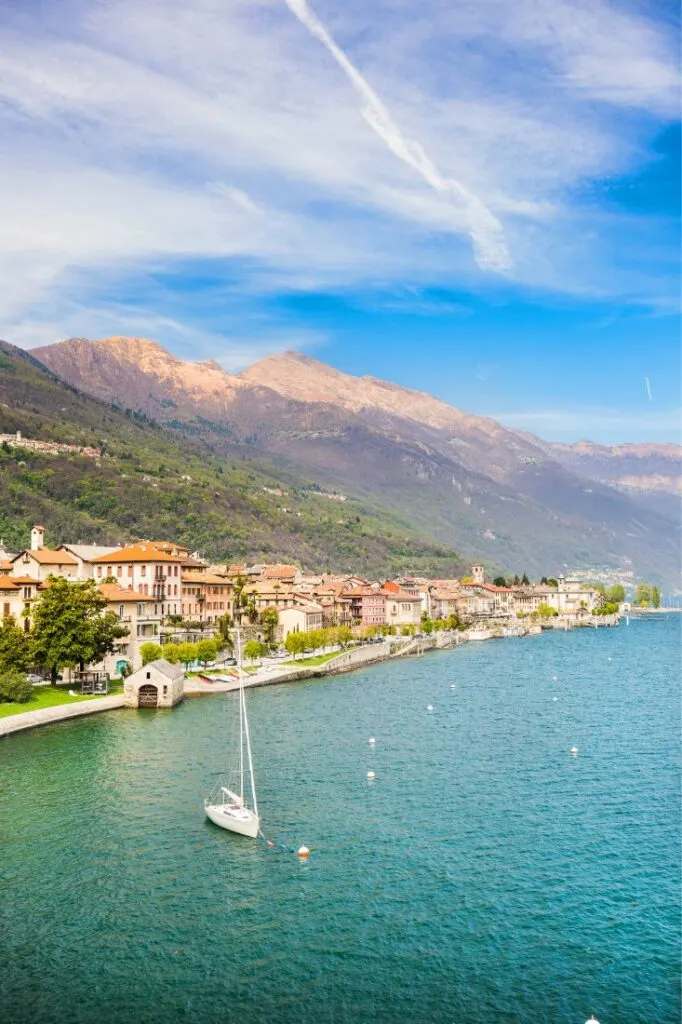 Lake Maggiore is another one of Northern Italy's famous lakes. But that's not the main draw of this location as a day trip from Milan.
Actually, the Borromean Islands are usually the main enticer. This is a group of islands right in the middle of the lake, famous for their biodiversity, though the most popular for visits are Isola Bella, Isola Madre, and Isola dei Pescatori.
There's tons to see on these islands, from grand palaces to botanical gardens. If you've got extra time, explore the town of Stresa, or take the scenic train ride on the Centovalli Railway – this will take you through the Hundred Valleys where you'll see waterfalls and picturesque villages.
To visit Lake Maggiore, take the train to Stresa – it takes just under an hour.
Bergamo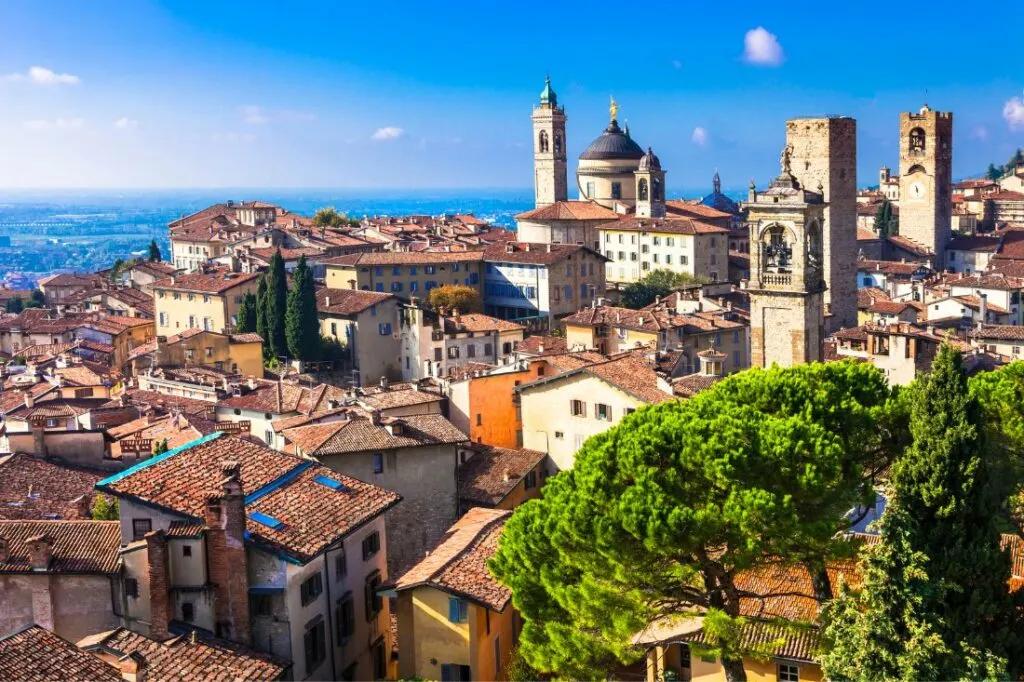 Bergamo is one of the quickest and easiest trips from Milan; it's just 40 minutes on the train, or an hour by car.
Surprisingly, despite being an incredible city in its own right, Bergamo isn't as popular with tourists as others. It's a bit of a hidden gem actually.
Bergamo is divided into two sections: Lower Town and Upper Town. Upper Town is my favourite part – it's ancient and the funicular up there almost acts as a time machine. Step through the iconic Porta San Giacomo gate and you'll be greeted with historic Venetian walls, Palazzo della Ragione, and the bell tower.
Explore Piazza Vecchia, the Accademia Carrara, and much more (I genuinely could go on and on).
Turin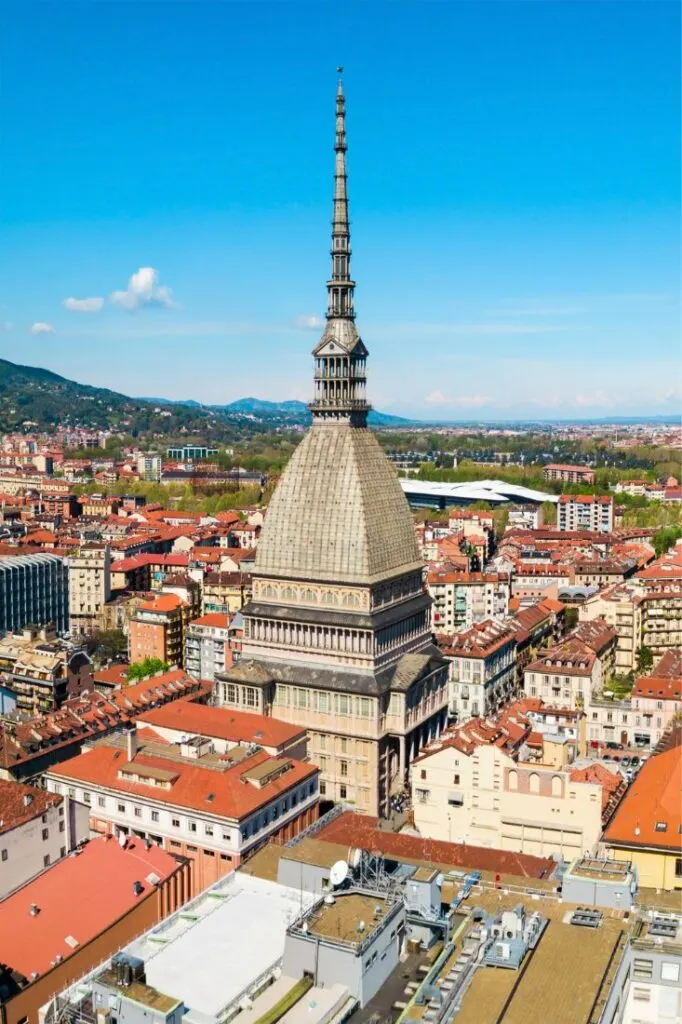 Another super easy Milan day trip is Turin. Again, it's just 40 minutes on the train, and there's tons to see and do here.
A city set with the picturesque alps on the horizon, Turin is home to striking neo-classical and Art Nouveau architecture.
In terms of what to see, there's the Royal Residences, including the Palazzo Reale, and museums like the Turin City Museum of Ancient Art and the Egyptian Museum. There's also the landmark of Mole Antonelliana, which is home to the National Museum of Cinema, plus an observation deck over the city.
Varese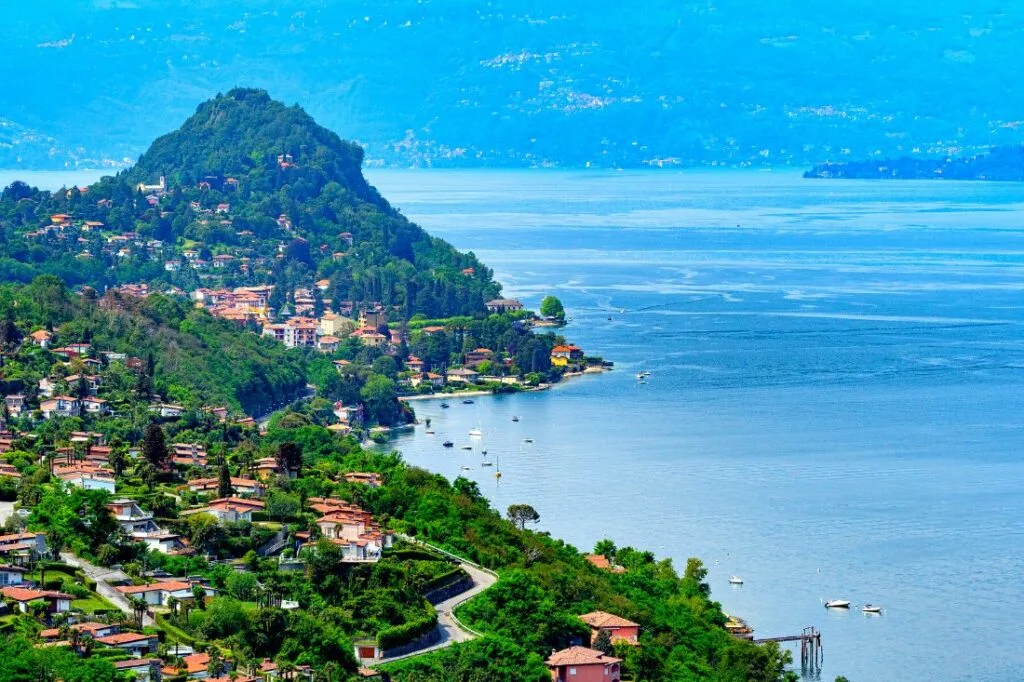 Nestled at the foothills of the alps, you'll find the city of Varese. One of the main appeals of this day trip is the Sacro Monte di Varese, a collection of 14 ornately decorated chapels which are also a UNESCO World Heritage Site.
Other things to see around Varese include Villa Panza, an 18th century villa, as well as museums, ancient churches, and of course Lake Varese.
Varese can be reached in 50 minutes by train or an hour by car.
Verona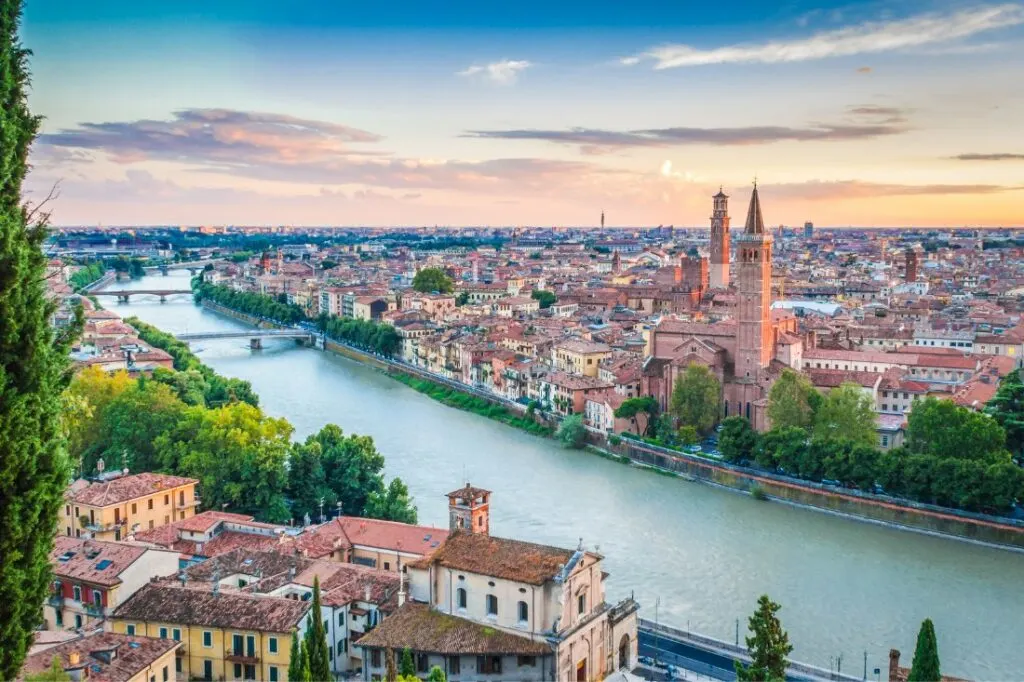 Finally we have Verona, probably best known as the setting of Shakespeare's Romeo and Juliet. You can even visit Juliet's house – Casa di Giulietta, thought to be the house that inspired Shakespeare – complete with its famous balcony.
There's tons to see in this city even if you're not a fan of 16th century tragedies: Arena di Verona (a preserved Roman Amphitheatre), the Ponte Pietra bridge, the Basilica di San Zeno Maggiore. There's also the Piazza della Erbe, Verona's busy and bustling centre, where you can find shops and restaurants housed in Mediaeval buildings.
Verona is just over an hour away by car or two hours by train. Alternatively, take a guided tour combined with a trip to Lake Garda.
---
Those are my favourite day trips from Milan, but what are yours? Tell me all about them in the comments!
Like this blog post? Then Pin it for the future!