Go on zoofari, lay on the beach, catch a star show, and immerse yourself in the rich history of the south: here are the best day trips from Raleigh!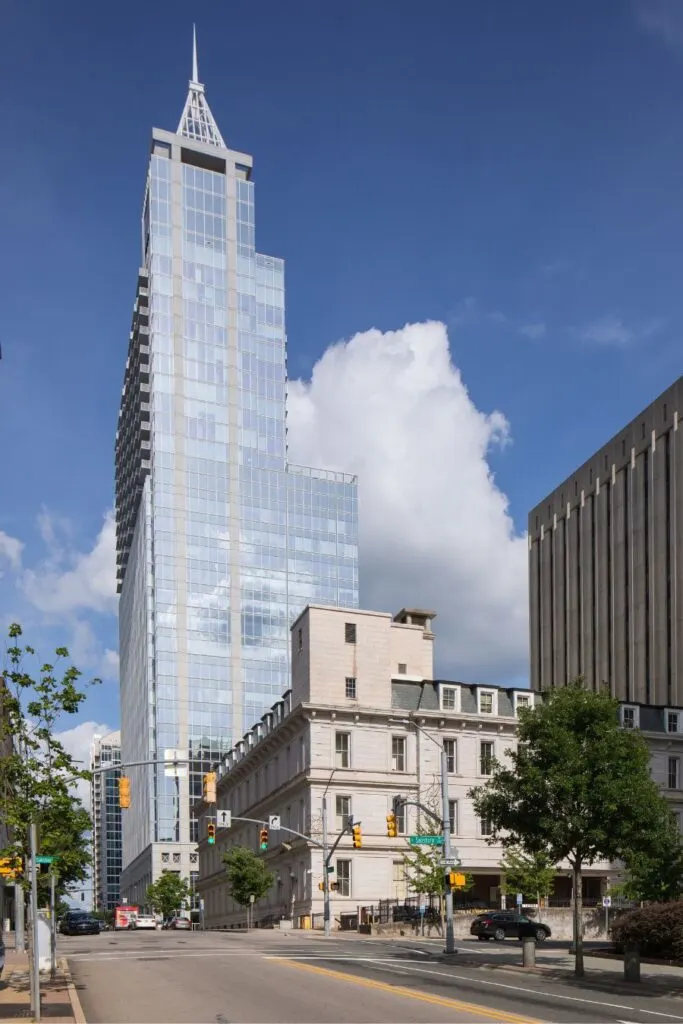 Oak lined streets, incredible restaurants, and a thriving cultural scene: holidaying in the North Carolinian capital of Raleigh is a delight to the senses.
Raleigh is an early example of a planned city, which is reflected in its neat grid patterned streets, making it really easy to navigate. Your days here will be spent hopping between museums and food trucks, before catching a game at the PNC arena.
Raleigh is ideally situated in the middle of the USA's eastern coast, making it an excellent base for outings. On day trips from Raleigh you can be laying on the beach, hiking through forests, visiting craft breweries, or exploring historical cities.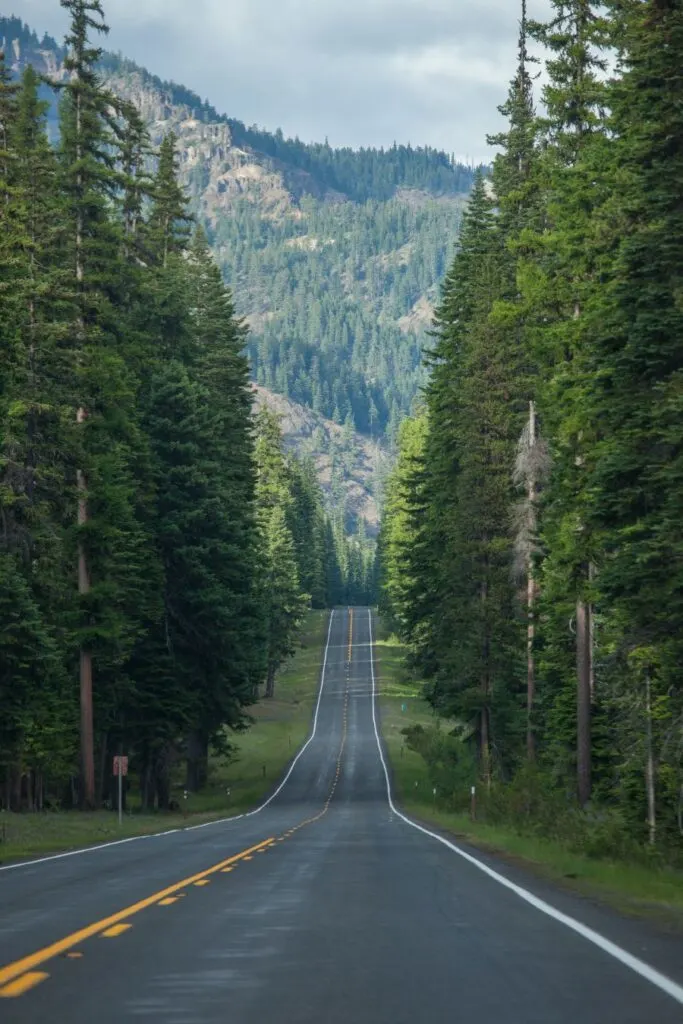 There are so many epic adventures awaiting you, all within just a just a few hours drive. Learn about the rich military history of Fayetteville, soak in the serenity at Raven Rock State Park, or go on zoofari at the North Carolina Zoo: the options are limitless!
Are you planning a trip to Raleigh soon? Here are my favourite Raleigh tours and day trips. Hopefully this blog post will help when planning your vacation here.
Looking for other east coast USA adventure inspiration? Check out my post on the best adventures in Florida and the best things do in Fort Myers!
---
Best Day Trips from Raleigh
Explore the port city of Wilmington
Sitting just 2 hours away is the gorgeous port city of Wilmington. This is easily one of the best day trips from Raleigh.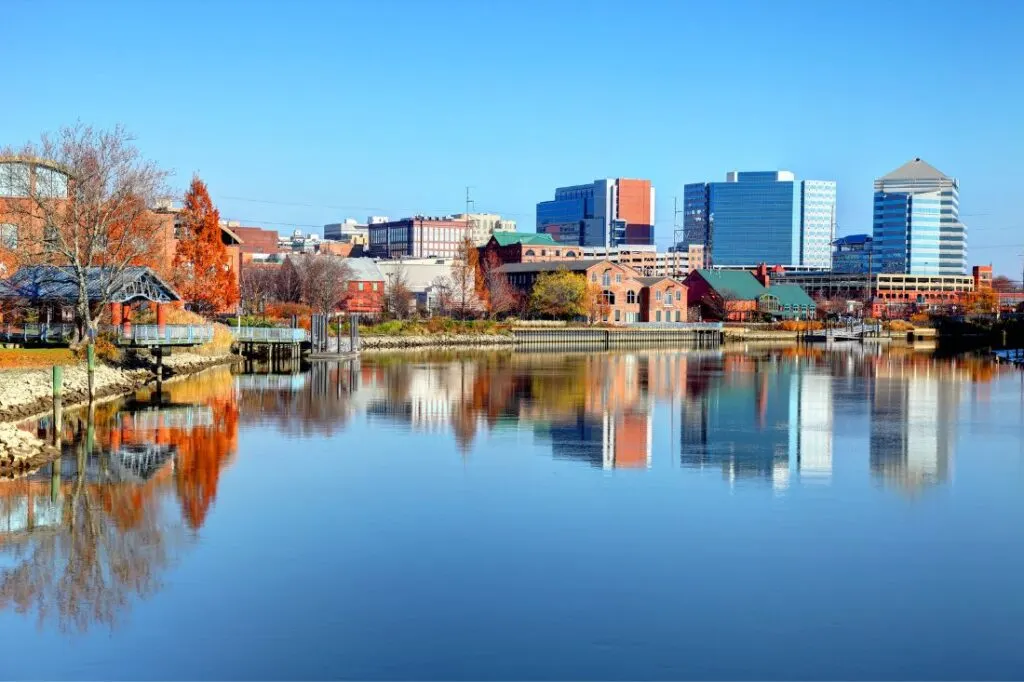 Start your day wandering through the historic downtown area and admiring the Victorian shopfronts and homes. Then enjoy a stroll along the scenic river walk. Military buffs can also enjoy taking a look at the impressive Battleship North Carolina, moored close to Wilmington's downtown.
Alternatively, if you're looking at getting on the water, then think about a boat tour of Wilmington. On this sailing trip you'll venture to the barrier islands in search of local wildlife and take in the beautiful views along the way.

In the evening, refresh your spirits by stopping in for a drink at one of the historic speakeasies. I recommend the Blind Elephant, which was opened in the 1920s. Stop by on weekends for live piano acts!
Relax at Wrightsville Beach
If you're looking to get some sand and salt into your holiday, take a day trip to Wrightsville beach. This incredible beach island is located just 2 hours from Raleigh, just to the east of Wilmington.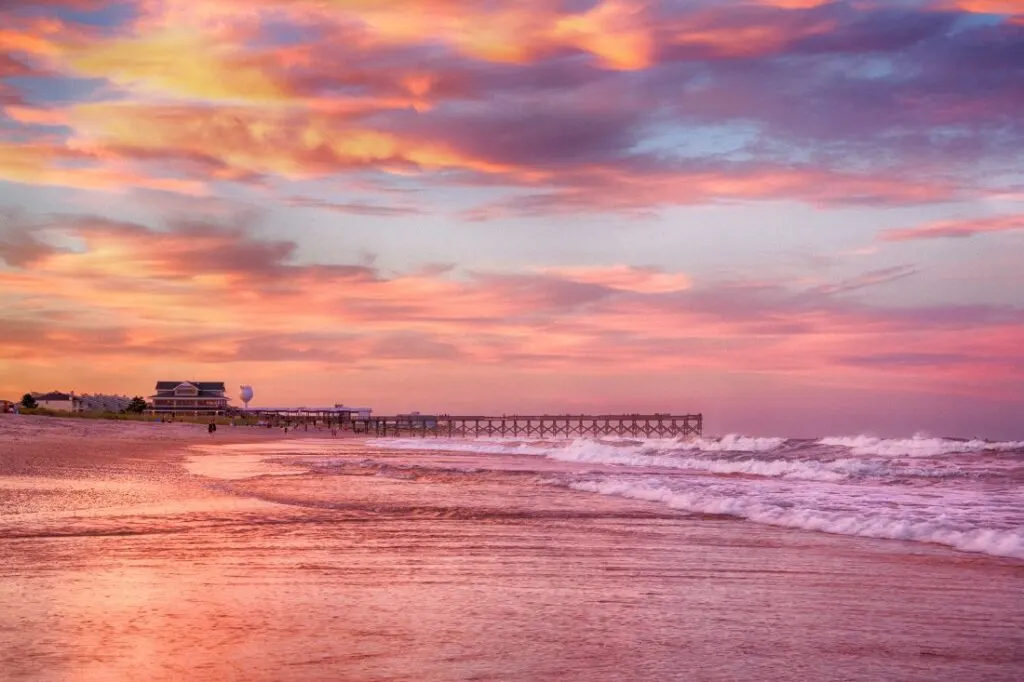 The Wrightville beach features 6 km of clean, smooth sand, so you won't be fighting for space. Bring your towel, swimsuit and a good book and let the relaxation commence. While you're here, be sure to enjoy some freshly caught seafood!
Seeking something more active? On the surrounding beach islands, you'll also find well maintained boardwalks to stroll along, opportunities for pier fishing, and a 200 year old lighthouse – Old Baldy.
If you need help planning your trip, then check out Wanderu. From hiring a car to booking a bus/train, this is a great resource when travelling around the US.
Take a hike at Pilot Mountain State Park
Get into the great outdoors at Pilot Mountain State Park. This incredible State Park sits around 2 hours northwest of Raleigh, surrounding the distinctively shaped Pilot Mountain.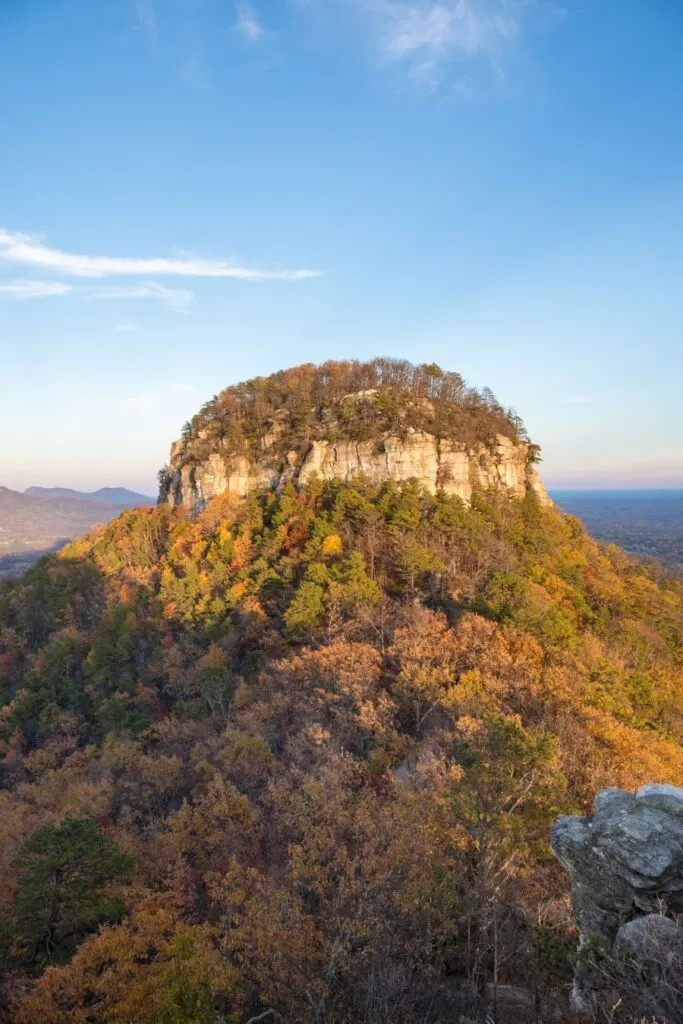 The park has many natural and geological features, including cliffs, canals, creeks, and hardwood forests. There are many trails to choose from, from the short and family friendly Sassafras Trail, to the strenuous Grindstone Trail. Be sure to [read ahead] to pick an adventure that suits your need.
This park is home to an abundance of wildlife including chorus frogs, songbirds, ravens, deer, opossum and raccoon. If you're lucky, you might spot some while you're on your hike!
Enjoy the peace at Raven Rock State Park
Another great place to get into nature, Raleigh is Raven Rock State Park. At just 1 hour's drive from Raleigh, this is a much closer option, so you can pack more adventure into your day.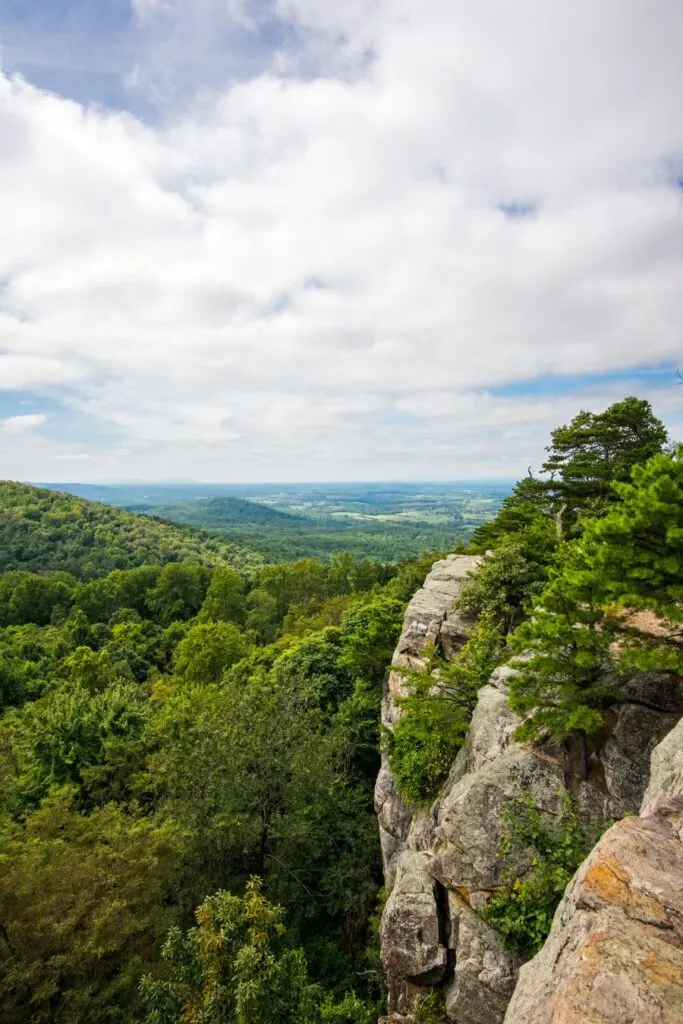 The park is spread over 4,810 acres, straddling the banks of Cape Fear River. This serene natural park is known for its amazing rock formations, gorgeous waterfall, and peaceful surroundings.

Many people come to the park for hiking, canoeing and mountain biking. But you can also come to sit back, throw in a fishing line, and soak in the serenity!
Wander around Durham
For a taste of the best food and art that North Carolina has to offer, you can't go past Durham. This lively city is situated just 40kms to the north west of Raleigh and there are excellent public transport connections between the two cities. So, Durham is one of the best car free day trips from Raleigh.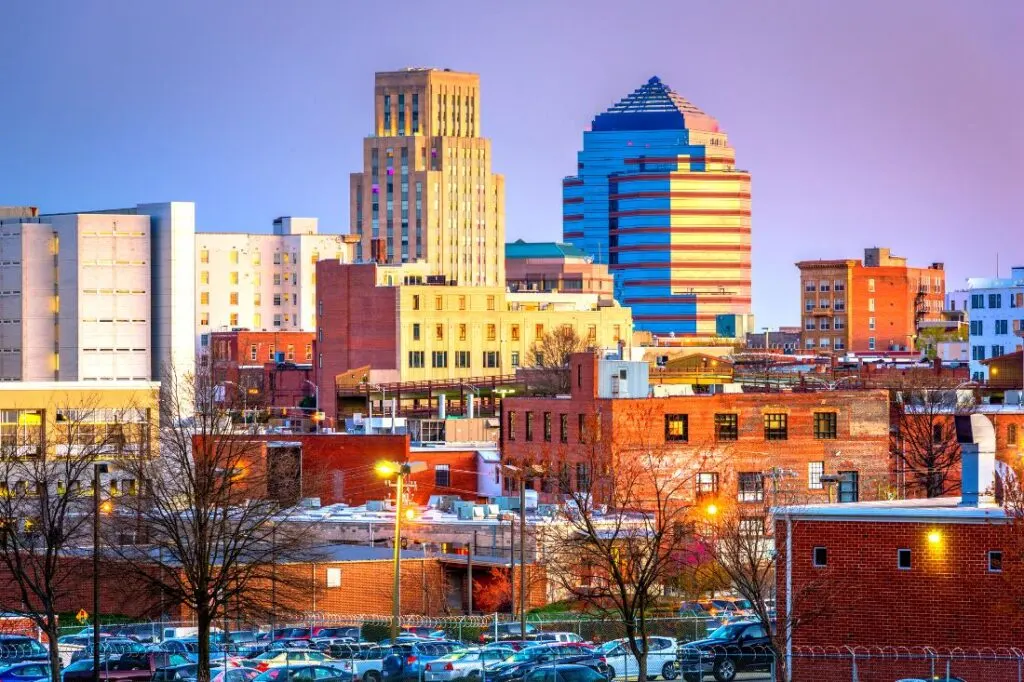 Come to Durham to enjoy a vibrant cultural scene with buildings covered in art, live performances on the streets, and most importantly, incredible food options. Delight your taste-buds with cuisines from around the world, or dive into a bowl of your favourite southern comfort food. Either way, you won't be disappointed!
Take on the Wilmington Ale Trail
Do you have a passion for craft beers? Spend a day hopping between craft breweries, bars and bottle shops on the Wilmington Ale Trail.
The area has over a dozen craft breweries to choose from, as well as a lot of places to enjoy these local libations. Be sure to book in for at least one brewery tour during the day.
Head to Mad Mole, to experience the excellence of solar power brewed beer. Or, enjoy the rustic elegance of Ironclad Brewery.

Don't forget to sign up for a Wilmington Ale Trail Passport, to enjoy discounts, spending vouchers and more at the participating businesses.
Go wine tasting Yadkin Valley
More of a wine enthusiast? Immerse yourself in the incredible wine country of Yadkin Valley. The Yadkin Valley sits at the foothills of the Blue Ridge Mountains, which provide an excellent backdrop while you appreciate the local wines.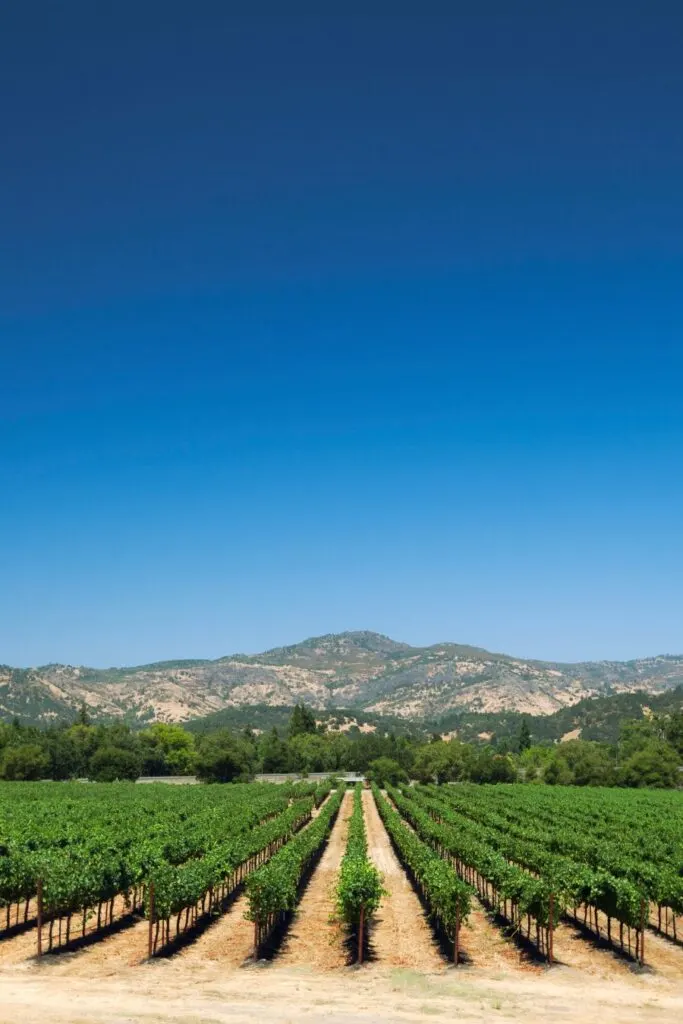 There are over 35 vineyards to choose from. If you can only visit one, I recommend Raffaldini, which specialises in dry Italian style varieties.
At 3 hours drive from Raleigh, this is one of the furthest away day trips on this list. But it is definitely worth it! Best of all, there are regular Raleigh tours to the Yadkin Valley, so you can leave the car keys at home.
See the twin city of Winston-Salem
The twin city of Winston-Salem is one of the oldest cities in the state. Before merging in 1913, it was two separate towns Winston and Salem which were founded in 1849 and 1766 respectively.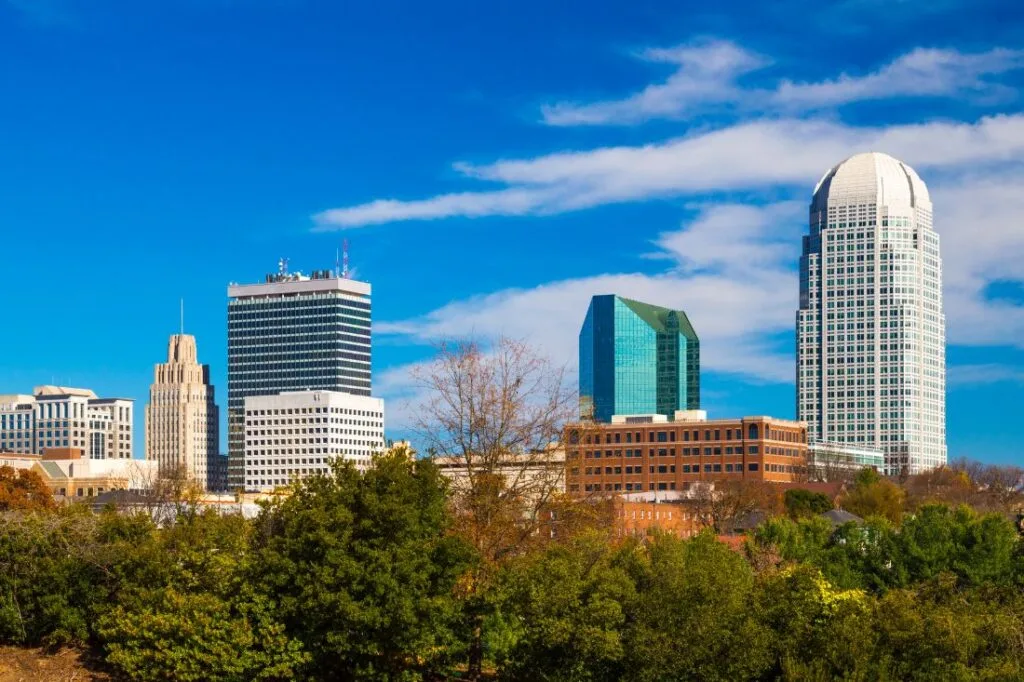 Steeped in Moravian (protestant) settler roots, Winston-Salem is an excellent place to visit if you're keen to learn more about US history, or you're simply looking for a unique day out. While you're here, be sure to spend time exploring the historic district of Old Salem. Then reward yourself trying out the local sweet speciality, Moravian thin cookies, or savoury favourite, Moravian chicken pie.
Discover the historic town of Hillsborough
Less than an hour's drive from Raleigh, you'll find yourself in the historical town of Hilsborough. This gorgeously quaint down was founded in 1754, and proudly displays architecture dating back to the 18th century.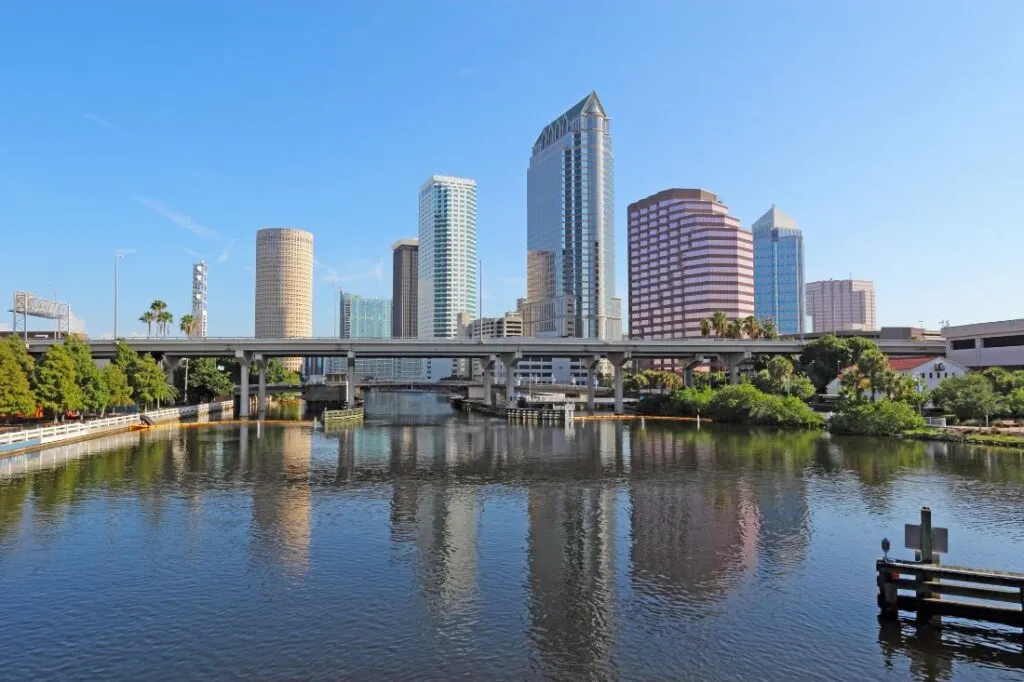 The town may be small, but it's a hive of activity. On any given weekend you can find art evenings, war reenactments, markets, and more!

If you're visiting in September, you might just make the town's largest annual celebration Hog Day. During this event, the whole town comes alive with a vibrant assortment of pig parades, live music, fun runs, and a BBQ contest!
Visit the North Carolina Zoo, Ashboro
For a great day for the whole family, you can't go past a trip to the North Carolina Zoo in Ashboro. Open all but 2 days of the year, you'll have a fascinating time, no matter the season!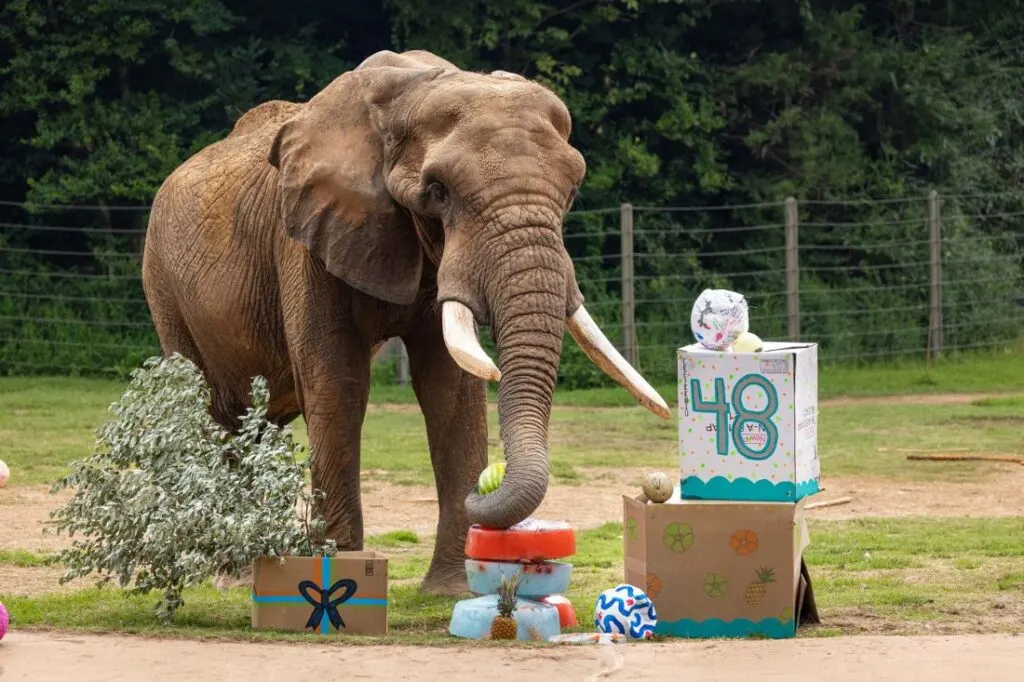 This zoo is home to a variety of animals, from tiny reptiles to gigantic primates. Get face to face with a giraffe, dance through the butterfly gardens, or go on a zoofari!
Alongside visiting furry friends, there are so many activities to do at the zoo. Follow one of the hiking trails, challenge yourself on the high ropes course, or take a ride on the endangered species carousel.
Gaze at the stars at Morehead Planetarium
Another great family fun day out within an easy hour's drive is Morehead Planetarium. The planetarium is located just to the south west of Durham, and provides hours of scientific discovery and wonder to young and old. In fact, NASA astronauts were actually trained in celestial navigation here until the mid 70's!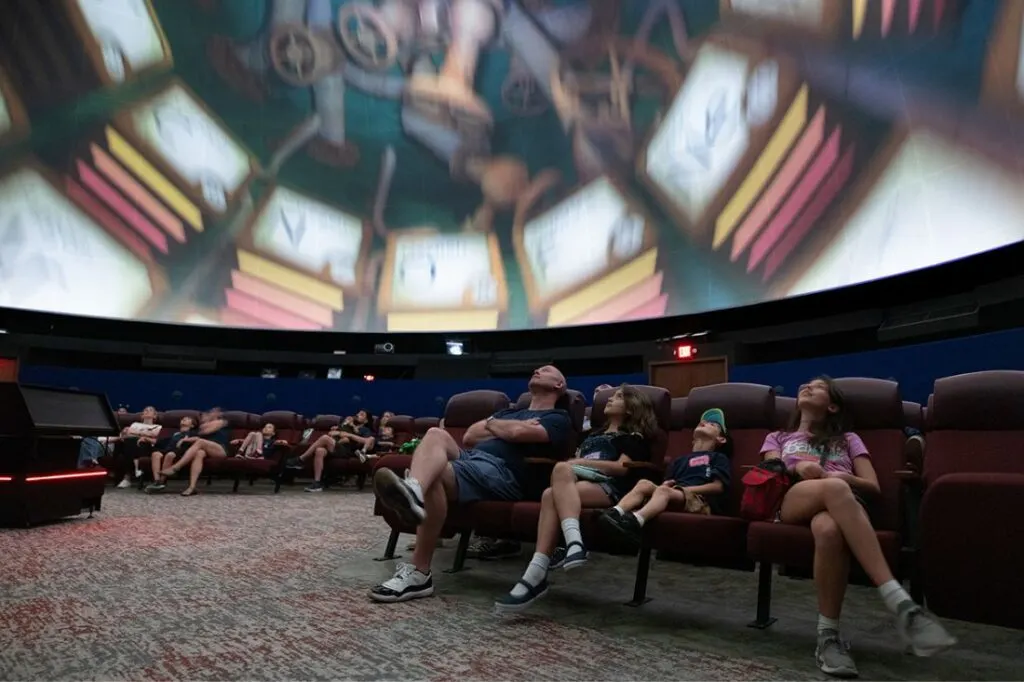 Today, visitors can enjoy the many exhibits and shows the planetarium has to offer. Take a hands on exploration into light and colour in the Hidden No More exhibition, and get up to date with the latest in astronomy research. Then kick back and watch a classic planetarium star show.
Step back in time at Fayetteville
Sitting just over an hour's drive to the south of Raleigh is the city of Fayetteville . With regular bus connections, this is a great option for those travelling car free.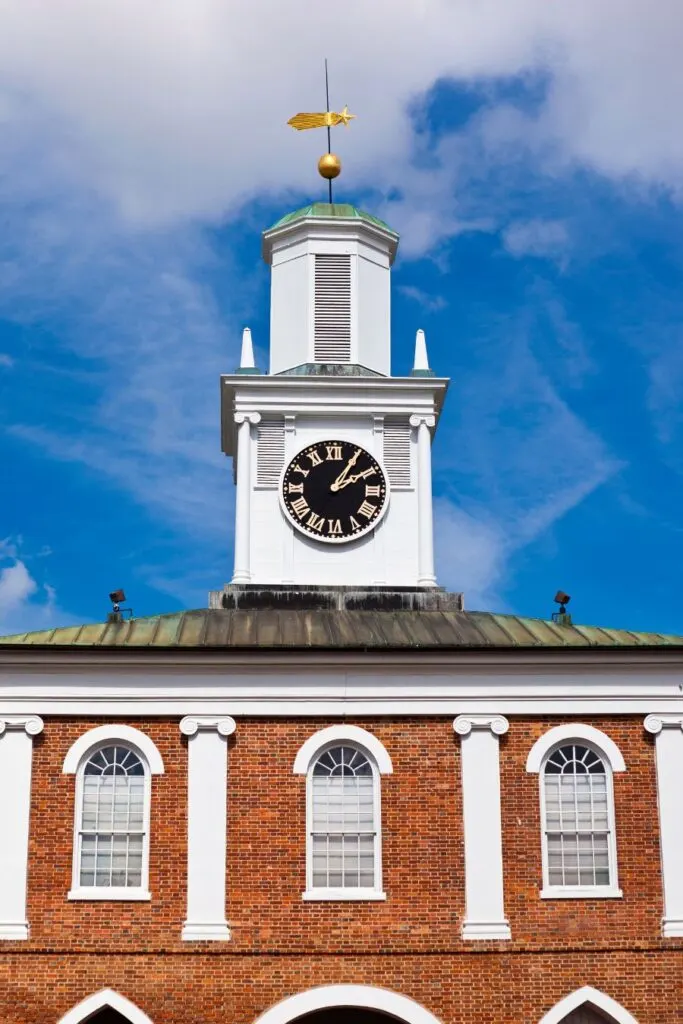 Fayetteville is known for its rich military history. Many people come to visit Fort Bragg, a large military installation, and the Airborne and Special Operations Museum.
However, you don't need to be a military buff to come here, Fayetteville has so much else to offer. Take a wander through the historic downtown area, explore the Cape Fear Botanical Garden, or dig into the local produce (and beer!) at the Dirtbag Ales Farmers Market.
---
So there you have it, my favourite Raleigh tours and day trips. What are your favourite Raleigh day trips? Let me know in the comments below!
Like this blog post? Then Pin it for the future!