From swimming with manatees to Wild Bills Airboat Tours, check out these incredible Florida adventures for your next trip to the States!
Get ready for the most incredible Florida adventures!
What I love about Florida is it's one of the most diverse states in all of America. Obviously they have some of the world's best theme parks; that's a given.
But where else can you wake up swimming with manatees in the morning, go on a crazy Wild Bills airboat tour looking for alligators in the afternoon, before munching your way through an authentic Cuban sandwich in St Pete in the evening?
Let's do a little check list of the outdoor adventures Florida has to offer:
Crazy theme parks in Orlando
Swimming with manatees in Crystal River
Walking along one of the world's best beaches in Clearwater and St Pete Beach
Zipping around on an airboat through the Everglades looking for aligators
Diving incredible shipwrecks at the Florida Keys (if you're heading to the Keys, check out this amazing guide on how to get to the Florida Keys)
Learning all about space exploration at the Kennedy Space Center
And that's just the tip of the iceberg – there are so many more adventure things to do in Florida! Basically, what I'm getting at is there's really something for everyone, especially those of you with families.
To give you a little taster of what you can do there, watch my video on 'Outdoor Adventures in Florida' below!
With amazing weather and some of the world's best beaches, I made it my mission to go on a number of Florida adventures.
With stops in Crystal River, Pasco Country, St Pete and Tampa, I did everything from swimming with manatees to paddleboarding with dolphins and a couple of very alternative activities as well.
So, if you're looking for incredible adventures in Florida then I really recommend any of these – they are guaranteed good times!
Swimming with manatees at Crystal River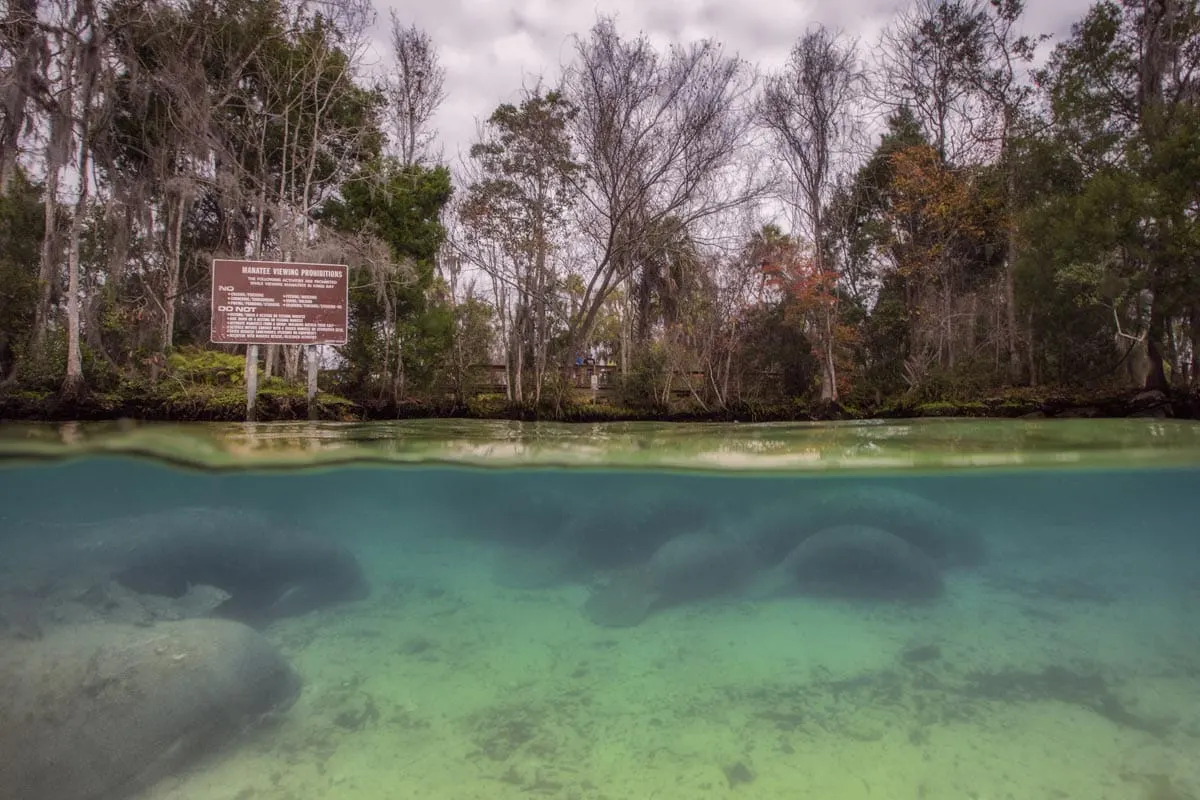 Swimming with manatees is without a doubt one of the most popular things to do in Florida.
Even though there are a number of spots on the west coast of Florida where you can swim with manatees, Crystal River has to be the most beautiful.
What I didn't realise about swimming with manatees is you're *almost* guaranteed to see them.
During the colder months there can be up to 600 manatees in the area so all you have to do is float there and they're all around you.
However, even when I visited in the quieter period, there were still about 20/30 manatees.
I went on a manatee tour from the Plantation Inn and we spent the morning swimming with a mother and her calf for a good 45 minutes. Then we went onto Clear Water Creek for a swim in the clearest water I've ever seen in my life. There's a reason why they call this place Crystal River!
Even though manatees are quite cumbersome in the water, they're beautifully graceful too. And swimming with them is such an amazing experience – it really is a once in a lifetime activity.
Cost – This costs £54/US$69 per person for a three-hour snorkel tour swimming with manatees.
Another option is kayaking with manatees in Florida. This guide is packed full of all the best places to go kayaking with these curious sea creatures!
Wild Bill's Airboat Tours in Inverness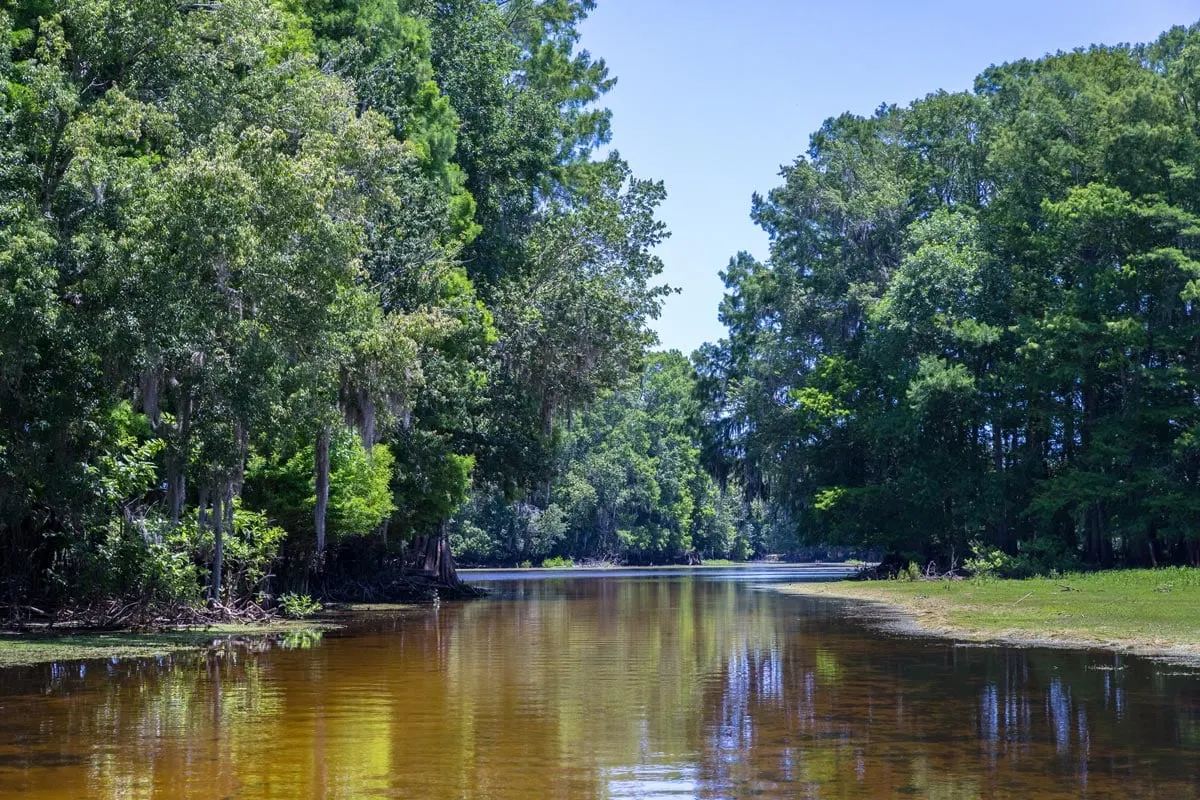 For me, there's something so Floridian about flying over the water on an airboat. Add in alligators and beautiful views, and that's what Wild Bill's Airboat Tours is all about.
Wild Bill's Airboat Tours is tucked away off the Florida 44 Highway on the Withlacoochee River and it is one of the best outdoor adventures in Florida.
This was my first ever airboat tour and boy was it fun.
For the first half of the tour I was on the lookout for alligators. If it wasn't for our guide I doubt I would've been able to find any, but along the banks of the river were a few gators sleeping in the sun. I mean, you can't come to Florida without seeing gators, can you?
However, I think I preferred the second half of the tour even more though. Once we made it halfway up the river, it was time to turn around and open her up.
I didn't think airboats could go so quickly on water but we were absolutely flying – so scary and exhilarating at the same time! Definitely a must-do while in Crystal River.
When I think of outdoor adventures in Florida, this is what they're all about!
Cost – $45 per person for a one-hour tour with Wild Bill's Airboat Tours
TreeHoppers Aerial Adventures in Pasco County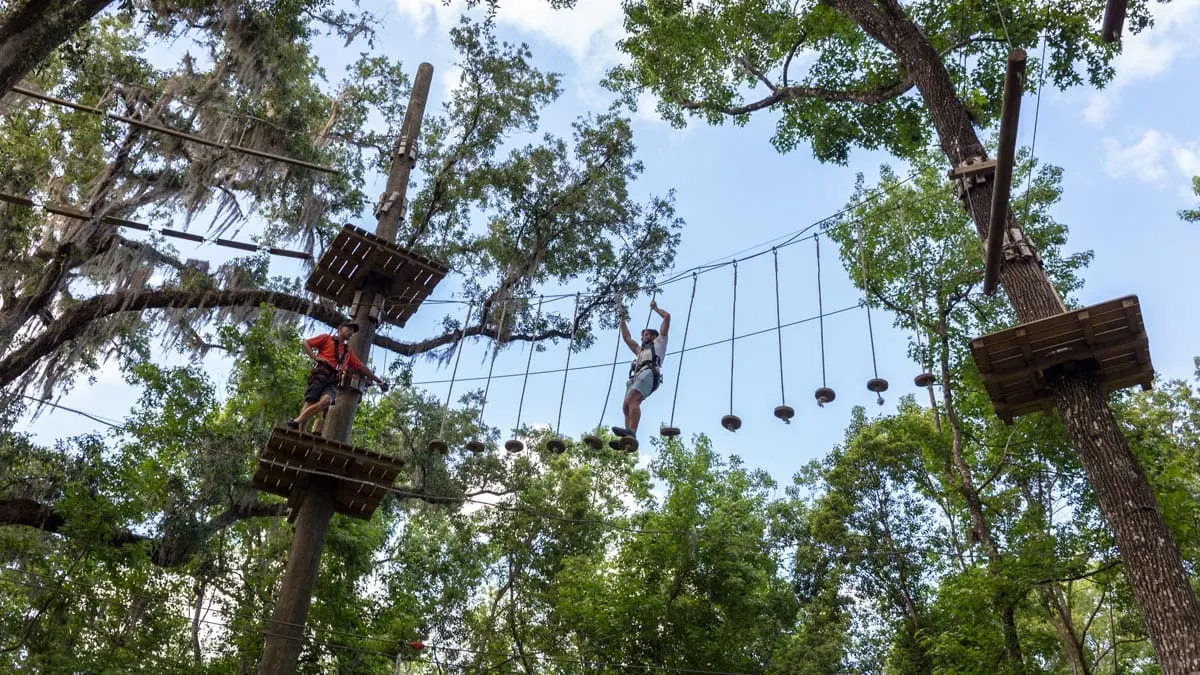 If you're looking for a Florida family adventure then check this one out! I absolutely love a challenge, but TreeHoppers in Pasco County is on next level!
TreeHoppers is an aerial adventure course where you make your way through the trees by using highwires and ziplines and it isn't for the fainthearted.
I've been on aerial adventure courses all around the world but TreeHoppers was so much harder than I expected. All in a good way of course!
The easiest course, the green course, takes about 30 minutes and is a mixture of cargo ropes, wobbly platforms, and ziplines.
Obviously I had to try the hardest course though, the double black.
Apparently only 30% of people complete this course, and even though I managed to drag myself around it, I wouldn't have got anywhere near the finish line without my guide helping me out every step of the way. He even pulled me up one of the platforms.
That's what I loved about TreeHoppers though, how hard it was. A lot of aerial adventure courses I've been to will sell themselves as "EXTREME! THE HARDEST ADVENTURE AROUND" and it's actually a walk in the park. Not TreeHoppers though.
Cost – $56 per person ($36 for children aged 7-11) for a three-hour climb ticket with TreeHoppers. All safety equipment and gloves are included
Mini-catamaran/speedboat tour in Pasco Country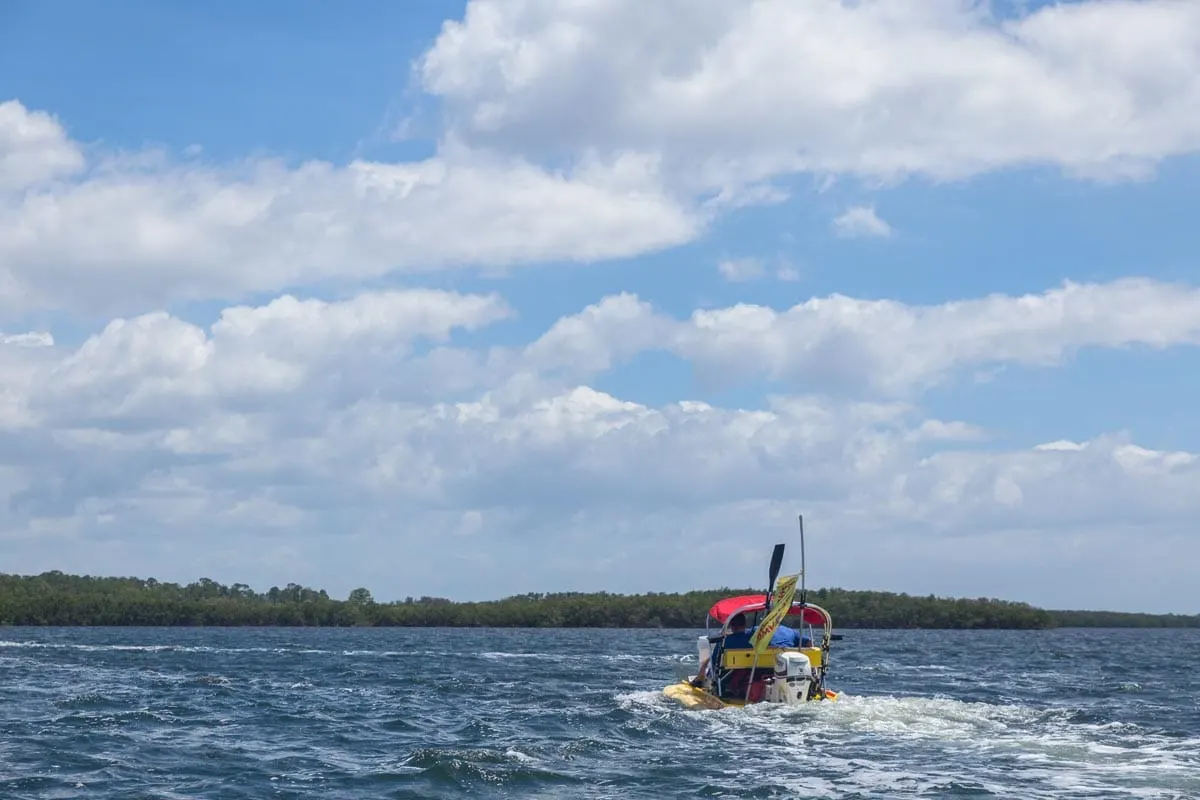 These little speedboats from Gill Dawg Adventures in Pasco Country are hard to describe.
Basically, they're two bits of plastic strapped together with an engine on the back. That's pretty much it. All I know if they're so much fun to drive/ride/sail (?)
Located in Port Richey, we went on a tour exploring the waterways around the area.
The first half of the tour was cruising slowly along the river peering into people's gardens (one had the best life-size model dinosaur I have ever seen) and learning about the history of Port Richey.
The second half of the tour was quite different though. Once we made it out into the gulf all speed restrictions were lifted and we could go as fast as we wanted.
What. A. Ride. I have no idea how fast we were going, but when you're in an open boat with your bums so close to the water, it feels like a million miles an hour. Exhilarating doesn't even come close to describing this tour. Personally, this was one of my favourite Florida adventures I've ever been on!
Cost – $75 per person for a two-hour tour with Gill Dawg Adventures. All safety equipment is provided.
Biplane ride over St Petersburg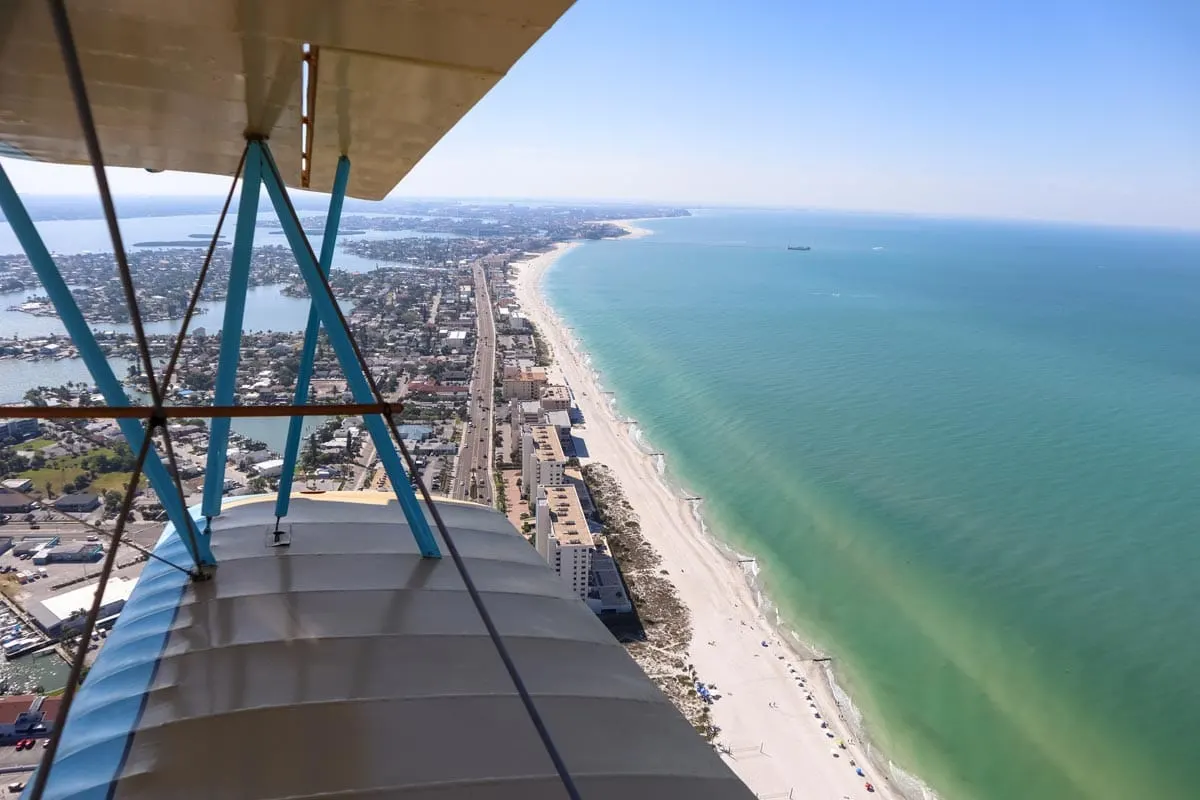 No matter where I am around the world I love a biplane ride, but flying over the beaches of St Petersburg was particularly special.
St Petersburg genuinely has some of the world's best beaches (as voted by TripAdvisor), so seeing them from above is an experience like no other.
Our biplane ride went from Albert Whitted Airport, a tiny little airport in downtown St Pete.
We were up in the air for about 40 minutes and flew over Fort de Soto, St Pete Beach and Treasure Island – three of the most popular beaches in St Pete.
Being up in the air really gives you a perspective on how long these beaches are – they stretch for as far as the eye can see, a perspective you just can't ever get on the ground.
One of the things I loved about this tour was flying in an old-fashioned 1920s biplane – all very rock and roll. Also, when flying back to Albert Whitted Airport you get some of the best views of downtown St Pete too.
I can't recommend this tour enough and it is easily one of the best adventurous things to do in Florida.
Cost – $199 per person for a one-hour tour with Biplane Rides. All equipment is provided.
Sunrise paddleboarding at Treasure Island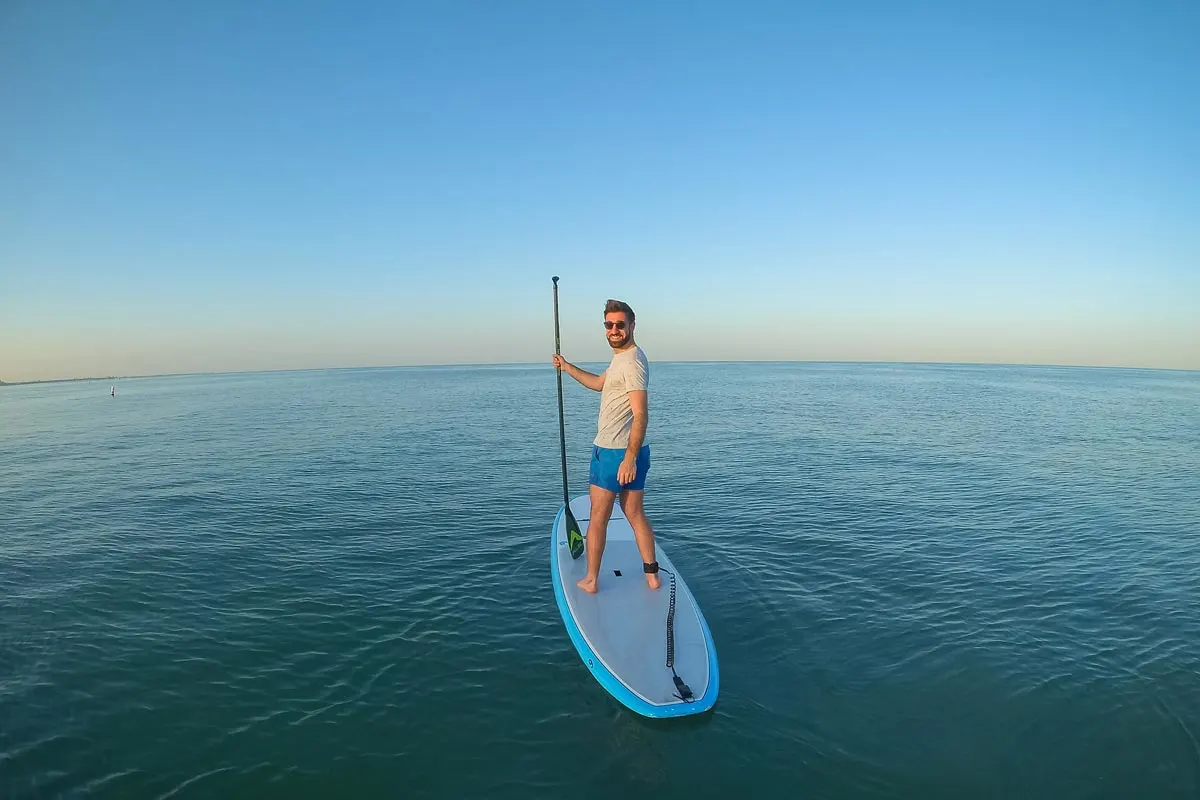 Now this is the perfect way to start the day on any trip to Florida.
Located at Treasure Island, a beach just north of St Pete, is Suncoast Surf Shop. Here you can rent canoes, kayaks, surfboard but I was only interested in their sunrise paddleboarding tour.
This tour starts early at 6am, and when I arrived the sun was just starting to creep over the horizon giving everything a gorgeous pink hue.
Jordan, our guide, led the way and we paddleboarded along the coast as the sun rose higher and higher.
Once we reached one of the inlets we double backed on ourselves and paddleboarded the estuary. And it being Florida, obviously we had to see a dolphin swimming next to us – as I said, the perfect way to start the day.
Paddleboarding is such a peaceful activity and you really can't find a more beautiful setting for it than at Treasure Island, especially at sunrise.
Cost – $50 per person per hour from Sun Coast Surf Shop
Riding waterbikes in Tampa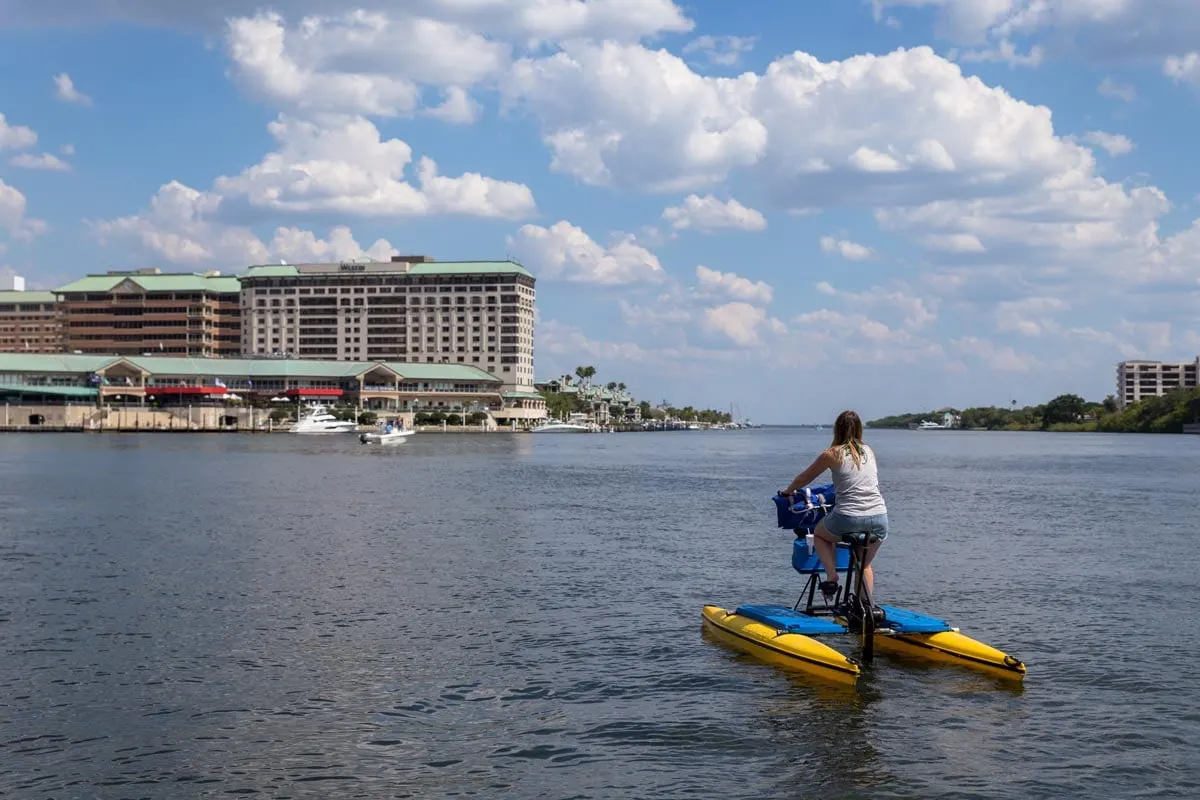 What are waterbikes I hear you ask? Well, they're bikes you ride on the water. Yep, a new one on me too.
Down by the marina in Tampa you can hire waterbikes and go for a little cruise on the water taking in the sites.
One of the best things about these waterbikes is they have cup holders. That means you can head over to The Sail, pick up a cocktail and bring it with you for the ride (we did ask first!)
What I loved about the waterbikes is there's nothing to them – you just hop on, peddle and slowly move in the direction you want. They're as easy as that.
Also, keep your eye out for dolphins! On our tour we saw two dolphins and two stingrays all in about 10 minutes. When it comes to outdoor adventures in Florida, this is what I'm talking about.
These waterbikes are such a unique way of seeing a city. I honestely don't think it'll be long they start cropping up everywhere. For now though you're going to have to get yourself over to Florida!
Cost – $30 per person per hour from Tampa Waterbikes
Cycling the Tampa riverwalk
The Tampa Riverwalk is the longest continuous riverwalk in the States and it is an amazing way of seeing the city of Tampa.
The riverwalk is 2.4 miles long making it perfect for walking, jogging, segwaying, skating and for using any other form of transport. My favourite way of exploring the riverwalk is by bike though.
Dotted all over Tampa are bikes you can hire for the day which cost just a few dollars per hour. Also, there are so many places to stop off at along the way.
The Tampa riverwalk takes you past the Tampa Museum of Art, the Tampa Bay Hotel, all the way into the heart of downtown where you'll find the Armature Works, an amazing food hall.
If you've got a couple of days in Tampa then hiring a bike and cycling the riverwalk in such an easy and fun outdoor adventure in Florida. This is what Tampa is all about and I love how close the city is to the water everywhere.
A lot of people base themselves in Miami for their holidays in Florida. One of the best ways of getting somewhere like Tampa is on the bus from Miami to Tampa. Tickets only cost $30 (one way), so it's one of the cheapest ways to travel!
Adventure activities in Florida
When it comes to Florida adventures I could go on and on.
It's amazing how many activities you can do on a tiny stretch of coast from Crystal River to Tampa. I love how you can do something different every day without having to drive for hours.
So, if you're heading to Florida sometime soon and you're looking at some amazing adventures then I'd really recommend any of these – they're such unique things to do in Florida. Now go and enjoy them!
---
My trip to Florida Alberta was in association with Visit Florida showcasing some of the amazing things you can do there. As always, views are entirely my own and without bias.
Out of these Florida outdoor adventures, which one would you go for? Swimming with manatees or flying over the beaches in a biplane? Let me know in the comments below!
Like this blog post? Then make sure you Pin it!