Are you looking for the most beautiful places to visit near Durham, England? From Raby Castle to High Force Waterfall, this is what to do in Durham!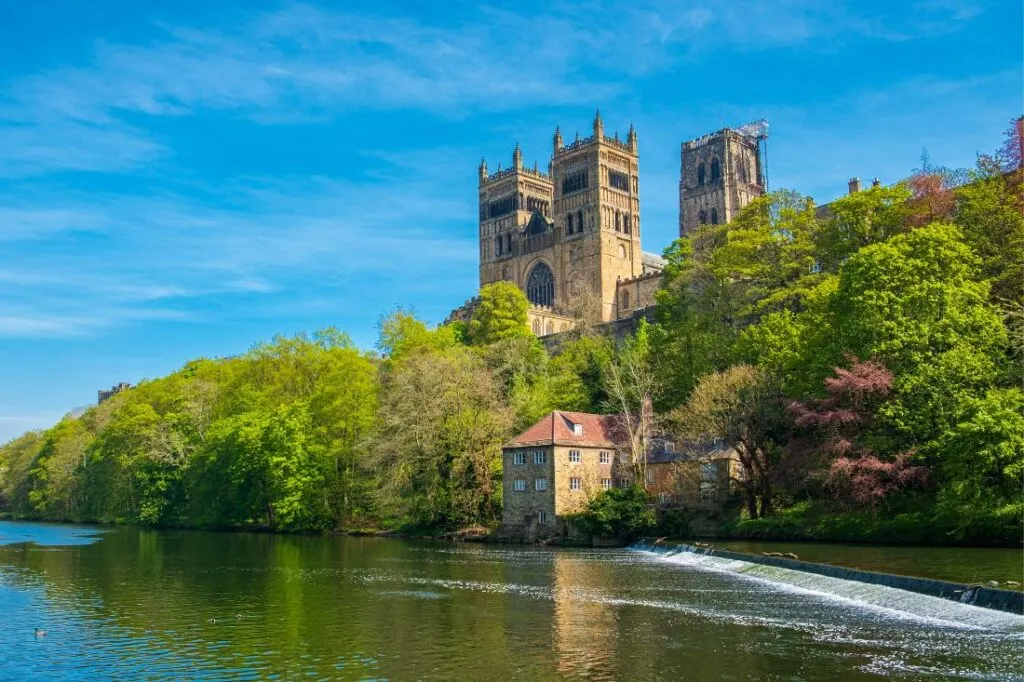 Durham is one of those places that should be on everyone's UK bucket list.
Firstly, Durham City has this magical charm rarely found in other places. From walking the time-worn cobblestone streets to exploring the cloisters of Durham Cathedral, you can almost feel the history all around you. That's why some scenes from Harry Potter movies were filmed here, because it just feels so magical.
Then, outside of the city, the country of Durham has so much to offer on a weekend away. From beautiful beaches to cracking castles to stunning waterfalls, there really are some stunning places to visit near Durham.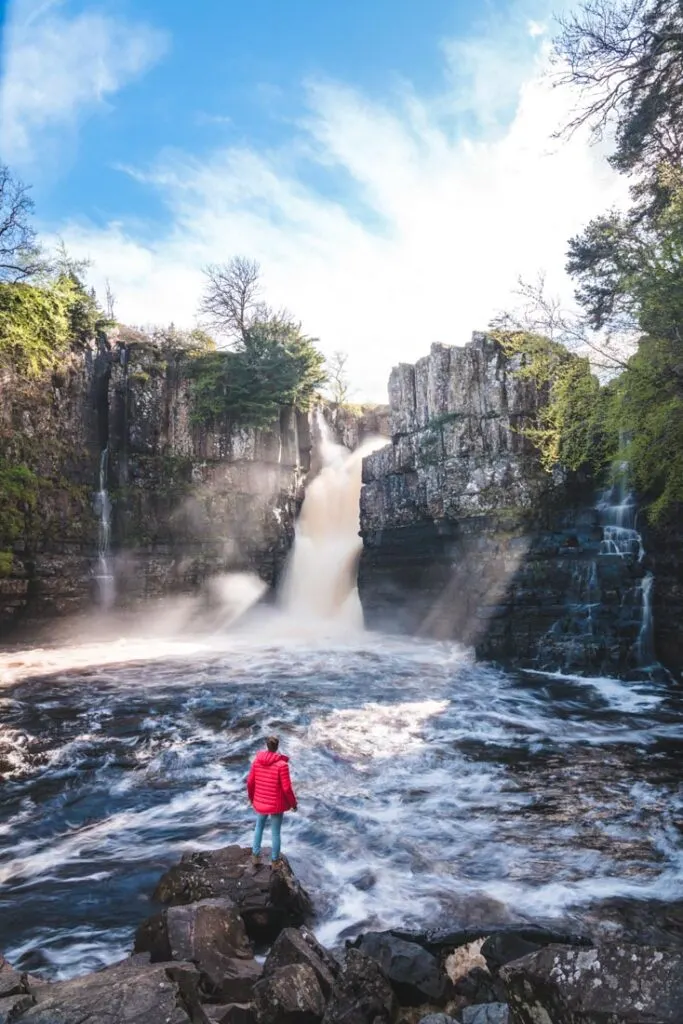 One of the things I loved about Durham was you could be hiking in the heart of the countryside one morning, then be having lunch on the beach in the afternoon. I always think that's what UK staycations are all about!
So, if you're looking at spending a weekend in Durham, this is the blog post for you. From where to eat to some unique accommodation options, this is my 3 day Durham itinerary packed full of where to go and what to do.
Just get ready to visit one of the most beautiful parts of the UK – you're going to absolutely love it here.
Where is Durham in England?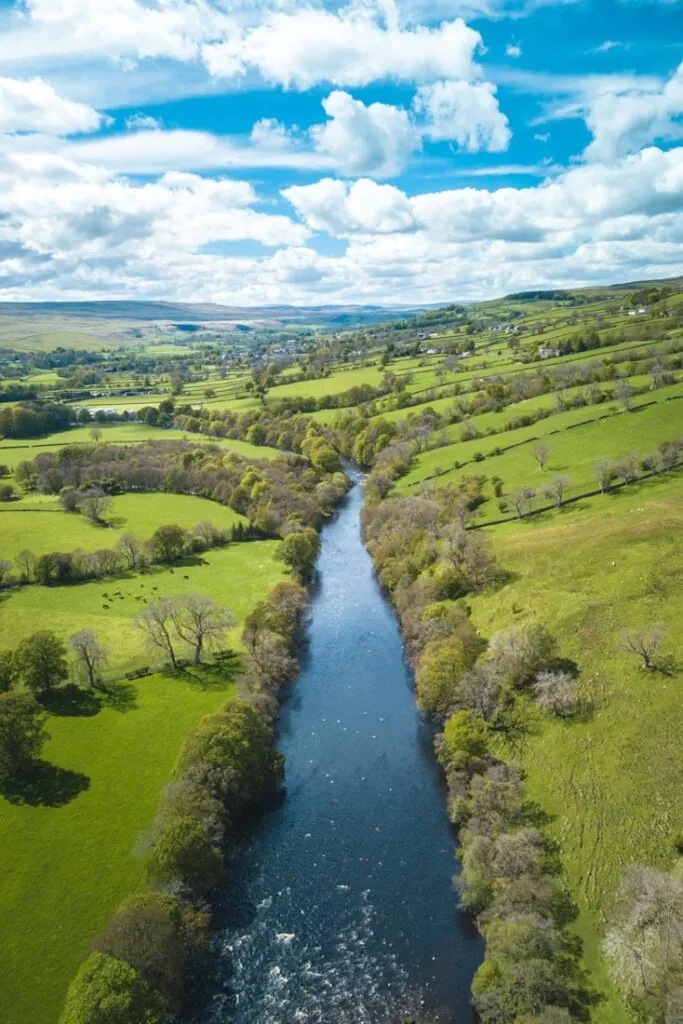 Okay, so let's try and clear up a few things first.
Technically, there are three Durham's in the world. There is Durham in North Carolina in the United States, which is named after the county of Durham in the UK, and the capital of that is Durham City.
Essentially, the city of Durham is found in the county. Throughout this blog post I'll make sure which one I'm talking about (not the one in America, obviously).
Anyway, Durham is found in the north east England. It's close to Newcastle and Northumberland, and then you've got Scotland above that. But with so much around, there really are so many beautiful places to visit near Durham – you really are spoilt for choice in this part of England.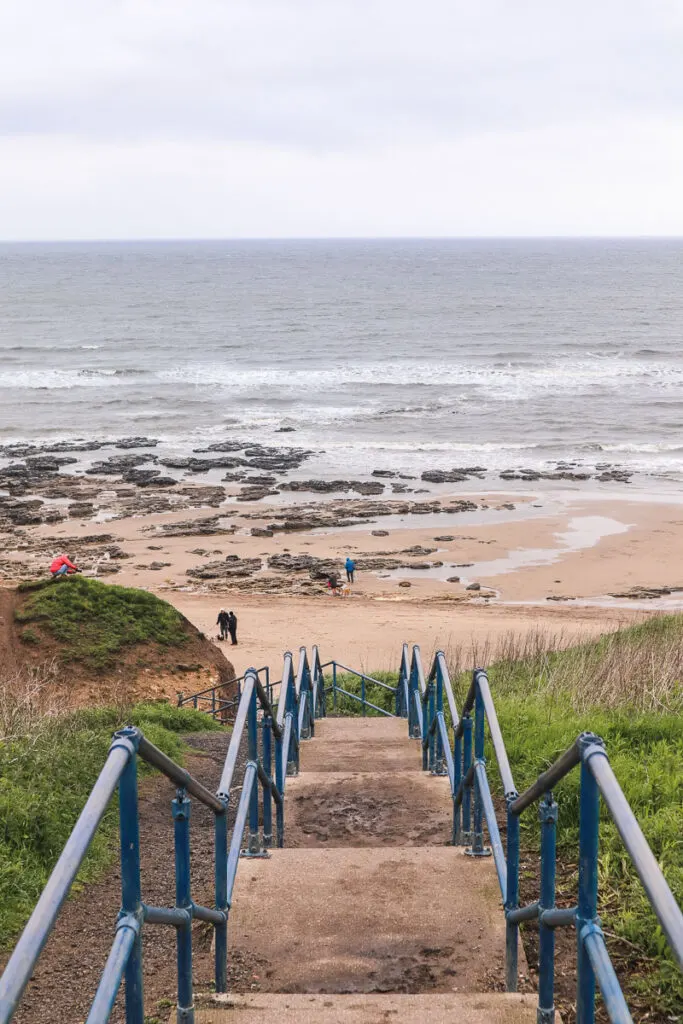 Coming from London, it's actually quicker than you might think. The train from London Kings Cross to Durham City takes less than 3 hours, so it's a lot quicker than going somewhere like Cornwall for your UK holiday. It's also a lot faster than driving, so I'd really recommend catching the train if coming from the south of England.
Saying that, as we wanted to explore the county for a weekend, we hired a car in Durham City. We wanted to make sure we had wheels so we could get to some of the best tourist attractions near Durham.
So, if you're looking at what to do in Durham, here's how to have an amazing weekend away. Follow this guide and I promise you're in for an incredible few days!
---
Beautiful Places to Visit Near Durham, England
Day 1 in Durham City
Go for a riverside walk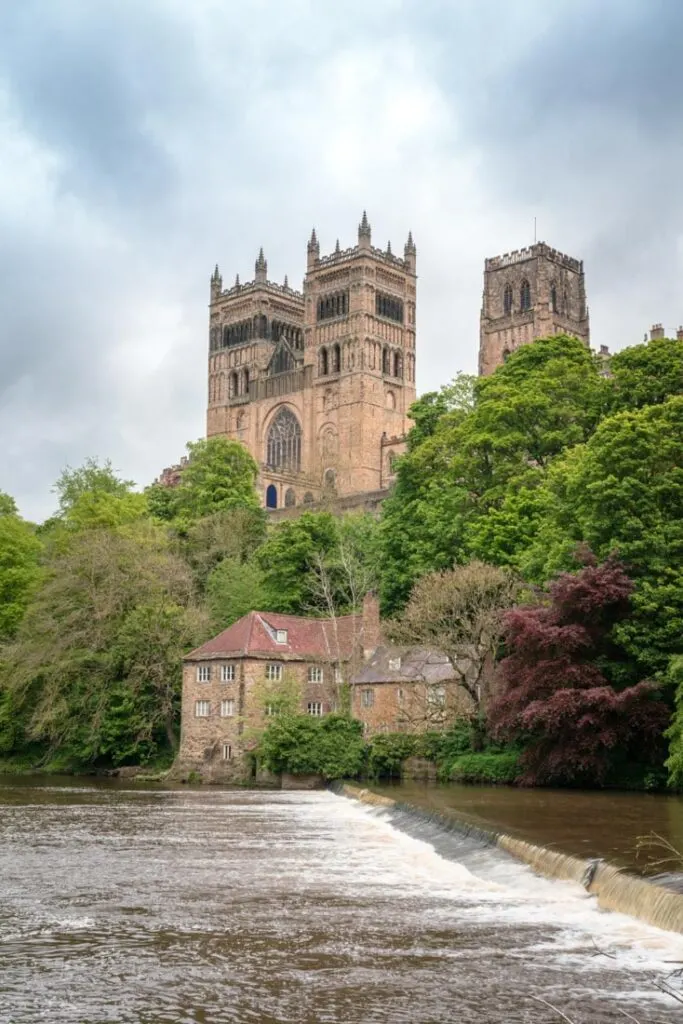 I'd never been to Durham City before so I was really excited to have a wander around and get a feel for the place first.
One of the most famous views of the city is from the River Wear looking up at Durham Cathedral. It's such an iconic view, and it really sets the scene for your Durham itinerary.
One of the things I loved about the riverside walk is often you'll find rowers on the river. As a historic University City, encircled by a river, rowing is a popular sport with students, and I really enjoyed seeing some of them practicing. It's not just Oxford and Cambridge where you see all the rowers!
Climb to the top of Durham Cathedral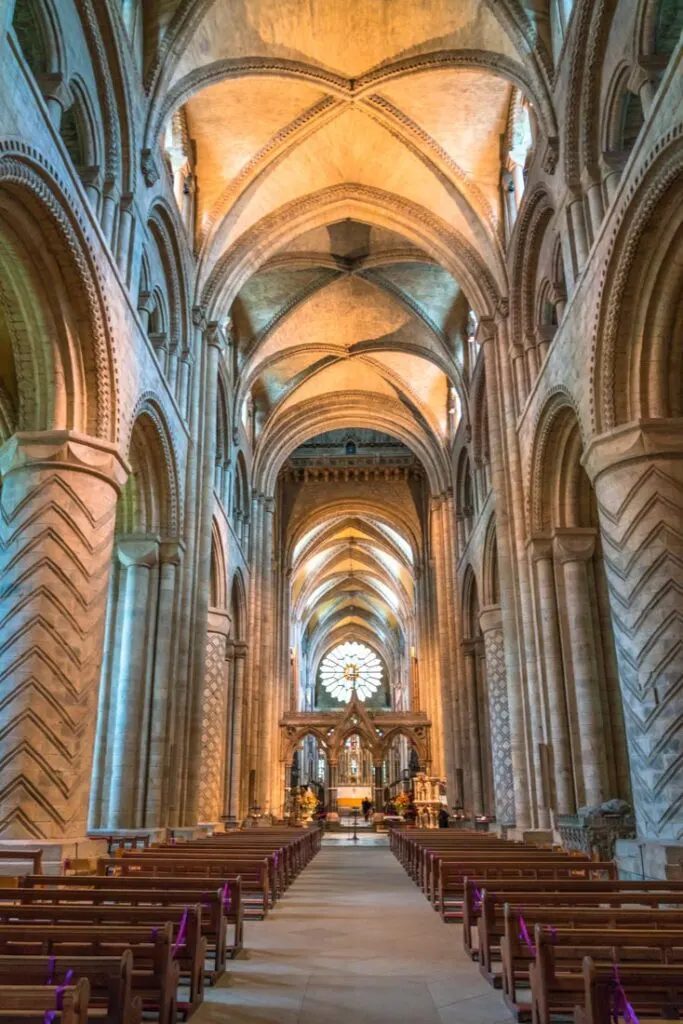 Durham Cathedral is one of the oldest churches in the UK which was first built in 1093. It was also one of the first buildings to be inducted into the UNESCO World Heritage Site list in 1986. This was the same time the Taj Mahal was inducted too, so historically it's a very important building.
As you can imagine, the architecture is just stunning. When you stand at the back of the cathedral, there are all these beautiful lines of symmetry wherever you look.
Being a massive Harry Potter fan, my favourite spot was the cloisters. This location was used as the quadrangle in Hogwarts for the films. Also, the Chapter House is the setting for Professor McGonagall's classroom too.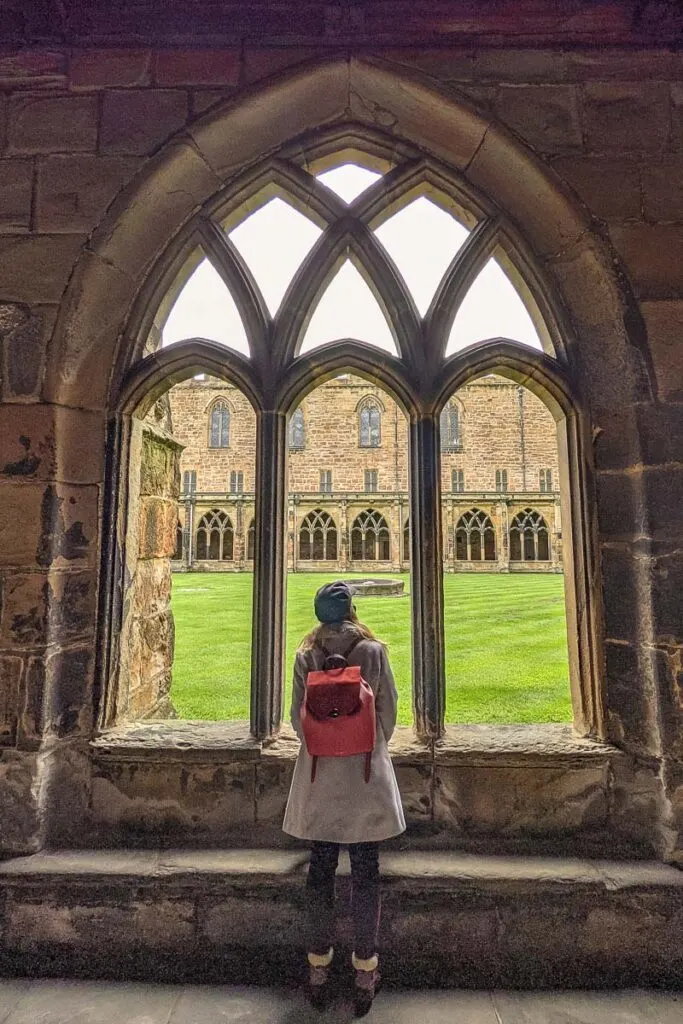 One of the things I'd really recommend doing at Durham Cathedral is climbing the 325 steps to the top of the tower. As you can imagine, it's a bit of a calf burner walking all those steps, but the views from the top are just incredible.
From here you can see Durham Castle (which is next to the cathedral), and the famous Durham Viaduct. There are lots of information plaques on other buildings in the area too.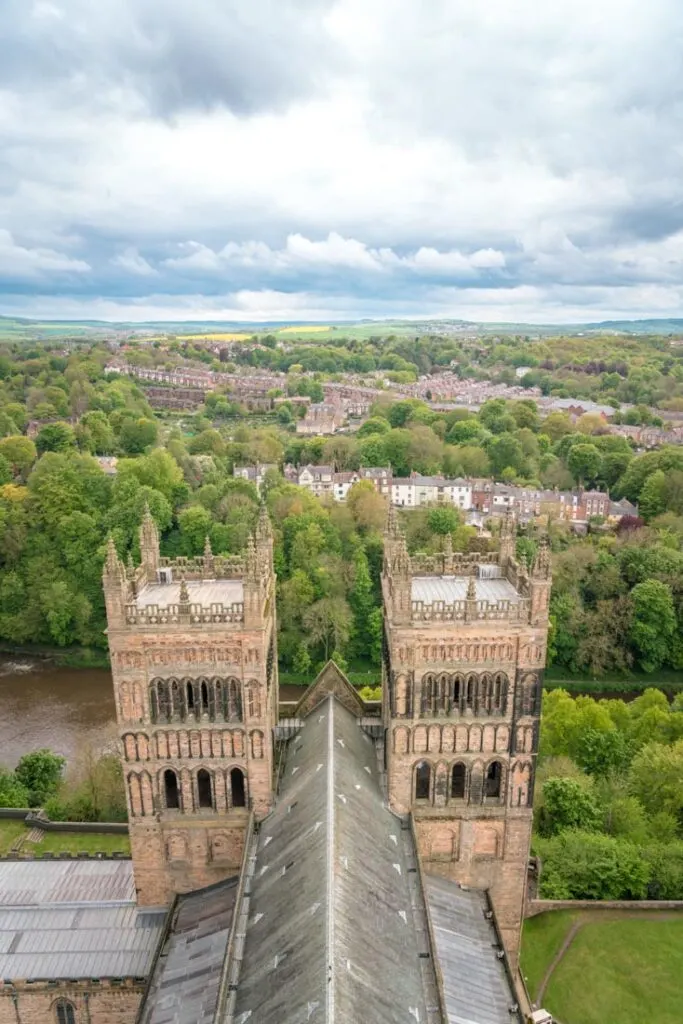 Tickets to climb to the top of the tower are £5.50 per adult (children aged 8-17 cost £2.50), and you have to book onto a specific timed slot beforehand.
Entry into Durham Cathedral itself is free, though of course donations are always welcome.
Eat at the Cellar Door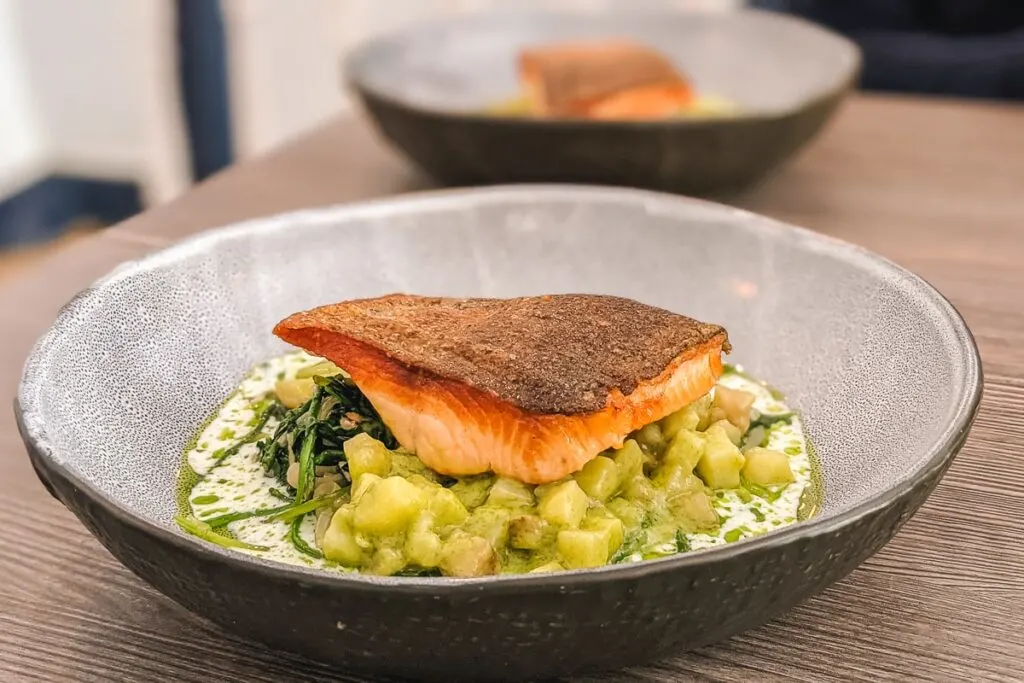 I really can't recommend the Cellar Door enough. If you eat here at lunch time, they have a very affordable set menu. Two courses is only £18 and three courses is £22, so it's an absolute bargain for what you get.
The food is absolutely delicious too. To start I had the mackerel with rhubarb and cucumber, followed by the chalk stream trout with wild garlic and samphire.
It's a very relaxed atmosphere too with great service, so it's the perfect place for lunch in my eyes.
If you can, try and bag an outside table so get some riverside views.
Pick up your hire car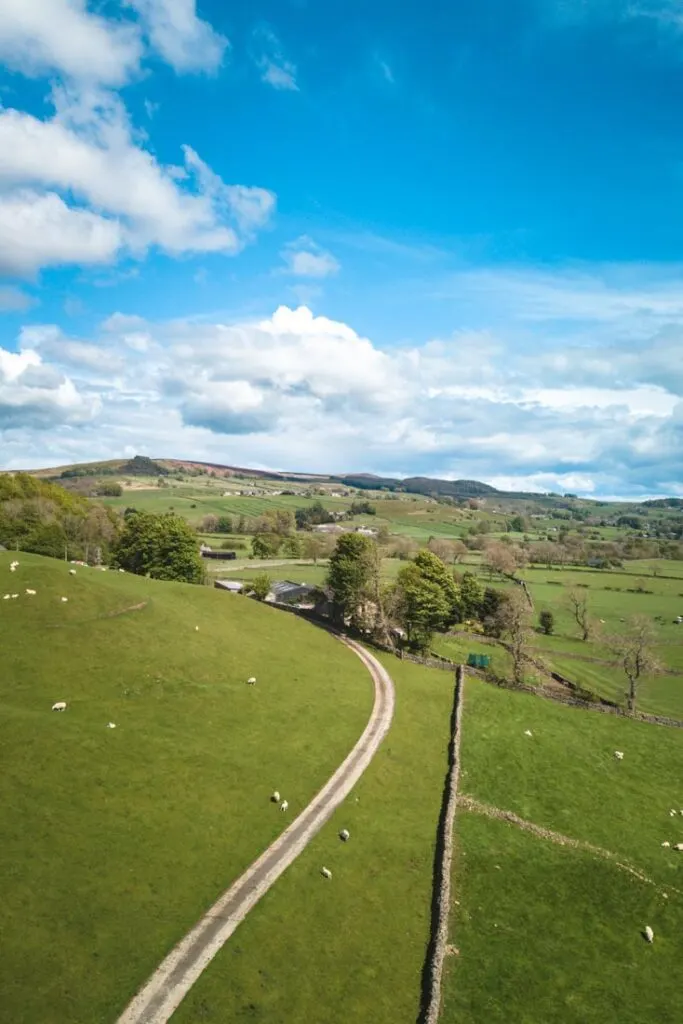 There is an Enterprise hire car pick up point just outside of the city centre, so we hopped into an Uber (which cost about £5) and picked up a car for the next few days.
Everything was very quick and easy, and it was nice setting off for a few days out in Durham after exploring the city for the morning.
Drive to Seaham Beach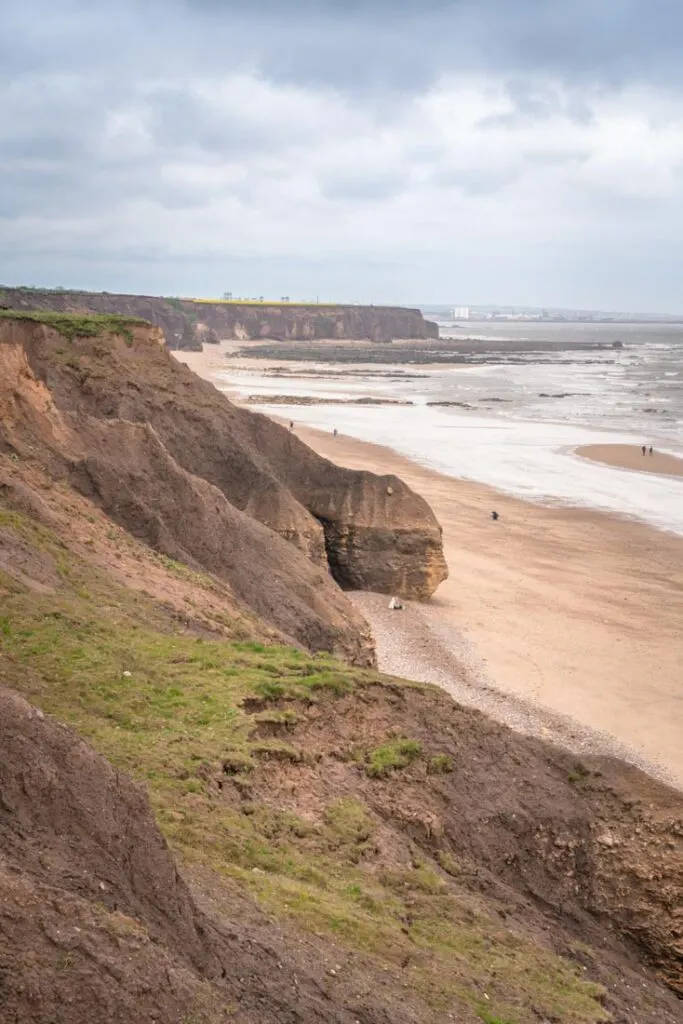 From Durham City, we drove 25 minutes to Seaham Beach on the coast of the county. This is one of the things I love about Durham – it's famous for the city, the coastline and the countryside so you can see all of them on a weekend away.
Seaham is a lovely place to walk from one end of the beach to the other. If you start at the north end of the beach, you can walk for about an hour before ending up at Seaham itself. Here you can pick up an ice cream from Lickety Split (everyone raves about this place).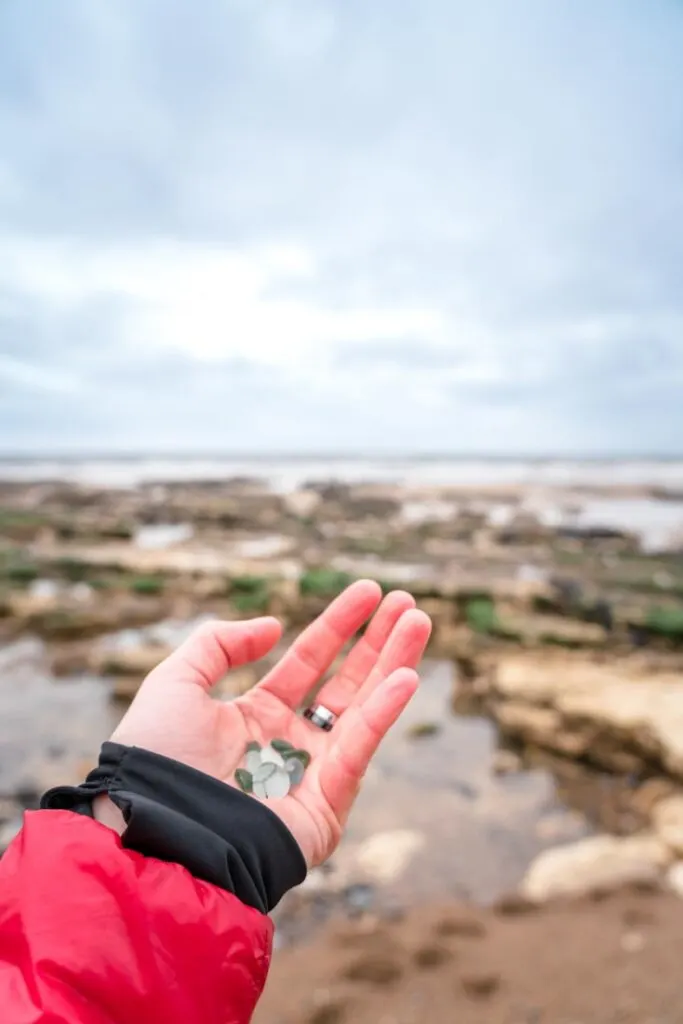 Another thing that Seaham Beach is famous for is sea glass. This is man-made glass that's been discarded into the sea, and over decades of tumbling around in the waters, it washes up on the beach as bright pebbles of glass.
No two pieces of sea glass are the same size or colour – each one is different. This makes it a really unique souvenir from your weekend in Durham to take home with you.
It's very easy to see why Seaham Beach is one of the top places to visit near Durham.
Stay at the South Causey Inn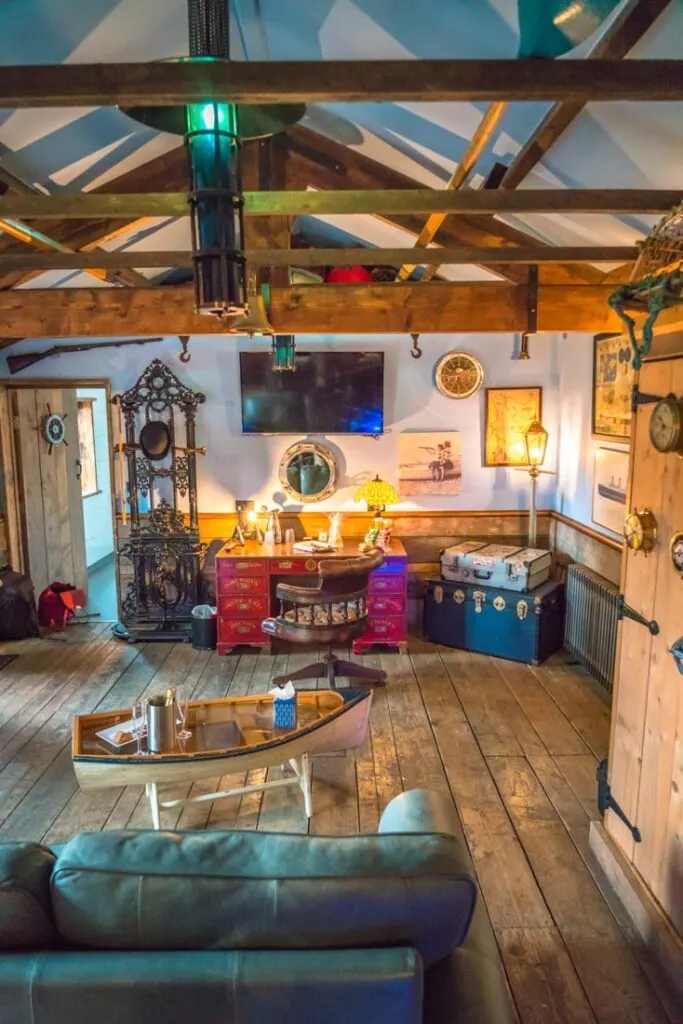 At the beginning of this post, I mentioned some unique accommodation. Well, let me introduce you to the South Causey Inn.
From the outside, this looks like any other country inn, but hidden away are 12 different theme rooms that are so much fun to stay in.
Being the travellers we are, we stayed in Captain Cook's Cabin, a room that was a cross between a ship's cabin and Treasure Island. Dotted around the room was a treasure chest, ship's wheel, and a few bottles of rum (arrrrrrrhhhhh). The best bit was Captain Cook's uniform which you can wear for the evening. I mean, why wouldn't you?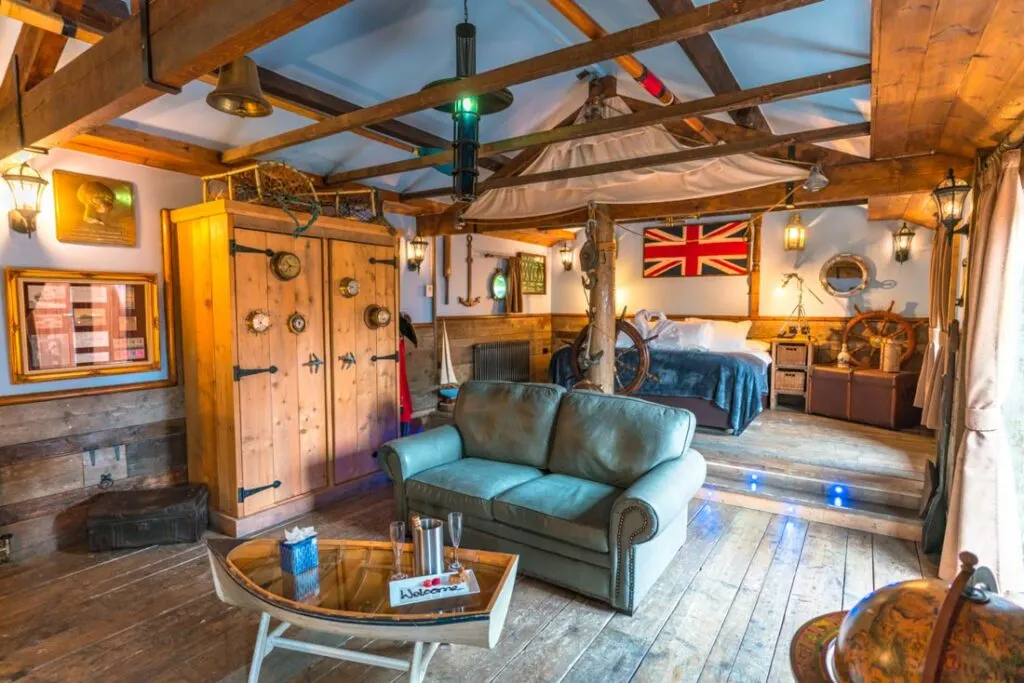 And to make your stay even better, each of the themed cabins come with their own hot tub. I mean, what more could you want!?
A couple of the other themed cabins I liked the look of were Hadrian's Villa, and the Treehouse. There are plenty of other rooms at the South Causey Inn if you're looking for something a little more traditional.
This really is such a fun place to stay at though and is a really good accommodation option in Durham.
Day 2 in County Durham
Explore Barnard Castle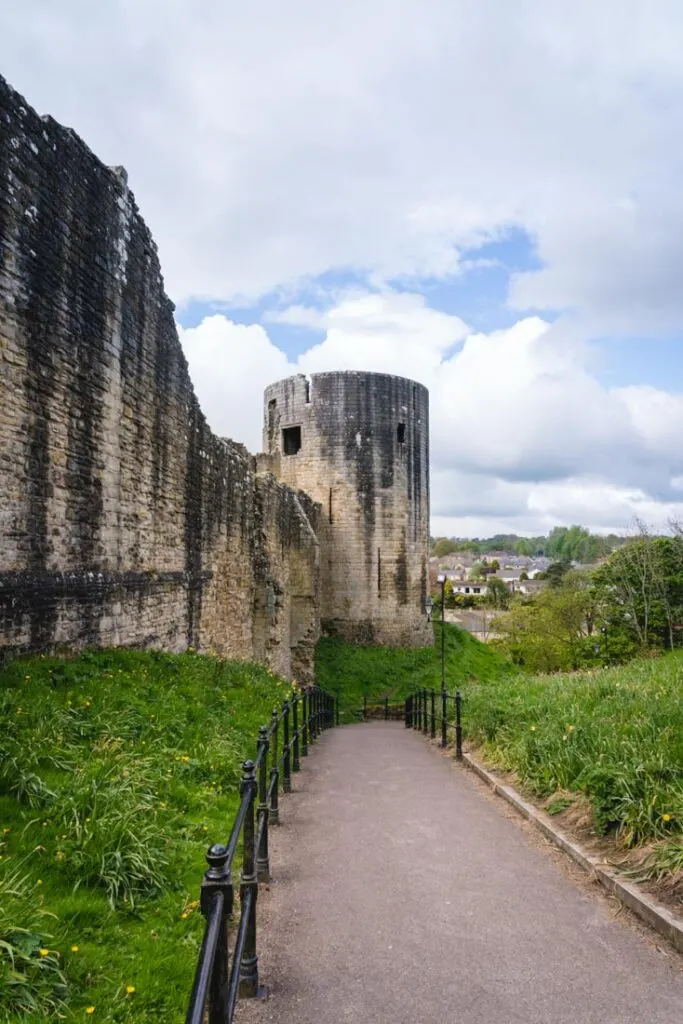 For your second day in the county of Durham, head to Barnard Castle.
Now, Barnard Castle may have been put on the map recently (if you know, you know…), but it's actually an amazing market town to explore.
As the name suggests, Barnard Castle takes its name from the 12th century castle that overlooks the River Tees. There's a little walk around the castle that will give you some stunning views overlooking the gorge.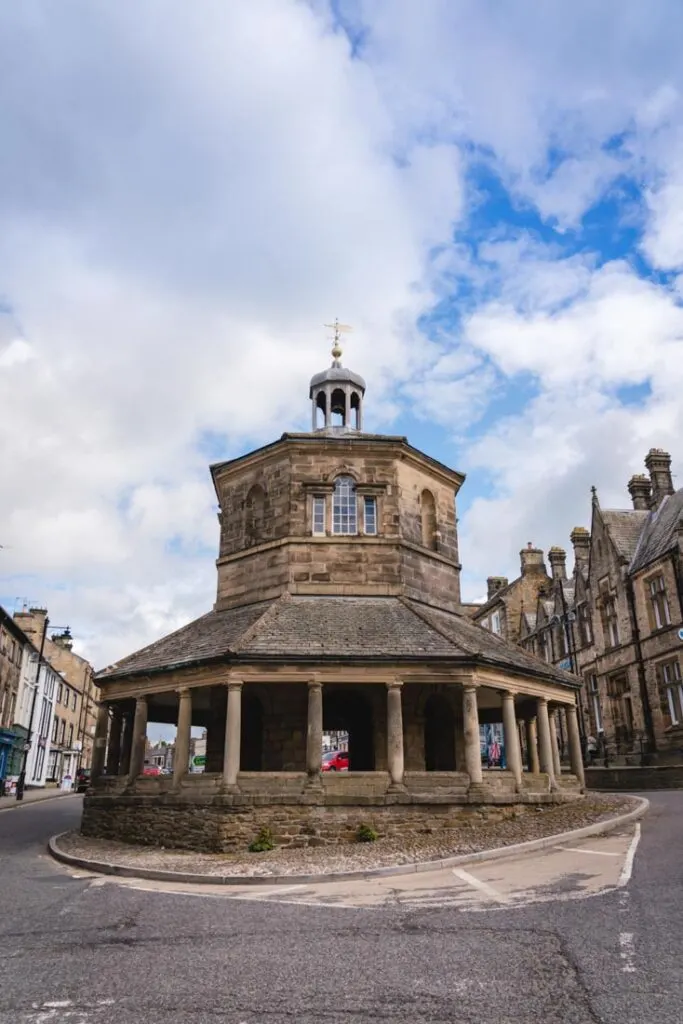 Barnard Castle is also famous for its independent shops and antique dealerships dotted all over the town.
A lot of these antique shops are a treasure trove with some ancient objects just waiting to be discovered again.
Also, if you're a chocoholic, then you'll love it in Chocolate Fayre. Just have a peep in and you'll see what I mean.
See the elegance of The Bowes Museum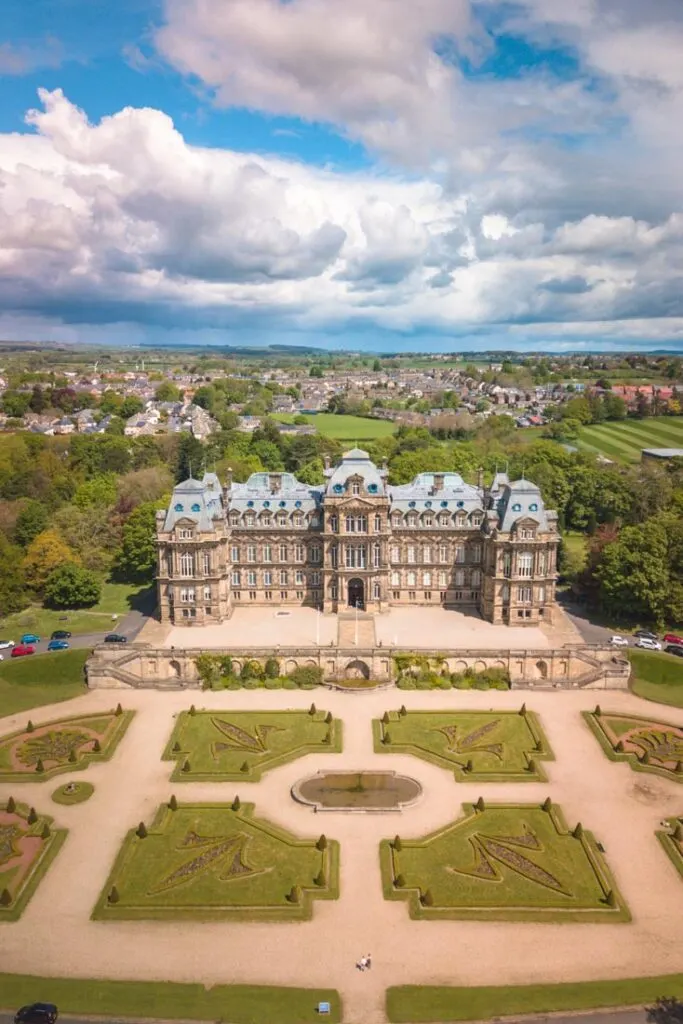 Did you know there was a 19th century French chateau in the heart of the countryside in the county of Durham? No? Then say hello to The Bowes Museum.
Just a short 5-minute walk from the centre of Barnard Castle, The Bowes Museum is a grand and opulent museum with one of the finest art collections in the world.
Purpose-built as a museum and art gallery by John Bowes and his wife Joséphine Benoîte Coffin-Chevallier, it opened to the public in 1892. It has been delighting people ever since then.
The first floor gives you the background of John Bowes and Joséphine Benoîte Coffin-Chevallier, and how they created the museum together. It's a fascinating story of love and loss, but basically as they couldn't have any children, they poured everything into the museum.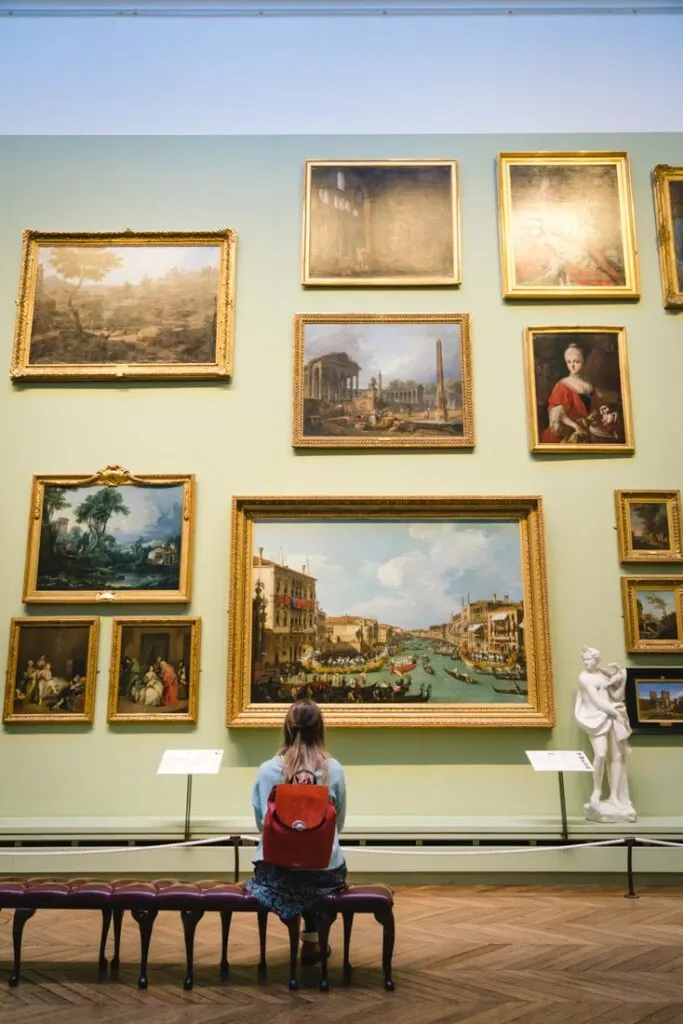 The art gallery on the second floor really takes your breath away with its magnificence. There are three massive rooms here, and each one is covered from floor to ceiling with fine art. There are even a couple of El Grecos and a Francisco Goya.
This art gallery is considered one of the finest in the world, so make sure you add The Bowes Museum to your Durham itinerary.
Raby Castle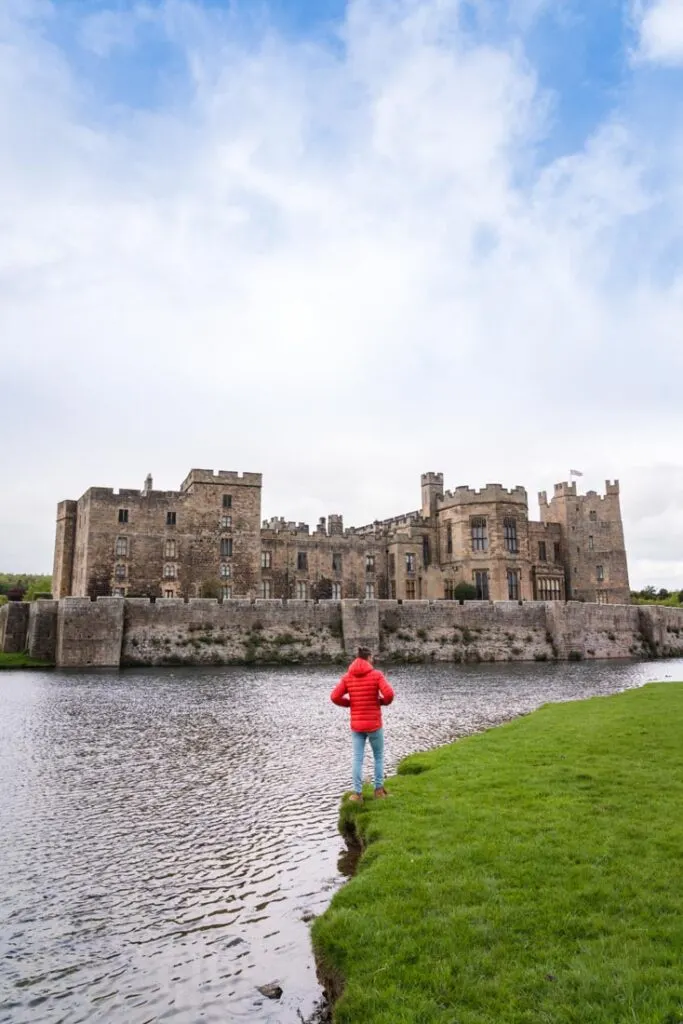 If I lived in a castle, I'd want to live in Raby Castle. This place dates all the way back to the 12th century so it might be a little drafty with the odd ghost or two, but it does come with 200 acres of lush green parkland, over 400 wild deer, and a herd of long horn cows too. Oh, and the views of the Durham countryside are absolutely stunning too.
I'd really recommend buying a ticket and going inside the castle itself, or you can even book a guided tour to learn all about the history of the place. After we explored all the different rooms at Raby Castle, we went for a long walk around the grounds where we made friends with the long horn cows and saw the deer roaming around.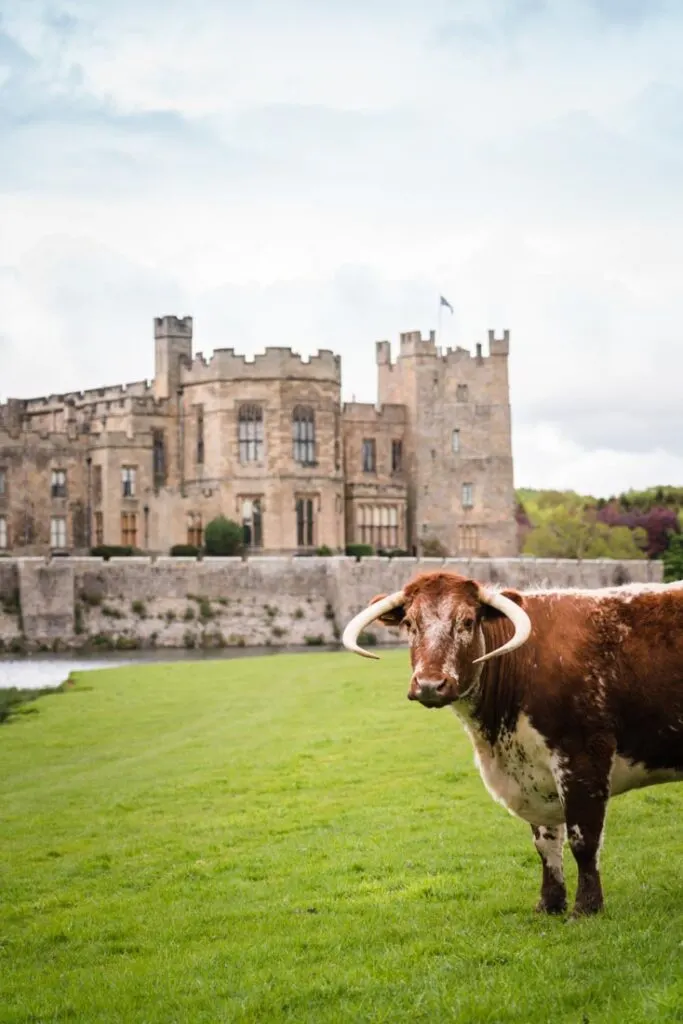 One of the most famous facts about Raby Castle is it was the home to Cecily Neville, the Duchess of York (1415-1490). Now her name might not ring a bell, but she gave birth to two future Kings of England, Edward IV and Richard III. Basically, there's some serious history in these walls!
Adult tickets to Raby Castle (the gardens and the park itself) cost £13 per person, and for children (aged 5-15) it costs £6.50.
High Force Waterfall Hotel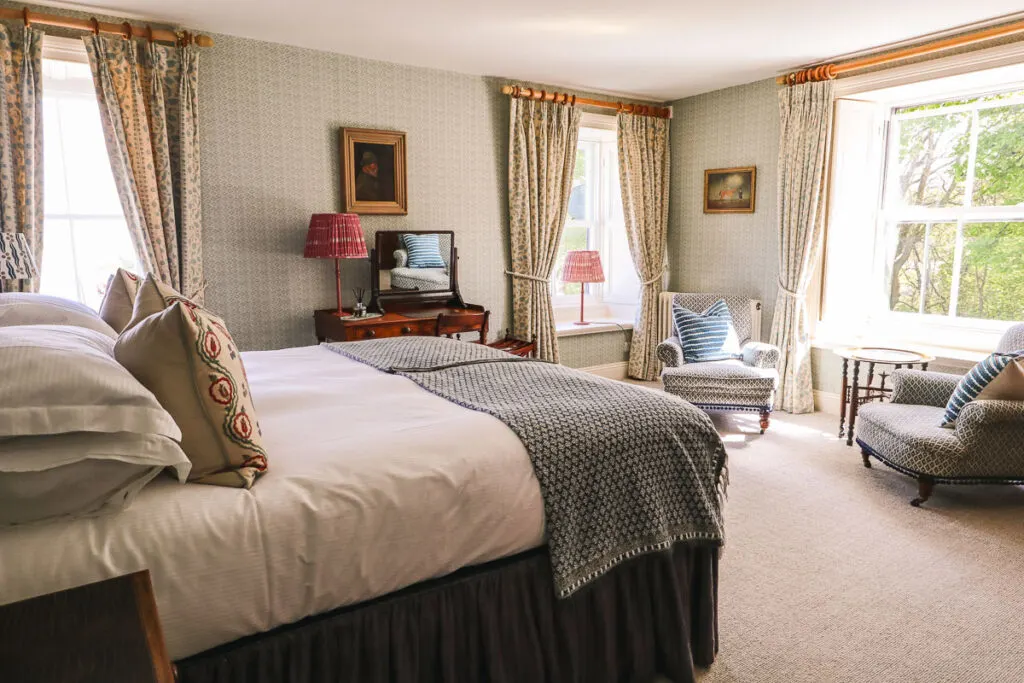 High Force Waterfall Hotel is the perfect rural retreat, set in the beautiful surroundings of the Durham Dales.
Each of the 11 individually designed rooms are super comfortable and cosy so it feels like a little home away from home.
In the main building of the hotel there is a bar at one end serving up local ales, and a really delicious restaurant at the other end.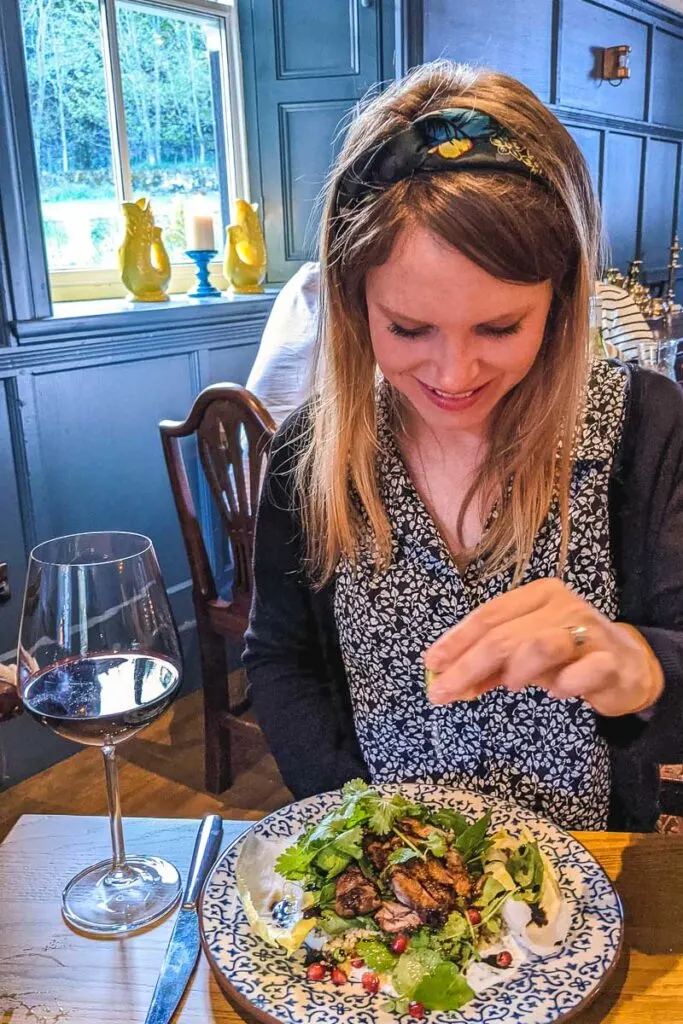 My suggestion is to get yourself a drink at the bar, talk about your amazing day in Durham, then walk through to the restaurant and enjoy a meal there. I had the moules frites and it was the perfect way of ending the day.
Day 3 in Durham
High Force Waterfall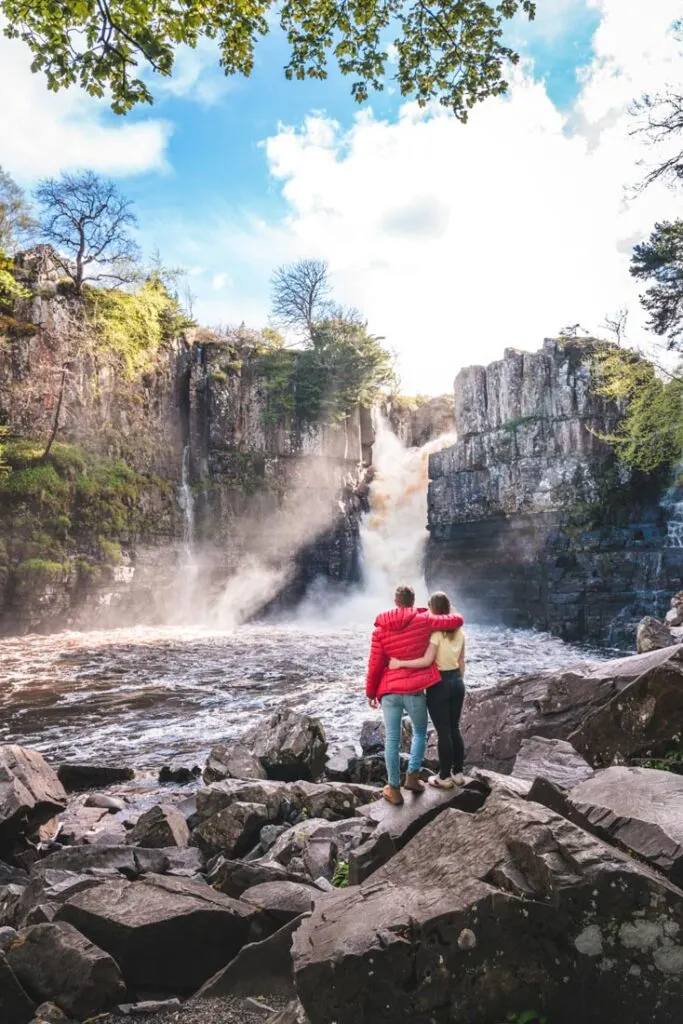 One of the best things about staying at High Force Waterfall Hotel is you're right opposite the waterfall.
This is one of the biggest and best waterfalls in the UK, and it's one of the best things to do in Durham too.
High Force is surrounded by the stunning countryside of Upper Teesdale, and is situated in the North Pennines Area of Outstanding Natural Beauty. For me, this is one of the most beautiful places in Durham – it really is such a stunning spot.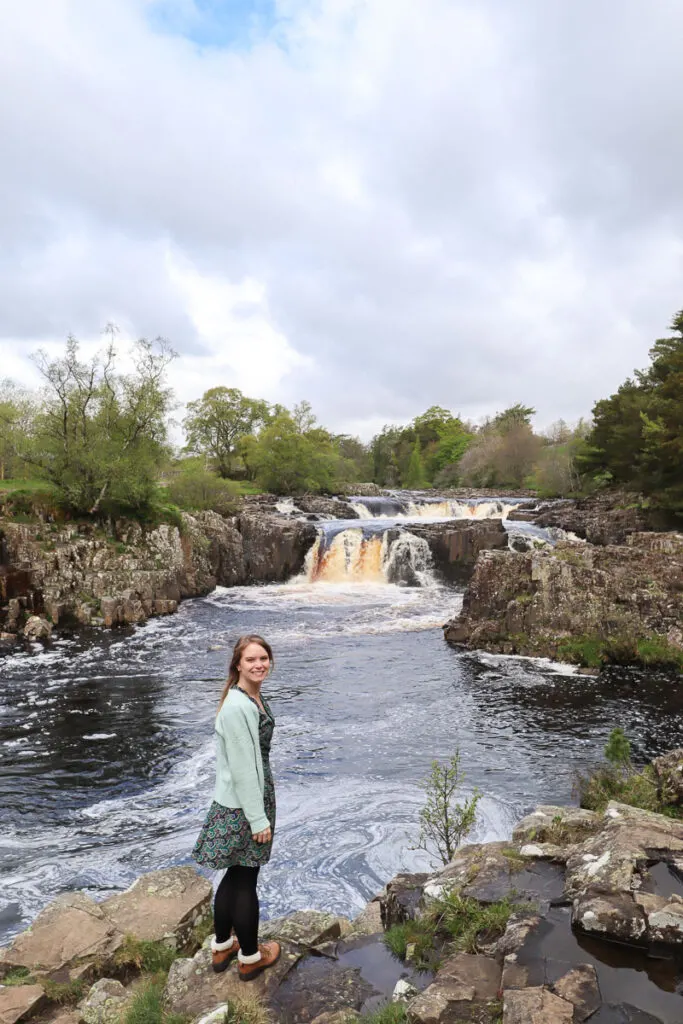 I'd really suggest waking up early so you can have the place to yourself. Honestly, it's just so beautiful here.
It's a short 15-minute walk to the waterfall, and the views just get better and better until eventually you can see the waterfall through the trees. Once you make it to the waterfall, there is a staircase taking you down to some rocks next to the water. This is where you'll get the best views of the waterfall – and feel the power of it too!
The River Tees has been plunging into this gorge for thousands of years but the rocks it reveals are far more ancient – with origins dating back over 300 million years.
As I said, this is one of the best waterfalls in the UK. Just sit back and marvel at its beauty.
Hamsterley Forest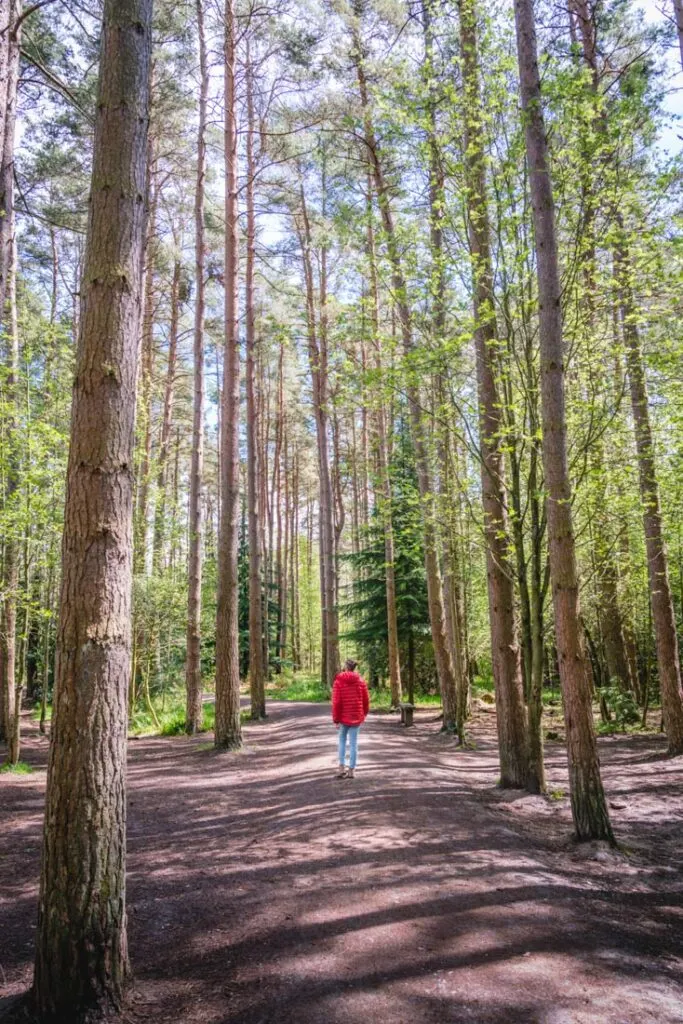 If you're looking for one of the best days out in Durham, I'd recommend visiting Hamsterley Forest. This is the county's largest forest with numerous walking, cycling and horse-riding routes meandering past huge oak, pine and sequoia trees.
For me, what I loved about Hamsterley Forest was the tranquillity of the place. Once you park up and get on the trails, it feels like you're a million miles away from the hustle and bustle of daily life. All you can hear is the wind gently rustling the leaves on the trees or all the birds singing around you.
Parking at Hamsterley Forest is only £6 for the entire day, so it's a really cheap day out in Durham for all the family.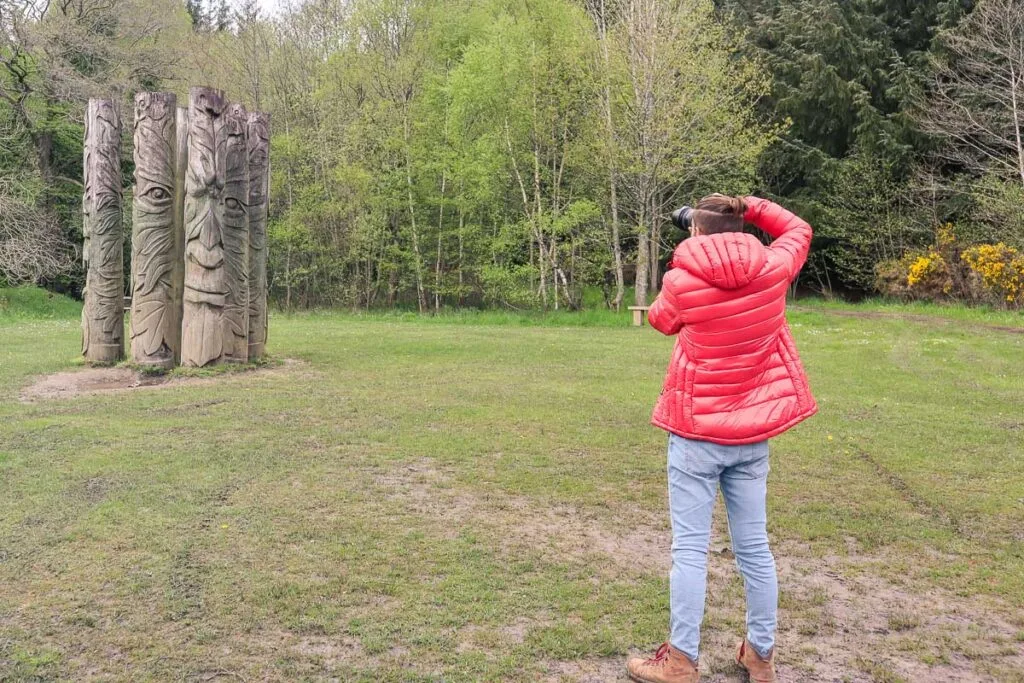 ---
This post was in association with This Is Durham promoting some the most beautiful places to visit near Durham. As always, views are entirely my own and without bias.
Are you planning a trip to Durham? Let me know if you have any questions about what to do in Durham in the comments below and I'll get back to you!
Like this post? Then make sure you Pin it for the future!