Do you want tick off Songkran water festival from your Thailand bucket list? From where to go and what to bring, this is my guide to Songkran 2022!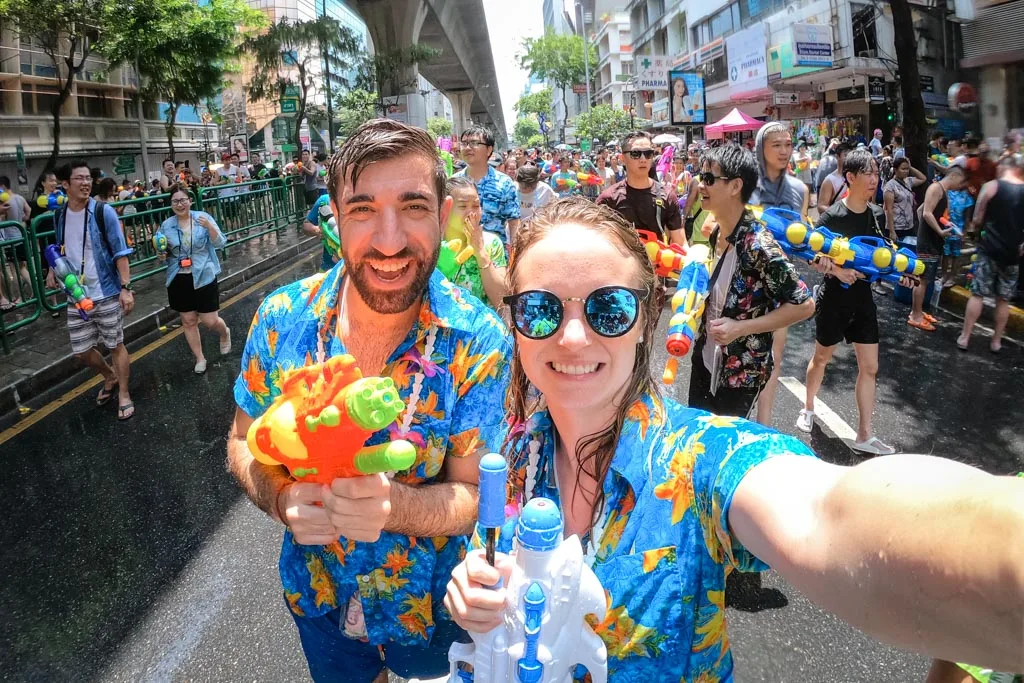 I'm saying this right now and getting it out the way early. The Songkran water festival is without a doubt one of the best festivals in the world. It's a big claim, right? Well, I'm about to tell you everything about this festival and why you have to do Songkran at least once in your lifetime.
I can't tell you how much I love Thailand. One of my first trips to the country was at the tender age of 20 and I've been coming back ever since. From trekking through the jungle in Pai to sleeping under the stars in Khao Sok National Park, I've ticked off a number of things on my Thailand bucket list.
However, the one thing I was desperate to do on my last trip was the Thailand water festival. I went, and it was everything I wanted it to be.
This is the ultimate water fight you dreamed of as a kid. It's carnage. It's hedonistic. And it's incredibly special too.
I've got you interested, haven't I? Then keep on reading to find out all about Songkran.
Hopefully you'll be here for Songkran 2022 too – it's all set to be another fantastic festival!
Is Songkran 2022 cancelled?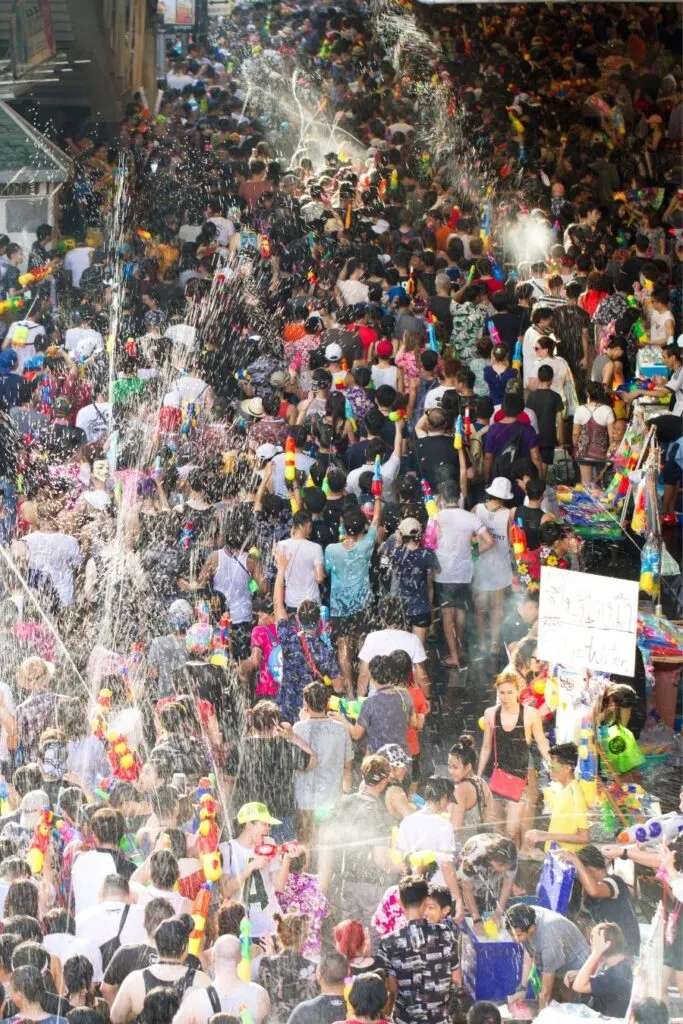 One of the questions I am getting a lot at the moment is whether Songkran 2022 is cancelled?
Well, after a very tough couple of years in Thailand, Songkran has been given the green light to go ahead! Whoop whoop!
This is the first time Songkran will be celebrated since 2020, so it's a really big moment for the country. Saying that, the government has said that additional health and safety measures will still need to be followed (which is understandable). You will need to wear a face mask, do a ATK test beforehand, and stick to designated zones, but it is going ahead.
But if you're planning a trip to Thailand around Songkran, then this is a great time to visit.
What is the Songkran water festival?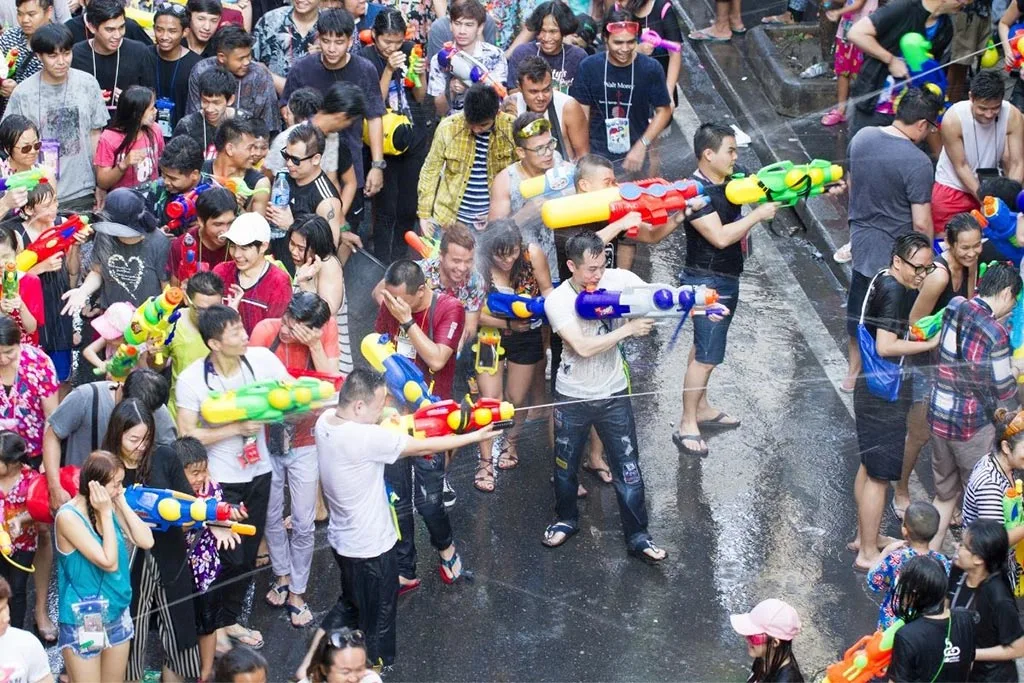 Officially, Songkran is the Thai New Year. It started off as a Buddhist ritual in the 13th century where water was used to cleanse yourself and wash away the sins. However, it has since evolved into the world's largest water fight. We're talking Super Soaker 9000 levels here.
The Songkran water festival is celebrated on April 13th-15th all over the country, but a few cities like Bangkok and Chiang Mai go a lot harder than other places like the islands in the south. Saying that, no matter where you are in Thailand around this time, you will get wet. There's just no way of avoiding it I'm afraid.
Expect water cannons from all angles, freezing cold buckets of water thrown over you, lots of dancing in the streets and a lot of laughter too. If I knew of Songkran as I kid, I would've made my parents take me every year.
Getting ready for Songkran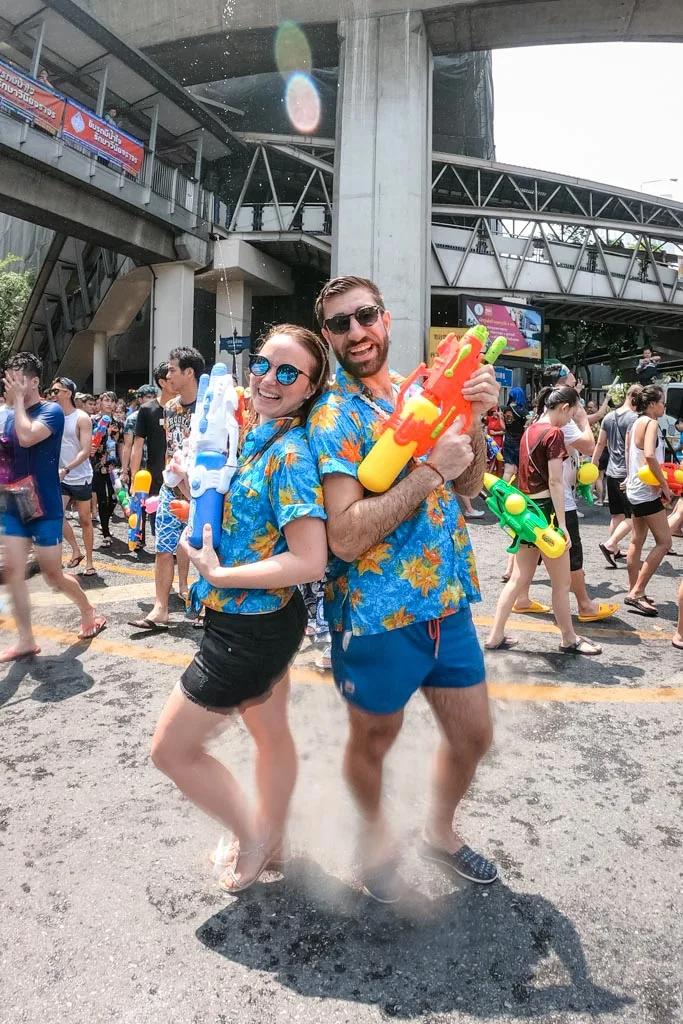 First things first, you'll need to get prepared. The day before the Songkran water festival I went shopping for everything I needed. This is what I recommend you buy beforehand:
Water pistol – These are sold on every street corner and can be bought very cheaply. Prices vary from 200 bhat (£5) all the way up to 1000 bhat (£25) – this is for a genuinely Super Soaker that would be the envy of any kid. If you're staying around the Khao San Road, you'll find dozens of stalls selling water pistols.
A waterproof pouch – Obviously you're going to get soaked, so it's really important you buy a good waterproof pouch for your phone and for some money. These cost around 50-100 baht (£1.25-2.50) for a good see-through pouch.
Money – It's a good idea to take small notes with you. No matter where you are, you'll have to pay for water refills for your water pistol. These usually cost 5-20 bhat (£0.20-0.50) per refill, so it can quickly add up. Also, you'll probably want a couple of buckets while you're at it, so it's good to take a fair bit of money with you.
A Hawaiian floral shirt – If you're going all out for Thailand's water festival, then you've got to buy a Hawaiian floral shirt. Thai's love colour, and floral shirts have become the unofficial dress code at the festival. I bought a lovely number with yellow flowers on it for 120 bhat (£3) that I still wear today!
Celebrating Songkran in Bangkok
Start in Silom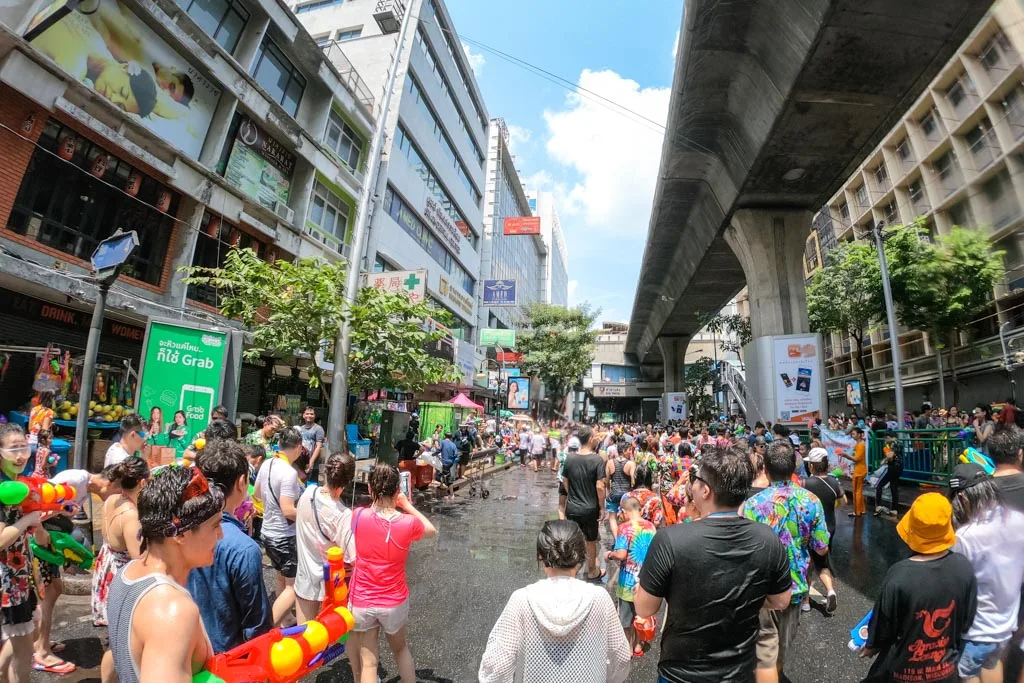 Things don't really kick off until after midday, so the first few hours were nervous excitement talking about our tactics and strategies.
Once it was time, we caught a tuk-tuk to Silom. This is considered the best area in Bangkok for Songkran this year. The 5km street is packed with thousands of people ready and raring to go.
On either side of the road there are stalls selling everything from water pistols (if you didn't bring one) to drinks and snacks.
The best thing to do is work your way from one end of Silom to the other. Ideally, you want to be on the east side of Silom. A good place to aim for is Novotel Bangkok Silom Road. This means you'll end up at Lumphini Park for lunch.
Right, are you ready to get wet?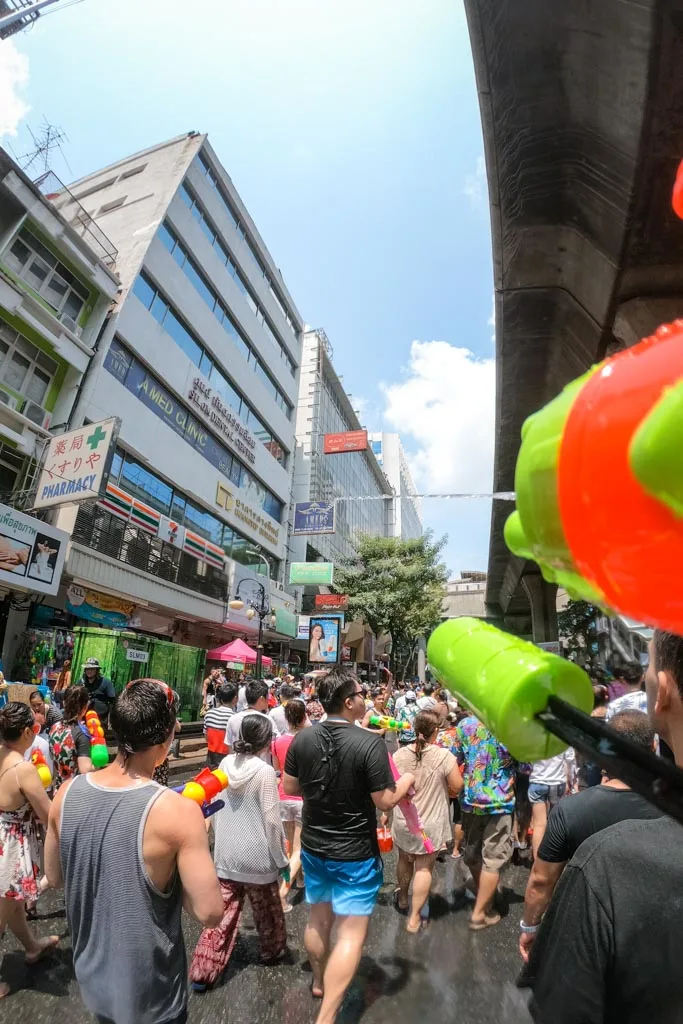 No joke, but we were completely soaked within the first 10 steps of arriving in Silom. A group of guys saw us in our pristine floral shirts and immediately tipped the biggest bucket of water over our heads. And that was just the start of it.
Once we got into the thick of it, there were thousands of people all around us screaming and squirting at each other. It was like a warzone with water with everyone having the best time.
It took us a good 45 minutes to walk from one end to the other. We came out next to Lumphini Park near the Silom MRT Station. This is the perfect place to take a breather and get a bite to eat.
There are loads of street food stalls selling everything from spring rolls to pad Thai. I'd really recommend grabbing something to eat and drink to get your energy back – it's only the start of the day after all!
Once you've eaten, head straight back into the fray.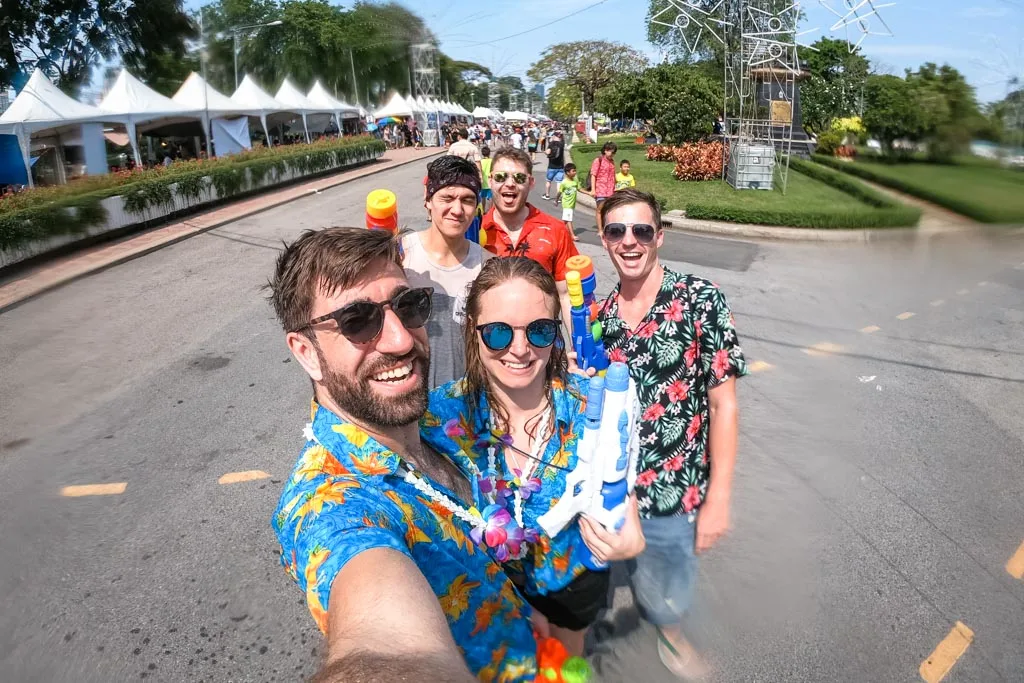 We walked the whole length of Silom again. As it was approaching mid-afternoon by this point it was pure carnage. They even had a few fire trucks firing their water hoses at everyone.
Once we made it back towards the river, it was time to hop in a tuk-tuk and head off to our next stop for Songkran in Bangkok.
Party on Khao San Road, Bangkok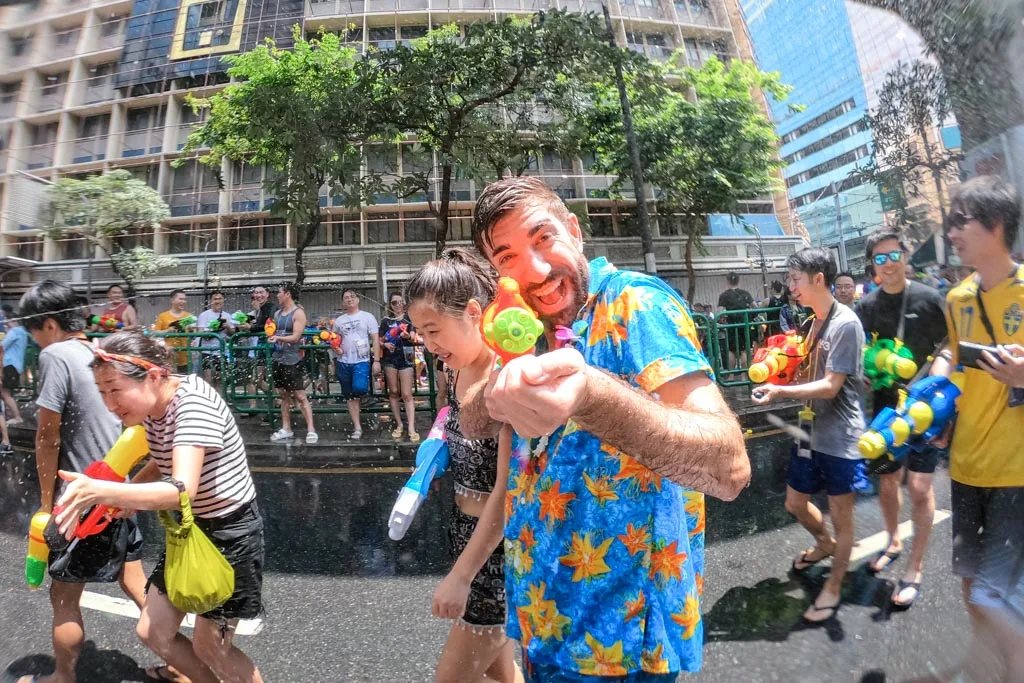 Right, are you ready for the next step in my Songkran guide? Get ready to go up another level!
If you think things were hectic in Silom, they really kick off on the Khao San Road. This is backpacker central, and everyone embraces Songkran like it's New Year's Eve (which it is, in a way).
Again, we walked from one end of Khao San Road to the other. However, things were so packed with people it's virtually impossible to move at times. That's why I'd really recommend getting yourself to a bar over looking the road, buy yourself a bucket to share with your friends, and watch the carnage unfold from there.
All the bars along Khao San Road are amazing. Each one pumps out dance music at 1,000 decibels, the drinks are cheap and everyone is looking to party. What can I say, it's a lot of fun!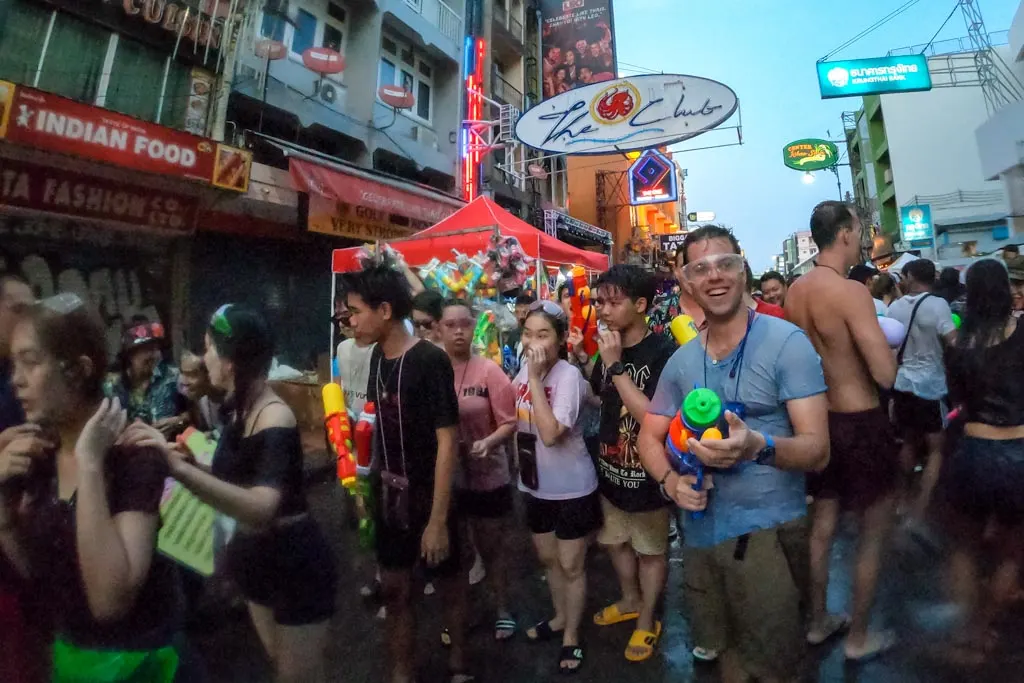 Once you've had your fill of Khao San Road, it's time to head on over to Soi Rambuttri Lane. This is a much quieter version of Khao San Road, and even though you'll still get wet, you won't get *as* wet.
There are loads of restaurants around Soi Rambuttri Lane where you can get something delicious for dinner. Be warned though – if you still outside at a street stall, expect to be squirted with water. Not exactly the best eating experience.
After dinner, just go where the night takes you. I probably lasted till around 11pm, but that party keeps on going all night. I was knackered after nearly 12 hours of partying at Thailand's water festival, so I was done, but there are loads of clubs in the area to choose from for the truly hedonistic among you.
SIAM Songkran music festival 2022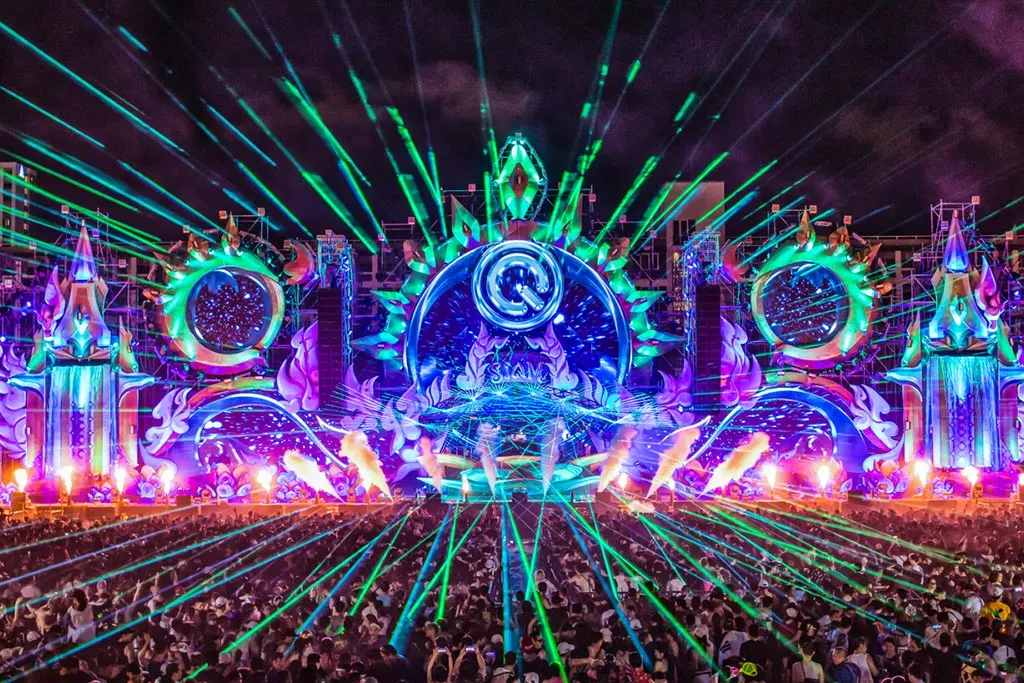 If you're really looking to party hard, then take a look at SIAM Songkran music festival. This is from the 11th-13th April culminating in a headline set on Thai New Year at Urban Yard Bangkok, RCA.
This is a proper hardcore dance festival where you'll see artists like Afrojack, Darren Styles and others.
I had a couple of friends who went last year and they said it was unbelievable. Songkran + dance festival + buckets = the best time ever.
Visit the Grand Palace or Wat Pho
One other thing I would recommend around the time of Songkran is visiting one of the Buddhist temples like the Grand Palace or Wat Pho.
Once you strip away all the hedonism and partying, the Thailand waster festival is still a very cultural and religious event to its core. It's very important not to lose sight of that and respect those traditions.
To complete your Songkran experience, if you go to a Buddhist temple then you can get a water blessing from a Buddhist monk. I did this at Wat Pho and it was great learning more about the religious significance of Thai New Year.
Obviously you get soaked in water, but that's just part of the experience around Songkran. It does symbolise your sins being washed away, and when you're in a place like Wat Pho it has a very spiritual feeling to it all.
Where to stay for Songkran in Bangkok
Next up in my Songkran guide it's where to stay. These are all hotels I have stayed in and personal recommend. If you're looking for somewhere else to stay, then check out my post on the coolest hotels in Bangkok!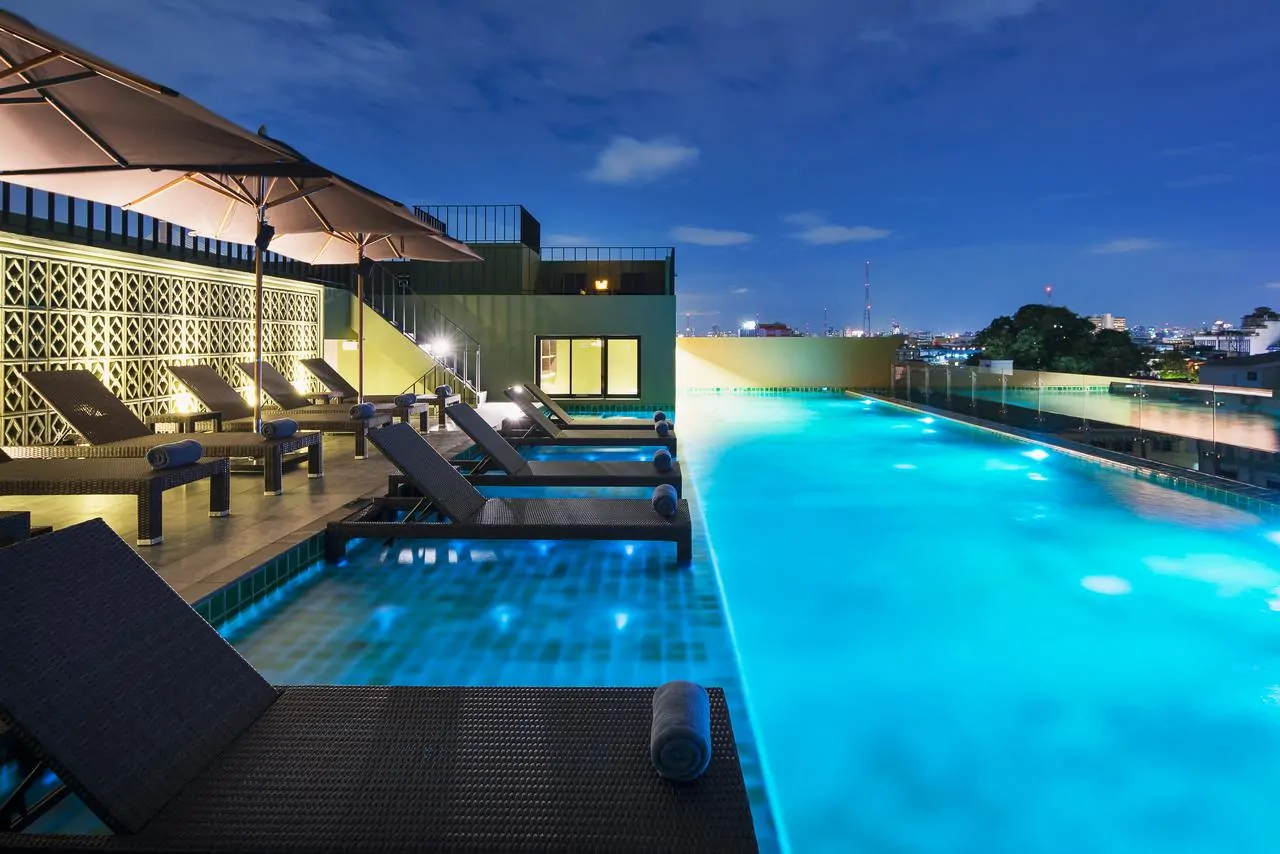 I absolutely love this hotel and it's where I stayed for Songkran in Bangkok.
Chillax Heritage is located in the heart of Bangkok Old Town, so you'll walk out to experience an authentic local atmosphere every day. You're a short stroll away from Khao San Road so you're all set for a plethora of nightlife options every night.
What makes this one of the coolest hotels in Bangkok is its amazing rooftop pool. You can spend your day literally 'Chillax'ing by the pool. The rooms themselves are fairly swanky. Relax after a day exploring the chaotic city streets in your very own private hot tub.
You're also close to a lot of the city's attractions, including the Temple of the Emerald Buddha and the Grand Palace.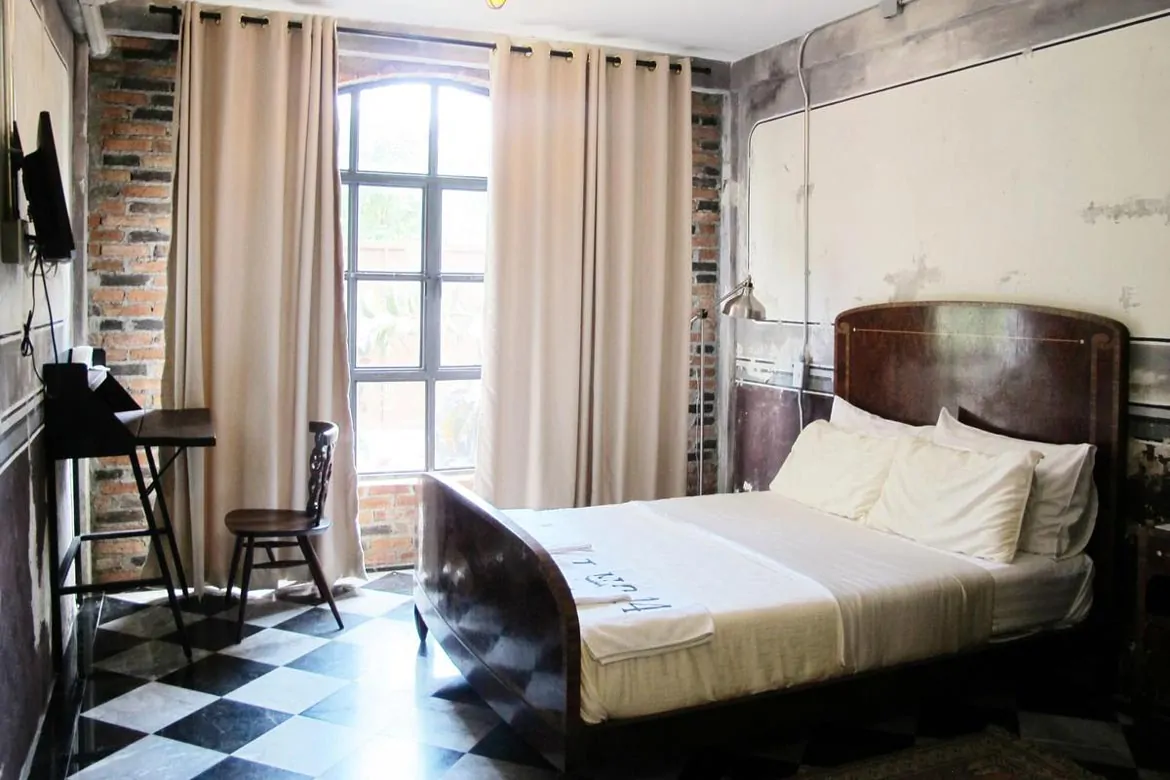 Wondering where to stay in Bangkok for a bit of peace and quiet? Head directly to J No. 14 Hotel for the ultimate boutique hotel experience in the heart of the city.
This unique colonial-style hotel has just 14 rooms and is oozing with charm throughout. You're a stone's throw from the Chaopraya River Pier and connected to the rest of the city by boat.
This is one of those hotels that I really looked forward to coming back to after a long day in the bustling city streets. Decked out with antique furniture and modern fittings, the 14 rooms and all the common spaces are truly lovely (and totally Instagrammable).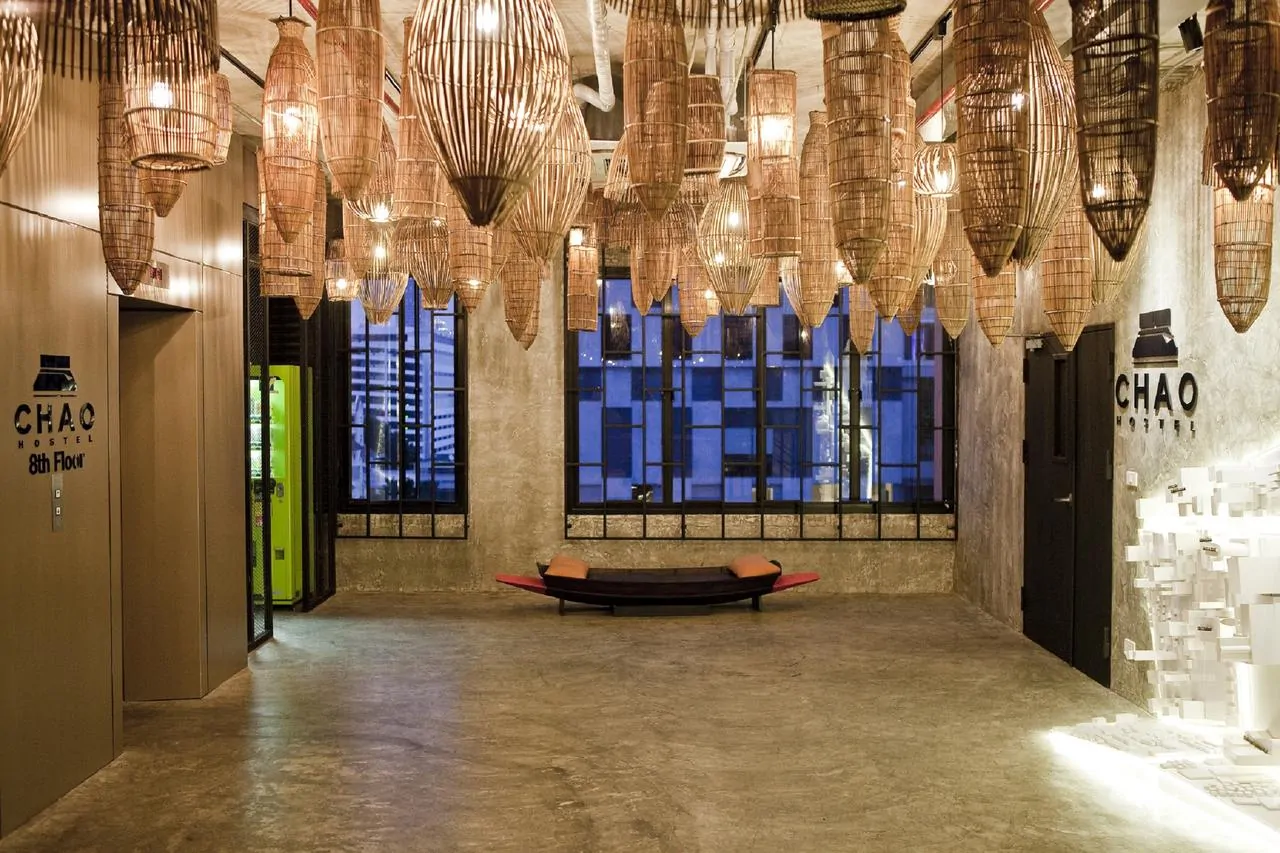 Get up from your bed and head straight to the city's most popular malls as you're in the heart of the shopping action here. Chao Hostel offers both dorm accommodation and private rooms. The common areas are also a great place to socialise if you're a solo traveller looking to mingle!
Chao Hostel is one of the coolest hotels in Bangkok for the budget-savvy. Just 2 minutes away from the National Stadium BTS Station, you couldn't really get more 'in the heart of the action' in terms of location. The great transport links will easily get you pretty much anywhere you need to go.
---
This post was in association with the Tourist Authority of Thailand promoting some of the best things to do in the country. As always, views are entirely my own and without bias.
Hopefully you've found this guide on how to celebrate Songkran useful, and I really hope you have as much fun as I did! If you've got any Songkran tips to share with people, let me know in the comments below.
Like this blog post? Then make sure you Pin it for the future!