From green papaya salad to mango sticky rice, and from tom yum soup to the famous Thai crepes, this is the very best of Bangkok food!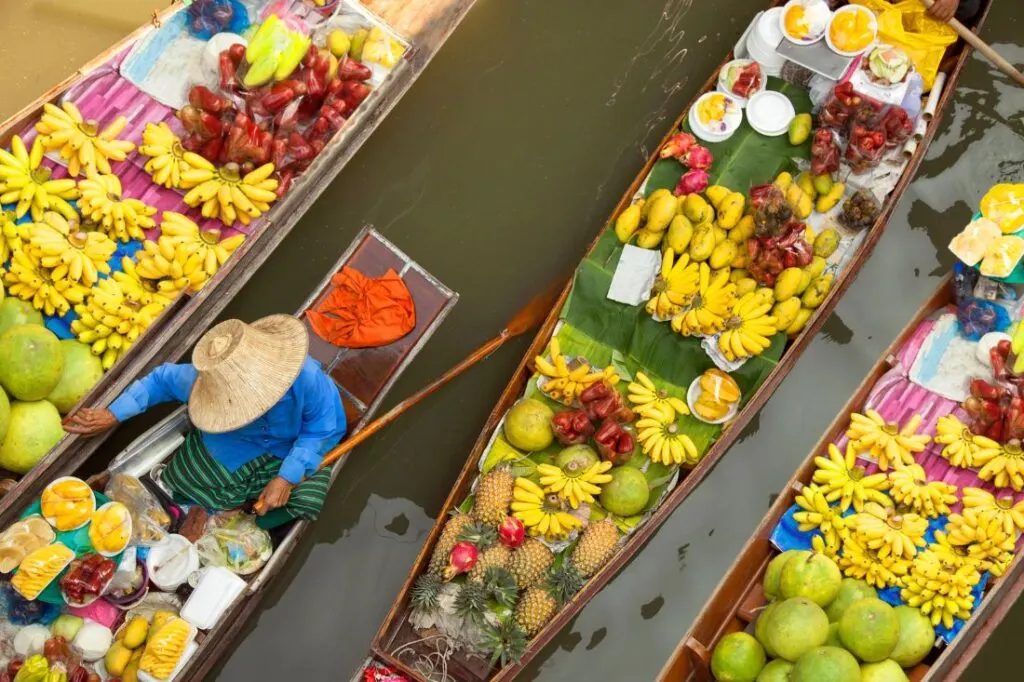 Welcome to Bangkok, Thailand.
Thailand is famous for its busy, bustling cities, and paradise beaches and islands. Lush nature, national parks, waterfalls that'll take your breath away. All packed with heritage and a rich cultural history: its affinity with Buddhism, its countless temples.
But if there's one thing Thailand is celebrated for, it's food. Bangkok food in particular is some of the tastiest in South East Asia, and no trip to this corner of the world is complete without tasting it.
To give you an insight into the food culture here, this blog post is all about what to eat in Bangkok. This is a culinary odyssey like no other.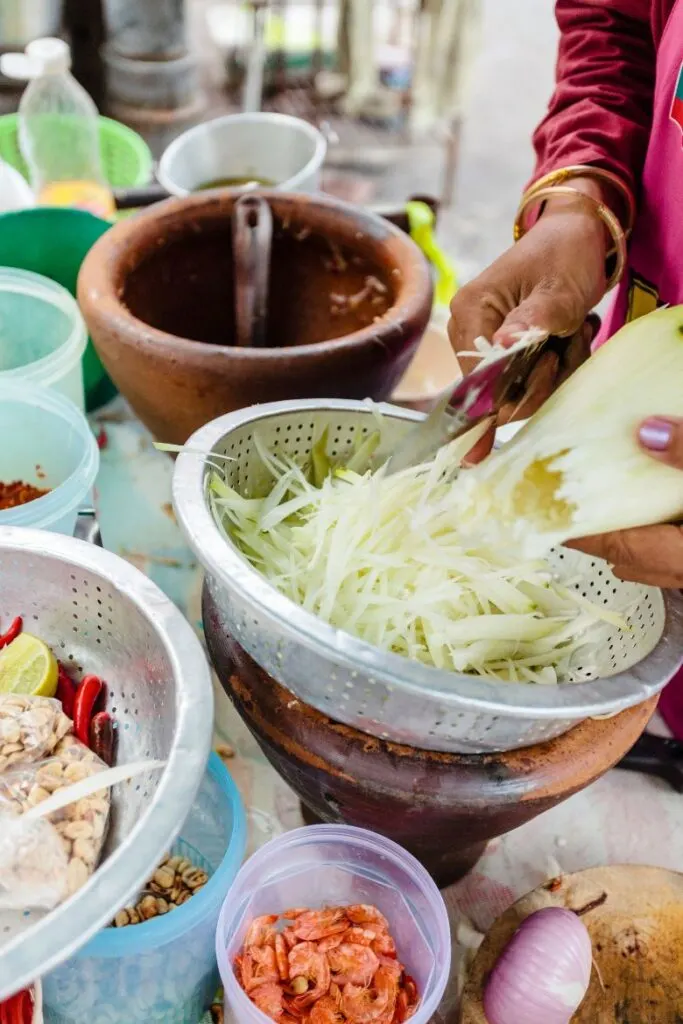 Zero in on the sprawling mecca of Bangkok, and you won't just find cultural landmarks and spectacular temples, thriving nightlife and, er, spicy neighbourhoods.
You'll also find some pretty phenomenal delicacies, including local grub and traditional dishes. Bangkok street food is up there with the best in the world. Some must have dishes as tom yum goong, som tum and the infamous pad thai.
Feeling hungry yet? Good, that's the whole point. Keep on reading to discover exactly what to eat in Bangkok.
If you want to tick as many delicacies and traditional dishes as you can off at once, head on over to my blog on Bangkok's best food tours after you've read this one.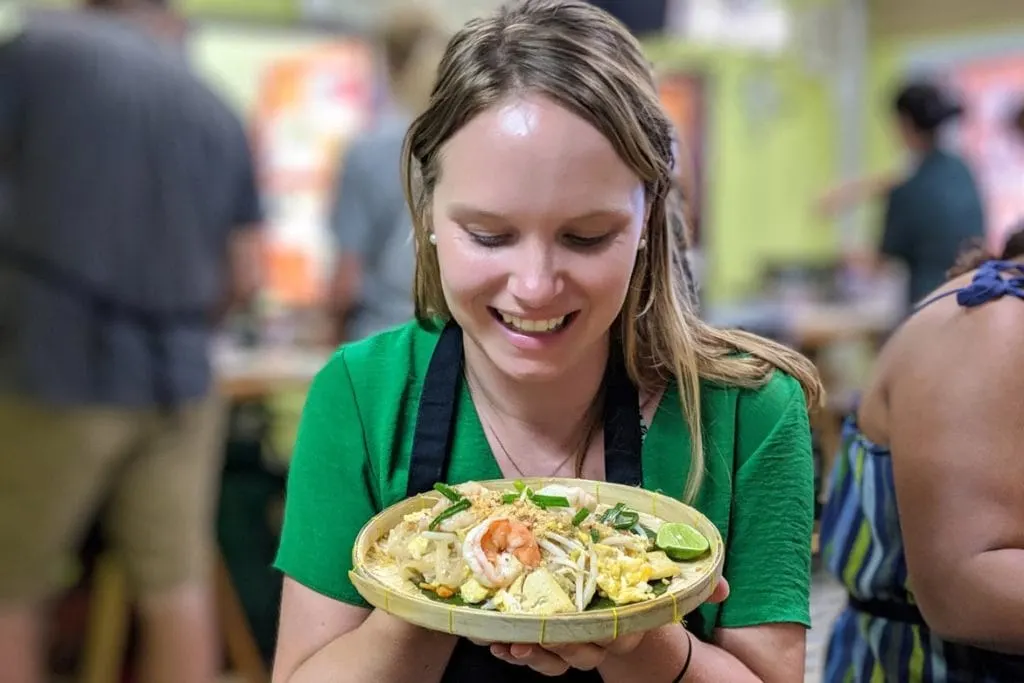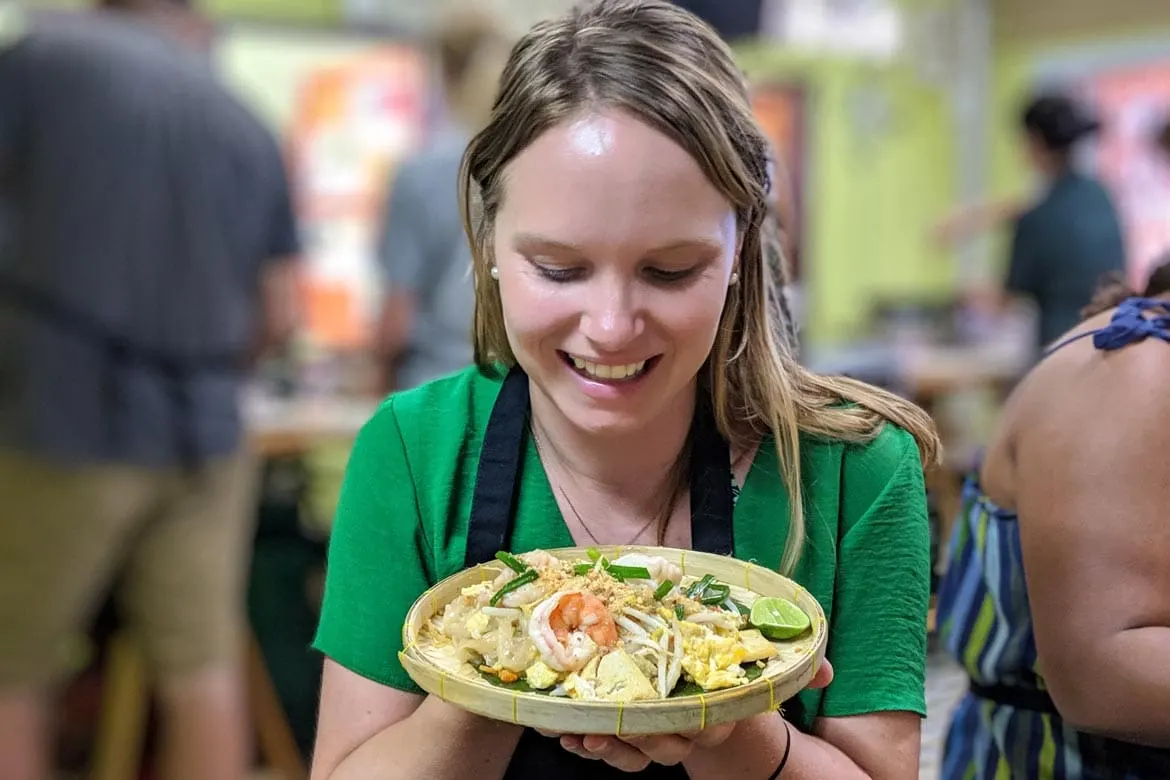 ---
What to Eat in Bangkok
Khao Niew Mamuang (mango with sticky rice)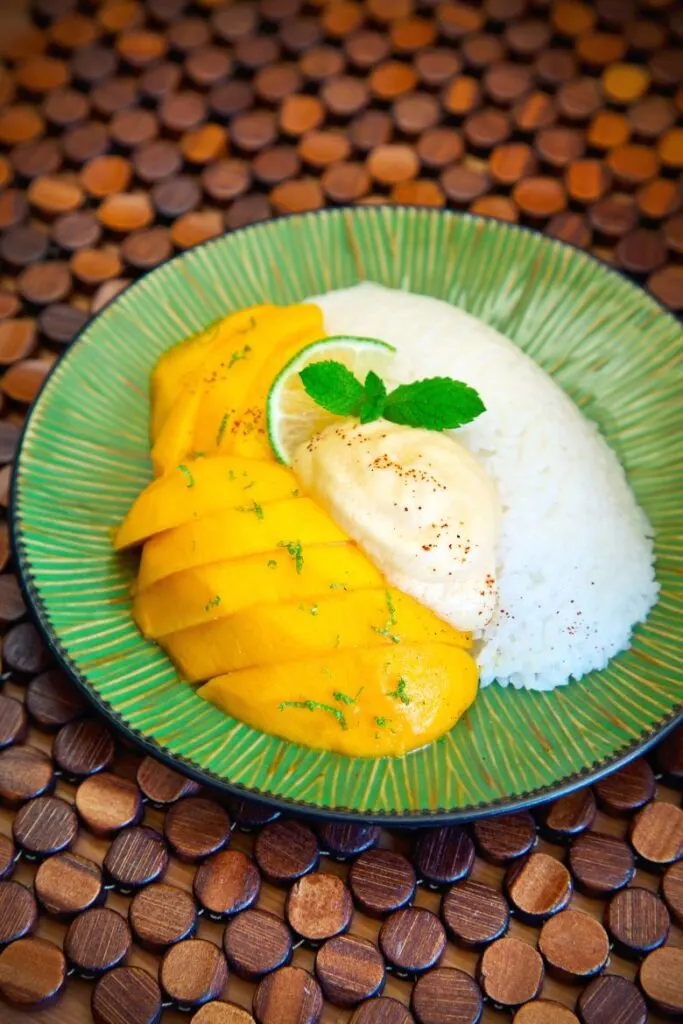 Speaking of mangoes, make your first stop in Bangkok to absolutely anywhere where you can get your mitts on some khao niew mamuang – aka mango sticky rice.
This is a sweet dish, consisting of coconut milk cooked slowly with a mixture of sugar and salt. The concoction is poured over some freshly prepared sticky rice, and once it's settled, slices of ripe, peeled mango are placed on top.
If you have something of a sweet tooth, I can guarantee this is a dish for you.
Tom Yum Goong (spicy shrimp soup)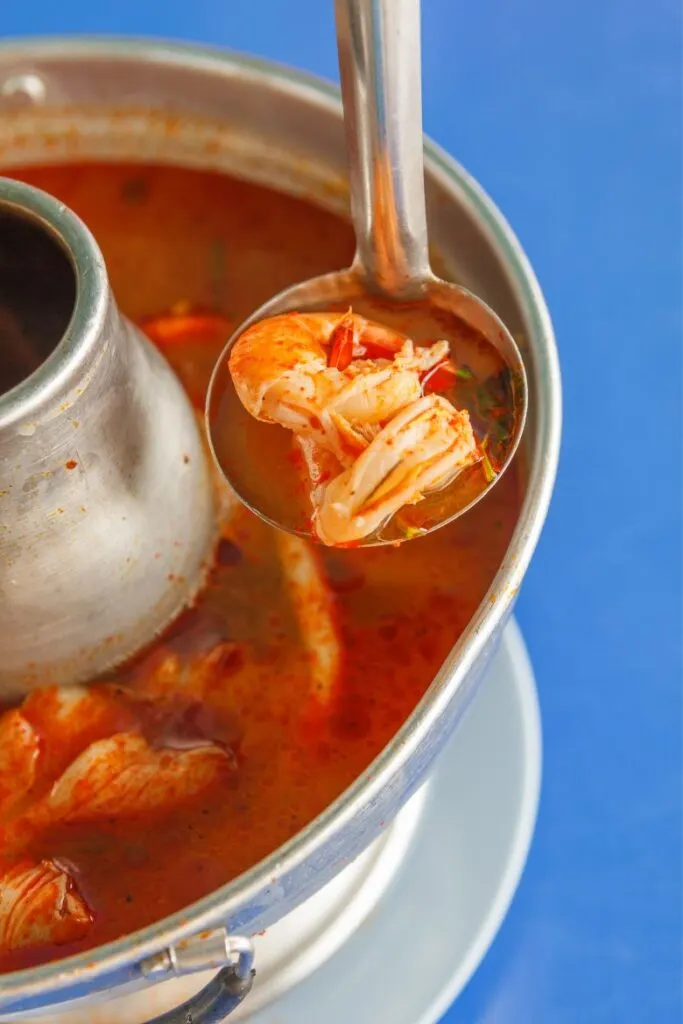 I can't talk about Bangkok food without mentioning tom yum goong. I'd be breaking an unwritten rule. Tom Yung Goong is pretty much a must when trying Thai food; it's one of the country's most famous dishes, in fact.
Tom Yum Goong is a delicious combination of lemongrass, lime leaves, galangal ginger, chillies and shrimp, all cooked together in one super tasty broth. Goong actually refers to the shrimp part, but tom yum can be made with prawn, chicken, or even just veggies, so no biggie if shrimp isn't your thing.
Tom Yum is one of the most popular dishes to cook too. If you fancy giving it a go yourself, then check out this awesome cooking class where you get to make it as well as other dishes such as Pad-Thai and Som Tum.
Som Tum (green papaya salad)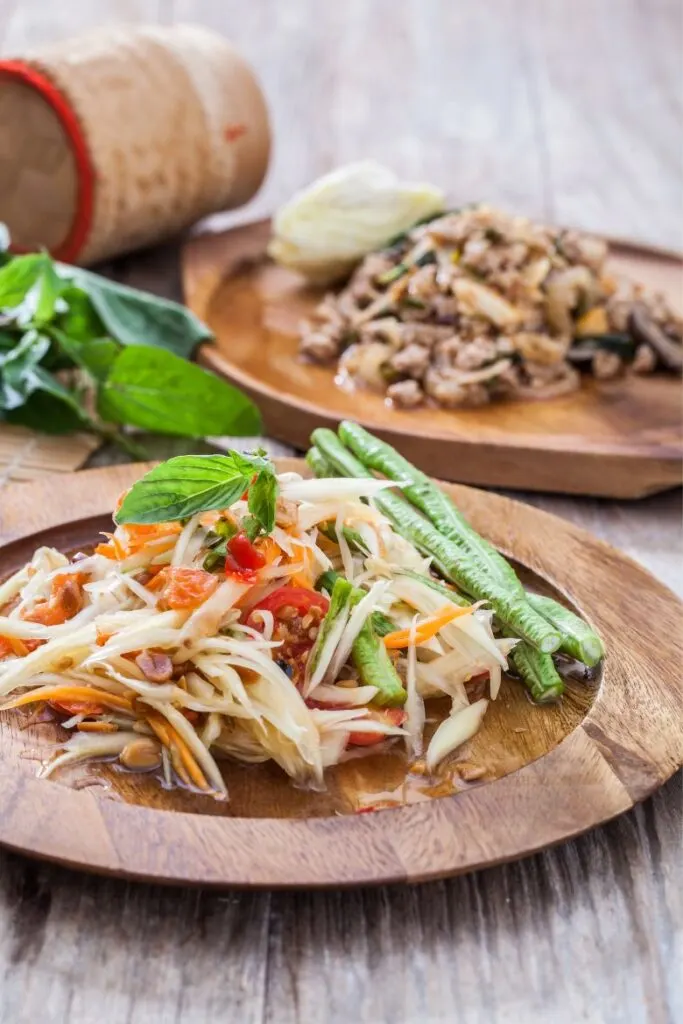 This is another classic. If you're not sure what to eat in Bangkok, it's a pretty safe bet. Som Tum, or green papaya salad, is a mix of fresh green papaya, carrots, chillies, peanuts, tomatoes and sticky rice.
It's then dressed with a mouthwatering mix of garlic, fish sauce, tamarind juice, lime, and a touch of sugar to sweeten things up. Super fresh, light, and tasty. Be warned though, this dish can be super super spicy unless you ask them to tone it down.
Kuay Teow Reua (pork noodle soup)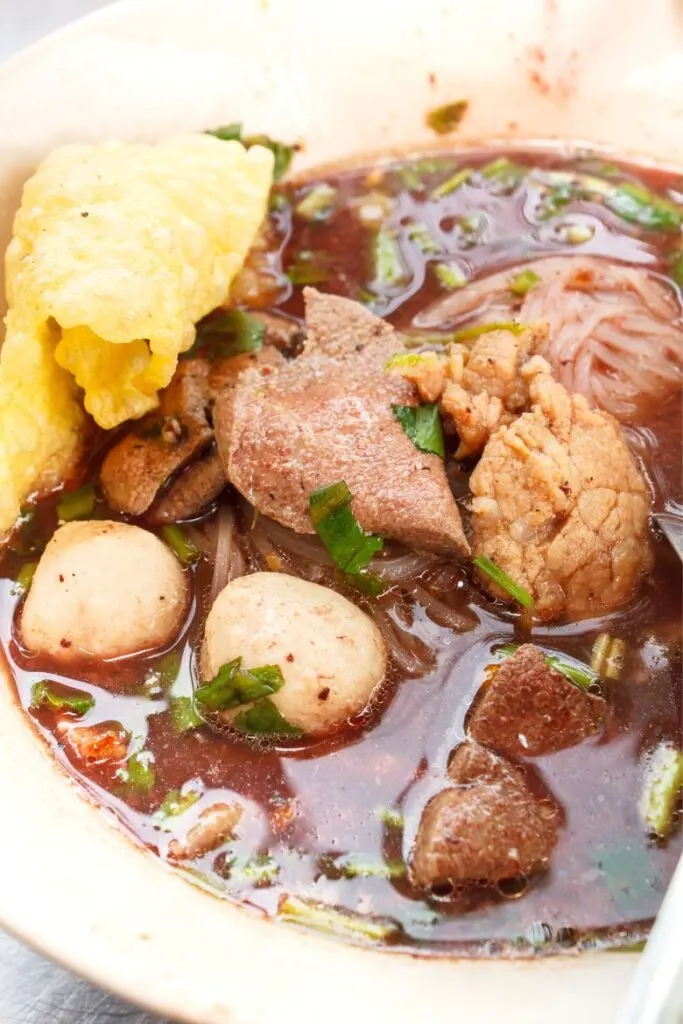 Kuay Teow Reua is a noodle soup dish made with pork. The broth is infused with the classic Thai blend of garlic and chillies, though the exact recipe will depend on where you go, and can often be customised.
This is a traditional Thai dish, so there's bound to be a bit of variation – it actually used to be served on boats, which is why it's more commonly known as Boat Noodles.
Pad Thai (stir-fried noodles)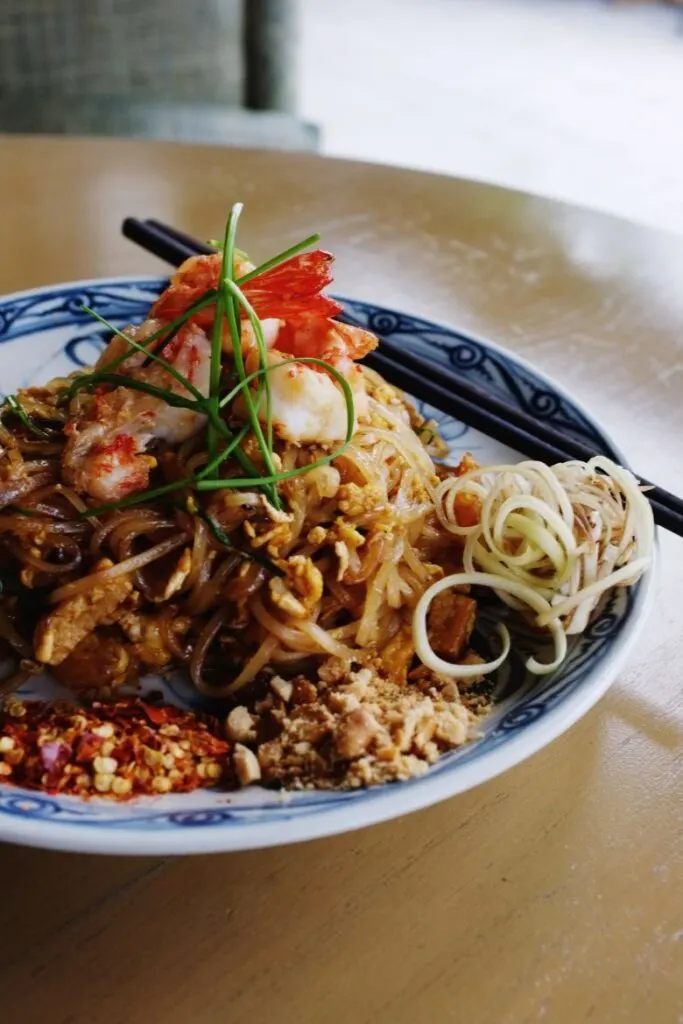 You'll likely be familiar with pad thai. You've probably had it at various Asian-fusion restaurants here in the UK, or elsewhere in Europe.
However, you've not had a proper pad thai until you've experienced a, well, Thai one. See, this is where the dish originates from, and no one does it like the locals.
Here, pad thai means thin rice noodles, stir-fried with tofu, meat or seafood (sometimes a combination of one or more), plus eggs, beansprouts, and dry roasted peanuts. The sauce typically mixes tamarind paste, fish sauce, garlic, chillies and sugar.
Don't write off pad thai just because you can get it at home – you'll regret it.
Khanom Bueang (Thai crepes)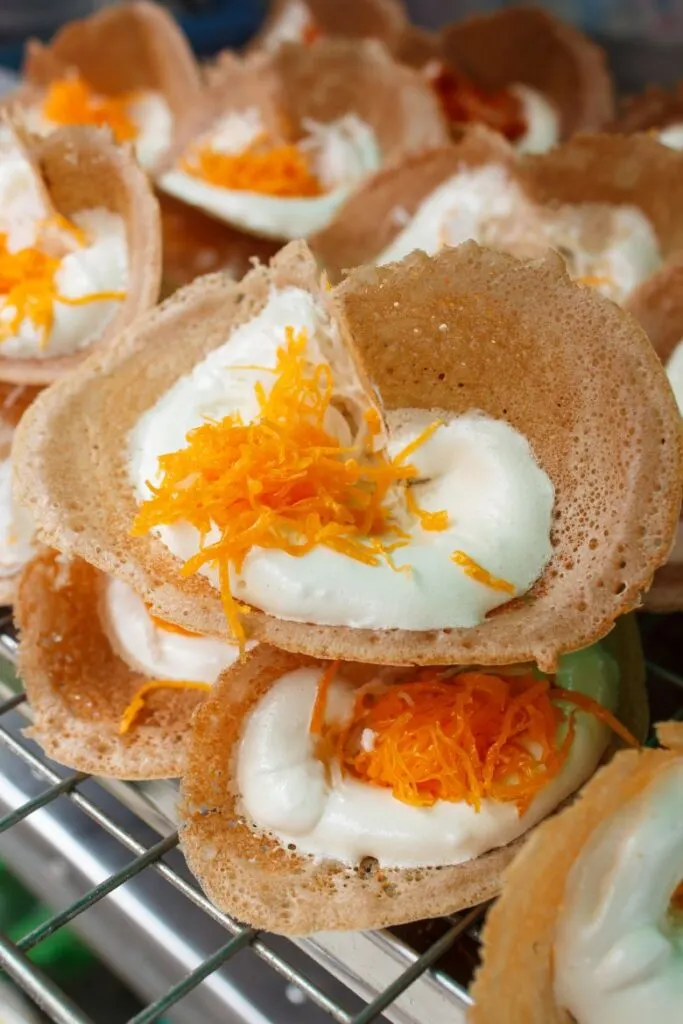 Street food isn't always savoury, you know. You can grab a great dessert at the same time. I'd recommend Khanom Beuang, or Thai crepes as they're known in English.
While these actually look a little like tacos, you won't find them packed with meat, veg or beans (though you can get a filling combining chopped shrimps with shredded coconut). Instead, Thai crepes are packed with shredded coconut, roasted peanuts, and then topped with sweet-tasting whipped cream. It's definitely enough to make your mouth water.
Kaeng Mus Sa Mun (Massaman Curry)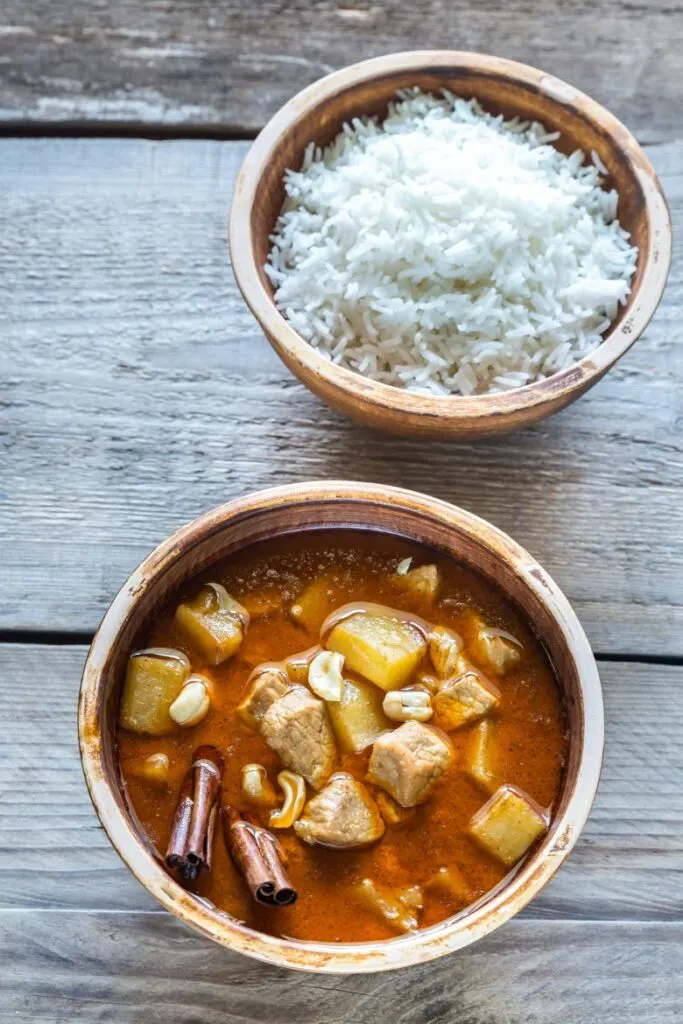 Thailand is absolutely a world hotspot when it comes to curry. But your choice here will be far from limited to the Thai green or red curries you might've had at home.
Kaeng mus sa mun, otherwise known as massaman curry, is a local favourite. This is a tasty combination of prawn, tender meats or tofu, cooked with a blend of potatoes, onions, coconut milk and of course, the key ingredient, massaman curry paste. Finally, it's served up with a portion of rice.
Spiced, comforting, flavourful. It ticks all the boxes. This is definitely one of my favourite dishes in Bangkok.
Pla Pao (Thai grilled fish)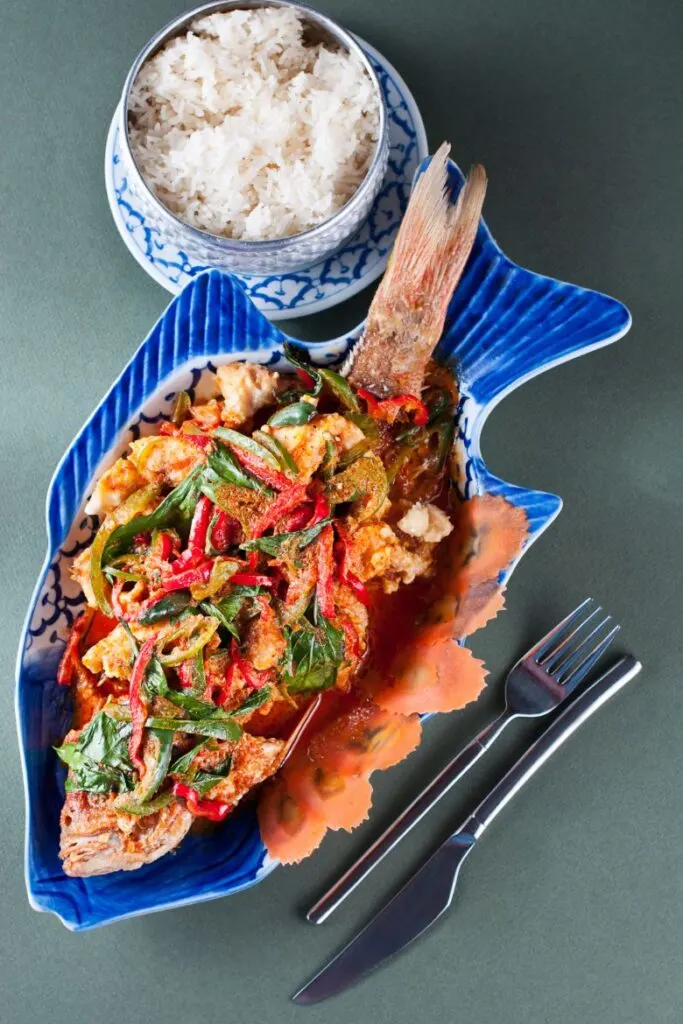 If you want to get your seafood fix in Thailand, look no further than pla pao. In this recipe, a whole fish is gutted and stuffed with lemongrass and lime leaves, then covered with a salt crust and grilled over charcoal.
Already sounds like a whole lot of flavour, right? We're not stopping there – it's also served with a complementary chilli and lime dipping sauce. Bangkok food doesn't get much better than this.
Khao Kha Moo (slow-cooked pork)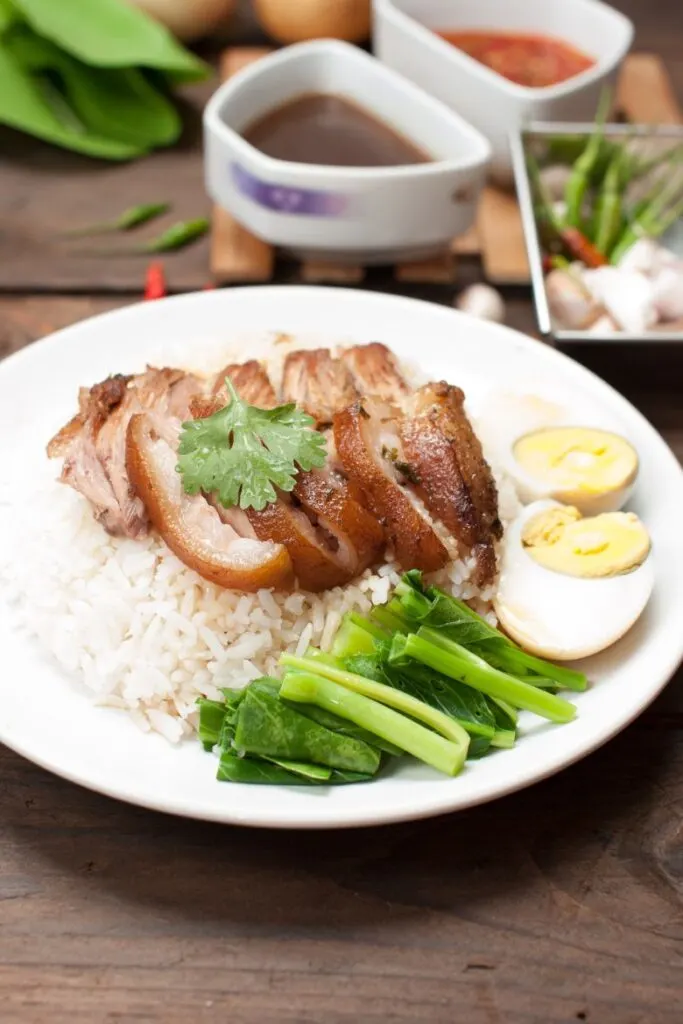 Khao kha moo, also known as Pork Trotters Rice, consists of slow-cooked pork leg, boiled so slowly in a stew of soy sauce and cinnamon that it becomes tender enough to slip from the bone. It's then served with rice, plus a helping of either steamed vegetables or boiled eggs.
This is one of my favourites, and I'm not alone – it's one of Thailand's most famous dishes, and it's a must-have if you're trying to decide what to eat in Bangkok.
Kanom Pang Ping Wan (sweet toast)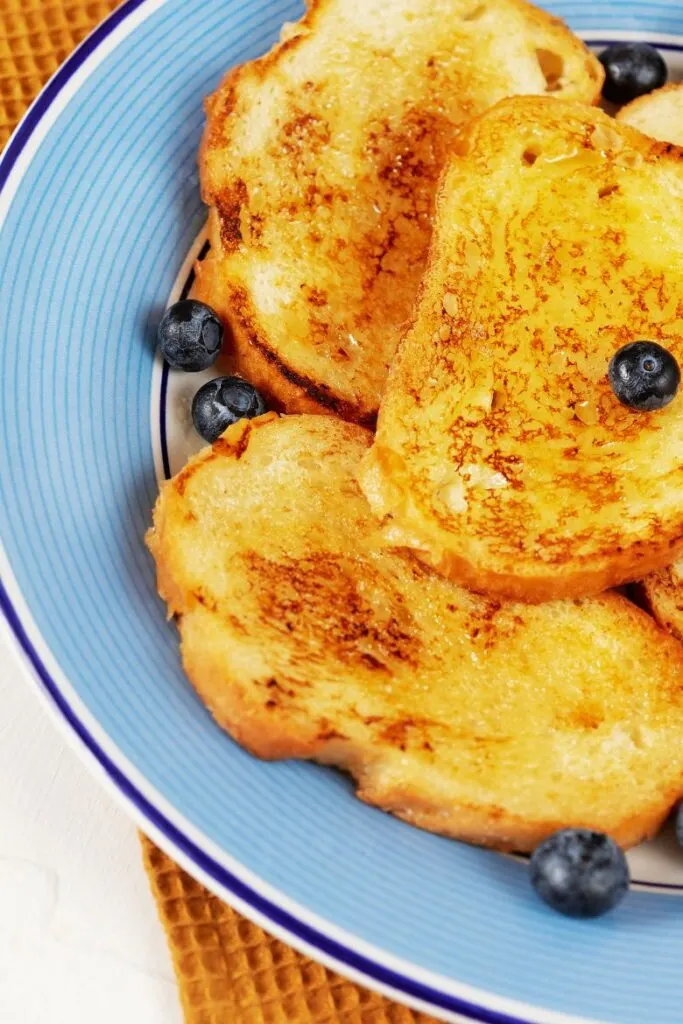 Another one for the sweet toothed, kanom pang ping wan is a dish consisting of buttered, lightly toasted bread, topped with the good stuff: custards, creams, and fruits.
This is a must-try if you're perusing the street food stalls. Plus, a lot of vendors will allow you to choose your own toppings so you can effectively make your dream dessert.
Pad Ka Prao (stir-fried meat and basil)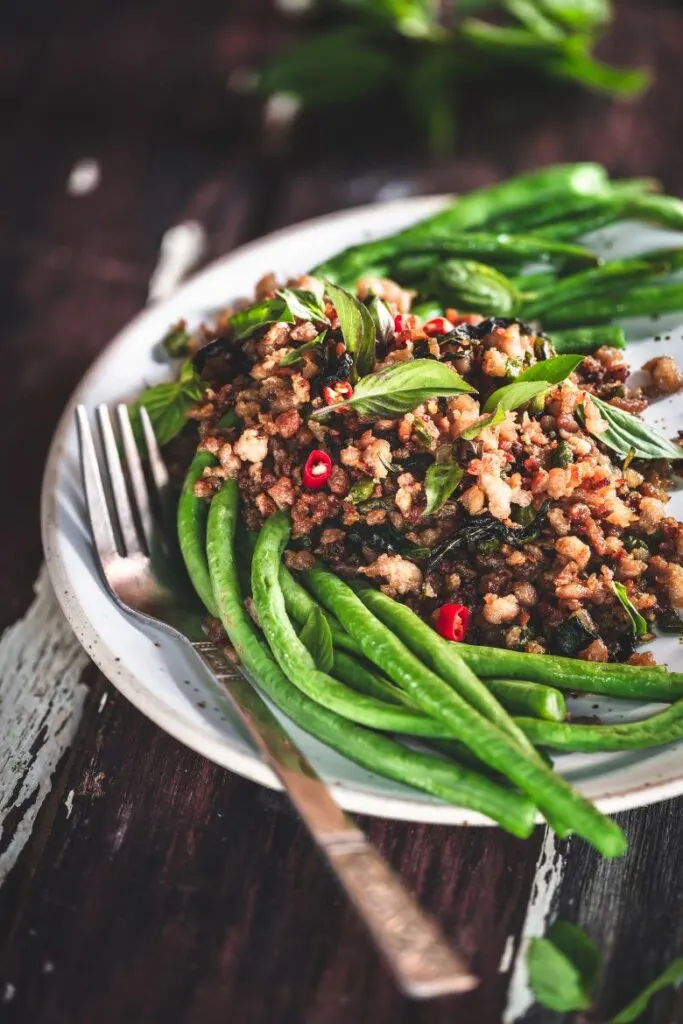 Basil is the key ingredient in pad ka prao. What might seem like an ordinary plate of rice and meat, usually pork, is actually a recipe bursting with flavour that'll blow your mind, and your tastebuds.
The meat is stir-fried in with the basil – plus a healthy helping of garlic and chillies – before being served with rice and fried eggs. Highly recommend.
Kuay Teow Neua (beef noodle soup)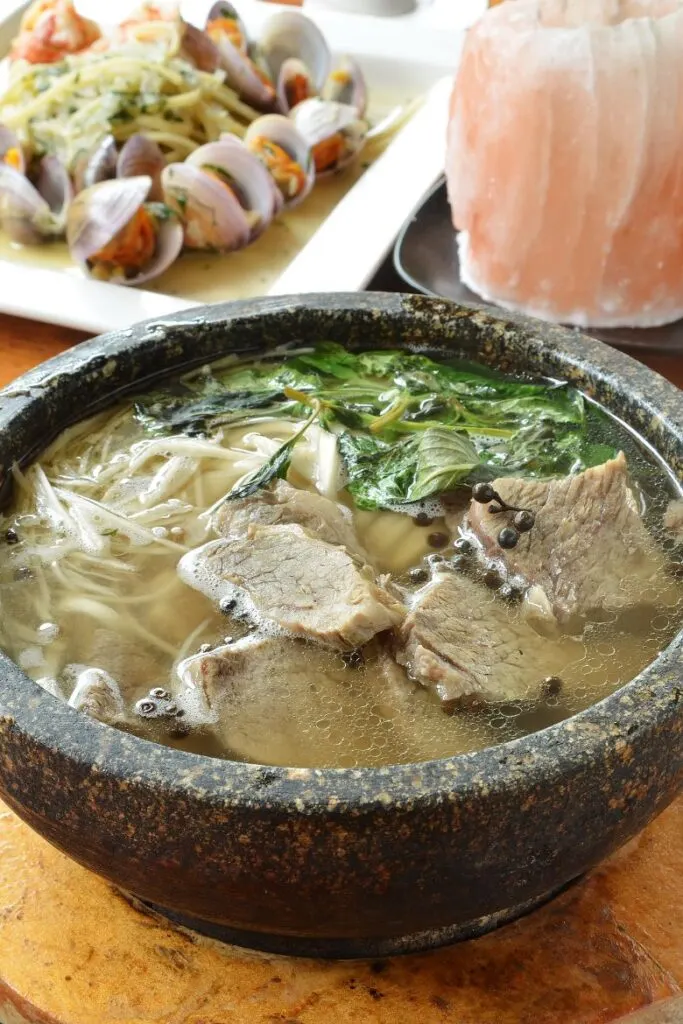 Braised beef so tender it's practically falling apart, served with a bed of broth and rice noodles. If it sounds delicious, that's because it is – this is kuay teow neua, otherwise known as beef noodle soup.
While quite similar to kuay teow reua (pork noodle soup), I'd still recommend taking the time to try both. They're both delicacies loved in Thailand, and the different meats actually make quite an impact on the overall taste of the recipe.
And if you're brave enough: durian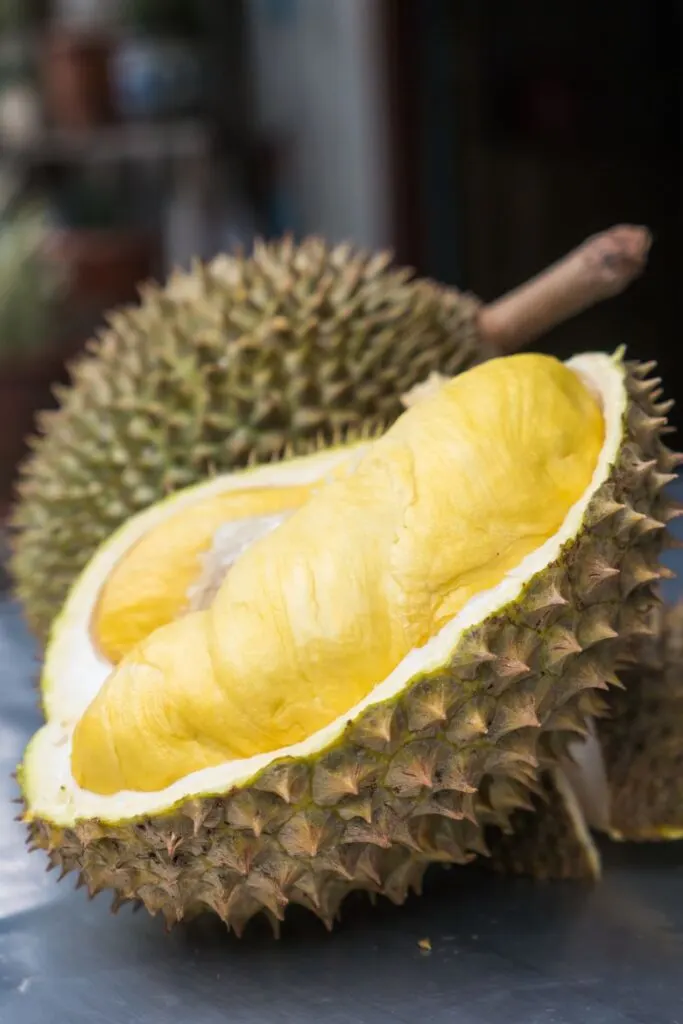 Look, I can't talk about Bangkok food without mentioning durian. Like it or not, it's one of South East Asia's most famous fruits, and I'd recommend braving it while you're in the region.
Forget Adam, Eve and the apple. Durian is a much better candidate for a forbidden fruit – this is because durian has a pretty infamous, potent, terrible scent. That, and the fact it is actually a forbidden fruit in a lot of places and banned.
It's pretty controversial even in Thailand, where it's commonplace and easy to find. While you can quite easily find durian or packets of dried durian throughout the street food stalls, there are lots of places where it's banned altogether. Including hotels, so be clear on the rules where you're staying.
By the way, I'm not exaggerating the smell: it really is foul, which explains all of the bans. While some people absolutely love durian, the taste is also fairly polarising, and it's not a dish loved by too many people. However, it's an experience, and you may as well give it a try!
If you're looking for durian, you can usually find it on this floating market tour which is also one of the top places to see in the city too.
---
And there you have it, the very best of Bangkok's food scene. If you've already visited this part of Thailand, what were your favourite dishes? Have I missed anything out?
Drop your own favourites in the comments and, as always, if you're in the planning process of an adventure of your own, I hope you have fun!
Like this blog post? Then make sure you Pin it for the future!