Thinking of going on the Harry Potter walking tour in London? From seeing Diagon Alley to visiting the Leaky Cauldron, this is what it's like!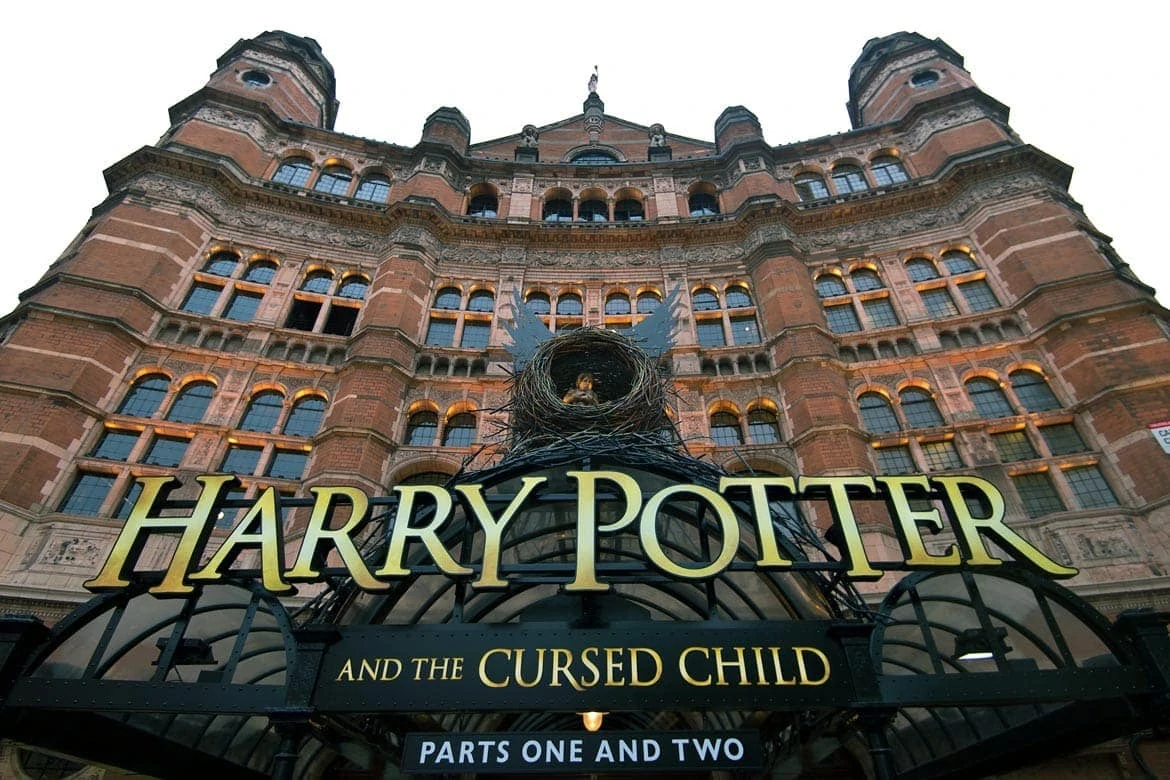 Calling all Harry Potter fans and muggles out there – this is the new Harry Potter walking tour in London just for you!
Recently I thought I'd join two of my favourite things together – walking around sightseeing in London and geeking over Harry Potter.
Yes yes yes, I too am a (not-so-secret) Harry Potter fan! Like millions of others around the world, I have lost myself in a world of Hogwarts, Hogsmeade and Diagon Alley.
That's why I wanted to go on the Harry Potter walking tour, to bring to life a lot of my childhood memories in the city I live in. Well, I promise you this is such an amazing tour learning all about the secrets of Harry Potter films while seeing some of the best sites in London too.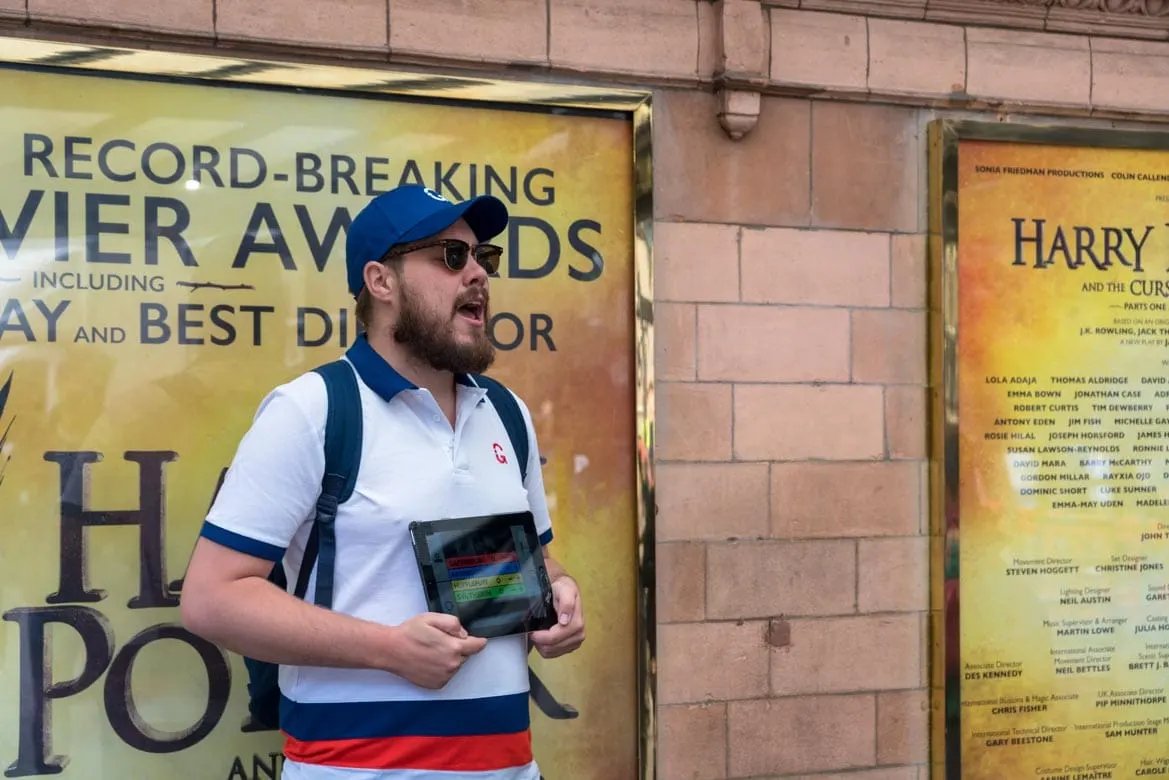 Going on the Harry Potter walking tour
What I loved about this walking tour was it really brought the Harry Potter filming locations to life. There are so many amazing spots all around London where they made the films. Well, this tour really highlights these!
Also, there are loads of really cool interactive bits in the tour that are a lot of fun too. There are things like quizzes and questions, but my favourite bit was when our guide showed us each scene he was talking about on an iPad. I found that really gave context to where we were in London.
So, if you're thinking of going on the Harry Potter walking tour in London then this is the post for you. I'll give you all the information on what it's like, how long it takes, how much it costs and whether it's worth it.
If you can't wait for that though then you can check out the Harry Potter tour here!
One of the most popular times of year to go on this tour is at Christmas. If anything, it's even more magical when the Christmas lights are turned on! While you're at it, you can check out the best things to do in London at Christmas here!
First things first, getting sorted into houses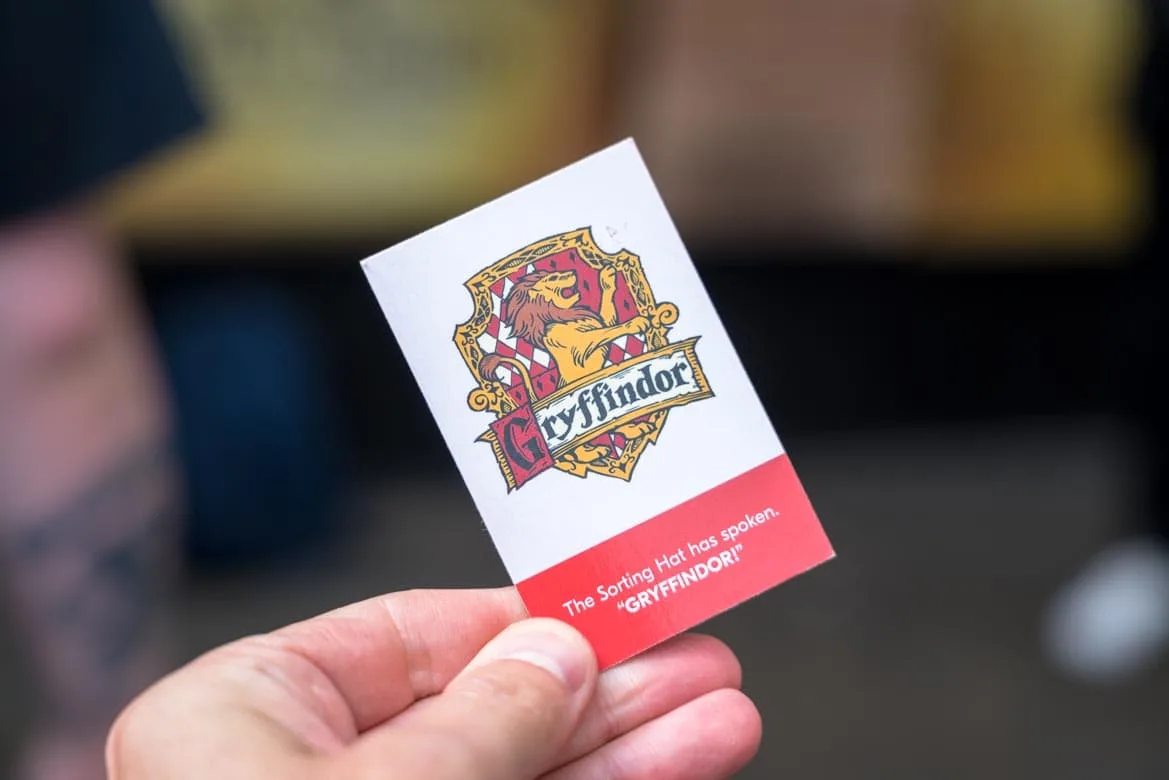 My walking tour kicked off outside the Palace Theatre on the corner of Shaftsbury Avenue. This is where you can see the play Harry Potter and the Cursed Child – Parts 1 & 2, so obviously it's a great meeting point for the tour.
Before we could get started though, we first needed to be sorted into houses. Our guide Tom whipped out the Sorting Hat from his bag and asked each of us to pull out a card saying which house we were in. We were then told that they'd be loads of Harry Potter trivia and questions throughout the tour and that we could win our house points. I never thought I'd get to compete in the House Cup!
I thought it was a really fun way to start the tour though and it was definitely an ice breaker too. We're all Harry Potter fans so it was a nice way of getting us all involved in the tour. You could see there were some real Potterheads too which I liked. Oh, and a couple of muggles too.
The only downside was I was sorted into Gryffindor when I'm definitely a Slytherin but nevermind…
Visiting the Harry Potter film locations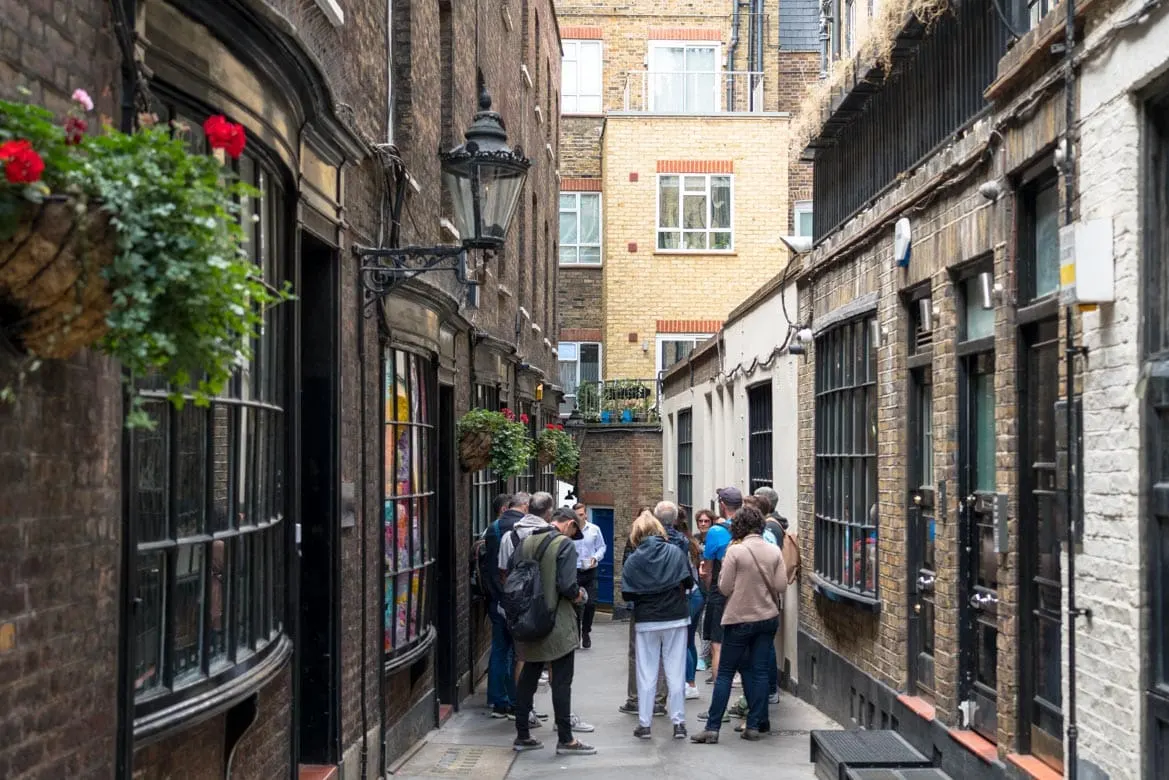 Our first location was walking around the back alleys around Leicester Square and Soho. When J.K Rowling was writing the books, instead of walking along the main road to her favourite coffee shop, she'd avoid the crowds and walk around the back alleys instead. This gave her the inspiration for Diagon Alley and Knockturn Alley.
One road we visited was Cecil Court. It was a really cool street where they still have old-fashioned book stores, antique shops and even somewhere selling unique coins. Just seeing these made me think up of Flourish and Blotts and Gringotts.
There was even a shop selling Harry Potter money which would make as alternative souvenir from London! No galleons, sickles and knuts though I'm afraid.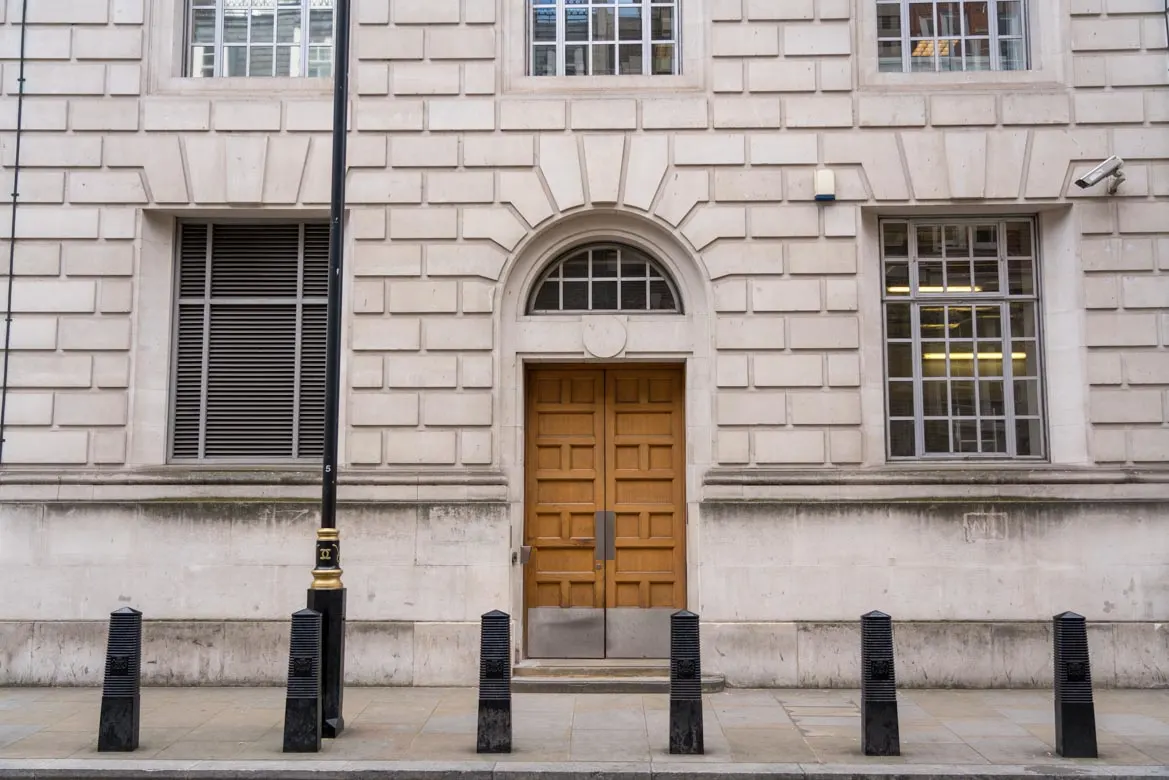 Our second Harry Potter film location was outside the Great Scotland Yard. For me, this was actually one of the most interesting parts of the tour.
When you look at it, the building of the Great Scotland Yard really isn't much to look at. In fact, the exact filming location isn't much to look at either (check out my photo above and you'll see what I mean!)
What I loved about this though was it really highlighted a bit of movie magic. This was the location for the Ministry of Magic in the 5th film Harry Potter and the Order of the Phoenix. It's the scene where Harry uses a telephone box to enter the Ministry with Arthur Weasley.
Tom, our tour guide, held up his iPad to show us the exact scene and do you know what? IT LOOKS COMPLETELY DIFFERENT!!!
This is what the scene looked like (around 37 seconds in):
That's what I love about the movie magic. They found this uninspiring location in London and they turned it into such a cool and iconic scene with a giant archway.
Destroying Millennium Bridge and seeing Platform 9 and ¾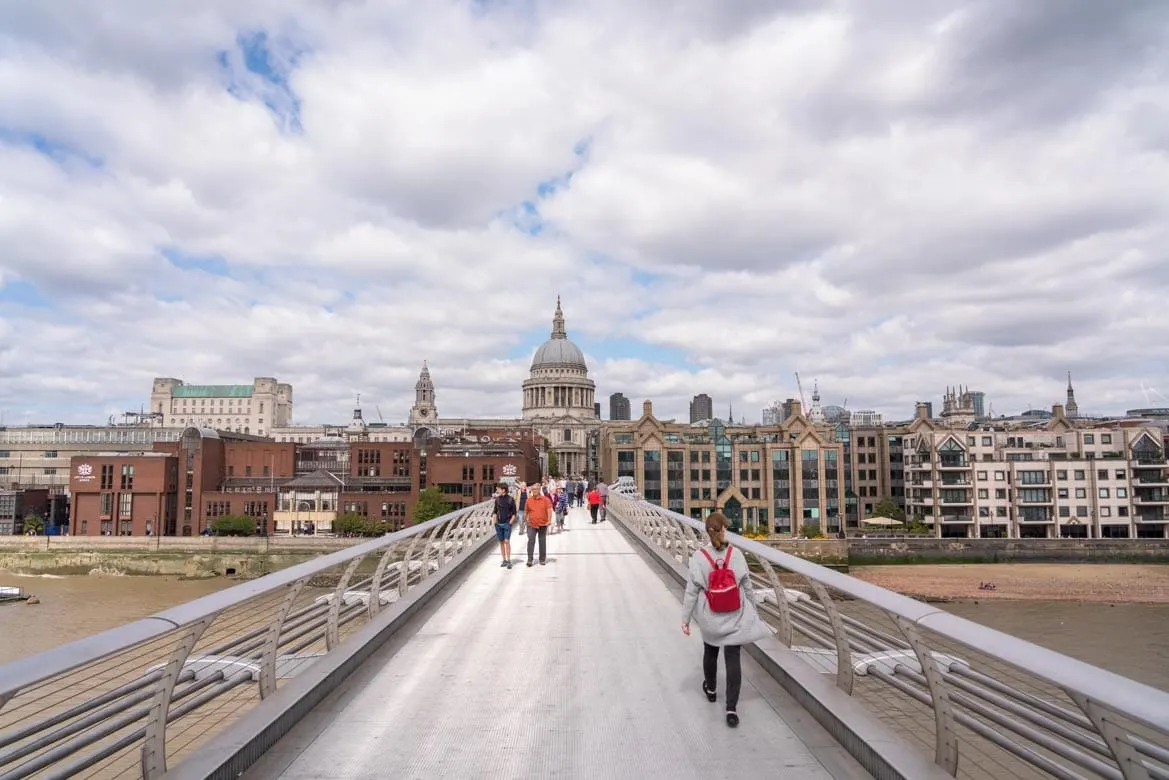 Another scene I love from the Harry Potter movies is when the Death Eaters destroy the Millennium Bridge in the Half-Blood Prince.
Apparently this was the single most expensive scene that they filmed in the Harry Potter franchise costing a whopping £250,000 for a 21-second scene! Not too sure how Warner Bros would've felt about that one!
When they decided where to film this scene, they settled on the Millennium Bridge. This is because Londoners initially hated the bridge when it first opened in the year 2000. It was over budget, it didn't work (anyone else remember how much it wobbled!?) and it became a bit of a public joke.
So, when deciding which bridge to destroy, the directors thought "let's give Londoners what they want and finally bring down the Millennium Bridge."
I love the little bits of background information you get like that from this tour.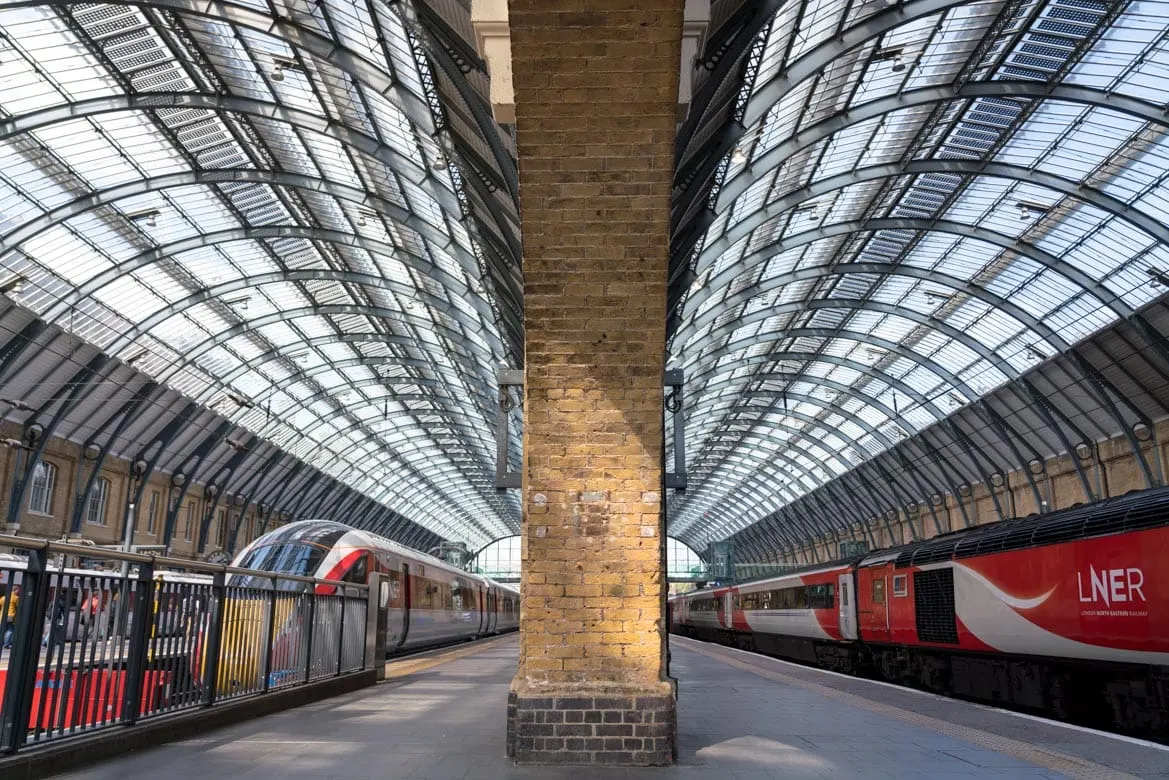 We finished our tour at the iconic platform 9 and ¾ at King's Cross Station. This is the spot where Harry runs through the wall between platforms 9 and 10 to get onto platform 9 and ¾.
The exactly filming location for this (if you want to take an authentic photo!) is actually between platforms 4 and 5. You'll be able to see it in my photo for reference.
However, if you want a cheesy photo then they've set up a platform 9 and ¾ next to the Harry Potter shop. Here you can line up and get a photo running through the wall with your favourite house scarf too.
As a bit of an insider tip – during the day there is always a queue at platform 9 and ¾s. If you want a photo without having to queue up (which can take 30 minutes) then come much later in the evening after the commuter rush. Even at 8pm you'll be able to walk up without having to queue.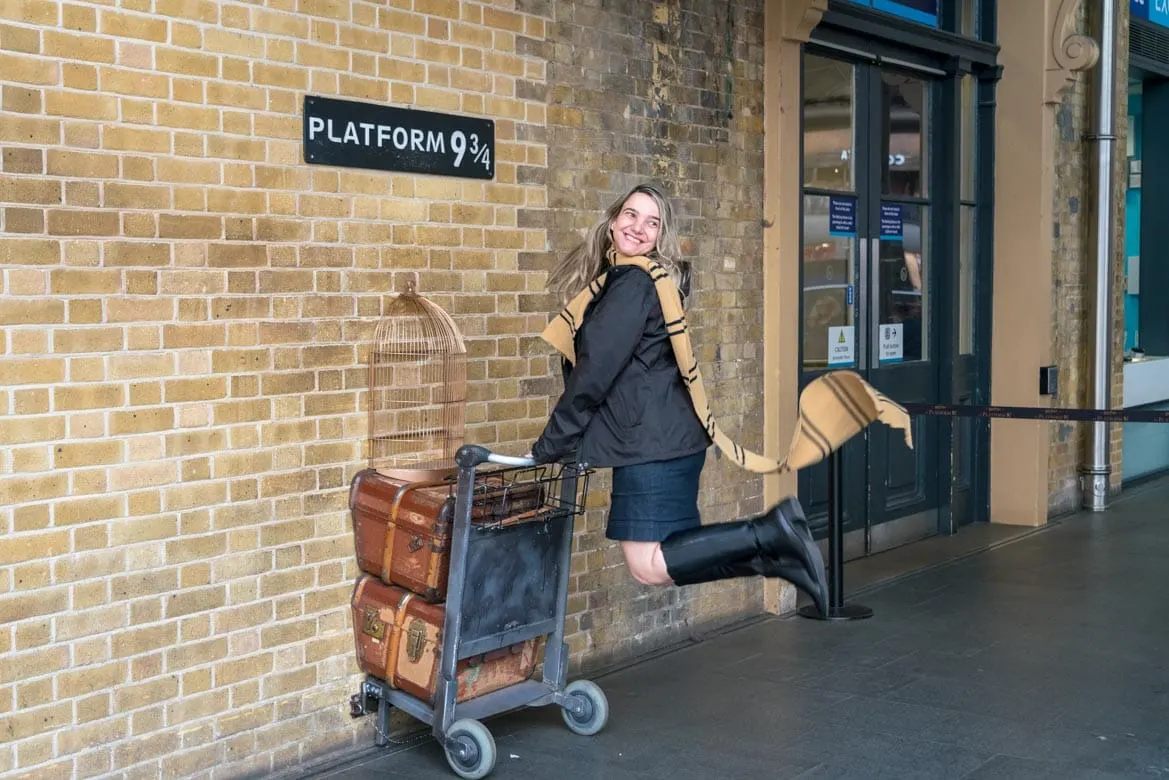 How much does the Harry Potter tour cost?
I'm going to say this now – I think that the Harry Potter tour is really cheap and excellent value for money.
The tour costs £20 and I thought Tom was a fantastic tour guide. He really brought the Wizarding World of Harry Potter to life and it was amazing seeing so many different filming locations.
One thing I would add is you'll need a valid travel card or contactless card with you for the tour. As we were travelling across London we hopped on the tube a couple of times, so make sure you factor this in!
You can book your tour with GetYourGuide here. It's actually one of the most popular tours in London at the moment so snap it up while you can!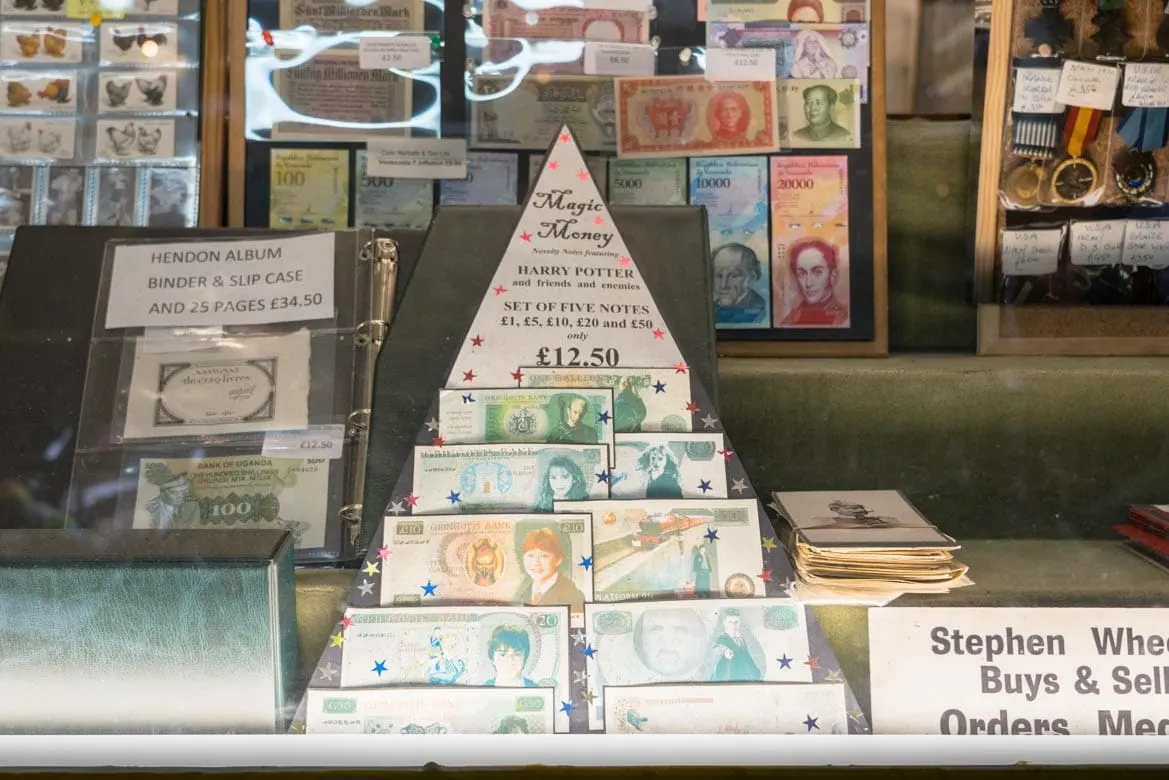 My top tips for the London Harry Potter walking tour
My tour started at 12pm and finished at 2:30pm. Obviously this is slap bang in the middle of lunch time so make sure you eat beforehand!
Oh, and bring a bottle of water too, especially in summer. We didn't many stops so there's not much time to buy food and water.
I'd always recommend bringing an umbrella. You never know what the weather's going to do so it's better to be safe than sorry.
Over the course of the tour we walked about 4km (yes, I tracked it!) That's quite a lot of walking so bring comfortable walking shoes.
The best Harry Potter tours in London
Here are a few other Harry Potter tours I'd recommend. I've done the Harry Potter Studios tour and it is absolutely brilliant – this is a real must for Harry Potter fans! If you want to check it out then watch my video on YouTube!
Also, there are a few London muggle tours too which are worth checking out if you can.
---
Are you thinking of going on the Harry Potter walking tour in London? What are the other things you'd like to do while you're here? Let me know in the comments below!
Like this blog post? Then make sure you Pin it for the future!