With Danish design, an amazing buffet breakfast & exceptional service, this is why you should stay at the Absalon Hotel, Copenhagen!
With stereotypical Danish design that has come to define this city, staff that go out of their way to make your stay as comfortable as possible and a buffet breakfast worth fighting over for, it is very easy to see why the Absalon Hotel is so popular!
Add in the fact that the hotel's in one of the best locations in the city being just moments away from central station, the city centre and the Meatpacking district and you really can't go wrong with staying here.
The thing about Absalon Hotel is it goes about its business in a very understated fashion. In an unremarkable building on an unremarkable street, Absalon Hotel comes to life as soon as you step through the door.
The first thing that hit me was how brightly coloured the reception area was with accents of blues and yellows everywhere. With a bar running along one side of the room and a seating area on the other, the circular reception desk is an island in the middle with some of the most helpful staff you'll ever come across.
We were in Copenhagen to film a new An Adventurous World episode, and whenever we check in somewhere we always have a million and one questions about where we can buy certain gear and where are some of the best spots for shooting. Despite speaking to about five or six different staff members everyone went out of their way to help us with what we needed.
Staying at Absalon Hotel
Absalon Hotel was founded in 1938 and it is one of the oldest family-run hotels in the city.
With 161 rooms in the hotel you'd think they'd lose a little character, but much like the reception they're bright and spacious. The thing about us when we're filming is we have so much kit (usually three cameras, a drone, and all the bells and whistles too), so we like to spread out. In our room there was enough space for all our bags without us worrying about tripping over and smashing lenses which we see as a major positive.
Another thing that I really liked about the room was that it came with a double curtain to block out the sunlight. Copenhagen in the height of summer rarely gets dark so having that extra thick black curtain to stop you waking up at sunrise at 3am makes sleeping so much easier. Very handy when you've got a full day of filming ahead!
A breakfast worth fighting for
One of the talking points about Absalon Hotel is breakfast.
Described as a Scandinavian buffet, breakfast runs from 6:30am till 11:00am (which is late for a hotel breakfast) and it's got everything you could possible imagine from cereals to cold meats to omelettes and sausages.
Also, every table has a fresh pot of tea and coffee to get you going in the morning.
What's near the hotel?
As already mentioned, one of Absalon Hotel's strongest points is its location in Vesterbro (the up-and-coming hipster district). It genuinely is just a five-minute walk from the central station, and it takes about 10 minutes to walk to the city centre and the Meatpacking District.
However, being so close to the train station puts it in a slightly rough part of the city. This area used to be Copenhagen's red light district (and still is in many ways with a few adult shops on the street), and walking around late at night can be a little unnerving a times, especially if you're on your own.
Copenhagen is one of the most bike-friendly cities in the world and it is by far the best way of getting around. With that in mind, for DKK 100 (approx. £11) you can hire one of the hotel's bikes for the day (with lock) to explore the city.
If you're looking for things to do then make sure you check out my guide for 2 days in Copenhagen – there's loads of amazing things to do here!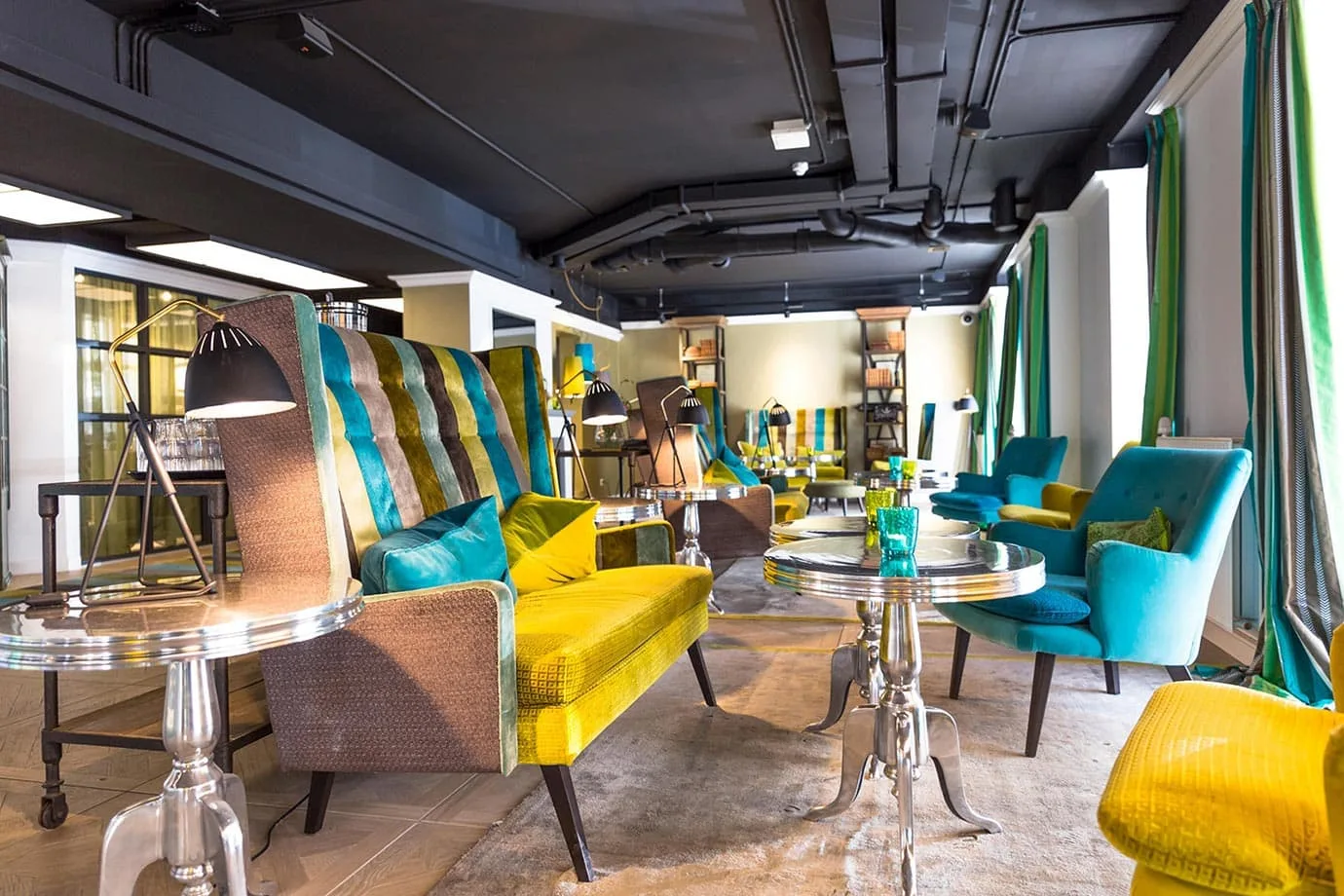 Absalon Hotel review
The Absalon Hotel has the rare ability to feel like a boutique hotel with small attention to detail and exemplary customer service, yet with 161 rooms it's far from boutique.
Still, being in an ideal location with a comfortable and friendly atmosphere and a delicious buffet breakfast, it's not difficult to work out why the Absalon Hotel is so popular and it really made for the perfect stay while in Copenhagen.
Rooms at the Absalon Hotel start from DKK 1100 (approx. £120) for a medium-sized 'Original Room' perfect for a couple and go up to DKK 2100 (£230) for a Junior Suite which has a separate living room with a sofa bed.
Address:
Absalon Hotel
Helgolandsgade 15
DK-1653 København V
Tel: +45 33 24 22 11
[email protected]
Save