Are you looking for one of the most fun things to do in the UAE? Then head into the desert & go on an adrenaline-fueled jeep safari in Dubai!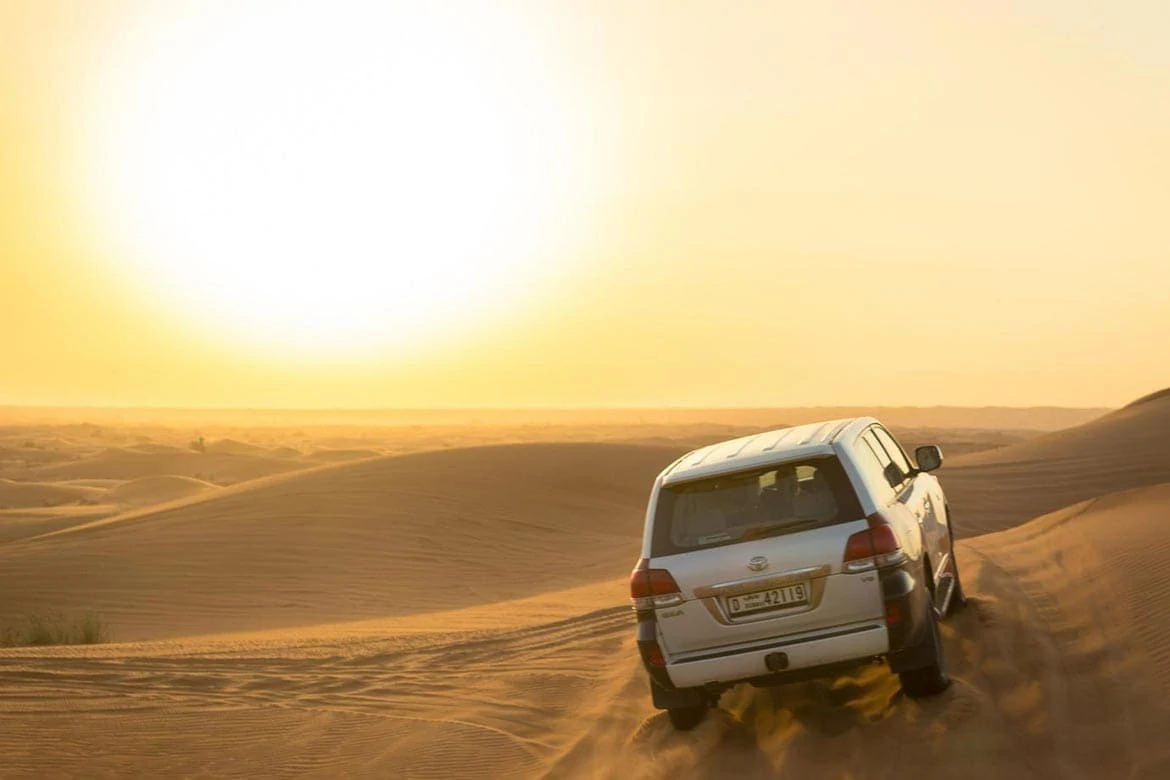 We sped up a sand dune at a steep 45-degree angle. All I could see was bright blue sky, the occasional fluffy cloud, and that was it. The blue abyss.
Then, suddenly, we plummeted down the other side of the dune at breakneck speed, everyone in the car screaming with a mixture of fear and delight. When I signed up for a jeep safari in Dubai, I had no idea it'd be this much fun!
If you're looking for one of the best things to do in United Arab Emirates then look no further than a Dubai jeep safari. This is when you take a 4X4 jeep out into the desert and thrash it around the sand dunes. It's one of those high-octane activities that'll keep you grinning from ear to ear all day long.
In this blog post I'll go into everything you need to know about going on a jeep safari in Dubai including how much a tour costs, what's included in the price and a load of other practical information too.
So, if you want an adventure like no other then read on!
My Dubai jeep safari experience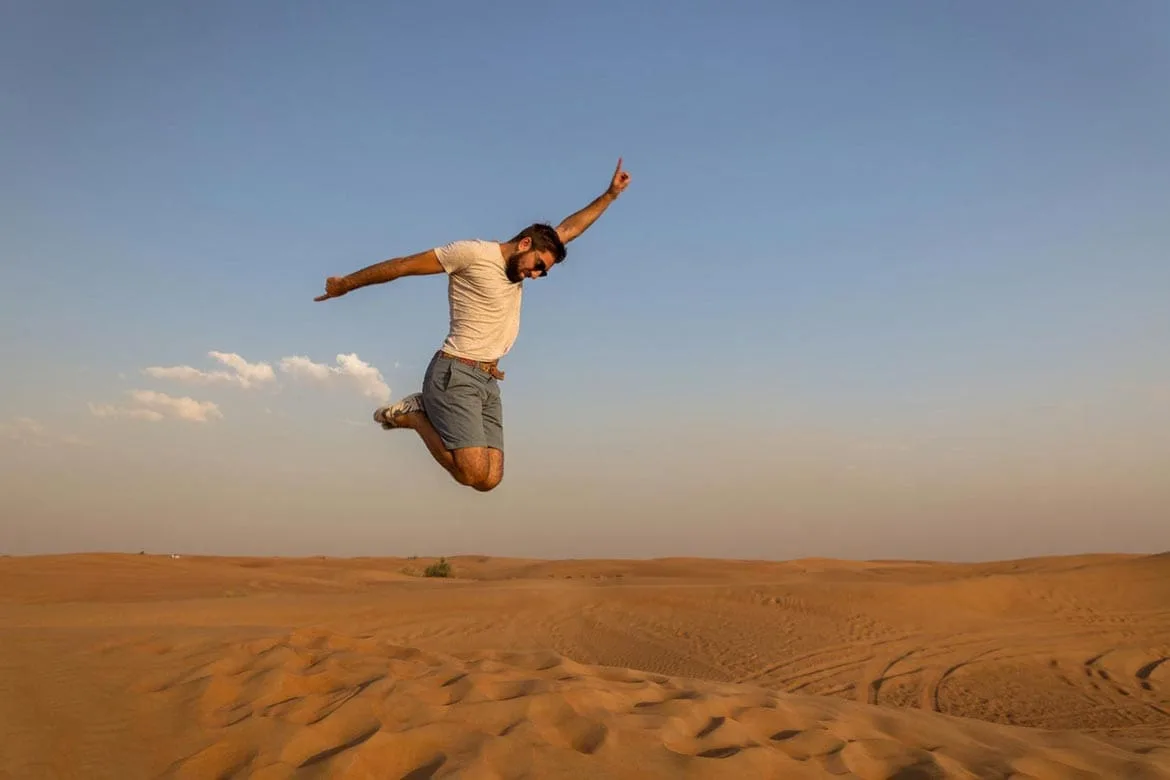 There are a number of tours to choose from online but I wanted one that was a mixture of adrenaline and culture. And yes, they do exist!
All of the tours offer hotel pick up and drop off, so I was picked up from my hotel in the afternoon at around 3pm. One of the most popular pick up points is from Jumeirah Beach. We also picked up a few other people so there were 5 of us in total in our jeep (including our driver Hussan.)
The Masyaf Desert is approximately 40kms away from Dubai, so it's a fair drive. Also, because you're driving through the traffic of the city this can take well over an hour. I sat in the front so I got to quiz Hussan all about living in Dubai and the tour for the afternoon. He promised me I'd scream like I've never screamed before. It sounded a little perverse but I liked that guarantee!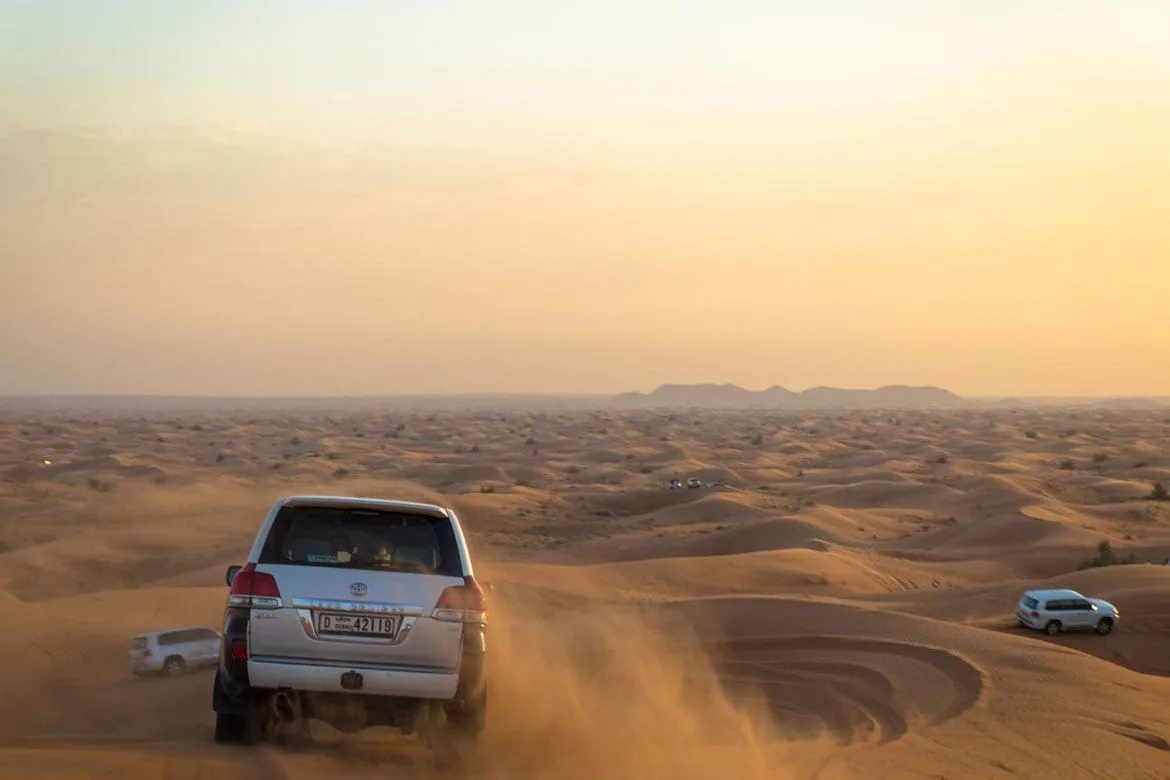 Once you leave the city behind though it's easy driving until you start seeing the rolling sand dunes and camels lazily crossing the road. I love that there are camels just wandering here – it makes you feel like you're in Lawrence of Arabia.
When we hit the edge of the desert, our driver Hussan let out most of the air in our jeep tires. This makes it a lot easier driving across the sand dunes as you get more traction.
From that point on it was pure adrenaline. Hussan thrashed our car around the desert with all of us screaming in delight. We flew over sand dunes so fast I thought we'd topple over other side, and at times so much sand was in the air that it completely covered our windscreen.
Even though it was the edge-of-your-seat driving (the whole point of the Dubai jeep safari experience), it never felt like we were going to crash at any point at all.
It was just pure, unadulterated fun and I can't recommend this experience enough. And I did scream like I've never screamed before!
The Bedouin camp experience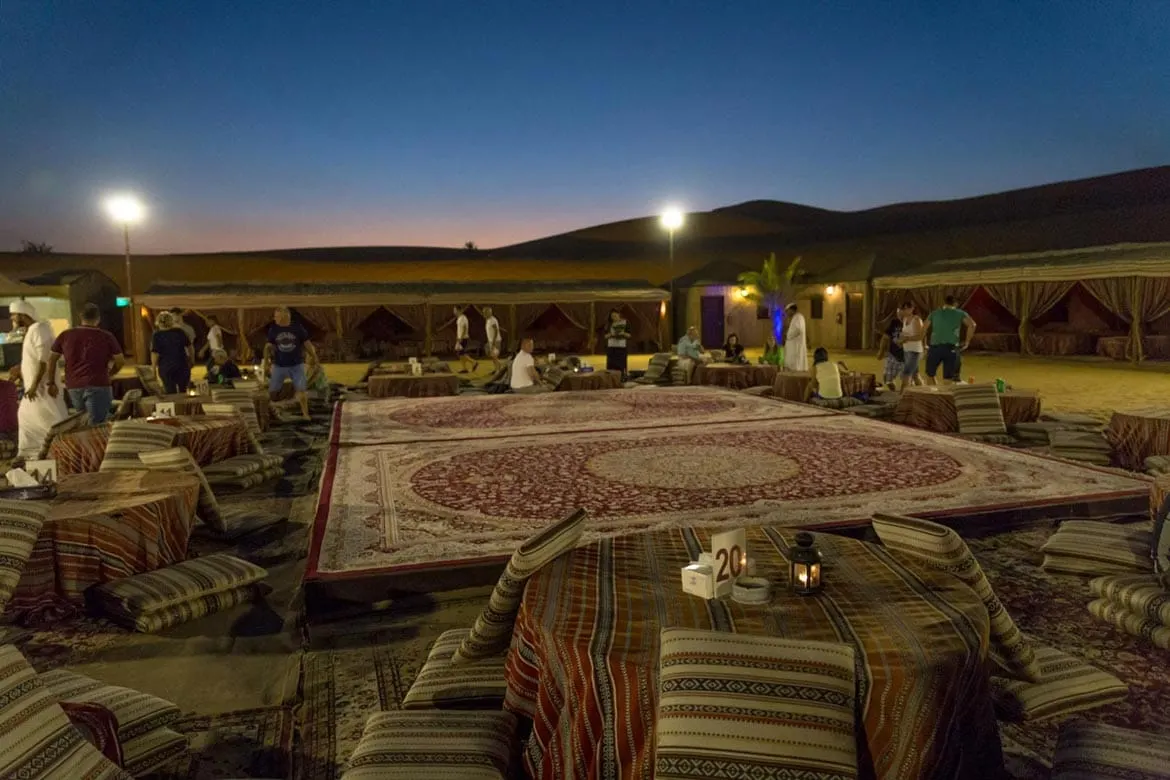 The jeep safari lasted for around 30 minutes which is probably the right about of time. Any longer and I would've burst a lung from shouting so much.
Once we had finished up, all the jeeps on our tour parked in a circle just as the sun was starting to set. There are so many dunes here that it's easy to hide behind one and not be seen by the other Dubai desert safari tours, so it feels secluded and like you've got the place to yourself.
As you'd expect being in the heart of the desert, the sunset was spectacular. Just make sure you bring your camera along to take some shots of it. I mean, look at how beautiful this place is.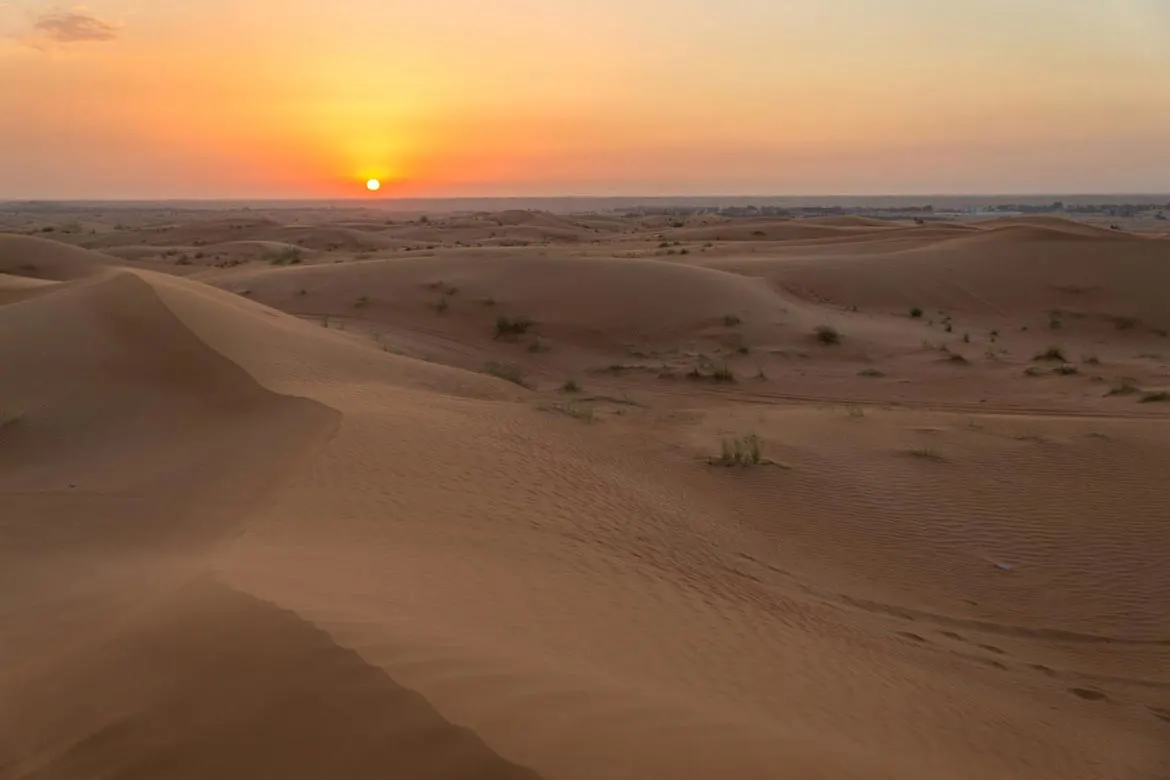 As soon as the sun dipped below the horizon we jumped back in our jeeps and headed off to a Bedouin camp for the cultural element of our tour.
The Bedouin experience consisted of sitting around a camp site in the middle of the desert listening to Arabic music. After a while a couple of dancers came out – first a traditional belly dancer and then a Whirling Dervish. How they keep on spinning without being sick I will never know!
All while this is going on there's a big buffet dinner of traditional Arabic meze and it was delicious. Also, you can buy alcoholic drinks like beer which is a massive surprise in the UAE. All soft drinks are included in the price.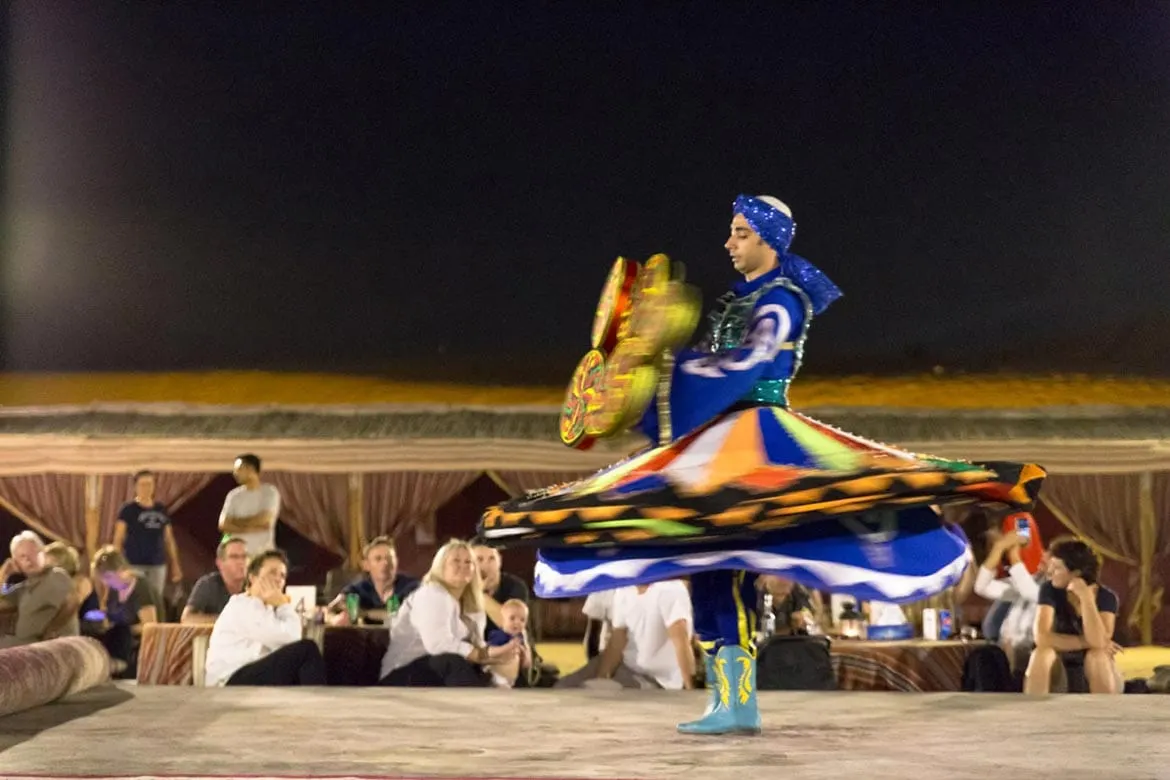 Our camp also had a fairly big sand dune you could climb up and then sandboard back down for another fun activity.
And the stars, how could I not mention the stars! I really recommend walking away from the lights of the camp and staring up at the night sky because it is absolutely beautiful.
Once the music and dancing had finished, we jumped back in our jeeps to head back into Dubai after an incredible day in the desert.
Desert safari price: How much does it cost?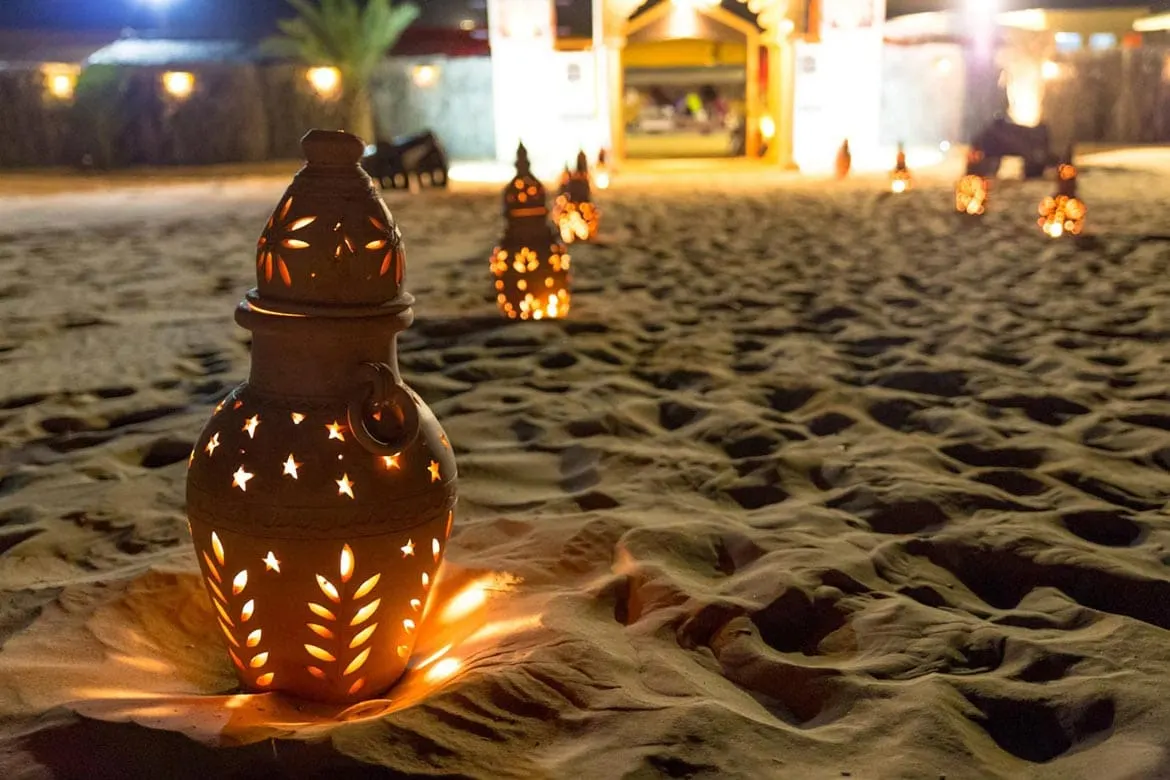 Good question! There are a number of different tour to choose from and the cost varies quite a lot.
Some tours include additional extras like camel safari or an ATV experience in the desert, so obviously these cost a lot more.
Saying that, I thought my tour was extremely good value. It cost £42 (US$50) per person and as I've mentioned, that included hotel pick up and drop off, all food and drink, and the desert safari experience in itself.
Just as a note, you might see these tours advertised as Dubai dune bashing – that's just another name for the same tour.
Desert safari deals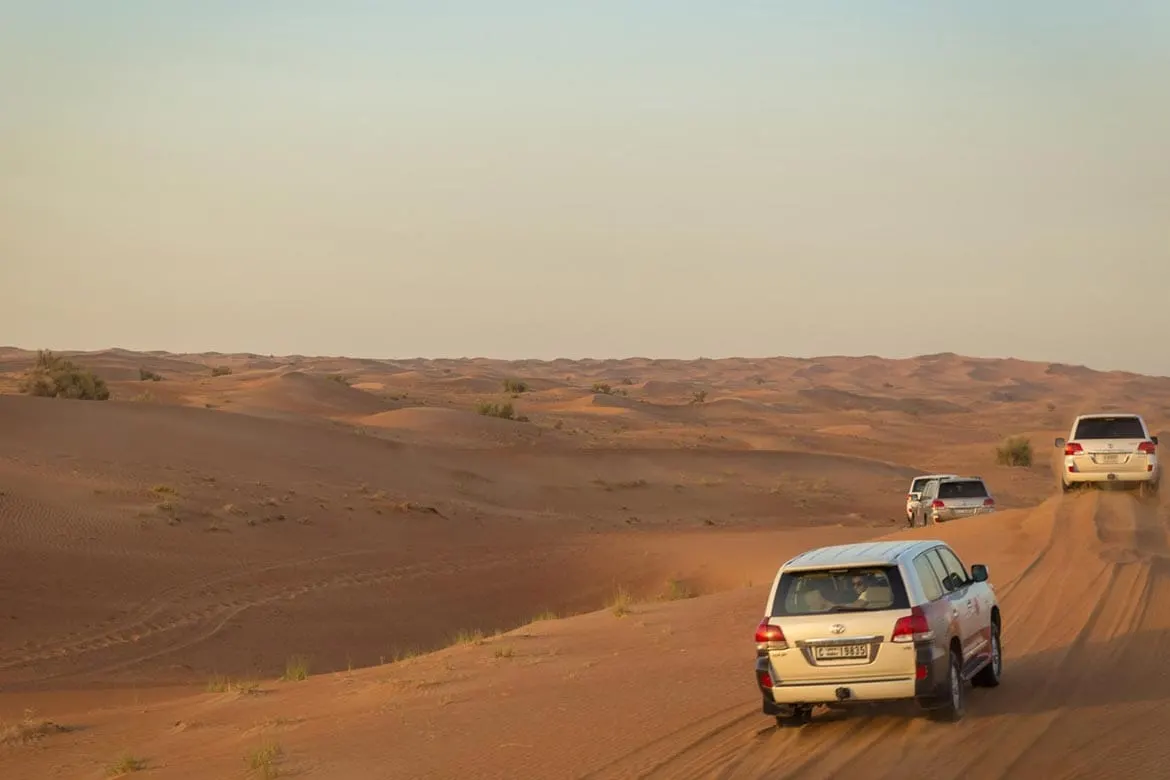 I would always advise checking what desert safari deals are around when you're in Dubai.
If you're short on time though, I've found this tour at GetYourGuide is consistently one of the cheapest around so this is always a good place to start. The often have deals so make sure you keep checking before you book!
Different desert safari tours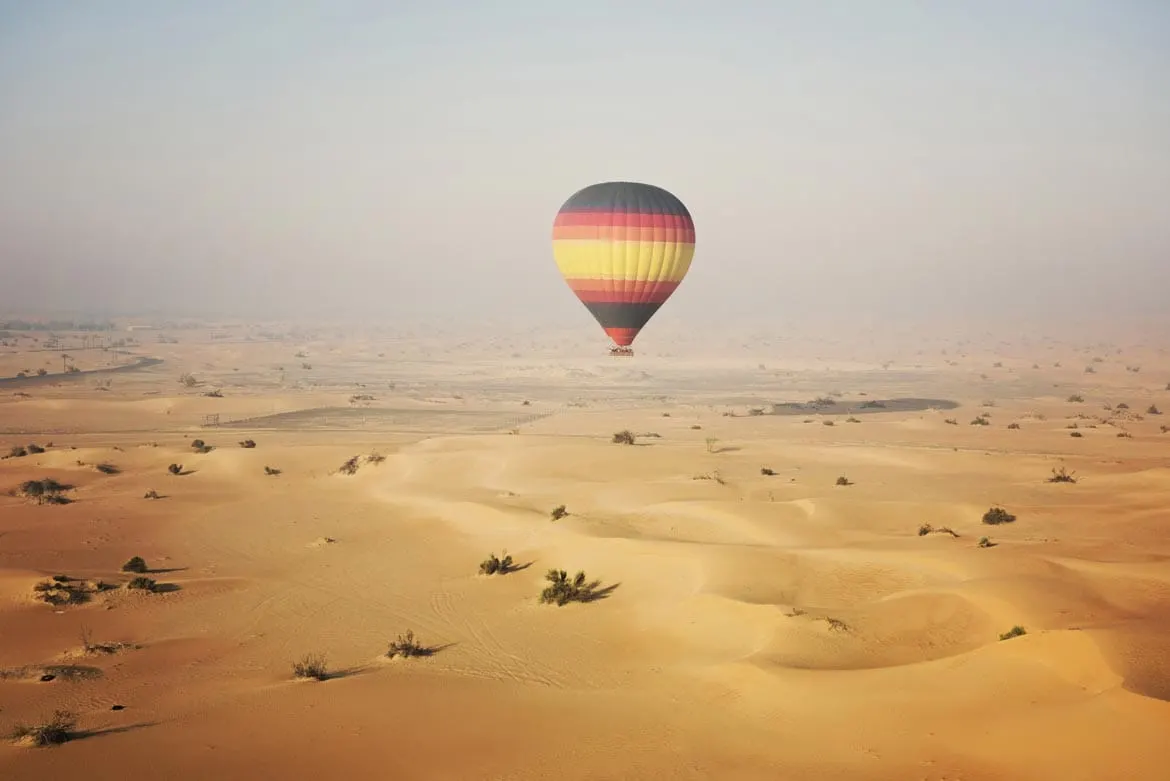 There are so many different desert safari tours that it'd take me forever listing them all here, but these are the three most popular:
Dubai: Hot Air Balloon Ride – this is one of the best air balloon rides you can do in the United Arab Emirates
Dubai Desert Safari Sandboarding, Camels & Quad Bike – this is an excellent tour if you'd prefer to go earlier in the morning
Heritage Desert Safari from Dubai – often this includes driving around in a

vintage Land Rover in the Dubai desert conservation reserve
Here are a few other different tours for you too:
Are there other people on the tour?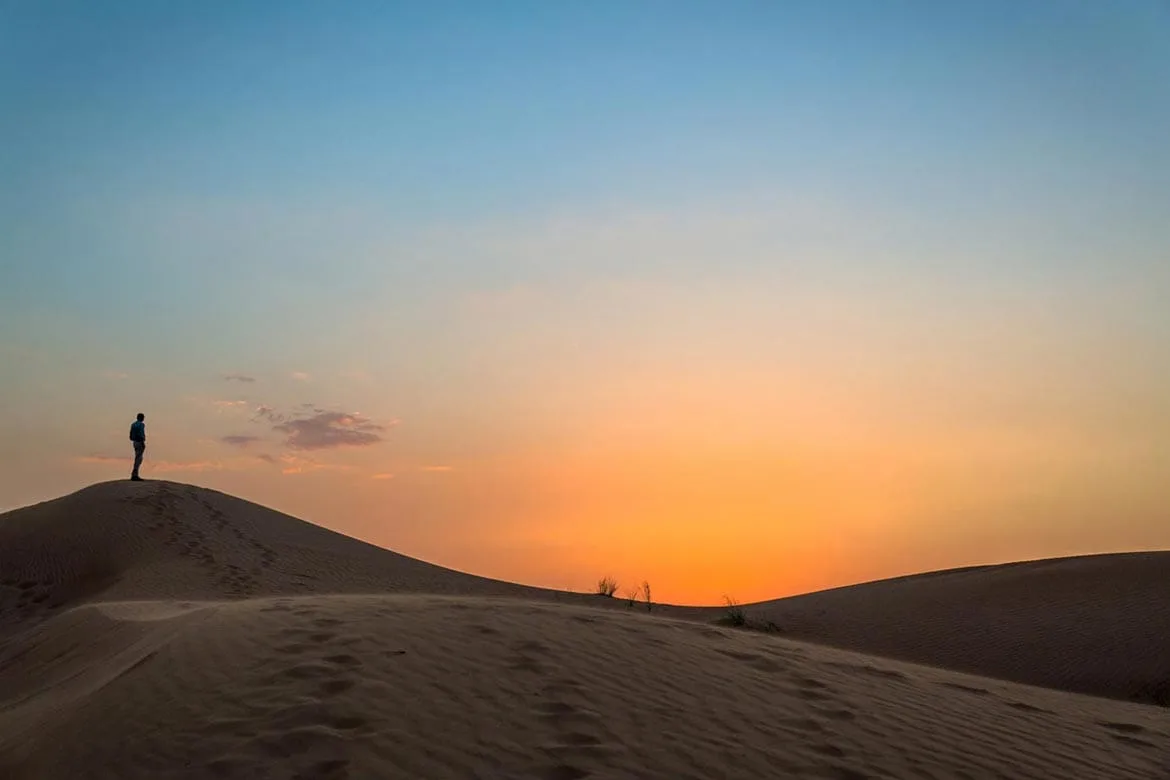 Yes, there are.
Because there are a number of different tours and companies, often you'll drive in a big convoy of cars. We had around 12 other cars on our Dubai jeep safari, so you will be with other people.
Saying that, we didn't really speak to that many other people apart from other couple in our jeep. Once we got to the Bedouin camp we had a table to ourselves, so this is a great experience for couples.
Is a desert safari safe?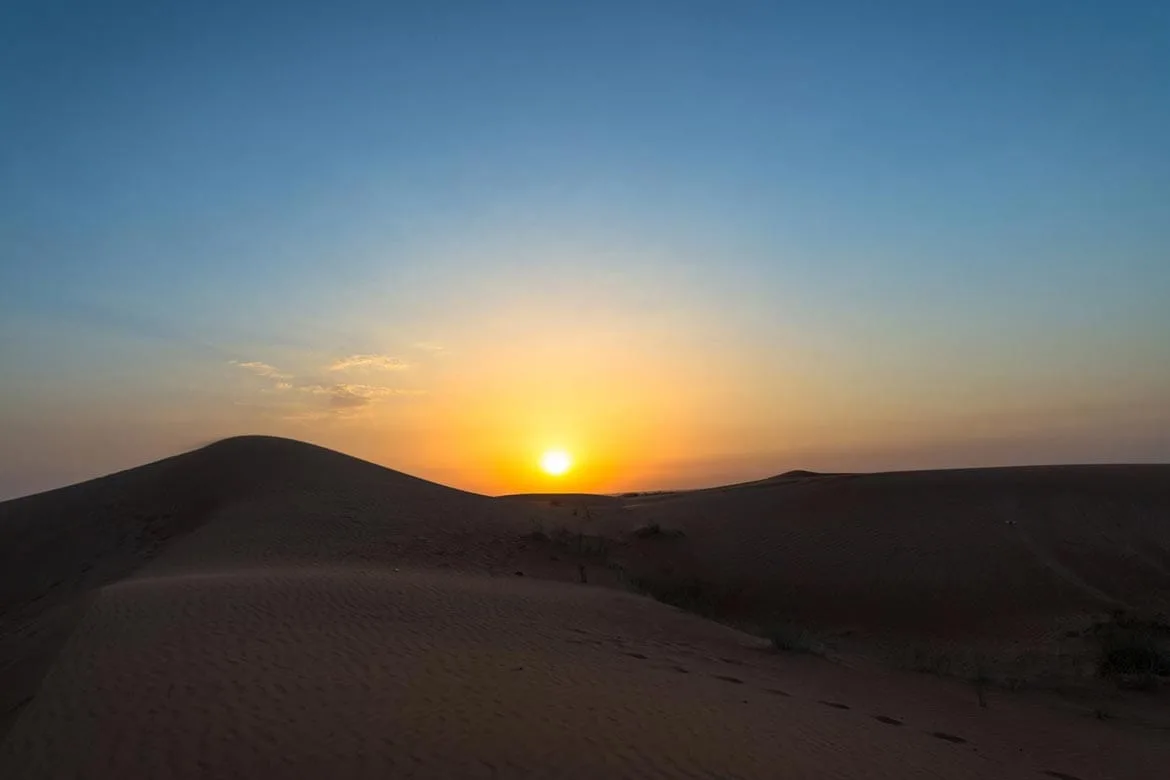 Yes, it is. Obviously as this is a high-adrenaline activity it's not advised to do it if you're pregnant or elderly.
Also, because you're being thrown around the car, beware of hitting your head or your arms on the car windows. That's pretty much the only way you can hurt yourself.
For the jeep, also beware that you can break down. Most tours bring a back-up jeep, so if you do break down then you'll quickly be moved to another jeep so you don't miss out on the experience.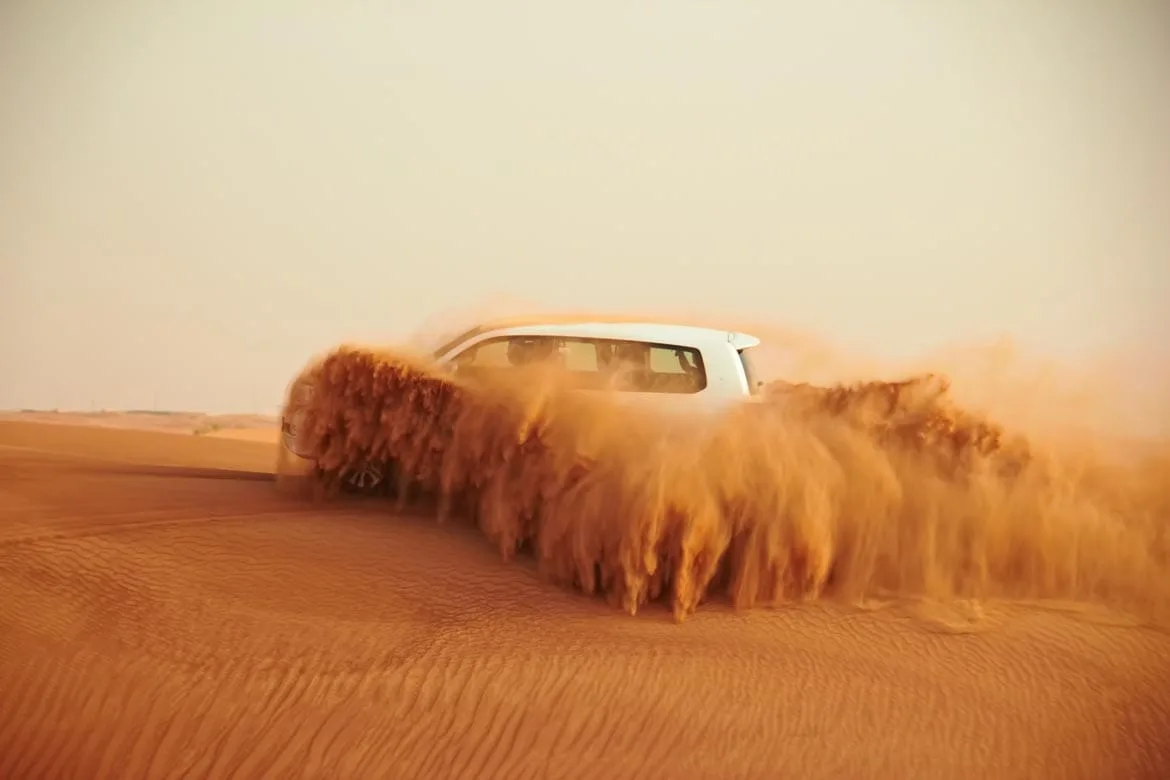 Top tips for your jeep safari in Dubai
If you suffer from car sickness make sure you take some tablets before you hit the desert. You really get thrown around in the back on the jeep and at times it feels like a rollercoaster, so take those travel sickness pills! It's advised you take these an hour before the tour.
For men I'd recommend flip-flops or espadrilles and for women sandals. Sand gets everywhere and it's annoying if you've got trainers on
Also, I'd recommend bringing a hut and sunglasses are an absolute must to avoid the glare off the sand
Like most deserts around the world, as soon as the sun sets it can get pretty cold. Make sure you take an extra layer of clothes with you for the evening
If you want to buy beer or some souvenirs at the Bedouin camp then bring along some money
It's also a good idea to tip your driver for the day too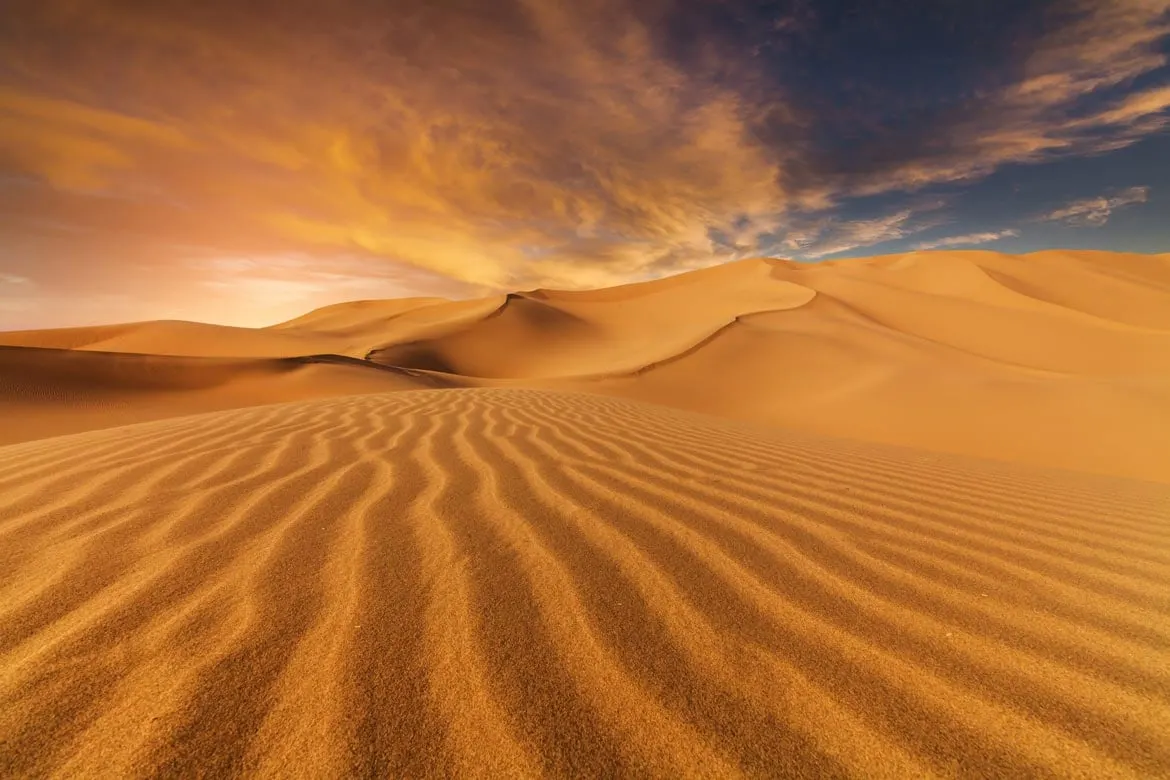 For me, the desert jeep safari was one of my favourite activities while I was in the UAE. It's that perfect mix of doing something fun in the afternoon and then something cultural in the evening.
Hopefully you found this blog post useful. If you're about to go on a desert safari yourself then I really hope you have an incredible time!
---
What are you planning on doing in Dubai? Are you thinking about the Dubai sand dunes safari? Let me know in the comments below!
Like this blog post? Then make sure you Pin it for the future!