Thinking of doing the Mostar bridge jump in Bosnia? Then you had better read my guide all about jumping off Mostar Bridge – it's bloody terrifying!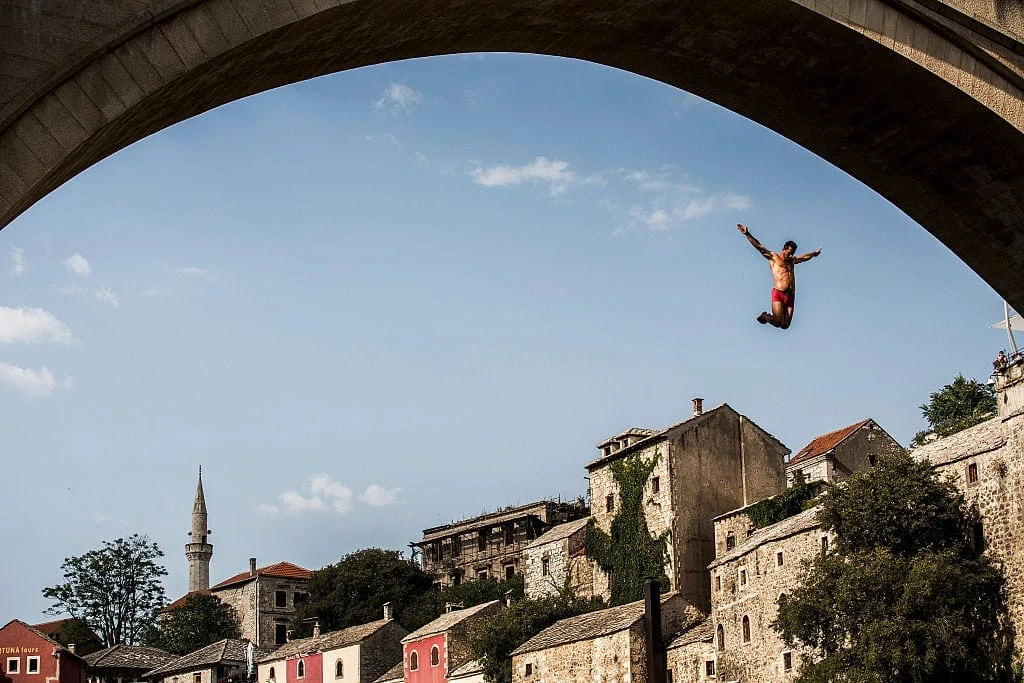 Standing on the edge of Mostar bridge, looking at the fast-flowing river 24 metres below, I couldn't help thinking I had made a serious mistake.
I could hear Igor, my diving instructor, giving me some last-minute tips on how to make the perfect Mostar bridge jump, but his words were drowned out by the blood thumping in my ears.
All I could think about was "do not fuck this up, do NOT fuck this up", while the dozens of tourists who were all clamouring to take my photo were probably thinking the opposite; "I really hope he fucks this up."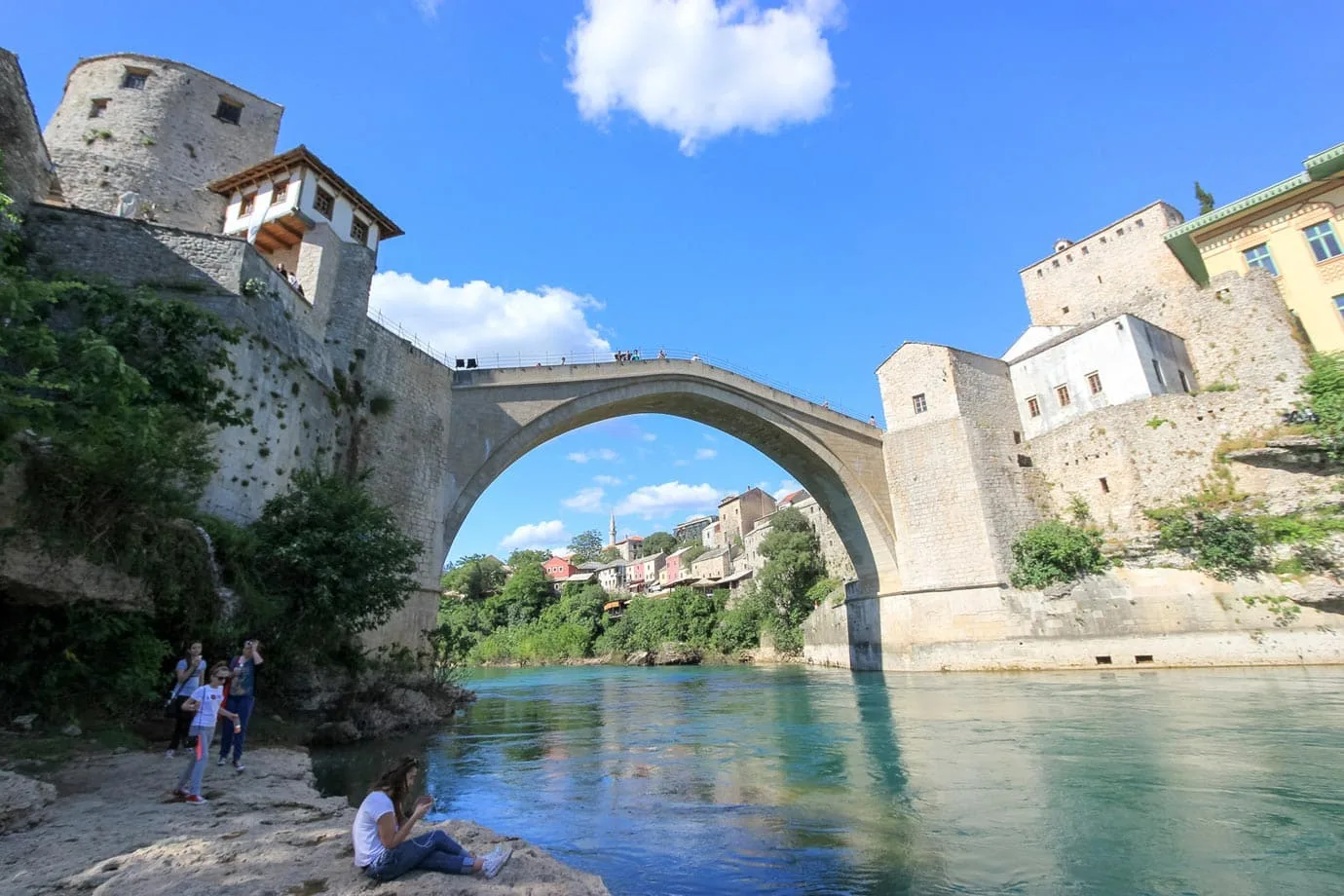 As soon as I jumped off Mostar bridge I knew I had done it wrong.
I wanted to enjoy it, to feel the adrenaline pumping through my veins, but with the river hurtling towards me at a startling rate and my arms and legs all over the place, all I could think was, "this is going to hurt."
Somehow, at the last second, I managed to pull my arms and legs in, grab my balls, and make myself pencil-thin as I speared the water.
As I broke the surface, the first thing I did was look back to the bridge; it was huge!
However, I had just completed a successful jump and been inducted into the Mostari Diving Club's Hall of Fame, an honour that fewer than 1,000 people around the world can claim.
If you're thinking of doing the Mostar jump, then this is the guide for you. It it I'll tell you all about what it's like doing this jump, and whether there have been any Mostar bridge deaths.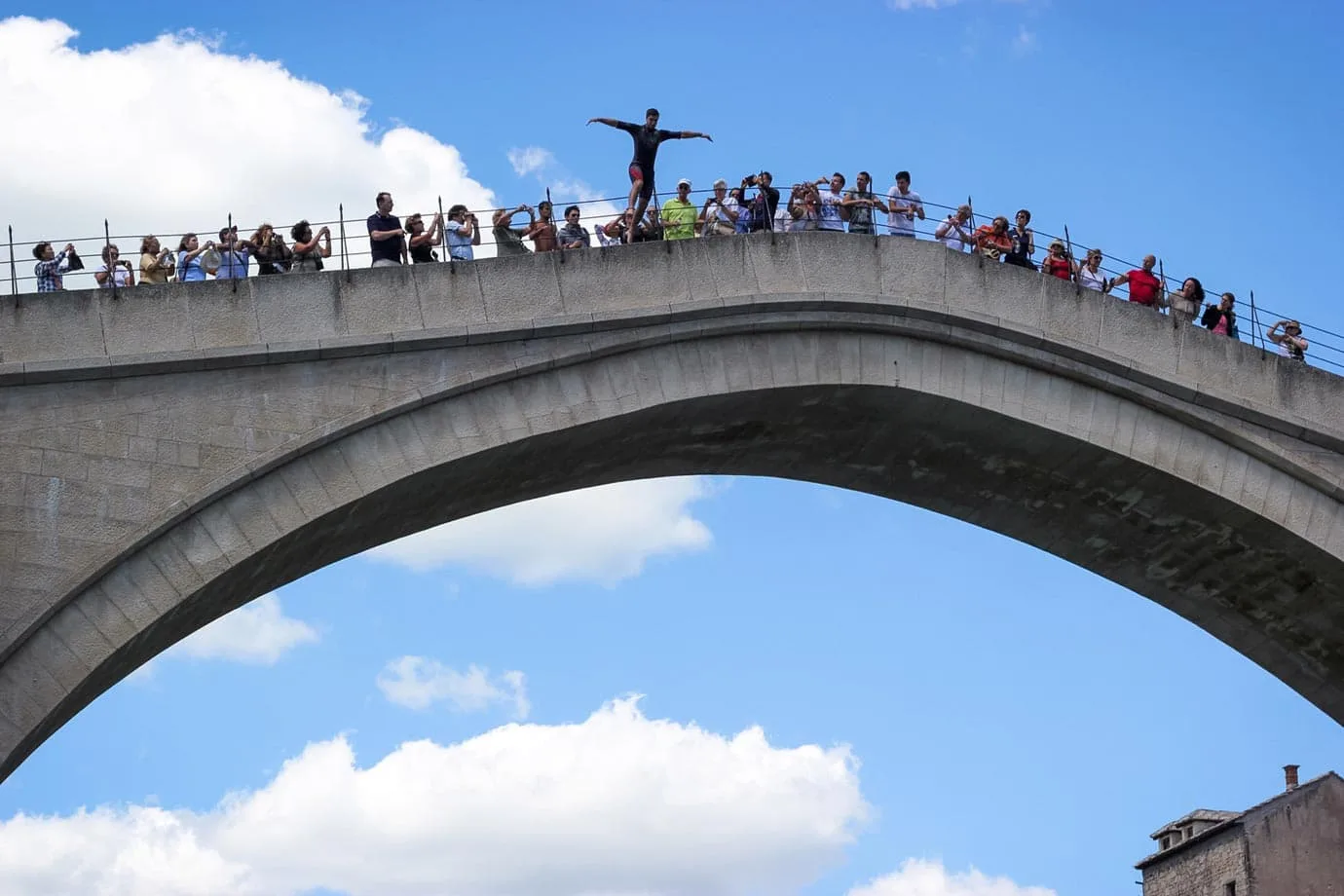 Tours in Mostar
A lot of people coming to Mostar on a day trip from Dubrovnik. If you're doing the same, then I'd recommend this full day tour which takes you to beautiful spots along the way before you get to explore Mostar for the day.
The history of the Mostar bridge jump
I had first heard that tourists could jump off Stari Most (the Old Bridge) in Mostar, Bosnia, only a couple of hours before. This is definitely something that not everyone knows about.
At a restaurant right on the banks of the Neretva River, I had the perfect view of the bridge. Even though it was undoubtedly beautiful, it was also one of the most imposing I have ever seen.
With a rich history dating back to 1557, the bridge was infamously and devastatingly destroyed by Croat forces during the Croat-Bosniak War in 1993.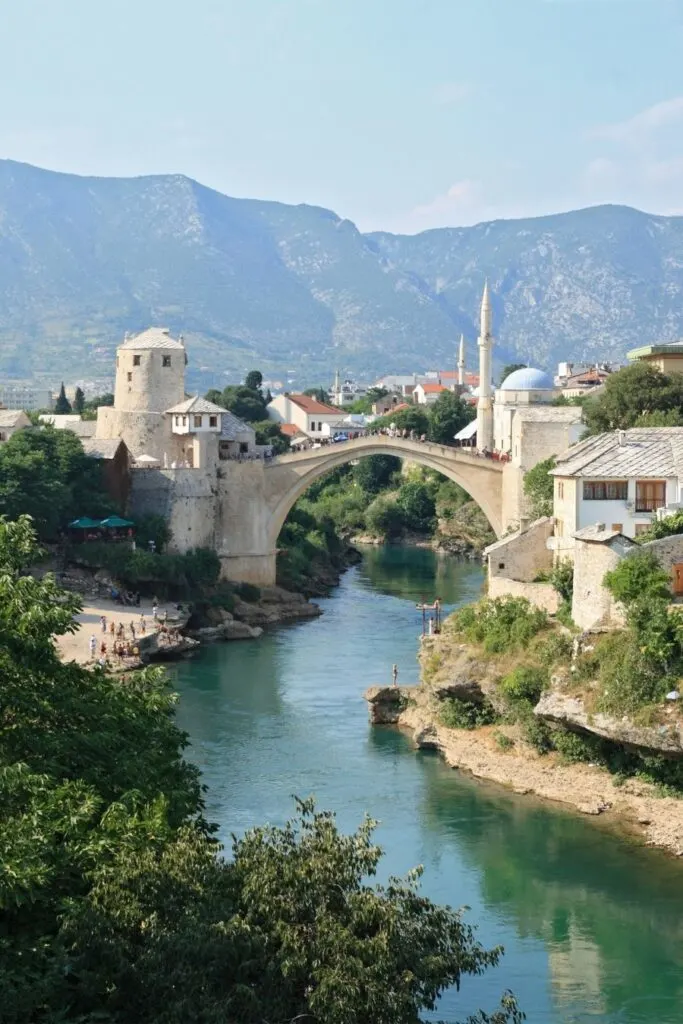 Being a symbol for the town and for the whole of Bosnia, as soon as the war was over there were meticulous plans to rebuild it exactly the same as it was before the war, right down to the smallest detail.
The bridge was eventually reopened again in 2004, and ever since it has been luring travellers from all over the world, not just because of its beauty, but because of its tradition – Mostar bridge diving.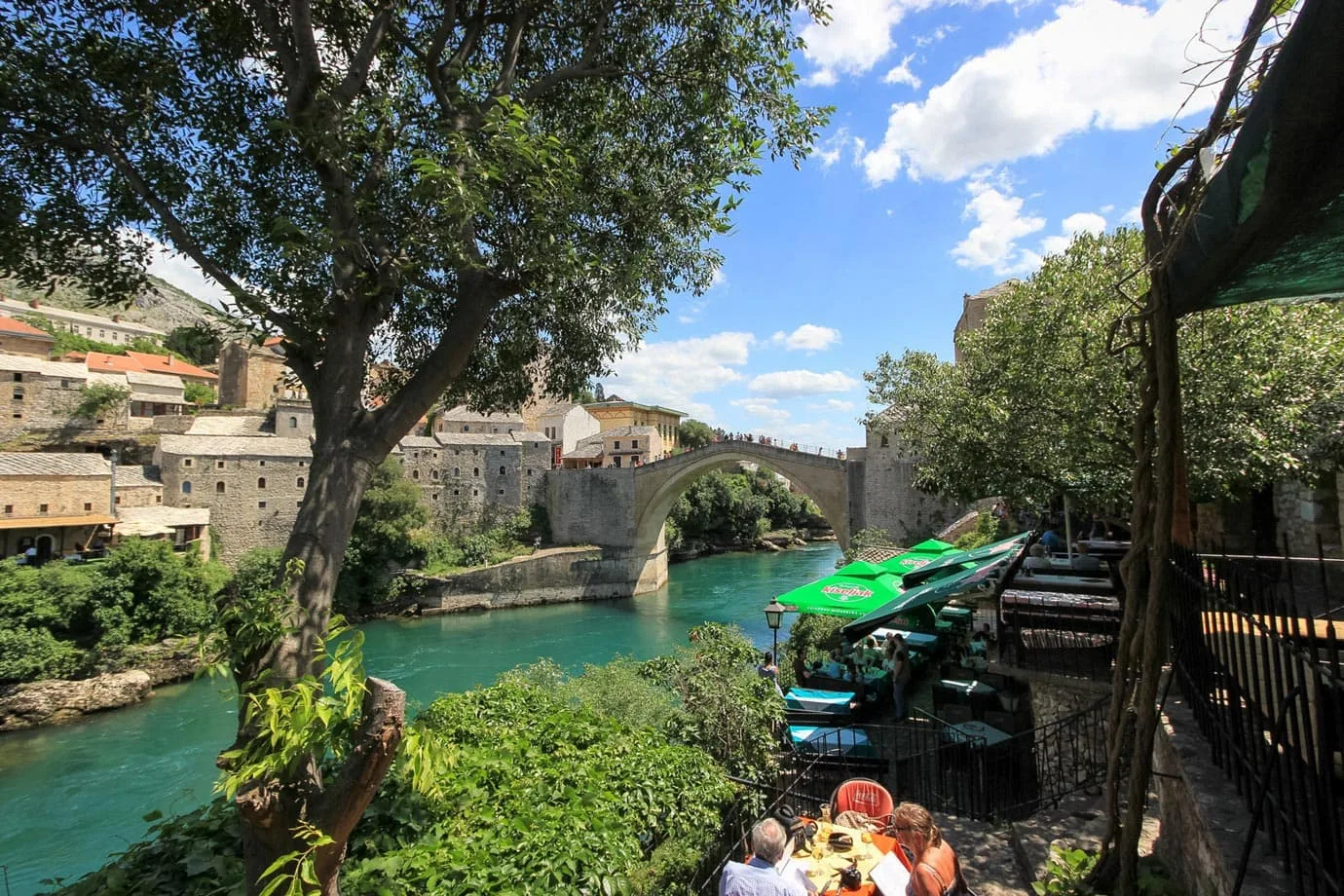 Jumping for love
For centuries young men have jumped and dived off the 24-metre bridge to impress the local girls (that's not the reason why I did it by the way), but it has only been in the last decade that they have done it for money.
Usually what happens is this. Groups of tourists standing on the bridge will pitch in a few euros or dollars to one of the local divers. Once he has enough money and he judges the time is right, he'll put on a bit of a show. He'll eventually reach his climax of wowing the crowd with a death-defying Stari Most bridge jump.
As I was having lunch I saw a crowd gathering on the bridge. After a few minutes, a small guy came to the front, climbed over the railings and launched himself into the air. I couldn't believe it. The guy had cojones. This was something I had to do; I had a feeling that this was an after-dinner story I could dine out on for years to come.
In a stunning setting such as Mostar, you can see why travellers flock from the four corners of the world just to see this spectacle. And it really is something worth seeing for yourself.
Learning to do the Bosnia bridge jump at the Mostari Diving Club
Once I got to Mostar bridge, I started talking to a couple of the local divers at the Mostari Diving Club to find out some more information.
What they usually do is jump for the tourists, but every now and then a foreigner comes along who is stupid enough to want to jump themselves. So, for 25 euros, the majority of which goes on the maintenance of the bridge, you get the opportunity to join the 24-metre club. How can you say no to that?
They say that only the most skilled and best trained should jump, and that certainly wasn't me. Therefore, it was Igor's job to make sure that, at the very least, I didn't kill myself or break my arms.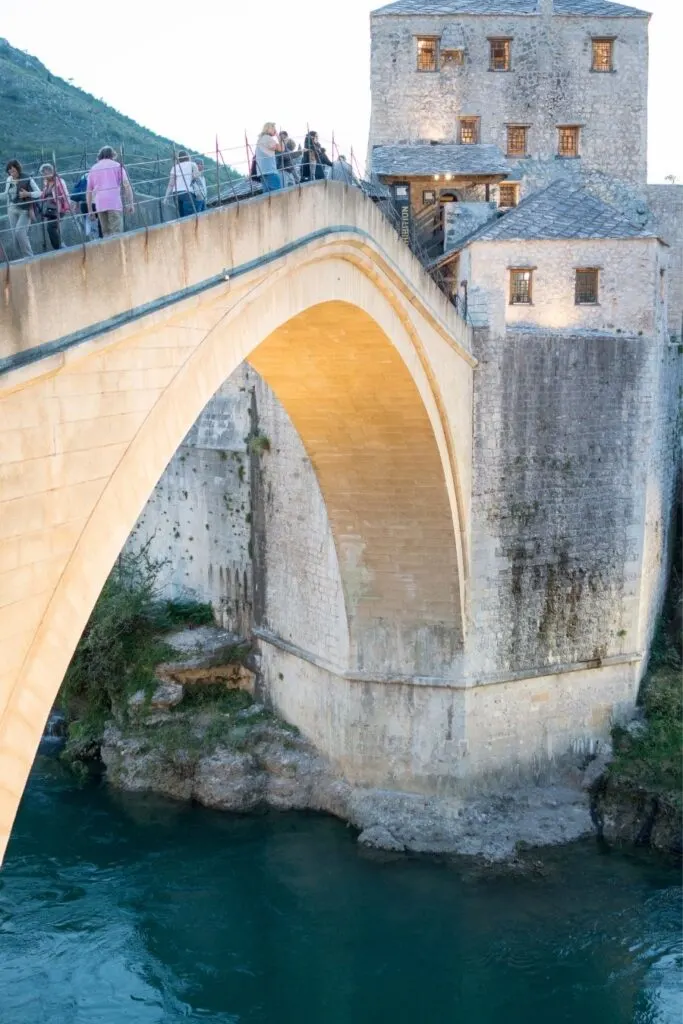 And for those of you who want to know whether there's even been any Mostar bridge jump deaths, unfortunately yes there have been.
A professional diving athlete Andrej Beuc died here at the Red Bull Cliff Diving World Series in 2018. There have been at least 4 reported deaths since 2012. Also, a bunch of tourists have died here over the years, so yes, you can die.
I don't say this lightly – please make sure this is something you want to do and something you are comfortable with. If not, it's just not for you.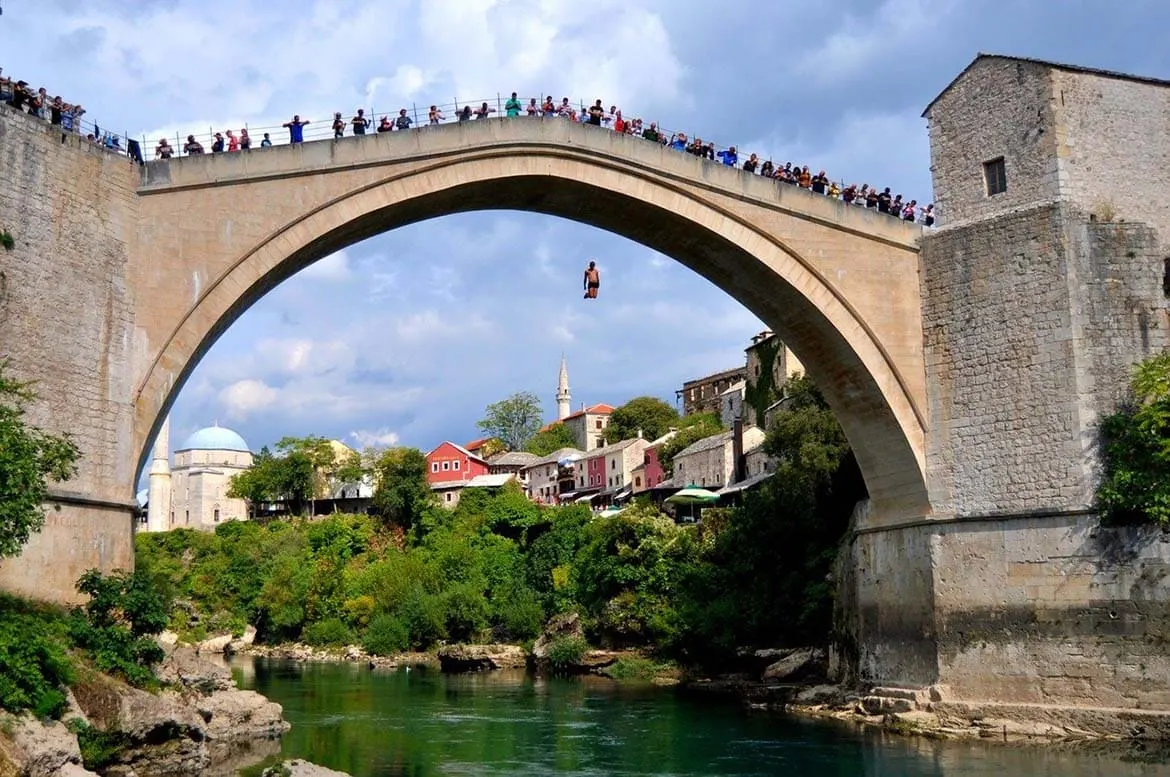 After jumping off a 3ft bench a handful of times to prove I could do it, I asked Igor if I had a good technique and if I was ready to jump off the bridge; he said I jumped like a horse, that I would never be ready to jump off the bridge, but if I still wanted to do it then now was the time.
Luckily for me health and safety wasn't an issue here. Though saying that, people have died in the past, and the day before I jumped a guy had to be rushed to hospital with two suspected broken arms; there was a serious element of danger here, and after hearing that particular story I was bricking it.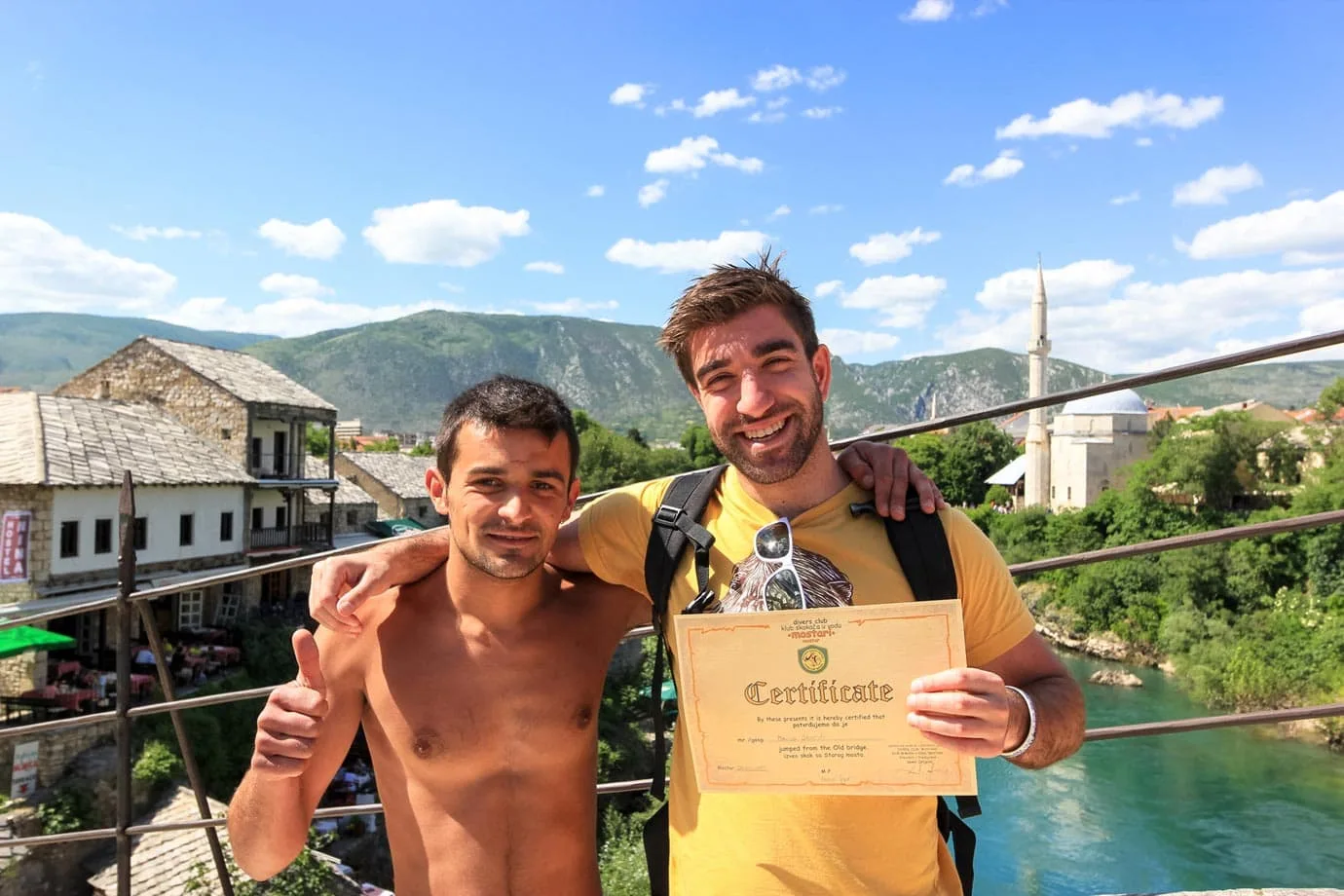 Jumping off Mostar bridge
So, that's how I found myself standing on the edge of the bridge, heart pounding, staring at the abyss below. I knew I only had one shot at this thing. And that's when I launched myself off the side of the bridge into the river below.
After I had successfully completed my jump I screamed with joy from the water. Igor came running down to the river to meet me; "You are no horse! You are like gazelle leaping into the air!" I felt pumped up, elated, and I wanted to do it again. Honestly, this was such a rush.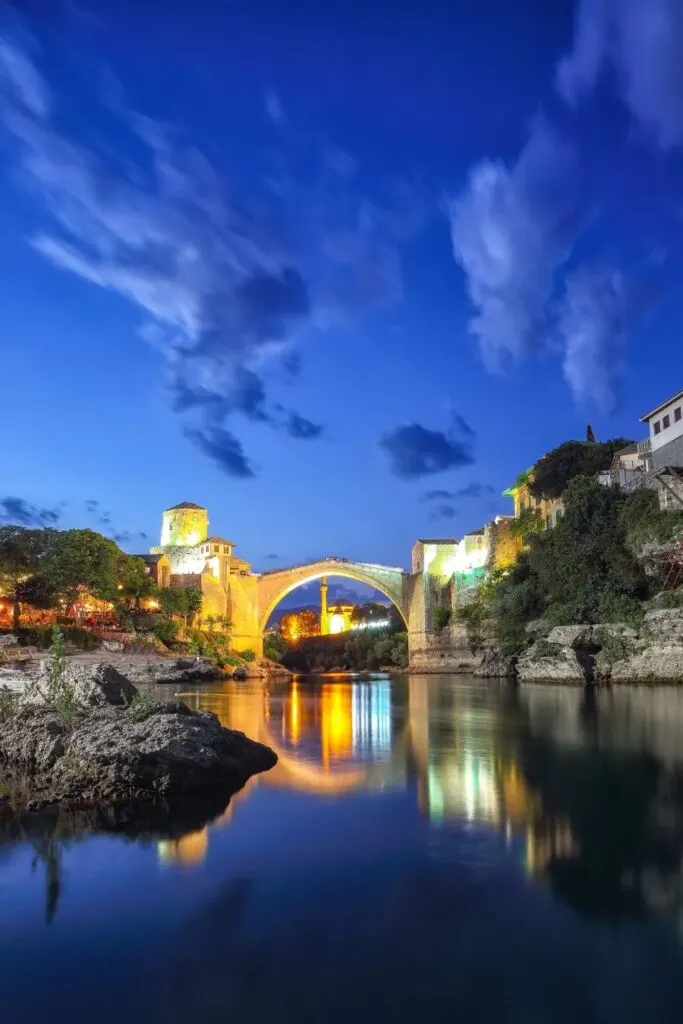 It was such an amazing experience, and in nearly ten years only about 750 foreigners have jumped off Stari Most, so it's one of the most unique things to do in Mostar.
Forget the Mile High Club, how many people can claim they've joined the 24 metre-high club in Bosnia?
Top Tips for the Stari Most Jump
If you don't think you can do it, then don't even try. As I've said, doing this Bosnia bridge jump can be really dangerous if not done right
Practice practice practice – There's nothing wrong with doing little practice jumps over and over again to ensure you feel comfortable
Make sure someone takes photos of you – Unfortunately I didn't get the best photos of me doing it and I'm gutted about that. Make sure someone is on hand with a camera!
Bring a towel – I was freezing after my jump and I didn't have a towel until I climbed back to the top, so make sure there's on at the bottom for you
Go out for beers afterwards – You've just survived one of the scariest things of your life! Celebrate it by going out for a couple of beers afterwards!
Photos of Mostar bridge, Bosnia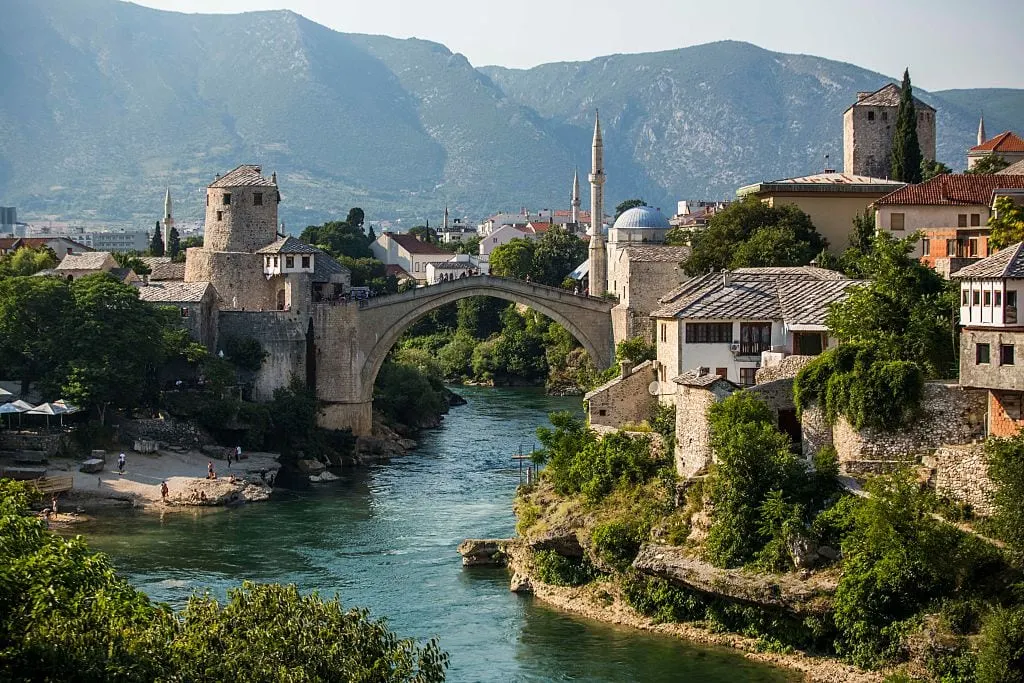 ---
The Mostar bridge jump in Bosnia costs 25 euros per person. Oh and be warned: don't try this at home! I only jumped with the professional supervision of someone who does this day in day out. Do you try this without any guidance!
Would you ever be as stupid as me and jump off the bridge at Mostar? What's the craziest thing you've ever done on your travel? Let me know in the comments below!
Like this post? Then make sure you Pin it!