Dubrovnik is such a stunning place to visit. If you're looking at where to stay in Dubrovnik for 2021, these are the best hotels & neighbourhoods for you!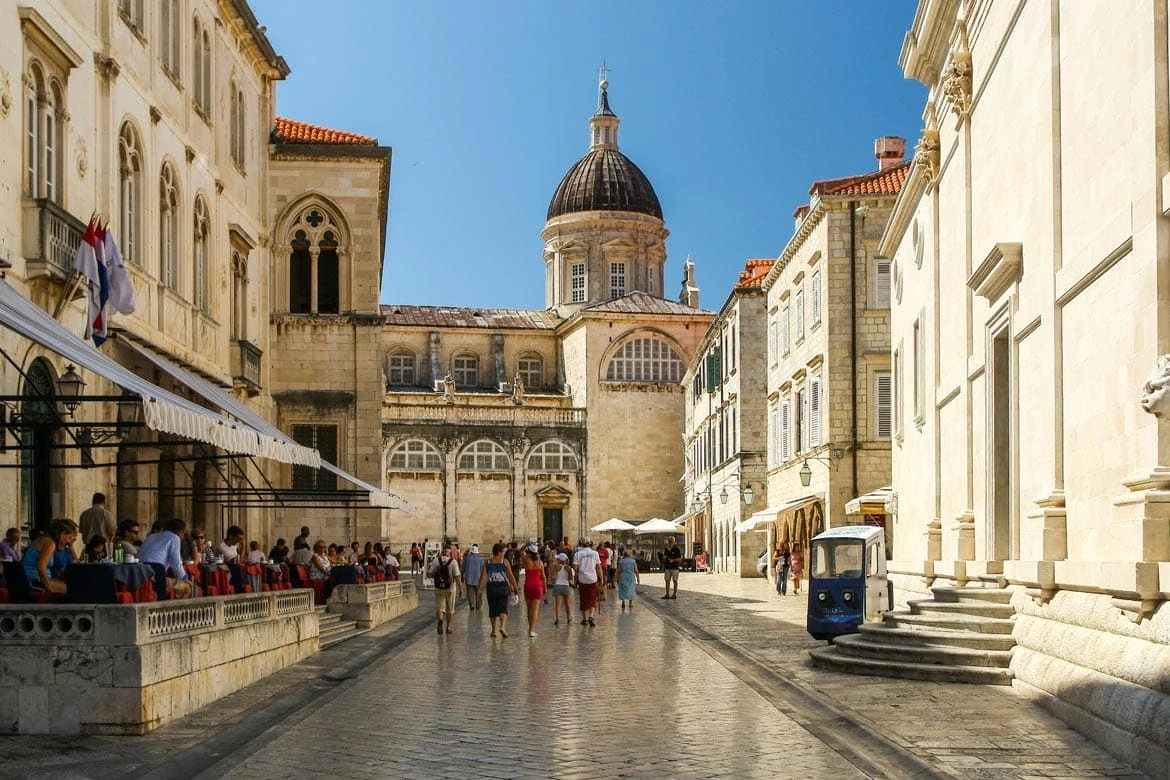 Travel to Croatia has skyrocketed in recent years. With dreamy cities as idyllic as the capital of Dubrovnik, that's really not a surprise.
I was first drawn there by images of the inviting Adriatic sea, charming old stone buildings, and those iconic red roof tiles. And of course, Game of Thrones. This is where they filmed a lot of the series and it's like stepping onto the TV set when walking around here.
When I arrived, I found it was just as enchanting as any of the pictures. With the whole city promising Instagram-worthy views and intriguing culture, choosing where to stay in Dubrovnik isn't easy.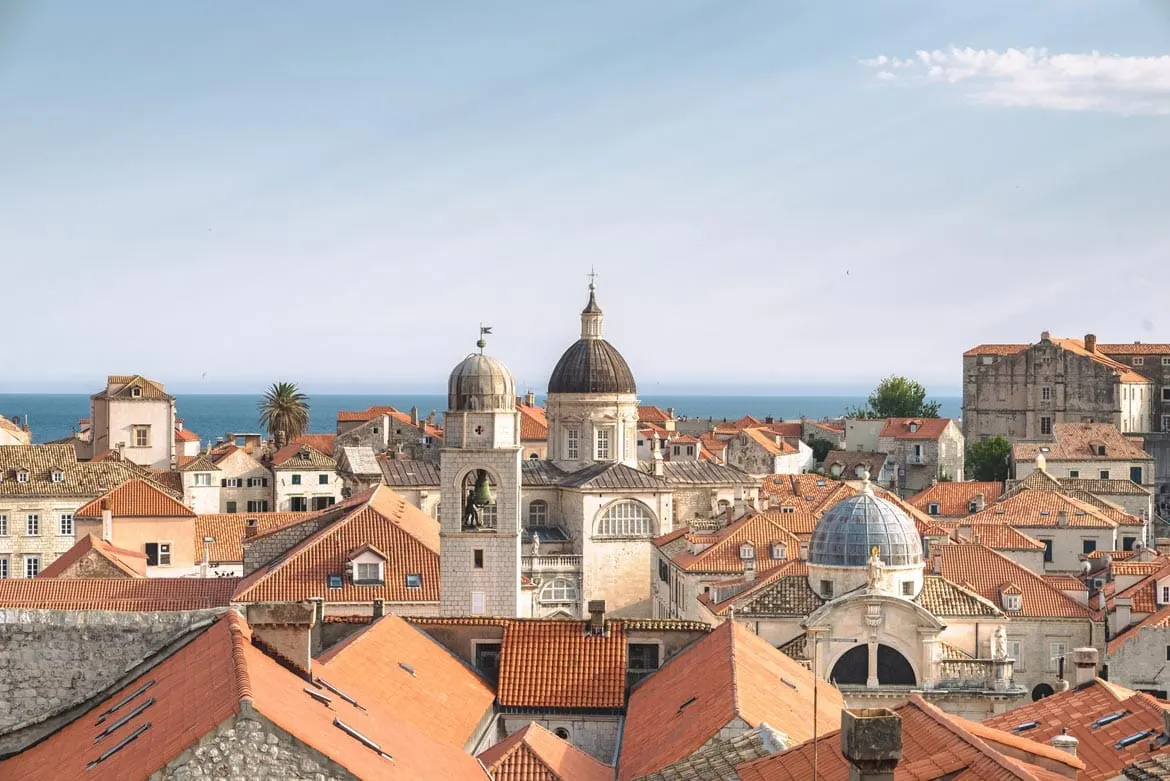 To start with, you'll need to whittle down which area you want to be based in.
Old Town, which is UNESCO World Heritage Site and is one of the world's best-preserved medieval cities, is where a lot of the cultural and heritage sights are. But further out of the centre, you can wake up to the tranquil beaches fringing suburbs like Babin Kuk and Ploce.
Then it's onto picking between the myriad stunning hotels. There's boutique-style Hotel Villa Orsula, the chic and luxurious Hotel Bellevue Dubrovnik, stylish B&B Fresh Sheets Kathedral in the Old Town and many more.
My guide on where to stay in Dubrovnik runs you through some of the best accommodation options spread across the city. I guarantee you'll find at least one hotel you want to book by the end of this post!
If you're looking for some of the best day trips from Dubrovnik then check out my guide! Also, if you're heading from Dubrovnik to Montenegro then I've got a post on that too!
Dubrovnik Neighbourhoods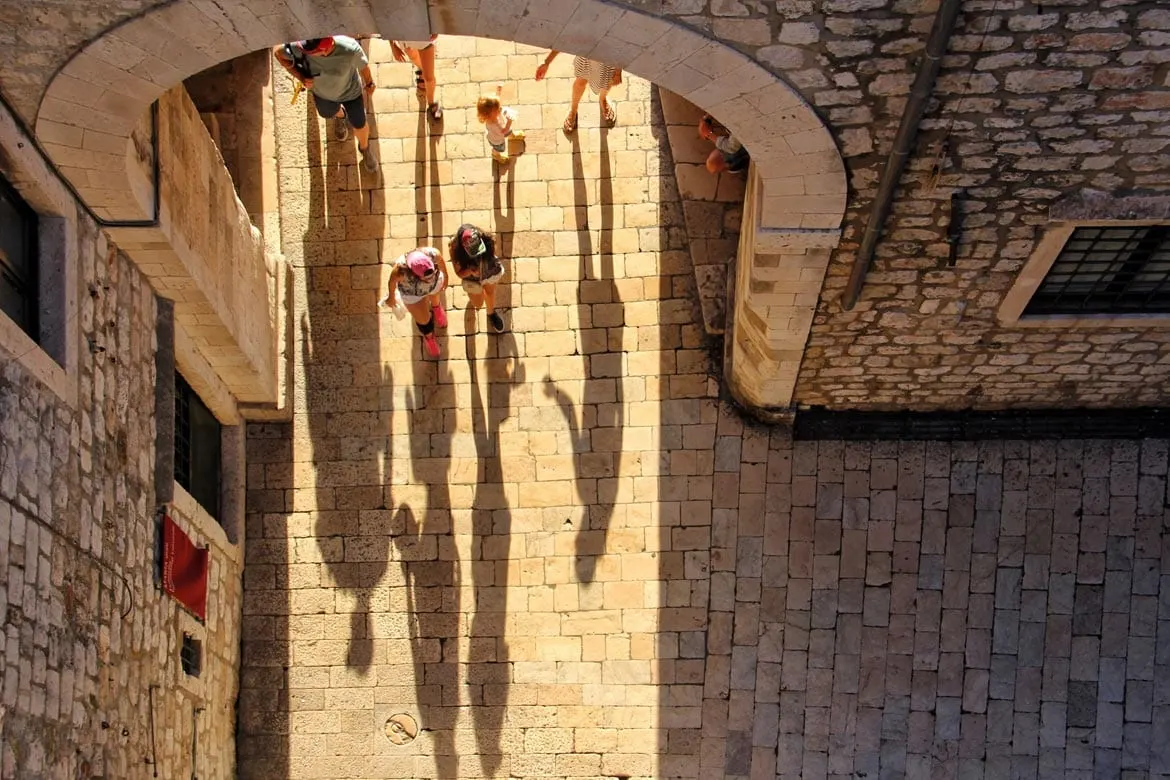 It goes without saying, but finding the best area to stay in Dubrovnik is so important to your holiday. Too far out from the centre of it all and you'll miss the bars and restaurants.
Saying that though, the city centre can get super busy during the peak of summer, so maybe you're looking for a quieter place away from it all.
When it comes to the best neighbourhoods in Dubrovnik, I'd recommend one of the below.
Dubrovnik Old Town: Packed with landmarks, Old Town is the best area for first-time visitors and for the best restaurants in the city. Be warned: it is busy.
Pile: A convenient place to stay in Dubrovnik thanks to its central location just to the west of Old Town. Plus, it's near the awesome Lovrijenac Fortress which is great to explore.
Ploce: This trendy, beachside district is the place to stay if you're looking for higher-end restaurants, bars and shops.
Gruž: A good choice of hostels and guesthouses for those with a smaller budget. It's in a more residential area but has got a lively spirit and gives you a feel of local life in Dubrovnik.
Lapad: There's a family-friendly vibe on this stunning bay. Enjoy the beautiful beaches and being just a ten-minute drive from Old Town.
Babin Kuk: Luxury hotels are the main accommodation offering in Lapad, which is a pretty and peaceful secluded suburb.
Best Boutique Hotels in Dubrovnik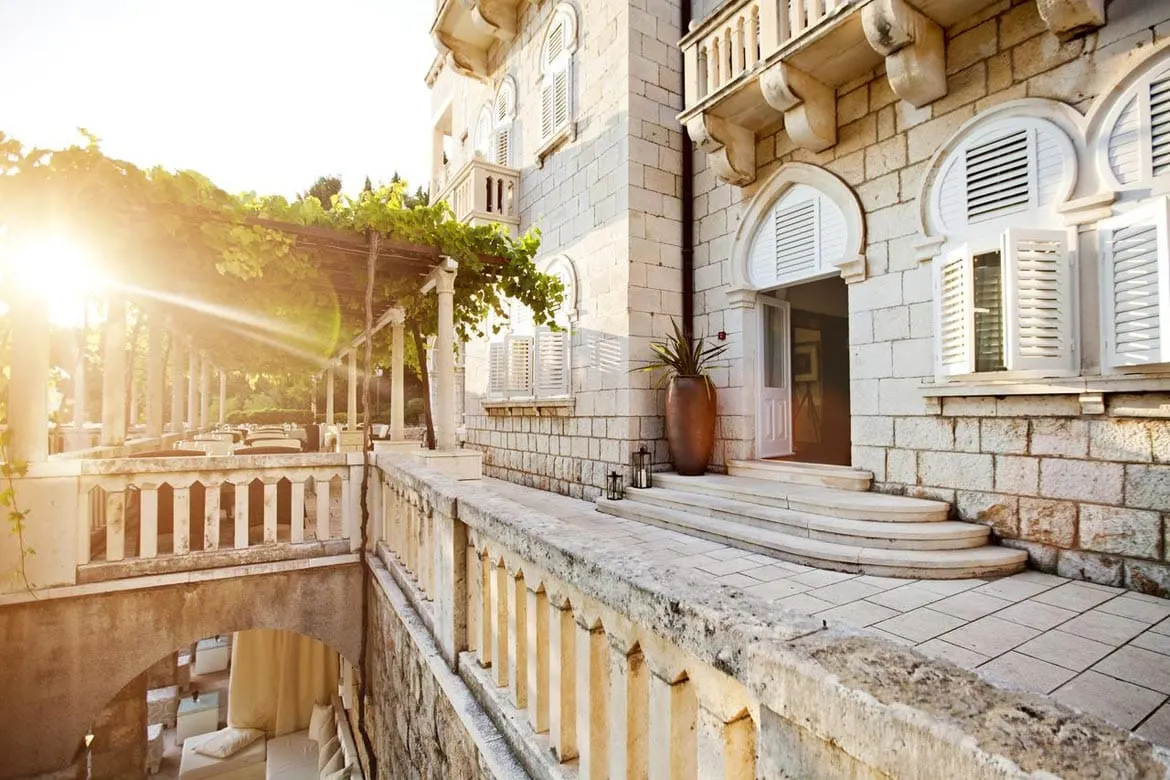 Just next door to Hotel Excelsior in Ploce you'll find this little gem of a boutique hotel. From here, you can wander down to the city centre in no more than five minutes.
When I visited, I was lucky to have a room with sweeping vistas of the Old Town. Others give you a snapshot of the pretty gardens or blissful blue waters of the Adriatic Sea. Whichever you're in, comfort and class are guaranteed.
The hotel's private beach is a star feature. Chilling out there on a deckchair in the evening sun is the perfect way to round off a busy day in Dubrovnik.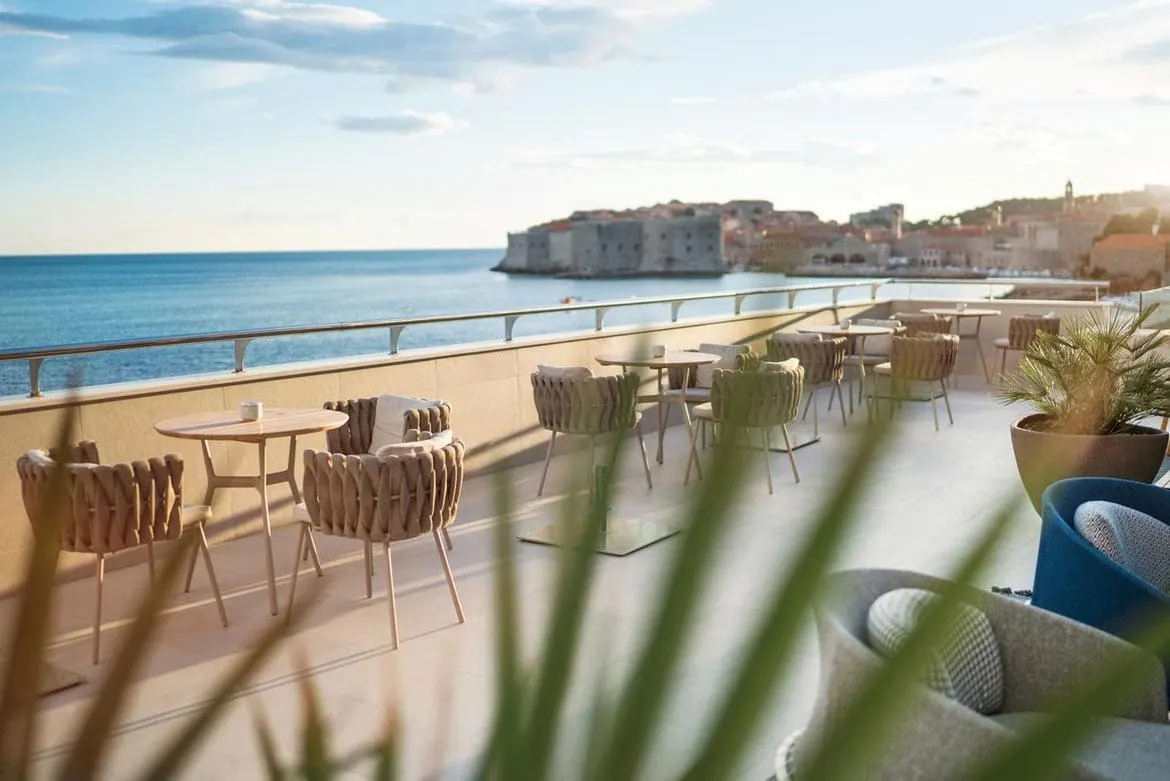 You can't get much better than this when it comes to choosing where to stay in Dubrovnik. Based in Ploce, you can reach the Old Town's awesome medieval fortress walls by foot in only five minutes.
Everything about the hotel screams elegance, from the romantic terrace to the decor and furnishings in the rooms. You're in good company if you stay here too. Since it opened in 1913, past guests at Hotel Excelsior have included Elizabeth Taylor, Morgan Freeman and even Queen Elizabeth II!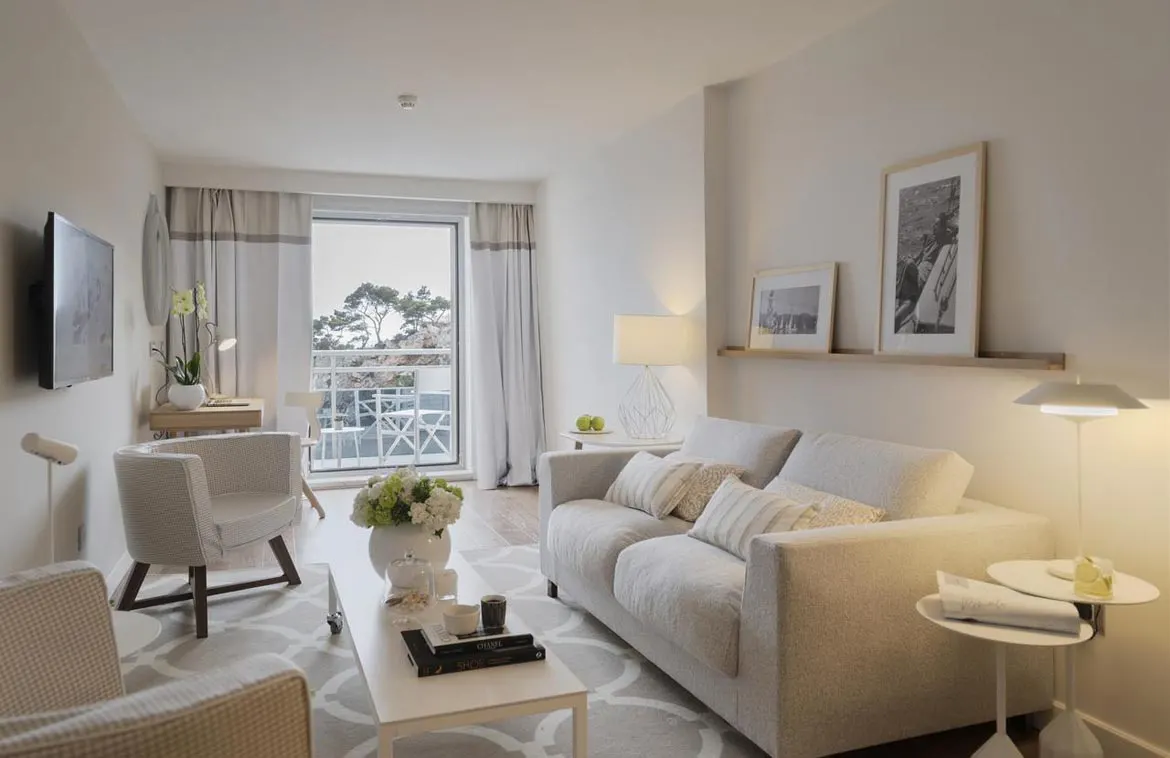 Recently refurbished and looking super chic, Hotel Bellevue is a contender for the best place to stay in Dubrovnik. That's mainly thanks to its incredible location – it's built into the side of a cliff! – but the first-class facilities and sleek interiors help too.
Not far from the Old Town, the hotel is found above Miramare Bay. Walking to the city centre takes about 10 minutes or the bus passes nearby, keeping getting around nice and simple.
All the rooms have sea views and even better, the indoor pool does too. I couldn't resist sampling a few wines at the bar, which boasts a huge selection. No less than 180 different varieties!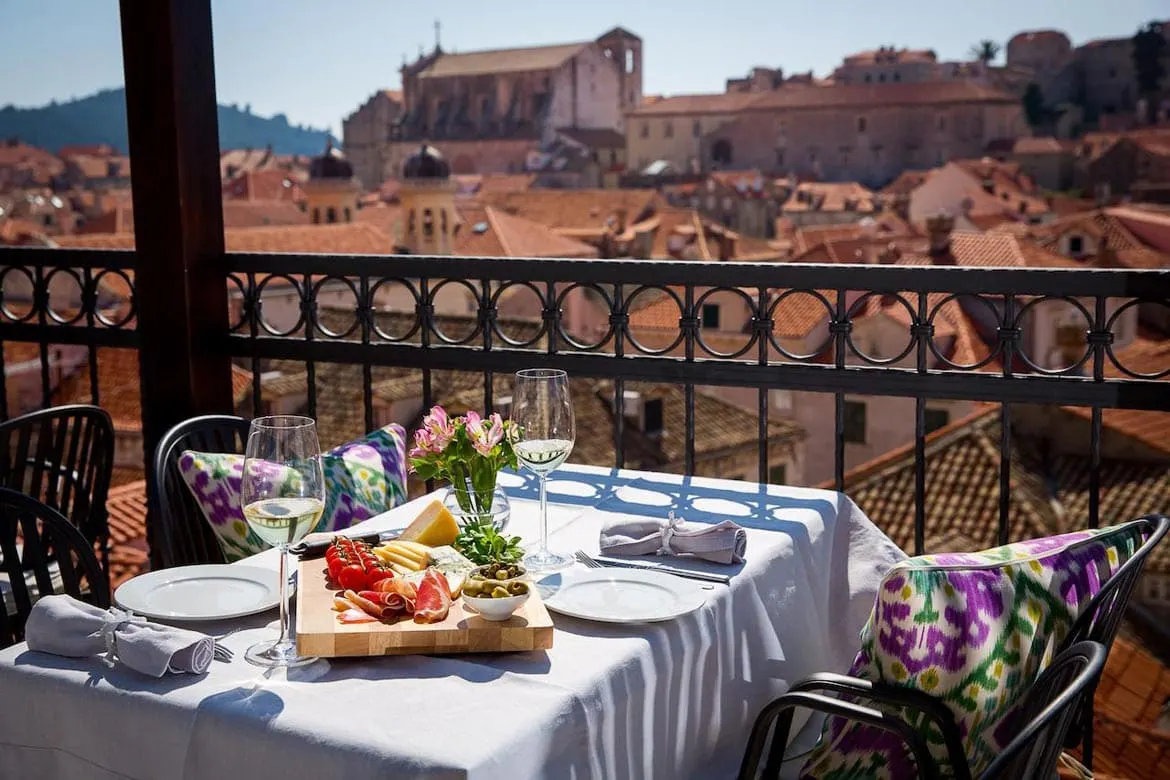 Got your heart set on hotels in Dubrovnik Old Town? There are only two actually inside the historic city walls and Boutique Hotel Stari Grad is one of them.
This boutique hotel is in an alley off of Stradun, Dubrovnik's main street. It's amazing to be directly at the heart of the city and in a building that's steeped in history itself, as a former nobleman's house.
The rooftop terrace is one of the nicest spots I've sat down for breakfast – not just in Dubrovnik but anywhere! From there you can admire the Old Town and the Adriatic coastline, and as a bonus, the food is great too. When it comes to the best accommodation in Dubrovnik, this one is right up there with them.
Mid-range Hotels in Dubrovnik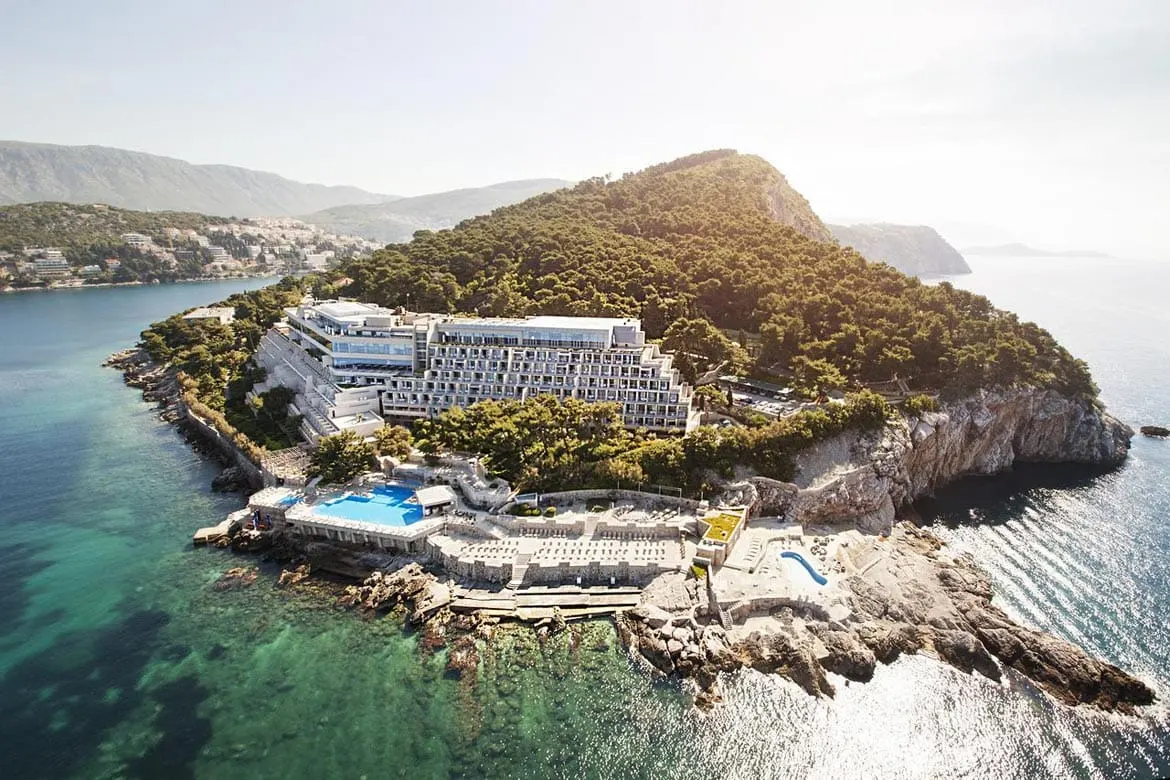 Looking out over the Elaphiti Islands, Hotel Dubrovnik Palace is in Lapad and is only half a mile from the main bay. It's easy to reach the Old Town from here – just a 20-minute ride on the local bus line or even quicker by car.
My favourite thing about this hotel is that every room has its own balcony, so gorgeous views are a given on your stay. I'm also a big fan of the choice of restaurants and bars. Who doesn't love a poolside bar or dining on the beach?
As well as relaxing in total luxury, the hotel gives you the option of getting active. There are outdoor and indoor swimming pools, tennis courts, a gym with ocean views to inspire your workout, and even a PADI scuba diving centre.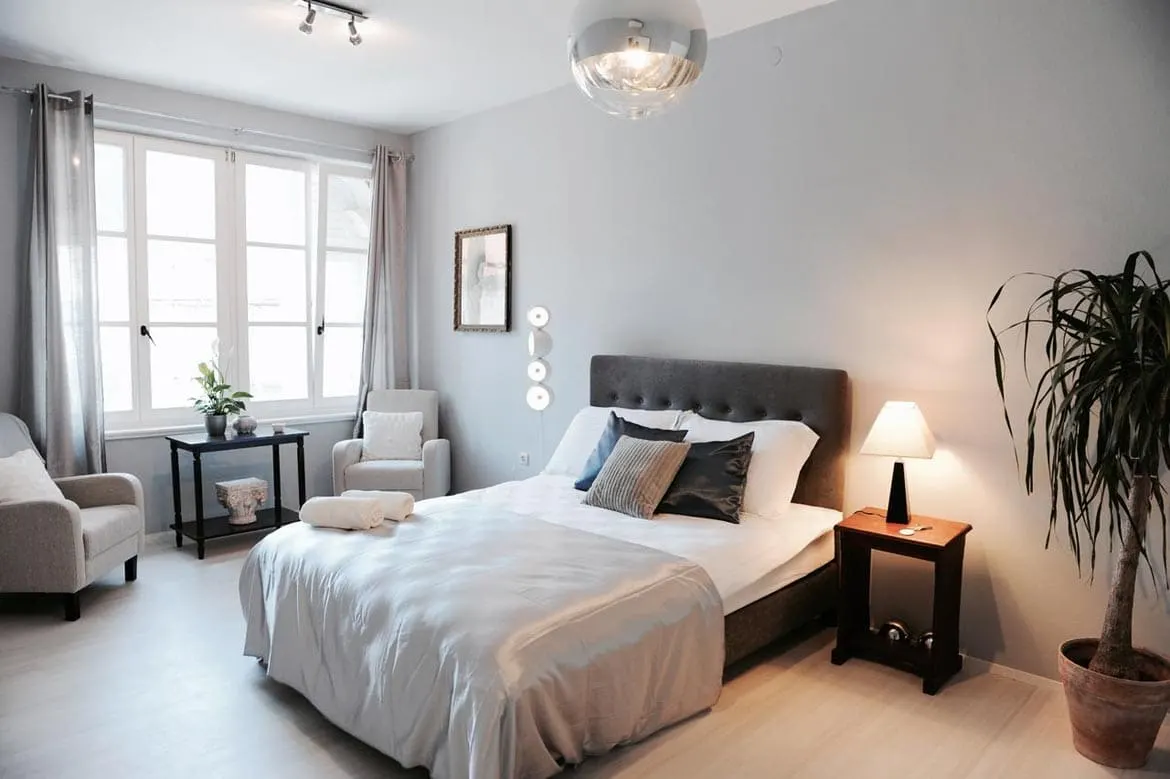 Another fantastic option if you're after hotels in Dubrovnik Old Town is Fresh Sheets Kathedral, which gets its name because it overlooks the cathedral. It's actually a stylish bed and breakfast, occupying a floor in a building which was once a palace. A pretty cool back story!
As well as being right in the bustling centre of Old Town, Fresh Sheets Kathedral is great for throwing yourself into things to do in Dubrovnik. They can set you up on cooking classes, tours, kayak hire, arrange picnic baskets and more. It's definitely one of the best places to stay in Dubrovnik Old Town.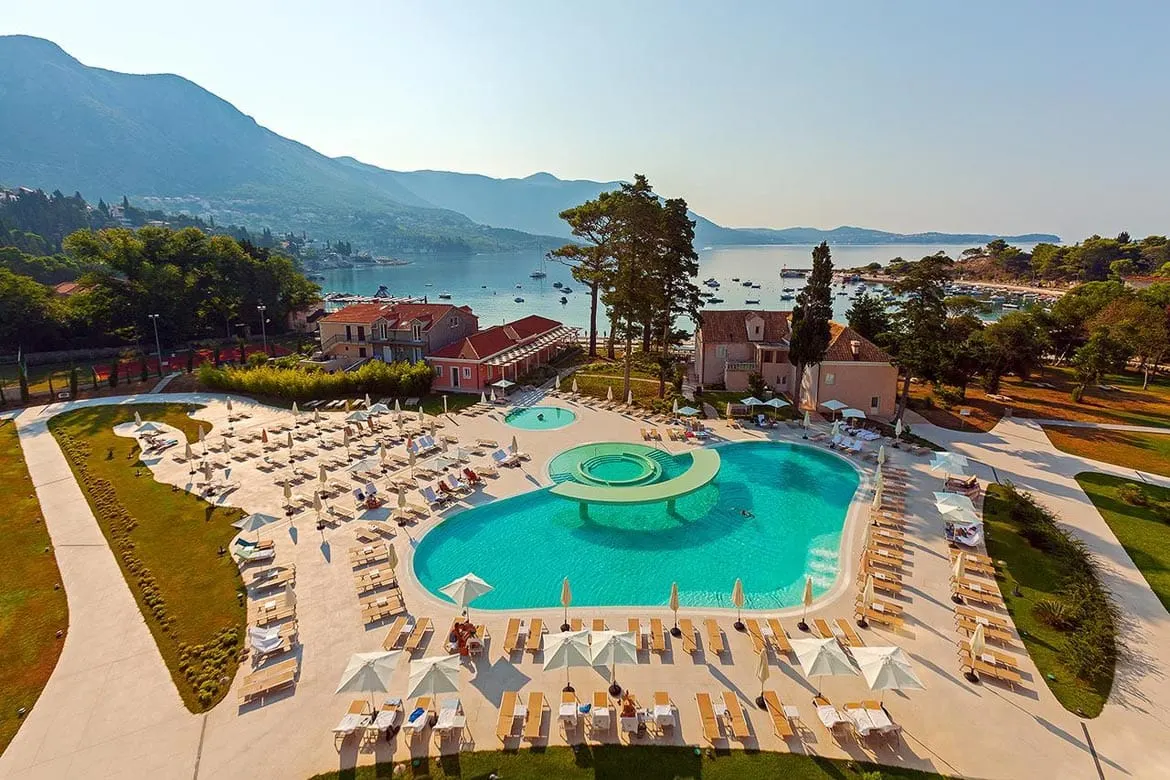 The Sheraton Dubrovnik Riviera has got style. I absolutely love the contemporary colours and patterns found across the whole hotel.
More than just looking the part though, the location and five-star facilities also make this one of the best places to stay in Dubrovnik. Based between the airport and the city, in an enticing little village called Mlini, the Sheraton Dubrovnik Riviera sits just beyond a beautiful beach. It gets full marks for closeness to the sea and coastal views.
With a luxurious spa, wellness centre, restaurant and bar all on-site, it's a great space to unwind after a day of sightseeing in the Croatian heat.
Budget Dubrovnik Hotels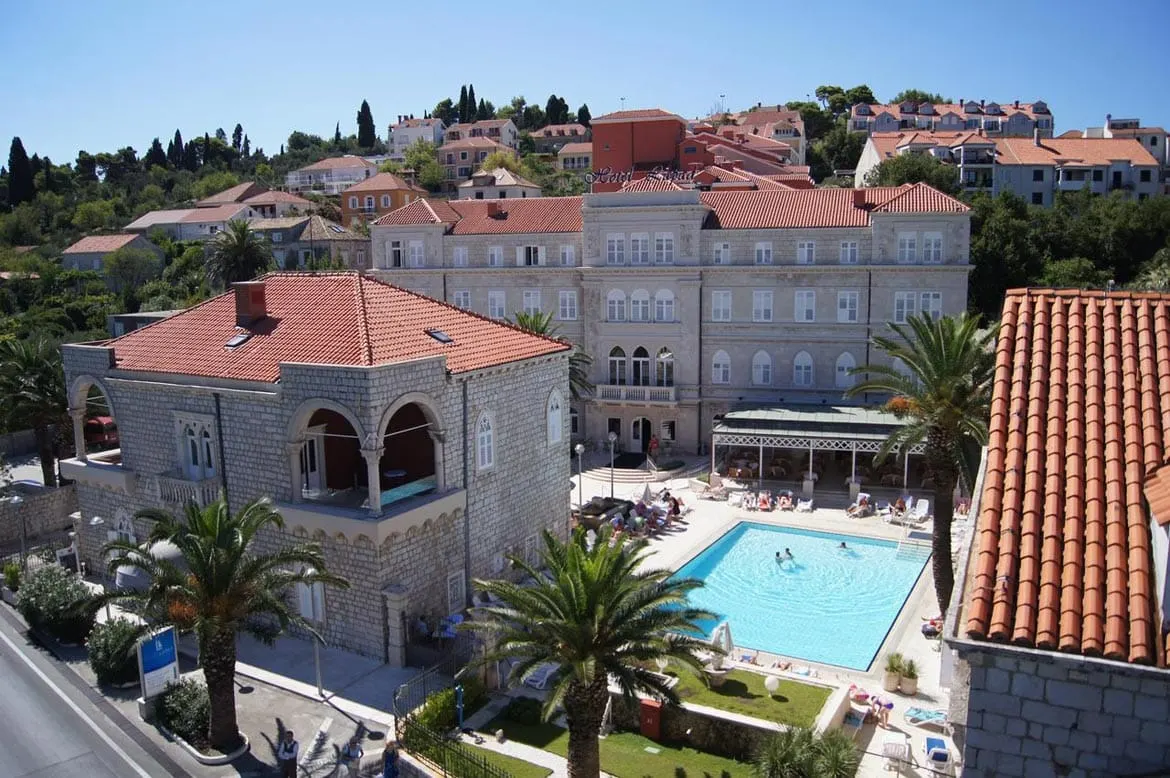 I think Hotel Lapad is the best place to stay in Dubrovnik if you want a proper grand hotel feel. It's in a great spot over from Gruz Harbour in its namesake, Lapad. You can hop on the hotel's boat shuttle if you want to explore the harbour.
Away from the buzz of central Dubrovnik, I'd also say it's a top pick for seekers of seclusion. Laze on the nearby beach or by the outdoor swimming pool, heading into town when, and if, you feel like it.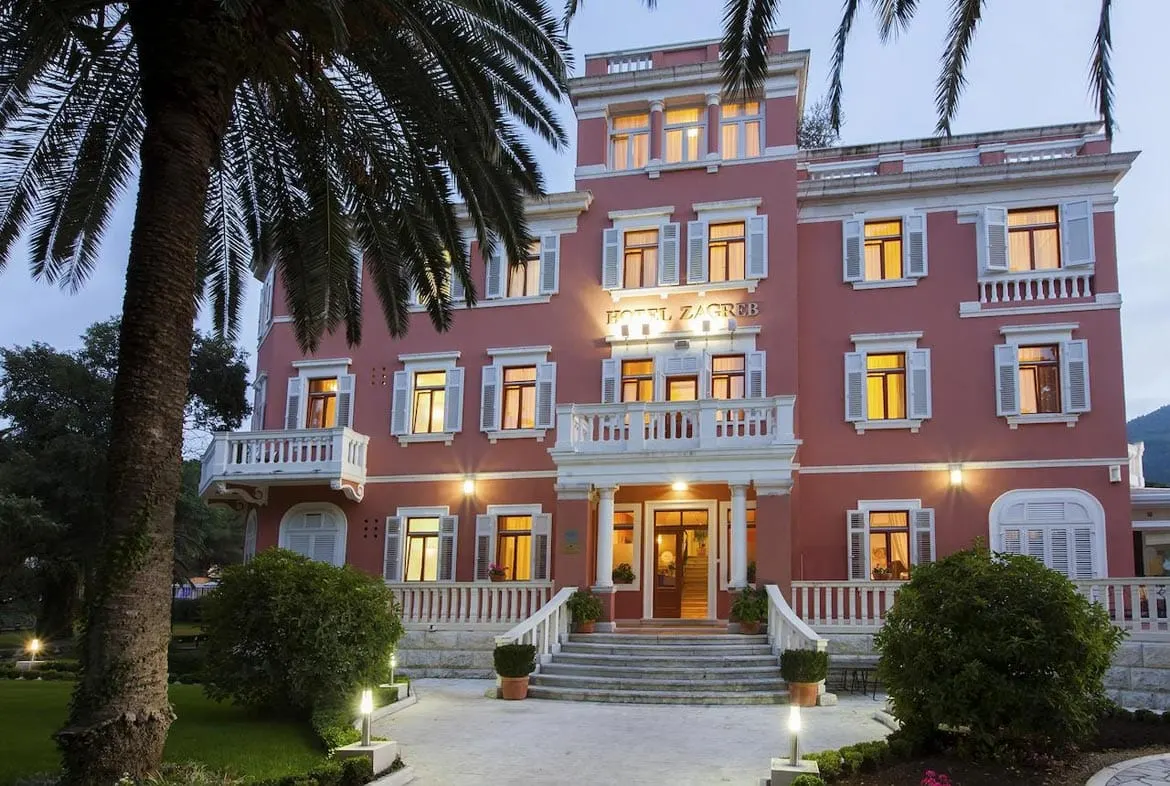 Despite being more friendly on your wallet, Hotel Zagreb still packs the wow-factor. Located in Lapad, the charm of its promenade setting impresses and so do the verdant gardens.
If you like Art Deco style, this might be the best place to stay in Dubrovnik, as chances are you'll warm to the building. Inside the pink-hued villa there remains a 1930s vibe, which was when it was originally built.
The pedestrian-only promenade that Hotel Zagreb is situated on leads you down to Lapad Bay. Ideal if you're in Dubrovnik for beach bumming as much as a culture trip.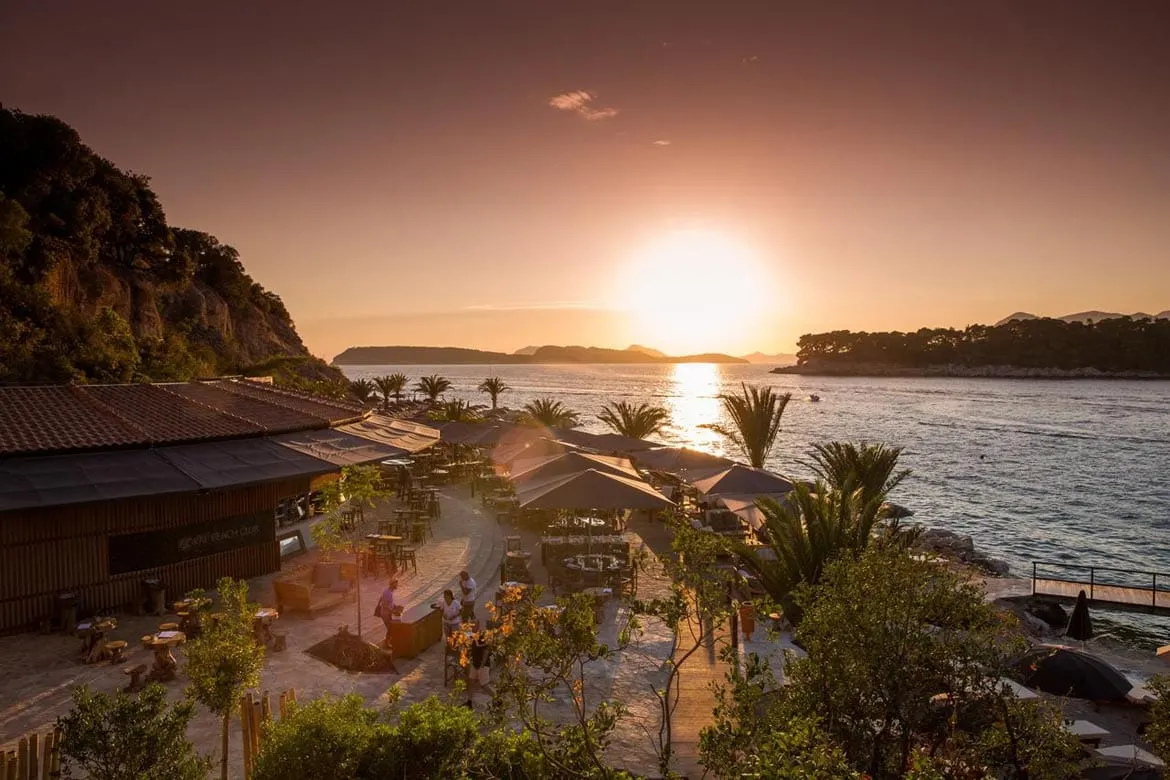 The final hotel I'm shouting about in my guide to where to stay in Dubrovnik is out in Babin Kuk, north of the Lapad peninsula.
Perfect for families, one of the things that stands out about Valamar Club Dubrovnik is just how much there is to do. It's especially handy if you have kids – there are heaps of activities and entertainment to keep them occupied.
Since the hotel is surrounded by sea on three sides, water-based activities and spending time on the pebble-covered beaches are a big draw. But just as good is relaxing on the terrace with a drink, appreciating the ocean from afar. When you're up for day trips into town, there's a bus stop right outside or it's a 15-minute taxi ride.
---
Hopefully you've found the perfect Dubrovnik hotel for your holiday! Let me know in the comments if you're planning a trip to the city soon and which hotel you've got your eye on.
Like this blog post? Then make sure you Pin it for the future!