Discovering shipwrecks, visiting Scandinavian castles, cruising pristine waters – these are all the best things to do in Lake Tahoe in summer!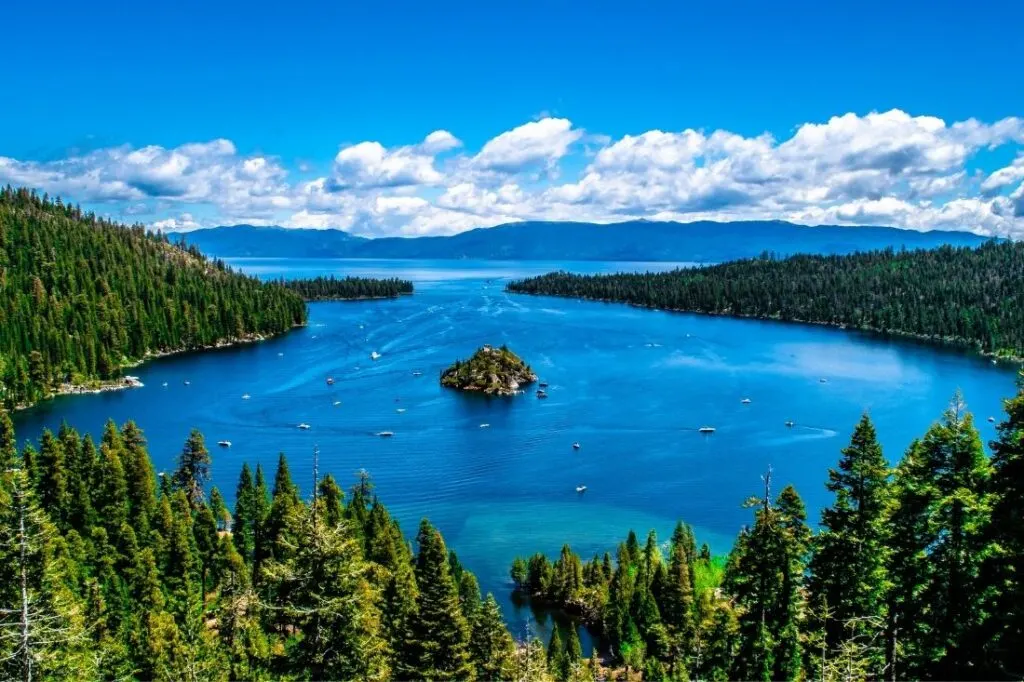 An immense deep blue alpine lake surrounded by fluffy pine trees and snow-capped mountains, Lake Tahoe is like a postcard come to life. Straddling the border of Nevada and California in the Sierra Nevada Mountains, Lake Tahoe is known as the Jewel of the Sierras, and you'll soon see why.
Lake Tahoe is a popular summer holiday hub, and for good reason: there are so many incredible activities to do in Lake Tahoe in summer! Hike one of the popular trails through Fallen Leaf Lake, discover the underwater shipwrecks around Emerald Bay, or zip through the trees at Treetop Park. There really is so much to do here on a summer vacation.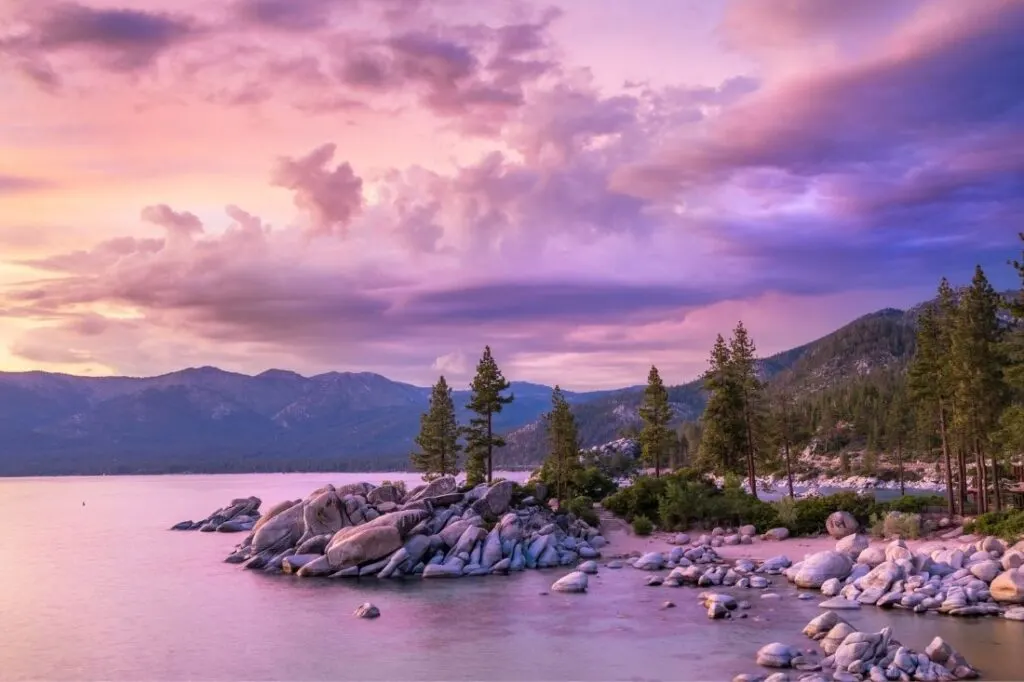 Base yourself in South Lake Tahoe if you're looking to party the night away, or for a more relaxing atmosphere, stay in the tranquil surroundings in the north. Either way, you're sure to have an unforgettable experience. Read on to find out my favourite summer activities in Lake Tahoe perfect for you and the whole family.
Looking for ideas for your summer holidays in the US? Then check our my blog on the Top 5 Summer Resorts in Colorado.
Weather in Lake Tahoe in summer
Over summer, the weather in Lake Tahoe is gorgeous. Warm sunny days, averaging 20-25°C (68-70°F) melting into cool mountain evenings – perfect for enjoying a bonfire on the beach.
Even in the height of summer, evenings at Lake Tahoe can drop to 4°C or less (33°F), so be sure to bring a good jacket. It's all about wearing layers in a place like this. You can quickly go from shorts and a t-shirt in the day to a wooly jumper in the evening. The temperature really does yo-yo around here day by day!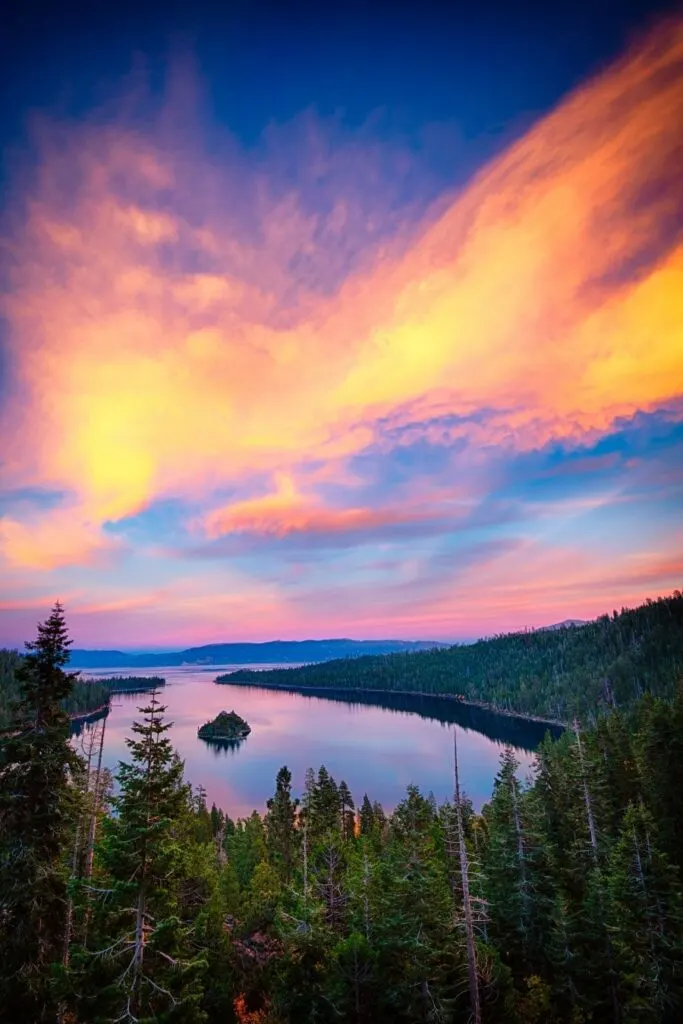 ---
Best Things to do in Lake Tahoe in Summer
Take a cruise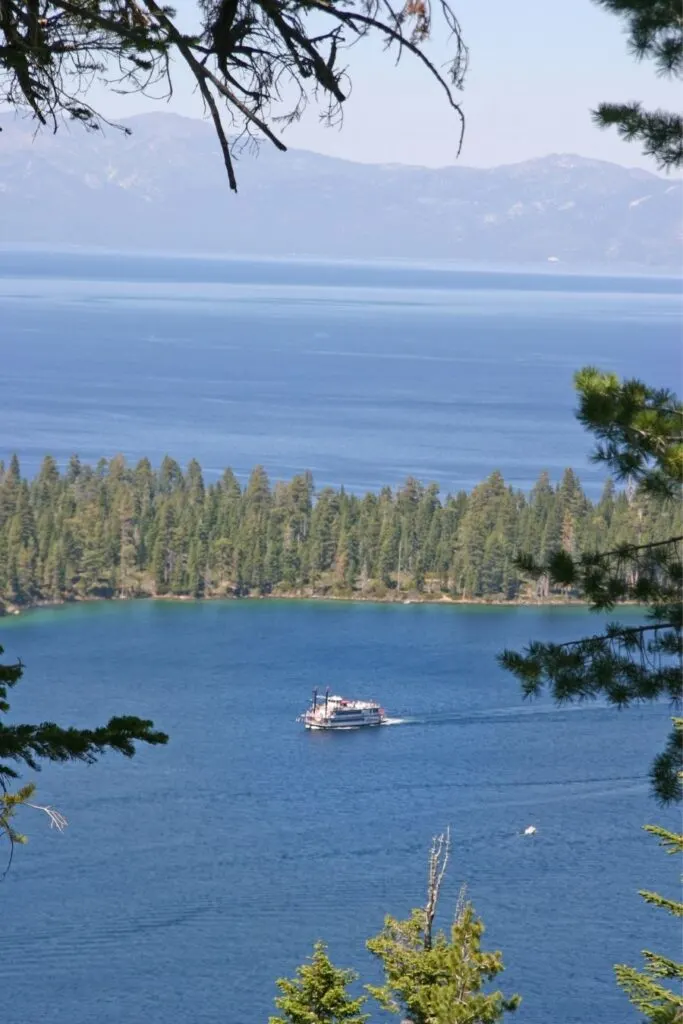 The breathtaking and pure freshwater Lake Tahoe creates an incredible playground for summertime fun. You can explore the lake on variety of water-vessels, from canoes and kayaks to jet-skis, all of which you can hire on site.
However, one of the best ways to enjoy the water in style is on a luxury yacht. Safari Rose, complete with fireplace and said to be the largest yacht in Lake Tahoe, has a daily sunset cruise offering amazing views of the dusk tinged mountains. Or hop on the Camp Richardson's Rum Runner Cruise to enjoy the lake while downing some of their signature Rum Runner Cocktails.
You can check out some of the best Lake Tahoe boat tours – they really are one of the top summer activities to do here!
Kings Beach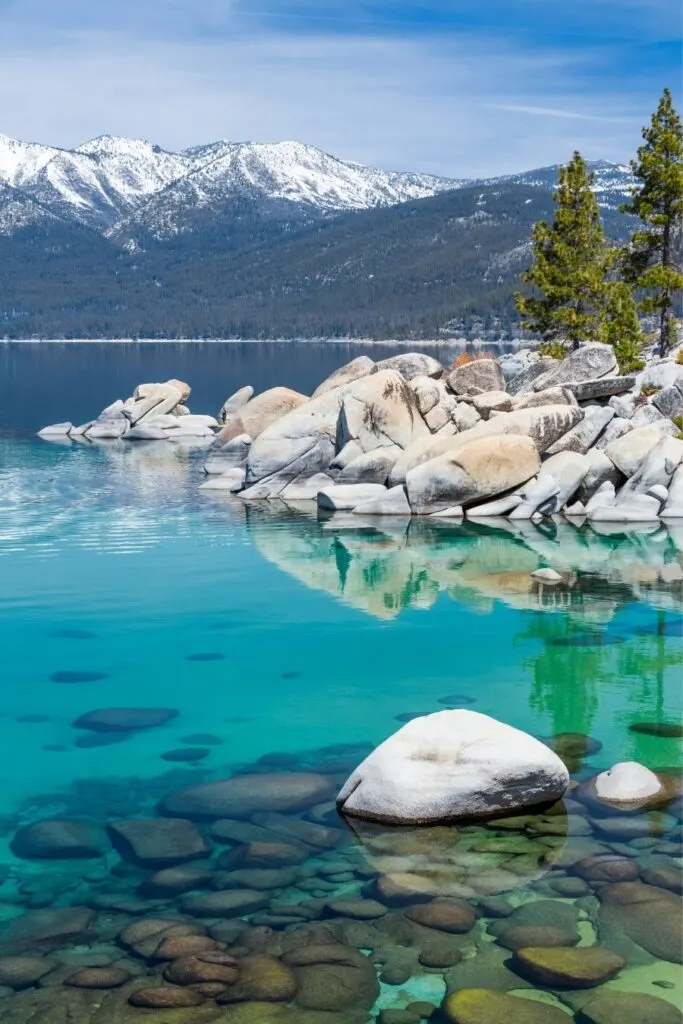 Hanging out on the lakeside Kings Beach, staring up at the treetops and mountains is one of my favourite summer activities in Lake Tahoe. The beach and surrounding town are laid back, so it's a great place to get in some relaxation.
You can hire bikes to cruise around the shoreline, or bring a book and simply soak in some sunshine. In the area you'll also find mini-golf and a kids play area, as well as some incredible beach-side dining. It's very easy coming to this spot and spending the whole day chilling.
Eagle Falls Hike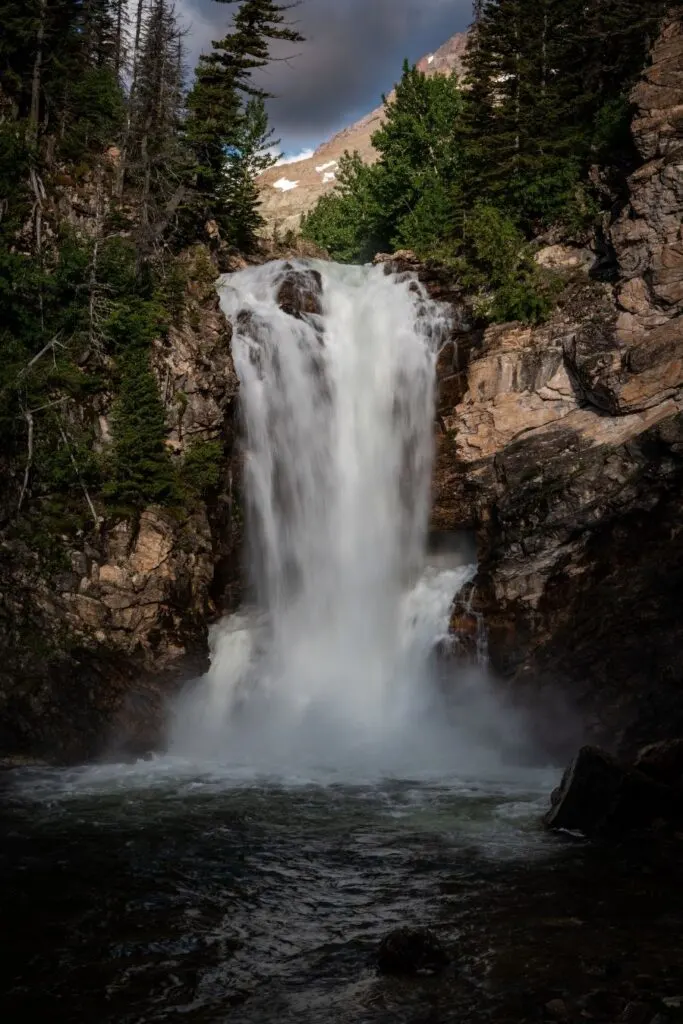 For a great easy hike, with views of a cascading waterfall, try the Eagle Falls Hike. The scenery on this ~3km hike is breathtaking. You'll be greeted with views of the spectacular granite mountains, evergreen trees, and excellent views of the waterfalls.
The short distance, worn tracks and gorgeous scenery makes this a great hike for beginners. If you're wanting to get some more hiking into your day, you can continue on to Eagle Lake located in the Desolation Wilderness.
Tahoe City Treetop Park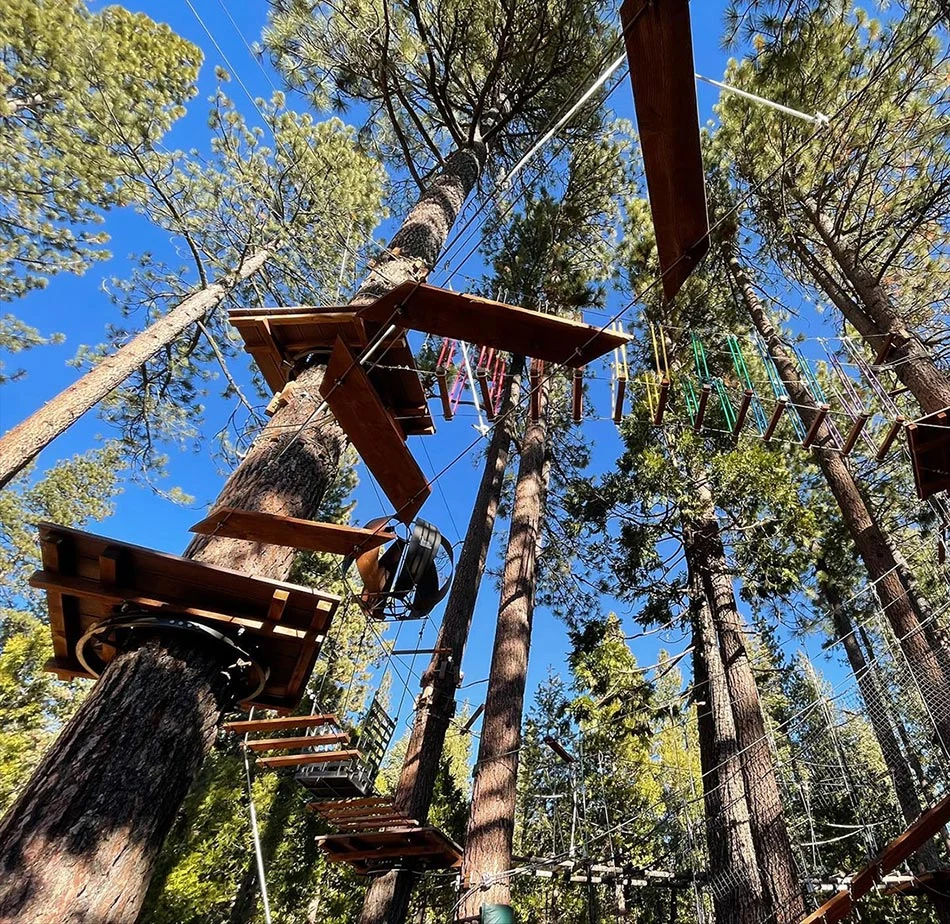 Looking to pack adventure into your summer activities in Lake Tahoe? Test your balance and comfort with heights swinging from the treetops at Tahoe City Treetop Park. Here you'll be challenged with high ropes obstacles, zip-lines and jumping from tree platforms.
With three locations across Lake Tahoe, there are loads of treetop adventures to pick from that suit a variety of skill levels. These courses are very active, so be sure to bring clothes you can move (and sweat!) in. Comfortable shoes are a must too!
Vikingsholm Castle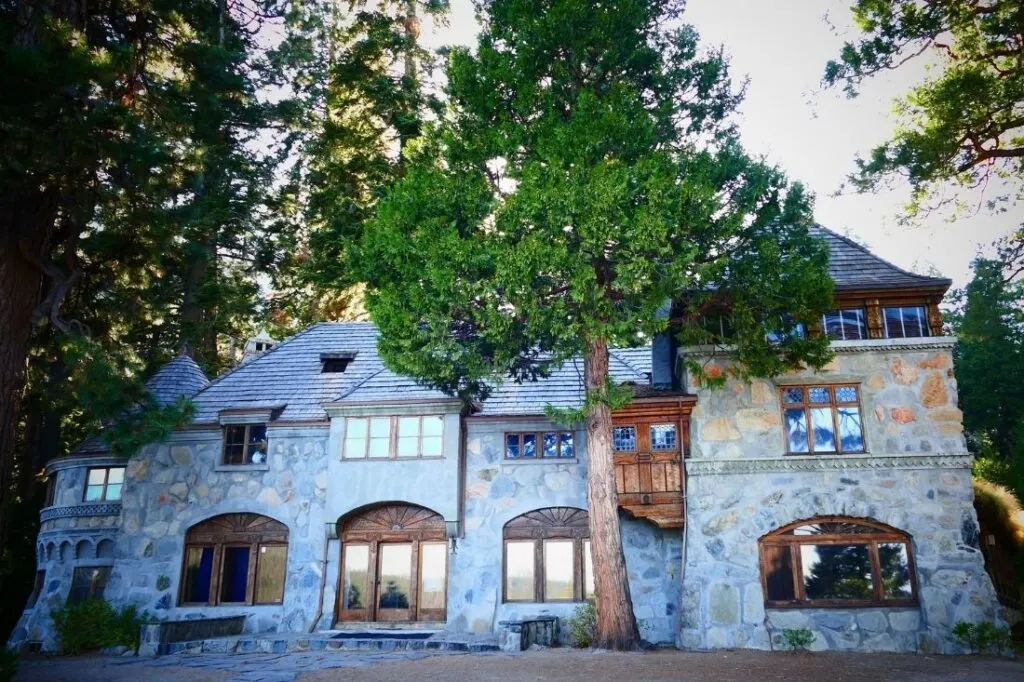 Located in Emerald Bay and built in 1929, Vikingsholme Castle was once a summer residence of a wealthy widow. This castle is said to be one of North America's finest examples of Scandinavian architecture.
Sitting on the shore of Lake Tahoe, this castle is truly a sight to behold. Tours inside Vikingsholme run over the summer, where you can learn more about the building, its construction, and the life of Mrs Knight. Inside, you'll also find many examples of Scandinavian antiques and replications.
The parking for Vikingsholme is 1.5km away, following a steep trail. If this doesn't appeal, some cruises also stop by here too.
Emerald Bay Underwater State Park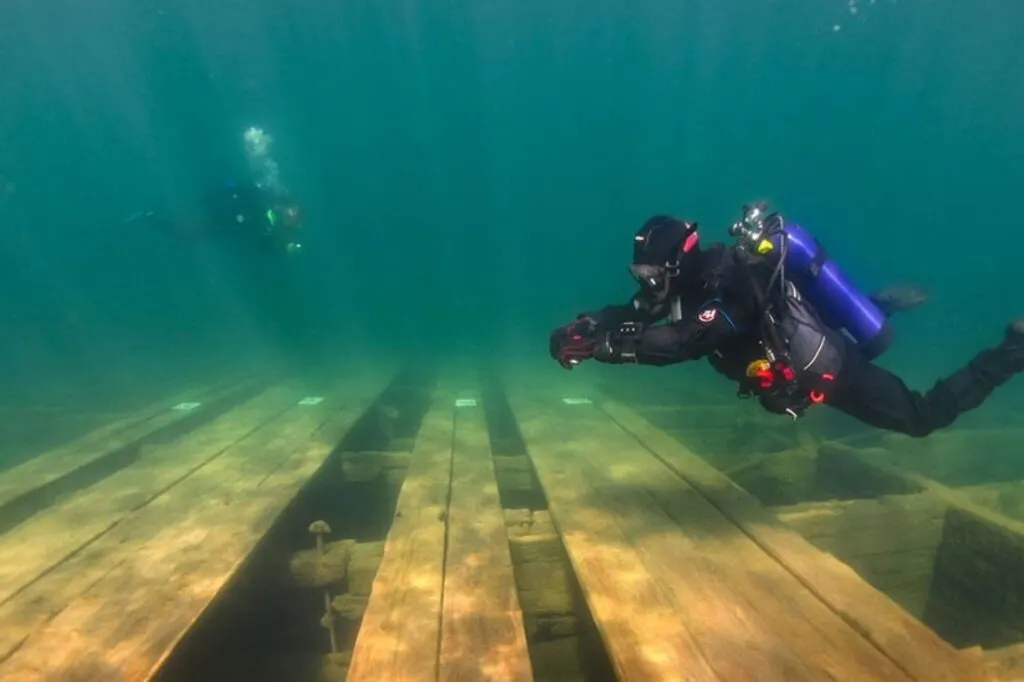 To really immerse yourself in the Lake Tahoe experience, spend a day exploring Emerald Bay Underwater State Park. Located in the waters of Emerald Bay, divers can delight in discovering historic vessels resting on the lakes bed.
If you're an experienced diver, you can hire equipment and take a self-guided tour of the Maritime Heritage Underwater Trail. For those less scuba savvy, there is still a lot to see, grab a snorkel and get swimming!
Fallen Leaf Lake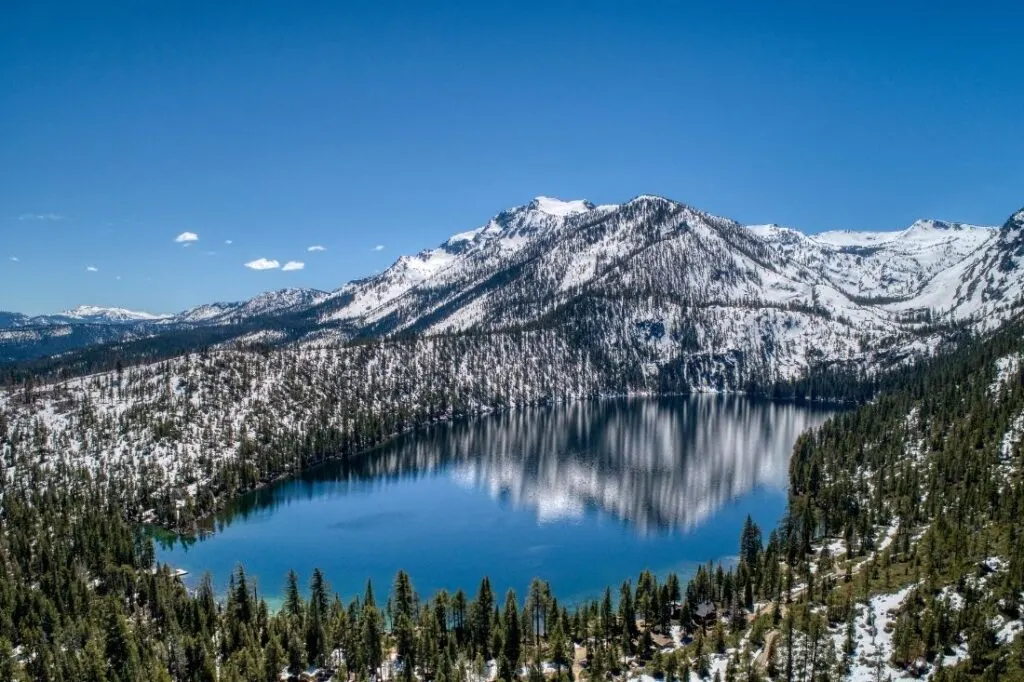 Approximately 1.5kms south west of Lake Tahoe, you will find the gorgeous Fallen Leaf Lake. Over the summer, there are lots of watercraft you can hire here, and there is a cafe where you can grab lunch.
Lots of great hiking trails start from this lake too. Hike the Angora Ridge loop to enjoy views of both Lake Tahoe and Fallen Leaf Lake. Don't forget to stop by Angora Lakes Store for a well earned freshly squeezed lemonade.
Parasailing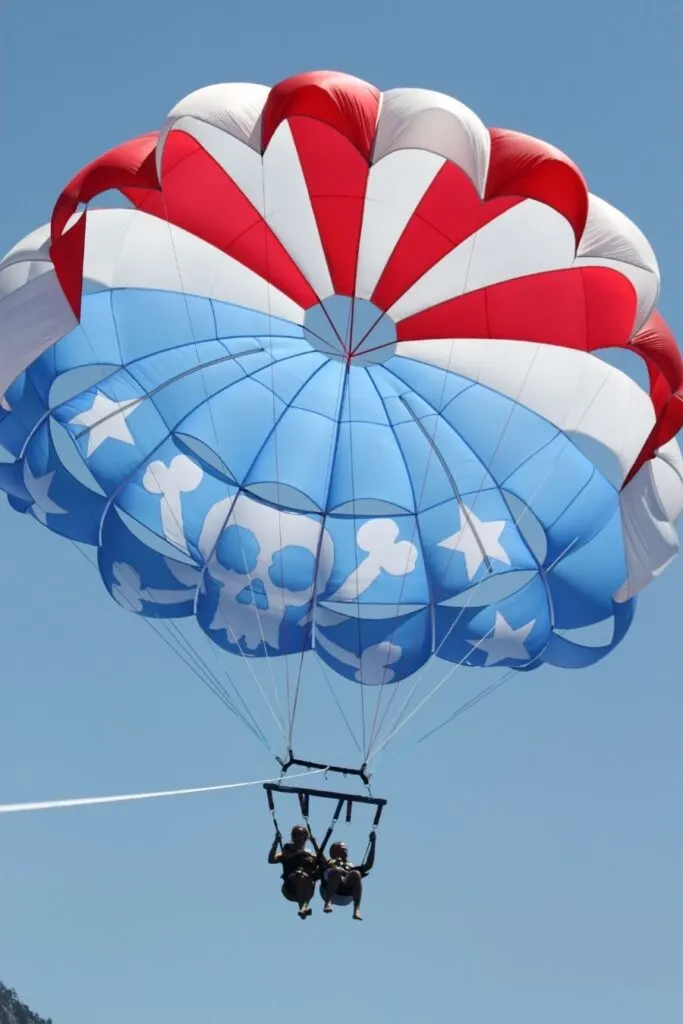 One of the most incredible summer activities in Lake Tahoe is to take in the beauty of this area flying through the air while parasailing. Lake Tahoe has a few sites you can choose from, with flying heights up to 300m!

Enjoying the serenity while soaring through the air solo, or you go with your mates in groups up to three. Several operators offer a dry take off and landing, so you can bring your camera along and capture some epic shots.
Brunch at Fire Sign Cafe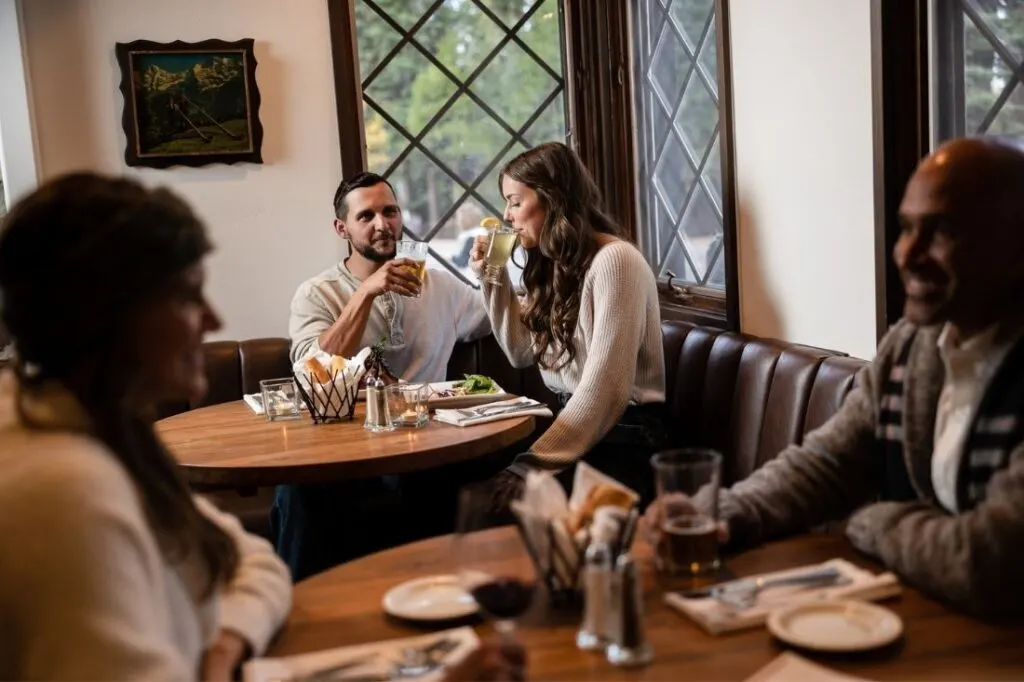 Located in Tahoe City, Fire Sign Cafe is where brunch dreams come true. Serving fluffy pancakes, decadent eggs Benedict, and mouthwatering breakfast burritos, you're going to want to come here more than once.
The cafe is locally owned and has been in operation for over 40 years! What really makes this place special is that they make a lot of their ingredients from scratch. You can really taste the difference!
If you don't have time for brunch? Be sure to drop by for one of their delicious coffees.
Hot Air Ballooning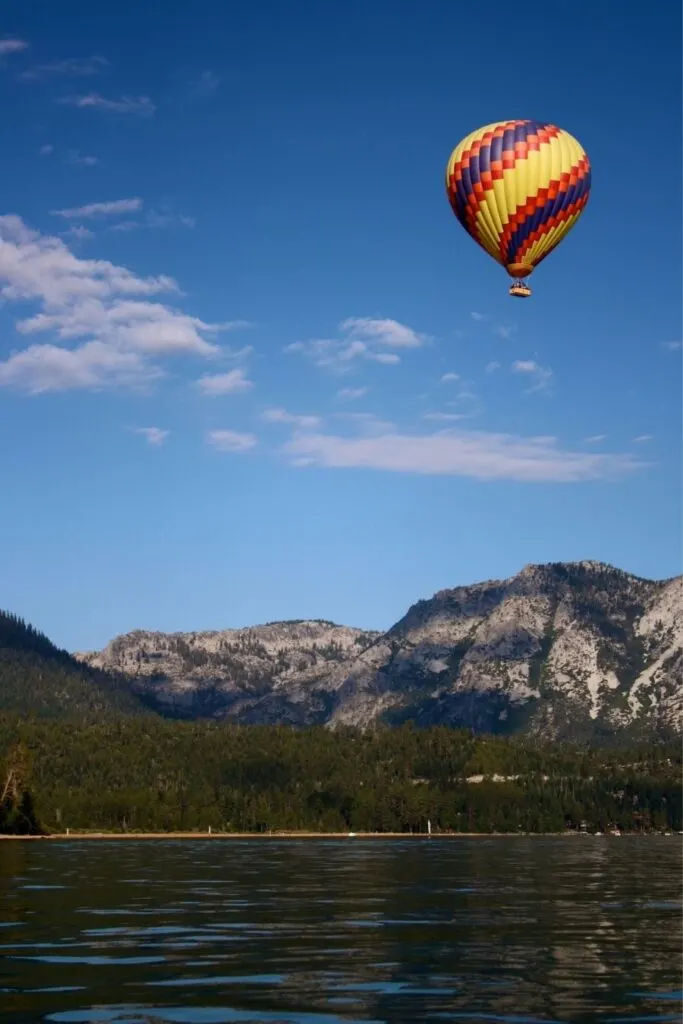 Want to get a bird-eye view of the Jewel of the Sierras? Spend a glorious morning going hot air ballooning!
Starting at sunrise, you'll experience the lake and surrounding mountains bathed in a dazzling morning glow. What's more, the panoramic views you'll be treated throughout the journey to are simply breathtaking!
The journey ends with the balloon landing on a boat on the lake. Here, you can enjoy champagne and snacks while cruising back to town. How good does that sound!?
Play North Lake Tahoe Bingo and Follow the Ale Trail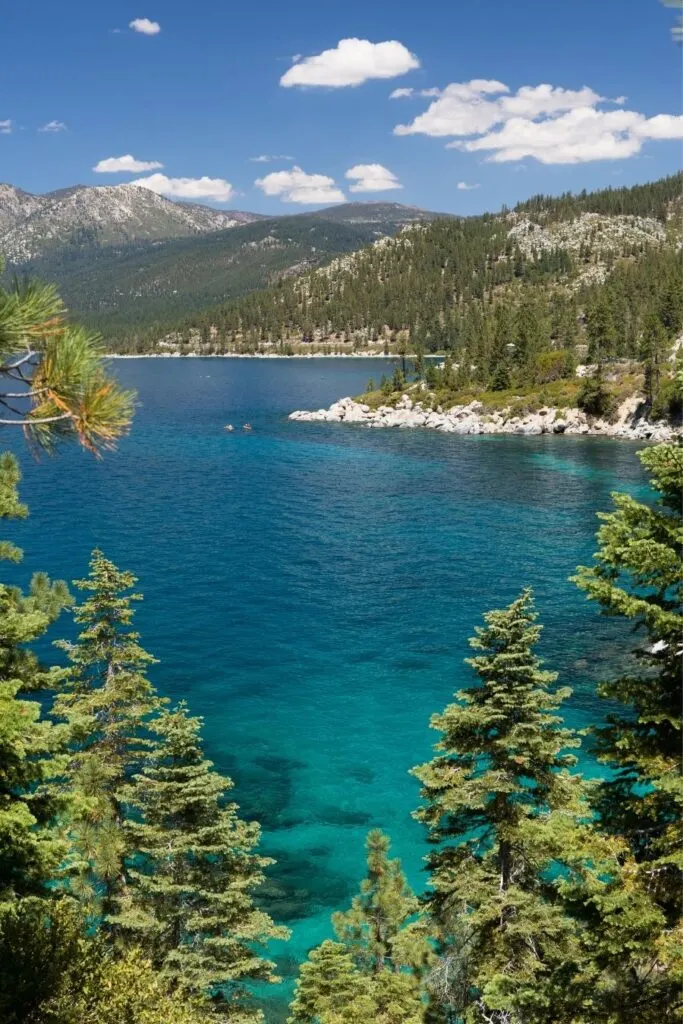 Not sure which one of these summer activities in Lake Tahoe to try first? Play North Lake Tahoe Bingo. This fun adventure card ensures that you get the most of your Lake Tahoe experience. The card is family friendly, so this is also a great option if you have kids.
Do you feel more motivated to go on a long hike or ride if you know there is a cold drink waiting at the end of it? I know I do. Adults in the group can combine the bingo card with the North Lake Tahoe Ale Trail. An interactive map indicating the closest watering hole to the popular outdoor trails.
Where to stay in Lake Tahoe in summer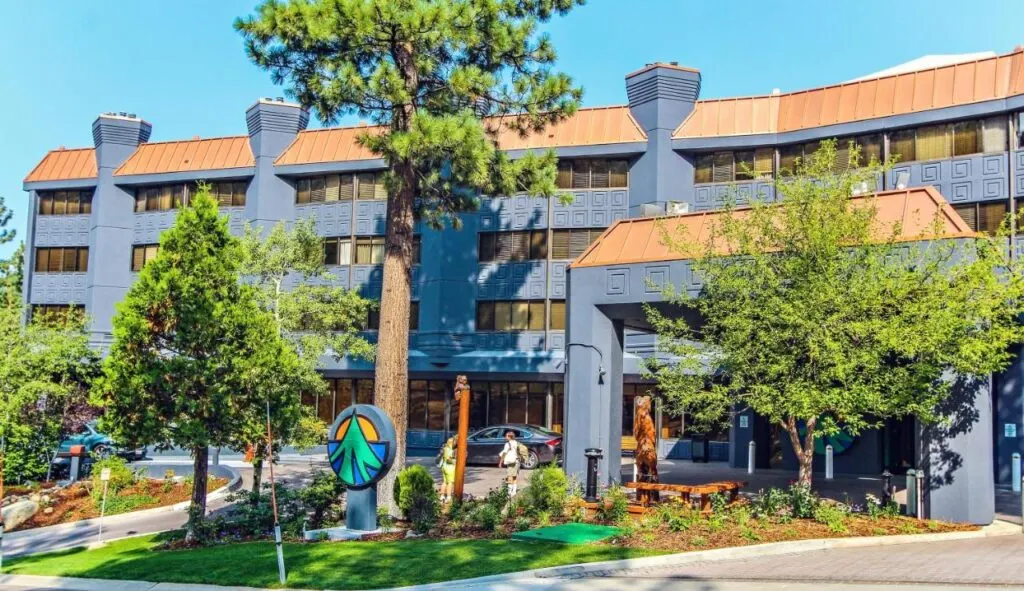 Even though this isn't actually a boutique hotel, it is one of the best reviewed hotels in Lake Tahoe. Located in Located in South Lake Tahoe itself, this hotel is teeming with amenities that'll keep the whole family happy.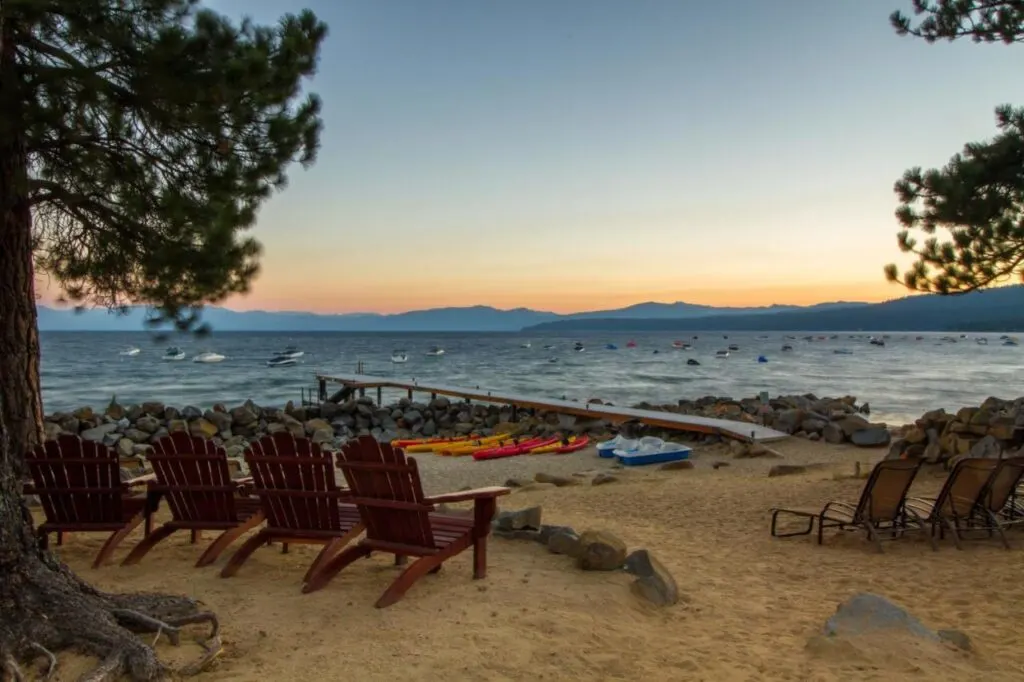 Want to pack as much of that breathtaking lake as possible into your holiday? Stay at the Red Wolf Lakeside Lodge. These rustic holiday apartments are right on the north shoreline of Lake Tahoe, and provide a great home-away-from-home experience. There's even an outdoor hot tub, so you can spend the evenings gazing at the clear skies.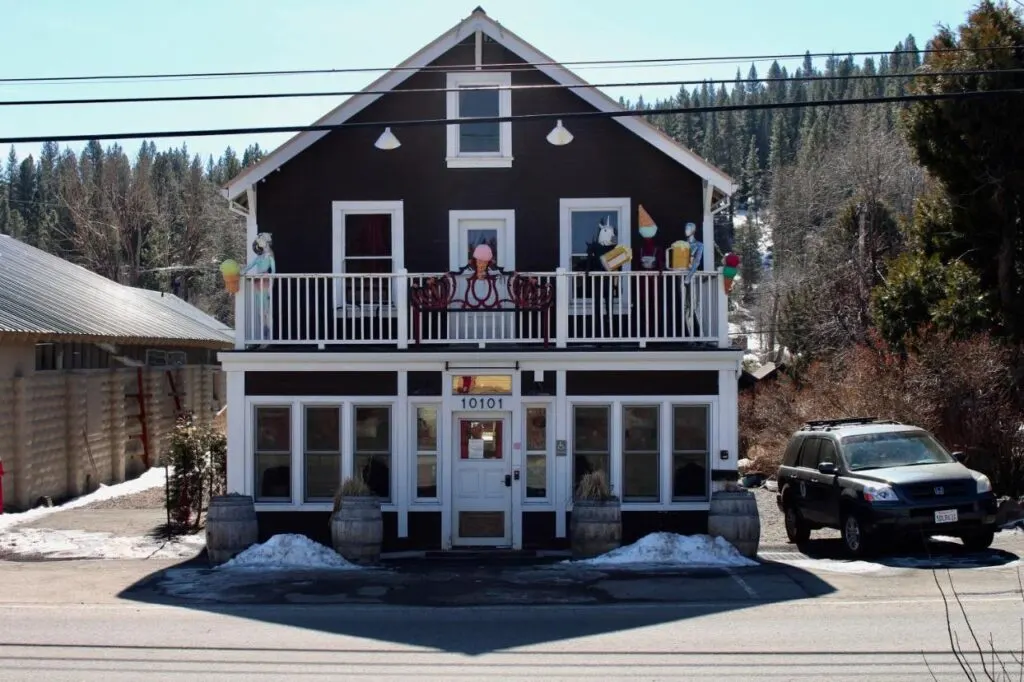 Looking for a lively place to stay during your trip to Lake Tahoe? The Redlight Historic Bunk Hotel and Speakeasy is for you. This welcoming hotel has both private and dorm room options, and features a shared kitchen, bar, library, and living room.
---
If you're visiting California and are looking for something different to do, then check out the best hot springs in California. Some of these are so secluded that you'll have them to yourself!
So, feeling inspired by the best things to do in Lake Tahoe in summer? Let me know in the comments below if I've missed anything out and I'll add them to this list!
Like this blog post? Then Pin it for the future!