Looking for unusual places to stay in the UK? From cute castles to futuristic glamping pods, this is the best quirky accommodation for a UK staycation!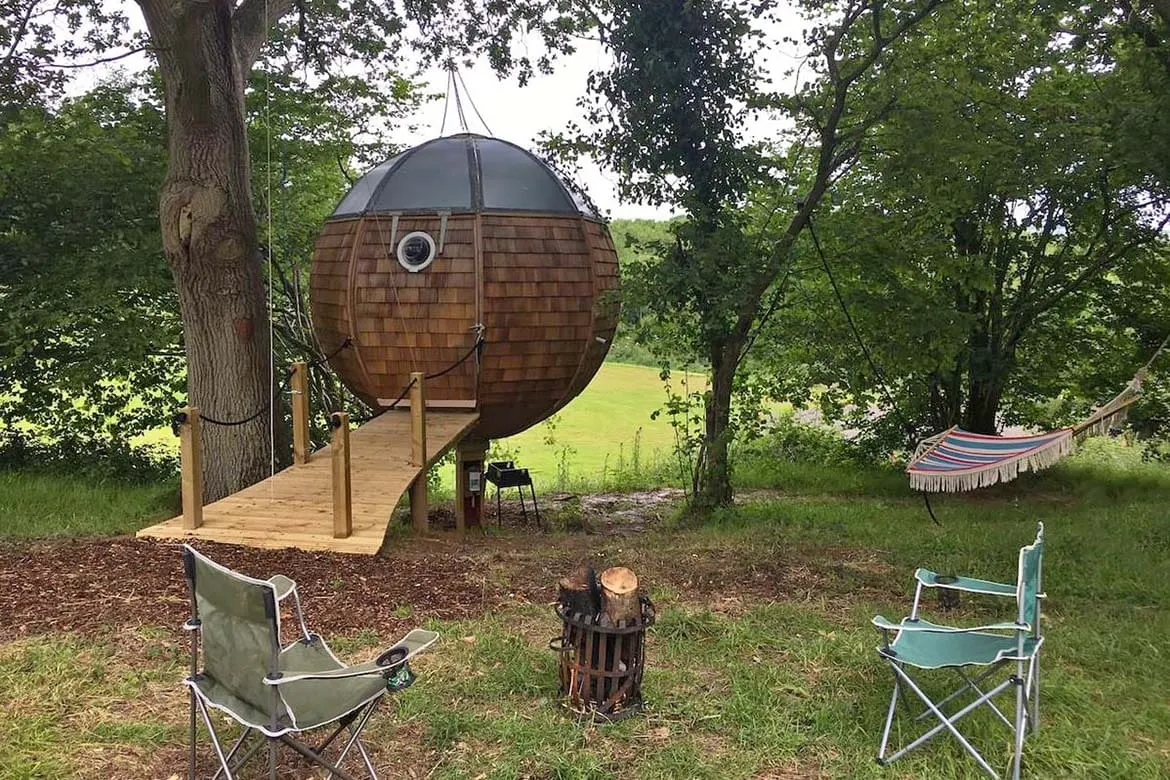 If you're anything like me, you've been going out of your mind over the last few months. Well, now that things are starting to open up again, it's time to start planning your UK staycation. Don't worry, I've got your back in this post with 22 unusual places to stay in the UK!
What I love about all of these places is they're so unique. Some people really go to town on their homes, don't they!? I mean, there's a flat up in Edinburgh that's like an old-fashioned castle as soon as you step through the door. Or there's the pimped out 70s private jet that's now a plane-themed Airbnb stay.
Sometimes unique isn't enough to describe these staycations.
What I love about a UK staycation is it's like your home away from home. You get to stay in some truly stunning locations without having the stuffiness of a hotel. You get to do what you want, when you want. Now that's my kind of holiday.
So, if you're looking to get away for a couple of nights, check out some of the coolest hotels you can stay at. This really is the definitive list for quirky accommodation in the UK, so go wild with it.
From cute castles to houseboats to futuristic glamping pods, if you're looking for a weekend to remember you're guaranteed to find it here.
Another option when planning your trip is by using CozyCozy. This site compares all the top accommodation providers for the best deals around, so it can be a great way of saving some money.
---
Unusual places to stay UK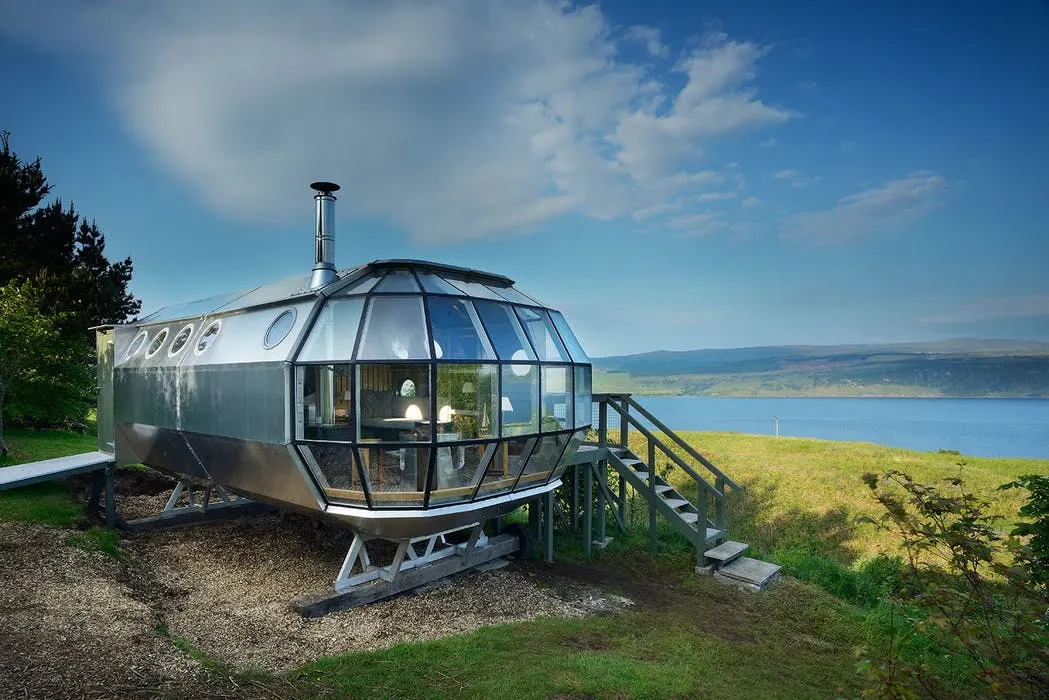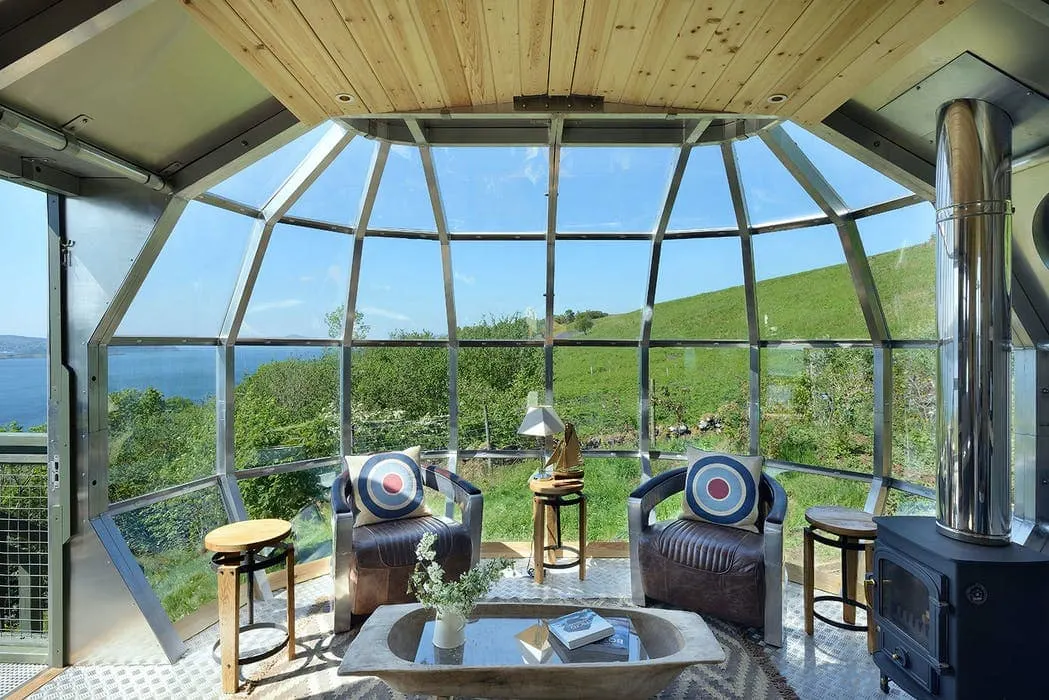 Sleeps – 2
I really can't stop drooling over this place. Dubbed the most unusual accommodation in Scotland, the AirShip 002 is a contemporary cabin up in the Scottish Highlands.
With stunning views over the Isle of Mull, the AirShip is just gorgeous. It's almost a cross between a James Bond lair and a futuristic space pod. The building has curved glass windows at either end providing panoramic views of the countryside. Also, the AirShip is on a 4-acre site, so as you can imagine there are some fantastic walks in the area too.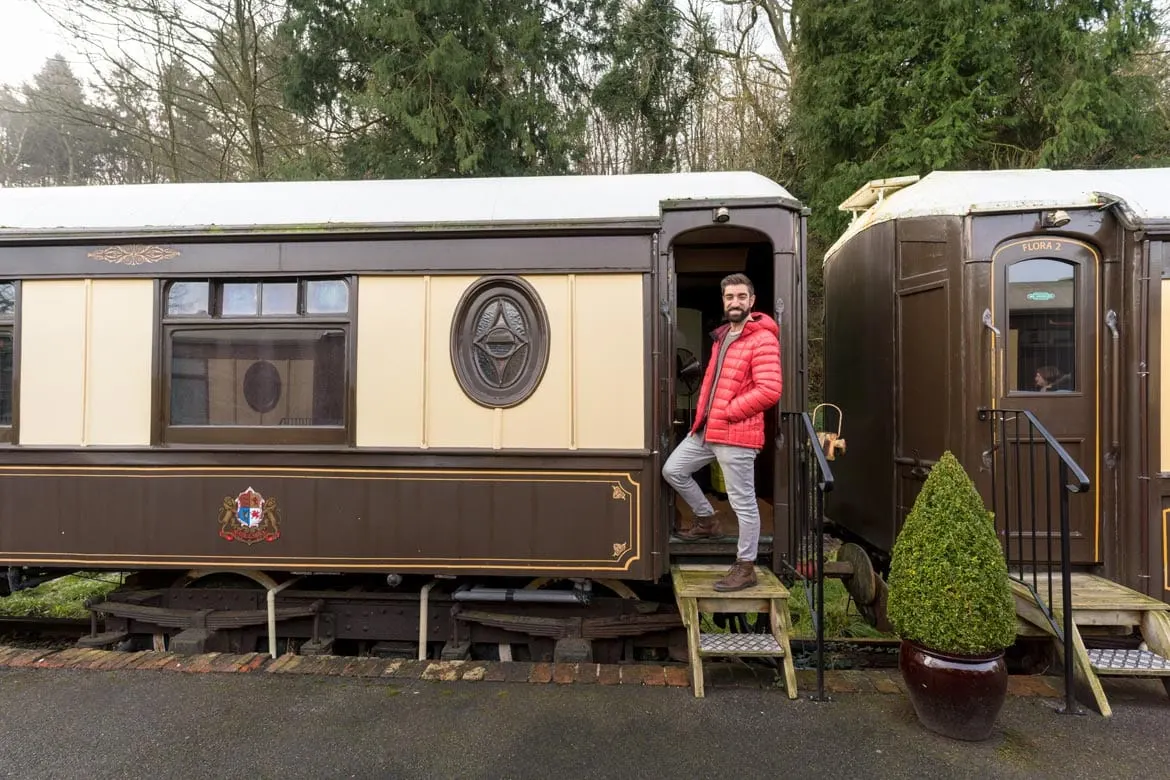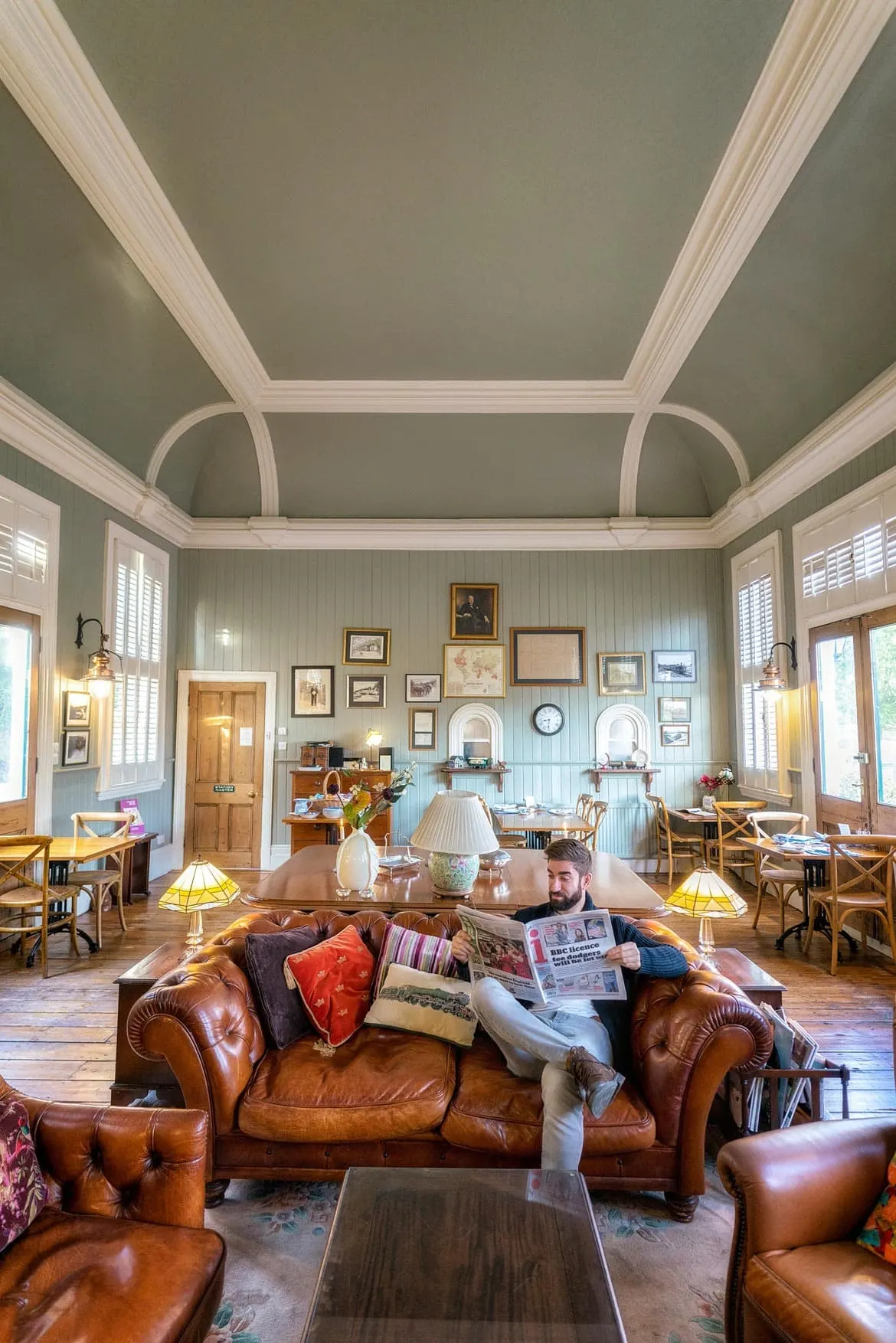 Sleeps – 2 per train carriage
The Old Railway Station is without a doubt one of my favourite places to stay in England. As the name suggests, this is an old railway station that's since been converted into a hotel. It sounds pretty cool, right?
The old waiting room is now the breakfast area. The platform is an outside terrace perfect for afternoon tea in the summer. But best yet, the old Pullman carriages are the bedrooms.
Going to sleep on an old train carriage was such a cool experience. You can read all about my experience of staying at the Old Railway Station here. I can't recommend this place enough.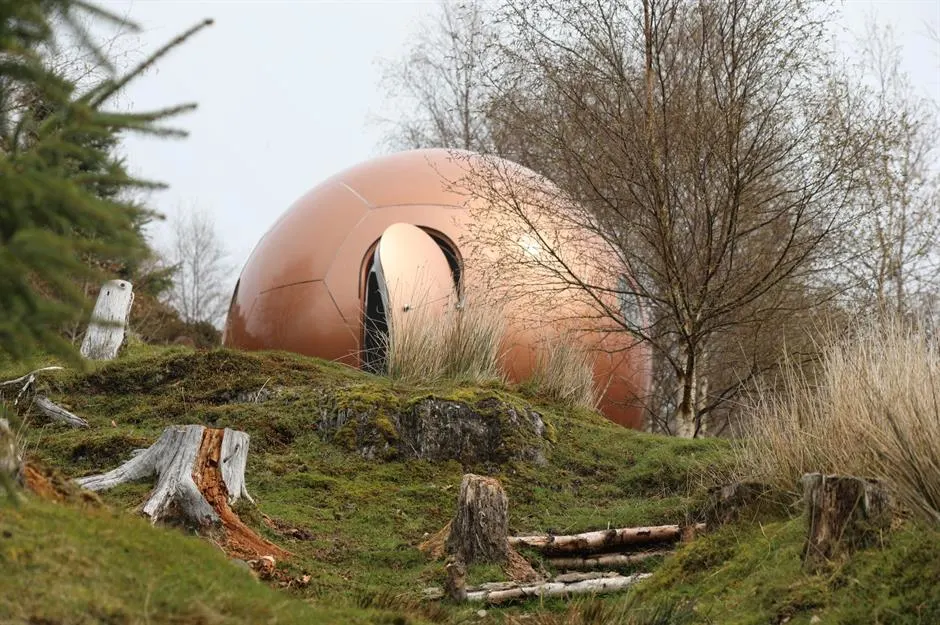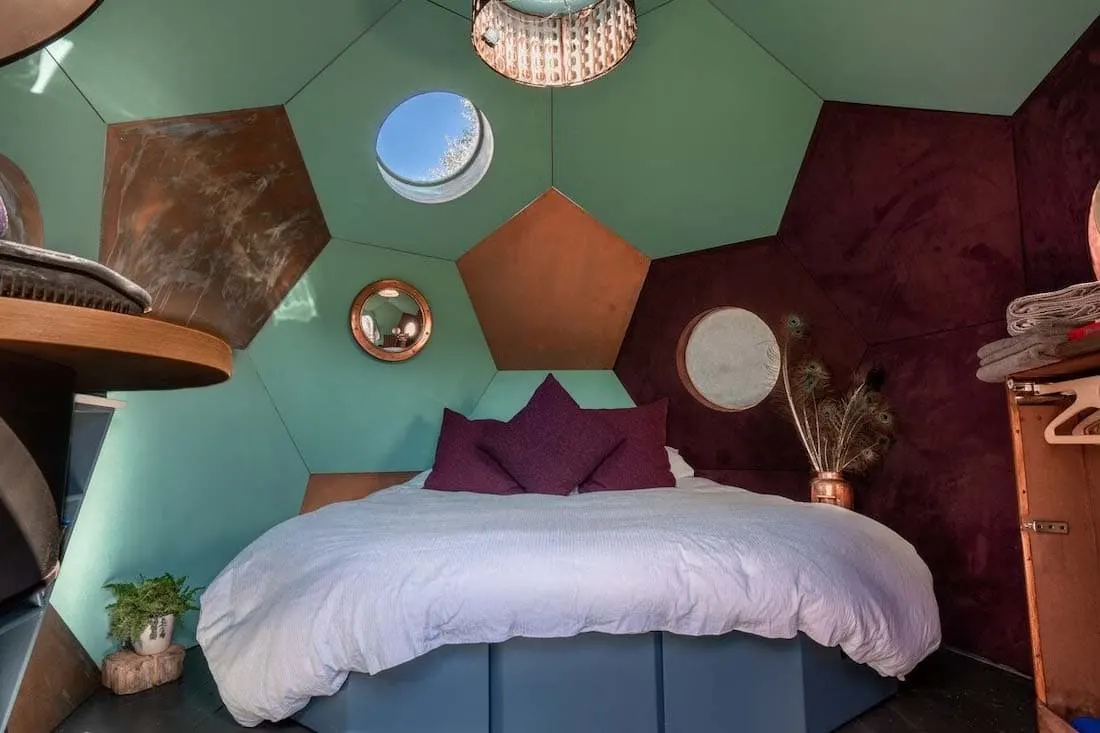 Sleeps – 2
For me this is without a doubt one of the quirkiest places to stay in the UK. It might not look it, but The Conker is actually a state-of-the-art copper house that's packed full of mod-cons.
Located on an 80-acre conservation in a remote Welsh valley, the Conker is an eco-friendly and sustainable house which is completely waste free. It doesn't look like there's a lot of room inside but it's actually quite spacious and the views are just stunning.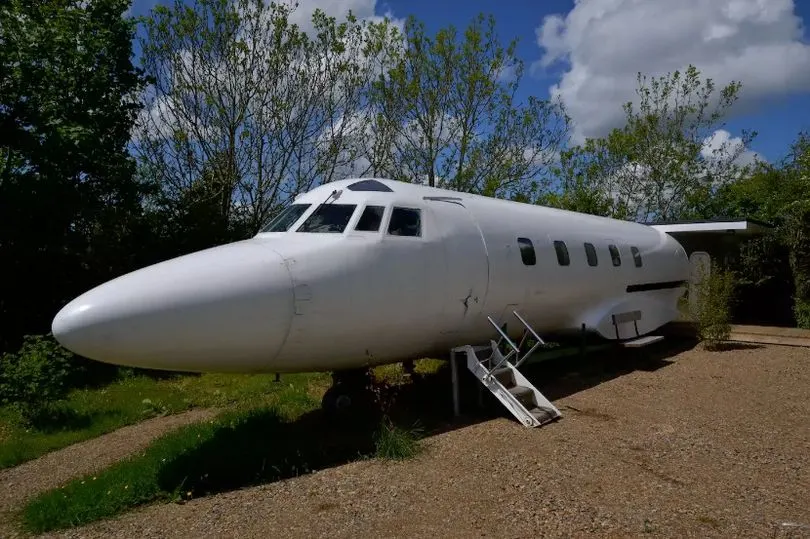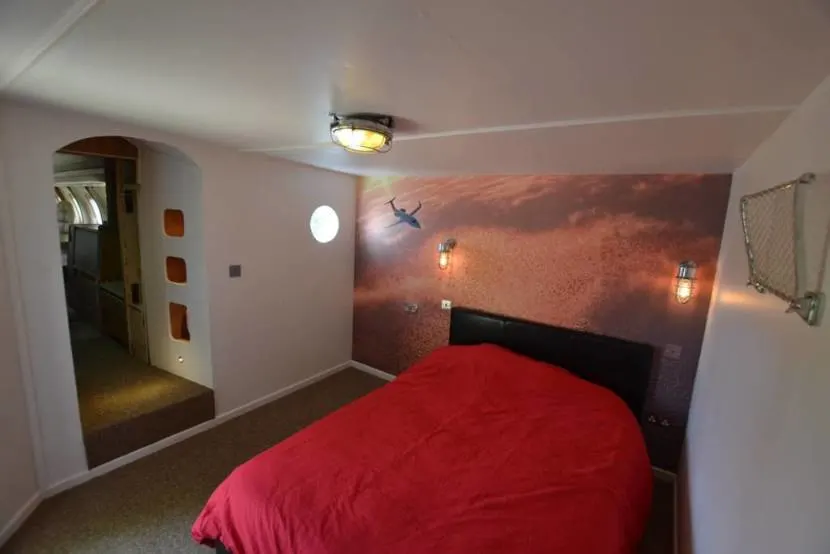 Sleeps – 4
Well hello big spender! If you're like me and can't afford to fly on your own private luxury jet, then maybe this is the answer. The Jet Star Airbnb is a first class plane that once would've carried 9 passengers.
Built in the 70s, it retains most of the original features including a lit up bar. Pretty pimp, right? There is a toilet and cold water basin on board the plane. Also, my favourite feature – the cockpit has an Xbox with some flight games so you can complete the pilot dream.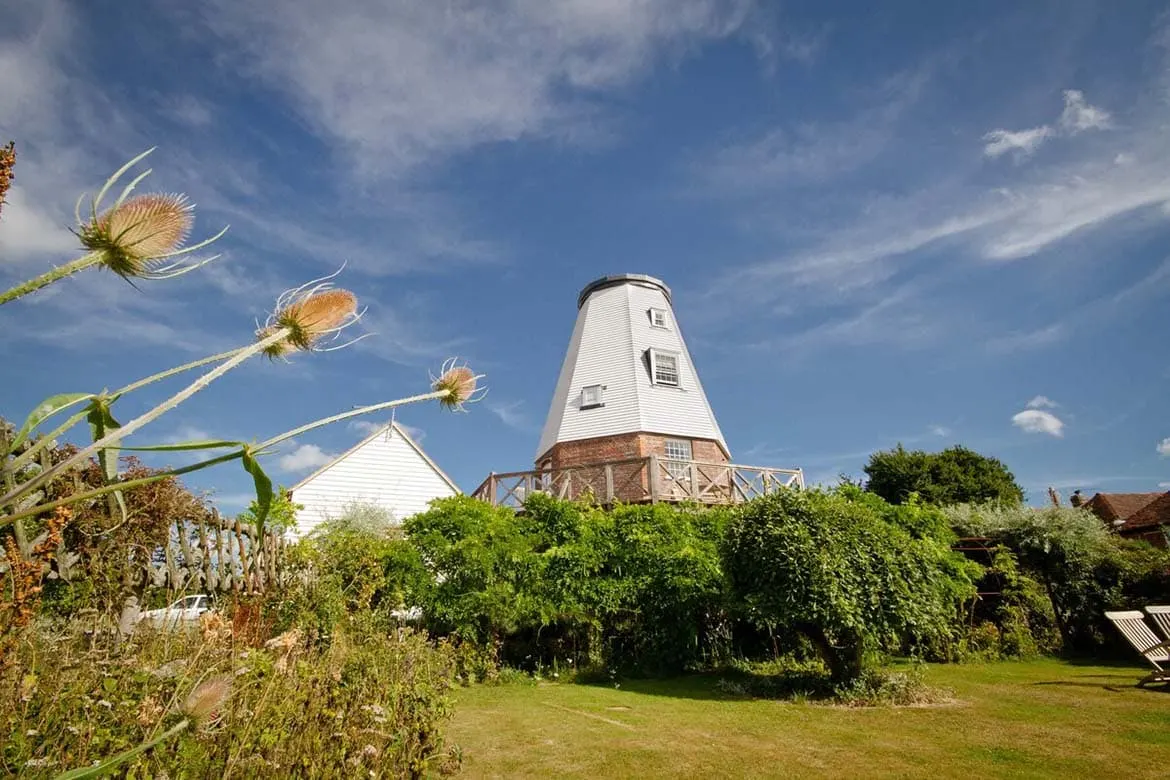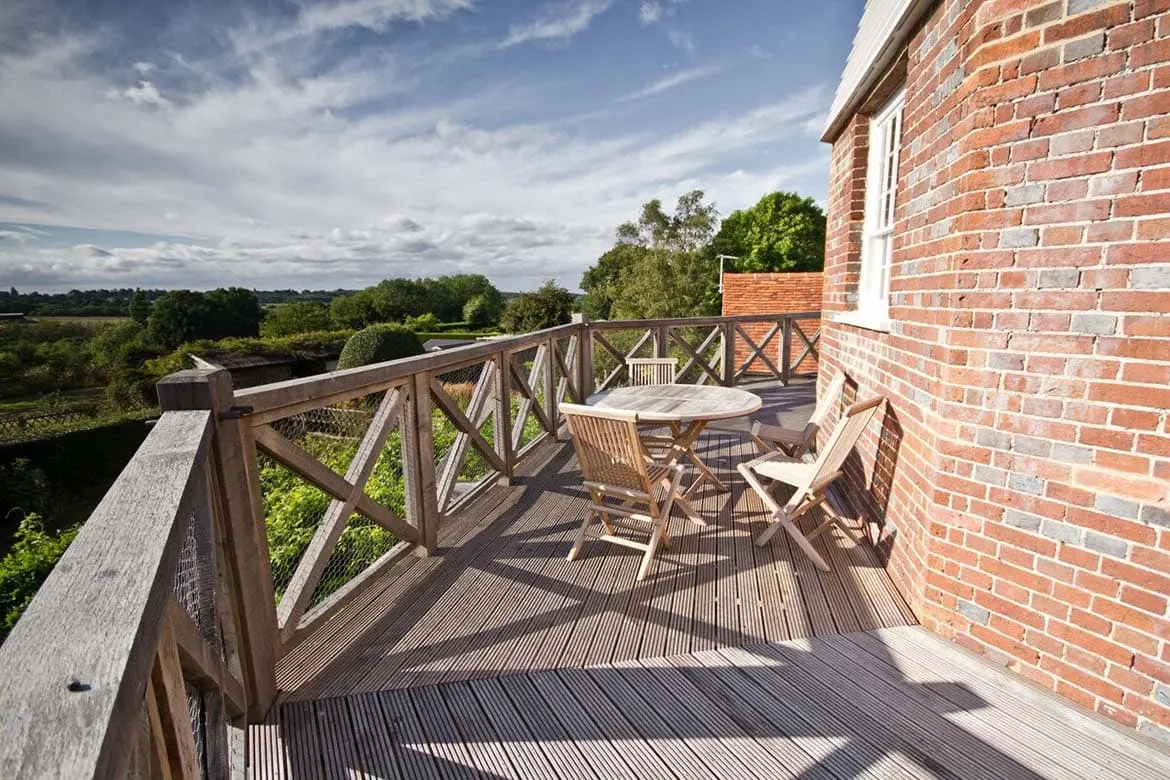 Sleeps – 2
Old Smock Windmill is always voted as one of the best UK Airbnbs. Located in Kent, this windmill really is as cute as the pictures. The best thing to do here is get yourself a bottle of fizz, sit on the decking and drink in the views of the countryside.
Everything is designed to make you unwind from the moment you walk in. There's a really beautiful king size double bed and each room is designed to maximise the space of the windmill while retaining all its charm and character.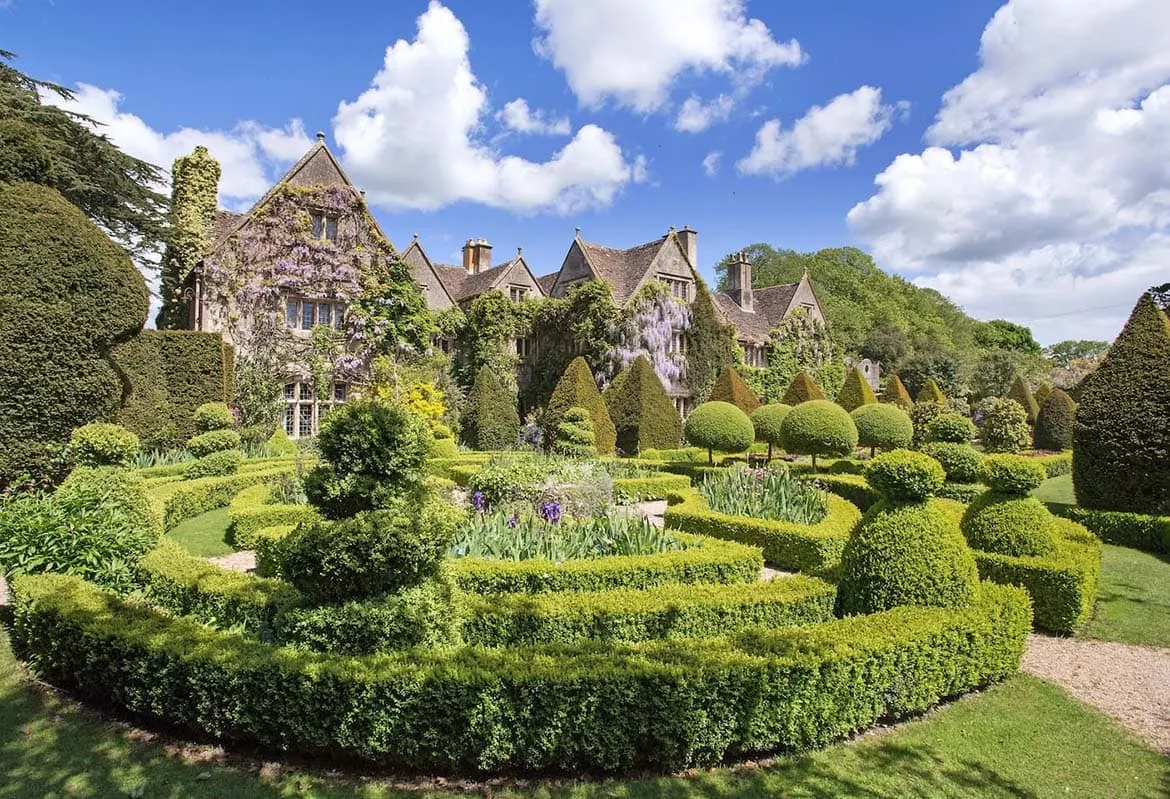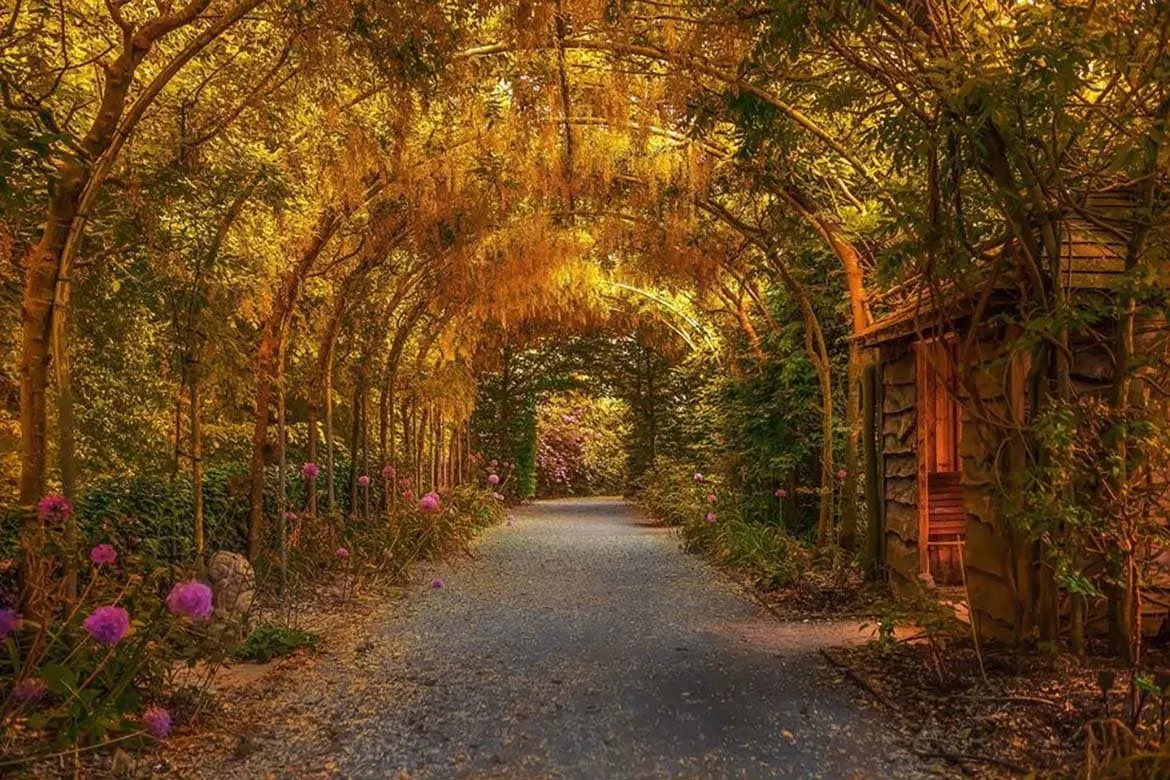 Sleeps – 7
Abbey House Gardens is a privately owned country house with some of the most beautiful gardens you'll find in England. What makes this such a quirky place to stay in the UK is a few days of the year they have 'Clothes Optional Days' in the gardens.
If you haven't worked it out yet this is one of the top events for naturists in the UK. I did say it was very quirky!
You can check out some of the best Cotswolds Airbnbs here for a few others like this one.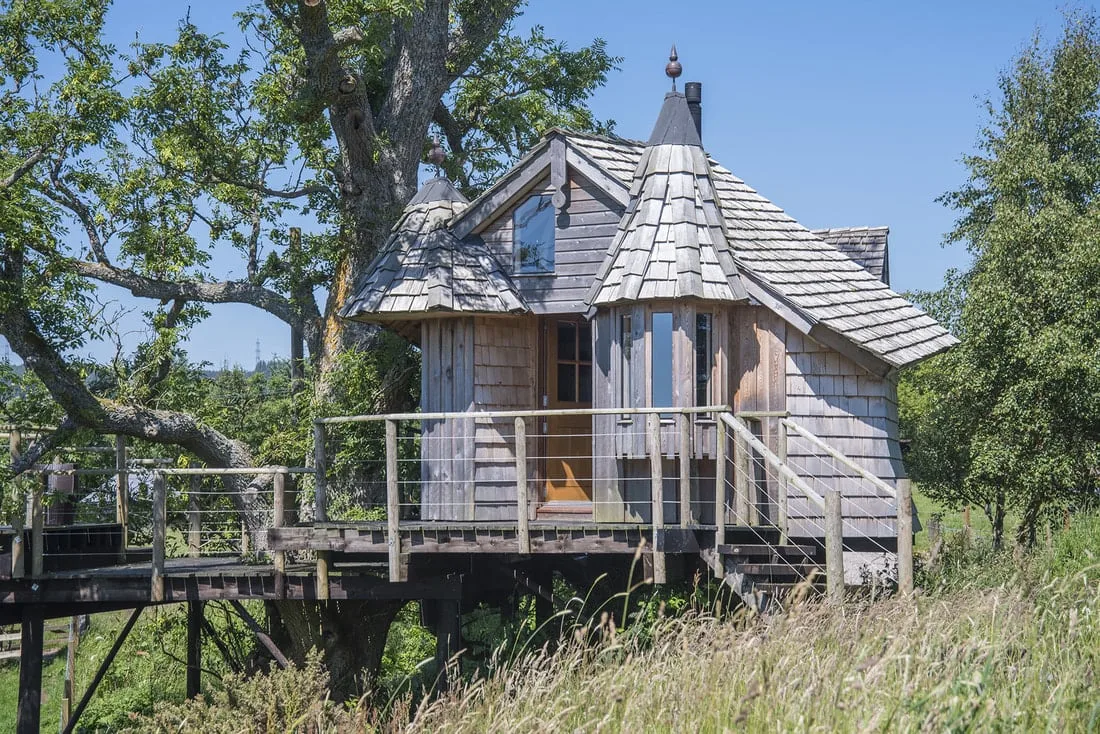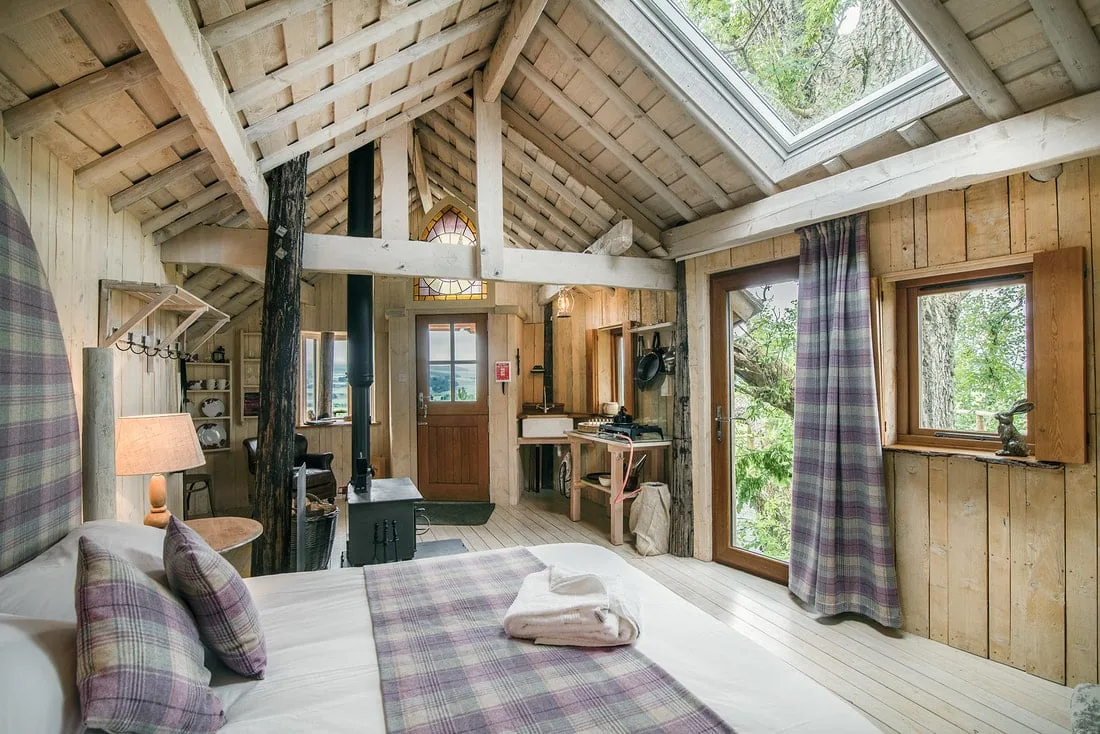 Sleeps – 2
This is a remote treehouse like no other. Near Dunblane, the Tree Howf is built in the branches of an ancient ash tree and offers uninterrupted views of the surrounding Perthshire countryside.
The best bits are inside though. Inside there is a handmade rustic king size bed and a large star / tree gazing window above the bed. This is the perfect spot to turn off all the lights and watch the stars without getting blisteringly cold outside. For me, this is one of the top quirky places to stay in the UK so if you choose this one then enjoy the fairytale feeling.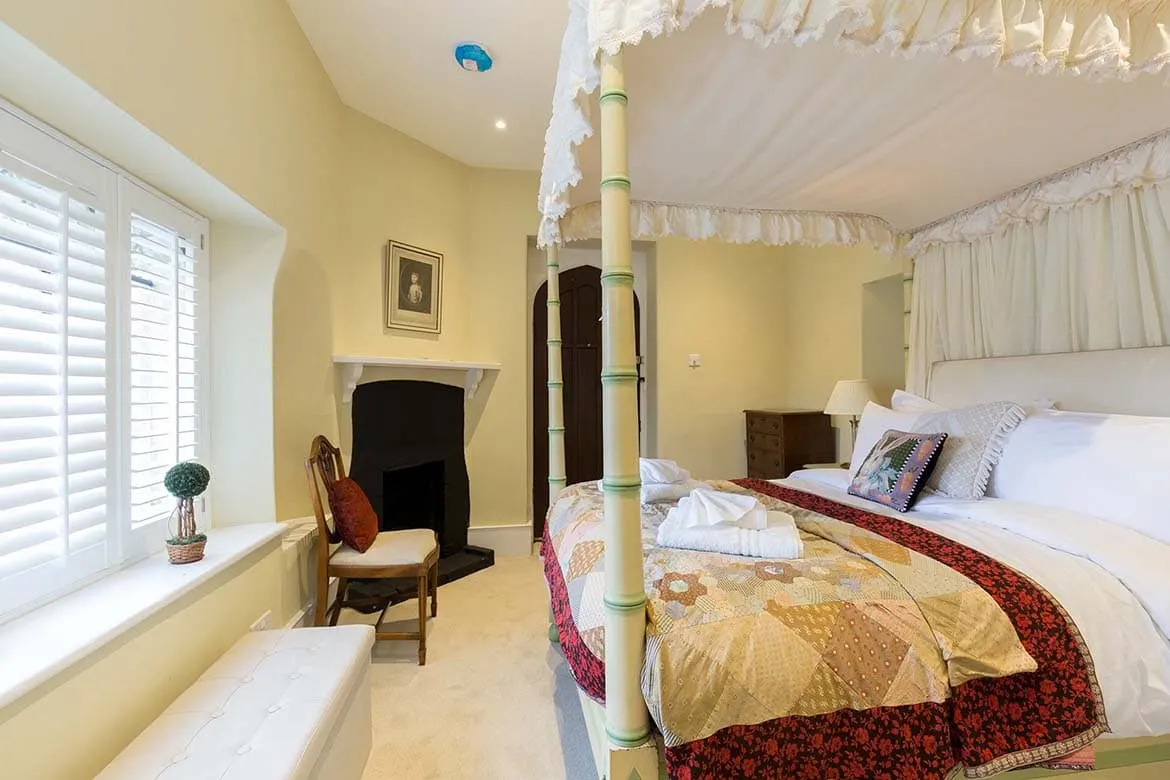 Sleeps – 4
Who wants to stay in their own private castle with beautiful gardens to boot? Of course you do! You'll find this place located on the edge of the grounds to Sudeley Castle, an old 12-century castle that's one of the top places to visit in Winchcombe.
As for the Castle Gatehouse itself, it is a pet friendly property that comfortably sleeps 4 guests in 2 en-suite bedrooms. The Gatehouse is split into two wings, accessed by separate doors. It really is as grand as it sounds.
The Magic Bus, Eilean Donan Castle, Scotland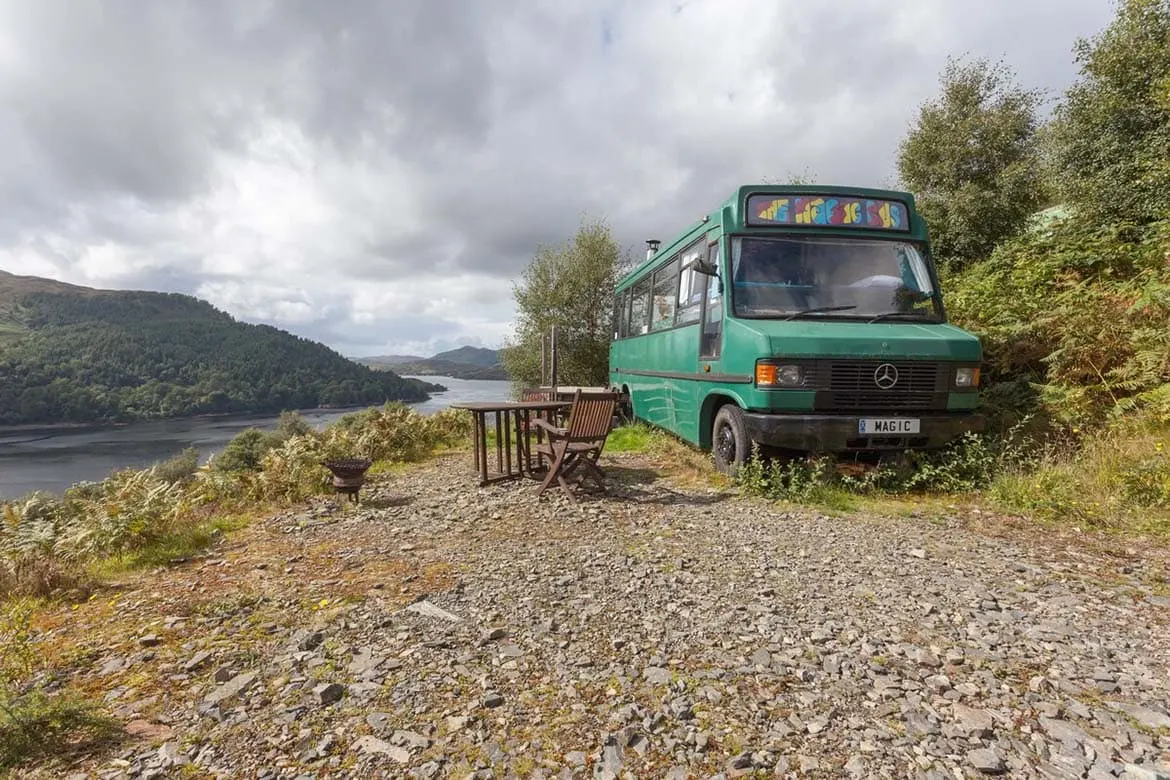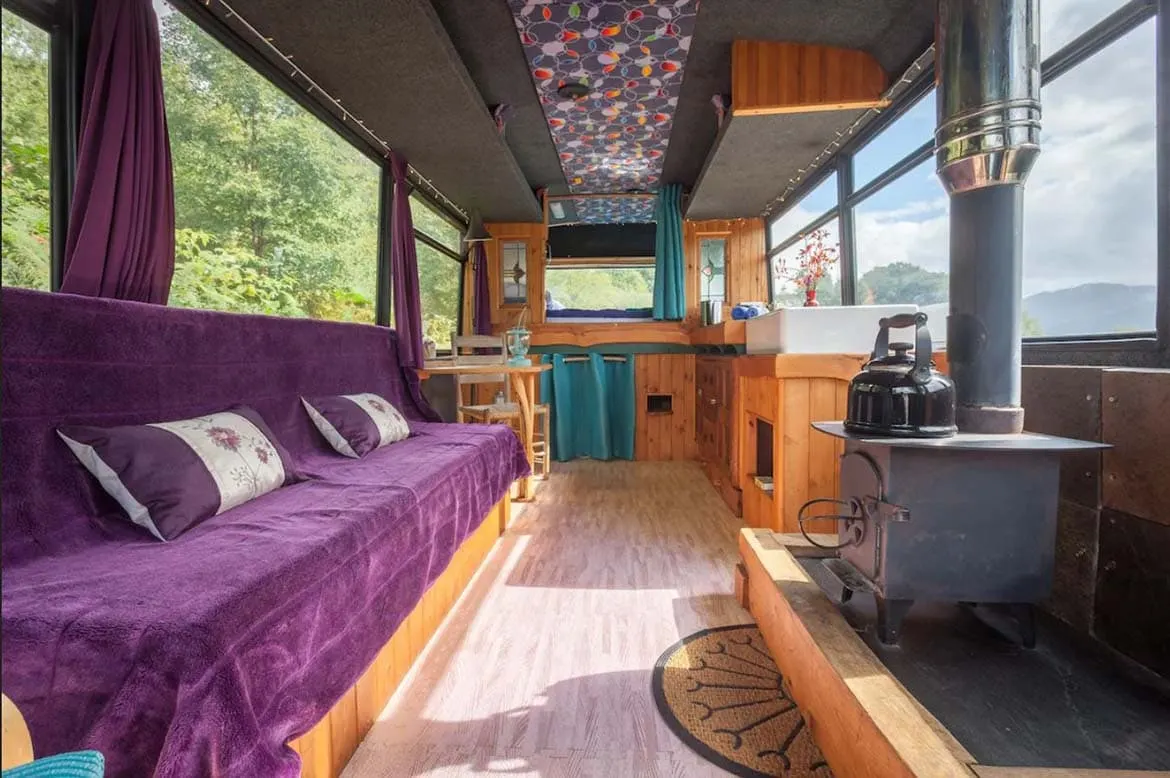 Sleeps – 2
For those of you looking for the Christopher McCandless Into the Wild experience (without the ending obviously), then this is the place for you. The Magic Bus is located very near to Eilean Donan Castle, one of the top places to visit in Scotland.
This place is a cosy and unique getaway for the nature-loving eco-traveller. Located on a hillside with stunning views of Loch Duich and Loch Alsh below, you can't be more in the tranquility of the Scottish Highlands. Inside you can keep warm even in the coldest of nights with the log burner making The Magic Bus the perfect romantic winter getaway.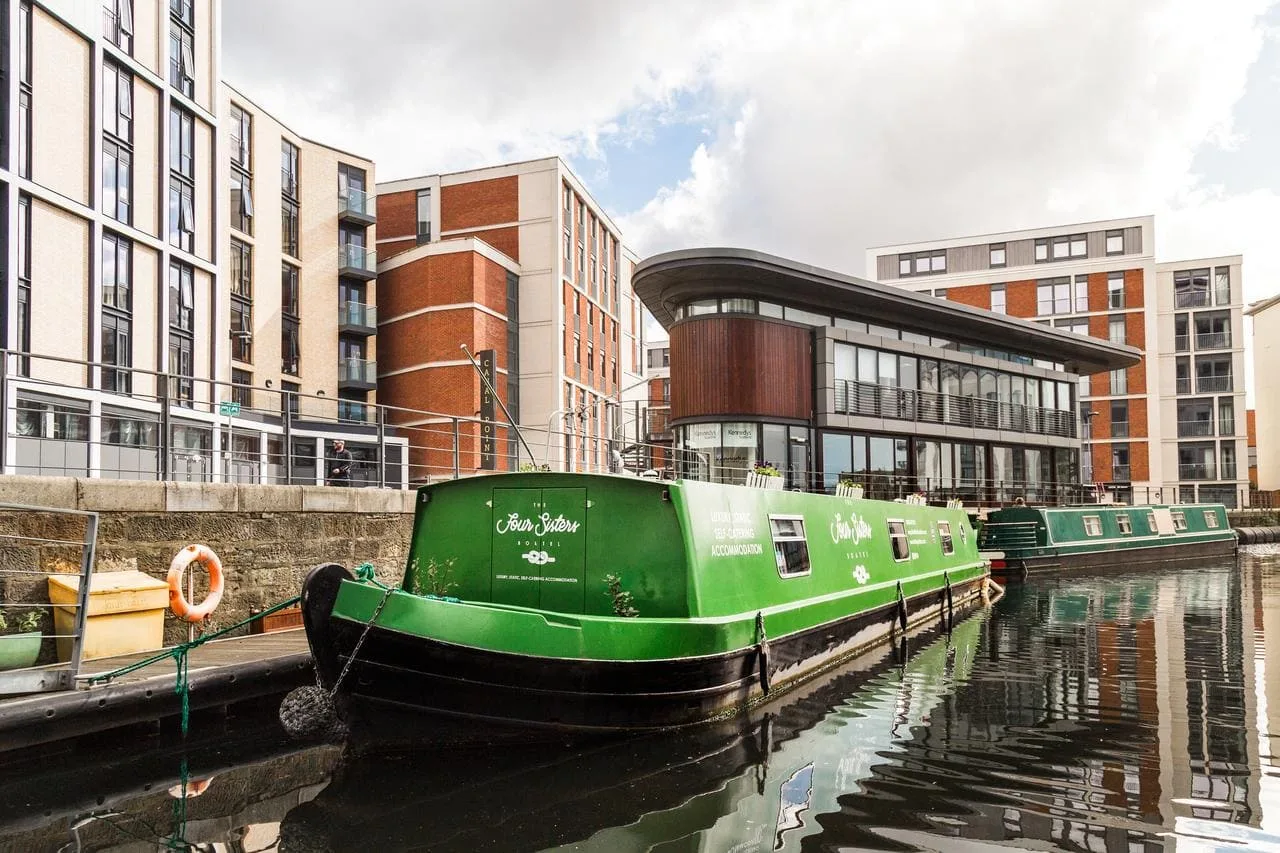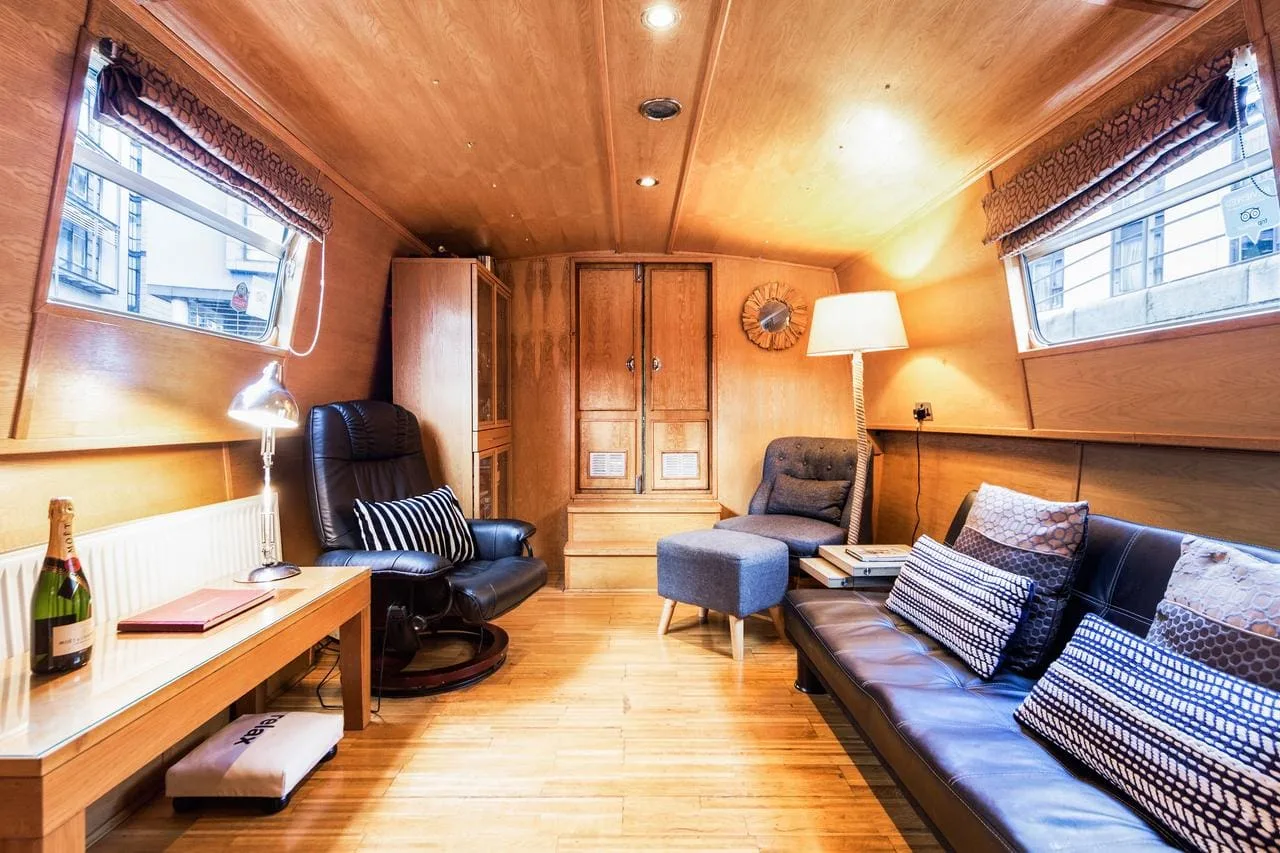 Sleeps – 6
Obviously hotels and AirBnbs are 2 a penny in Edinburgh. However, if you're looking for a really quirky place to stay in Scotland then check out the Four Sisters Boatel.
This is a 4* self-catering houseboat located right in the heart of Edinburgh. Inside the boat is a fully-equipped kitchen with a breakfast bar. Obviously there's a heavy nautical theme throughout this accommodation. You can't ask for a better location than this, and you get to stay on a houseboat. I just love how different this place is.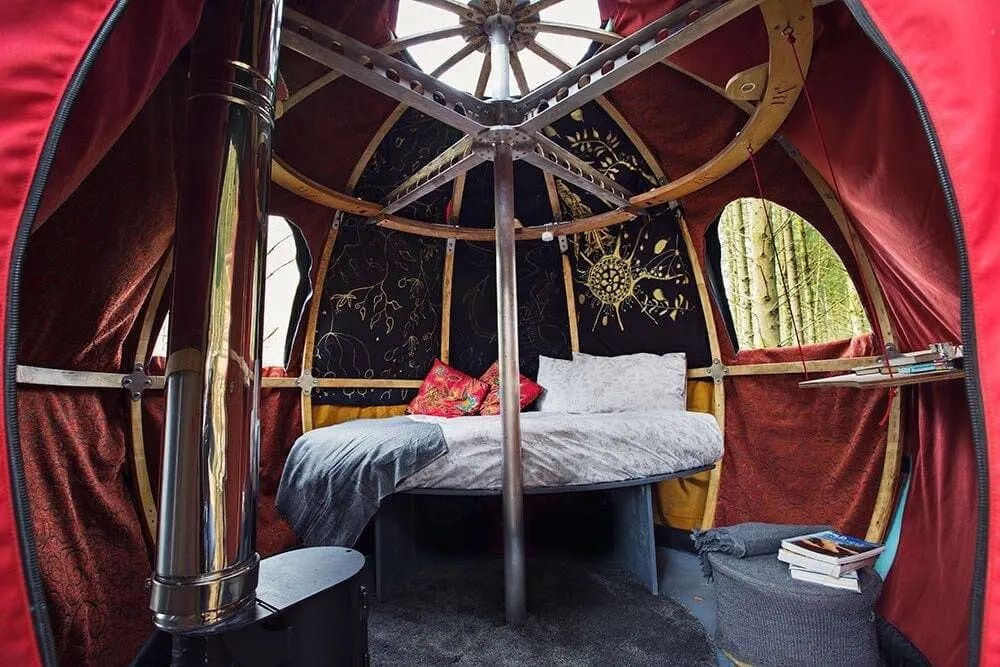 Sleeps – 2
This is another place in Wales that's pretty out there. You also might recognise them from George Clarke's Amazing Spaces.
Inside the bizarre tents is a comfy bed and a cosy wood burning stove. Surrounding you is beautiful woodland, with a fire pit, outdoor kitchen and warm showers. They're seriously fun and unlike anywhere you'll have stayed before.
Shepherd's Hut, Wells-next-the-sea, England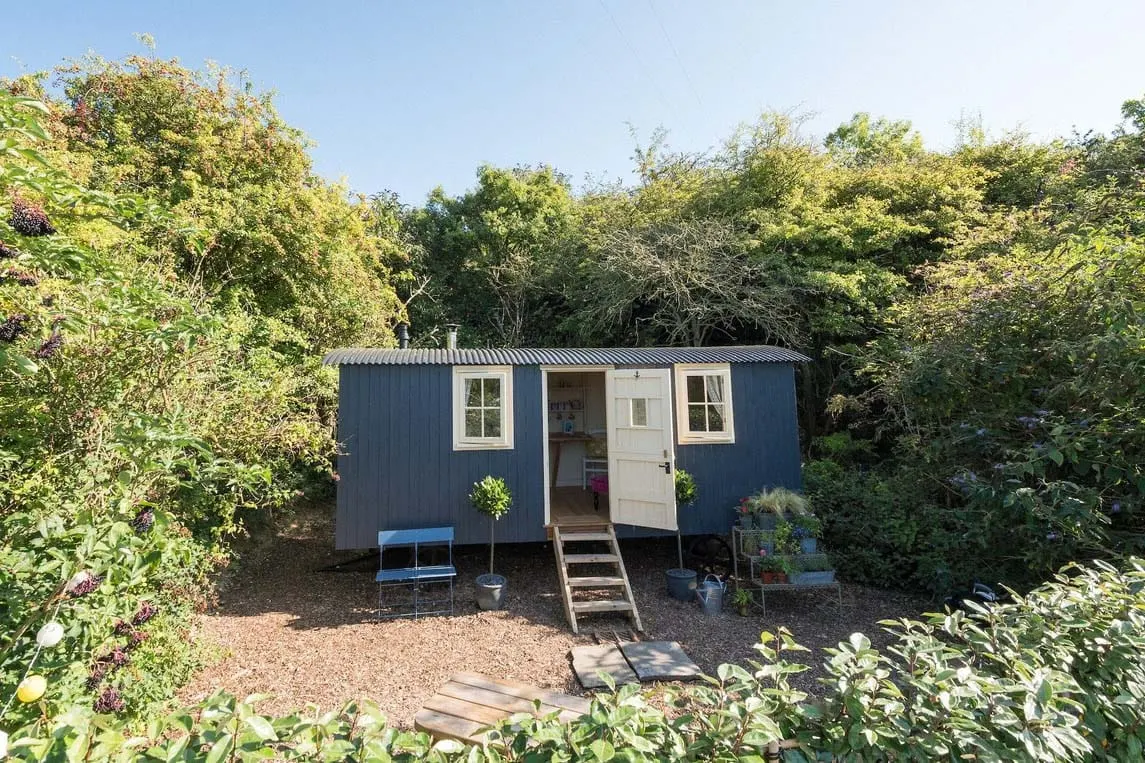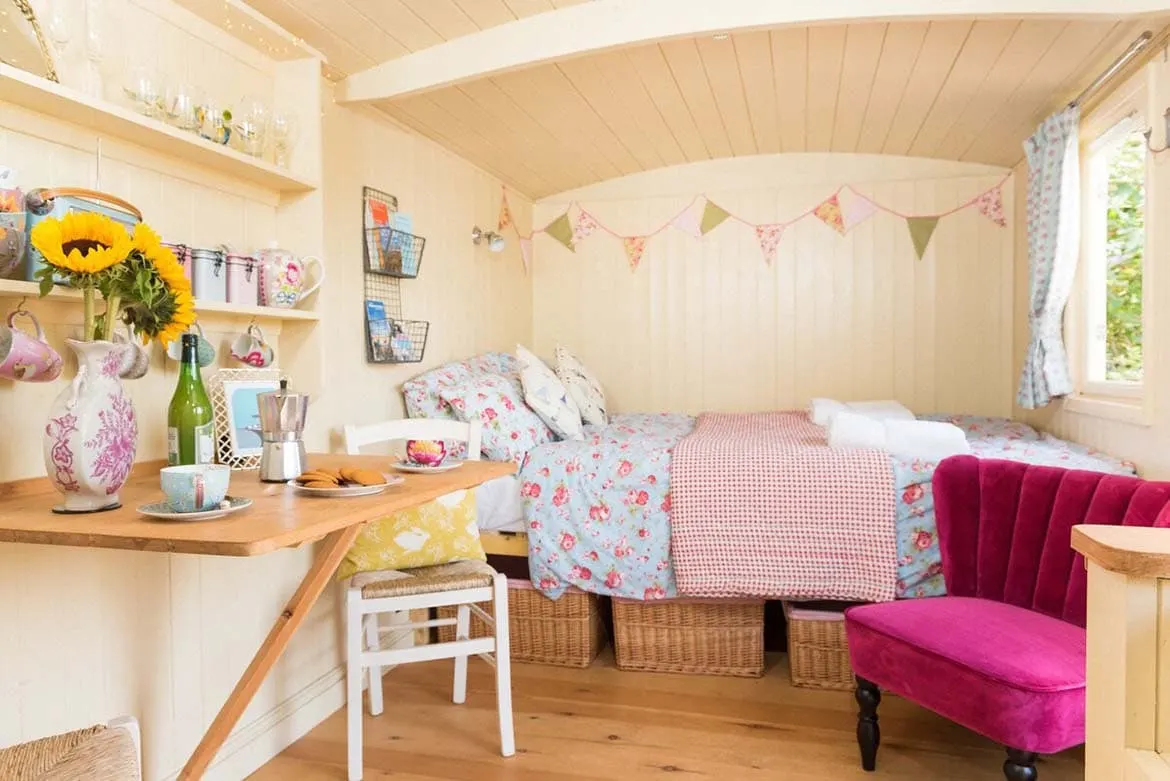 Sleeps – 2
If you're looking for somewhere really cute to tell your friends and family about, then check out the Shepherd's Hut in Norfolk.
Located on a campsite with your own private space (you'll also have access to all the main campsite amenities), the hut is its own private paradise away from it all. One of the best bits is the wood burner which is perfect for when it gets cooler in the evenings. This heats up the hut so quickly and makes everything all warm and toasty.
You can check out some of the other best Airbnbs in Norfolk here.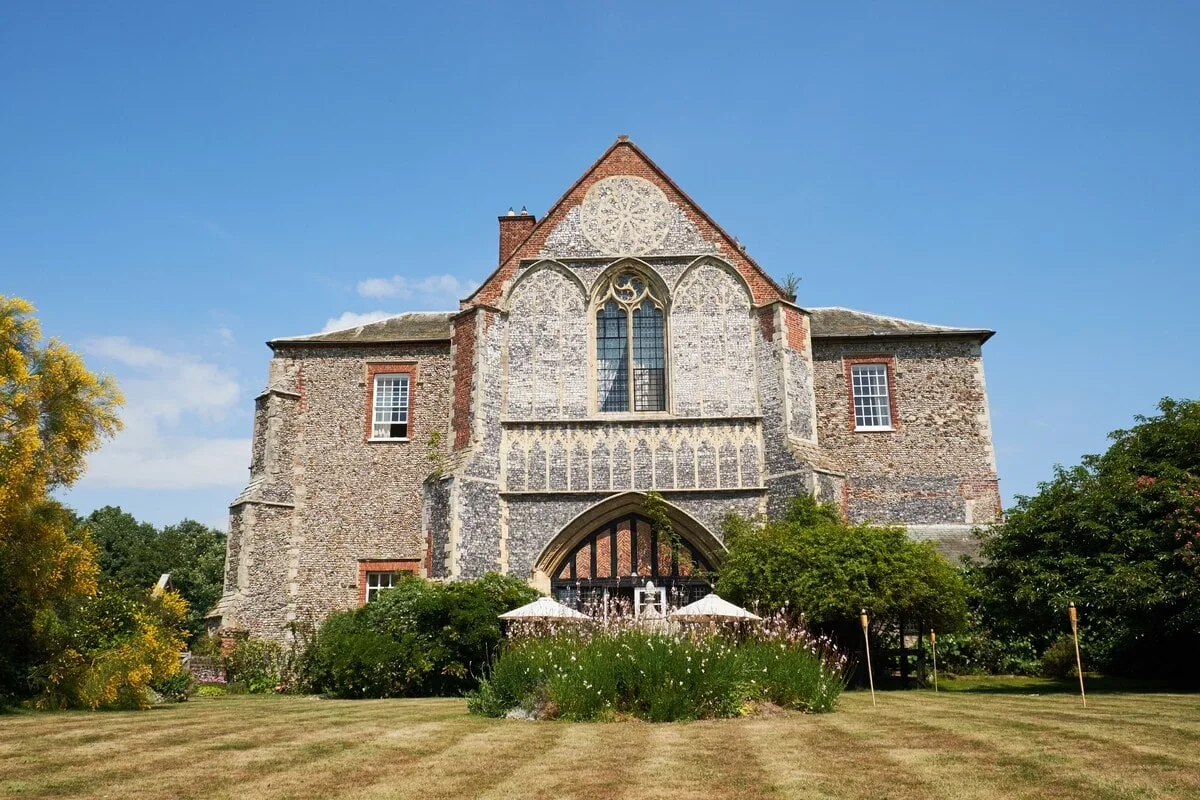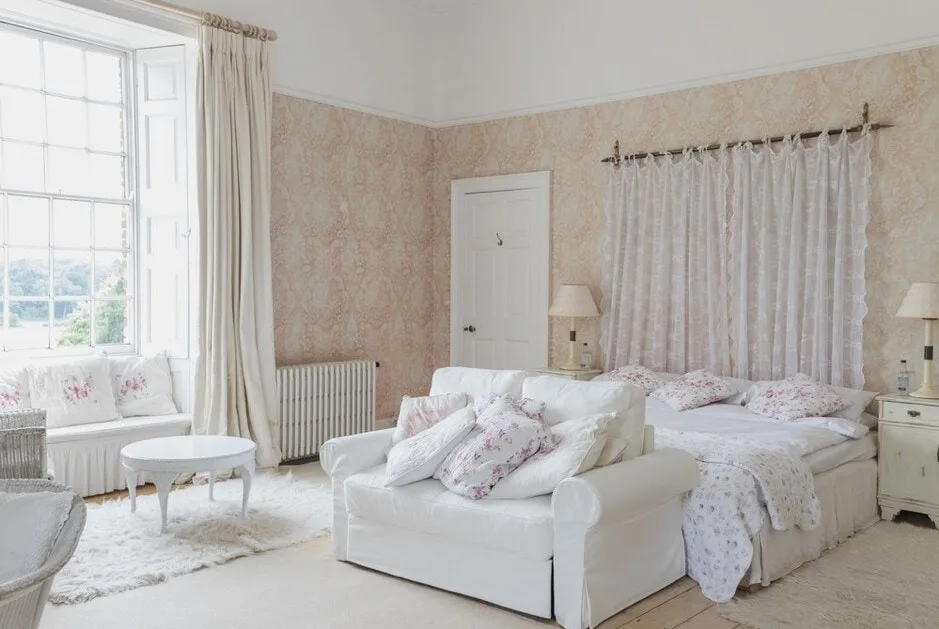 Sleeps – 16+
I absolutely love the look of this place. Firstly, it sleeps more than 16 people, so if you're looking for some unique UK accommodation for a large group then this is a fantastic option. You can find Butley Priory deep in the beautiful countryside of the Suffolk coast.
As a former Augustinian monastery, with its fabulous stone vaulted arches, huge fireplaces and enormous bedrooms, the very fabric of the building is steeped in romance and history. However, over the years its been loving updated to give it a more modern touch.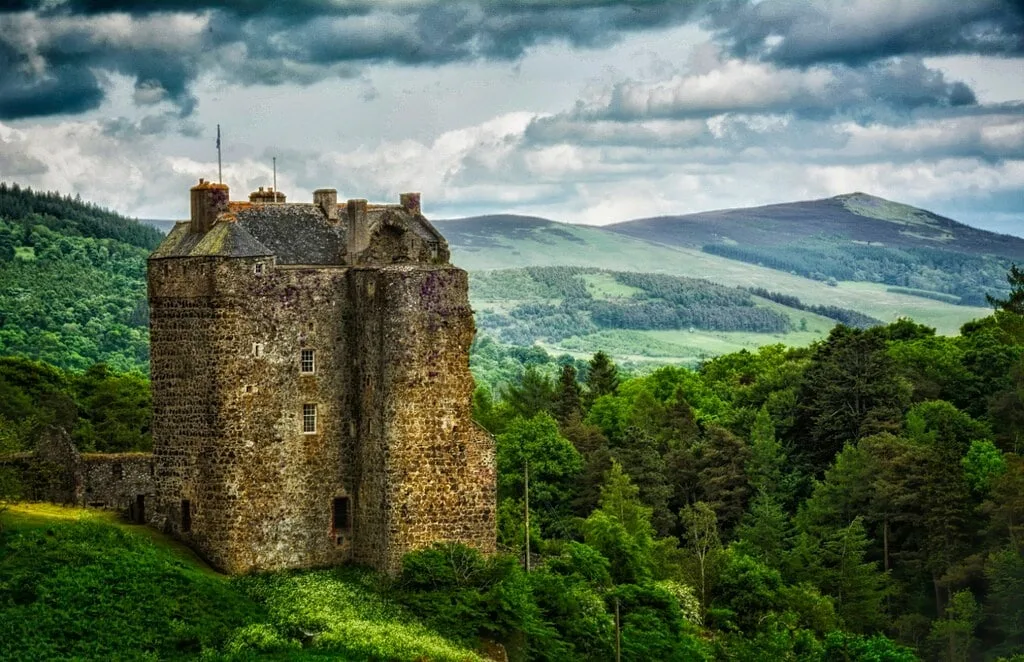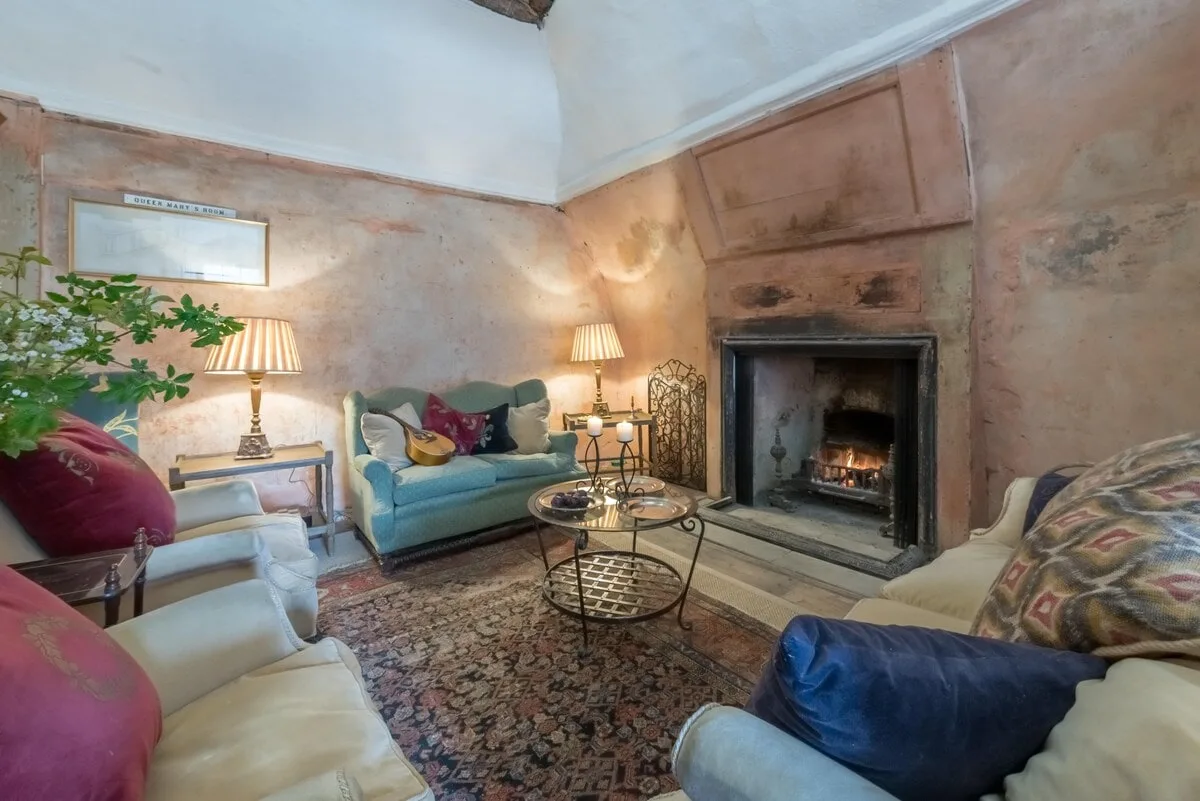 Sleeps – 2
This is another gorgeous castle up in Scotland that's deservingly featured in my list of quirky places to stay in the UK. You'll find Neidpath Castle up near the Scottish Borders and it really is as beautiful as it looks. For me, this is why I love Scotland so much.
The room comes with an antique four-poster bed and an open fire that makes you feel like you've stepped back in time. With centuries of history, this is a place you'll want to tell all your friends and family about.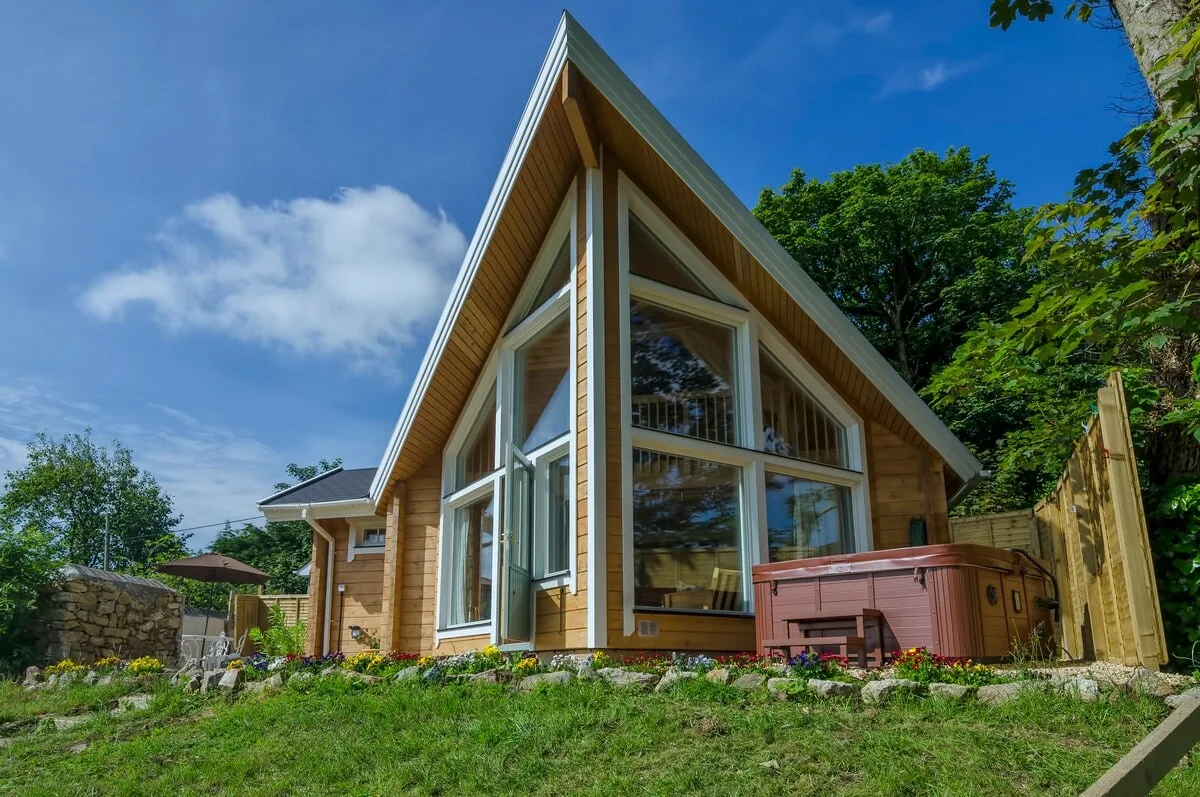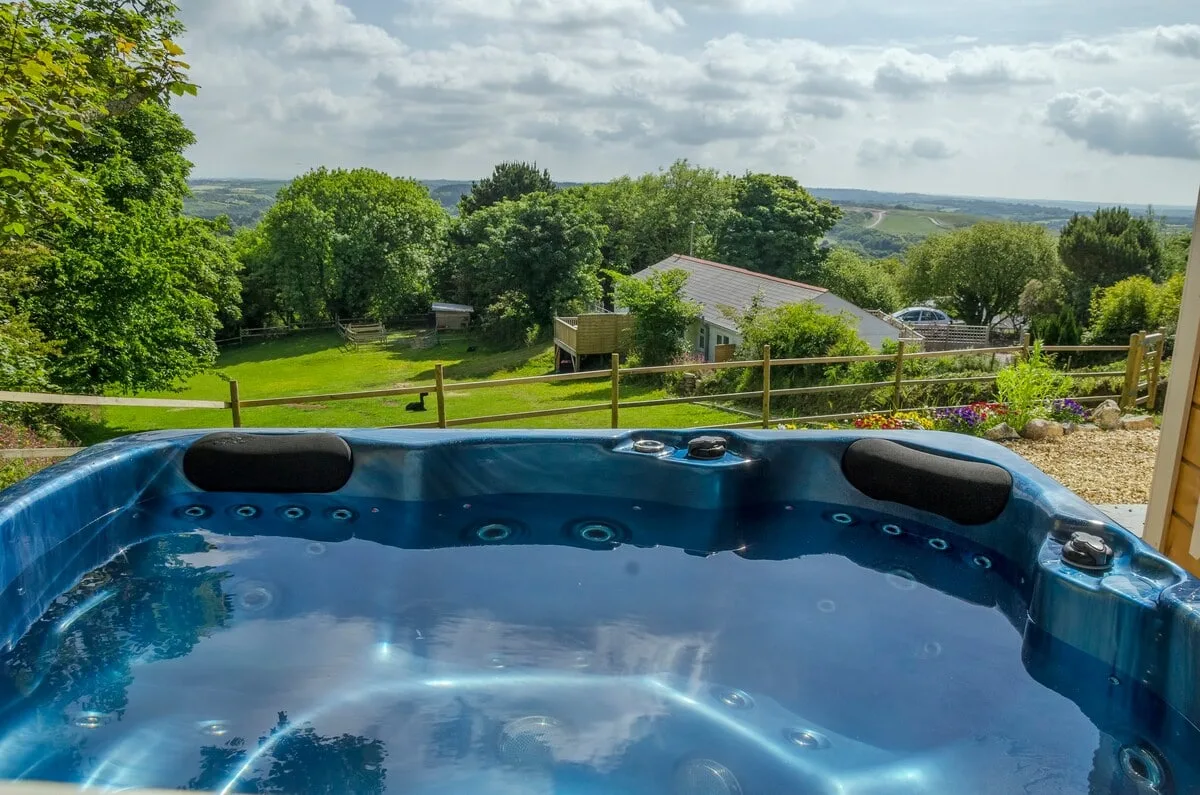 Sleeps – 6
This stunning 3 double-bedroom lodge is based on a Finnish log cabin. Nested into the side of Carn Marth Hill, a World Heritage Site, this is an amazing place to base yourself and explore all Cornwall has to offer.
The living room is flooded with light from the double height windows as is the mezzanine double bedroom. The wood burning stove creates a cosy atmosphere in the evenings or for winter visits. You will enjoy the hot tub looking out over the rural landscape.
Check availability & latest prices now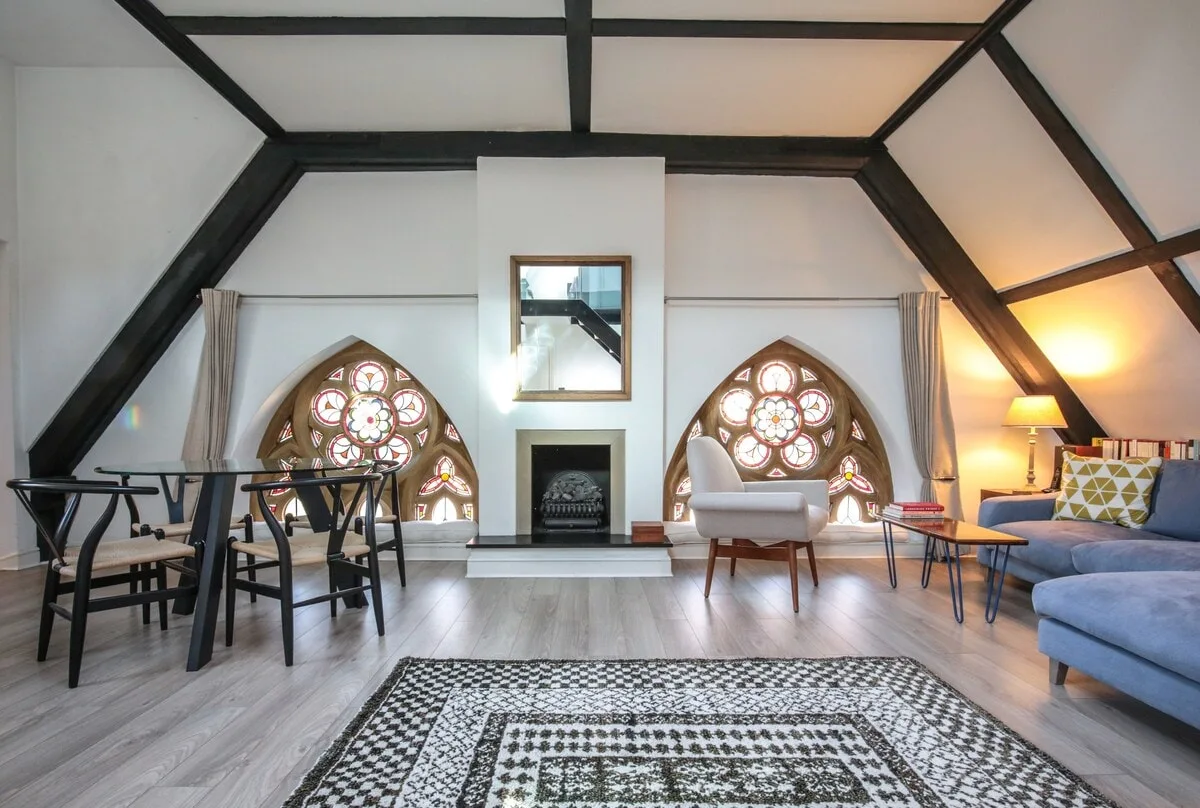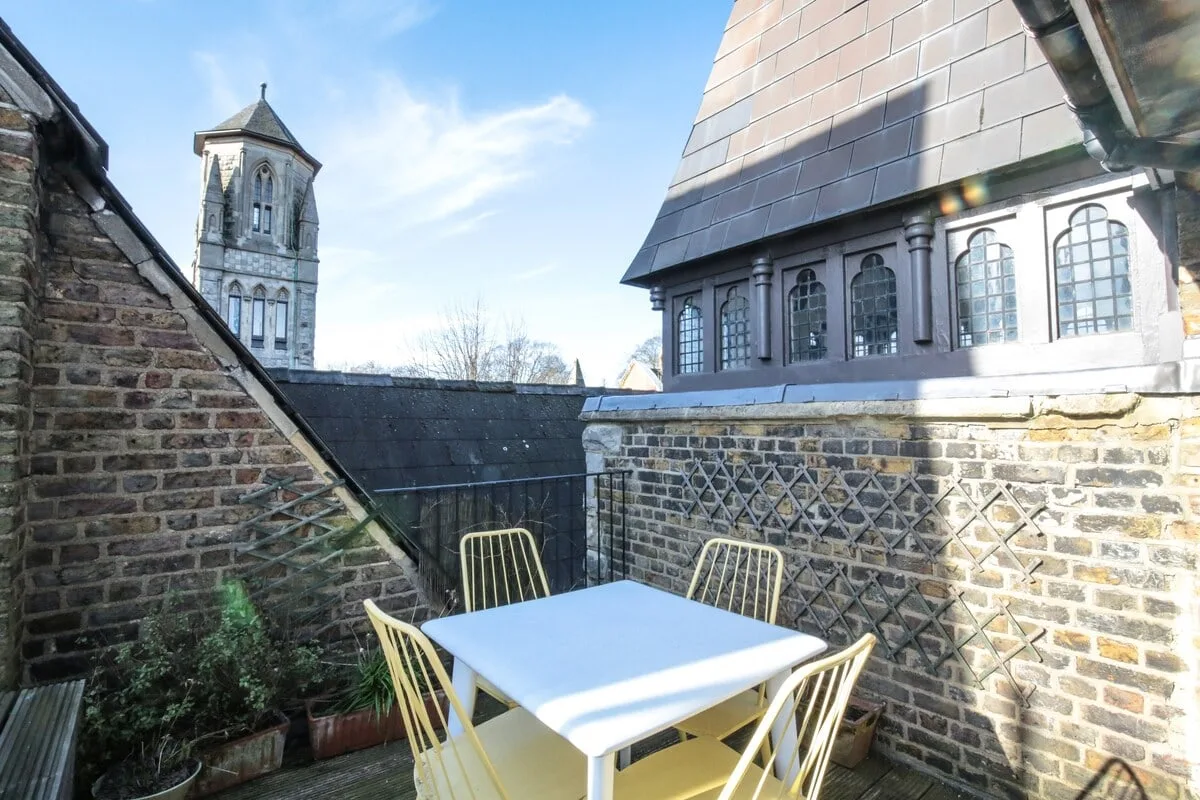 Sleeps – 4
Obviously I had to feature a unique Airbnb in London. Well, I thought a converted church tower was pretty different! This space has beautiful designer furniture and original artwork. It also has stained glass windows, huge beams & spiral staircase to the church tower which really gives character to the place.
I think the best bit is the outdoor terrace located on the church roof. From here you get to look out over Highgate and soak up the city vibes. For me, this is one of the most unusual place to stay in London.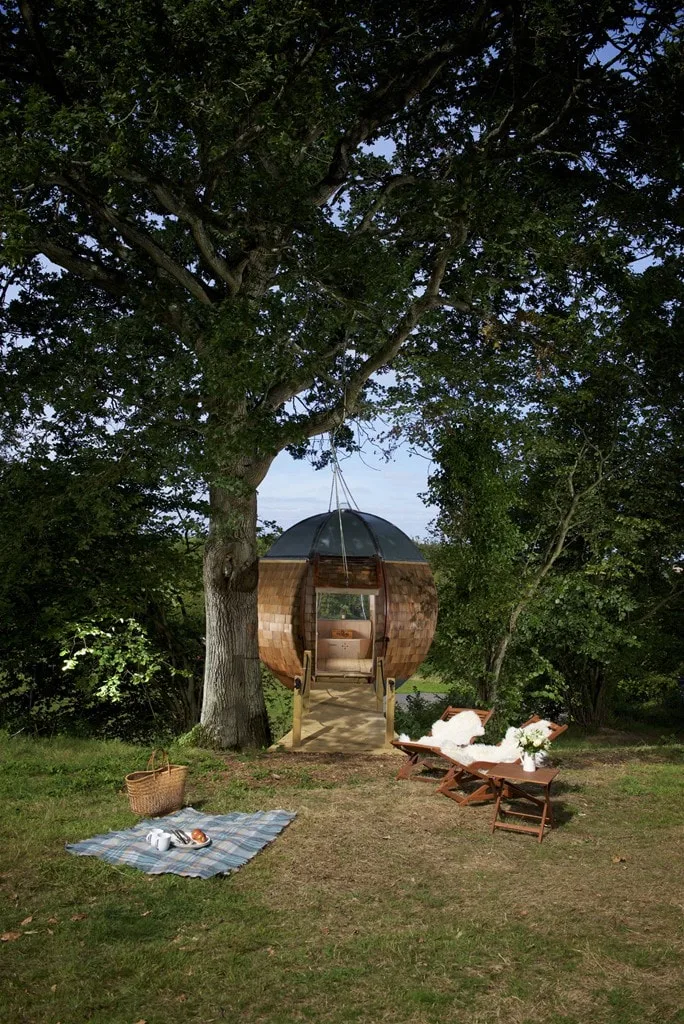 Sleeps – 2
This is a truly amazing floating tree house set in a spectacular private location in Dorset. Yes, you read that right – this is a floating treehouse!
One of the things I love about this place is there's no WiFi or anything like that. The whole point is to have a bit of a digital detox and enjoy being in the countryside. It's a simply incredible and unique space for a UK romantic getaway.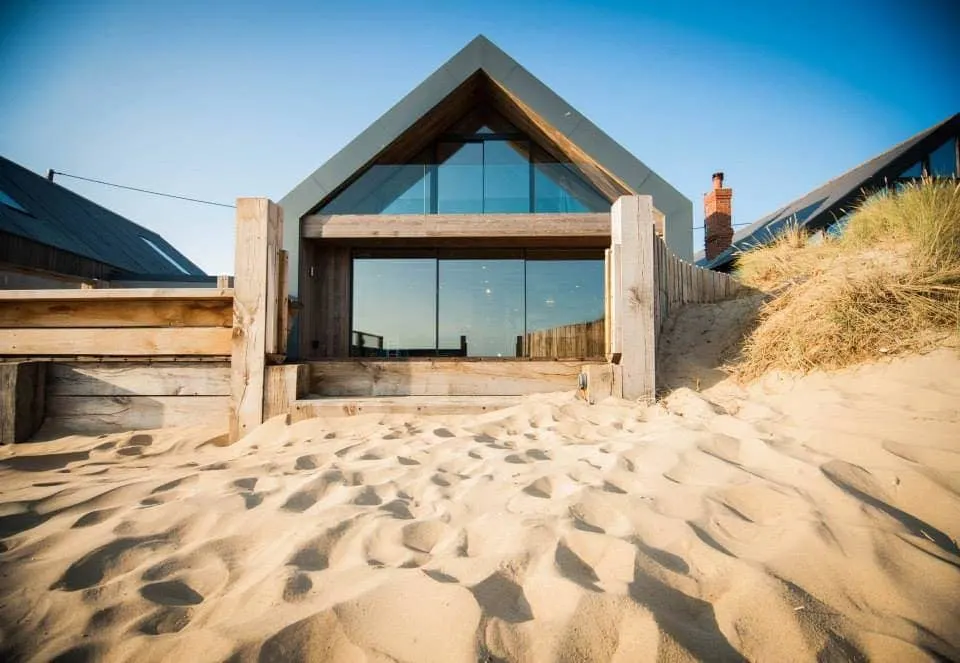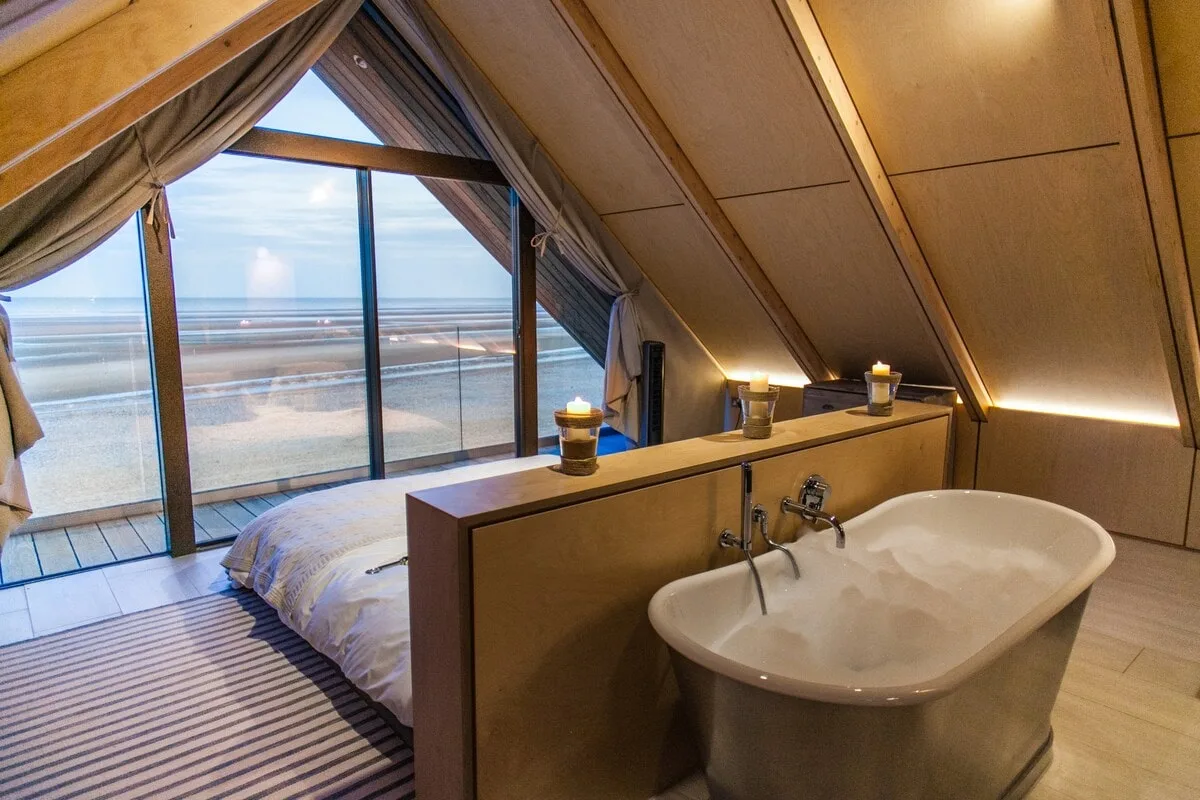 Sleeps – 8
If you're looking for a UK Airbnb that's right on the beach, then let you present to you the Blue House on the Beach. Situated on the miles of sandy beach in Camber, this place is perfect for a bit of a beach break.
Finished to the highest standards with bespoke kitchen, Apple TV, luxurious beds and sofas – it is an ideal escape for a coastal retreat. The views from the master bedroom over the beach are so dreamy!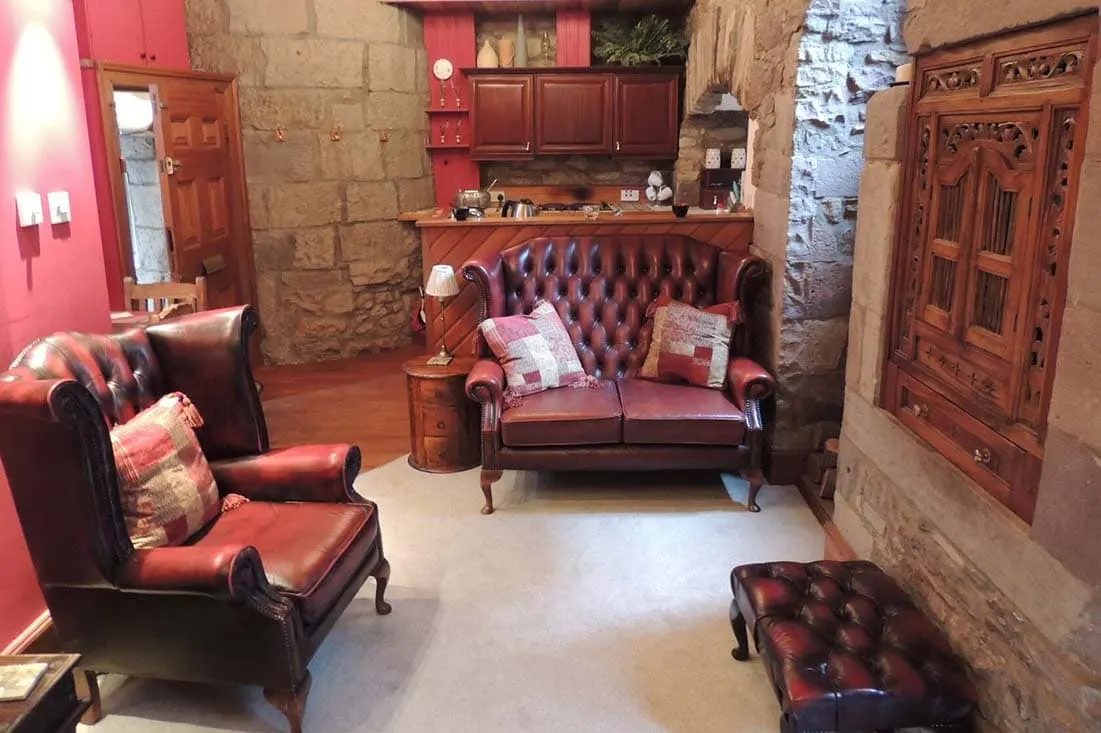 Sleeps – 4
This is basically like having your own micro-castle but inside an inner-city apartment. Located in the heart of Edinburgh, only 200 metres from Edinburgh Castle, the Castle Snug was once home to writer James Boswell.
What makes this place so unique is it's been designed to look like a castle. The best bit is there's a secret pull-out double bed hidden in a bookcase!
---
What are some of your favourite quirky places to stay in the UK? Let me know in the comments below and I'll add them to this post!
Like this blog post? Then make sure you Pin it for the future!