Elegance, luxury and an incredible spa, this is my Stoke Park review, England's first ever country club and an amazing place to stay!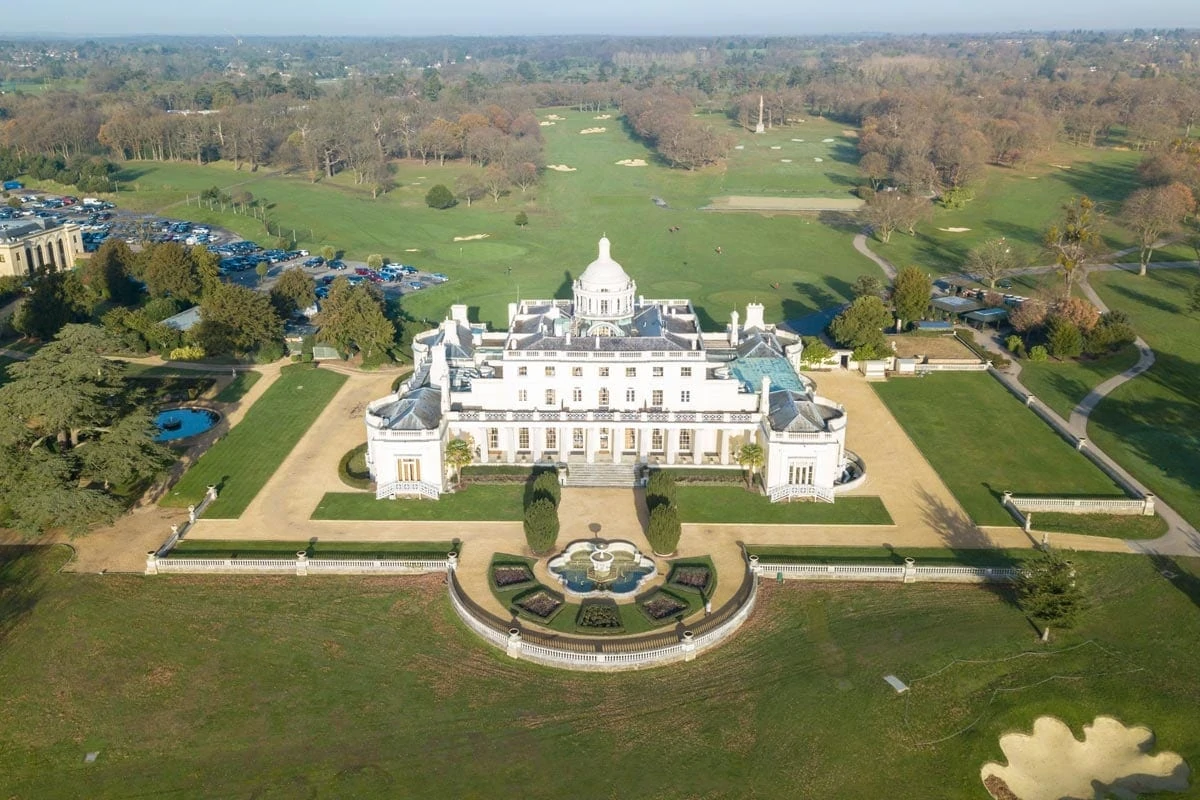 Watch the opening scene from Layer Cake on YouTube and it'll give you a small insight into how beautiful Stoke Park is.
A long drive with a luscious golf course on either side takes you up to the infamous steps of Stoke Park, an architecture masterpiece that wouldn't look out of place in the countryside of Greece.
Doric columns lead up to a huge dome on top; this place looks a little like St Paul's just without all the London cityscape surrounding it.
And once you get inside, that elegance continues. It's safe to say this really is one of the best small luxury hotels in the UK.
I went to Stoke Park as a treat for my girlfriend's birthday. Every year we go away for each of our birthdays we go away for a mini-break and Stoke Park caught my eye.
I was looking for a few requirements for that perfect stay – close to London, small and intimate, a spa for a bit of a pamper session and an amazing restaurant. Not asking for too much, right?
After seeing a few places on Small Luxury Hotels that fit the bill, Stoke Park came very highly recommended. Also, the grounds looked perfect for a lazy afternoon stroll too, something Chloe and I always love doing when we're out in the countyside.
Not only did Stoke Park tick all the boxes I was looking for, we both felt like the staff really took care of us. That's what I love about small luxury hotels like this – everyone staying there is special and I love that.
Getting to Stoke Park
If you're coming from London getting to Stoke Park couldn't be easier.
Stoke Park is *technically* in Slough. Not the most glamorous place (sorry Slough). However, even though it's only a 10-minute taxi ride from the train station, it feels a million miles away. This really is old-school paradise in the countryside.
The best way to get to Slough from London is either from Paddington Station or from Ealing Broadway.
The ticket from Paddington Station to Slough costs £9.60 and the fast train takes 16 minutes, otherwise it takes half and hour.
From Slough Station, a taxi to Stoke Park costs less than £10 and they even have Uber, so it's super easy getting to the hotel.
If you're driving, it only takes 45 minutes to drive here from London.
Also, it's only 7 miles from Heathrow airport – that makes it a popular place for celebs! (It's at this point I'll add in that we bumped into Harrison Ford while staying here but that's a story for another day…)
Stoke Park: The hotel and rooms
Stoke Park was originally built in the late 18th century and it has been a hotel since 1908. Officially, it is England's oldest and longest running country club. Somehow it has retained all that old-fashioned charm while still offering 5* luxury though which is great to see.
One of the biggest attractions here are the grounds. Stoke Park sits on 300 acres of grounds and they are absolutely gorgeous. No matter where you are in the hotel you're always greeted with these views of the grounds and I can assure you they never get boring.
As soon as you walk into Stoke Park the lobby opens up into this grand hall filled with chandeliers and tapestries on the walls. There's even a roaring fire greeting you, perfect on a cold winter's day.
Despite the hotel looking massive, Stoke Park only has 49 bedrooms and suites. That means you're guaranteed a lot of space in each room which is a luxury in itself.
My room had an ornate four-poster bed, a very comfy sofa facing a gas fire (probably my favourite featuring in the room) and the biggest bathroom I've ever seen. There was also a balcony with those gorgeous views of the grounds.
I'd say the rooms are completely designed for comfort. There aren't any posh mod cons and the furniture isn't the newest, but boy is it comfortable. I think that's the most important thing when you're staying somewhere.
The spa at Stoke Park
As it was my girlfriend's birthday, I knew nothing would make her happier than a proper spa session. Thankfully for me, the one at Stoke Park is one of the best around.
The spa is in a separate building from the main hotel and it is huge. It has an indoor swimming pool, separate steam rooms for men and women, and a state of the art gym.
It also has a number of treatment rooms if you'd like a relaxing massage. Oh, and there's a secluded hot tub outside and a Scandinavian sauna. You can see why this place is so popular!
I went for the Thalgo Swedish full body massage while I was at Stoke Park, and I'm not just saying this, but it was genuinely one of the best massages I've ever had. I found it so relaxing and the masseur really paid close attention to all the knots in my shoulders – obviously I needed it!
The restaurant at Stoke Park
One of the things I was most looking forward to at Stoke Park was the food.
The main restaurant Humprey's holds Three AA Rosettes and has consistently been voted in the top 100 hotel restaurants in the UK, but I was disappointed to find out this restaurant is only open on Thursday to Sundays. If you're looking at dining in this restaurant, make sure you come towards the end of the week.
That meant we ate in The Orangery, the main restaurant offering classic British cuisine with a modern twist.
I had the salmon and prawn to start with followed by a decadent lamb dish that was really well balanced. Dinner was £32.50 for two courses or £40 for three courses, so good value for money for a luxury 5* hotel.
The following morning we were offered a huge breakfast menu, and if anything I enjoyed the breakfast even more – that's mainly because the views of the grounds in the morning were spectacular.
Other amenities at Stoke Park
Stoke Park is a bit of sporting paradise. Not only does it have a 27-hole championship golf course, but it has 13 tennis courts too (6 grass, 3 indoor and 4 floodlit artificial clay).
If you're looking for lessons, they have pros in each sport and a number of tournaments throughout the year too.
Also, make sure you look for some deals online because they often have stay-and-play deals on offer for golfers and tennis players.
Stoke Park was England's first ever country club and it is that postcard-perfect kinda place. It's easy to see why this has been the backdrop for so many films like Bridget Jones Diary and Goldfinger that's for sure.
Stoke Park was everything I was looking for – that little touch of luxury but still within touching distance of London. And after an afternoon in the spa and some delicious food in the evening, it's impossible leaving this place without those batteries being fully charged again.
How much does Stoke Park cost?
A classic double room in the mansion at Stoke Park costs approximate £234 per night. All prices include breakfast and amenities in your room.
Address:
Stoke Park,
Country Club, Spa and Hotel,
Park Road,
Stoke Poges
SL2 4PG
01753 717172
[email protected]
A big thanks to Stoke Park and Small Luxury Hotels Of The World for inviting me to visit. As always, all opinions are my own.
Are you looking to stay at Stoke Park? Are you looking for a little R&R or to play golf or tennis there? I would love to know in the comments below.
Like this post? Then make sure you Pin it!