Looking for the best things to do in Berwick-upon-Tweed? From exploring the castle to seeing the Royal Border Bridge, this is what to do in Berwick!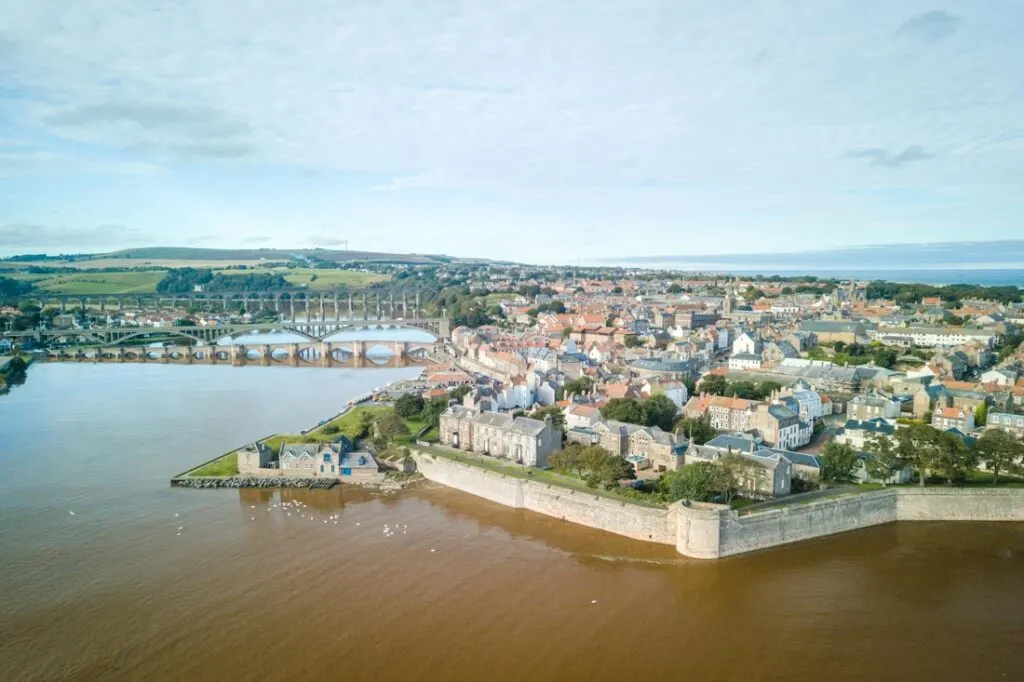 I'm going to say this now, but I completely fell in love with Berwick-upon-Tweed when I was there.
With its beautiful bridges, old town walls, and stunning views of the Northumberland coastline, there are so many things to do in Berwick-upon-Tweed.
Also, the town has a surprisingly rich history. This whole area was fought over in the historic border wars between England and Scotland, and several times the possession of Berwick changed hands between the two kingdoms. A whooping 14 times if we're counting!
What I loved about Berwick was how quaint it was. You can walk from the crumbing ruins of Berwick Castle, along the River Tweed, to the hustle and bustle of the town in just 10 minutes.
And being so close to Scotland and Alnwick, you can easily base yourself here and spend a few days exploring all Northumberland has to offer.
So, if you're planning a trip to Berwick, this is the travel guide for you. From the best cafes to sites in town, these are all the best things to do in Berwick-upon-Tweed.
I really hope you enjoy it here as much as I did!
Where is Berwick-upon-Tweed?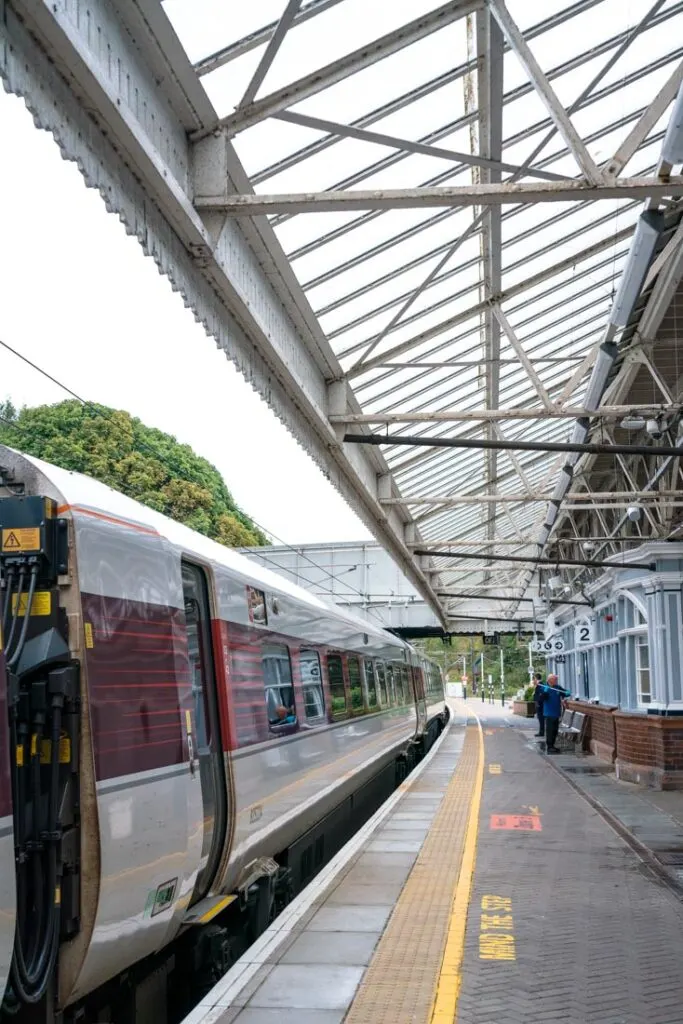 Head north and keep on going.
Located in Northumberland, Berwick-upon-Tweed is actually the most northerly town in England. It's just 4 kms from the Scottish border – that's how far north it is!
Despite being so far north, getting here on the train is surprisingly quick and easy. I jumped on the direct train from London King's Cross to Berwick and it took 3h:30.
As I was a short trip, I used the time wisely researching some of the best places to visit in Northumberland. I always like to be prepared on trips like this so I can maximise sightseeing.
Being so close to the Scottish border, Berwick is a very popular day trip from Edinburgh too. Driving and catching the train both take 40 minutes, so it's easy and accessible.
Right, it's time to jump into what to do in Berwick-upon-Tweed. Tick off a fair few of these things and you're in for an amazing day in the north of England!
Things to do in Berwick upon Tweed, England
Berwick Castle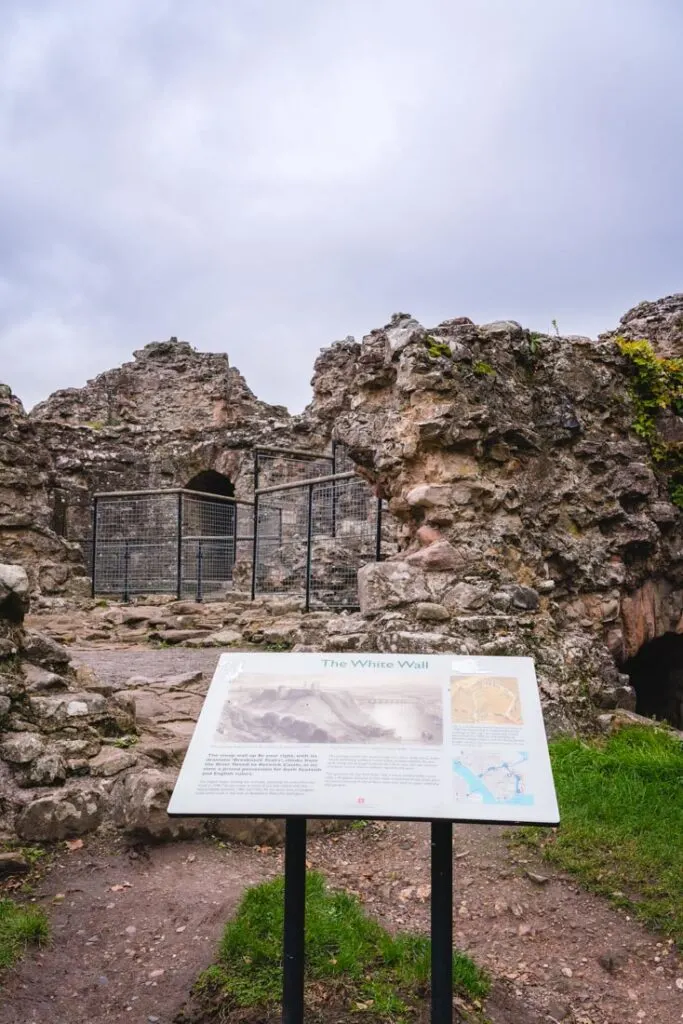 Just moments from the train station are the ruins of Berwick Castle.
The castle was first commissioned by the Scottish King David I in the 1120s, and it has been the site of some fierce battles over the centuries.
When you see the ruins, it's hard judging what the size of the castle would've been. However, there are some information plaques with diagrams of how big the castle was. You can find the main information plaque on the walk past the lily pond on the way down to the castle.
It's from here, with the old foundations still seen by the Castle Vale House B&B, that you realise the castle would've been massive.
I really enjoyed that you could wander around the old ruins. You can also walk under the castle to a little beach by the River Tweed.
Royal Border Bridge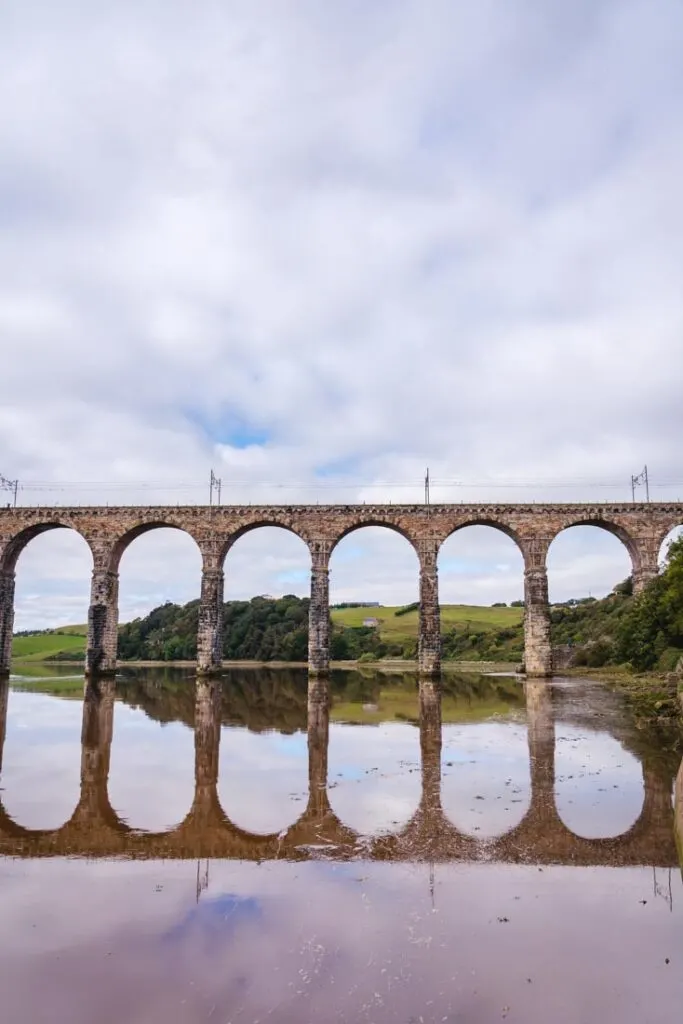 Once you've seen Berwick Castle, head along the River Tweed towards town.
This will take you past one of the most iconic images of Berwick – the Royal Border Bridge. This is the huge viaduct that the train travels on.
The Royal Border Bridge was the last link in completing a continuous railway line running between London and Edinburgh.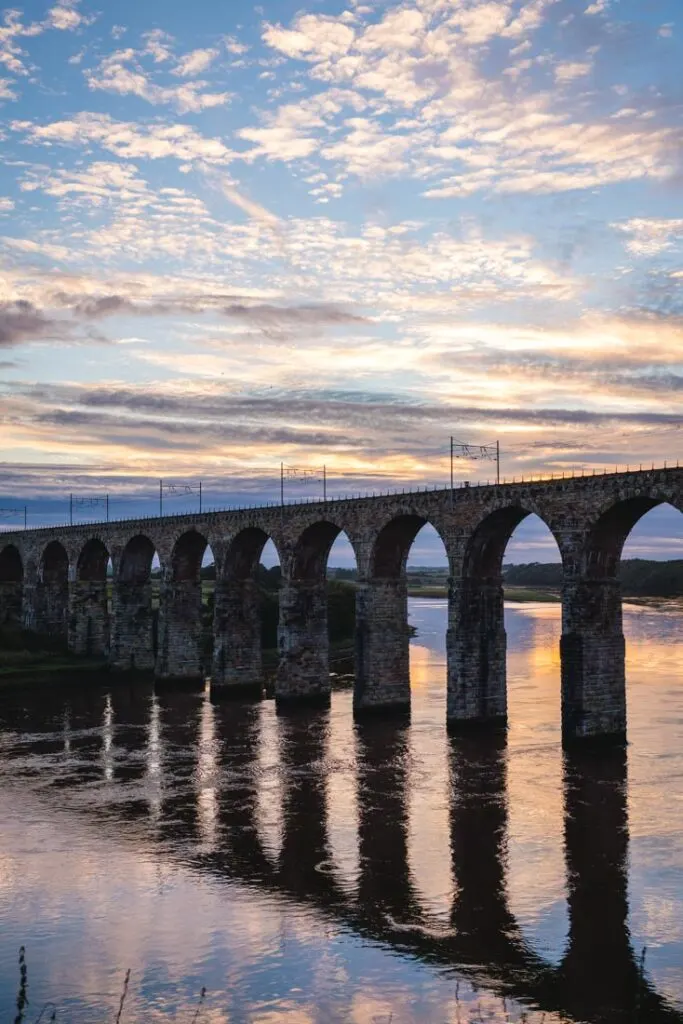 First opened in 1850, the bridge has 28 arches and is a photographer's dream. I always love the symmetry of bridges like this.
If you come down at sunset you can get some incredible shots of the sun reflecting off the water too. There's a little viewpoint in the gardens nearby where you'll get this view.
Walk around the old Berwick town walls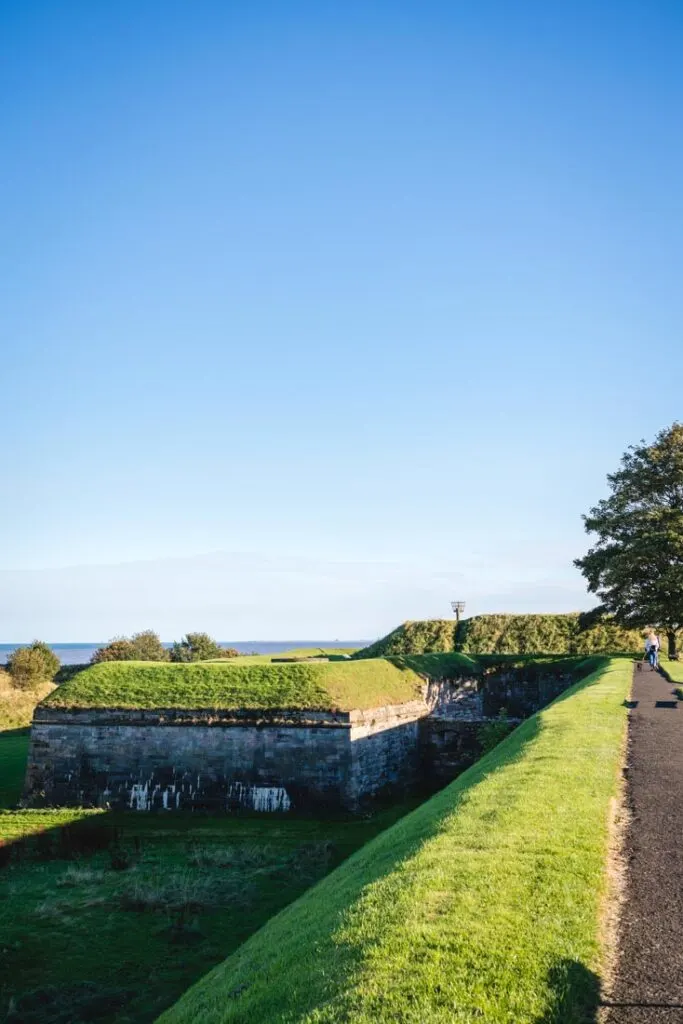 A great way of getting your bearings is walking around the Berwick town walls. At just over a mile long, it's a really relaxing walk with some stunning views of the North Sea and the Northumberland coastline.
Built over 450 years ago, Berwick's Elizabethan Walls are the only example of bastioned town walls in Britain, and one of the best-preserved examples in Europe.
When the walls were built in 1558 (originally to keep out the marauding Scots who regularly laid claim to the town), it was the most expensive project the crown of England had ever undertaken. Protecting the town was a very important thing for the country!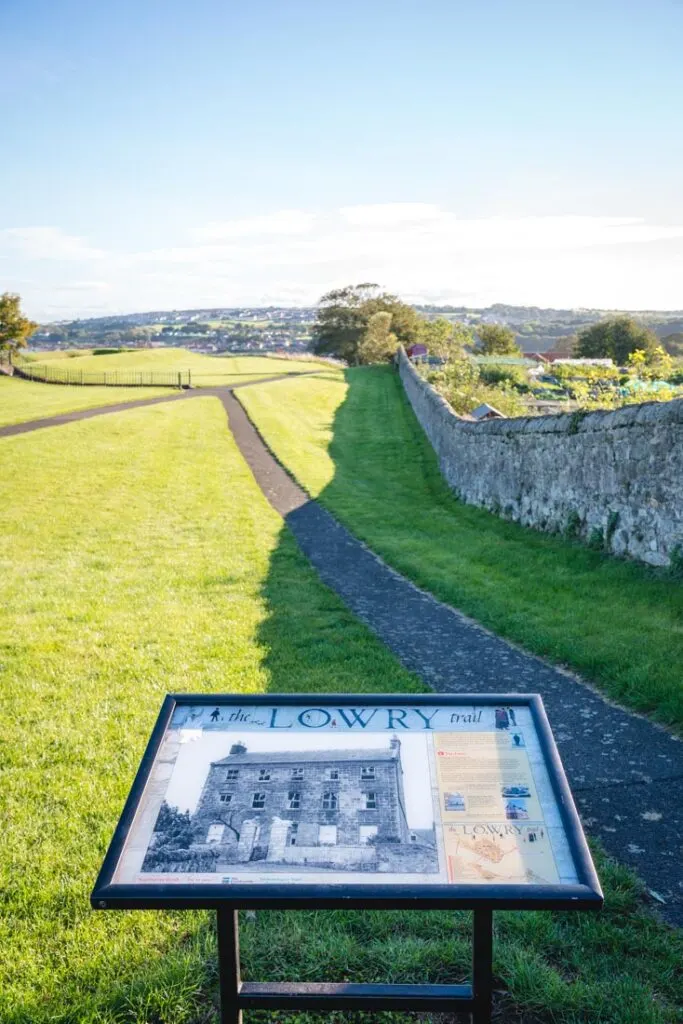 One of the best ways of seeing with walls is by following The Lowry Trail. This is a walking trail that follows the footsteps of famous artist L.S Lowry.
The ramparts completely surround the town, with four gates through which you can walk through to get into the centre of town.
Basically, no matter where you go in Berwick you'll walk the old town walls – it's just nice knowing the history of it!
Grab a coffee from Northern Edge Coffee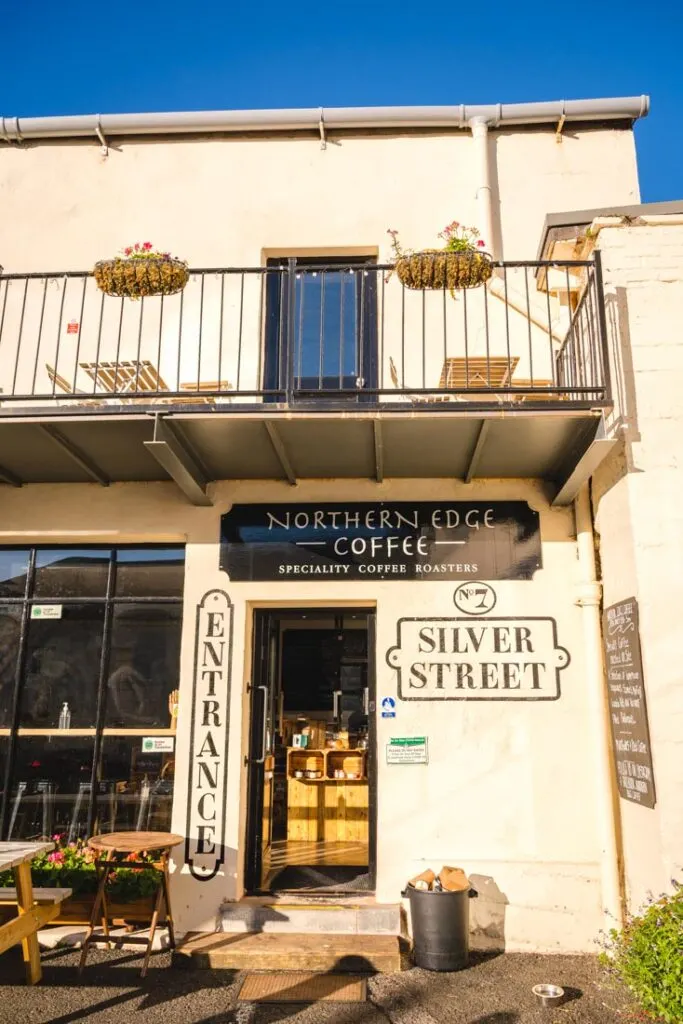 If you're looking for the best café in Berwick-up-Tweed, check out Northern Edge Coffee. This is a really cute place where they really take pride in their coffee.
Established in 2015, Northern Edge is a family-run coffee roastery and café. They roast all their coffee on site, so the coffee is always super fresh.
Also, if you like buying ground coffee or beans, then you'll be able to get that here too.
Northern Edge Coffee are also very committed to providing ethically sourced coffees from around the world, so they're doing their bit to ensure the farmers are getting paid well.
If you're mad about coffee, then make sure you add this to your Berwick-upon-Tweed itinerary.
Visit Berwick Pier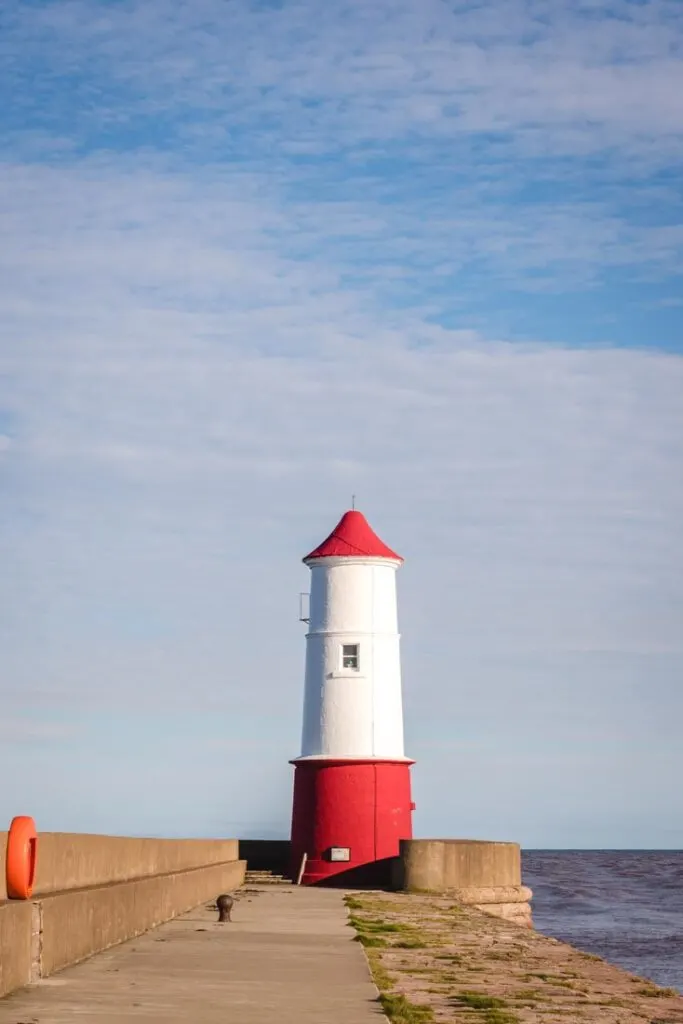 A very popular spot in town is walking by the water out to Berwick Pier. At the very end of the pier, you'll find this bright red lighthouse standing sentinel in the North Sea.
The pier was opened in 1826, and it has acts to protect Berwick Harbour from strong winds off the sea.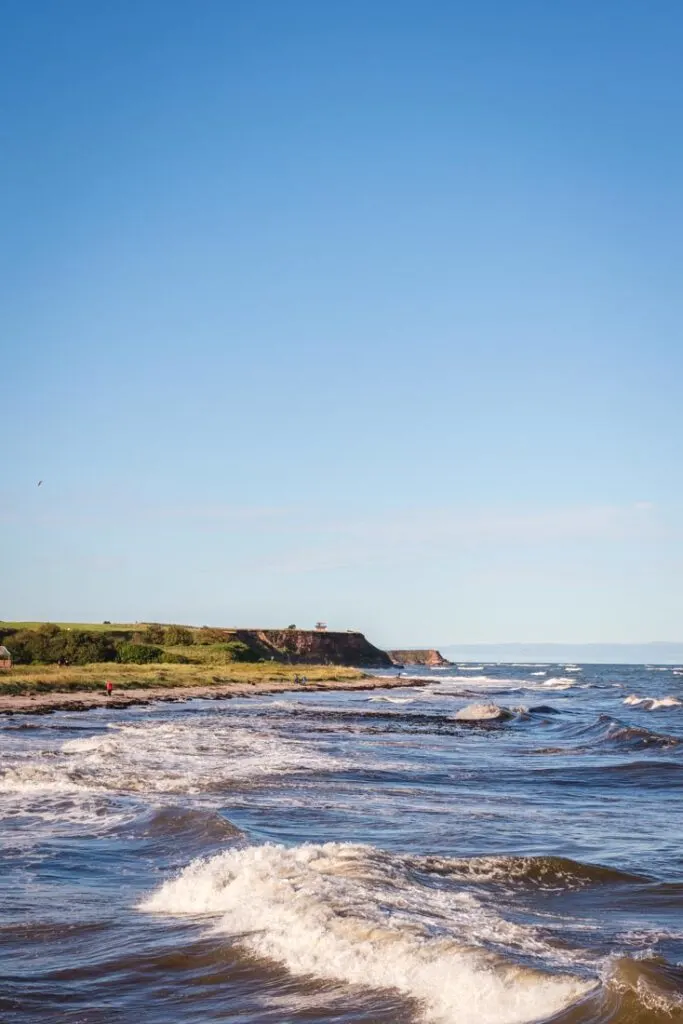 For me, I just loved watching the waves come crashing in. I find the ocean mesmerising, so this was one of my favourite spots in Berwick.
You also have great views of the Northumberland coast over at Spittal Beach too. If you've only got a day in Berwick-upon-Tweed then I'd really recommend visiting the pier. It really is one of the best beauty spots in Berwick.
Say hello to the seals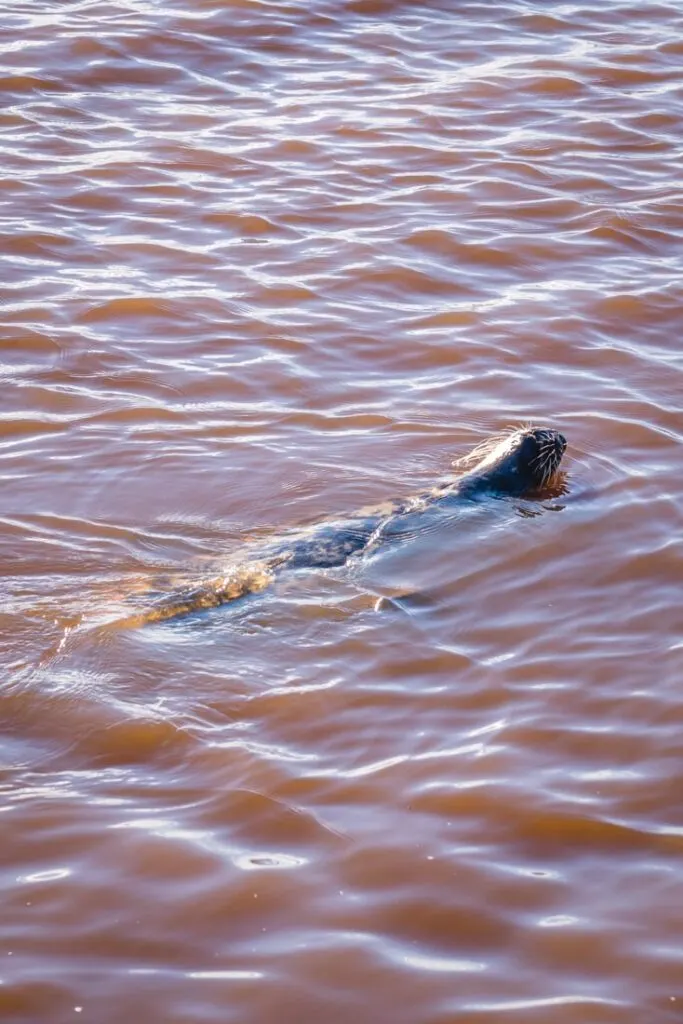 If you're lucky, keep an eye out for seals swimming in the harbour. As I was walking back towards town, I saw a couple of friendly seals who popped up to say hello.
It was such a lovely moment seeing the seals splashing around – it was almost like they wanted their picture taken or something!
Even though it's not that common seeing seals in the harbour, you can see other animals like otters, so keep your eyes on the water!
Berwick Boat Trips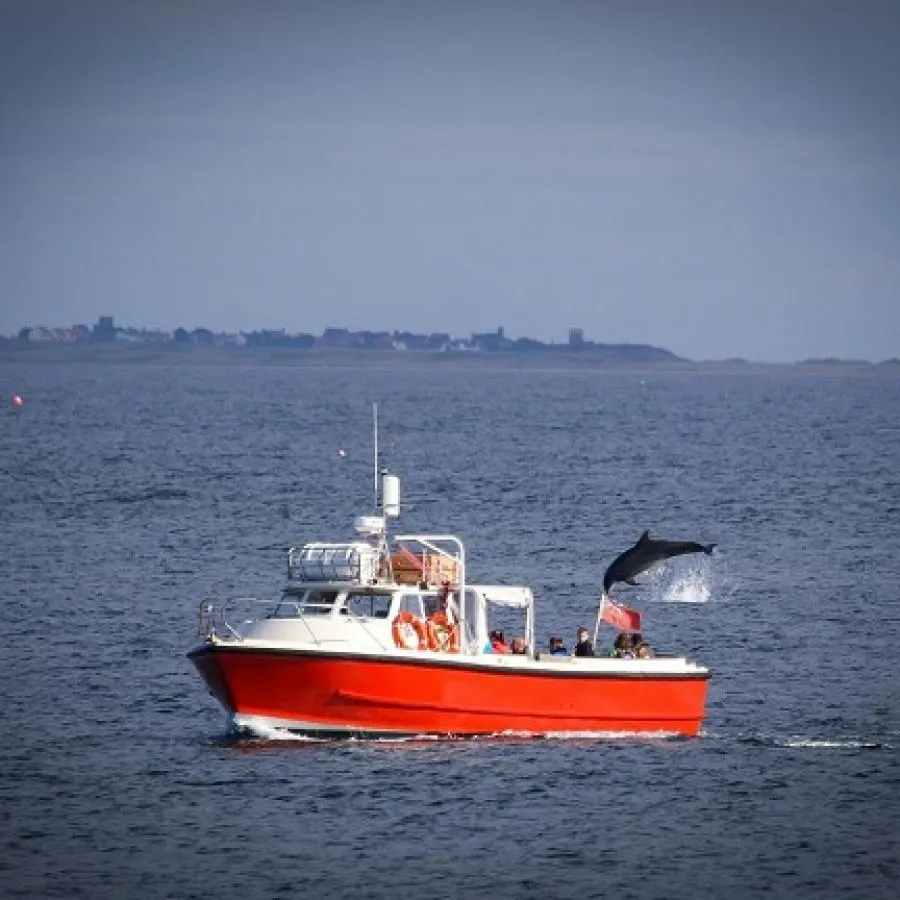 If you're wondering what to do in Berwick upon Tweed, then take a look at Berwick Boat Trips.
They have a few tours on offer. One of the most popular is sailing on the River Tweed with spectacular views of the historic town, passing through the Lower Bridges and out into the open countryside. This is a 1 hour tour that costs £12 for adults and £9 for kids under 15.
Another very popular trip is going the other way out into the North Sea. On this trip it's all about taking in those views of the coastline. Also, there's a very good chance of seeing dolphins on this tour which makes for such an amazing experience.
Berwick Boat Tours is definitely up there with the top things to do in Berwick-upon-Tweed.
Wander around Foldyard Art Gallery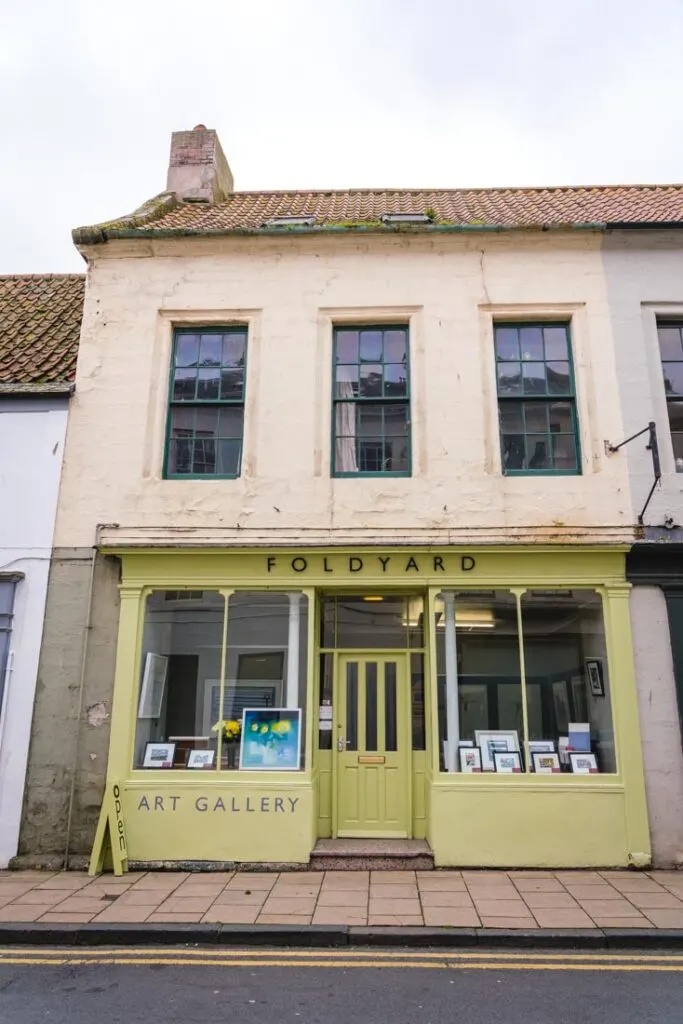 Owned by artists Dave Watson and Morag Eaton, Foldyard is a really kitsch art gallery that celebrates local talent.
A lot of the prints they sell here are of Berwick and the surrounding area. They also have other local artists who paint landscapes.
A lot of the prints are very bright and colourful which I just loved. I thought a print would make such a nice memento of your time in Berwick.
Have dinner at Foxtons Wine Bar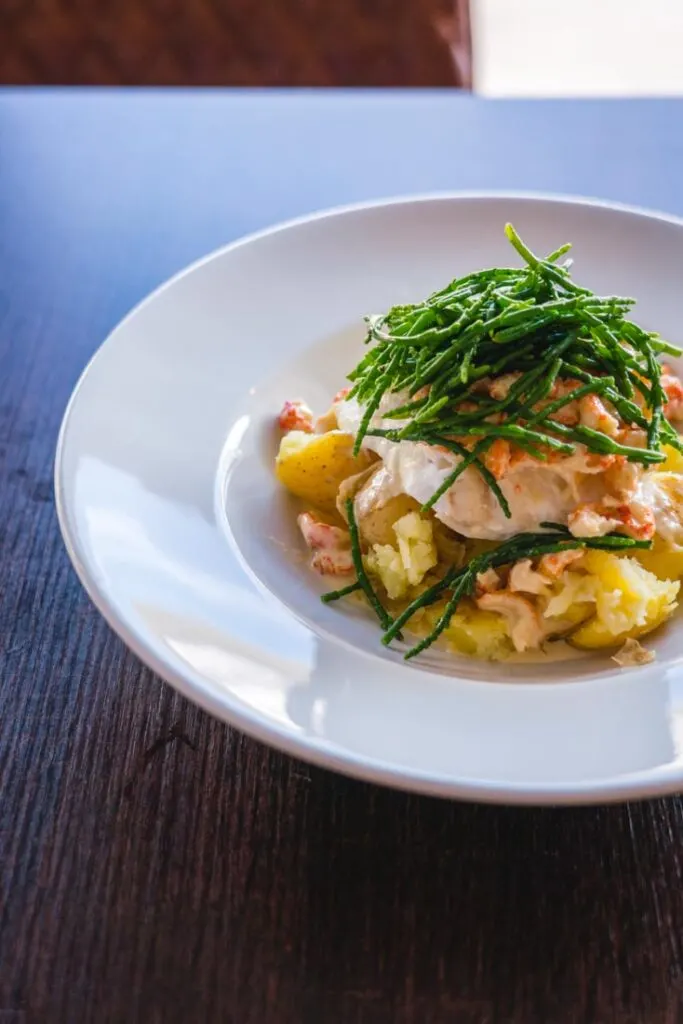 When I was looking up the best restaurants in Berwick, Foxtons Wine Bar kept on coming up. This is an amazing restaurant in the centre of town with a really charming atmosphere. When I walked in, it was one of the busiest places in town, so that's always a good sign!
The meat comes from legendary local butchers RG Foreman, and the seafood is supplied by Ross Dougal of Eyemouth, Berwickshire.
I found it hard between choosing meat or fish, so I went for both.
For starters I had the chorizo, onion and tomato bruschetta which was lovely.
Then I had the cod loin on a bed of crushed new potatoes, samphire, with a crayfish and white wine sauce. It was genuinely one of the best fish dishes I've had in a very long time! If you're looking for an amazing place to eat, then definitely add this to your Berwick upon Tweed itinerary.
Berwick Barracks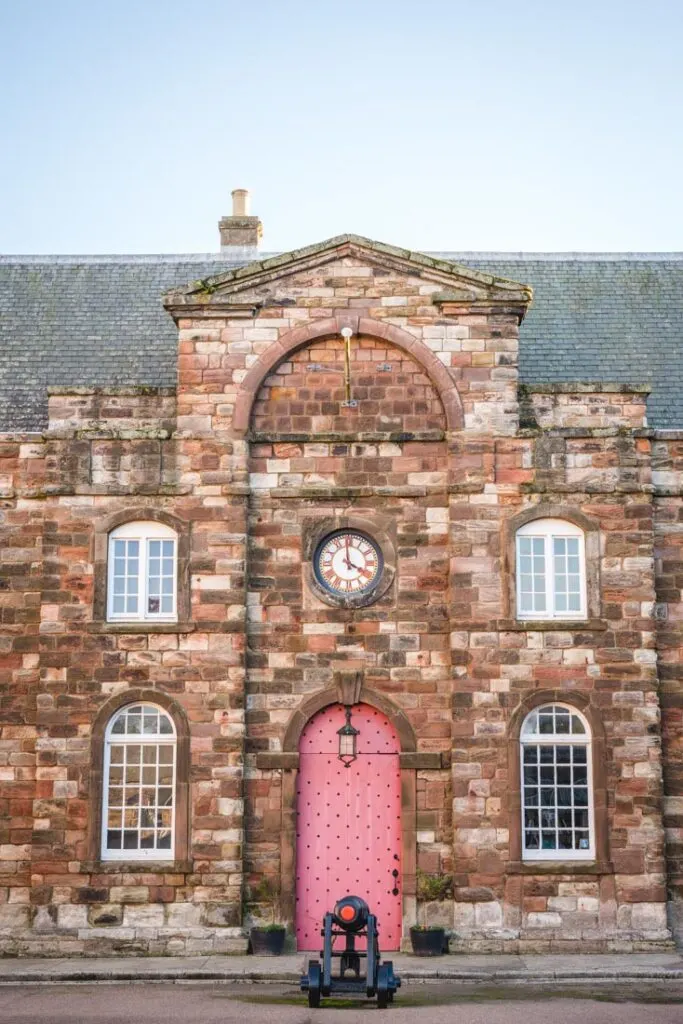 As I've already mentioned a few times, Berwick-upon-Tweed has been fought over a number of times by England and Scotland, so it's no surprise there's such a big barracks here.
For centuries, Berwick was a garrison town. Designed by Nicholas Hawksmoor in the 18th century, Berwick Barracks were among the first purpose-built barracks in England.
Before the barracks were built, soldiers were housed in pubs and local houses, so when they finally built the barracks, they were a big hit with the townspeople.
Berwick Barracks were in use for over 200 years, right up until 1963. At that point the chances of Scotland attacking again were slim. Hopefully that's still the case today!
Also, within the walls of the barracks are The King's Own Scottish Borderers regimental museum and the Berwick Museum and Art Gallery.
Tickets cost £6.90 for adults or £16.90 for the family (2 adults, 3 children).
Take a tour around the town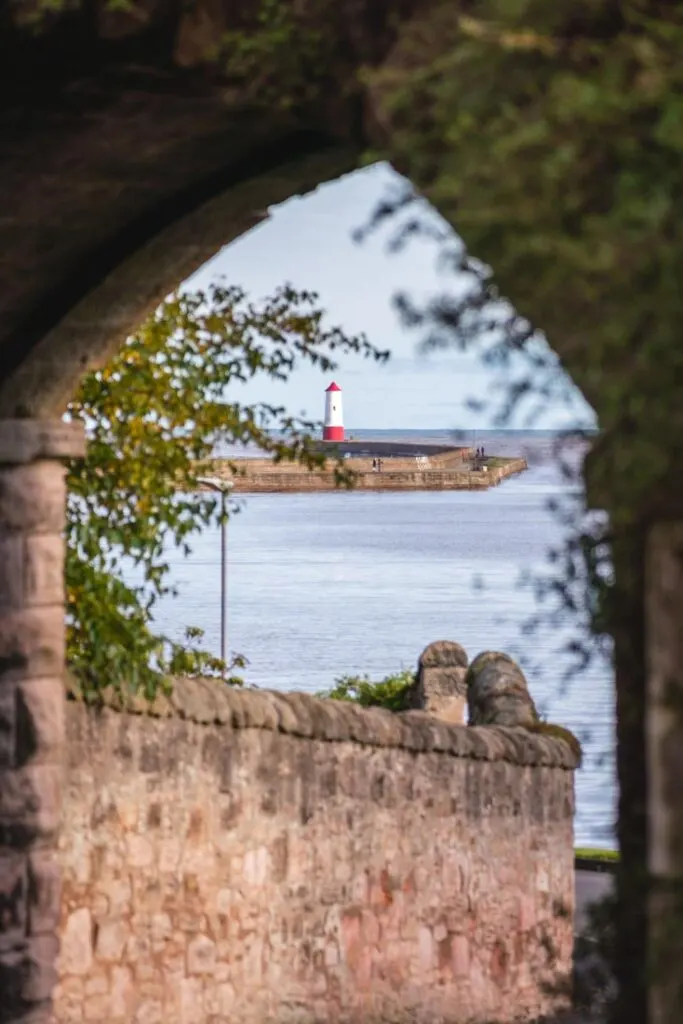 If you want to learn more about the extensive history of Berwick, I really recommend getting in touch with Jim from BerwickTimelines. He's lived in the town for over 40 years, and he's an expert on the history of the town.
I met up with Jim early evening and we went for a walk around Berwick. It was fascinating hearing so many stories about the place, and he really bought the history to life.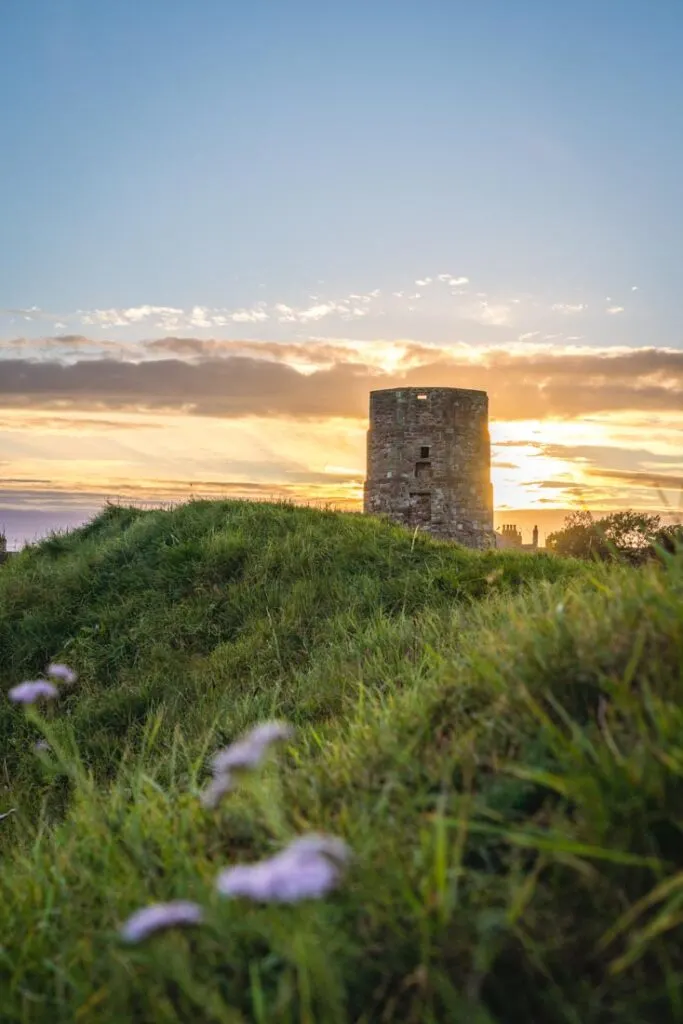 My favourite spot was Lord's Mount and the Bell Tower.
Lord's Mount is a great artillery fortification that's thought to have been helped designed by King Henry VIII himself. Apparently they couldn't afford to do his designs though, so settled for something a little smaller!
The Bell Tower was cool too, especially at sunset. For me, this was one of the most beautiful places to visit in Berwick-upon-Tweed.
---
This post was in association with Visit Northumberland promoting some of the fun things to do in Berwick upon-Tweed. As always, views are entirely my own and without bias.
Are you planning on visiting Northumberland? Let me know if you have any questions in the comments below and I'll get back to you!
Like this post? Then make sure you Pin it for the future!