Looking for the best things to do in York for couples? From York's Chocolate Story to the Shambles, this is how to have a romantic weekend in York!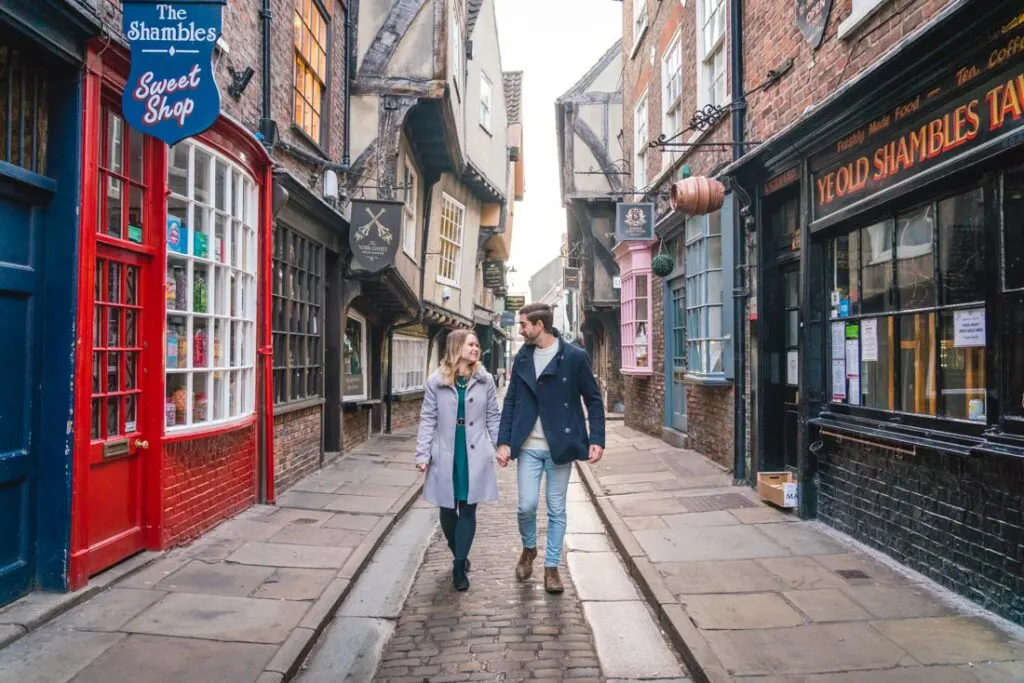 When Chloe said she wanted to go away for a couple of days, she immediately knew where she wanted to take me. My requirements were a train ride out of London, old-fashioned cobbled streets, cute cafes, delicious food, and a few fun activities thrown in there too. The answer – York.
Well, after spending a couple of days there, I can say York really does tick all the boxes! There really are so many romantic things to do in York for couples, and this is the perfect place for a UK staycation.
Whether you're a local looking for something different to do, or visiting the city for the weekend, I really hope this blog post helps when planning your trip to York.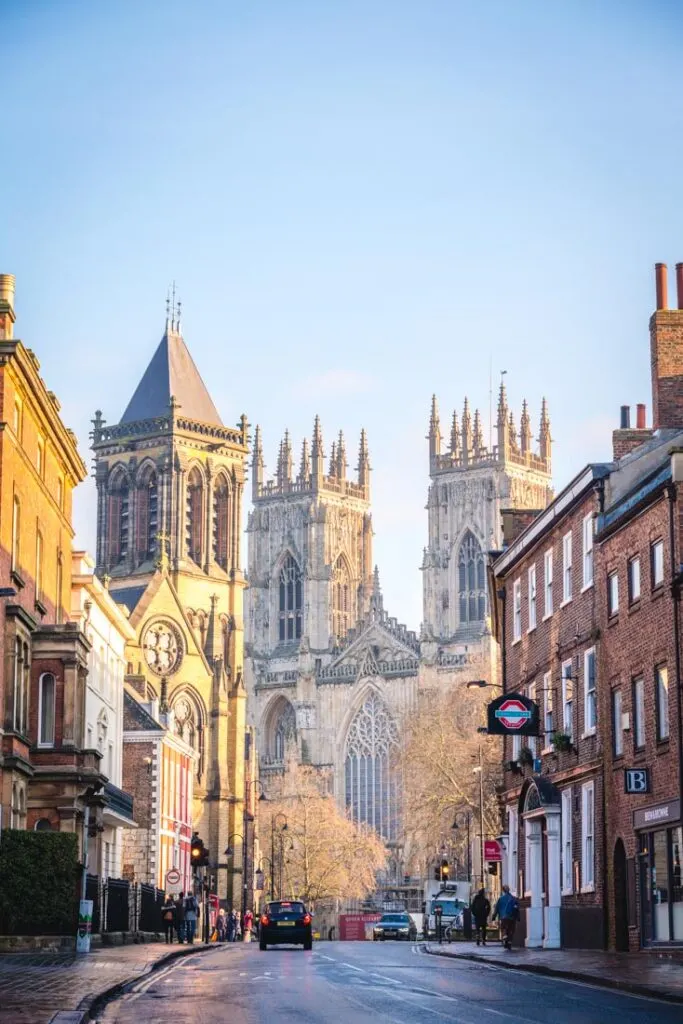 No other city in northern England says 'medieval' quite like York. From Romans to the Vikings, this city is teeming with history wherever you look.
Surrounding the city are the old 13th century walls. Within these, York is a maze of narrow streets and wonky buildings. There's hardly a straight line anywhere.
Right in the heart of the city you'll find the majestic York Minster cathedral. This is one of the most beautiful Gothic cathedrals in the world, and popping in is a must on any York itinerary.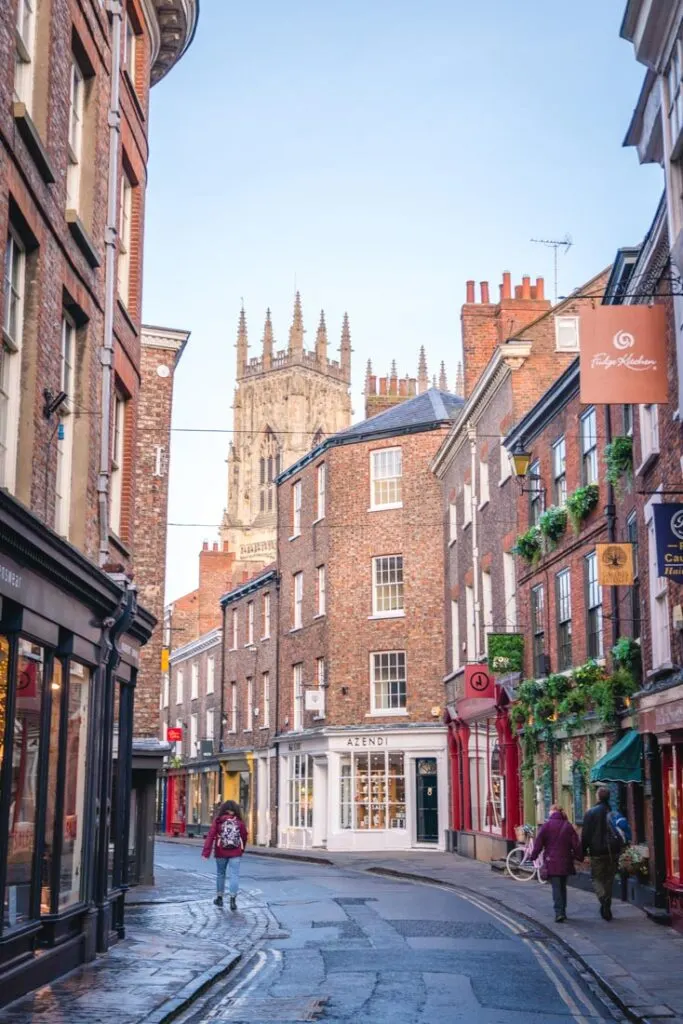 Also, no trip to York would be complete without wandering along the Shambles. This has been voted as the prettiest street in Britain, so it's perfect for a romantic weekend in York.
If you're looking for other things to do in the city with your partner, then here are my top fun things to do in York for couples.
I really hope you love this city as much as we did!
Getting to York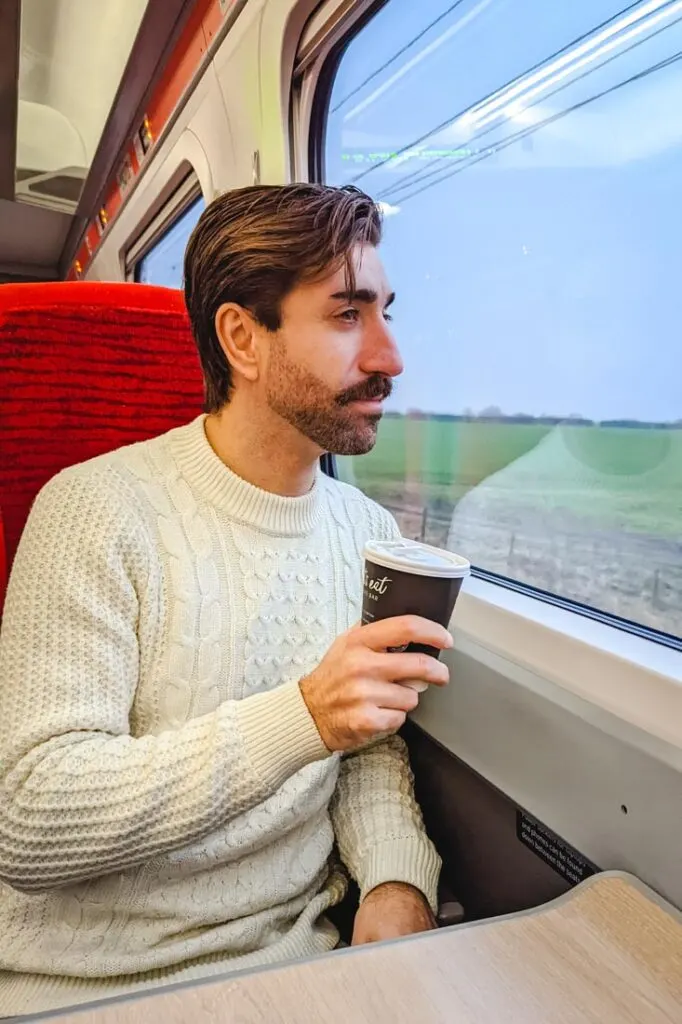 From London, getting to York is super easy.
You might be tempted to drive; don't! The National Rail train is so much quicker and easier.
Driving will take you around 4 hours, will cost £100 in petrol, and it's bad for the environment too. In comparison, the train only takes 2 hours, the tickets work out cheaper, and it's more environmentally friendly. It's a no brainer, isn't it!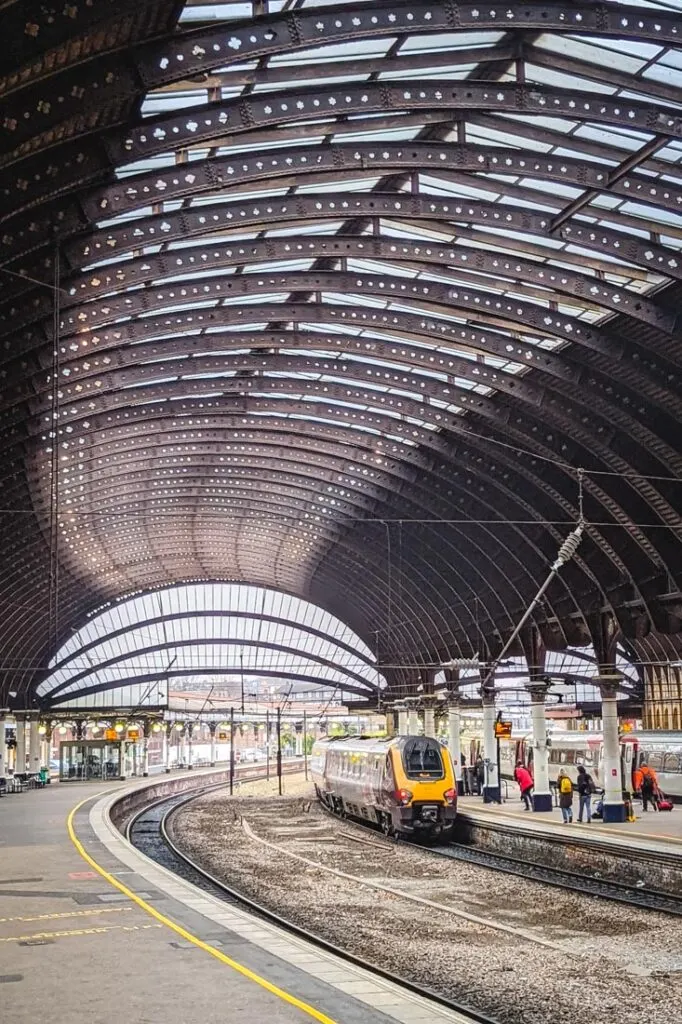 We got a Two Together Railcard before our trip which is 100% worth buying if you travel often with the same person. It saves up to 1/3 on train travel when you're travelling with that person, and only costs £30 for a year.
As an example, for this journey, our tickets were reduced from £118.80 to £78.30 using our Two Together Railcard. That's a saving of £40 on this one trip alone. So, we've made the money back already just on this one trip!
---
Romantic Things to do in York for Couples
The Shambles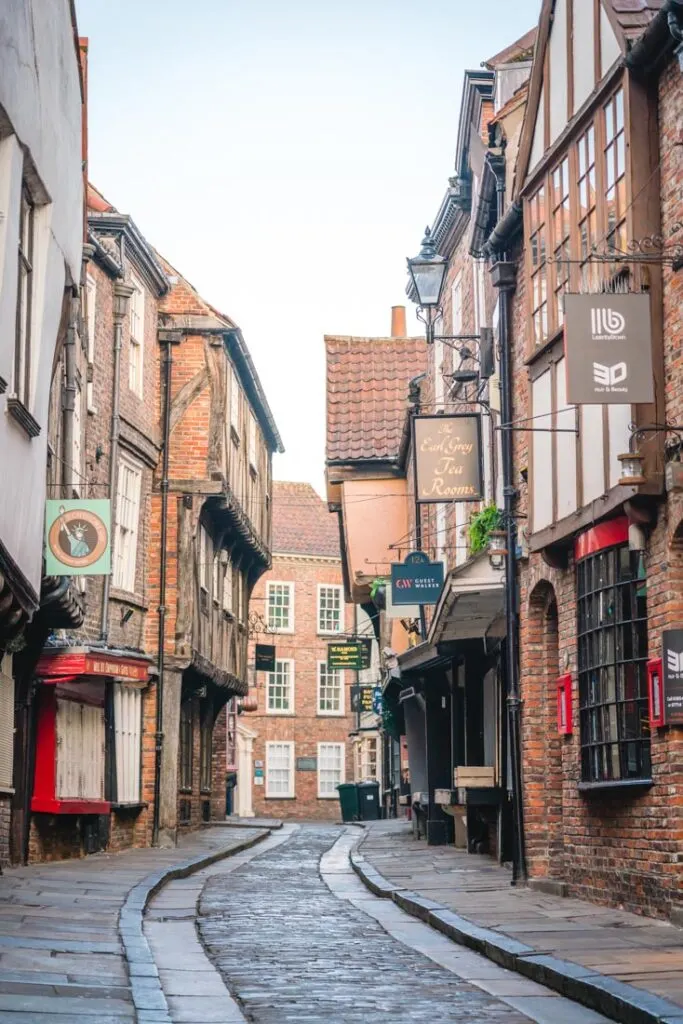 Ahhh the Shambles. This was the place I was most excited about seeing on our trip to York.
The Shambles is one of York's most famous landmarks and one of the best-preserved medieval shopping streets in the world. Many of the buildings on the street today date back to the late fourteenth and fifteenth century (around 1350-1475).
The history of the Shambles is a bit gruesome. The street was once known as The Great Flesh Shambles (from the Anglo-Saxon Fleshammeles, or 'flesh-shelves'). This nickname comes from the shelves that butchers used to display their meat for sale.
As recently as 1885, there were 31 butcher shops lined along this street. There aren't any now which means things are a lot cleaner and tidier, but the history is fascinating.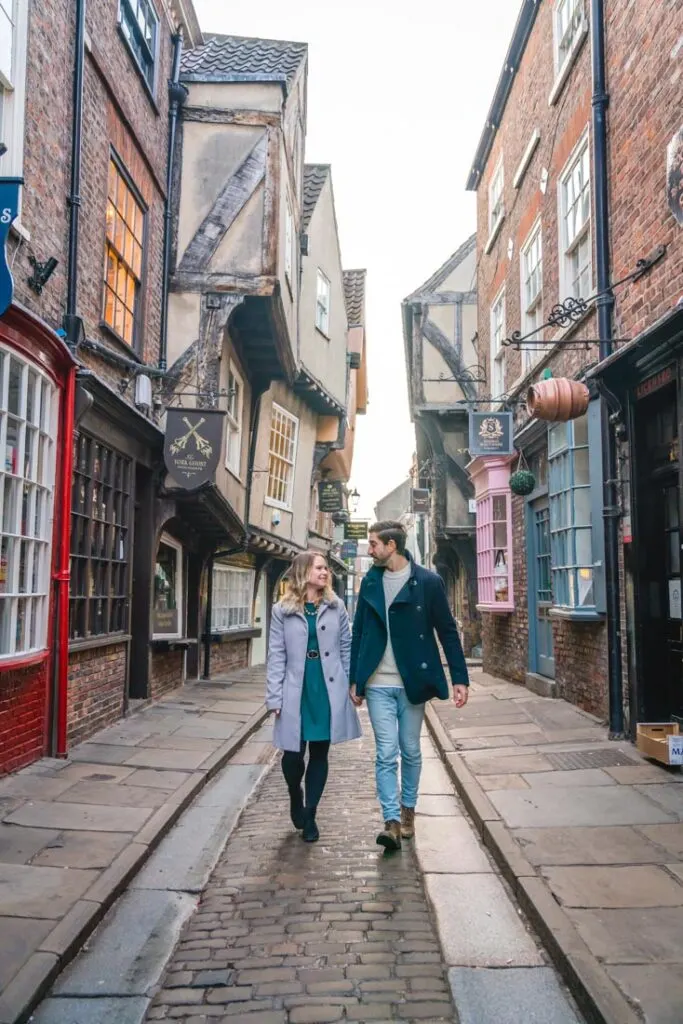 Today, the Shambles is lined with boutique shops, bakeries, jewellers and tea emporiums.
Being one of the top sites in York, this place can get very busy during the day, so if you want the street to yourself then come here very early in the morning. We got here at 7:30am and we were the only ones around which was nice.
Also, this street just screams Harry Potter, doesn't it? Even though it wasn't filmed here, apparently the street was the inspiration for Diagon Alley in the movies. How cool is that Harry Potter fact!?
If you love Harry Potter, then check out this Harry Potter tour of York!
Hole in the Wand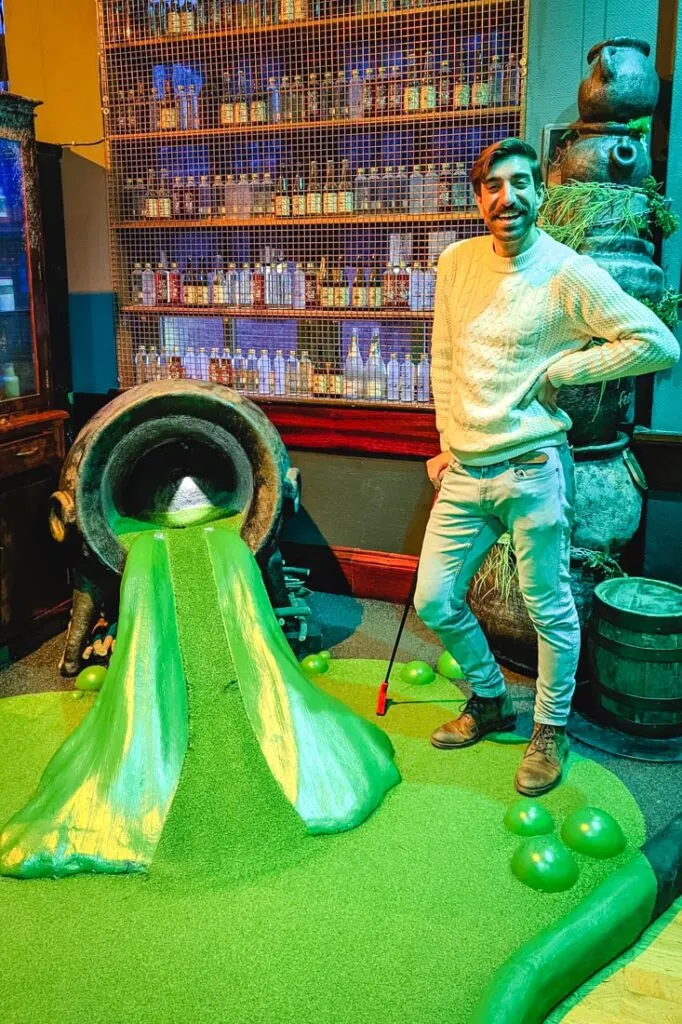 Calling all witches & wizards! There's a Harry Potter themed mini-golf adventure at the Hole in the Wand and it's absolutely magical!
Chloe & I always love crazy golf courses when we're exploring a new city, and this is one of the best we've ever played.
From the first hole to the last, everything is done so well. Even if you're not a Harry Potter fan (like Chloe!), you'll still love it.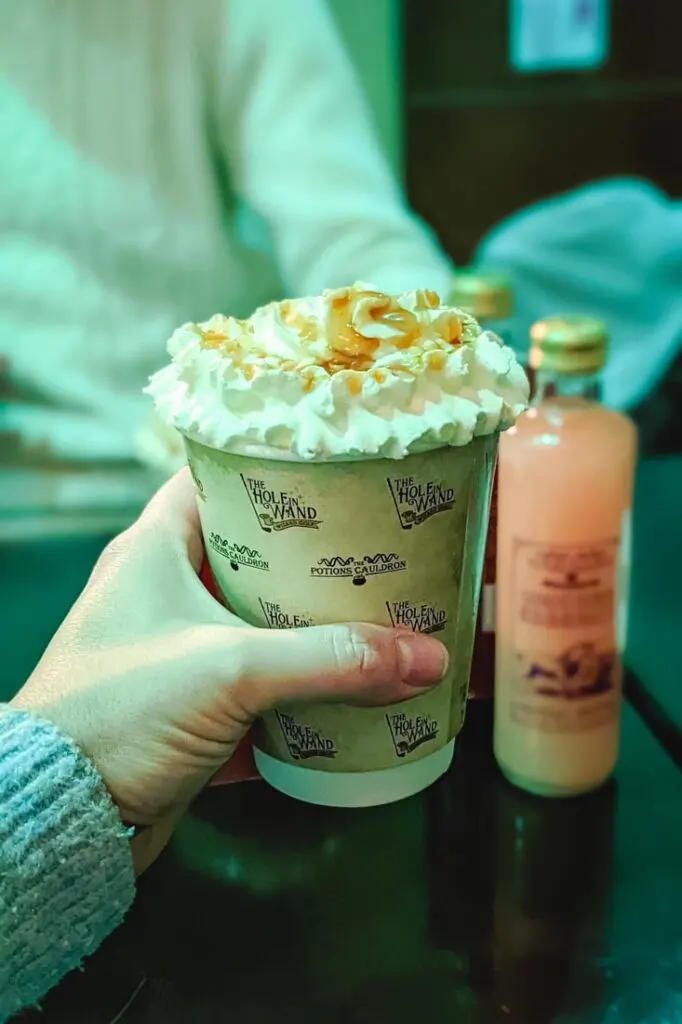 Split over two levels, there are nine enchanting holes to play. There are a fair few surprises thrown in there too.
When you've finished, you get a magical potion to take away, or you can pop to the café for a Butterbeer and chocolate frog.
I think kids would adore this activity. Though saying that, it was mainly full of adults on dates like us, so maybe I'm wrong!
York's Chocolate Story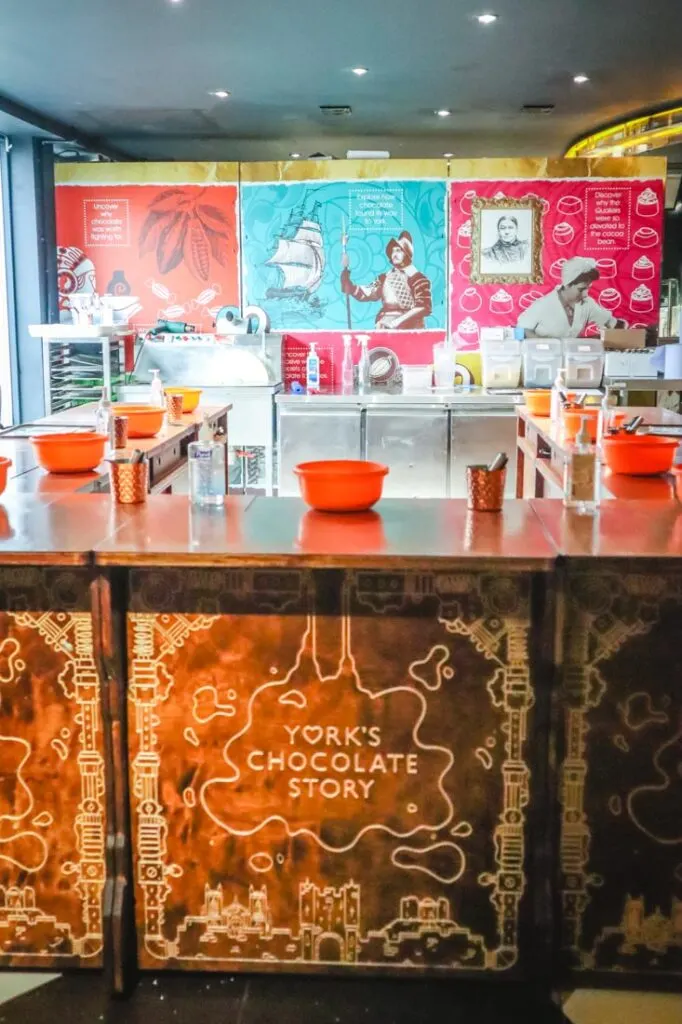 Did you know York is one of the most important cities in the world for chocolate? Nor did I till I went on York's Chocolate Story!
York is home to the Aero, Terry's Chocolate Orange, the Yorkie bar (which makes sense), and the infamous Kit-Kat. Apparently, the Kit-Kat has been officially recognised as the world's best chocolate bar, and it all started in York.
How about these as some stunning stats. Over 6 million Kit-Kats are produced in York EVERY DAY! That means over a billion are produced every year!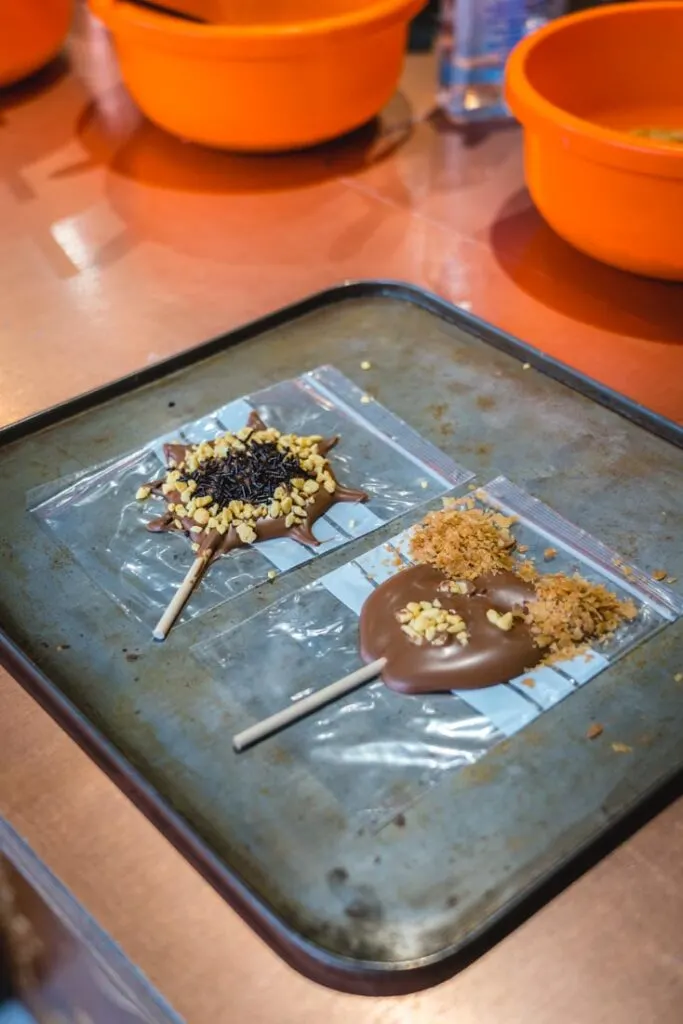 York's Chocolate Story takes you on 3,000 years of chocolate history, including the birthplace of Rowntree's and Terry's.
This is a very interactive tour and the guides are absolutely brilliant at bringing everything to life. As well as sharing York's story of chocolate, you also learn where chocolate comes from, how to taste it and how to make it.
Obviously no chocolate tour would be complete without eating lots of chocolate, so at the end of the tour you get to make your own chocolate lollies to take away. Oh, and there are a few other sample chocolates for you to take away too. You definitely won't be short of chocolate!
Pairings Wine Bar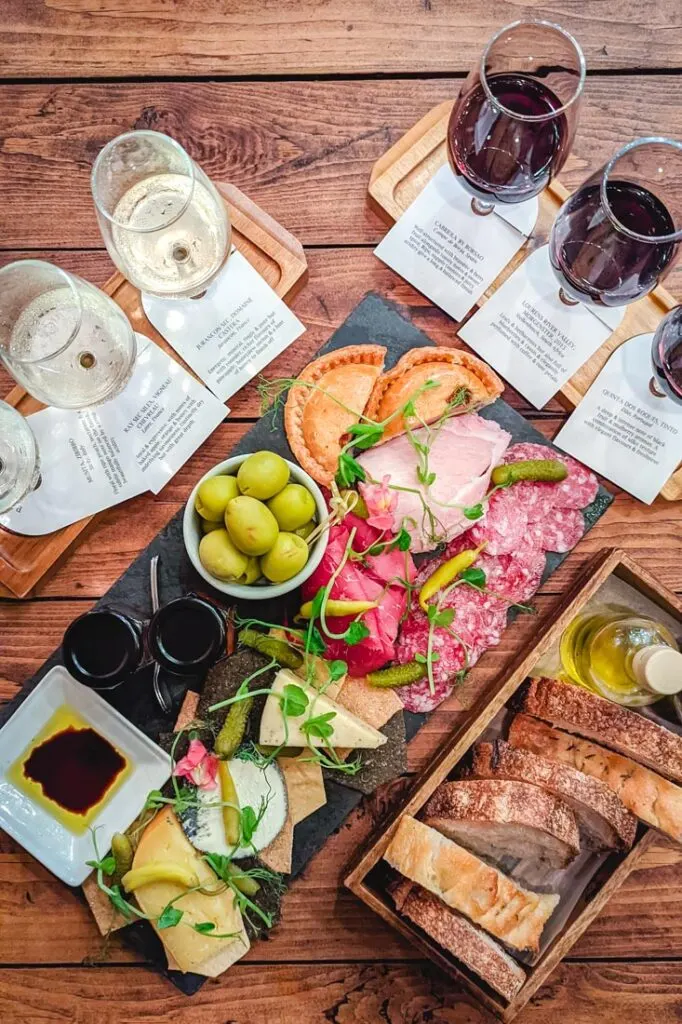 Cheese and wine? What more could you want from date night! For me, this is without a doubt one of the best things to do in York for couples.
If you love cheese and wine (and let's be honest, who doesn't), then Pairings Wine Bar is the place for you. We came here for dinner, and it was one of the most enjoyable meals I've had in a long time.
Pairings specialises in cheese boards and charcuterie platters, all perfectly paired with red and white wines.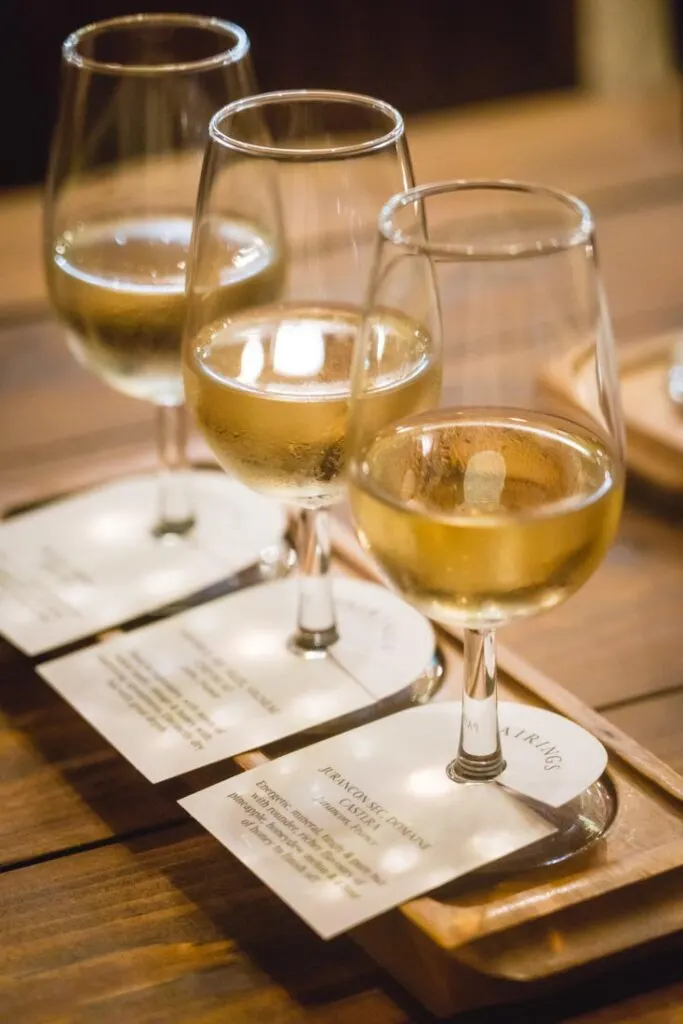 Chloe & I shared the giant deli platter which came with 3 cheese, 3 meats, a pork pie, olives, pickles, breads, crackers and chutneys. It's basically the best sharing board you've ever had.
We also shared a white wine flight and red wine flight. There was a white wine from Sicily that I absolutely adored. I really can't recommend this restaurant enough! If you're looking for date ideas in York, look no further that this one.
York Dungeon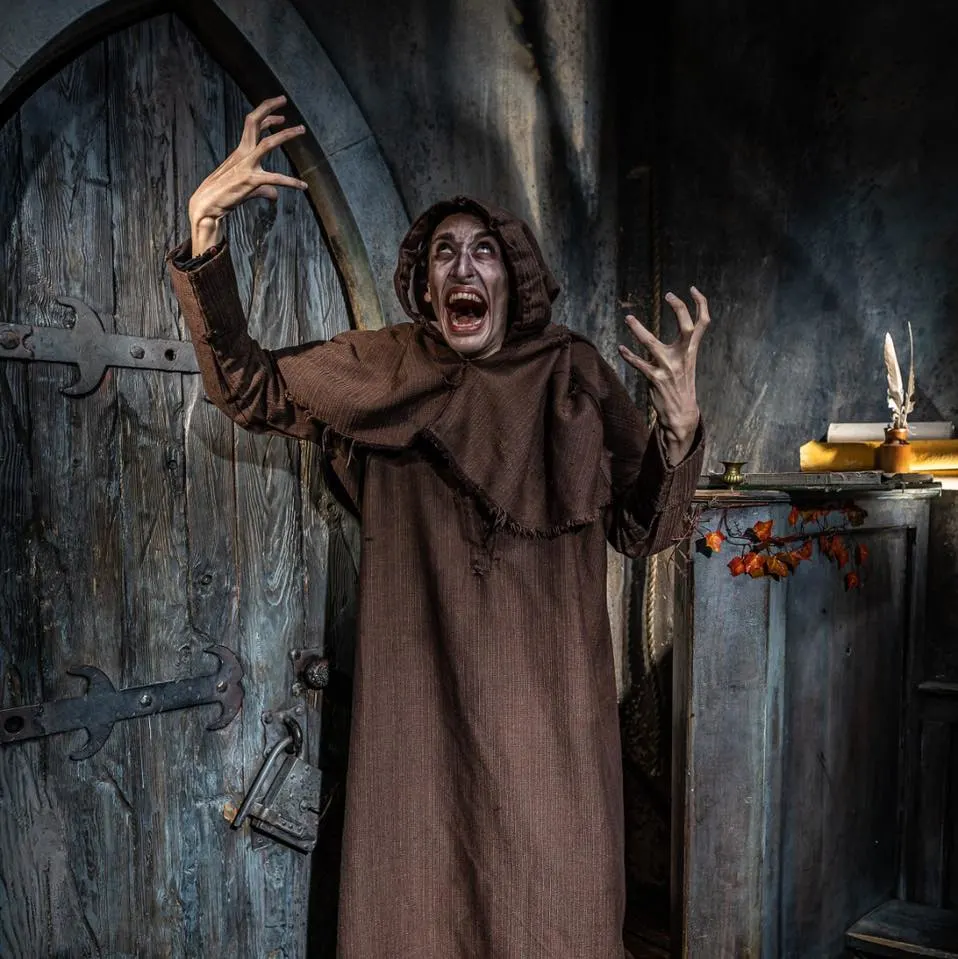 As Chloe kept on saying, this was one of those activities she did out of love.
I love fright nights and horror stories; Chloe detests them. As in, really REALLY detests them. It was only after begging her that I didn't want to do it on my own that she agreed to come along.
As you'd expect, York Dungeon isn't for the fainthearted. From the Vikings to the burning of witches, it goes through the ghastly history of York, all with an aim of scaring you.
All the actors really bring the stories to life, and they're very willing to pick on people. I was a Viking, I was tortured, and I also had my head cut off.
My favourite bit was the Curse of the Witch, a story based on the infamous Isabella Billington, from Pocklington. I won't say too much, but be prepared to jump out of your skin.
Also, I've got an amazing money saving tip for you. If you travel up to York via National Rail, you can get 2FOR1 tickets when you pre-book beforehand. That means you'll save over £20 off your York Dungeon tickets!
Walk the old city walls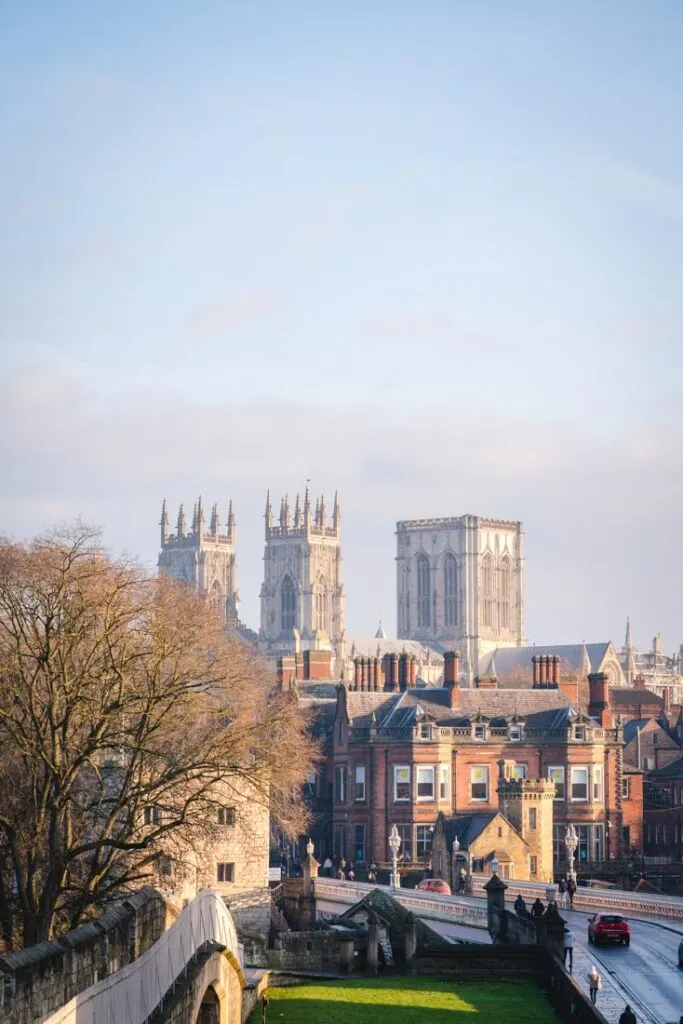 One of the best free things to do in York for couples is to walk the old city walls.
At 3.4km long, the beautifully preserved walls are the longest medieval town walls in England. The walls were initially built in the 13th century which is hard to believe because they are in such good condition.
Walking the whole length of the walls takes about an hour, especially if you're like me stopping for lots of photos along the way. When it's a bright sunny day though, it's such a peaceful activity.
The Friends of York Walls provide an online guide to York's City Walls Trail which covers the location of the walls, access points and many maps and pictures.
Arras Restaurant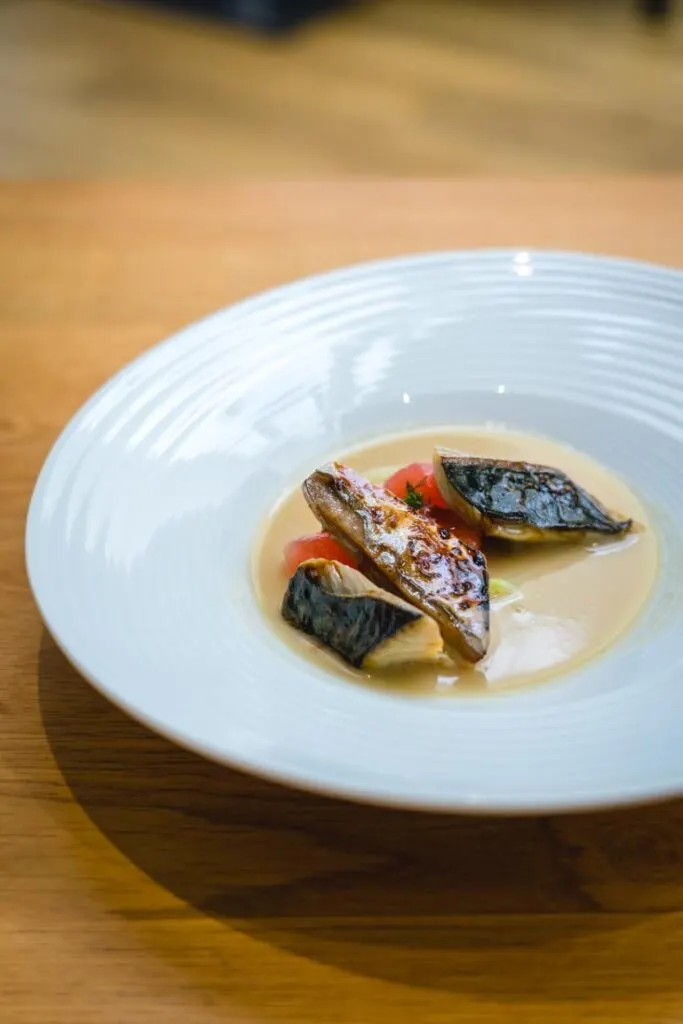 When researching the best restaurants in York, Arras kept on popping up. This place is recommended in the Michelin guide, and they offer well-priced modern menus with very creative cooking.
The restaurant itself is very bright with an enclosed terrace hidden away at the rear. I wish it was summer so we could sit outside – it really is such a lovely space.
For the food itself, they do a 2-course menu for £25 or a 3-course menu for £30, both of which are fantastic value for money.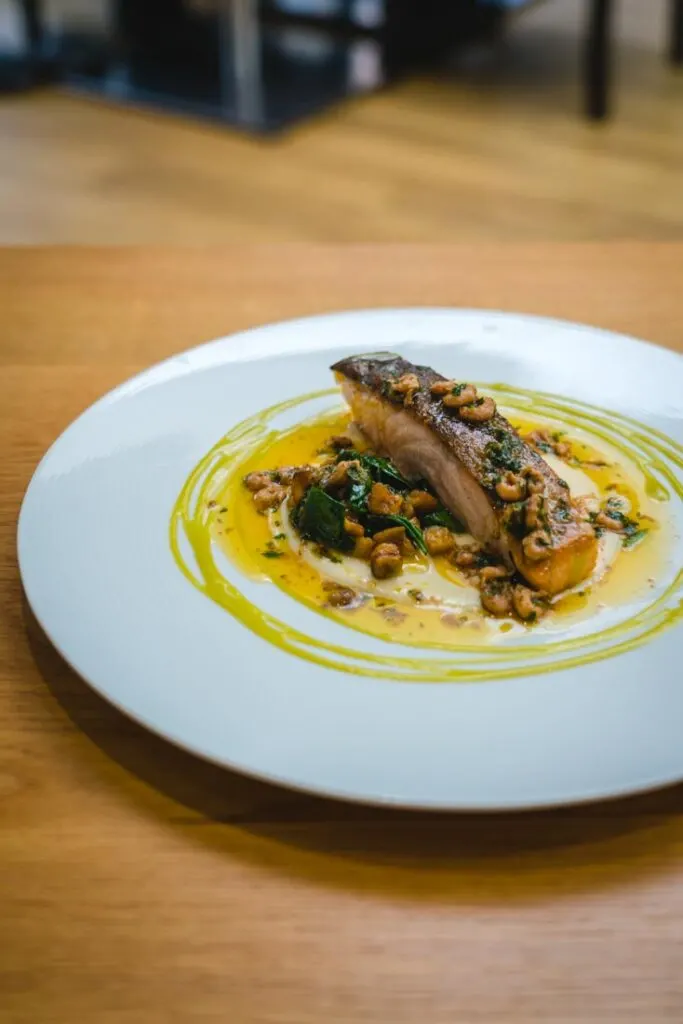 For starters, I had the grilled mackerel with pickled watermelon, courgette ribbons and a mackerel velouté. I'm not going to lie, it was delicious.
My main was grilled salmon with a beurre noisette, brown shrimp, celeriac puree, celeriac cubes and a lovage oil. It was as subtle as the starter but it was still top-quality cooking.
If you're looking for a lunch spot for your romantic weekend in York, I would definitely recommend Arras.
York Minster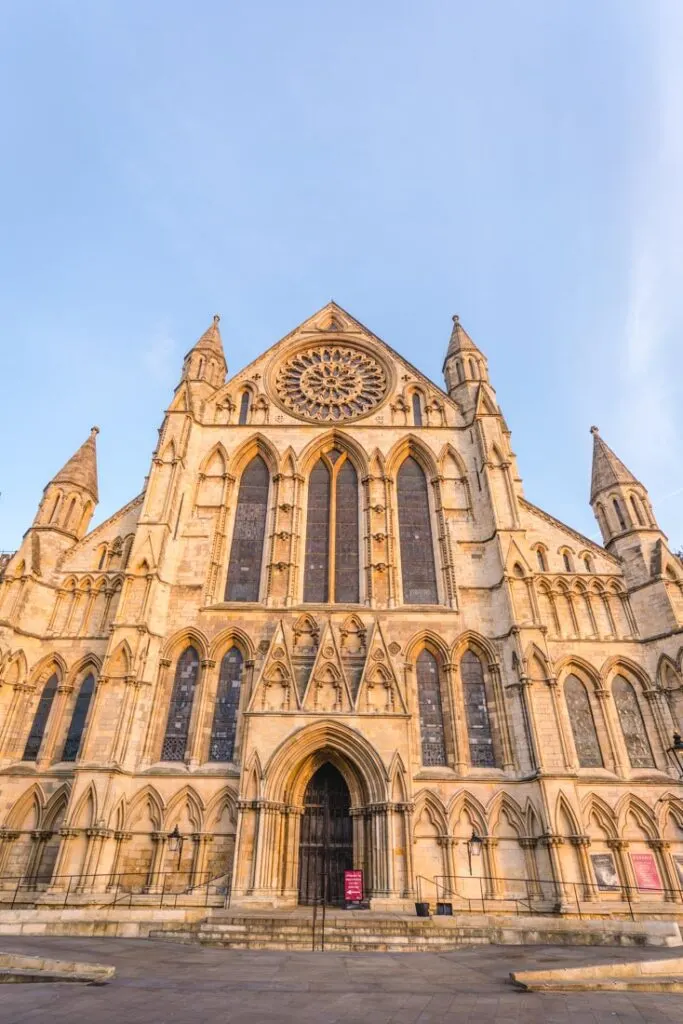 I know visiting a cathedral isn't exactly the most romantic thing to do on a weekend away, but it's almost impossible coming to York without seeing York Minster.
It may be beautiful on the outside, but this cathedral is even more breathtaking on the inside. Constructed between 1230 and 1472, it's one of the best examples in the world of Gothic architecture. You can learn all about the facts of York Minster here.
The best thing to do is wander around and marvel at the symmetry and the stained-glass windows. There are definitely a number of them dotted around the church.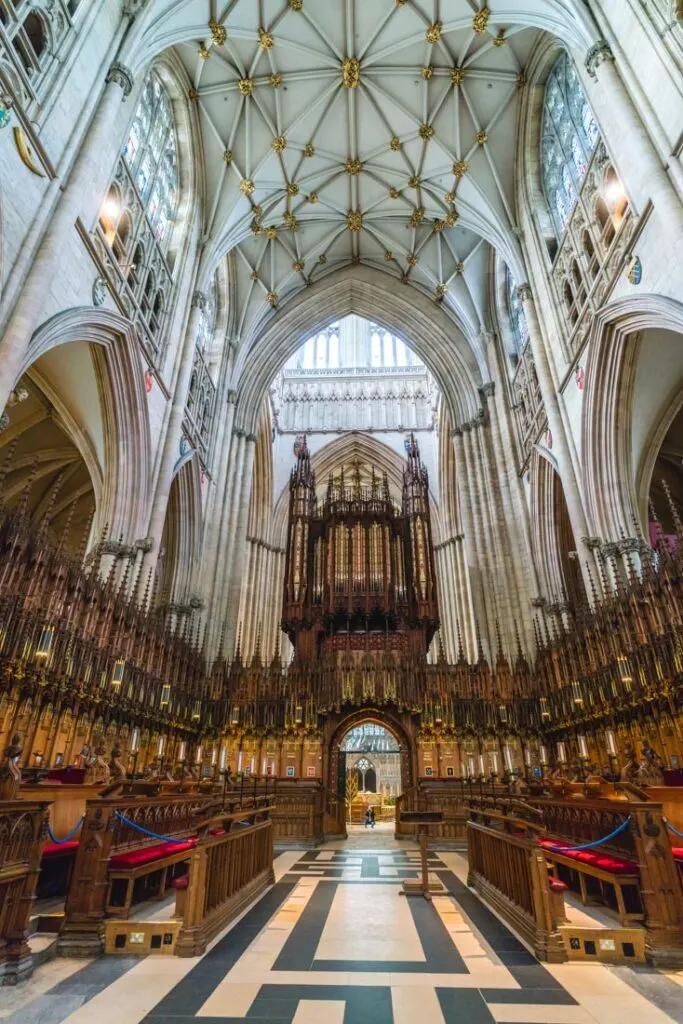 You can also book tickets to climb to the top of the cathedral.
York Minster's impressive tower is 233 feet tall (71m), making it the tallest spot in the entire city of York. Once you reach the top, you'll be able to see the cathedral's impressive gargoyles and carvings up close.
Tickets for York Minster cost £11 for adults (seniors and students £9, children free), or if you include the tower ticket it costs £16 (seniors and students £14).
Go shopping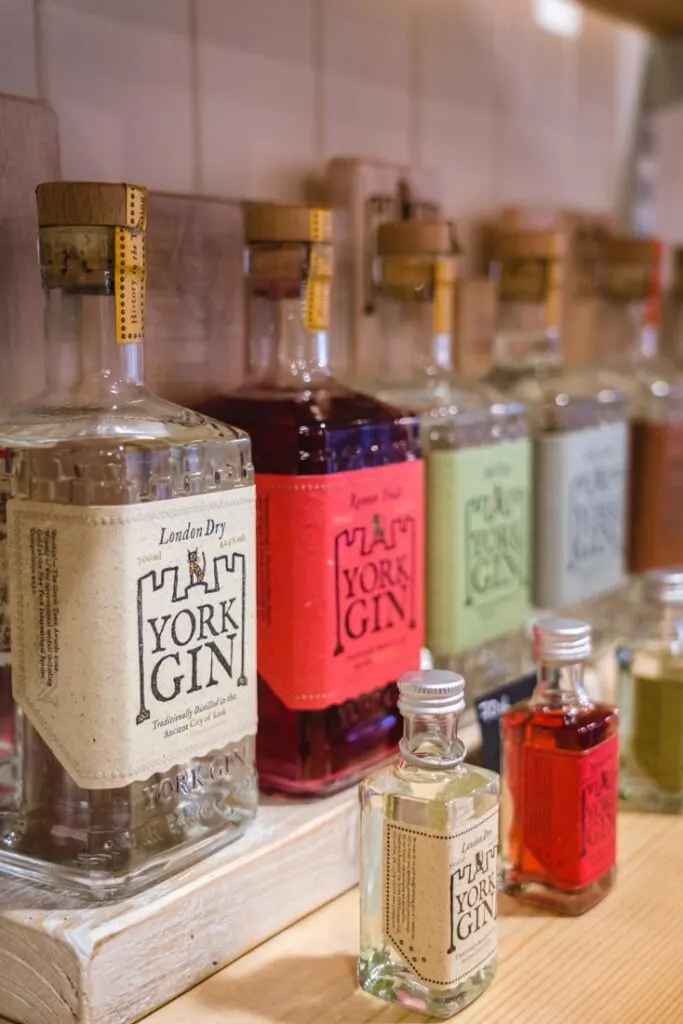 One of the things I really enjoyed about York was wandering around peering into a few shops.
From Harry Potter themed shops like The Potions Cauldron and The Shop That Must Not Be Named, to shops like York Gin and Totally Awesome, there is something for all types of shopaholics here.
For me, I enjoyed walking the cobble-stoned streets and seeing all the old wonky buildings. It's mad when places like Pizza Hut are in one of the oldest shopfronts in York!
The National Railway Museum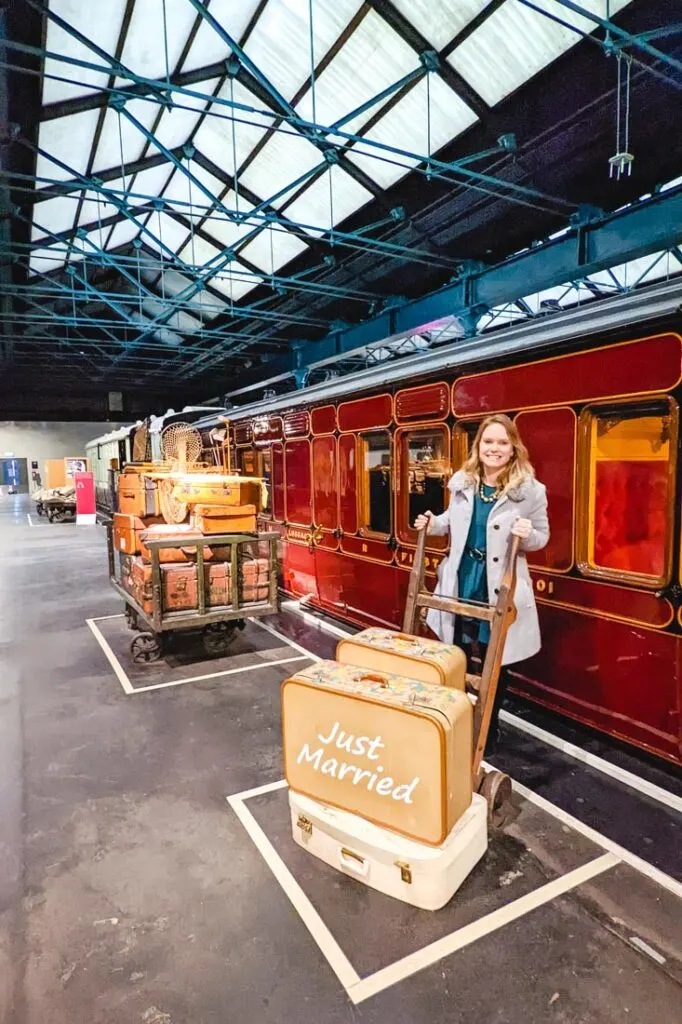 The National Railway Museum is a journey through time. From the first locomotives to superfast bullet trains, this museum is a celebration of over 200 years of history and how railways have shaped our world. You can even get up close to the Mallard, the world's fastest steam locomotive.
There are over 100 locomotives here, so you're definitely not short of things to see.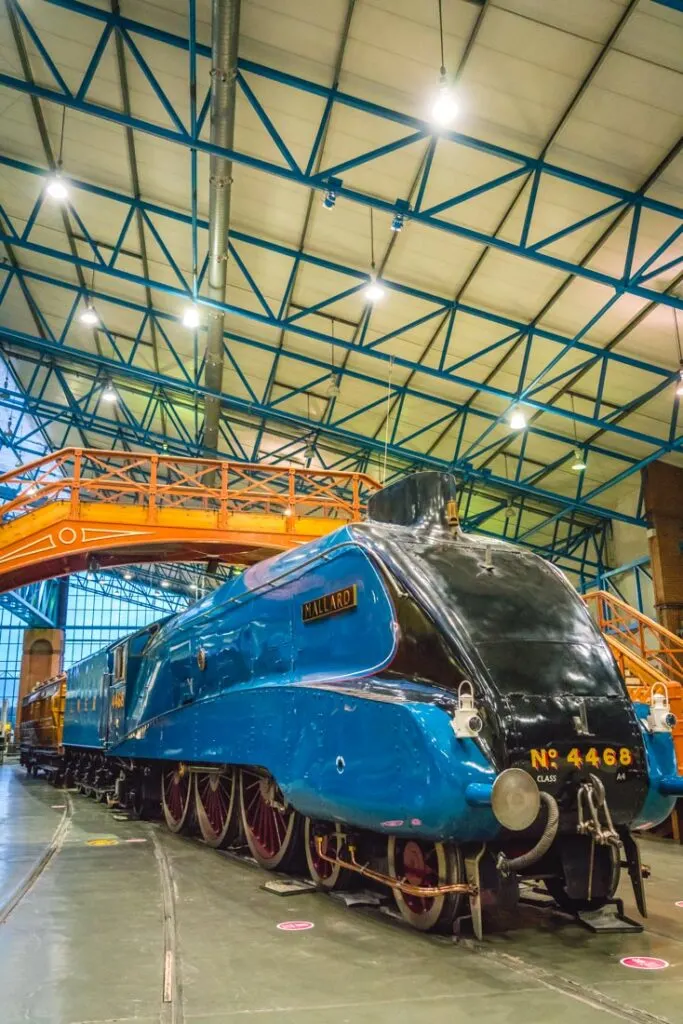 My favourite spot was the main hanger where they had a number of trains as if they're waiting on platforms. There's also an impressive collection of royal trains, including those used by Queen Victoria and King Edward VII.
As the museum is completely free to enter (though you might want to book a timeslot on weekends), it's easy to see why this is one of the top free things to do in York.
Needless to say, but if you're travelling with kids, they will absolutely love it here.
Brew York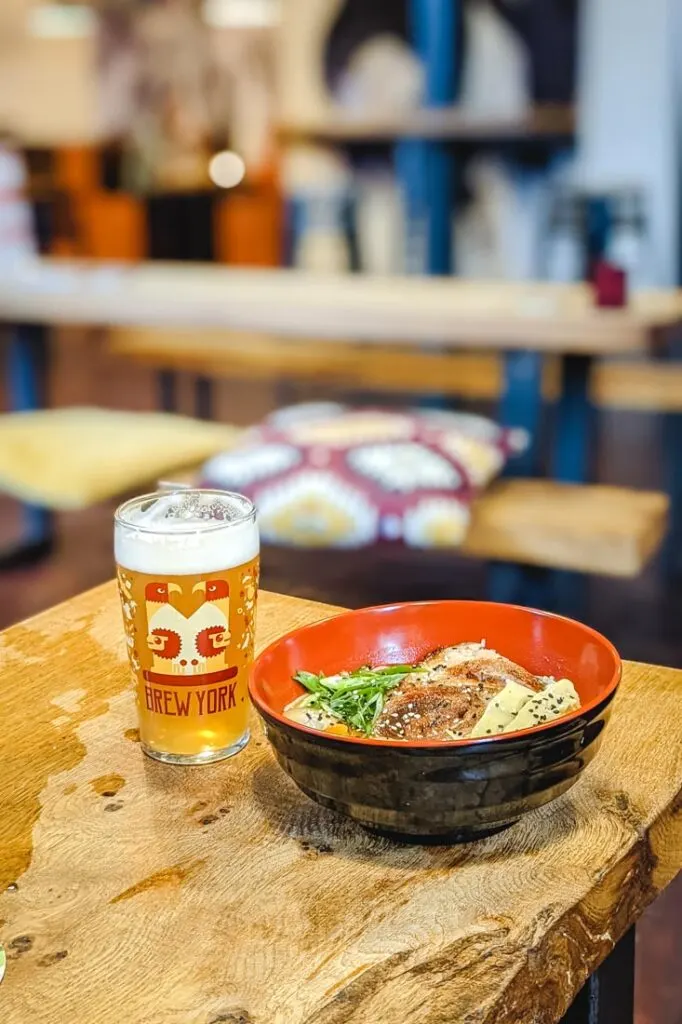 Now Brew York is my kind of place. It's a beer hall selling some of the best craft beers in York. And to make things even better, they've even got Asian street food here too.
For all you craft beer drinkers, Brew York is home to Juice Forsyth and Rhubarbra Streisand. You might've seen these in your local supermarkets – well this is where they come from.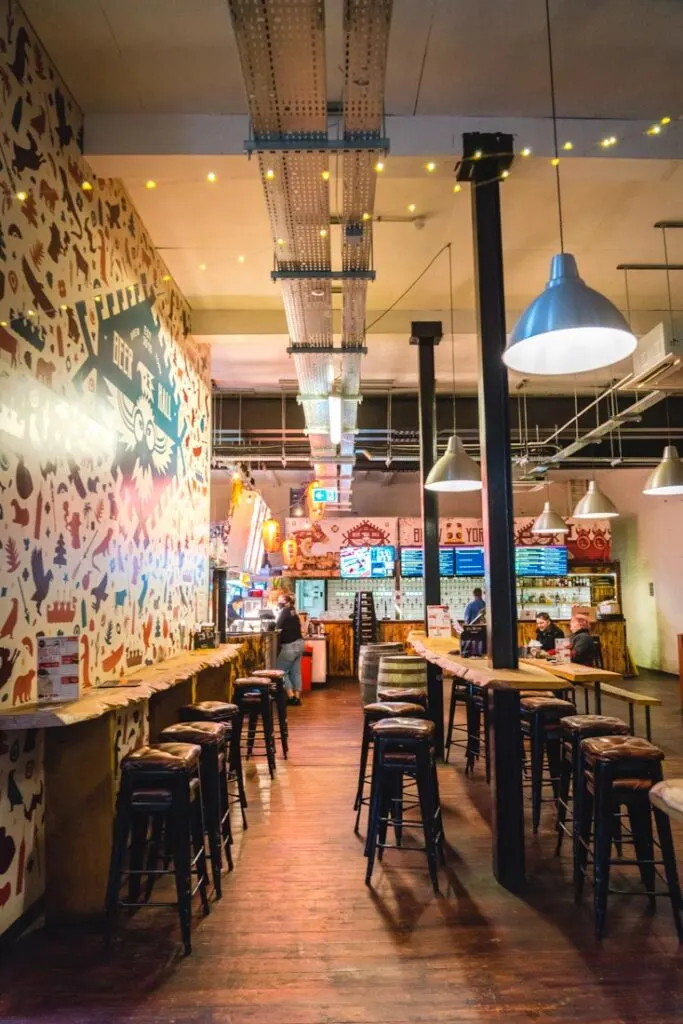 The Bavarian-style beer hall is next door to the original brewery, and sells over 40 different beers on tap. I had a hazy pale ale which was too drinkable, and I had a steaming bowl of miso ramen from Yuzu street food.
This is definitely a place to add to your York itinerary.
Boat trip on the River Ouse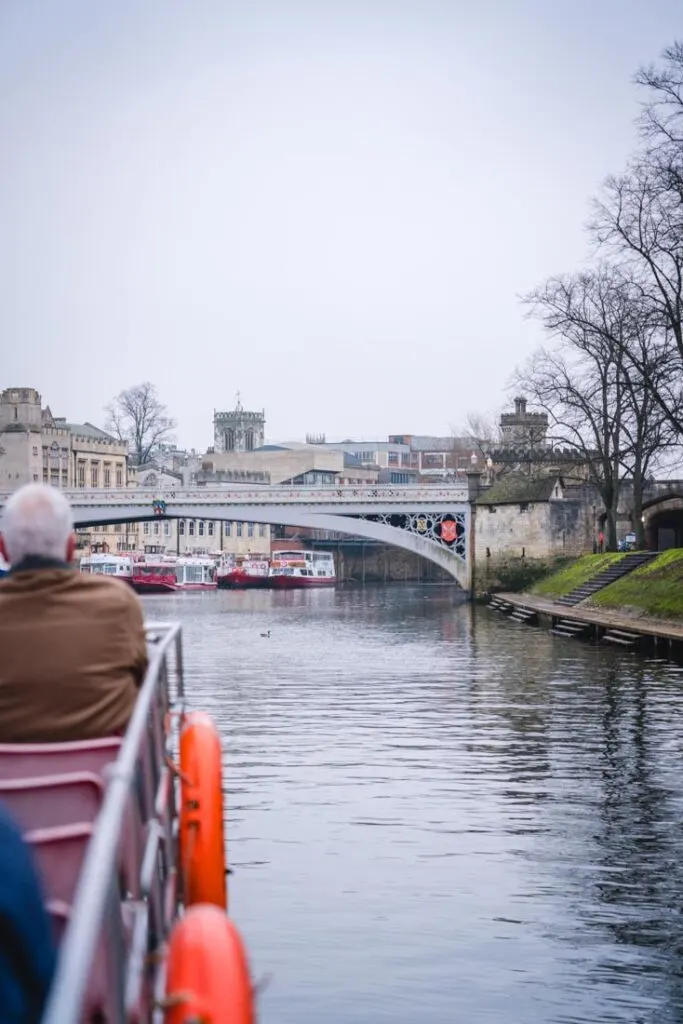 If you're keen on seeing York from a different angle, then take a boat trip on the River Ouse. This is the river that runs through York.
We hopped on an afternoon cruise at 3pm and went on a 45-minute sightseeing cruise. It was fascinating learning how the River Ouse had such an impact on the development of York.
For example, the cocoa bean was carried along cargo boats in the late 19th century to be turned into the chocolate the city is now famous for. I bet you didn't know that!
Inside the boat there's a bar where you can get hot drinks on a cold day, or a Pimms on a hot sunny day.
This sightseeing tour is often voted as one of the best things to do in York, and it comes very high rated.
Tickets are £12.50 per person and you can buy them here.
Find a cosy pub
There are no fewer than 365 pubs in York – one for every day of the year!
Unfortunately I didn't get to visit Valhalla, the Viking themed bar where they sell mugs of mead that everyone raves about, but otherwise we made a pretty good go of visiting a few different pubs.
If you're looking for a very traditional pub, then the Three Tuns is a great option for a date night in York – it's super cute and cosy here.
For beer lovers, don't miss the House of Trembling Madness. They have an amazing selection of craft beers.
If gin if your favourite tipple, head to Evil Eye. This place is packed full of so many different gins from all around the world. They take their gin very seriously here!
Where to stay in York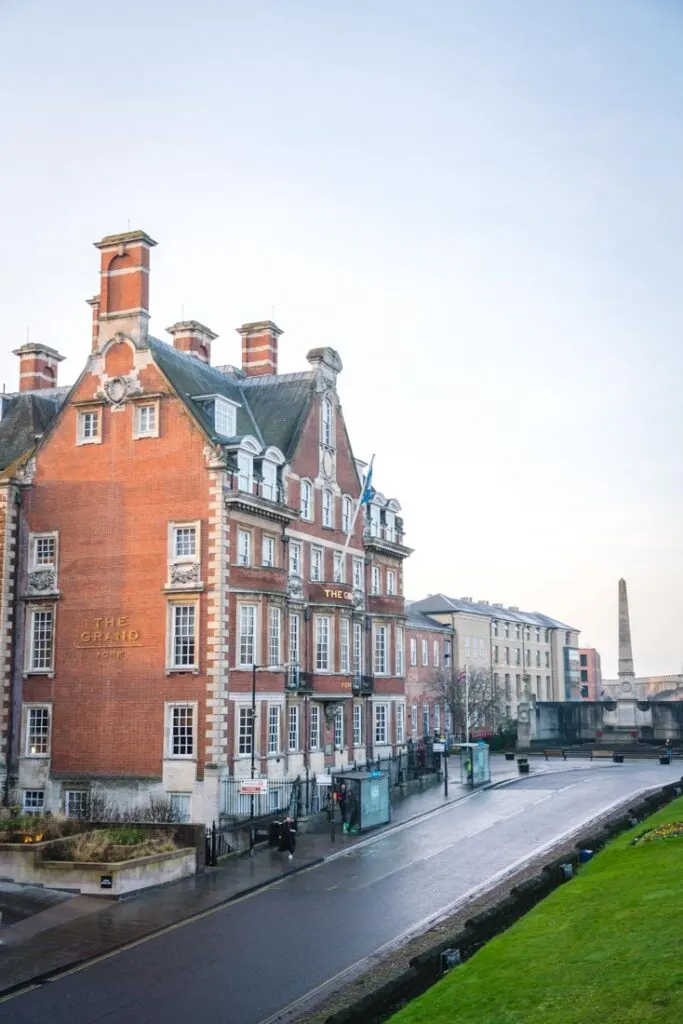 This is your romantic weekend in York, so indulge yourselves.
Not only is The Grand York the only 5* hotel in York, it's the only 5* hotel in Yorkshire!
This stunning Edwardian building retains much of its original features with views of York Minster and the city's ancient walls.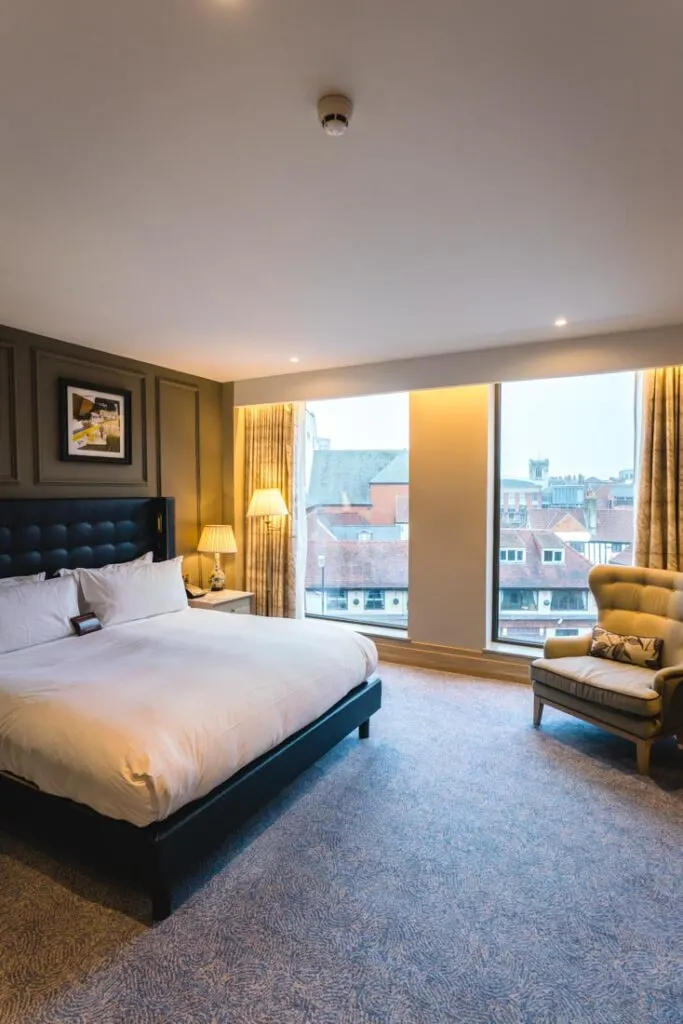 The whole hotel had an uplift in 2018, and the Grand now boasts 207 luxury bedrooms, the 1906 Bar, and the Rise Bar and Terrace Restaurant.
Also, because this is 5* luxury, there is a relaxing spa with swimming pool, sauna and steam room, complimentary for all guests staying here. I can't remember the last time I had a proper spa session, so after exploring all York had to offer, I warmed up my cold bones in the sauna for ages. Just bliss.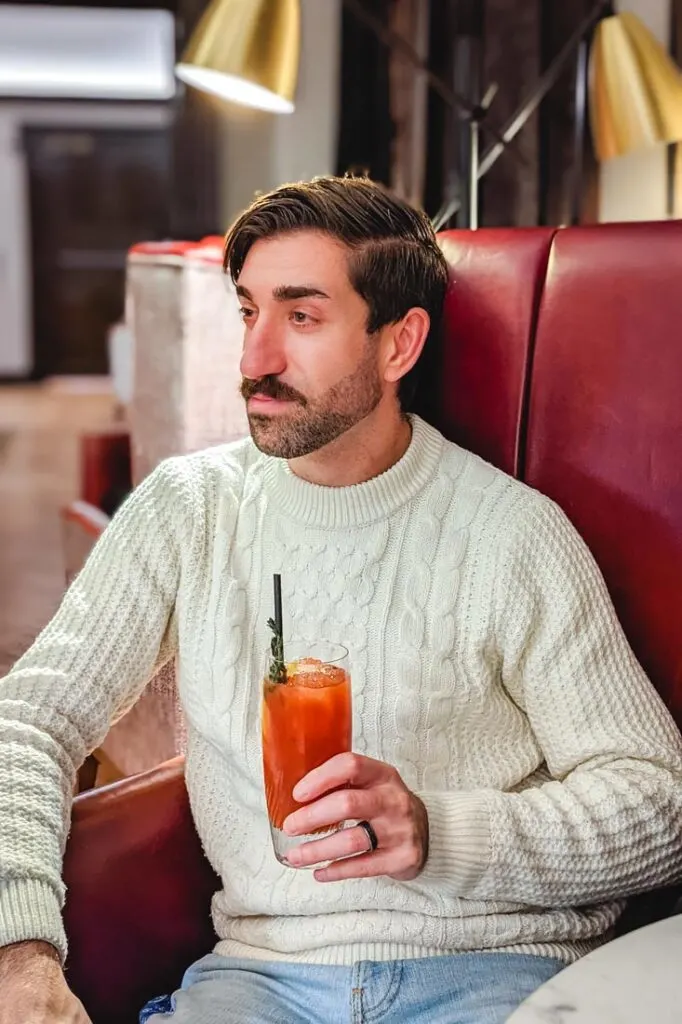 Before going out for dinner one night, Chloe & I had a cocktail in the 1906 Bar. This room perfectly highlights the Grand – old-school luxury and opulence. Oh, and the cocktails are delish too. This definitely ticks the box for fun things to do in York for couples!
I also loved the open plan kitchen they have in the main restaurant. It was great seeing the chefs buzzing around in the morning.
I loved my stay at the Grand. It's everything you could ever want from a 5* hotel, and you deserve to treat yourselves.
Jorvik House – A very cute boutique hotel in York is Jorvik House. Located right in the heart of the city, the building dates back to the 1750s and overlooks the 11th-century church of St Olafs and the remains of St Mary's Abbey.
All the rooms are really beautifully decorated and have en-suite facilities with a bath and shower. This is one of those places that shows how romantic York really is!
Hampton by Hilton York Piccadilly – If you're looking for a place with a central location but more on a budget, then the Hampton by Hilton York Piccadilly is a good option. The famous Shambles is 5 minute walk from the hotel, and guests can access the city walls just a few moments away.
If these aren't quite what you're looking for, you can find some of the best romantic hotels in York here.
---
This post was in association with National Rail highlighting some of the best weekend breaks in the UK. As always, all views are entirely my own and without bias.
Which of these York date ideas is your favourite? If you have any questions at all about the activities featured here, let me know in the comments below!
Like this blog post? Then Pin it for the future!