Are you looking for the best things to do in Whitehorse, Canada? From canoeing the River Yukon to hiking at Miles Canyon, this is what to do in Whitehorse!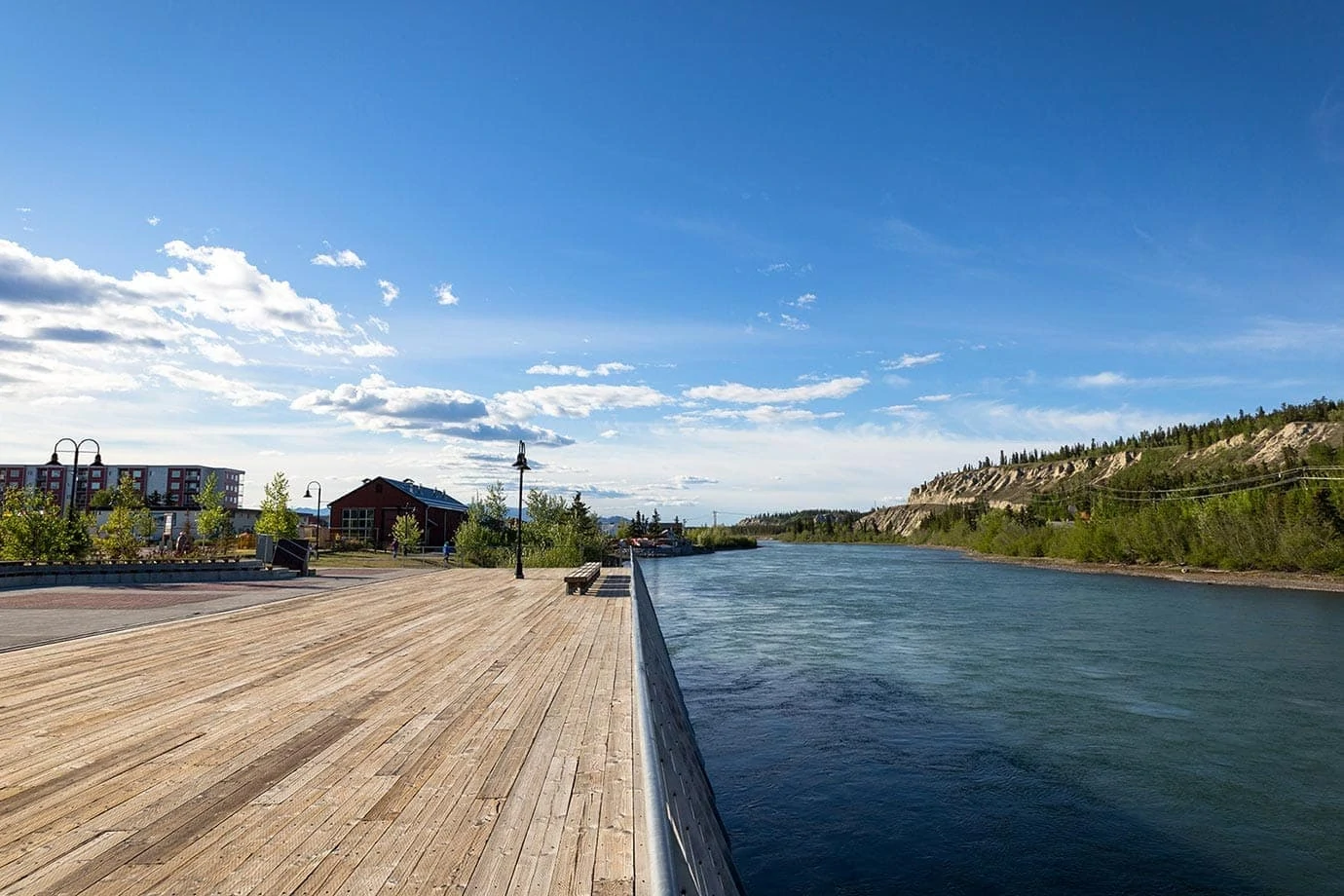 Canada is big. It's really, really, big.
Did you know that if you wanted to drive from Vancouver to Halifax (that's from one side of the country to the other) it'd take you 56 hours. That's over two days of straight driving. Or if time's not on your side, you can fly it in just over six hours. I told you it was big.
Yet despite this, I'm exceedingly fortunate to have seen a fair amount of the country. I've explored Ontario and Quebec, I've gone hiking in the Rocky Mountains, I've been wine tasting in the Okanagan, I've partied in Vancouver (a few times on that one) and I've even been surfing up in Tofino on Vancouver Island.
Still, the one place I was dying to visit above all others was Whitehorse, a tiny little town up in the Yukon, one of the remotest parts of Canada.
Check out my videos on my favourite things to do in Whitehorse!
Travelling to Whitehorse, Yukon
I don't know why but I've always had this strange attraction with the Yukon. I think it has something to do with being so inconsequentially small in such a vast place. This is the raw rugged beauty of nature, not the man-made version that we've created. To me, the Yukon was Canada, in every sense of the word.
So, when Destination Canada approached me for their Canada City Bloggers Programme, I knew there was only one place I wanted to go – Whitehorse and the Yukon.
Just a shortish two-hour flight from Vancouver north towards Alaska and the Arctic Circle, I arrived into Whitehorse at what many would consider to be night time, yet the sun was still blazing at 9pm.
As I stepped outside the airport to find my hire-car (something that's pretty much needed wherever you are in Canada), I couldn't help but smile as the sunshine lit up the surrounding snowy mountains – I knew I was going to be very happy here.
In total I spent a week in Whitehorse and I loved every minute of it.
The beautiful thing with a town like Whitehorse is there's so much to see and do just 10 minutes from the centre, and being in such close proximity to the outdoors with the Yukon River running through the heart of it, it is an adventure playground for adults.
If you're heading to the Yukon yourself, these are some of the best things to do in Whitehorse.
– Fun things to do in Whitehorse, Canada –
1. Canoe on the stunningly beautiful Yukon River
One of my favourite activities we did while in Whitehorse was go canoeing on the Yukon River with Up North Adventures.
Early one morning we rocked up outside the shop and met Julien, our guide for the day. From there, we wheeled a canoe the short 50m to the river's edge and then all of a sudden we were floating on the emerald green water with the pine trees and mountains all around us.
We paddled the Yukon River for three hours, and not once did we come across another soul. The only other living thing we saw were great bald eagles flying high overhead, but otherwise it was just us and the great outdoors – to me, this is exactly what the Yukon was all about!
We stopped a couple of times along the way for coffee and cookies (the simple things in life), and I just loved how peaceful and relaxing the solitude and silence was. This was definitely a Canadian bucket list thing to do!
Price – CA$160 for a half-day tour (four hours)
2. Horse Riding out at Fish Lake
Just a short 30-minute drive out of Whitehorse is Fish Lake, a beautiful blue lake in the middle of nowhere. There you'll find Skyhigh Wilderness Ranch (it's the only building around so you can't exactly miss it!) and that's where you can go horse riding.
We set off on a two-hour tour to a viewpoint of Fish Lake and it couldn't have been more relaxing. I used to ride a fair amount when I was younger so it felt great bobbing along in a saddle again, and it was really nice learning more about the Yukon from our guides with the view of Fish Lake and the mountains in the background.
Price – CA$97 for a two-hour tour including all equipment and a tour guide
3. Play with the dogs and go sledding at Muktuk Adventures
Technically you can only go dog sledding at Muktuk Adventures when there's snow (i.e – not summer when we were there), but that doesn't mean you can't have some fun learning all about sledding while playing with these incredibly lovable dogs.
The owners of Muktuk Adventures, Manuela and Jeff, were really keen to teach us all about dog sledding, how important it was for getting around in winter and how much the dogs enjoyed it too. With 144 dogs to look after, it was obvious how much Manuela and Jeff loved each and every one, and it was fascinating see the different types of personality of each one.
Also, PUPPIES! While we were there, one of the mothers gave birth to puppies and it was the cutest thing ever. After seeing the dogs in summer we definitely want to go back in winter to try dog sledding out for ourselves!
Price – Dog sledding in winter = CA$275 for their Takhini River Day Trip (there are a number of tours to choose from) | playing with the dogs in summer = free!
4. Go hiking at Miles Canyon and see where it takes you

Another place that's just on the edge of town is Miles Canyon, an amazing place with loads of trails for hiking. I think it took us about 10 minutes to drive here, and you could probably walk it from the centre of Whitehorse if you really wanted to.
At Miles Canyon there's a full-loop that'll take you about three to four hours to complete, and there are a bunch of other little trails too. We opted for a fairly easy one-hour hike along the canyon and down to the beaches (yes, they even have beaches here!), and it was a perfect place for a pre-dinner hike.
To be honest with you, I wish we had longer at Miles Canyon as I really wanted to do the loop trail around Whitehorse. Something I'll have to do next time and it's definitely worth visiting on any trip to the Yukon.
Price = free!
5. Knock back a taster flight at Winterlong Brewery
Just because Whitehorse is tucked away in the north west of Canada it doesn't mean the craft beer revolution that's swept across the country hasn't hit here too – say hello to Winterlong Brewery.
Found just on the edge of town, this place is perfect for a taster flight on a hot summers day (or on any day really!), and it's a great place to hang out with locals too.
At Winterlong Brewer they usually have about six or seven different beers on tap, and with a taster flight you get to try choose four of these.
And if you find one you really like, buy yourself a growler, fill her up and enjoy long into the night!
Price – CA$9
What to do in Whitehorse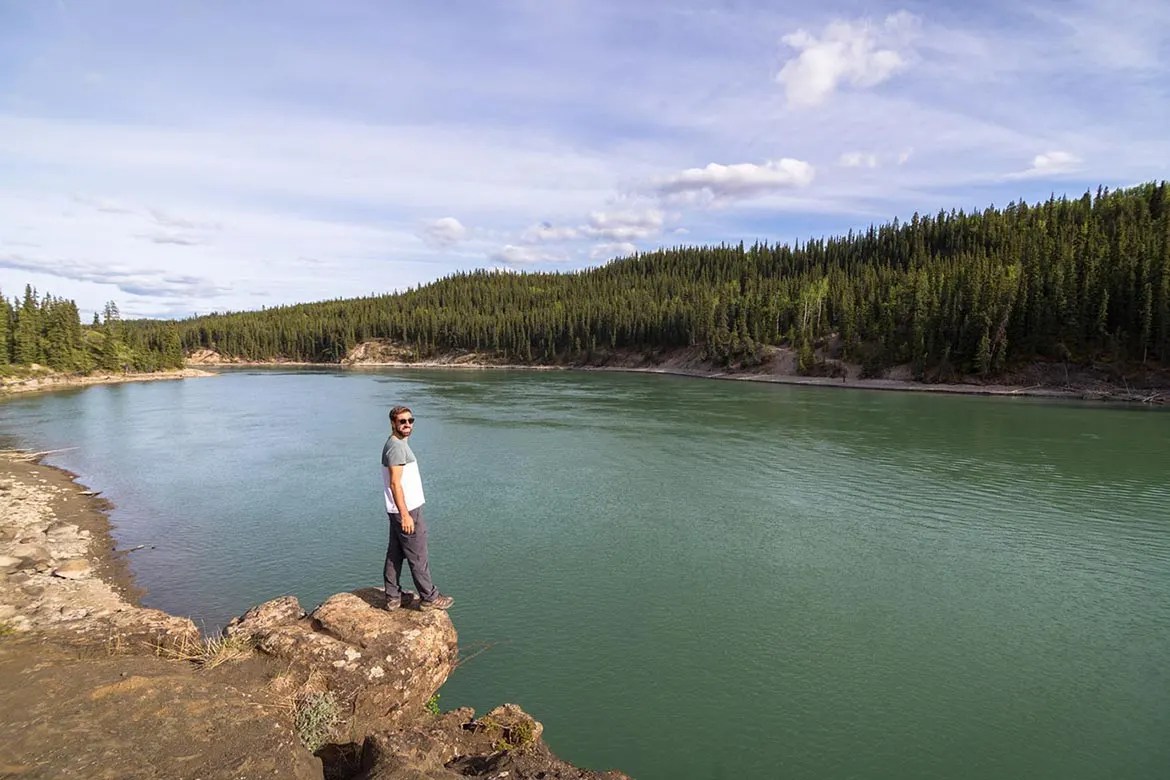 For me, Whitehorse completely exceeded all of my expectations.
It's so strange to think of this little town tucked away in the Yukon, barely more than a few streets and a cluster of buildings, but it is without a doubt one of the most beautiful parts of Canada I've ever been to.
The thing is, even though these are only a few of my favourite things to do in Whitehorse, I know there are so many more I could've written about. It's just one of those places you've got to base yourself to explore all this region has to offer.
---
If you're looking at exploring the Yukon yourself, Canadian Affair's 'In the Footsteps of the Yukon Pioneers' package offers an amazing itinerary taking in some of the regions best sites and attractions.
My trip to the Yukon was part of Destination Canada's and Canadian Affair's campaign discovering some of the best things to do in and around Whitehorse. As always, views are entirely my own and without bias.
Have you ever been to Canada before? If so, have you ever made it up to the Yukon? What did you think of it? And what are some of your favourite things to do in Whitehorse? Let me know in the comments below!

Like this post? Then make sure you Pin it!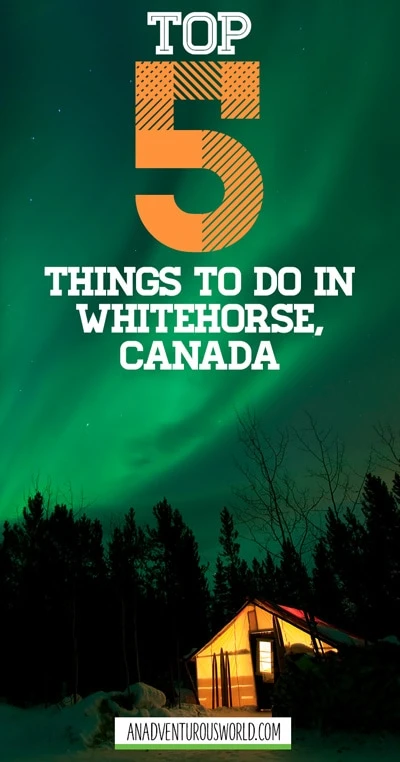 Save
Save
Save
Save
Save