From hiking Kundl Gorge to exploring the villages of Oberau & Auffach, these are the best things to do in Wildschönau for your next summer trip to Tirol!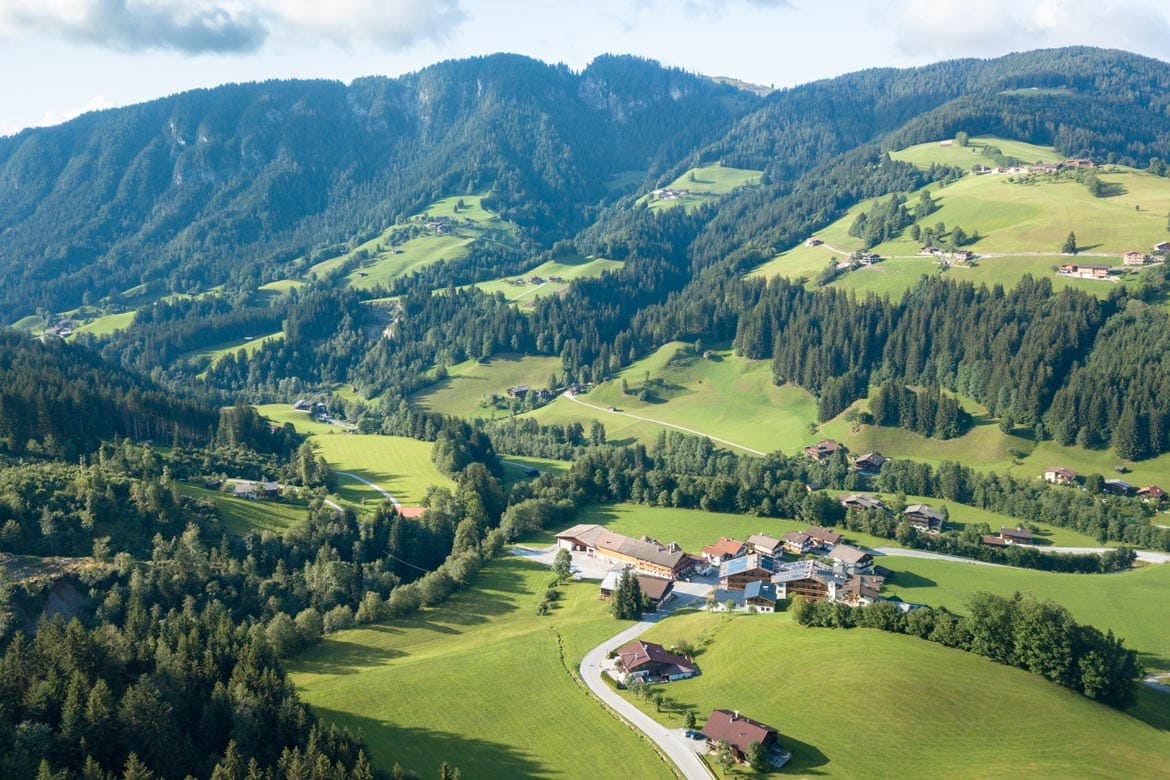 I'm going out on a limb here in saying I bet you've never heard of Wildschönau before. Don't worry, I hadn't either until I visited this incredibly beautiful place in Austria!
Located in Tirol in the west of Austria, Wildschönau (pronounced Wilt-sher-now) is one of those places that flies under the radar. You won't see it in any "Top 10 Places to Visit Before You Die" listicles, but that's what makes it an amazing place to visit.
Check out some of my favourite highlights of the region in the video below:
Instead, what you'll find is a place that's quietly confident in its own beauty. Expect gorgeous rolling hills covered in snow in winter and lush green meadows during the summer. Add in picturesque mountain huts dotted all over the place and you're starting to get the idea.
In fact, if I had to draw a picture of a stereotypical Austrian alpine village, it would be of Wildschönau. It's so different from nearby places like Innsbruck, Salzburg and Zell am See-Kaprun.
Hopefully my photos give you an insight into what this area is really like!
Where is Wildschönau?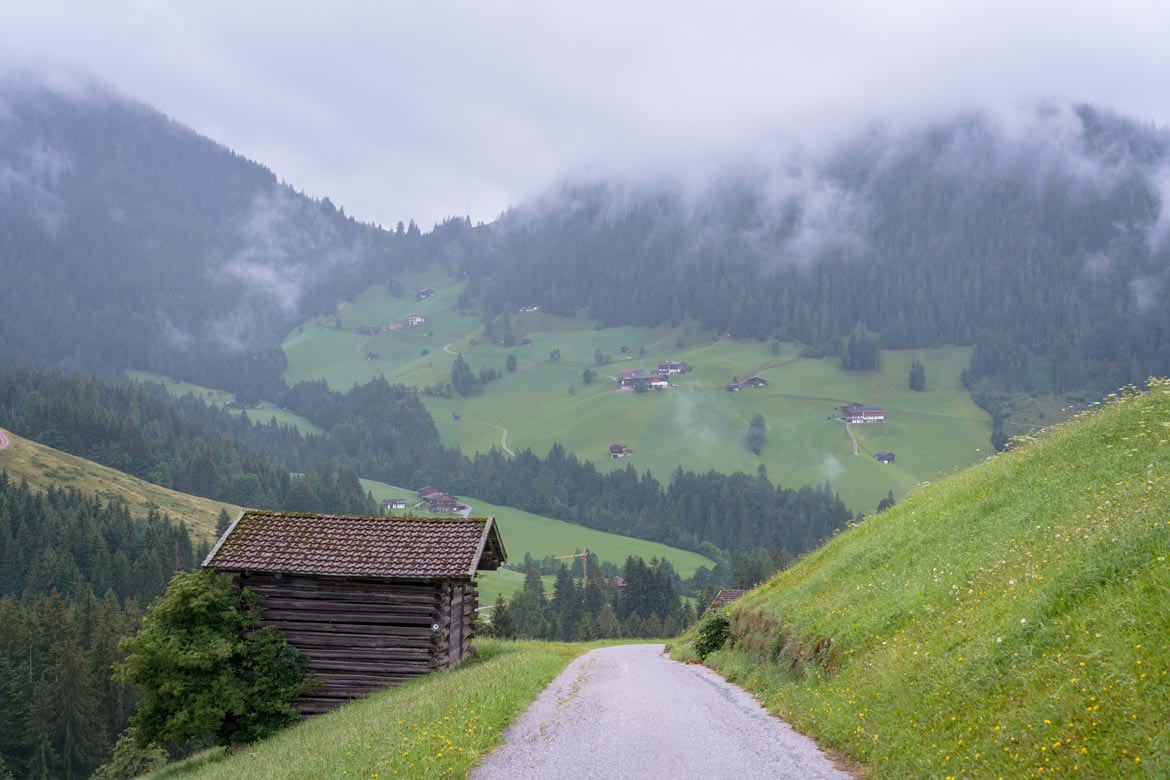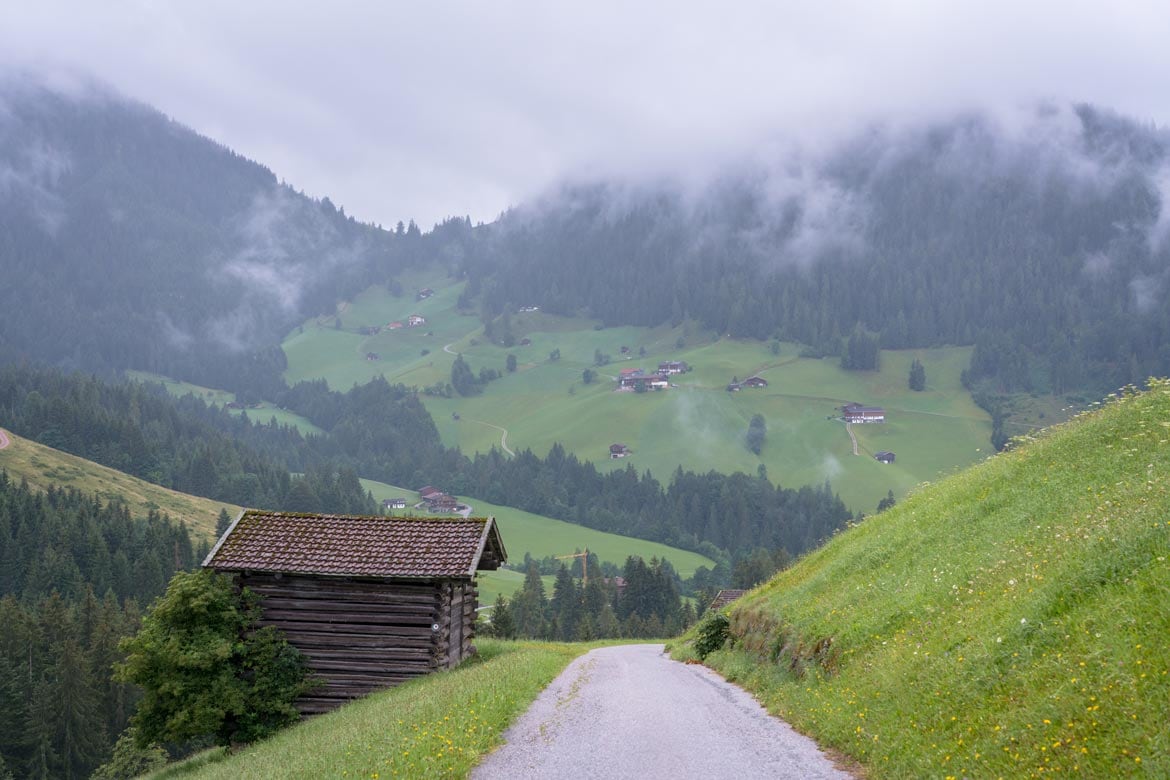 Wildschönau is a tiny place of around 4,400 people. The thing is, everyone is spread out over 4 main villages – Niederau, Oberau, Auffach and Thierbach. That means people have space here and lots of it.
While I was in Wildschönau I visited all 4 villages. Niederau is the biggest and Thierbach is the smallest with just 160 people living there. So when I say these places are small, I really mean it!
One of the reasons Wildschönau is such a popular destination during the summer is because of the hiking. It's considered to have some of the best hiking in all of Austria.
In summer there is a network of 300 km of hiking trails available, at elevations ranging from 828m to 2,309m. That means if you like hiking then you'll absolutely love this place. Also, Wildschönau is without a doubt one of the best day trips from Salzburg too which is close by.
In this post I'm going to show you why this is such an amazing place to visit in Tirol. From where to find the best hiking trails to visiting one of the best cheese producers in all of Austria, in this summer guide I'm going to show you some of the best things to do in Wildschönau!
Wildschönau card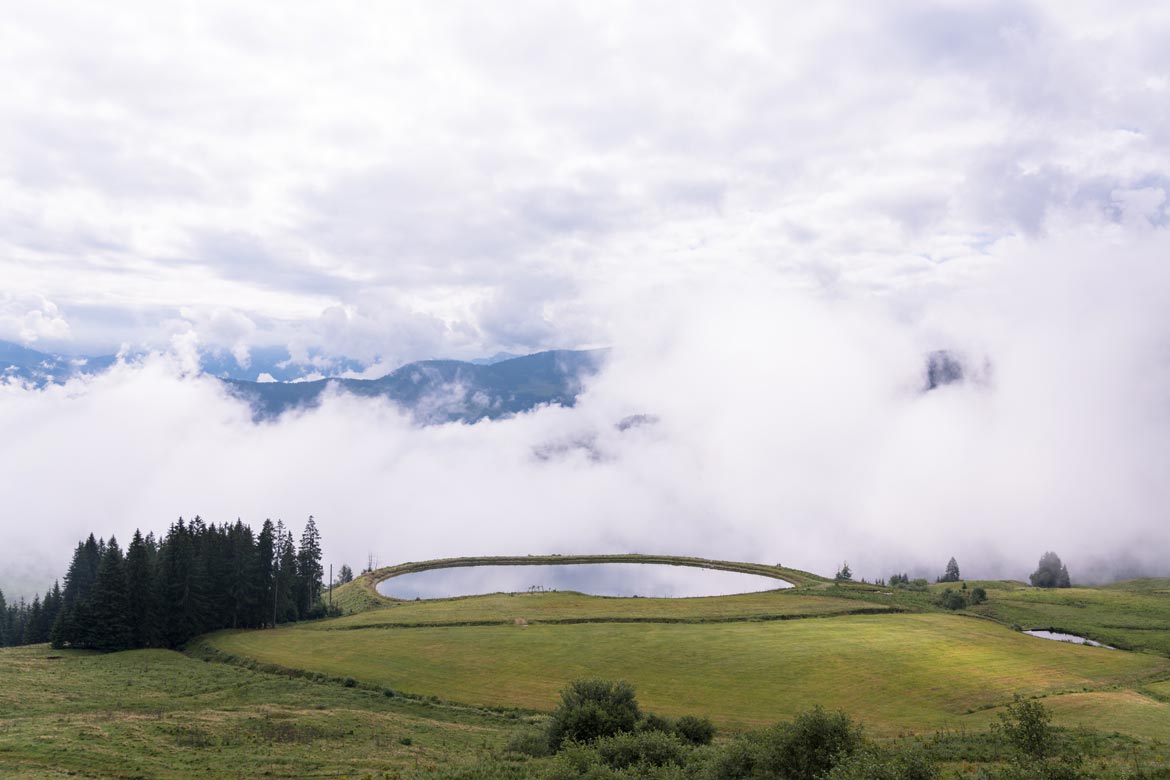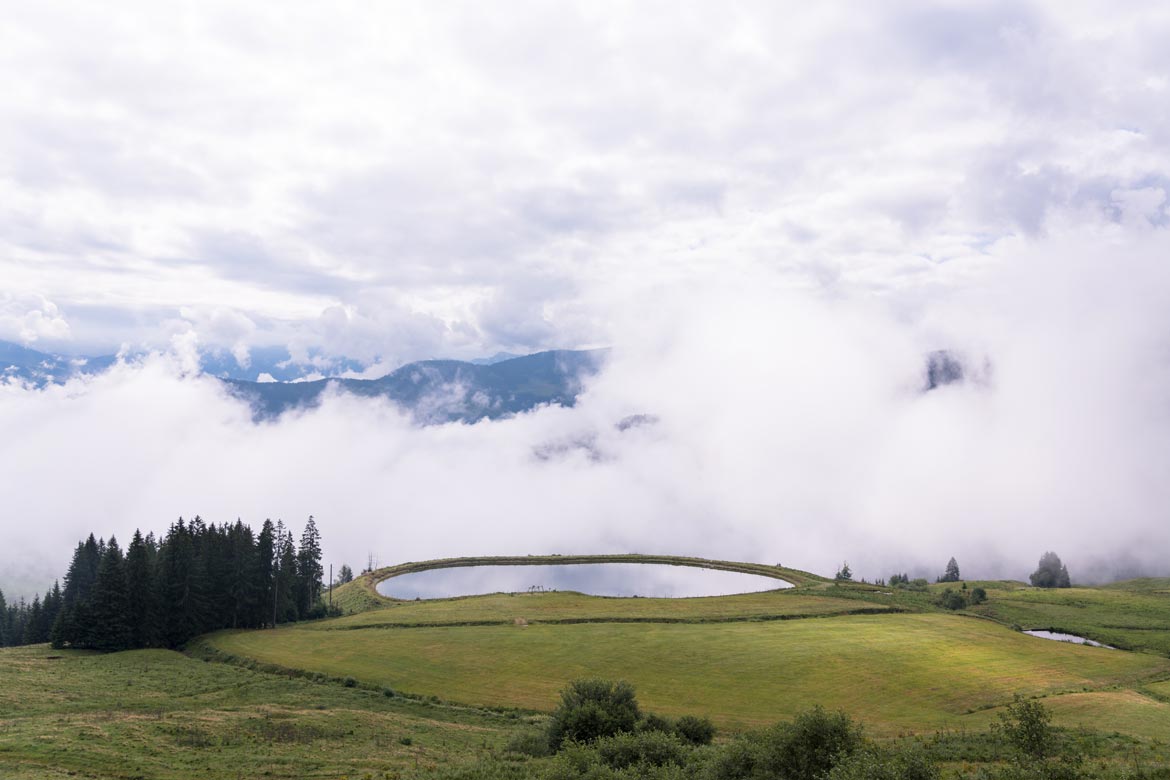 First off, I need to tell you about the Wildschönau card. I've used a lot of tourist cards over my many years of travelling and I think the Wildschönau is up there with the best of them.
Obviously we're all familiar with tourist cards – they give you discounts or free entry into a number of sights and attractions in the area. Well, with the Wildschönau card they've gone a step further.
Not only do you get free entry to the museums – that's a given – you also get to ride any of the cable cars for free too.
However, that's not even the best bit. During summer you can go on FREE GUIDED HIKES! Every day they have these epic guided hikes that you can sign up for which are completely free. I've never come across a service like that and I think it's amazing they offer these for free. It means you can go on the best hiking trails in the area without having to pay for a guide. How cool is that!?
Also, everyone is entitled to a Wildschonau card. Most of the time its incorporated into your holiday or hotel price. Check with the hotel you're staying at but you should be able to pick it up from reception.
Now you can see why I love this card so much!
---
Things to do in Wildschönau
Go on the 'Hut to Hut' hike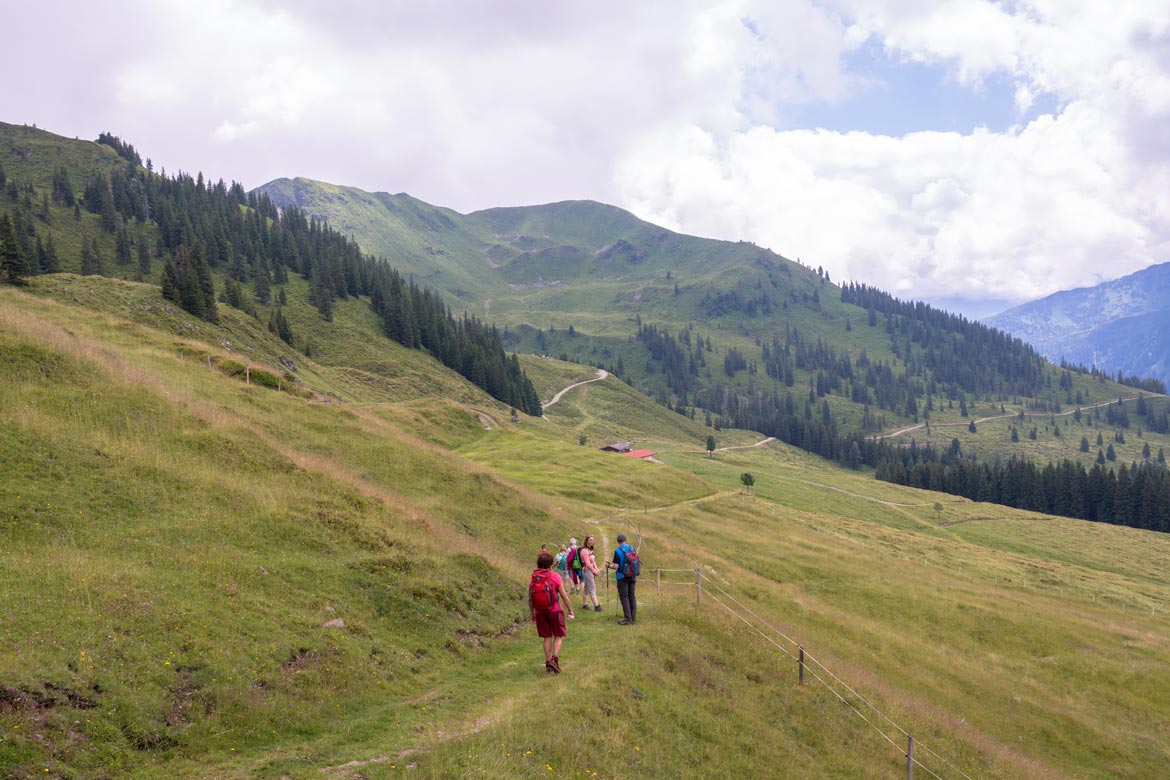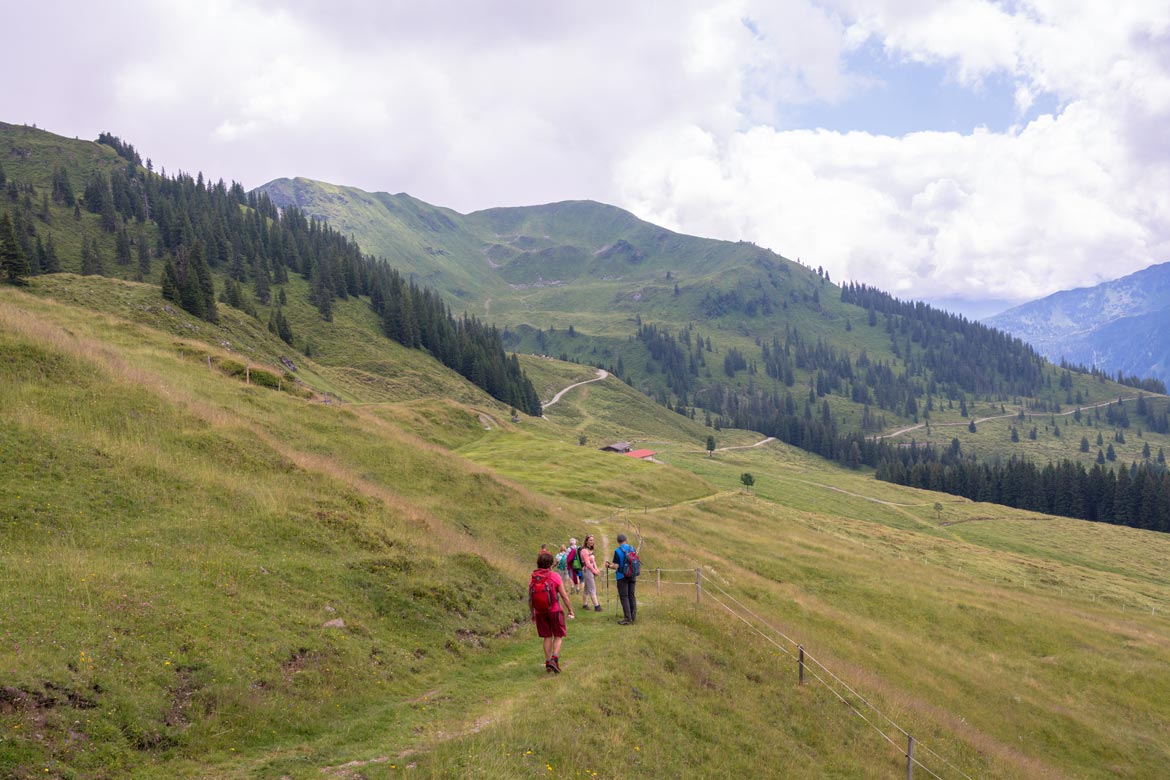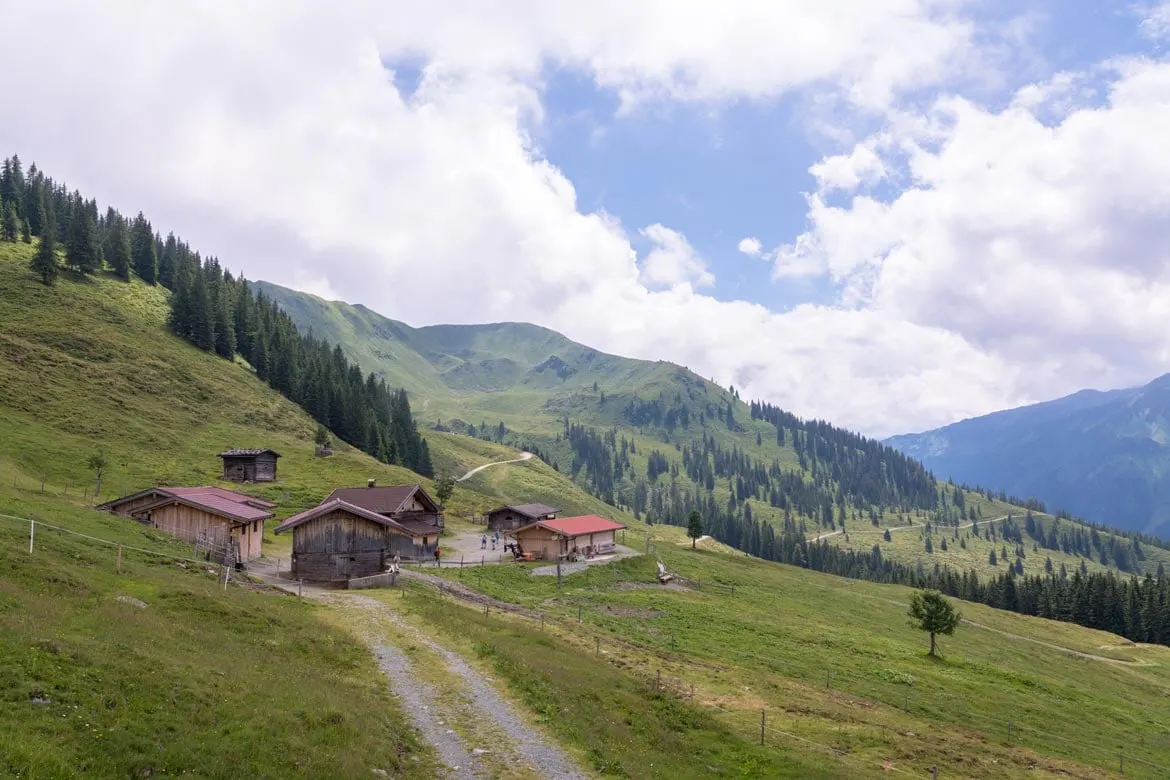 One of the things I was really looking forward to doing while in Wildschönau was hiking.
Using my Wildschönau card, I booked onto the 'Hut to Hut' hike. This is a 6/7 hour hike visiting a few huts where they produce cheese in the area. Basically, it's a hike through the gorgeous scenery that involves eating a lot of cheese along the way. Sounds good, doesn't it?
This hike started at the base of the cable car in Niederau. I met my guide at 9:30 then we caught the cable car as a group to the top of the mountain. From there, we started hiking through the Wildschönau valley with the mountains all around us.
After we were hiking for about an hour and a half we came across our first mountain hut where they produce cheese. All the owners of the mountain huts are farmers where they let the cows roam around. This produces happy healthy cows which produces particularly delicious cheese. That's the way I see it anyway.
From there we continued hiking along the valley chatting as a group and learning about this area of Tirol from our guide. After every hour or so we'd come across our next mountain hut where we'd grab a drink or tuck into some food. It's the simple pleasures in life, right?
I had such an amazing time on this hike and I really can't recommend it enough. It's worth visiting Wildschonau just to go on the hike, and all the cheese was incredible too.
The 'Hut to Hut' hike is 12km long, with an elevation of 600m and 400m downhill. It's a B/C category making it for intermediate hikers.
Eat all the cheese from Schönanger Alm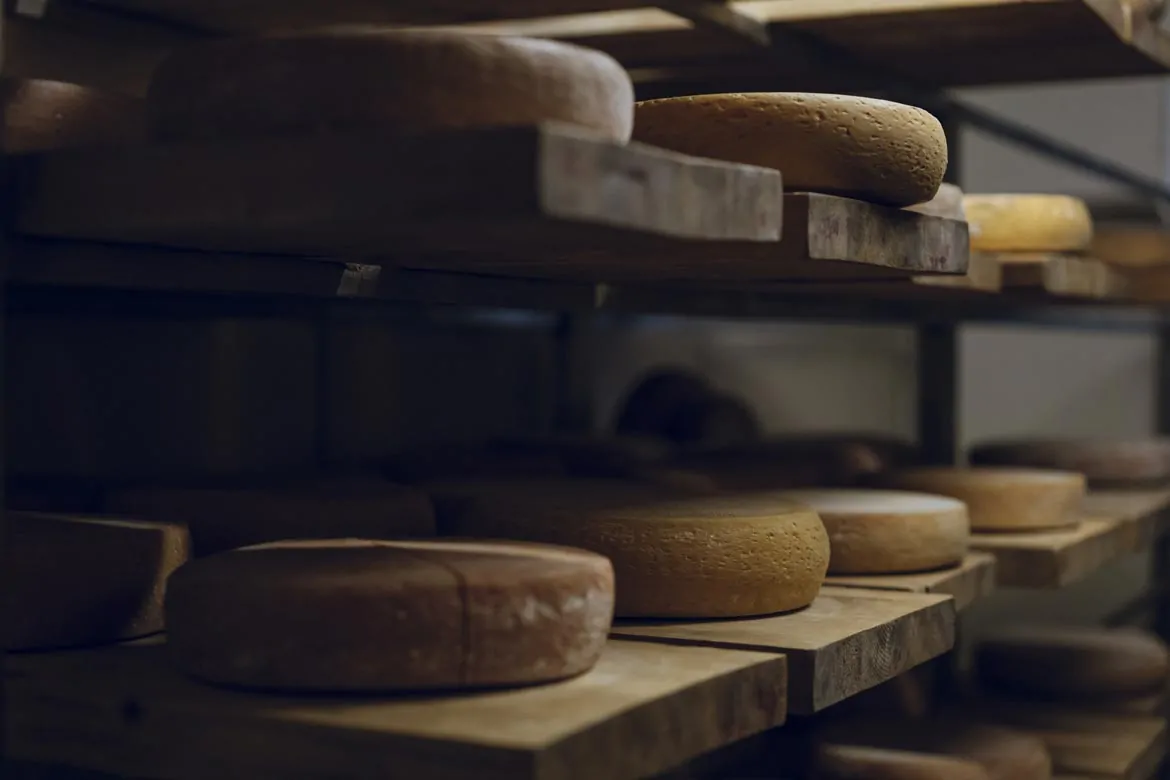 The 'Hut to Hut' hike ended at Schönanger Alm. This is an alpine guesthouse at 1,180m at the end of the Wildschönau Valley.
Now there's a restaurant there which is a great spot to kick back and relax after an amazing hike. There's also another cheese hut. Ignore the restaurant for now and head straight to the cheese hut. Trust me.
The Schönanger Alm is considered one of the best cheese shops in Tirol. Dare I say it, it's one of the best in Austria.
Johan has been producing cheese here for 28 years and he's a master craftsman when it comes to cheese. Just walking around the shop and you'll see the dozens of awards he's won over the years. He's even won the equivalent of the cheese Olympics a few times over too (and yes, that really is a thing).
Anyway, people come from far and wide to take home some of his cheese, so while you're in Wildschönau and whether you've done the 'Hut to Hut' hike or not, make sure you swing by here and pick up some cheese. I tried them all and I can assure you the journey is worth it!
Walk along Kundl Gorge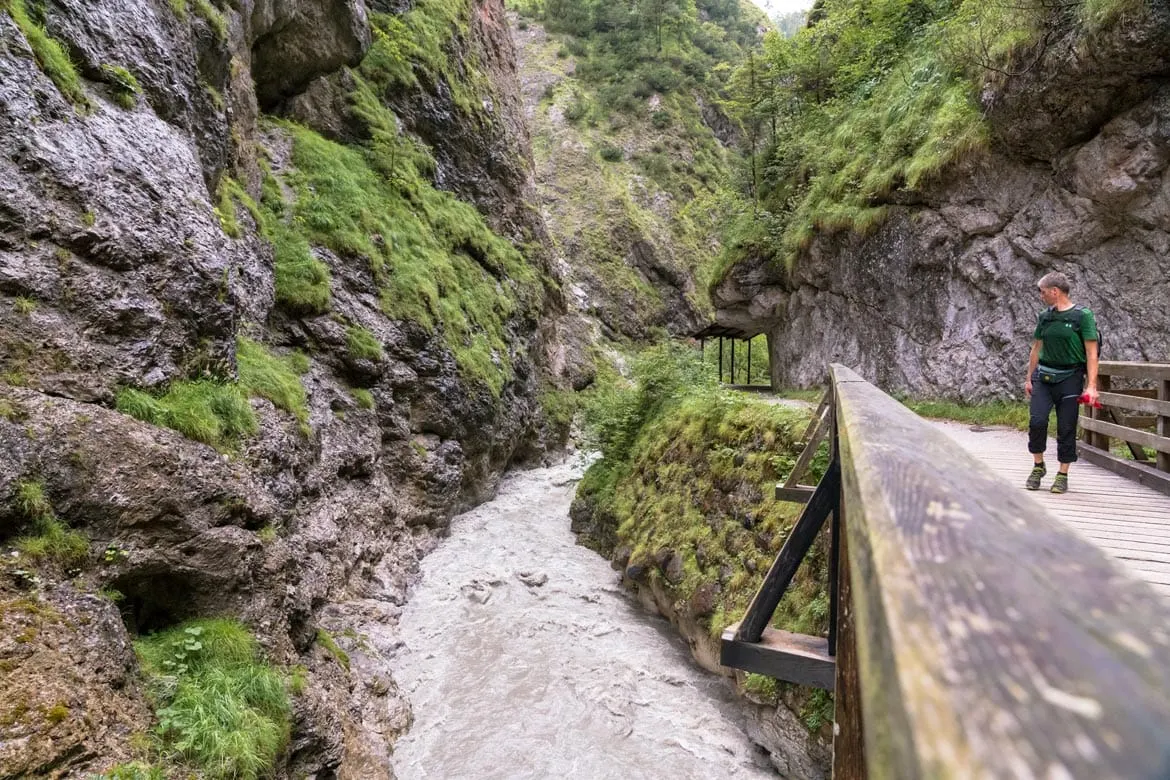 One of the top hikes in Wildschönau is at Kundl Gorge. Starting in the Wildschönau valley, this is a short hike to the village of Kundl. The path takes you directly through the gorge with 200m high cliffs rising up either side of you and the Wildschönau river running through the middle. Once again it's an incredibly beautiful and peaceful place to go hiking.
The start of the Kundl Gorge walk is in Mühltal, Wildschönau. I caught a little tourist train (called a Bummelzug) that took me down to the entrance of the gorge. This is about 2km so saved me walking an extra 45 minutes. A return for the train costs €4.50 but it's well worth it if you want to save time. Also, the train is really good fun!
Overall, the gorge is 3.5km long and takes anywhere between an hour to an hour and a half to hike depending on how quickly you walk. Because it's a short hike, this makes it perfect for families with little ones.
At the bottom of the gorge there's a restaurant where I had a coffee with the sound of the river in the background before heading all the way back to Mühltal. Just another amazing Wildschonau hike!
Head to the top of Auffach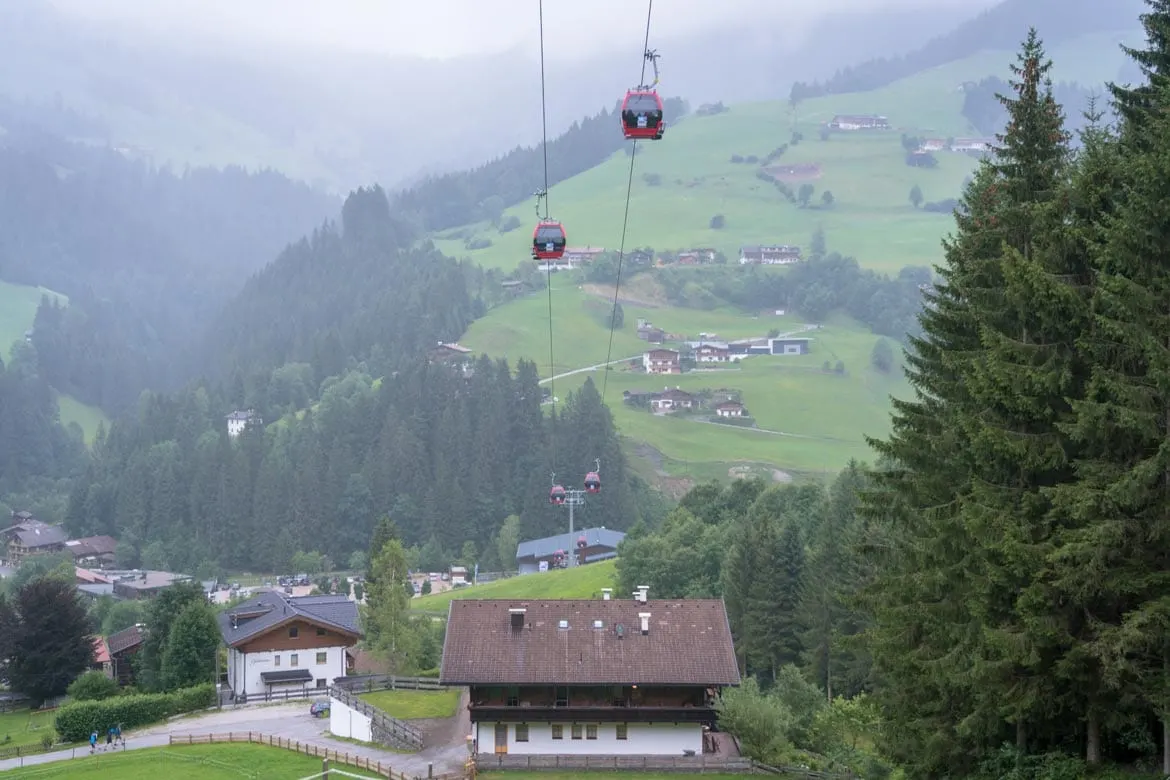 Another really popular place to go hiking is at Auffach. In winter this is where you'll find Ski Juwel Alpbachtal Wildschönau, one of the largest ski areas in the Tyrol with 109 kms of perfectly groomed pistes.
However, in summer everyone takes the cable car to the top of the Schatzberg for some more sumptuous hiking trails. The Schönanger Alm lies 5 km beyond the village at the very end of the valley and is a beautiful unspoiled walking region of rich pastures.
Another place I'd really recommend you visiting is Gipfö Hit mountain restaurant. This is a 30-minute walk from the top of the Schatzberg gondola. Tirolean specialties such as Brezen Soup, salads, schnitzels etc are served on the terrace and in the guesthouse and the views are just to die for.
Just as a heads up, the restaurant is closed in bad weather!
Take a dip in the open-air swimming pool in Oberau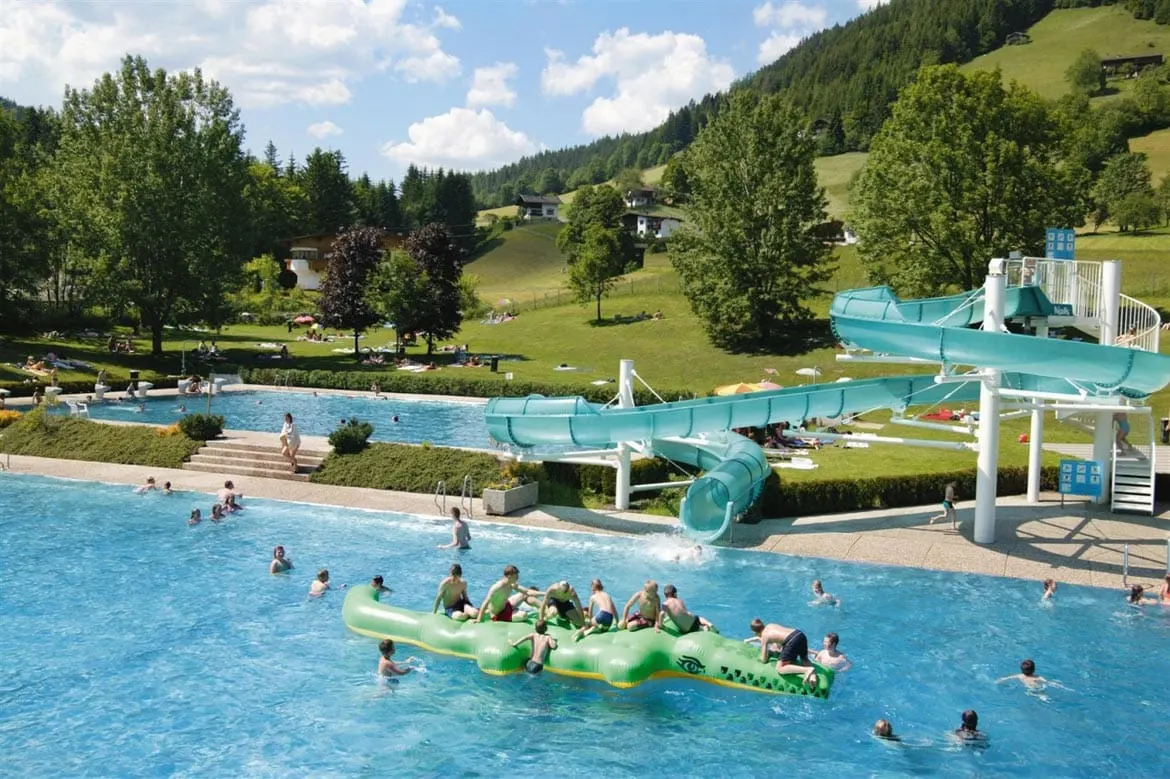 Another thing included in the Wildschönau card is access to the open-air swimming pool in Oberau. This is found just behind the tourist information centre.
If you're travelling with kids then this is a great family activity. There are a few slides at the pool and a big kid's area too, so perfect on a hot summer's day. Alternatively, you can take a dip yourself in the main pool and clock up some lengths.
Even though it looks brand new, this swimming pool has been here since the 1970s and it's one of the most popular places to visit during the summer in Oberau.
Visit the tiny village of Thierbach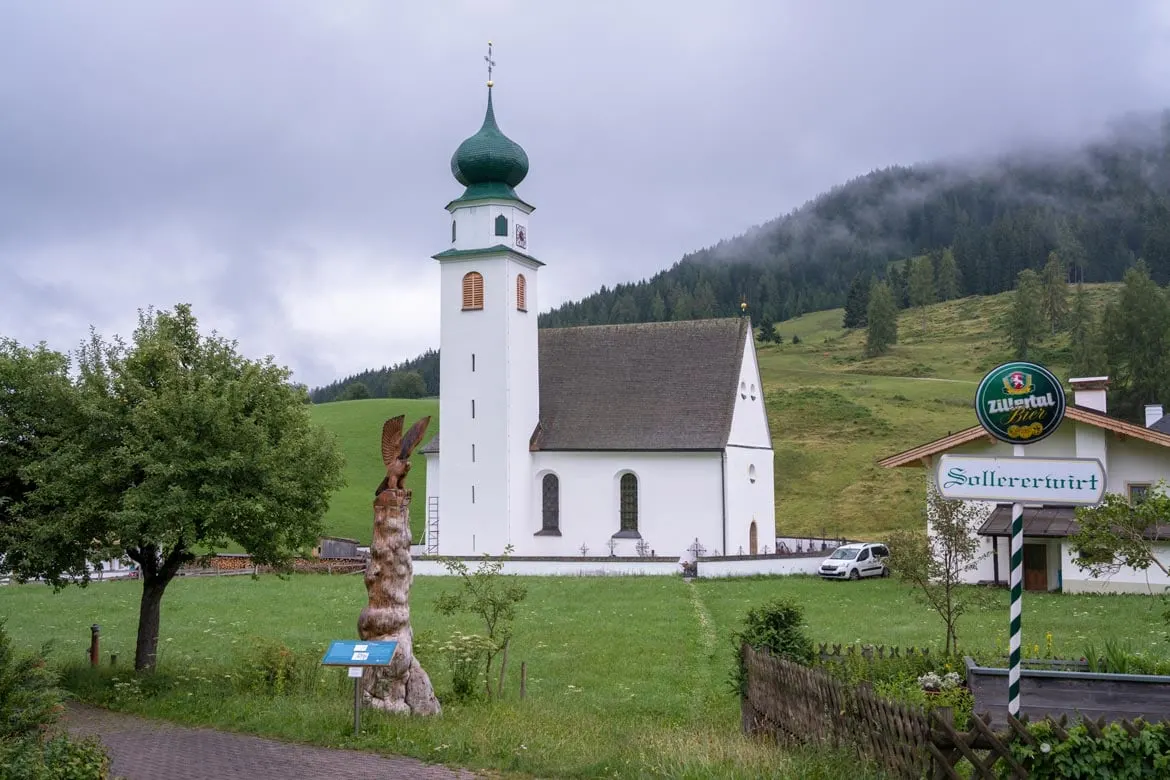 As I've already mentioned, Thierbach is the smallest village in Wildschonau with just 160 people living here. To be honest with you, I think Thierbach might've been my favourite place in the valley. It's tucked away and almost forgotten about, but it's picture postcard perfect.
There's a lovely little church right in the middle of the village and a few wooden houses dotted all around. Honestly, it's so beautiful here, and the fact that there's hardly anyone about makes it feel all the more special.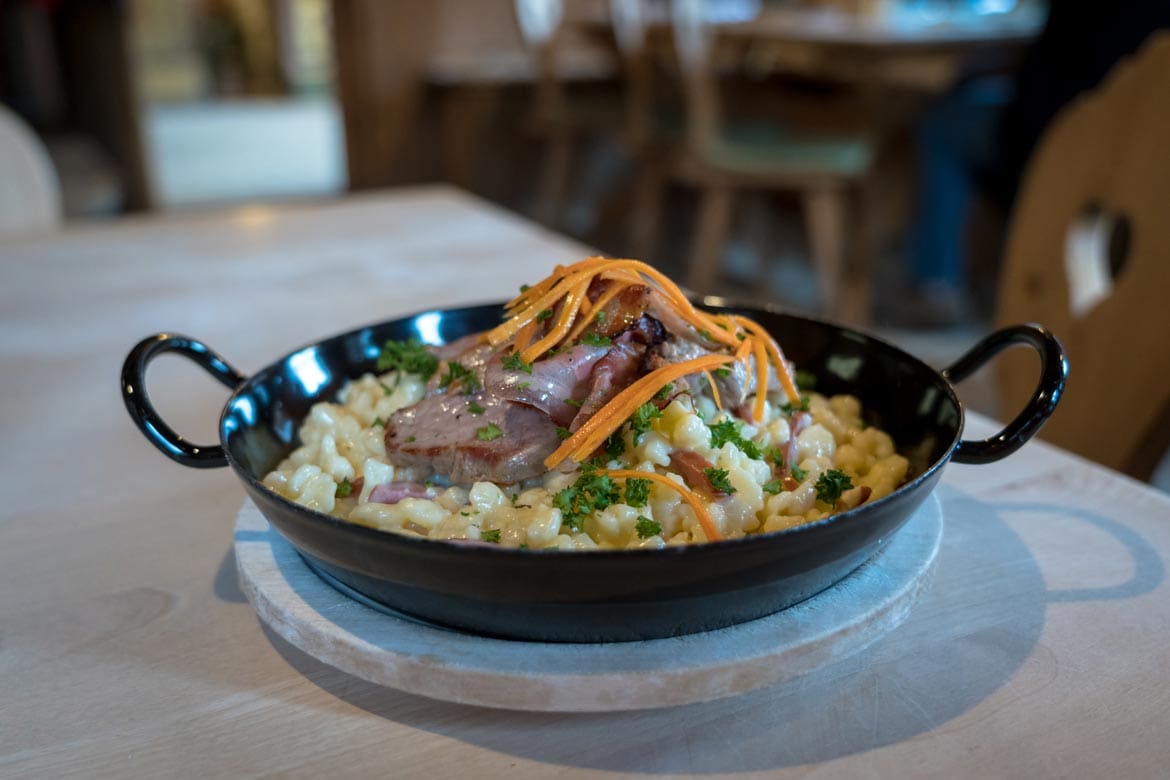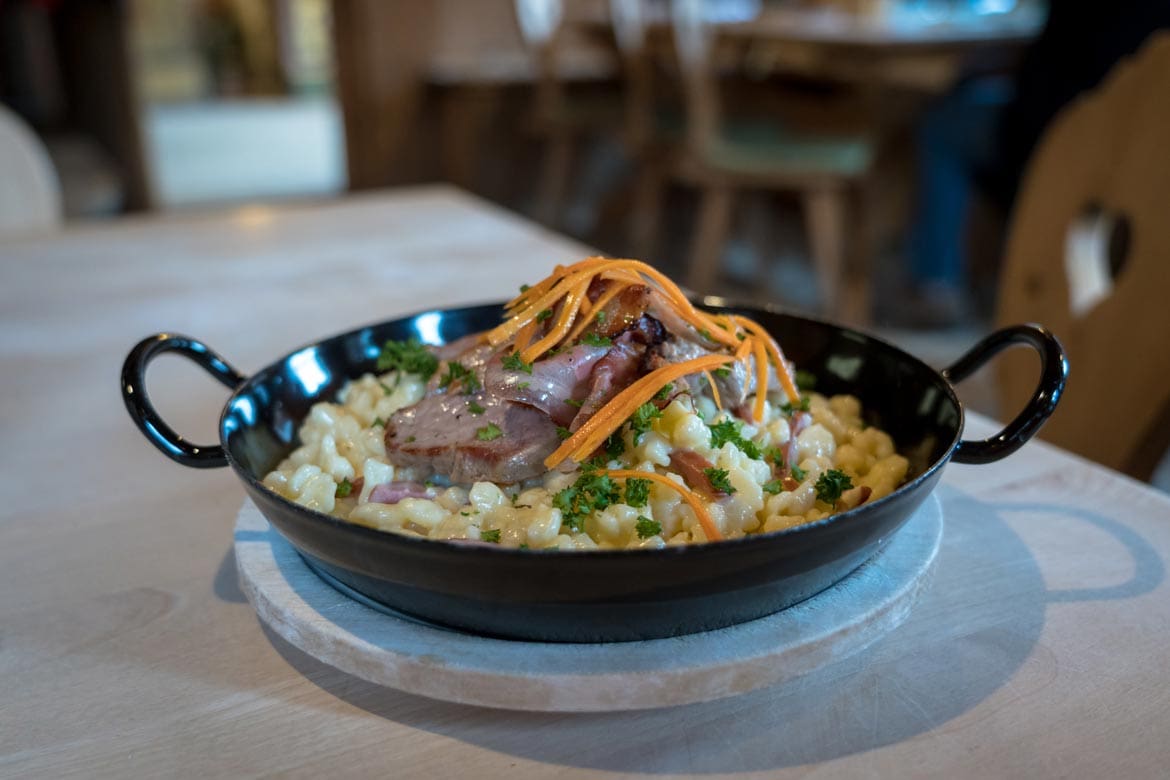 While I was here I went to the restaurant Gasthaus Sollererwirt for some stereotypical käsespätzle, the equivalent to Austrian mac n cheese. If you're looking for a big feed then I always recommend this dish.
Here, practically in the middle of nowhere, peace and tranquillity reigns.
Try some of the local Krautinger schnapps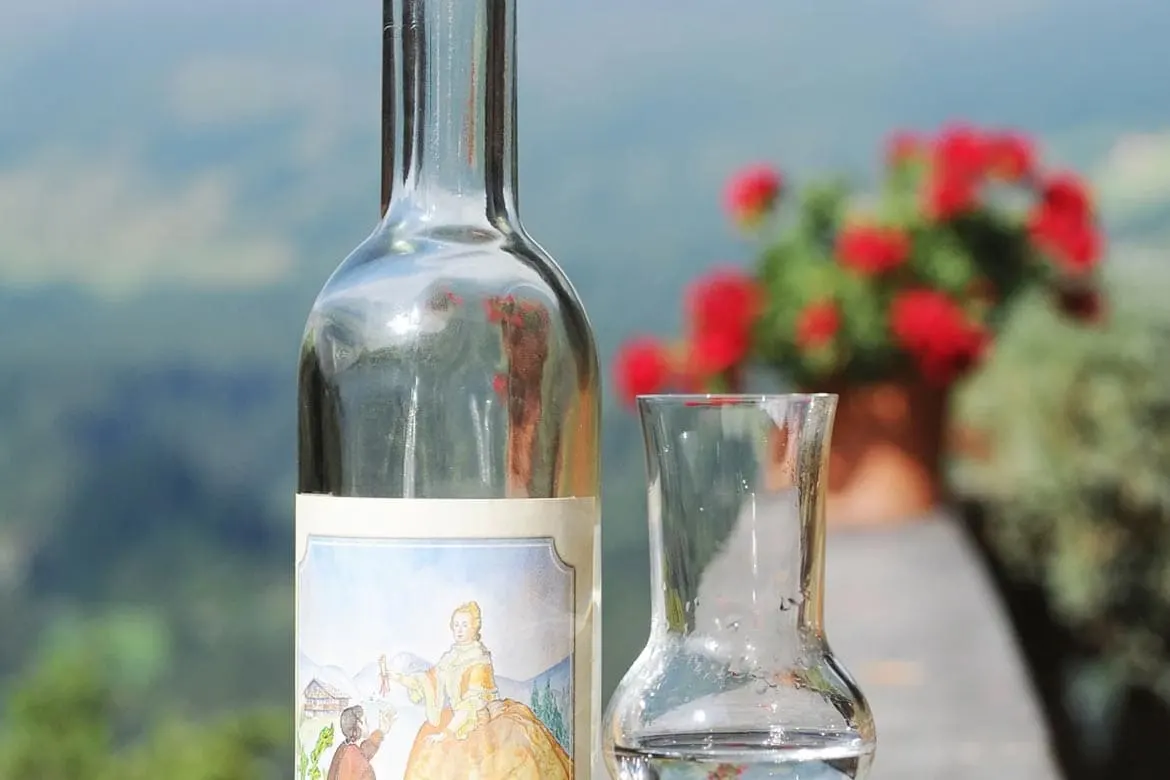 Austrians will welcome you into their homes with open arms and a bottle of schnapps on the table. If you've never had it before, schnapps is European fiery fruit brandy that'll set your belly alight.
Well, in Wildschönau they distill Krautinger schnapps which is made from white beets and it is unique to this area. I had a fair few shots of this while I was here and predictably it was eye-wateringly potent. The smell is pretty horrible too but it is an experience.
Locals say Krautinger schnapps can cure any illness and it's well worth trying some while you're here.
Hotels in Wildschönau, Tirol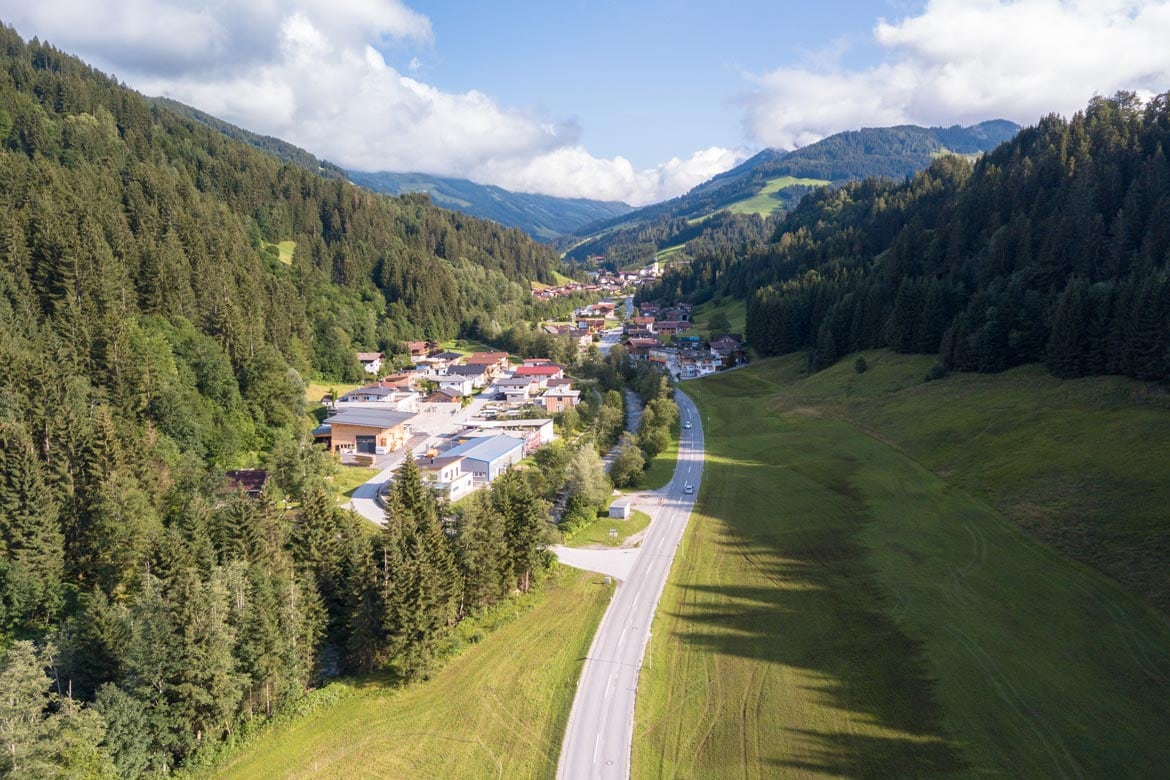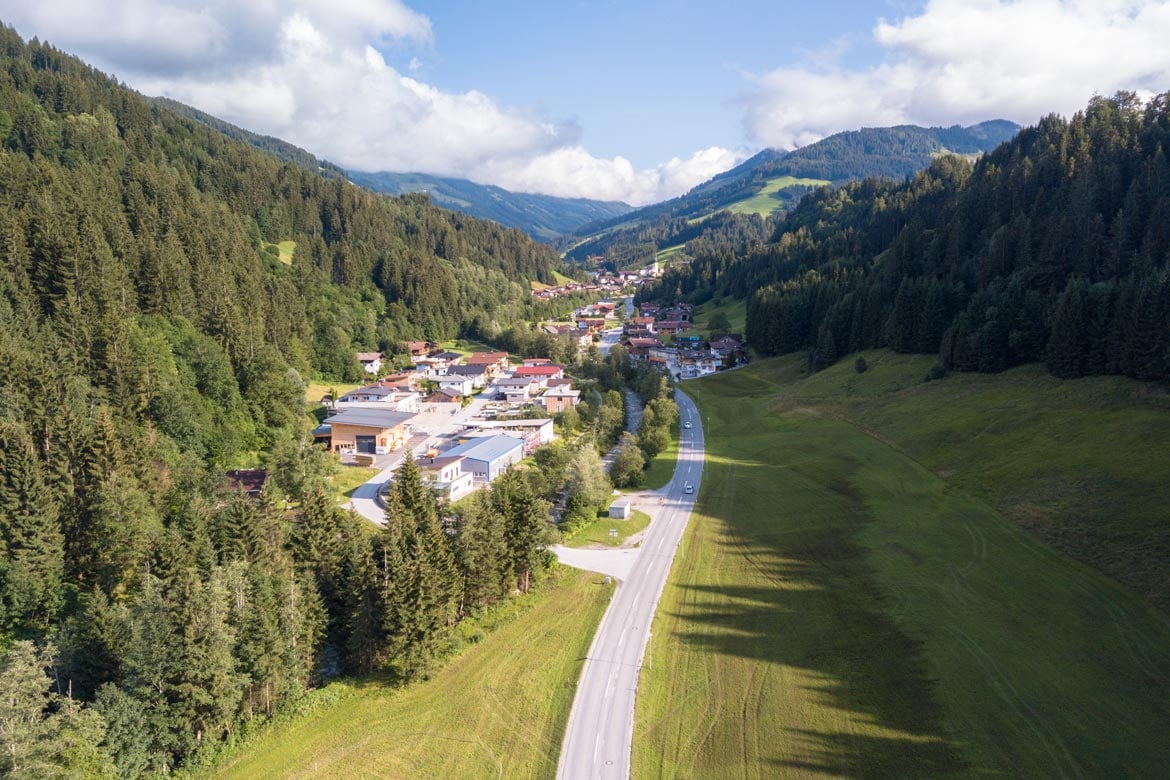 With 4 different villages, obviously there are plenty of hotels in Wildschönau to choose from. I stayed in Oberau which was really picturesque but there are lots of hotels in Niederau too.
Hotel Tirolerhof – This is where I stayed while I was in Wildschönau and it was a great place to base myself. I had a really nice view of the church in Oberau which I woke up to every morning. Hotel Tirolerhof has an indoor swimming pool, a couple of different saunas and a ski lift in winter right outside the hotel, so fantastic if you're a skier. For dinner, I had a 3-course meal every which and there's a relaxing bar too.
Hotel Sun Valley – Surrounded by the impressive mountain scenery of the Kitzbühel Alps, this hotel offers a quiet location in the centre of Auffach. The Schatzberg cable car is only a few minutes' walk away so perfect for Ski Juwel Alpbachtal Wildschönal. You can ski downhill right back to Hotel Sun Valley which is a bonus too. This is one of the best rated hotels in Wildschönau.
Hotel Wastlhof – Hotel Wastlhof is located in Niederau directly at Markbachjoch Cable Car and the ski slopes. Like a lot of hotels in Wildschonau this place has an indoor swimming pool, a hot tub and a sauna. The hotel restaurant offers regional & international specialities in the rustic restaurant and the sunny terrace with views of the valley is the best spot for a drink in the afternoon.
Wildschonau packing list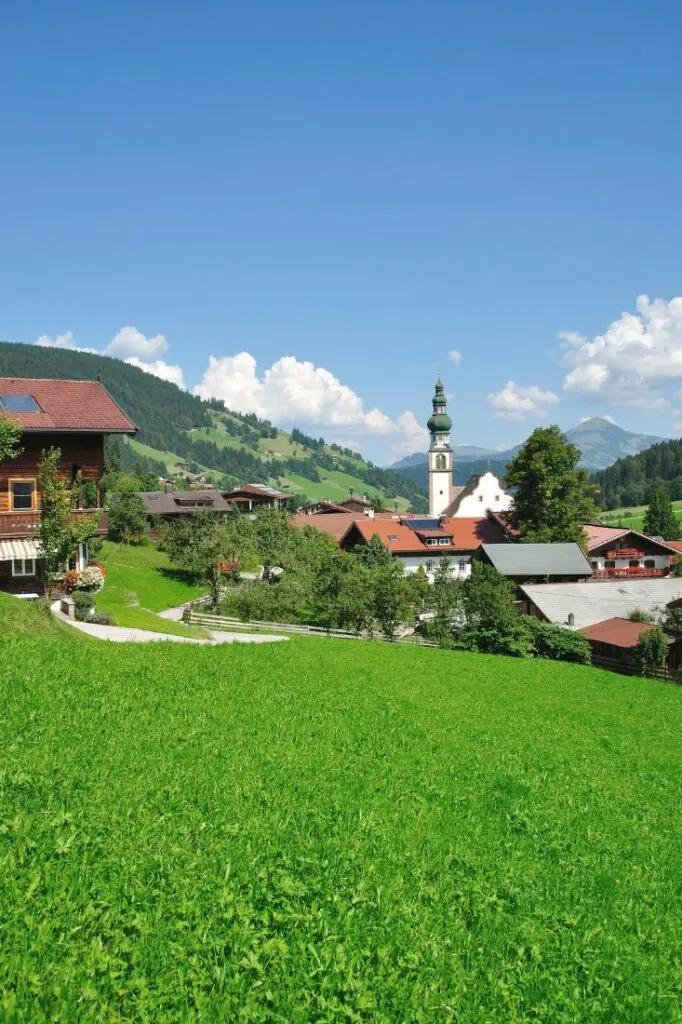 As you can imagine, I travel a lot. It comes with the territory of being a travel blogger! That being said, there are some things that I now can't travel without. If you're planning your Wildschonau itinerary, I'd really recommend taking these items with you: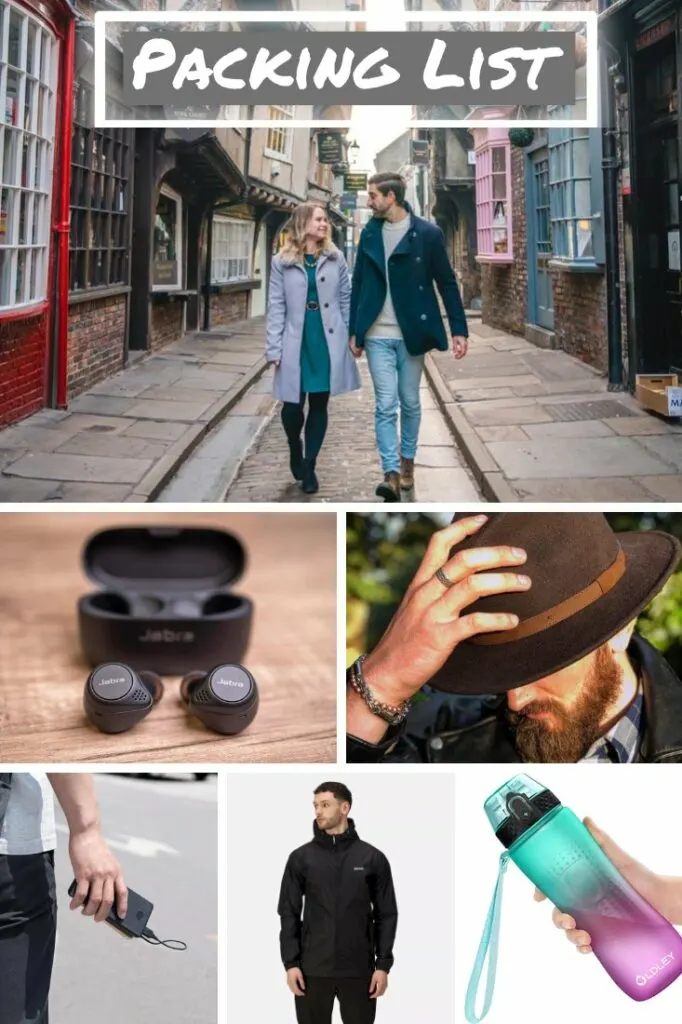 ---
My trip to Austria was in association with Visit Tirol promoting some of the best things to do in Wildschönau. As always, views are entirely my own and without bias.
Are you planning a trip to Wildschonau? What are some of the things you're most looking forward to doing? Let me know in the comments below!
Like my blog post? Then make sure you Pin it for the future!