Are you spending summer in Zell am See? Then here are the best things to do in Zell am See Kaprun for the ultimate summer holiday in Austria!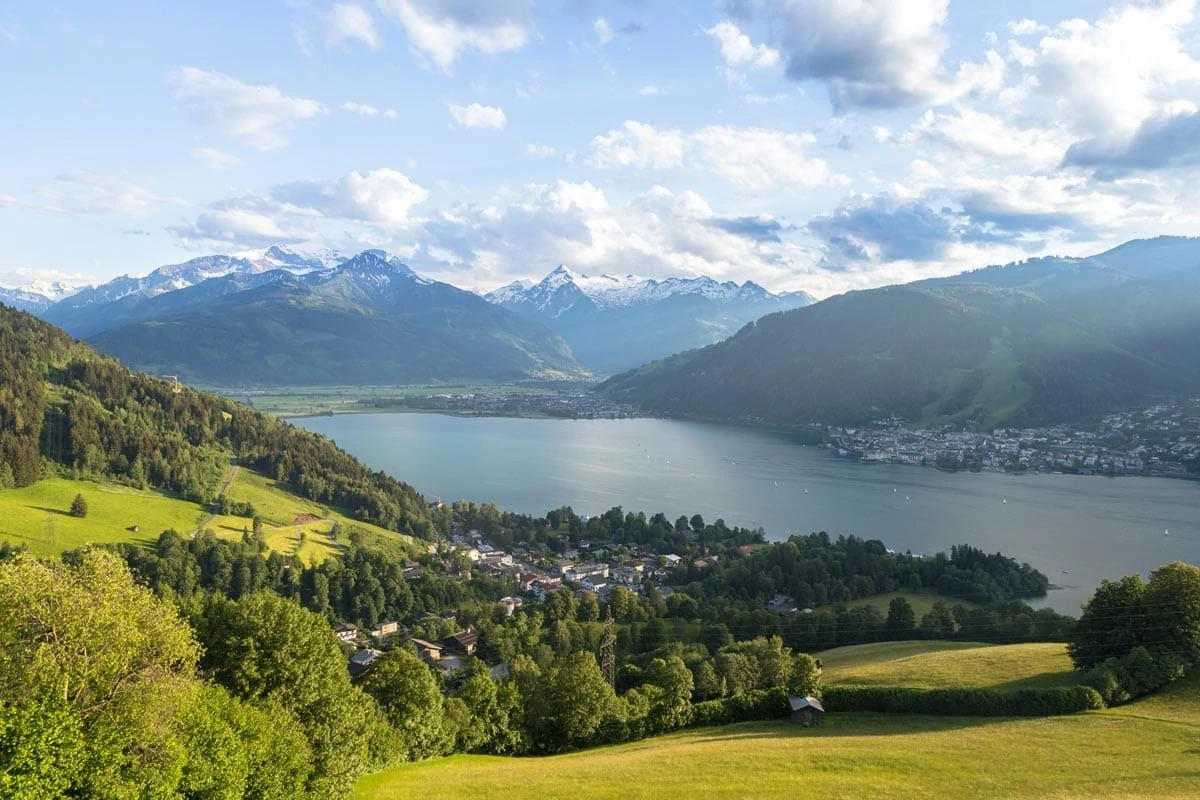 This is what summer in Zell am See is all about!
There aren't many places around the world that can boast the beauty of Zell am See Kaprun in the heart of Austria. It just has a little bit of everything.
Mountains and glaciers? Check. Deep dense forests? Check. Beautiful blue lake? Check. And then there's the town; it's so charming and cute.
To be honest with you, Zell am See-Kaprun was a place I knew nothing about. I felt like it was a secret that Austrians were keeping to themselves.
Well, after spending some time here recently, I can see why. It really is one of the most beautiful places I've been to in a very long time. I can't wait to show you why!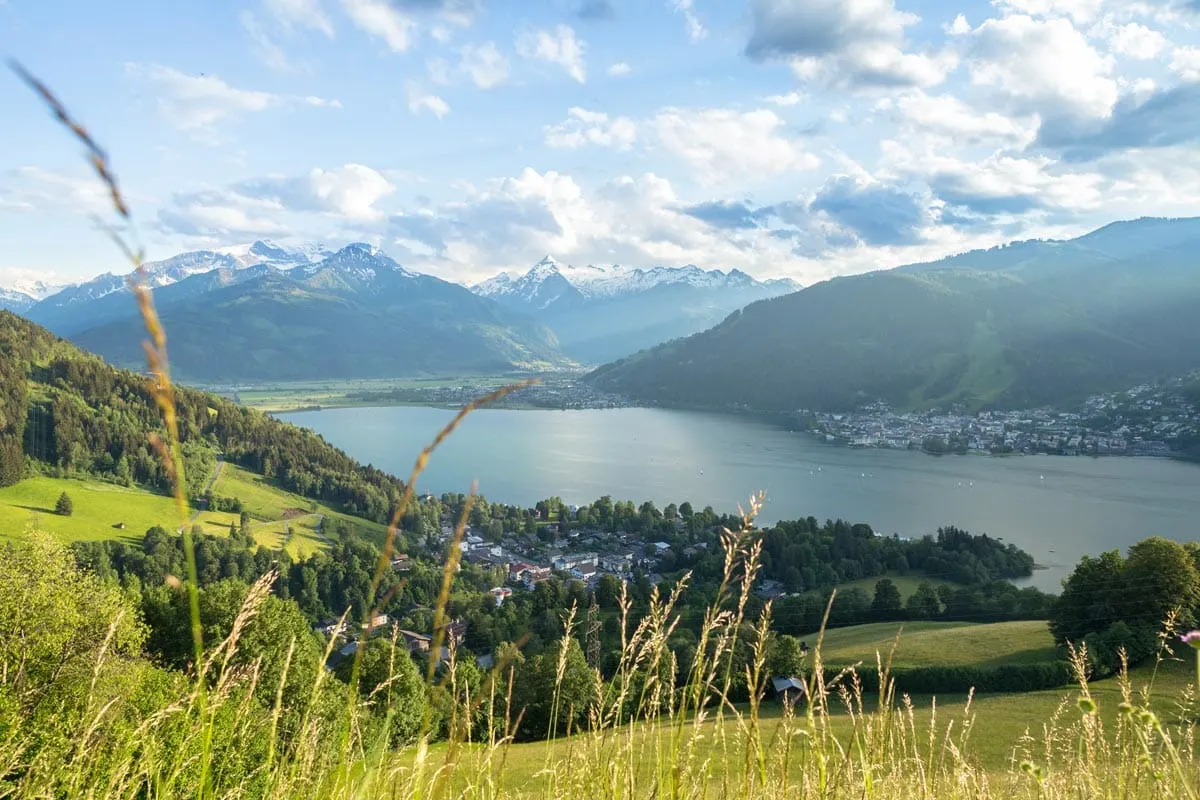 Operation Eagle
Zell am See-Kaprun was the second stop in our 'Operation Eagle' series around Austria.
This is where we set the legend that is Eddie the Eagle to a number of different challenges all around Austria.
For those of you who don't know him, Eddie the Eagle is a British national treasure. He shot to fame after finishing dead last in the ski jump at the 1988 Winter Olympics. Even though he didn't leave with a medal, he won over hearts all around the world, so much so they made a film about his life in 2016.
While we were in Austria, I was part of the team that was coming up with some weird and wonderful challenges for Eddie. Think cooking challenges and unique triathlons. Anything to get Eddie out of his comfort zone while showing off some of the things you can do in Austria.
Anyway, you can read more about what we got up to in our 'Operation Eagle' series here.
But firstly, make sure you watch our Zell am See-Kaprun episode below to get a flavour of what it's all about!
Things to do in Zell am See
Zell am See-Kaprun is famous for three things – the glacier, the lake and the town, so obviously they're the top three things to do here!
Depending what your favourite outdoor activity is, there's a very good chance you'll be able to do it at Zell am See-Kaprun. And in summer, there are so many more options for you to do.
From hiking to skiing to exploring all the cute little restaurants doted around town, there really is something for everyone. The water sports on Lake Zell are amazing too – it's such a beautiful location to do waterskiing or paddleboarding.
So, if you're heading to this region in Austria, these are the best things to do for the ultimate summer in Zell am See. Just make sure you back your swimsuit!
---
What do to in Zell am See
Head to the top of Kitzsteinhorn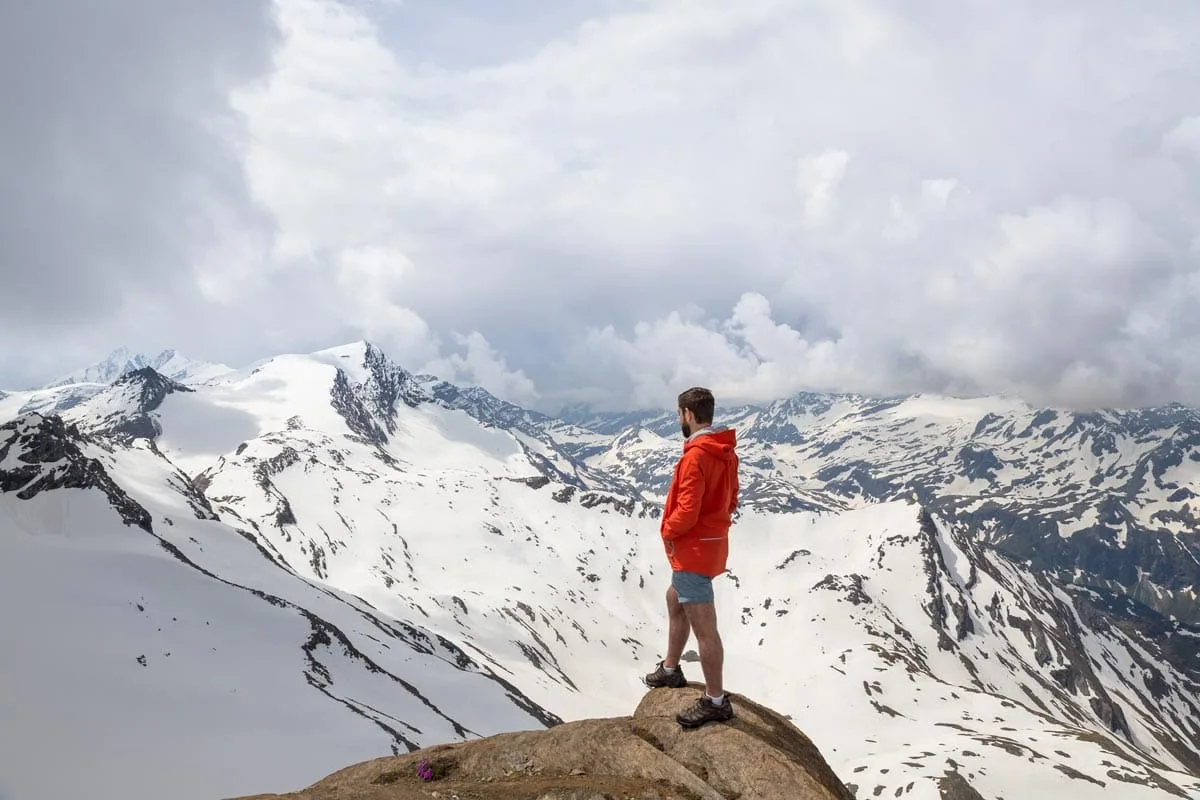 Kitzsteinhorn is the name of the main mountain range in Zell am See-Kaprun.
It's a 20-minute drive outside the centre of Zell am See-Kaprun, but if you don't have a car then there are buses running frequently too.
Being a mountain and glacier, the main things to do at Kitzsteinhorn are skiing and snowboarding. And unlike a lot of other places in Europe, the season runs for a very long time – apparently the mountain doesn't close down until the end of July, though obviously the snow is much better earlier on in the year.
However, if skiing and snowboarding isn't your thing, don't worry, there's still plenty of things for you to do at the top. As you can see, I was wearing shorts, so this definitely counts as a summer activity.
Viewing platform at Kitzsteinhorn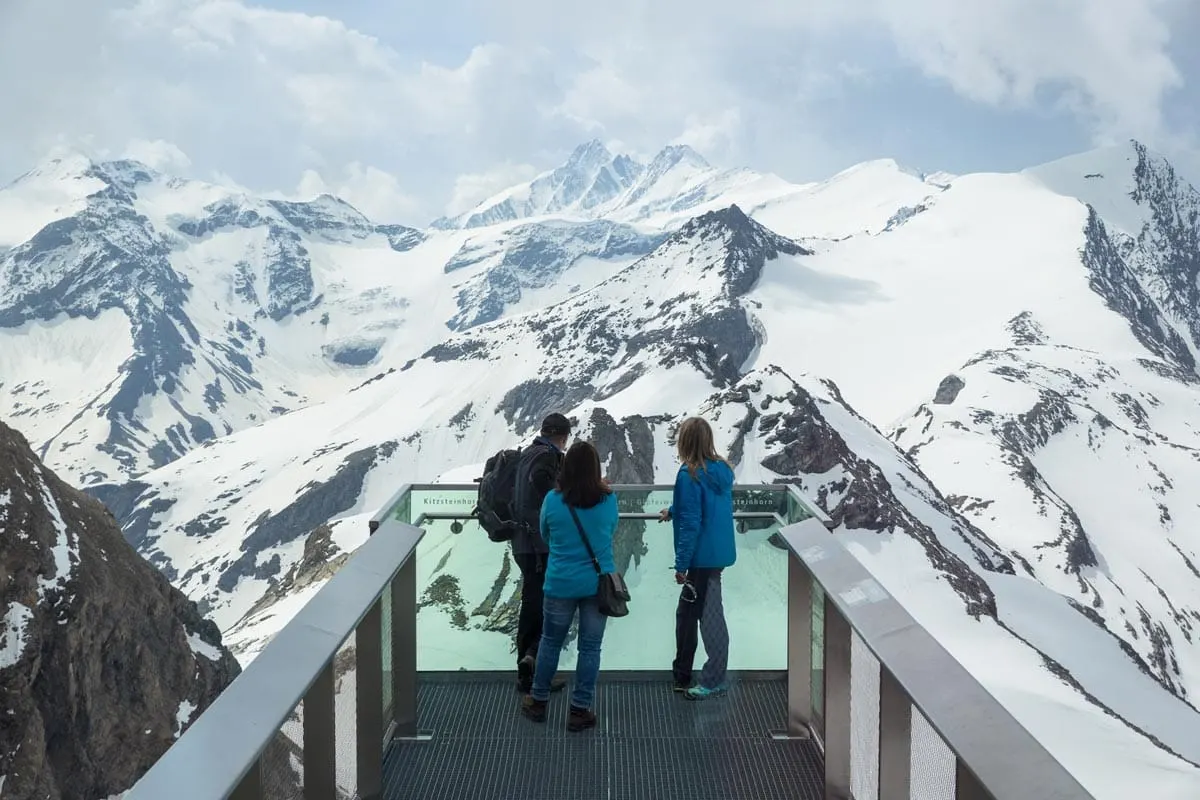 One of the things I always love about the mountains is getting the cable car to the top – it's always such a good way of seeing the surrounding countryside and plenty of photo ops too.
Once you get to the top of Kitzsteinhorn there are a couple of viewing platforms. The main one is the top of Salzburg at 3,029 metres with a view of the ski slopes below. There is also a restaurant here with panoramic views of the mountains all around.
The second viewing platform is through an educational tunnel that tells you about the geography and history of the area. The tunnel is 300 metres long and takes you out to a viewing platform on the other side of the mountain range.
For me, the views here were just spectacular. Make sure you see both viewing platforms as they're so different!
This is definitely one of the best things to do in Zell am See so make sure you add it to the list.
A return ticket to the top of Kitzsteinhorn costs £37 and you can book it here.
Try Käsespätzle (Austrian mac n cheese)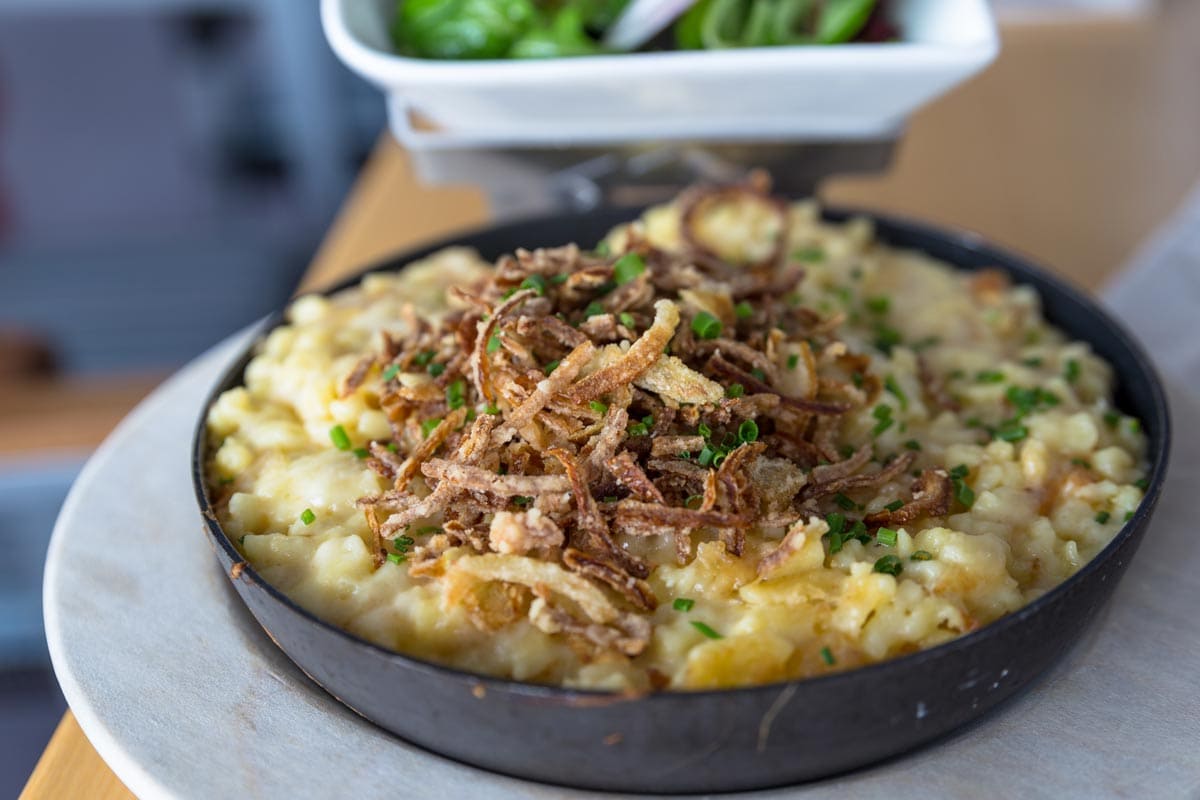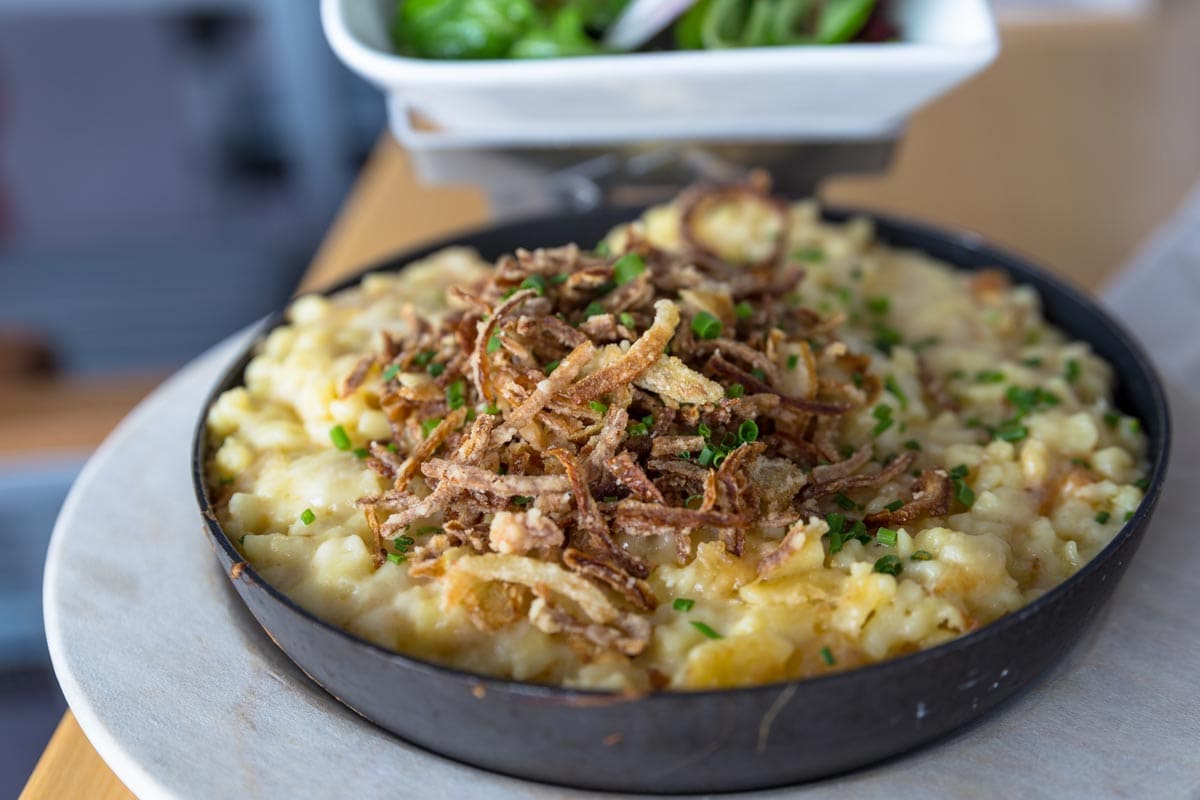 If you're up in the mountains then I'd really recommend eating at Gletschermühle, one of two restaurants at Kitzsteinhorn that offers really traditional food.
And what's the one thing on the menu you should try? Käsespätzle.
This is basically Austrian mac and cheese and it is a classic dish for up in the mountains.
One portion probably has about 10,000 calories but damn does it taste good. It was one of the best things I ate while in Kaprun, Austria!
Water sports on Lake Zell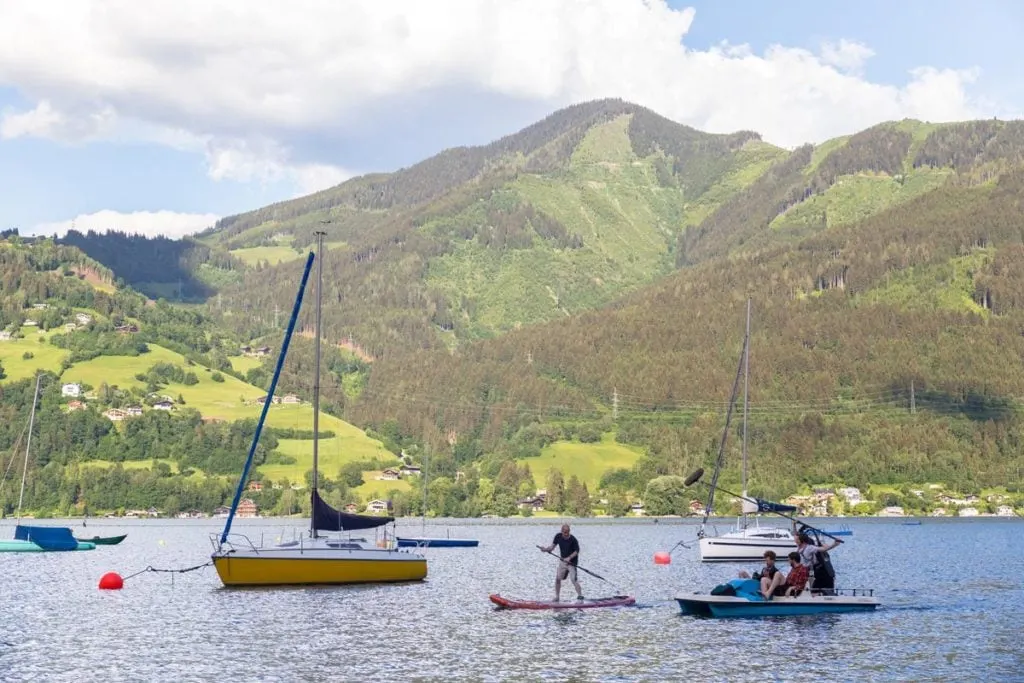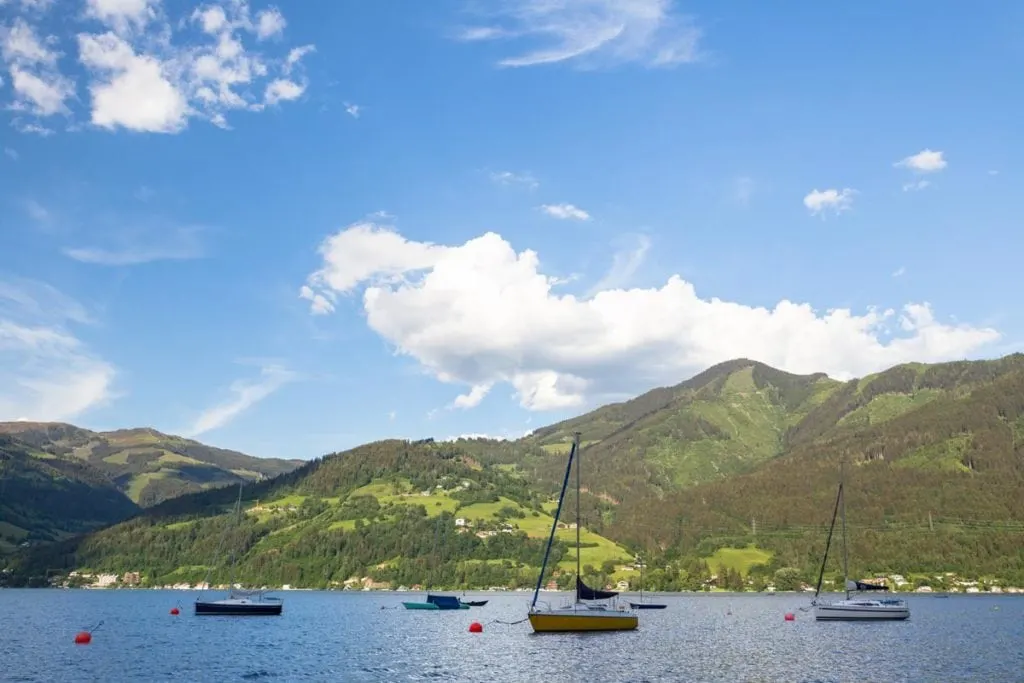 Name any water sport activity and you'll be able to do it on Lake Zell.
As you can see from our video, Eddie opted for some paddleboarding while the support crew were on a paddelo. However, you can go sailing, waterskiing, wake-boarding and a load of other activities too.
To be honest with you, one of my favourite things to do at Lake Zell was to take in the beauty of the place. There aren't many places I've been to with the mountains so close to the lake like this. It's what makes summer in Zell am See such a great time to visit.
If you want to take your relaxation to the next level, there are a couple of outdoor swimming pools and leisure centres dotted around where you can laze by the lake. Definitely a must on a hot Kaprun summer's day.
The light show at Zell am See-Kaprun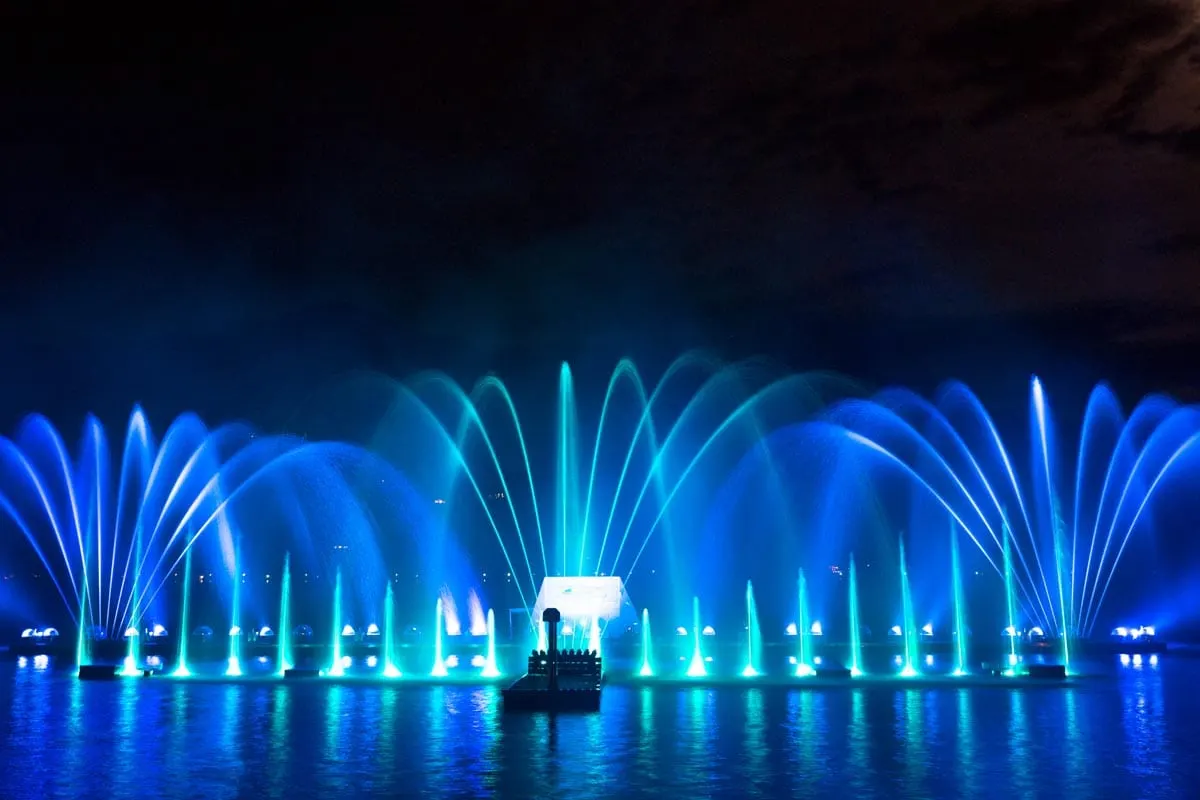 When it comes to what to do in Zell am See, the Magic Lake Show is one of the top rated attractions And who doesn't love a light show!?
Every Tuesday, Thursday and Sunday there is a light show down by the side of the water of Lake Zell and it is well worth checking out while you're staying here.
The Magic Lake Show is very popular, so if you're looking for a front-row spot to take it all in, make sure you claim your place at least 30 minutes before the show starts. Otherwise, you can turn up five minutes before and still find a place to stand.
Also, the best thing about the show is it's completely free! Just grab a drink from the local bar and enjoy the show!
Catch the cable car to the top of Schmittenhöhe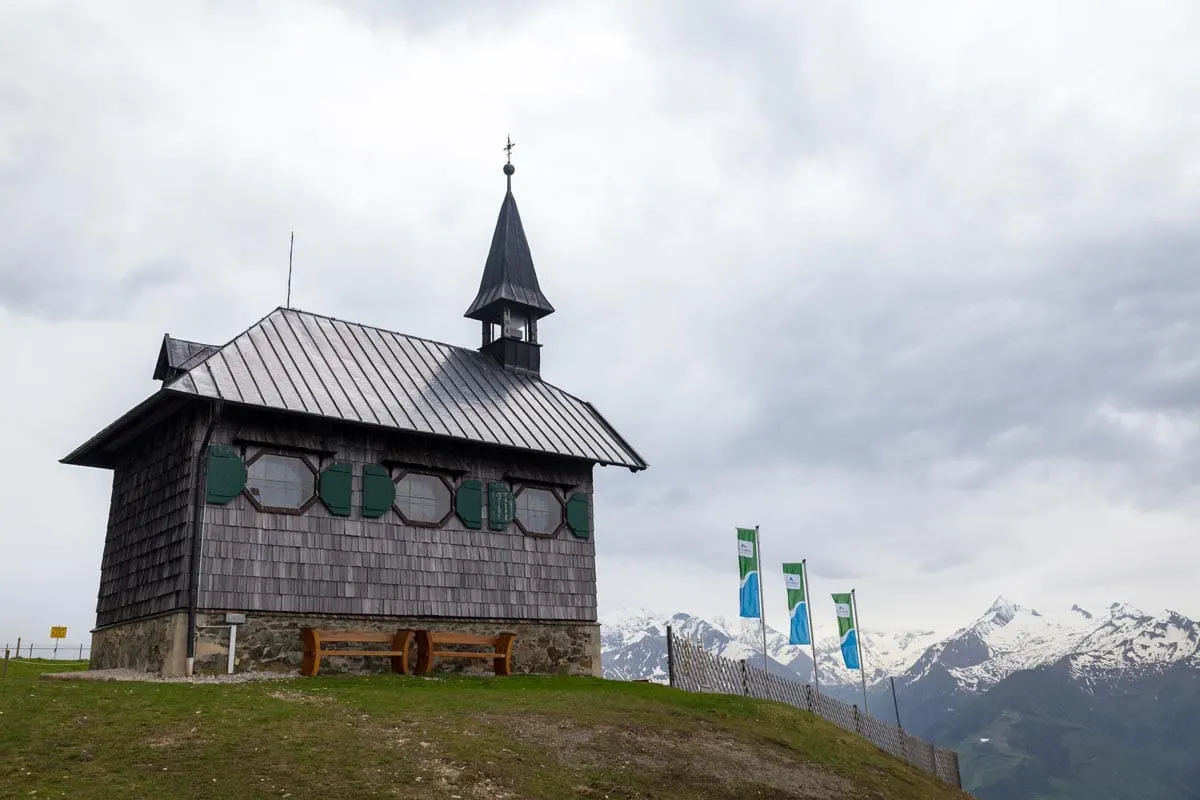 Another incredible viewpoint at Zell am See-Kaprun is at the top of the scenic cable car to Schmittenhöhe.
Tickets cost €28.50 and the cable car takes about 20 minutes to get to the top. Once again the views are spot on here (you can probably tell that a) I really like views of the mountains, and b) that's what Zell am See-Kaprun is all about).
Once you're at the top, there are a number of hiking routes around the area which are well worth exploring. Or you could just park yourself in the café, get yourself a coffee and some cake and take in the beautiful views all around you. This was one of my favourite Zell am See activities, especially in summer.
Find your own viewpoints in Zell am See-Kaprun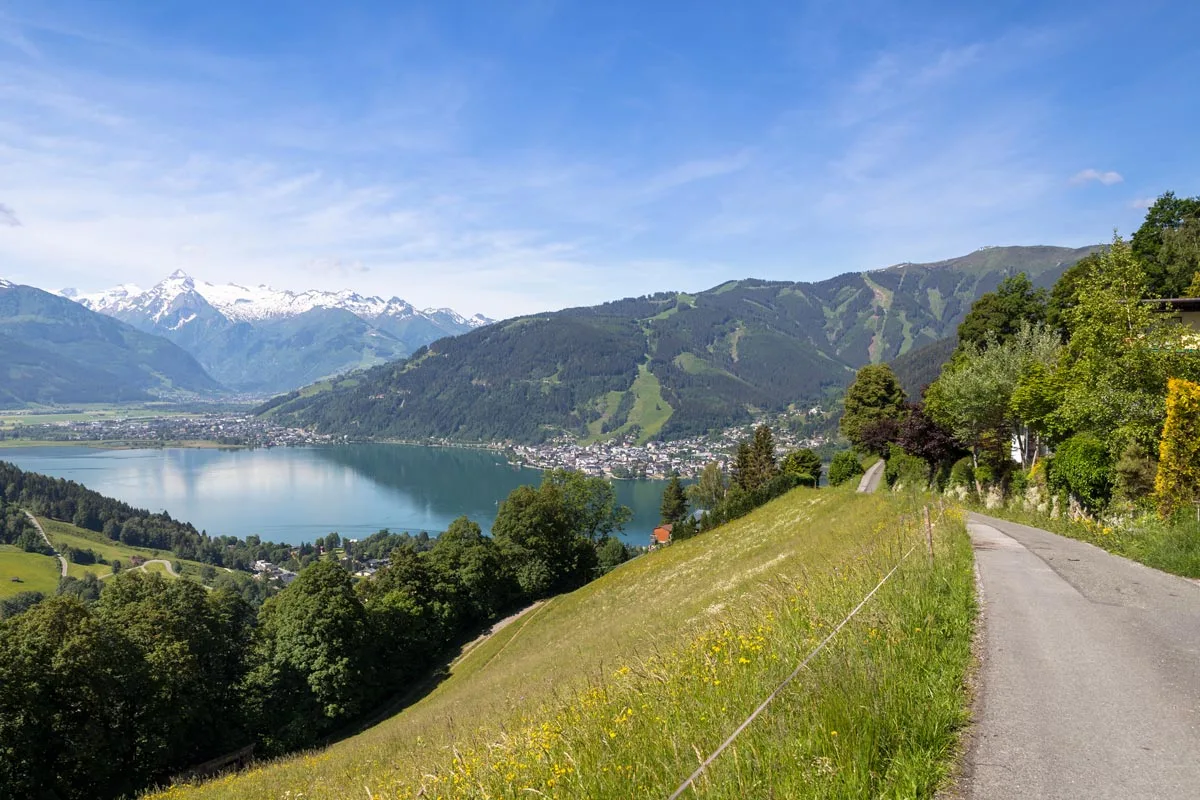 If you're looking for other things to do in Kaprun, I'd really recommending finding your own viewpoint and taking in the views.
All around Lake Zell, especially on the north side of the lake, there are some incredible roads to drive with some seriously special views of the town below.
I enjoy driving at the best of times, but on these roads, with these views. Yeah, that's something worth going out your way for.
I can't imagine what it would be like to live in a place like this! This is what I love summer in Zell am See-Kaprun!
Wander around the old town in Zell am See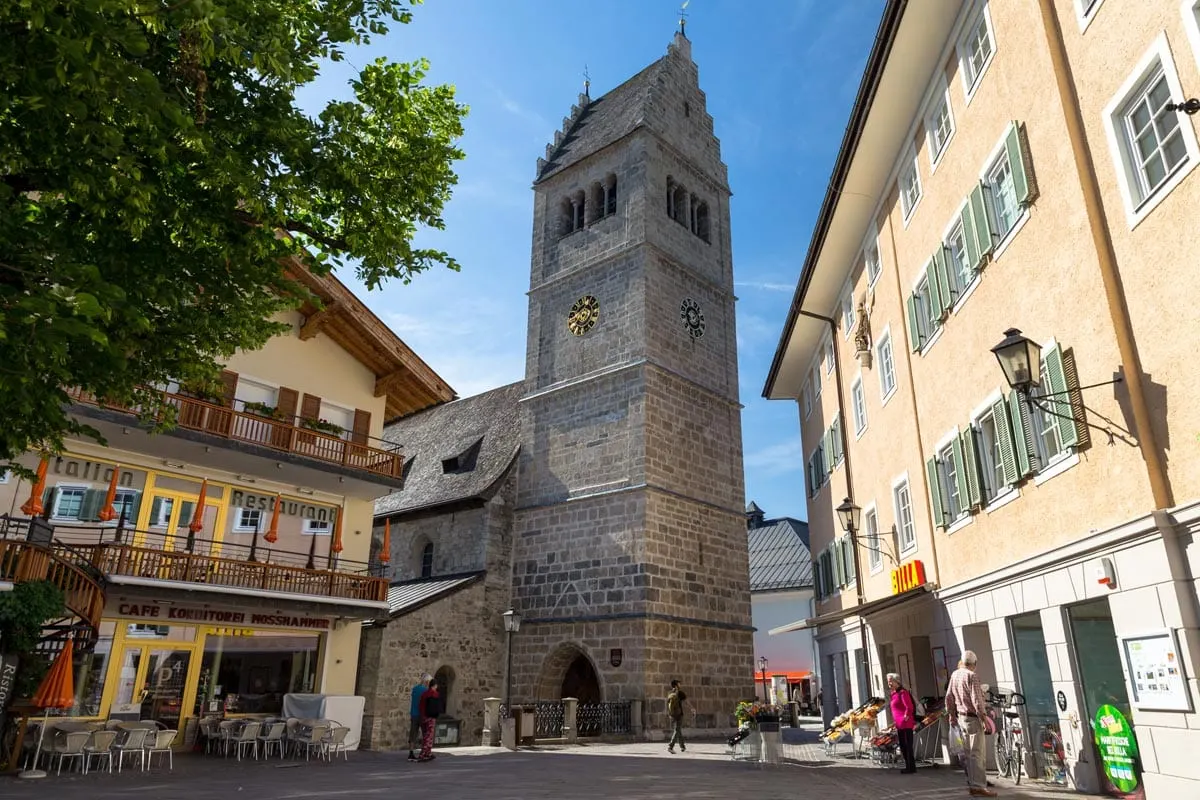 One of my favourite things to do in Zell am See in summer was wandering around the old town.
It's easy to think Zell am See is just about the lake and the mountains, but the town itself is really pretty. There are loads of really nice cafes and restaurants dotted all over the place.
Also, in summer, the bars can get quite lively with people sitting outside having an Aperol spritz long into the evening. You can see why I enjoyed that one!
Where to stay in Zell am See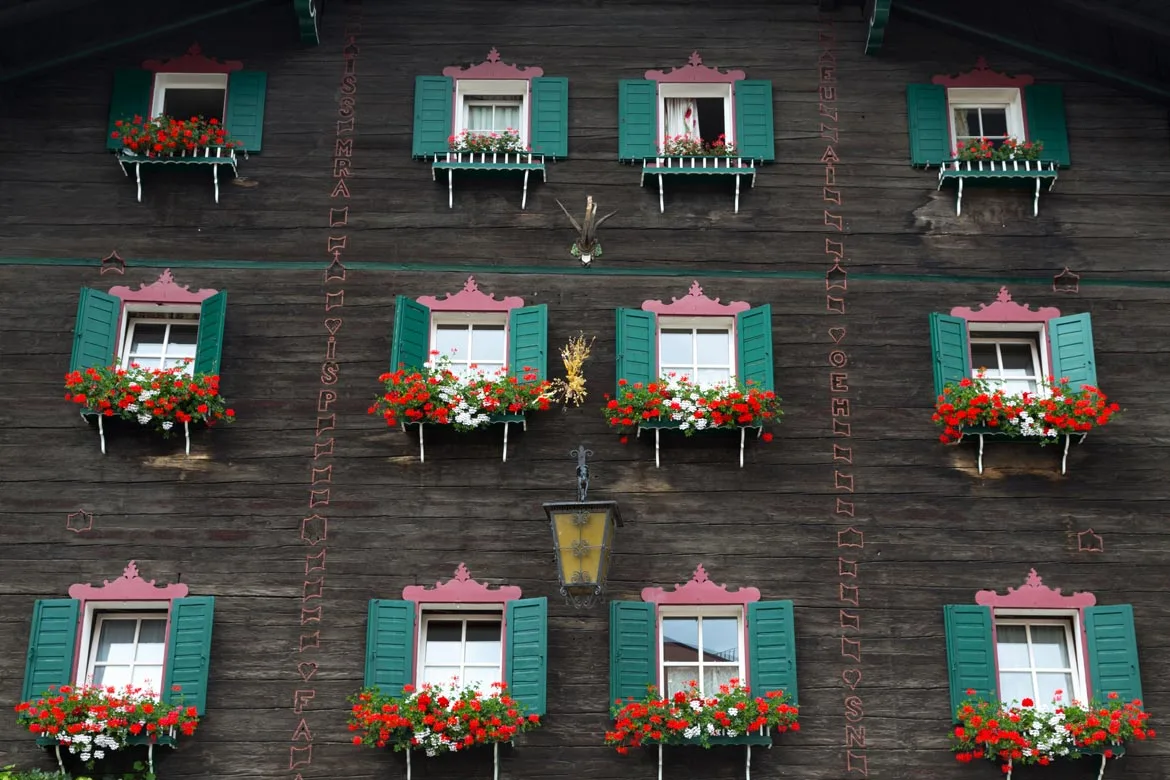 Hotel Grüner Baum – This is one of the best rated hotels in Zell am See. Only a few minutes from the lakeshore and the cable cars, this hotel is right in the heart of the action. Most of the rooms comes with a balcony with gorgeous views of the Schmittenhöhe.
Hotel Pension Hubertus – This is in the style of an old-school chalet and the inside of the hotel is so comfortable and cosy. Hotel Pension Hubertus is one of the best hotels no matter the season – it doubles up as a ski chalet in the winter, but its a great place to stay in the summer too in the centre of town. This is a fantastic option for a simmer in Zell am See.
Sport- und Familienhotel Alpenblick – Located just a 10-minute walk from the centre and the Lake Zell, the family-run Sport- und Familienhotel Alpenblick features a restaurant, a wellness spa with indoor and outdoor pools and beautiful decor too. Like this others, this is one of the most popular places to stay here.
Zell am See packing list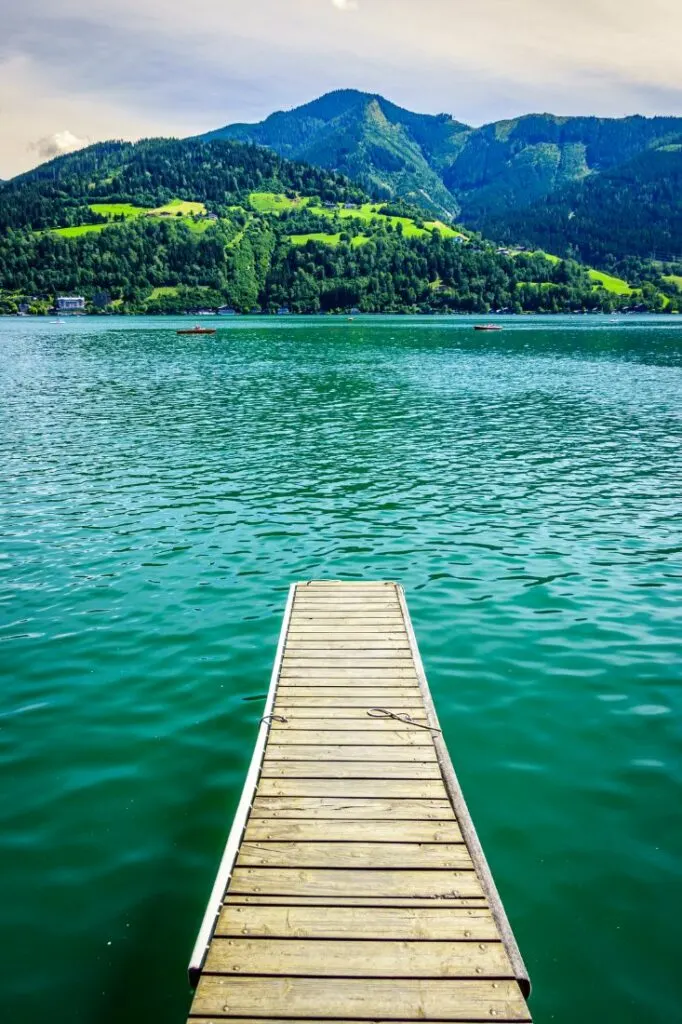 As you can imagine, I travel a lot. It comes with the territory of being a travel blogger! That being said, there are some things that I now can't travel without. If you're planning your Zell am See itinerary, I'd really recommend taking these items with you: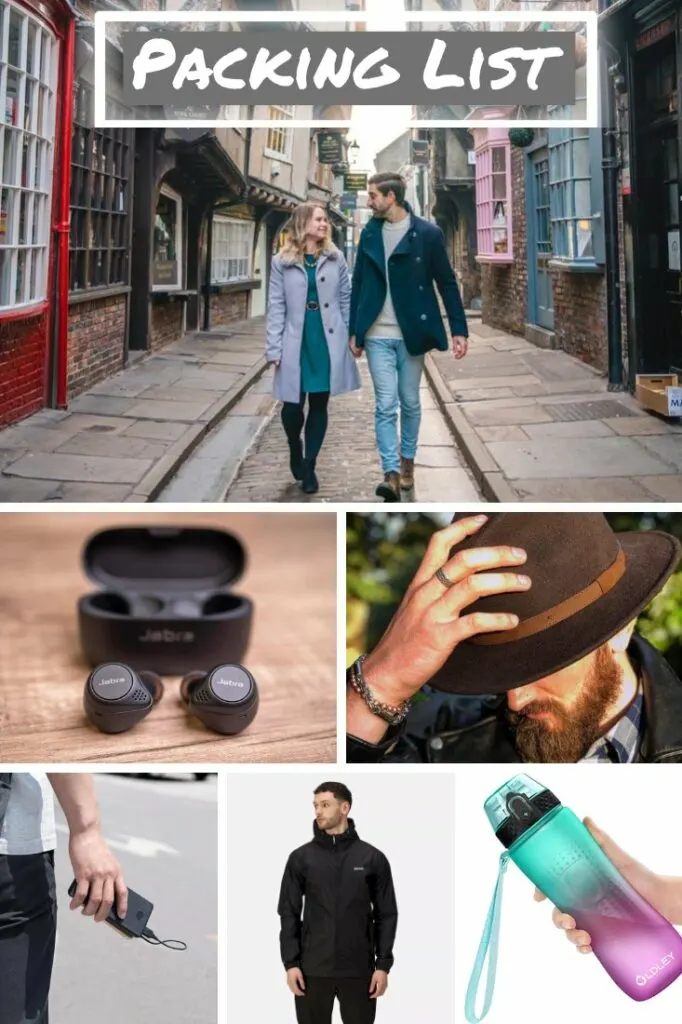 ---
This post was in association with Visit Austria and Zell am See-Kaprun (the Kaprun Tourismus GmbH) promoting some of the best things to do in Austria during the summer – it's not all about the winter sports here! As always, views are entirely my own and without bias.
Are you thinking of what to do in Zell am See? Let me know in the comments below and hopefully I can help with your trip!

Like this blog post? Then make sure you Pin it!