Are you heading to Alpbach in Tirol, Austria, for your summer holidays? Then this is the blog post for you with all the best things to do in Alpbach!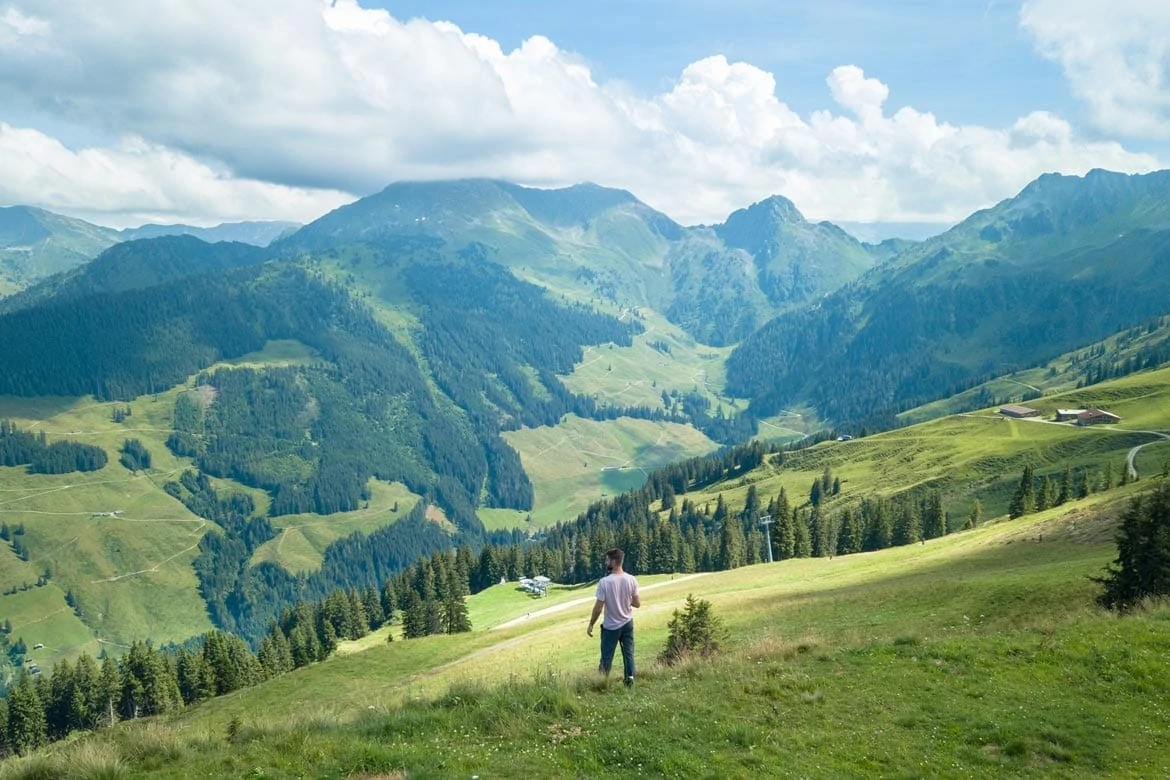 Alpbach comes with the tagline 'Austria's most beautiful village'. When you've got places like Innsbruck, Salzburg and Zell am See-Kaprun all just a short distance away, that's such a bold claim.
However, after spending the last few days exploring all the best things to do in Alpbach and Alpbachtal (which is the name of the region), I'm starting to see why; this place is just so so beautiful, it really is. The thing is, hardly anyone's heard of it.
Being nestled in a valley in the Kitzbühel Alps in the heart of Tirol, Alpbach is surrounded by stunning mountains. In the summer everywhere you look is bathed in green. For me, this is what Tirol and Austria is all about!
Check out some of my favourite highlights of the region in the video below:
One of the reasons I love travelling to Austria from May to September is because I think it's such an underrated summer destination.
I know Austria and especially Tyrol is famous for its winter sports, but there's so much going on in this region when the sun is shining.
The main activity to do in Alpbach during the summer is to go hiking. From multi-day hikes to short family hikes, there's really something for everyone here.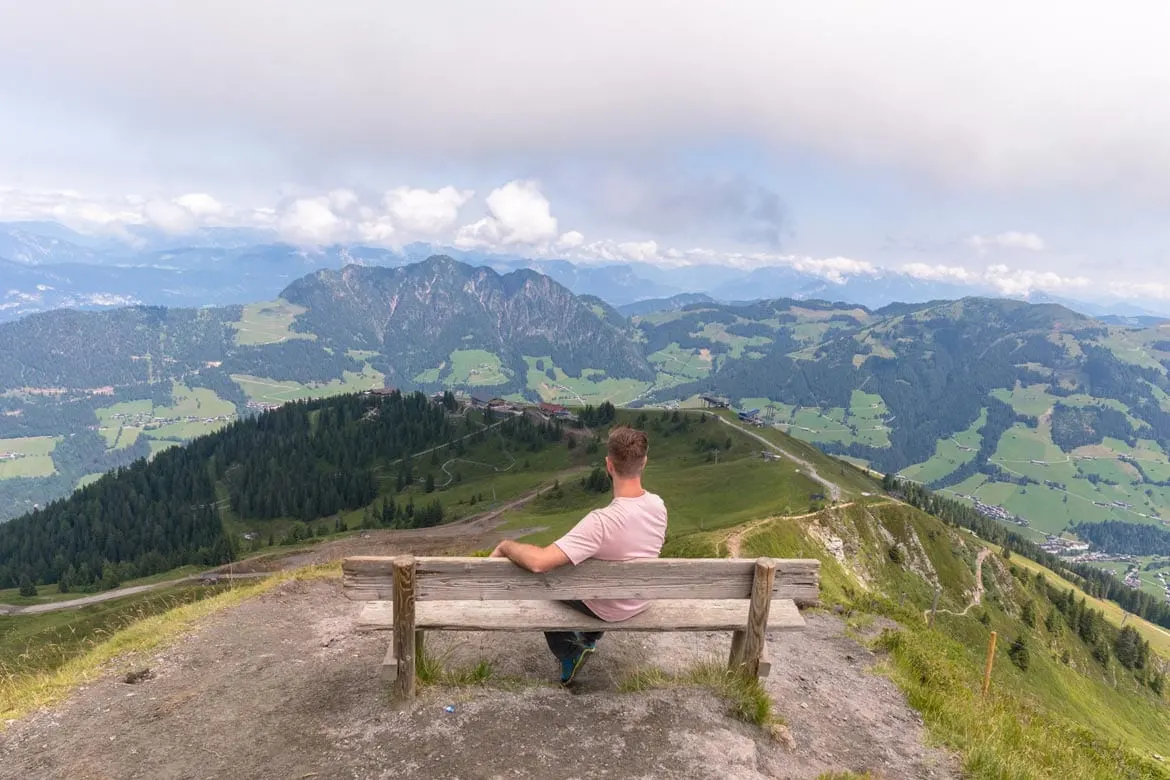 I went on some simply stunning hikes through the countryside and this part of the world is incredibly beautiful. Also, there are hardly any other tourists here. At times it felt like I had the mountains all to myself.
In this blog post I'm going to show you some of the best things to do in Alpbach during the summer. Not only that though, hopefully I'm going to inspire you to visit a part of Austria you've probably never heard of before. So, if you're looking at what to do in Alpbach then read on!
Alpbachtal Seenland Card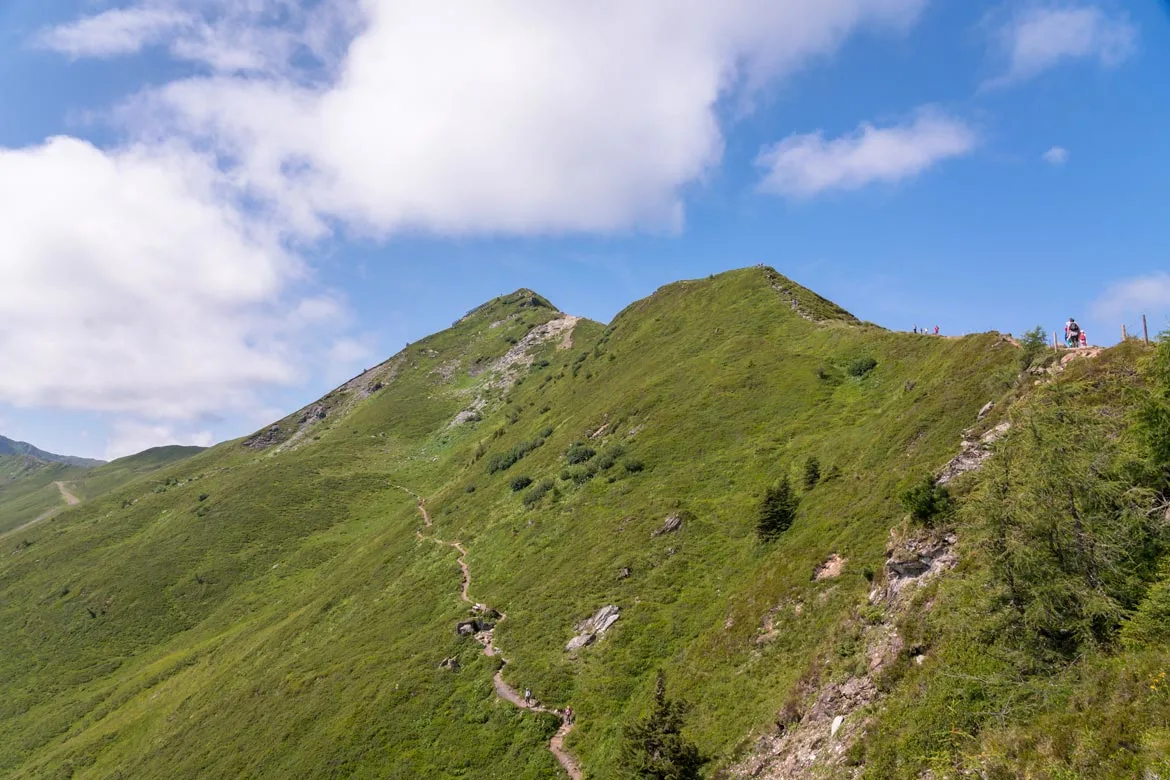 One of the things I really liked travelling around Alpbachtal was having access to the Alpbachtal Seenland Card. This is a tourist card that gives you free transportation and discounts on a number of sights and attractions in the region.
During summer the Alpbachtal Seenland Card gives you access to all cable cars for free, the buses around town, and entry into places like the WAVE Wörgler Wasserwelt adventure pool and the Museum of Tyrolean Farmhouses in Kramsach.
The best bit is all tourists are entitled to a Alpbachtal Seenland Card and it will be issued directly to your accommodation upon arrival. How cool is that!?
As part of coronavirus travel restrictions in Austria, all overseas visitors are required to fill out and submit the Pre-Travel-Clearance. That means you need to get an EUDCC: EU Digital Covid Certificate before you travel. This essentially works as a Covid pass for Austria with your vaccine records listed.
Things to do in Alpbach & Alpbachtal
Hike to the top of Wiedersbergerhorn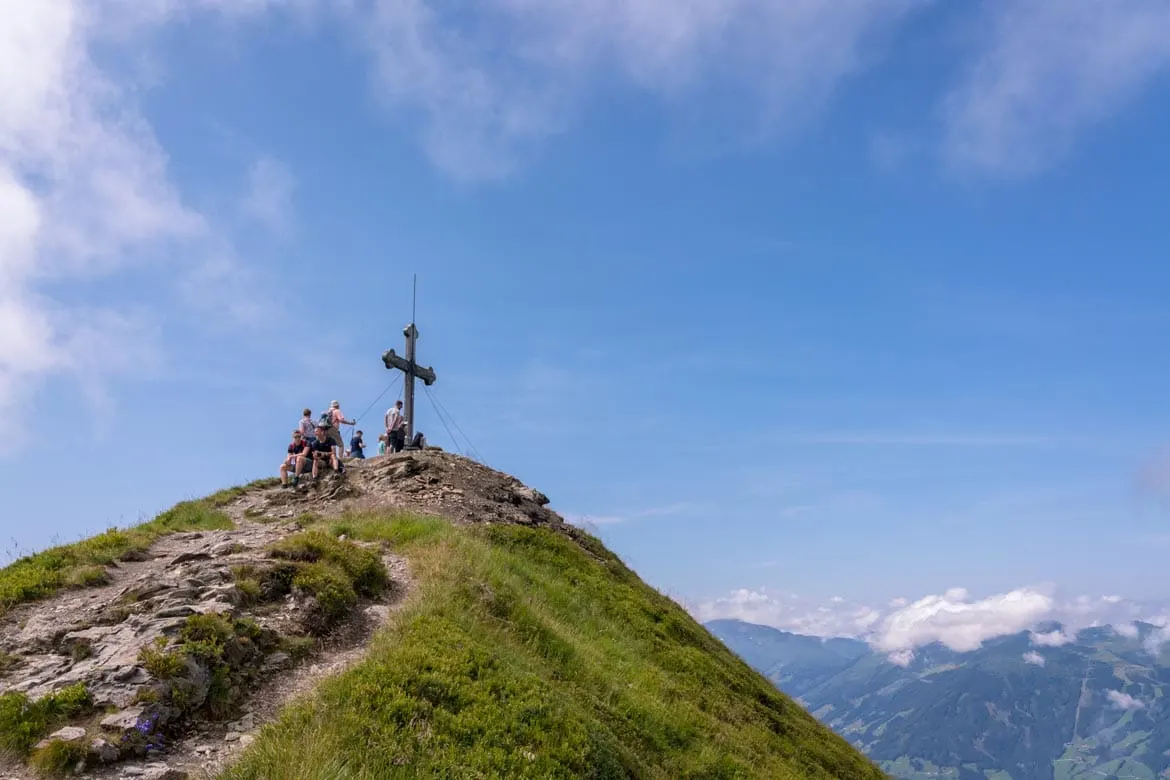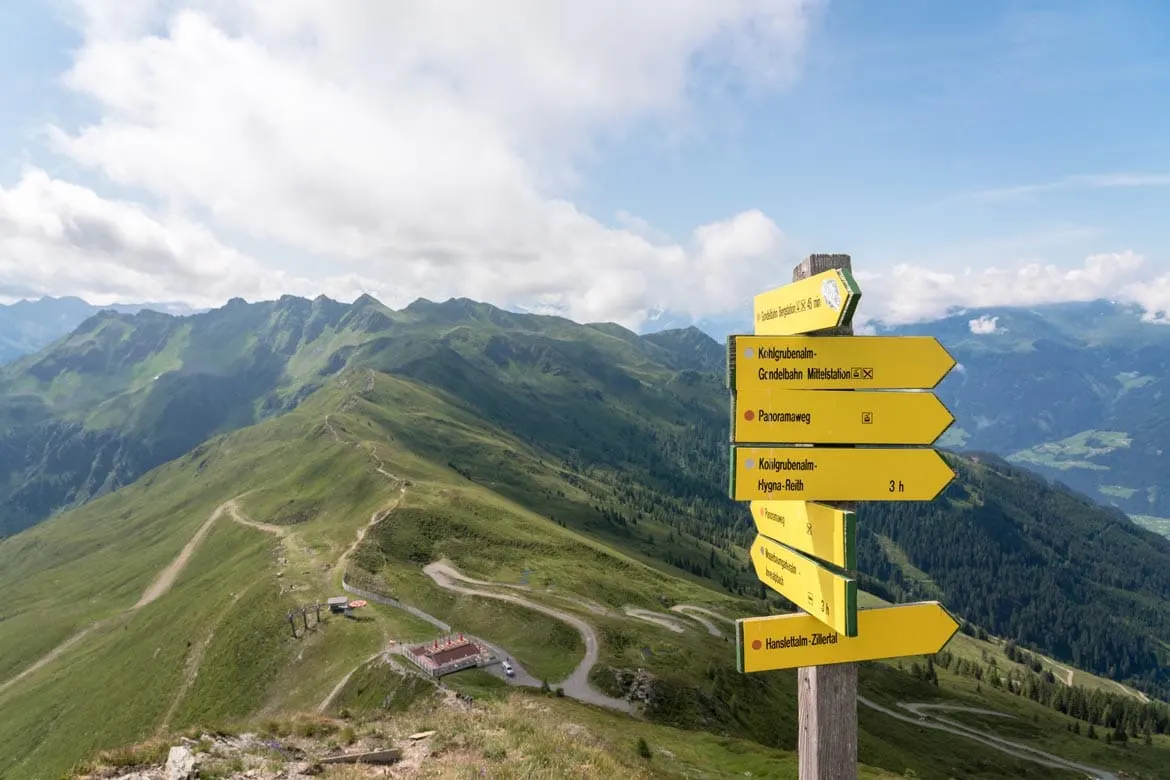 One of the best hikes in Alpbachtal is Wiedersbergerhorn. As soon as you get off the cable car you'll see it in the distance – it's the one with a giant cross at the top.
Standing at 2,127m, it is one of the easiest peaks to summit in the region and one of the most accessible too.
From the cable car, it takes around an hour to climb to the peak. And yes, before you ask, it is a fairly tough climb. The gradient is fairly steep and you're climbing over 300m of elevation, so take your time and rest often – this one is a proper calf burner.
There's one section which is roped and is like climbing a set of stairs, but there's an alternative route round the back of this if it looks too hard or scary.
Once you get to the top you get the most beautiful views of the Ziller Valley Alps and the Kitzbühel Alps. There's also a cross at the top and a little guest book you can sign (see if you can spot An Adventurous World in there!)
If you can, try and get there either early in the morning or late in the afternoon. I headed up at around 10am and there were a few other people on the trail. However, from 11am onwards it starts getting fairly busy with people climbing, so if you're looking for a quieter hike then head early.
Ride the Alpbachtaler Lauser Sauser alpine coaster
One of the most fun things to do in Alpbach during the summer is to ride the alpine coaster. Now I know these things are mainly for kids and families but they're so much fun.
Starting at an altitude of 1,850m, the Alpbach alpine coaster winds down the side of the mountain with the most gorgeous views of the valley and mountains surrounding you.
You can control the speed of the sledge with a brake but to be honest with you I wanted to go flat out as fast as I could. I even clocked up 41kph on the speed trap which felt a lot faster than it was.
The alpine coaster can be found just to the right of the cable car exit at the top of Wiedersbergerhorn.
Tickets cost €8 for adults and €6 for kids. Or you can get a block of 4 adult tickets for €30 and €24 for kids.
Explore Alpbachtal on an e-bike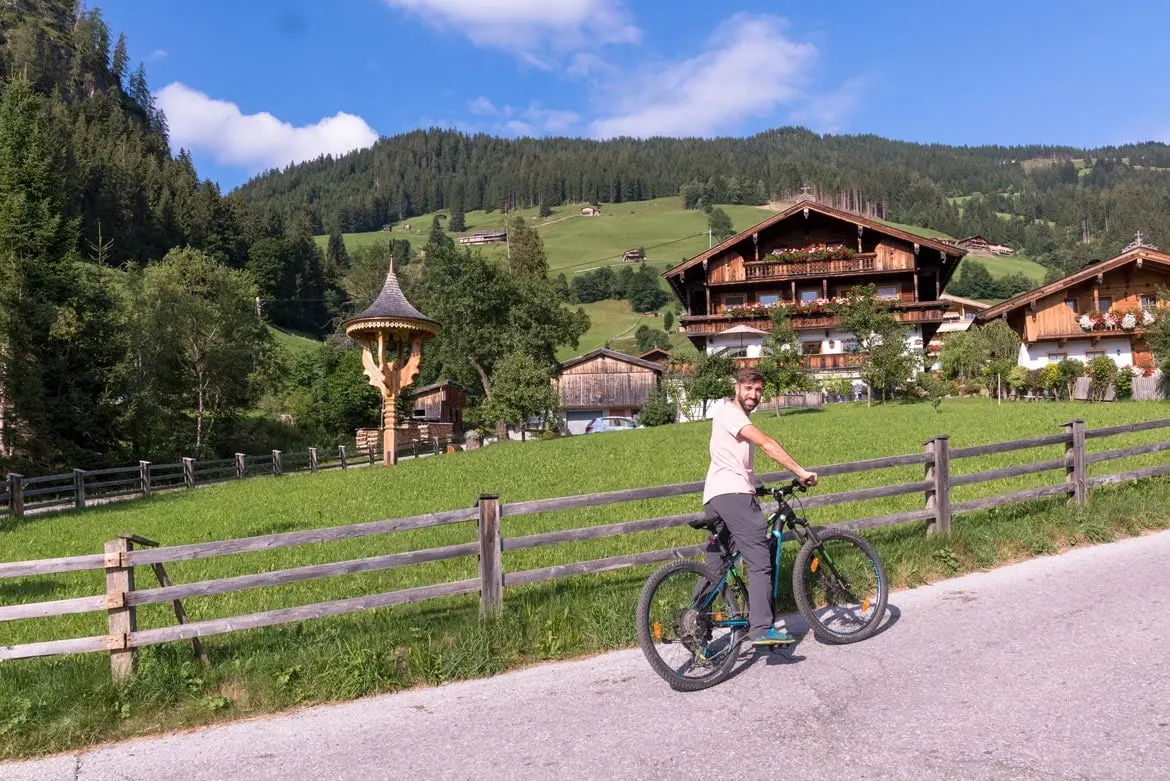 If you really want to explore Alpbachtal and cover lots of miles then I'd really recommend hiring an e-bike.
I picked mine up from Alpbach Sports and they suggested a few different roads that'd take me up into the mountains.
If you've never ridden an electric bike before you're in for a treat. Basically, it's a little motor that helps out on the hard bits. This means when it's flat you pedal like normal, but when you get to a really steep hill the motor kicks in and you fly to the top.
For me this is the perfect way of seeing Alpbachtal. I covered mile after mile without breaking a sweat and I cycled past some of the most gorgeous countryside too. Alpbachtal is really famous for its old wooden farm huts and on an e-bike I was able to see these up close and personal.
Also, I hardly saw any other cars or people. It was just me and the mountains, just the way I like it.
Paraglide at the top of Wiedersbergerhorn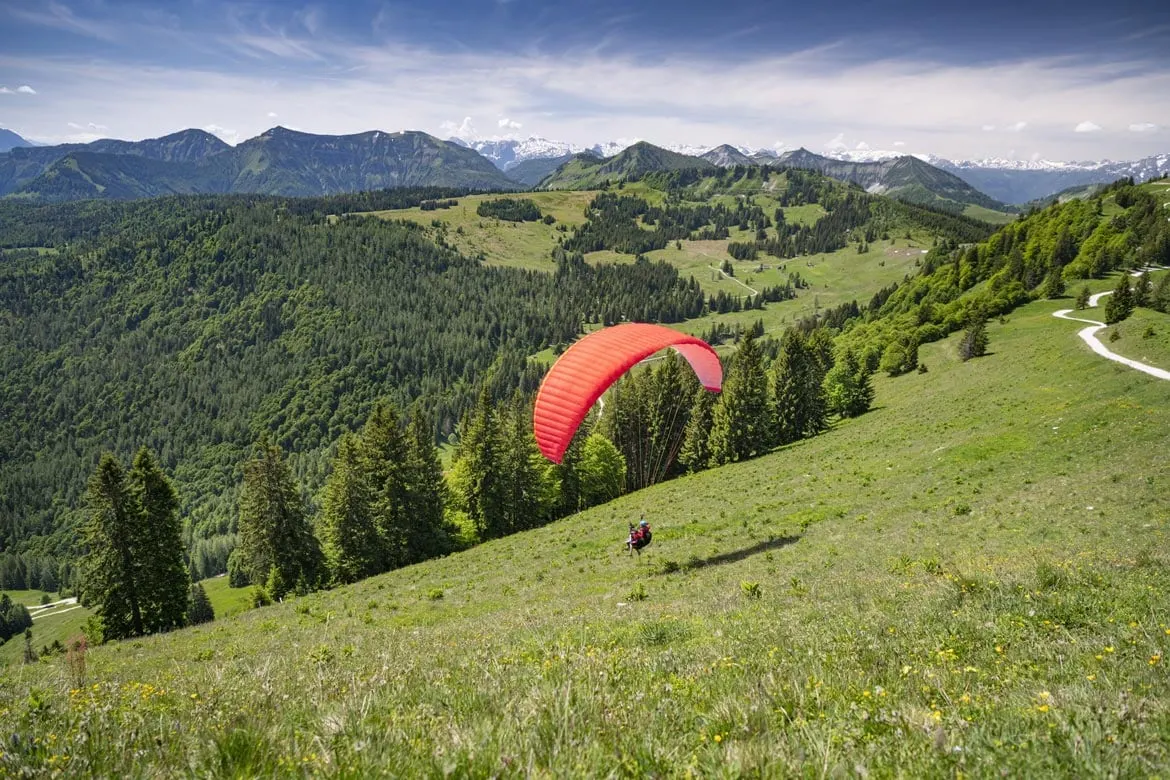 Even though I didn't do this one myself (but I really wish I did), if you're a bit of an adrenaline junkie then you can go paragliding at the top of Wiedersbergerhorn. This gives you the best bird's eye views of the stunning mountains all around you.
It doesn't matter if you've never been paragliding before – there are a number of schools/companies to choose from and each one has experienced instructors who'll take care of you in a tandem flight.
A tandem flight costs around €95 per person and you can even do a course to learn how to paraglide solo.
Wander around the medieval town of Rattenberg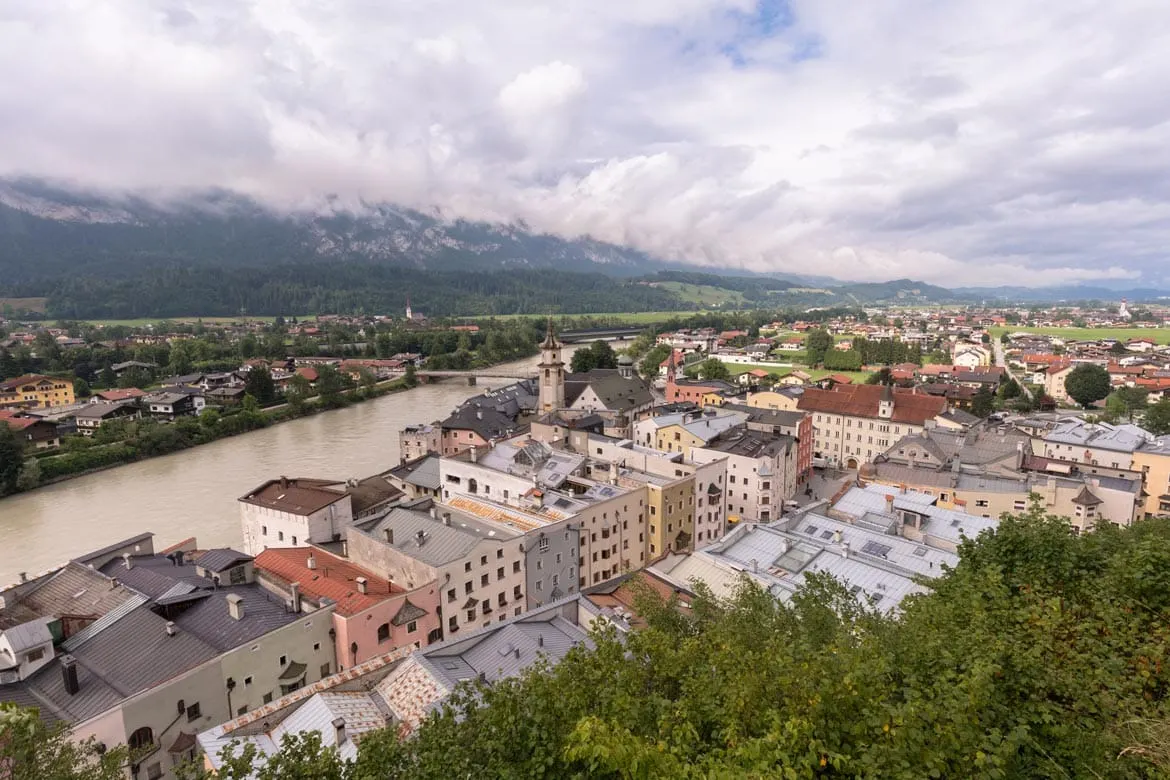 Another place to visit in Alpbachtal is the medieval town of Rattenberg. With just 400 inhabitants in a tiny area, Rattenberg is Austria's smallest historical town. However, that's just one reason to visit this place.
Rattenberg is also famous for two other things – its blown glass industry and its medieval ruins.
The castle here dates back to the 10th century and it's one of those castles that looks straight out of a fairy-tale.
It takes about 10 minutes to walk from the centre of Rattenberg to the castle, and from here you'll have the best views of the city below. Also, in summer, there are some really good plays and pantomime performances in the evenings, so make sure you check the schedule to see if there's one on for when you're there.
As I mentioned, the town is really famous for brightly coloured blown glass too. There are a number of artisan craft shops where you can see glass being blown and where you can buy ornaments too. If you want to pick up a souvenir of Rattenburg or Tirol then this is the place to do it!
Hike around Berglsteinersee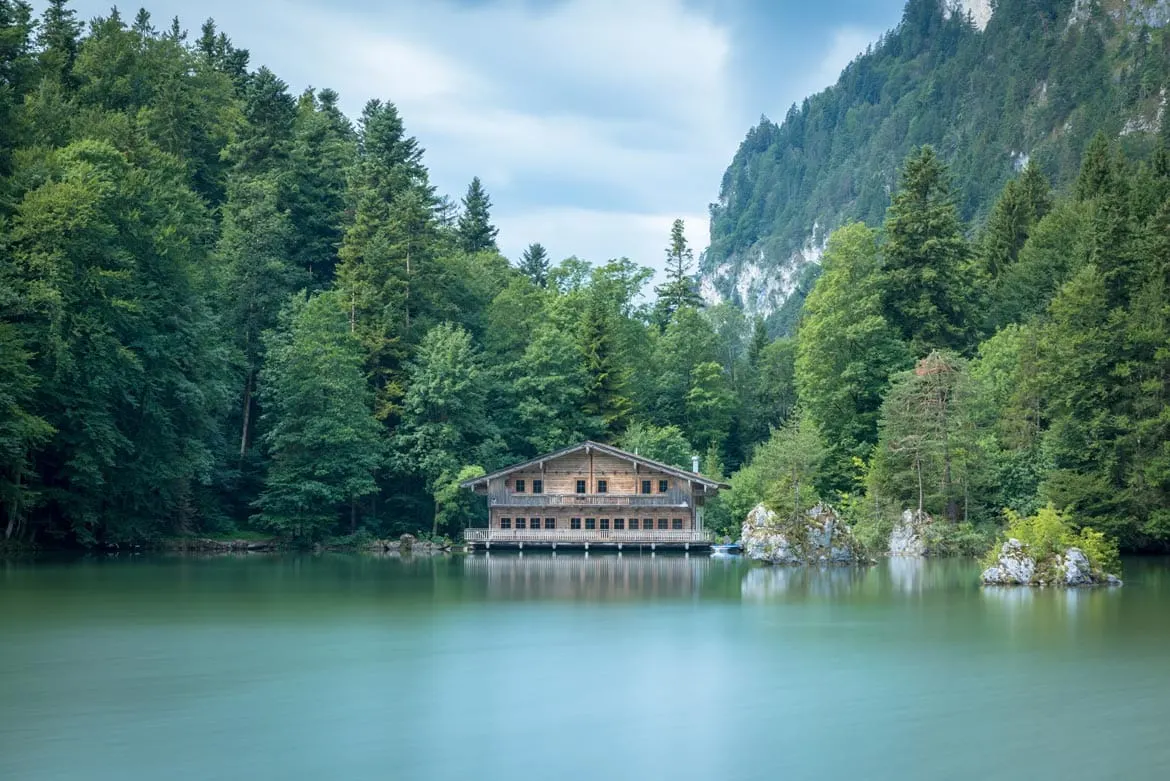 When I was looking up things to do in Alpbachtal, this image of a hut by a lake kept on coming up. As I was looking for a spot to take photos and to go on a short hike, this one ticked all the boxes.
Covering an area of just two hectares and only two metres deep, Lake Berglsteinersee is a small but perfectly formed swimming lake in the east of Tirol.
There is a really nice hiking trail that takes you from the car park, through the forests to the lake. There used to be an old restaurant by the side of the lake that's now closed down but it's still a very beautiful spot.
If you walk around to the other side of the lake then you get the best views looking back at the hut. Also, if you fancy a swim then bring you swim stuff. Berglsteinersee is a really popular swimming spot during the hot summer months and it's fairly shallow too which is handy for those with kids.
Go for a walk along Tiefenbach Gorge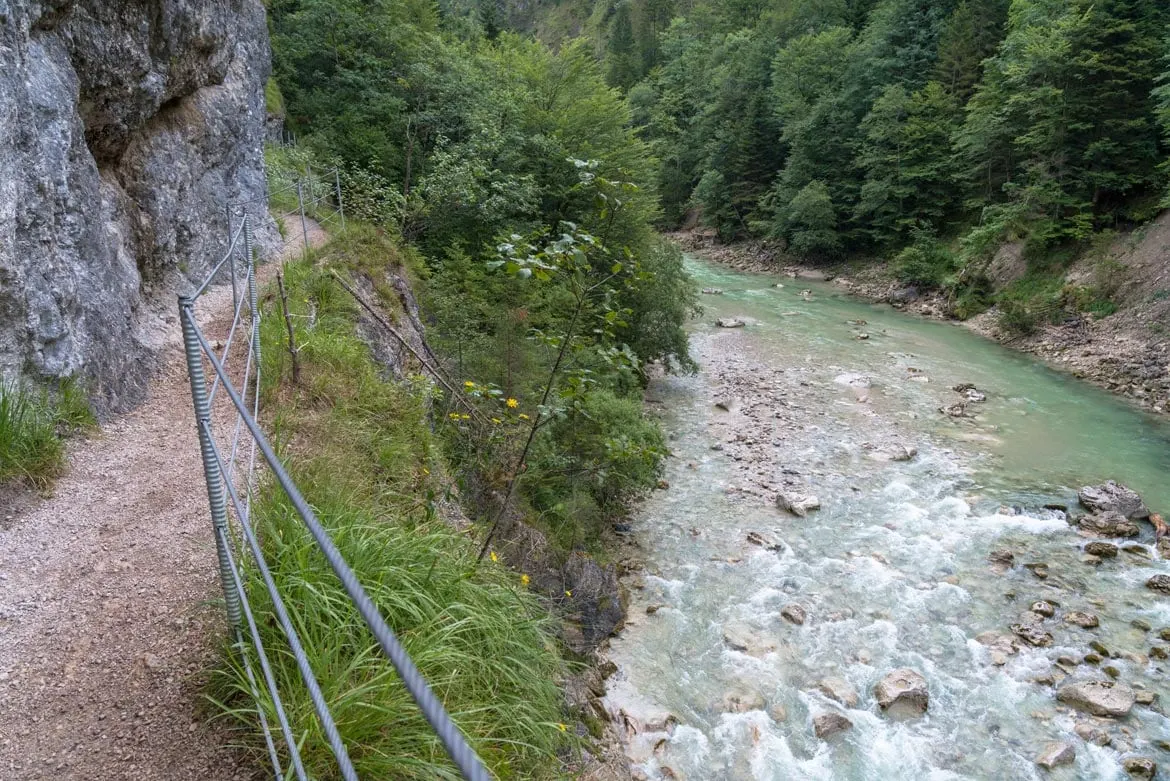 Another really popular hike in the Alpbachtal region is at Tiefenbach Gorge. This is a narrow hiking trail that takes you through the dramatic beauty of the gorge.
Situated between Kramsach and Brandenberg, Tiefenbach Gorge is a narrow chasm, incised into the rock by the cascading waters of Brandenberger Ache River.
I parked my car and followed the trail all the way to the end. There's a really well marked path which takes you through the forest before you're hugging the rockface following a metal path. All in all this hike probably took me around 3 hours so perfect for an afternoon.
It was cool walking so close to the raging river below. If you keep walking to the end of the trail you'll find a viewpoint at the highest point on the gorge which is a fantastic place to take a photo of the gorge. Oh, and during the summer months there are a couple of snack bars at the end of the trail for you in this beautiful and peaceful meadow.
Hotels in Alpbach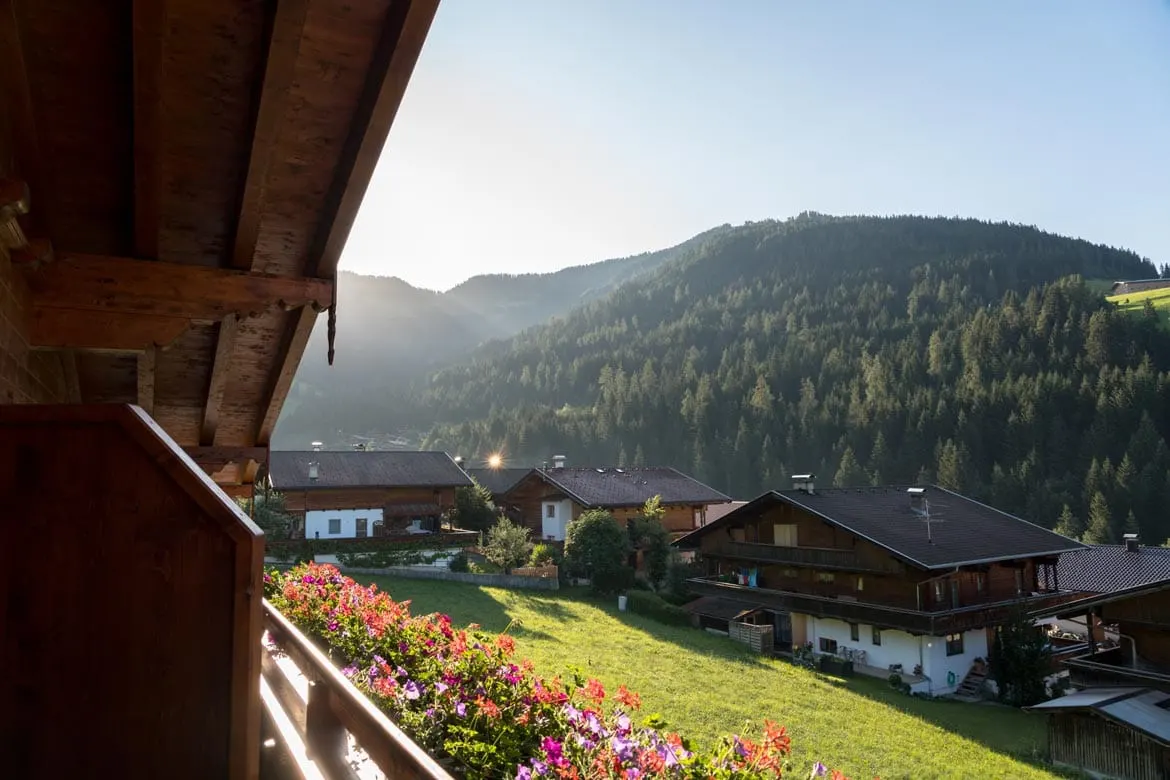 Being a year-round destination, there are some fantastic places to stay in Alpbach. During winter you'll find lots of ski chalets with spas and hot tubs. In summer, you'll find pretty much the same thing just with a lot less snow!
Hotel Alphof – One of the most popular places to stay in Alpbach is Hotel Alphof. This is where I stayed and it's a lovely 4* hotel that has some gorgeous views of the mountains. There's a really nice panorama rooftop terrace where you can kick back with a beer and take in the views. Also, the 3-course dinner every night was top notch, so I'd definitely recommend this hotel in Alpbach.
Hotel Böglerhof – Another Alpbach hotel that comes highly recommended is Hotel Böglerhof. Located in the centre of Alpbach, Hotel Böglerhof offers traditionally wooden furnished rooms. One of the best features of this hotel in summer is the outdoor swimming pool. There's also a wellness centre, sauna and spa and a number of hiking trails a short distance away too.
Hotel Zur Post – Hotel Zur Post is a 3* hotel that is a fantastic option for people on more of a budget. Much like the other hotels here, it has its own Tyrolean restaurant, outdoor swimming pool in summer and a spa too. The Alpbachtal Seenland Card is included in the price. This card comprises many free benefits such as admission to the public indoor pool and use of public buses. In summer, cable cars can also be used free of charge.
Getting to Alpbach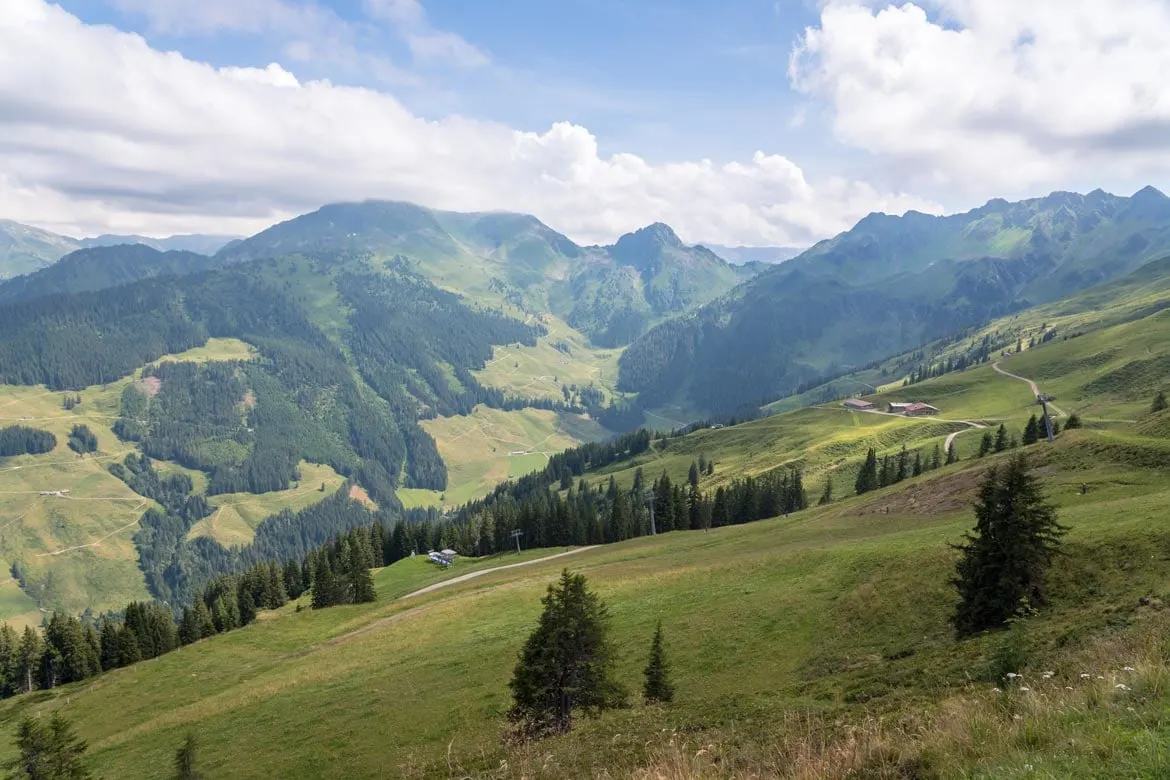 There are a few ways of getting to Alpbach. If you're flying into Austria, then both Innsbruck and Salzburg are the nearest airports. Then you can either drive or take the bus to Alpbach. However, I flew into Munich, picked up a hire car and drove the 80kms to Alpbach.
Not only is this the quickest route, it's actually the cheapest too. Because Munich is such a transport hub usually you can pick up a cheap flight and hire car. There you go, a little tip for you!
---
My trip to Austria was in association with Visit Tirol promoting some of the best things to do in Alpbach. As always, views are entirely my own and without bias.

Are you planning a trip to Alpbachtal? What are some of the things you're most looking forward to doing? Let me know in the comments below!
Like my blog post? Then make sure you Pin it for the future!