A Douro Valley day trip is an absolute must for wine lovers in Portugal. Here's how to have the best day trip from Porto to Douro Valley!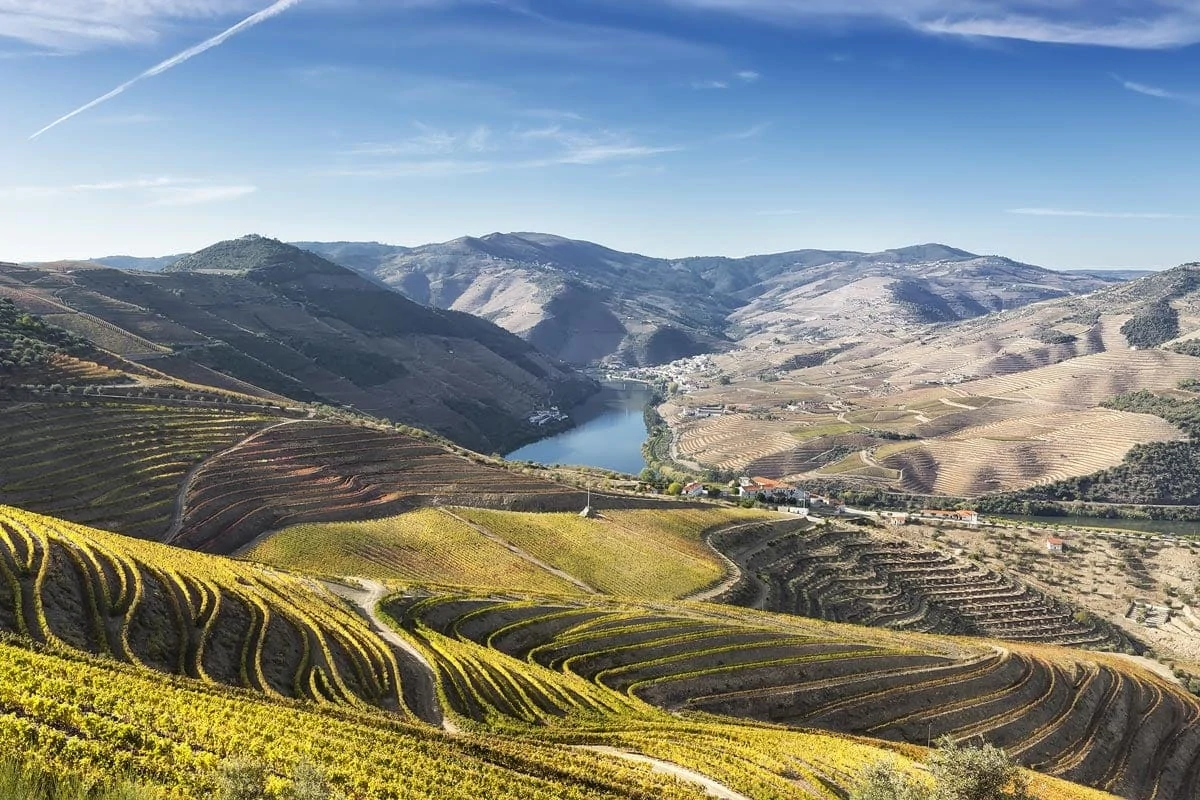 If the Douro Valley isn't on your radar yet, it really needs to be.
I don't say this lightly, but the Douro Valley is genuinely one of the most beautiful places you can go wine tasting in the world. That really isn't an overstatement – just take a look at the photos in this post and see for yourself.
Also, if you're coming from Porto, a Douro Valley day trip is really quick and easy. It only takes and hour or so to drive before you're surrounded by beautiful vineyards. I mean, there's a reason why this is one of the top things to do in Portugal.
Here's just a little snippet of what it's like wine tasting in Douro Valley:
A day trip to Douro Valley
As I turned around I had the whole expanse of the Douro Valley before me, the cobalt-blue river snaking its way through the steep mossy-green hills for as far as the eye could see.
Just to the left of me was an infinity pool, the bright blue water as inviting as the numerous wines that lay on the table in front of me. I had my eyes on the latter though.
As we were moving from the reds onto the ports, the syrupy sweet dessert wine and what this region is famous for, the wine won out.
After all, there's not many places in the world where you can learn all about wine and port in a setting such as stunning as this.
As far as day trips from Porto go, this one is right up there. Honestly, I really can't recommend this Douro Valley tour enough.
Most tours of the Douro Valley include visiting a couple of vineyards, floating along the Douro River in a traditional Portuguese Rabelo boat, a lunch of typical Douro cuisine, and of course tasting lots of incredible wine!
Hopefully you'll have as much fun in the Douro as I did (the wines definitely help with that…)
How to get from Porto to Douro Valley
Earlier that day, as the inky morning sky was just starting to brighten up, I found myself outside the São Bento train station.
Dating back to 1864, the São Bento train station is a pretty impressive building in itself. Even though the outside is unremarkable, as soon as you step inside there are the most amazing tile facades depicting Portugal's history. One of the most easily recognised is of Portugal's famous wine region, the Douro Valley, the place where I was going for a cheeky day trip from Porto.
The Douro Valley is actually the oldest demarcated wine region in the world and people have been producing wine here for the last 2,000 years. This makes it a must-see on any trip to Portugal and the one thing I was most looking forward to doing on my weekend away.
To get to the Douro Valley the train took us through the most beautiful scenery for an hour before we jumped off at Ferrão, a deserted station in the middle of nowhere.
It was there that we met Jorge, our taxi driver for the day who was going to take us onto the Douro Valley to show us one of his favourite vineyards in the area – Quinta do Crasto.
Even though you can get a taxi or bus from Porto to the Douro Valley, the train follows the Douro River through the countryside and past these cute little towns. It really is an incredibly picturesque train ride.
Driving to the Douro Valley
The drive from Ferrão to the Douro Valley was equally beautiful.
As we made our way higher and higher up into the mountains we eventually broke through the clouds until we were directly above them, the valley bathed in white as the clouds clung to the hills.
On the way to Quinta do Crasto, one of the most famous vineyards in the region, Jorge took us to D'Origem, a tiny vineyard run by Paulo and Sandra that produced a delicious red wine, golden peppery olive oil and almonds to boot. It was amazing seeing this family who had been producing wine for generations and they still had so much passion for it.
Please note, if you're on a Douro Valley day trip from Porto then you'll most likely be travelling by bus. But don't worry, these tours usually stop off at a few places along the way for photo spots like this one!
How long does it take to drive from Porto to Douro Valley by car?
If you have your own car, the drive from Porto to the Douro Valley takes approximately one and a half hours. (Ignore the times in the map below there – they usually factor in roadworks on the mountain roads).
However, I'd really recommend giving yourself closer to two hours so you can stop off at a couple of places along the way. Also, the roads are extremely windy so be careful!
Oh, and it goes without saying, but if one of you is the designated driver then don't drink and drive. There is a zero tolerance policy in Portugal and it isn't worth the risk. Most vineyards will offer a variety of soft drinks for you.
If you're renting a car in Portugal, I'd recommend checking out this comprehensive guide which has all you need to know about renting here.
Douro Valley map
Quinta do Crasto
On our Douro Valley day tour, we went from D'Origem onto one of the most famous wineries in the area – Quinta do Crasto.
Quinta do Crasto have been producing wine ever since 1615 and they have won numerous prestigious awards around the world, so you know they produce the good stuff.
With an infinity pool and an old chapel overlooking the Douro Valley, Quinta do Crasto is absolutely stunning. I could've wandered around here for hours taking in all the different views. But we were here for one thing and one thing only – the wine.
With Manuel, the master of wine at Quinta do Crasto, our tasting session was right next door to the infinity pool with the Douro Valley in the background. I don't know if it made the wines taste better but it certainly felt like it!
Manuel talked us through all the different flavours of each wine and I immediately feel in love with the Quinta do Crasto Tinta Roriz, a bold red that tasted of cherries and plums and notes of oak.
Still, we were in Porto so it'd be rude of me not to talk about the port.
What is port?
Much like with champagne only coming from the Champagne region in France, port is only considered to be port if it's produced in the Douro Valley.
Port is a fortified wine. That means it's slightly stronger than wine at around 20% alcohol proof. To the taste it is a lot thicker and sweeter than wine as it's had much more time to develop in flavour.
Now as my parents will attest to, I drink port wine like I drink water, and it was great to experience one of my favourite drinks in the birthplace of it. It really lived up to all my expectations!
After we got through our sixth bottle of wine (or was it seventh? I lost count…), the sun was starting to set.
As we were talking to Andreia, one of the workers at Quinta do Crasto, she said the best place to watch the sun set was high up in the hills with the view of the Douro Valley all around, so we hopped into the back of one of the tractors and made it up to where the vines were growing.
I don't know if it was all the wine I'd drunk throughout the day or whether it was from the golden sunset before our eyes, but I couldn't imagine a more beautiful setting to go wine tasting than the Douro Valley.
As our Douro Valley day trip was coming to an end, I'm so glad we made the journey here from Porto – it really was the highlight of my trip to Portugal!
Best wineries in Douro Valley
For those of you looking at doing your own Douro Valley wine tour, these are all considered the best wineries in the region.
I would recommend maybe seeing two or three of these if you can. I think two to three vineyards is a good number so you really can spend some time explore each vineyard. It's nice not rushing around while you're there too.
This is where to go in Douro Valley:
Quinta do Vallado
Quinta da Pacheca
Quinta do Panascal
Quinta das Carvalhas
Quinta de Santa Eufémia
Quinta do Tedo Douro
Quinta do Pôpa
Quinta da Roeda
Quinta de La Rosa
Quinta do Seixo
Quinta Nova
Casa Ferreirinha
Best Douro Valley tours
---
Are you planning a Douro Valley day trip? Do you already have some wineries lined up? I'd love to hear what you've got planned so let me know in the comments below!

Like this blog post? Then make sure you Pin it!