Are you looking for where to eat in Porto? Then you've come to the right place! Here are some of the best places to eat in Porto for you!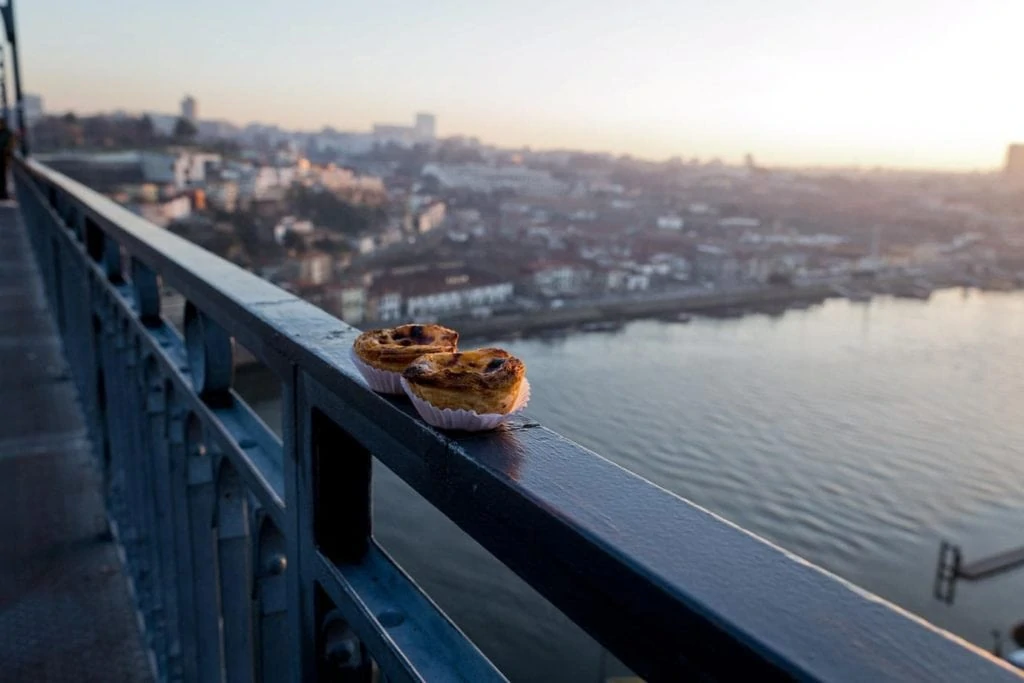 One of the quickest and most pleasurable ways of really getting to know a city is through its food and drink. The good news is neither are lacking in Porto, Portugal! The question is where to eat in Porto?
Geographically, Porto lends itself to all sorts of gastronomy. Its proximity to the ocean means that fish (specifically cod) is plentiful and obviously delicious. Also, the world famous Douro Valley (and the birthplace of port) is only a few hours away from the city for wine lovers.
This means that Porto has become a major food and drink capital for people who loves to eat. Not only is the food and drink plentiful here, it's cheap too.
Don't forget to check out my video on where to eat in Porto. This shows you some of the best restaurants in Porto too!
One of the best things to do in Porto is just wander around popping into different cafes for the nata tarts and small tapas plates. I may be biased here but all the red wine is delicious and you can pick up a glass of port for as little as €2 in some places.
So, if you're looking at spending a few days here, this is where I recommend where to eat in Porto. Trust me, you can't go wrong with any of these places!
Also, if you're short on time, then I'd really recommend this food and wine tour of Porto. This is a 3-hour food tour taking you to some of the best places in the city for cheese, meats, port and wine!
Confeitaria do Bolhão
If you visit Porto and don't eat a nata tart, were you really there?
Nata tarts (or pastel de nata) are a Portuguese staple and actually have a strange history: Catholic monks used to starch their clothing using egg whites, meaning that they had an abundance of egg yolk leftover.
What did they do with those sad yolks? Mixed them up with a load of sugar and made them into delicious custard tarts that you can find throughout Porto.
Confeitaria do Bolhão came recommended to me and for very good reason.
Visit in the morning (when the tarts are still warm), order an espresso to go with it and make sure you sprinkle a little cinnamon on top. The warm custard oozing out of the crisp yet tender pastry will make you day. Absolute heaven. If you're looking for the best Portuguese tart in Porto then you'll find it here.
Café Santiago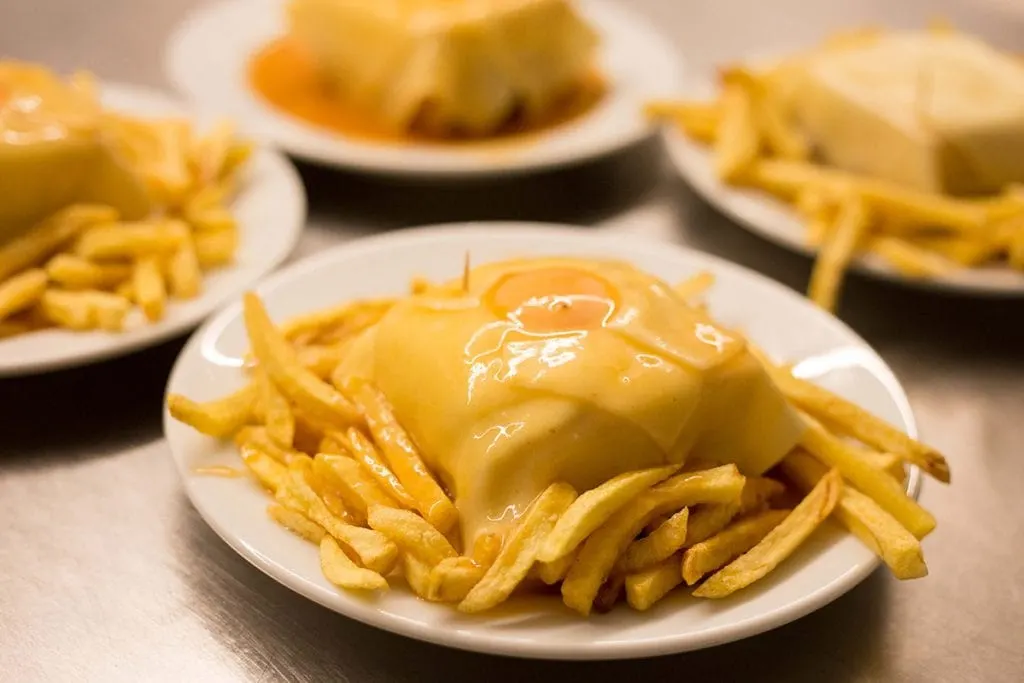 My Porto food guide wouldn't be complete without adding this place.
This diner style café may not look like much from the outside, but it is home to one of the most epic sandwiches on the planet – and one that was born in Porto.
The Francesinha, a beast of a sandwich, isn't for the timid. Two thick pieces of bread containing mortadella, chorizo sausage, cheese and a steak is then topped with a sunny-side up egg, blanketed with cheese and then slathered in a slightly spicy tomato gravy.
All this served on a bed of fries has made Café Santiago the beacon for those wanting a challenge since the 1950's. They make their own secret gravy (so secret, in fact, that the staff who makes it only knows how to make a portion of the recipe, and then it is passed on to another who finishes it).
Just make sure you unbuckle your belt prior to eating it (or better yet, wear stretchy pants) and most importantly, the francesinha must be enjoyed with a beer in order to cut through all that salty goodness.
Casa Portuguesa
Casa Portuguesa is conveniently located right by the Clérigos Tower in Porto. It may be catered to tourists (which means it's a bit pricier than some of the other bars and cafes) but this tourist didn't mind.
Their claim to fame is the somewhat controversial inclusion of cheese in their pastel do bacalhau, which is essentially a potato based cod fish cake and a traditional Portuguese street food.
Since it has such a strong history, the inclusion of Serra da Estrela cheese might be seen as remiss, but I'm not complaining. The addition of this Portuguese cheese made all the difference.
This small shop offers a dry white port that accompanies these warm, cheesy snacks deliciously. Make sure to enjoy them together. If you're looking for the best bacalhau in Porto, you'll find them here.
A Sandeira
I popped into this little hole in the wall restaurant on my last day in Porto and was so pleasantly surprised. It was very busy, which is always a good sign, and I only later realized that it pops up when you Google places to eat in Porto.
There's only about 16 seats or so at A Sandeira, but with some of the tastiest sandwiches in town, people are willing to wait. They also do a soup of the day (when I was there it was beet – yum!), salads and desserts.
I ordered the D. Luis, which was the perfect balance of salty and sweet with ham, brie cheese and dates. That on its own (ok, maybe I had a boozy coffee, too) was enough to keep my legs going as I climbed the hills of Porto.
DOP – Chef Rui Paula
If something fancy is what you're after, then DOP is going to be your stop.
Owned and operated by Porto native Rui Paula, this space opened in 2010 in the Palace de Arts and it is an homage to the chef owners' Porto roots.
Focusing on traditional flavours, the menu is home to modern twists on Portuguese staples like cod, octopus and goat.
When you visit places like this, it's best to let the professionals do the decision making for you and so the Memory tasting menu is the way to go.
With port in hand, it's easy to forget your troubles and bask in the glory of Portuguese flavours at their finest. This is definitely one of the best restaurants in Porto.
Chocolateria Das Flores
You might walk by this little café on the sweet little side street in Porto unless you have a spidey sense for chocolate like I do.
Porto is known for it's hot chocolate; but not just any hot chocolate. The kind that holds weight and that you slurp back like a pudding. It's definitely something that any chocolate lover will dream about.
Chocolateria knows how to do it right and with a dollop of whipped cream on top, it's the perfect way to warm up on a walk by the Douro River and basically just bathe in, if I had it my way.
Taberna do Largo
Very unassuming form the outside, Taberna do Largo is the perfect spot for a late dinner and a few drinks. Even once you're inside it doesn't look like much, but the seating in the back is always packed.
This is the kind of place that feels like you're just at a friends place coming over for a glass of wine, and after making friends with the server and coming back two nights in a row, that's basically what I did.
There are lots of snacks to choose from, but you must try the Pasta a Taberna. It comes in a tiny ramekin and doesn't look like much, but this meat paste spread on the fresh baguette was perfection.
My new server friend explained that it's a secret recipe from the two owners of Taberna do Largo.
He was also impressed when I ordered a port tonic, as that's another one of the owners' specialties.
It's exactly how it sounds (and came recommended to me from multiple locals): white port served with tonic over ice, with some citrus. Delicious for any time of year, but certainly screams summer!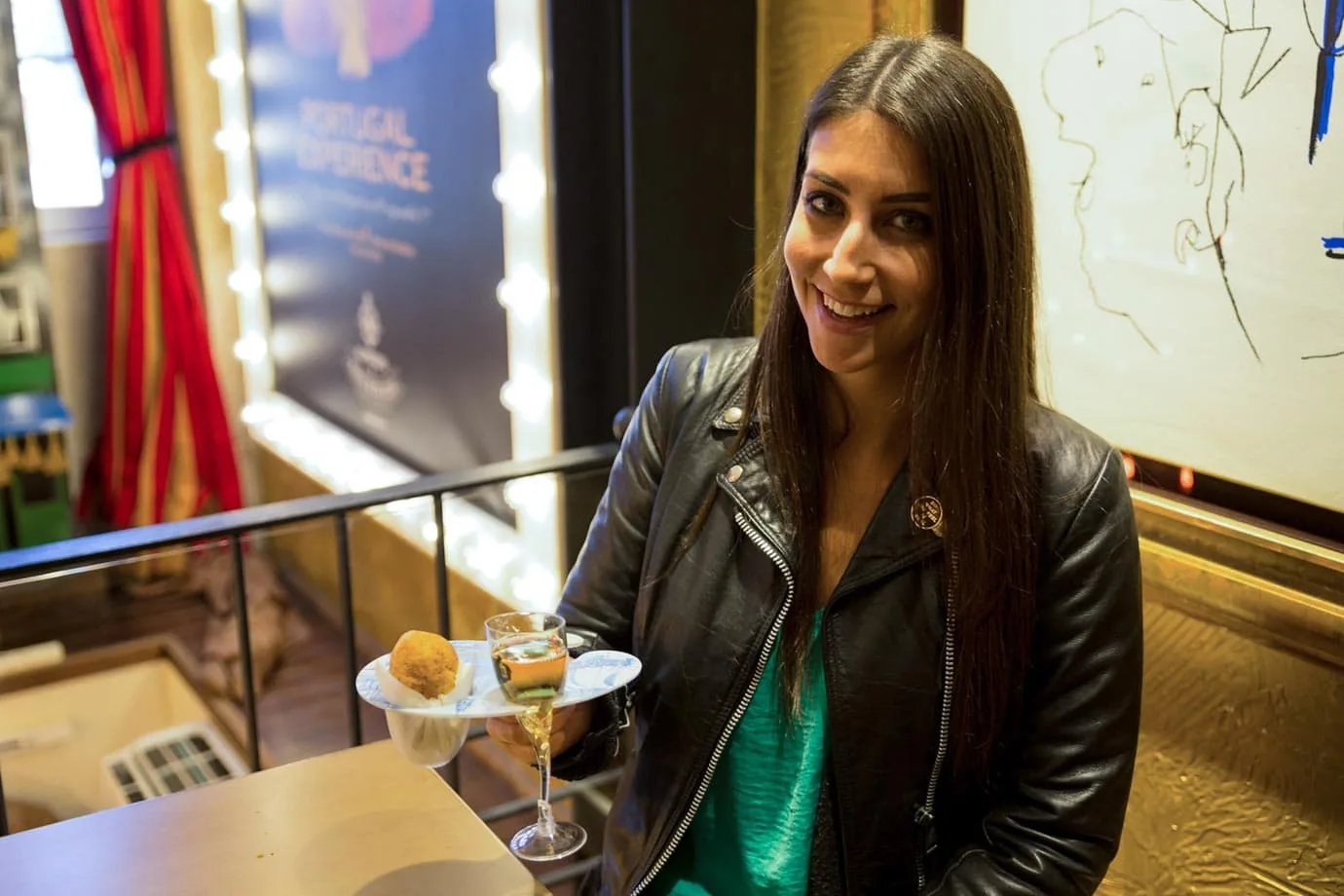 There are so many flavours to discover in Porto, and in a setting that will immediately make you feel chilled out.
There's something about the proximity to the rolling Duoro River, and the abundance of wine and port, that makes this the perfect city to sit back, indulge and let the deliciousness flow over you.
---
Have you ever been to Porto before? If so, where would you recommend where to eat in Porto? Let everyone know in the comment box below!

Like this post? Why not Pin it!