Are you looking for the best architecture in Porto? From famous Portuguese tiles to the inspiration for Hogwarts, this is a look at Porto's architecture.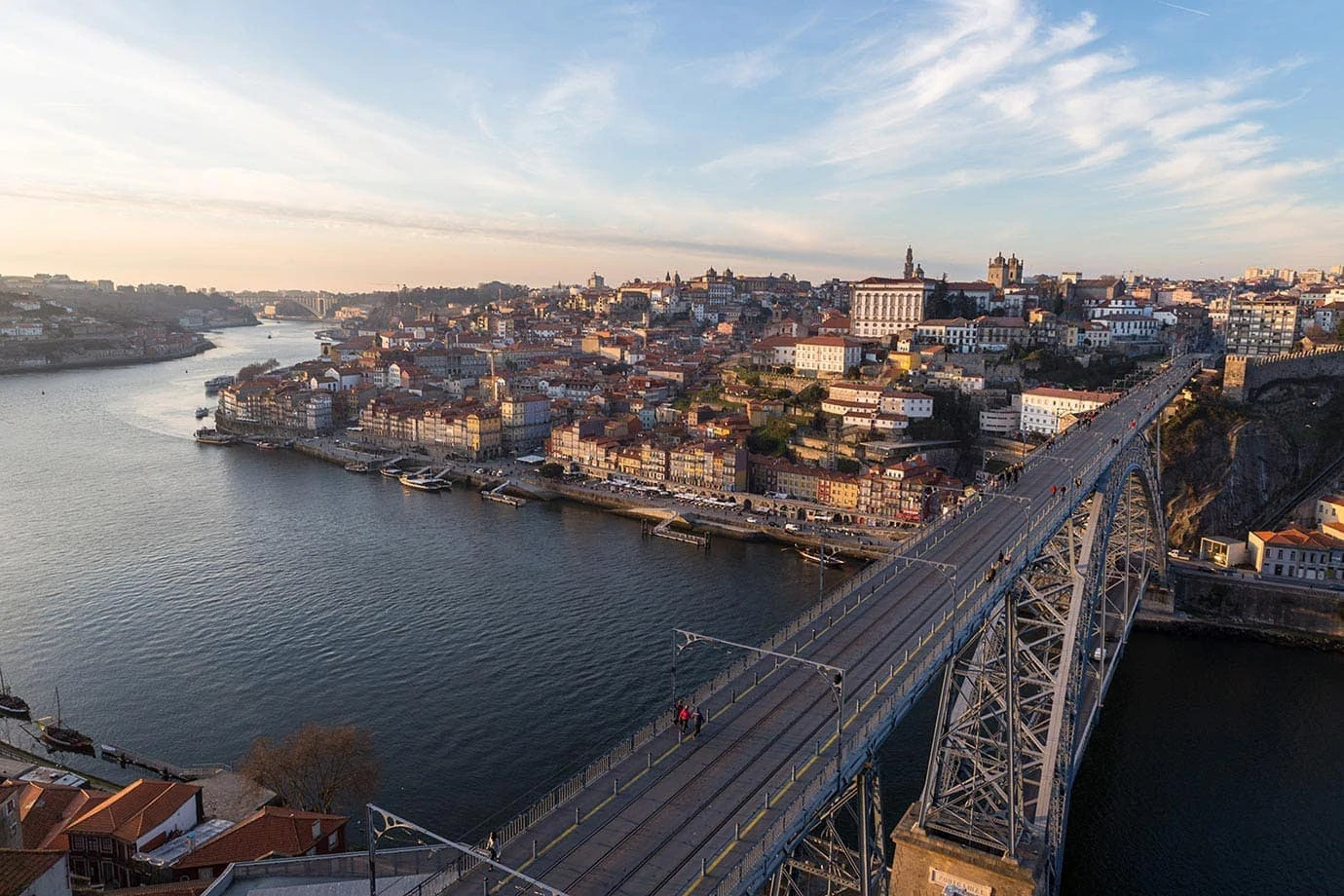 It doesn't take long walking around this small city with its cobbled-streets and the Douro River snaking through its heart before you start noticing all the amazing art and architecture in Porto.
In fact, all you have to do is look up at any building surrounding you, each one bejeweled with brightly coloured tiles, the roofs made up of ancient corrugated iron sheets. No matter where you look you're bound to find something unique or eye-catching.
First up, check out my video on Porto architecture and where some of the best spots are in the city!
A city that's famous for its food and relaxed atmosphere, not everyone considers Porto a destination for art and architecture lovers, which is exactly why I loved it here.
You could really immerse yourself in your surroundings, taking in all these different notes outside without having to walk around an exhibition inside. To me, it really adds to the city!
In a city that has incredible art galleries, beautiful buildings, more than a few ornate churches and of course the inspiration to Hogwarts in Harry Potter, this is where to find the best art & architecture in Porto.
If you're planning a trip to the city, then check out this amazing guide to Porto. This guide will really help plan your trip here and it's packed full of things to see and do!
The City of Bridges
One of Porto's many nicknames is "the city of bridges", and connecting the two sides of the city are six architectural masterpieces.
The most famous of these is the Dom Luis I bridge, which when it opened in 1886 was the longest arched bridge in the world. It's pretty impressive that you can drive across it, get the tram across it or use your own two legs, and it really is one of the main focal points in the city.
Another of Porto's bridges worth talking about is the Maria Pia Bridge which was designed by Gustave Eiffel in 1877. This is the very same Gustave Eiffel that created the Eiffel Tower in Paris, and when looking at it you can't help compare the two structures and their obvious similarities. It's almost as if someone push the Eiffel Tower over across the Douro River!
The best way of seeing all six bridges is on an old Rabelo boat cruise on the river – then you really get to see the sheer size and scale of these structures.
Portuguese Tiles
I almost feel I could write a separate post all about the Portuguese tiles in Porto as they're so unique!
These ceramic tiles (also known as azulejo) are everywhere you look in Porto. They're on the walls depicting Portugal's history at the São Bento railway station and they're on all the buildings around old town.
Once they would've been a status symbol, a sign of the rich and wealthy, though today they're a part of Porto's culture as much as its history. There are over 20,000 individual blue and white tiles adorning the railway station walls alone, and each one makes up battles, coronations and other major events in Portugal's history – well worth seeing!
The azulejo were introduced to Portugal by the Moors, and the name originates from az-zulayj, which means 'polished stone'. If you're wondering why the majority of azulejo are brightly coloured with geometric and floral designs, the tiles couldn't portray humans or false icons in keeping with the Islamic law. As I said, there's so much history in this city!
Church of São Francisco
Don't be annoyed if you walk past the church of São Francisco without giving it a second look – on the outside it looks like any other uninviting austere Gothic church you find in Europe.
However, on the inside there's barely an inch of the church that isn't dripping in gold making it one of the most dazzling displays of baroque finery in the world.
It is thought that there is 100-200kg of gold in this church (unsurprisingly this number has dwindled over time!), making it a UNESCO World Heritage Site. Either way, it is just another example of Porto's amazing architecture!
Livraria Lello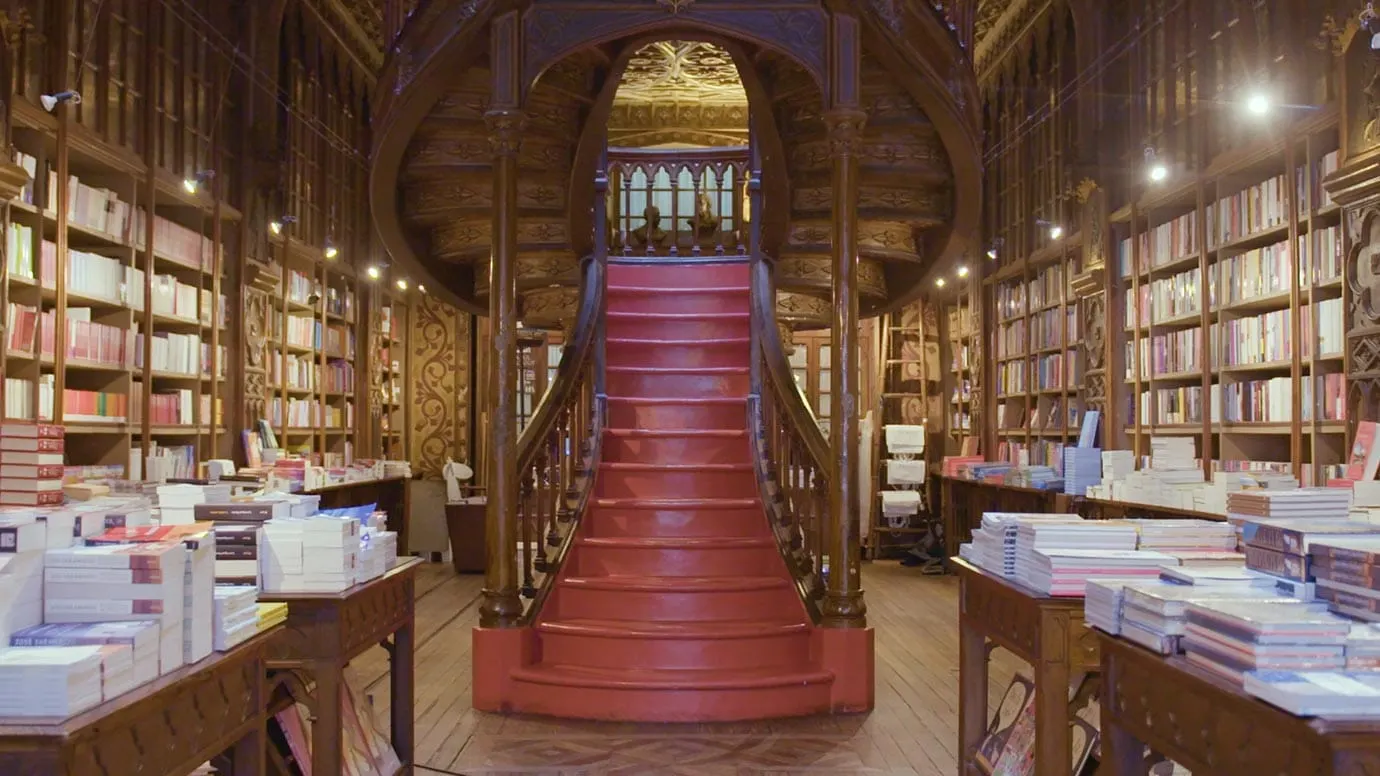 A bit like with the church of São Francisco, Livraria Lello isn't much to look at from the outside. The only giveaway that something lay within is the long queue of people outside at all hours of the day.
As soon as you walk inside Livraria Lello you're greeted by the most beautiful staircase that takes up the middle of the room, and it is for this reason why so many people visit this bookshop.
Rumours have it that this staircase was the inspiration for J.K Rowling's moving stairs at Hogwarts (you know the ones that float around? Yeah, those).
Being the Harry Potter geek that I am, seeing this staircase, now a tourist attraction in its own right, added a magic to the place!
And if that's not reason enough to visit, in 2010 Lonely Planet named Livraria Lello the "Third Best Boosktore in the World!" Some accolade that!
Museu Serralves
Finally, after going on about all the architecture in Porto, I've got to mention the art.
For those of you who read this blog regularly, you'll know I'm not the biggest art lover. However, if there's one type of art I love, it's modern art (mainly because it doesn't matter if you don't understand it!), so our trip to Porto wouldn't have been complete without visiting Museu Serralves, the modern art museum.
While we were here a Miro exhibition was going on, and it was great wandering around looking at all the different pieces on show. The museum is massive, so if you're going during the week it really does feel like you've got some of the exhibition rooms to yourself.
Also, the grounds are pretty special here and are so big you could lose yourself in them!
No matter where you look in Porto you're surrounded by the most incredibly art and architecture.
A bit like with the church of São Francisco and Livraria Lello, sometimes it's there and you don't even know it. Or as with the brightly colour tiles on all the buildings, it's there right in front of you.
What's for certain though is it makes the city such a unique destination to explore and one you've got to see from the ground up.
The Best Tours in Porto
---
Have you been to Porto before? If so, what's your favourite museum or piece of architecture in the city? Are you a tiles girl or more of a bridges type of guy? Let me know in the comment box below!
Like this blog post? Then make sure you Pin it!