Looking for the best beach in Lanzarote? Then look no further than Playa del Papagayo! This guide will tell you everything you need to know about this beautiful beach!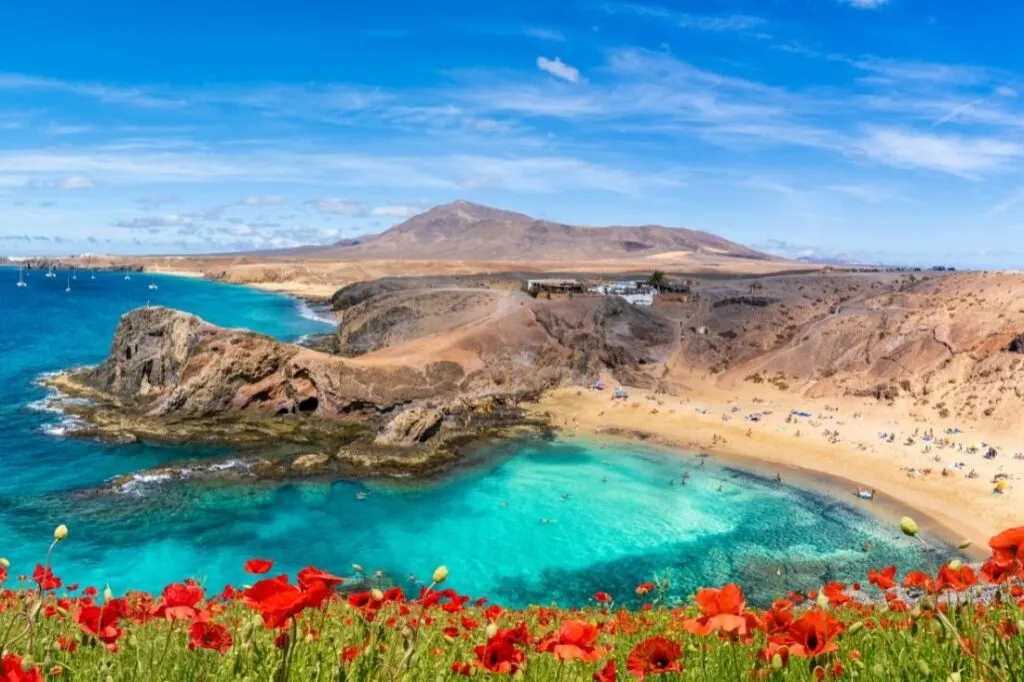 This might sound like hyperbole, but I honestly think Playa del Papagayo might be one of the most beautiful beaches I've ever been to. I know, I know – it's a strong opening statement, but I've said it now.
It's just one of those places that has everything. Golden sand for digging your toes into, glistening turquoise water to cool off in, a couple of bars nearby for sunset cocktails. Oh, and there's even a volcano looming in the background giving the most amazing views. I mean, what more could you want!
When I was on the island, I made it my mission to find the best beaches in Lanzarote. Well, Playa del Papagayo is right up there with the best in the Canary Islands.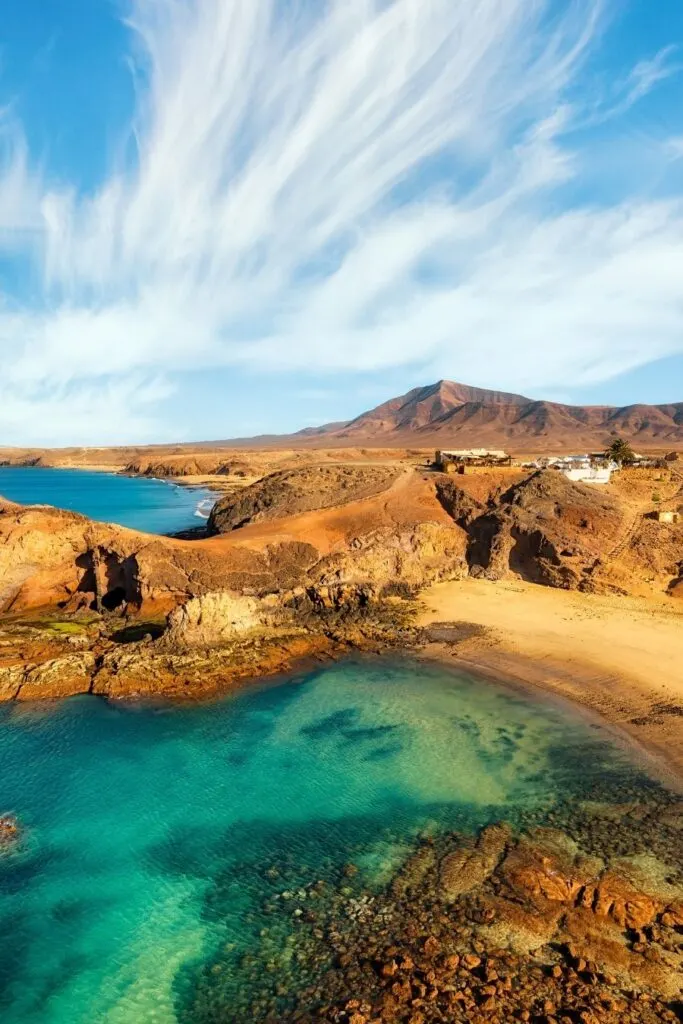 In this guide, I'm going to tell you all about Papagayo beach.
From how to get here to other things to do in the area, I really hope you find this guide useful for planning your trip here.
What is Playa del Papagayo?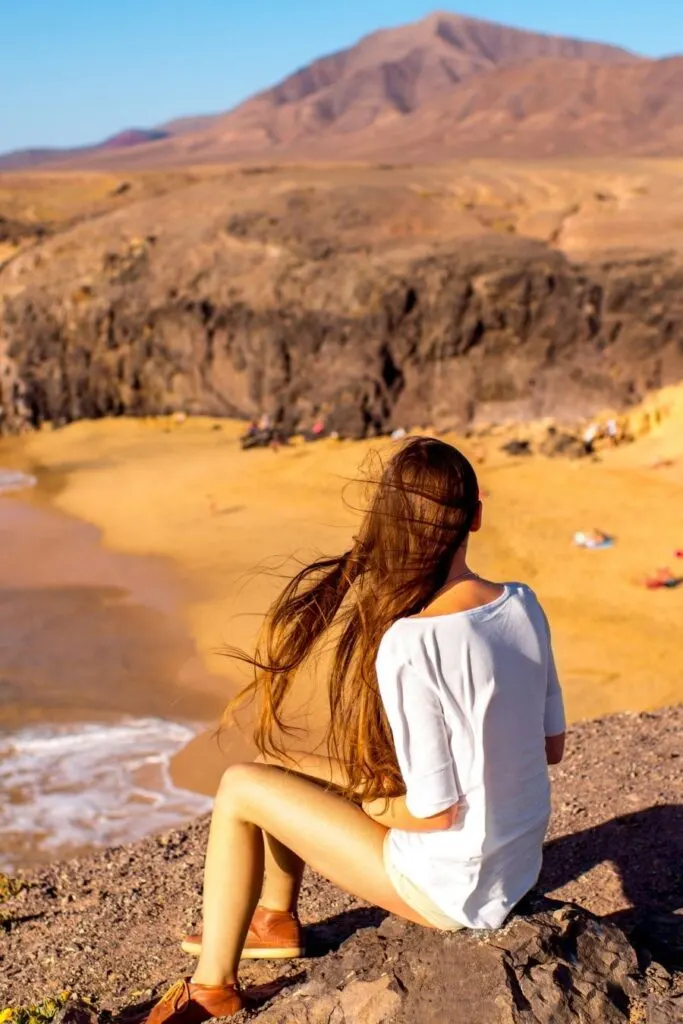 Located in Los Ajaches Natural Park on the very southern tip of Lanzarote, Playa del Papagayo is in one of the most untouched parts of the island. This is the oldest territory on the island which formed around 14 million years ago, so expect rocky barren landscapes.
Even though Papagayo beach is the poster boy of this area, Playa del Papagao is actually made up of 6 beaches in total.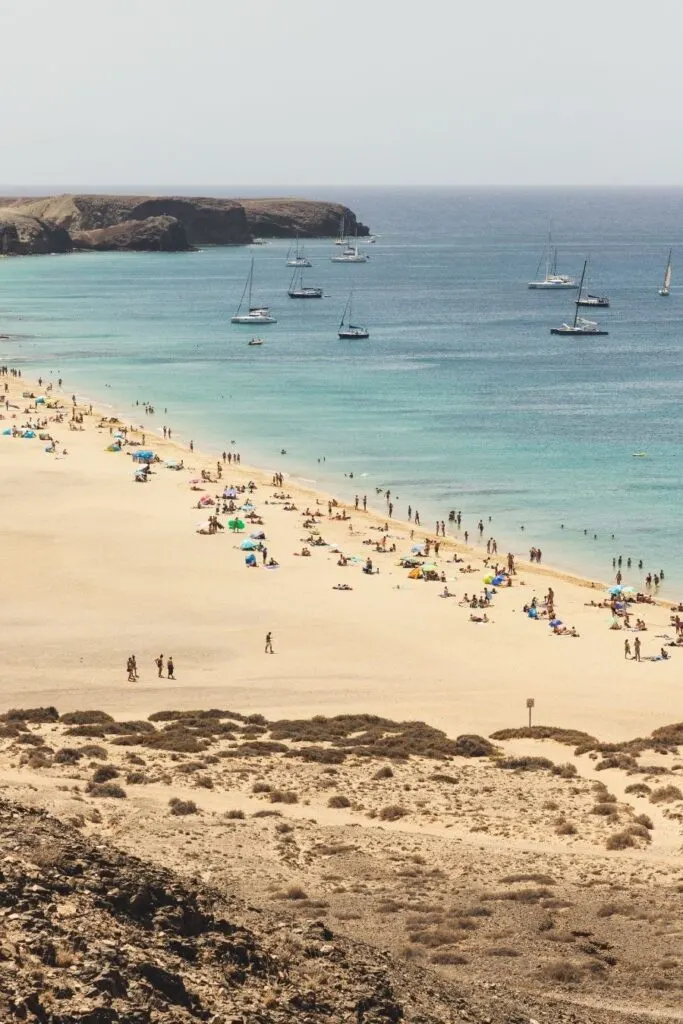 These are (from north to south on the map):
Playa Mujeres – One of the largest beaches in the area. Because it's closest to the resort town of Playa Blanca, it is often quite busy with locals.
Playa del Pozo – The next beach along. This is often a lot quieter than Playa Mujeres. The walk between these two beaches is lovely.
Playa de la Cera – This is a small secluded beach in a very sheltered spot. Well worth visiting if you've got time.
Playa del Papagayo – This is the most well-known beach in the area. Because of its cove shape, it's actually well protected from the wind.
Playa Caleta del Congrio – Just around the corner from Playa del Papagayo is Playa Caleta del Congrio. This beach looks to the south east and if often really quiet.
Playa Puerto Muelas – Also faces south east and has very few people there. A bit further out the way than the other beaches.
Getting to Playa del Papagayo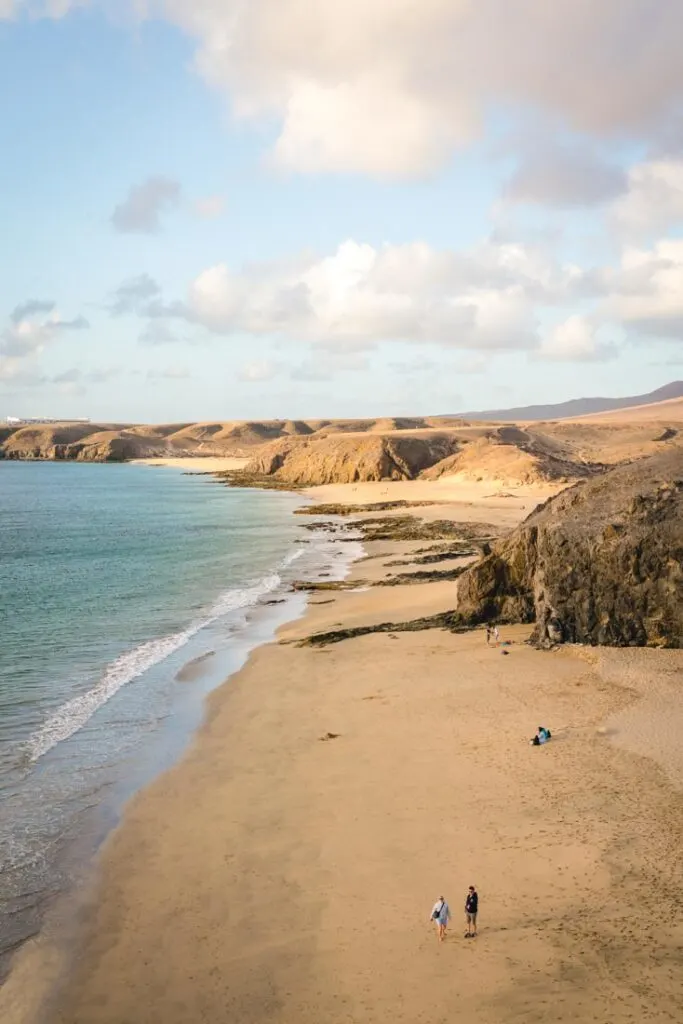 Located on the southern tip of Lanzarote, Playa del Papagayo is a bit of a trek to get to.
From Playa Blanca it is 11km, and from Puerto del Carmen it is around 28km.
No matter where you come from though, getting to Playa del Papagayo means driving along an unpaved dirt track for 15 minutes.
This is a pot-holed roller coaster ride that will test any car's suspension. Even though it looks like a car wrecker, the road isn't too bad as long as you take it slowly. And unless you're in a rally car, you have to take it slowly.
As this is in the Natural Monument of Los Ajaches (the national park), you have to pay a poll entrance fee of €3 per car. The toll booth is a few minutes after you turn onto the dirt track.
Saying that, as we visited out of the summer season, we didn't have to pay, so I think you only have to pay a entrance fee during the busier summer months.
Driving from Playa Blanca: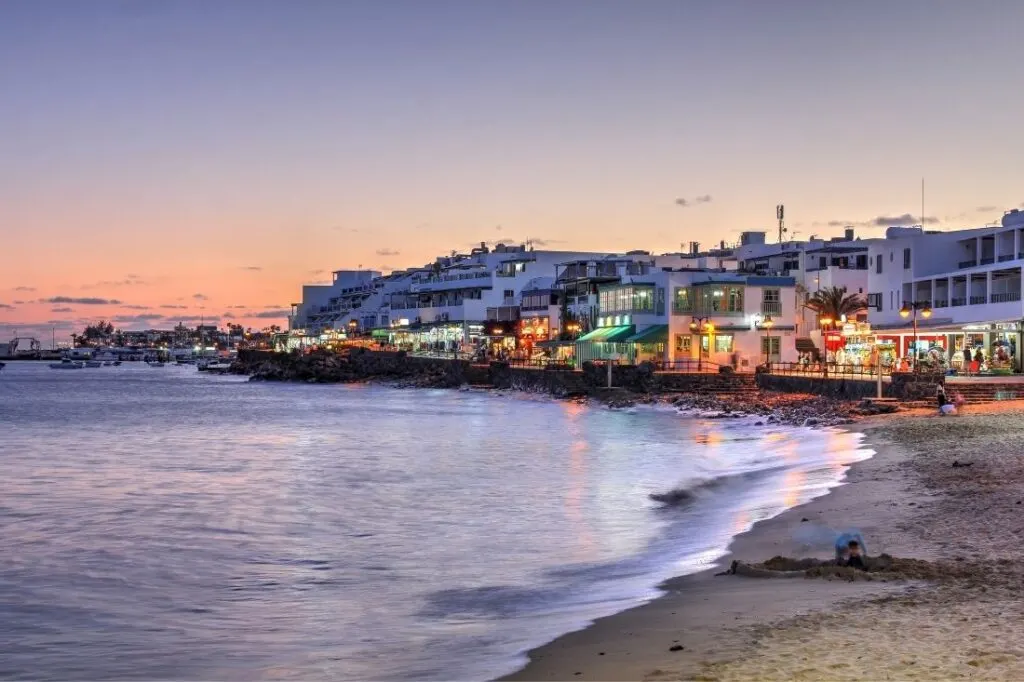 From Playa Blanca, you head east along on to Calle de Papagayo, and at the roundabout take the second exit onto Avenida de Papagayo. In total, the drive will take you around 25 minutes.
You'll find some guides saying you can walk from Playa Blanca to Papagayo beach, but I think that's crazy. Even though it's only 10km along the coast, it would take a fair few hours to do without any protection from the sun, so you'd fry pretty quickly.
Even the walk to Playa Mujeres would take about 90 minutes, so it's something to bear in mind.
Driving from Puerto del Carmen: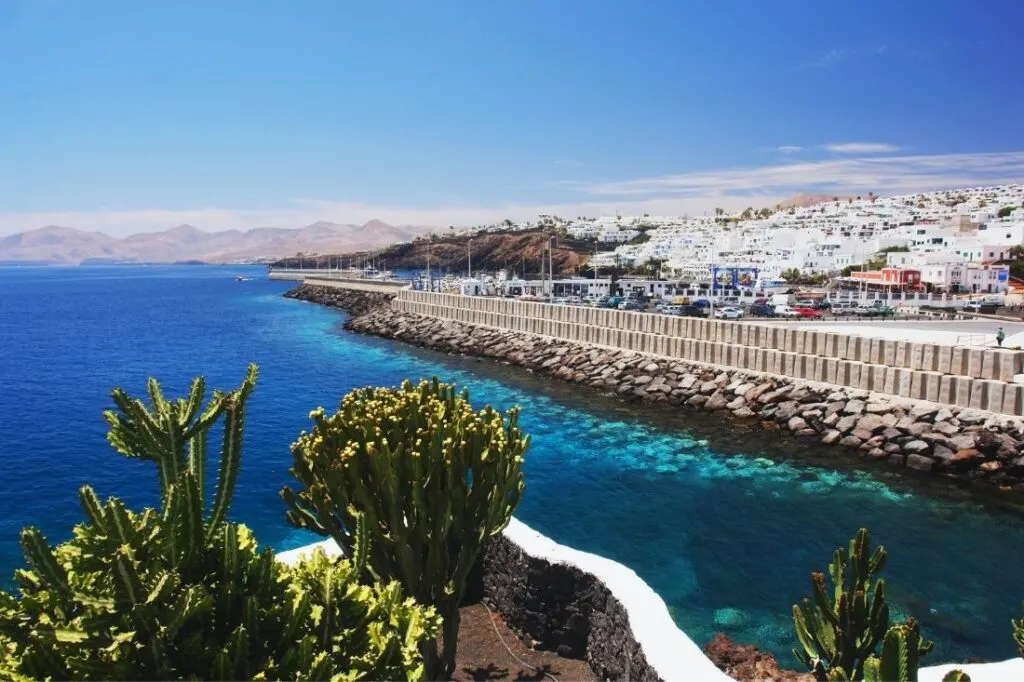 The drive from Puerto del Carmen is a little further. The route starts following the LZ-504 out of town, along the LZ-2, then you take a left following the LZ-702 south. You'll eventually get to a roundabout where you turn left along the infamous dirt track to Playa del Papagayo.
The total journey time is around 35-40 minutes. As you'll find driving around Lanzarote, nowhere is far away. It's one of the reasons I love the island so much!
Parking at Papagayo beach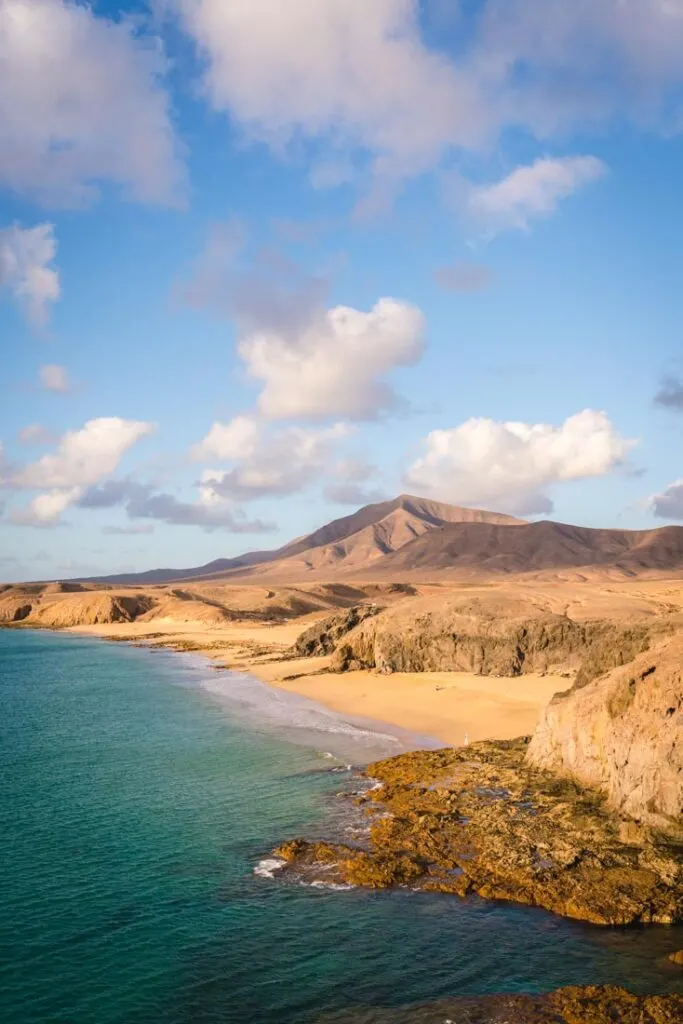 There are two car parks at Papagayo – one at Papagayo beach itself, and the other at Playa del Congrio (a short 5-minute walk away). That means even if you come here during high summer, you can usually find a space.
Because you've already paid the national park entrance fee, you don't need to pay for parking which is good.
Things to do at Papagayo beach
Head out to Mirador Papagayo
I had such giddy excitement when walking down from the car to Papagayo beach. That first glance of the beach just makes you want more.
Before heading down to the beach itself, I recommend walking over to Mirador Papagayo. This is a little viewpoint overlooking the beach with the volcano in the background. For me, this is one of the best viewpoints on the island!
Go swimming in the turquoise waters at Papagayo beach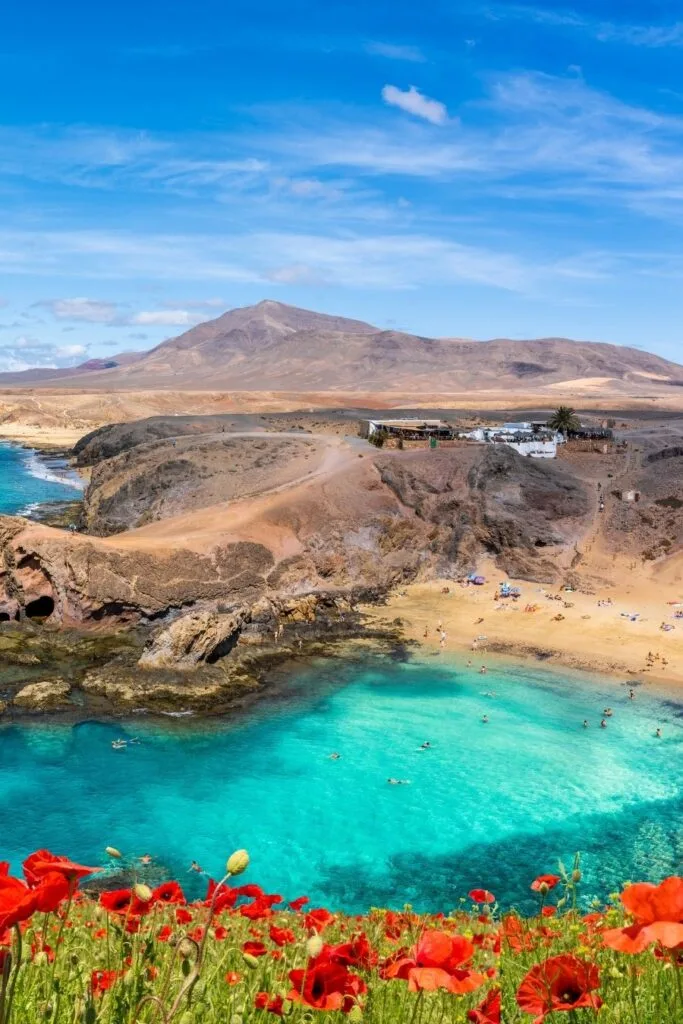 Obviously you can't come all this way to the beach and not take a dip in the water. I visited Lanzarote in December so the water was super refreshing, but I still went in!
I don't know why, but the water seemed so much brighter and more vibrant in the south than anywhere else on the island.
Alternatively, if you're looking for something a little more adventurous, this Papagayo kayak and snorkeling tour comes really highly recommended and looks incredible.
Walk around the cliffs to Mirador de la Punta del Papagayo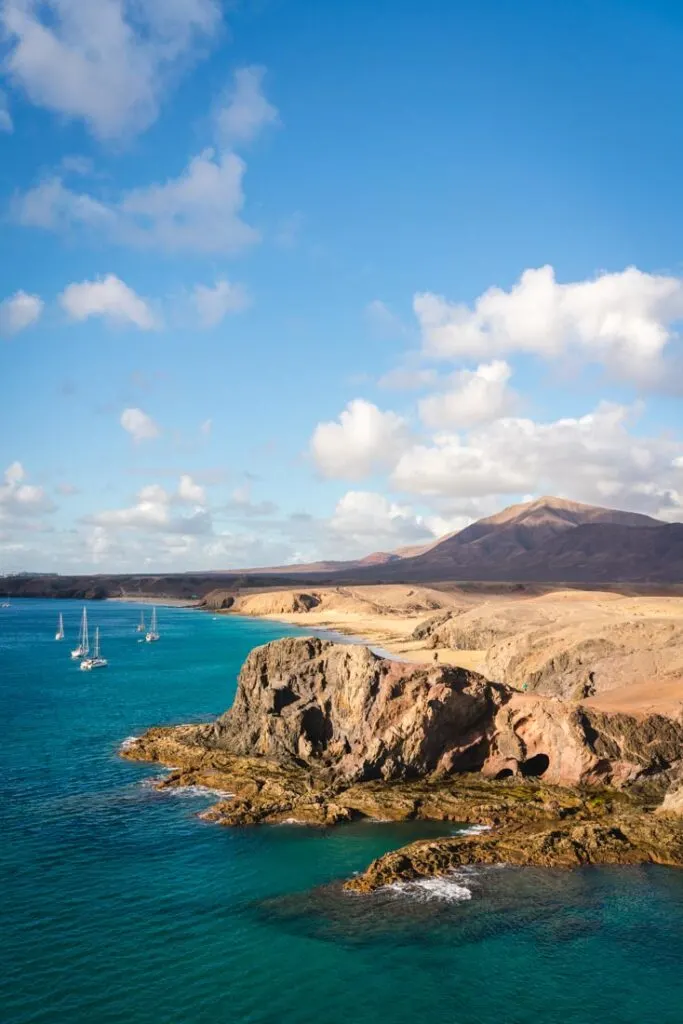 One of the best things to do at Playa del Papagayo is walk around the cliffs at the top. Here you get the most magical views along the coast to all the different beaches.
Even though the beaches are usually sheltered from the wind, it can be very windy up on the cliffs themselves. There are lots of different paths to follow though.
Go on a catamaran cruise to the Papagayo beaches
Another really fun thing to do in Lanzarote is go on a catamaran cruise to Papagayo beaches. On this tour you'll get picked up from your hotel, have lunch, an unlimited bar including sangria, and watersports activities too.
On this 4-hour excursion, the I Love Papagayo catamaran will sail southwest to the southern tip of Lanzarote.
Walk along Playa Caleta del Congrio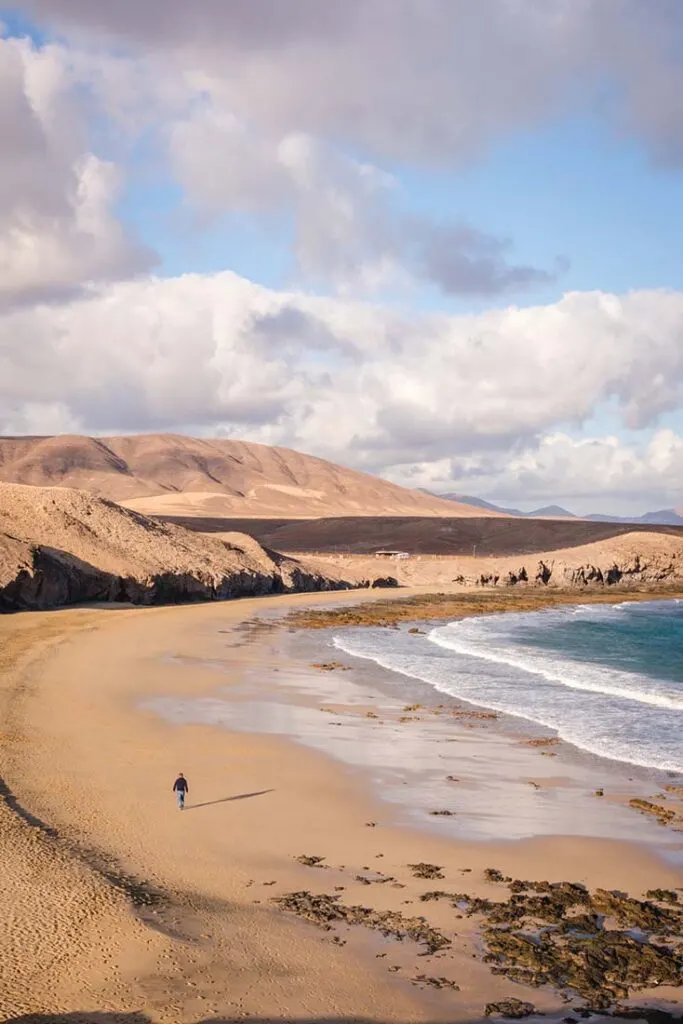 My favourite beach in the area was Playa Caleta del Congrio, partly because it was empty. This is such a beautiful stretch of sand, and it's well worth visiting while you're here.
Have a cocktail and watch the sunset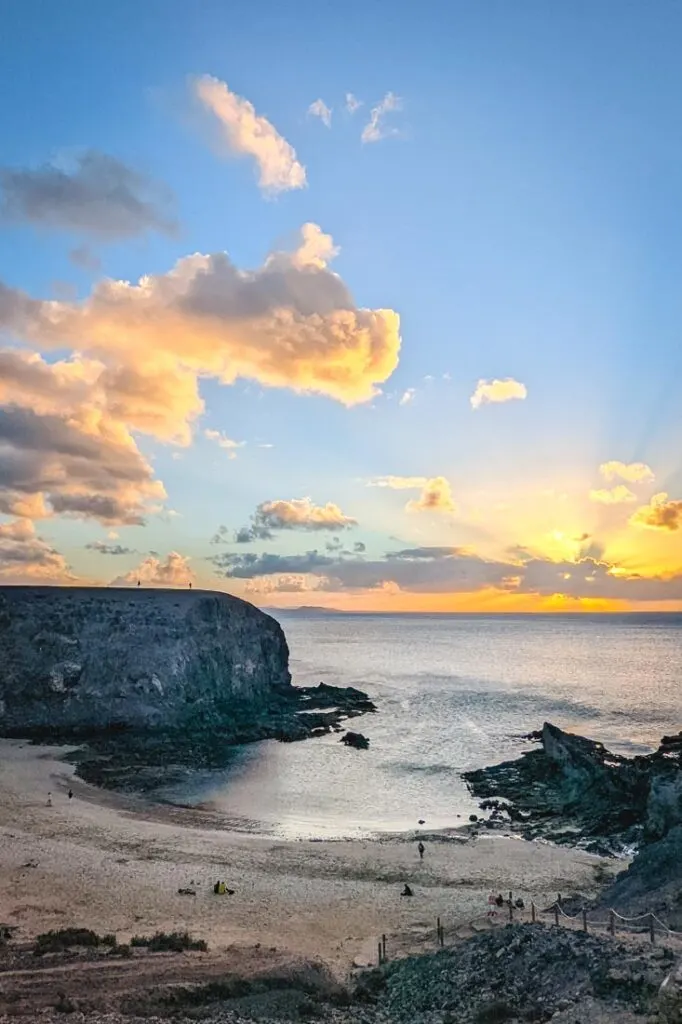 There are two small bars/restaurants at Papagayo. These are Casa El Barba Restaurant and Be Papagayo.
Even though they are next to each other, Casa El Barba Restaurant seems much more popular. It also has much better views of sunset, so that's the one I'd recommend.
What should you take to the beach?
It's worth noting that there aren't any shops or amenities at Playa del Papagayo. What you take with you is what you've got for the day.
That's why it's a good idea stocking up the car with food and water if you plan on spending the whole day here.
Saying that, it's super important that you take all your rubbish with you when you go. Leave only footprints!
Is Playa del Papagayo worth it?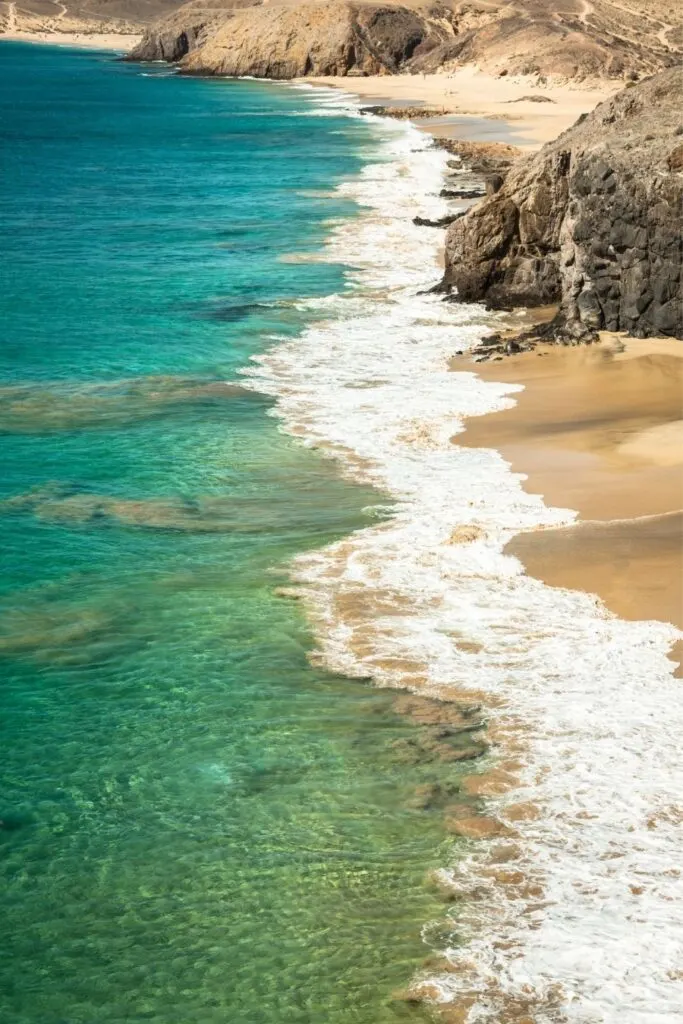 Absolutely, yes. This is arguably the best beach in Lanzarote for its seclusion and beauty.
The thing about Lanzarote is a lot of people just stick to their resort towns of Playa Blanca, Puerto del Carmen and Costa Teguise. They're happy sitting doing nothing by the pool.
Lanzarote is such a beautiful island though. For those of you who like a little adventure, you're rewarded with breath-taking landscapes and experiences you can't get chilling by the pool. It's a beautiful world out there – you've just got to explore it!
---
Are you thinking of visiting Playas de Papagayo? If you have any questions at all, let me know in the comments below!
Like this blog post? Then Pin it for the future!