Are you looking for the most beautiful buildings in Valencia? Then check out my guide to the best architecture in Valencia including where to go!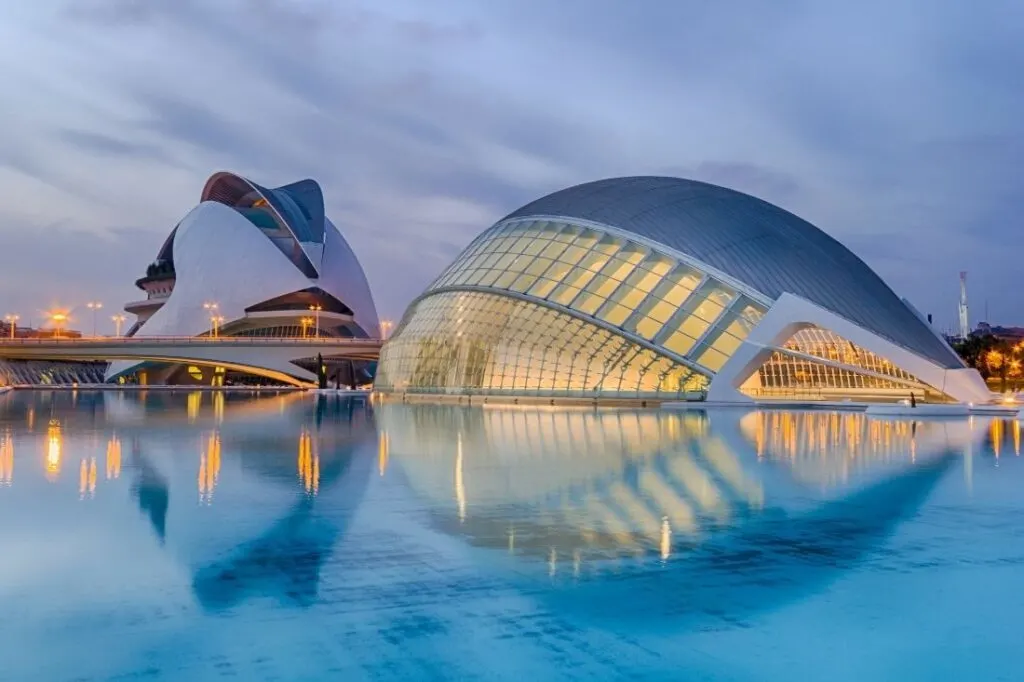 One of the reasons I love travelling so much is for the architecture. From crumbling castles to sleek skyscrapers, you can really get to know a city and its personality through its buildings.
Well, I can honestly say the architecture in Valencia is up there with the best in the world. There are so many bold and futuristic buildings here alongside an ancient city that dates back over 2,000 years.
With one foot in the past and the other firmly in the future, Valencia is an ultra-modern city emerging out the shadows of neighbouring cities Barcelona and Madrid.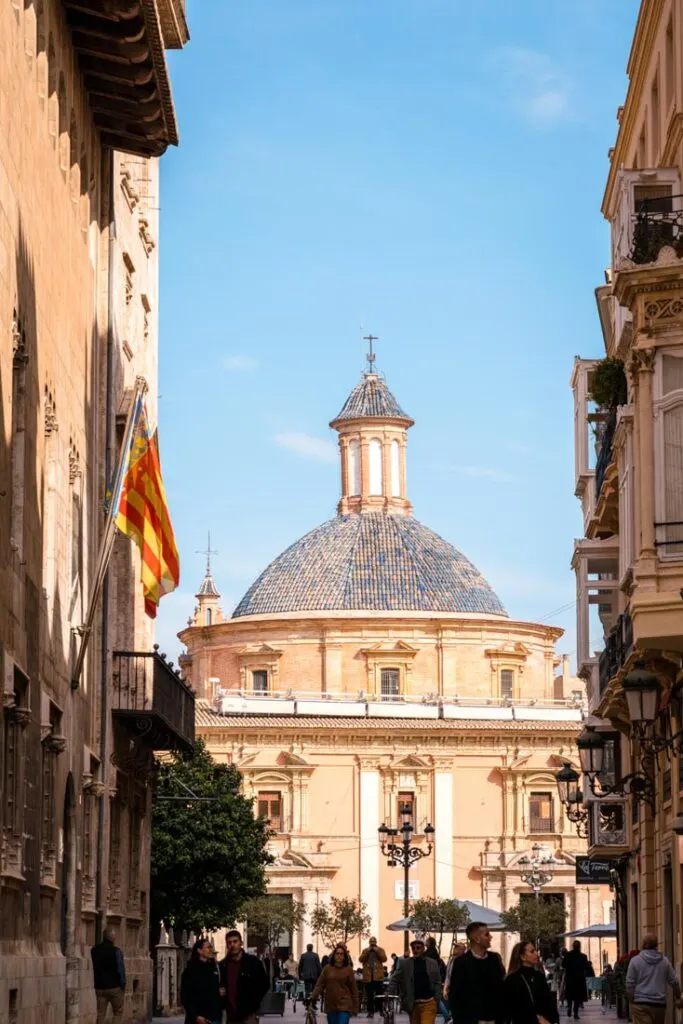 In terms of beautiful buildings in Valencia, this is a city like no other. From ornate buildings such as The Palace of the Marquis of Dos Aguas to the revolutionary City of Arts and Sciences by famous architect Santiago Calatrava, there is something for all types of tourists here.
And to confirm that, Valencia has recently been named the World Design Capital for 2022 by the World Design Organization. This means that there's never been a better time to visit Valencia than now.
I can't tell you how much I loved exploring this city. In this guide I'm going to show you what to do in Valencia and where you'll find the most beautiful buildings.
I really hope you love this city as much as I do – it really is like nowhere else in Europe!
---
Best Architecture in Valencia
1. City of Arts and Sciences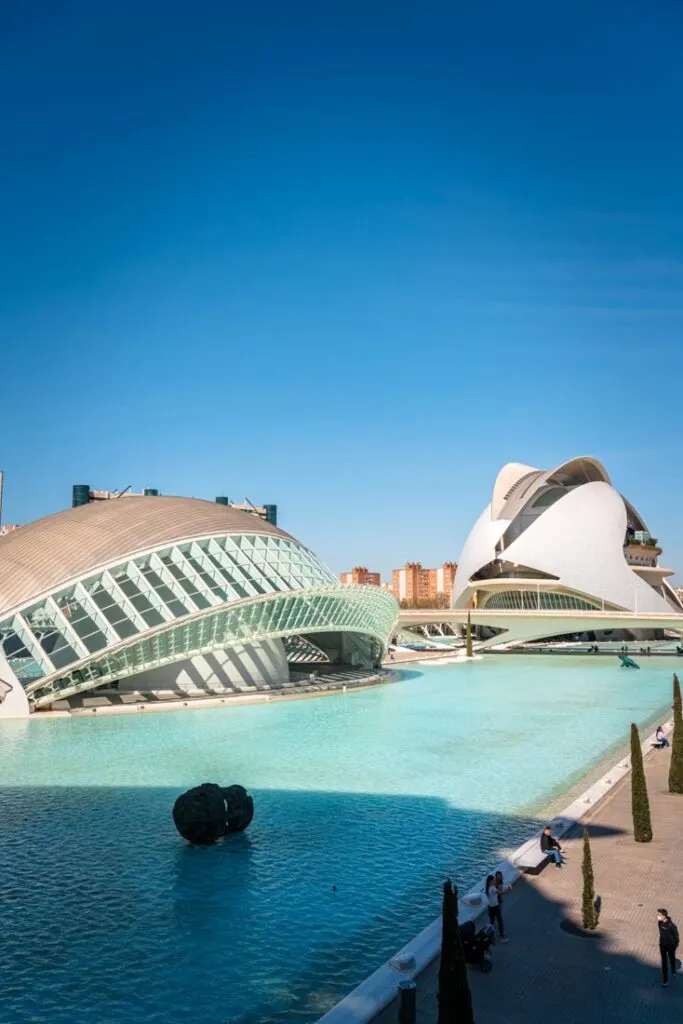 I'm going to start with my favourite area in Valencia – le Ciudad de las Artes y las Ciencias – the City of Arts and Sciences.
This is the brainchild of world-renowned architect Santiago Calatrava. He is regarded as the best modern architect in Spain. It's very rare that someone can be put on the same pedestal as Antoni Gaudi, but for me Calatrava is up there.
Some of Calatrava's buildings you might recognise are the World Trade Centre in New York, Dubai Creek Tower in the UAE and the Turning Torso in Malmo.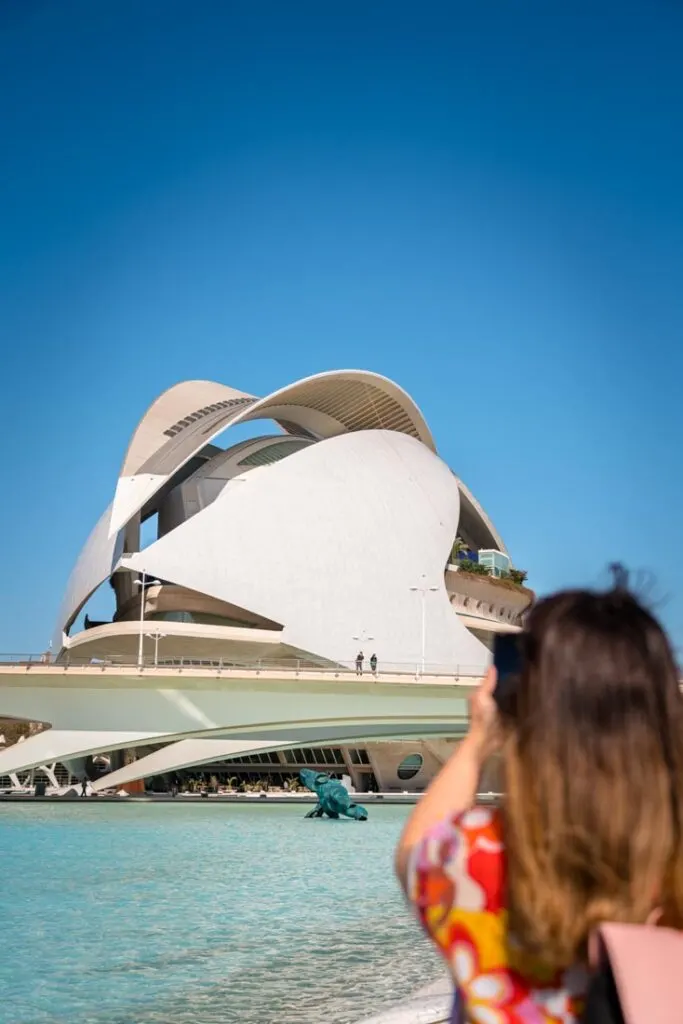 Anyway, the City of Arts and Sciences looks like a futuristic filmset. In fact, they filmed a lot of the Disney sci-fi film Tomorrowland here.
This otherworldly complex comprises of curves, clean lines, and white concrete structures connected by glistening sky blue pools and winding walkways.
One of the things I found the most surprising walking around here is how peaceful it is. I spent 3 hours walking around all the different buildings, and even that wasn't enough.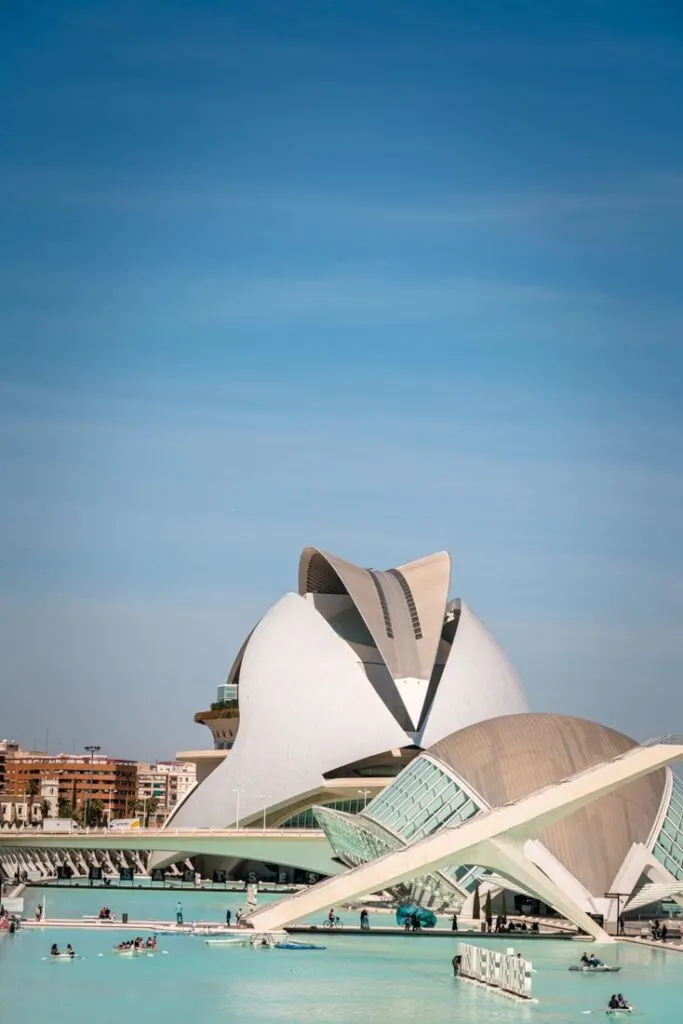 As the City of Arts and Sciences in made up of a number of buildings, I thought I'd showcase each one.
Oh, and I'd really recommend coming down here at night too – it looks completely different in the dark lit up with lights!
2. Palau de les Arts Reina Sofia (Queen Sofía Palace of the Arts)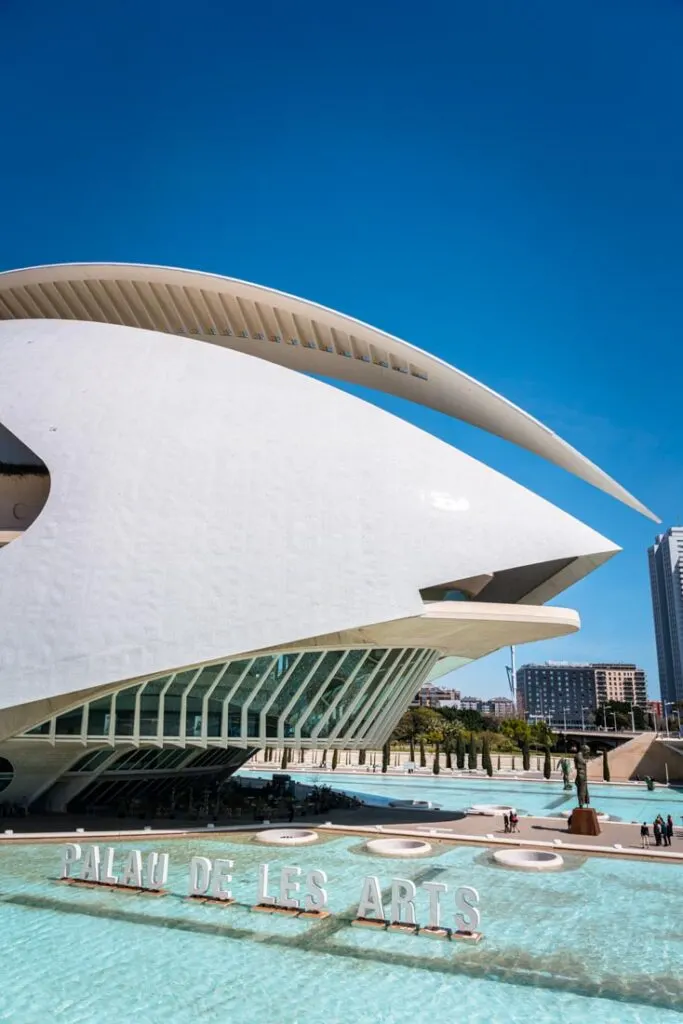 The Palau de les Arts Reina Sofia is an opera house and performing arts centre. First opened in 2005, it has been wowing tourists ever since then. I mean, just look at it?
I think the building looks like a flower bud opening up (even though some people think it looks like a Stormtrooper helmet!)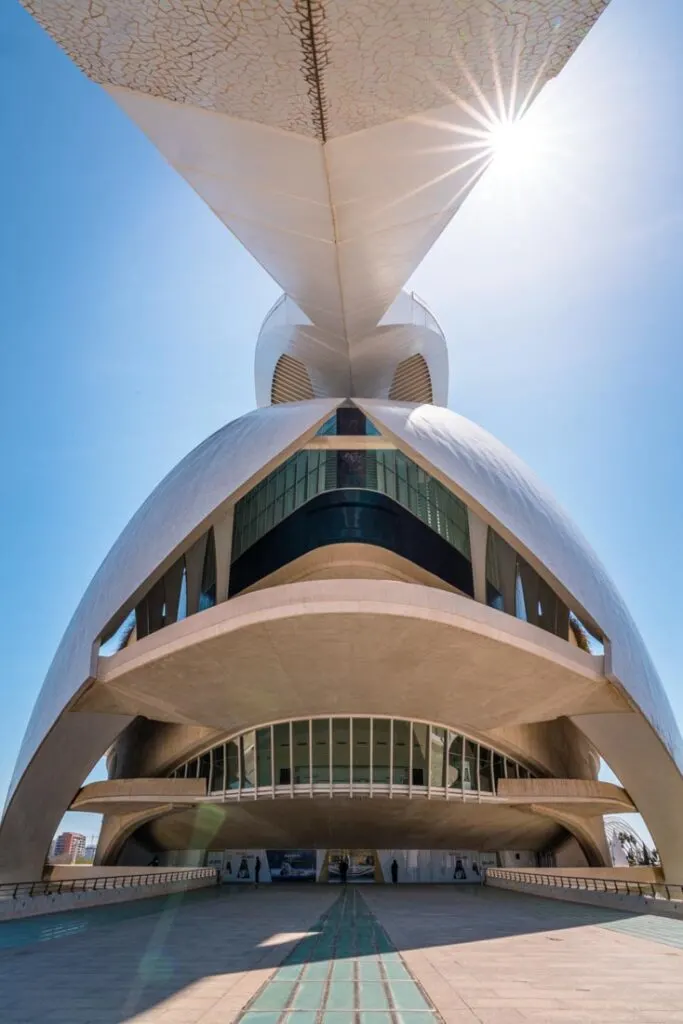 There are a number of platforms and different levels with stunning panoramic views of the surrounding area. If you've got time, I really recommend walking around the second floor where you'll find the Mediterranean gardens.
Inside there are 4 concert halls, each one an architectural marvel in its own right. Obviously if you're in Valencia when there's an opera or performance going on here, then go. It's definitely one of the best things to do in Valencia.
For me, the Palau de les Arts Reina Sofia is the jewel in the crown of Calatrava's City of Arts and Sciences.
3. Hemisfèric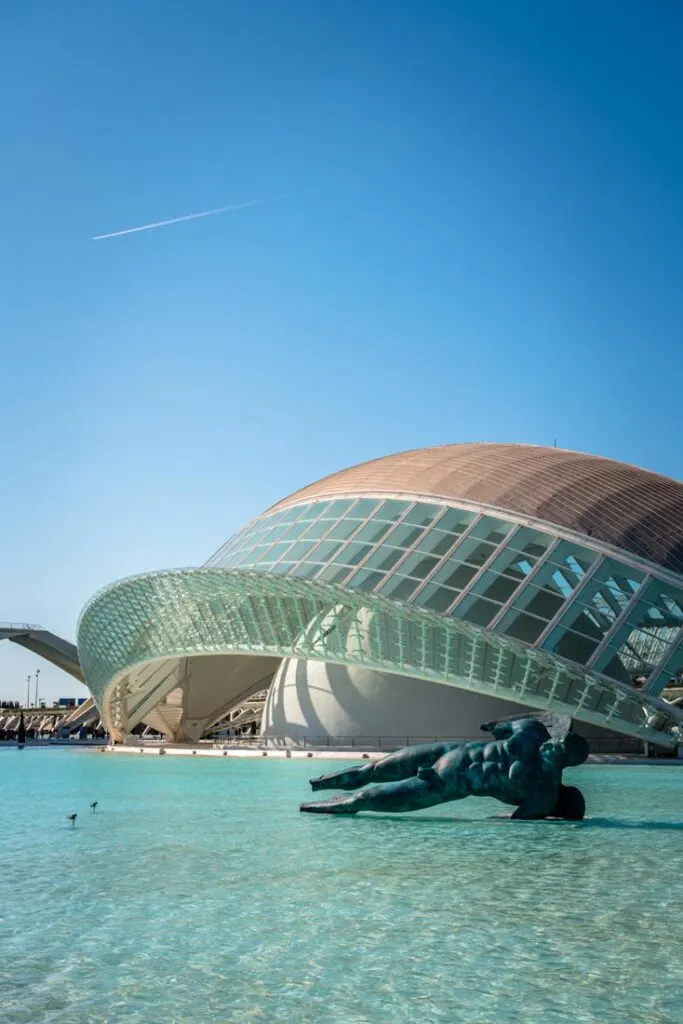 It doesn't take much to see the Hemisfèric as a giant eye keeping a watch on the city.
The Hemisfèric was opened in 1998 and it was the first building in the City of Arts and Sciences to open its doors to the public.
It is just over 100 metres long and there's a large sphere right in the middle of it – this is the projection room and home to a giant IMAX cinema dome.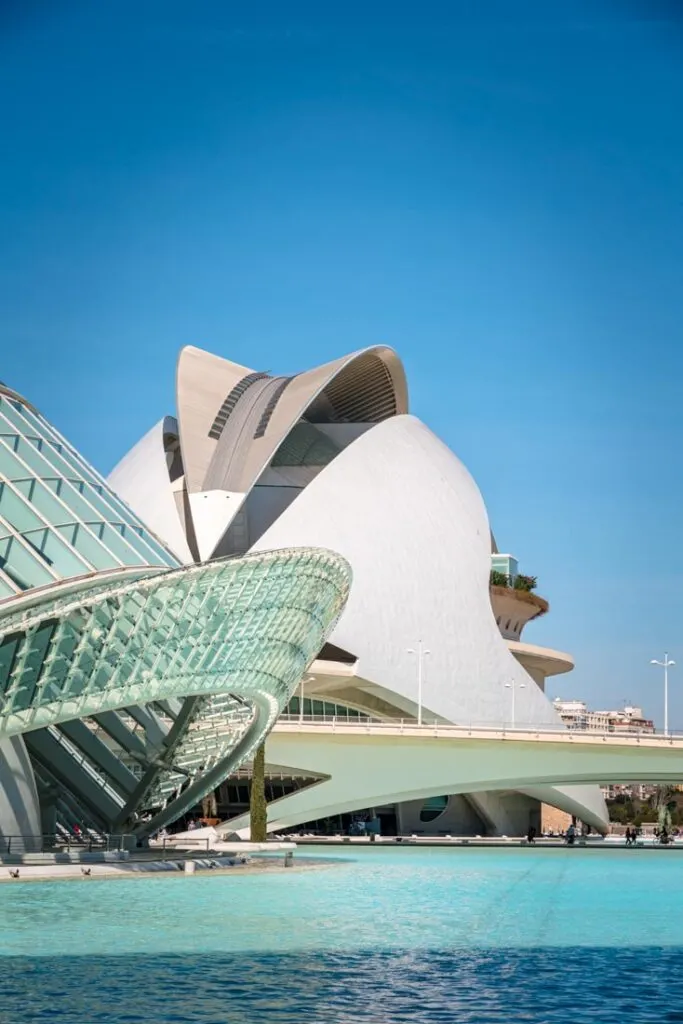 In keeping with the theme of art and science, movies screened here are usually connected to the topics of astronomy, biology and history.
Calatrava himself called this building the "eye of wisdom". It's clever when you think about it – when you enter the eye, when you open up your mind and think, you can really learn a lot about art, design and science all from this one building.
It's architecture, design and science all coming together as one. Just keep that in mind when walking around here.
4. L'Umbracle Sculpture Garden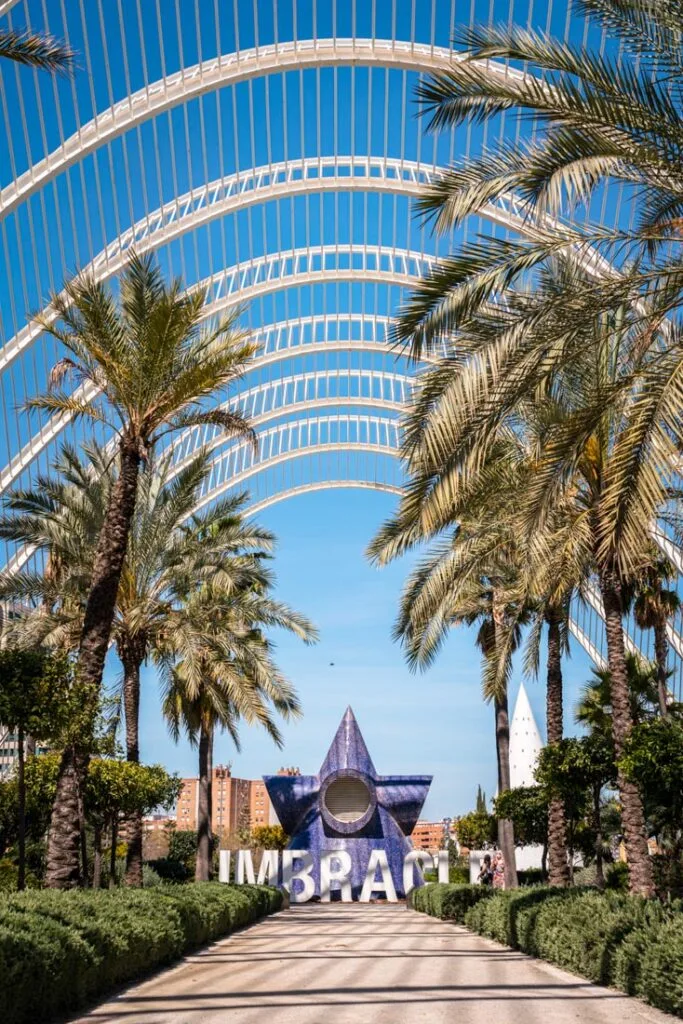 L'Umbracle is the perfect example of architecture and nature coming together as one.
Opened in 2001, L'Umbracle is 320 metres long and 60 metres wide, located on the southern side of the complex. It has 55 fixed arches and 54 floating arches that stand 18 metres high. I think it looks like the ribcage of a whale – what do you think?
This whole structure houses a beautiful garden. For me, it felt like visiting a modern botanical garden with the arches acting as a glass conservatory.
In the gardens you'll see palm trees and other typical plants of the Mediterranean. Again, like with the rest of the City of Arts and Sciences, it is so peaceful walking around here.
In the interior of the Umbracle, you can also visit the Paseo del Arte for free where works by contemporary artists, mostly sculptures, are exhibited.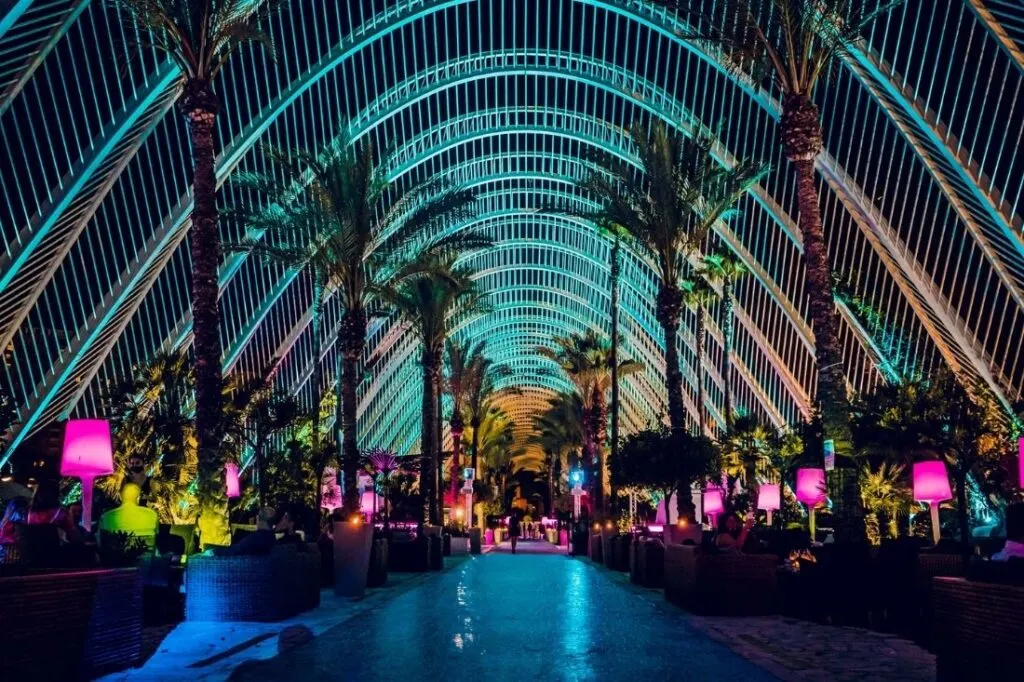 One of the things I loved about L'Umbracle is it's got a split personality.
During the day you can slowly meander around the gardens, but once the sun goes down L'Umbracle is the venue of an amazing outside nightclub Mya. This is one of the best nightclubs in Valencia and it is absolutely bouncing during summer.
Obviously I had to go myself, all in the name of research of course, and it was so much fun. Be warned though – it doesn't get mega busy until about 2am!
It's just amazing that they've opened up this space for a much younger demographic to enjoy too. It's very inclusive, and a great use of space too.
5. L'Àgora (The Agora)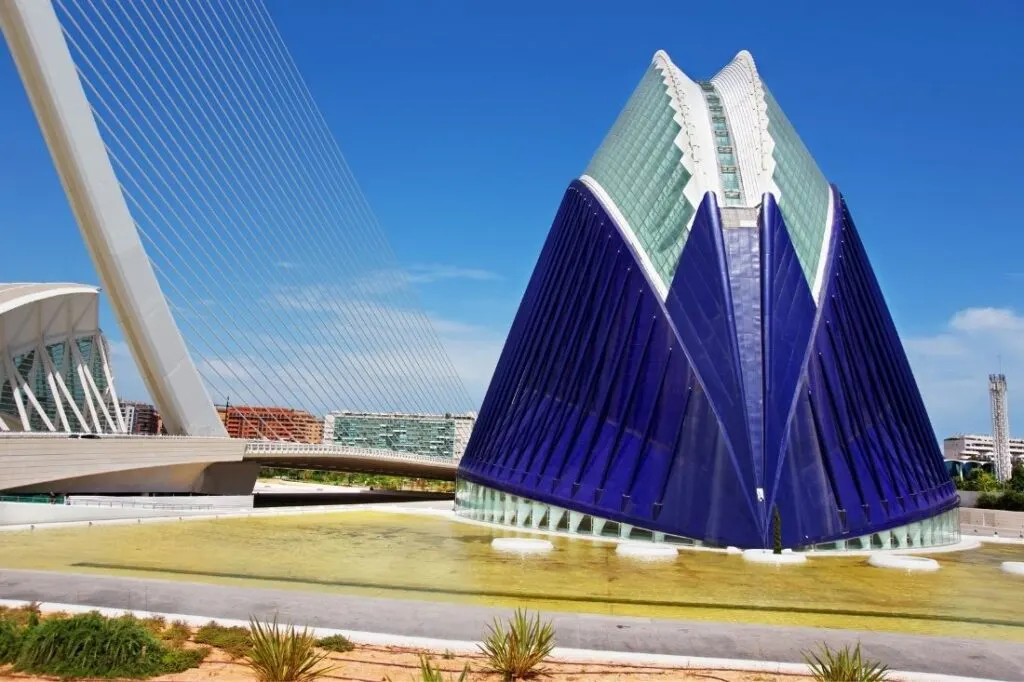 L'Àgora is a multifunctional space designed by Calatrava that was opened in 2009. With a height of 70 metres and 5,000 m2 of space, over 6,000 people can be seated within the Agora.
The building is a diaphanous large arena, with a glass roof along its spine and a movable structure to control the overhead natural light. The tall white steel rib-cage arches give the interior space an organic element, whereas the exterior is geometric and abstract.
To me, the building looks like a whale breaking the water, especially with the deep blue colour used. Once you see it, you can't unsee it.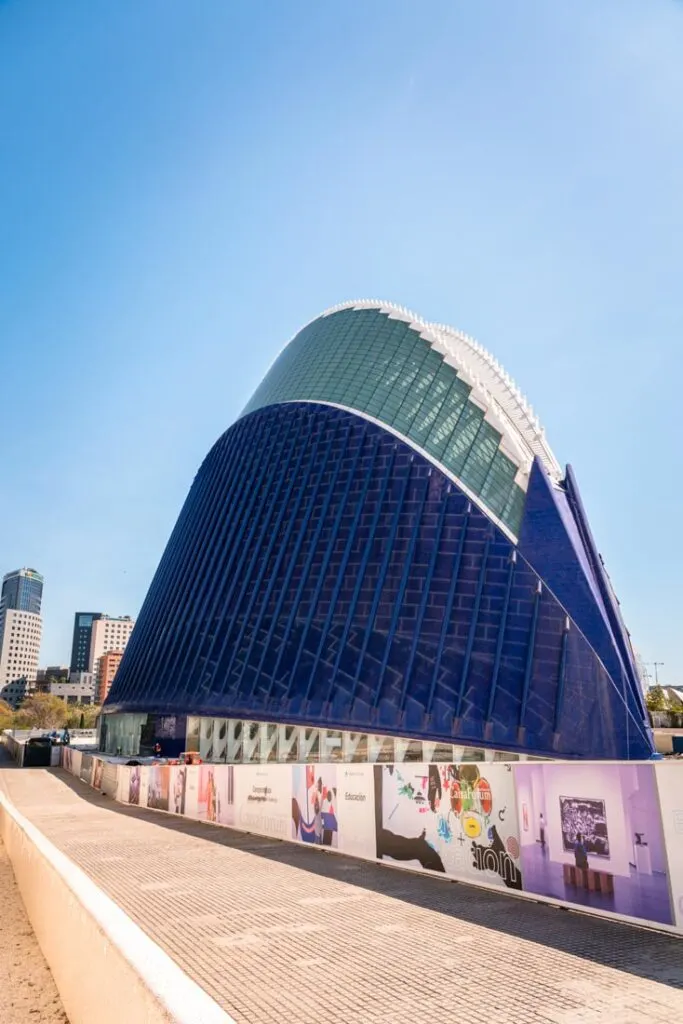 The Agora has undergone a huge renovation project over the last couple of years, but the building will reopen towards the end of summer 2022. The hope is that the equivalent of the Pompidou Centre in Paris and become Valencia's primary exhibition space.
Even though this building isn't as famous as some of the other buildings in the City of Arts and Sciences, it does showcase what the architecture in Valencia is all about.
6. Assut de l'Or Bridge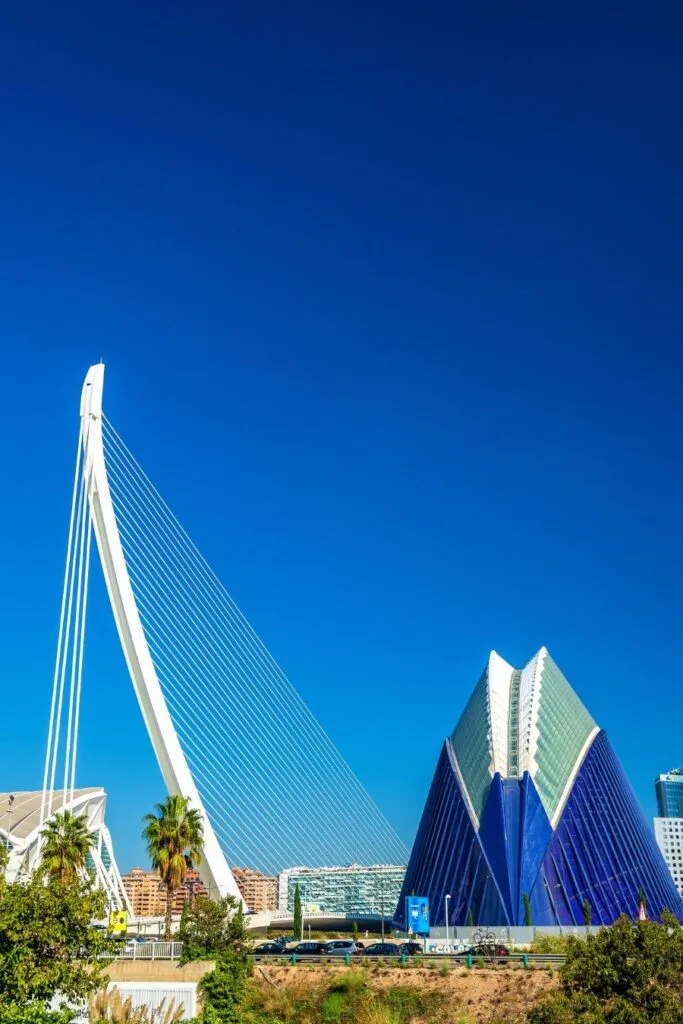 Even though this is just a bridge, I would say Assut de l'Or is one of the best examples of Calatravas work. His bridges are often supported by a single-pylon cable-stays giving them such striking designs. They almost look like sails or musical instruments.
Calatravia is very famous for bridging the division between structural engineering and architecture, how the two can seamlessly work together. Well, Assut de l'Or Bridge is an amazing example of that.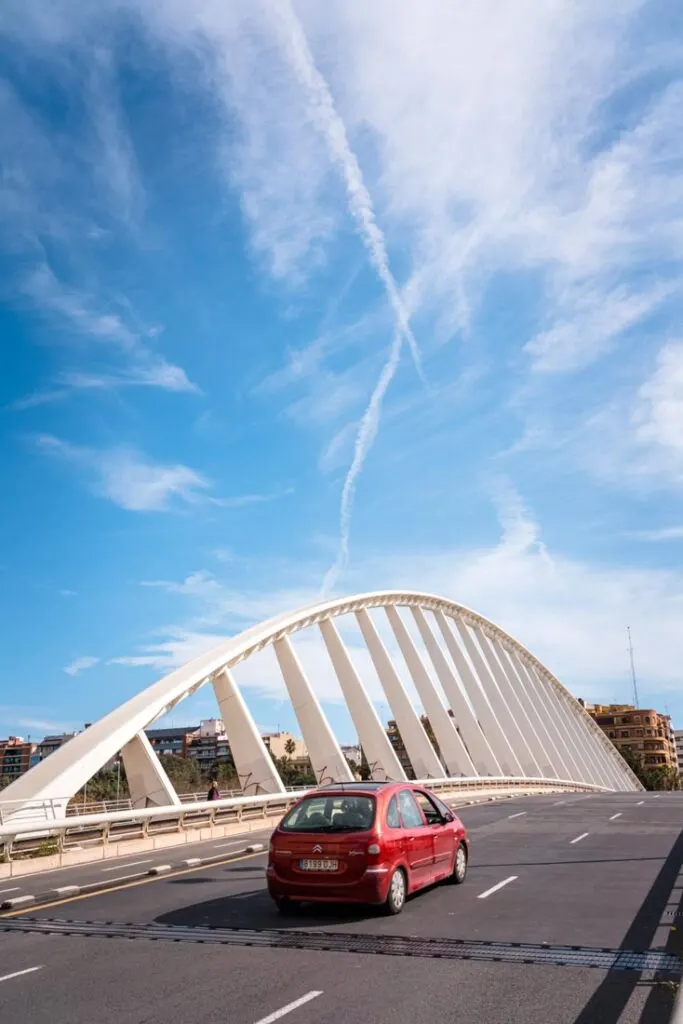 Even though this is a fully functional bridge, it perfectly connects the surrounding area and makes sure the City of Arts and Sciences is one of the top places to visit in Valencia.
The name l'Assut de l'Or is Valencian for the Dam of the Gold and refers to a dam that was located nearby.
7. L'Oceanogràfic (Oceanographic Centre)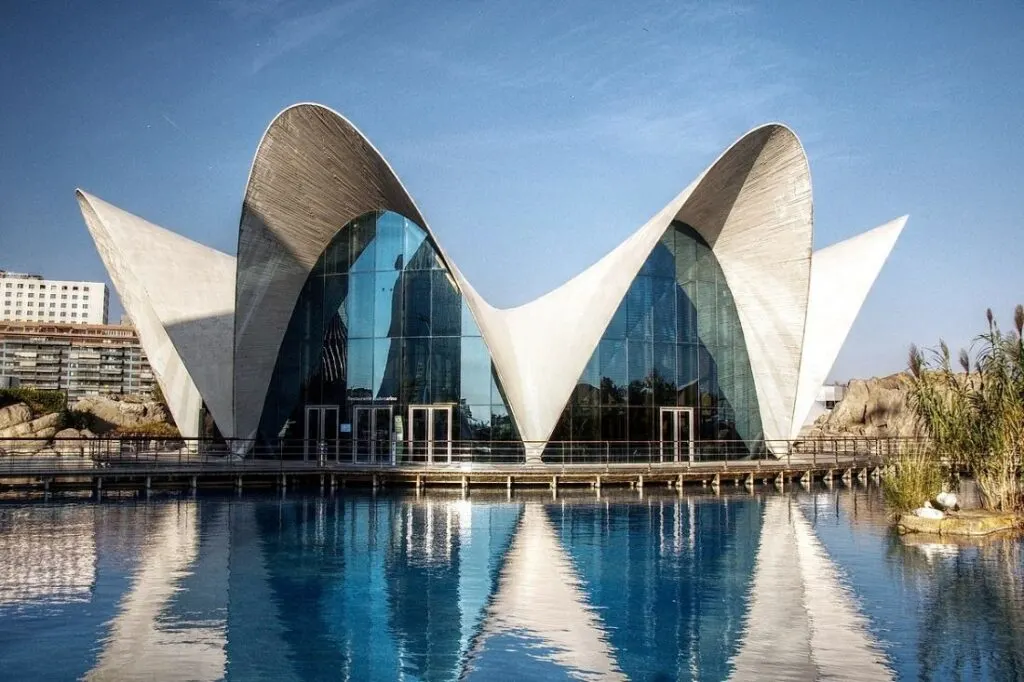 Even though the design fits in nicely with the City of Arts and Sciences, this building wasn't actually designed by Calatrava. Instead, it was designed by architect Felix Candela.
From a design point of view, the Oceanographic Centre looks like a giant clam, especially when reflected in the water on a still day.
Opened in 2003, the Oceanographic Centre is the largest complex of its type in Europe.
8. The Palace of the Marquis of Dos Aguas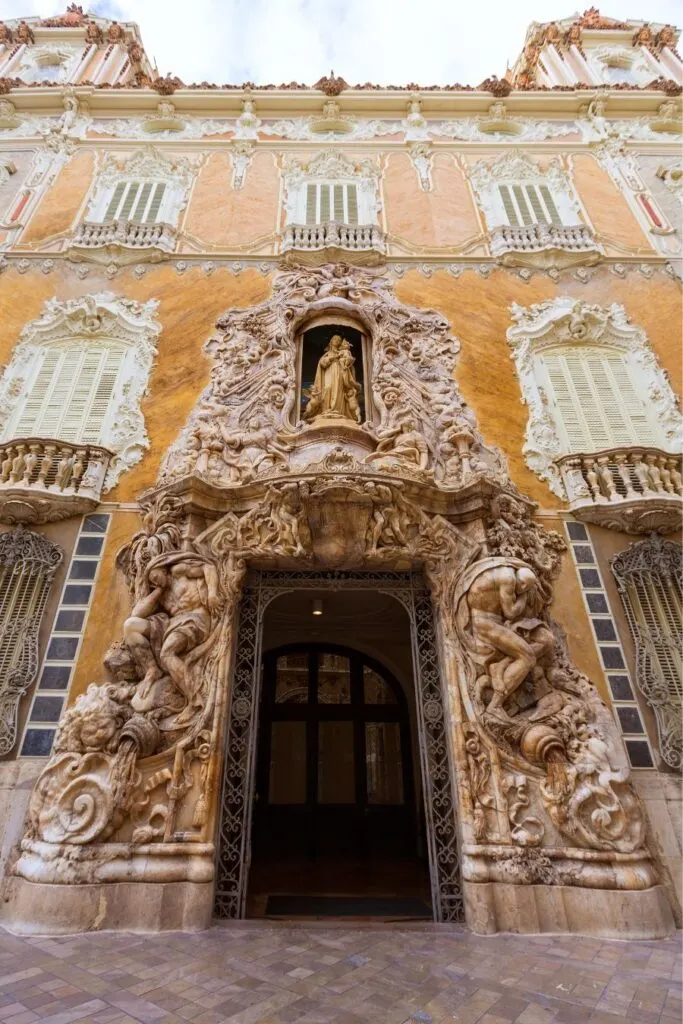 The Palace of the Marquis of Dos Aguas is without a doubt one of the best buildings in Valencia.
Home to the National Ceramics Museum, this palace is one of the most ornate buildings you'll ever see in your life.
Flaunting a dramatic baroque façade, the main entrance of allegorical alabaster figures is a showcase of how rich the city was during the 19th century. There's even a life-size statue of the Virgin of the Rosary over the doorway.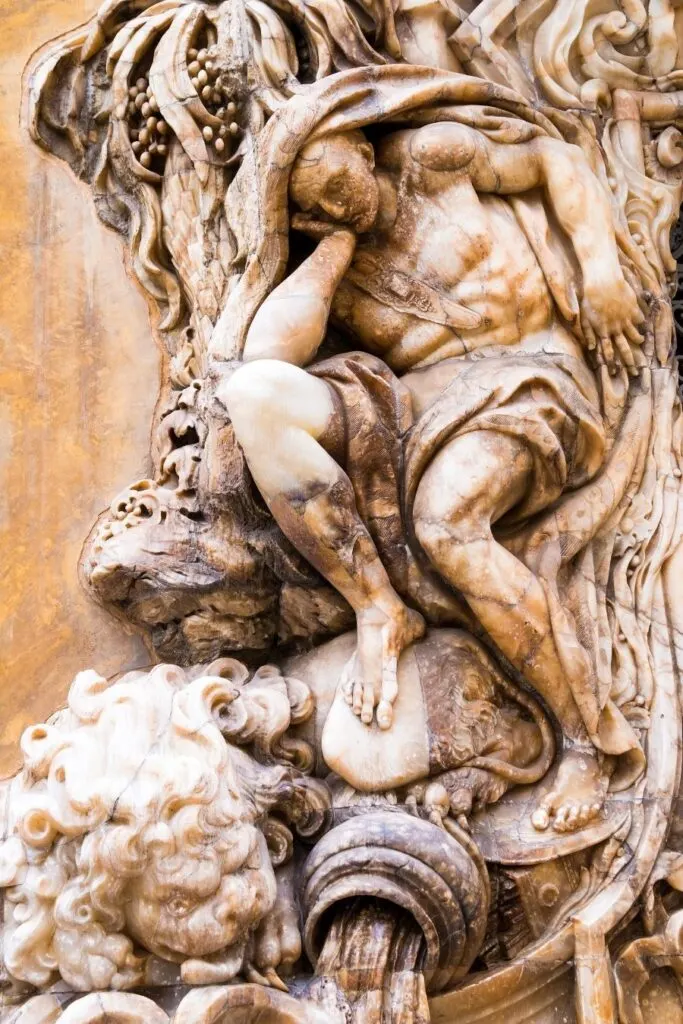 This magnificent work of art depicts the two main rivers in the province of Valencia: the Júcar and the Turia. This is represented by two figures shaped as Atlanteans, together with vessels that spill water casting a clear allusion to the noble title.
Though remodeled many times over the years, the 15th-century Rococo palace stands as a symbol of the Valencian nobility's opulence.
9. Banco de Valencia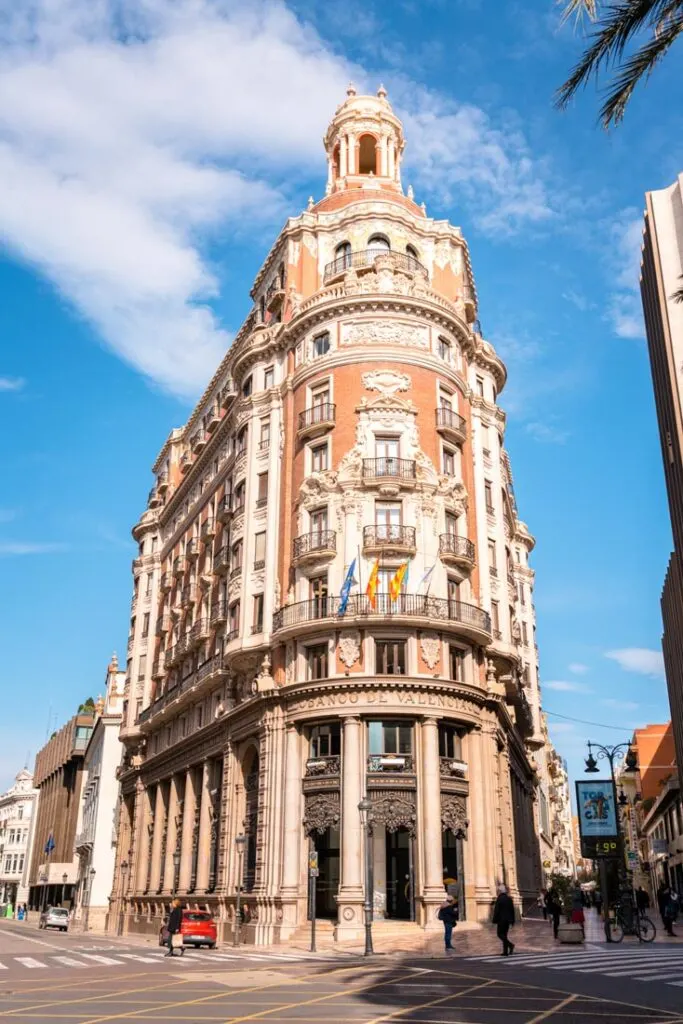 Banco de Valencia is Valencia's answer to New York's Flat Iron building.
This building was first opened in 1936 and was built in the new baroque style. What's fascinating is this demonstrates the changes that took place in the architecture of public buildings in Valencia after the Civil War. There was much more liberty and freedom when it came to architectural design, almost as if the shackles were taken off post war.
The name of the old bank can still be read above the front door. However, since 2017 it has been the headquarters of Caixabank. These guys bought the building in an auction in 2012 for just €1. I'm saying it now – that is an absolute bargain.
10. Catedral de Valencia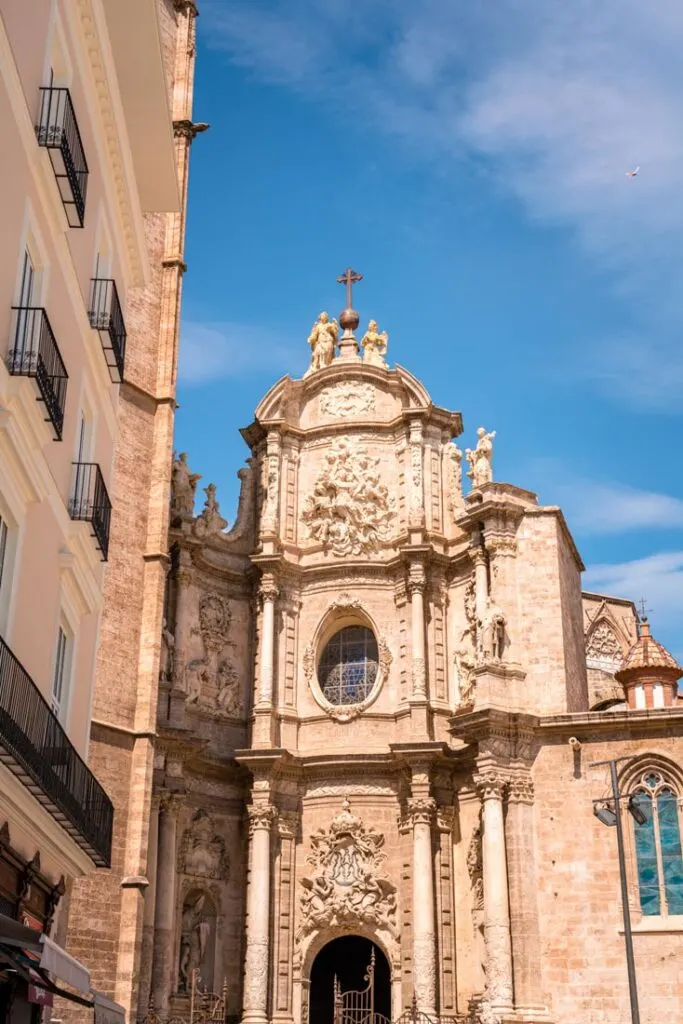 Now we're really stepping back in time. Built in the 13th century, the Catedral de Valencia is one of the top tourist attractions in Valencia.
Boasting an eclectic range of styles including baroque, gothic and romanesque, Catedral de Valencia started life as a Roman temple, then a mosque, before finally being converted into a cathedral.
For those of you who love a mystery, it's thought that this is the final resting place of the Holy Grail (the cup that Jesus Christ drunk from at the Last Supper). This artifact has been officially ordained by three separate Popes, and it has the largest claim out of any grails in the world. Just another reason to visit Valencia for you there!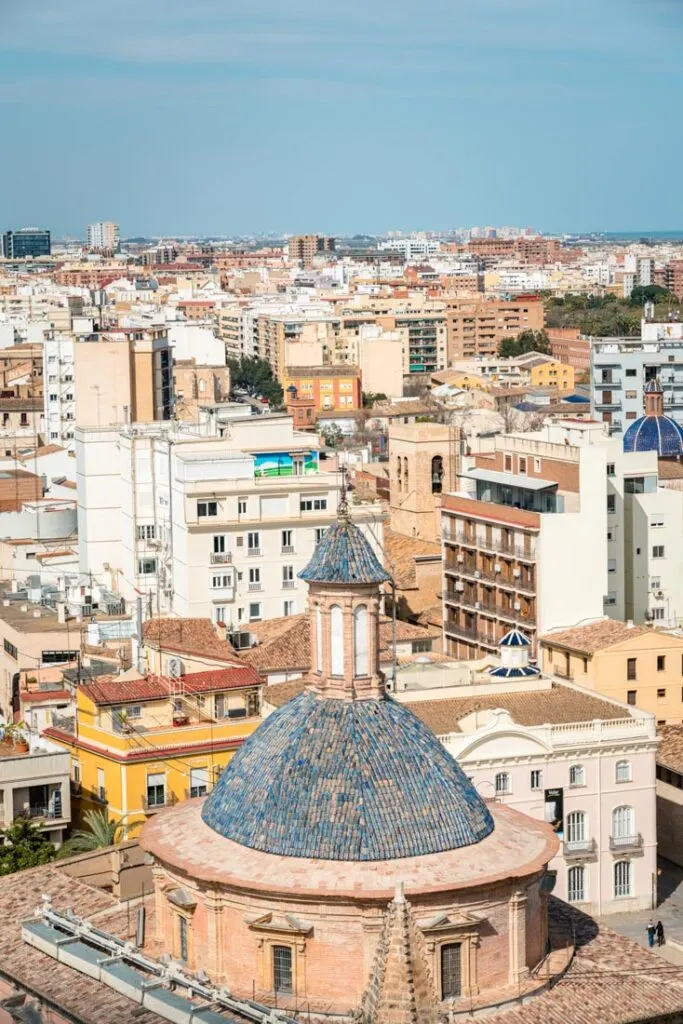 If you enjoy panoramic views, then I'd really recommend climbing to the top of Miguelete tower. Tickets only cost 2 euros per person.
Even though the 207 steps can be gruelling on a hot Spanish summer's day, the views at the top are well worth it. This will give you the best views of Valencia's old town.
11. Mercado Central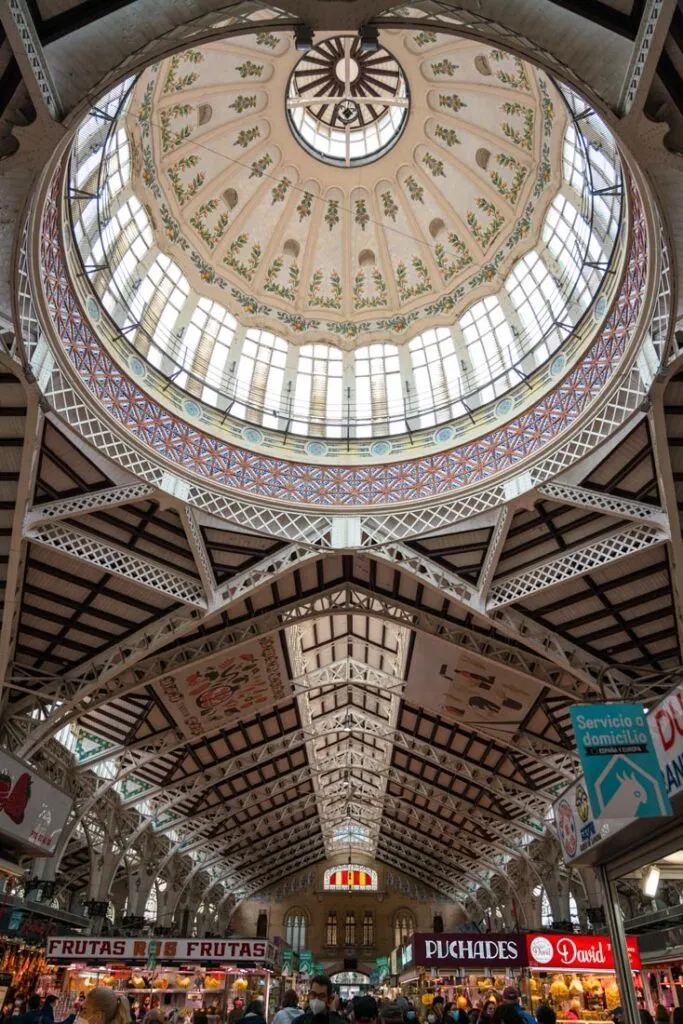 I've always said it, but one of the best ways of getting to know a city is through its food. Well, Mercado Central is the heartbeat right in the centre of the city.
Much like La Boqueria in Barcelona, this is a huge indoor market selling everything from local cheeses to the freshest fish. However, unlike La Boqueria, this is a market very much for locals as it is for tourists. You're just as likely to rub shoulder to shoulder here with an old abuela (granny) as you are with a fellow tourist.
Designed by architects Alexandre Soler i March and Francesc Guàrdia i Vial between 1910 and 1928, the Modernista building is a construction of iron, glass and polychrome. This gives the building a very old-fashioned yet grand style.
There are stained glass windows all around the outside that floods the market with light, and there's a stunning 30-metre-high dome on top decorated with traditional ceramics.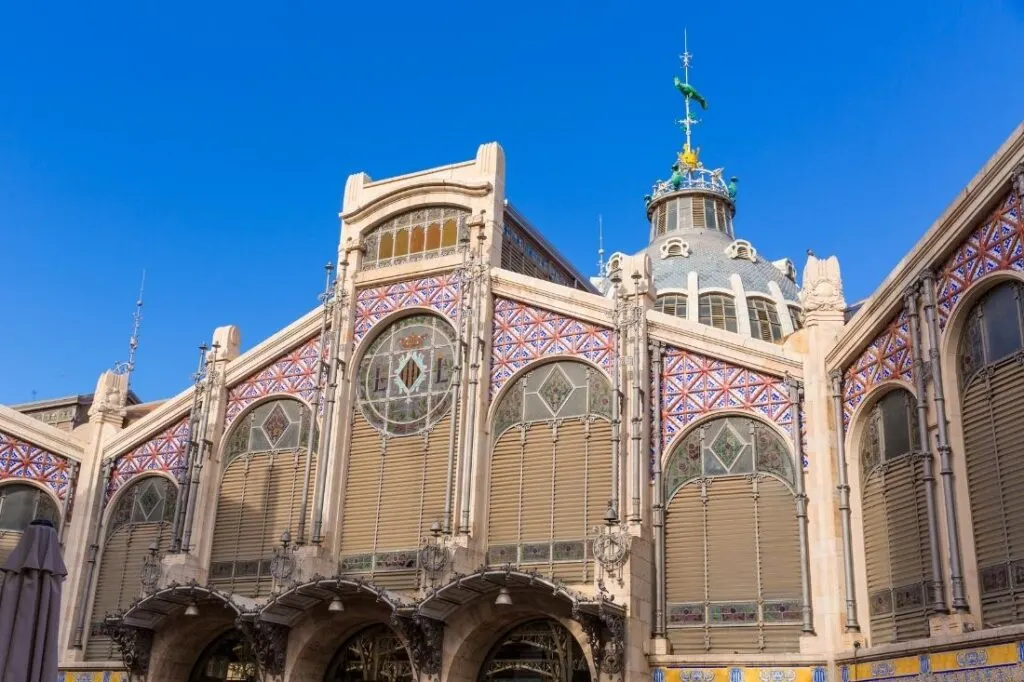 Personally, I'd really recommend getting stuck into this market. Amble around the outside, weave your way to the middle, and take it the sights, sounds and smells of Mercado Central.
This is without a doubt one of the best indoor markets in the world, so enjoy it. Oh, and you really can't go wrong with buying some local meats and cheeses – the Manchego is delicious, and the region is famous for its truffle cheese which is delectable. I bought both and they didn't last long once I got back from my trip!
12. Veles e Vents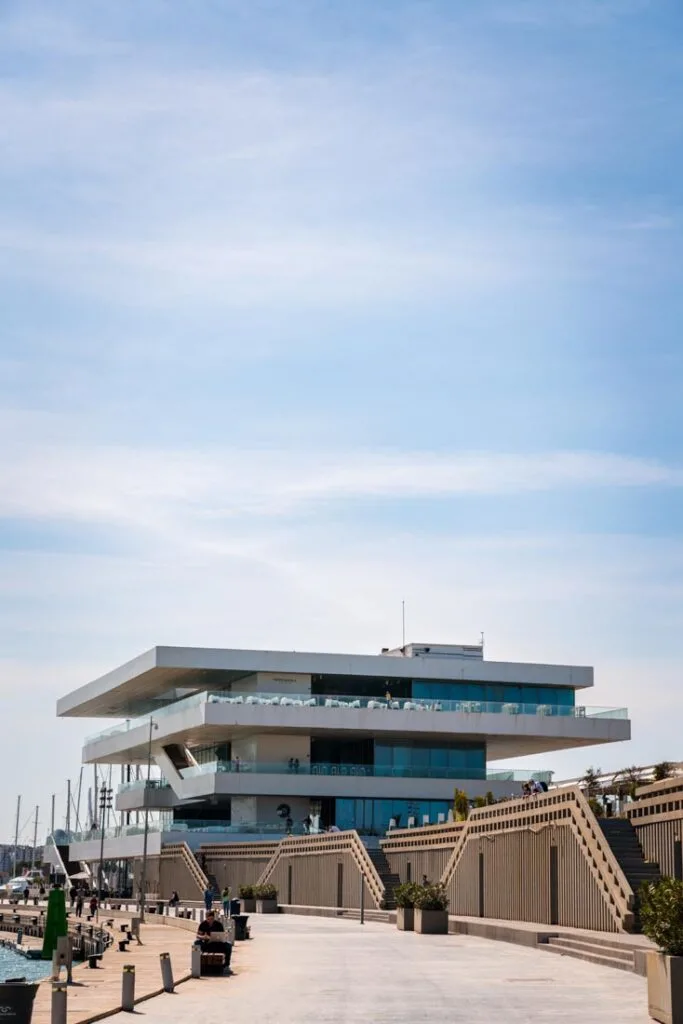 Veles e Vents is another amazing example of modern architecture in Valencia.
Designed by British architect David Chipperfield, this building was created for the prestigious America's Cup yacht race in 2006.
The whole building is a visual link between the Mediterranean Sea and the city itself. With a number of horizontal platforms and terraces, people can enjoy marvelous views not only over the marina and beaches, but over the city itself too.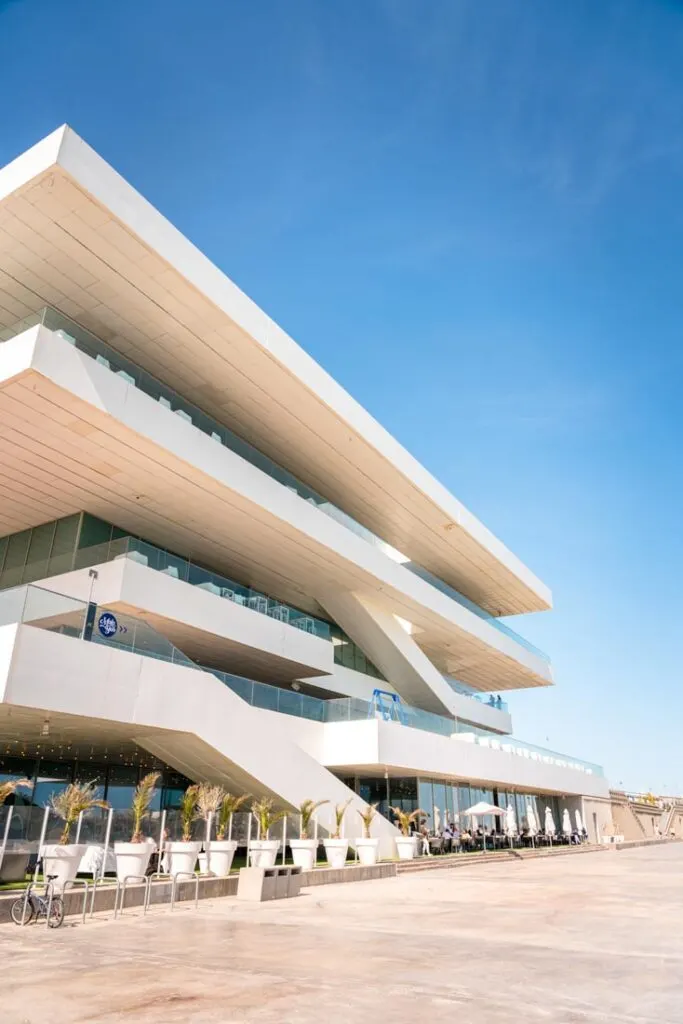 After its use for the America's Cup, the building went unused for a number of years. However, it found new life in 2015 when a number of restaurants were opened up in it.
On the ground floor you'll find La Marítima Restaurant. With floor-to-ceiling glass bathing the restaurant in natural light, this is a stunning place for lunch.
This restaurant is infamous for its paella, so I'd really recommend booking a table and tucking into a hearty lunch of paella for the table.
Paella was invented in Valencia, so naturally this is the best place to have this dish. We had the traditional Valencian version with chicken, rabbit and snails – it was delicious, and unlike any other paella I've had before.
13. Casa Judía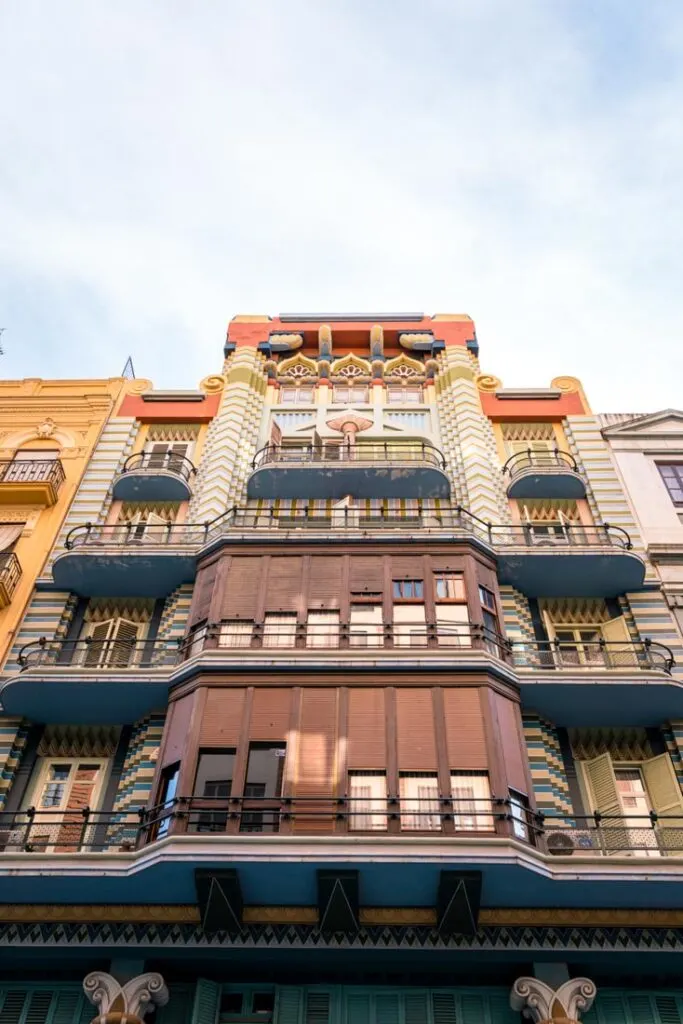 While I was researching the best architecture in Valencia, Casa Judía kept popping up.
Located on Calle Castellon 20, Casa Judía is a very colourful art deco building on an otherwise unremarkable street.
Built in 1930, Casa Judía is a true work of art fusing art deco with Arabic, Egyptian, Hindu and Hebrew elements.
The popular name of Jewish house is due to the Star of David that is right on the lintel of the building's entrance.
For me, this building just shows the wide variety of designs found in Valencia.
14. La Lonja de la Seda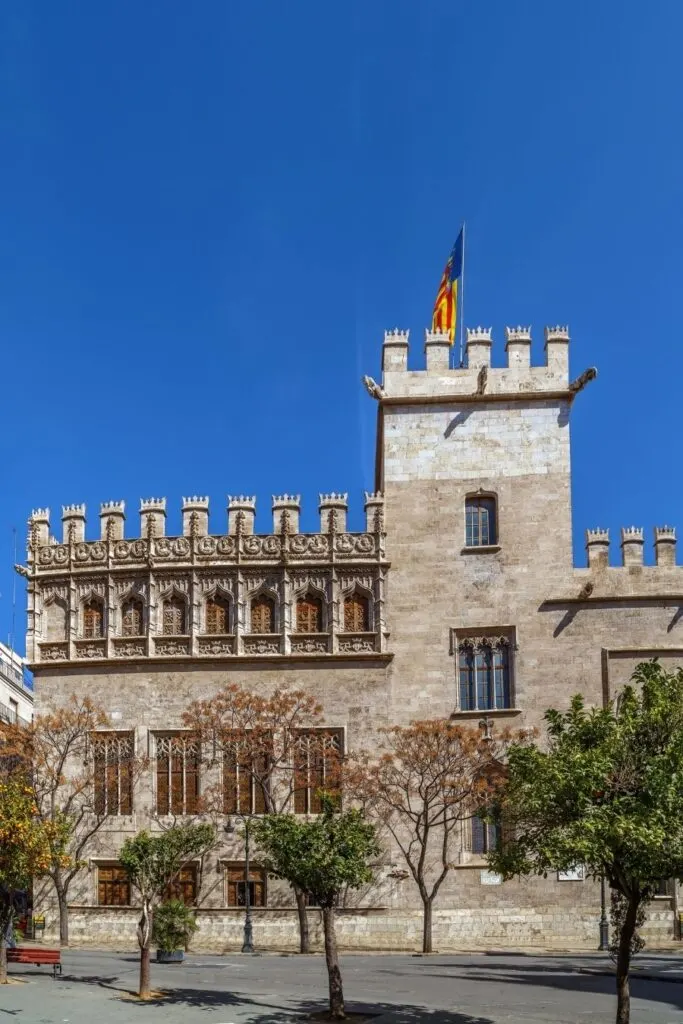 Situated right in the centre of the city, La Lonja de la Seda is a UNSECO World Heritage Site and one of the greatest examples of late Gothic architecture in Europe.
Created by architects Pere Compte, Johan Corbera and Joan Ibarra, the 15th-century complex was initially used as a trading exchange for oil, but it later developed into a major maritime trading center and silk exchange.
The interior is meant to represent paradise, with its soaring columns symbolising palm trees reaching towards the sky. Also, the ceiling was originally painted blue to give the feeling on being outside.
While at La Lonja de la Seda, don't forget to look up at the gargoyles on the outside. Some of these are very pornographic and bizarre!
15. Plaza Redonda
If you're looking for one of the best viewpoints in the city, then make sure you check out Plaza Redonda.
Constructed by Salvador Escrig Melchor in 1840, Plaza Redonda is one of the most unique tourist attractions in Valencia due to its peculiar design.
What was once a fish market years ago, this space has become a hub for traditional craft stalls selling embroidery, fabrics and lace. There are a few tapas bars on the outskirts of the ring too.
However, if you're looking for this amazing view of Plaza Redonda, then you'll have to climb to the top of Santa Catalina church.
From up high you'll have this birdseye view overlooking Plaza Redonda. You'll also have a brilliant view of Valencia Cathedral and Miguelete tower.
To be honest with you, the viewpoint at the top of Santa Catalina church was probably my favourite in Valencia. And that's saying something!
16. Turia Garden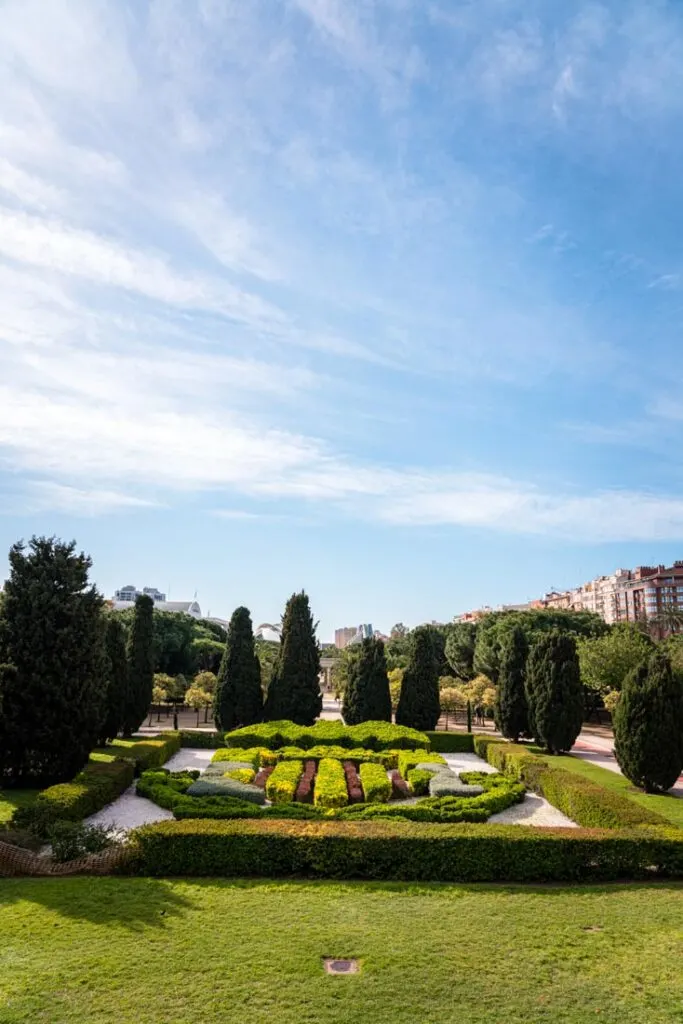 Okay, so this isn't technically 'architecture', but it is still one of the top things to do in Valencia that showcases why this is such an amazing place to visit.
Turia Garden (or known as the River by Valencians) is a green park running across the city. At 9 km long, it is actually one of the longest continuous parks in the world.
What makes this such a unique spot is Turia Garden was once the River Turia flowing through the city. However, the original river was diverted after a flood in 1957. After a few years of wondering what to do with it, the city decided to turn the riverbed into a giant park and garden for residents to enjoy.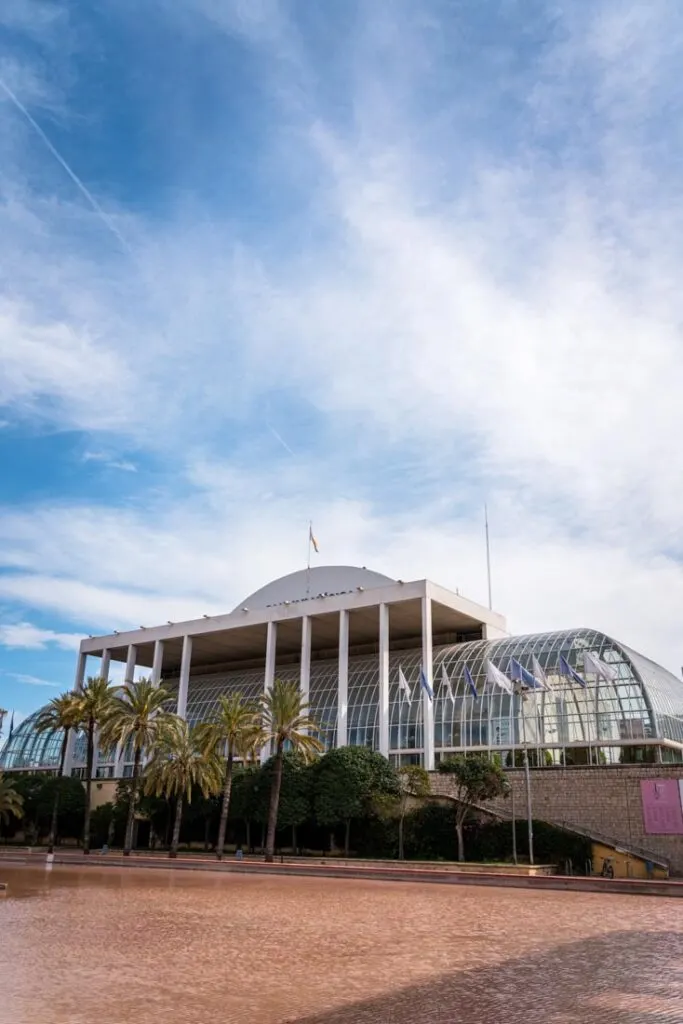 This forward thinking has now created one of the most peaceful spots in the city. And because the park is sunken below the surrounding roads and buildings, it is the perfect escapism from the city.
The best way of enjoying the park is walking or running from one end down to the City of Arts and Sciences.
With a number of different ponds, walkways, running and cycling routes, Turia Garden is an oasis in Valencia.
17. Cabanyal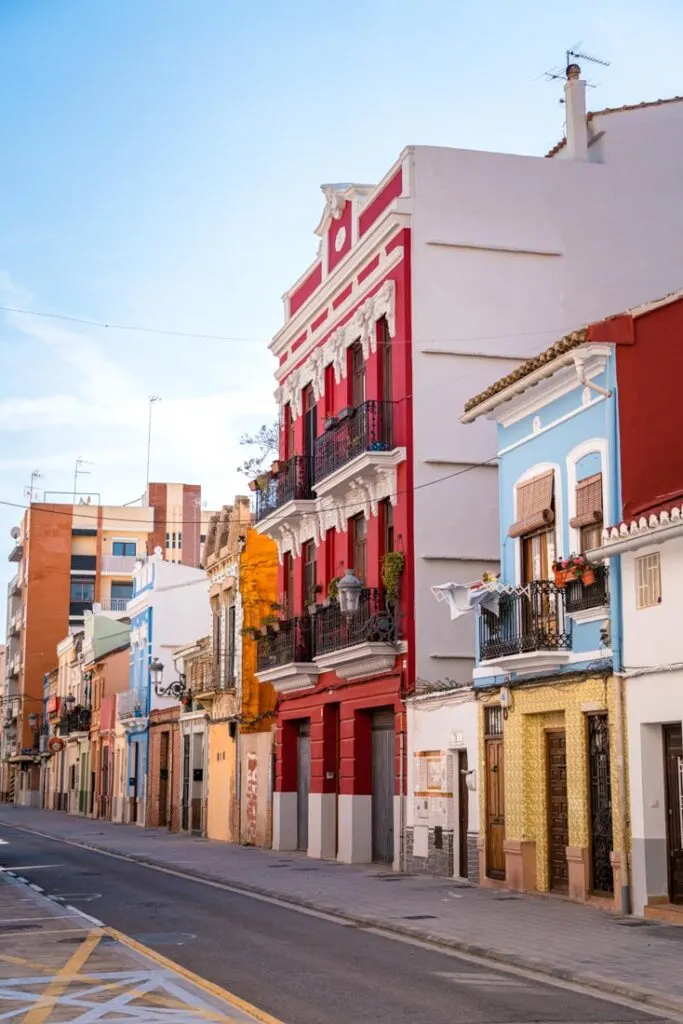 Sitting directly behind Valencia's Las Arenas beach, you'll find the old fisherman's quarter of El Cabanyal.
Even though this is much more residential than tourist attraction, walking around here gives you an authentic taste of life in Valencia by the sea.
Walking around and you'll see the faded paints and tiled facades that wouldn't look out of place in Havana.
For me, this was one of the most authentic neighbourhoods in Valencia. It felt very real, and it gave me a small insight into what life would be like here.
---
Fact Box: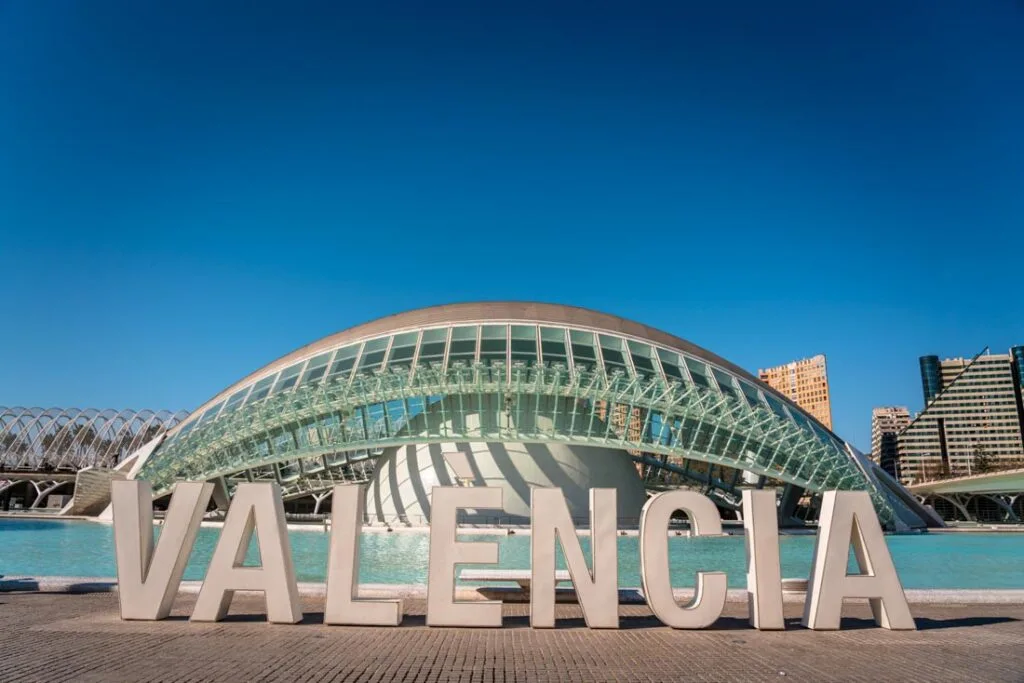 Vueling flies from London Gatwick to Valencia Airport seven times a week.
If you're looking at where to stay in Valencia, click on the link to find the best hotels in the city for every budget.
---
This post was in association with Visit Valencia and Valencia Region promoting some of the best things to do in the city. As always, all views are entirely my own and without bias.
Are you looking for the most Instagrammable spots in Valencia? Which one of these locations has caught your eye? Let me know if you need any more information in the comments below!
Like this blog post? Then Pin it for the future!