Looking for fun activities in Norwich? From life drawing to making goats cheese, these are the most unusual things to do in Norwich for couples!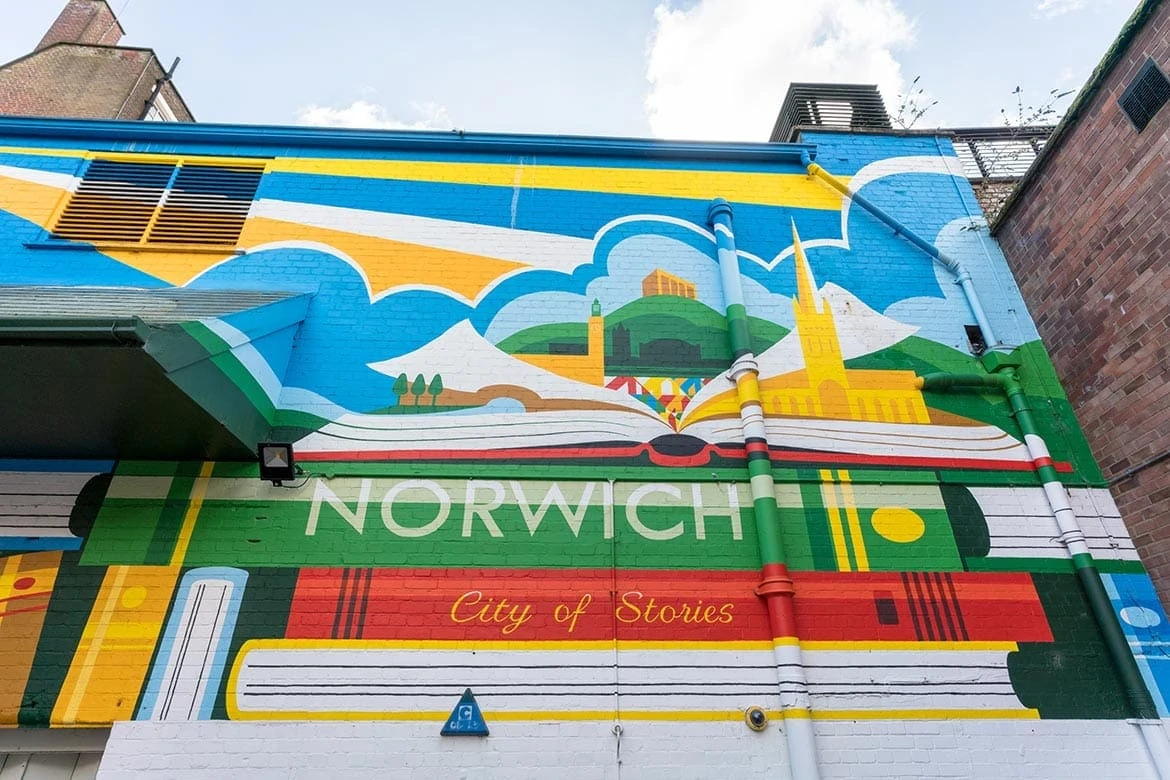 Just as a disclaimer, this trip to Norwich with Visit England was one of the last trips I went on before we went into lockdown. However, now that things are starting to open up again, it's time to show you what I got up to on that trip.
Obviously lots of businesses are still recovering at the moment, but pretty much all of these activities in Norwich are open again. I really expect UK staycations to boom over the next couple of months, so hopefully this blog post will inspire you to do something different in England.
Make sure you check out Visit England's 'Know Before You Go' campaign to see whether it's safe to travel to a local destination before you visit.
Right, it's time to tell you all about my trip to Norwich!
---
I'm 33-years-old and I can't remember the last time I picked up a new skill or hobby. I mean, it just doesn't happen anymore, does it? That was until I visited Norwich recently.
My last microgap with Visit England was all about stargazing in the South Downs which was just incredible. Well, on this microgap Visit England challenged me to learn some new skills and hobbies. This was a trip all about switching off your phone and immersing yourself in a unique experience for a few hours. When was the last time you did that yourself?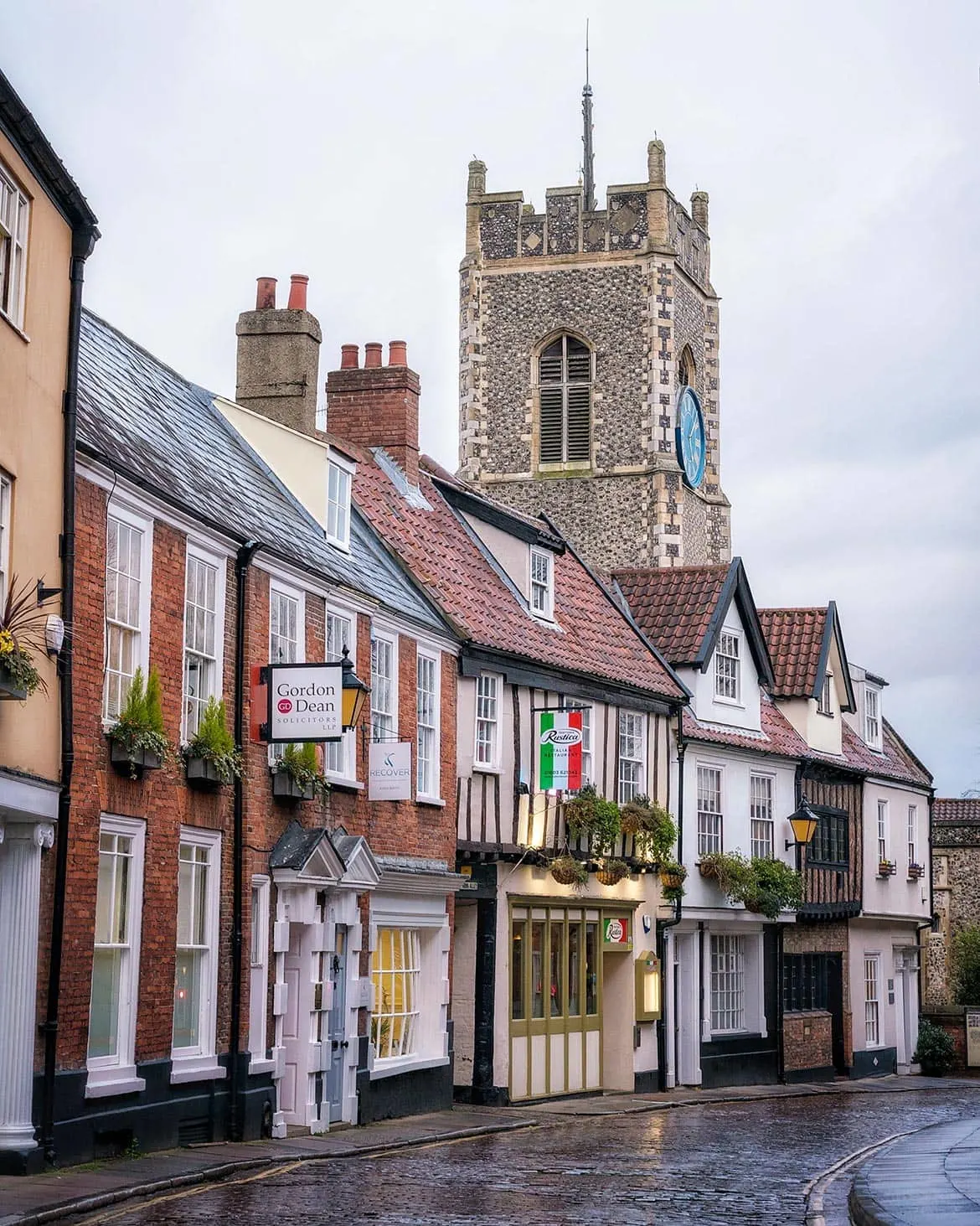 Being a blogger, I am glued to my phone much more than I'd like to be. There's hardly an hour that goes by when I'm not checking something on my website or refreshing my social media channels, and I think that's so sad. I wish it wasn't like that, but I keep on kidding myself saying "it's work", but it's life.
That's why it was so nice doing something mindful on my trip to Norwich and using a forgotten part of my brain. I focused on an activity for a few hours and I didn't look at my phone once. And do you know what? I loved it.
It made me realise that there are so many different ways of travelling and seeing a place these days, and I even got to take home a few new skills too. Also, I really felt like I got to know Norwich a lot better through these activities too.
Make sure you check out some of the best activities in Norwich for couples in my video below!
If you're looking for a different style of travel and to try something completely different, then this is the blog post for you. Hopefully some of these activities in Norwich will inspire you to challenge yourself on your next trip.
Also, if you're travelling with your partner, then these are some of the best things to do in Norwich for couples!
My microgap to Norwich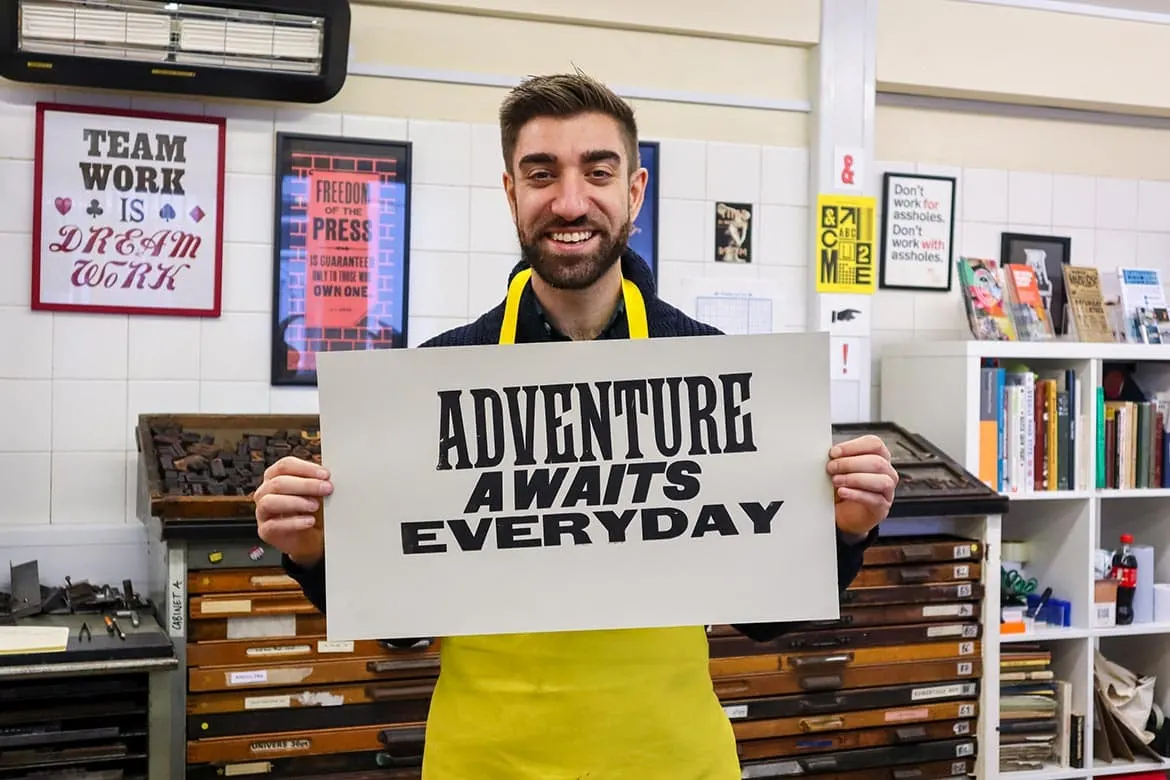 On my microgap to Norwich I tried life drawing for the first time ever which was such a unique experience. I genuinely think it was about 20 years in school since I've drawn anything, so it was really nice trying something new. I'll go into it more later but it's quite nerve wracking drawing someone naked – it probably is for them too!
I also went on a course learning how to make goats cheese on a farm, I tried my hand at screen printing and poster making which was so creative, and I even whipped out my old bartender skills while making a few cocktails on a gin masterclass. And these were just a few of the Norwich activities that you can do in the city.
I guess it's very easy getting caught up in the routine of life and I feel like I hardly challenge myself anymore. I've realised I don't need to do extreme sports or throw myself off a bridge to challenge myself; it can come in all forms of life, such as sitting in the back of a pub with a pencil in hand trying to draw a naked lady. 'Trying' really being the word there.
My trip to Norwich was all about learning new skills but challenging myself too. It's amazing how many unique experiences there are out there – my challenge to you is which one are you going to do?
Activities in Norwich
Life drawing at BUMS, The Birdcage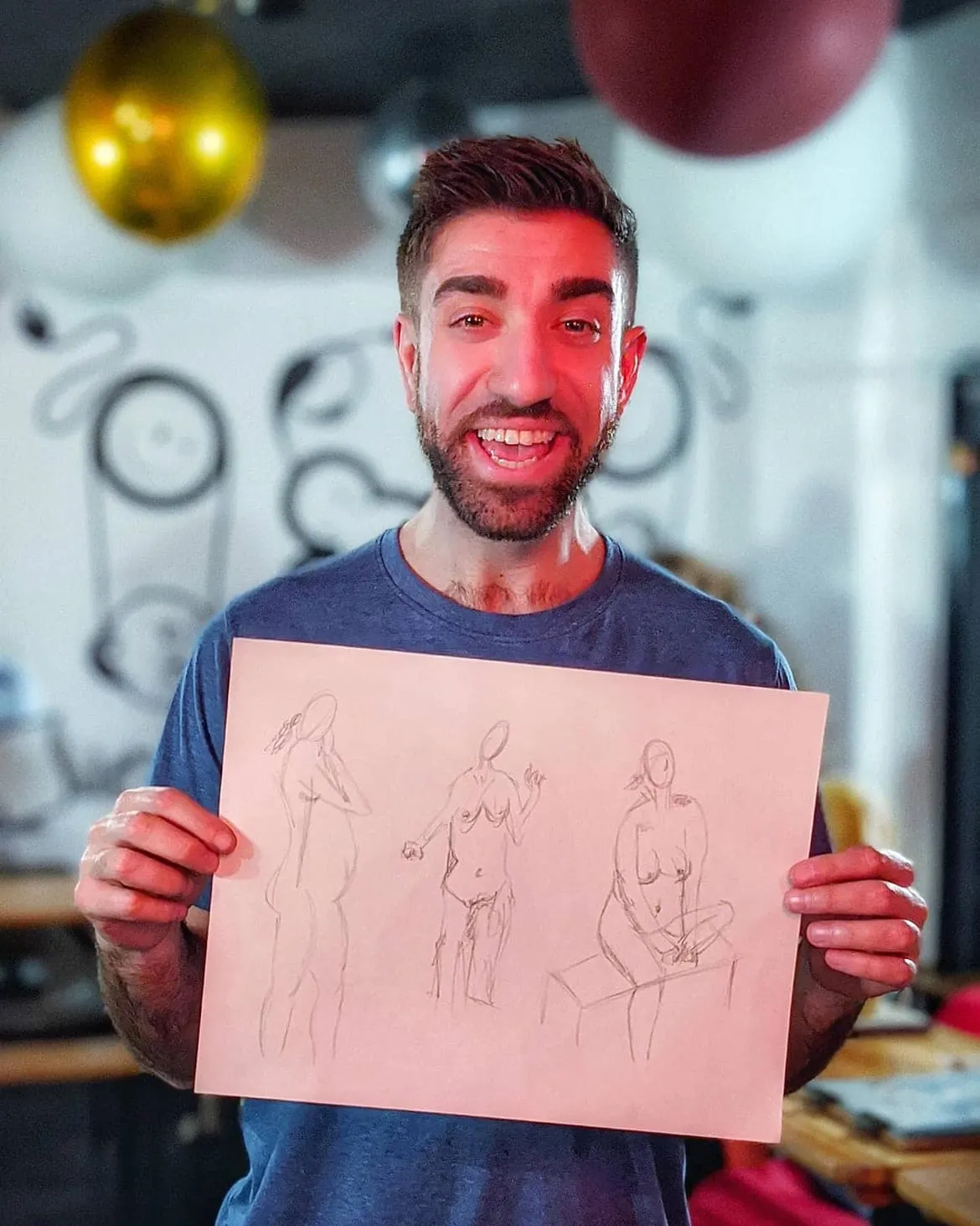 Life drawing at BUMS in Norwich was wayyyyyyyyyy out of my comfort zone. Not only am I an awful artist (if you can even use that word), but I've never painted someone nude before. I built it up in my head to be like that scene from Titantic: "Jack, I want you to paint me like one of your French girls…" Well, it was nothing like that!
Located at the back of The Birdcage, an awesome independent pub in the city centre, BUMS is a life drawing class every Tuesday evening at 7pm. It only costs £4 which is ridiculously cheap, and everyone is welcome regardless of ability. Classes are usually around 25 people in size, so make sure you sign up beforehand as it can get booked up quickly.
What I loved about BUMS is it's a really inclusive space. It doesn't matter if you've got an art degree or whether you haven't picked up a pencil in 20 years (like me!), everyone is welcome.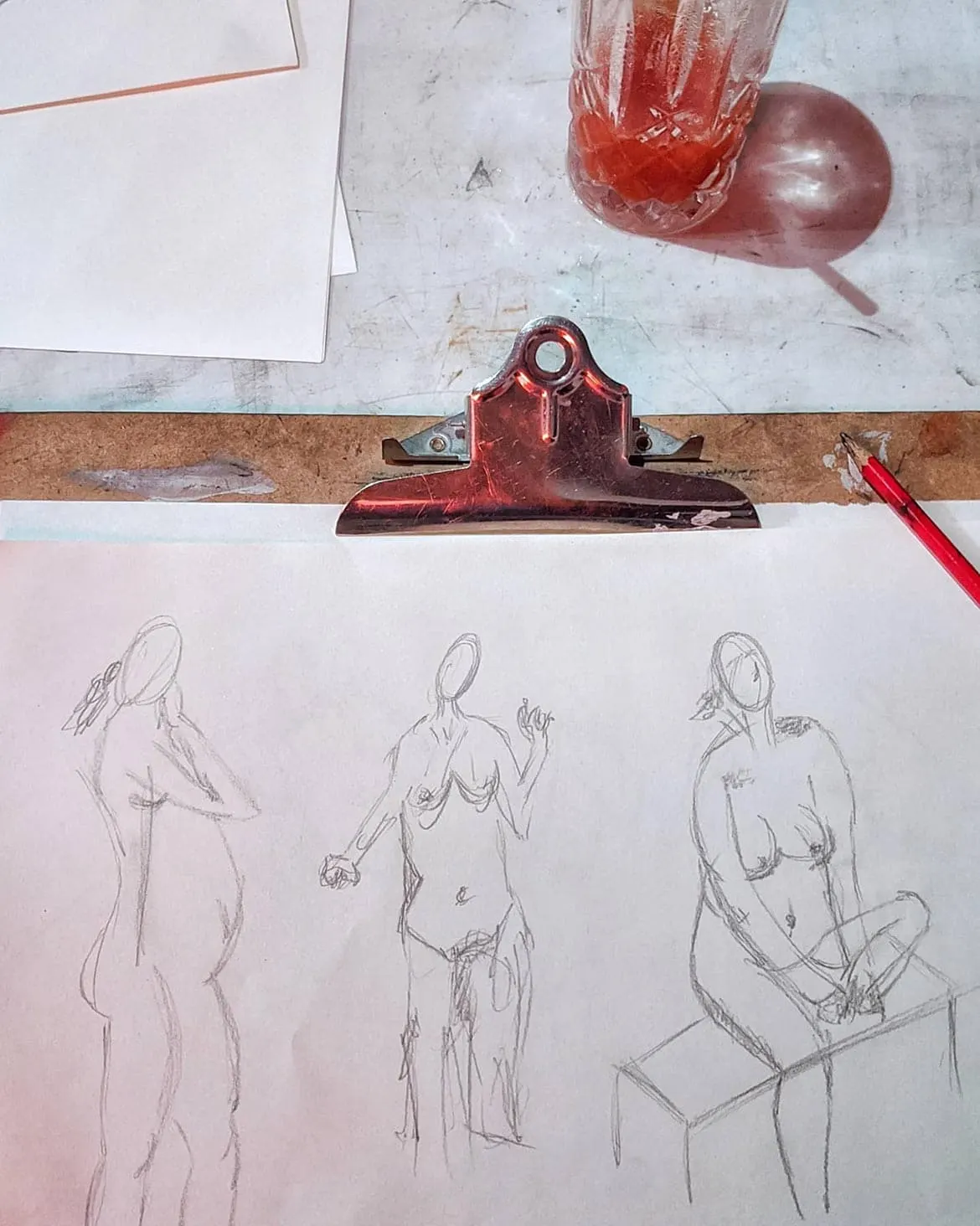 The class was split into 2 X 50-minute sessions with 2 X 10-minute breaks in-between. And yes, you can take drinks to the classes too.
Even though my pictures were pretty dreadful, I really enjoyed giving drawing a go. As I said, it's so rare to not look at your phone for a couple of hours, so I loved how mindful this was. I can't remember the last time I immersed myself and focused on something so hard for a couple of hours.
This is definitely one of the more unusual things to do in Norwich but if you're looking at doing something completely different then I'd really recommend this one!
Making goats cheese at Fielding Cottage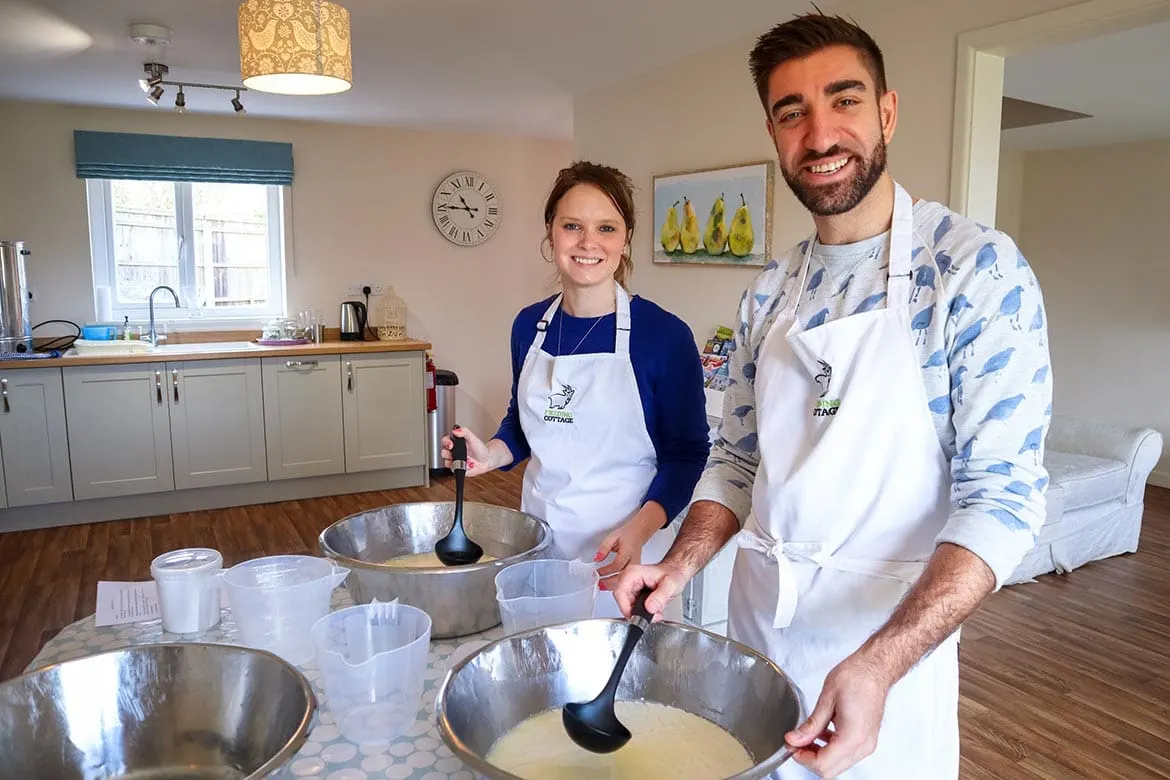 I found the whole process of making goats cheese absolutely fascinating. I feel like I've grown up knowing what curds and whey were from nursery rhymes, but in truth I didn't know a thing about making cheese.
It was only from making goats cheese that I realised the goats curds form the cheese, and the whey is all the excess water which is thrown away. I think that's a very simple explanation, but gives you a quick overview. Watch my video over on YouTube and you'll get more of an idea.
Anyway, Fielding Cottage is a goats farm about 20 minutes outside of Norwich and they're producing some of the UK's best goats cheese at the moment.
One of the experiences they offer at Fielding Cottage is making your own goats cheese. You even get to take home the finished product afterwards.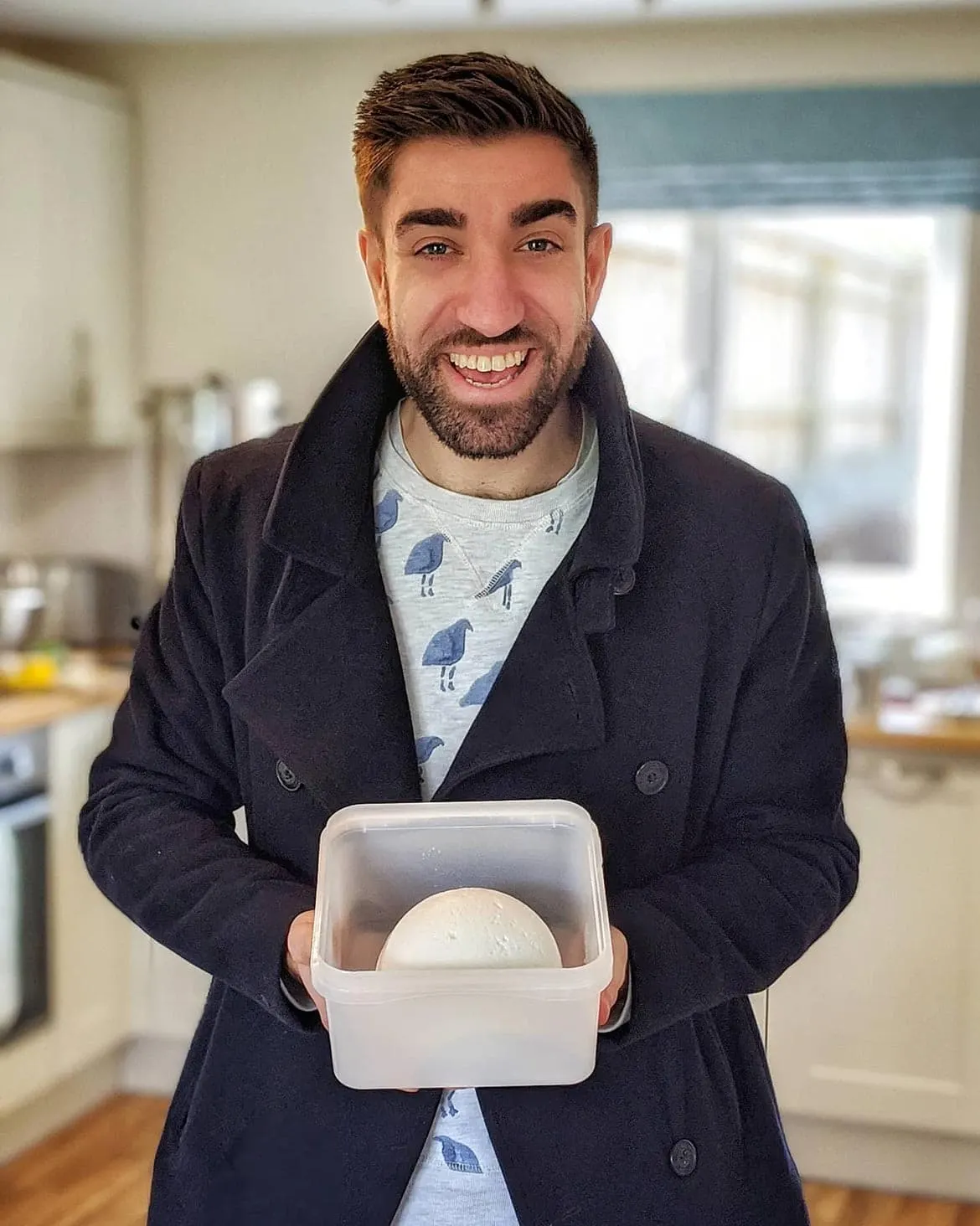 We arrived to a big bowl of goats milk on a table, and from there we went through the whole process of turning goats milk into goats cheese.
Our teacher Sam was brilliant at going through all the steps and even into a little of the science behind it all. My favourite bit was at the end when we started forming all our goats curds into a giant ball of cheese.
Then, to make things even better, once we had finished the course we had a huge feast of cheese for lunch and it was utterly delicious. If you like cheese then you'll absolutely love it here.
Fielding Cottage also have a few cottages you can rent on their farm, so you can stay in the heart of the countryside and then make your own goats cheese. How cool is that!?
Screen printing and letter press printing with Print to the People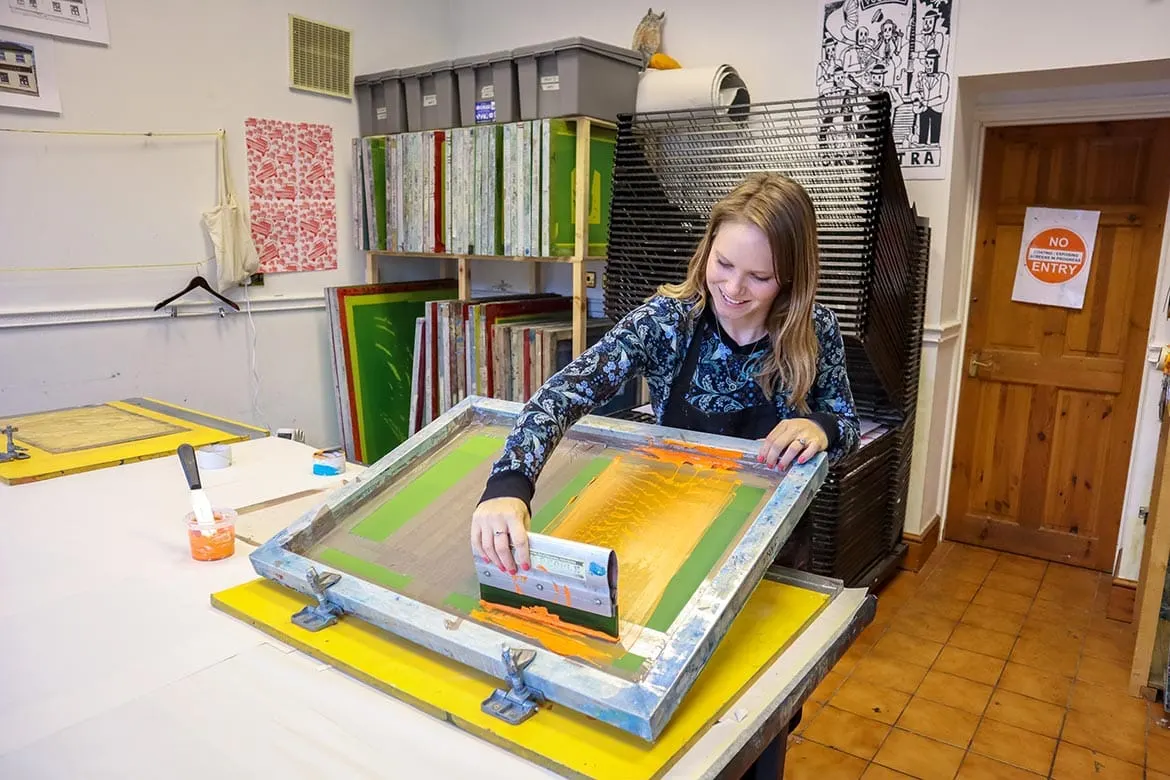 I feel like this was the art class I never had at school. We spent the day with Jo from Print to the People where we did two classes with her.
The first was all about screen printing. This is where you make old school posters and designs, something that we could hang on our wall afterwards.
The day started going through a load of different posters for inspiration, then we went upstairs to draw our own design. Chloe designed this brightly coloured Mexican flower which reminded us of our travels to Mexico.
After tracing out the design on acetate, the design is then exposed onto the screen with UV light creating the design outline. Then, you can added paint onto the screen to create your design.
Look, I'm not going to lie, it's pretty tricky to describe, but if you watch our video it should give you a really good idea of what screen printing in Norwich is all about.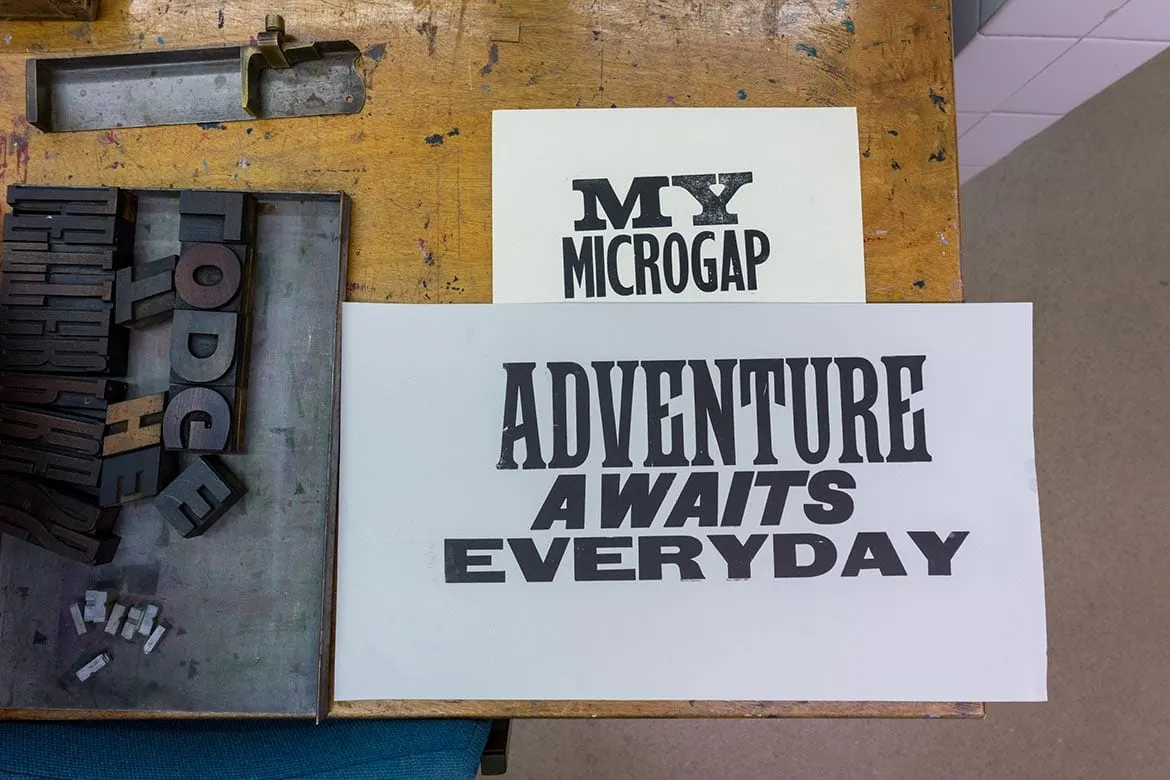 The other class we did was letter press printing. This was a lot easier than screen printing as it only involves a couple of steps.
Letter press printing is where you get typographic letter blocks cut out of wood, cover them in ink and then press down on some paper to create a design or slogan.
All you have to do is come up with a two to five word slogan and put all the letters in a design you like. Then, once you're happy with the design, you cover the letters with ink and press them down on a poster. Hence letter press printing. It's all in the name really!
I came up with a fun design "Adventure Awaits Everyday" with different fonts for each word. I think it came out really well!
Going on a cocktail Bullard's gin masterclass the Ten Bells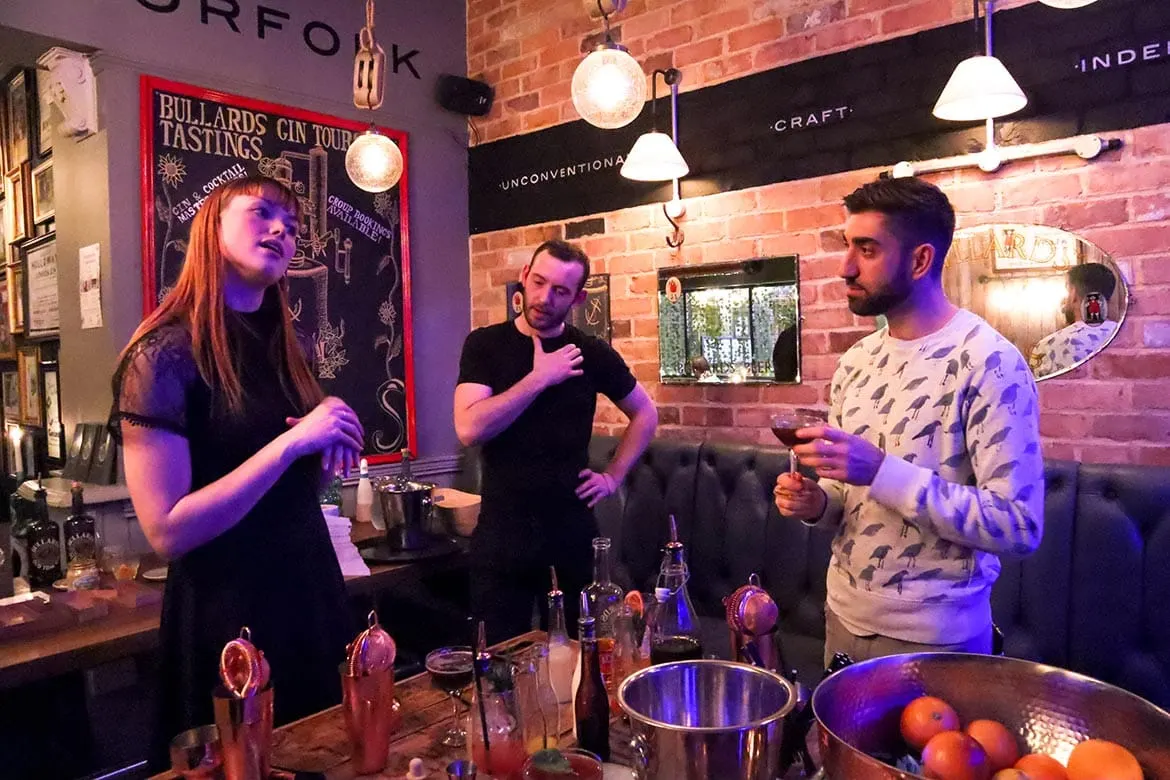 A masterclass where you get to learn all about gin before making some delicious cocktails? Sign me up!
I adore gin, so the Bullard's gin masterclass at the Ten Bells in Norwich was right up my street.
Bullard's gin is a locally distilled award-winning gin in Norwich, the home of it being in a pub.
Held in the Ten Bells, this cocktail masterclass consists of making 3 cocktails inspired by Bullard's gin and even a mocktail too, because everything doesn't have to be boozy.
What I loved about this masterclass though were all the cocktails were very individual and unique. These weren't just a simple gin bramble but complex cocktails with lots of different ingredients. We even made an old 1920s prohibition Ramos Gin Fizz, a complex cocktail that rises like a souffle.
Obviously the best bit was drinking all the different cocktails. Delicious and very educational too. I'd say this gin masterclass would be perfect for a date or a couple – the booze helps too!
Where to eat at in Norwich
Benedicts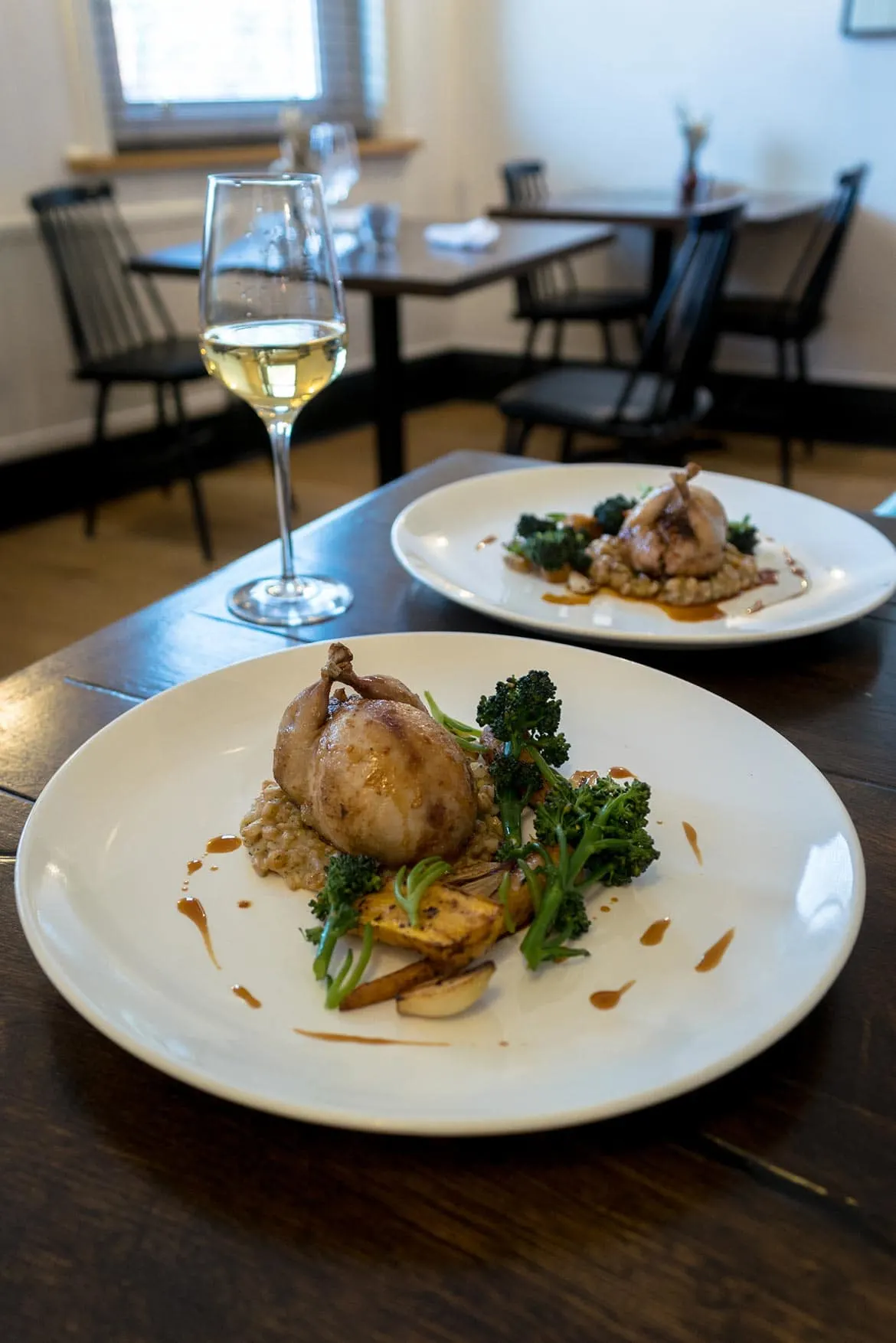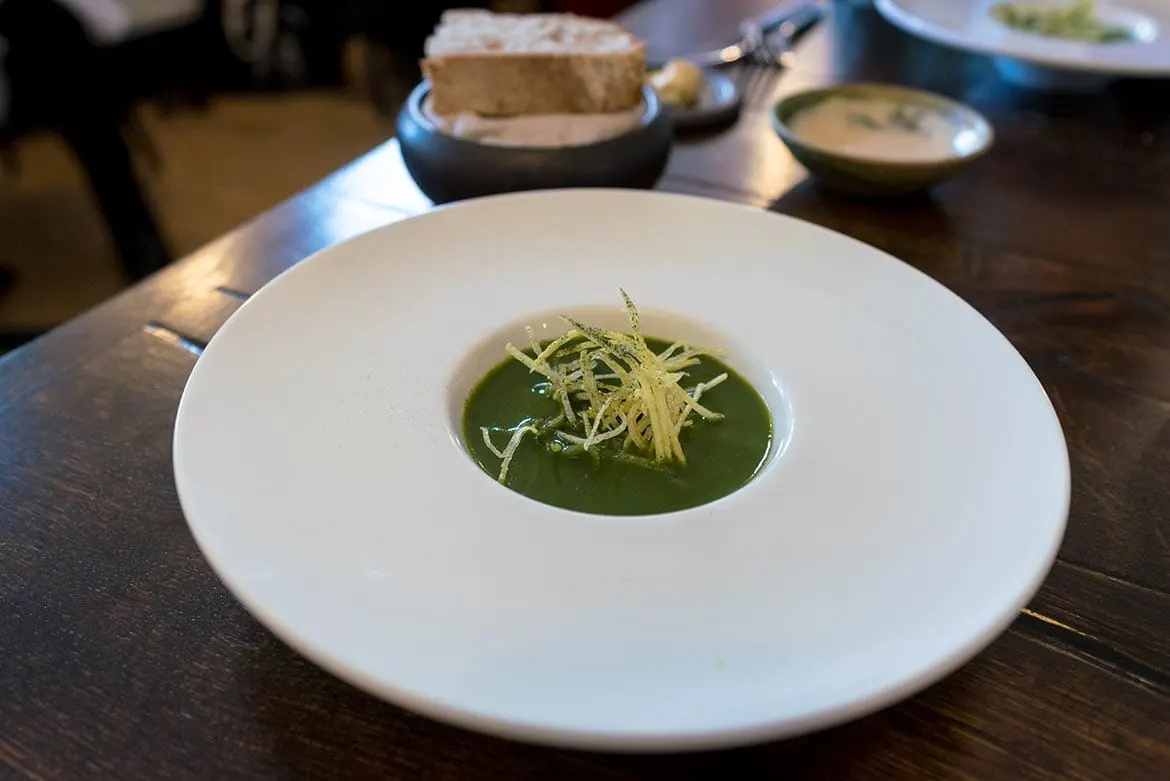 Richard Bainbridge, I bow to you, sir.
Benedicts is the brainchild of Richard Bainbridge, one of the winners of the Great British Menu and one of the UK's top chefs.
Originally from Norwich, Richard trained all over the world before opening up Benedicts in 2015. Since then, the restaurants has been named in The Times Top 100 Restaurants in the UK and it has been awarded 3 AA Rosettes. I've no doubt his first Michelin star will follow soon because the food is that good.
All I can say is that this was one of the best meals I've had in a long time. The tasting menu takes you through some of Richard's favourite childhood memories, like the sherry mousse inspired by his grandmother. Boozy, velvety, decadent and delicious, this appetizer really kicks off the meal in style.
From there was had an amazing meal culminating in his award-winning dessert, his Nana's trifle. This is unlike any trifle I've had before and it's worth visiting just for this.
I can't recommend Benedicts enough, and their lunch menu was really reasonable too. This is definitely one of the best restaurants in Norwich that's for sure.
Grosvenor Fish Bar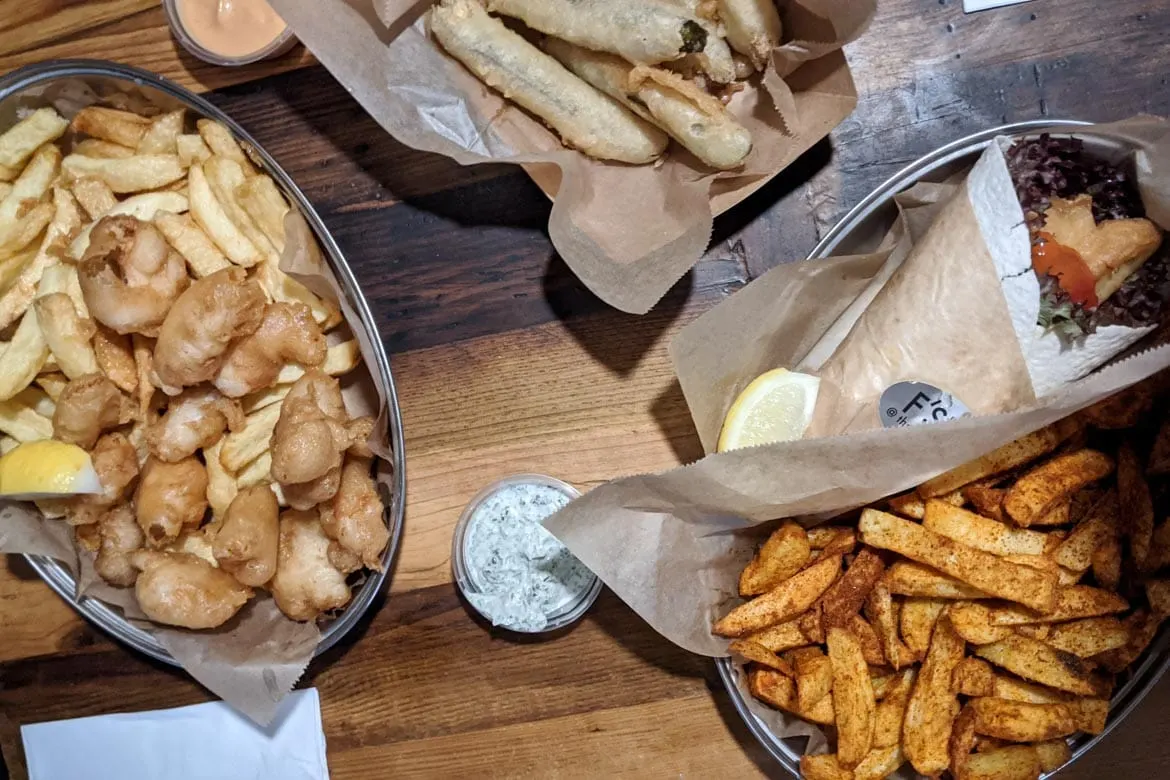 Grosvenor Fish Bar is unlike any fish and chips shop I've ever been to. Forget your usual cod and chips, this is on the next level.
At Grosvenor Fish Bar they had squid and chips, deep-fried sea bass with a mango salsa, mackerel with a wasabi mayo, the clam burger. What I'm saying is these are a very different type of fish and chips!
It's really cheap too. Most of the mains are around £6-8 for a really big portion of fish and chips, so it's really good value. Obviously it's absolutely delicious too – the queues outside the shop are a sign of that.
Be warned: Grosvenor Fish Bar often closes around 8pm or when they've run out of fish, so make sure you get here at lunchtime or for an early dinner.
Namaste Indian Village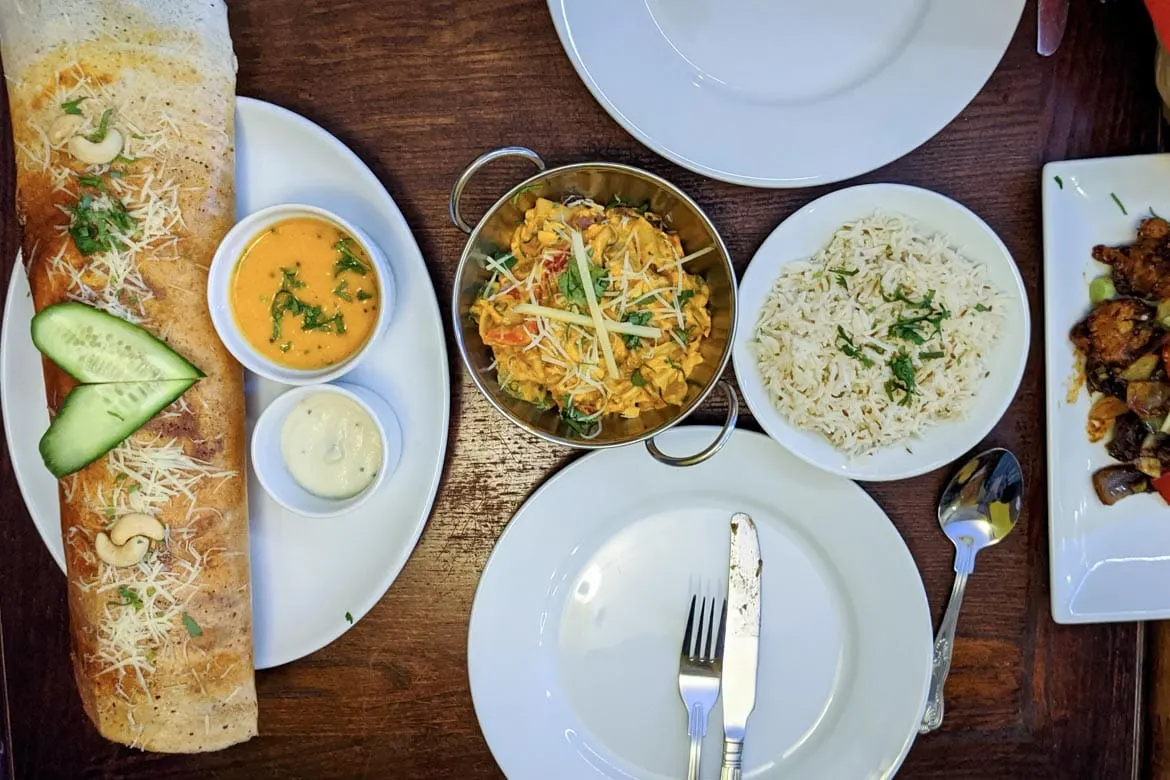 If you love Indian food then I can't recommend Namaste enough. I spent 6 months travelling around India, so I feel I know good authentic Indian cuisine when I find it (as opposed to the British Indian food of chicken tikka masala that everyone loves).
Well this is real Indian cooking. 100% vegetarian or vegan, all the dishes at Namaste were utterly delicious.
I did my best eating my way through the menu and I loved every mouthful. For starters we had the aubergine bhajis which were really light and tasty. For mains we had mushroom chilli curry and a Namaste special dosa from South India.
I mean, Indian cooking just doesn't get much better than this! PLEASE EAT HERE!
Where to stay in Norwich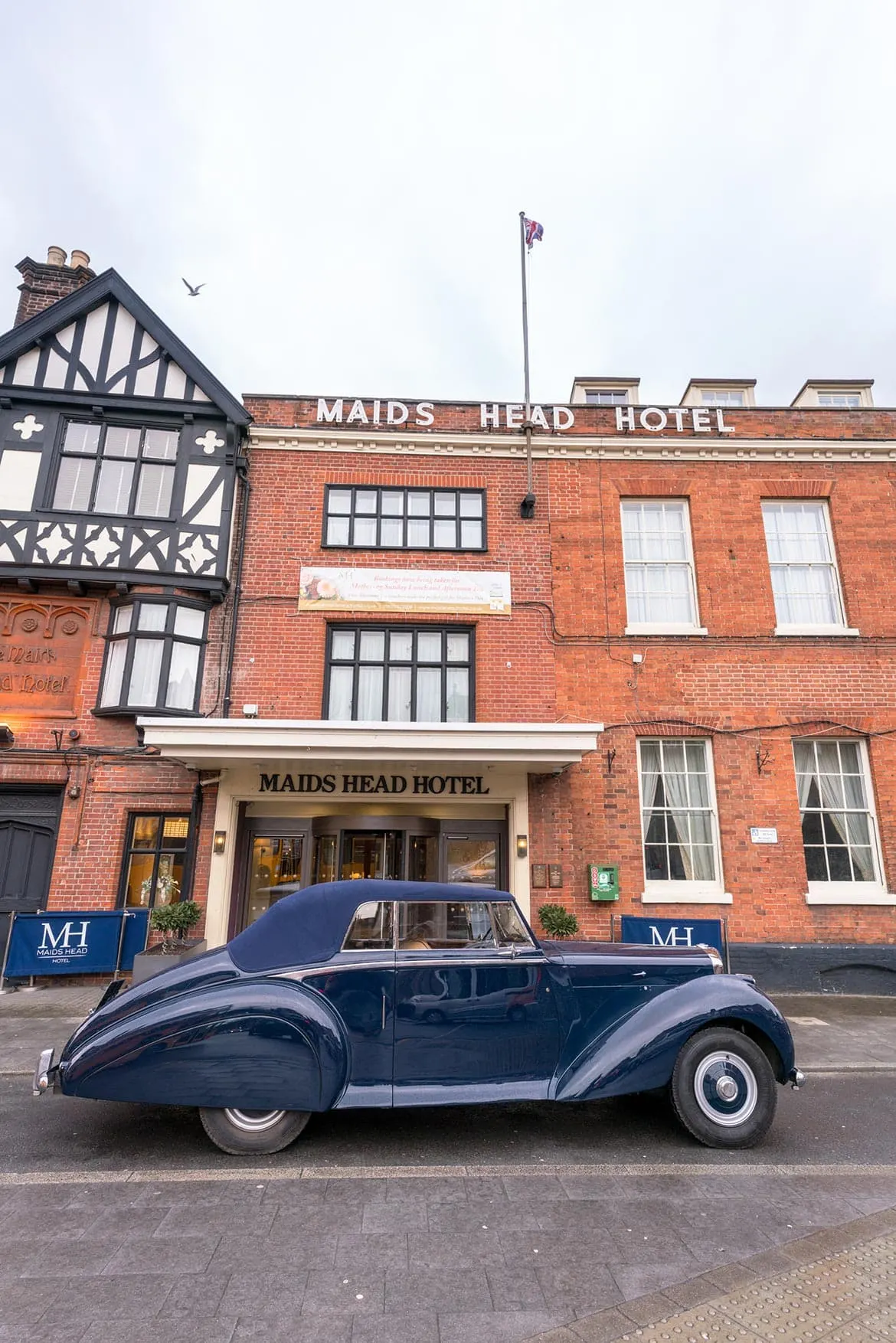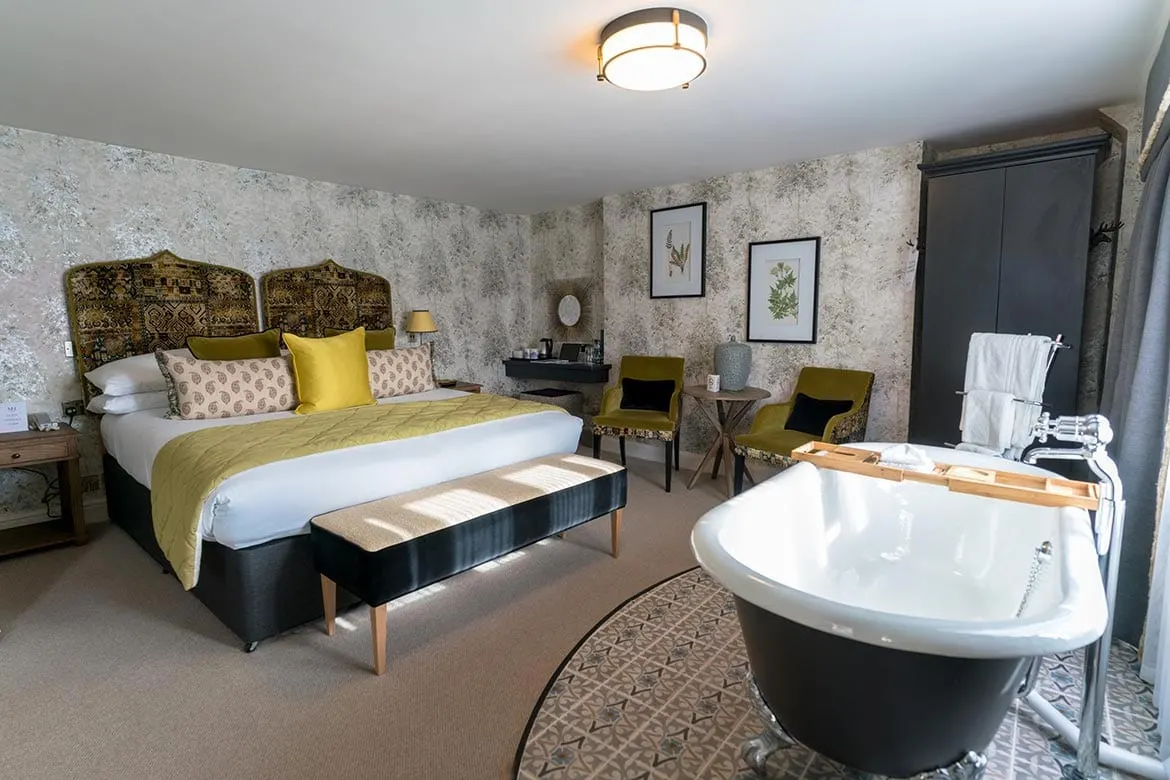 While we were in Norwich we stayed in The Maids Head Hotel. Now, the Maids Head Hotel claims to be the oldest hotel in the UK dating all the way back to the 1090s. That means this place has some history, and walking around the hotel you can see how it's expanded over the years with different sections stuck onto the building.
The Maids Head Hotel has an amazing 2 AA Rosette restaurant on site which is in the courtyard of an old 15th century inn. Even if you're not eating in the restaurant, I'd really recommend having a pint in the bar. It's like stepping back in time and it's so quaint.
The rooms are really beautiful too. All rooms have a bath with shower over or a walk-in shower, tea and coffee facilities, Freeview television and an in-room iPad guest services directory providing hotel information, room service details and internet access.
I really enjoyed my stay at the Maids Head Hotel and it's no wonder its one of the top hotels in Norwich.
Getting to Norwich
Getting from London to Norwich is really easy. The quickest way is by train. The train from London Liverpool St to Norwich City Centre takes approximately 2 hours, so it's quick. It you can book far enough in advanced you can get return tickets for £20 which is an absolutely bargain. It's also nice watching the world go by for a couple of hours.
Another route is driving from London. Going from Central London, it takes around 2 and a half hours driving to Norwich. However, during peak times and rush hour, I'd say this will be more like 3 hours at least.
Obviously the bus is another option too! Again, you're looking around 3 hours getting from London to Norwich.
The train is definitely my favourite option though that's for sure.
---
This post was in association with Visit England and Visit Norwich promoting some of the best microgap experiences in England. As always, views are entirely my own and without bias.
Which one of these activities in Norwich would you like to do most? Are you looking for the most unusual things to do in Norwich? Let me know in the comments below!
Like this post? Then make sure you Pin it for the future!