Are you looking for the best day trips from Madrid? From exploring Toledo to seeing stunning Segovia, this is where to go near Madrid!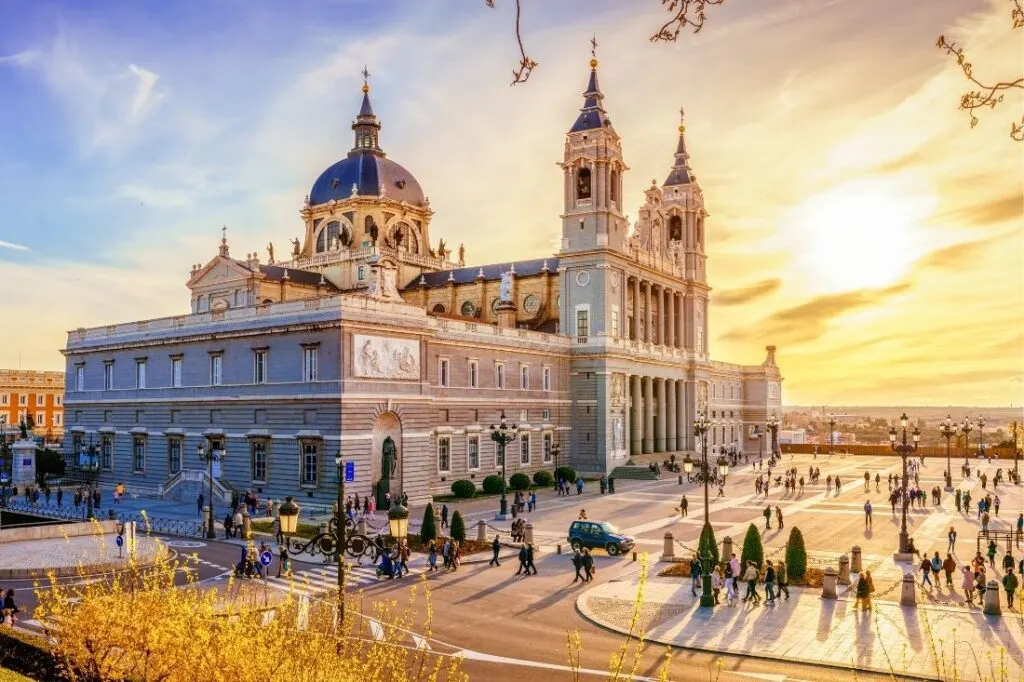 Madrid is a city steeped in historic art and awe-inspiring architecture. There's so much to do and see – and eat, given that the local cuisine is world famous.
But even when there's so much on offer, the best adventures in Spain often come from venturing a little bit further out. With so many amazing day trips from Madrid very close by, this city is a great base for seeing more of Spain. I'm talking landmarks, heritage sites, culture, art… Spain just has so much to see!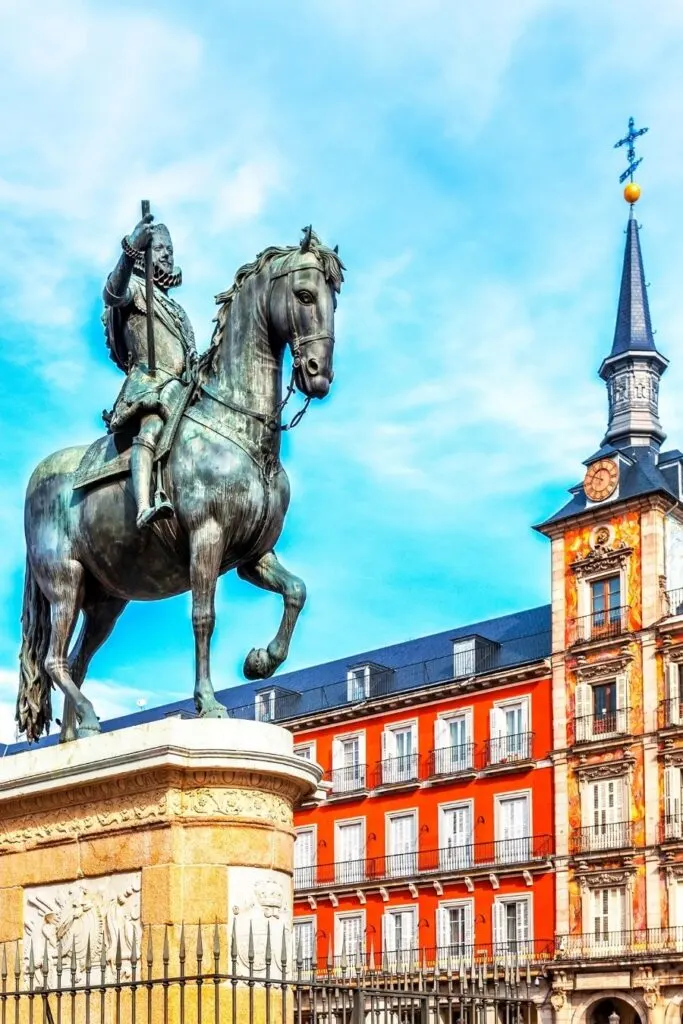 Also, these Madrid day trips are a fun and easy way to make the most of your travels. I'd highly recommend making some time on your itinerary to explore the area around Madrid as much as possible. These are some of the best tours around, all within a few short hours of Madrid. That means you can really make the most of your holiday.
Here, you'll find some really diverse experiences. We'll go from World Heritage Site cities like Toledo and Salamanca to the palaces of Aranjuez and San Lorenzo de El Escorial. And that's before we get to the Puerto de Navacerrada Ski Resort and Madrid's wine region.
I'll give you a fair warning: wanderlust may be inspired.
Best Day Trips from Madrid
Toledo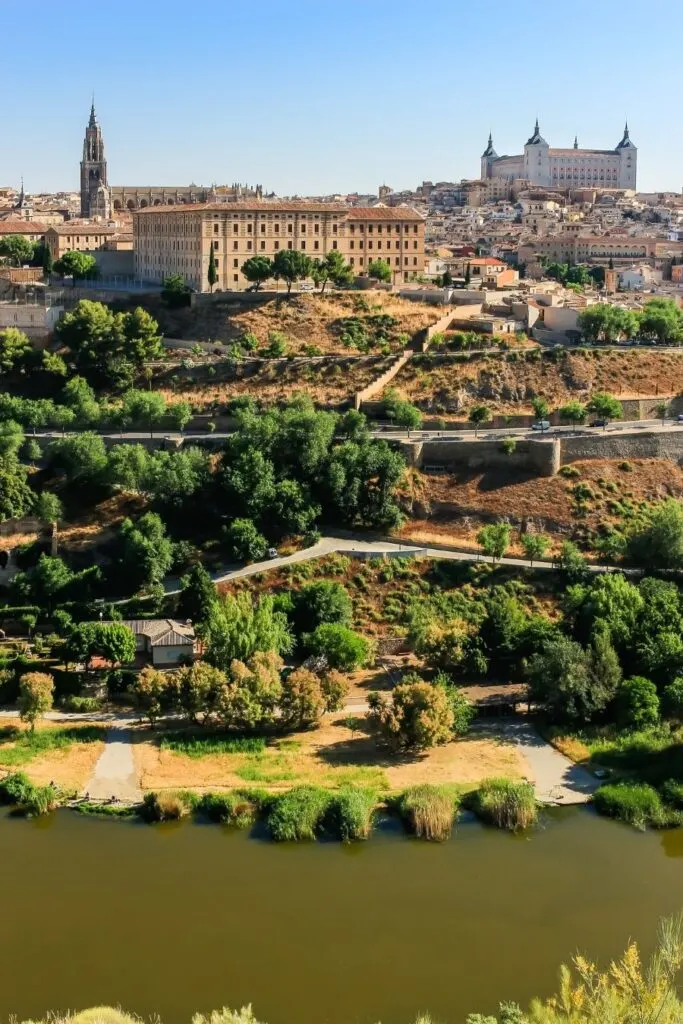 A Madrid to Toledo day trip is one of the easiest you can do while you're in the city.
A UNESCO World Heritage Site and former Spanish capital, there's a lot to see in Toledo. On a gorge overlooking the Río Tajo, the views are incredible and the architecture insane.
A cool fact about Toledo is that it was once called 'The City of Three Cultures'. That's because historically, Christians, Muslims and Jews coexisted for centuries (mostly) in peace. So, Toledo brims with the history and heritage of each community.
I'd check out the Alcázar of Toledo, a looming castle and army museum. And the El Greco Museum, dedicated to the Greek painter who lived here for many years.
For me, this is one of the best day trips from Madrid. Also, it's only an hour's drive, or 30-60 minutes on the train from Atocha Station, so it's very easy when travelling from the city centre. If you're looking for a tour, then this is one of the best around.
Segovia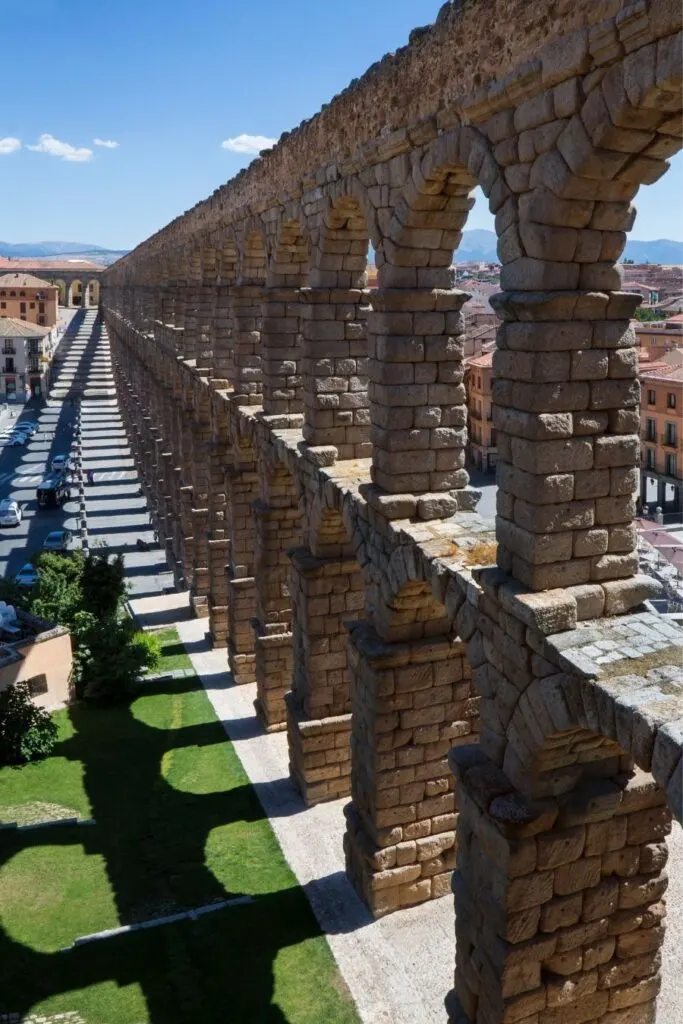 Segovia is also a World Heritage Site. If you've visited, you'll know why. Segovia is home to some of the most impressive historic architecture in the world. There's just something about these old builds, and how long they've stood as the world changed around them, the makes you fall in love with the place.
Most notably, there's the Aqueduct of Segovia. This is one of the longest surviving and best preserved aqueducts built by the Roman Empire. It's one of the most impressive imprints of the Roman Empire's legacy in Europe and is incredible to look at.
The Alcázar of Segovia and Catedral de Segovia – a gothic 16th century cathedral – are also awe-inspiring.
This is actually one of the best walled cities in Spain and it's a place I really recommend to people travelling around the country.
The quickest route to Segovia is by train, though bus and car are also options. A full guided tour of Segovia from Madrid is a great way of exploring the local area.
Royal Palace of Aranjuez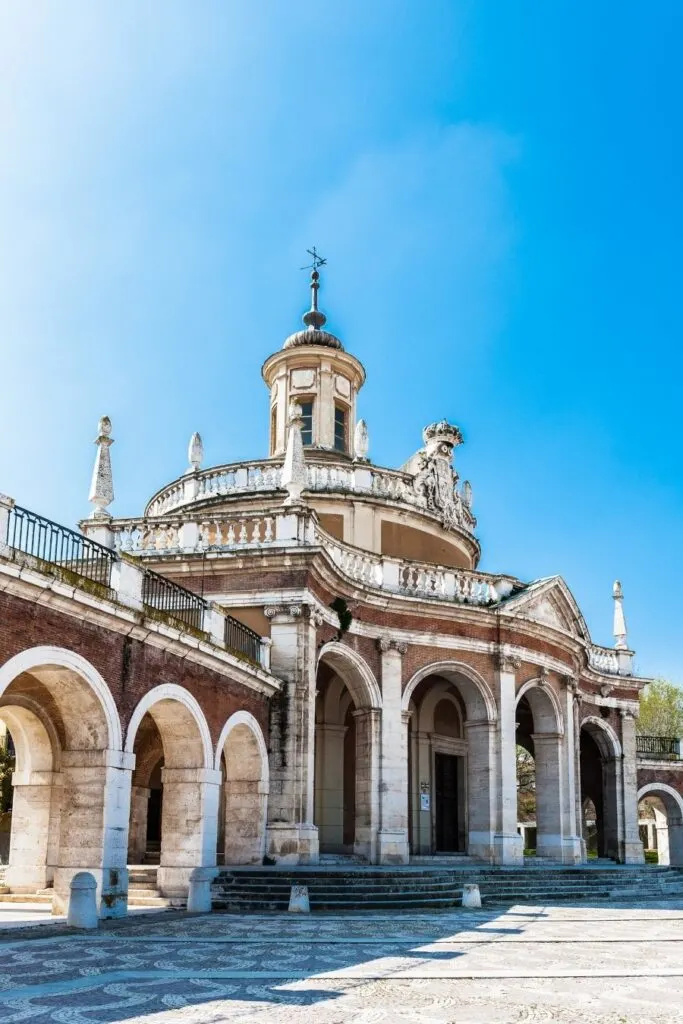 When it comes to day trips in Madrid, this one is right up there with the best.
The name is fairly self explanatory of what you can expect here. But knowing it's a royal palace doesn't quite prepare you for the sense of grandeur this place holds.
It's one of the most impressive royal palaces in Spain. I mean, it's one of the only ones deemed a World Heritage Site. This is mostly because of the gardens.
These are proper palace gardens. There are 3: the Parterre Gardens, Island Gardens, and Princes Gardens.
All are worth exploring as well as the castle – which is basically like a gallery with how ornately each room is decorated. The gardens are the same, beautiful flowers and statues and fountains. You could get lost in them, especially the sprawling Princes Gardens.
The Medieval Fortress of Manzanares el Real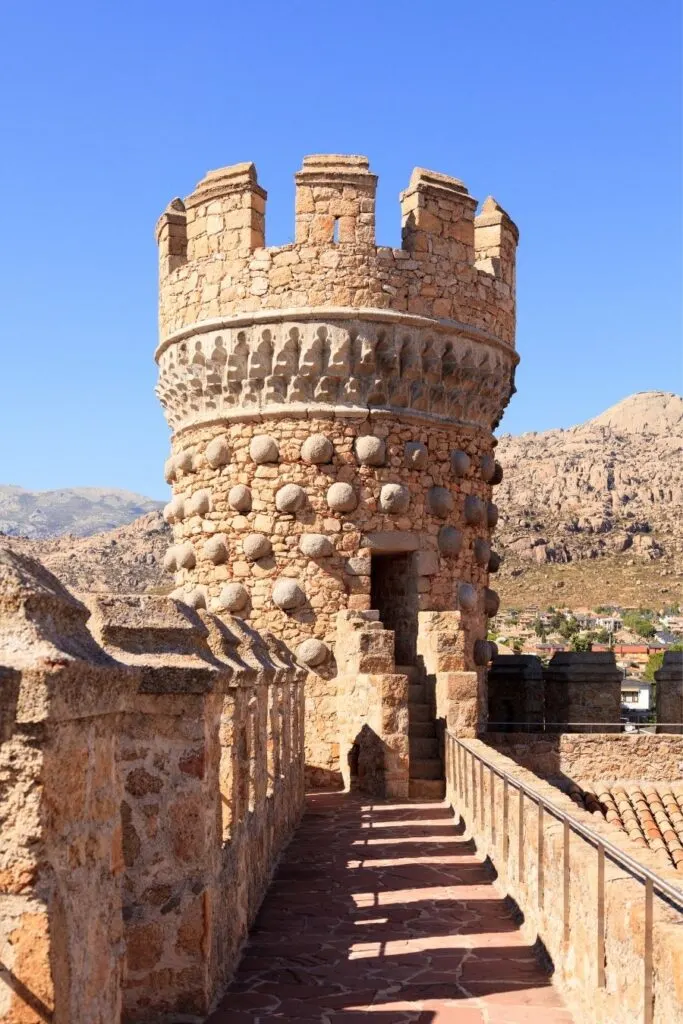 As far as Madrid day trips go, Manzanares el Real is probably one of the less frequented ones.
It's weird because it's such a gorgeous place to visit. It's a small town nestled within the picturesque Sierra de Guadarrama National Park. The surrounding area is fantastic for walks and hikes.
But the most popular spot is the medieval fortress-castle, or the Castillo de los Mendoza. A 15th century building home to a courtyard, basement, as well as six storeys to explore. It really feels like exploring a different time.
Schedules for exhibitions and performances at the fortress are available here.
Puerto de Navacerrada Ski Resort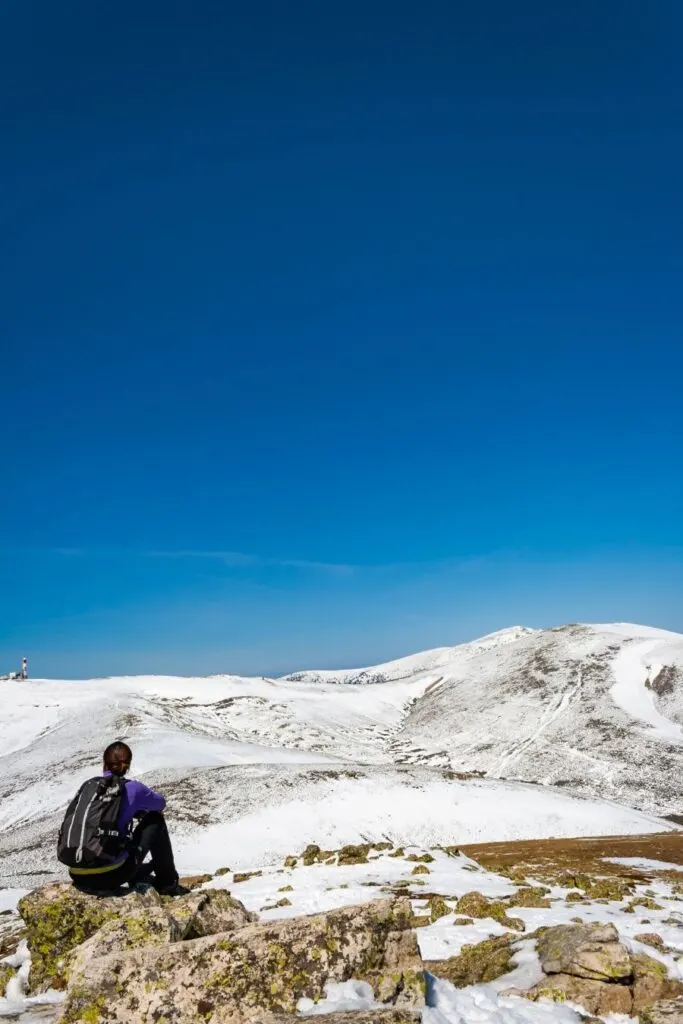 I feel like when I say 'ski resort', most people would assume I'm talking about somewhere like France or Switzerland. But did you know that you can ski in Spain too?
Puerto de Navacerrada is one of the most historic Spanish skiing resorts. In the winter, this is absolutely one of the best day trips from Madrid. Located in the mountains of the Sierra de Guadarrama National Park, winter sees these heights blanketed with thick snow.
There are a range of slopes available for all abilities. Don't worry if you visit in the summer. While you can't ski, the resort is perfect for hiking and you can still use the ski lift for mesmerising views.
Valley of the Fallen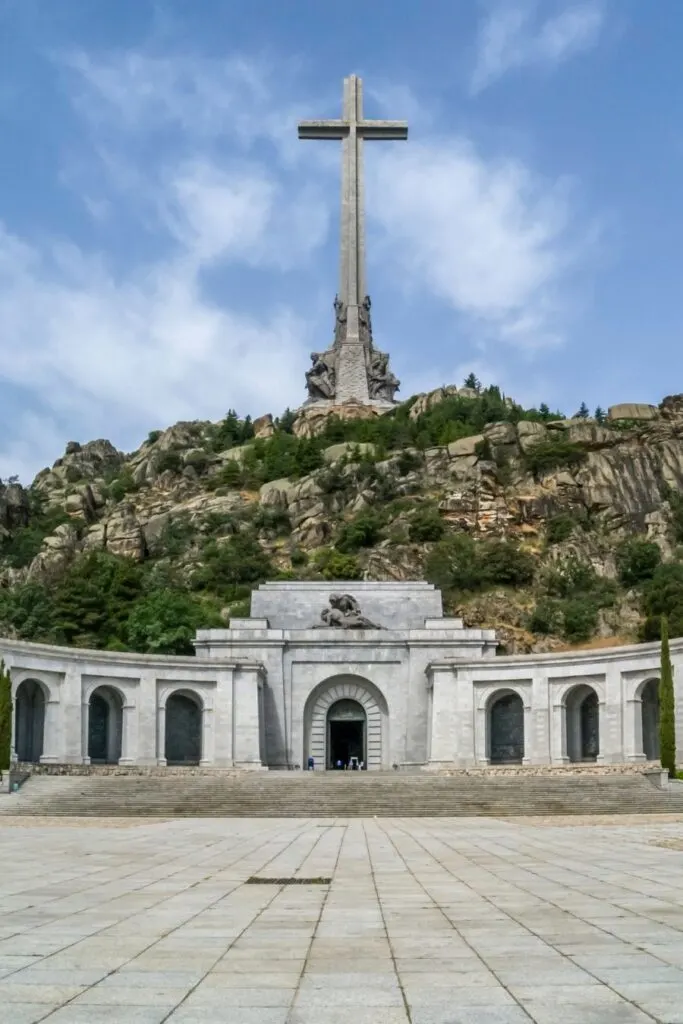 The Valley of the Fallen is a monumental memorial and burial site. It's located near San Lorenzo de El Escorial, north of Madrid. Now, a fair warning, this is a more sombre experience than the Madrid day trips I've mentioned so far.
The Valley of the Fallen was created as a mass grave and a memorial to the thousands killed in the Spanish Civil War. But it's controversial; it was created by Spanish dictator Francisco Franco.
Through a fascist regime, Franco remained Spain's ruler until his death in 1975. His remains were housed in the Valley. Many viewed it not as a memorial to those lost, but as a symbol of Franco's abuse of power.
So, his body was exhumed and transported in 2019.
The Valley of the Fallen is a reminder of the decades of atrocity in Spain, as well as the sheer loss of life. It is a challenging, uncomfortable experience. But I think such experiences are a really important part of history – I'd encourage you to visit if you can.
Cuenca
If you're looking for a weekend trip from Madrid, then I'd really recommend visiting Cuenca.
You know those cities where you don't even need to scout out a museum or gallery to see its best sights? Well, cuenca is one of those.
Cuenca's heritage is framed by medieval architecture. The city is surrounded by picturesque landscapes ideal for walks or hikes.
Most famous are the Hanging Houses, or Casas Colgadas. The houses are built into the cliff edge, almost like they're defying gravity. You can view them all over the city, but particularly well from the San Pablo Bridge.
There's also Los Ojos de la Mora, the eyes of the moors. Two eyes painted into the walls, said to be linked to a tragic love story thousands of years in the past. Like the houses, these are viewable from many locations, but the observation dock on Plaza la Merced is the best.
Salamanca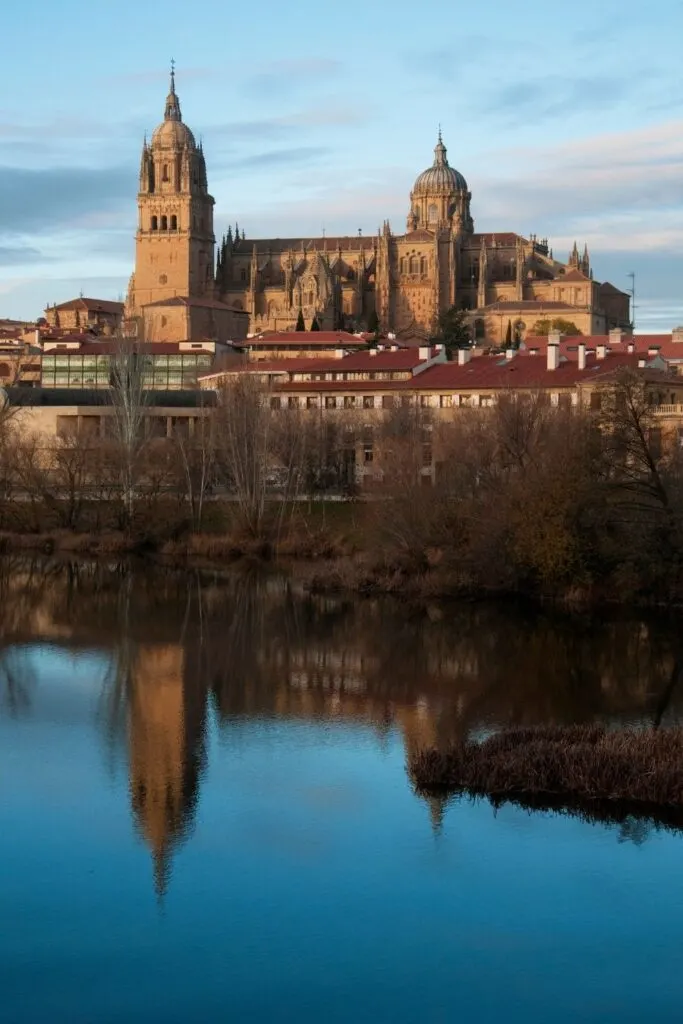 The city of Salamanca is another World Heritage Site. Are you noticing a pattern? Seriously, I don't know why Spain's landscape and architecture isn't as revered as that of other countries.
Salamanca is best known for its university, the first ever in Spain. It's famous all over the world. The city is renowned for its academic history, but it also means there's a ton of draw for young people.
While a little further away than some of the other Madrid day trips at around two hours, it's definitely doable. Some highlights include the Cathedral and the Plaza Mayor – sort of a town centre. This one is particularly grand, with loads of options for boutique shops or local bars and restaurants.
This tour of the city is available with a local. I love local tours. They're perfect for a comprehensive history, and to discover hidden gems.
Zaragoza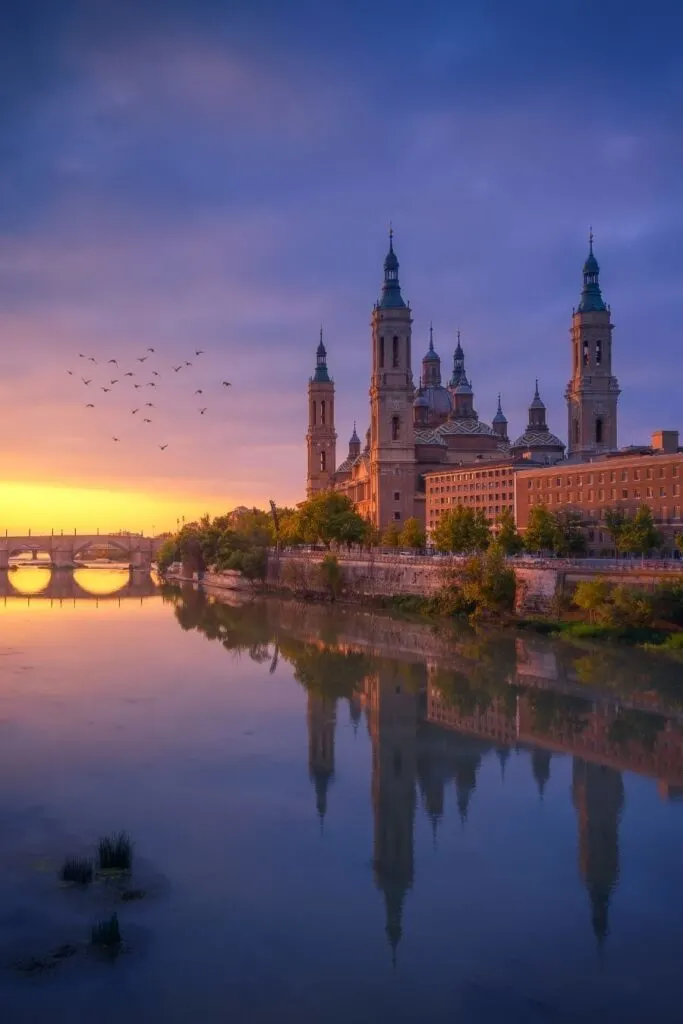 Zaragoza is one of those places you'll wish you had more time for. Don't worry though, a day trip is totally doable – it just might inspire you to come back!
The city is best known for two things. The annual Festival of Pilar, and the Basilica of El Pilar, one of the most famous Baroque churches in Europe.
That said, there's way more cool stuff to discover. Cultural heritage is diverse; visit Aljafería Palace for a rich Moorish history, including a mosque.
Don't worry about finding dinner back in Madrid. Instead, head to the El Tubo district for some of Europe's tastiest tapas. Foodies should take this tour through Old Town for the best food and wine.
Madrid Wine Vineyards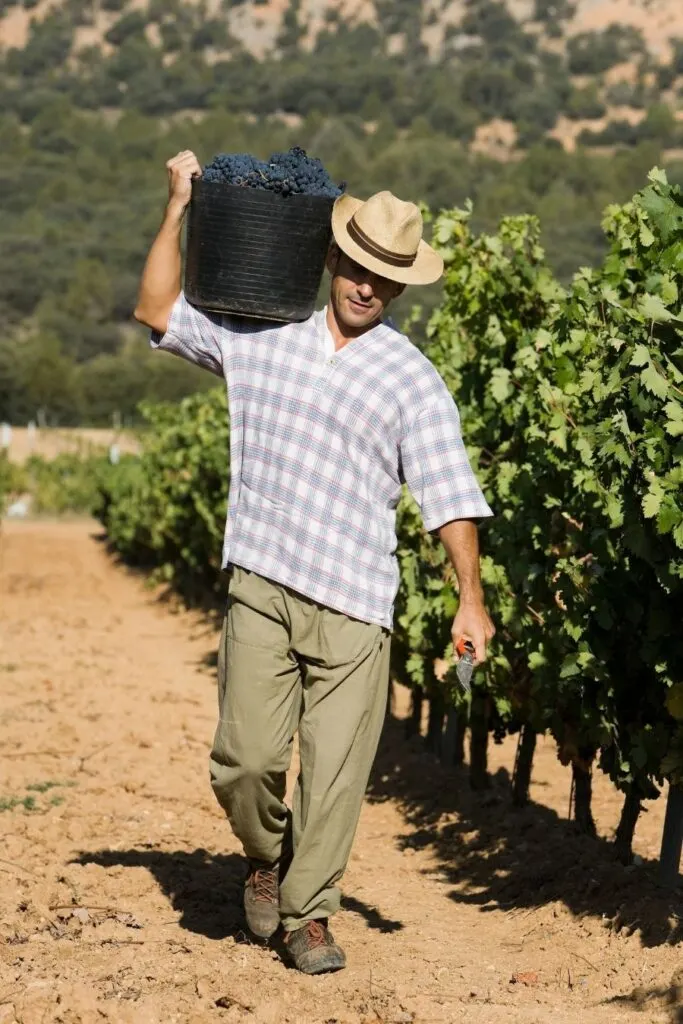 Speaking of wine, we're onto one of the best types of Madrid tours – wine tasting and vineyards!
While Madrid may not be the region that first comes to mind when you think of Spanish wine, business is booming here. Madrid has its own Denominación de Origen: Vinos de Madrid. Essentially, it has a wine region.
Split into three zones, San Martin, Navalcarnero and Arganda, each area is populated with vineyards for different types of wine. I realise that when you're paying to sample wine, you want to make the most of the wine. You'll be pleased to know there are easy public transport links.
With so much variety, getting a guided tour is probably a lot easier than planning your own itinerary. This is a good one that you'll love.
San Lorenzo de El Escorial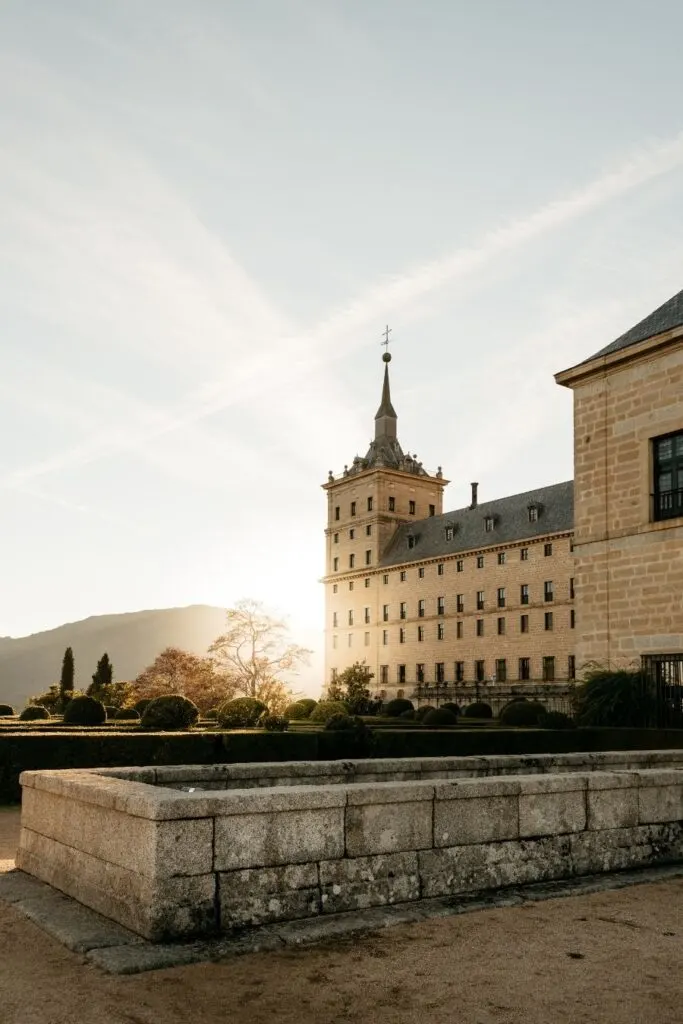 I mentioned this town already; it's relatively close to the Valley of the Fallen. This day trip from Madrid however is a much less sobering experience.
The main highlight is the Royal Seat of San Lorenzo de El Escorial, or the Monasterio del Escorial. As you can probably tell, the history of this looming building is expansive.
It used to house the former King of Spain. Later, it was a monastery – but it's still much more than that. It holds a Royal tomb, a basilica, a palace and an insane library.
If you're not convinced, it's even been referred to as 'the eighth wonder of the world'. So, not one to miss. A full day could be spent here alone. There are many Madrid tours you can take to explore it; this one is a good option for the highlights and a comprehensive history.
Avila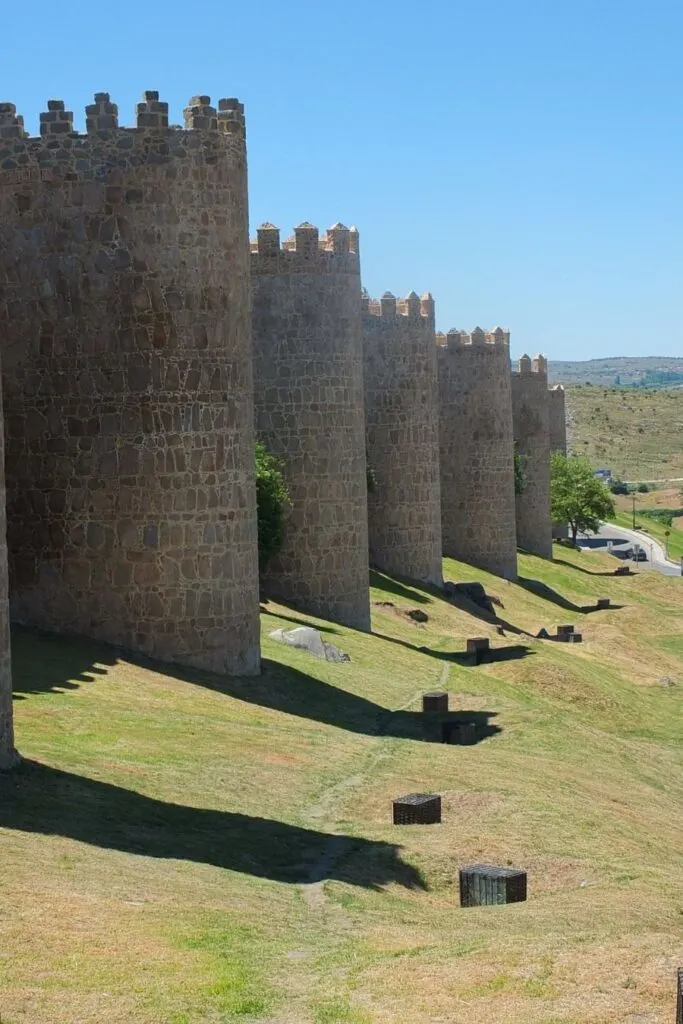 Sometimes known as 'The Town of Stones and Saints', Avila is famous for the walls and turrets which surround it.
It's evident that most Madrid day trips come with a cathedral. Avila's is impressive, still standing from the 12th century with the architecture I've come to love in Spain.
One of the highlights though has got to be walking around the city. You're even allowed to walk on top of certain sections of the walls, and even to the top of turrets. I probably don't even need to mention the spectacular view.
If you're short on time, many Madrid tours can take you through Avila and another city on the same trip. Here's an example of a tour through Avila and Segovia, but there are many other options.
---
There are so many places to visit near Madrid – it's genuinely surrounded by so many other awesome cities. Are any of these locations on your bucket list? Make sure to let me know in the comments!
Like this blog post? Then make sure you Pin it for the future!