Looking for the perfect Barcelona itinerary? Then here's how to spend an amazing 3 days in Barcelona with some of the best things to do in the city!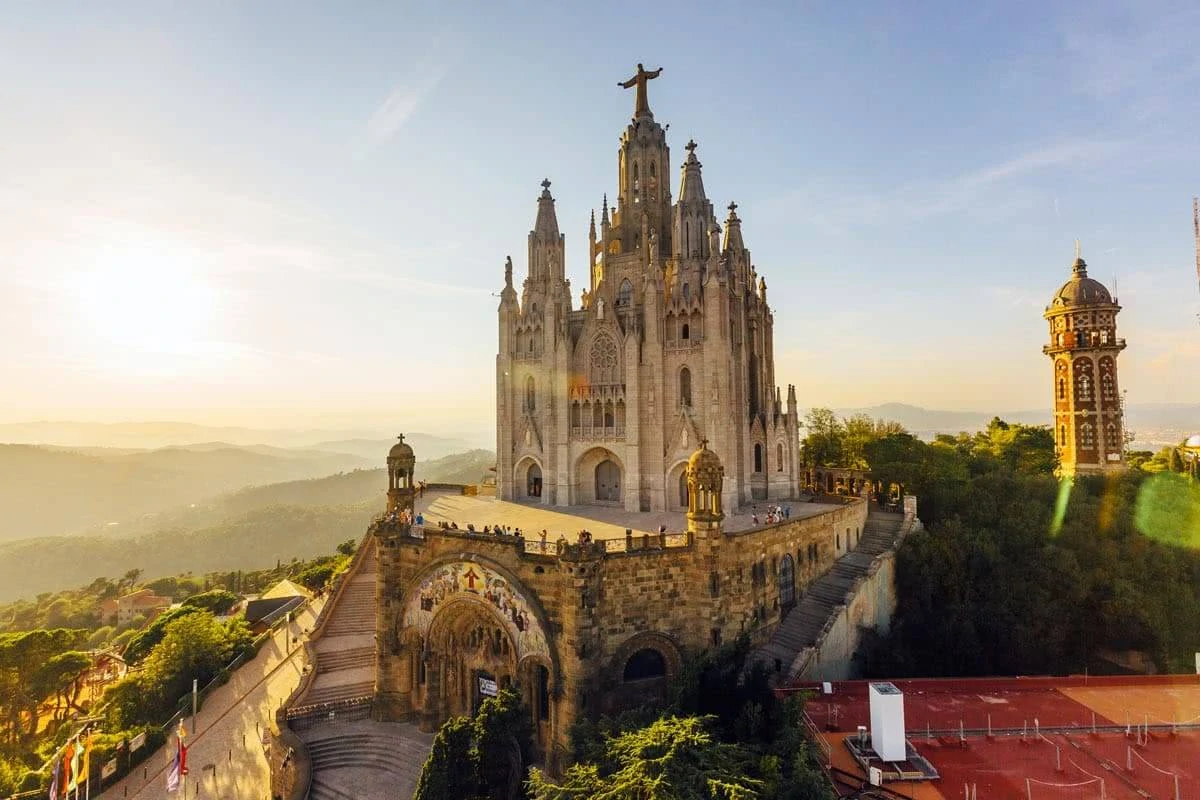 I really think that 3 days in Barcelona is the perfect amount of time to immerse yourself in the city and see some of the top sites and attractions.
This is a city you can keep on coming back to time and time again and still not completely see all that is has to offer, but Barcelona in 3 days is a great place to start, especially if it's your first time here.
It doesn't matter whether you've just come across a new tapas bar or walked in on a street party, there's always something new and exciting to discover in this city in Spain.
Don't believe me? Then check out my video below on what do in Barcelona on an amazing weekend away.

What to do in Barcelona for 3 days
Even though this was my third time to Barcelona, everything felt new and exciting like I was seeing things for the first time. There aren't many cities around the world where you get nerves of excitement each time you visit, but Barcelona is certainly one of those places.
From walking around local markets to visiting Gaudi's cathedral to strolling along the beach at Barceloneta, there really is something for everyone here. There's incredible food, buzzing bars open all night, some of the best architecture in all of Spain and even a few adventures thrown in there for good measure too.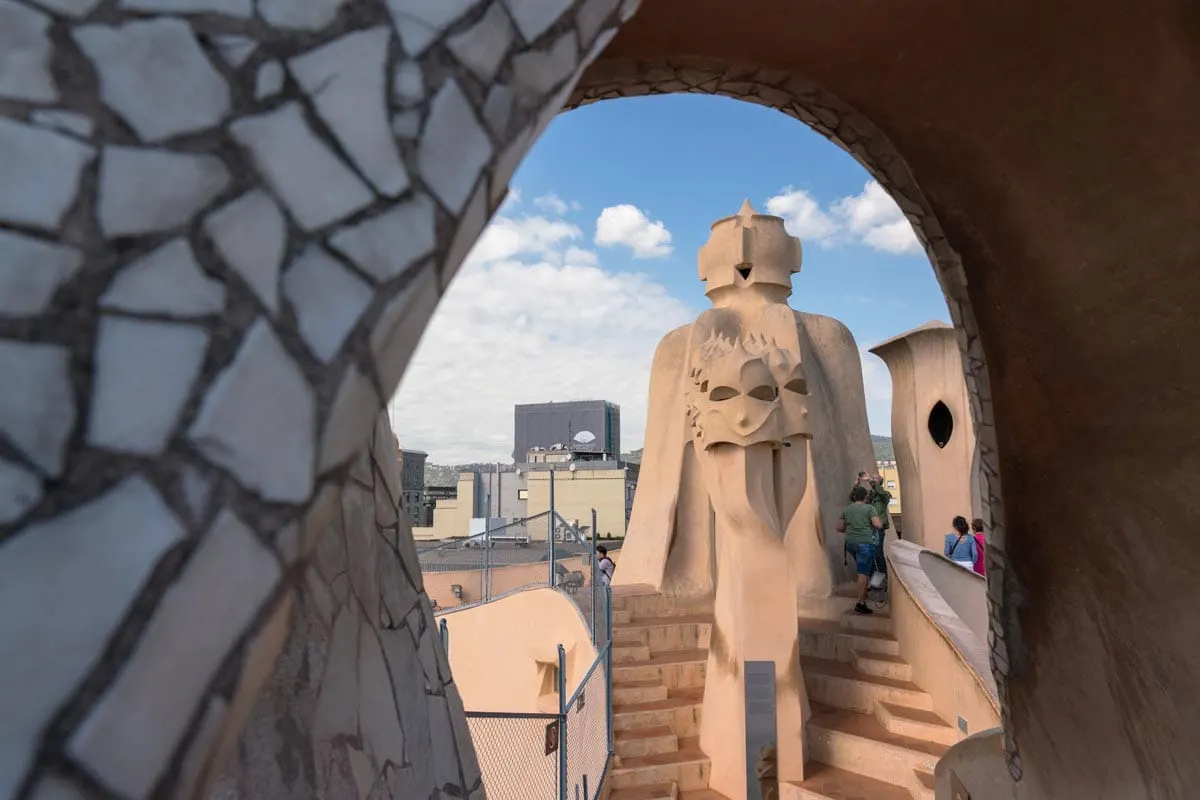 Barcelona was my third destination for KLM's '101 Reasons to Travel', a campaign all about finding those unique reasons to travel (it's all in the name really).
Barcelona is one of KLM's most popular destinations to fly to, so I can't wait to show you some of the best things to do here. I promise you you're in for an amazing time.
So, if you're looking for some inspiration on what to do while the city, here is my 3 day Barcelona itinerary. Hopefully you'll find it useful when planning your trip here.
Sagrada Familia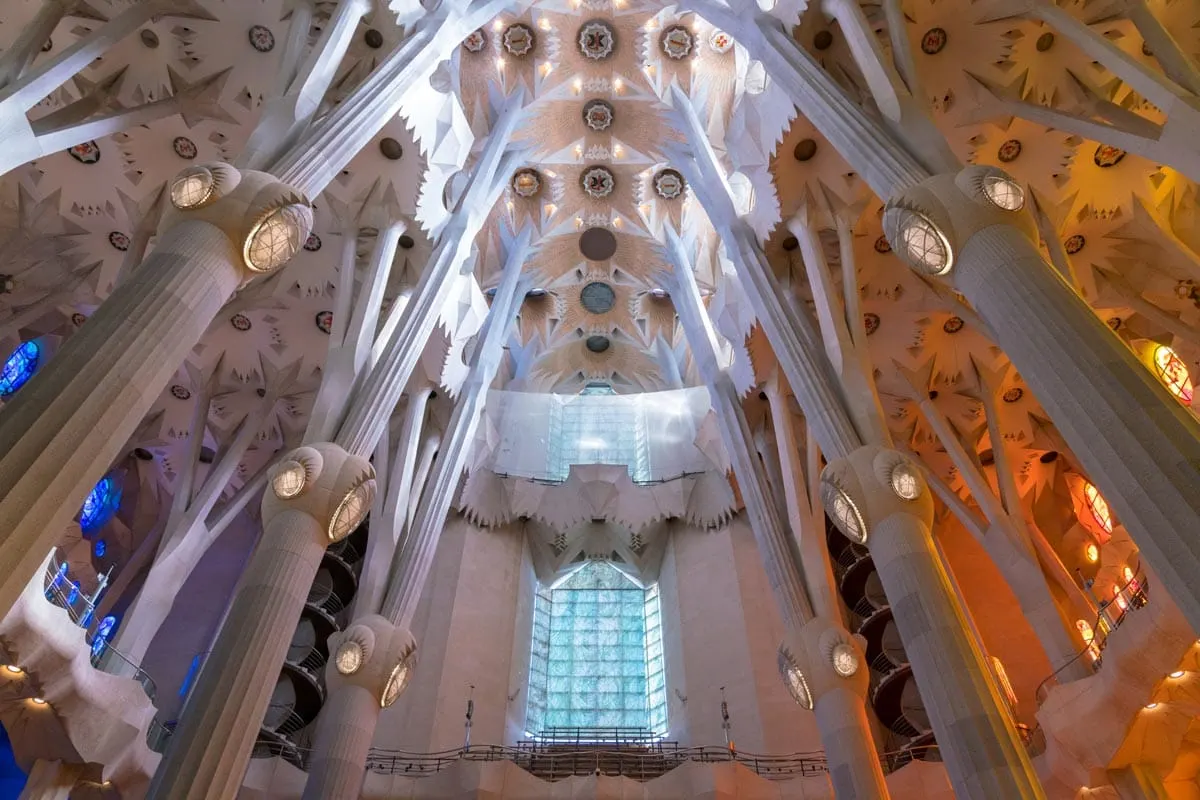 The Sagrada Familia is almost the calling card for Barcelona.
Designed by Spain's most famous architect Antoni Gaudi, the Sagrada Famaila first started construction in 1882. Fast forward 138 years and the church is still being built today. Apparently the completion date isn't until 2026 so still a long way to go before it's finished!
What I love about the Sagrada Familia is the detail. You could spend all day looking at the fine details of the church, only to come back the next and discover something new.
Even though the church is spectacular from the outside, for me it is even more beautiful on the inside.
Everything is lit up in yellows, oranges and blues from all the stained-glass windows. Also, it is a photographer's dream with sharp angles and leading lines of symmetry.
The queues here are pretty long here so I'd recommend picking up a fast-track ticket beforehand, but the Sagrada Familia really is one of the best things to do in Barcelona.
Fast-track Sagrada Familia tickets cost £28 per person which you can buy here and are valid for 1 day. You can also get an audio guide if you want to learn more about the cathedral.
If you're looking at visiting the cathedral, check out this amazing Sagrada Familia guide which is packed full of useful information. There's loads of practical advice in there for families too!
Parc Guell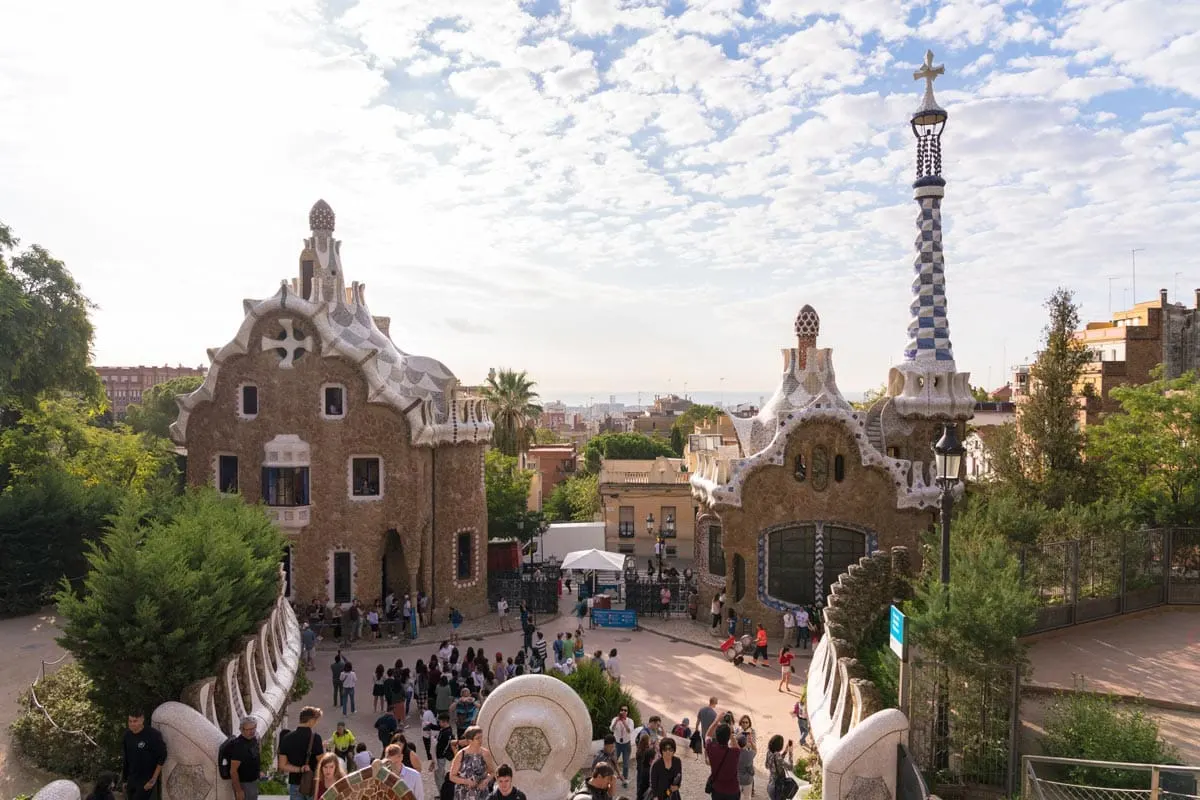 Another one of Gaudi's masterpieces, Parc Guell is a kaleidoscope of colours.
It's almost as if Gaudi's mind exploded on the hilltops of Barcelona and what was leftover was Parc Guell.
If push came to shove, I would probably say I prefer Parc Guell over the Sagrada Familia. This is because not only do you get the same wonderful lines of symmetry with the crypt below Parc Guell, but you also get some magnificent views of the city. This is definitely one of my favourite photo spots.
Parc Guell closes at 21:30 so the best time to come is for sunset when it's a little cooler and quieter too. Then you might be able to beat the crowds.
Parc Guell really highlights modernism in Barcelona (and here are 15 other must-see Catalan modernism buildings to see in Barcelona).
Parc Guell tickets costs £11 per person and you can buy them here. This also gives you free entrance into Casa del Guarda.
This really is one of the best things to do in Barcelona so make sure you add it to your list!
Eating tapas and pinchos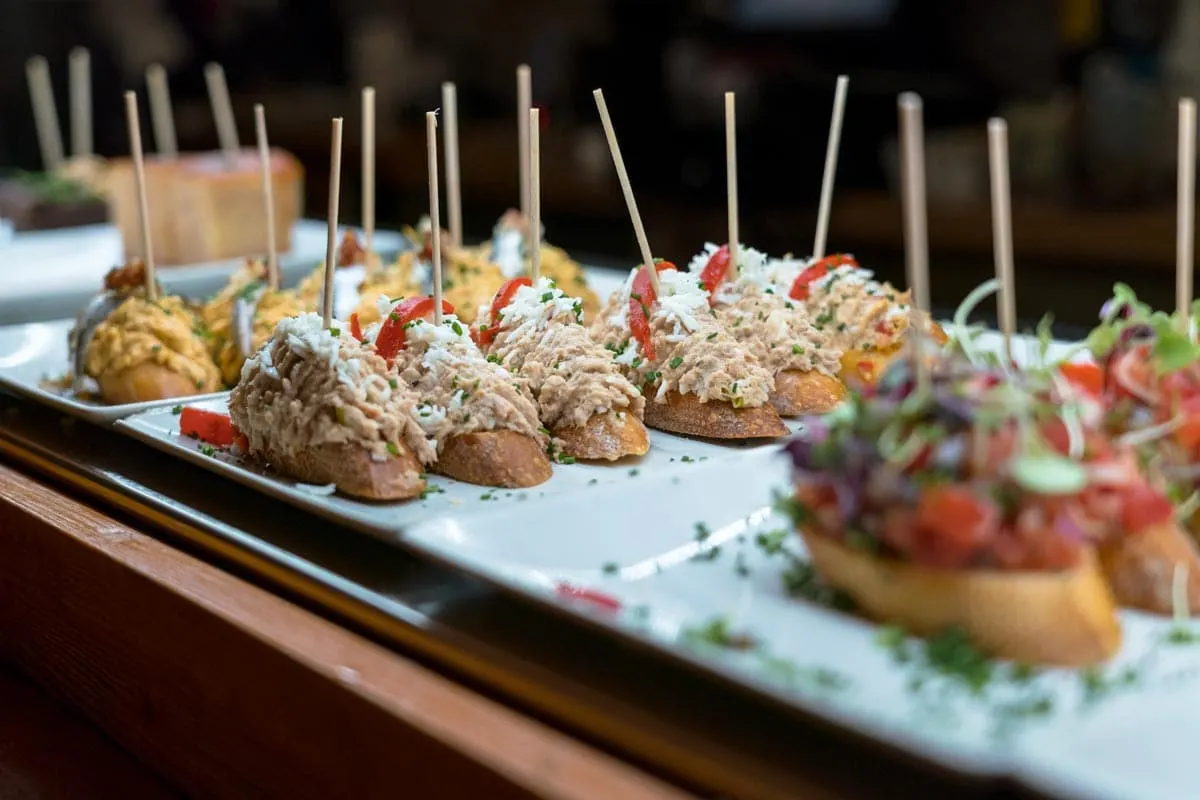 One of the reasons why I love Barcelona so much is it's a foodie's paradise. In fact, the best meal I've ever had was at Disfrutar Barcelona a couple of years ago and it still hasn't been beaten.
It doesn't matter if you're paying for high-end fine-dining or stumbling into a tapas bar late at night, the food is just sublime in Barcelona.
Tapas, small sharing plates of food, are what the city is all about. My recommendation is to walk the streets around the Gothic Quarter and try a few different tapas and pinchos bars. One of my favs is El Pintxo de Petritxol, so add this to your Barcelona itinerary.
Still, my advice is to find a pinchos bar that's busy, sit yourself at the counter and try a few dishes before moving onto the next place. Grab yourself a glass of rojca or a vinos tinto and you've got the makings for a perfect night out.
Barceloneta Beach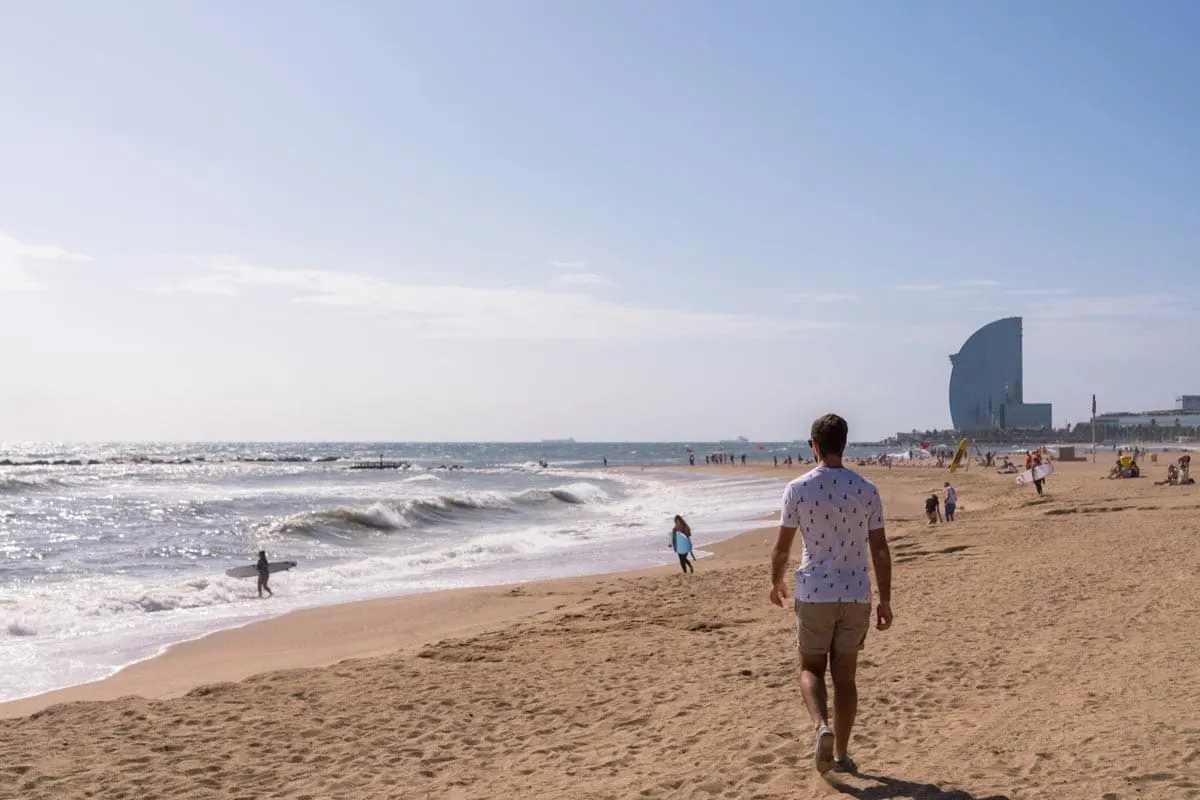 Barcelona isn't just a city destination, it is a proper beach destination too.
Barceloneta, the main beach at Barcelona, is the place if you want some relaxing beach time.
Either grab your towel and a patch of sand or park yourself in a beach club for the afternoon. I've done both and it's hard to choose one over the other. The beach clubs are a little like the ones you'd find in Ibiza just a lot quieter.
Like most beach destinations, there's an array of water sports to choose from. But be warned, the beach is exceedingly busy during peak summer and over the weekends.
A bit like with Parc Guell, Barceloneta is an amazing place for sunset. Just grab yourself a sangria and watch the world go by. Visiting Barceloneta is a must on any Barcelona itinerary.
Barcelona Cathedral and the Gothic Quarter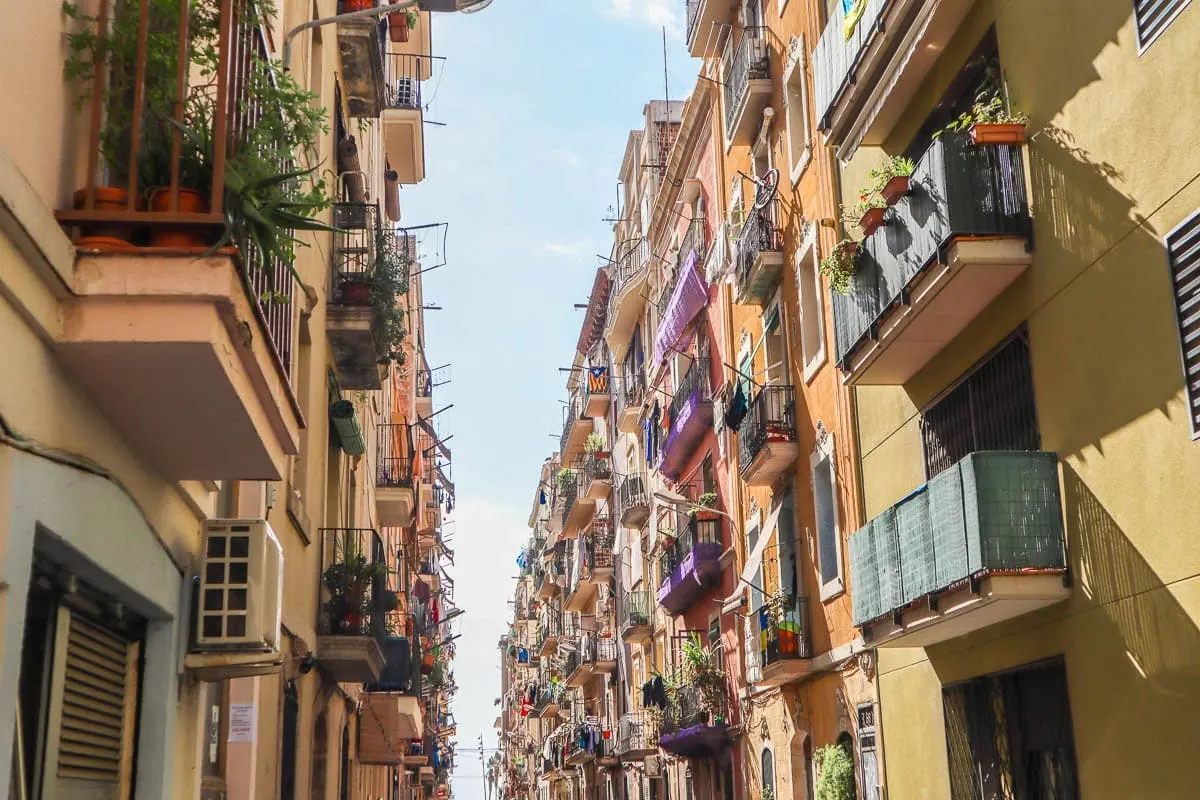 Barcelona Cathedral is another example of the amazing architecture in the city. Then again, there are so many buildings around the Gothic Quarter that are stunning too.
If you're looking at what to do in Barcelona then I really recommend getting lost around the Gothic Quarter. It doesn't matter which side street you walk down, you always find something new and exciting like a little local patisserie or an independent clothes shop.
One evening I was walking around looking for a place to eat and I stumbled into Salterio, a tiny little bar full with about 20 people in. It was such an amazing place serving wine and cheese and it's now one of my favourite spots in the city. Again, if you're looking for a little wine bar then head here.
That's what I love about the Gothic Quarter. You always come across somewhere new. Check out this area of the city and you'll see what I mean.
Casa Milà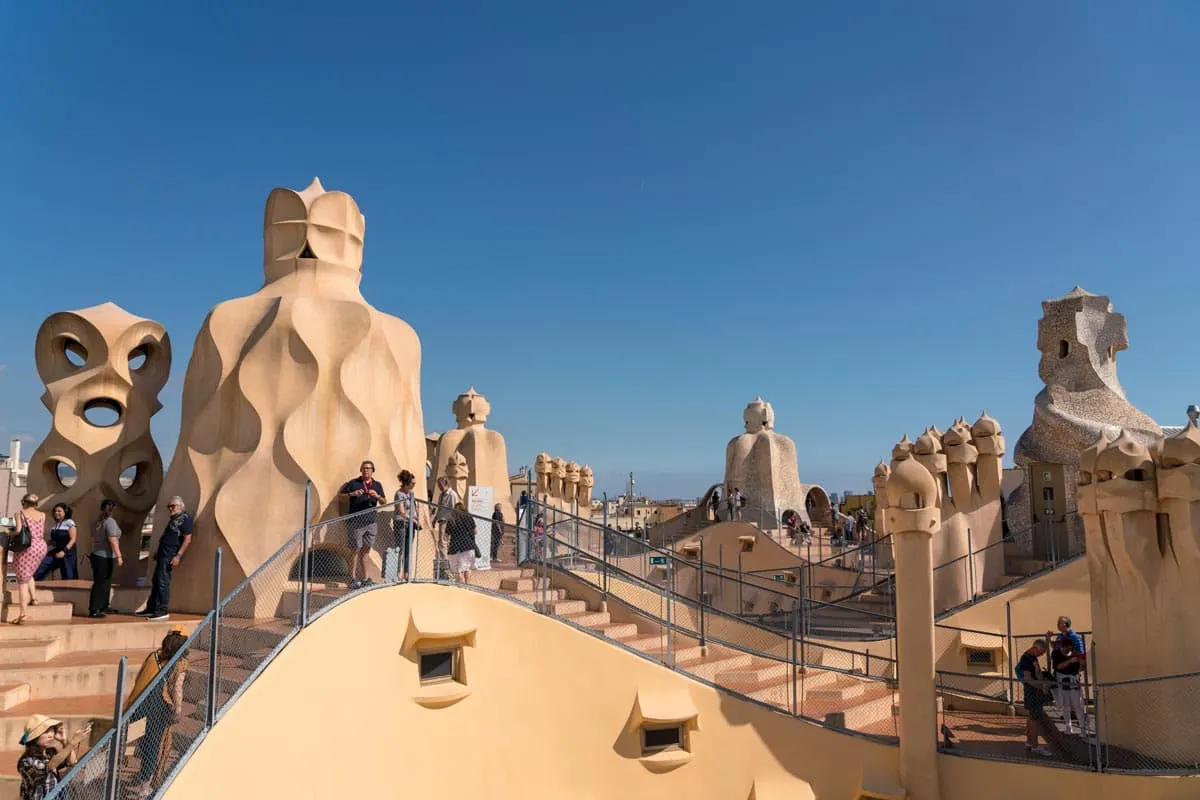 If you've got 3 days in Barcelona then make sure you add Casa Mila to the list of things to do.
I feel that Barcelona owes a lot to Gaudi. There are so many of his houses and buildings dotted around the city for tourists to see! Casa Milà is another one of these.
Popularly known as La Pedrera or 'the stone quarry', Casa Milà was the last private residence designed by the architect Antoni Gaudi and was built between 1906 and 1912.
Even though the house is spectacular, the rooftop is just unbelievable. It's hard to describe, but it really is like a stone quarry with rough rock statues and monolithic boulders everywhere. It's another insight into Gaudi's mind and the views are incredible. For me this really is one of the top places to visit in Barcelona.
Casa Mia tickets cost £20 per person which you can buy here and include skipping the line and an audio guide.
La Boqueria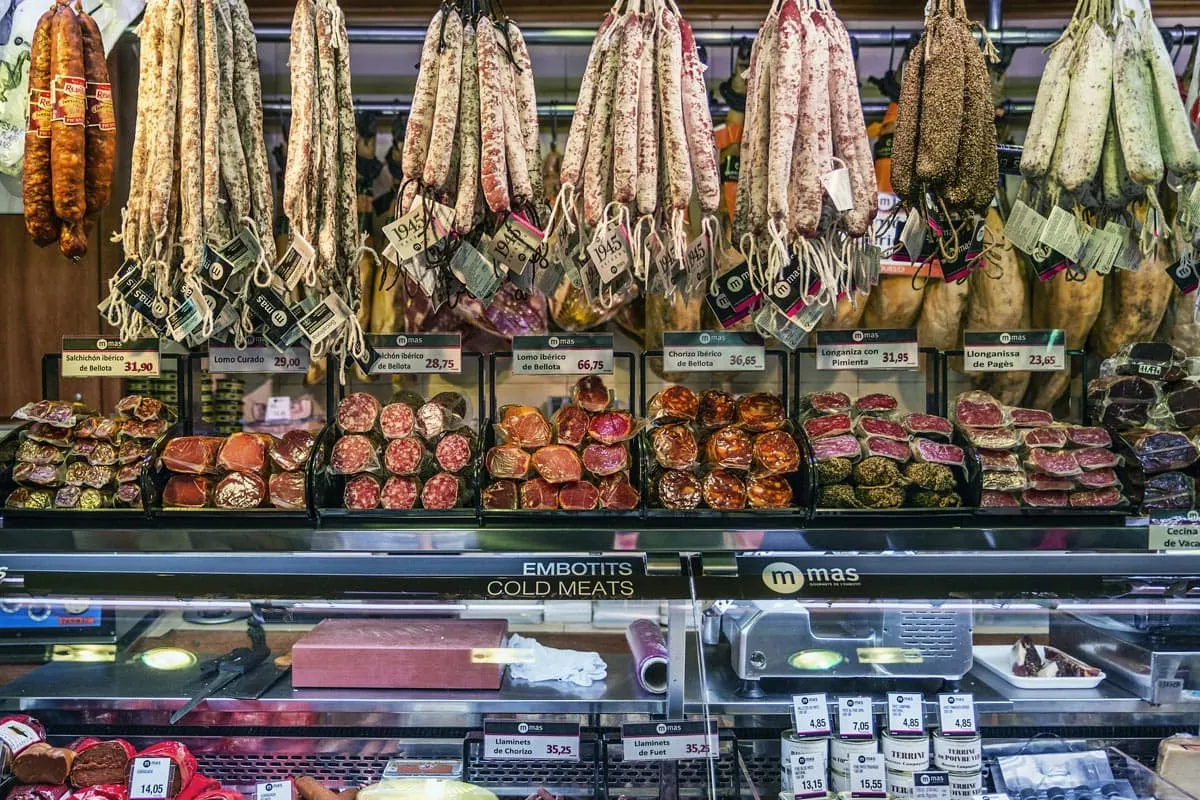 I think La Boqueria is one of my favourite places in Barcelona. Not only is it an amazing food market where you can pick up anything from fresh fruit to delicious Iberico ham, but there are a number of tapas restaurants dotted around the edge where you can eat too.
My advice for La Boqueria is just to dive in at the deep end. Wander around asking to try a few samples of cheese and ham, and if anything takes your fancy buy something to take home.
Obviously Spain is famous for Iberico ham, so I'd always recommend buying that. Also, and I speak from experience here, but the olives and antipasti are next level from La Boqueria!
Monument de Colom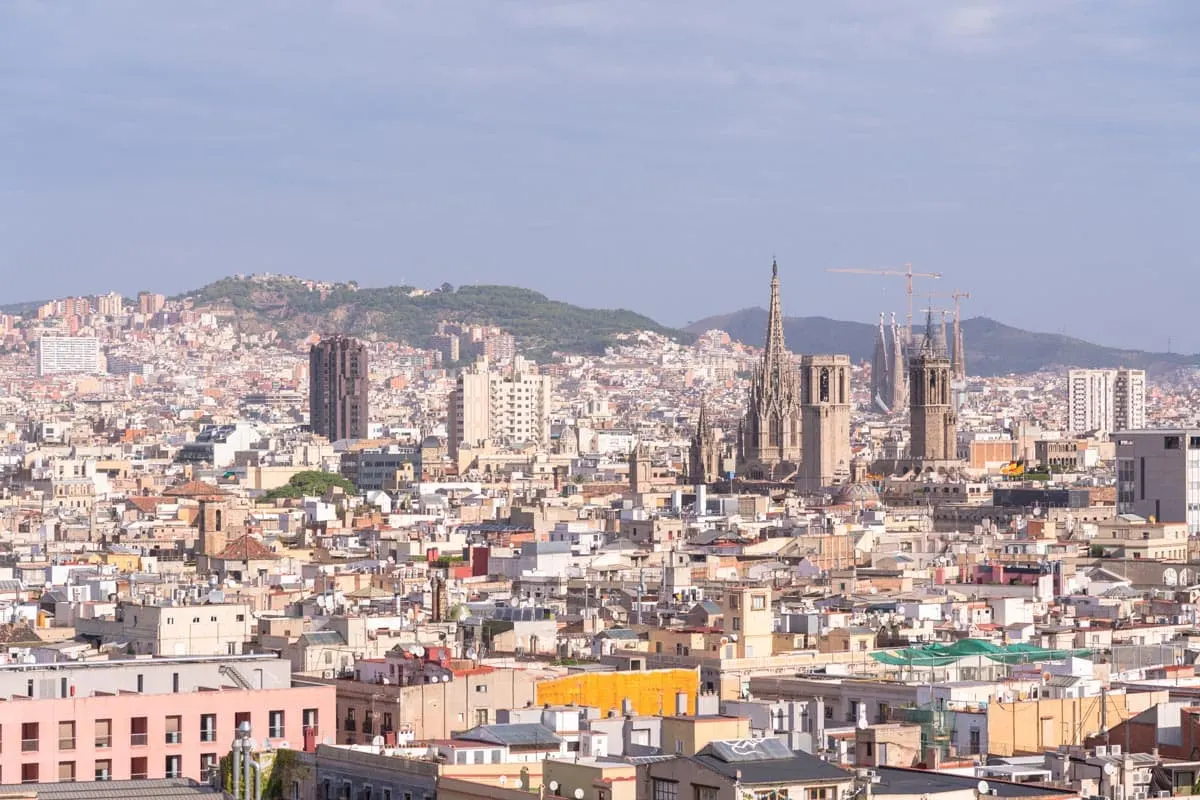 Another place to add to your 3 days Barcelona itinerary is Monument de Colom.
When I was researching the best views in Barcelona, two places keep on coming up – at the top of Montjuïc and at Tibidabo, the highest point in the city.
One place no one really talks about is Monument de Colom. This is a statue standing 60m high at the bottom at Las Ramblas near the ocean.
It doesn't look like it, but for 6 euros you can access the top of the monument for some stunning views of Barcelona.
The ride up is in a lift and there's not much room at the top, but you do get amazing 360 degree panoramas of the city all around you.
Tickets for this are just £5 per person and includes an optional wine tasting if you wish!
Parc de la Ciutadella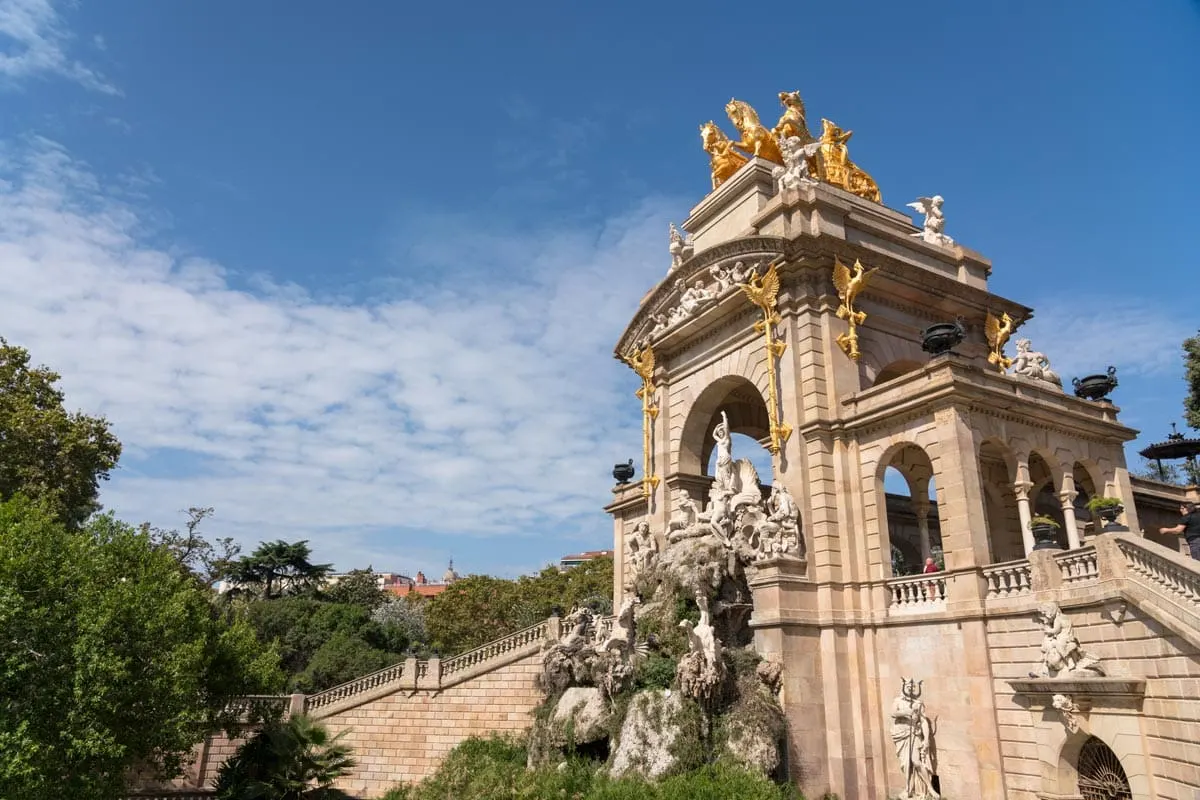 The Parc de la Ciutadella is like an oasis in the middle of the city. Not only do you have gorgeous gardens where you can relax in the sun but there are also lots of ponds and water features dotted around the park.
My favourite part was the Cascada (the waterfall) which is located in the northern corner. This is a triumphal arch with golden horses atop, and it is just so ornate and beautiful.
One of the best things you can do here is have a picnic. If you head to La Boqueria or a local supermarket, then you can pick up some bread, cold meats and cheese. Find yourself a park bench or a spot in the shade and share the moment with friends. For me it's the simple things in life!
Shopping for art
Barcelona is one of the best places in the world for art and paintings. Unlike a lot of other destinations, the art can be pretty cheap here. Also, most sellers are open to bartering, so make sure you offer them a lower price to get some money off.
There's an art market every weekend at Plaça de Sant Josep Oriol next to Santa Maria del Pi church. This is a good place to browse some local talent and to take back a souvenir.
Artevistas is another really good area featuring young artists. Near the Ramblas, a lot of these shops are an array of colour like the photo above. If you love shopping are looking at what to see in Barcelona in 3 days then this is the one for you.
La Mercè Festival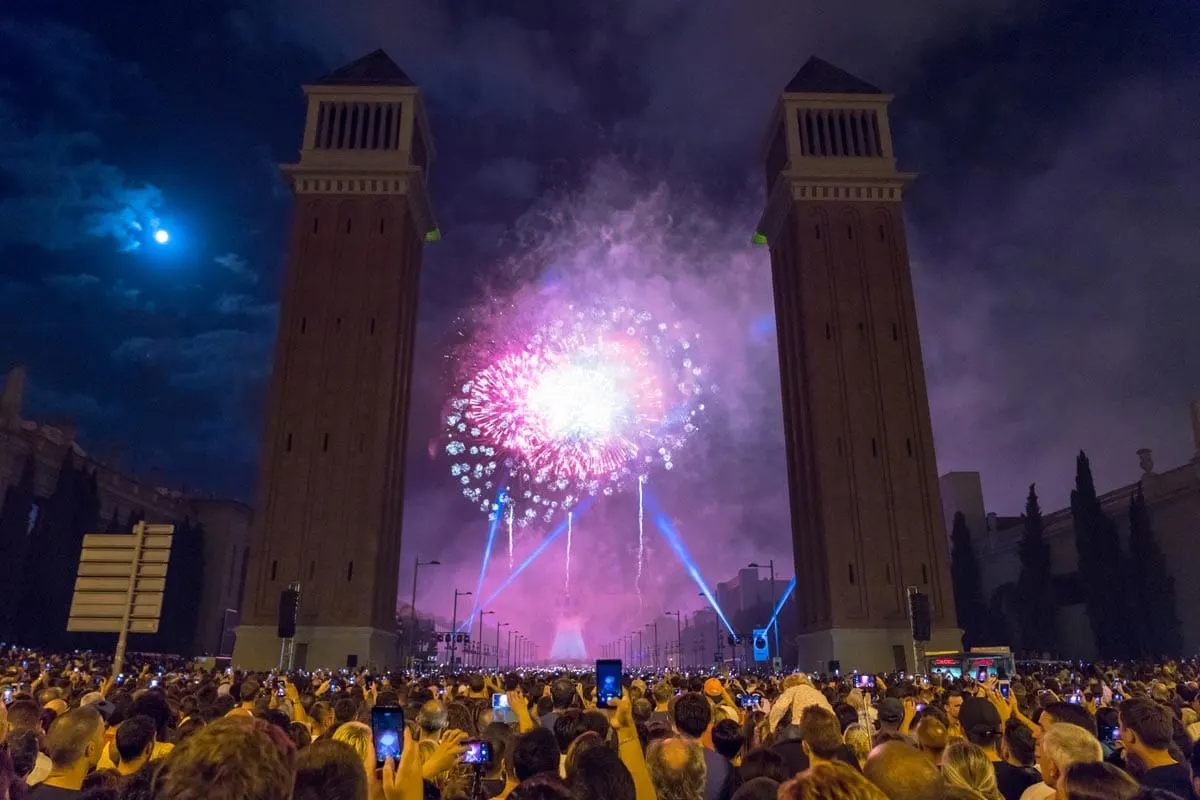 I was extremely lucky that my most recent trip to Barcelona coincided with La Mercè, Barcelona's biggest festival.
This is an annual festival that first started in 1871, and even though the main festival day is on the 24th September, there are usually a number of parties and celebrations on the days beforehand.
It doesn't matter where you are in the city, you're bound to come across giant papier-mâché figures dancing around the streets.
The festival culminates in a musical firework display at Plaza de Espanya with Montjuïc fountain in the background.
This was a cacophony of fireworks and colours and I really can't recommend it enough.
If you're planning to see Barcelona in 3 days in September then make sure you plan it around La Mercè. You won't regret it!
Tours in Barcelona
Barcelona packing list
As you can imagine, I travel a lot. It comes with the territory of being a travel blogger! That being said, there are some things that I now can't travel without. If you're planning your Barcelona itinerary, I'd really recommend taking these items with you: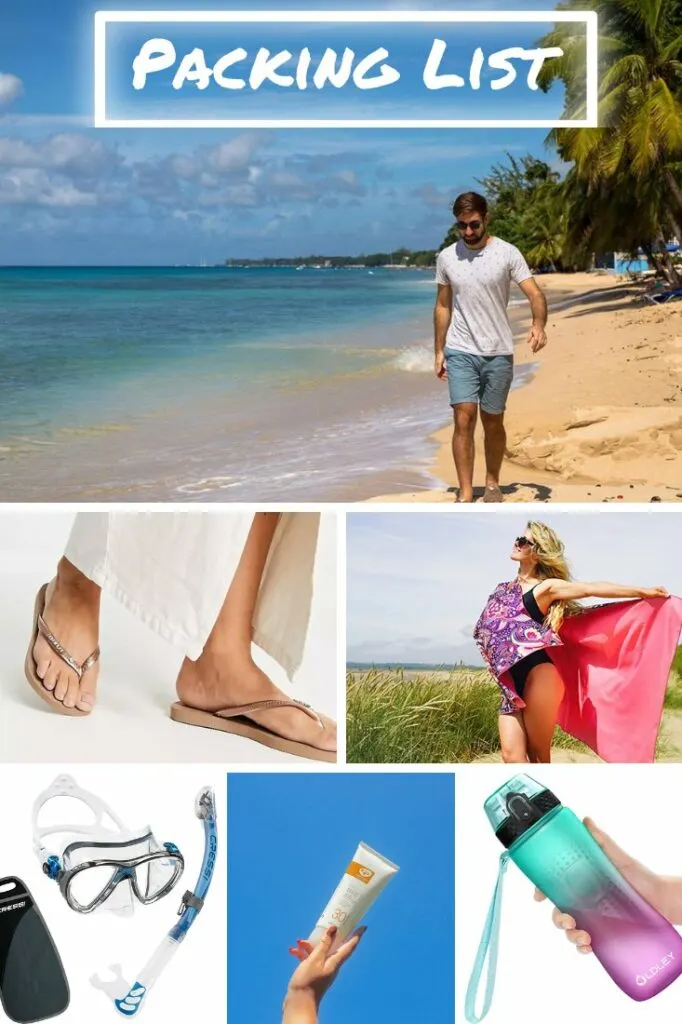 ---
My trip to Barcelona was in association with KLM's '#101ReasonsToTravel' campaign promoting their top destinations in Europe. As always, views are entirely my own and without bias.
Fancy something more colourful? Then check out Wanderlust Chloe's amazing colourful guide to Barcelona to find the brightest spots in the city!
If you had 3 days in Spain, what are some of the things you'd like to do? Let me know in the comments below!

Like this blog post? Then make sure you Pin it!