Are you looking for the best glamping sites in Devon? From luxury yurts to romantic shepherd's huts, this is what glamping in Devon is all about!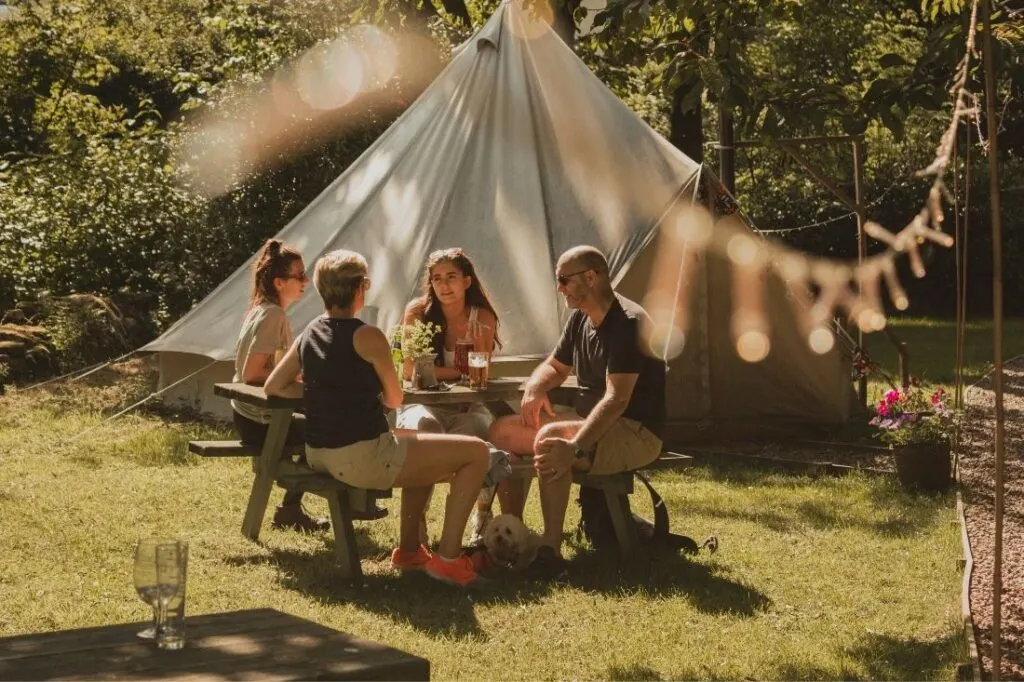 When I was in my 20s, I used to go camping all the time. All I needed was a clear patch of grass, a good rollmat and sleeping bag, and I was happy.
Now that I'm in my 30s, I very much prefer the finer things in life, and camping has transformed in to glamping. Hey, don't judge me, I'm sure I'm not the only one!
I am such a champion of unusual places to stay in the UK. So many people think to have an adventure they need to jump on an 8-hour flight and travel to somewhere they've never been before. There are so many amazing adventures right here on our doorstep though!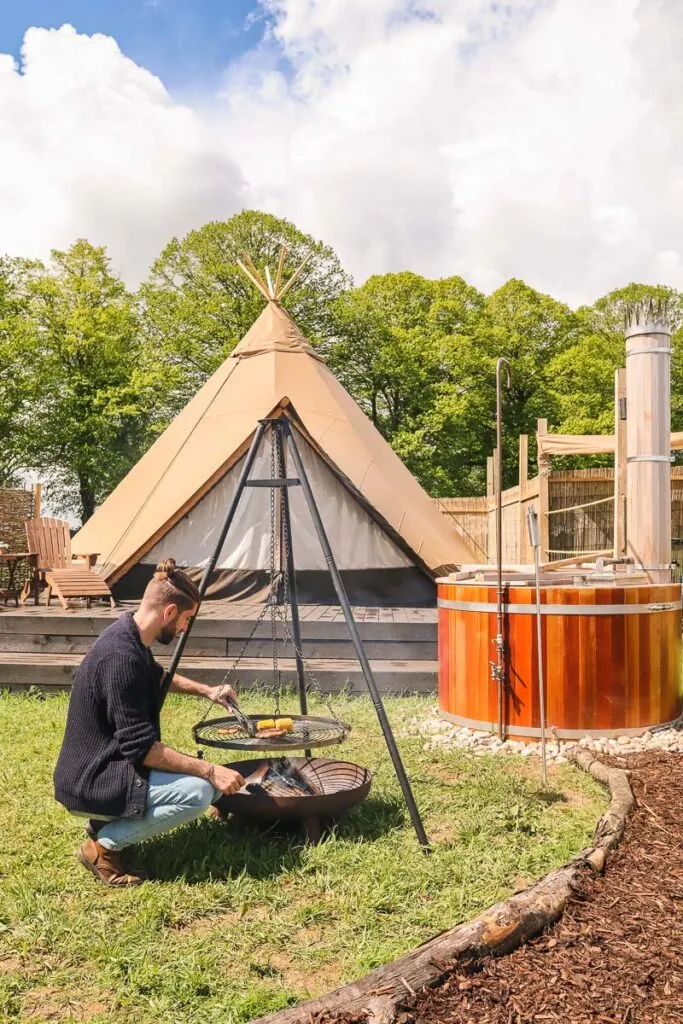 In this blog post I'm going to show you the best glamping sites in Devon with Unique hideaways.
There are so many beautiful places to visit in Devon and it's a place I absolutely adore travelling around. It has beautiful beaches, sleepy villages and wild moors all just waiting to be explored. Here you can take a step back, press pause, and really slow the pace of life down. I'd even go as far in saying this is one of the best destinations in the UK for your summer holiday.
From shepherd's huts to luxury yurts with hot tubs, there are some incredibly unique Devon glamping sites. Hopefully this post will inspire you to do something different on your UK staycation this year!
---
8 Best Glamping Sites in Devon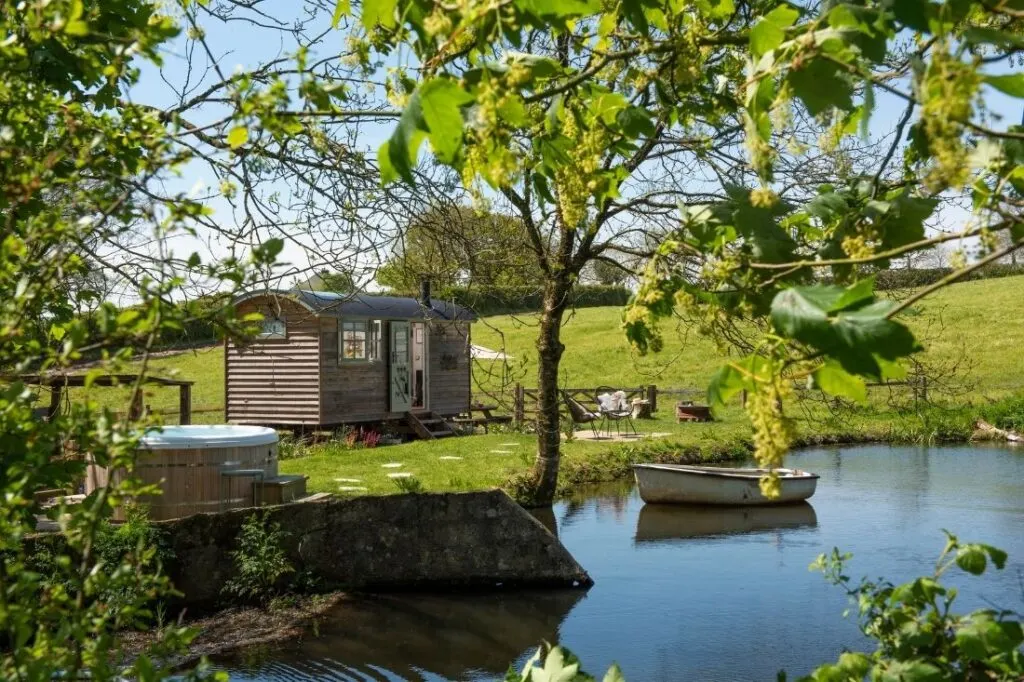 Near Bideford
Sleeps 2
Dog friendly
I've stayed in a few shepherd's huts over the years and each one is completely different. Well, Hayley's Hut is one of the best I've ever seen.
Located near Bideford, this shepherd's hut is beside a serene lake and surrounded by trees. I honestly don't think there's a more tranquil location than this in all of Devon!
What I love about this place is there are so many hideaways to spend your time. Outside you can enjoy a glass of bubbles overlooking the lake, there's a separate sung area where you can relax out of the sun, or the best spot of them all – there's a luxurious hot tub where you can kick back from it all.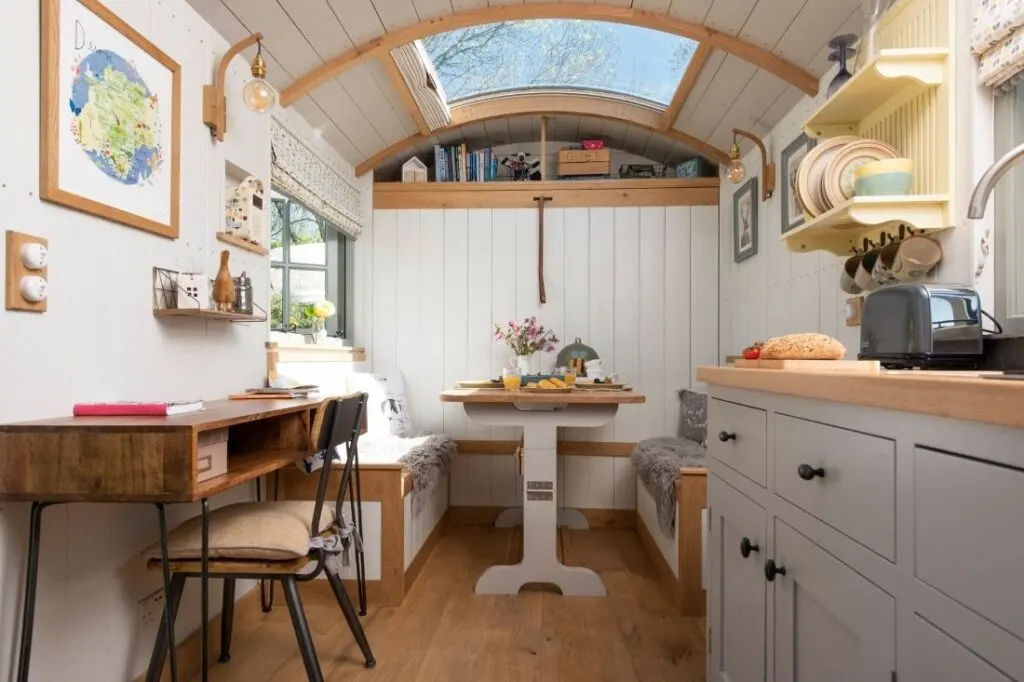 Inside there is everything you could want and need. The kitchen features a fridge, two-ring gas hob and slow cooker. There's also a spacious dining table which cleverly converts to your bed in the evening. I've been on these before when I've stayed in shepherd's huts and they're such a clever use of space.
Also, there's an en suite shower room with a proper flushing WC and plenty of hot water. I told you this place had everything!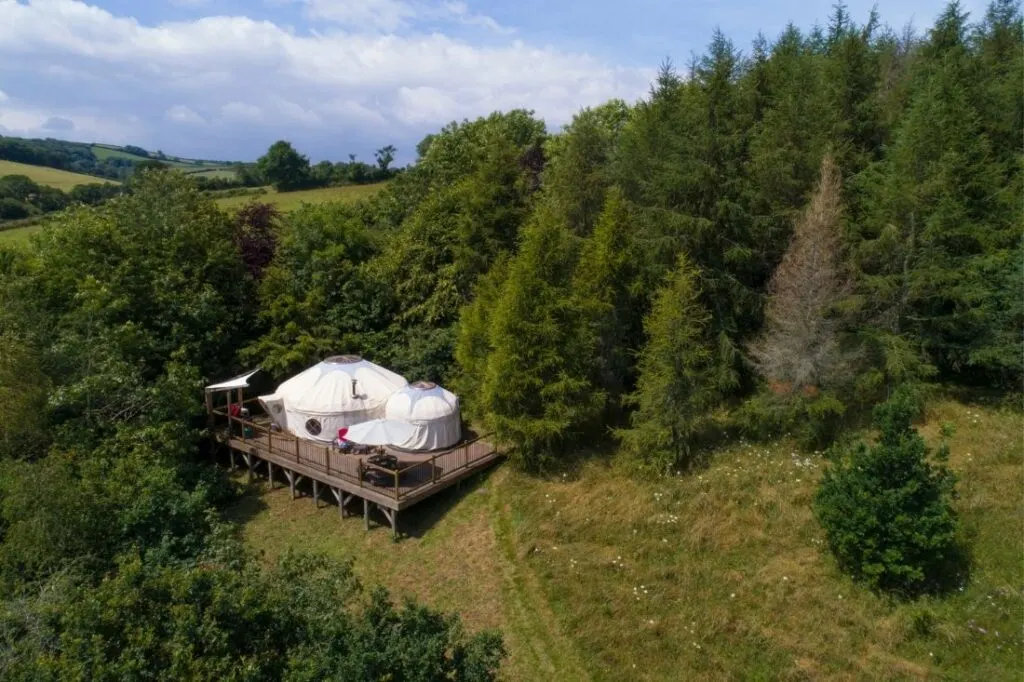 Dear Dartmouth
Sleeps 5
For me, this is what glamping in England is all about. I mean, just look at how quiet and secluded this yurt is!?
Sleeping up to 5 people, Poppy Yurt is surrounded by woodland and wild flower meadows, with views over a water-lily covered lake. It sounds idyllic.
Once you step inside the yurt, the open plan living space is spacious, light and luxurious. There is a stunning, traditional frame and clear rooftop feature, rustic wooden floors, colourful rugs and a log burner for a warm and cosy atmosphere.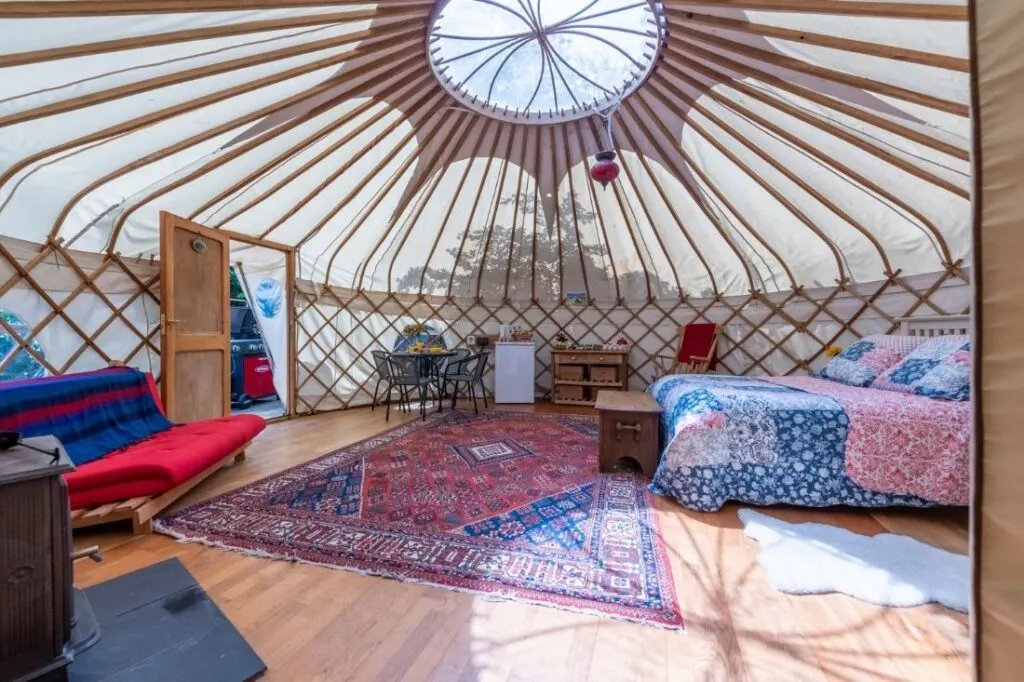 What I love about this place is you really are out there on your own. There's a fridge to store all your food, but cooking is outside al fresco style, so perfect for family bbqs.
If you can tear yourself away from Poppy Yurt, you're very near Dartmouth which is great for exploring and spending an afternoon. Also, Blackpool Sands, one of the most beautiful beaches in Devon, is just a short drive away. You're certainly not short of things to do that's for sure.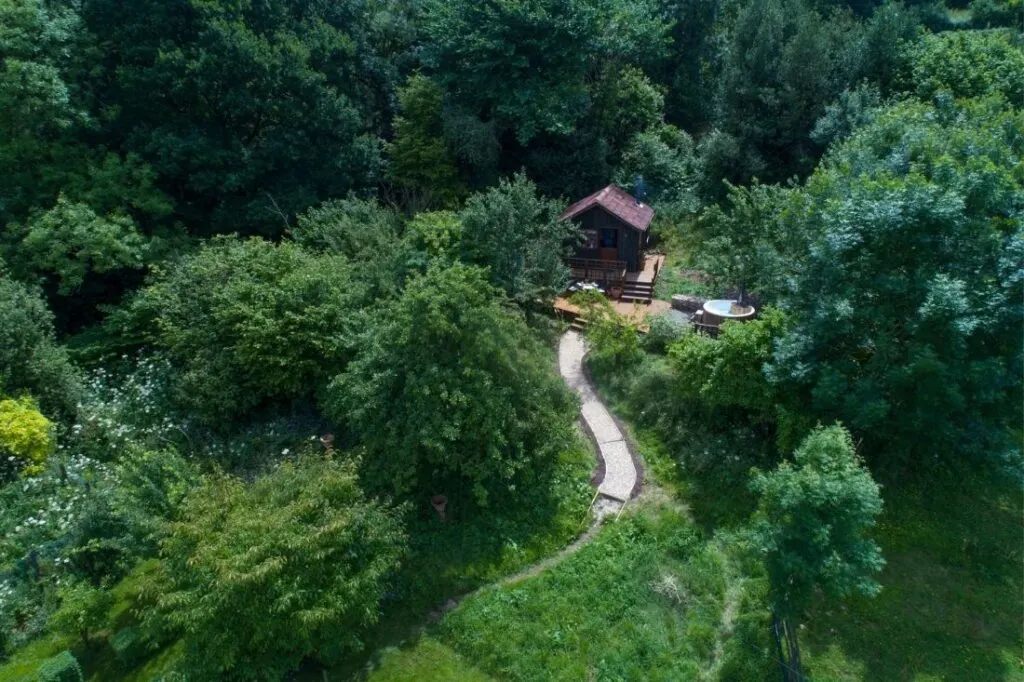 Colyton
Sleeps 2
Dog friendly
The Old Orchard Cabin is ridiculously cute. This is your stereotypical wood cabin surrounded by orchard trees. The views overlooking the rolling hills of Coly valley are stunning too. Honestly, you couldn't ask for a more picturesque setting!
Outside the whole area is decked with table and chairs making this the perfect spot for breakfast or lunch.
There's also a luxurious wood-fired hot tub with views overlooking the fields.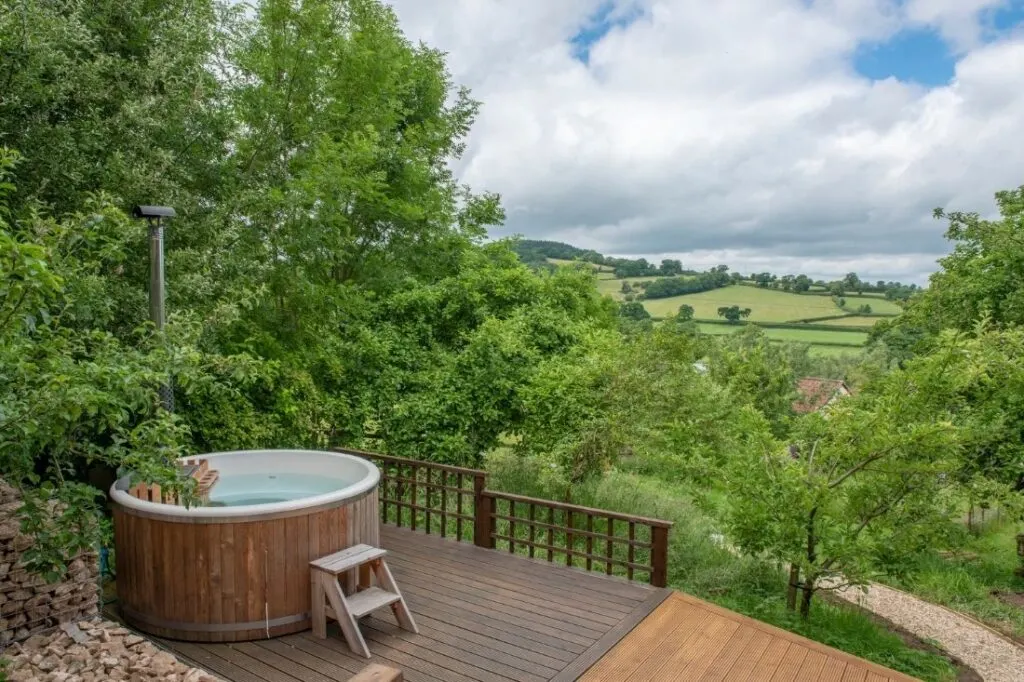 Inside the cabin there is a toasty wood burner and a carefully designed open-plan living space including room for a king-sized bed.
One of the best bits about the Old Orchard Cabin is there's a shower-room with a real hot shower and a proper flushing loo. That means no night time trips trying to find the toilet block!
In the evenings, you can light up the fire-pit barbecue and cook something tasty with ingredients bought from the nearby farmshop. Now that's a proper staycation.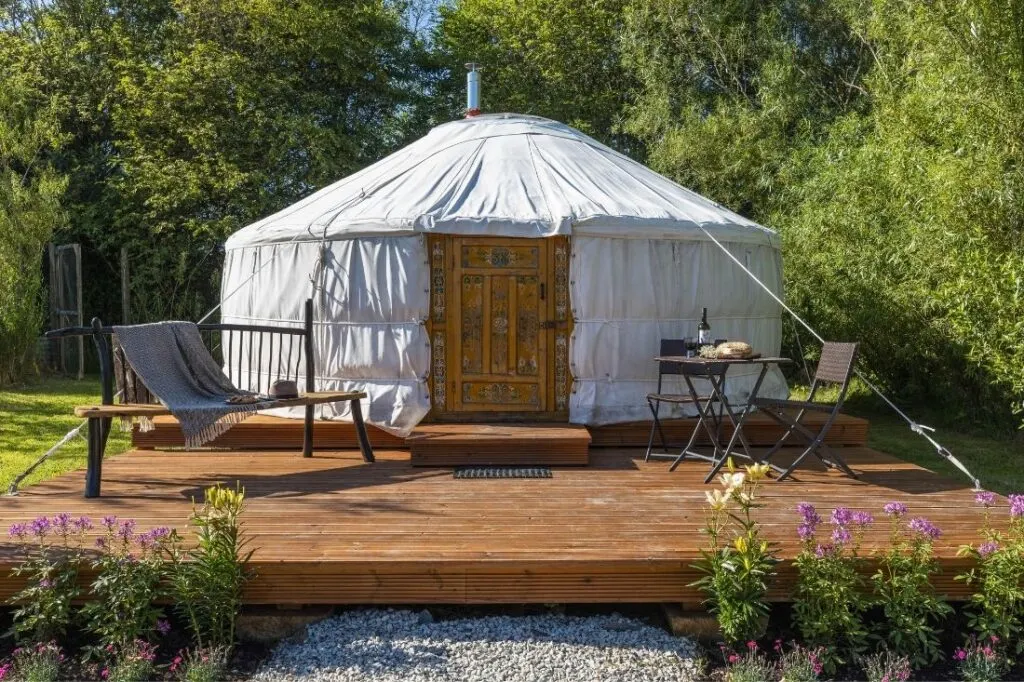 Near Clovelly
Sleeps 2
Dog friendly
Whittlers Yurt is like a time machine. Outside it looks like a futuristic space capsule, but as soon as you step inside it's like being transported back to in the 1920s with art deco colours and furnishings wherever you look.
The thing you'll notice when you first walk in is the log burner in the centre of the yurt. Then you'll start to pick out the blues, greens and oranges that make this such a dream staycation.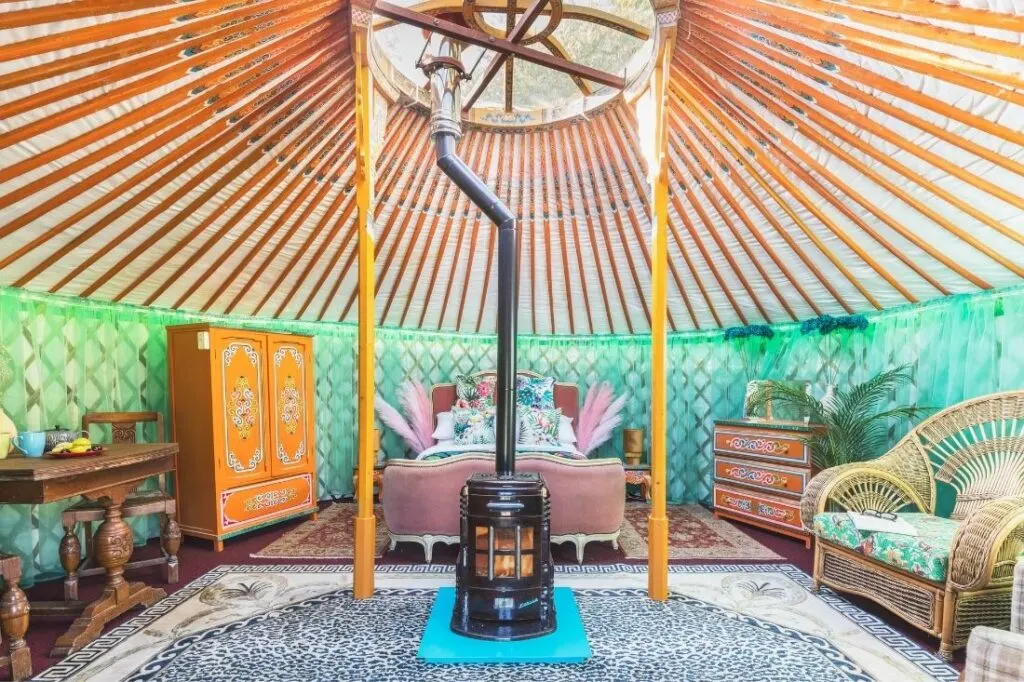 Separate from the yurt you will find your small but perfectly equipped kitchen in your carefully handcrafted wooden shed. There are electric hobs, a combination microwave, fridge, toaster, kettle, and enough equipment to whip up a tasty meal for two.
And no glamping experience would be complete without an outside hot tub, the latest addition to this glamping site.
And finally, to make things even more romantic, Whittlers Yurt is in a secluded spot with access to the owner's lake and adjoining fields. You can even take a dip in the lake if you're brave enough!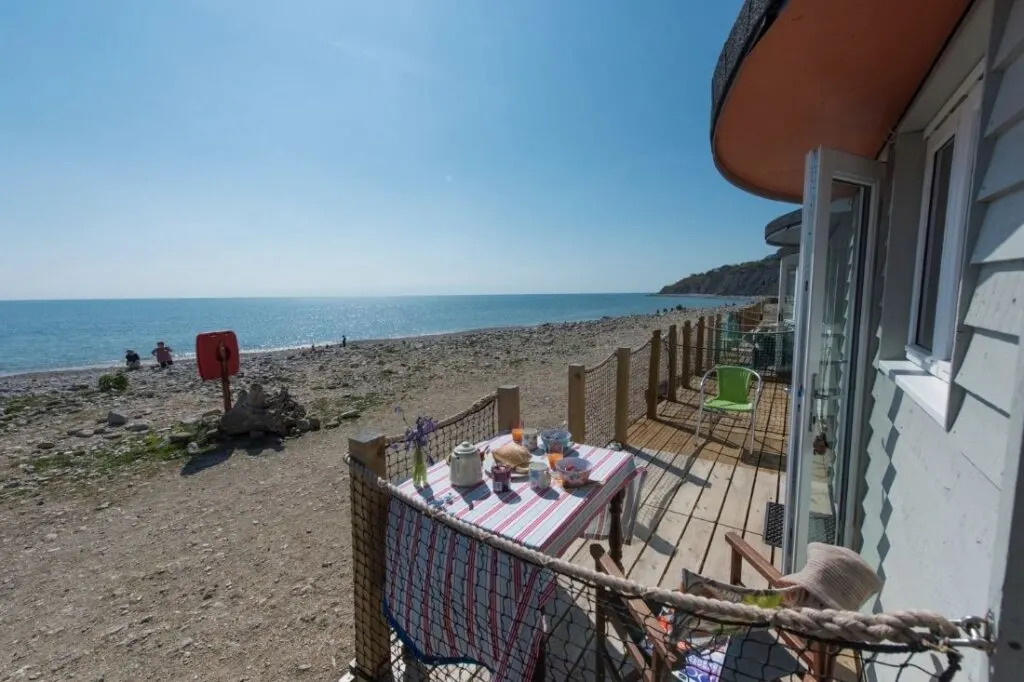 Lyme Regis
Sleeps 2
How amazing is it sleeping by the beach with the sounds of the waves lapping over the rocks? Well, that's what staying at Chalet on the Beach is all about.
Located at Lyme Regis, part of the Jurassic Coast World Heritage Site, this is the perfect place if you're a fossil hunter or a sea lover.
This "chalet" is a converted beach hut, so space is at a premium, but it still has everything you want and need for a relaxing break on the beach.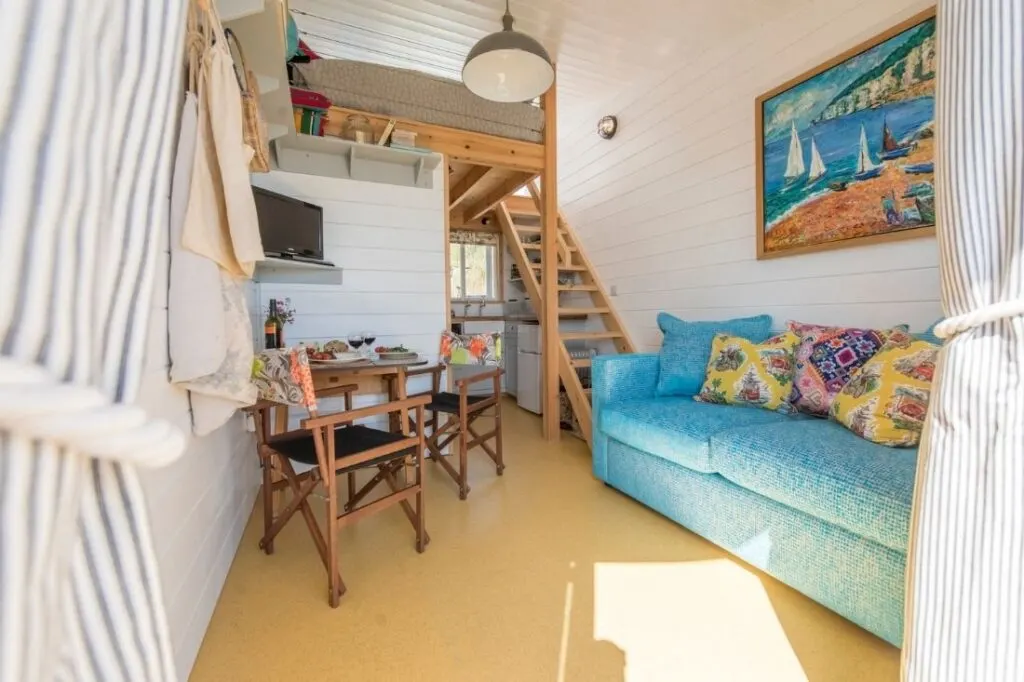 In the open plan living room is a small sitting and dining-area, with an electric heater and a TV, plus a compact fitted kitchen with a one-ring induction hob, a combination microwave and a fridge with ice-box.
Nearby you'll be able to explore Lyme Regis, watch the fishing boats come in, spot a pod of dolphins, laze in a local pub or see what fossils you can find on the beach. This really is such a charming place to stay in Devon!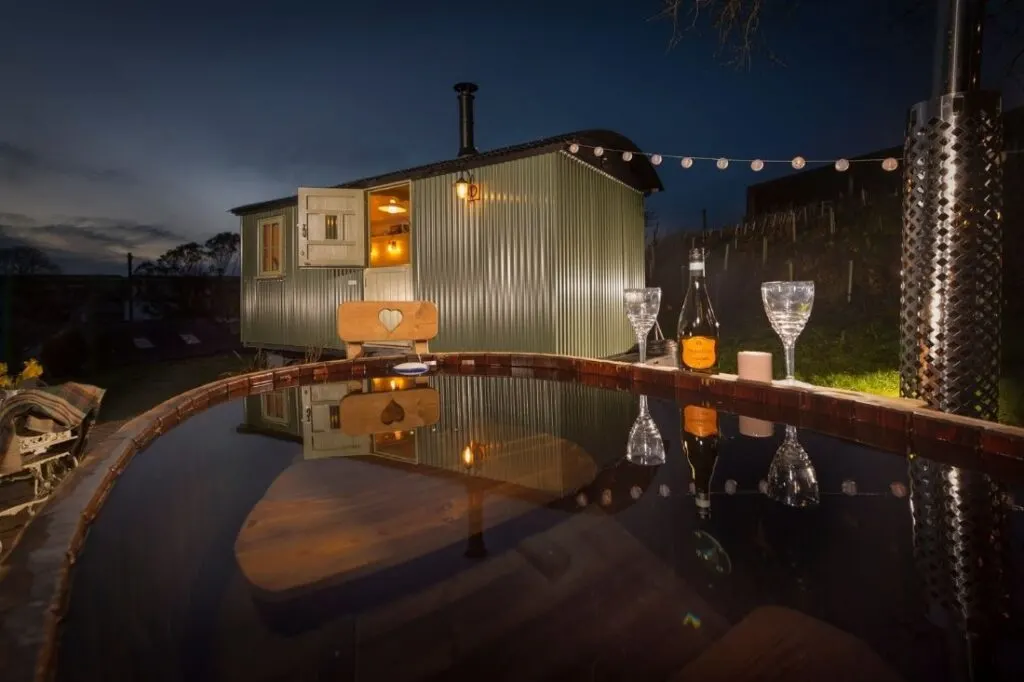 Near Totnes
Sleeps 2
Rosie's Hut is your stereotypical shepherd's hut that offers the quintessential glamping experience in Devon.
Rosie's Hut is set within the stunning grounds of farmland with a meadow and wild flowers surrounding it. There's even its own nature trail here taking you through the woods and by the ponds.
Like most of these luxury glamping sites in Devon, Rosie's Hut has its own secluded hot tub. For me, wood-fired hot tubs are so much more relaxing than Jacuzzis – I much prefer the silence as opposed the noise of the bubbles.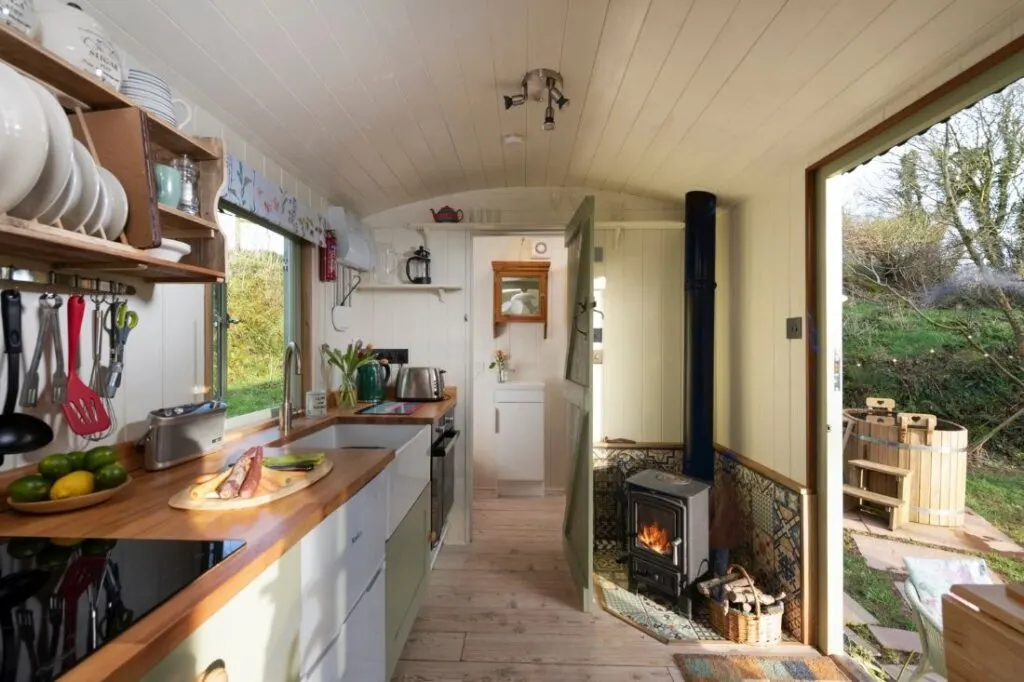 Inside the shepherd's hut you'll find traditional planked walls, a king-sized double bed, a full-sized ceramic butler's sink, double hob, combination oven and plenty of worktop and storage space.
One thing that's quite rare for a shepherd's hut is the en suite bathroom and toilet, all with hot water of course. There's even a heated towel rail here.
After dark, the hut's fairy lights will provide a magical atmosphere while you count the stars in the night sky above.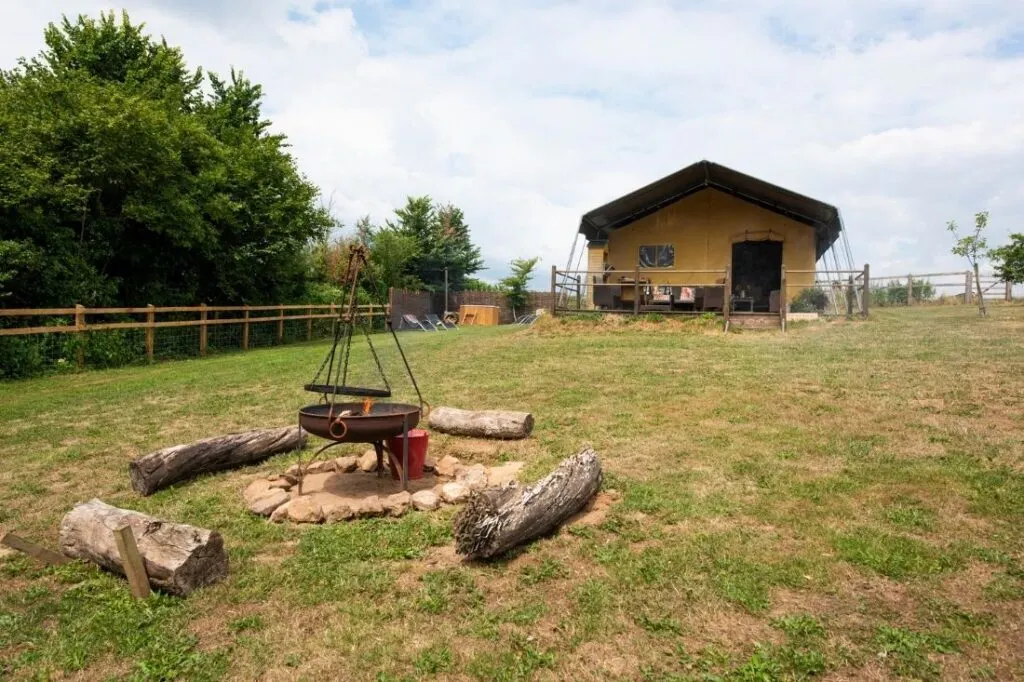 Ottery St Mary
Sleeps 4
Beaver's Lodge Safari Tent feels like you're on safari in the bushes of Africa. Okay, so you need to use your imagination a little bit, but this is such an amazing off-the-grid retreat.
Set on a farm in a valley above the meandering River Otter, this is a traditional canvas tent with a touch of luxury. Inside there a large open plan living room and kitchen fully equipped with everything you need. There is also a big double bed, and a second room with two single beds.
Outside is where it's at though with a gorgeous wood-fired hot tub, just perfect for relaxing after exploring the surrounding countryside.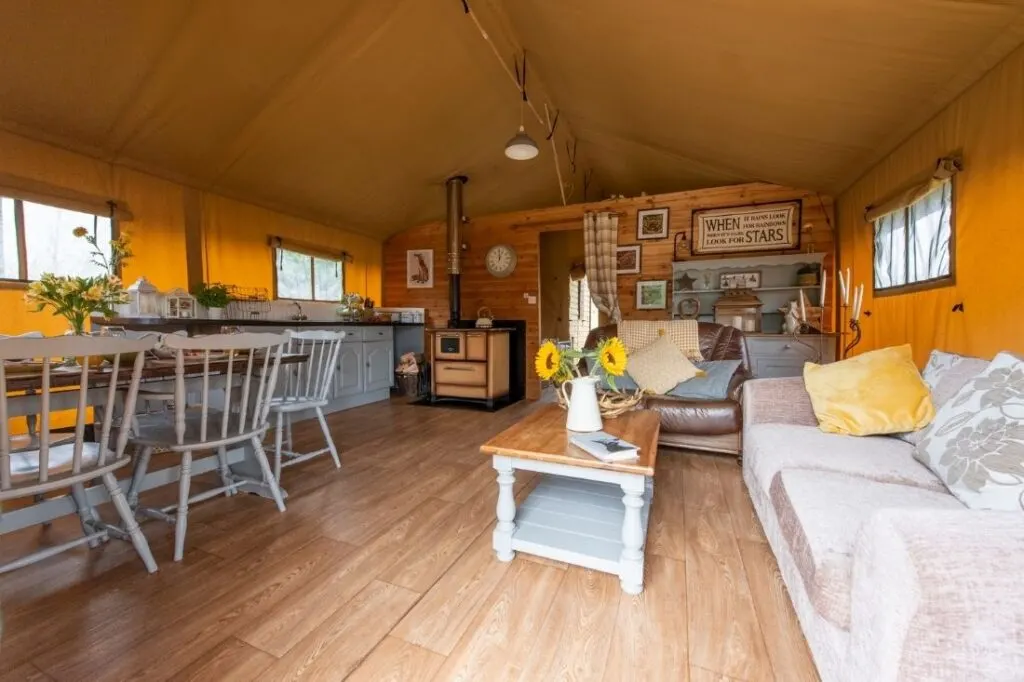 As the sun goes down, cook up a delicious supper or toast marshmallows around the fire pit barbecue, before enjoying a romantic glass of fizz and star-gazing into the night from the secluded wood-fired hot tub.
In the idyllic natural environment surrounding Beaver's Lodge, you might be lucky enough to spot herons, deer, badgers, or even otters. If you're incredibly lucky you might even spot wild beavers that have made a secret home in the nearby riverbank, giving this retreat it's charming name.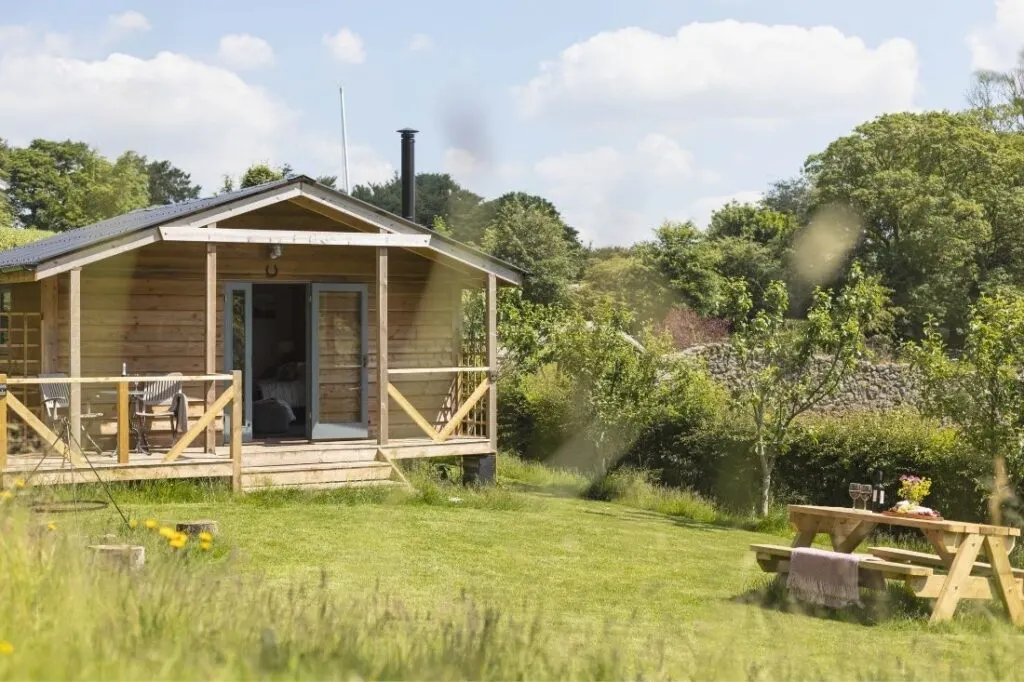 Dartmoor National Park
Sleeps 2
If you love hiking as much as I do, then this is the place for you.
Located close to Dartmoor National Park, one of the top places to visit in Devon, Room with a View is a really charming place to stay.
Inside there is a double bed, sofa, kitchen and warming log burner for when it gets chilly in the evening. There's also a lovely en suite shower room and a kitchen with everything you need for a comfortable stay.
If you often find yourself in the "scroll hole", then this one is for you. Room with a View is very off-the-grid with limited Wi-Fi, so it's the perfect place to escape your inbox and have a bit of a digital detox.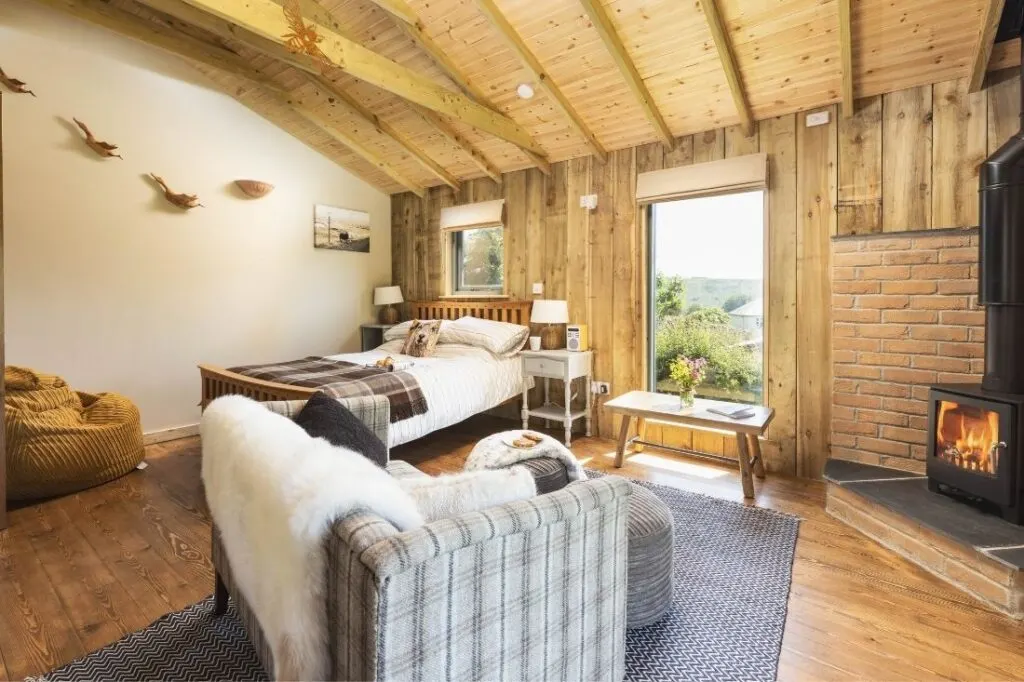 Dartmoor is one of the most unspoilt national parks in the country, and it is one of the least visited too. That means you can enjoy the stunning Devonshire countryside all to yourself.
There are lots of amazing walking trails to explore in the surrounding area, but visiting Haytor Rocks is an absolute must. The views here are mesmerising.
---
This post was in association with Unique hideaways promoting some of the best places to stay in Devon. As always, all views are entirely my own and without bias.
Which one of the glamping sites in Devon would you stay at? You can let me know in the comments below!
Like this blog post? Then Pin it for the future!