Got a night at London Gatwick? Yotel is the way to stay.
If you've ever spent the night at an airport then you probably know that there's a right way to do it and a wrong way to do it.
Having done it the wrong way before (sleeping on the floor of the Copenhagen airport, clutching my bag), I decided it was about time to try the right way. And Yotel Gatwick certainly gets it right.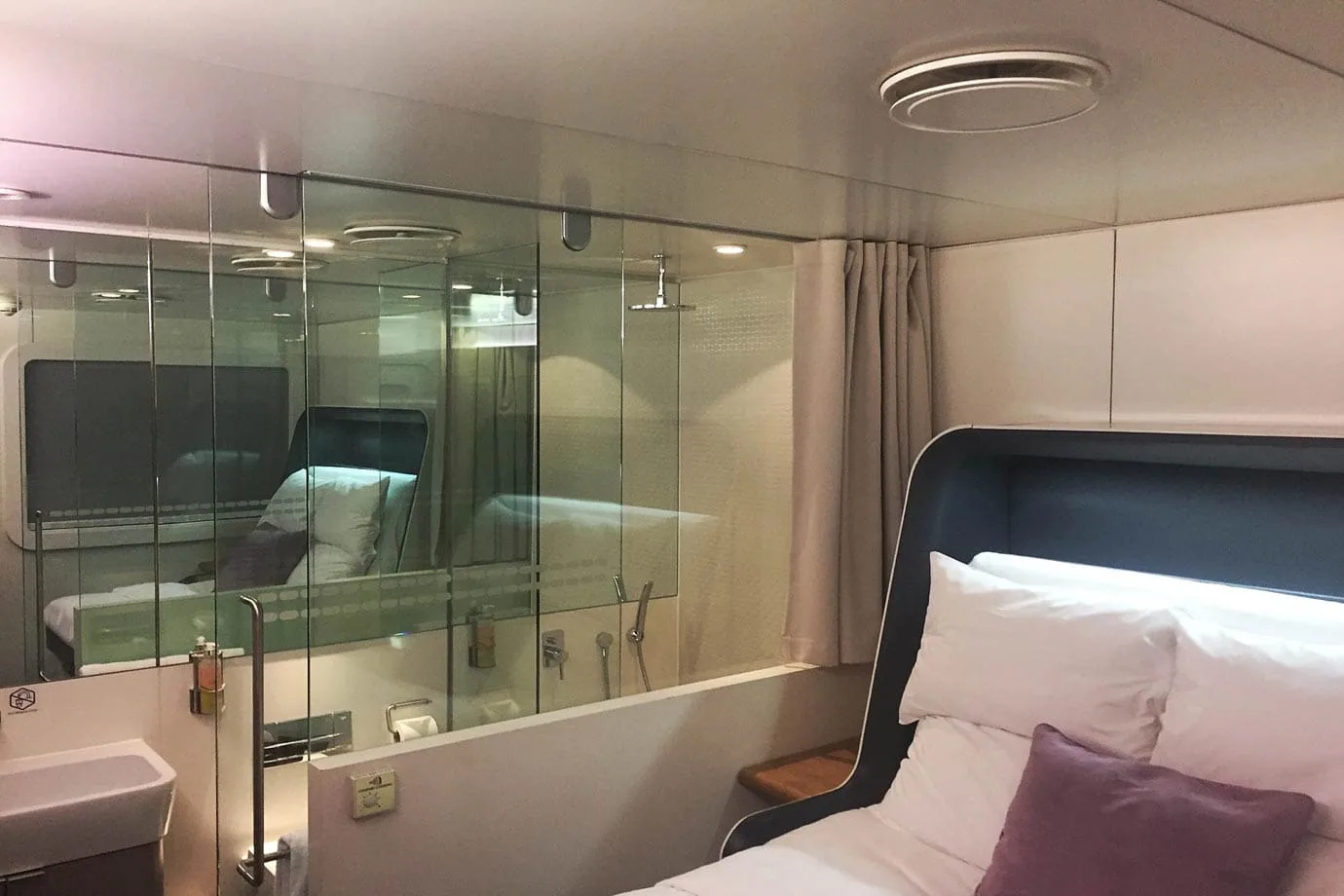 Described as "affordable luxury accommodation", Yotel has quickly become a name in just that, with locations popping up in airports (and not) across Europe (Heathrow, Paris, Amsterdam) and the US (New York and soon to be Boston.) They're even expanding to Singapore in 2017 and JUST announced another London location.
It's no surprise, either, as they have a model (and prices) that serve business travellers and backpackers alike.
Located in the South Terminal, right by the international arrivals, you take the lifts down one level and immerge at Yotel Gatwick.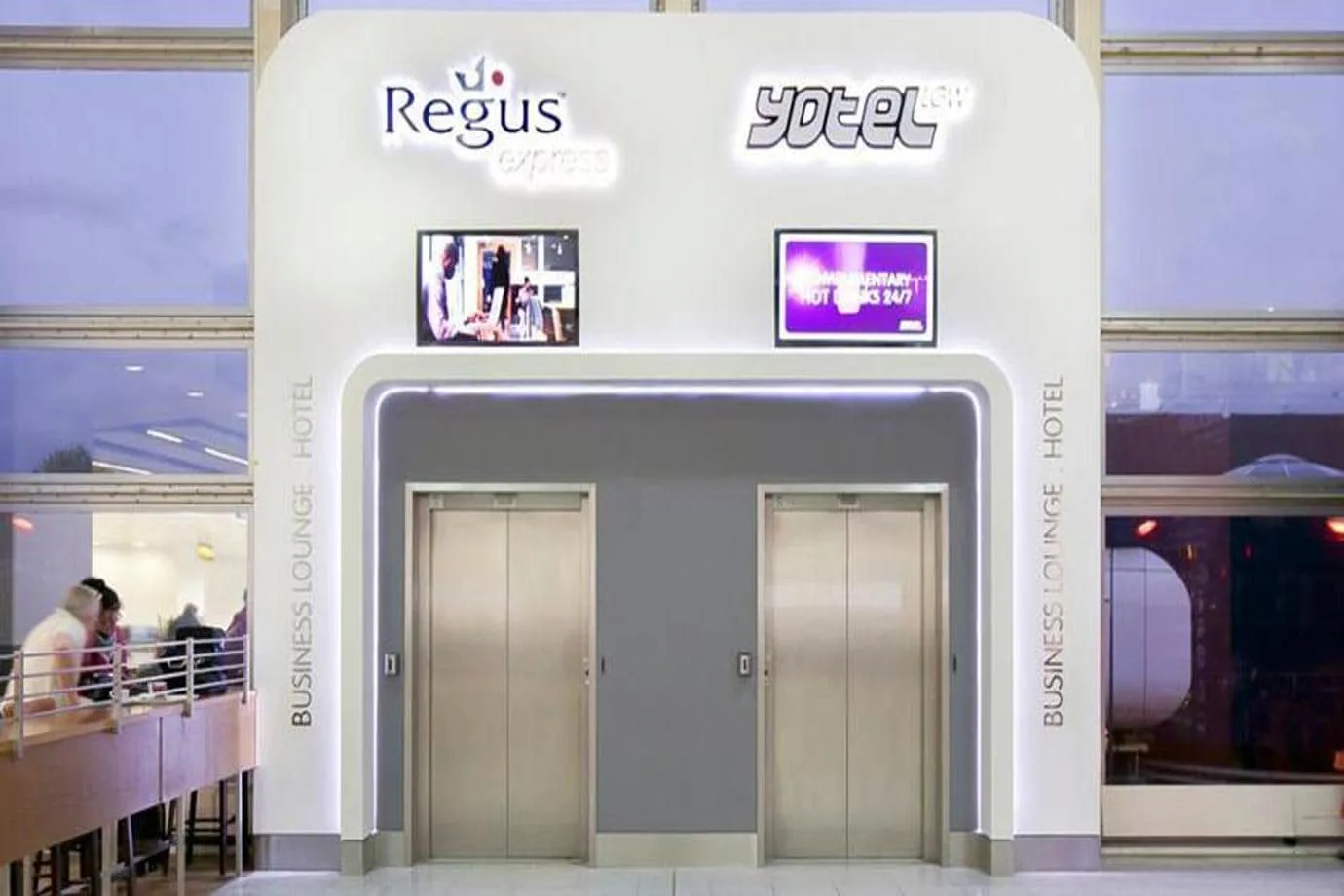 Modern, clean design with those token purple glowing lights and a silence that seems to be subterranean, it's the kind of place you want to crawl into bed and get cozy. Which is exactly what I was there for.
You can book Yotel hourly, which is what makes it most appealing to those on a layover, and for someone like me who was checking in around 9pm. I was happy knowing I wasn't paying for extra time I wasn't there for.
The gentleman who greeted me at the front counter (aka 'Mission Control') was very friendly, and offered a wake up call and a blow dryer (perhaps he could see my unwashed hair hiding under my hat).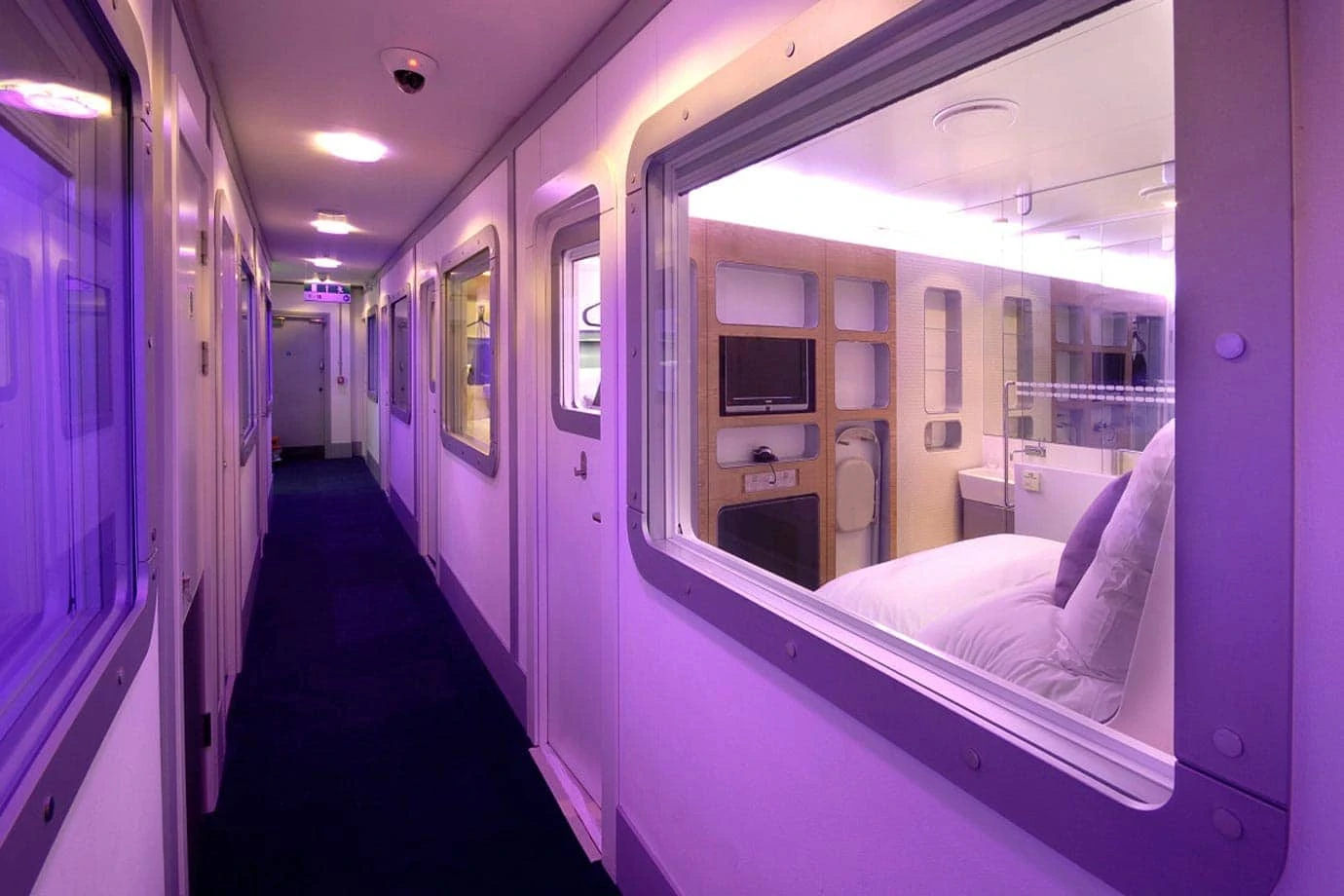 Walking down the spaceship like hallway, I came to my room at the end of the hall. The rooms are certainly compact, but I was pleasantly surprised as to the layout.
It didn't feel claustrophobic and they really have thought of everything when it comes to making the most of the space and making sure all travellers needs are met.
My premium suite meant that I had a double bed (which slides up into a couch with the simple press of a button) and a bathroom with a monsoon style shower. The TV unit houses a full length mirror, a flatscreen TV as well as an area that can fold out into a desk.
Checking into Yotel also meant complimentary wifi, which was much welcomed since I couldn't connect to the Gatwick Wifi at all (including days before when I flew through).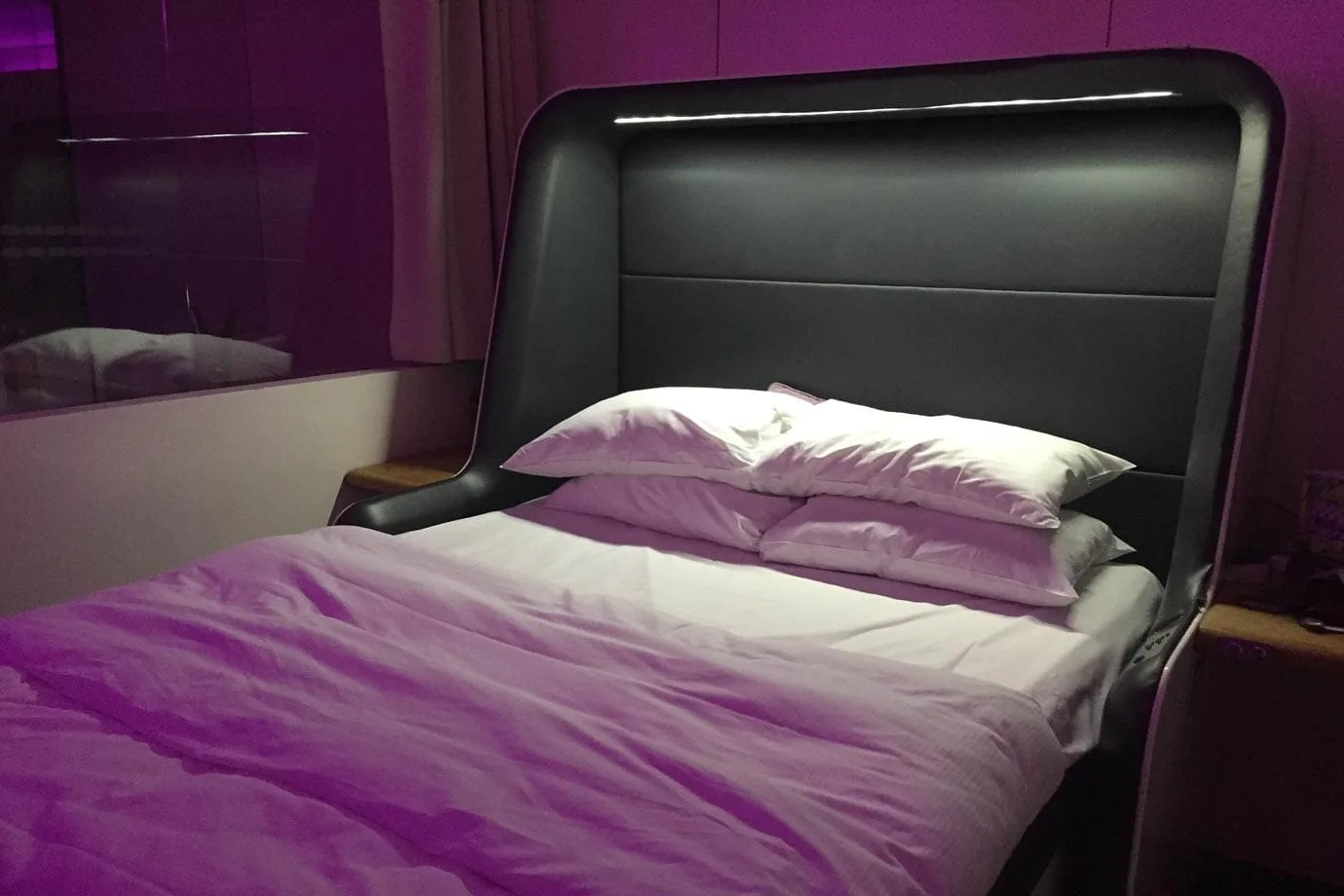 By the time I arrived, I didn't really feel like going out to eat, as I wanted to make the most of my little cocoon for as long as possible, so I popped upstairs to M&S to grab a sandwich and a cider.
Just upstairs from Yotel, you can also find Boots, Costa Coffee, a couple of restaurants and a pub so you've really got anything you're feeling just a lift ride away.
I was instantly at ease and had everything I could need to relax and rest for the long flight back to Canada the following morning.
A few of my favourite things (in no particular order):
2 USB ports for charging devices for someone like me who didn't bring a UK charger because I wasn't really staying in the UK
Monsoon shower with complimentary toiletries
Convertible bed (from couch to bed with the press of a button)
Solid Wifi!
Blowdryer upon request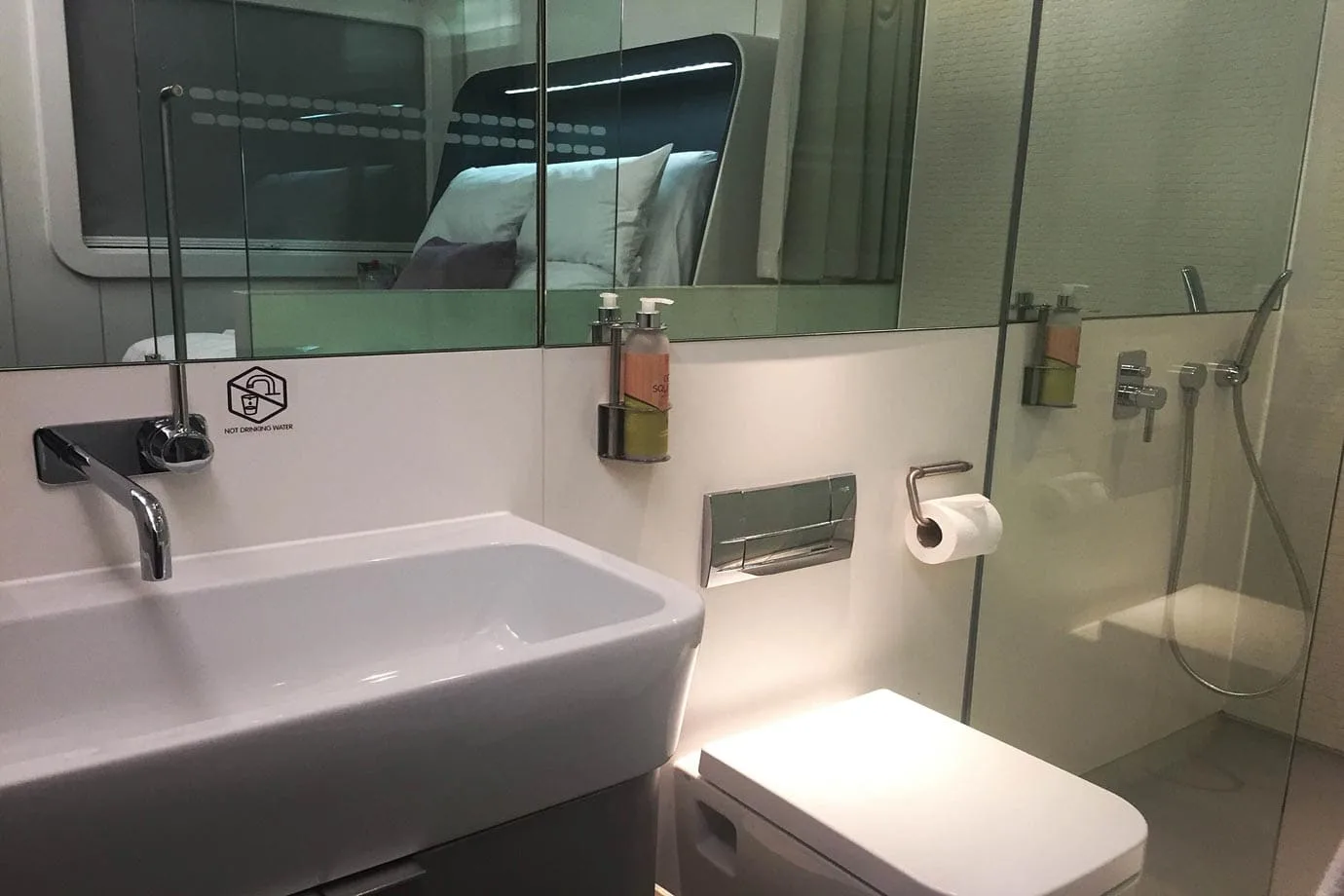 Since there are people checking in and out at all hours, they encourage a hushed atmosphere and I didn't really hear anything from my suite. The only thing I did hear was the closing of doors, which tend to be a bit heavy.
Luckily, as always, I had my earplugs with me and this seemed to solve the problem. They also have them at the front desk, if needed.
Checking out was a breeze, and I was on my way fully refreshed. I was flying out of the North Terminal, but the shuttle was only a short walk away and very easy to find.
I wouldn't normally spend money on a night at an airport hotel, but Yotel isn't really an airport hotel. They've really figured out comfort and efficiency for the budget traveller. You get everything you need at prices that won't make you cringe.
It's certainly going to be hard to go back to airport floor sleeping, so I'm hoping that Yotel will continue to expand it's locations around the world!
Yotel Gatwick hotel is located in the public landside area of the South Terminal, next to international arrivals.
Prices start from £34 for 4 hours or more in a Standard Cabin and can be booked here.
Like this post? Why don't you pin it?